Lindsay and Miles' sublime destination wedding in Puglia took place in June last year at the exquisite Masseria San Nicola villa in Fasano.
The location was already spilling with beauty and blossom, which was elevated by planner and stylist Victoria Boukhanets of Impression Villas & Weddings.
The bride wore a gown by French designer, Margaux Tardits, which she discovered at The Mews in Notting Hill.
This was one effortlessly chic and stylish day was captured by photographer Maria Francesca Nitti – enjoy.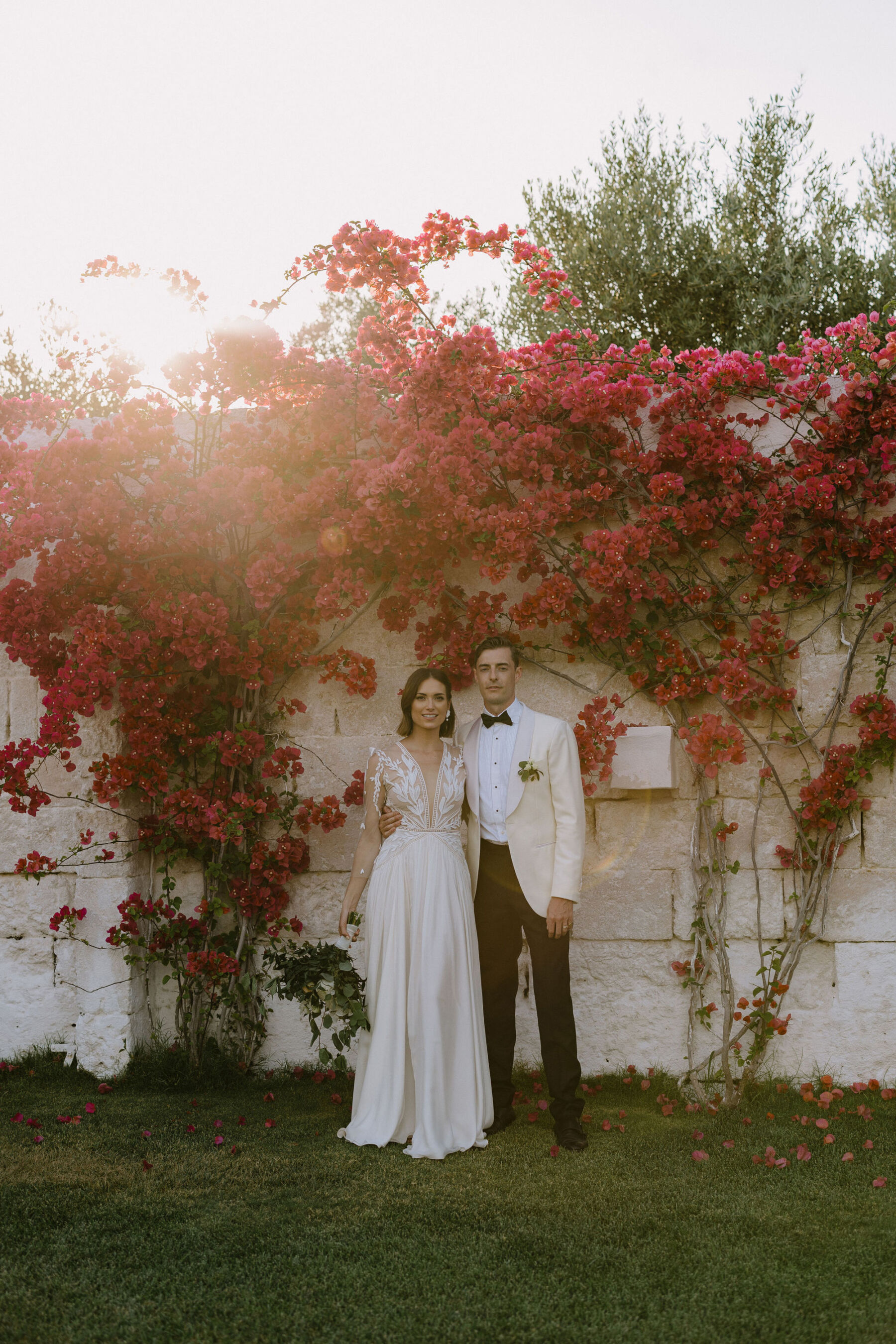 The Venue
Our venue was Masseria San Nicola in Fasano, Puglia. I had a crazy feeling the second we got to the venue that we'd get married here. We were about to sign a contract for another location and I had to beg Miles to agree to the change. Months later, I found an image on my camera roll of Masseria San Nicola that I had saved years ago – it all made sense and felt very right.
Our wedding planner was Victoria Boukhanets from Impression Villas & Weddings.
Bridal Beauty & Accessories
I loved my earrings and am desperately trying to find a reason to wear them again! After a full year of searching, I found some beautiful handmade pearl and ceramic earrings from Lua Studios, an independent jeweller out of East London.
I loved working with makeup artist, Ariana Rose. She focuses on getting your skin just right and perfectly glowy. My makeup didn't budge after the ceremony and aperitivo in 32-degree heat and some sweaty 3am dancing.
I wore a pair of chunky gold sandals from Esska.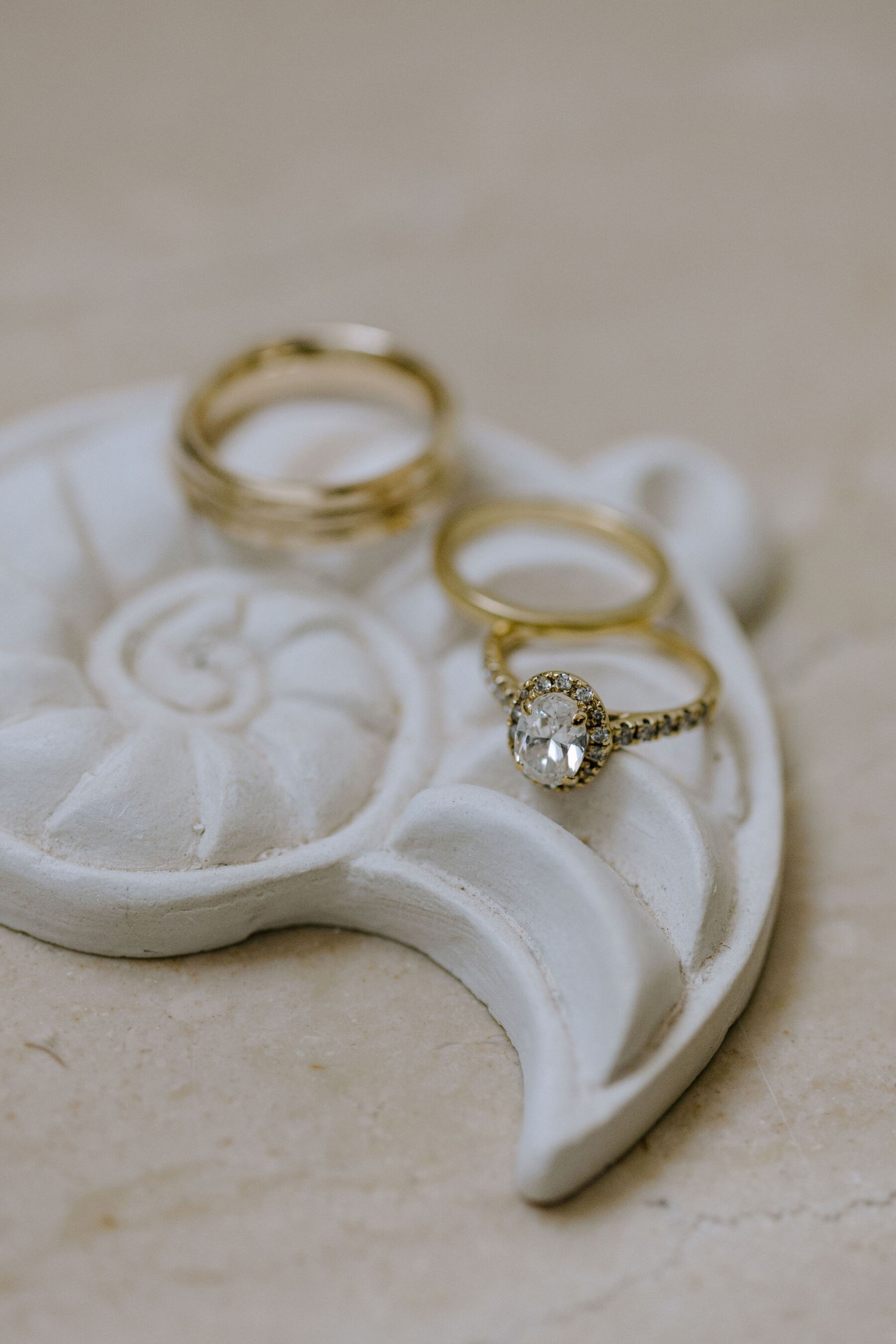 A Margaux Tardits Dress from The Mews
I wore a Margaux Tardits dress from The Mews in Notting Hill, who provide bridal gowns by French designers. Lauren was a dream to work with and I would highly recommend a visit.
I knew I wanted a dress with sleeves and something that felt quite ethereal. It was also important I could eat and drink to my heart's content and use the bathroom without assistance. I actually got the train removed to make it easier to wear and loved how the skirt flowed without it.
My bridesmaids all wore muted green shades from a range of brands – Bec and Bridge and Shona Joy for the London-based girls and BHLDN for the Canadian girls. They all went nude strappy heels and simple gold jewellery.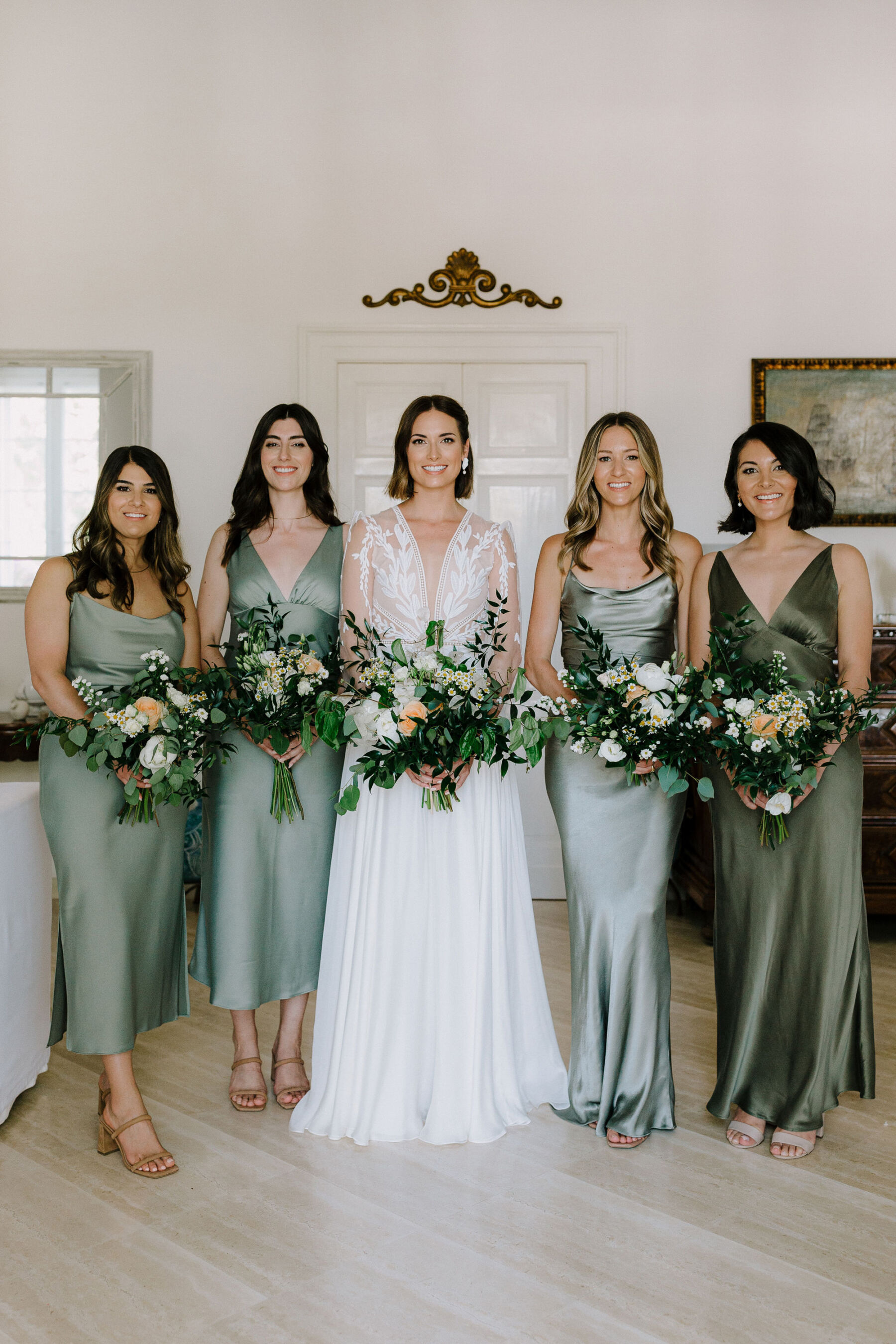 Flowers
Our flowers were by Rollo Fiori. I wanted the flower arrangements and bouquets to be natural looking and a bit wild but didn't guide on the type of flowers. He nailed the brief!
My husband's request was for an arch as backdrop to the ceremony, so the florist put together one that was very rustic and organic-looking like the rest of the arrangements.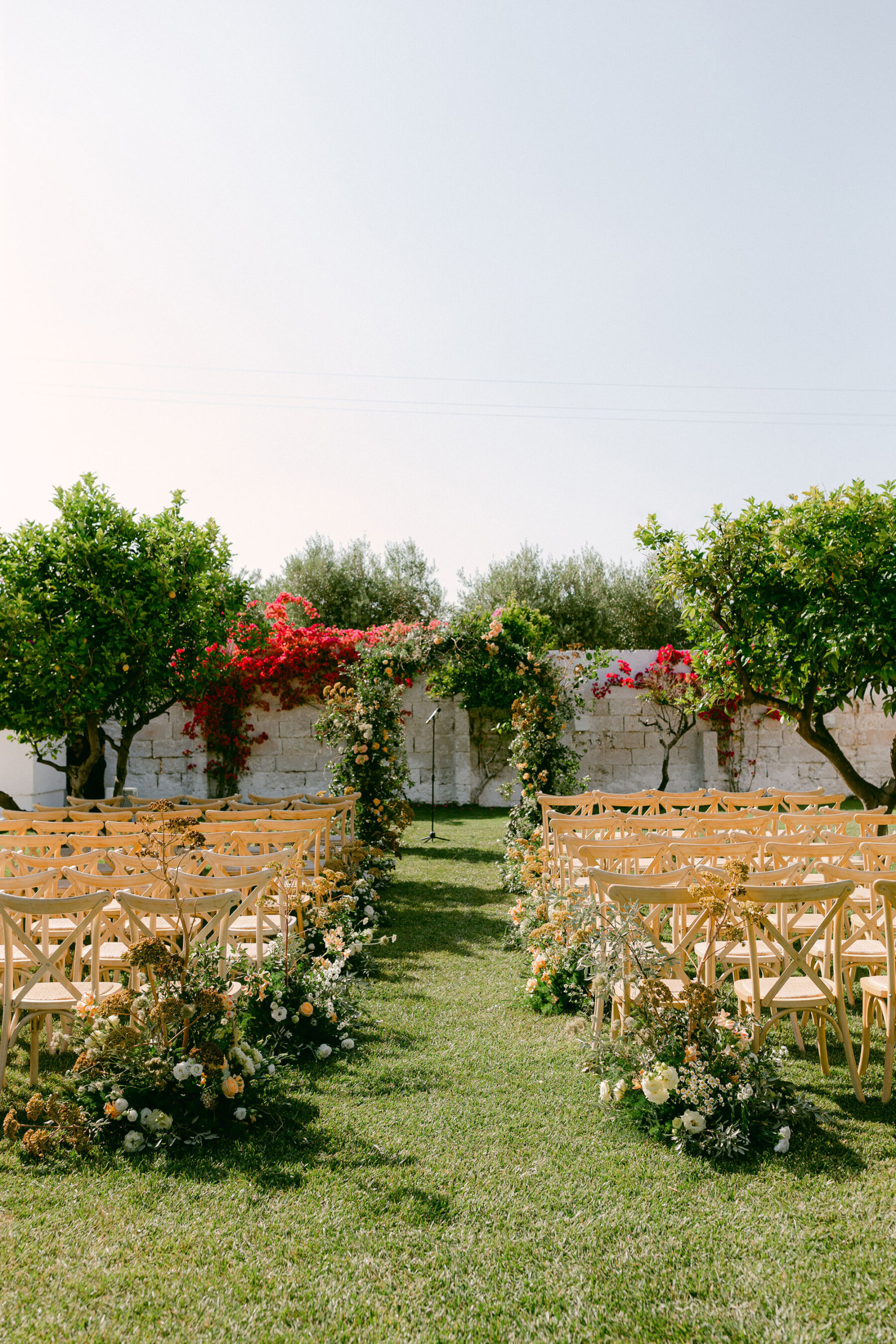 From the beginning, we knew we wanted the day to be fun and laid-back; a friend recommended Puglia which fit the bill perfectly (we had never been!). In terms of the aesthetic and feel I envisioned it as romantic and elegant but unfussy.
I wanted the different elements to flow which the venue was perfect for – each part of the day took place in a different area but there were no awkward in-between periods where guests had to wait around and go without a drink.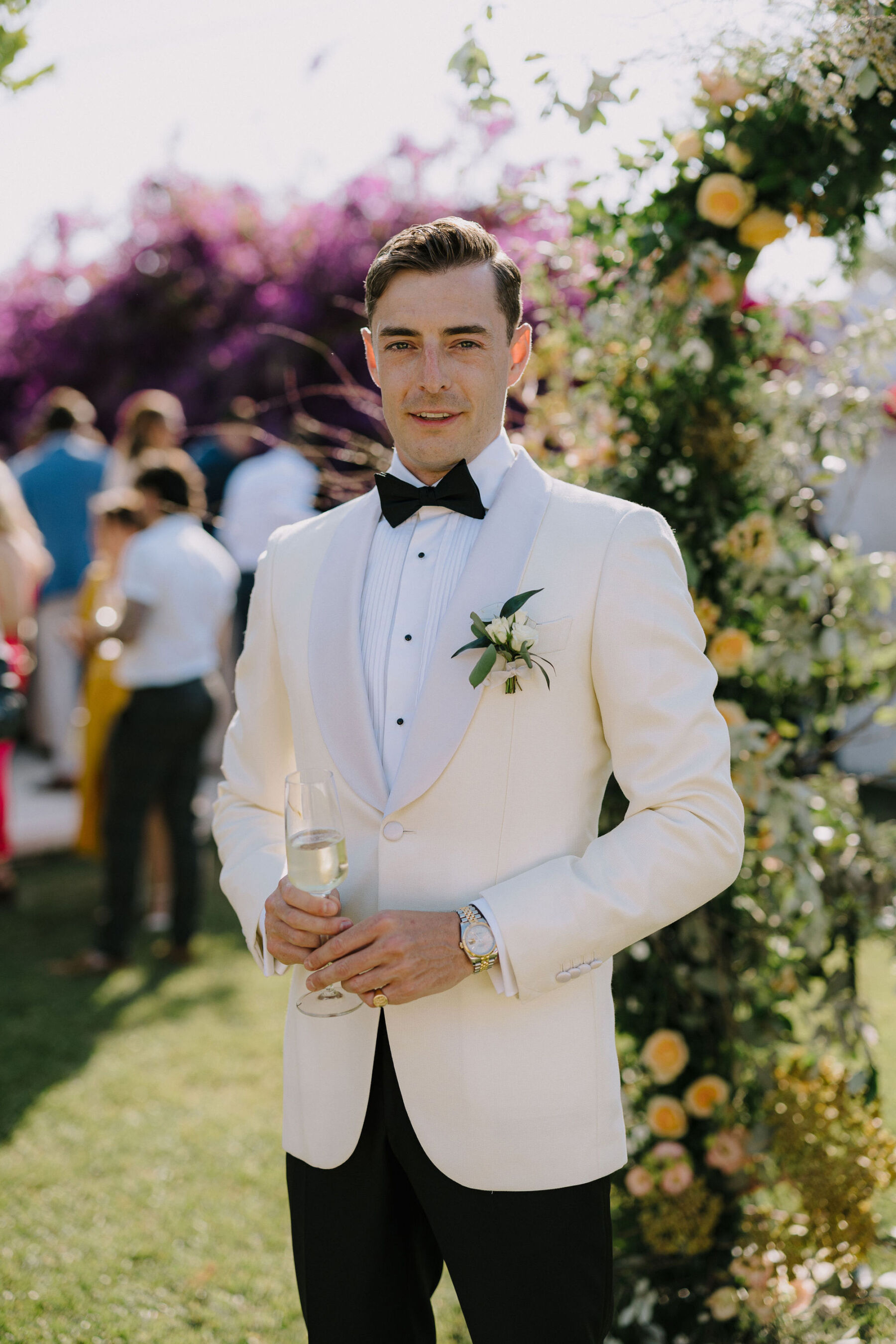 The Ceremony
My mother accompanied me to the ceremony, to the sound of Bon Iver's 'OOOOO Million' – so many feels.
Miles' oldest brother was our officiant. We had already had our civil wedding in London so the Italian ceremony was purely symbolic. It was really special to have someone that could add a personal touch (and some Italian to boot!).
We decided to write our own vows and would highly recommend it if you're debating whether or not to do them. Especially if you are having a symbolic and non-religious ceremony, I feel it makes it a bit more special for you and for your guests.
I recommend not reading too much about how you 'should' structure your vows, there's no right was – just sit down close-ish to the wedding day, jot down some memories and it will come together.
Our wedding rings were made by Notting Hill-based jeweller, Sophie Brietmeyer, who was recommended to us by friends.
How They Met
We met at work in 2016 and were friends for a couple of years before we got together.
He proposed on a little beach in Devon that we kayaked to during a summer holiday.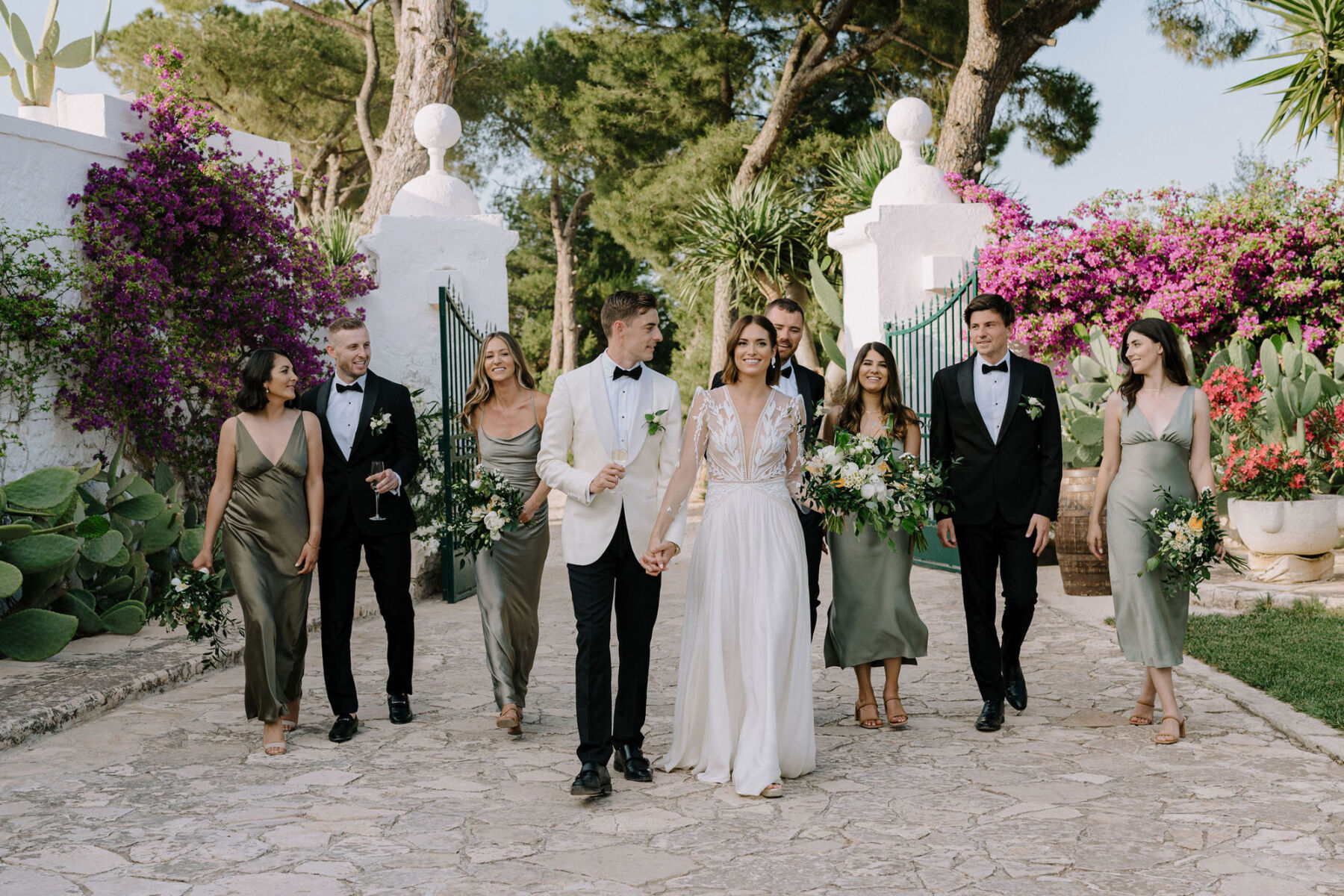 Our 4-month old puppy was there and it was just a very cute moment. We had a two year engagement and planned the wedding for June 2022 – the timing with all restrictions lifting could not have been better and we are so lucky that all of our friends and family from the UK and Canada were able to make it.
Reception, Decor & Detail
We had a very natural colour palette with muted greens and peaches, and lots of twinkly candles during dinner.
We kept the decor fairly minimal as the venue was so naturally beautiful; just some greenery and tons of candles at varying heights scattered around the tables (the florist provided these).
I did our menus and order of service on Canva and had them printed by Gee Brothers in South London.
Our wedding cake was a mille feuille supplied by Il Fagiano. I still to this day do not know where it ended up and wish I ate more.
Maria Francesca was fantastic. I love a natural shot and nothing too posed and she made us feel very comfortable during our portraits. Her style and editing is so soft and natural and there is a really beautiful nostalgic quality to her work.
Evening & Dancing
We did choose 'Shelter' by Ray LaMontagne which in hindsight is beautiful but veeery slow. When it came time for the first dance everyone was more than a few drinks down and we decided to call it off so we didn't kill the vibe! We had already done an entrance to the cake cutting which felt kind of like a first dance.
It was to 'Somethin' Stupid' and ended up being one of the most memorable moments of the day for both of us.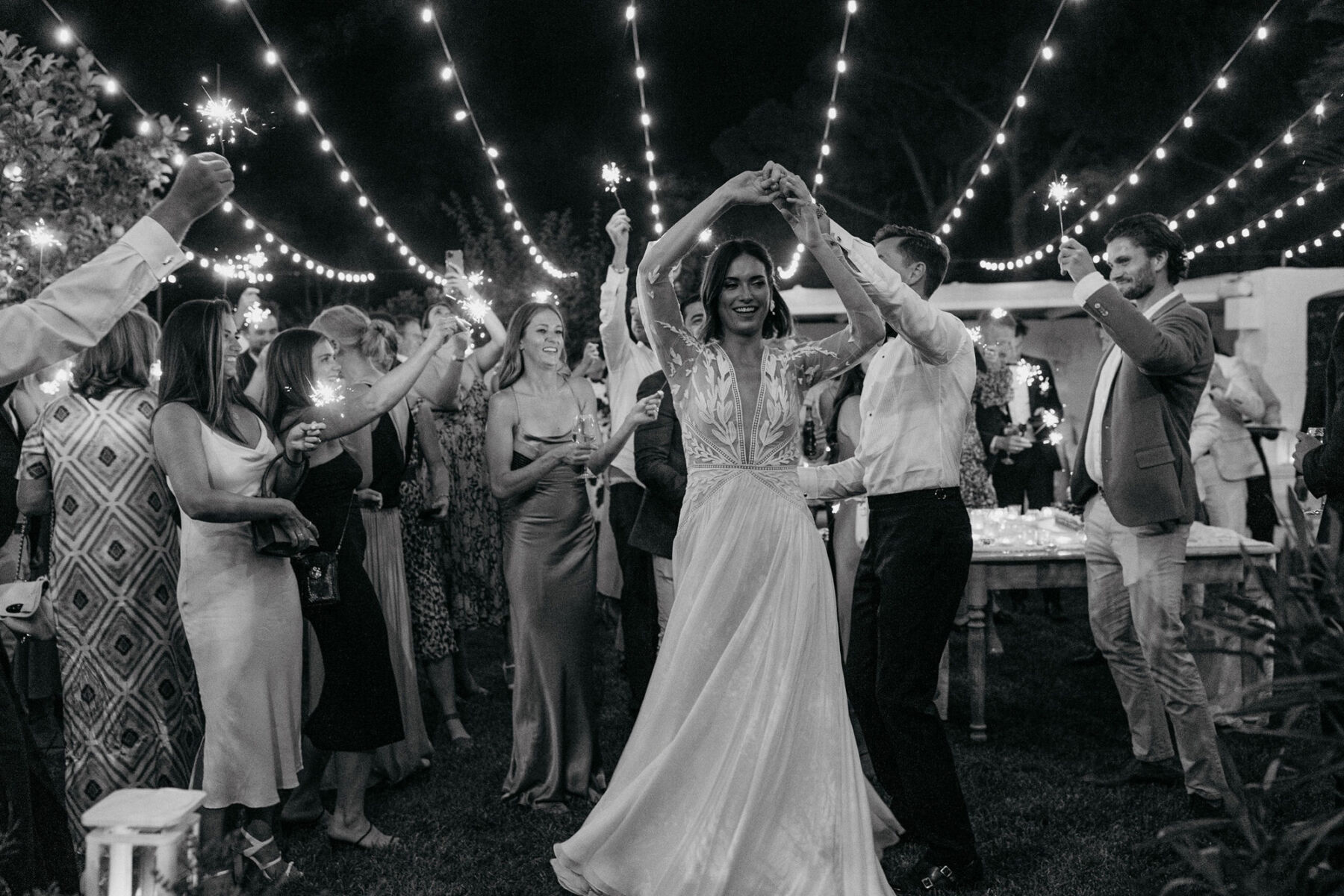 Favourite Moments
Our favourite moment was the whole dinner – it was just stunning; the food, the wine, the flickering candles as the sun was going down, the jazzy playlist… there is a beautiful photo taken from the rooftop that captures the atmosphere perfectly and will forever take us back.
Our entrance to dinner was another favourite moment – we walked in to "5 Dollars" by Christine and the Queens and had goosebumps! Such a vibe.
Another favourite moment – we hired saxophonist Pako Baldasserre to kick off the party along with DJ Carlo Gomes and it was the best idea ever. They read the crowd perfectly and set the tone for the whole night.
Words of Wedded Wisdom
I know I'm not supposed to have regrets but I do have two and they both have to do with the heat. It was 30+ degrees during the ceremony and our guests were absolutely melting, sorry guys! I wish we thought of fans or held the ceremony in a more shaded area.
I also wish I managed to find a party dress for the evening, but just couldn't find one I loved. It was HOT, and if you can't do an outfit change on your wedding day then when can you.
Start with how you want the day to feel and go from there.
If you have time, a welcome dinner or drinks the day before with the whole wedding gives you a chance to say hello to everyone so on the day you can enjoy yourself fully and do whatever you want!
Buy the damn party dress.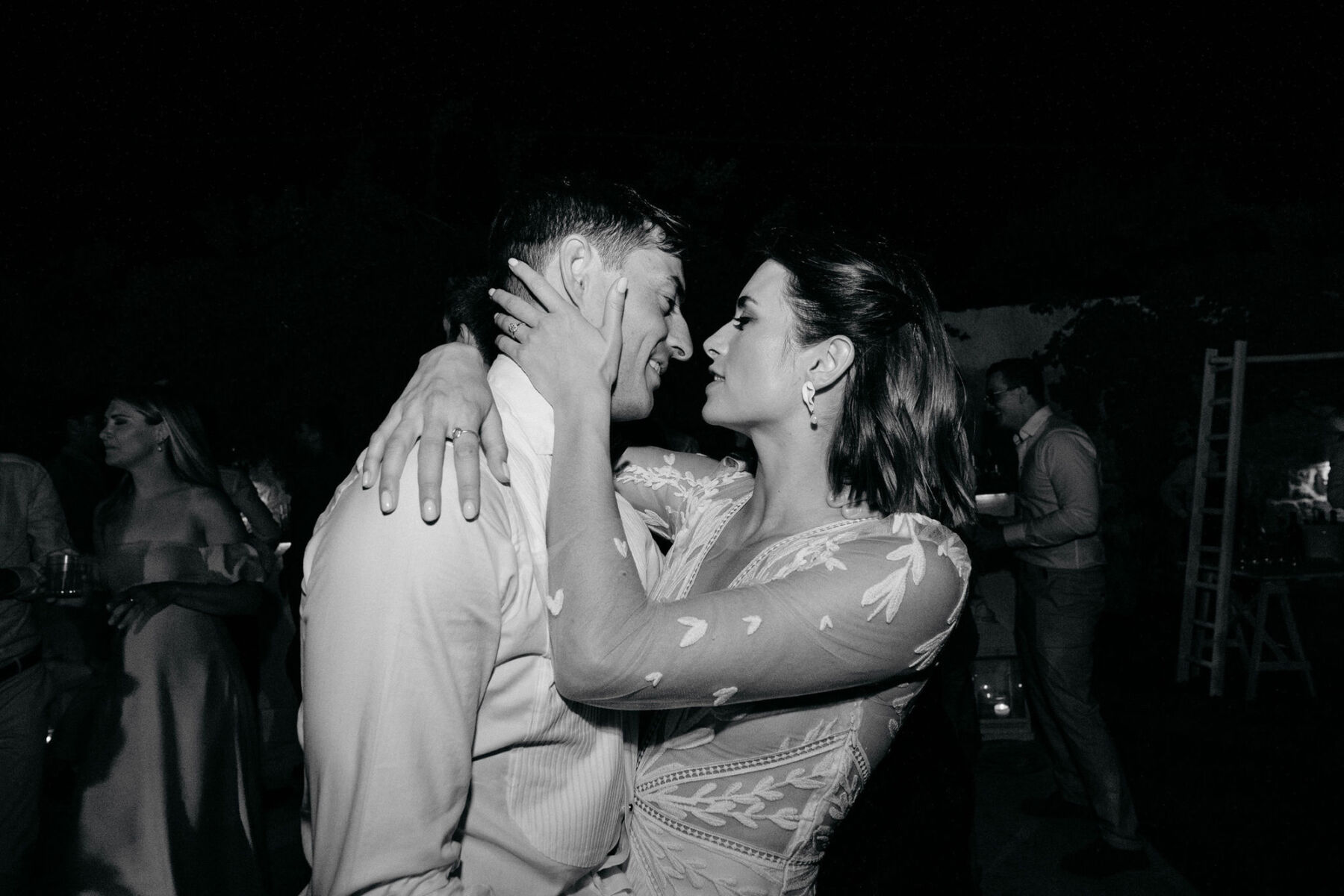 Explore our wedding directory