As a huge fan of photographer Peter Lindbergh's work, I was excited to learn that his 2018 collaboration with Parisian fashion house Dior, was the inspiration behind this chic and sensuous, city wedding editorial.
Photographed beautifully by Love My Dress recommended photographers, Kernwell Photography, this delicious editorial set out to recreate the exquisite fashion scenes mastered by Lindburgh back in 2018, when he took pieces from the Dior archives and showcased them on the streets of Midtown Manhattan.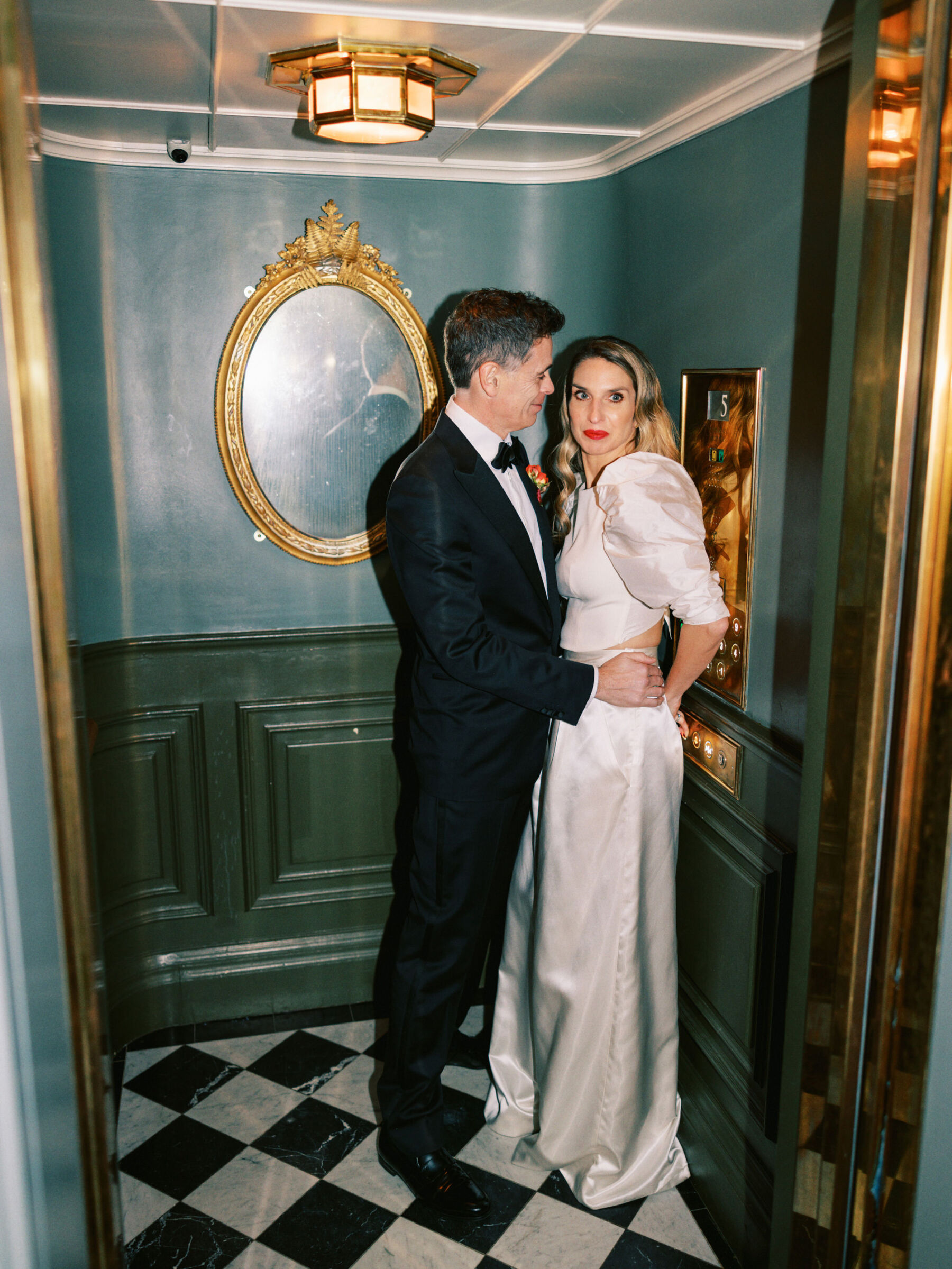 This time, the streets were located in the heart of London where The Ned, a former Midland Bank headquarters, proudly resides – and the artistic collaboration was between multiple Love My Dress recommended suppliers, who alongside Kernwell Photography, include South Event Specialists, Ink & Paper, Halfpenny London and Studio Between. Words from the creative team follow below.
Wake up, now you go for a hell of a day and let's see what happens. Peter Lindbergh
Inspired by The Peter Lindburgh & Dior Collaboration
In our take, Kate Halfpenny's exquisite creations adorn our chic couple as they roam the streets of London's square mile. Modern fine art photographers Kernwell drew inspiration from Lindbergh's observational style, lending the bridal fashion a new energy and capturing the elegance-with-personality vibe of this elopement editorial.
We chose The Ned – located in the City of London in the former Midland Bank headquarters designed by Sir Edwin 'Ned' Lutyens in 1924 – for its elegant, vaulted ceilings and period details. For Alice and Alex's intimate city getaway, we chose a luxurious Heritage room, resplendent in deep forest green and rust tones plus sumptuous mustard velvet.
The freestanding bathtub at the centre of the palatial bedroom hints at a relaxing end to a day of decadent celebration.
Halfpenny London Couture
At the heart of Halfpenny's collection – and for many its USP – is the beautiful yet diverse range of wedding dresses and interchangeable separates. Alice wears a number of outfits from the current collection, starting the day in the Oliver dress with Mayfair skirt and Issa shrug.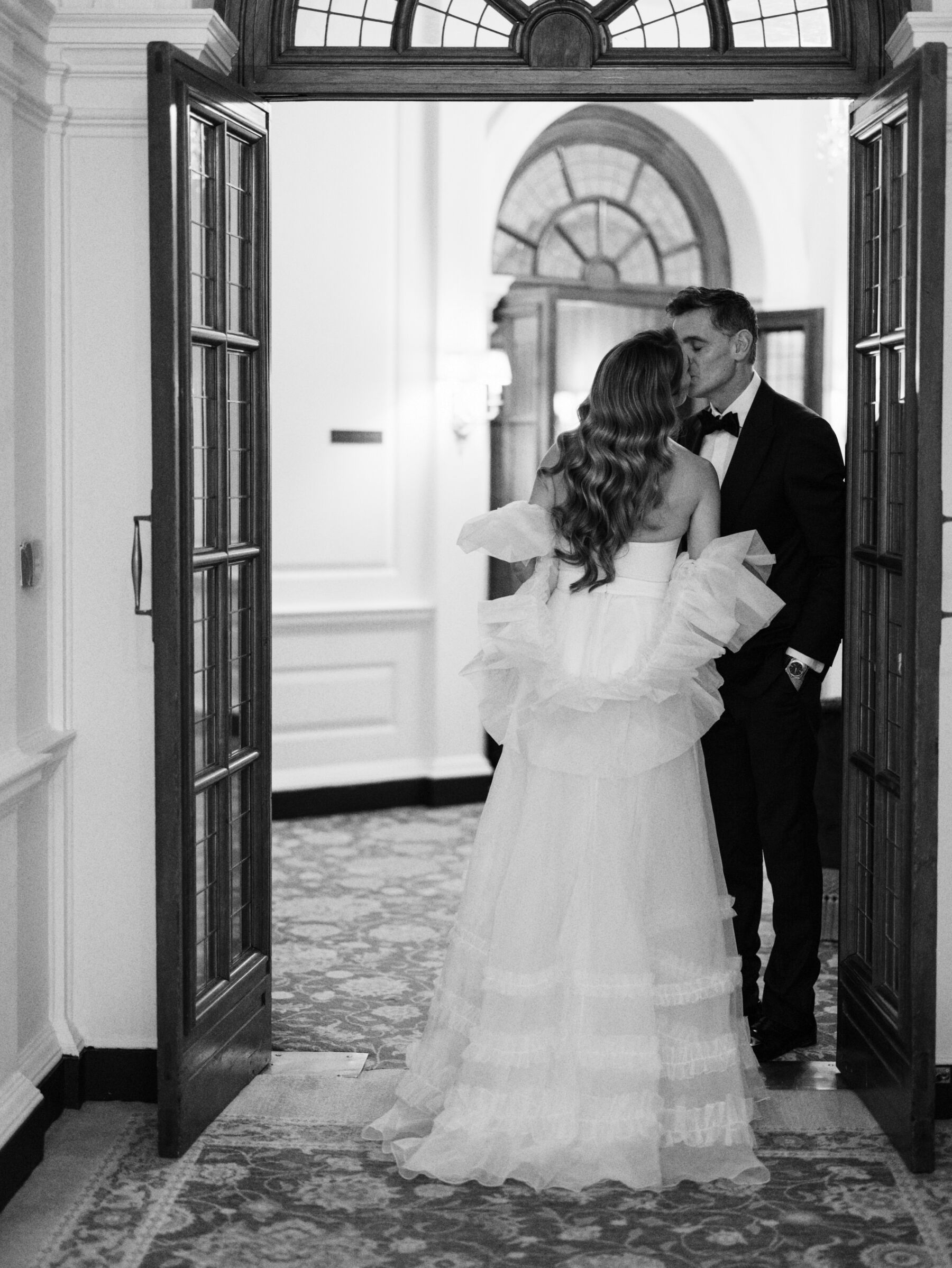 A switch of outfit and a mist of Parfumerie Vilhelm's 'Morning Chess' and we were ready to hit the city. Alice put on the Halfpenny Walnut top with the Houston Duchess trouser and Duffy coat.
Lastly, Alice changed back into the Oliver dress and paired it with the Laura top for a sophisticated final look.
Shoes were Sophia Webster's timeless Rosalind Crystal sandal with stunning crystal beaded heel.
Alex wore a Zegna lapel tuxedo and shirt and Prada brogues, paired with Hermès cufflinks and Bvlgari watch. Bridesmaid Becky wore the Penelope dress in Sage from the Halfpenny Sister collection.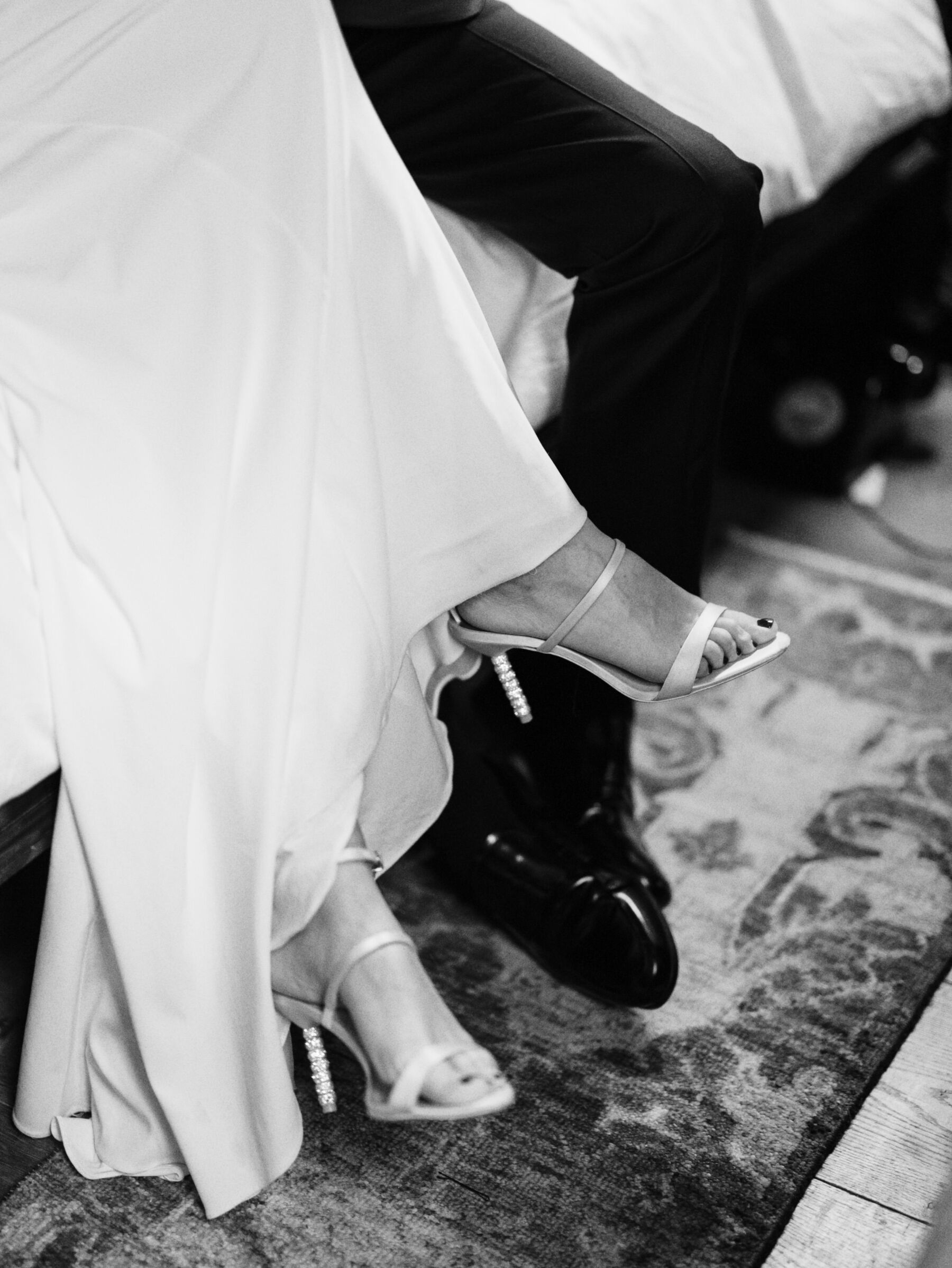 Hair & Makeup
London hairstylist Love Hair By Lou created two stunning looks which emphasised Alice's gorgeous thick hair. The first look featured glossy Hollywood waves, which shimmered and caught the light beautifully. The second look added a hint of modernity with a chic low ponytail.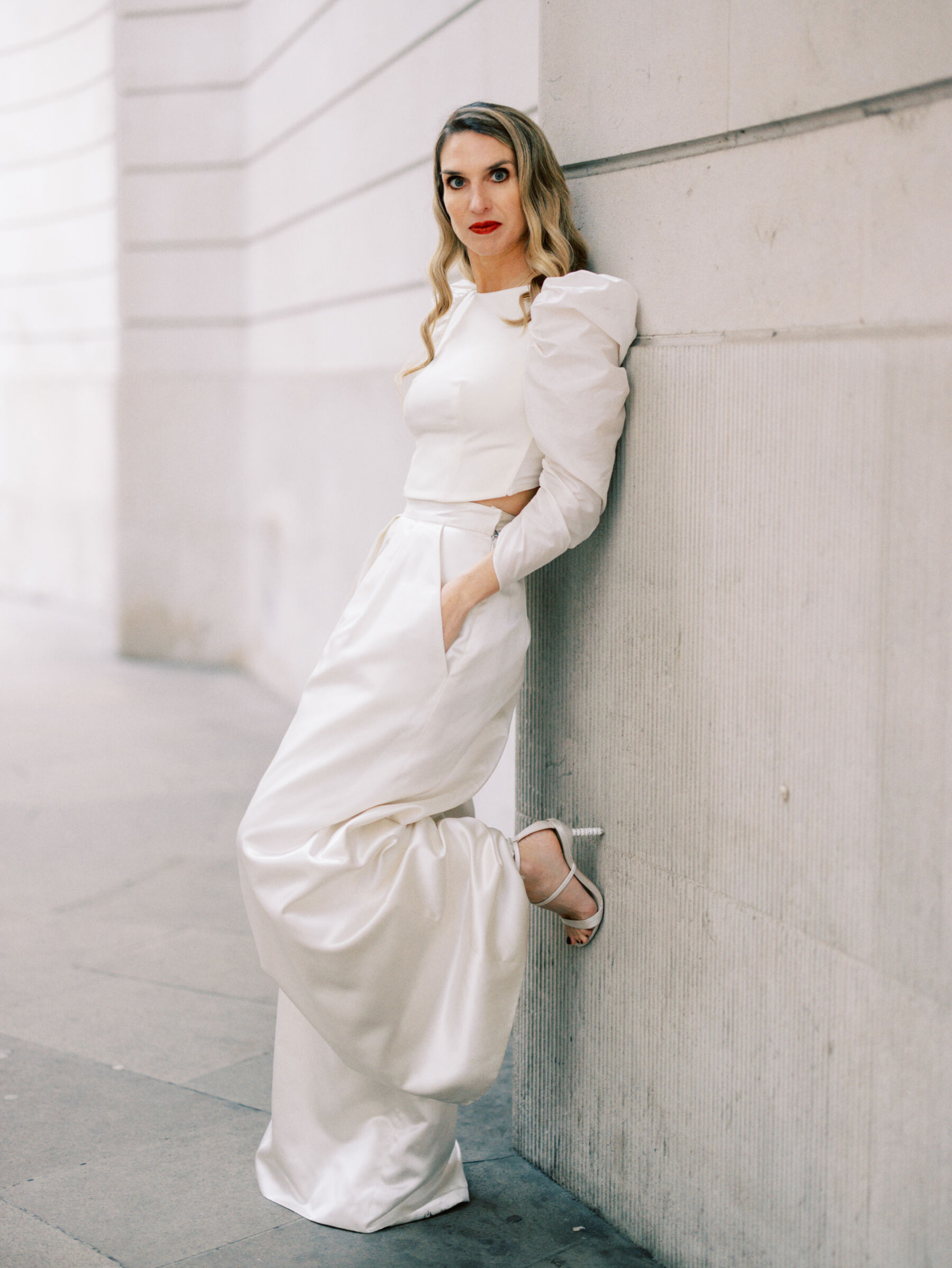 Alice's makeup, by London makeup artist Szilvia Balog, was luxurious. The colours used in the make matched the feel of the lush venue, florals and styling. Szilvia used high-end brands to create a fresh, dewy and healthy-looking skin, that enhanced Alice's natural beauty.
She finished off the look with a velvet red lip that made her look like royalty.
Luxury Bridal Jewellery
Jewellery was kept elegant and minimal with London-based jeweller Alexandra Simpson's Art Nouveau-inspired three-petal Poppy earrings in 18ct gold and six-petal Poppy necklace in 18ct gold with black diamonds. A sophisticated and modern look that perfectly complemented the 1920s elements of The Ned.
Detail & Decor
Flowers & Table Styling
---
The florals were designed by the talented Rebecca Rosario, founder of Rosaria Flowers. Known for her evocative and romantic creations, Rebecca drew inspiration from the colours, history and architecture of the venue by using warm tones across a collection of pieces.
With a symphony of contemporary and classic styles, the installation and tablescape showcased orchids and roses – a Rosaria Flowers favourite. Softer florals added movement and depth to the pieces whilst the mauve and ochre ombre created a natural flow between the flowers and their surroundings.
The soft, light hues of the bridal bouquet worked in perfect contrast to the other pieces, whilst the groom's buttonhole was designed to complement the bride's evening look and consisted of deep red and pink tones.
Each piece, full of blended colour, variation and intrigue brought the room to life, modernising the suite whilst staying true to its core tones and aesthetic.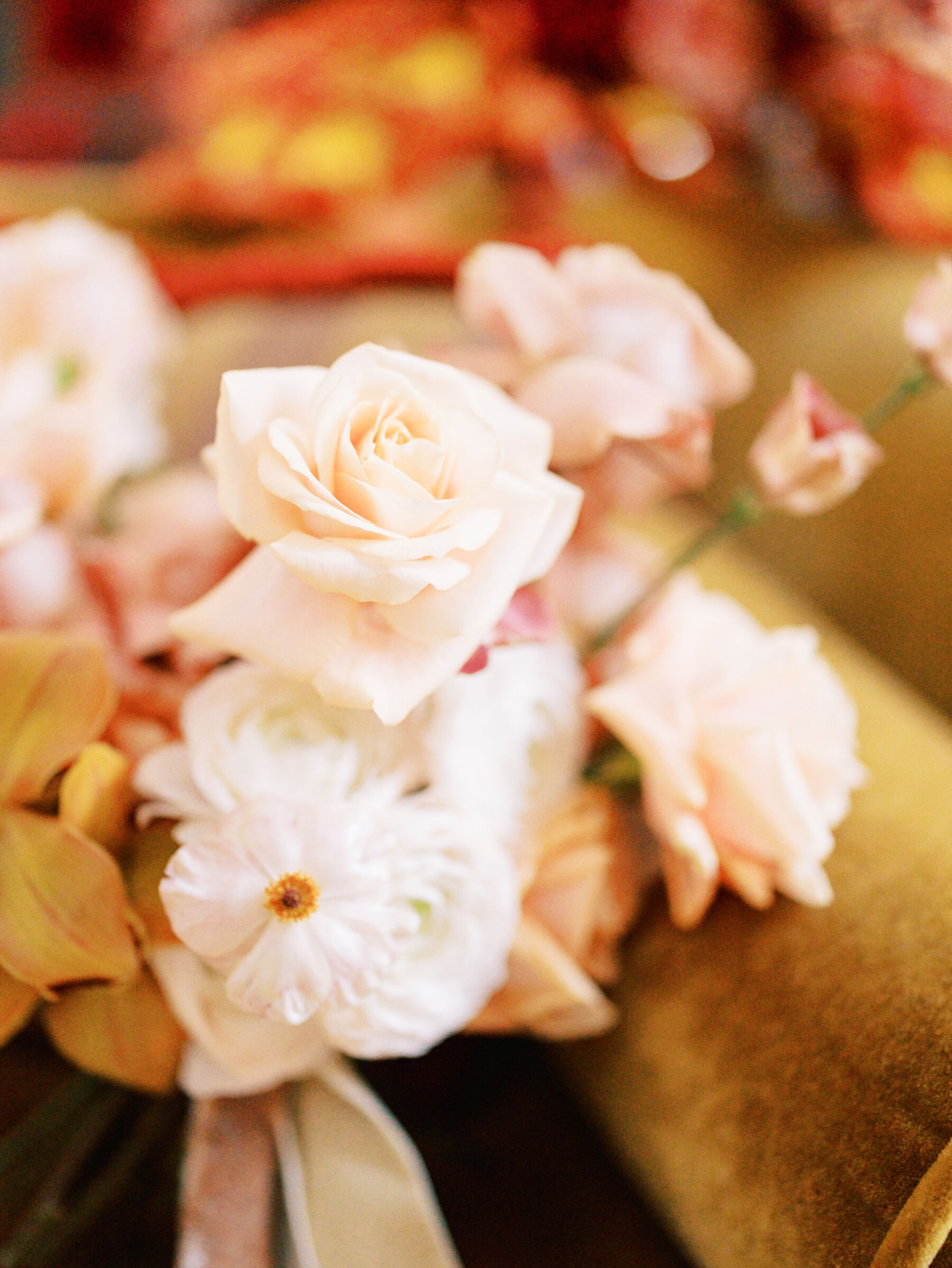 Cake
Sweet treats were supplied by luxury artisan wedding cake maker, Dolce Lusso Cakes. Kate's creations are inspired by the taste and beauty of all things Italian.
Just because an event is intimate, it doesn't mean you can't have a showstopper of a cake. Set against the lush backdrop of The Nedd's luxurious Heritage room, the cake brief was less is more: with a dummy top tier and transparent middle layer, the cake featured a base tier of Espresso Martini, a flavour that perfectly complements the sophisticated drinks menu at The Ned's bar.
Kate chose to use ethereal rice paper to adorn a stunning three-tier cake as it captures light so well, creating a feel of space and movement. The crisp fondant sugarpaste enhanced the clean lines and a simple finish set the tone for an elegant vibe, complementing the delicate bridal gown lines.
As part of the tablescape, we also had two elegant mini cakes: individual portions of Marsala-infused fruit cakes finished off with hand-made sugar moth orchids, complementing the floral arrangements by Rosaria Flowers. Dainty and delicate yet bold and eye-catching.
Table Styling & Stationery
A sweetheart setting for a fabulous feast for two, with playful and modern table flowers by Rosaria and tall taper candles from Ester & Erik. The china was adorned with exquisite menus from luxury wedding stationer, Ink & Paper Designs.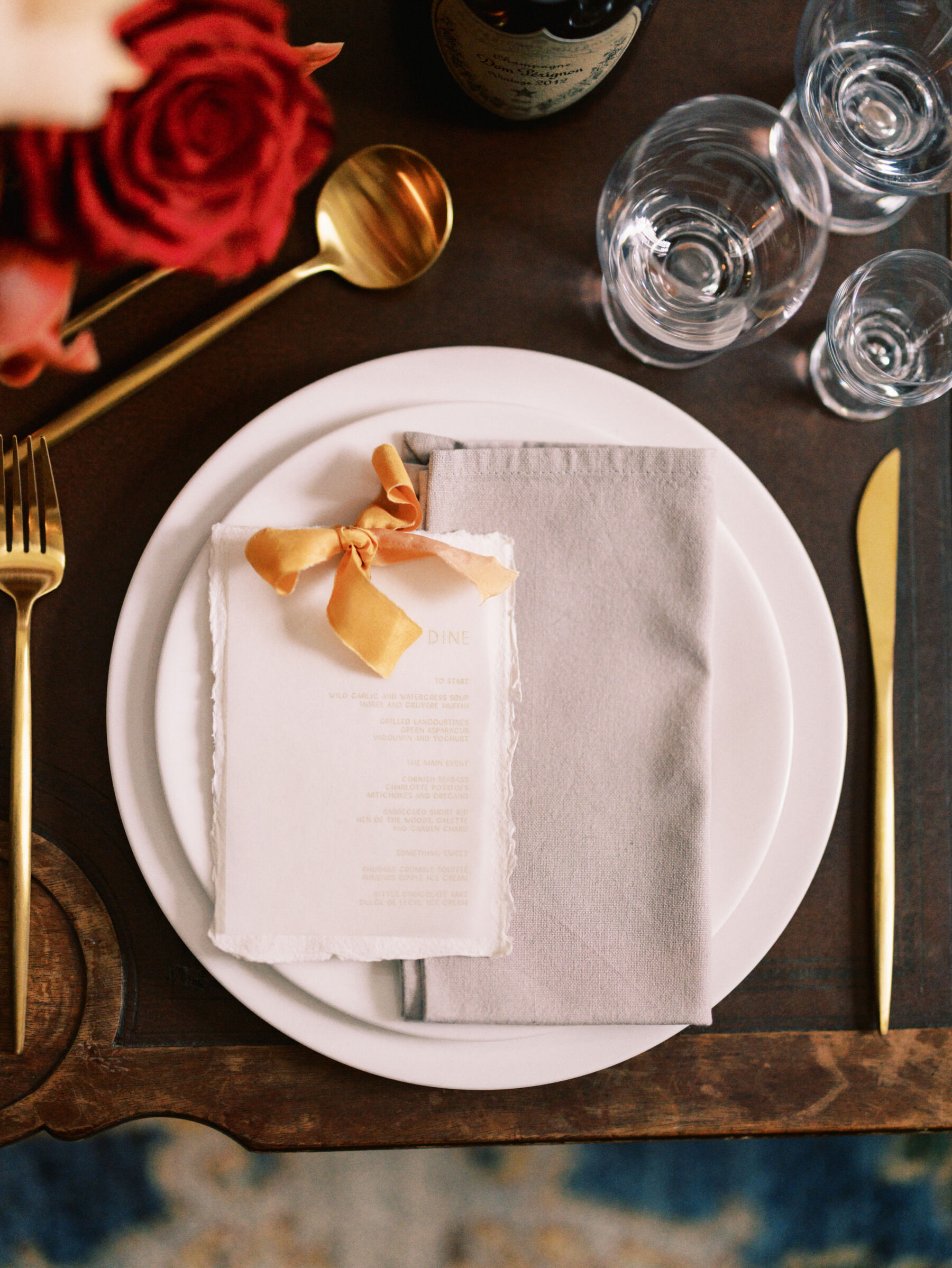 Featuring champagne foil, mustard handmade silk ribbon, handmade paper and translucent vellum, the menus perfectly set the tone for a sophisticated and elegant dinner.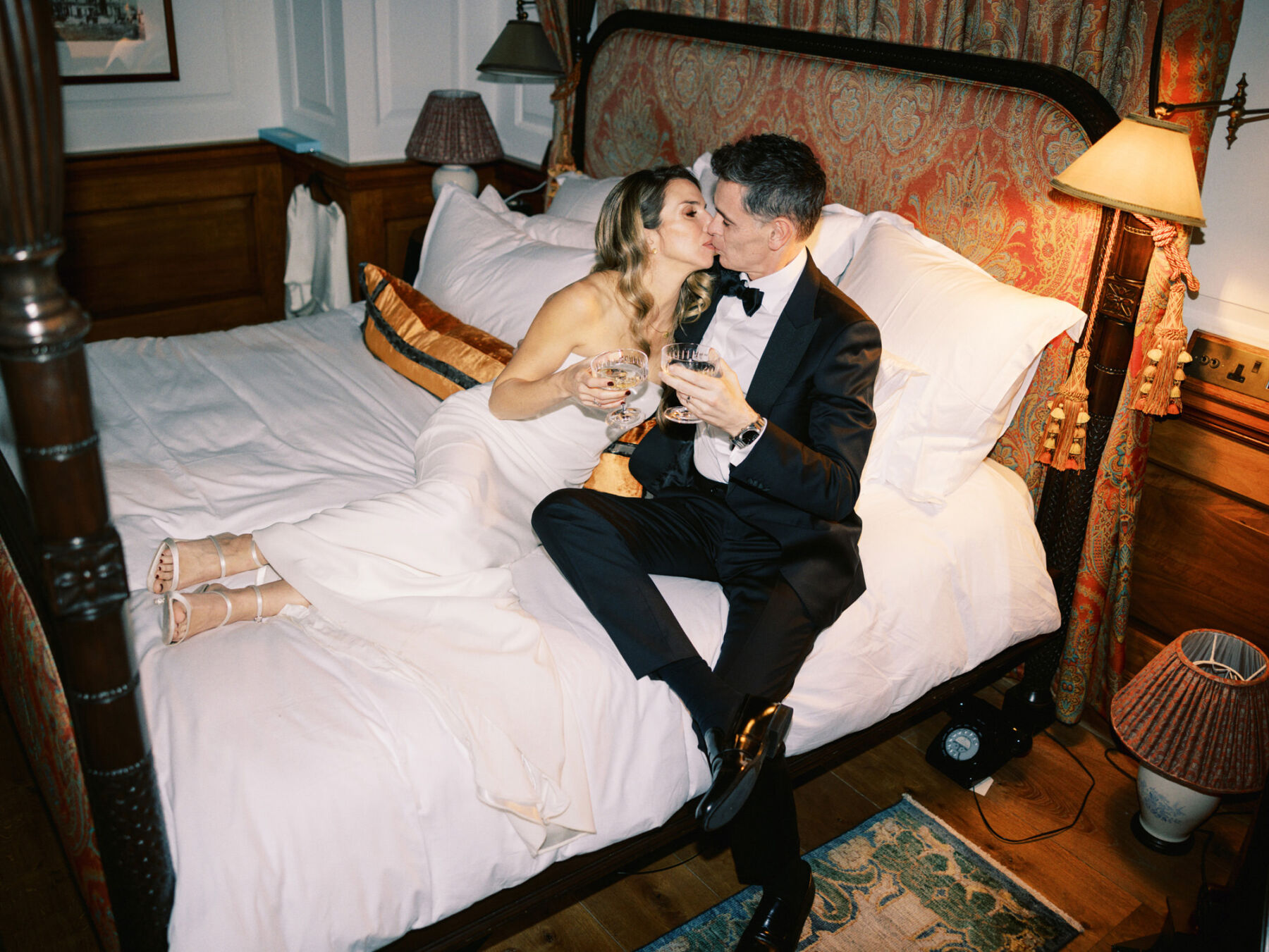 Explore our wedding directory