As the founder of Love My Dress, I have had the privilege of visiting some of the most luxurious wedding venues across the UK – each of them wonderful in their own right. But last month, I visited Hampton Manor, and this place has left an impression with me like no other venue ever has.
I left wanting to immediately book my next visit, so delightful was the experience. From the warm and unfussy welcome received on arrival, to savouring the flavours of an exceptional meal cooked by a Masterchef winner, to being able to wander through the elegant walled kitchen garden and calm and serene extensive grounds – a landscape punctuated by majestic Giant Sequoia trees, to the sublime comfort and considered design of my accommodation.
All this aside, Hampton Manor is a soulful experience for for two key reasons; the people behind it, and the entire estate's deep connection with and commitment to nature and the earth.
I was here as part of a group of wedding influencers who had been invited to experience everything that this beautiful country estate has to offer to couples getting married. Kudos to everyone behind this event – originally planned for March 2020 – and the huge efforts they had to pull off in rescheduling and making this so special for all who attended.
Hampton Manor is situated within a charming 45 acre estate, located on the rural outskirts of Birmingham, in leafy Hampton in Arden (easy train access to London and only a 20 minute taxi ride form the centre of Birmingham).
From the moment you arrive, it's clear this is so much more than just a wedding venue. Hampton Manor is a destination for lovers, foodies and those looking for a sensuous escape.
We are not a wedding venue, we are a house where every experience is crafted. Fjona Hill, Creative Director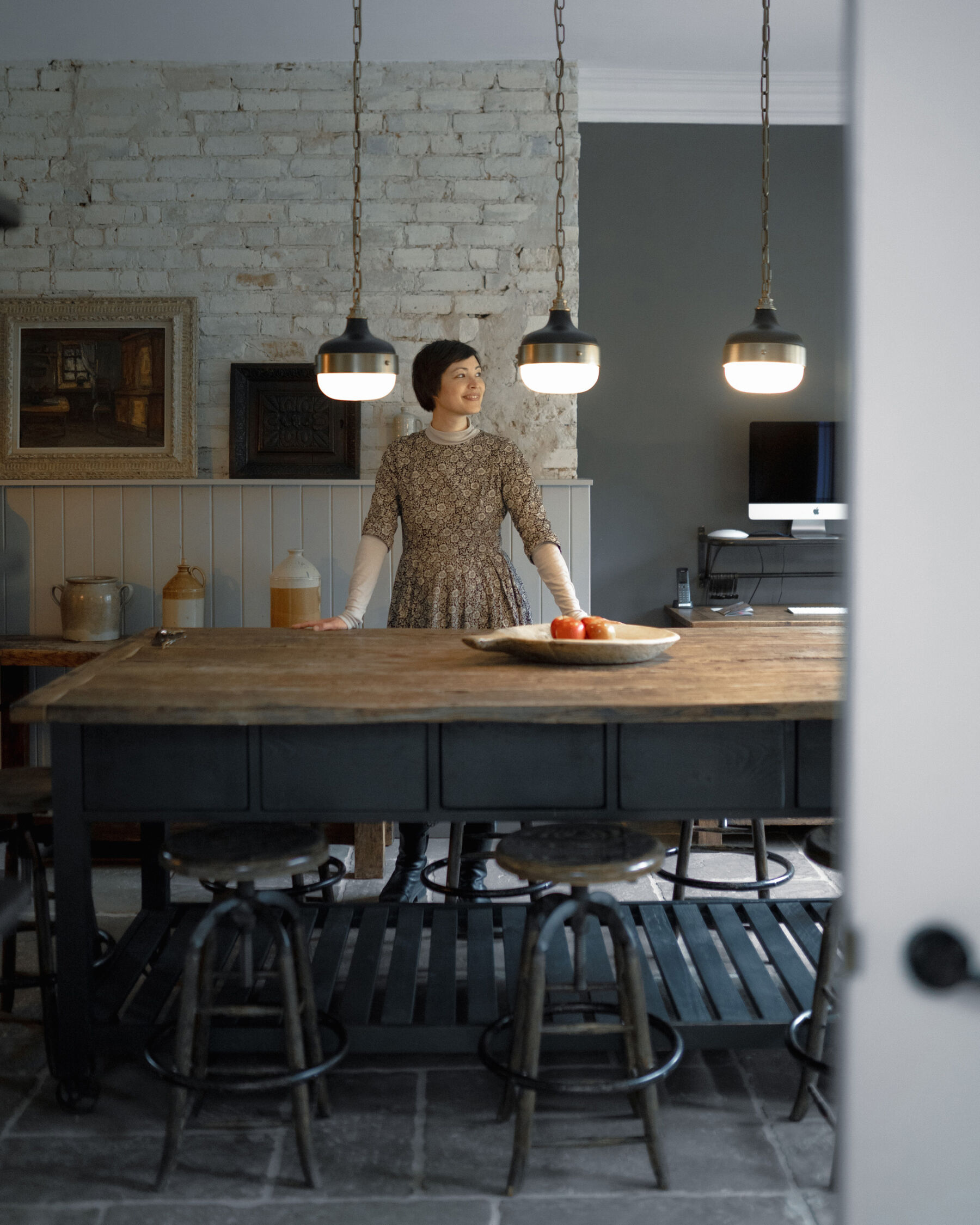 The Joy Engineer
Fjona Hill
---
It struck me very quickly that the staff at Hampton Manor behave like one big family who truly love their jobs and work with great respect for one another. The team is lead by husband and wife, James and Fjona Hill. James grew up on the estate and his fond memories of feasts and family gatherings have played an important role in shaping the experience that Hampton Manor provides today. Whilst wandering the grounds, I bumped into James' father, who lives in a beautiful self built property on site. Ten minutes of friendly chat and much dog stroking later confirmed to me how incredibly proud he is of Hampton Manor and all the hard work his family and extended estate family undertake in running it.
Whilst James guides the food, drink and hospitality vision, Fjona is the estate's creative director and 'Joy Engineer'. I have never met a Joy Engineer before, but can see that Fjona was born for the role. Her enthusiasm and smile are infectious and I felt an instant sense of ease in her presence from the moment I met her. I know good energy when I'm amongst it, and Fiona moves within a luminous golden cloud of the stuff.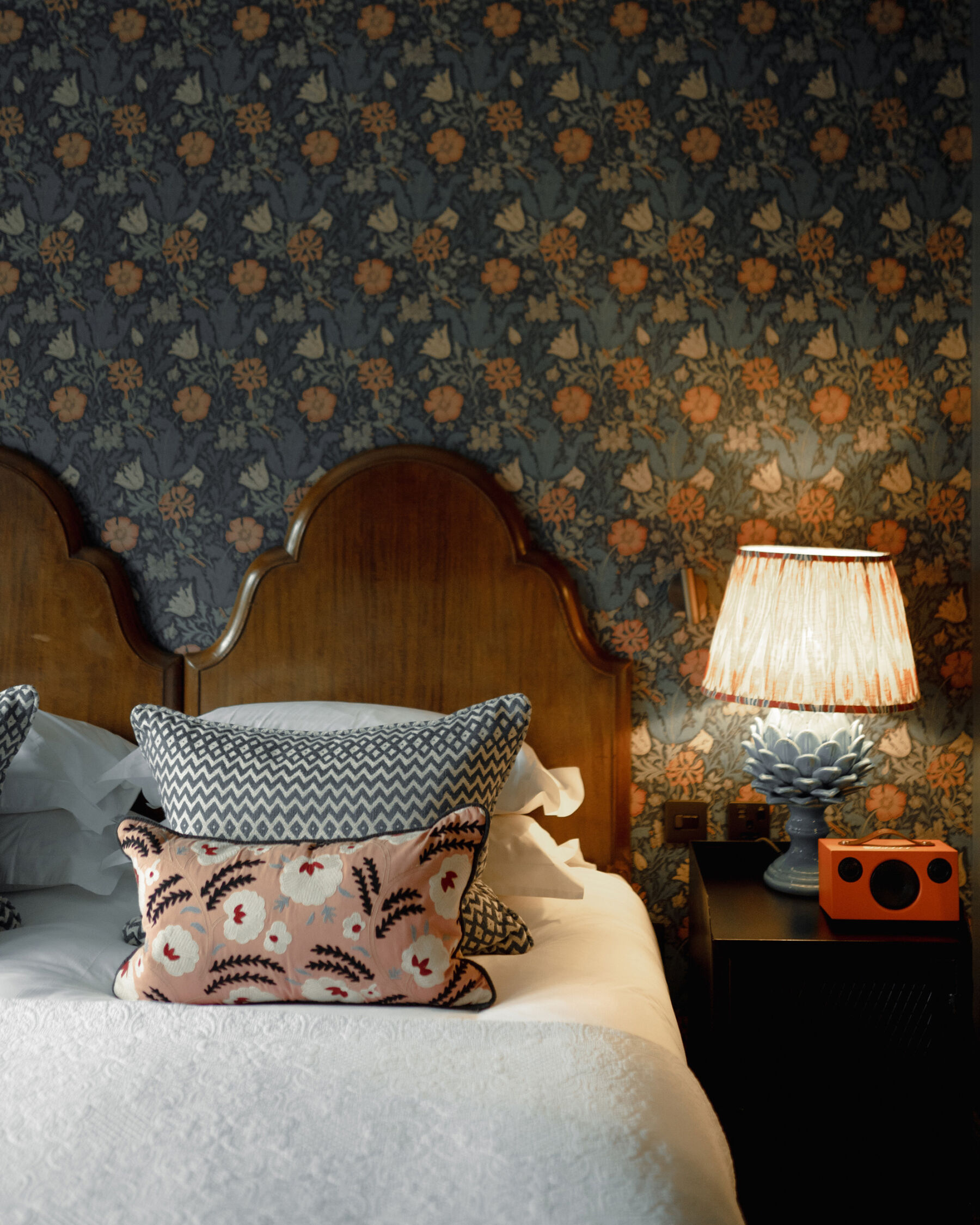 William Morris
It didn't take me long to realise that the work of William Morris plays a huge part in the design and ethos of the estate. Everything from the interior decor of the sumptuous and truly luxurious guest bedrooms, to the staff dress code and even the menus printed for the incredible 'Morris at the Manor' inspired dinner we were treated to in the evening, delightfully produced by the extremely lovely EYI Love, whose founders Lorna and Jack I was so delighted to see were in attendance at the event, and were also part of the creative team involved in delivering this event.
Morris's work was part of an arts and craft movement in the 1800's that positively rebelled against the industrial age. Together, with artists Philip Webb and Gabrielle Rossetti, this creative collective pioneered the arts and crafts movement of the time. Hampton Manor, built in the 1850's, was hugely inspired by this movement, and the work of William Morris.
But this embracing of an artistic moment in time isn't just reflected in the design and aesthetic of Hampton Manor, and all it's gorgeous William Morris print wallpaper. It is about embracing the philosophy of the time as well. This spirit of going back to nature and the land as a provider, and living and existing slowly and more consciously and in alignment with all the senses, is at the very heart of Hampton Manor and the values it wholeheartedly embraces.
This gathering of wedding industry professionals was to showcase how Hampton Manor weaves these values lovingly into every aspect of everything they do.
A Community of Dedicated Creatives
The team of suppliers brought in to collaborate on this event were exceptional and in keeping with the signature service throughout the manor – friendly, fun and down to earth.
They included the wonderful, kind and generous hearted Amy of Ava Event Styling, who was responsible for the William Morris inspired tablescapes and the beautiful spring floral design in the scenes pictured below. Amy used only British grown flowers to style this beautiful scene.
Throughout our meal, our host James and his head Sommelier introduced fine wines and talked about Hampton Manor's relationship with the very best vineyards and suppliers in the world. Hampton Manor are winners of both the England and overall UK titles for AA's Best Wine List, so are finely positioned to advise you on all the finest wines that can be enjoyed on your wedding day.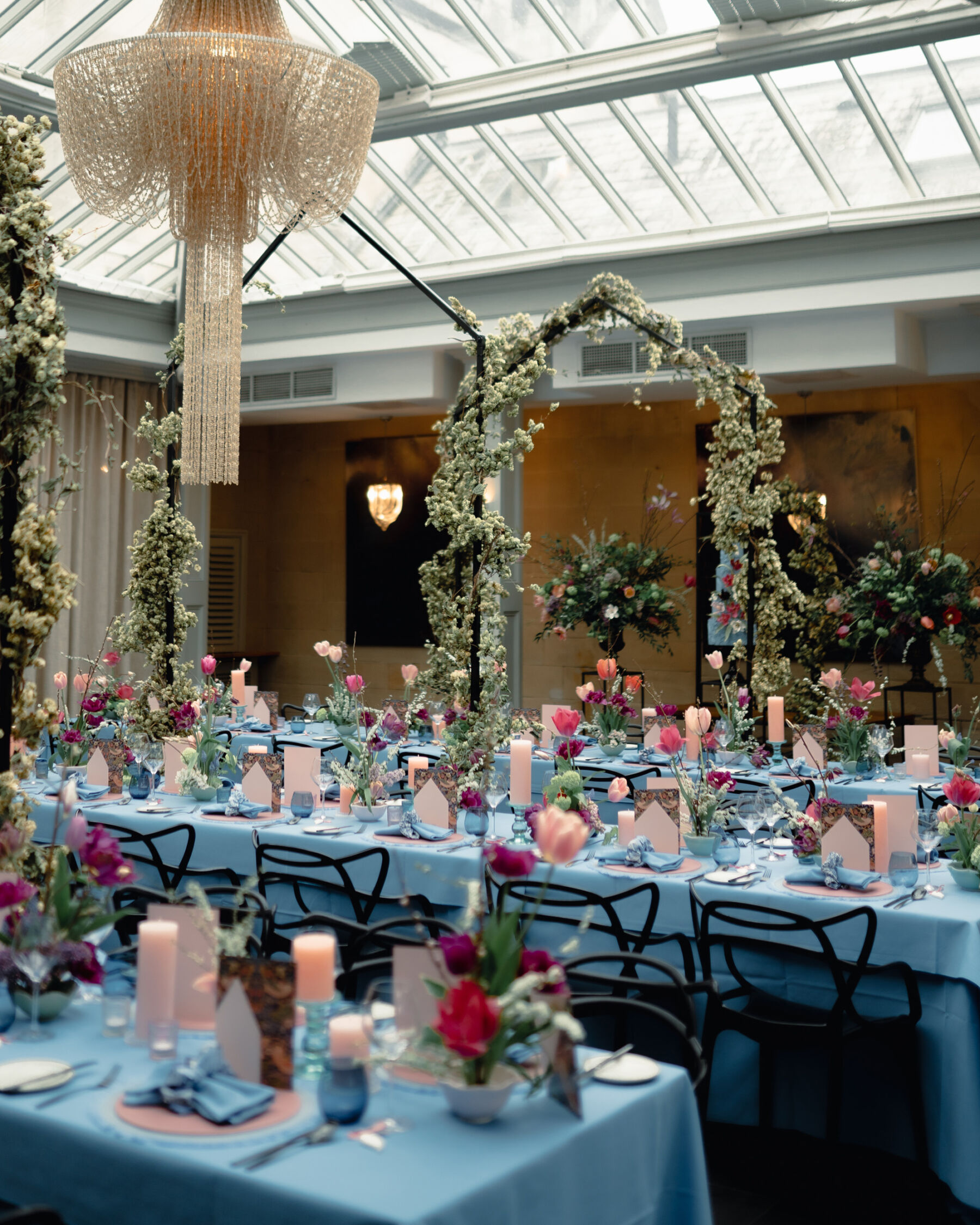 Amy filled the dining area with seasonal colour, scent and a sea of tulips vying for attention from pretty handheld vases. hand-crafted by Katie of The Ceramic Magpie. Earlier in the day, we had been invited to create our own Ikebana floral displays at a workshop hosted by Amy and her team.
Other creative team collaborators were the gorgeous Lorna and Jack of EYI Love Studio, who created beautiful William Morris inspired stationery and menus, Ben The Cake Man, who is often found creating the most spectacular wedding cakes in the on-site bakery. Ben hosted a super fun peach cake workshop – yes, we literally had to create a cake the looked like a peach. All the giggles for the peach-come-dog shaped outcomes that resulted, hehe!
Another workshop we enjoyed was hosted in the bakery where we learned about sourdough and how to create and maintain sourdough yeast. We sipped on pine flavoured kombucha and decorated mini tartlets with organic rhubarb stew and edible flowers. Utterly delightful.
It was also a treat for me to finally get to meet photographers Rebecca Searle and Katie Ingram.
Weddings and events are not made by one person alone, it takes a community of dedicated creatives to host any magnificent event and an army to finesse the details. Our Morris at the manor truly was a team effort. The joy of finally hosting this event have filled me with so much joy I really felt like I could burst. Every element of the day was planned to perfection and all of our guests were showered with all the creative love and hugs we could give. Amy, Ava Event Styling
Reimagining the Country House Wedding Venue
We've built a beautiful place to gather, but we're also a home for you to inhabit. The manor remains a keepsake for you to come back to, time and time again as you celebrate anniversaries, birthdays and christenings. Our doors remain open to you for a whole lifetime of memories. The Manor is more than a building, it's a home for your story. Fjona, Creative Director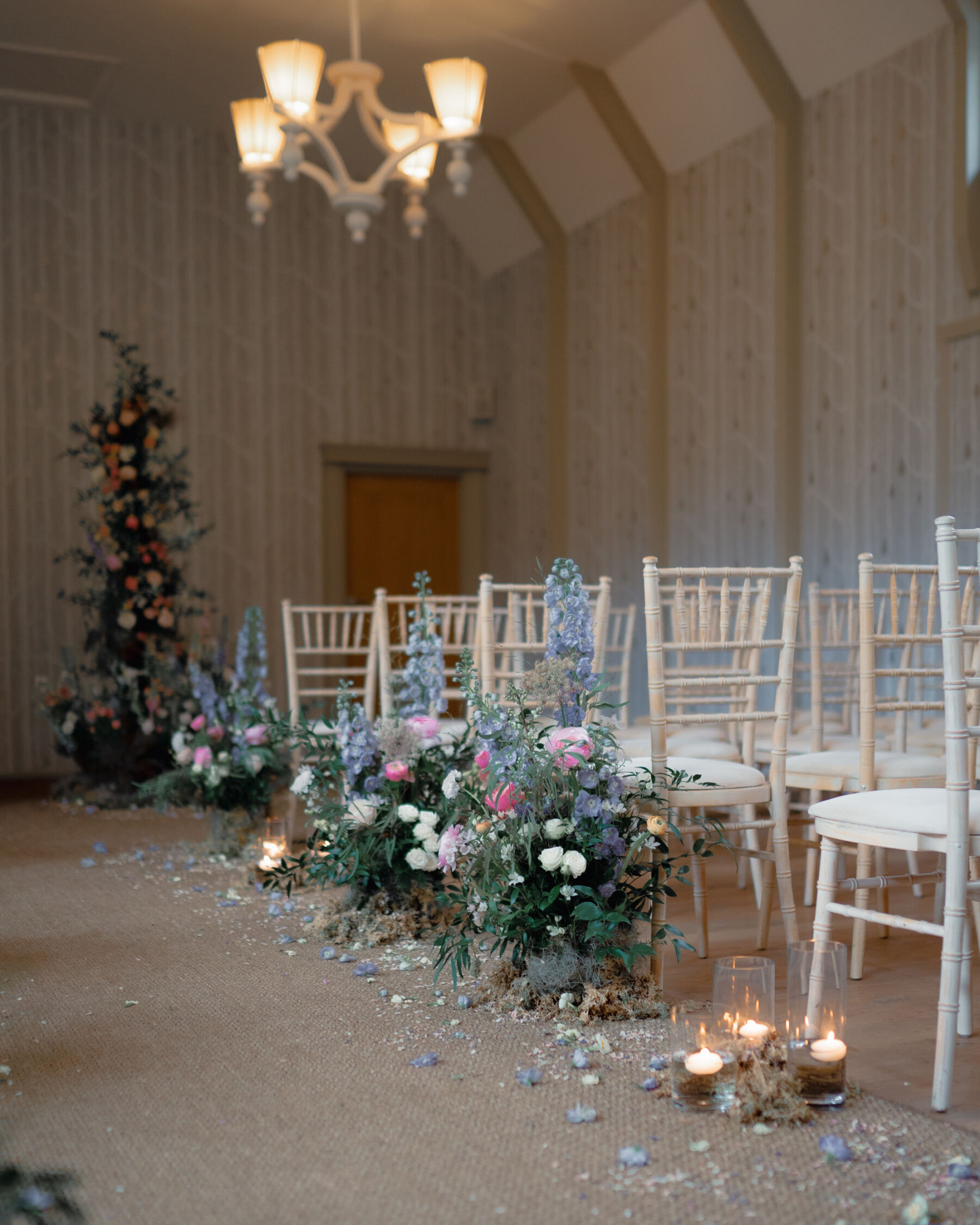 James and Fjona are visionaries and have completely reimagined the concept of a traditional, often stuffy country house wedding venue. Their whole ethos and approach is refreshing and exciting. They have created a culture at Hampton Manor that melds the vibrant and truly luxurious with 'at home' vibes.
The manor itself can be hired for a full day wedding celebration with on site accommodation (and up to 19 rooms) for your guests, or taken over exclusively for a 3 day long wedding wedding weekend. Smaller wedding hire options are also available.
Capacity wise, the Hampton Manor can host up to 132 during the daytime, and up to 150 during evening. If you have larger numbers, there are options to adjoin a marquee to the Courtyard to increase capacity to 200.
Three months prior to your wedding at Hampton Manor, the team will invite you to a tasting. And this is where the planning will get really exciting, because the food at Hampton Manor is next level.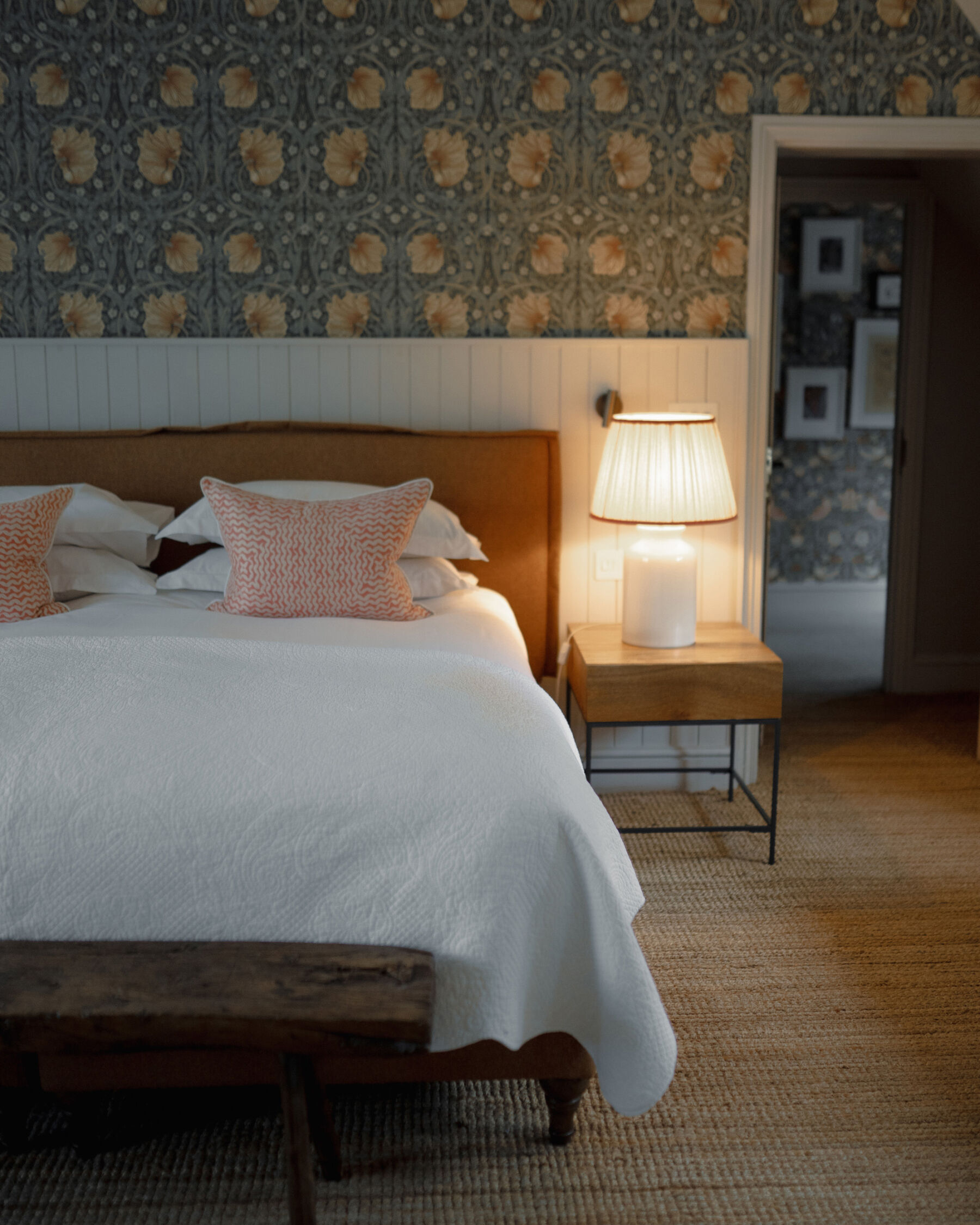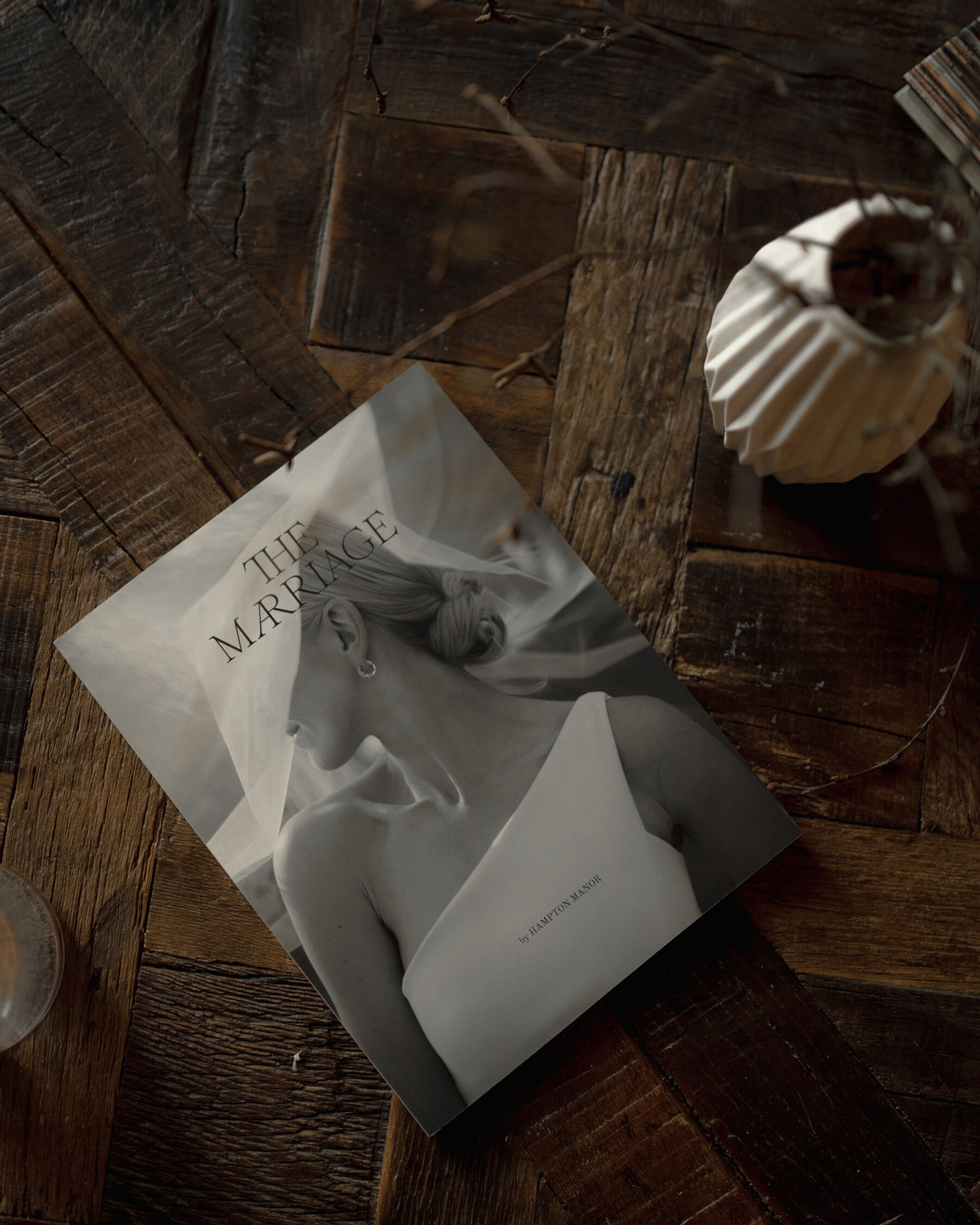 The Food at Hampton Manor
I cannot begin to tell you how 'goosebumpingly' delicious the food we were served during our stay was, but especially so the meal prepare for us in the evening, by Masterchef: The Professionals winner, and resident chef at Smoke, one of the two on site restaurants, Stu Deeley.
The evening was entitled 'A Feast Fit For William' and we were served an example of the kind of wedding menu created for real couples and their guests – and truly, it was exceptional. For the curious, our entree was tomato gazpacho, heriloom tomatoes, smoked ricotta and marigold, starter was cured stone bass, wasabi, smoked soy, blur radish and coriander, our main was ox cheek, parsnip barigoule, pickeled pear, hispi and bone marrow and our dessert was 64% chocolate delice, coffee ice cream and pecan brittle. Delicious vegetarian and vegan dishes were also served on the evening. Mouthwateringly wonderful.
Hampton Manor take their food very seriously. Deeply so. The main restaurant on site is Grace and Savour, described as 'the fullest expression of our commitment to sustainability and supporting visionary British farmers and makers'.
Head chef David Taylor and his wife run Anette run Grace & Savour. David's commitment to creating dishes prepared only with the very finest and flavoursome of seasonal ingredients that are grown organically and bio-dynamically, is unparalleled. If the ingredients are not available from the estate's own kitchen garden, then they will be sourced from a network of farmers and growers who are dedicated to regenerative farming methods, honouring earth friendly production and maintaining good soil health. The restaurant also only works with small scale/small vessel fisherman.
This left a mark with me. I live in the coastal town of Whitby where fishing populations and subsequently livelihoods have been decimated in recent years due to overfishing by large trawlers (not to mention pollution of our seas by unscrupulous industries, but that's a matter for another day).
As a family, we know that when you're planning your own wedding, it's not simply about choosing the address on the invite. It's about how you bring people together. The heart-warming atmosphere, shaped by every sensory detail, carries your memories long into the future. Our commitment is to the exceptional and the personal – in food, design and welcome. Fjona Hill, Hampton Manor
Accommodation at Hampton Manor
There are three separate spaces within the estate providing the most luxurious accommodation for wedding guests and the newlywed couple; the Manor House, The Walled Garden Suites at Grace & Savour and Manor Cottage. I was lucky enough to stay in one of the Walled Garden Suites, located in a courtyard adjacent to the Grace and Savour restaurant.
Described as the most immersive and sensory rooms on the site, each suite differs in design, and inspired by the courtyard's history as the estate's former timber yard, each room is themed around a particular wood-craft. My room, The Ebéniste (see the video below), was inspired by the art of cabinet making using Ebony. Other rooms include The Whittler, The Weaver, The Coppicer and The Shingler.
My spacious, contemporary and comfortable room included a walk in rain shower and doors that opened out to a private terrace of lush greenery. But the best part was the bath. I filled it three times in the thirty six hours I was there and indulged in the most luxurious of soaks.
My darling friend and multicultural wedding planner, Assumpta, of Ave Creations, discovered that Hampton Manor had carefully considered her needs, leaving a shampoo for afro hair in her bathroom. I have never known that level of consideration on a press trip before – ever. It matters, it was noticed and it was very much appreciated.
Rooms in the main manor house are wildly spacious and full of character with meticulous attention to detail, beautifully considered furnishings and an ambiance that is both indulgent and yet utterly laid back. There are 15 manor house rooms in all – ideal for your wedding guests, or for enjoying as part of two and three night experiences that Hampton Manor provide to foodie lovers.
And then there is the Manor Cottage. Located adjacent to the walled garden, this is a true romantic hideaway and the perfect accommodation for the newlywed bride and groom on the evening of their wedding. The video below provides a glimpse inside manor house rooms and the cottage.
I left Hampton Manor feeling profoundly inspired. Its people and their authenticity make this place. The entire estate is a love letter to our planet and how to work with all it's natural resources sustainably, ethically and beautifully. It is an ode to an arts and crafts movement that serves as a meaningful and never more timely reminder to slow down and engage with all the human senses – the perfect antithesis to todays fast paced, chaotic, hyper digitised and AI obsessed world.
Also, any manor house host who can stay up until 3am dancing is a friend of mine and certainly one who knows how to host a fabulous wedding 😉
Fjona, James and all your wonderful staff and the suppliers who supported you – thank you most sincerely for your delightful hospitality and for making me feel so welcomed and well looked after.
I can't wait to return.
Make an Enquiry
Hampton Manor is a must-visit for those seeking a dreamy, romantic and unforgettable wedding day experience who will be supported on the day by a team who deeply care about the experience and enjoyment of all their guests. We strongly recommend you make an enquiry today if you are considering a special location to host your own wedding.
Hampton Manor
Shadowbrook Lane
Hampton-In-Arden
B92 0EN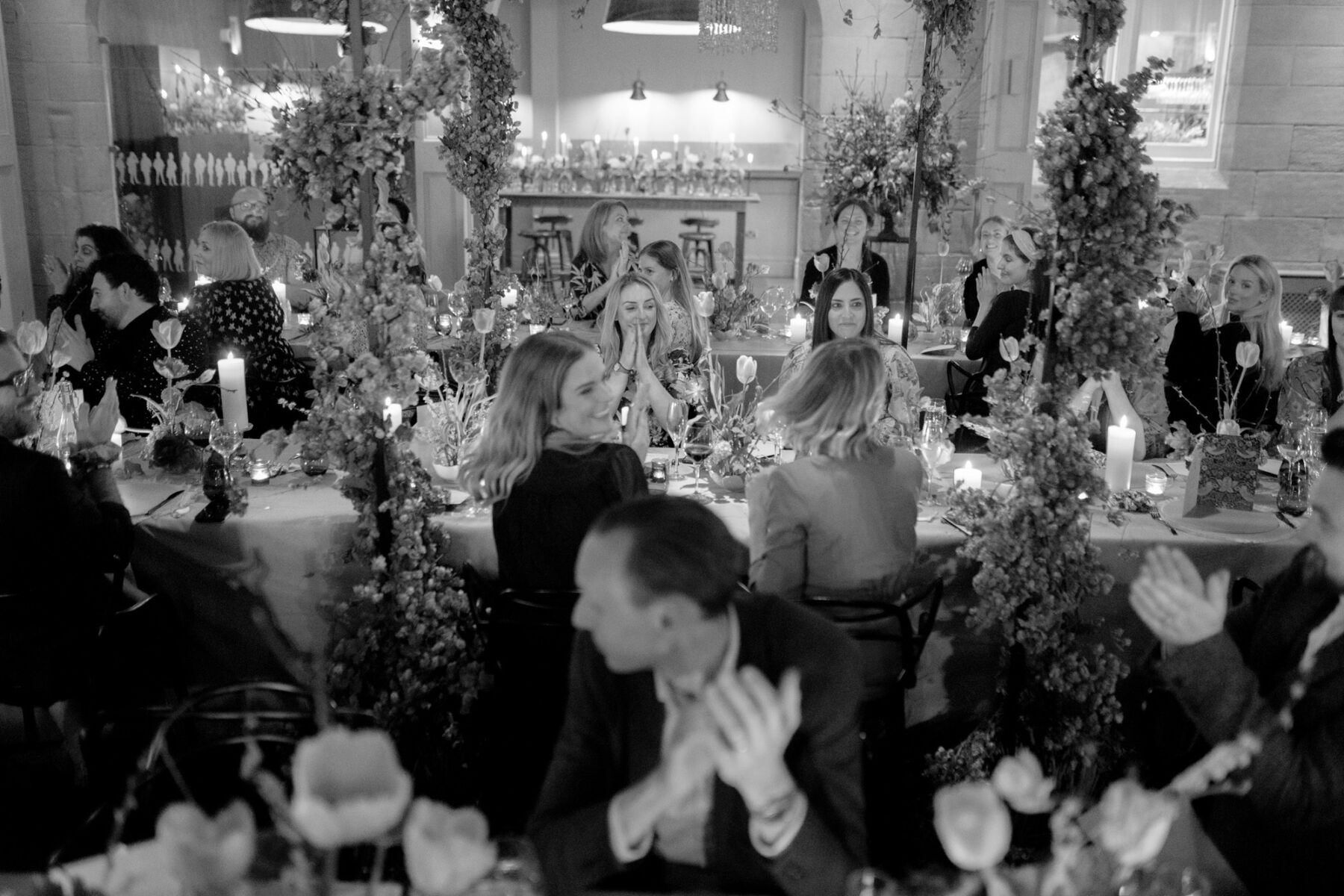 hamptonmanor.com
Love My Dress Wedding Directory Members
The below suppliers and venues featured in this article are part of the Love My Dress Wedding Directory.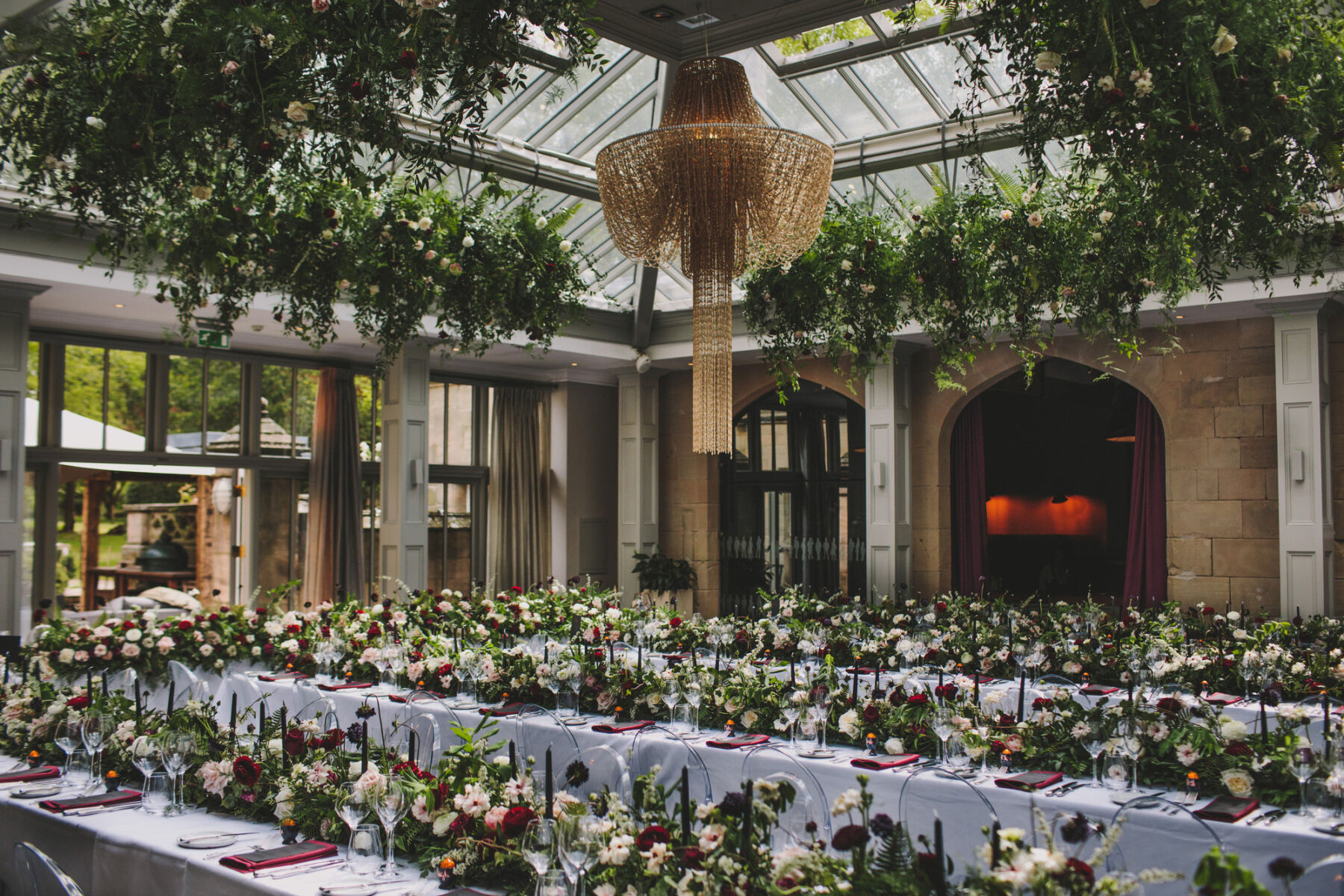 Stylist & Floral Designer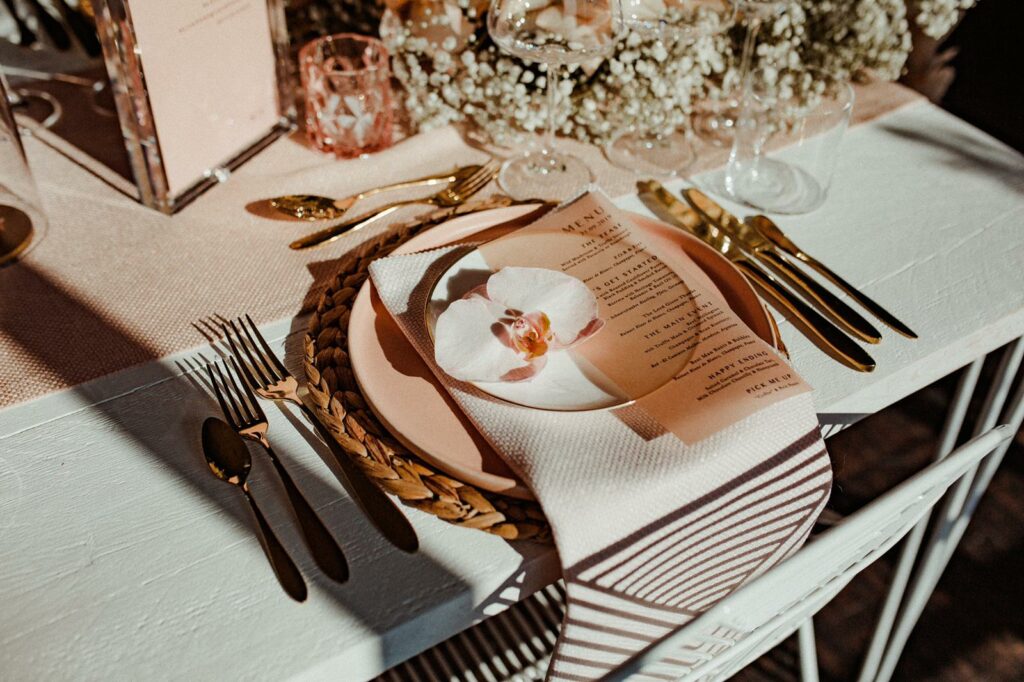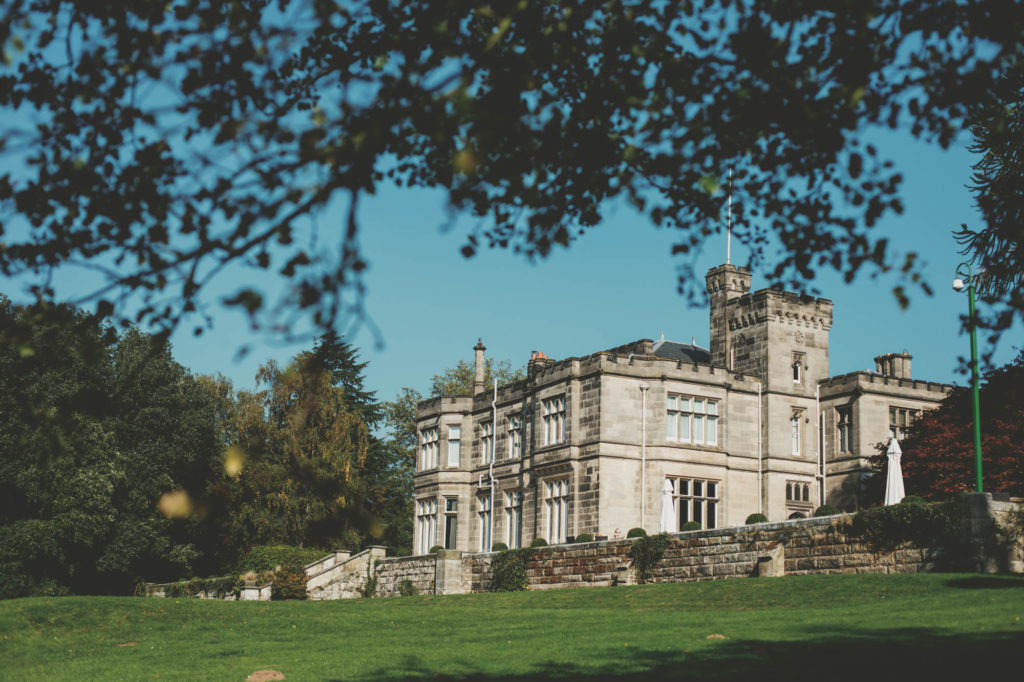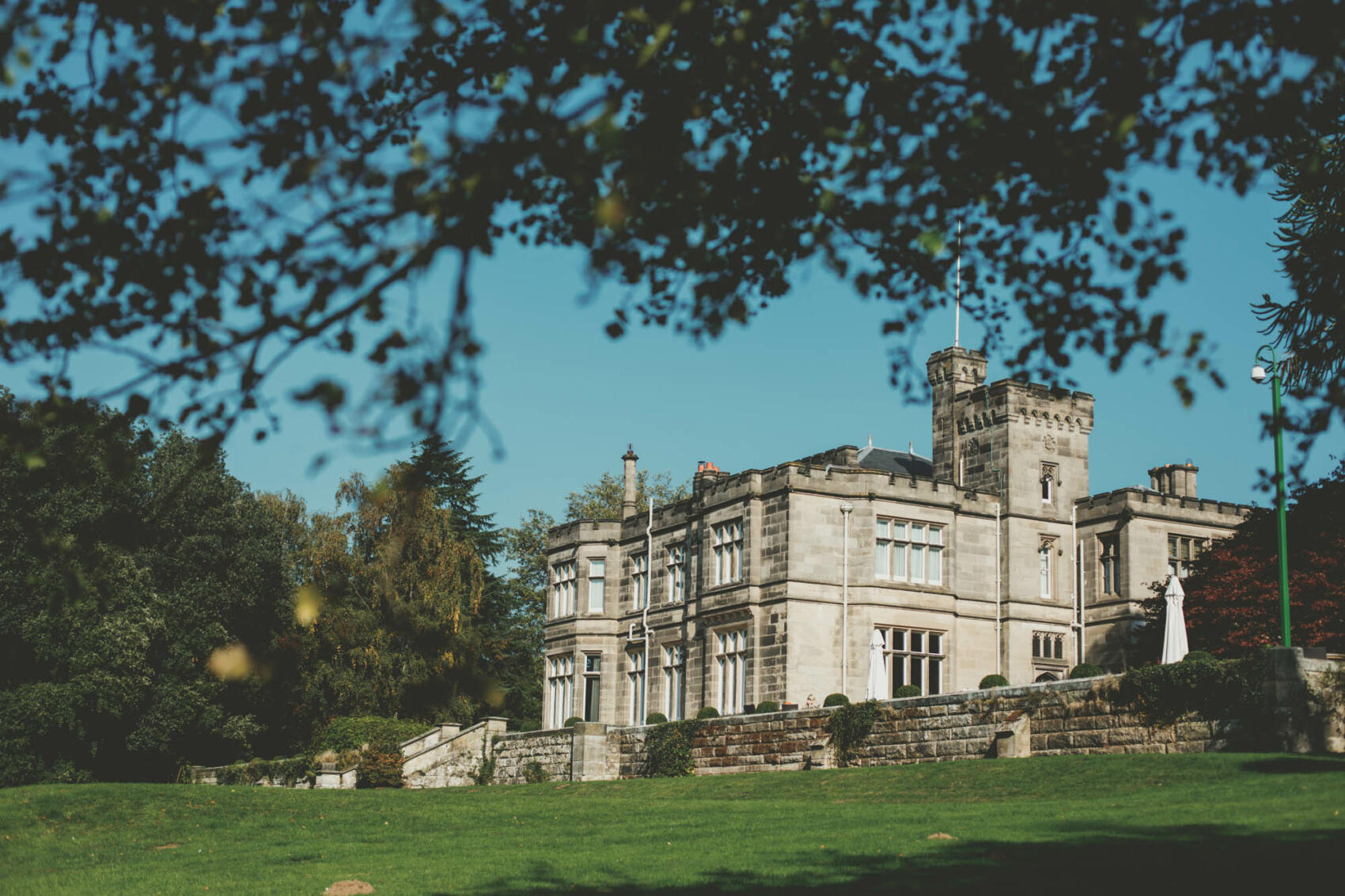 Additional Credits
The below suppliers and venues are featured in this article, but are not part of the Love My Dress Wedding Directory.