If you're one of those brides whose heart does not leap at the thought of a trad white/cream wedding dress, but who is looking for more of a Dopamine Dressing hit on your wedding day, then this content is for you my darling.
Join me in welcoming Sheffield based bridal fashion designer, Kate Beaumont into the room would you please. We've been admirers of Kate's growing brand since she founded it around a decade ago now, and adore her style, aesthetic authentic commitment to creating sustainable wedding dresses.
But we did not know until recently what incredibly beautiful coloured wedding dresses Kate designs too. I spoke with Kate earlier this week to find out about these beautiful images.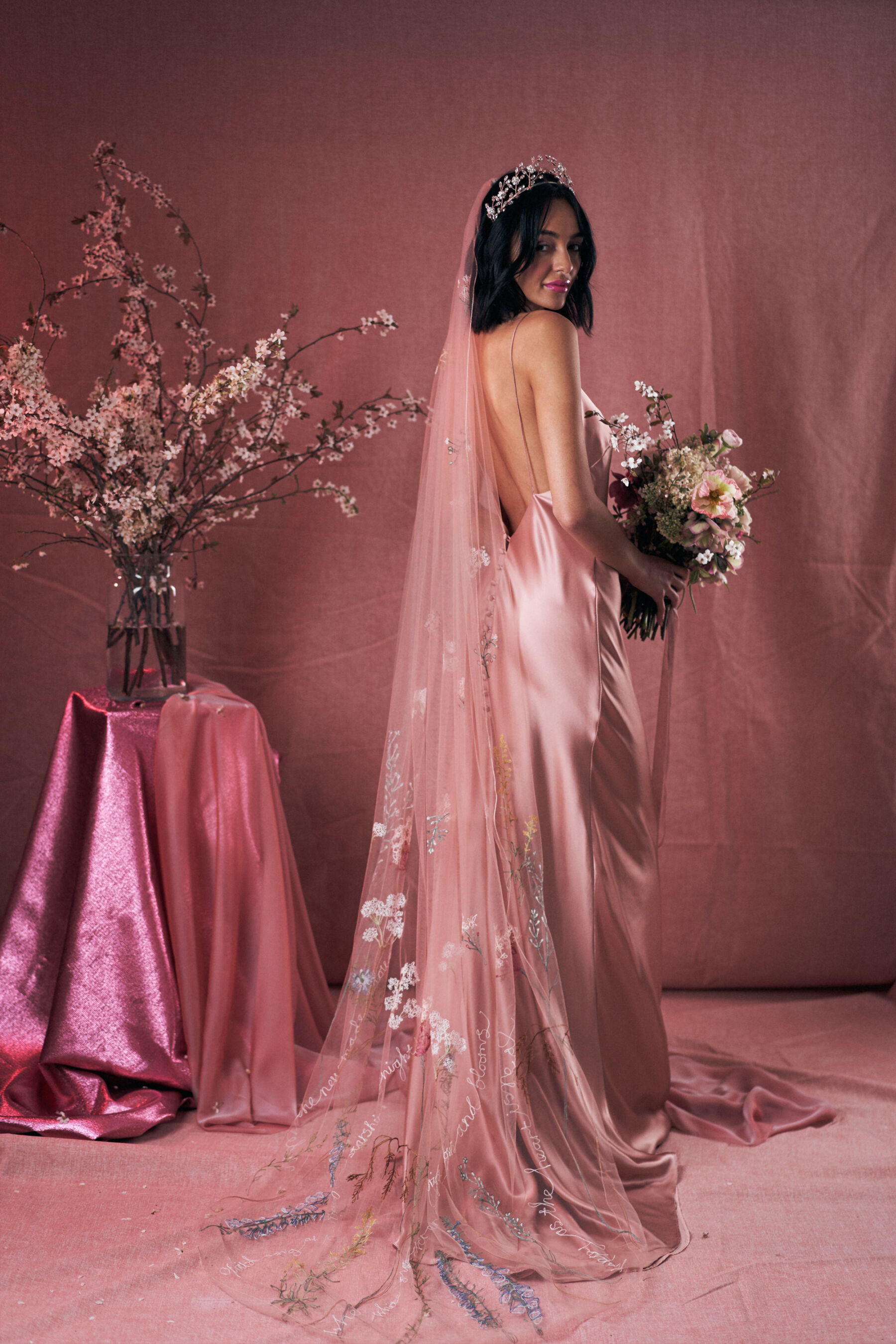 A Colourful Concept
This shoot was something I'd wanted to put together for a really long time. So many brides and their guests that come into the studio talk about 'a white dress', and I don't have a single white dress on the rails. Granted, lots of them are ivory, but as a bridal designer who loves colour, I've always worked with subtle tones like champagnes, oysters, pale pinks and metallics.
These colours fit beautifully into bridal palette, but often wouldn't be requested if they weren't presented as options, so I've always liked to put them out there and give brides the option to return to the ivory if they'd prefer.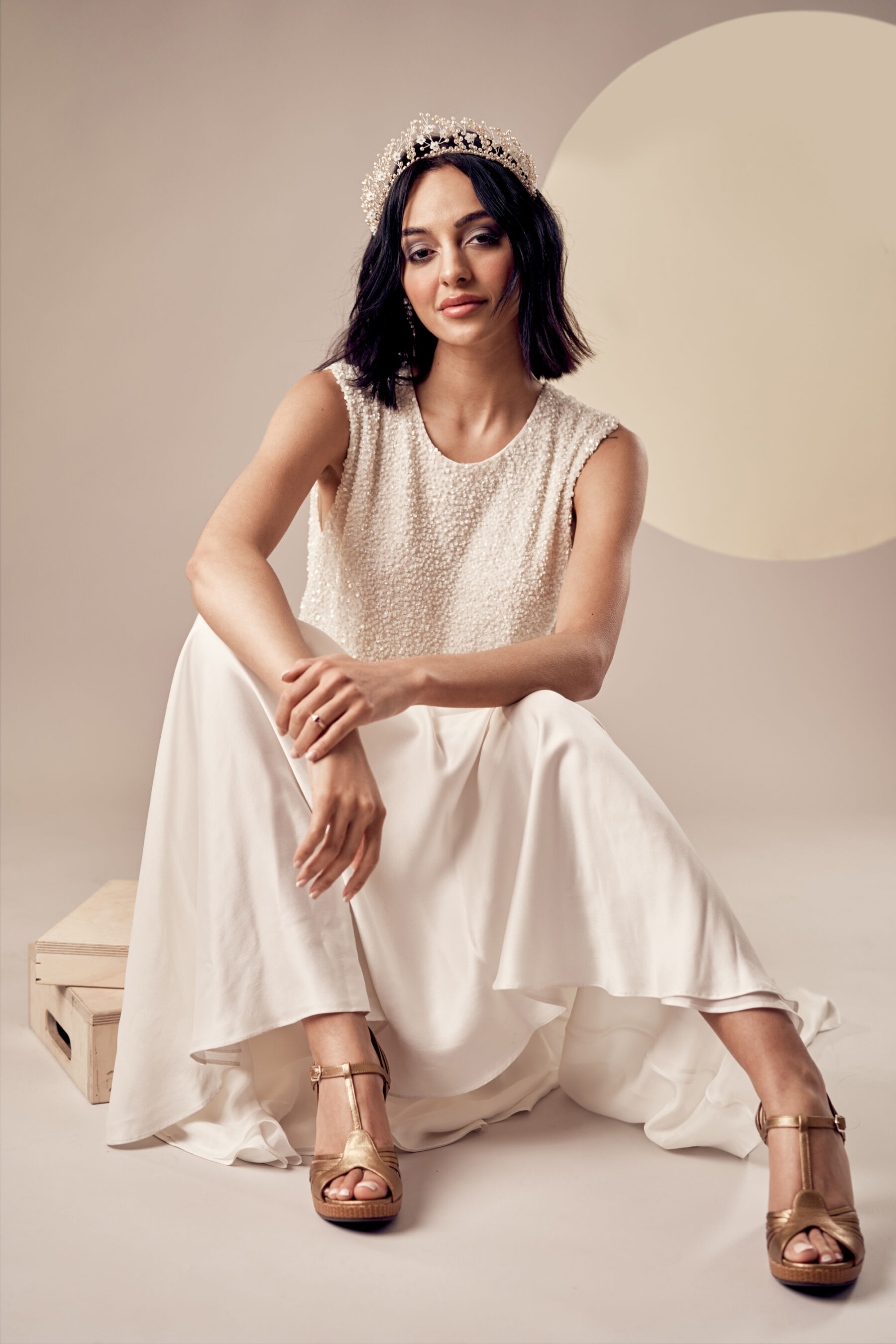 This shoot began as a way to showcase those subtler bridal tones – a way to bring them out and really focus in on the differences and nuances of that gorgeously luxurious bridal palette. Over the last year though, we've been working on adding some colour options to the collection, with the brides in mind who still want a beautiful dress for their wedding, but aren't interested in sticking to 'white'.
We've always created dresses in colour on request, but as dopamine dressing is having a moment, we thought it was about time we showcased this better instead of waiting to be asked by brides.
This meant that the shoot grew – as we added in these coloured dresses and separates too – and became a celebration of colour and luxury fabrics.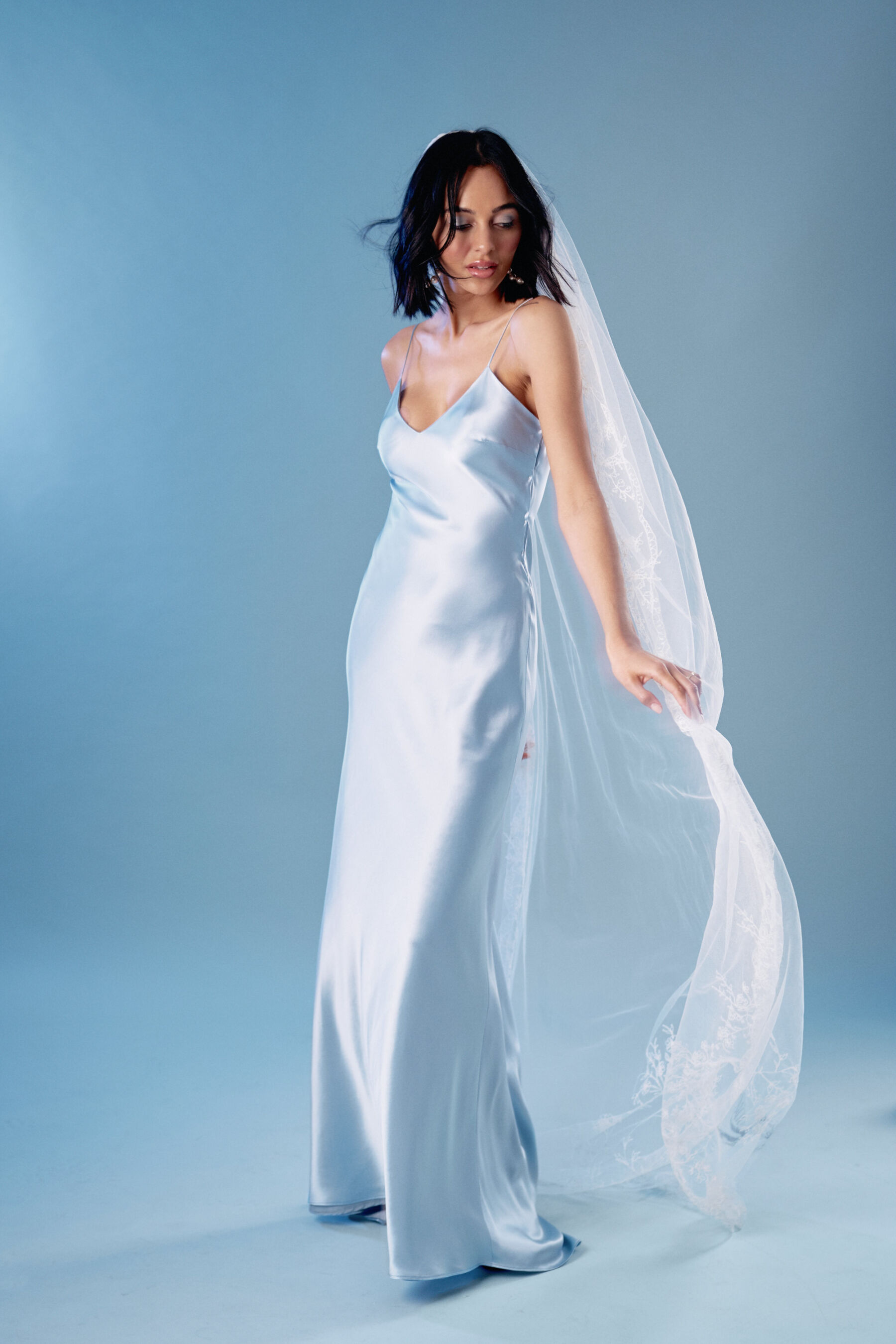 Set planning
This was a one-day shoot, and there were a lot of on the day logistics to be mindful of – lots of props, accessories, styling and backdrop changes too, so we decided to limit ourselves to six colour themes and backgrounds: gold, pink, green, blue, pale silver/dark grey and champagne.
I wanted to mix up the textures and look of the backgrounds, so some are paper and some are fabric.
Over a morning coffee with Anna from Swallows and Damsons we planned out which backgrounds should be kept plain, which should be styled with fabrics and props, and which ones we should include flowers with.
The rest of the team helped out with sourcing props that would work with the various colour-ways, and I bought some coloured lengths of fabric to drape over props and made the coloured circles we've used in some of the shots.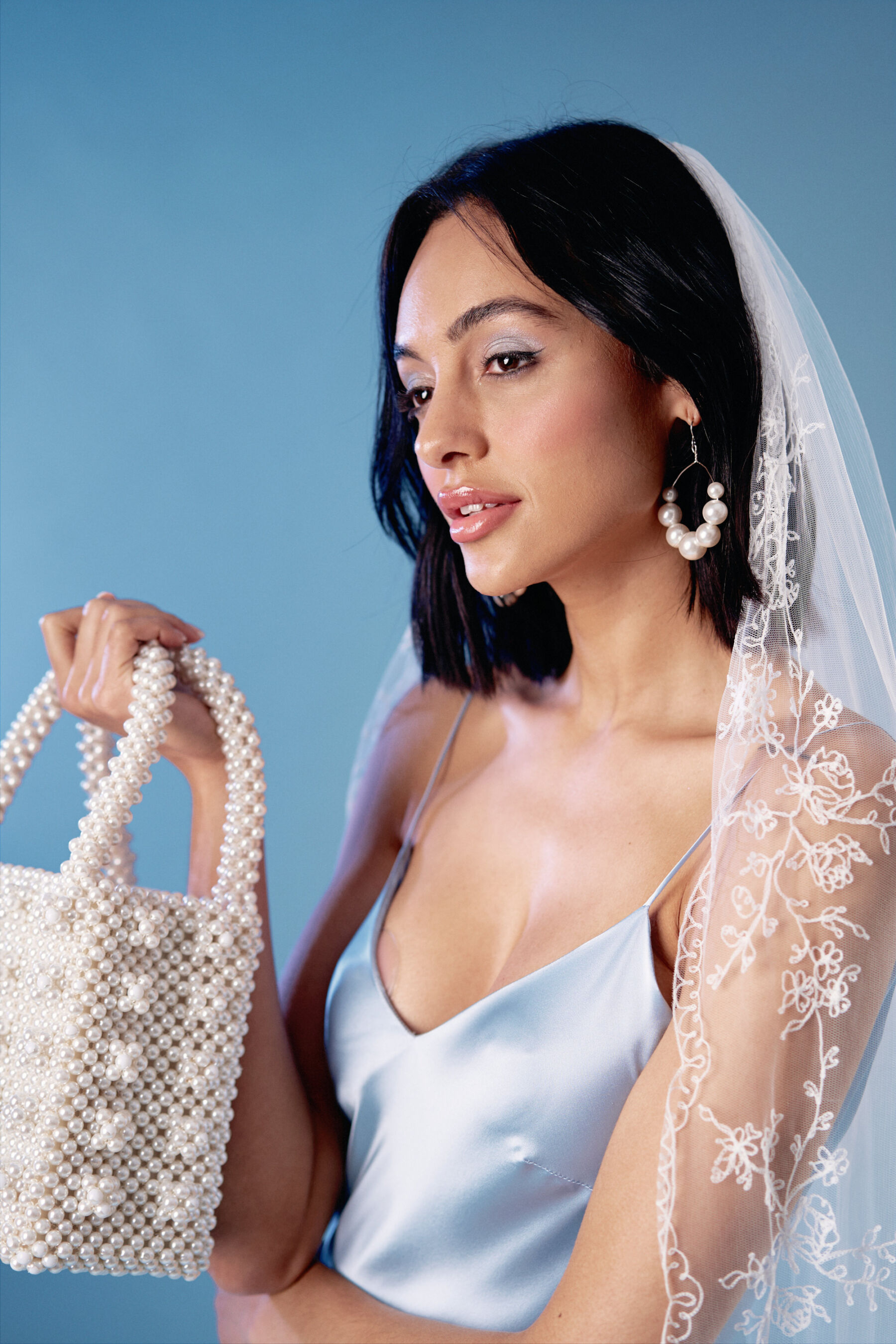 On the day, Danni, Hollie, Debbie and I built the sets in between looks. Hollie and Danni were the experts on lighting and setting up the shots.
One of my lovely former brides Alys collects disco balls and had used them at her own wedding, and was kind enough to let me borrow them for this shoot – delivering them from Liverpool in person – thank you Alys! A car full of disco balls is a thing of true joy! She also loaned her beautiful pearl Shrimps bag for us to use.
Anna brought along two stunning bouquets on the day – one to work with the gold background full of poppies, ranunculus and blossom, and one for the pinks with ombre vibes – one side of the palest pink roses and lilacs blending through to mid to deep pinks – a total showstopper. Anna also installed blossom branches and green vibernum opulus which we switched up across various sets.
Debbie Carlisle Accessories
Debbie Carlisle added in headpieces from her latest Goddess collection. About her styling choices, Debbie said: "I considered various factors in my styling decisions, such as the cut, fabric, colour, and texture of Kate's gowns, our model's hair type and style, and the shooting sets."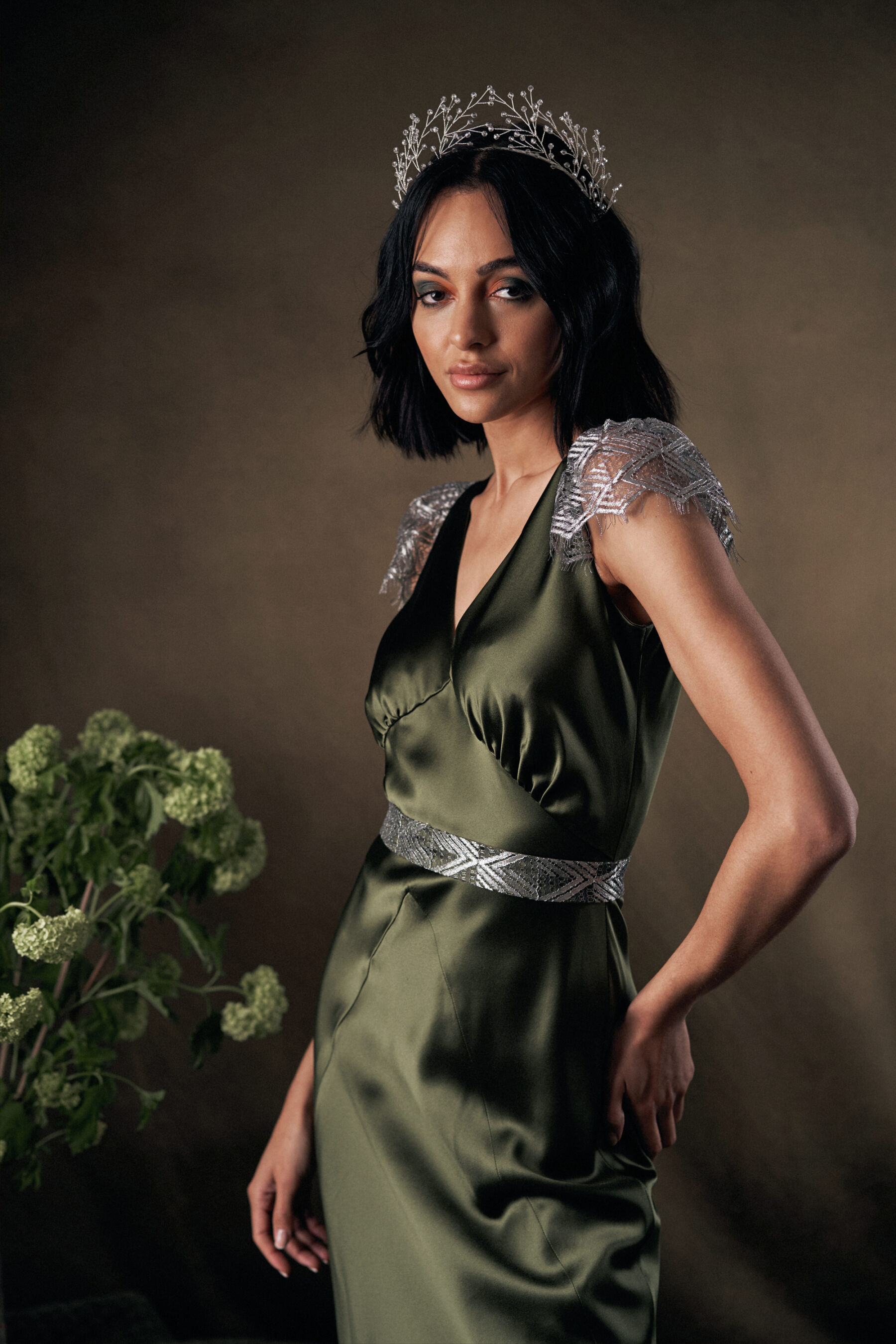 "I also took into account the floral arrangements, shoes, make-up, and even on-set disco balls! For our disco ball set I chose my labradorite crystal Coraline crown that features silver crystals resembling tiny mirror balls while I paired my Mona statement pearl hoop earrings with Kate's striking and elegant blue gown which I think worked perfectly with the simple lines of the dress and the exquisite Shrimps pearl bag. "
"I chose a lot of botanical crowns for this shoot because they worked so well with our model's relaxed waved bob hairstyle, the beautiful Swallows and Damsons florals, and the natural flowing lines of Kate's gowns."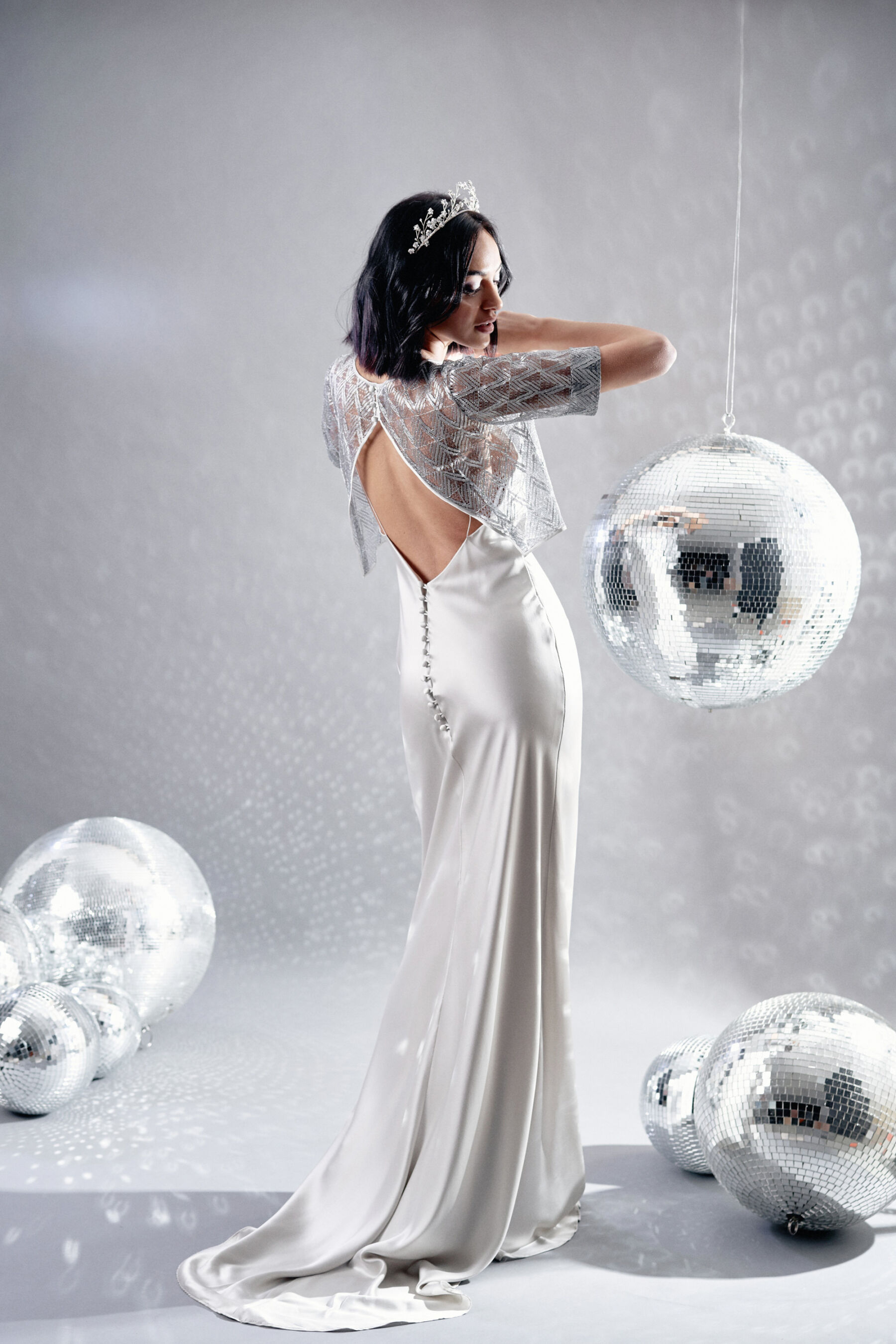 Chie Mihara were kind enough to send us over four pairs of their incredible heels. I chose Chie Mihara as I've always loved their use of colour – such elegant shoes with a playful aesthetic.
I opted for styles in pink, blue, bronze and green that we could blend with some colours and contrast with others, and they worked so beautifully with my dresses.
I added in a few pieces from the accessories I stock in the studio too to add to various looks – some chic, modern Blue Meadow freshwater pearl earrings, and a couple of Daisy Sheldon's incredible embroidered veils.
Daisy uses colour in some of her veils, and I chose the pink tones of her Wildflower veil for our pink set, and drew out the pop of blue on the English Birds veil for the blue set.
Bridal Beauty
Jenn changed up the make up between each look, adding in pops of colour of Nicole's eyes and lips to complement or contrast each set.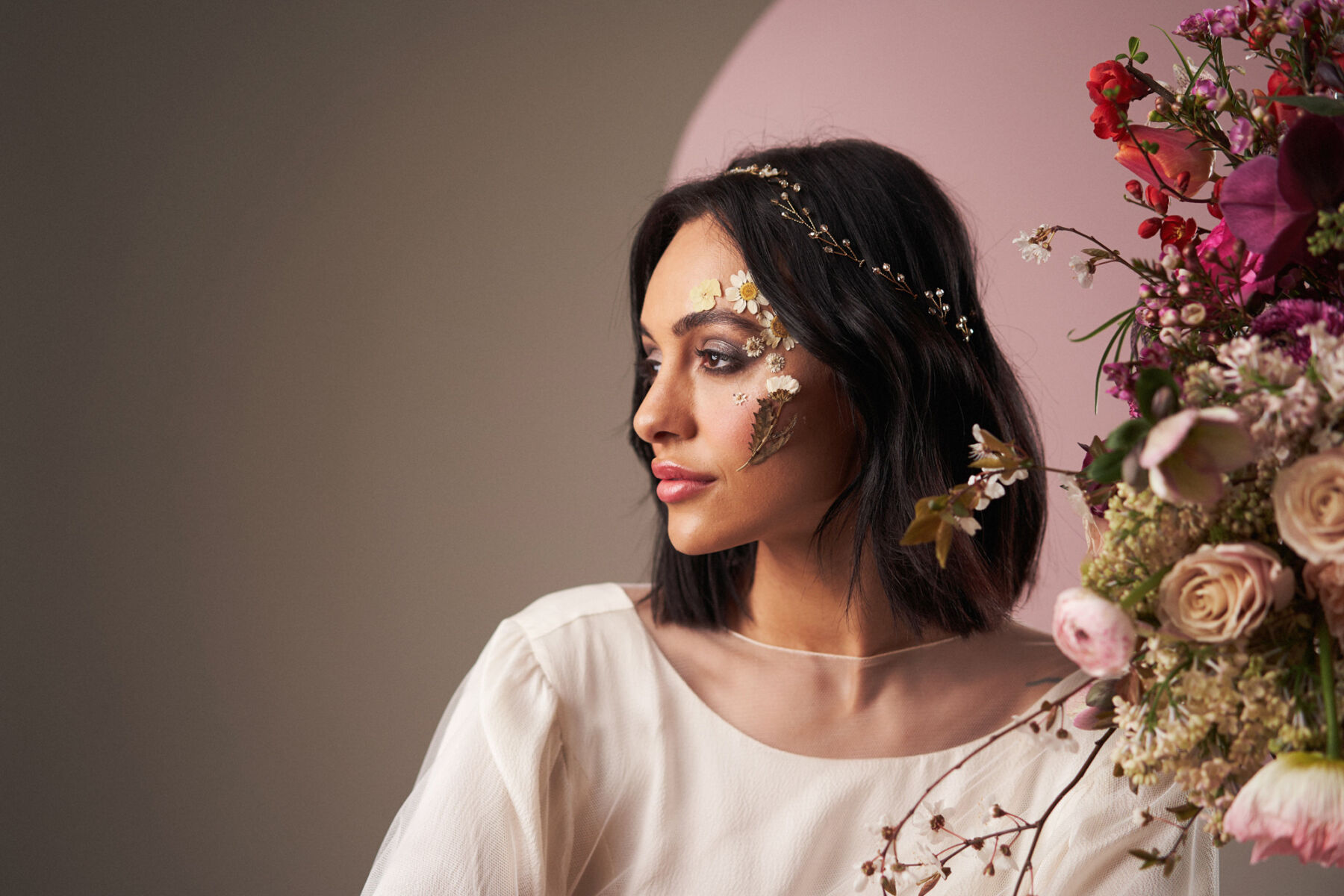 Jenn also got extra creative for a couple of beauty shots we tacked on to the end of the relevant look – adding pearls for the blues, and dried flowers with the champagne set.
We kept Nicole's hair down throughout, styled with a loose wave which set off Debbie's hair accessories beautifully.
Digital and Analogue
Shooting on Film
---
Danni was our lead photographer on the shoot – shooting digital – and she invited Hollie along to work alongside her and capture some analogue pictures too. Hollie brought along a couple of old-school film cameras, in order to create different effects. Working in both mediums was great – it meant we could look at Danni's images in real time on a computer screen as we went, checking we were happy with the set-up, lighting etc, whereas what Hollie captured was more of an unknown until it came back from the film developers.
Danni explains: "With analogue, you can achieve a softer, more organic feel to the images. It's also really exciting to see the results once the film is developed, as there's always an element of surprise and unpredictability. All in all, incorporating analogue photography into a styled shoot can add an extra layer of depth and artistry alongside the digital images."
This was such a fun shoot to pull together – it became so much more than I'd originally envisaged, and I absolutely adore the results – hope your readers do too!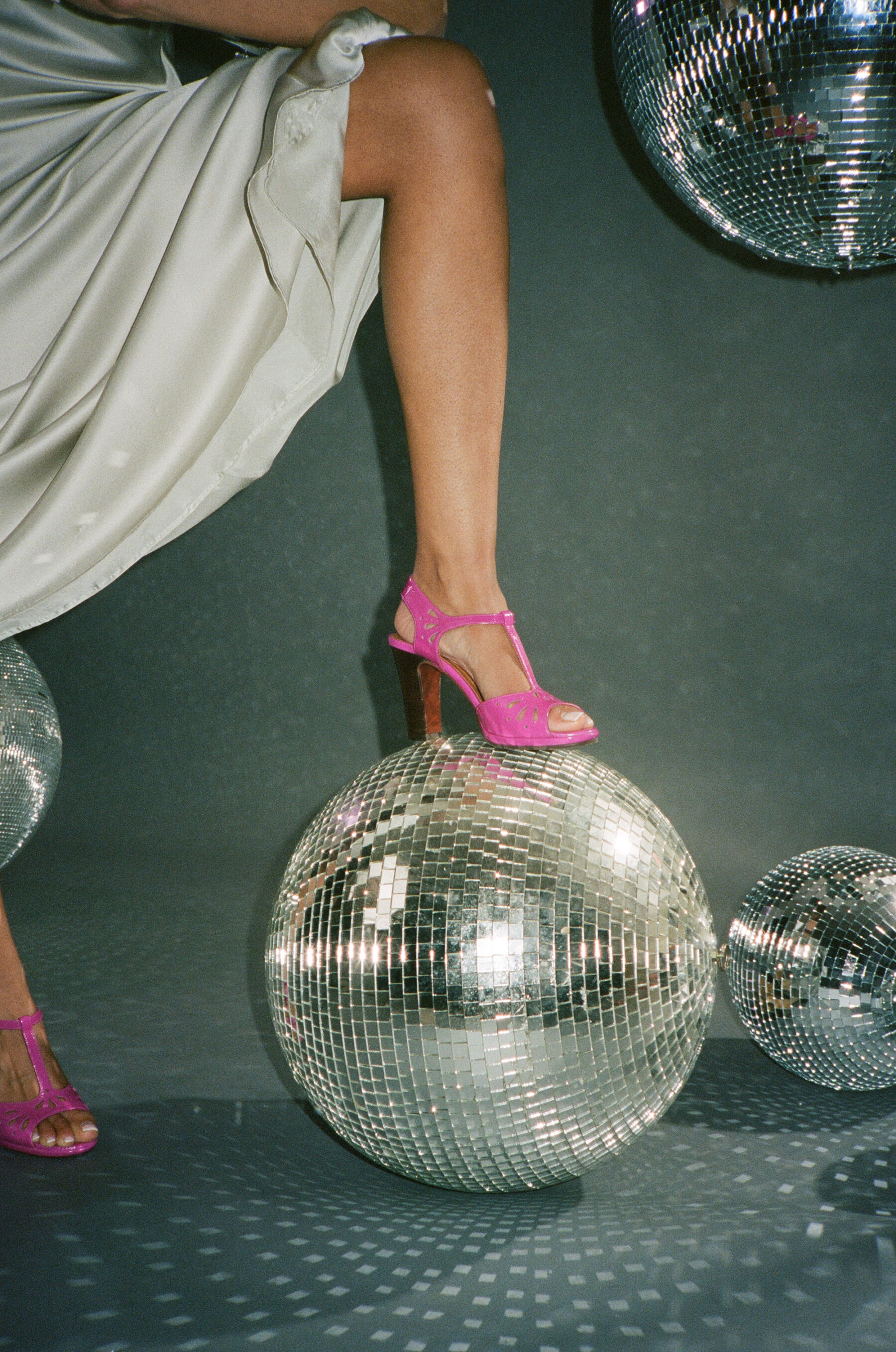 Contact Kate Beaumont
To find out more about Kate Beaumont and how she can help you find your perfect wedding dress, use the details below:
Email: [email protected]
Telephone: 07789 467760
Address: Beehive Works, Milton Street, Sheffield, S3 7WL
Website: kate-beaumont.co.uk
Love My Dress Wedding Directory Members
The below suppliers and venues featured in this article are part of the Love My Dress Wedding Directory.
Additional Credits
The below suppliers and venues are featured in this article, but are not part of the Love My Dress Wedding Directory.