Kate Beaumont is a wedding dress designer based in the North of England. Kate is renowned for her vintage inspired bridal gowns and understated, modern, minimalist wedding dresses.
What sets Kate apart is her unwavering commitment to quality and craftsmanship. Each of her exquisite gowns is meticulously handmade by a team of highly skilled seamstresses at her bespoke bridal atelier in Sheffield, UK. This attention to detail ensures that every bride who wears a Kate Beaumont creation feels like a radiant and confident vision on her special day.
In 2023, Kate unveiled a collection of ethical silk nightwear, showcasing her versatility and dedication to sustainability. This new line of nightwear beautifully complements her bridal collection, providing brides with an opportunity to extend the Kate Beaumont experience beyond their wedding day.
Essential Information
Address: Beehive Works, 1a Milton St, Broomhall, Sheffield S3 7WL
Email: [email protected]
Telephone: +44 (0)7789 467760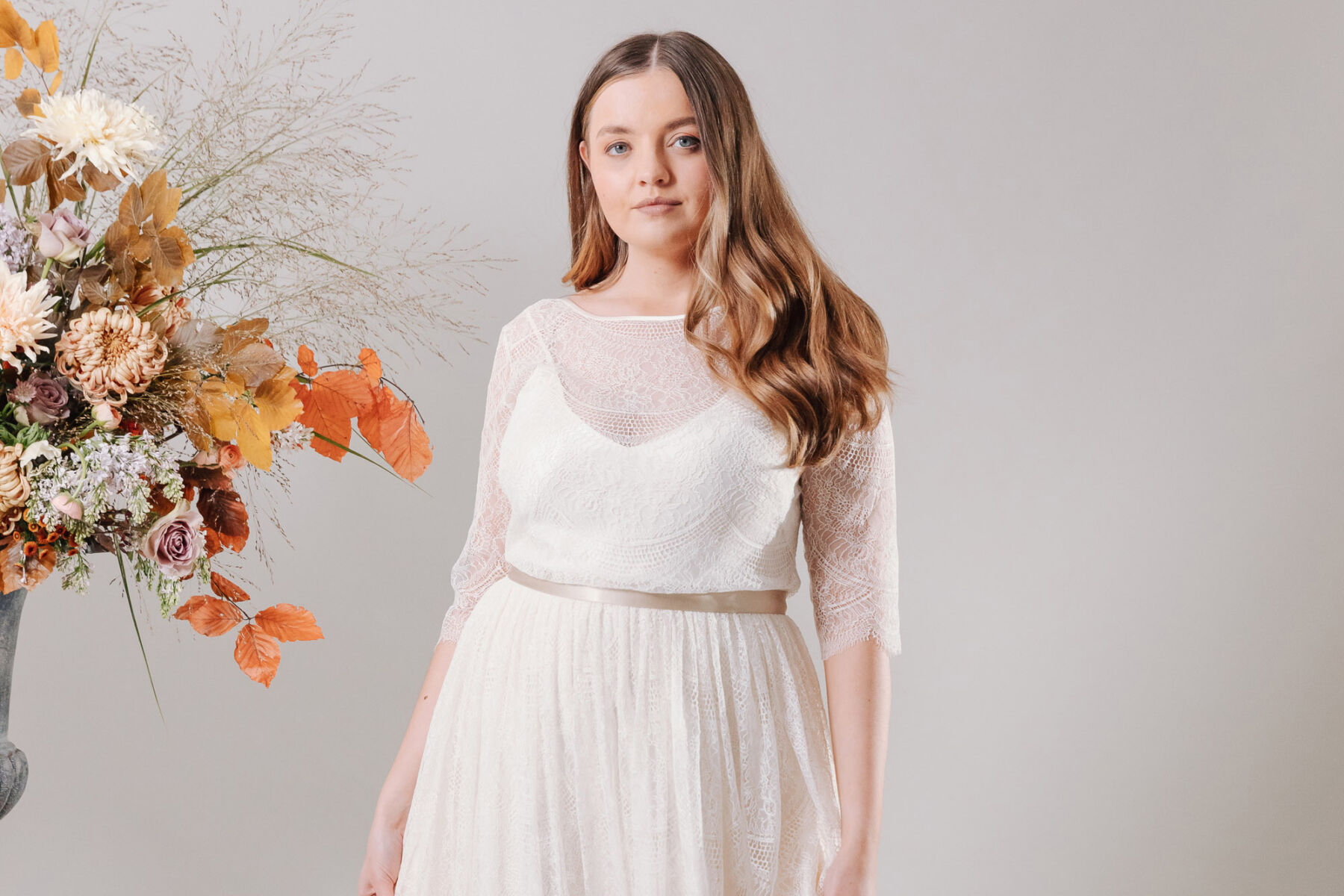 Understatedly beautiful
Wedding Dresses for Modern Brides
Bridal Gowns
Kate is passionate about creating beautiful gowns for modern brides of all size and shape. Her design aesthetic is hugely influenced by the glamorous and elegant fashion silhouettes of the 1920's, 1930's and 1940's. Her ability to interpret vintage fashion into the most beautiful gowns for modern brides really sets her apart from other designers.
All Kate Beaumont designs are created on a bespoke basis, which ensures perfect fit and comfort.
Kate is also completely flexible in her approach to design, meaning dress details can be tweaked and adapted to suit the needs of each individual bride.
Ethical Silk Honeymoon & Bridal Lingerie
Although all our wedding dresses are made-to-order (meaning no over-production), we often end up with leftover silk lengths after a gown has been cut out, and this capsule collection of lingerie pieces was a way to utilise those beautiful, leftover silks. Kate Beaumont
Buy Online
Luxurious Sustainable Lingerie
Sustainable & Ethical
Wedding Dresses Made in Yorkshire
---
Kate is committed to running a sustainable bridal fashion brand. Her wedding dresses are created from the most beautiful, high-end, luxurious and sustainable fabrics, sourced from the best silk and lace mills across the UK and France. As Kate produces on a bespoke basis only, nothing is ever over-produce and fabric never goes to waste.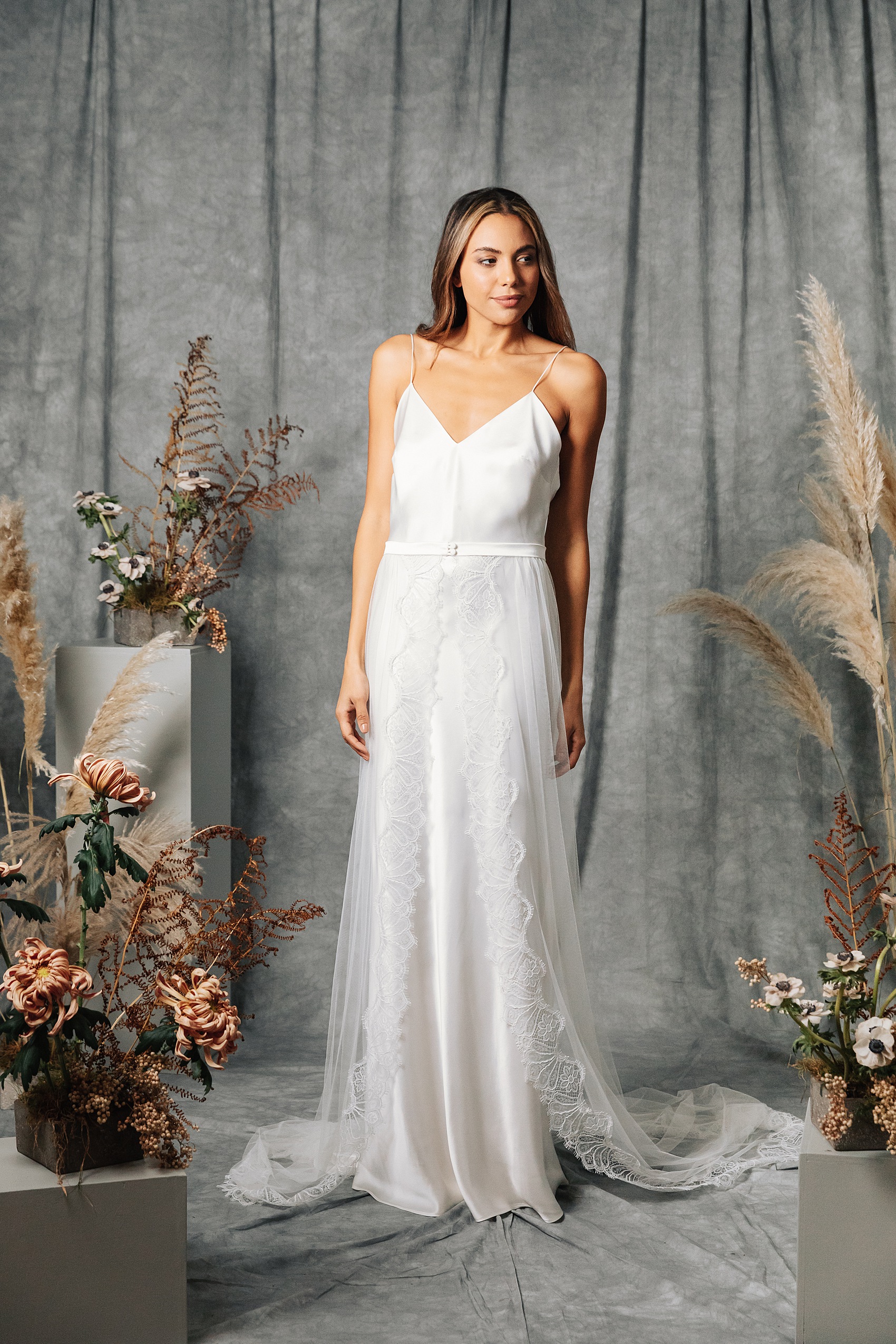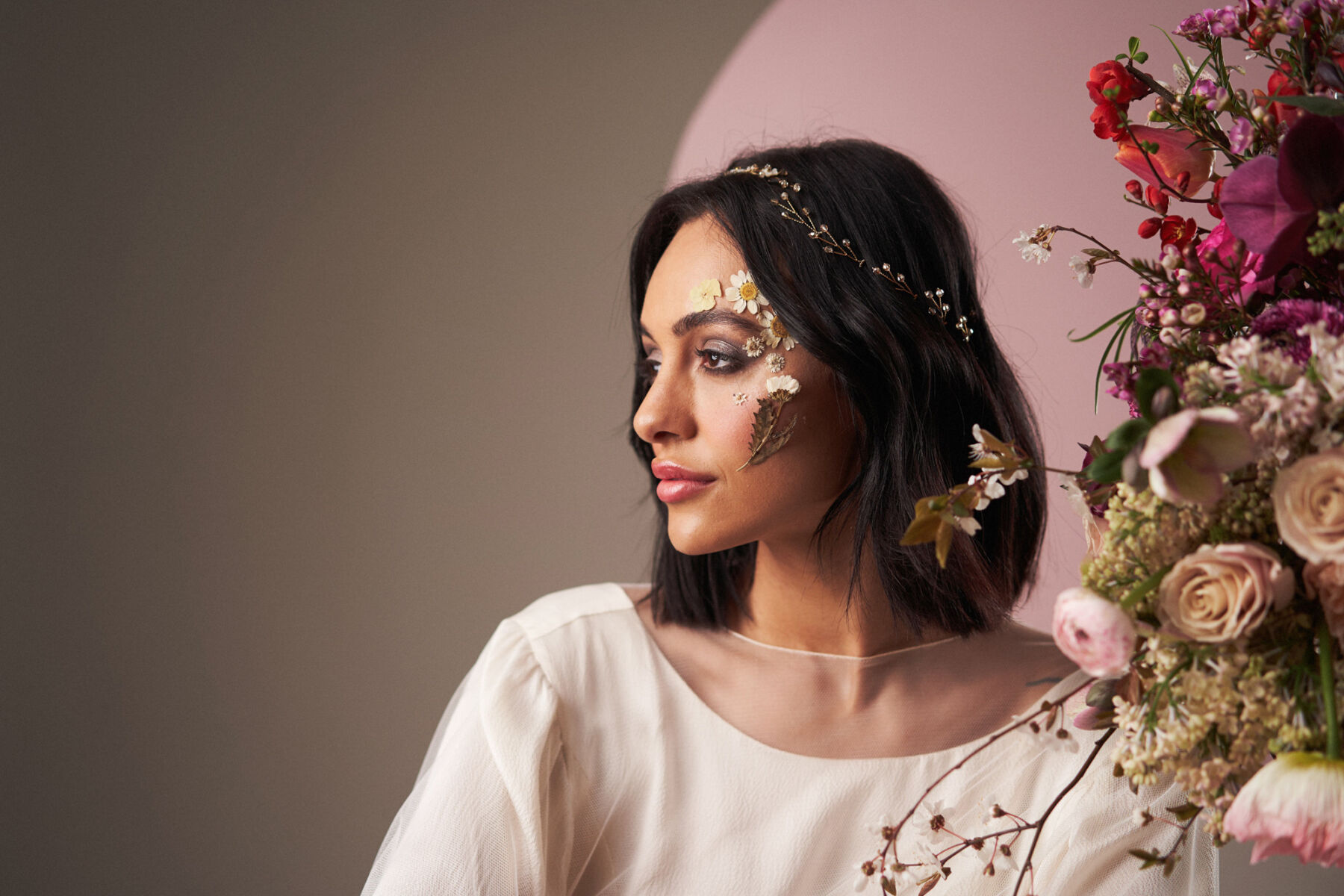 Non White
Coloured bridal gowns by Kate Beaumont
Curvy Brides
Bridal Gowns For Fuller Figures
---
"Some of our existing designs work brilliantly on fuller figures. We've tweaked the design details on some of the styles to show off different possibilities – altering necklines, changing sleeves, and sometimes creating a new colour or fabric combination. We've raised the low backs on some of the gowns too, to show how they work for women who'd prefer to wear a supportive bra on the day."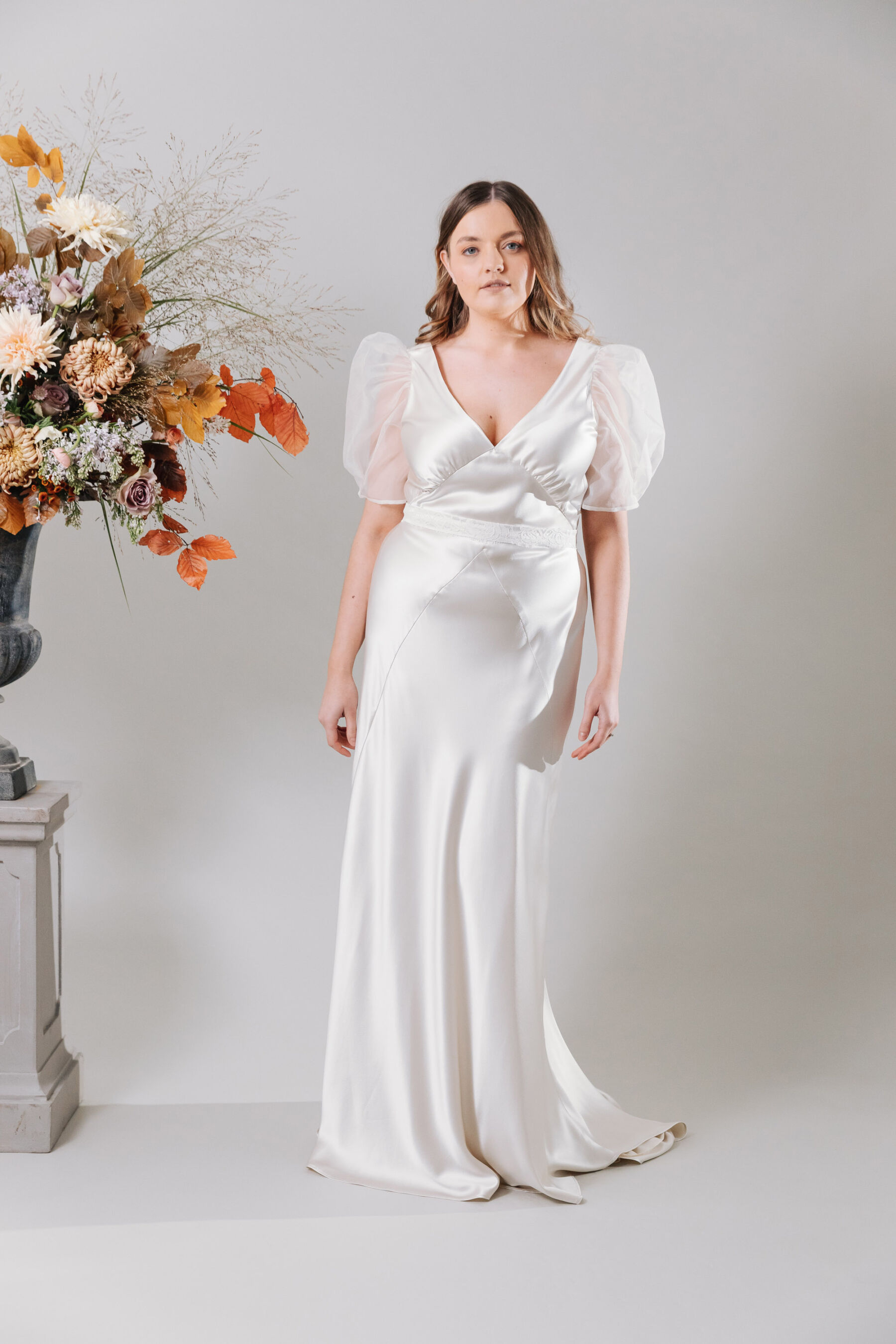 Real Kate Beaumont Brides
After a few visits to more traditional wedding dress boutiques, I was pointed in the direction of Kate Beaumont. Her studio is in an old cutlery factory filled to the brim with other creatives, and as soon as we entered, I fell in love. The whole studio is filled with an eclectic mix of vintage furniture and plants – so many plants – and the biggest mirror in the world to stand in front of twirling around in her lovely dresses. She has the most beautiful array of luxury dresses hanging on a simple rail, which gets dappled sunlight, and makes them look even more dreamy. Joasia, Real Bride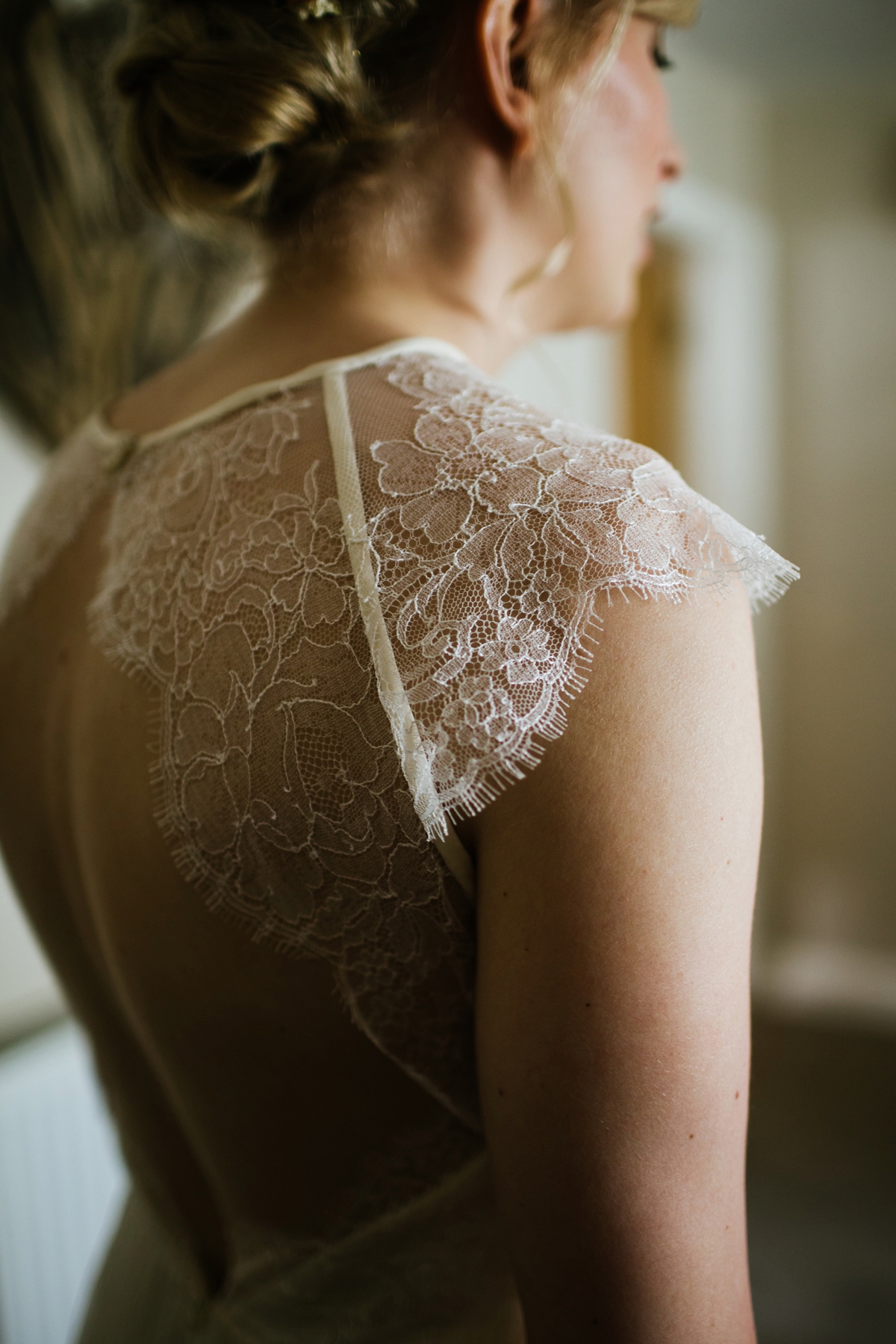 Articles featuring Kate Beaumont
Kate Beaumont
Vist kate-beaumont.co.uk