We love to share beautiful English weddings but never moreso than when the bride has opted for a gown from one of our talented recommended designers.
Jessica wore a beautiful lace wedding dress by Sheffield based designer, Kate Beaumont for her June 2021 wedding to Ben – a day full of sumptuous, blousy blooms. The couple, who celebrated at the chocolate box village of Mells near Frome in Somerset, had originally planned to marry in June 2020, but were forced to postpone because of the pandemic.
"We wanted our day to feel intimate, carefree, joyous, happy and full of love. We knew from the start that a wedding venue which churns out weddings daily wasn't for us. We wanted to choose a place we loved, which wasn't overly fancy, reflected us as a couple and most importantly was a day for us to make new memories."
Photography Charlie Britz Photography
Jessica's gown is instantly recognisable as a Kate Beaumont's design and we are so happy to recommend her on the Love My Dress Wedding Directory.
The 'Dahlia's' soft, romantic style is subtly vintage-inspired and I love the demure neckline teamed with the deep V back.
"I wore 'Dahlia', handmade by the wonderful Kate Beaumont. She was all the way in Sheffield, a good three hours away from us. Our visits were always so full of love and happiness. She made my 'Dahlia' dress."
"My mum had picked it for me and the dahlia is coincidentally my favourite flower. I did not think I would like it but when I put it on, it was apparent that it was the one."
The dress was worn with a floor-length, trailing veil and its hem allowed Jessica to let her super-cool shoes peep through. Her accessories were statement blue pieces.
"I wore chunky blue satin Jeffrey Campbell shoes which I love. I had a blue, beaded 'Antonia' handbag from Shrimps, which I stuffed with my bouquet."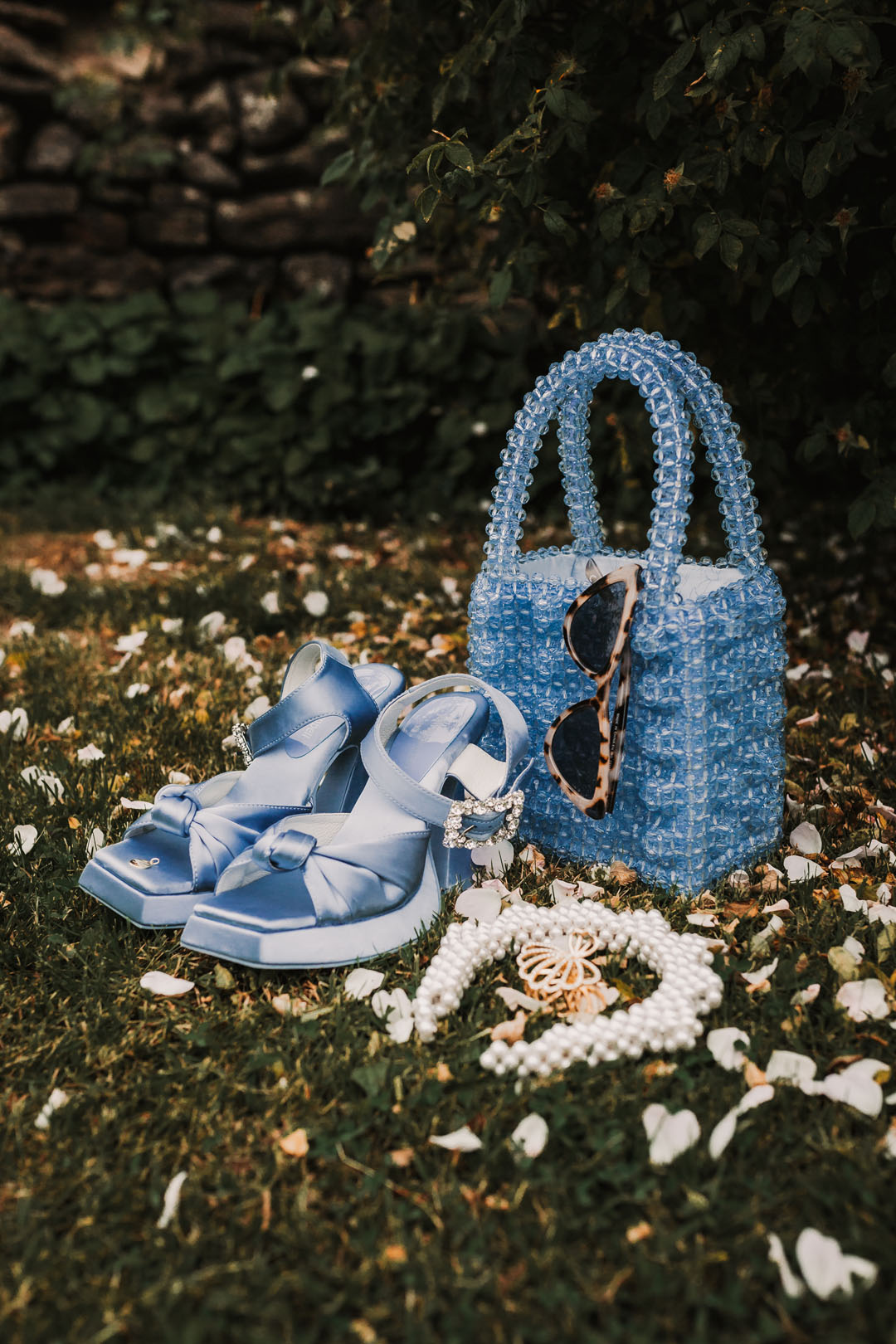 "As a wedding gift, Ben gifted me a gold little circle to add to my St Christopher necklace (which was Ben's as a child and I always wear)."
"He had our initials and wedding date engraved on it. It was made by his father Paul Stokes, a talented jeweller from Cambridge."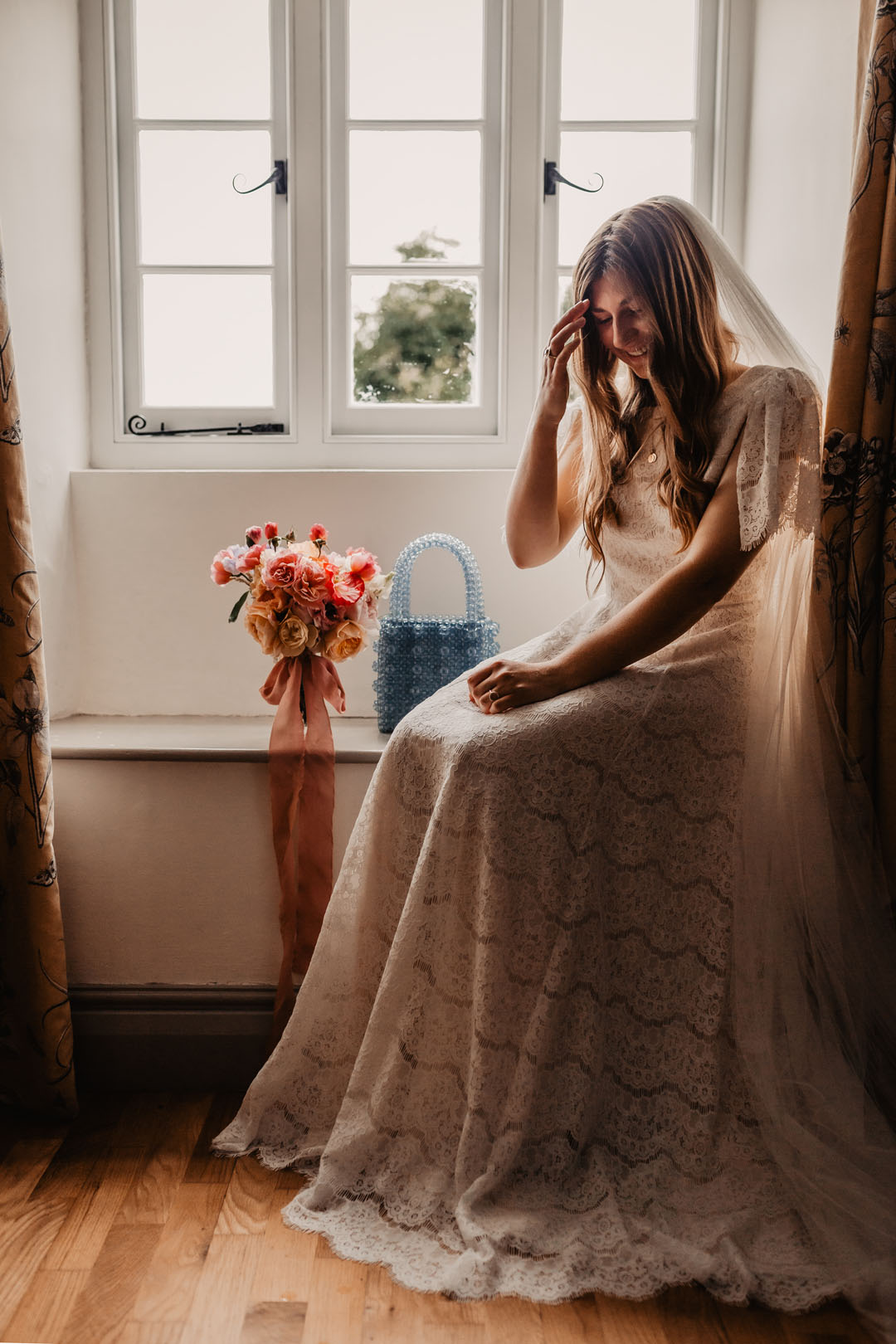 Ben's sister, a hairdresser, did the bridal party's hair and I love the relaxed, laidback look.
"I simply wanted long, wavy hair that looked like it had tumbled out of plaits."
"I am not a girly girl and being a gardener and florist I am usually very scruffy with twigs in my hair all the time. So, it was quite a luxury!"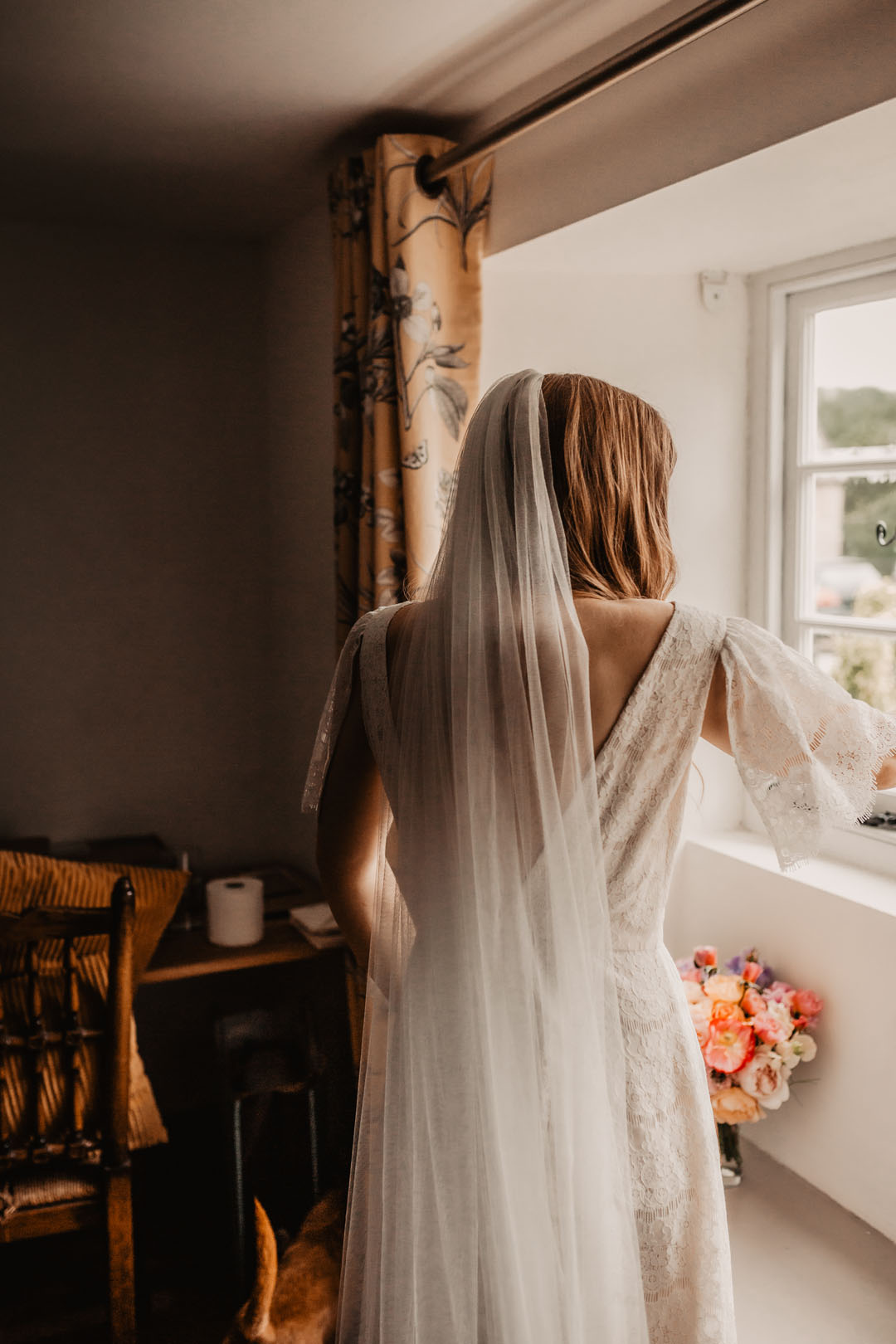 Whilst waiting to wed, Jessica and Ben got their first puppy, called Kipper.
"He thankfully wasn't included in the thirty-person limit! He was our little ring bearer and walked down the aisle before me."
"He wore a silk cream ruffle made by designer Benjamin Fox."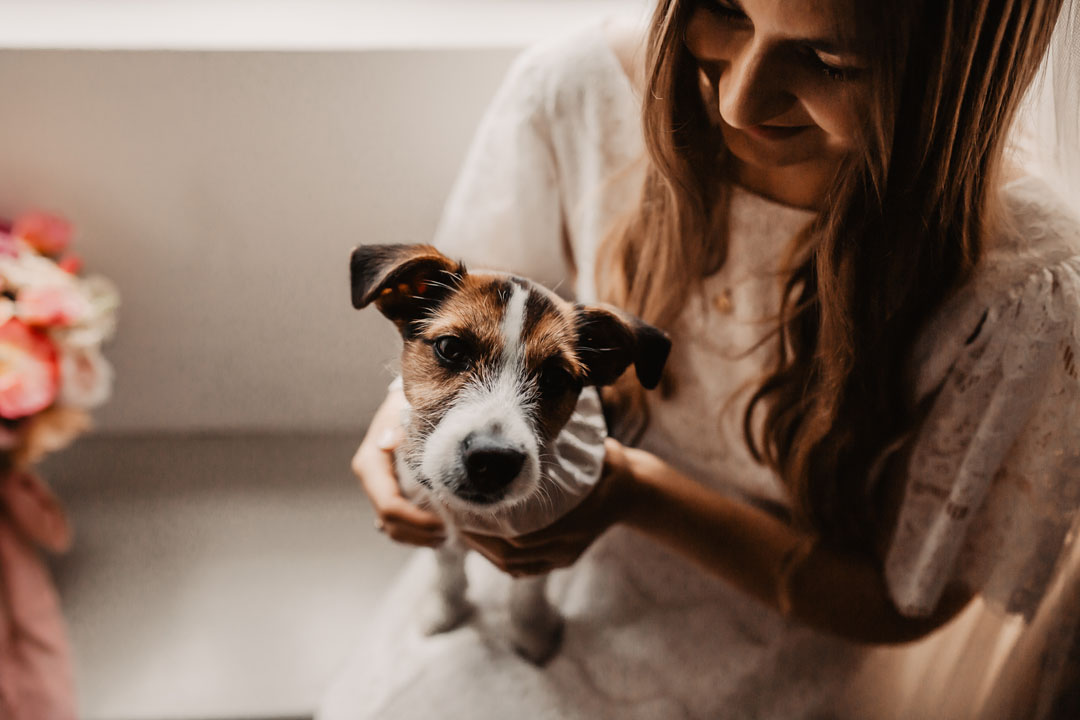 "We decided to have our wedding in the small and picturesque English village of Mells, Somerset. We often go there in summer for meadow walks and lunch in the Walled Garden."
"We found a beautiful, small and characterful church. Five minutes walk out of the door was a pub we adore called The Talbot Inn and opposite the pub is a tiny walled garden."

"Next to the walled garden is an old tithe barn. There is a tiny cottage attached to the walled garden which Ben and I stayed in."
"We loved the idea of having a 'wedding village' for the weekend and being able to walk from each part of the wedding to another part."
"All our guests stayed in the village for the whole weekend and it was just lovely to be a part of the little village for our wedding."
"I walked down the aisle to 'Spring 1' by Max Richter. and exited the church to Badly Drawn Boy's 'Once Around The Block'."
"We also chose The Cure's 'Friday I'm In Love' and 'Us' by Regina Spektor for the service, all songs which have meaning to us."
The couple's readings were from Jessica's mum, dad and her little brother Reuben.
"We had 'Two Are Better Than One Ecclesiastes 4:9-12', 'Song of Solomon 2:10-13 Arise My Love' and 'The Walled Garden'.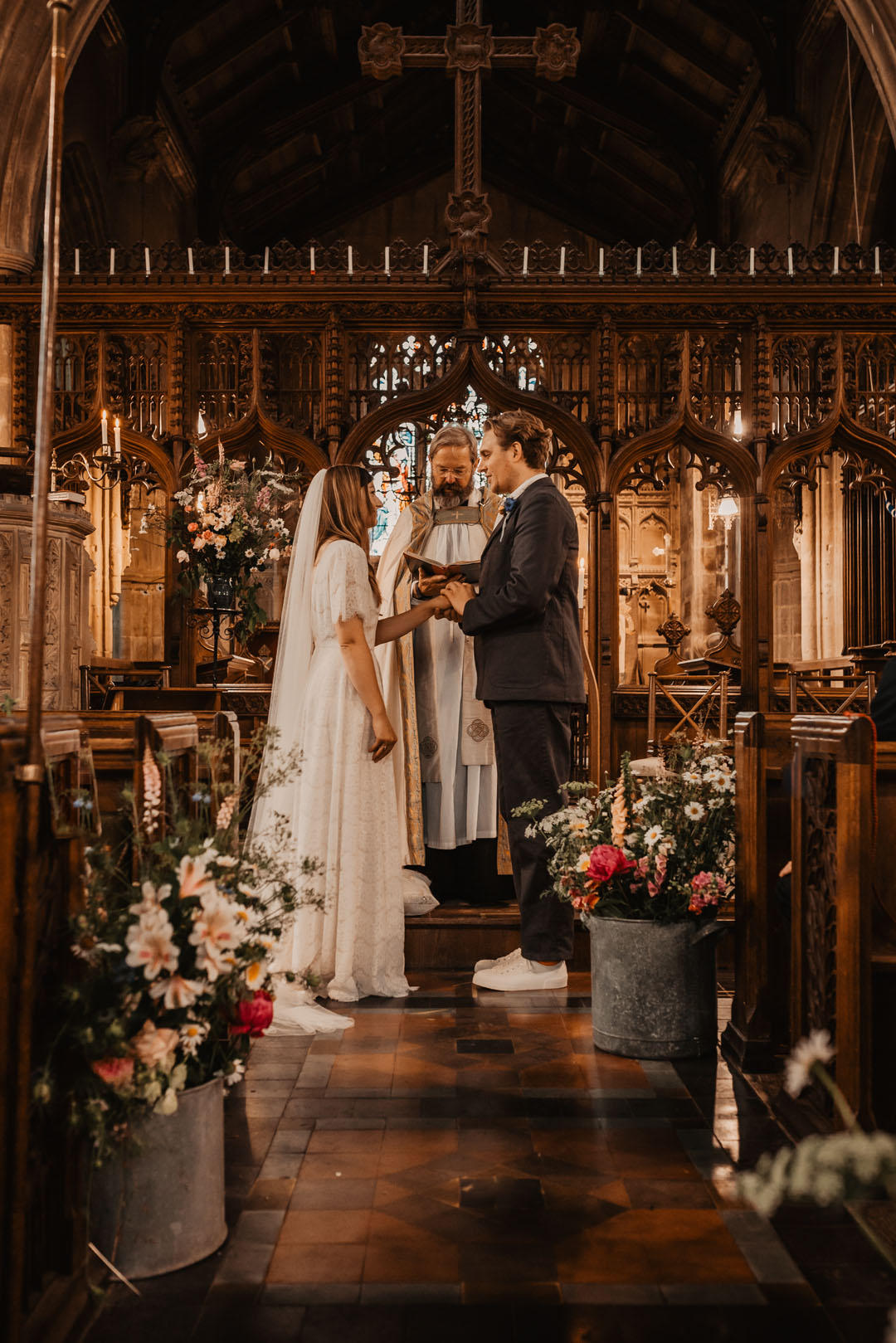 Ben and Jess exchanged rings handmade by his father as a wedding gift.
"The vicar also made him a part of the church service and Kipper attended all the church services and reading of the banns we attended in the build-up."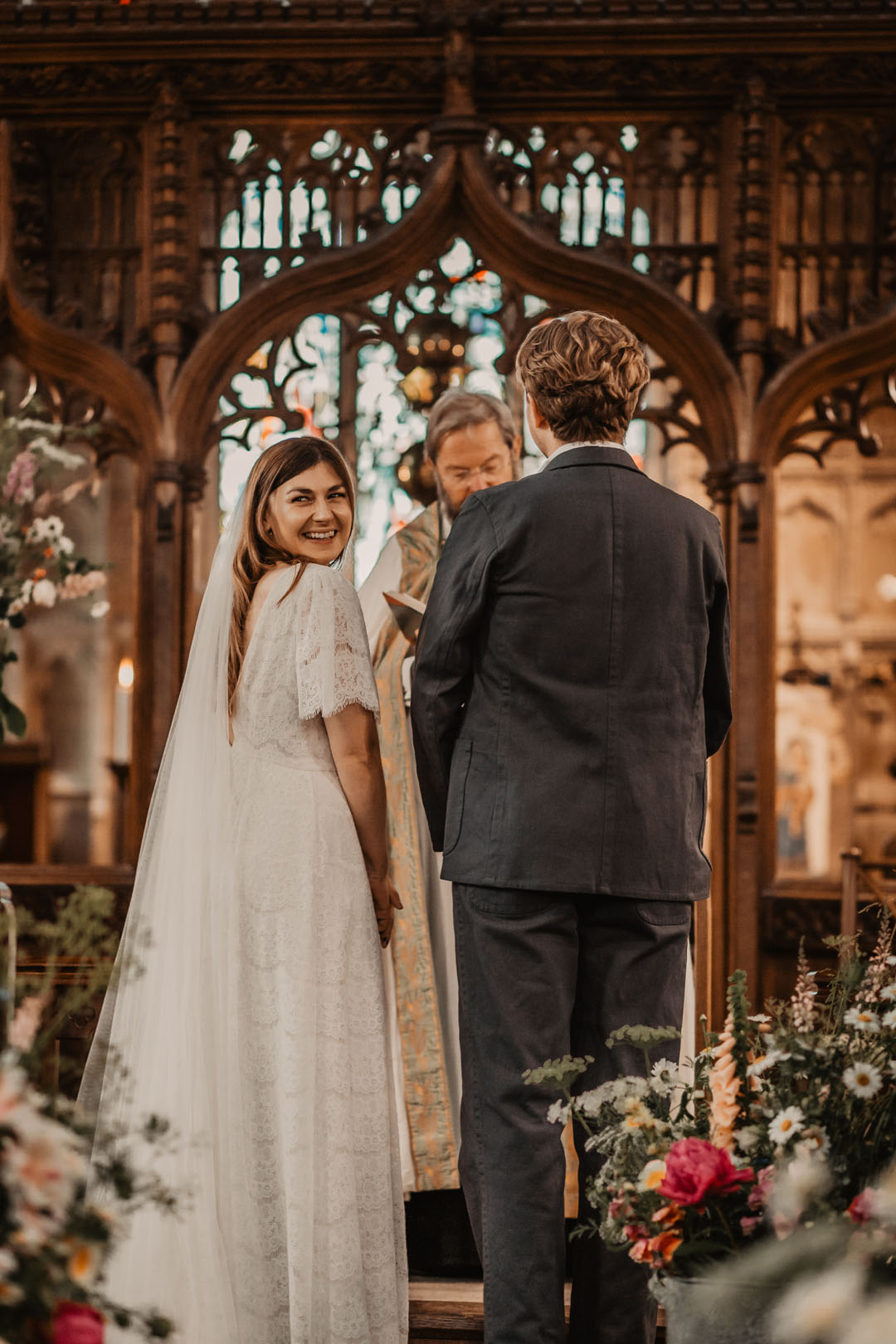 Kipper was lead up the aisle by Jessica's youngest brother.
"Seeing them walk down together is one of my favourite memories, Reuben in his suit and Kipper the dog in his silk ruffle."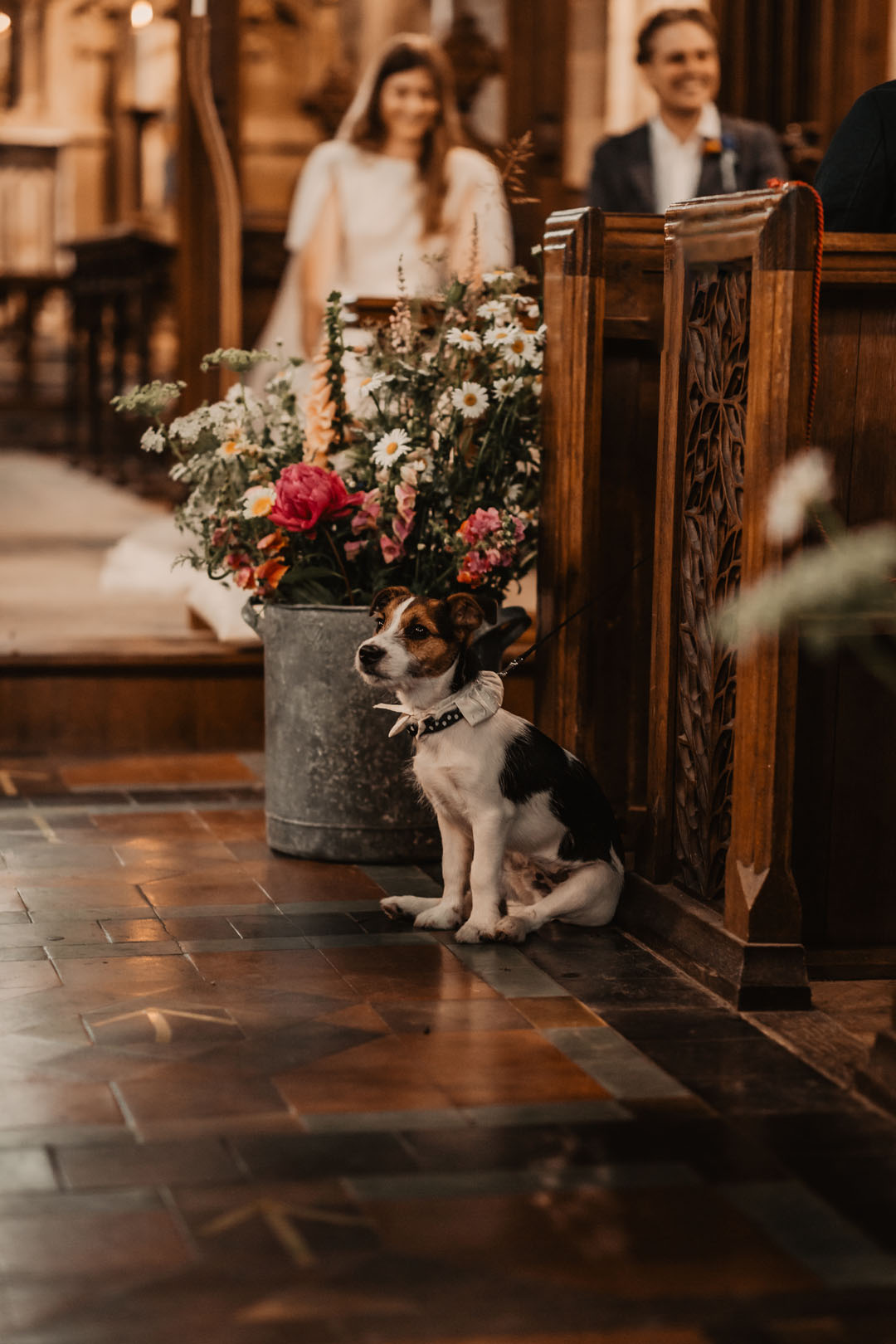 Suiting the relaxed vibe of the day, Ben commissioned a bespoke suit from Old Town British tailors in Norfolk.
"We wanted a relaxed. workwear-style suit that Ben could wear with trainers and no tie. After the wedding, he could wear it forever more."
"They absolutely nailed it! He wore orange socks which popped out, with white Cos trainers and he wore Comme Des Garçons Wonderwood.
After the ceremony, the guests headed to the barn whilst the newly-weds were joined in the walled garden by friends for an additional celebration.
"We managed to squeeze in seeing some extra friends who we didn't have space for in our thirty people limit by having an hour of fizz and cake in the walled garden."
"As the Walled Garden was a public space, we asked a handful of our friends to stop by to raise a glass with us on the rose terrace while the rest of our guests waited for us in the barn."
"We felt spoilt by getting around the guest limit and seeing a few of our friends."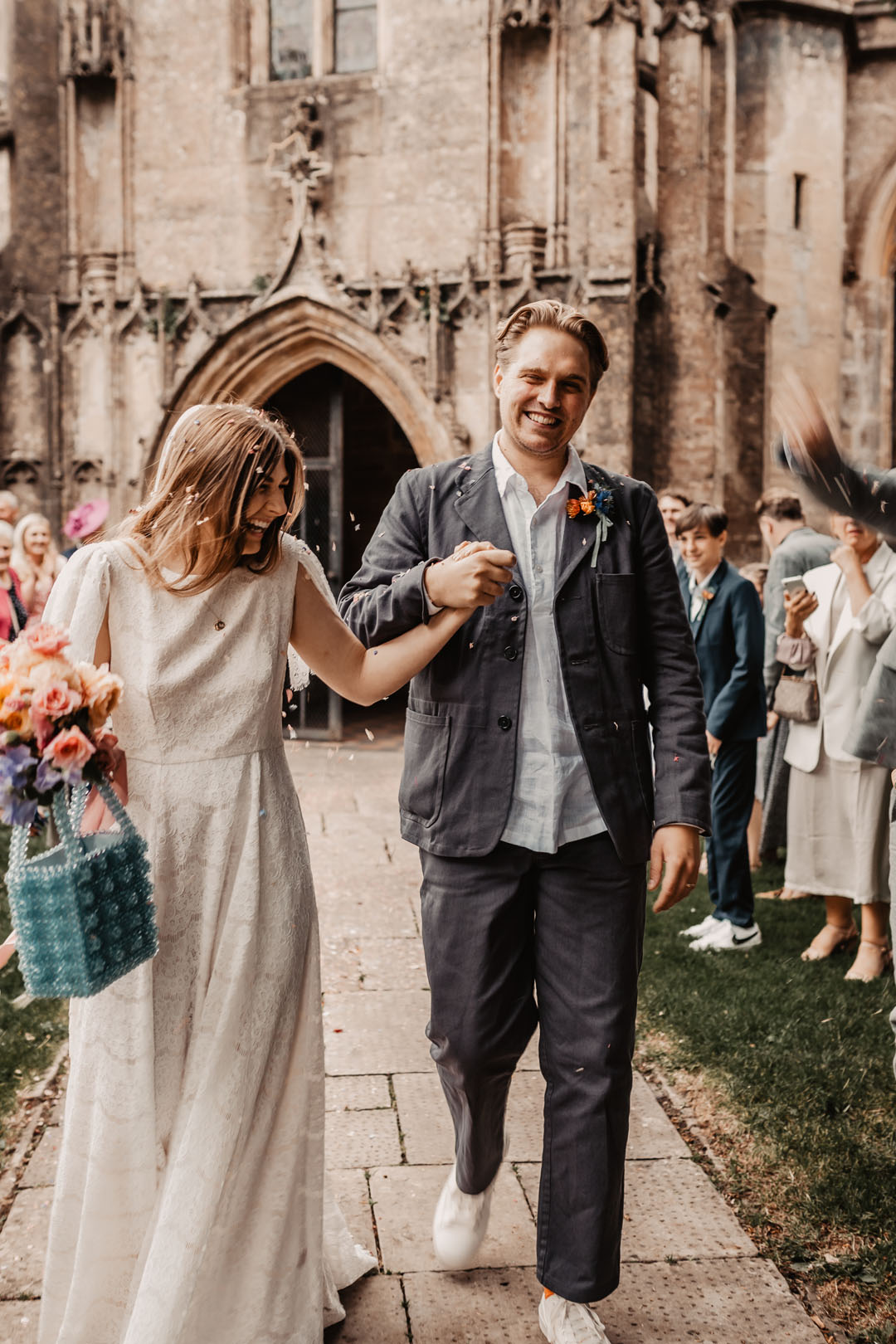 There was then a light lunch, hand-picked by Ben, in the barn before the wedding feast in The Talbot Inn.
"Ben is a professional chef and coffee roaster for a specialty coffee company so the food was very important to him."
"We had a light lunch after the wedding in a tiny barn, which consisted of local cheese, sourdough bread baked by our favourite local bakery, Landrace Bakery in Bath, fruits from our local greengrocers and craft beers from local breweries."
"Ben spent the day before the wedding (whilst I was arranging flowers) driving all over Bath to get these things. We also had amazing huge tins of our favourite crisps."
"We had our own room at The Talbot Inn, all candle-lit for our wedding feast."
"They were wonderful and nothing was too much trouble; they even held an umbrella over us as we went to the barn for our band and sent us on our way with 'Dutch Courage' drinks."
Ben and Jessica met during the summer whilst she was at university in Bath staying textile design.
Through their years together, the couple have been through some challenging times, so getting married was especially poignant for them.
"Cambridge was home and I went back for the summer to work. I worked at Ted Baker in Bath but would be allowed to transfer back to work in the Cambridge store during the holidays."
"On my first day, I asked for the steamer to be brought down to the menswear floor and a very handsome, blonde boy called Ben came down the stairs to bring it to me."
"We clicked instantly and would spend hours talking at work about fashion, art, music and, most importantly, food. As Ben was a trained chef, we just poured over food together."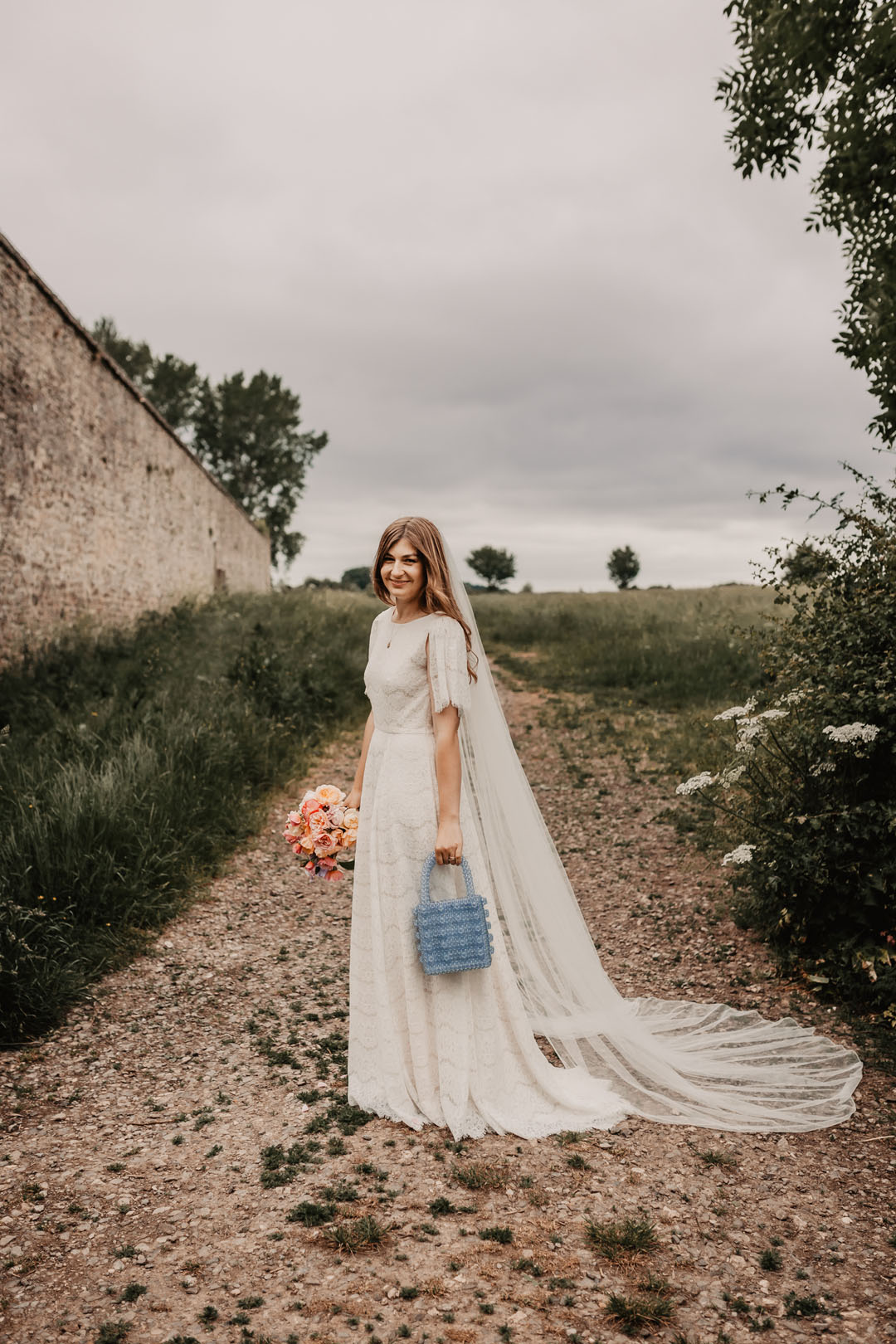 "We would try and have secret lunch breaks together and dated that summer in secret, until it was time for me to go back to university in September."
"After a summer romance and a couple of weekends of Ben visiting me in Bath, he moved to Bath into my student house in the autumn. We have lived together for 10 years since then."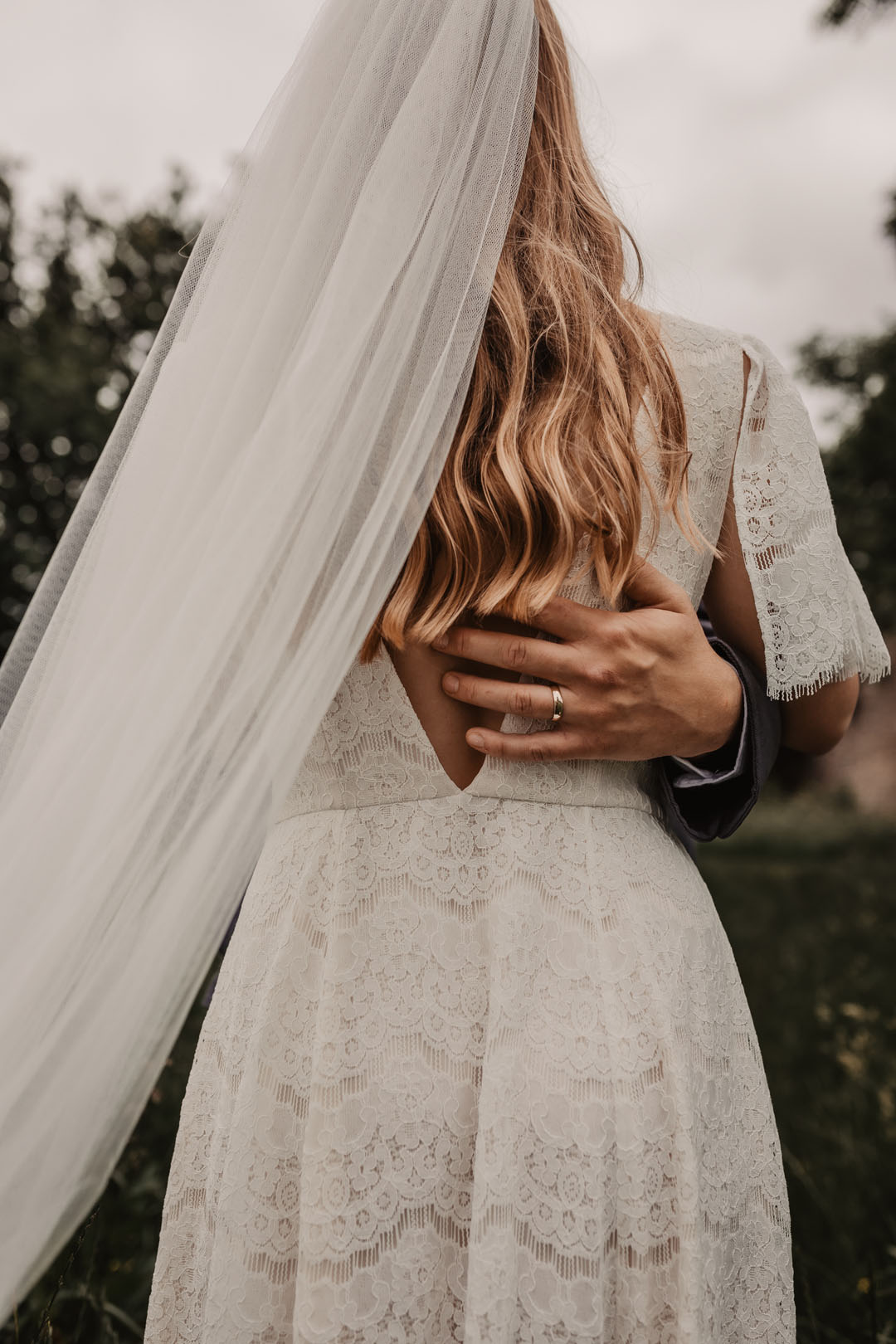 "Six years into our relationship, Ben proposed on a weekend away to Skye, Scotland in April 2019."
"It was on a beach in the middle of nowhere with no-one but us on it, waterfalls down the rocks and rugged blustery Scottish coastline surrounding us."
"A lot had happened in our time together. I had graduated, started my own business and Ben began his career in speciality coffee."
"Ben had a brain tumour and was very sick but recovered. Life happened. We lived in five houses by the time we married."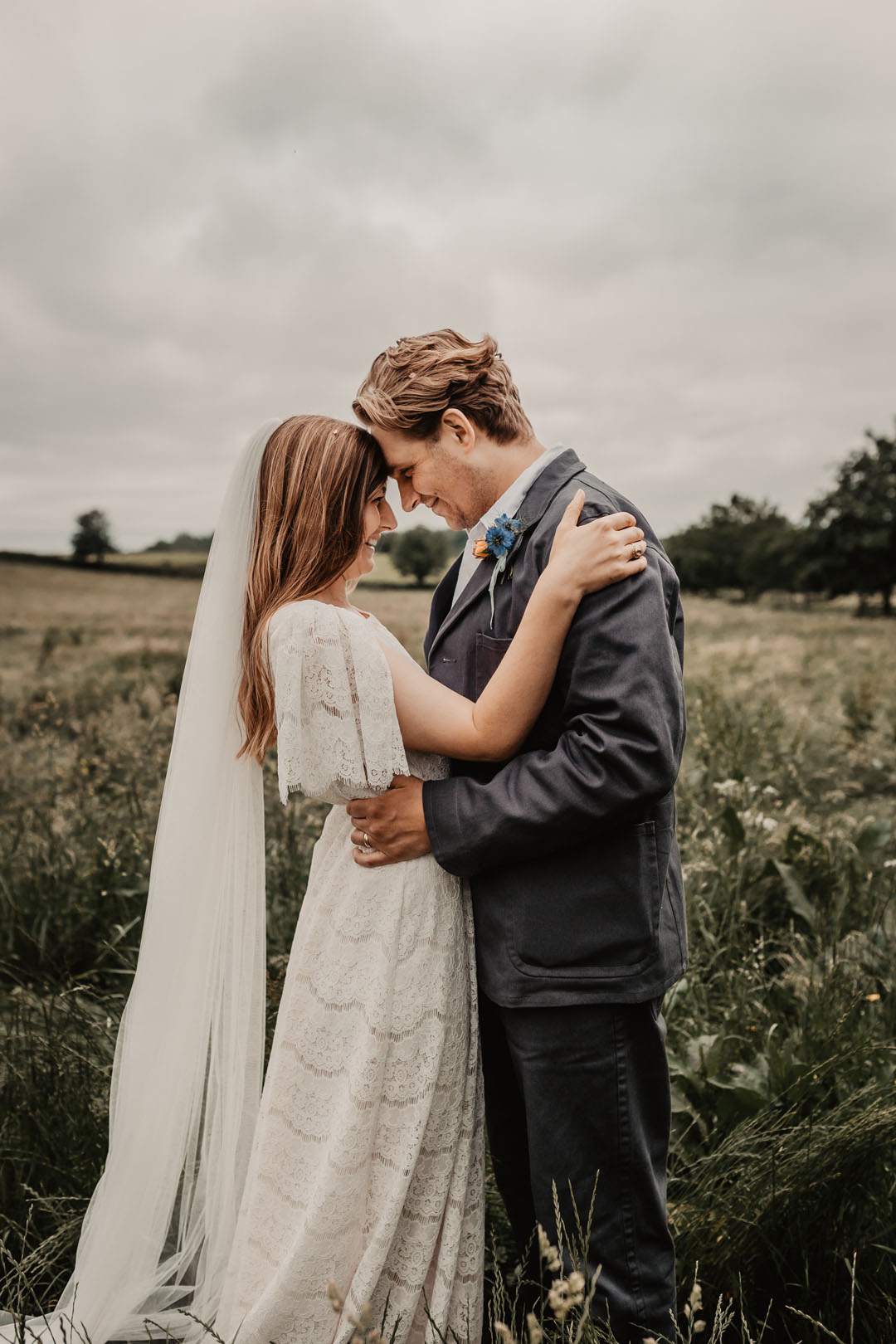 As you can see, flowers were a big part of the day and I adore every single bloom chosen by Jessica (check out her floral business, Flower and Land).
"I am a florist and garden designer therefore I did all of my own wedding flowers the day before."
"They were grown by me on my allotment and also by a local grower, so they were all British seasonal flowers. This was a big part of the wedding for me."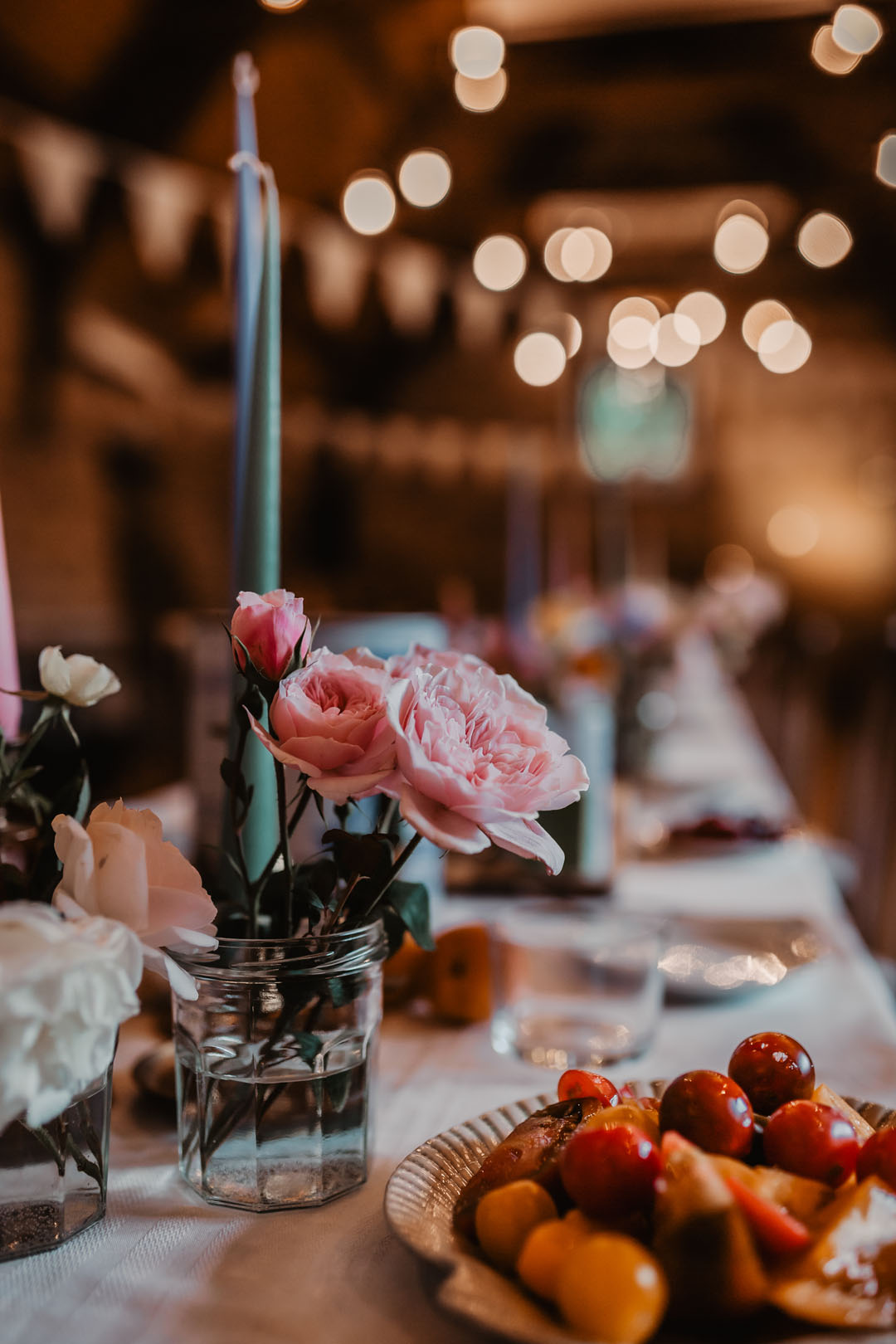 "I asked Rose from Native Flowers to source all of my flowers. She is a grower and so all my flowers were seasonal, local and British-grown."
"She was incredible at growing the sorbet-coloured flowers I had dreamed of, including highly-scented sweet peas."
"She also found other local growers and bought specific coloured roses and flowers she didn't have growing, just for me."
"I will never forget the memory of seeing her drive in with half a tree strapped to the top of her car for foliage."
"My best friend and business partner in floristry, Chloe at Juniperu Flowers, offered her time and helped me do all the wedding flowers on the previous day."
"She was incredible and went to my allotment in the pouring rain to harvest the wedding flowers I had been growing for the wedding."
"I have this image of her turning up the day before, soaked through, with armfuls of blue nigella and a whole boot full of them."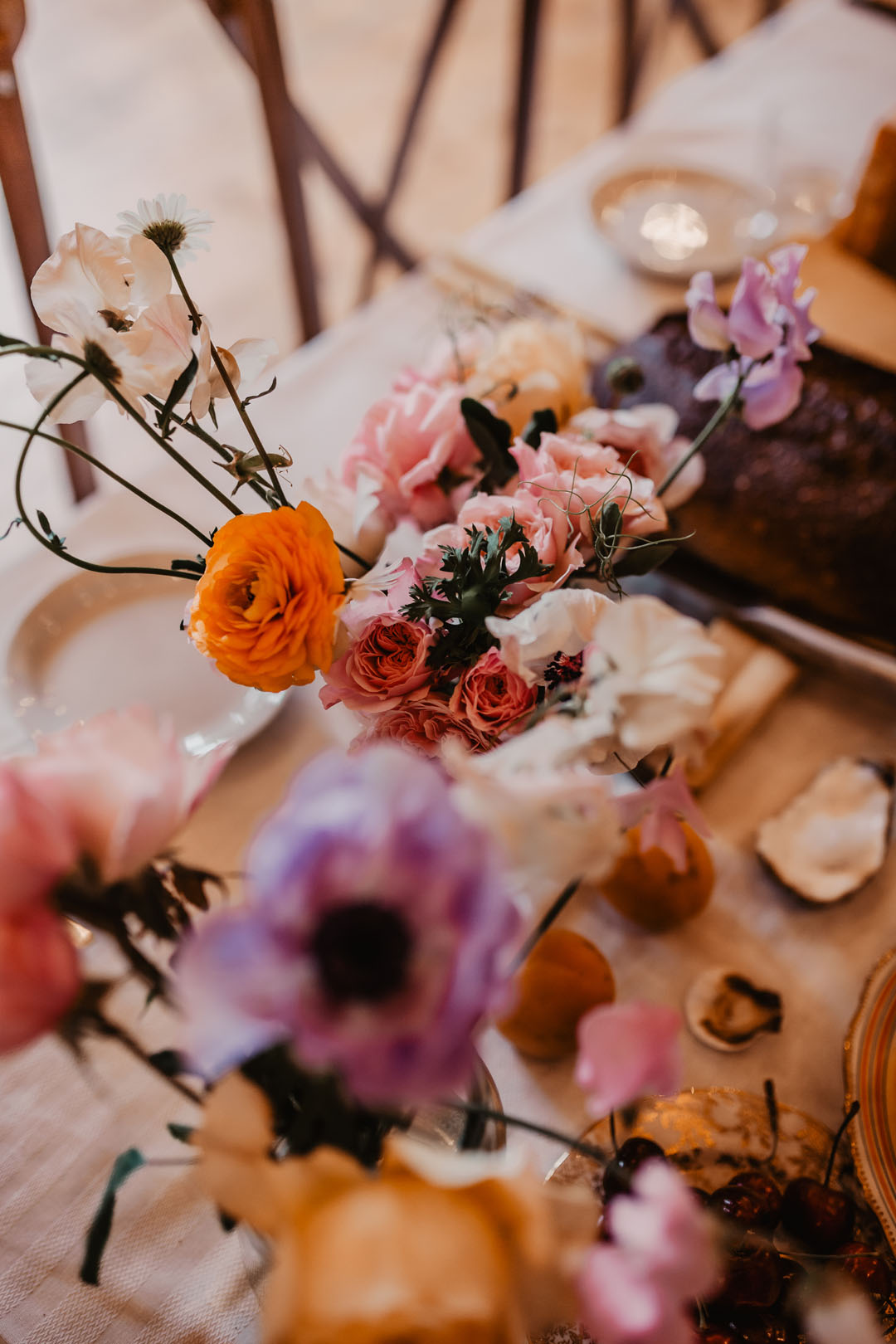 It must have been especially meaningful for the couple to decorate the tithe barn with the help of their family, many of whom they hadn't seen for two years.
"It was the first time we had seen our families for two years, all together in the same room, which felt such a use for celebration alone."
"We were all so extra-grateful and happy to be together, and made the most of it. After not being able to marry, just the getting married part felt such a long-awaited privilege."
Their choice of wedding venue meant that the couple had complete freedom to style and decorate as they wished. They got extremely hands on, with Jessica growing and styling the flowers herself and the guests recruited to help too.
"We decorated the barn until midnight the night before. There was so much to do: bunting and festoon lights to go up; all the antique silver cutlery we had been collecting, huge wooden boards and glassware to be put out; pastel-coloured candles in brass antique candle sticks; shells on the tables; fruit and loaves of fresh bread; table cloths needed to be ironed; and flowers put into stem vases. Everything for our wedding had been collected over the two years before."
"Even the confetti had been collected from families' rose gardens and roses from my job, dried and kept lovingly for confetti. I was often handed a freezer bag full of dried rose petal for the wedding in the build-up."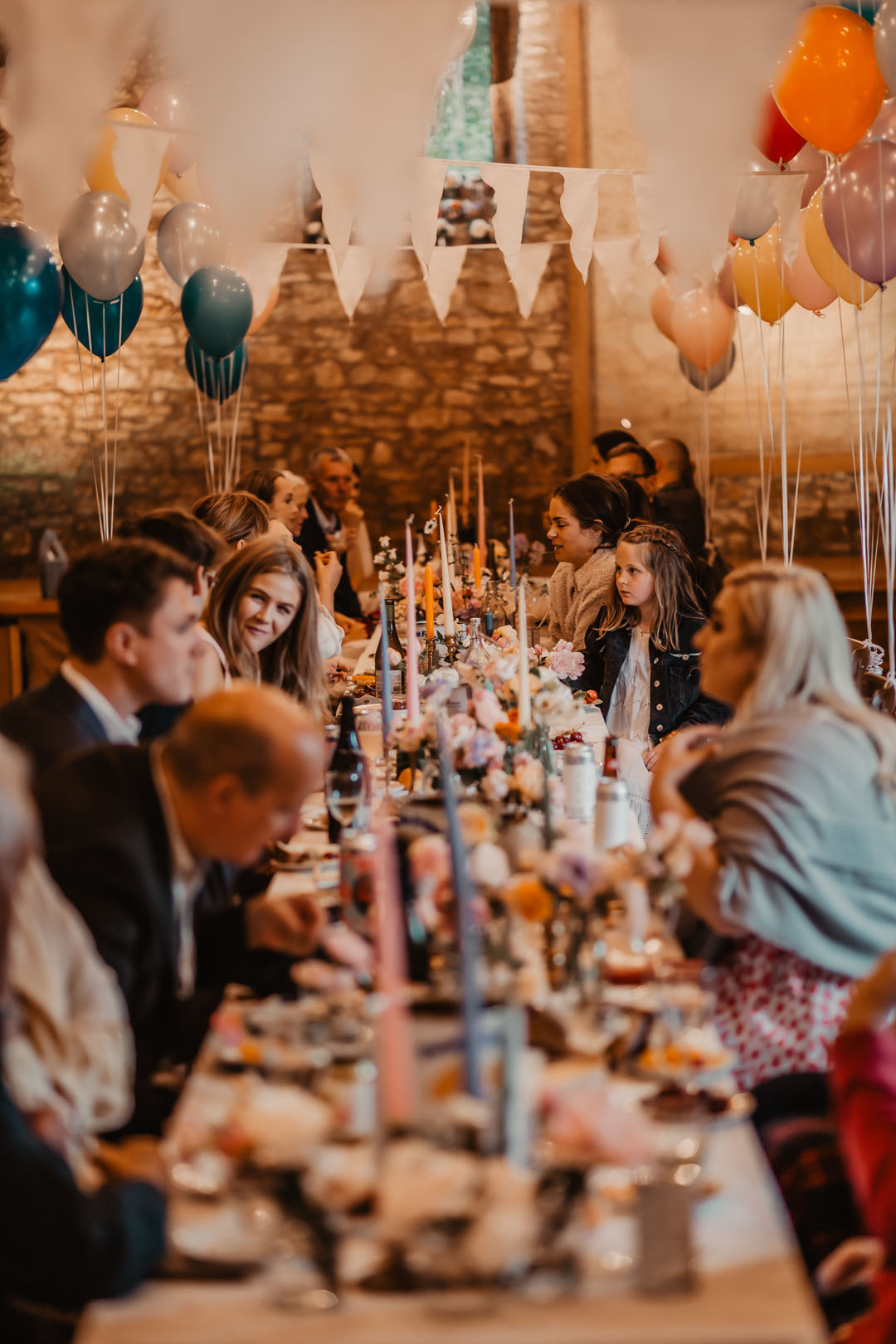 "It was a big job that took until the small hours of the morning to finish but all of our family staying for the weekend were there helping. We could not have done it without them."
"There was a moment when it turned midnight and we were all done. We all sat on the stage and looked at what we had achieved then headed swiftly for our beds."
"We spent the end of the night in our cottage with all the young ones, playing guitar and eating cheese and biscuits until one of the bridesmaids fell asleep in our bed."
"They scooped her up and went back to The Talbot Inn, leaving just Ben, me and the dogs."
The wedding cake was made by Jessica's talented sister, who is a baker.
"She baked us the most beautiful cakes. They were bright blue, lemon-flavoured, with neon red cherries to top them."
"She made us three, as we wanted to invite some extra friends who couldn't be in the final 30 to the walled garden for a separate moment of cake and fizz."
"Then, there had to be enough for the rest of the wedding guests waiting for us in the barn."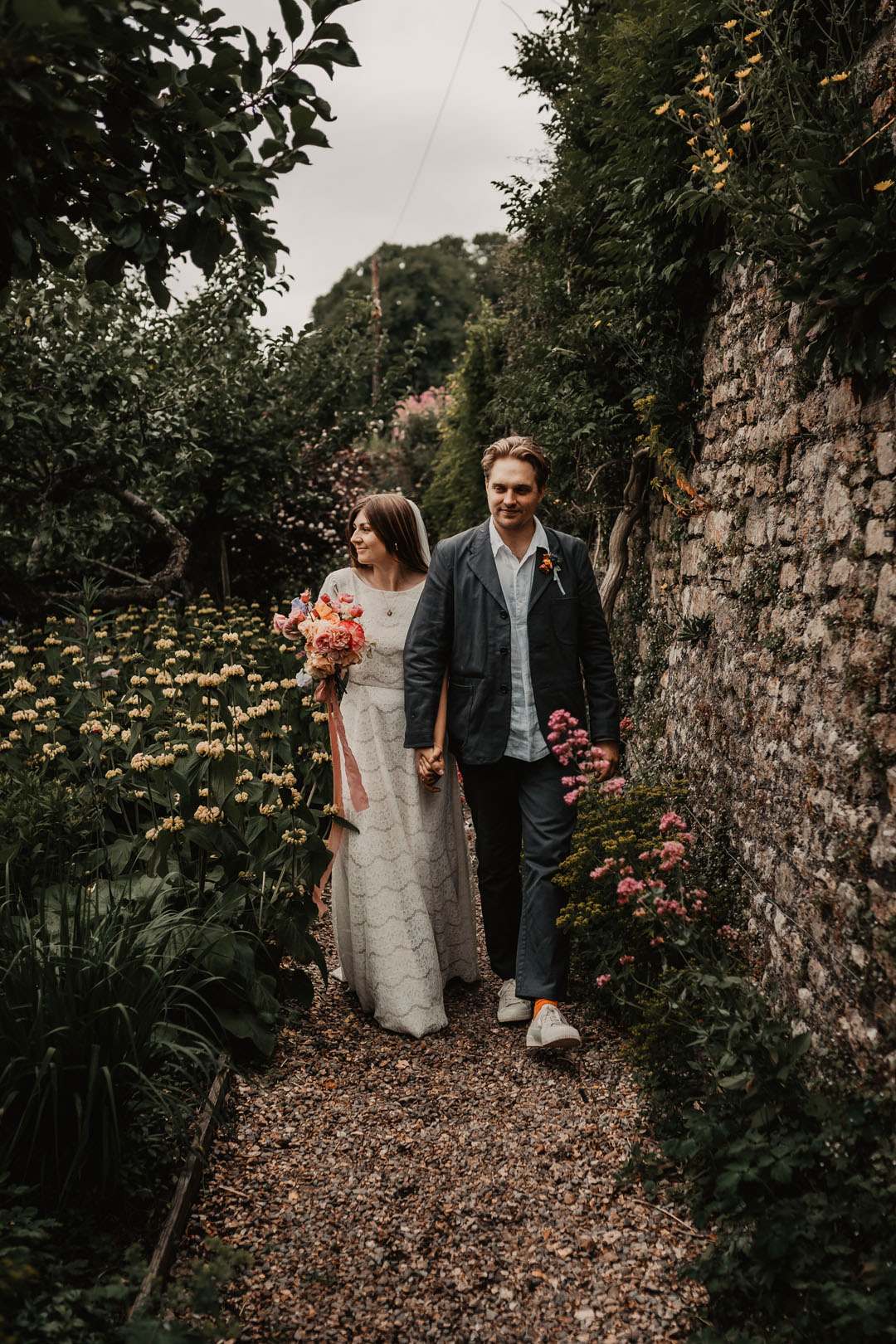 "The blue of the wedding cake was to match my blue Shrimps bag, which had been under my bed in its box waiting for its moment. I also had blue chunky shoes."
"The cake is still spoken about to this day. Even the vicar wouldn't leave without a second slice!"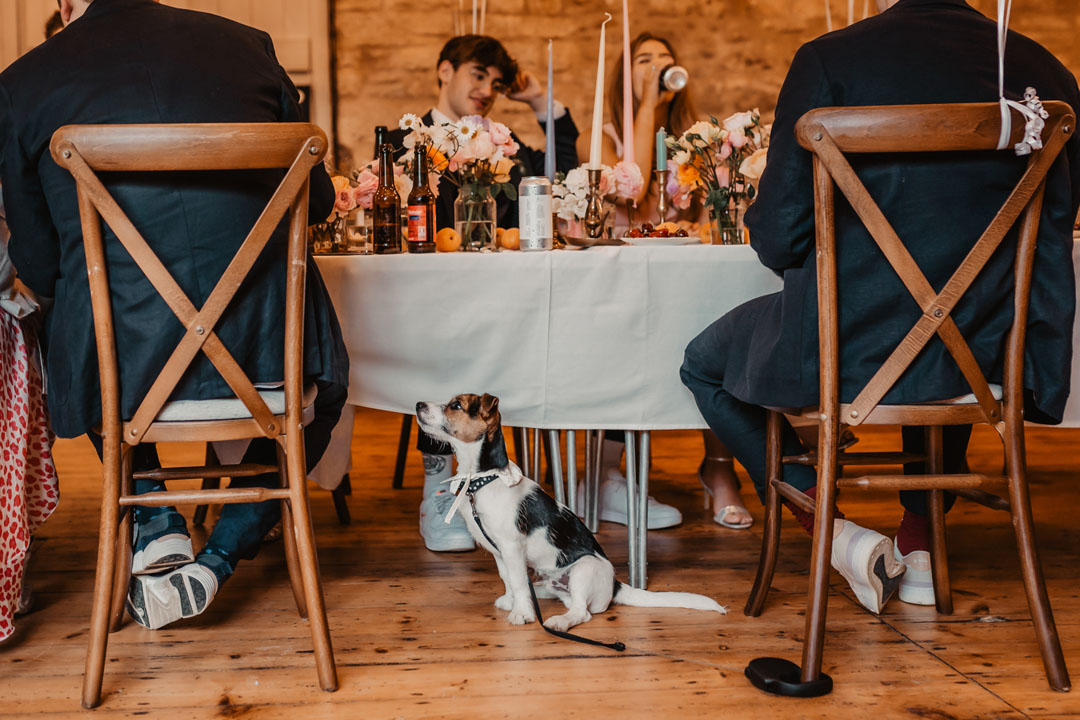 Jessica has the following advice and reflections on her own day for other couples affected by Covid postponements.
"I think that our wedding was actually better for being postponed. It was a very nerve-wracking time in the build-up."
"There were lots of people we could no longer invite, lots of changes that had to be made and plans rethought."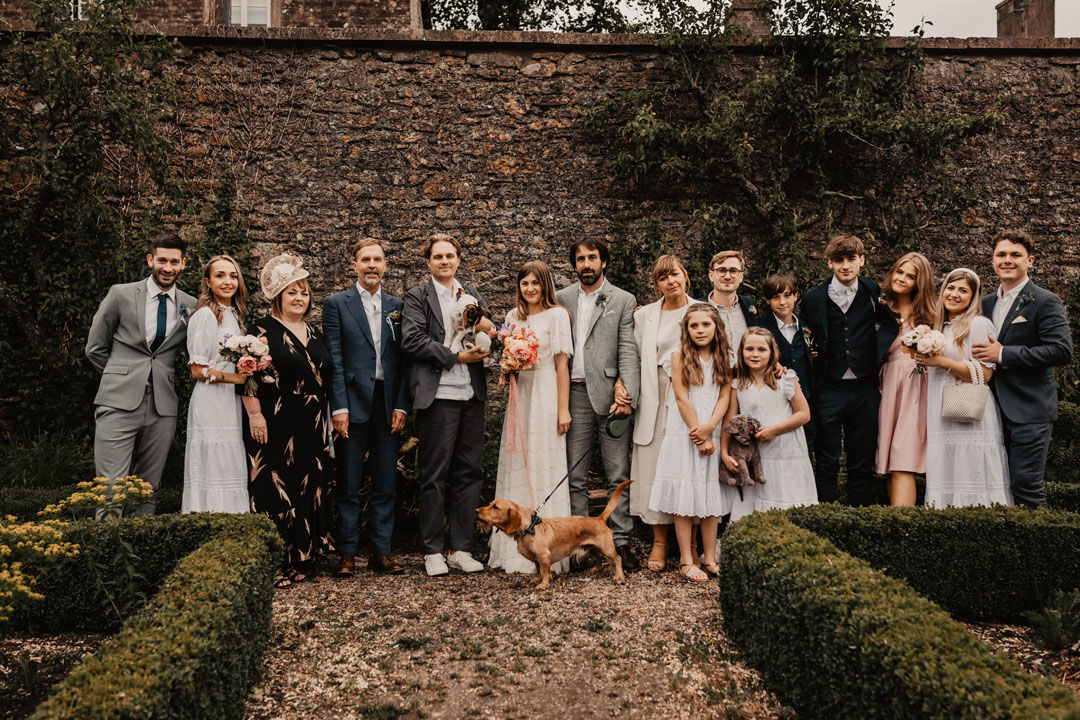 "Most sad was not having all the people we wanted with us for our day. Something else that I was upset about was having no bells in the church for the day."
"I had dreamed since a little girl of hearing wedding bells fill the village with their joyous sound to announce our wedding day but, as the bell ringers couldn't social distance, we had none."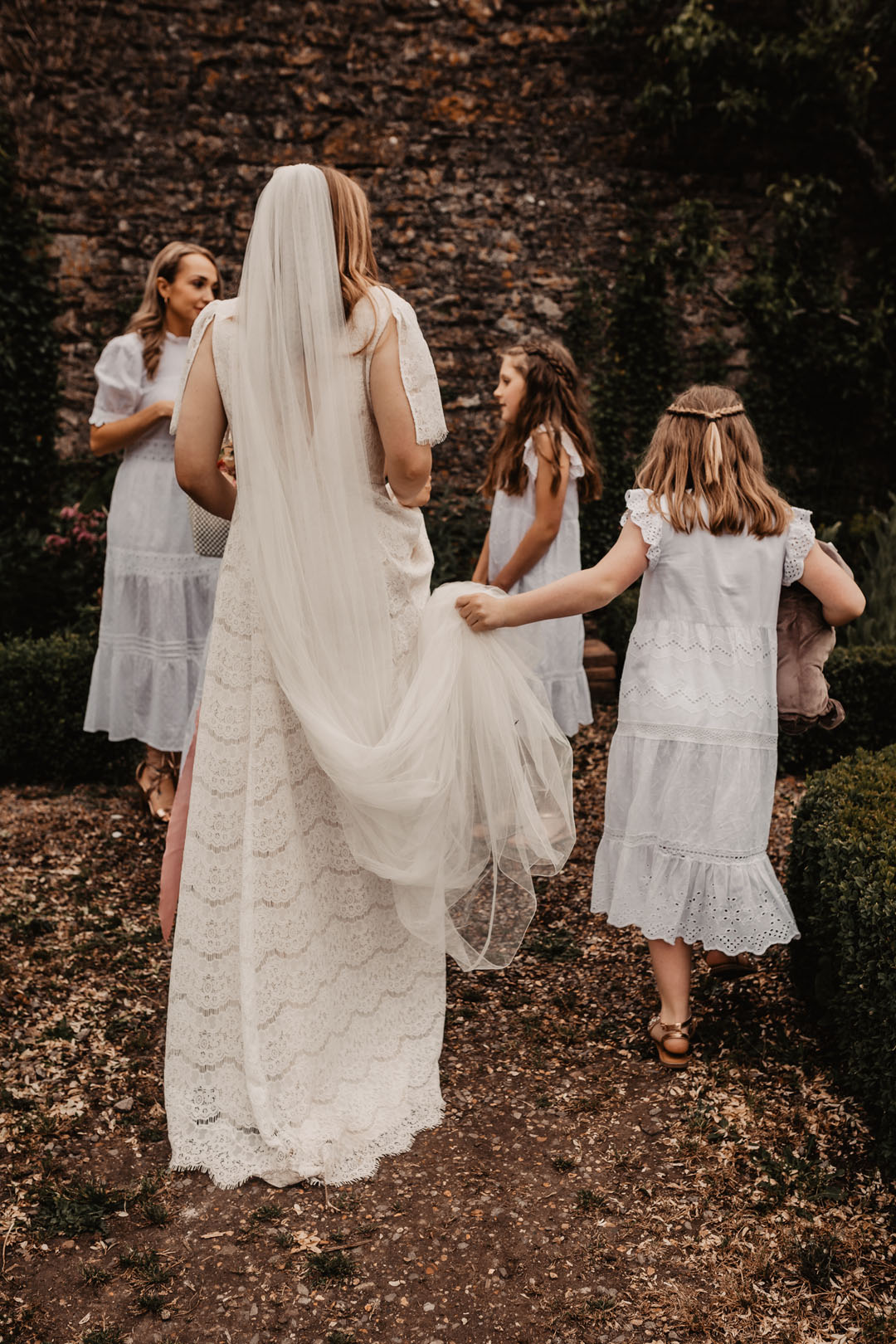 The bridesmaids were Jessica's sister Ellie, Ben's sister Amy and her two young cousins.
"I wanted the style of their dresses to not be too formal and fancy but simply look like a frock out of 'Little Women'."
"They were white, summery, long dresses with puff sleeves which, with their sorbet-coloured bouquets and gingham face masks, looked so, so lovely."
"The little bridesmaids had beautiful plaits, with some hair loosely down."
Capturing the day was the couple's close friend, Charlie Britz Photography. She has so wonderfully recorded the relaxed, summery feel of the day and the beautiful walled garden reception.
'She made our photography feel carefree, intimate and she knew us inside out which made the photographs n come back so full of love. Her style of photography is so swoon-worthy."
"Photography is very important to me, as it's a passion of mine. We knew Charlie would get it right, which she did. The photographs are so artistic and the colour tones are dreamy, plus she made everything so seamless. She even had a kit of spare this and that in her car boot in case I needed anything."
"She worked around all of us and felt like part of the family on the day. She was present and everyone knew her by the end of the day, but sometimes I didn't know she was there. I truly couldn't think of a better wedding photographer for us."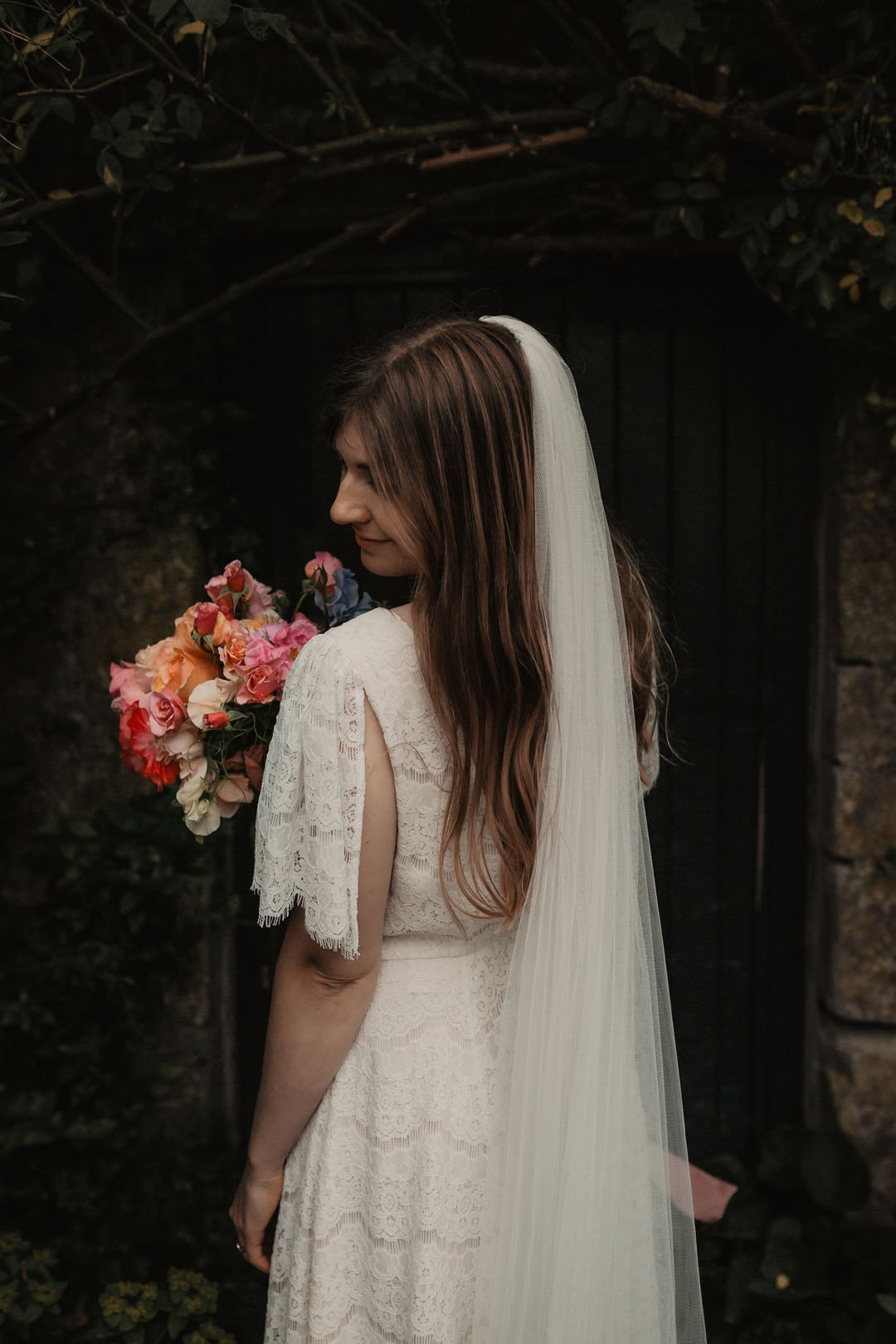 Words of Wedded Wisdom
"Try to enjoy the planning. I spent a lot of time in the beginning feeling stressed and pressured but actually, the only people you need to impress or please or make happy, are yourselves."
"Do whatever you want to do, not what your family and friends want you to do."
"Enjoy this precious time in the build-up and savour it."
"I loved the new people we met through it and the memories made. We organised lots of little day trips with friends and family to Mells in the years leading up to it, getting to know the village more and sharing it with our family long before the big day."
"I wanted to feel familiar and part of it before our day, not from a practical aspect but from a nostalgic one. I wanted it to feel like our place before we even married there."
"If you can do this then do. You make so many special memories that on the day you feel it's part of you already."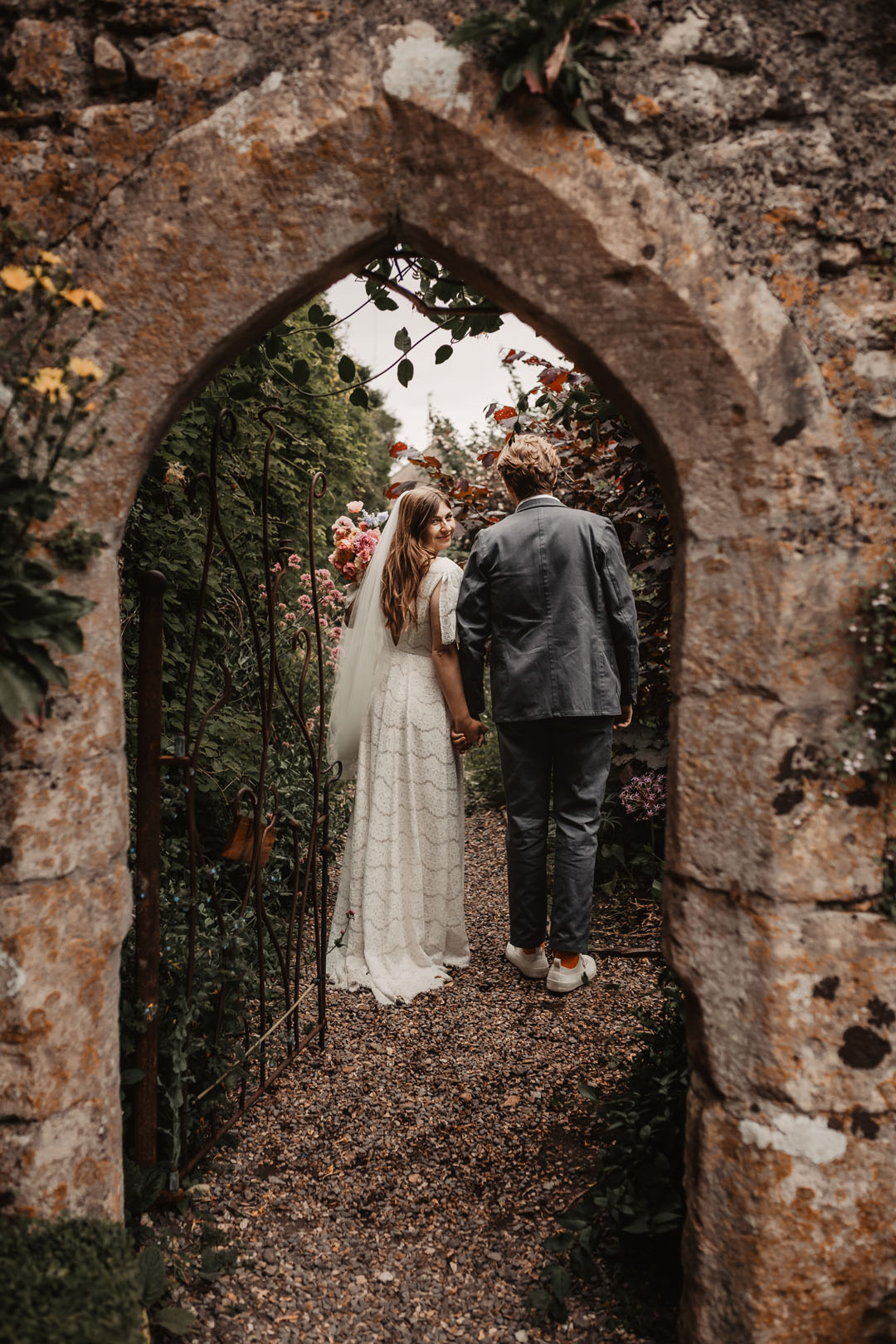 Jessica and Ben, so many congratulations on your marriage. I love your idea of the wedding village, and it must have been so lovely to drift between the different venues to celebrate with your guests.
Thank you for sharing your day with us and thank you Charlie Britz Photography too.
If you love Kate Beaumont's gowns as much as we do, why not get more inspiration from these brides wearing her designs?
Ele xx