Actor and Wedding Stylist and Planner, Verity, married her love and fellow actor Niall on 20th January this year, at the breathtakingly beautiful Iscoyd Park in Shropshire.
The couple created a romantic ambiance at this exquisite country house wedding venue, by filling it with an abundance of flickering candles and gorgeous floral arrangements and keeping the décor simple and elegant. The bride wore a couture Suzanne Neville gown for the main part of the day, before slipping into a hired outfit for the evening and again for brunch the next day – and our talented recommended supplier, Emmylou Kelly captured all the magical moments.
Verity's wedding day experience ignited a passion for wedding planning and has inspiring her to create The Fior Collective, an exciting new business venture that is poised to launch this summer. Verity, we can't wait to see what you have planned and to support you on your entrepreneurial journey into the wonderful world of weddings.
Iscoyd Park
Choosing the perfect venue was so important to us as we had a few things really wanted and needed. Right at the start, we made a list of some 'non-negotiables' as we called them, and this helped us immediately narrow down our search.
We wanted somewhere big enough to accommodate our big families coming from all over, a place where a large portion of our guests could stay on site, and a venue that allowed us to throw a serious party!
Iscoyd Park popped up every single time. And although we are based in London we knew the trip to view it was needed. And it was so worth it. Driving up the driveway was one of those moments that just takes your breath away (something our guests have commented on too!). Not only was the house itself and the setting really stunning, but as we arrived, we were instantly treated like part of the Iscoyd family. And I think that is what instantly won us over.
We are both so family-oriented and wanted the place we got married to reflect that. A venue that felt like all our friends and family were gathering in our home to celebrate and feel like they were in a safe and familiar place. Iscoyd also offers so many different spaces and are super flexible on how you can use them.
Ultimately, we wanted to create a weekend filled with emotion and happiness with family, and Iscoyd provided just that.
Beauty & Accessories
My makeup artist was Genevieve Brown. Gen is a friend of mine who is fantastic at makeup (and singing! She also sang me down the aisle!) So we did my makeup together. Daniella Ingle, my hair stylist, was one of the first suppliers I booked. She is incredible!
My shoes were Sophia Webster and I my scent was Flower Bomb by Victor & Rolf.
I wore my gran's old gold and blue ring on my little finger which was really special.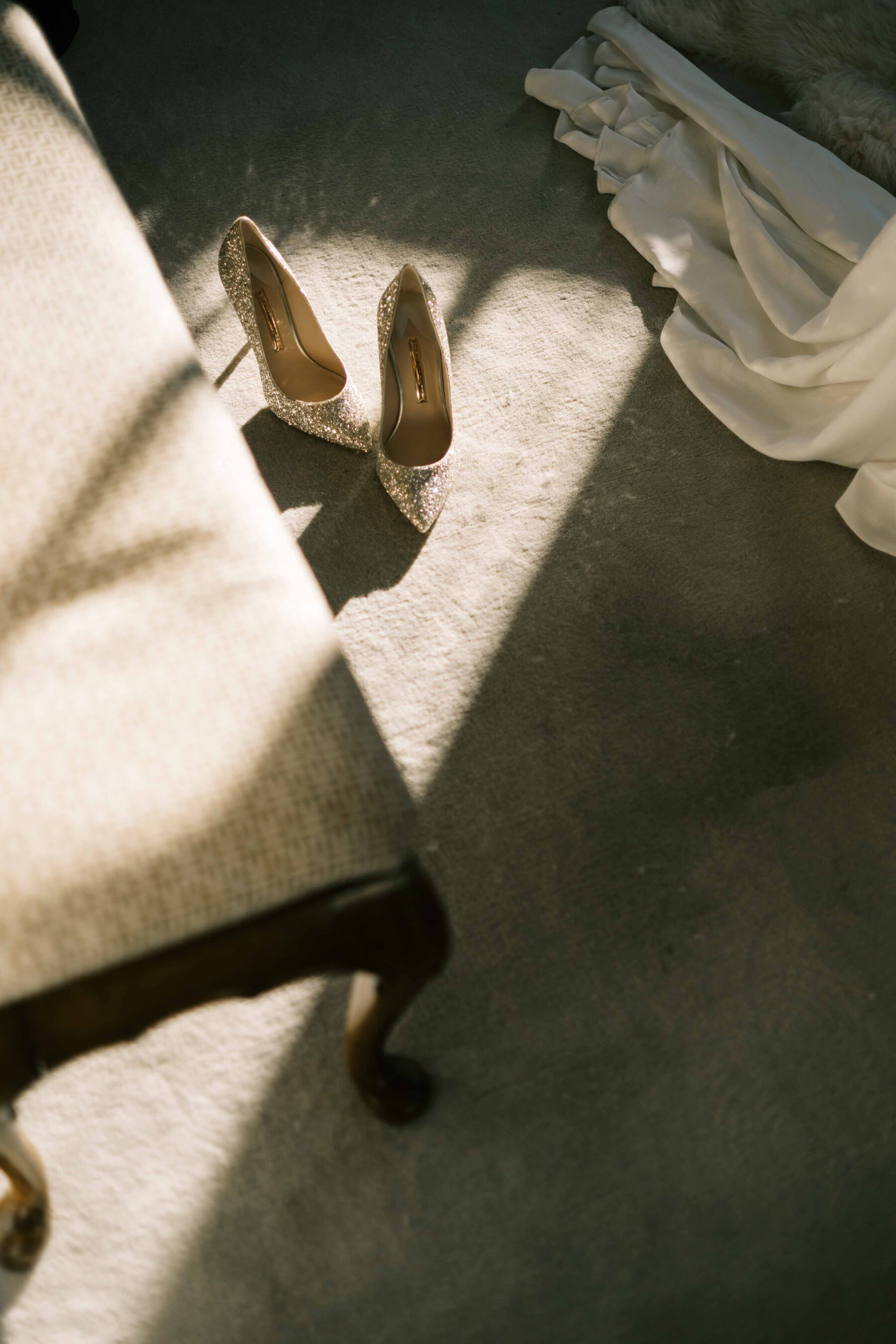 My veil was lightweight and long and made from Italian silk by a seamstress in Italy. I bought it off another bride who wanted something shorter. I couldn't believe my luck! It floated so beautifully and was the most amazing material to the touch.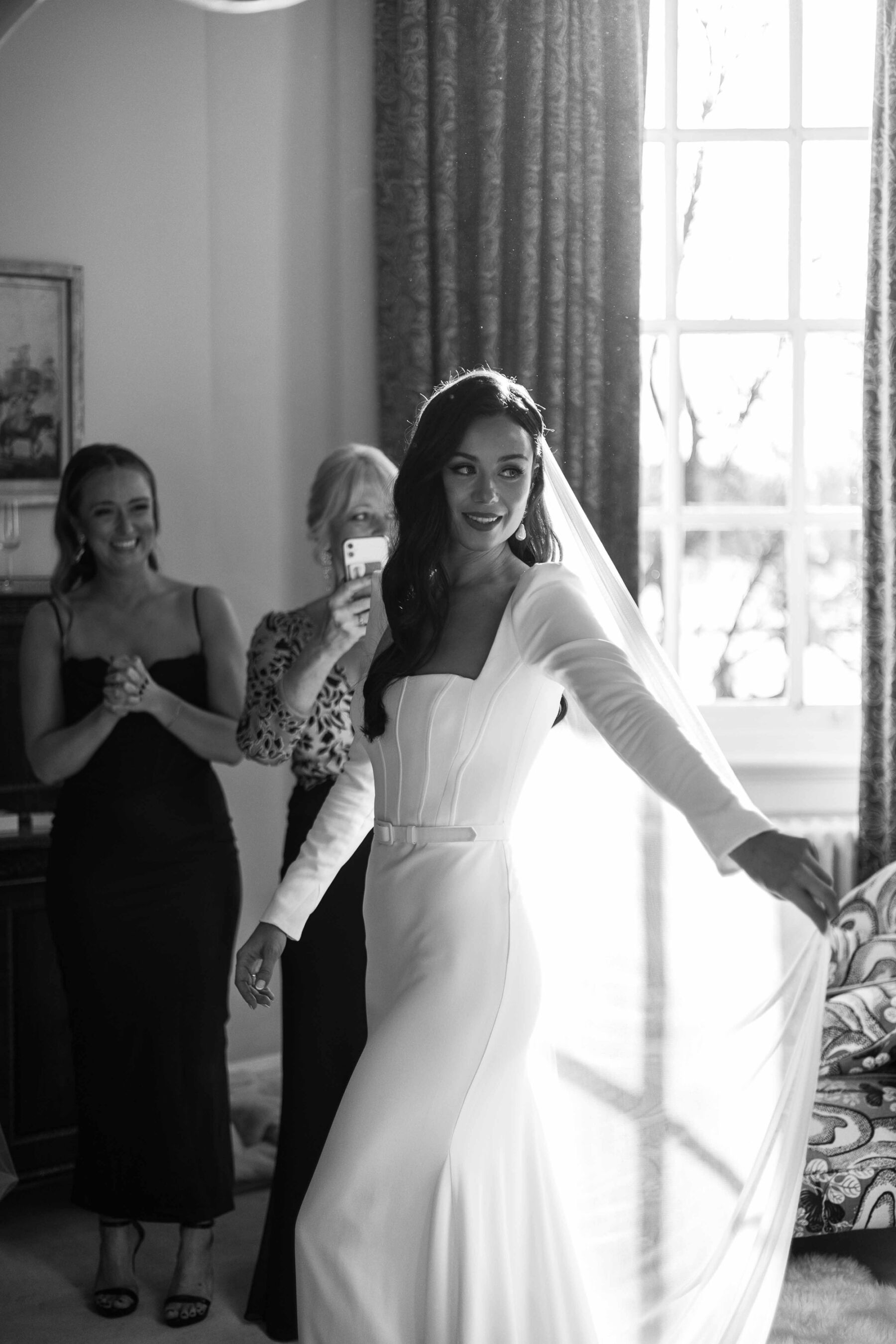 Suzanne Neville
My Suzanne Neville 'Amber' dress dress was from The Wedding Club in Birmingham – a really great experience. It was the first dress I had tried on in the store after seeing it online and I instantly fell in love. I still tried on a few more, as I really wanted that full bridal experience but nothing came close. And I bought my dress that day!
Again, I just wanted something super classic and elegant. Fitted and clean lines, nothing too fussy, with a simple veil. It was just perfect, and I'd had my heart set on sleeves since I was a teenager and dreaming of my big day. The neckline of the Amber dress is exquisite and I just felt like the best version of myself.
My other bridal outfits – I rented! I try to rent as much occasion wear as possible, so my wedding wardrobe was going to be no different. I hired a gorgeous Ghost white suit from by Rotation for our official ceremony in Ireland a few weeks prior, a white satin halterneck dress from Bardot off Hurr, and a silver Rat & Boa dress from by Rotation for day two.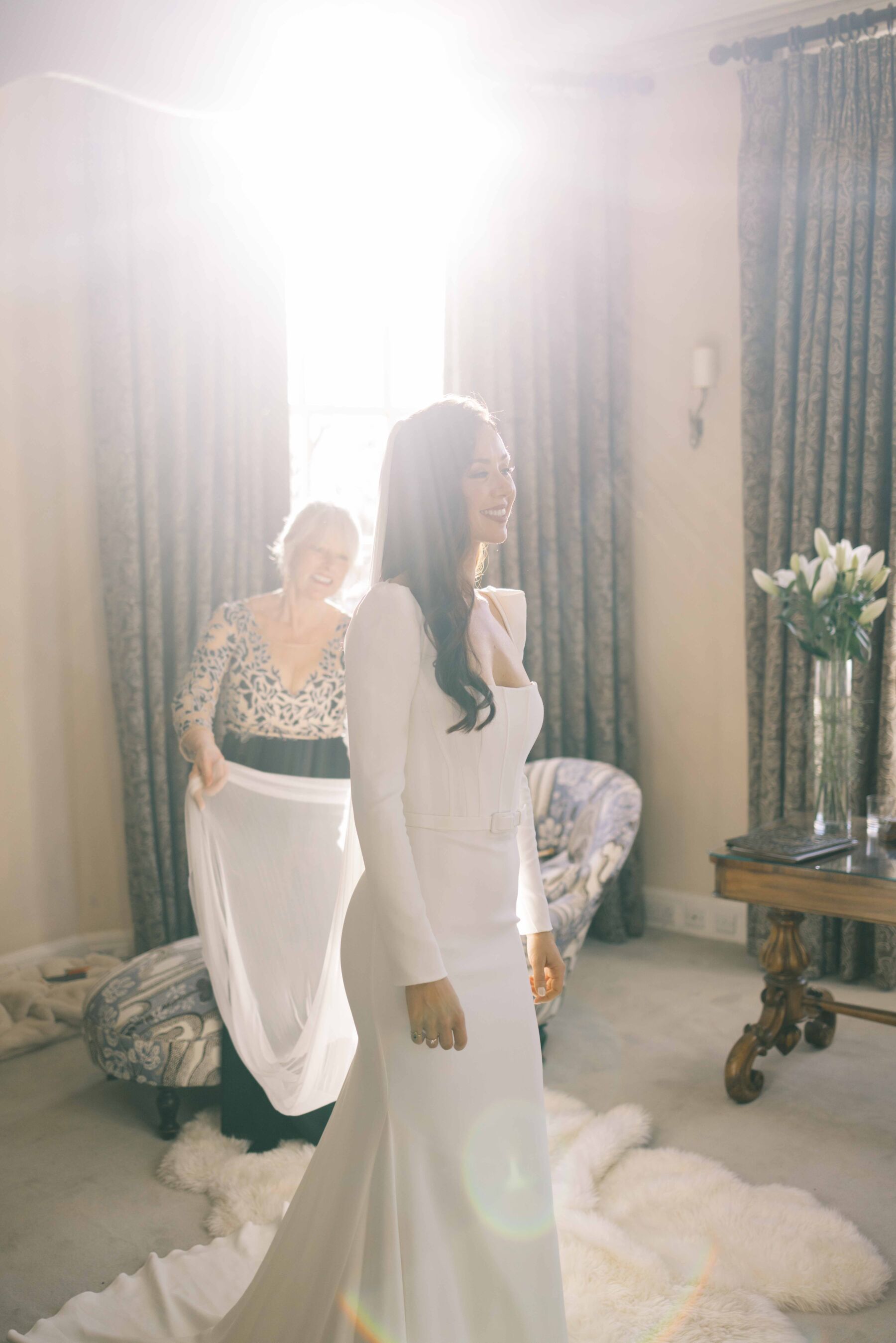 The Ceremony
We were legally married in Belfast two weeks prior in the Good Shepherd Catholic Church. Our Iscoyd Park wedding day was where we held a celebrant led ceremony. My partner and his family our catholic so we wanted to honour that in Ireland in the church his parents got married in, by having a religious and official ceremony first.
My dad walked me down the aisle and my friends sang me down the aisle – a three part harmony arrangement of the classic 'Can't Help Falling In Love With You' by Elvis – accompanied by keys and a cello.
Our dear friend Fra Fee, who is also an actor, officiated our wedding He made it so personal and fun.
We didn't write our own vows as we wanted to share those words in our speeches, so we found some simple ones online that rang true to us and used those.
My two school friends read 'How Being In Love Is Like Owning A Dog' by Taylor Mali, as we have a little puppy, Conan
Niall's two school friends wrote their own reading, which likened our love to a work of art, with the final line saying 'Welcome to the art gallery of your lives, I hope you never forget how picture perfect this day is.' We wanted to have a surprise, and it was incredible – really special. And then Niall's sister read a poem called The Gift by Pam Brown.
We lined the aisle with bursts of pillar candles and kept the florals to the window sills, in those gorgeous romantic colours.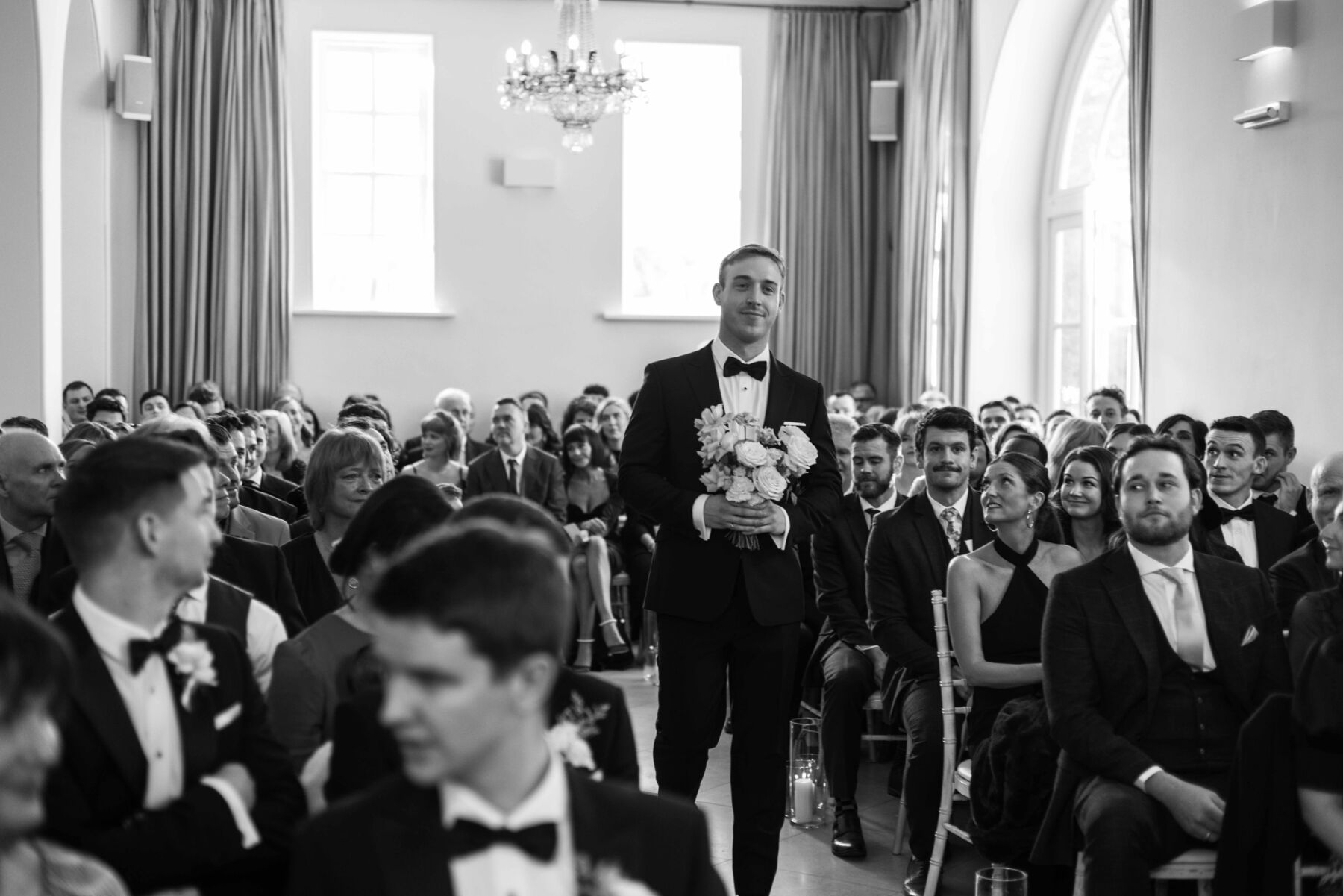 Photography by Emmylou Kelly
We fell in love with Emmylou Kelly's work via Instagram and I just couldn't get her out of my head.
Emmylou's film photography complimented our venue and theme and her knowledge of light was perfect for our winter wedding.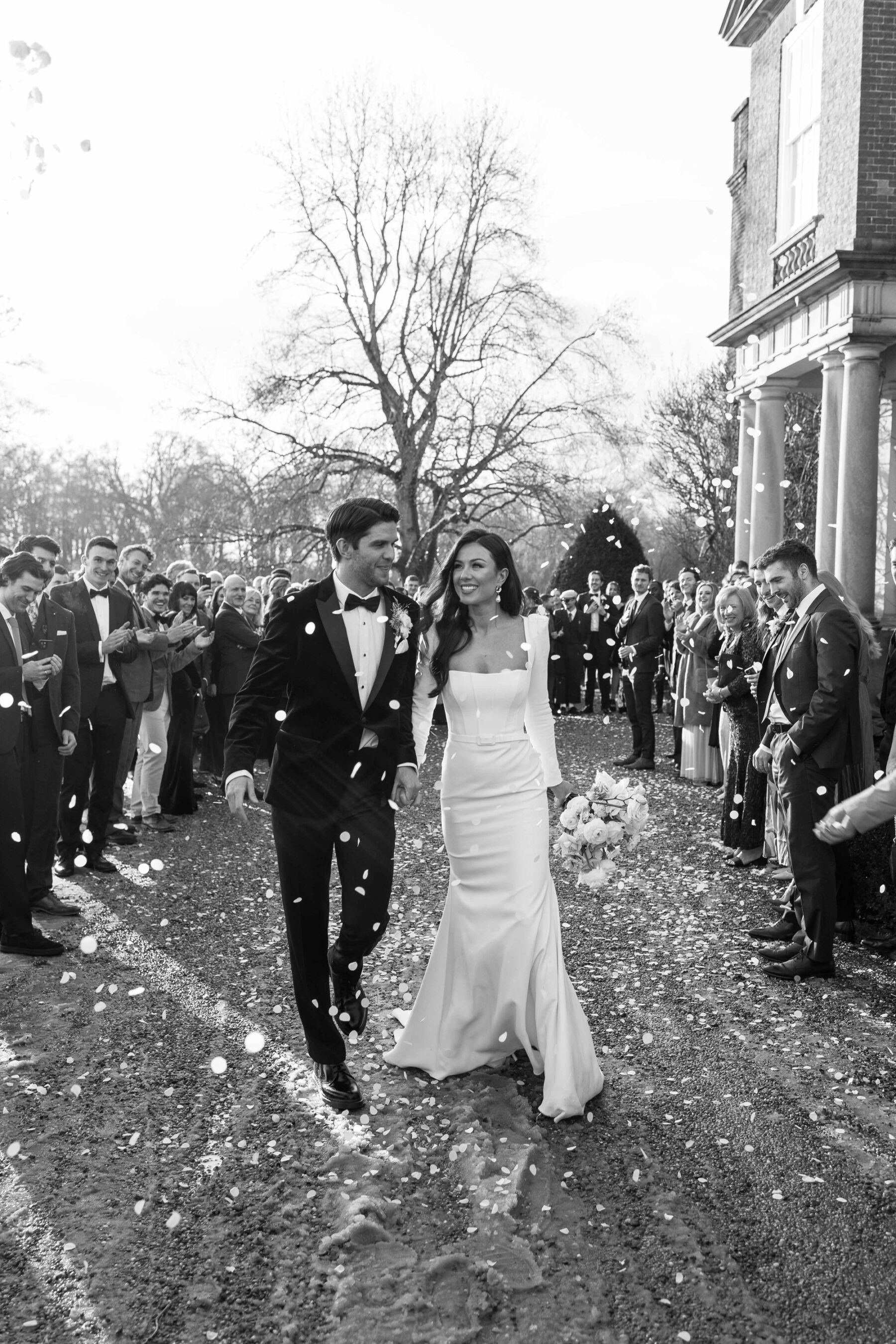 Videography
Our videographer was John Taylor – we wanted something different that represented us and captured our love and fun as a couple. And he gave us just that! He's brilliant.
How They Met
We met at drama school is Bristol in 2015 and got together in 2016. We got engaged in the summer of 2021 and had a year and a half engagement.
We knew we wanted a winter wedding as its such a magical time of year. And with the potential of having snow, we kept the colour palette of the day quite white, neutral with some touches of black.
Once we had secured the venue, we also knew a timeless, classic and romantic aesthetic would work best with it, and we allowed our personalities to be shown in subtle ways – for example a seating chart that was titled 'The Cast' and a vintage red car parked outside the front for some fun photo opportunities!
The Groom
Niall bought his and his groomsmen tuxedos from Bogart Menswear in Belfast, where he is from. He knew he wanted to go super classy with a tux and he ended up going for a velvet blazer as the groom which was so gorgeous on him.
He looked unreal! He also splashed out on two variations of bow tie for him and the boys. A pre-made classic bow tie, and then an undone one for the evening! They swapped into them for the evening and they looked so chic!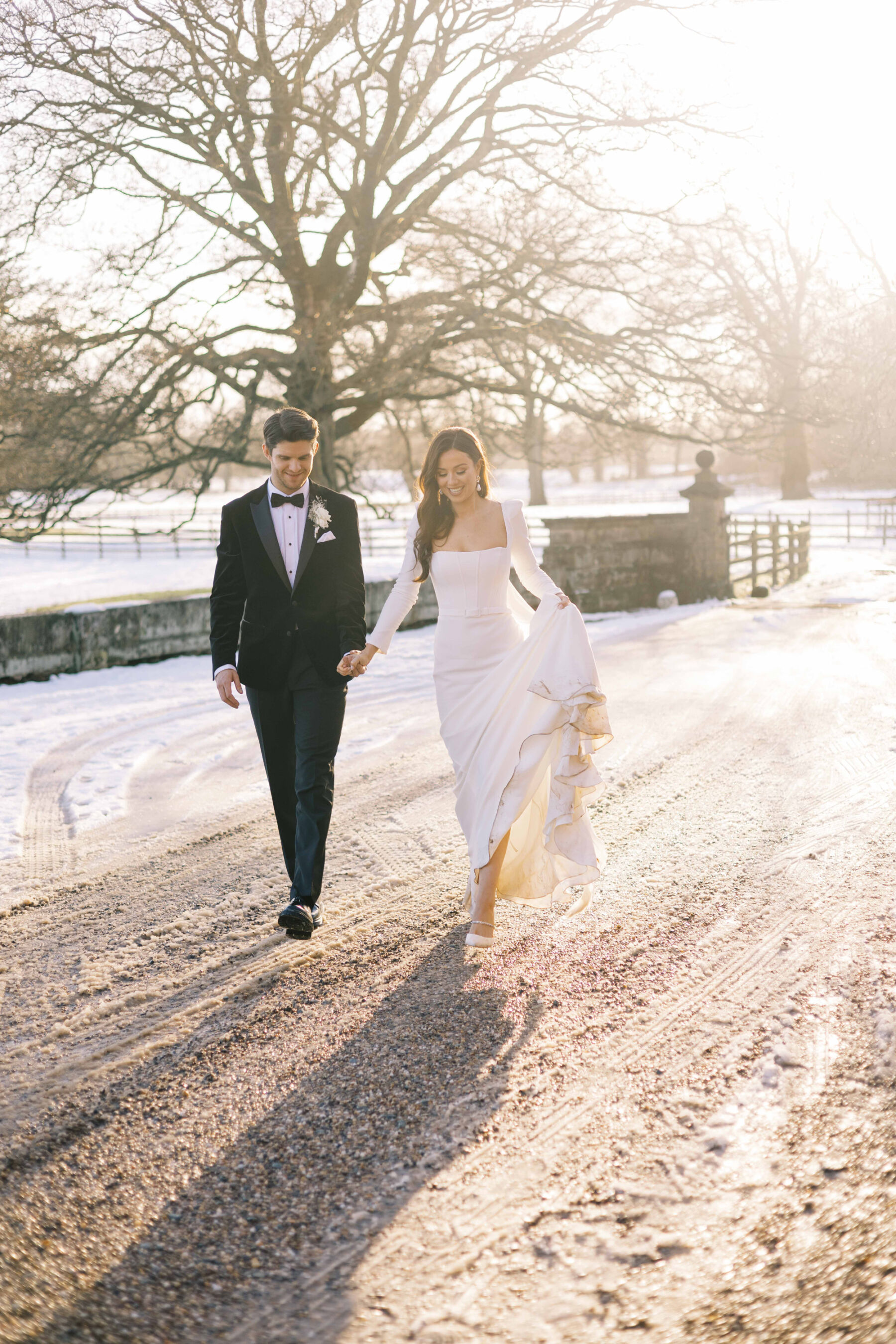 Bridesmaids
My bridesmaids got to pick whatever style, shape and colour they wanted (I gave them a colour palette which matched out theme for the day and let them chose as I wanted them to feel comfortable and express themselves however they wanted).
Guests were given a dress code of evening formal wear, and with the bridal parties in black, the colour palette for the day worked beautifully.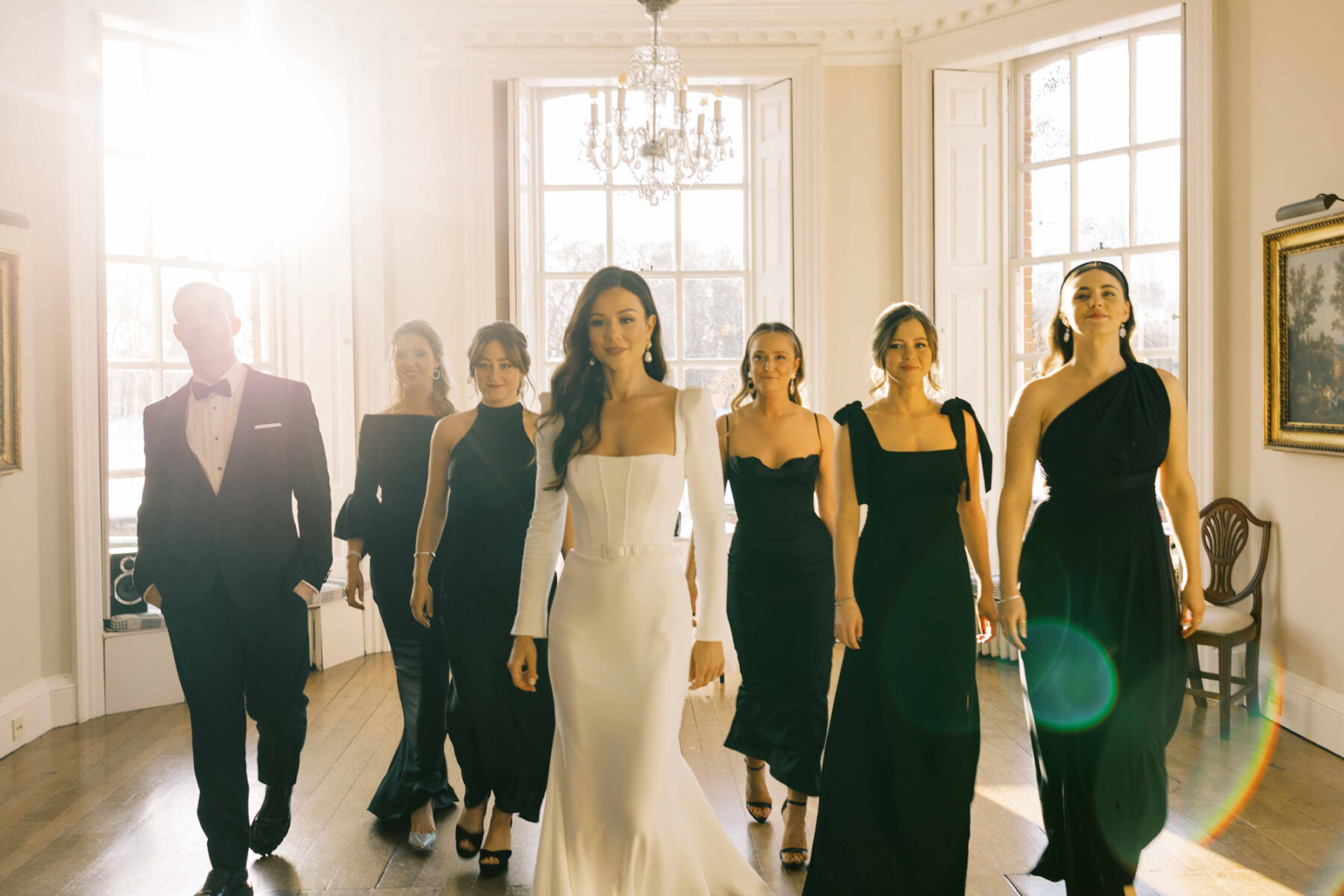 Reception
Detail & Decor
---
With a large guest count and in the cold winter month of January, our main focus was simplicity and light. There are areas of Iscoyd that are bright and bold so the space often speaks for itself, its about balancing out areas and keeping a nice flow through the whole venue.
We knew the tables couldn't be too busy as there were so many people and we wanted to have that classic, clean look. So we kept the tablescapes fairly neutral and simple, with depth added by bringing in as many candles as possible of varying sizes and heights and in neutral and deep dark colours. This allowed for a gorgeous romantic setting.
Our floral designer, Sasha at Sass Flower, was another Instagram find. Sasha is outrageously good! We had so many meetings and I'd leave feeling so inspired and excited. She is so good at what she does, and was really flexible with my desires.
We went for lots of white, blush and nude reflexed roses, with some hanging orchids, and then these incredible hanging clouds from the dinner hall which had bursts of burgundy and black through them, adding depth and drama. Was just incredible.
My auntie made our cake. It was chocolate fudge as I am a chocoholic – and I designed all stationery myself and printed at a local printer.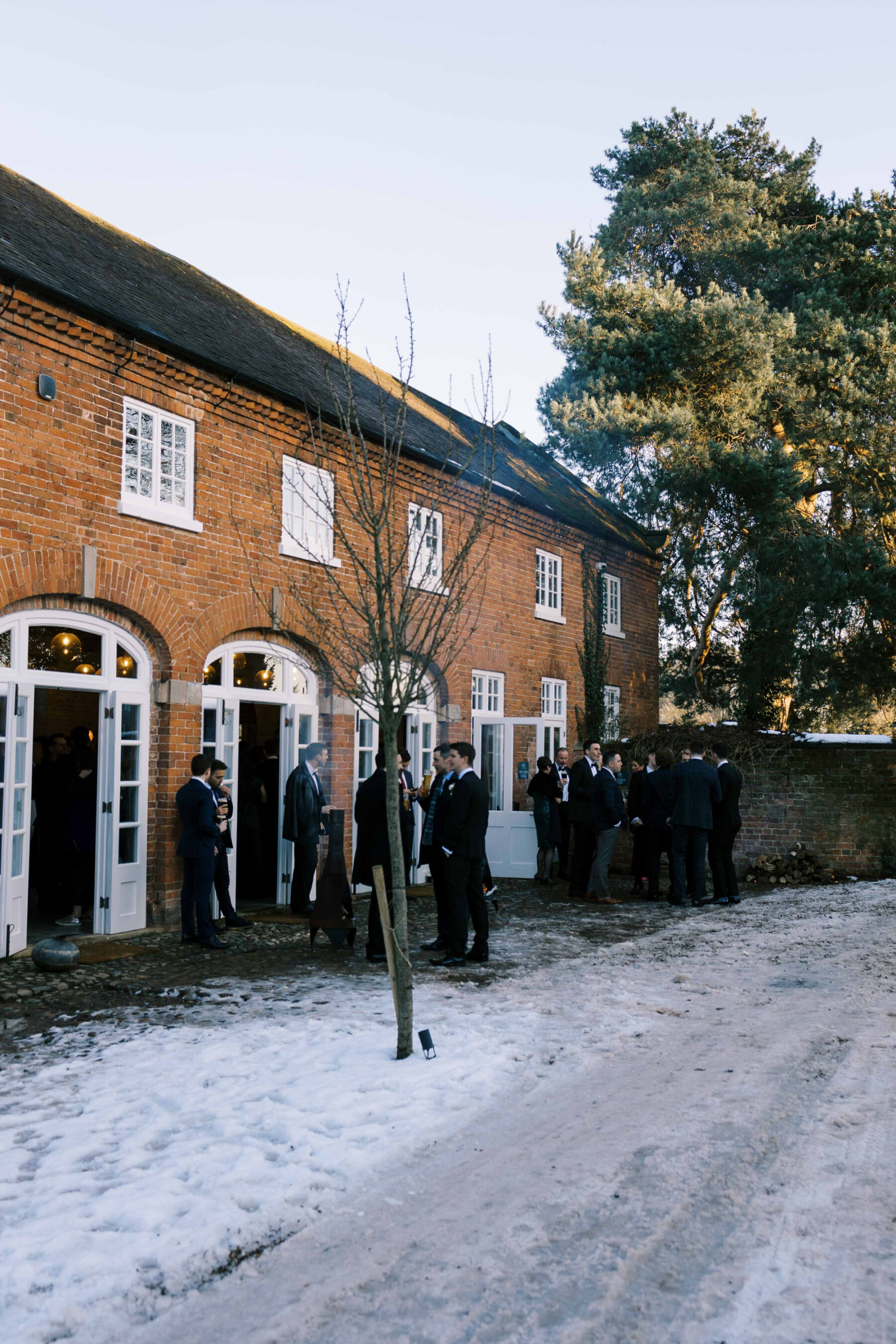 Evening & Dancing
We did a mash up of three high tempo songs to get the party started; Camilla Cabellos' Don't Go Yet, Ben Platts' Share Your Address and John Legends' All She Wanna Do. Our live band was Tru Groove.
We then ended with a snippet of a ballad from my brother's band, The New Cost, to end it – as we slow danced and got everyone on the dance floor. It was epic and really set the tone for the night.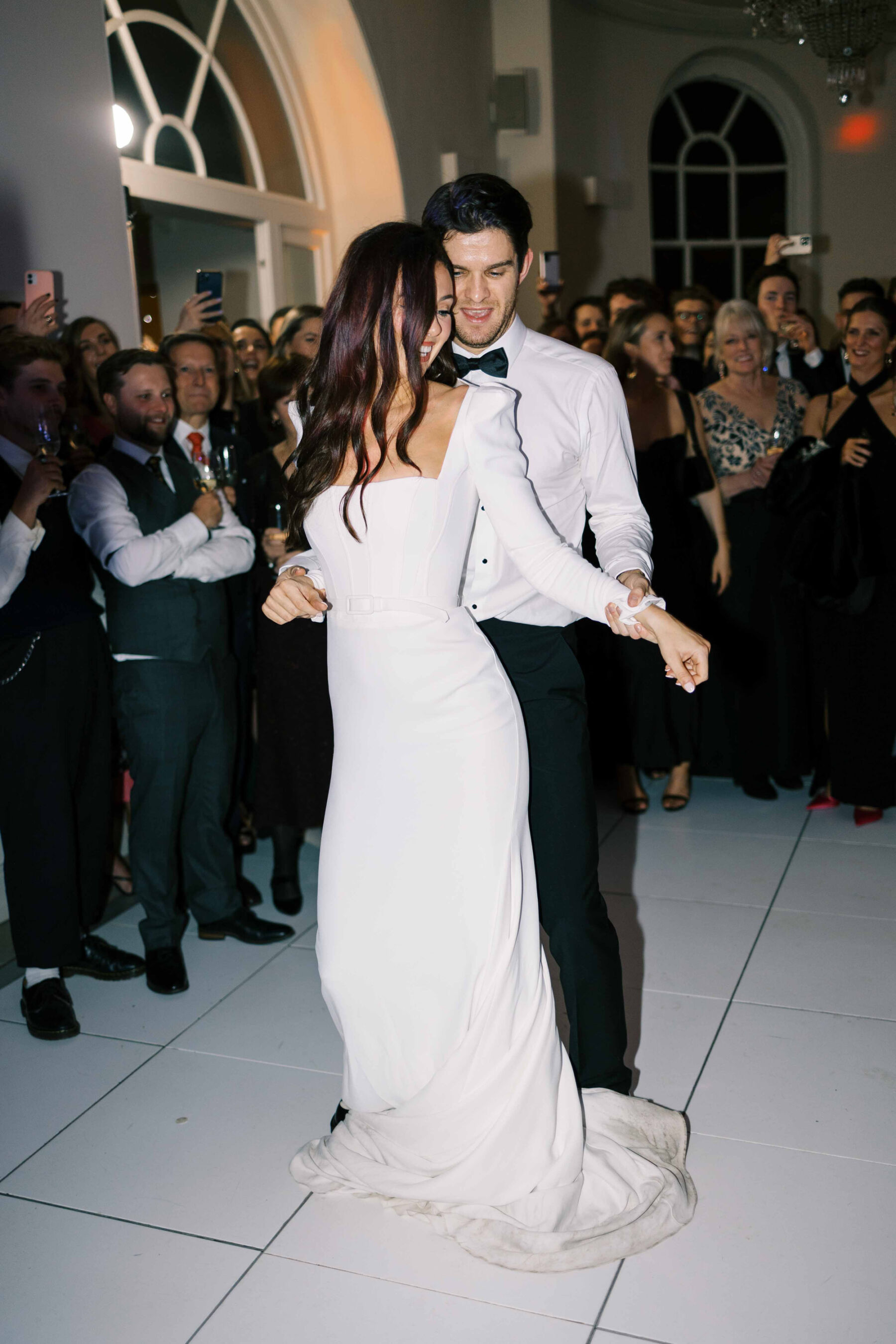 Words of Wedded Wisdom
My biggest tip would be to take things slowly. It's so easy to get both excited and overwhelmed with the amount of things that are out there, but it takes a while to understand your vision and what ultimately makes sense for you as a couple.
Don't hesitate to get stuck in on the big things to secure them for your date, but don't rush the small things. They may change! And also enjoy it! It's the most exciting time and remember why you are doing it, because you love each other so much. Pour that love into the planning and the day and everything will be perfect. And if you do have any extra budget, or want an extra pair of hands (or ears), hire someone to help you!
Our budget was definitely exceeded. To be perfectly honest, we had such a large wedding with nearly 200 guests in the evening, so it upped the price on everything. But worth it! Anyone that knows me, knows I am always saving money and on the hunt for a bargain, so I think we did pretty well!
The day was filled with so much happiness and love and laughter, the whole thing could have gone wrong and I wouldn't have minded. I think having an on-the-day coordinator that has been with you for those last moments of planning can probably be beneficial but the team at Iscoyd were a dream and executed everything beautifully!
I now see the benefit of having someone working for YOU on your day however, to alleviate any extra stresses. But the whole day was just magical from start to finish.
I have truly fallen in love with weddings and the whole planning process so set up my wonderful new business venture, The Fior Collective, launching in the summer – with my first official client back at Iscoyd Park in November.
Visit emmyloukelly.com