Dawn and Dave's sweet, laid back wedding was held outdoors as part of a weekend of celebrations in Llwyngwril, a village situated on the west coast of Wales and part of the breathtakingly beautiful Snowdonia National Park.
The couple had originally started planning a traditional wedding, but guided by their instincts, they soon realised that they wanted to be close to nature on their wedding day, so instead chose to hold their ceremony close to the gently rippling waters of Cregennan Lake. In their own words, "we both agreed we wanted to be outdoors in nature and wanted something small with our close friends and family, and to make it right knees up that lasted longer than 24 hours!"
The bride chose a backless Pronovias gown and the talented Lauren Elliot – a Love My Dress recommended supplier, captured all the wonderful smiles, joy and celebration.
The Dress
Pronovias
---
I think I saw someone with a Pronovias dress on Love My Dress, I can't remember it now. I had already been looking at their dresses but felt more compelled when seeing the woman on your site, she looked incredible!
I just loved Pronovias dresses so I thought – go to the source! So I went to their flagship store in London on New Bond Street. I sent pictures of the dresses I liked and the assistant pulled 6 for me, 4 I chose and 2 I didn't. I could have chosen every single one of them, I felt beautiful in them. Two stood out for me though, so after a bit of whatsapp messaging I chose one. It was the only store I went into, I don't love shopping so that was a great experience for me.
The shop advised I'd have to use their seamstresses if I wanted guaranteed quality in adjustments, which I opted for and had to visit two more times, the last visit was a week before the wedding and I took the dress with me. Unfortunately, when I tried it on at home it hadn't been done correctly! I couldn't go back down again so I had a bit of a last minute call around to seamstresses in Manchester (where we live).
A wonderful woman called Ewa who works at Stitches in Manchester could not have been more helpful and professional, and sorted it completely for me, also improving the fit on the inner cups. I am so grateful to them and would highly recommend Stitches in Manchester, they had a special bridal room.
The Ceremony
We chose the lake to hold our ceremony, because we really wanted to be outside near water. The location was stunning and really reminded us of Scotland, which is where Dawn's from.
My Dad passed away in 2008 and I really wanted my Mum to be part of it. I fully respect whatever people choose for themselves, but I'm not fan of the concept of being 'given away' – we're choosing each other. So, when all the guest went down to the ceremony site, my mum and I sat in the garden room and Dave came and joined us, that was our 'first sight'. Mum joined the wedding party, and Dave and I walked down the ailse together. It felt really fitting and special.
We did play some music when we walked down the 'aisle' after the ceremony (Elbow, Day Like This). We don't have particular sentimental music together, so we just chose something from a local Manchester band and it's a song we both really like and find positive and uplifting.
Beyond the whole celebrant story being bespoke to us, my sister read a poem by Jackie Kaye, Scotland's poet laureate, called Lang Promise. It's in colloquial doric which is what we spoke when living in Aberdeen where we're from. It's a love poem to her wife, I heard her read it at a recital in Manchester before I met Dave and it moved me so much. I remember feeling hopeful that one day I'd feel as deeply and as loving about someone as she clearly did, and after meeting Dave I do.
We bought our rings from David M Robinson | Fine Jewellery & Luxury Watches jewellers in Manchester. We made our first appointment with them because Dave had bought a special watch there a few years ago and really liked the service. The service was impeccable, super personalised, relaxed and had all the time in the world for you. No hard sell whatsoever, just a genuine interest to get the right pieces for us.
They nailed it, and I ended up getting the first one they showed me (not after trying lots of other jewellers and rings). We each bought one another's ring. All the staff were knowledgeable there, but Jean stood out for being so helpful and also so fun!
I cannot say enough good things about Amy, who officiated our wedding!
Photography by Lauren Elliot
Our photographer was Lauren Elliot – what a fantastic choice! We saw a friend of a friend's wedding pictures that she did and they looked gorgeous. We checked her website and it was a definite match. Lauren is relaxed, does lots of natural shots, is great at capturing special moments, and specialises in outdoor weddings – perfect!
The whole experience with Lauren was fantastic. She was relaxed, met with us and talked us through everything we needed to think about, was super responsive to questions throughout, and was crucial in helping us work out the actual details and schedule for the day (which we hadn't really done until she got us thinking on it!).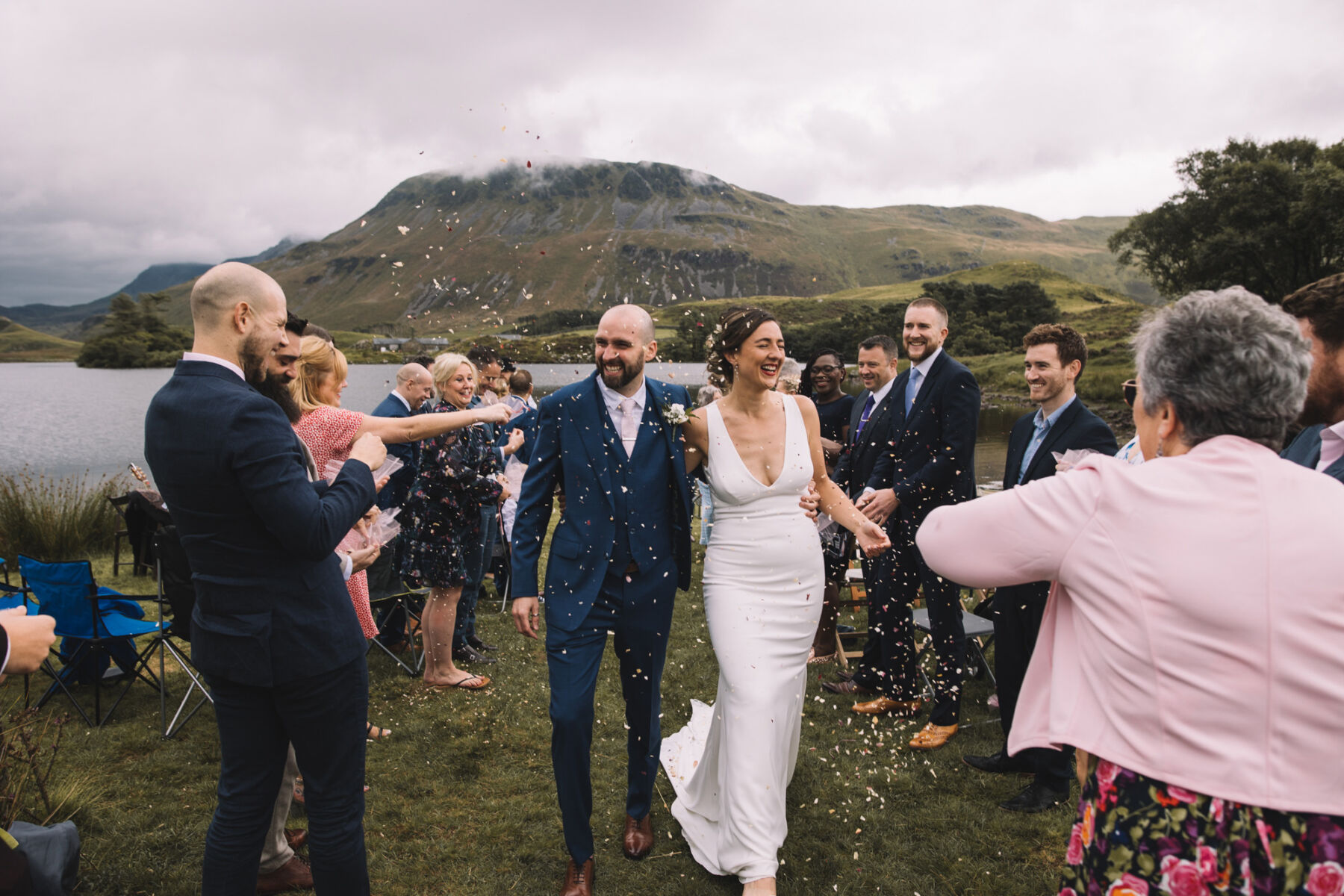 We did the full package and so we got a couples' shoot around Manchester too (which was actually the day we registered our marriage, so she shot all of our wedding days!).
Those pics were ace, and the wedding day ones are just beautiful. Completely captured the day and the beauty of our day – thank you Lauren! I would 1000% recommend her to anyone – she is totally in the right job.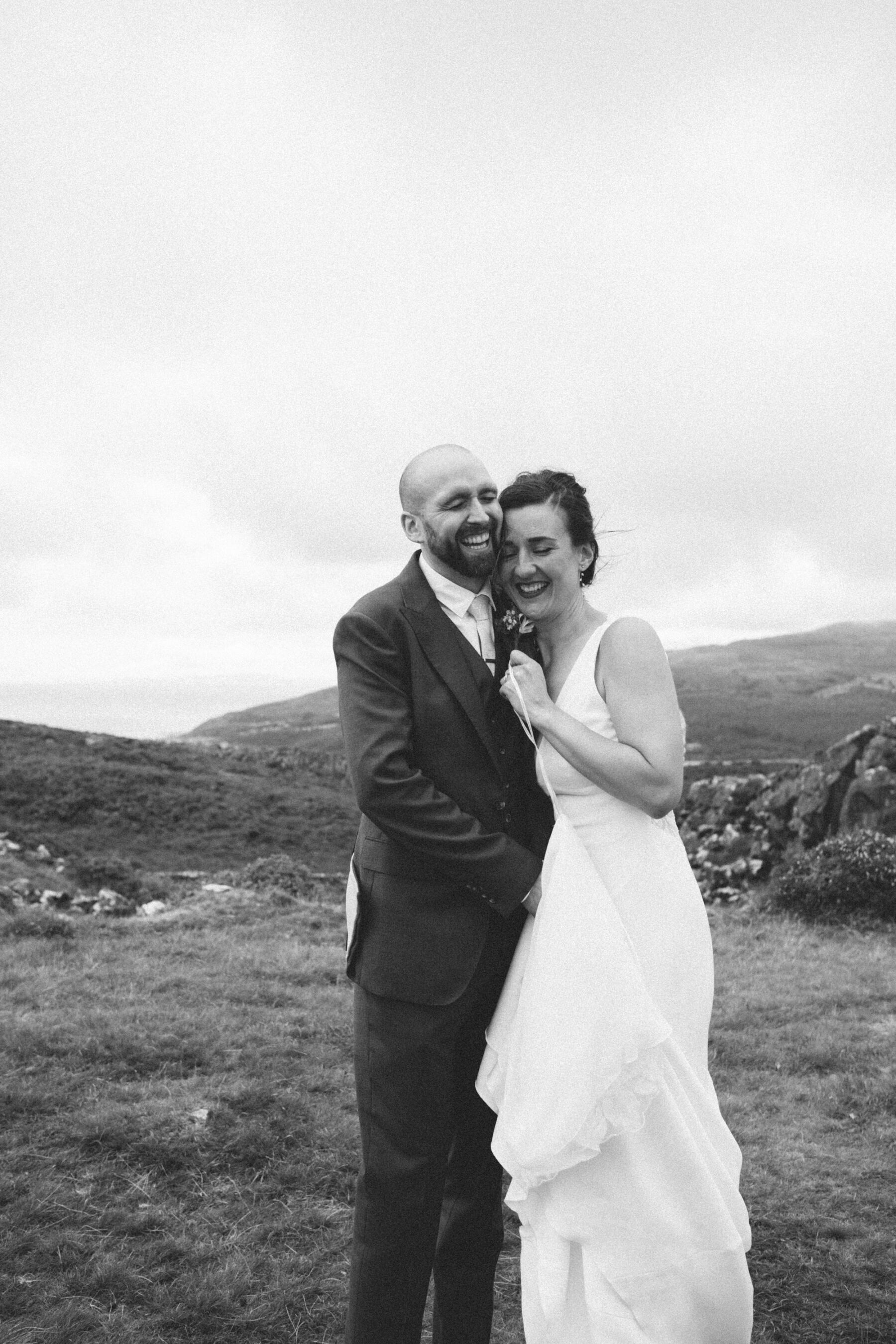 Planning a Wedding?
Meet some of our recommended wedding suppliers and venues…
How They Met
We met as strangers in a bike shop! I was training for a triathlon in 2018 and was cycling in the middle of nowhere when my bike broke down. I tried to fix it myself – bad idea, made it worse – and was sooooo close to putting the bike in the car and driving home. But I decided to try and get it sorted and crack on with my cycle, so I googled the closest bike shop and drove it there. This place was tiny and I had no idea it was there.
I asked the chap if he could fit in doing a fix for me, and the other customer in the shop – Dave – let me skip in front of him to get it sorted. We talked whilst I got it sorted, and then I left for my cycle. When I came back to the car there was a note under my windscreen… I assumed it was a note from the bike shop guy and drove home with it on my windscreen 😀 When I got back and looked at it, it said "Good luck with the Ironman – Dave" along with his phone number ☺ I text him for the first time that night and we've spoken every day since.
(I wish I still had the note but I threw it away after writing a shopping list on the back of it!!!)
We got engaged in St. Ives on a family holiday on 31st July 2019. Went out for a bike ride in the evening together and stopped just before sunset at the beach. Dave insisted we scramble up a sand dune, and when we got there the sun was starting to set over this stunning bay. It was super beautiful. Dave proposed with the ring his mum gave him before she passed away. I am very rarely speechless but that was definitely one moment.
I of course said yes and Dave pulled out a bottle of champagne. We watched the sunset and necked the champers! A wobbly ride home. We planned the wedding for August 2020 but had to postpone to the following July.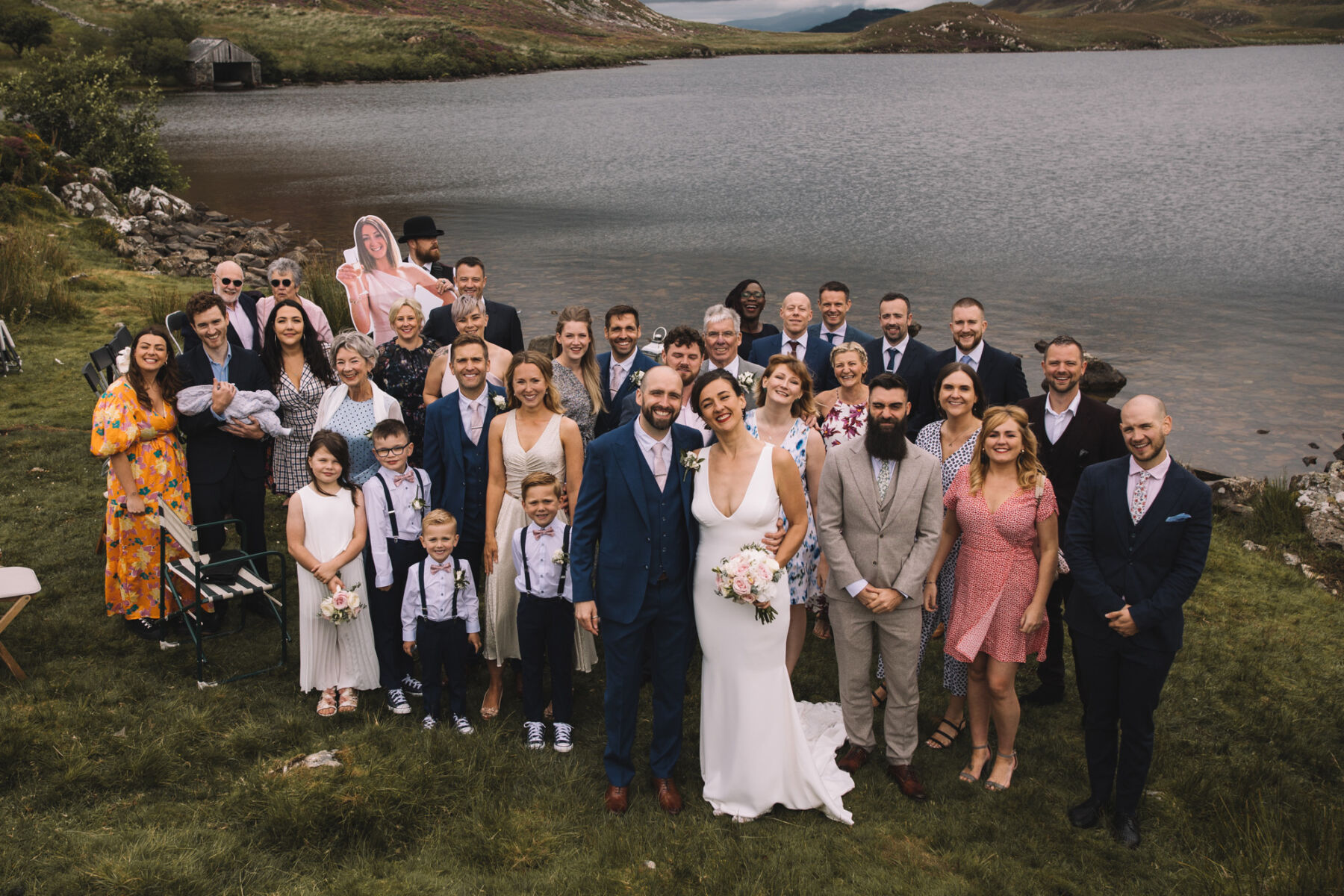 Reception
We hired décor Qube Events and picked it up in manchester, drove it to the venue and dressed the room beforehand. We had chair covers, linens, flowers, fairy lights, glass cyclinders with floating candles and mirrored plates – it looked lovely. We collected pebbles from the beach the house overlooked and painted everyone's name on them for the seating arrangements.
Our flowers were from Flowers By Adele in Barmouth. Where we got married is really small and far out on the coast, so we didn't get a chance to meet Adele and see some examples before the day! She was really great through, sent us lots of pictures, suggestions and helped on the day. We just had a simple order – bouquets, button holes and table decorations.
We had a 'cheese' cake (i.e. just loooooaaads of cheese). We sourced it at a cheese supplier on my mum's local market (Julie on Bury Market!). They were amazing, we must have tried about 15 different cheeses which almost comatose us! We picked our favourites and ordered it for the number of guests we had.
Tom and Nicole of Holdens Catering have a restaurant in wales and a catering company. We weren't able to try/taste the menu before the day, but the conversations we had beforehand were reassuring as were there reviews. It was amazing – food was absolute restaurant quality, did not have that 'mass catering' vibe at all, so tasty, personalised (all guests got 3 options) and the staff were absolutely lovely. Definitely recommend them – I believe they cover the majority of Wales (they travelled around 2.5 hours to get to us).
We did online invites from Paperless Post. It was really easy to track responses and keep everyone up to date if/when plans changes (you just update the e-invite). I'd definitely recommend them.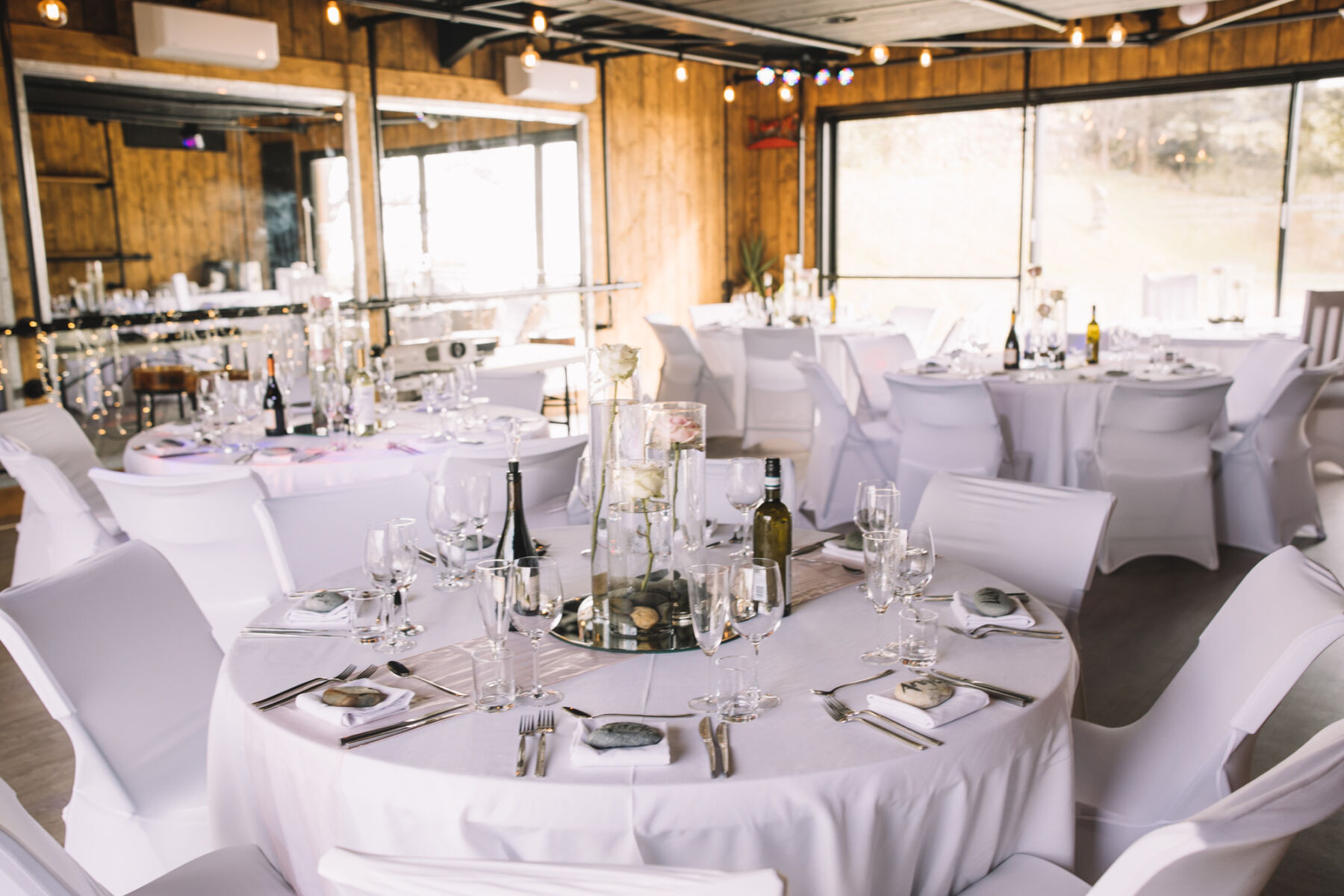 Evening & Entertainment
We had a band booked who unfortunately let us down, we sort of saw it coming as our main contact was really bad at responding and ghosted us for a while!
As a plan B, we did 3 Spotify playlists (post-ceremony drinks, dinner and party). When he cancelled last minute we appointed a guest as head DJ just to make sure the music was always on… the function room had an amazing sound system, so he just kept the music going all day and we partied at night. It was no problem at all in the end!
Words of Wedded Wisdom
How do you want to feel on the day? Start there. It's so easy to start from traditional format (we did that at first), or how you want it to look, but really, if you're feeling your best all day all that stuff shows anyway. We wanted to feel happy, relaxed and have a lot of fun. Also, decide who your day is for and build it for them. Some people are all about family, or even everyone they know and love! We were just about us, so we built it around us. We almost didn't choose the venue we had because we were worried about everyone walking down in the mud – then realised – but it's what we want!
I do wish we'd gone to bed earlier on the Friday night and not drank quite as much. Everyone arrived on the Friday and we all got very giddy. I think I got ~4.5 hours sleep before having to get up and get ready. Once the adrenaline kicked in though it was all good!
We wrote personal vows to one another, which were both around 500 words. They were written from the heart in our own words and didn't make them traditional. Both of us listed all the things we love about each other, promised to grow with each other, listen to each other, we promised to have fun and not take life too seriously, and we both said how excited we were about the future and journey together.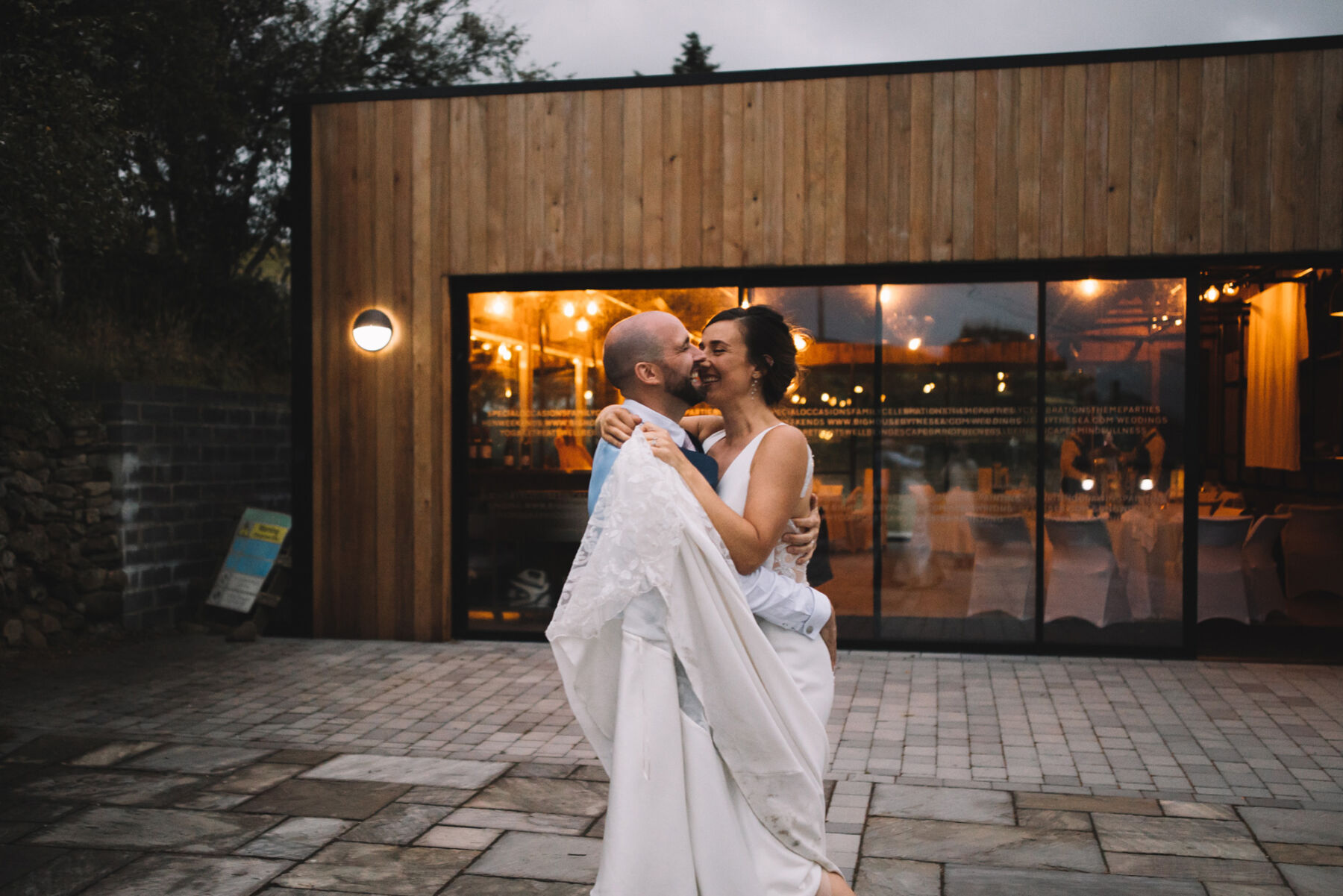 laurenelliot.co.uk