Secondary school teacher Emma married her beau on 6th August 2022 at Islington Town Hall, followed by a reception at the wonderful Shoreditch Studios – one of London's best blank canvas warehouse spaces.
The couple worked with wedding planners Jayne and Andi at Halcyon Halcyon to plan their fun wedding and the bride discovered her Jenny Packham gown at Frances Day Bridal in Southwell in Nottinghamshire.
The whole day was filled with colourful detail and joy, captured beautifully by Kristian Leven. We hope that you love these image and the couple's story as much a we do.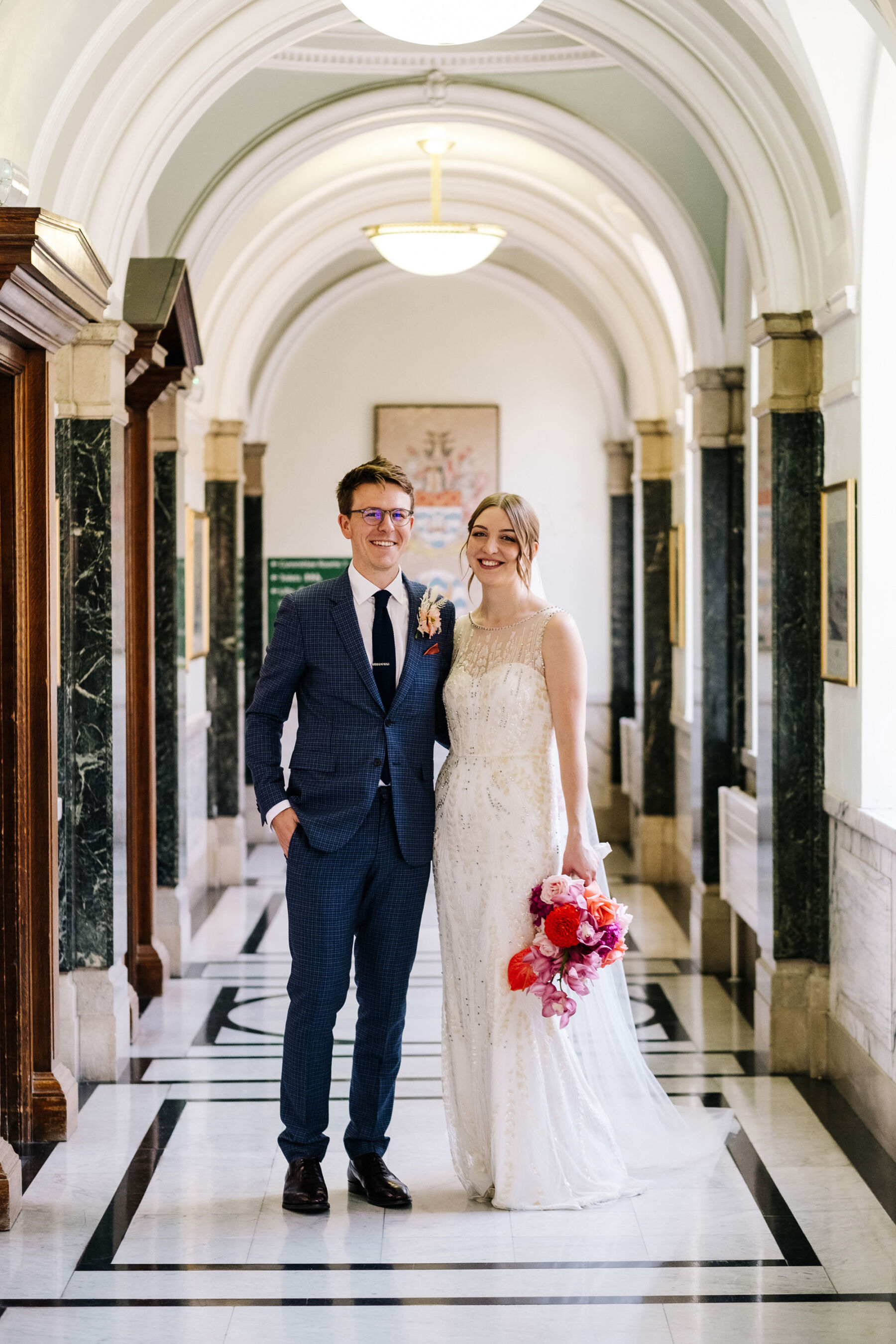 A Jenny Packham Wedding Dress
I bought my dress from Frances Day Bridal in Southwell. They were very helpful and kind in my initial visits and helped me source a really beautiful hair piece to wear with my veil.
I wanted to ensure I had the dress shopping experience with my mum, and a few friends had found their wedding dresses at Frances Day before so I thought I would book an appointment there. There was a London designer I was already pretty set on, so I went to the appointment at Frances Day with a very open mind because I didn't think I would find my dress there.
I tried on four to five dresses and my mum chose the Jenny Packham dress for me to try. Before trying it on, I remember saying, "It's a lovely dress, but not for my wedding." But when I tried it on, it felt so comfortable and I loved the way it fit me – I thought it was really flattering.
I knew I didn't want a big dress, I wanted something easy to be able to walk around London streets in – I was able to envisage myself doing that easily in this dress.
I think the thing I liked the most about it was that my mum chose it. We don't always have the same taste, but she knew exactly the right dress for me before I did.
Planning a Wedding?
Meet some of our recommended wedding suppliers and venues…
We made some changes to the dress by opening up the back – I'm really glad we did that because I thought the back of the dress looked beautiful on the day.
My shoes were from Loeffler Randall and my perfume was Jo Malone's English Pear and Freesia. My veil was cathedral length and from Frances Day too.
The Ceremony
Islington Town Hall
---
My dad walked me down the aisle, to Ludovico Einaudi, Ascent Day 1 – a song that reminded us of Seb's dad.
We knew we wanted to get married in London because it's where we live and our lives are based. We had walked past Islington Town Hall many times as couples were coming out post wedding, and would always stop to look. During the height of the pandemic, when we were on our daily walks, we'd often walk past Islington Town Hall and it started to fill our conversations as somewhere we'd like to get married.
Our readings were New Beginnings by Barbara Crooker and The Art of Marriage (Anon). Our mum's chose their own readings. We felt our dads were represented in the ceremony in some way and that we wanted them to be too.
Both our wedding bands were from Maya Magal. My engagement ring had a family stone, chosen by Seb's dad before he passed away, and then the ring was designed by Maya Magal. We wanted to have wedding bands that matched. I wore emerald earrings and an emerald ring that belong to Seb's mum – they were my something borrowed (unfortunately!).
Photography
Seb and I were set on the photography style early and knew we wanted more relaxed, documentary style images. We chose Kristian Leven because his photos were stunning but also because they looked so natural and effortless with humour in so many of the shots.
We would recommend Kristian in a heartbeat – he is a complete professional and yet feels like having another mate there on the day.
How They Met
Seb and I met on Bumble in August 2016 – we found out on our first date that my dad was his lecturer and that he'd already met my mum at a work event! We got engaged at new year in 2020 on a walk in the Chiltern Hills.
Our wedding was in August 2022, so we'd been engaged for 19 months before the wedding.
The only real idea we had about what we wanted for our wedding was for it to be fun. We had a really difficult 2020 as Seb's dad Nick passed away, so the whole period in the run up to the wedding was very emotional. Nick was so much fun and so colourful himself and the idea of wanting a bright, colourful wedding was an obvious fit for us. The pink, orange and coral colours represented that sunrise and new beginning for us.
Pulling it together was difficult. I have an unreasonable aversion to Pinterest (I can find sites like that overwhelming), but with Seb and my best woman, Emma, we slowly pulled together an ideas board. Jayne at Halcyon also shared lots of ideas with us and was invaluable in guiding us and pulling together different designs.
Hanging Flowers
We used Jayne at Halcyon Halcyon for our flowers. We were keen to have sunset colours – oranges, pinks and reds, and let Jayne guide us on what was available and what would work together well.
I hadn't had any particular preferences on flowers but knew we wanted some sort of 'installation.' Jayne created our flower cloud which hung from the ceiling at the back of our reception. It was stunning and a talking point for many guests on the day.
The Reception
Shoreditch Studios
---
We chose Shoreditch Studios in part because it's a dry hire. I work in Shoreditch, so again there was a connection, and when we looked around the space we could quite easily envisage elements of what our day there would look like. We were keen to have our drinks reception outside, weather permitting, and SS has a great outdoor space.
I had been inspired by a Love My Dress article, where they had a neon date sign and a shimmer curtain and I knew I wanted the same thing as a photo backdrop. The neon light with our wedding date is now in our kitchen and a really fun memento.
We had family photos of our parents and grandparents on their respective wedding days on our cake table to show the marriages that happened to culminate in this one.  
The cake was from Cutter & Squidge and was three tiers with a simple pink watercolour stroke design. Each tier was a different flavour – I think lemon, Eton Mess and raspberry. We went for it because it was affordable but pretty!
Our wedding favours were Cancer Research badges – all in the shape of a feather. These were given to guests with a note about Seb's dad and in memory of him.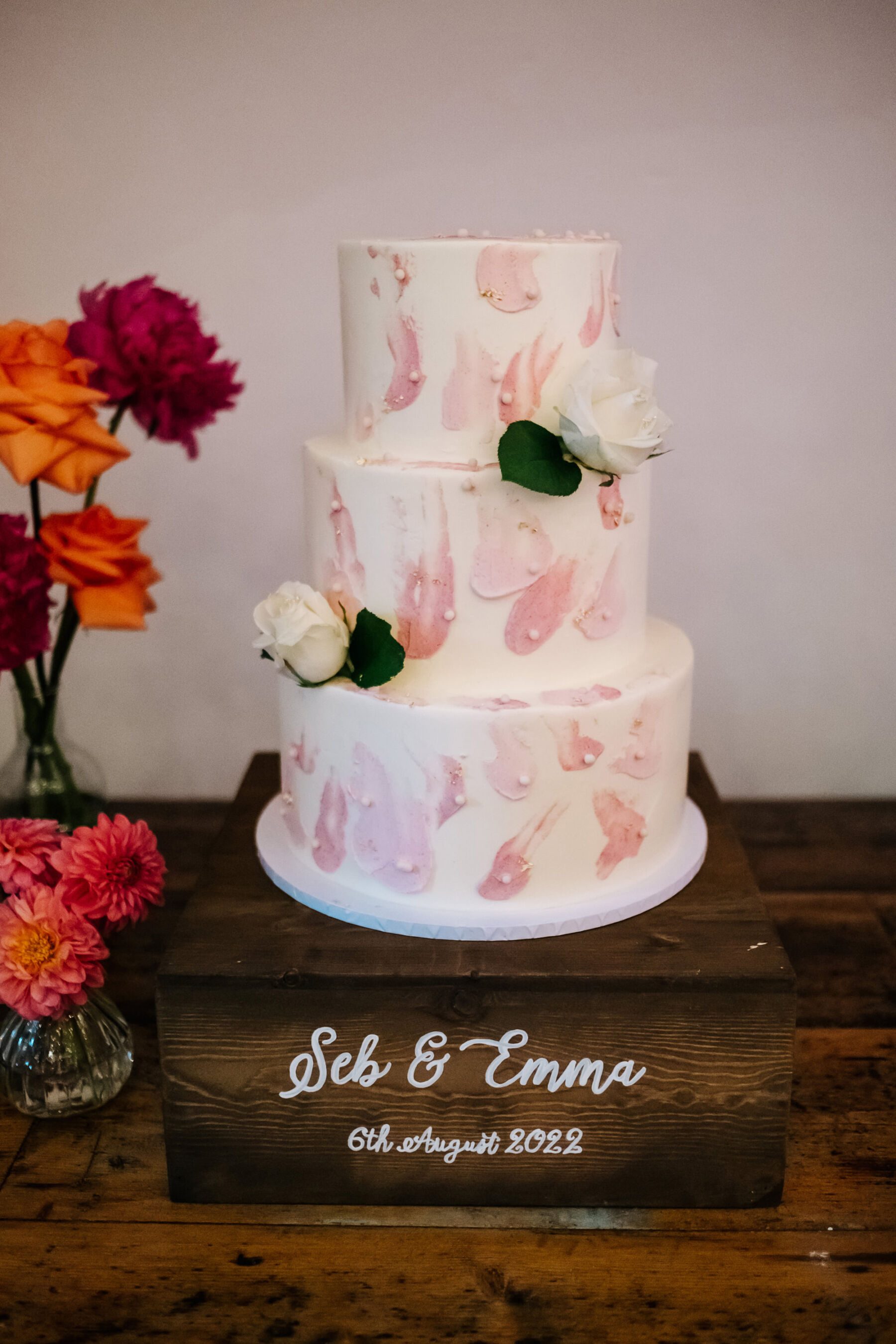 Favourite Moments
My favourite part of the day was the speeches. Being sat in a room surrounded by people that you love and all laughing together was so special.
I also loved all the quiet moments Seb and I had together throughout the day, like when we were a bit early in the taxi for our arrival to Shoreditch Studios, so our taxi pulled up round the corner and we got out a stretched our legs a bit and just took in the fact that we were married.
Evening & Dancing
We had Luther Vandross's 'Never Too Much' for our first dance. It's just a song we love, it's fun and not serious. Seb would often sing it to me around the house, particularly on a Friday night dancing in the kitchen together.
Words of Wedded Wisdom
The budget was ever moving and regularly exceeded.
You can't see or try everything, and you can easily become overwhelmed. If you like something – just go for it.