I'm so exited to share this wedding with you, this one really speaks to me; a child friendly wedding, a sublime dress and the most joyful images by Nell Mallia that capture a precious moment in time.
Scarlett and Martyn tied the knot on 11th June 2022. The couple exchanged vows at St Mary with St Ethelbert Church, in Luckington, a small Cotswold's village Church adjacent to where the bride's grandparents lived for a large part of her childhood. This was followed by a party of merrymaking held in a marquee in the buttercup filled paddock at Scarlett's family's home in Willesley, a quaint countryside hamlet.
The couple approached their wedding planning as a big collaboration, which in their own words, took a fair while to organise with all of our the friends and family involved, but was so worth it in the end, as it felt so personal. It truly is one of the most beautiful and heartfelt weddings I think we've ever shared. Enjoy!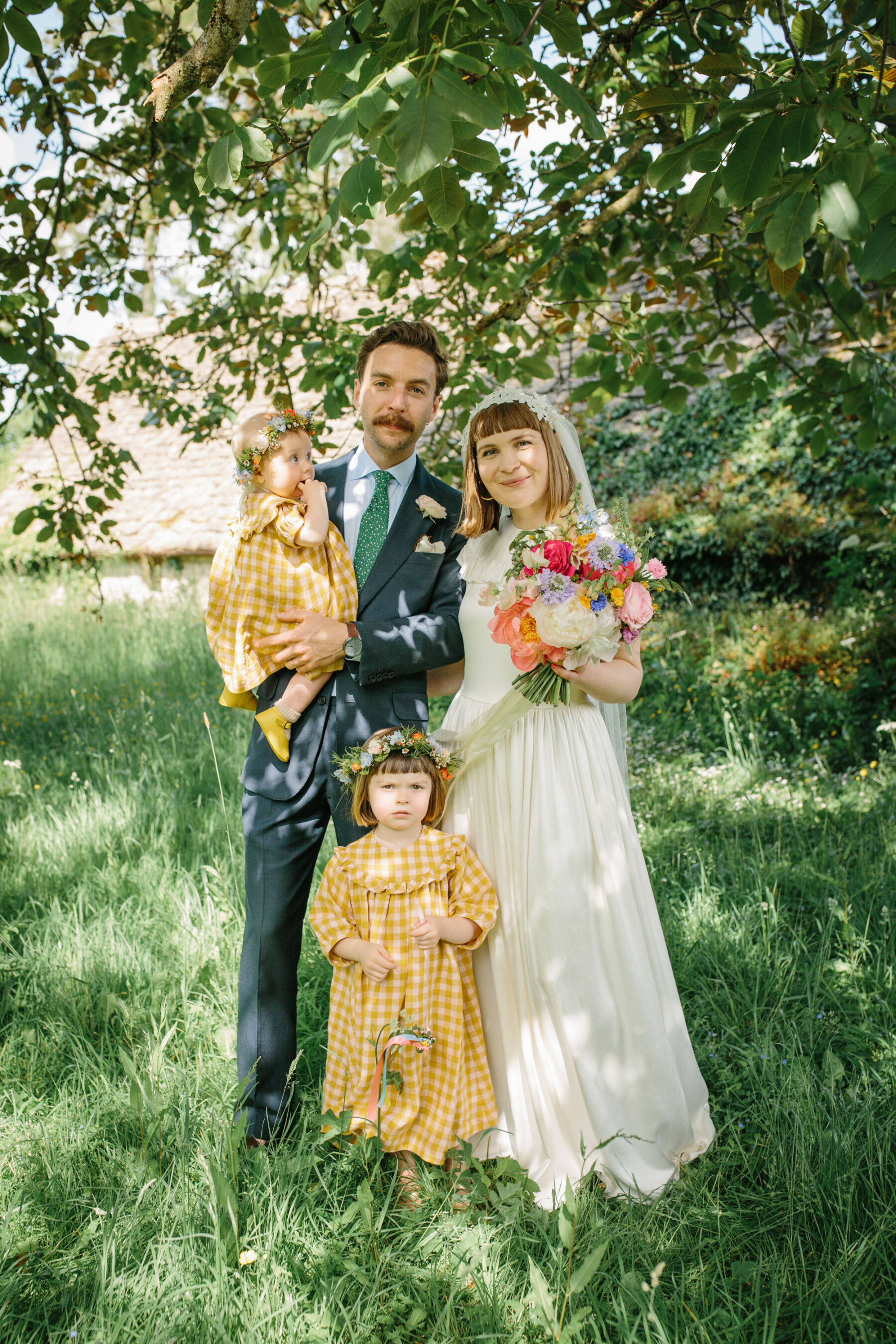 Bridal Beauty & Accessories
My veil was from Ann-Marie Faulkner – I wore was quite a statement but I felt like I could get away with that, as my dress was simple in its design. My veil had a real 20s vintage feel coming so far over my head but I loved it for that! I always liked the idea of wearing a statement veil and this was definitely that. Ann-Marie was great to work with; I visited her studio just before the first lockdown and looked at some different beading and sequins, which she embellished the flowers with. Just a little sparkle felt right.
My veil was my headpiece, it covered the majority of my head and my hair was cut in a short bob with a blunt fringe so I didn't need anything else. I wore Bon Parfumer 003 with yuzu, violet leaves and vetiver. It's the perfume I wear all the time, it's super fresh but soft too.
I had a really fun pearl Shrimps bag with my phone, hankie and lip balm in. I thought I would walk down the aisle with this but I couldn't negotiate my Dad's arm, my bouquet and lifting my dress a little to get down the steps of the church so as it happens I didn't get to show it off much! As the evening drew in I wore a cropped cream jumper from & other stories, which was a lifesaver as it was still pretty chilly in mid June.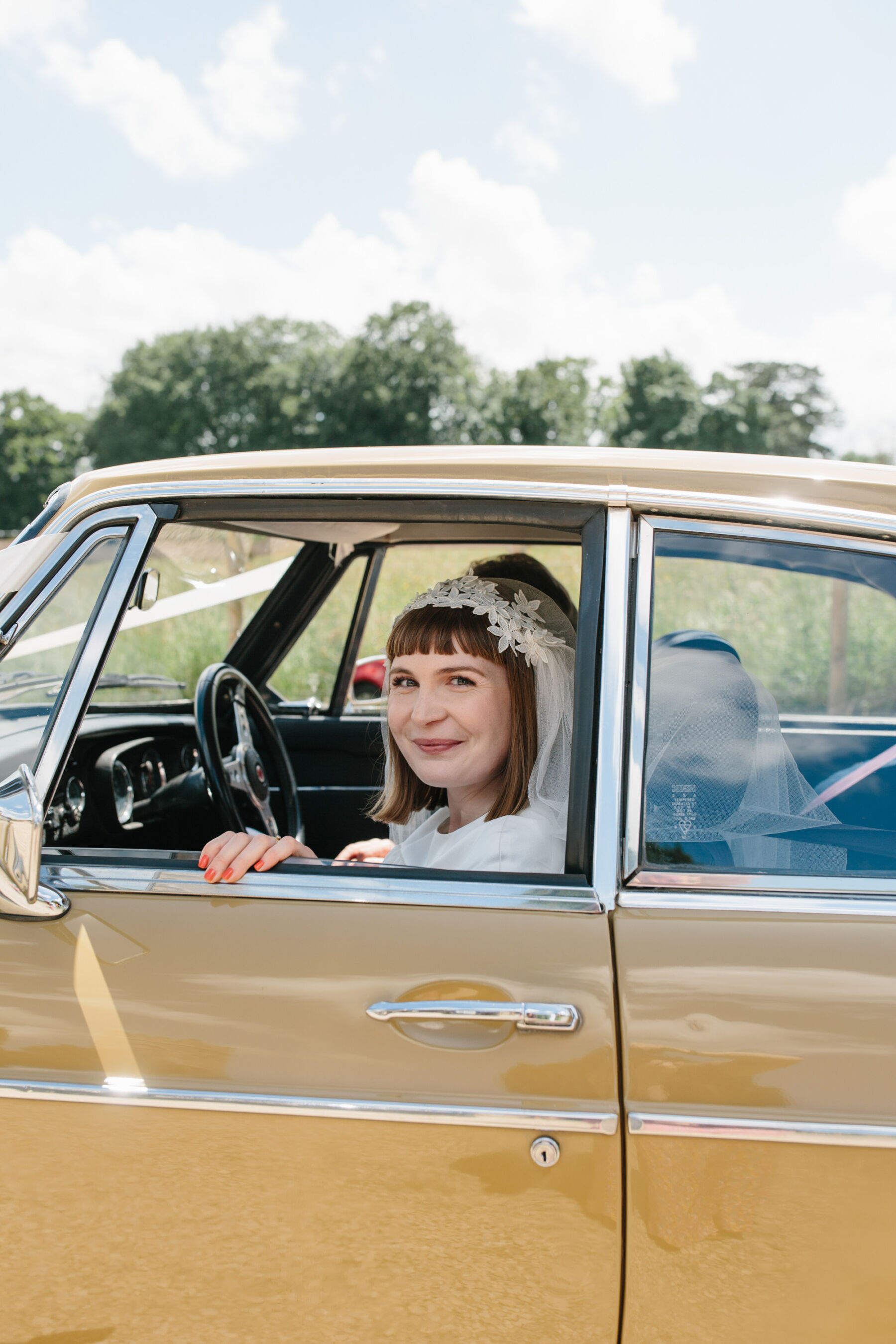 I had my hair cut on the morning of the wedding; it was so nice wandering into town on my own for an hour! I had my shoulder length bob and blunt fringe tidied up so that it would be sharp for the day. I am pretty low maintenance but knew I wanted to have my make up professionally done.
My make up artist was Kathryn of Powder & Paint and she was so good at listening to what I did and perhaps didn't want too. I felt and looked like a slightly more glamorous version of myself, which is exactly what I was hoping for.
I always knew that I wanted to wear gold heels, and the Loeffler Randall Camellia gold ones are just amazing! There was never really another option, they are so fun and just lifted the whole look I think.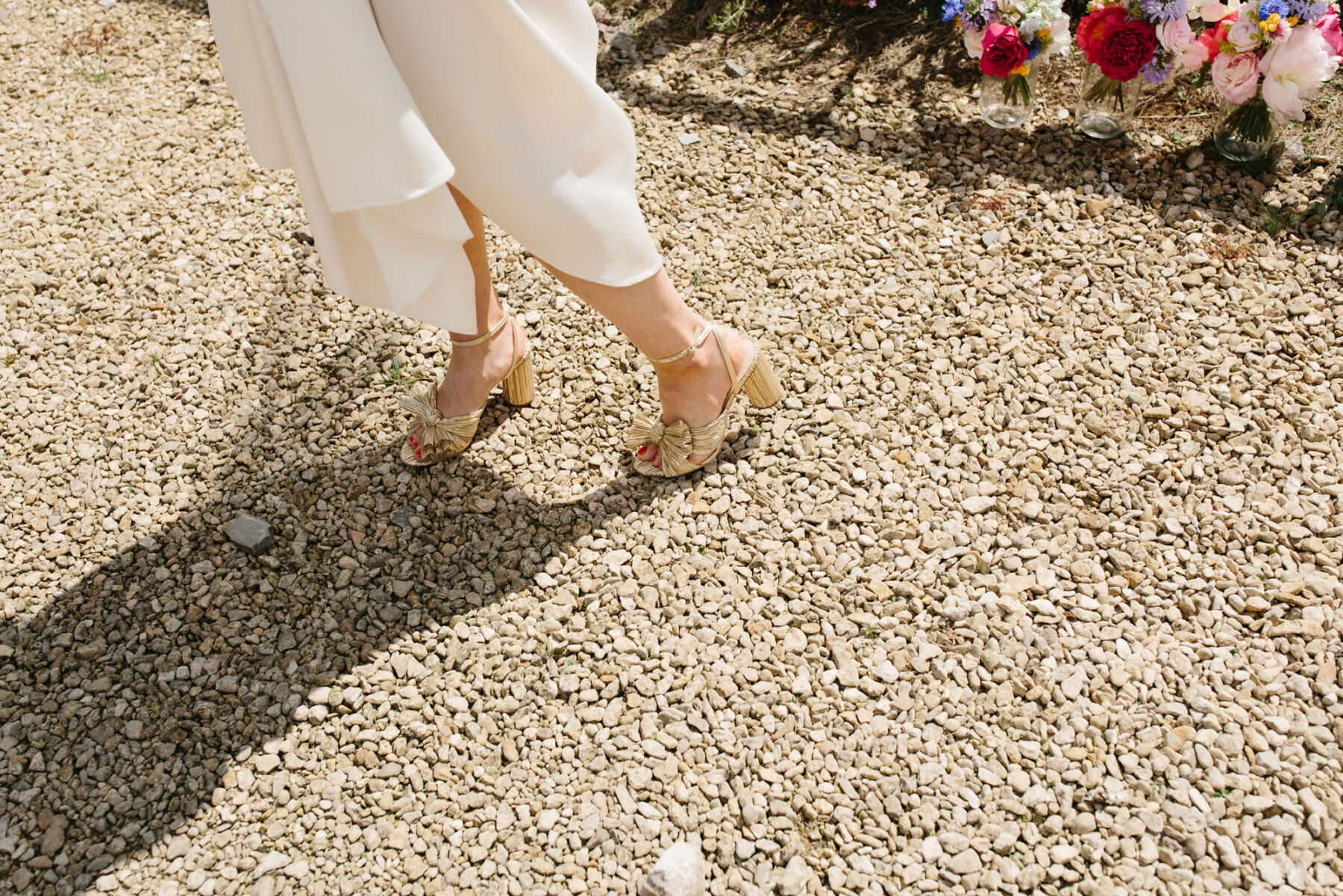 The Dress
My wedding dress was by Lilly Ingenhoven, a designer based in Munich. It was 100% silk and moved so, so beautifully.I wore (the much loved) Loeffler Randall Gold Camellia shoes with a Shrimps pearl bag, Ann Marie Faulkner veil and some chunky gold hoop earrings.
I purchased my dress from luxury bridal boutique Miss Bush, Guilford. I stumbled upon a photo of the dress online and luckily found one at a sample sale at Miss Bush. Emma very kindly put it aside for me. It was meant to be!
I had my fitting with Emma who owns the boutique, and although it was a relatively quick experience it was a really positive one. She was so knowledgeable and made me feel comfortable right away. I did try on a few other dresses, which I could see looked good and fitted well, but they just didn't feel like me.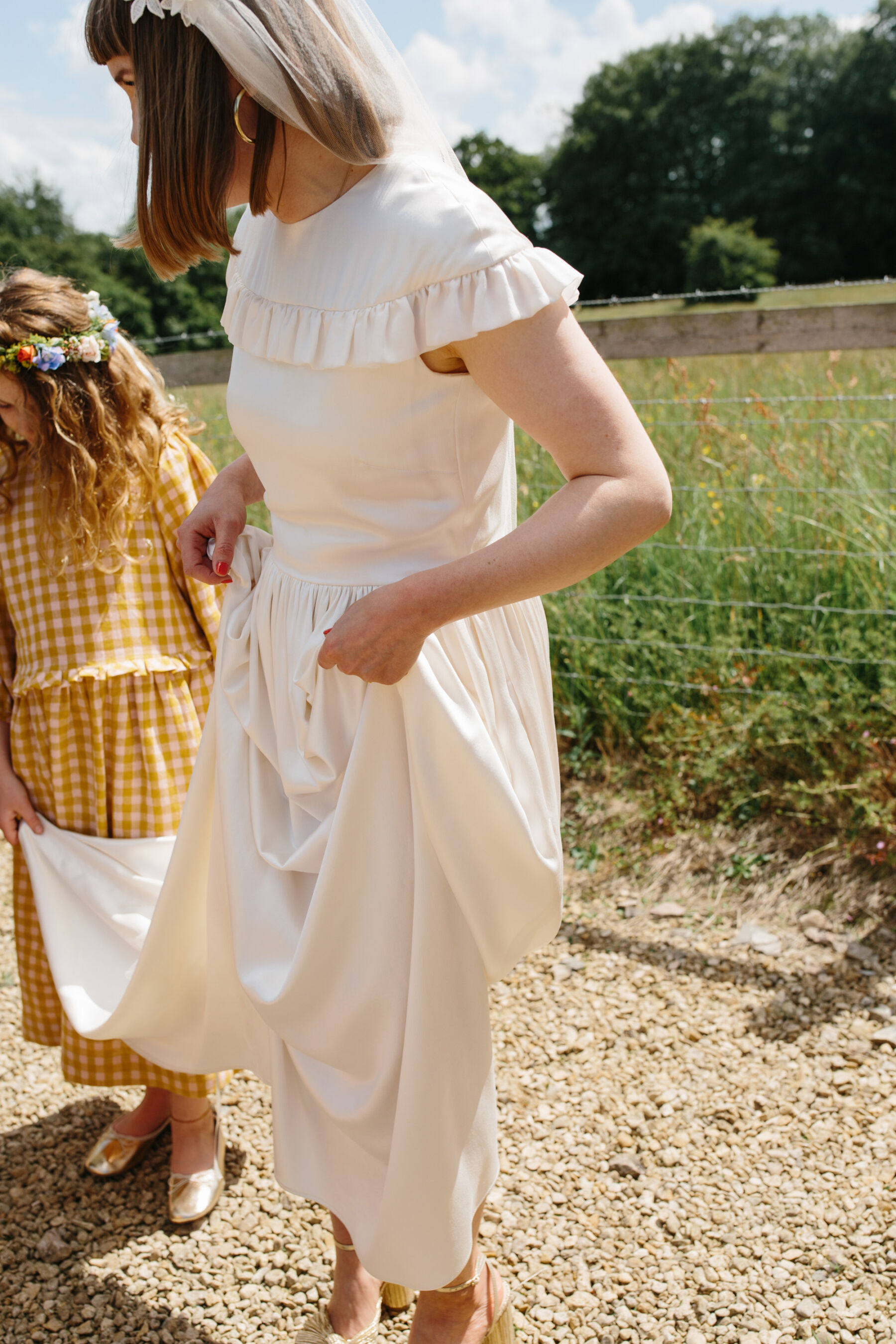 As my dress came from the sample sale I took it away that day which was a bit scary! It's obviously such a big decision, but I just knew that within my budget I wasn't going to find anything else that ticked lots of the boxes so I just had to take the plunge. I took it to be fitted by a local seamstress a few weeks before the wedding, which was great too as my body, obviously changed a lot over the years! She also added two little loops inside so I could lift it up easily for dancing into the early hours.
I would definitely recommend the experience of shopping at Miss Bush, the whole shop space which is in a converted chapel feels special and you are made to feel special too, which is exactly how it should be when you are choosing your wedding dress.
I wanted to wear something that when I walked down the aisle Martyn would just be like, "of course"! The Lily Ingenhoven dress felt like that dress. I loved the simplicity of the dress; the frill and the 100% silk fabric were just the right amount of detail for me. It felt understated but beautiful too.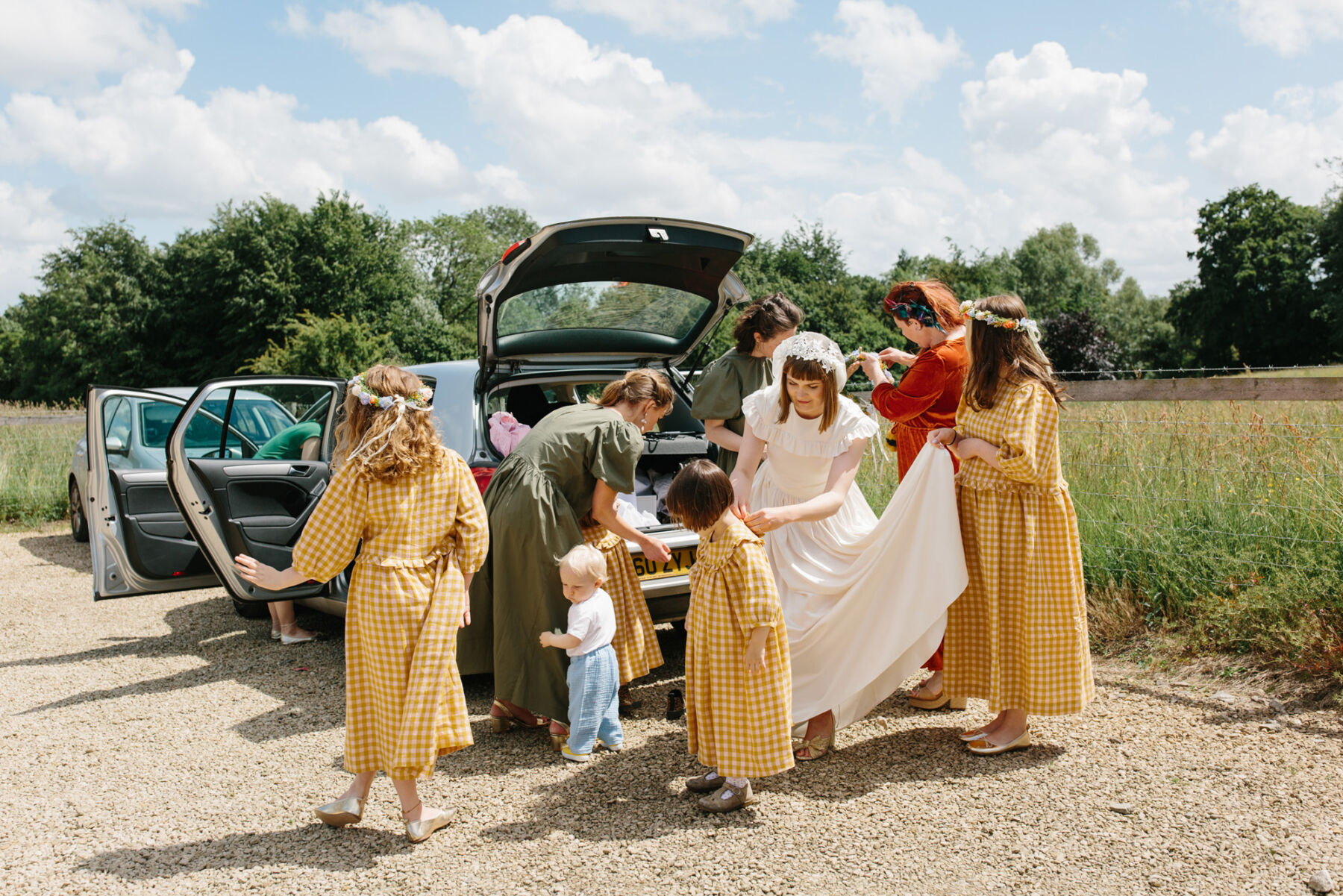 Bridesmaids & Flowergirls
I wanted the bridesmaids to wear olive green as one of the wedding colours already, I knew it would look amazing with the pink and mustard gingham of the flower girl dresses also. I just searched for 'olive green cotton midi dress' and these came up! They were from a Scandinavian high street shop, although I can't remember what it was called?!
I wanted them to wear midi length dresses, with a round neck like my dress had. As my dress was quite modest I wanted there's to be too. The puff sleeves were so fun; a similar look to my frill and the flower girls dresses as well.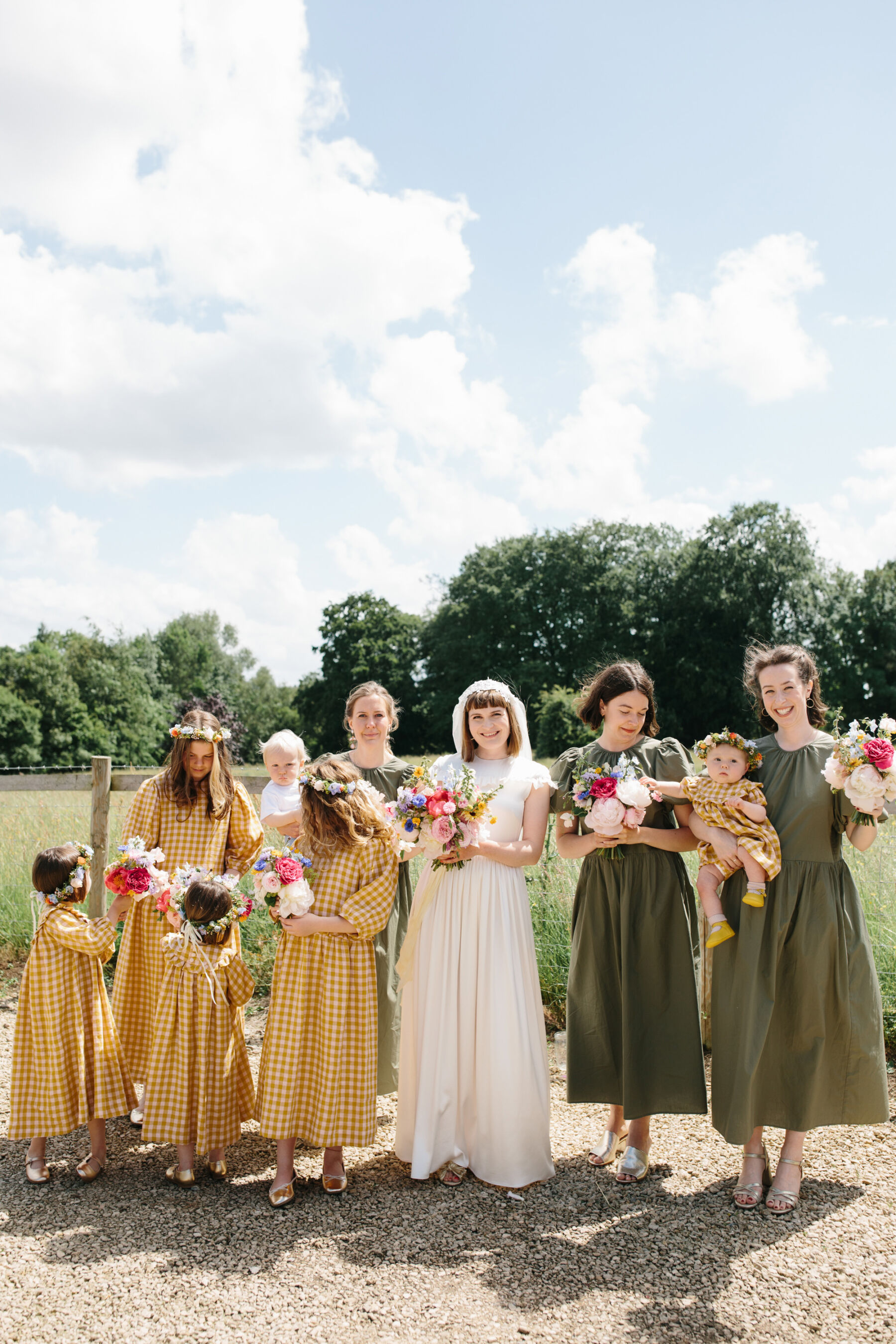 I just asked my three bridesmaids to find a pair of gold shoes they were comfortable wearing. I didn't mind what earrings they wore or how they had their hair or anything. I knew they would look lush and just wanted them to feel good and like themselves.
I loved our flower girl dresses by Beth at Sparksy. Beth makes bespoke children's occasion wear, perfect for someone like me who is fussy and was hoping to have all five flower girls in almost the same dress when their ages ranged from 13 years – 8 months. I would definitely recommend Beth to anyone, she was amazing at listening and looking at all my ideas and drawing them all together, literally to create my dream flower girl dresses.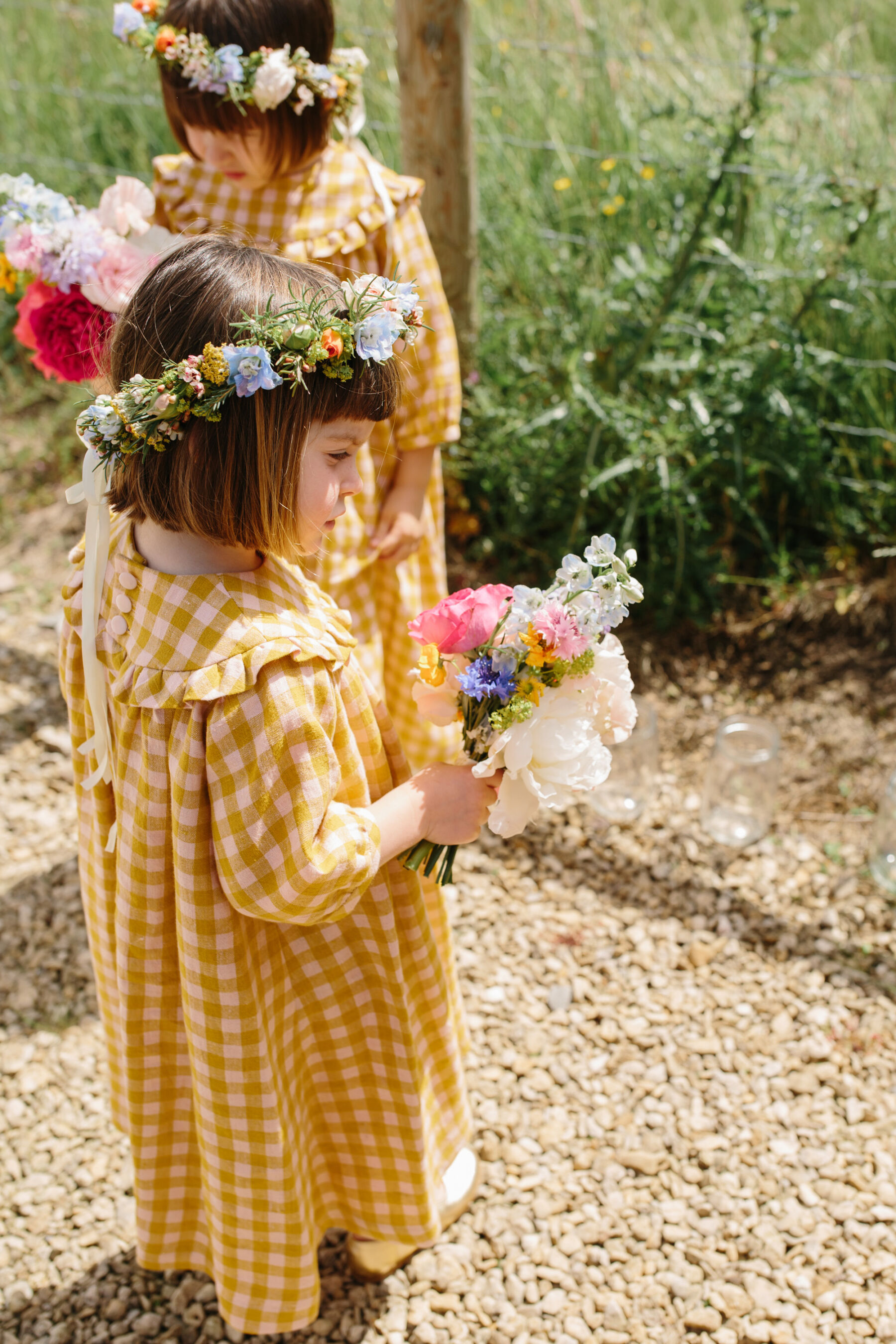 Our nieces who were quite a bit older wore slightly different dresses with longer sleeves and not quite so much fabric making them a little less full. The younger three all had a lot of fabric in their dresses, and little puffed sleeves too. Bobbie even had a pair of matching bloomers! Of course all the dresses had to have a frill too to echo my dress.
I knew that I wanted the flower girls to wear gingham and when I saw the merchant and mills pink and mustard gingham linen knew that was the fabric I had to get their dresses made in.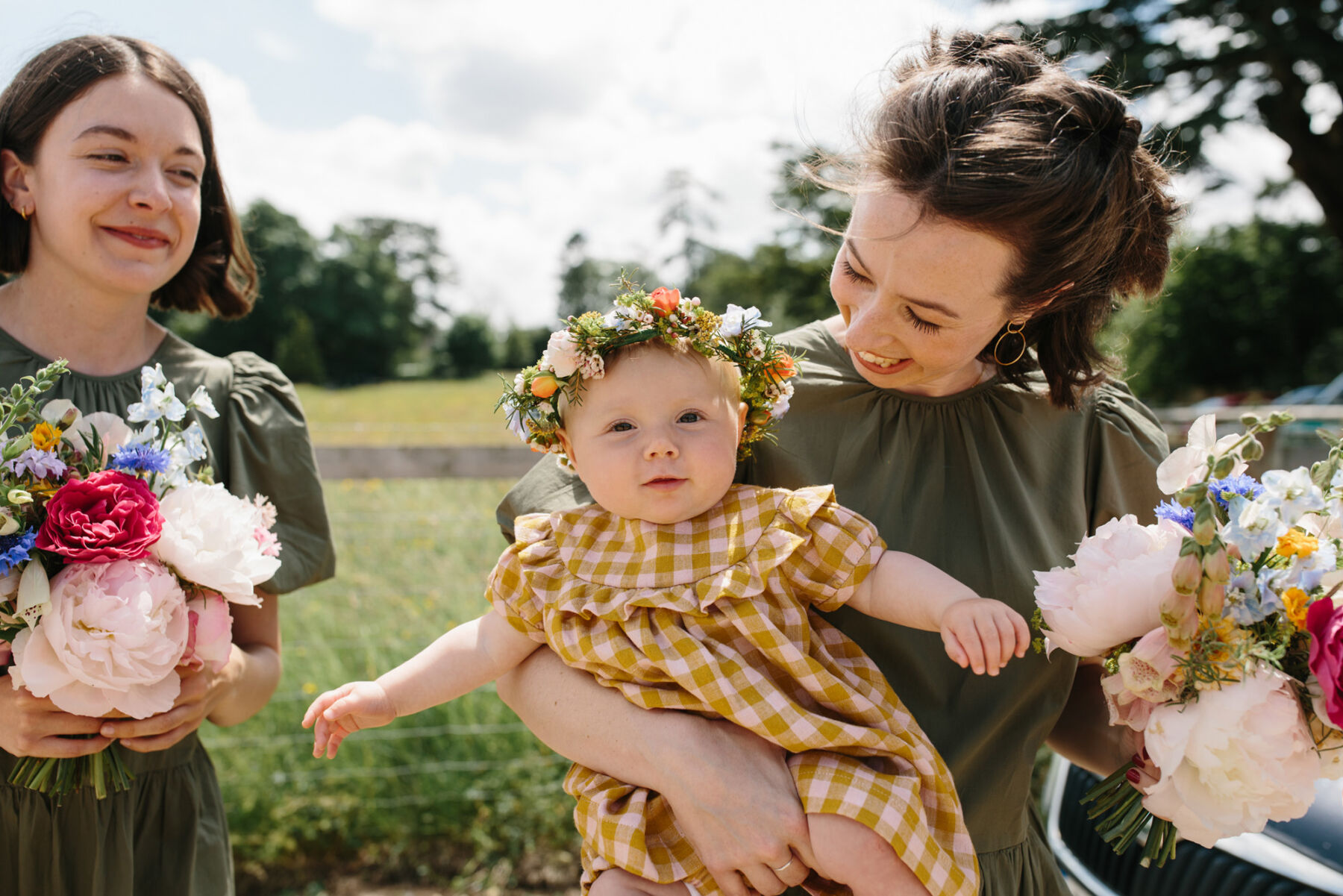 I had the roll in our loft for years; it was one of the first things I bought for the wedding actually.
They wore gold (again!) shoes from Zara for the older two, and La Coqueta for the younger three.
Our two bonus pageboys wore cotton muslin pale blue trousers and crisp white t-shirts from Arket that Maria of Rosita Studios embroidered little peonies onto to mimic buttonholes. They wore bright yellow plimsolls from Cienta.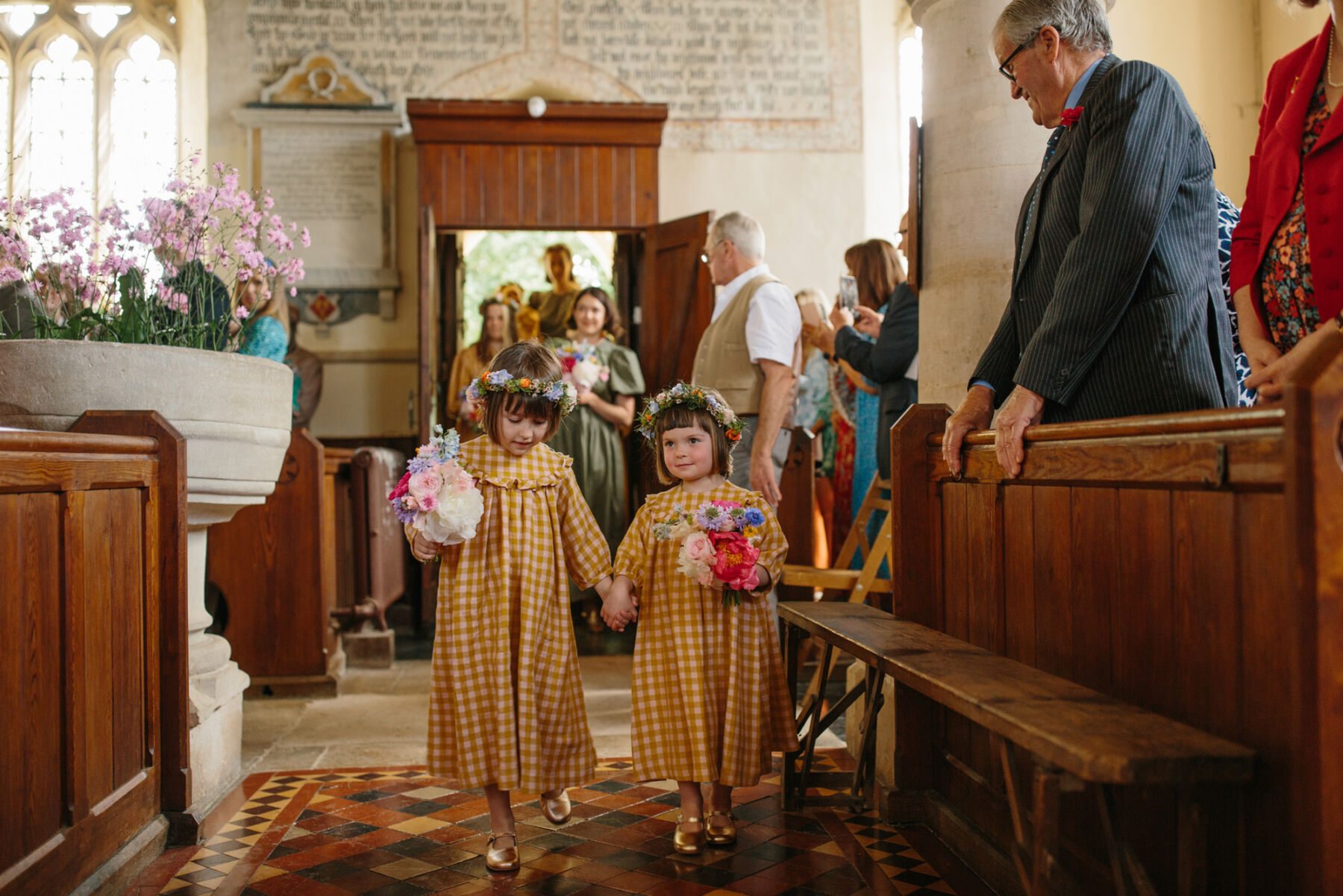 The Ceremony
Traditionally, my Dad walked me down the aisle, it did feel a little funny if I'm honest, but he is quite a traditional man so I thought it would be nice for him. He was pretty emotional! He is not afraid to show his emotions, which I really like. My Dad and I walked in first, with our flower girls and bridesmaids following in behind.
Our friend James Gedit is an opera singer and kindly sang 'Eternal Source of Light Divine' by G. F Handall as we entered the church, which was very special.
Our wedding ceremony took place in a small village Church. Although neither of us is particularly religious it was important to us to have a connection with the place we got married in. The Reverend Adam J Beaumont married us. We actually had another Reverend who was going to take the service on our original date; he had conducted other services for our family including our daughter Olive's christening. He was very old however and sadly passed away in the couple of years that our wedding was delayed. Adam was amazing though, not at all stuffy which I do think some Reverend's can sometimes be. He made us feel really comfortable and encouraged lots of chatter and laughter from all the children that were there too, he was just perfect for us.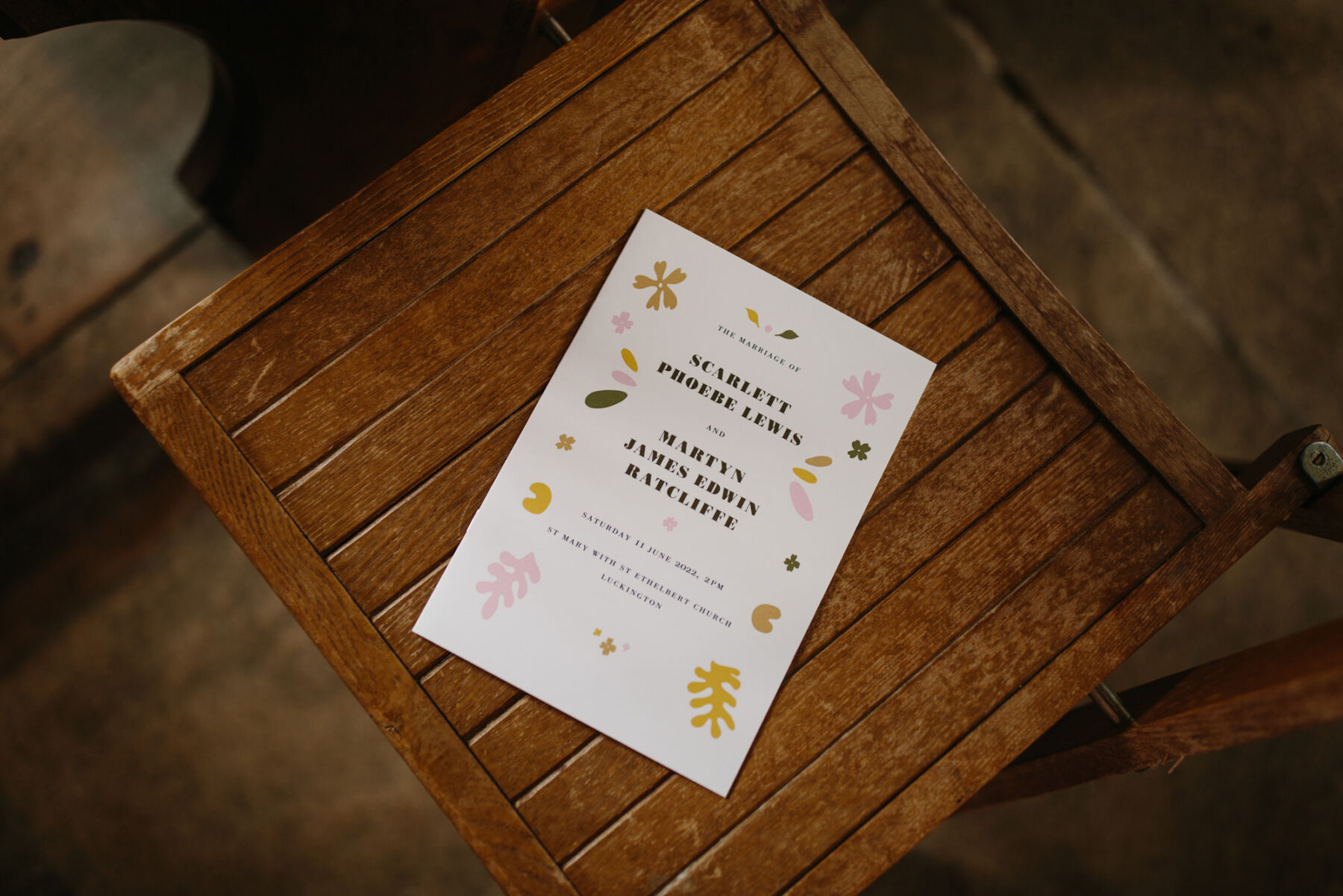 We chose 'Song of Soloman' as our religious reading which my brother read, ending on 'and your face is lovely' which isn't the traditional verse to finish on but to us sounded silly and sweet. We also had 'Dance me to the end of love' by Leonard Cohen read, a personal favourite of Martyn's Mum, but also such a beautiful song that felt right for us.
We chose three hymns 'Morning has broken' 'Lord of all hopefullness' and 'Jerusalem' to sing as well, all hymns we were familiar with and that felt and sounded joyful and happy.
We left the church to 'You really got me' by The Kinks which was blasted out as we walked down the aisle to a sea of cheers and happy faces!
Our wedding rings, as well as my engagement ring were made by our lovely friend Tilly Blue who is a wonderful freelance jeweller and whose daughter Deedee was one of our flower girls as well. It was very lovely being able to make our rings together, Tilly made them in silver and altered them a few times until they were perfect for us.
Mart had inherited both of his Nana and Granny's wedding rings too so he had them melted down and added into his ring which was very special.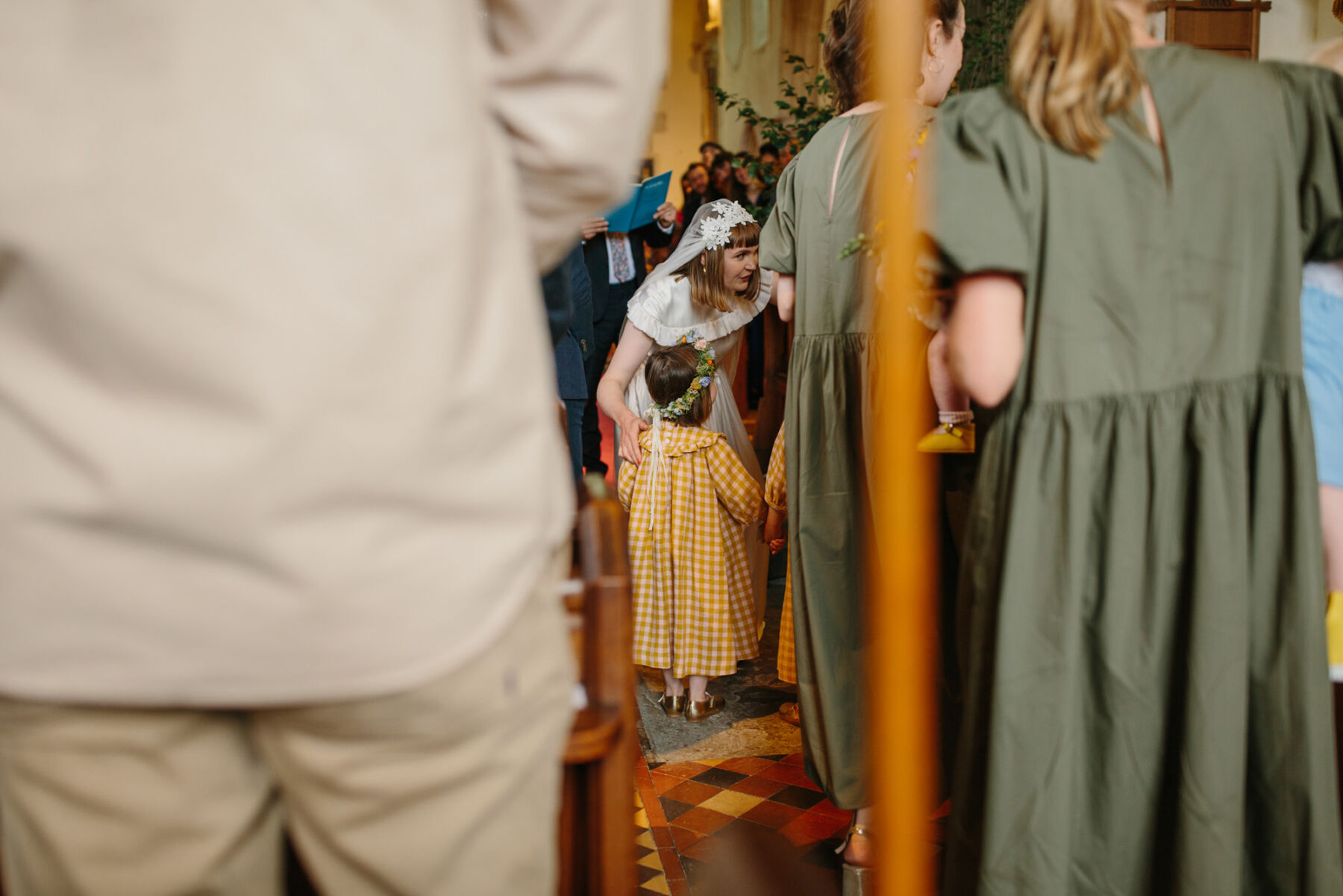 Photography by Nell Malia
The wonderful Nell Mallia was our photographer. We had followed each other on Instagram for a while and I could just tell she was one of those lovely people that are so genuine and easy to be around!
Nell is an all round great photographer, taking photos for couples, brands and families too. She has two gorgeous girls herself and the photos of them that would often pop up on her feed were what really got me I think. Natural and fun photos that showed her girls personalities so perfectly and easily.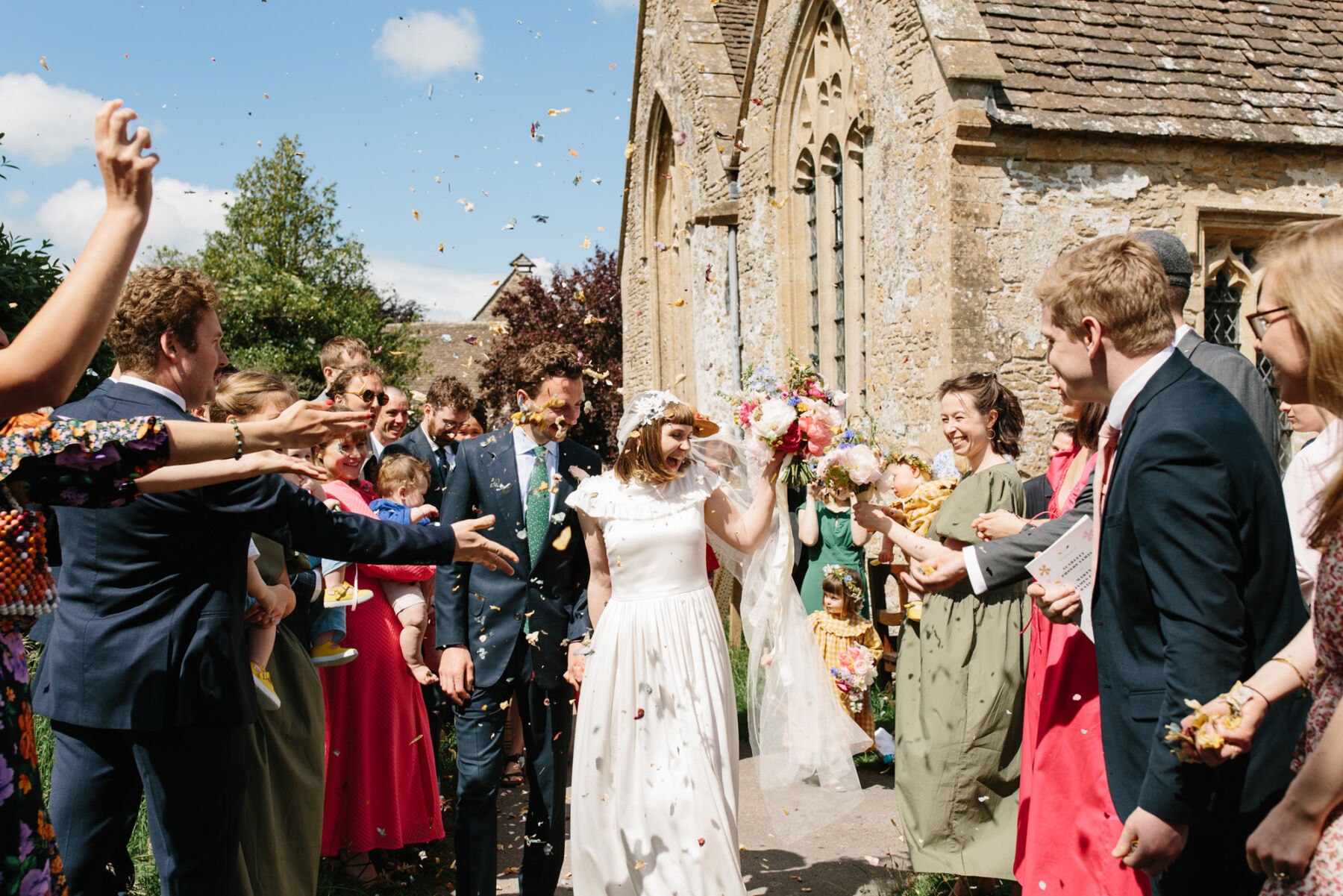 We obviously wanted some photos of wedding guests and all the other bits, but really we wanted some beautiful photos of our girls and the four of us together!
Nell was amazing in the run up to the wedding, we had a hot chocolate and pastry together in her hometown of Bath to just get to know each other properly outside of our phones! She was unfazed by the images I sent her as references and knew exactly what we were after in our wedding day photos.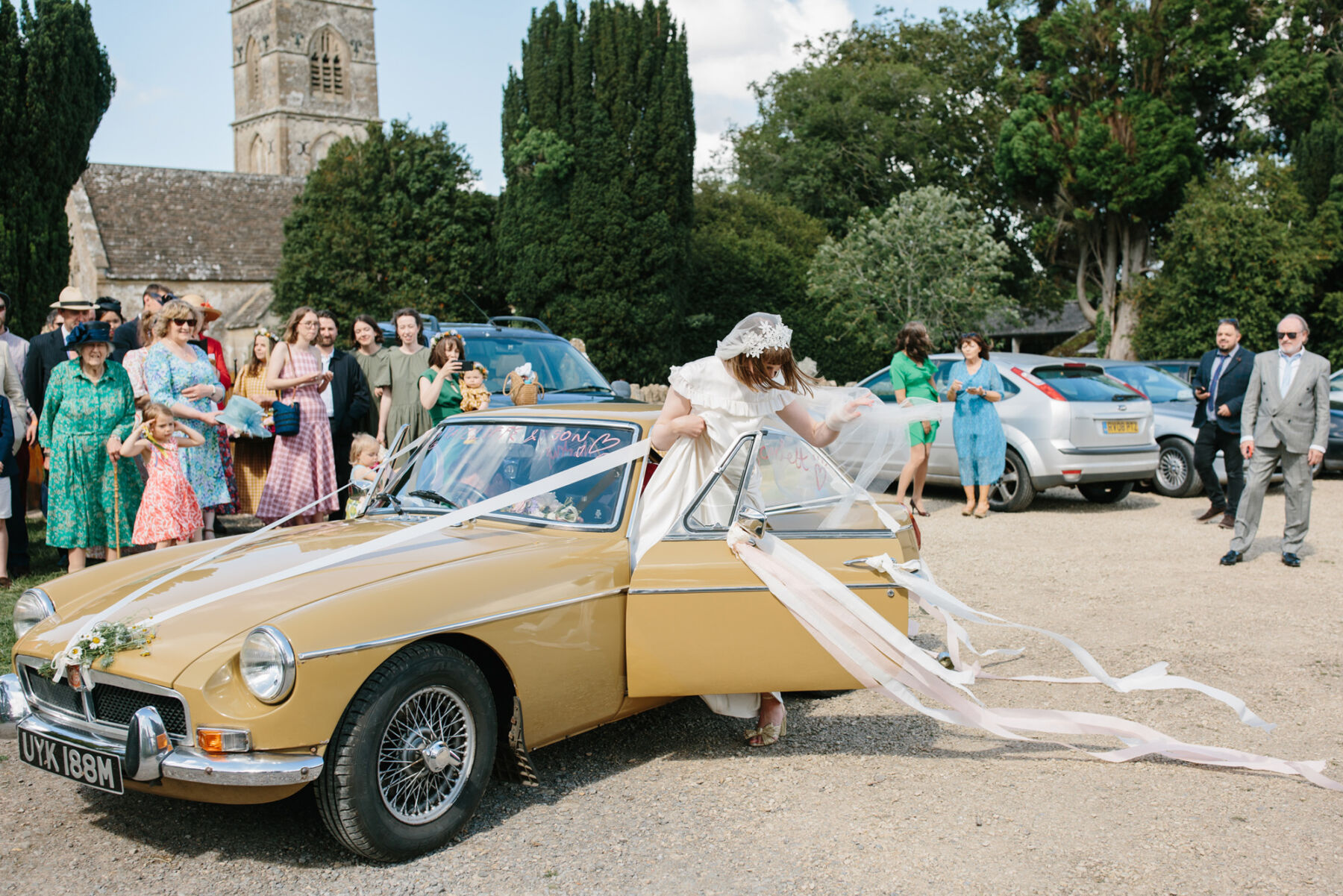 She was so lovely on the day too, we felt so comfortable with her as did all of our guests. She is in fact so great I am hoping we can meet up again this year with all our girls! If you can also make a friend of your photographer I think that is pretty good going!
Martyn has a 1974 MGB in harvest gold, perfectly matched to the wedding coincidentally! We went around France in it when we were younger and have had lots of adventures driving around the country in it too. However with two little ones we don't get to use it much anymore. Mart tidied it up a bit and this was our wedding car, it just had to be.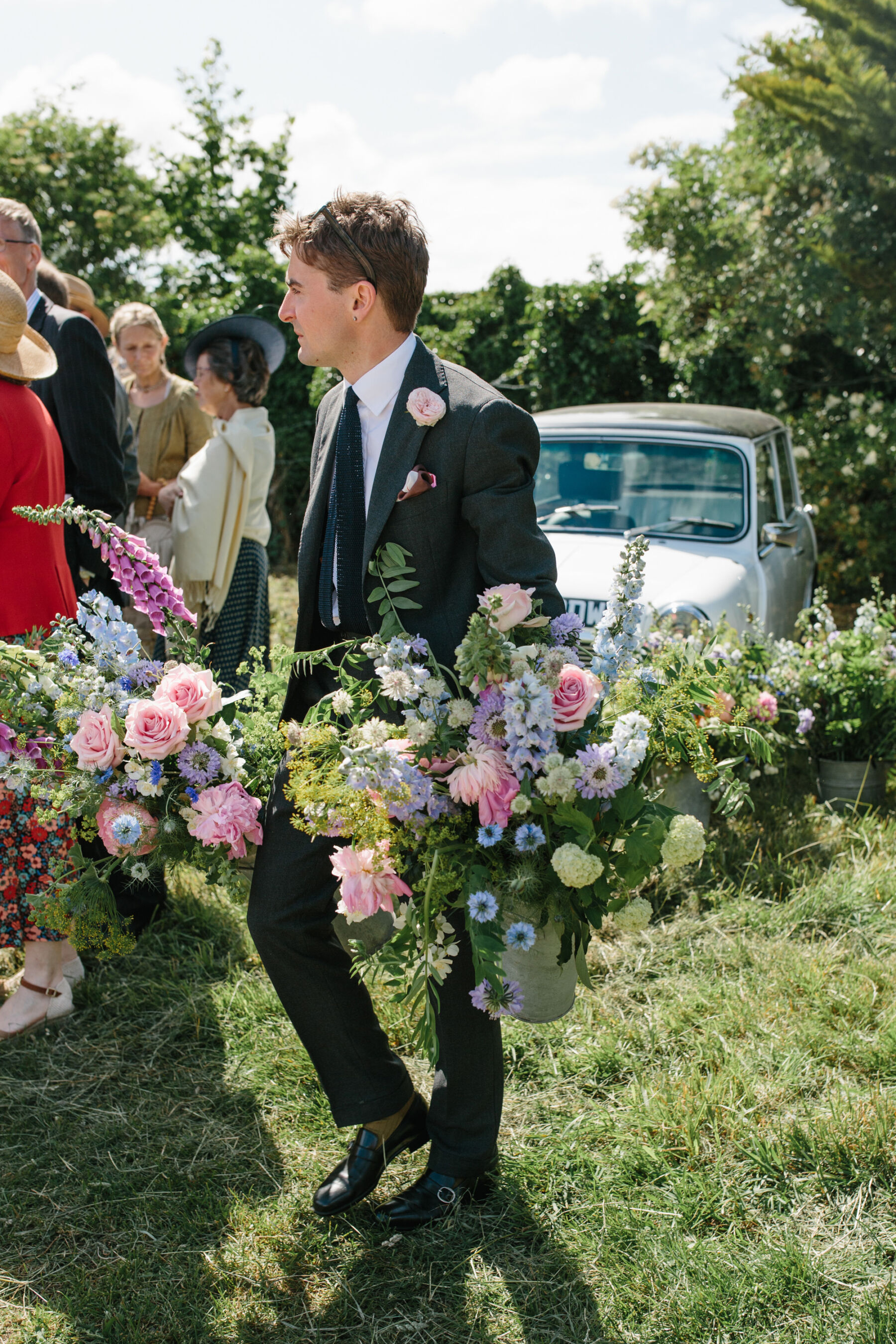 Flowers
My aunt Lulu is a florist so she did all the flowers in the church, Flowers By Passion did the bridal party's flowers and I did the flowers in the marquee after buying some buckets from a local grower. I came up with a slight flower plan with Rose from Passion, who guided me with what was in season and might work.
They created my bouquet, the bridesmaids and flower girls bouquets and posies and flower crowns for the flower girls too. I have to admit that I had lots of ideas! I wanted the flowers to be really colourful, red and dark purple were the only two vetoed colours! Amongst lots of other flowers we had sky blue delphiniums, bright pink foxgloves, a few varieties of David Austen's Roses, Coral Charm Peonies and yolky yellow geums for a bit of pop!
My aunt Lulu used some of the flowers that Passion used, as well as others that the flower markets and flower nurseries had available.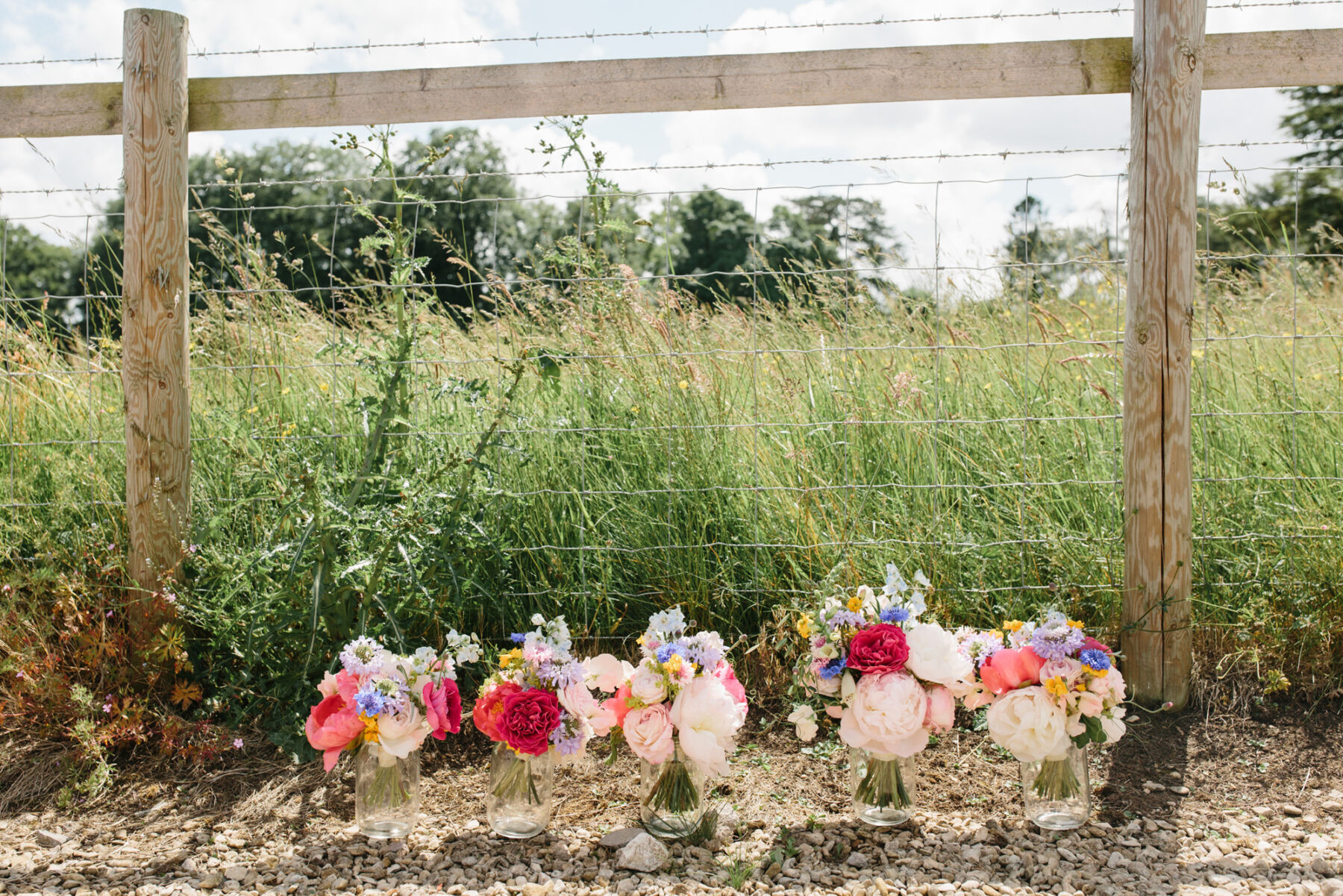 I used lots of country garden flowers from a local grower to decorate the tables in the marquee. Unfortunately the buckets of flowers were dropped off early at my parents and there was a large amount of dark purple flowers that were left for me, I had said before this was one colour I really didn't want to use. This made for some speedy grass and buttercup gathering in the paddock and on the verges in the village to add to the peony filled vases, which actually I think ended up looking really beautiful amongst the other more traditional wedding flowers.
Martyn is a part time potter so he made all of the little ceramic vases for the flowers on our trestle tables in the marquee. It took him ages to make them all but they were so lovely! We borrowed lots of zinc tubs, tables, stools and deckchairs from my work also, as well as some birch trees from a local plant nursery for the church and marquee.
The Groom
Martyn wore a second hand Saville Row suit that he had tailored to fit him; it had been worn by both of my brothers but never quite worked for them. Luckily it did for him! He wore a sky blue shirt from Trunk, with a green polka dot tie from Drakes. 
He wore a pair of chocolate brown suede loafers from Crockett and Jones x Anglo Italian, and some dusty pink socks; to stick to the theme, of course.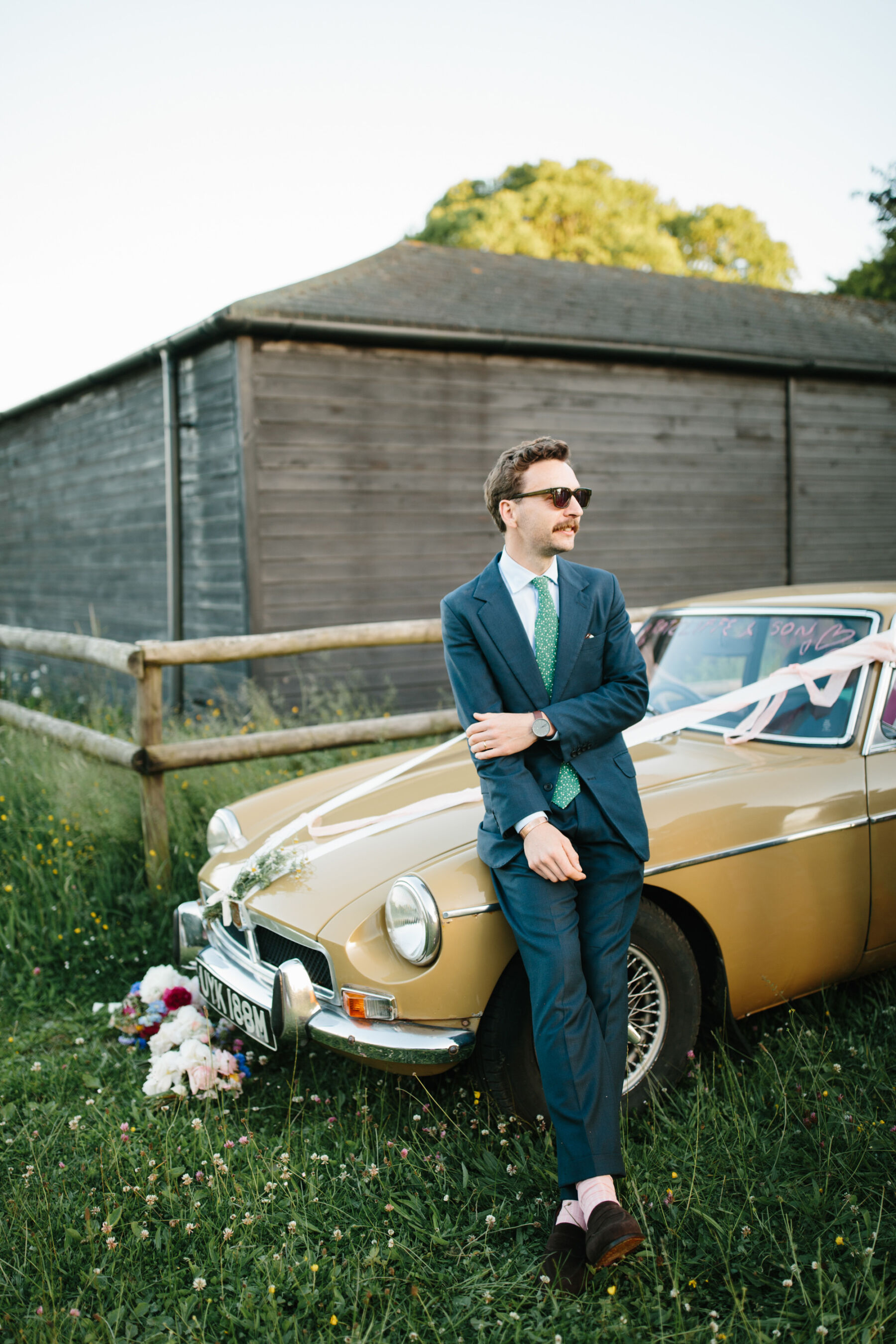 How They Met
We actually knew each other from secondary school, but became good friends during college before we took the plunge and risked our friendship by admitting we perhaps liked each other a bit more than just friends might. Martyn went to Falmouth university and I went to London to study Fashion Promotion and Imaging so we did long distance for a few years before coming back to the area where we grew up.
We went away for a weekend in October to Prussia Cove in Cornwall a few years later, a place that had been special to us for years since we would always go for beach picnics when I was visiting Martyn in Cornwall during our uni days. It is a more well known now but back then it still felt like a secret cove of houses dotted around the cliffs.
We stayed in a house with no electric and an actual bath in the garden, not glamorous at all but just right for us. When Mart proposed we had just scurried up a cliff to have a flask of soup, as he was getting the cheese and bread out he proposed. It was of course, so special, even more so that we had two weeks previously found out I was pregnant!
We had our daughter Olive in the summer of 2018 and wanted to wait a year or so before we got married. Our first wedding date was in June 2020, then September 2020, and then finally June 2022. So we were engaged for a good few years before we actually got married!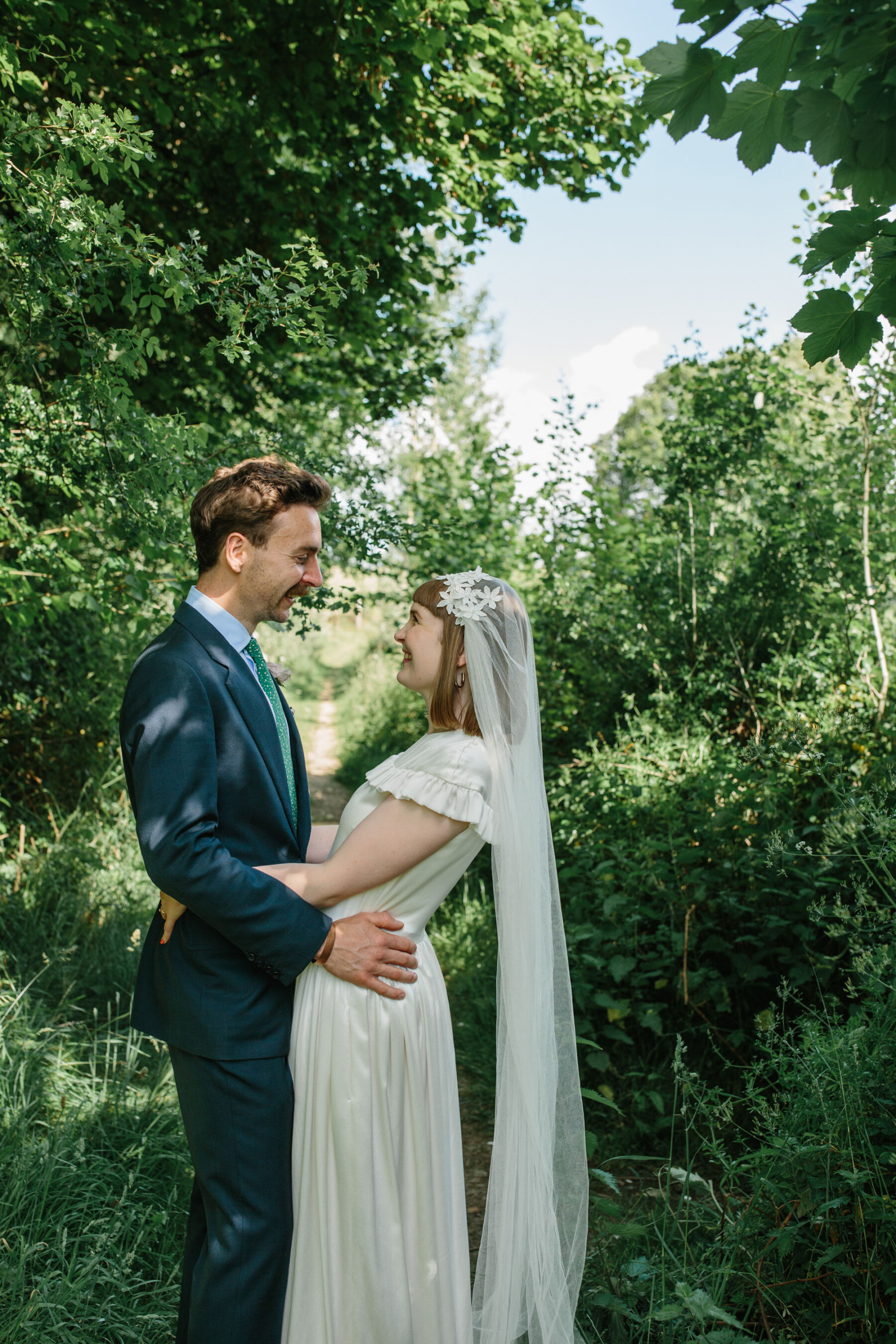 The Inspiration
We hoped that our wedding would be comfortable, sunny, colourful, full of good music, food, drink and giggling children. We had lots of children at the wedding so set up a little tepee tent with a sandpit and drawing table. I made ribbon sticks and ribbon rings for the children and babies to shake as we came out of church too, something that I had had in my head for years.
I think being parents to two small girls made it an easy decision to really make the children a big part of our day. We were both totally unfazed by the idea of them crying out or talking loudly in the Church, parenthood definitely chills you out with things like this luckily!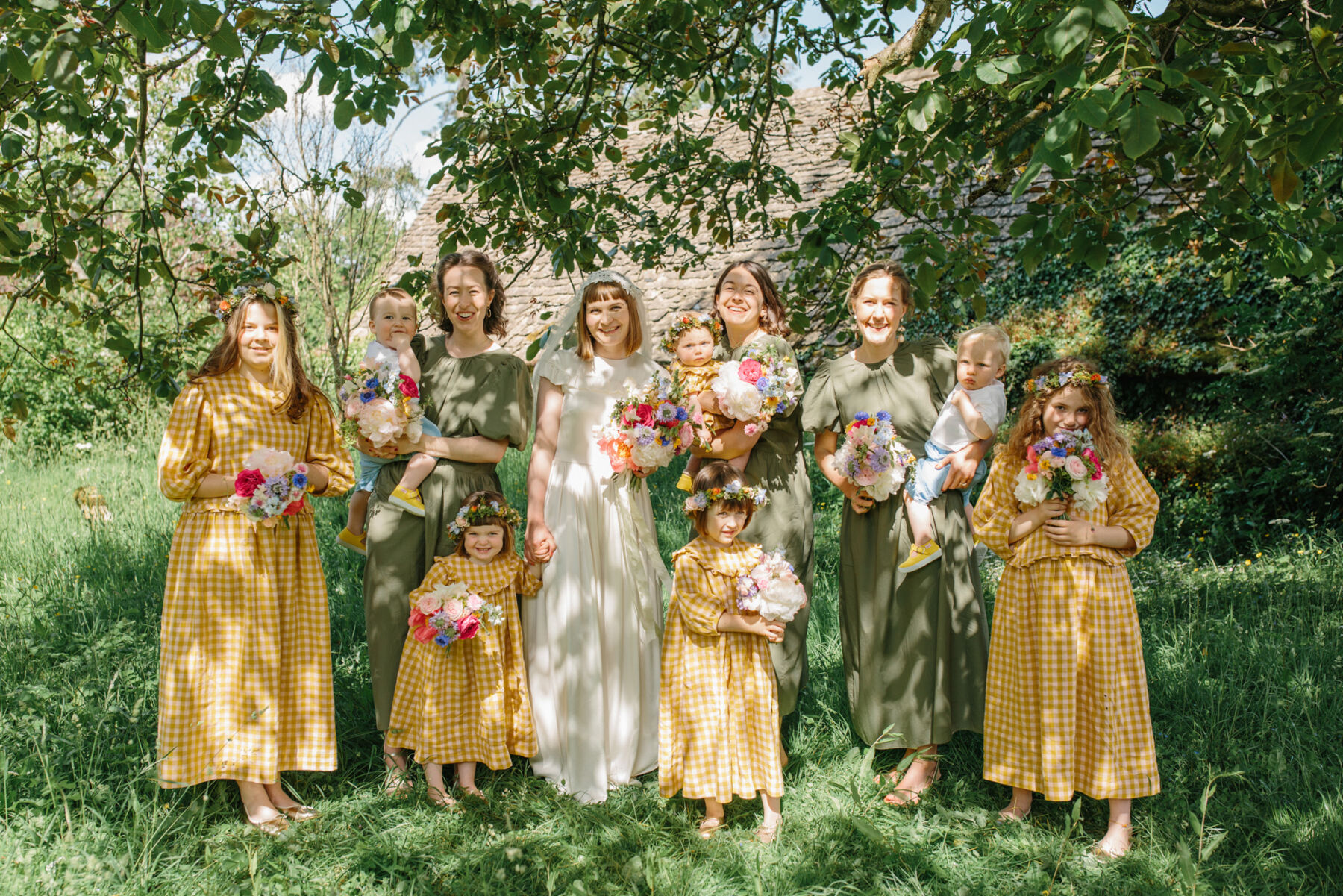 We are really lucky to have lots and lots of really talented friends and family so I think they also helped pave the way for the style of day we had. If someone offered a skill to us, or an object we (mostly!) said yes please! Everyone pitched in, Martyn and his brother in law made our stage for the band and our bar from old corrugated tin and scaffolding boards we had collected.
My Mum made the napkins for the table, and a friend Maria, of Rosita Studios embroidered the bridal party's. A family friend made our ice cream wedding cake. Sam's Kitchens did our canapés and wedding breakfast, and we had a huge cheese table in the evening curated by another friend. We borrowed vintage cutlery, battered brass candlesticks and water glasses from my Brother's friend too. Yet another close friend James helped put my ideas and illustrations into practice for the invitations and order of services.
Having a marquee for our reception meant that we had to do everything ourselves. Luckily, I am a stylist and colour is my thing, so I always knew the colour palette that I wanted to stick to and how to link all the elements of the day together to make everything coherent, this was really important to me. The colours that featured throughout the wedding were olive green, pink, yellow, pale blue and gold!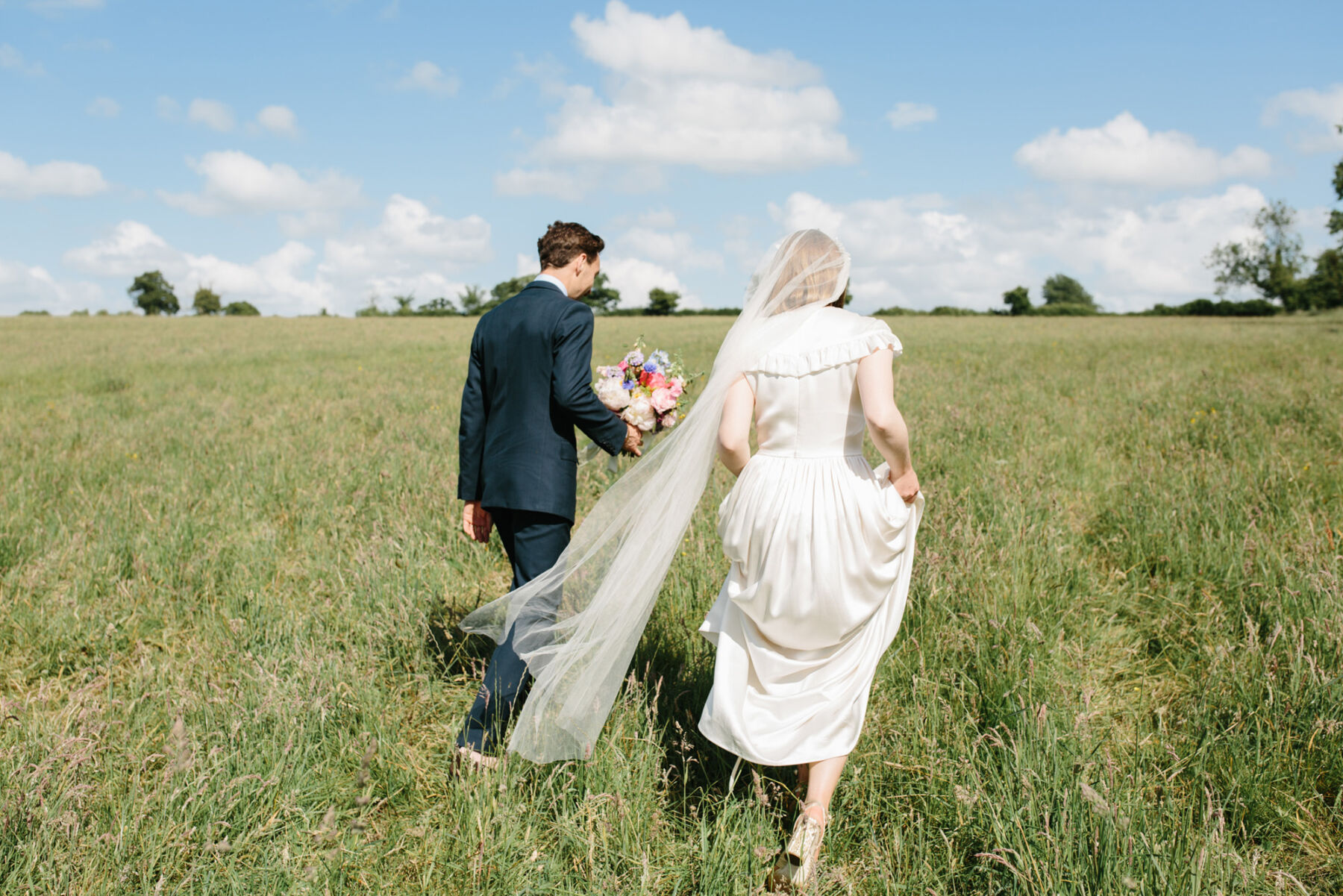 Reception, Decor & Detail
We kept the décor really simple. We borrowed lots of vintage galvanised tubs for some birch trees and big bunches of foxgloves, the ushers bought to the marquee the galvanised tubs of flowers created by my aunt for the Church also.
There was a galvanised tub full of ice for the drink and old Hungraian milking stools dotted about, as well as straw bales.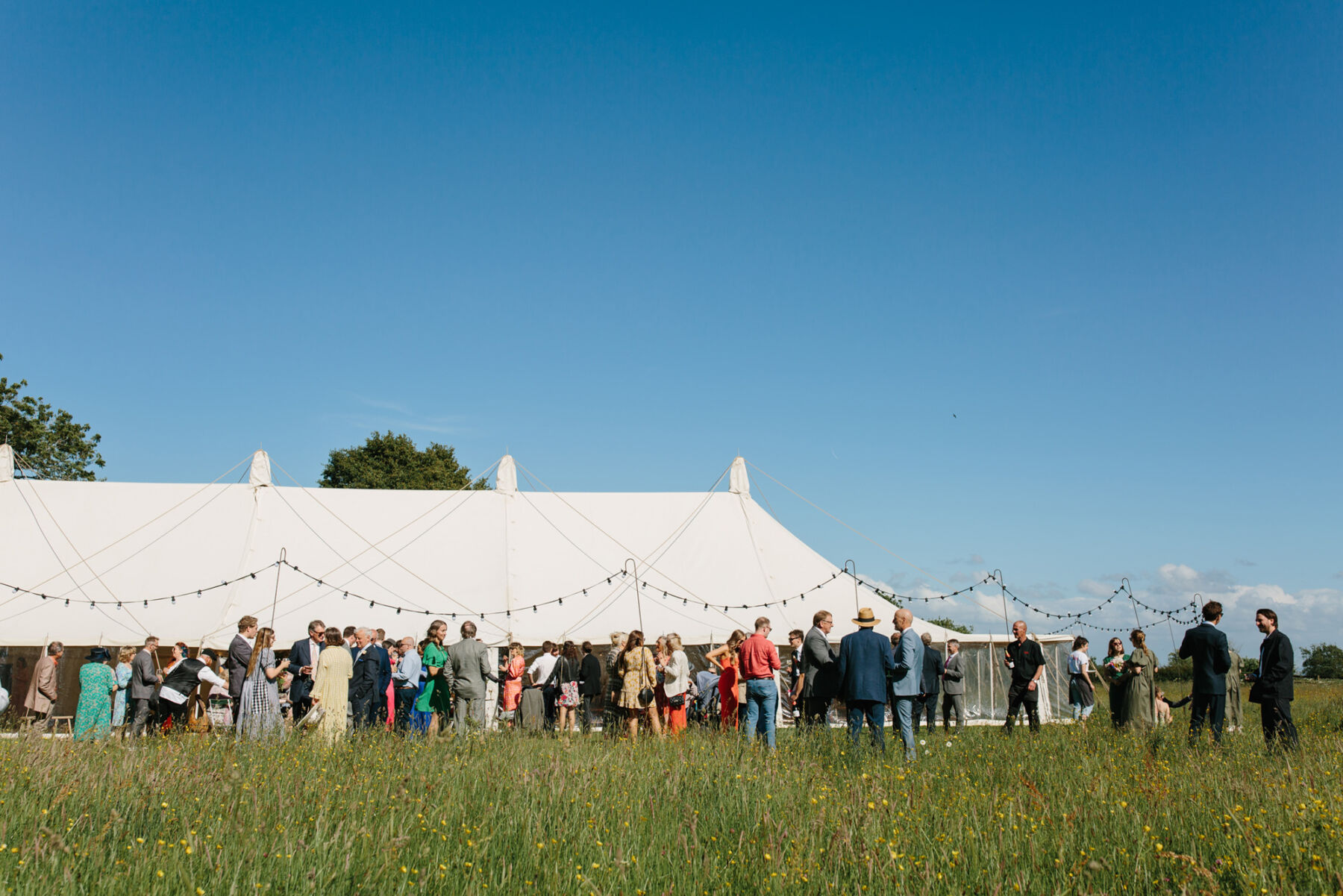 I had bought lots of amazing thick cotton French matress covers from a local flea market that my Mum cut down and sewed the edges of, these were used for the straw bales around the campfire.
We had some galvanised tables and chairs, deckchairs etc dotted around the field too. As well as the children's teepee, sandpit and of course a ping pong table too!
For the décor inside we had the handmade vases by Martyn on the trestle tables, the flowers that I displayed, napkins made by my Mum, vintage cutlery and candlesticks from my brothers friends and a really good shade of pale blue for the candles. We kept the tables free of tablecloths as we just felt like they would end up in such a pickle after the food!
I think the fact that we borrowed and made so much this helped bring the style of the day together. It was quite country wedding but with a bit of a contemporary colourful twist I think. The unexpected colour combinations I think bought it alive!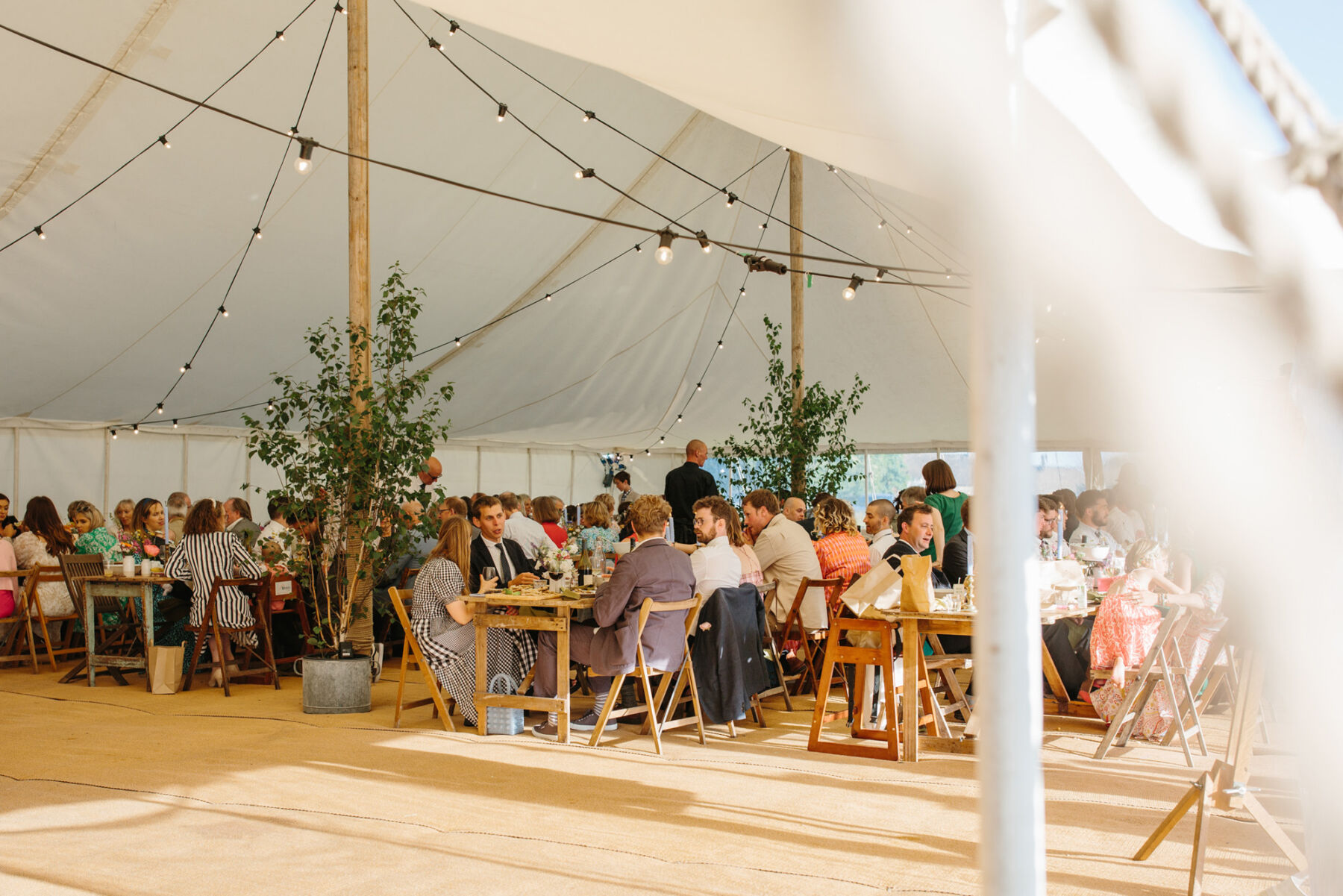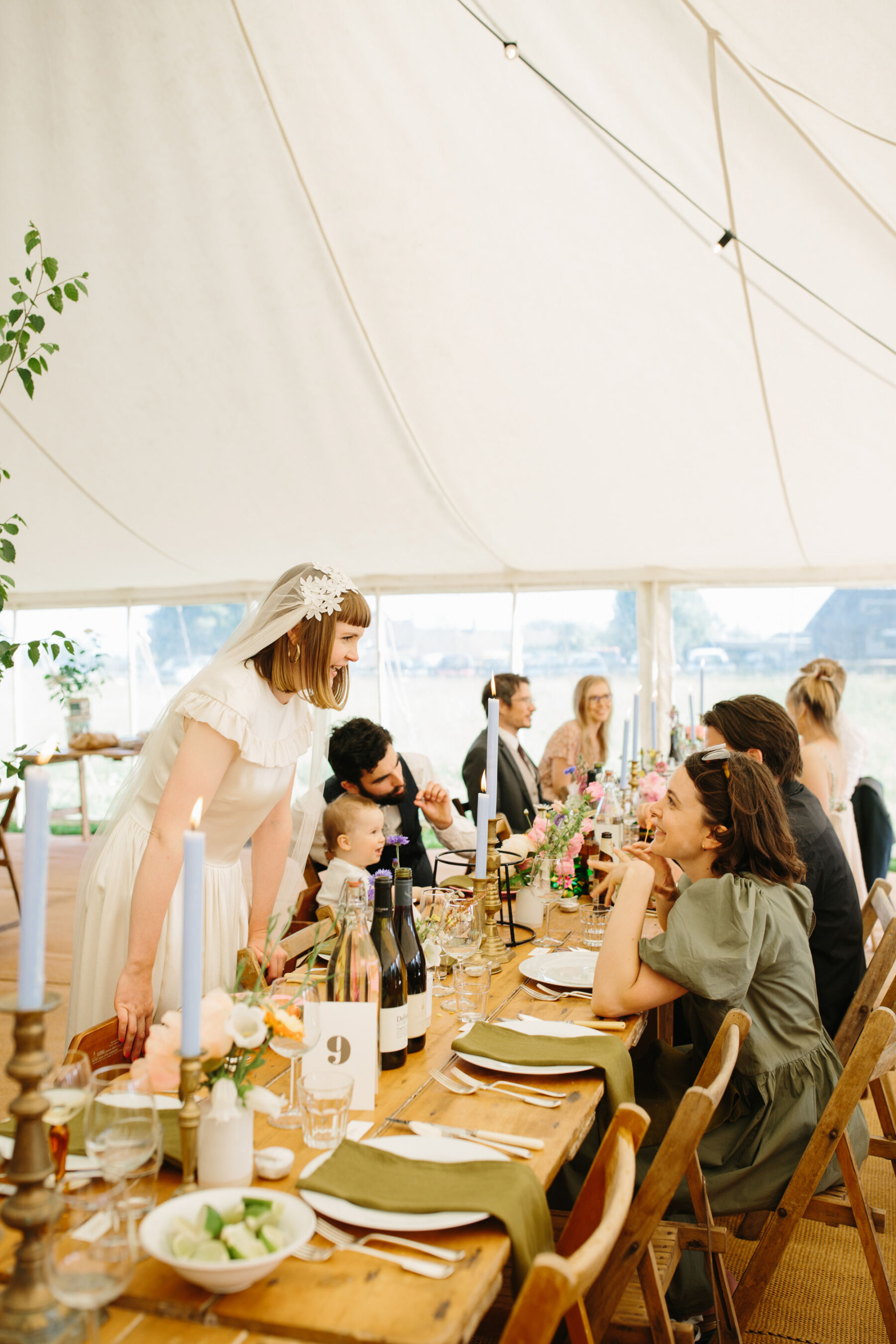 We used Sam's Kitchen for the catering and it was so good! Simple, easy feasting style food. We had an Iranian chicken and herb stew and sweet potato, or chickpea and tomato stew in the middle of the trestle tables with roast jersey royal potatoes and a bulgar wheat tabblouleh. They also did our canapés, which were really fresh, and a great taster of what was to come! Literally.
Although they didn't supply our evening food of cheese they did assist our friend Jo who was putting it all together. We certainly felt like we were in great hands from the moment I emailed to the tasting to the actual day. We knew they would do an amazing job and they really did. We had so many compliments on the food!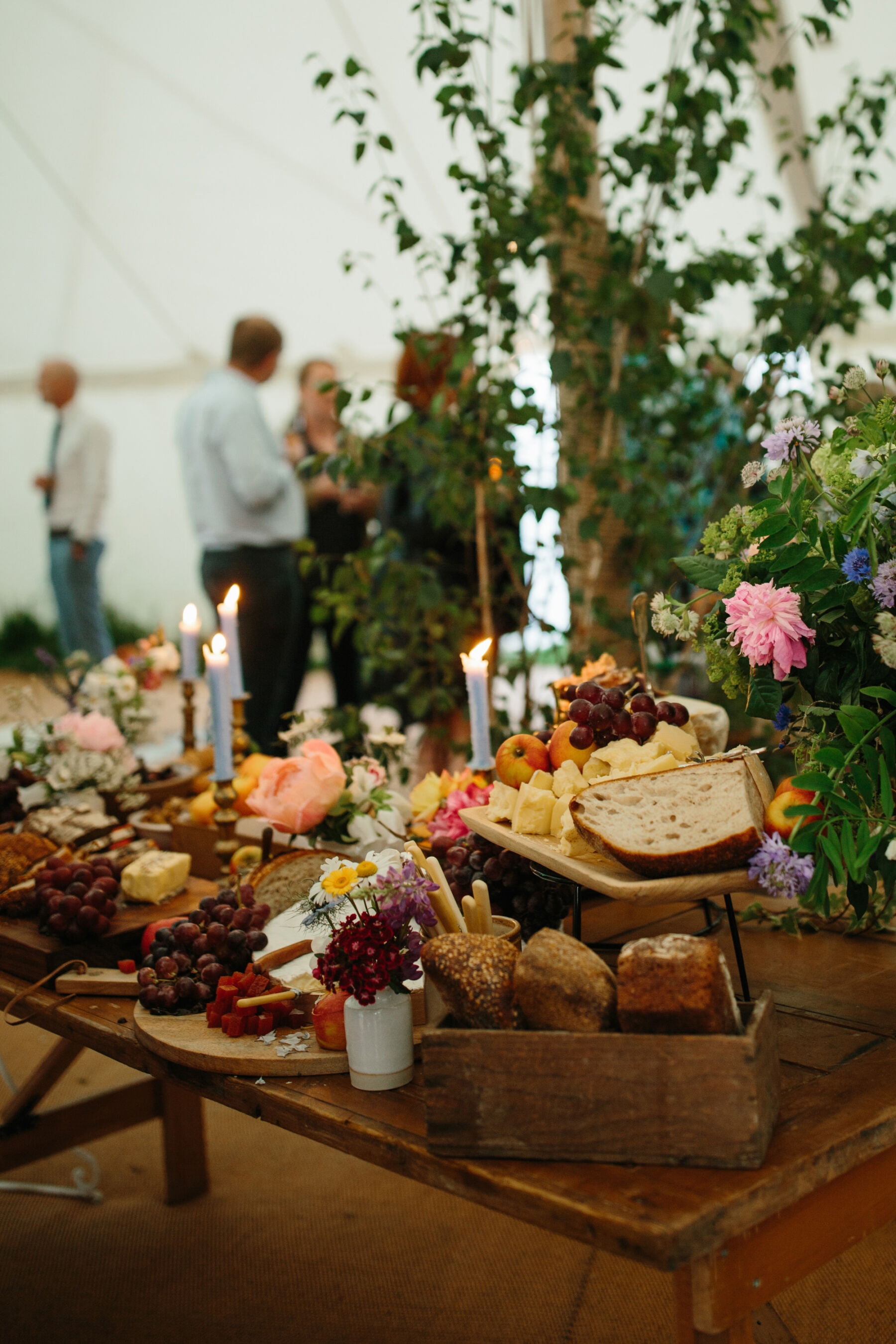 A family friend Daphne made our ice cream wedding cake. She is a cook and is famous for them (at least amongst our family!) I had been lucky enough to have tasted them before, and always thought they would be an amazing alternative wedding cake so when Daphne offered to make one for us I just had to say yes please! It was so kind of her as it is so much work, and timing is crucial! She hand makes the raspberry, chocolate and blackcurrant ice cream and they are formed and frozen in stripes like Neapolitan!
She uses a really lovely softened creamy vanilla ice cream to go around the outside. It was served with soft fruits, a berry coulis and a crisp wafer biscuit. So simple but so delicious! We kept the decoration on the cake simple with some peonies and two kitsch little dove decorations that I have had for around 10 years for mine and Martyn's wedding cake one day!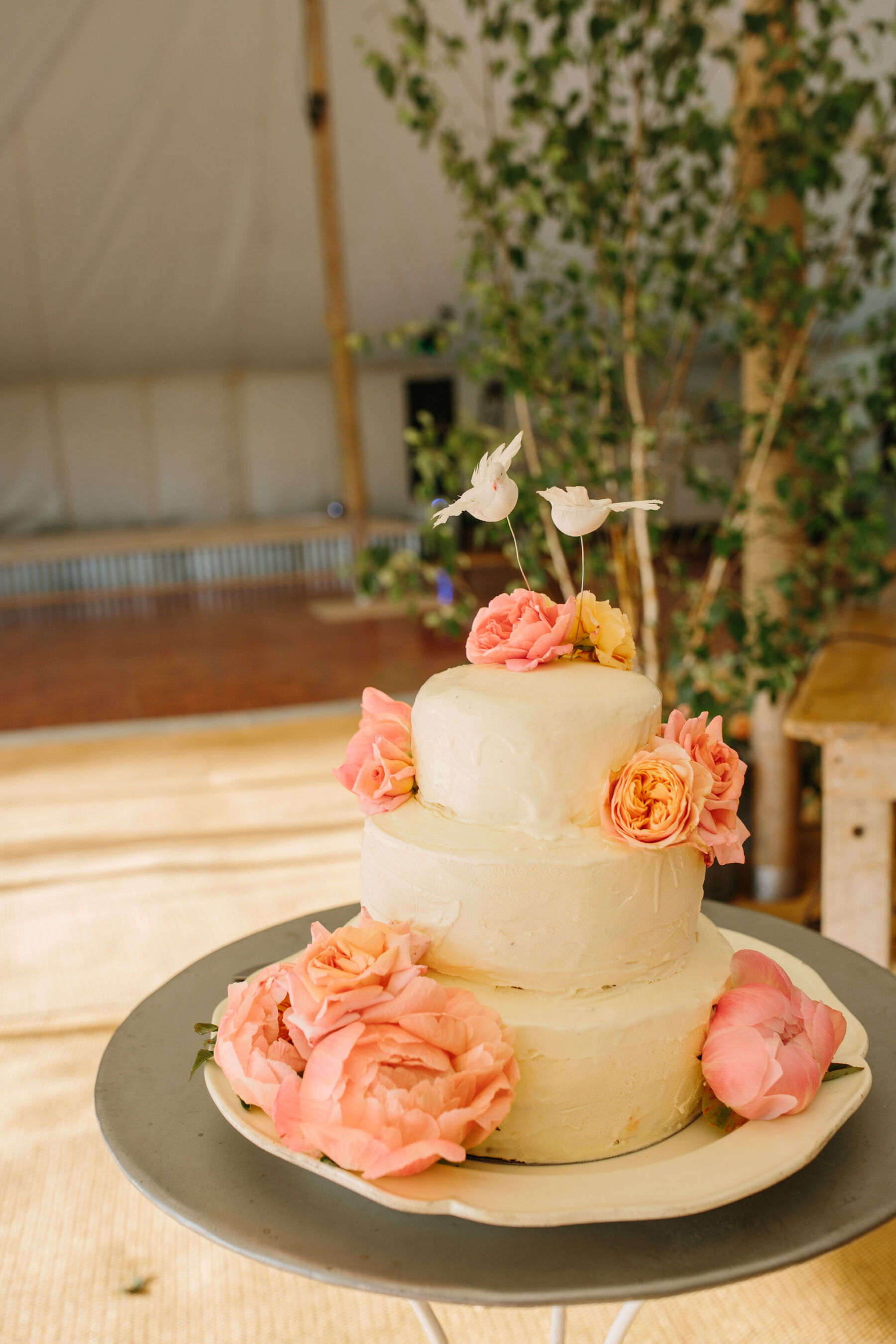 We didn't have a stationery designer as such, but our friend James Sutton is a really great graphic designer and he helped us loads with putting together my various ideas of how I hoped the invitations and order of services might look and feel. I wanted the style to be bold and colourful with a definite 1950s art exhibition feel. Matisse was a definite inspiration for the design.
I hand drew lots of bold shapes that James and I then formed into a more useable design that would work with the necessary text. Of course I chose the colours too! We didn't think menus etc. were too necessary for us so we just kept the same font throughout for the table numbers and plan as well as the same chocolate brown ink to keep it all coherent.
Favourite Moments
Like I am sure everyone says, it really does go by in a bit of a blur. I don't think I could name one part as my favourite really. There were lots of moments throughout the day that I loved. I think we both, of course, loved having our girls there; it was so lovely seeing Olive darting about the field and marquee. To have them as a part of our day was really special.
I also think with all the party organising we hadn't really thought too much about the service, other than the fact we were anxious about being the centre of attention! However, we were so moved by the service and really enjoyed the process of "getting married". It went by so fast though! Like the whole day did really.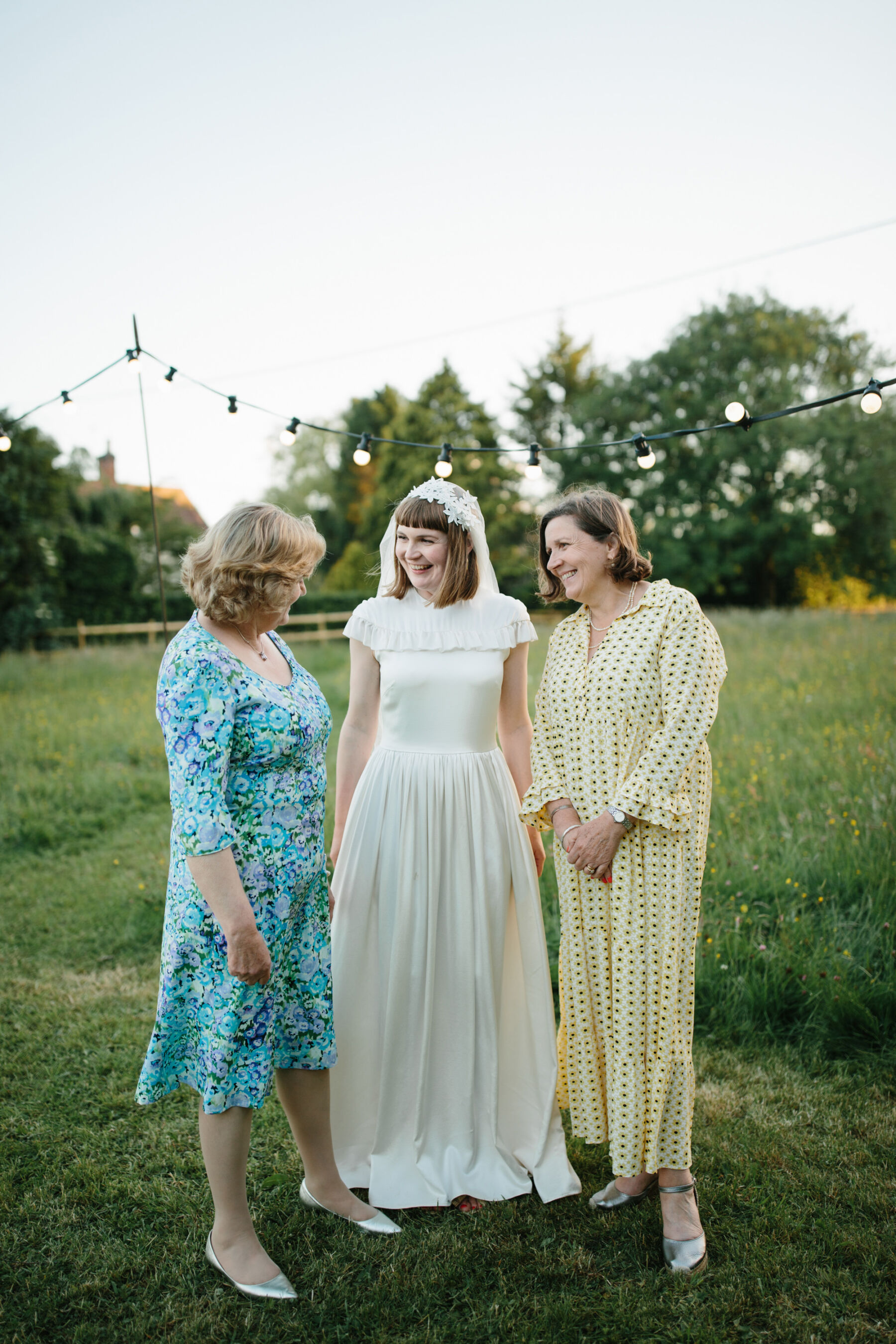 Evening & Entertainment
We had a local to us Americana roots rock and roll band called True Strays play in the evening, which everyone really loved, the dance floor was packed for most of the night which is what we were really hoping for.
I loved seeing my cousin swinging around my Grandma, and then best friends dancing with our girls, our parents dancing with each other. It was a moment we had imagined for a long time and it really was great to see everyone moving together. We felt so lucky to have guests that loved to dance!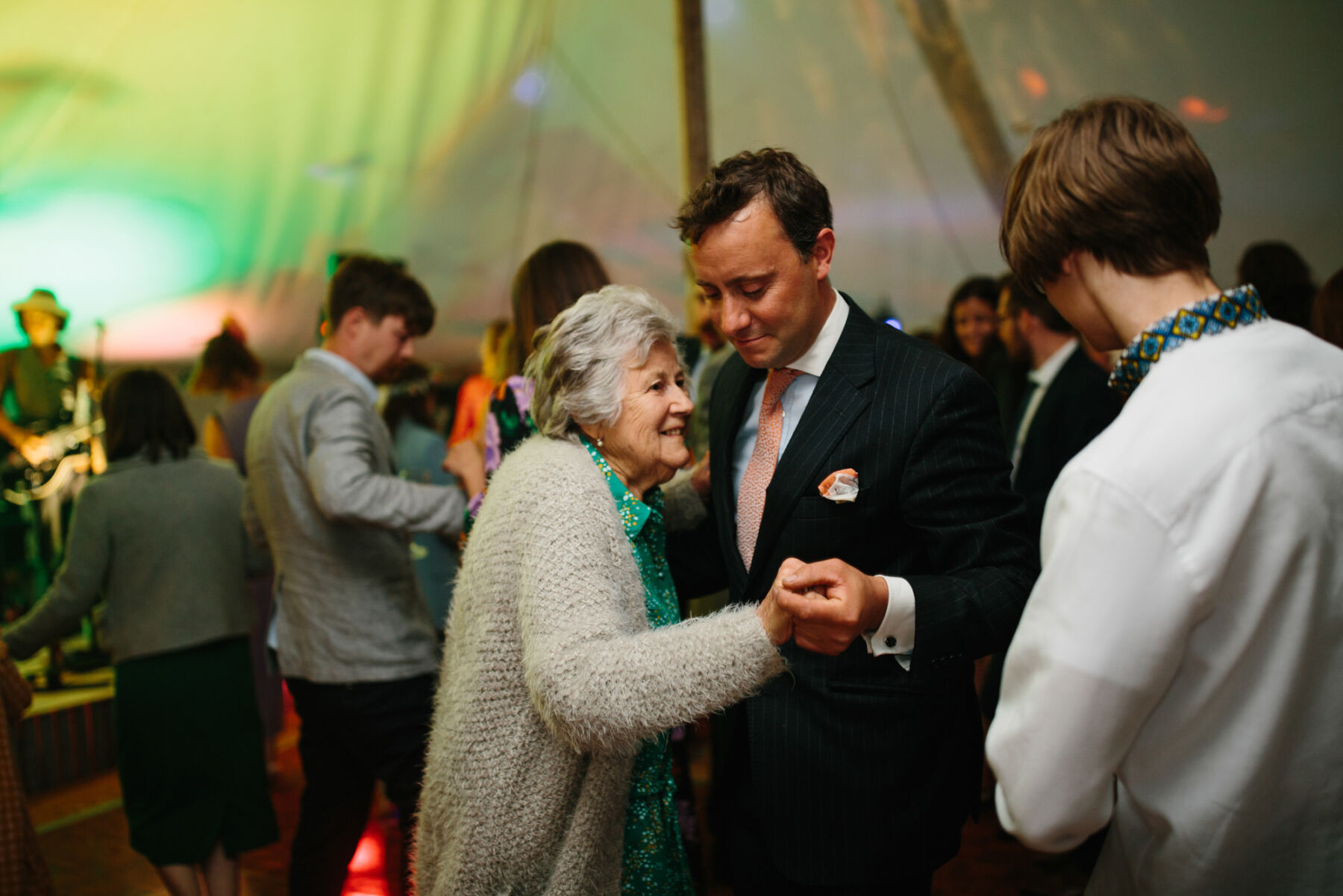 We couldn't pick one song that seemed special enough for a first dance, we also knew that we would be dancing with our girls so we wouldn't be doing any slow dancing or anything like that! Our band, True Strays said that they often played The Blues Brothers 'Everybody needs somebody to love' as a first dance song which seemed fitting and upbeat! Mart twirled Olive around and I had Bobs in my arms, very quickly we gestured to everyone to pile onto the dance floor which they did, literally in their hundreds!
Martyn's family's old Morris minor pick up was our DJ booth. Our friends and one of Martyn's best men DJ'd until the early hours (perks of having the wedding at home!) they bought stacks of records with them lots of 90s and early 00s dance music, world, funk, soul, Motown and a bit of disco too.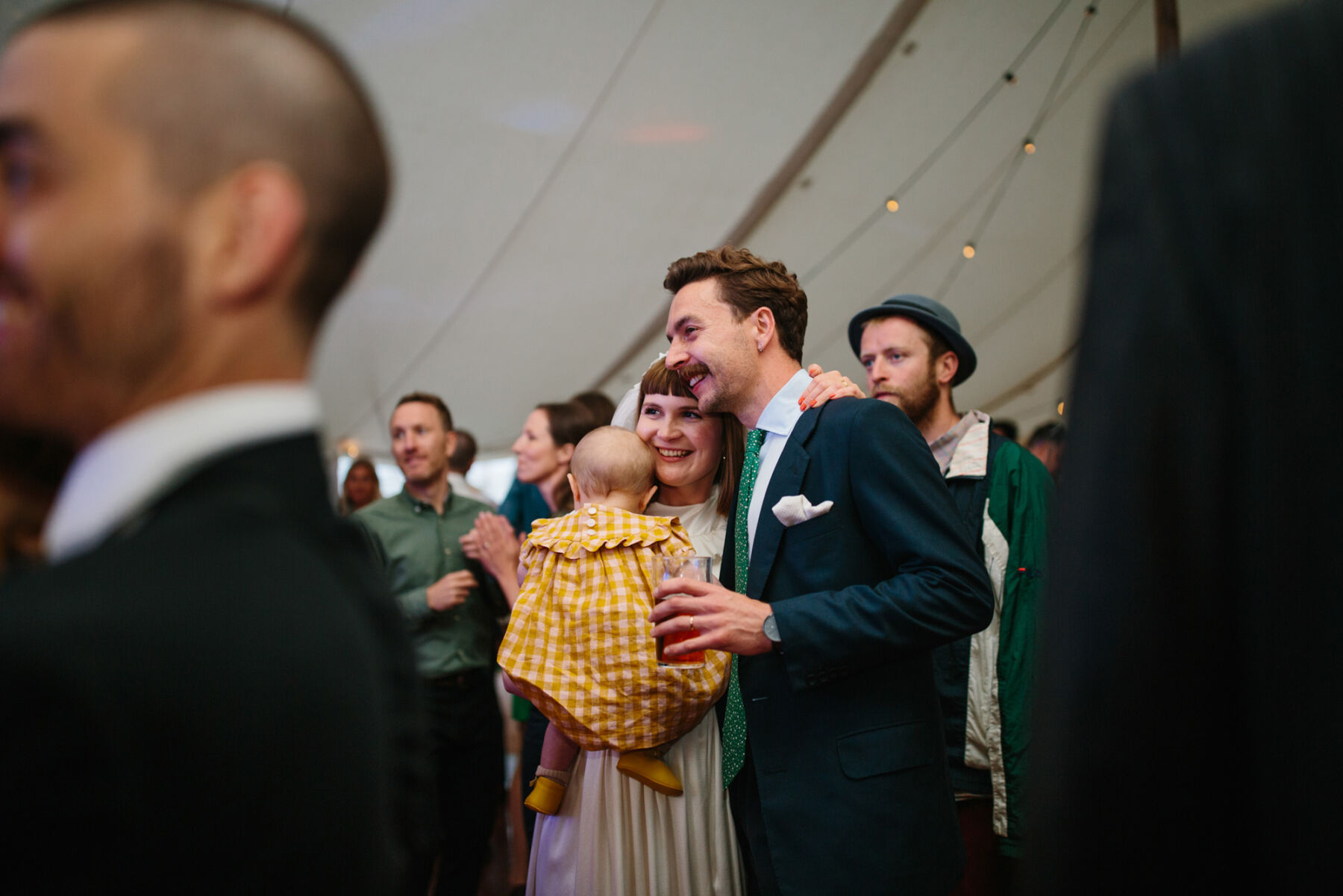 Words of Wedded wisdom
Make it personal, of course take inspiration from other weddings but try and think about yourself and your partner and how you can really reflect yourselves into your day. Make something for your day perhaps, collect candleholders from flea markets and charity shops, dream up the tablescapes, scribble down wedding invite ideas, however silly you feel they might be. We had so many comments about how personal our wedding felt and how it was just right for us, I think you definitely knew it was our day.
Try not to worry too! It goes by so quickly, like everyone says, but it really, really does. Drink some champagne before the service (if you fancy) and try to relax. I had been so busy in the run up sitting in the make up was the first time I really stopped and I did feel very overwhelmed and emotional. I don't think I had really thought about it all until that point. Let your emotions run, its totally normal and a good thing. Getting married is a momentous occasion, even if you have been together for 12 years and have two children together like we did. Soak it all up, try and take some steps back throughout the day together and just absorb everyone and everything in front of you.
Although amazing having the girls there with us, Bobbie was just 8 months. We had a nanny booked for the day but unfortunately she had Covid so couldn't make it. This meant for a lot of the party she was in my arms and during the evening when we had the band play, fireworks, toasting marshmallows and sparklers etc. I did a lot of breastfeeding and trying to settle her at my parents house next to the paddock so I felt a bit disconnected at times.
This would definitely have been different and I would have been able to be a bit more present had there been someone else to help with Bobbie. Honestly though, I don't think there is anything else that we would have changed or done differently. Perhaps if we could have pushed the budget a little more a videographer would have been great, though lots of friends did film bits throughout the day which we are really grateful for. Generally, the meticulous planning paid off I think!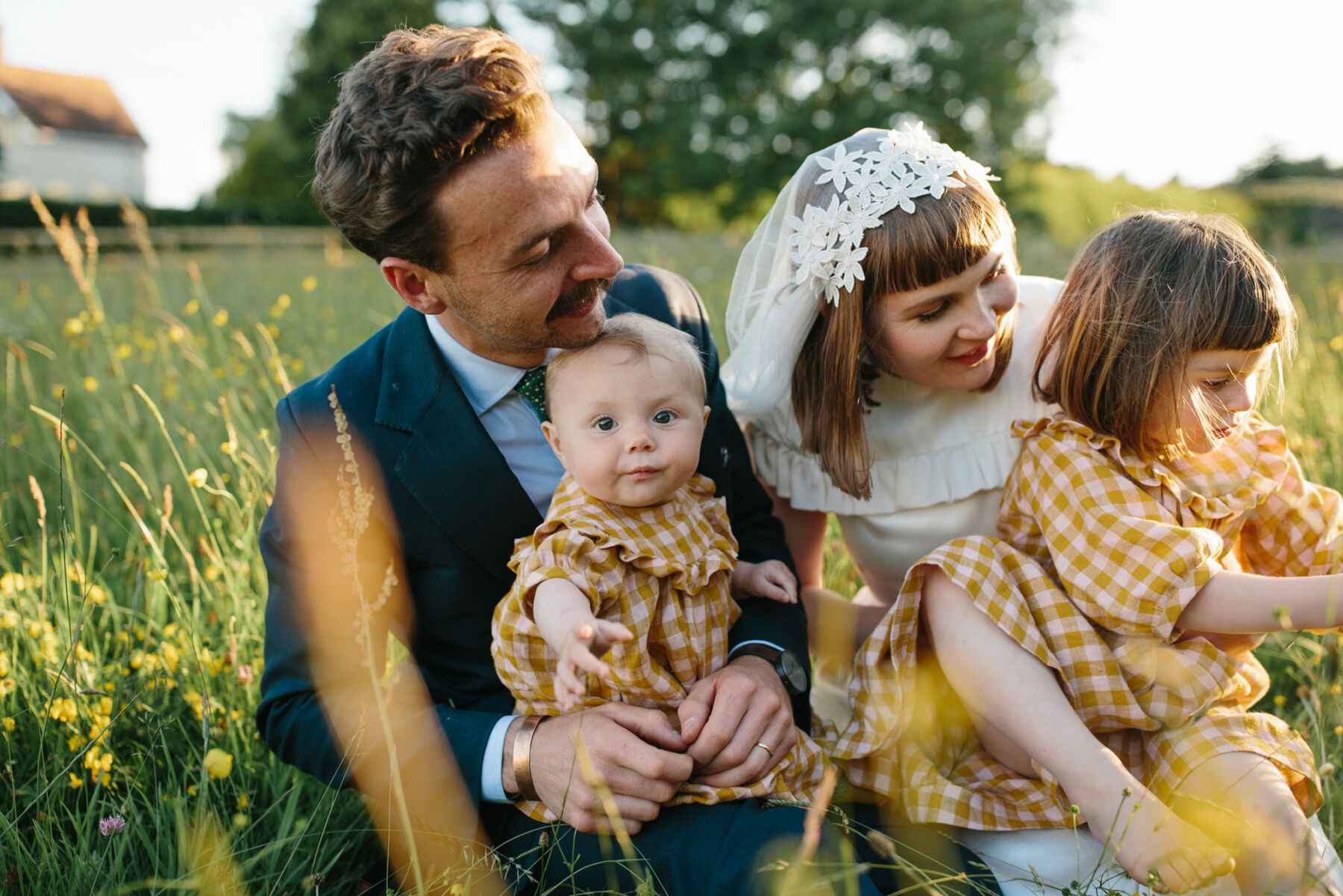 Explore our directory