Devine Bride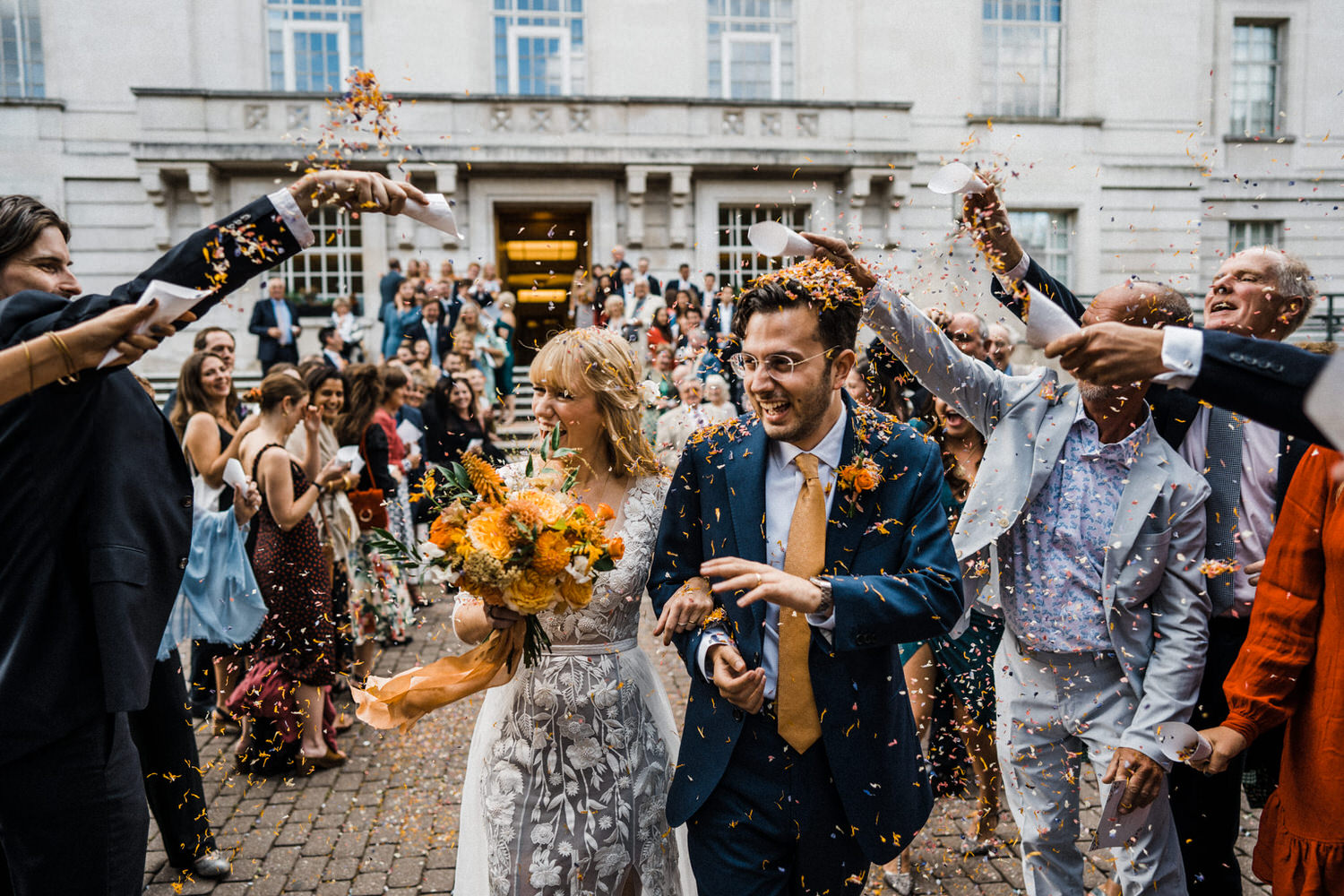 Laura Devine of Devine Bride is a London based wedding planner and stylist specialising in on the day co-ordination for dry hire venues (though all venue types are supported).
Laura provides a super stylish, colourful, modern, considered and contemporary styling vibe. Her entire approach to wedding planning is fun and flexible. She provides a 'pick n mix' style service enabling couples to hire her for specific support, instead of having to fork out for full wedding planning.
Laura has personally planned and worked on some 170+ weddings and events to date.
"I am independently rated as one of the top 3 wedding planners in London for 2019-2020 by Three Best Rated. Plus I'm married myself, so I'm well aware of how important all the details are, as well as how it actually rolls on the day. I'm discreet; I hate clipboards and headsets and don't use them at weddings! With every new client sign up, I make a donation to Eat or Heat Walthamstow food bank."
If you are a creative bride/couple who has a good idea of what you're looking for on your wedding day, we highly recommend you drop Laura a line and let her take all the stress away.
Main image by Through The Woods We Ran Photography.
Wow wow wow! Where do we start with how fabulous Laura is…. We decided to make our Wedding Day extra special and book it for New Years Eve! It sounded like a dream initially but we didn't realise how much effort and stress was involved in planning a wedding, in a dry hire venue… on NYE. Overwhelmed and in need of some serious help… In comes the wonderfully talented Laura Devine and after having just a one hour planning meeting with her we felt like our wedding had all of sudden fallen into place. Laura followed up with an incredible wedding schedule, detailing every inch of our wedding (everything we had overlooked), she had contacted each of the suppliers to arrange their timings and agreed to set up the day for us. The meeting left us so excited for our big day and watching Laura bring all of our ideas together. Roll on the big day… with a week to spare we realised we'd made a huge oversight on our part and hadn't arranged for anyone to 'take down' at the end of the wedding (something most dry hire venues request). We needed to find someone in the industry, a week before our wedding, willing to stay until 5am- New Years Day! Panic struck we immediately turned to Laura and to our amazement she immediately cancelled her own NYE plans in order to take down our wedding! We were elated!!!! On the day… we honestly couldn't have done it without Laura. She was a one woman power force, setting up all suppliers, organising 150 overexcited guests, running around with what seemed like a Mary Poppins pocket with endless essentials that we'd not even thought about… (Wedding Cake knife!). Throughout the day we had so many of our guests tell us how wonderful she was and we couldn't agree more… Laura you are fantastic and THANK YOU so much for making our day run so smoothly, bringing all of our ideas together and most importantly given our guests a fantastic party!!! You truly are insanely good at what you do and we couldn't recommend you highly enough. Katie & Sam X
Katie & Sam, Buckinghamshire
Laura was absolutely superb as our on-the-day wedding co-ordinator. We cannot recommend Devine Bride highly enough. We had very particular ideas when organising our wedding (250 guests, dry hire venue, Greek BBQ, mobile bar, furniture hire, tropical plants instead of flowers, a DJ, an acoustic band, a piano man etc etc etc) and to compound the logistical quagmire further, the venue needed to be completely cleared within an hour of the guests leaving. At our initial meeting, Laura listened attentively, provided encouragement, ideas and recommendations as necessary. We walked away from that meeting comforted and sure that we had found the right person for the job. As the months went by, we continued to use Laura as a sounding board for new ideas and solutions for challenges. She really knows what she is doing and made us constantly feel at ease and reassured. The day before the wedding (at very short notice), Laura masterfully co-ordinated with all our suppliers and also helped a small team of friends and family decorate the venue. On the day, Laura was completely in charge of the show, she liaised with all the suppliers, co-ordinated separate interviews with the registrars (so bride/groom didn't see each other before the ceremony), kept everything running to schedule and even guided us through the happy chaos of the evening. She made sure we had fun – had some food and always had a full glass of champagne and sensing our nervousness, she gave us both a small pep talk before our speeches. Multitasking talented Laura also set up our cheese table beautifully! We felt hugely supported by Laura who was able to communicate our ideas very clearly to execute our vision. The wedding was a smoothly run success. We have a million happy memories of the day. Thank you again. Lots of love Christina & Krissun
Krissun and Christina, Bethnal Green
Of all the things and services we spent money on for our wedding there was one stand out that was worth her weight in gold! Laura was our wedding angel sent from a Google search! I knew I wanted to do most of the planning for our wedding myself but as we got further and further into the process I realised that I couldn't do it all and be a bride who enjoyed her day. We asked Laura to work with us as our on the day coordinator. From the moment I had my first call with Laura I felt more at ease and confident in the planning process. From saying just a few words she knew exactly what we were looking to achieve on our day and was able to advise us on how we could do this. As we got nearer to the day Laura became more and more invaluable. We were doing things a little differently and getting married in Australia 2 weeks before our wedding in London, Laura completely got this and stepped up so that as we flew out to the other side of the world we could relax knowing that she would be the perfect point of contact for all our suppliers as the big day got nearer. She put together a Wedding Day Brief that got everyone singing from the same hymn sheet and tirelessly chased up the pesky supplier who's contact wasn't so reliable! Then it was time for the big day, Laura arrived at the venue and did all the set up, making the venue look absolutely stunning and turning the pub courtyard into our beautiful magic wedding chapel! She had everyone under control, even the groomsmen! After the ceremony, I swear it was as if she multiplied, she was everywhere. Seemlessly organising a perfect exit from the ceremony through a bubble walk, ensuring that all the wedding party had drinks before the photos started. She effortlessly took care of the guests inside enjoying drinking whilst also nudging me to hold my shoulders back so I looked better for the photos! She was magic! Throughout the whole day she would appear and whisper in mine and my husband's ear "we're going to do this part in about 5 minutes" so that I could finish a conversation or my drink and get to the right place on time. Your wedding day is hectic and there is so much going on that you have to be involved in but it's hard to focus when all your favourite people are in one place. Laura made it so that we didn't have to focus, she enabled us to just enjoy it. I was a guest at my own wedding and it was 100% because of Laura! I implore anyone to seek Laura's help with their day! I promise you she will make the entire experience everything you could possible dream of! Thank you Laura – Wedding Angel
Jen, Walthamstow
Laura is divine, she is super organised with a real eye for detail and, importantly, she is super fun to have with you on the day. Laura really understood the relaxed party vibe we wanted for our wedding and used her endless skill set to help us achieve it. The day ran without hitch and also without anyone feeling marshalled about – a hard balance to achieve. We initially booked 'on the day coordination', but when faced with timeline issues we booked a 'power hour' session and on site recce. The output of this session was an extremely detailed document with multiple timeline options which really helped me plan the day Additionally, we met with Laura for a catch-up and chat a couple of weeks before the wedding to chat through the final and finer details. Following this meeting a detailed wedding brief was produced, which our suppliers were in admiration of, with one saying "I wish every bride had a Laura." I cannot recommend Devine Bride highly enough, if you are having a dry hire wedding then you need Laura on your team.
Esther, Bermondsey
Booking Laura was the BEST decision we made for our wedding and she ensured we had the most wonderful weekend of our lives. As soon as we hired her, we knew we could trust her completely – she combines amazing organisational skills with a brilliant eye for detail. She also had loads of imaginative ideas for our wedding – including ways to save money! She is also just a lovely person to work with! If you're wondering whether to book her, do it now – she will ensure you can relax, enjoy the day and will no doubt save you quite a bit of cash along the way.
Jamie, Peckham
It turns out that organising a laid back, informal, fun wedding day is NOT any of those things! My wife and I breathed a huge sigh of relief when we found Laura at the UnWedding show and learnt what she could offer. We've said it a thousand times since, hiring Laura was the best money we spent. Laura took time to get to know us and understand what we wanted from the wedding – going for a drink with us to talk through the details of the day. Her tonne of experience of coordinating dry hire weddings made sure that we didn't miss any of the important things when it came to planning. On the the day, Laura ensured we could just sit back and enjoy the day, whilst making sure we were looped in on timings and details where needed. Her calm demeanour and smile fit right in and it was like having another guest at the party! Although she wasn't able to help out with clear down the next day (we'd booked last minute and she already had plans), Laura used her network to find someone to help out. She's clearly well-respected and established on the weddings scene, for good reason. Don't hesitate – hire Laura now!
Jo, Tooting