I've been so excited about running this feature, ever since my lovely friend Lisa Harris from Magpie Vintage put me on to the fabulous bridal and special occasion wear designer that is Terry Fox.  If you're not familiar with this name, then this little potted history of Terry's career should help enlighten you….
Terry Fox started out by serving couture apprenticeships with both Zhandra Rhodes and the Emmanuels.   From these early beginnings, Terry's career began to take hold; she started to develop her own unique style and it wasn't long before she had launched her own range of special occasion wear, that became an instant success, selling out at such prestigious outlet's as Harrods of Knightsbridge. 
"Wedding dresses make dreams come true. It is my absolute mission to meet the challenge of each and every individual bride to make them the perfect dress, so there is a lot of soul-searching, memories, thoughts, relationships, wishes etc that go into the mix to get it right. What other dress would you put that much effort into!?  And I LOVE corsetry; to see the total control, and engineering of fabric, then to make a women feel the most desired being on the planet – And of course, what other garment reduce your waist by 4 inches?  Corsetry is GENIOUS! I have one very basic instinct for women and fashion:  I want it, I love it, I'm having it!!!" 
All Photography Copyright (c) 2010, Adam Alex Photography
For several years, Terry ran a department at Liberty's of London. Her enthusiastic and down to earth approach to fashion created a fantastic opportunity for her, presenting an eighteen part BBC television series entitled 'Wear It Well'. Her book 'Terry Fox Fashion Collection: 10 Couture Garments to Make from Start to Finish'
, appearances on 'The Clothes Show', a range of videos and magazine articles were soon to follow.
For many years, Terry ran workshops teaching 'The Inside Secrets of How to make the Outsides Work' to thousands of students. Her company 'The English Couture Company' enjoyed massive success, and Terry worked all over the world teaching at her workshops. The company was sold and franchised, and still continues very successfully. Terry continued to teach as a couture design specialist and became the 'darling girl' of Husqvarna sewing machines, and this took Terry's techniques and insider-secrets all over Europe, USA and the UK.
"I have been designing and making clothes all my life!! Certainly for over 30 years. My Egyptian Grandmother started me off I guess, but my first commercial attempts at fashion designs were for girls at my school – well, for their dolls that is!! I used to design and make clothes, and package them as professionally as I could. I 'pretended' that my Aunt worked at the factory and got them cheap!! I was selling these designer doll outfits when I was only 9 years old!! I used to design and make my own clothes as a teenager, purely because it was the only way to afford the trendiest outfits."
Qualified or self-taught?…"I did go to college back in the 1970's for three years – the qualification was called the S.A.I.D., which I obtained a distinction at, but I don't think it even exists anymore. I am mainly self-taught, and have passed on my knowledge and experience to literally thousands of people, but very few actually 'feel' and understand fabric. My advice is to work, work, work with fabric. With any subject you have to know the rules inside-out before you can break them. A true designer knows no boundaries – you are not ready until you can free your mind of what has gone before."
Can you describe the Terry Fox Couture experience?…"We recently moved into a much larger showroom and studios, with wonderful vaulted ceilings and skylights offering loads of naturally sunlit space to appreciate the dresses in.  The showroom also boasts huge mirrors, a stage and even a mini-catwalk!! It's true to say that our Brides really make an entrance when trying-on!!  All our clients enjoy a relaxing and fun time trying on at the studio, and they all comment on how enjoyable the experience is. Appointments are allowed to flow, with no time pressure, and our clients may try on as many dresses as they wish.   I always tries to incorporate as many of the client's ideas as possible into my designs, and as everything is made by us here, the garment always remains close to hand, and the budget is always under your control."
Terry Fox is one of a few UK Bridal designers that can offer this process these days, and this is something she remains justifiably proud of.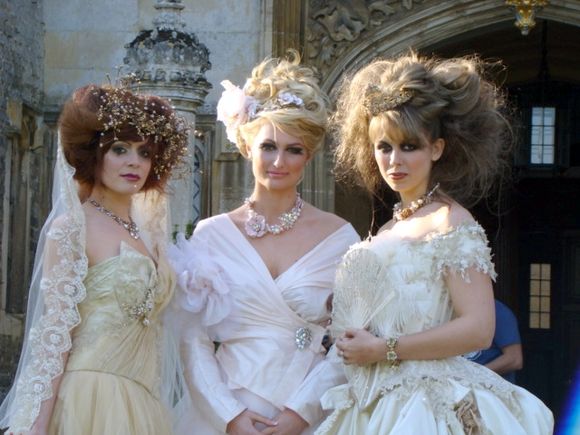 Do you have a muse?…"I love women who are individual ~ Dita Von Teese,  Jane Goldman, Gwen Stefani – they all have an inherent style. They don't need to be told what to wear; they know what is right for them. My clients are often professional, self-assured, sexy women of all age groups. Let's face it, most of the time success comes with age. These sort of clients start off by advising me what they want, yet by the time we're finished, they say 'just get on with it, do what you do want, I know it will be fantastic'!! And I won't stop until it IS."
What materials do you prefer to work with/find you work with most?… "I mainly work with all types of silk, but I'm big on infrastructure. I build skeletons in my designs – you may call it interlining or underpinnings. Basically I don't mind what the fabric is or what it's character is going to make it do – I control it from underneath. I always say dress fabrics are like wallpapers, they won't stay up without the walls."
Terry Fox prices start at £500 for a corset and range from £1,500 to £10,000 for a dress. This is quite a price range, though Terry tells me that one of her 'big numbers' would typically cost £3500 with full embellishment etc.  Prices vary according to the choices made by my clients regarding fabric, detail and embellishment etc.  All designs are available from Terry's showroom in Suffolk.
Terry Fox will be exhibiting at the prestigious venues Hengrave Hall, Hengrave, Suffolk on the 21st March and Orwell Park, Nacton, Suffolk, on the 28th March 2010.
With thanks to Terry and John for speaking with Love My Dress – oh, and be sure you read these comments from a number of extremely happy Terry Fox customers 🙂
Annabel xXx
♥