Hi Everyone 🙂  This afternoon's blog post is just the perfect example of how being brave enough to be photographed before your wedding can pay off with the most beautiful set of images that you can treasure, forever.   An engagement shoot is also the perfect tonic for any couple who might be a touch shy in front of the camera – what a great way to remove those fears and learn to relax in front of the lens, before your big day.
I love these photographs (and is it just me, or does the Groom here look similar to a famous and rather dashing British Actor?).  They tell a story of two people utterly relaxed in each others company, totally in love and you can almost sense the anticipation of their upcoming wedding.
The couple, Vikki and Scott, were photographed by London Wedding Photographer Dominique Bader (one of my favourite photographers EVER).
Bride to be Vikki told me about the experience…
"When we first booked Dominique in the winter I was so excited about having an engagement shoot, she had shown me so many beautiful pictures and I wanted to have some as soon as possible. I also think within all the planning it felt exciting to think that Scott and I could actually do something together that made the wedding feel more real, rather than just sending endless emails back and forth with suppliers about cutlery and portable toilets!
However we decided to wait until Spring as we were set on an outdoorsy shoot to give us a better chance of lovely weather. As we got closer to the wedding we got so busy I wasn't sure how we'd fit it in. I also got increasingly nervous about having my picture taken and Scott was still firmly in 'why do we need this again?' territory. I truly think he believed I had come up with the whole premise of an engagement shoot to torment him!"
Love My Dress – Photography Copyright (c) 2011, Dominique Bader

"Dominique and her Husband/Assistant Samuel were incredibly organised and had already scouted locations in the park for us thoughtfully away from the busy areas so there weren't too many onlookers.
Once we started shooting Dominique was extremely encouraging, reassuring us we were naturals, even though we kept giggling annoyingly. So we managed to calm down and the time went really quickly. In the evening it actually felt really nice to have spent the whole day essentially just cuddling in the park…"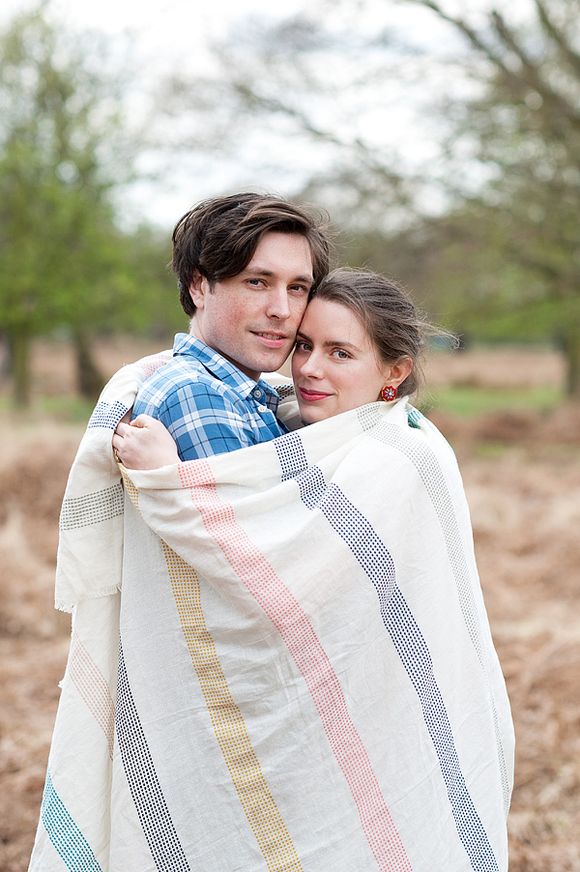 "When the pictures popped up on Dominique's blog just two days later I could hardly bear to look. But she had done such a wonderful job they were absolutely gorgeous. I rang my Mum and she the spent the next hour describing each picture to me in detail, as if I couldn't see them, because she was so excited. News within the family spread quickly and there were admiring comments, giggles and even a few tears.
It was also lovely and extremely comforting to read the really kind comments people had left about the pictures on Dominique's blog so I knew the outfit choices were a hit after all. We are feeling so much more relaxed about the pictures on the wedding day and I feel entirely confident that we will love the result. Thank you so much to Dominique and Samuel, we are really looking forward to sharing our big day with them."
Thank you so much Vikki and Scott – Dominique was right! You are both complete naturals in front of the camera and I can't wait to see your wedding photographs! 🙂  Lots of love and luck for your upcoming wedding.
Much love to you too Dominique Bader for sharing these beautiful photographs with Love My Dress today.
See more engagement photoshoots on the Love My Dress Wedding Blog here, including this beautiful intimate London elopement.
Much love all,
Annabel xXx
♥
ps – See you tonight Dominique!! 😉