Morning everyone 🙂 I'm hoping you've had a chance to see our BIG giveaway competition for May that was on the blog yesterday – watch out for a smaller but just as fabulous competition coming up soon involving something sparkly 🙂
This morning I'd like to share a really lovely bridal inspiration shoot with you.  This colour-burst photoshoot which took place at up and coming North Yorkshire wedding venue Danby Castle, was the brainchild of Kim Groves of Fine & Funky Events – a new Events Planner and Stylist in the North East of England. And good she is too.
Kim talks us through her concept, as a stylist, and also shares her REAL experience of how the day turned out…
"The inspiration for this photoshoot came from my friend Natalie's pre wedding shoot. I was in total awe of this shoot, I loved everything about it from the outfits, the colours, the rides, it just screamed FUN! 
This, I decided, is what would be the inspiration for my next shoot would be; think kissing booths, hook-a-duck, lots of beautiful flowers and mini balloons tied to napkins!"
 Love My Dress Wedding Blog – Photography Copyright (c) 2011, Helen Russell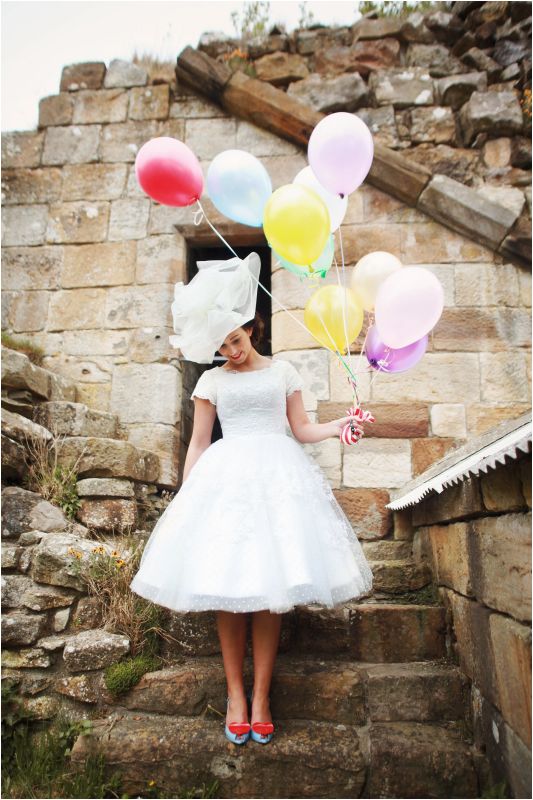 "I'm going to be really honest with you – but planning a shoot is HARD WORK. Sure, I've help styled shoots previously and have organised one, the rustic tablescape featured back in January but on a much smaller scale, with just three suppliers – which is nothing on the scale to what I had planned for this latest shoot.
A couple of months ago, I got in contact with a number if suppliers who I'd met either at wedding fayres, via twitter, from my own wedding of people who's work I just loved – and I began working on a theme. I had a clear vision of what I wanted the shoot to look like. Bingo! … or at least you might think.  Wrong! 
The problem with organising, planning and styling the shoot is that you have to be realistic. Yes, I wanted to create a shoot where images would be an inspiration to brides and grooms and maybe even wedding industry professionals, but I had a very limited budget, had chosen a venue to hold the shoot in which wasn't a city centre location, therefore not easy access to lots of suppliers (but with AMAZING views).  I am also incredibly busy at the moment so had very little time to plan, and the issue with inspiration shoots is that so many of them have already been done.
I wanted this shoot to be different – to have a bit of 'WOW!' factor…" 

"As time progressed, I was also very aware of all the suppliers that were involved, and how they had all given up their time in the promise for some great styling….. PRESSURE!
My vision for the shoot included the incredible views of the North Yorkshire Moors, this meant having everything set up outside, great! Errrrr no, in actual fact Mr Weather decided not to like me on the day and as I stepped out of my car on the morning, stomach churning, I realised it was going to be impossible to set up outside, it was freezing and incredibly windy. I would not be defeated however and for the next hour started to set up outside, lines flying about everywhere, trying to pin everything down.
I had no choice…
I needed to resort to a backup plan!
Lucky for me, Danby Castle has a beautiful marquee, so we could set up in there…"
"We did manage to get some shots outside at the end of the day however :)  I had a small issue with a deck chair which was hilarious but apart from that, it was FANBLOODYTASTIC!
As we were all packing up, I felt quite overwhelmed, I was spending the day working with some amazingly talented, creative and inspiring people, what an amazing job I have! A year ago, my business never excited was just a pipe dream and now I was saying "that's a wrap folks", very cheesy, but yes, I did actually say that (cringe!), and loved every moment! I feel so incredibly lucky, and can't wait for the next shoot 🙂"
"My reasoning for being so honest with you here, was because I thought If I could share some of my experiences then it might help others who are planning and organising shoots in the future.
I was very lucky to be working alongside a photographer whose work I really admire and who totally got the concept of the shoot, Helen made it all so easy and I'm so blown away by the images, I can't thank Helen Russell enough, she is super lovely too!"
♥    ♥    ♥
Styling, Concept and Dessert Bar – Fine & Funky Events
Photography – Helen Russell
Venue – Danby Castle
Stationery – Purple Peacock Designs
Cupcake Cart – Little Town Bakery
Florist – Bel's Flowers
Balloons – All Out Balloons
Bridal Dresses – House of Mooshki
Suits – Bakers Tailoring
Hair and Make up – Lisa Jones
Cake Pops – Pop Cake Kitchen
Brooch Bouquet – Tiny Gems
Dessert Bar Tags – Sweetest Pear

♥    ♥    ♥
Wow – how much fun is this?! And for someone who struggled against the elements, I think Kim did pretty darn well to have come up with this fun and hugely inspirational photoshoot – well done lady to you and the whole team that were involved!
Take these images and be inspired by them if you are planning on injecting some bright and bold colour, and some fun, British elements into your own wedding day 🙂
For further information about the styling and planning services Kim offers via her Fine & Funky Events Company.  Kim can also be followed on Facebook and Twitter.  Also take a moment to view Photographer Helen Russell's website – I'm definitely watching this one!} and to peek at the Danby Castle website also – one of the prettiest castle wedding venues in North Yorkshire. 
View more bridal inspiration shoots on Love My Dress here.
Much love all,
Annabel xXx
♥
ps – Kim happened to get married at Danby Castle and you can see her wedding featured on Love My Dress here and here! 😉