Eager beaver followers of Love My Dress may recall that back in February, I introduced new vintage bridal and Swarovski headband designer, Natasha Jane to you all, when Natasha was kind enough to offer one of her lovely designs as a giveaway.
Today, I'd like to share a photoshoot with you that showcases some of Natasha's beautiful new designs off in the most dreamy and elegant of surroundings, as well as provide styling inspiration for all you Summer Brides to be :) 
I recognised the dress modelled in this shoot in an instant! It is 'Papillon' by Jenny Packham – a very popular design with Packham fans, that comprises the most detailed and intricate embellishment and a heavily embellished tulle overlay, the decoration of which is inspired by butterfly wings.
Natasha Jane tells us more about this shoot…
"The whole shoot started with me applying to a casting call that the Photographers had put out on Model Mayhem – but instead of working on the one they set we decided to do another one together. 
We discussed doing a vintage isnpired, preppy shoot to feature my designs and provide inspiration for Brides to be.
We asked the brilliant The Wedding Club club for a dress loan, and we ended up borrowing this glorious Jenny Packham design, which lent itself beatifully to the overall style of the shoot; it was so sparkly and really gave an elegant feel to the photos…" 
Love My Dress Wedding Blog – Photography Copyright (c) 2011, Adrian Billingham Photography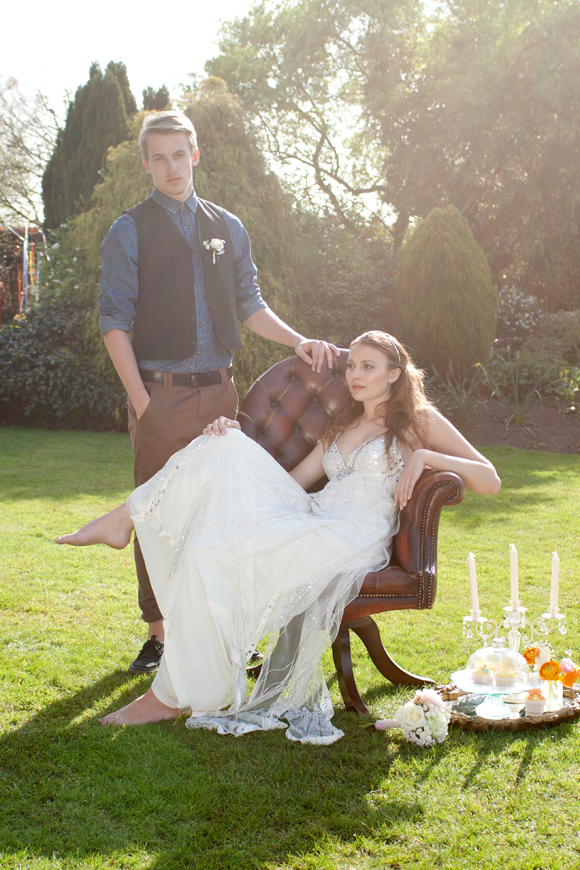 "Our model sweethearts are Tom and Amy and luckily as an actual couple, we were able to get some really close intimate shots of the romantic look we wanted.  The look is vintage inspired, but still young and lighthearted as both Amy and Tom are in their early twenties…"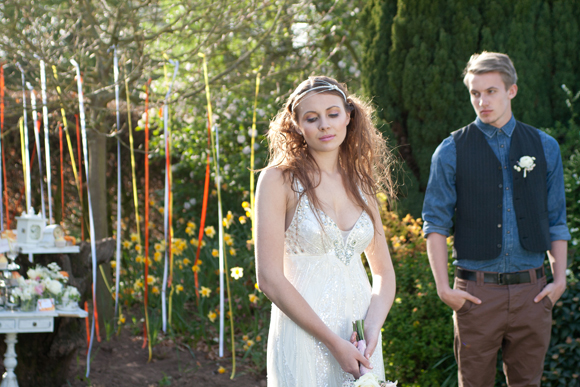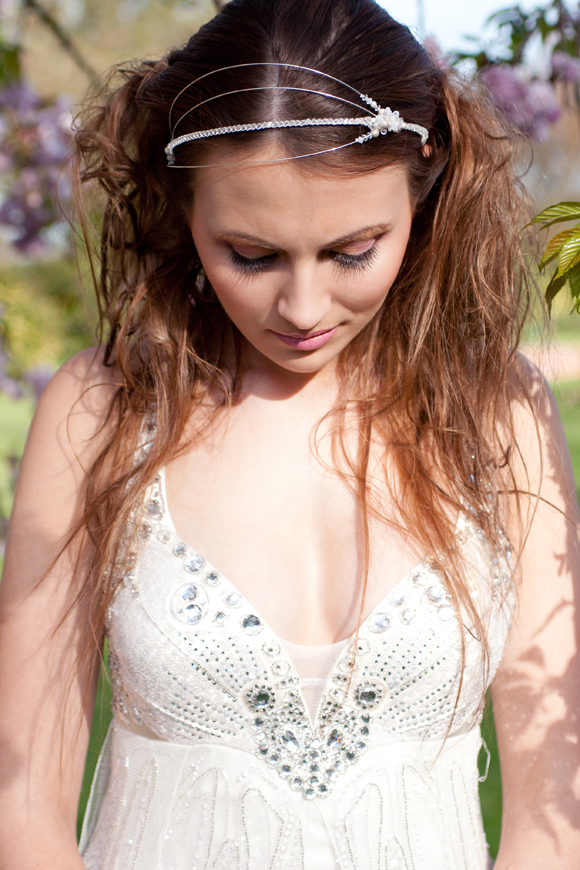 "The venue, Country Garden Party. is my best friends parents garden – it was perfect for this inspired photo shoot with its beautiful views and spacious grounds. It had many areas in the grounds to get the perfect picture like my personal favorite the pink-blossomed tree at the front of the greenery with its draping branches.  The rose collection was a very pretty area, as the archways were so romantic and the ideal location to stage photographs especially at night when the garden is delicately lit…"
"We used a bespoke fabric and Swarovski crystal headpiece designed by 'Natasha Jane' as well as a three strand Swarovski headband 'Ava' from the Signature collection…"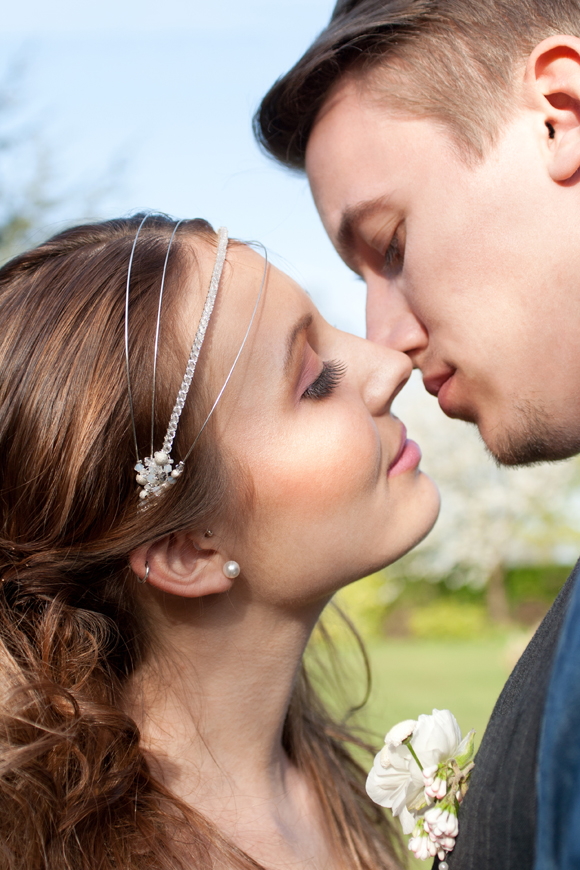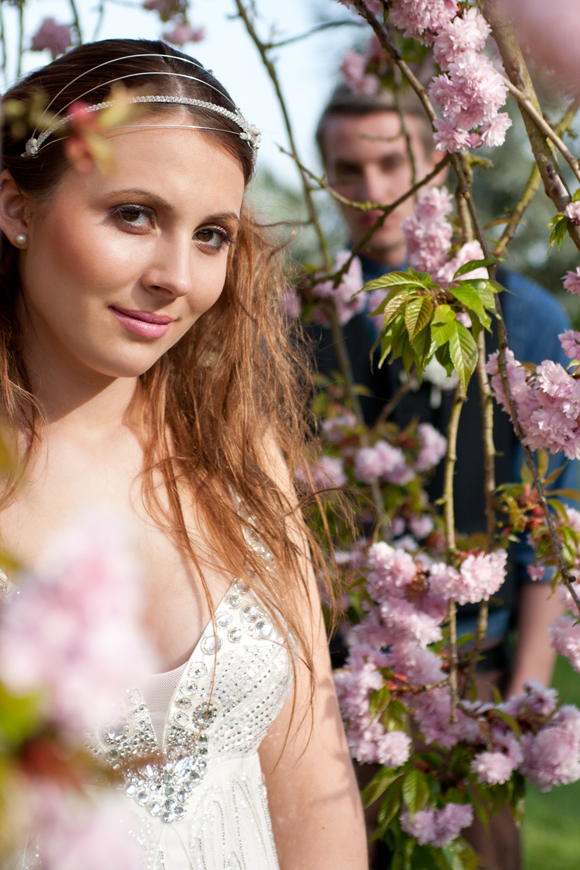 "Make-up artist and hair stylist Jefferey created a feminine loose curl with Amy's hair, keeping it young, complimenting this with soft tones of rose colours on the cheeks and lips with a precise black liner for the eyes.  For an alternative second look Jefferey lightened the lips to a pink hue and matched the eyelids with light orange and pink tones, giving it a really fresh feel…"
"All the styling and props were found and put together by our fabulous styling girls, Nina and Sonia of 'Invitation Only' who normally design beautiful tables for weddings and parties and style out halls for celebrations…"
"Thank fully they agreed to take part in this shoot and were amazing to say the least.  They were also able to borrow some really great props from the very generous Wysteria Lane in Birmingham Pavilions, such as the vintage looking clocks and quaint tea sets.  They have such lovely gifts there it was hard to let all the lovely things go back to the shop!"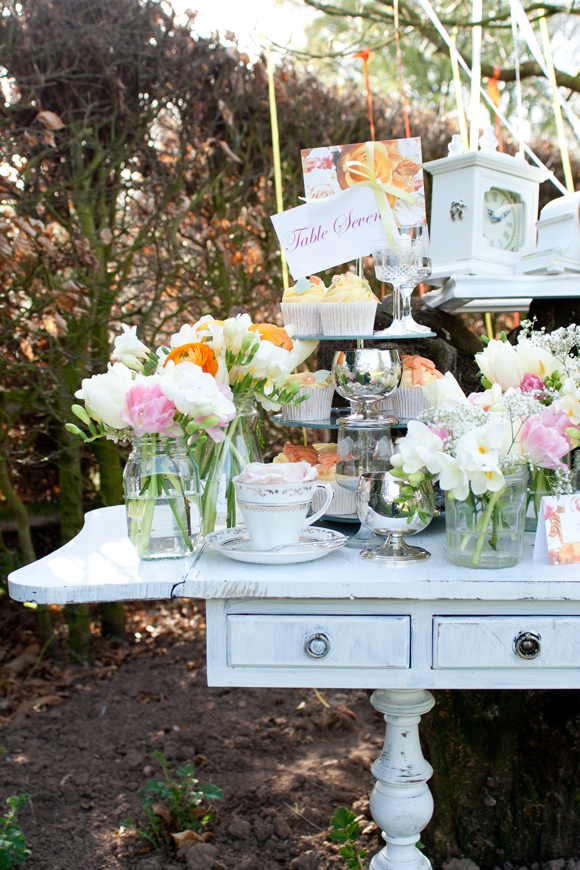 "Our table setting and invitation were designed by 'Hill Wedding Stationary', Caroline kindly agreed to take part in the shoot with very little time to design and get the stationary sent out to us.  It all sat perfectly with our theme and the colours sat well with the rose styled cakes we had made by Kerry at 'Pattacake Bakery' who supplied us with the most yummiest of cupcakes in lemon and orange shades."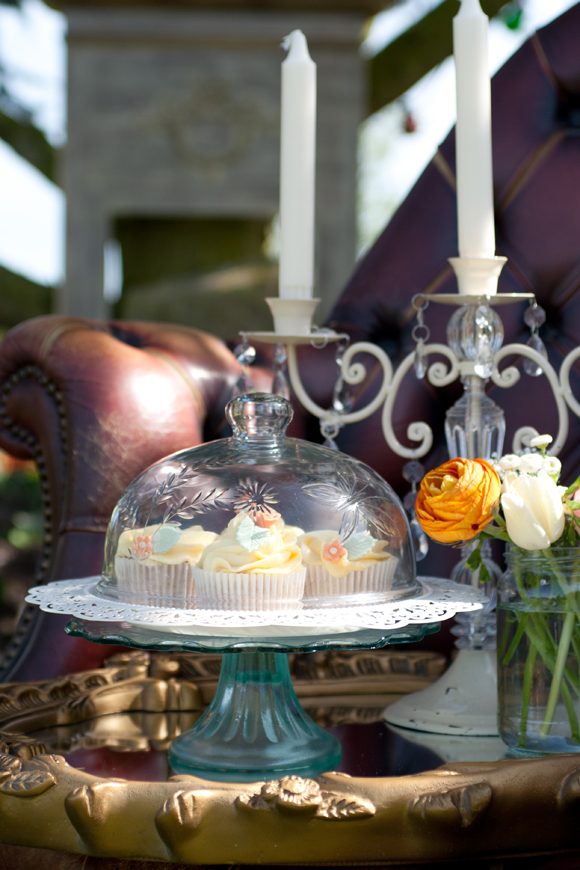 "The gorgeous bouquet was a real favourite of mine from Karen at 'Passion For Flowers', it was just so delicately pretty and feminine with accents of blush pink and lemon greens, complimented by the dainty buttonholes worn by Tom…"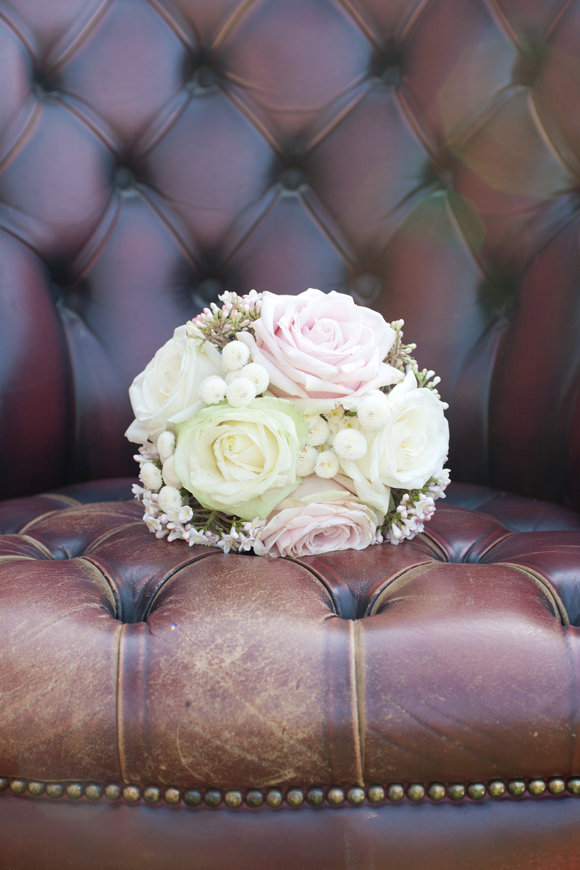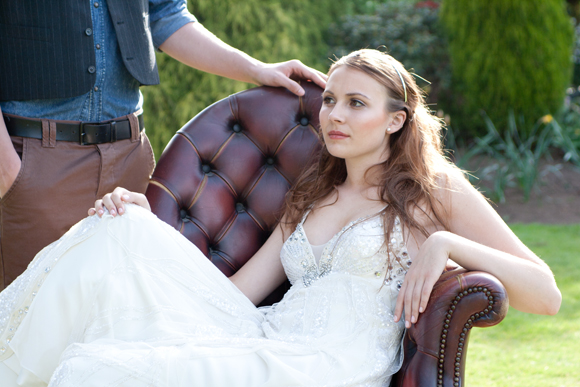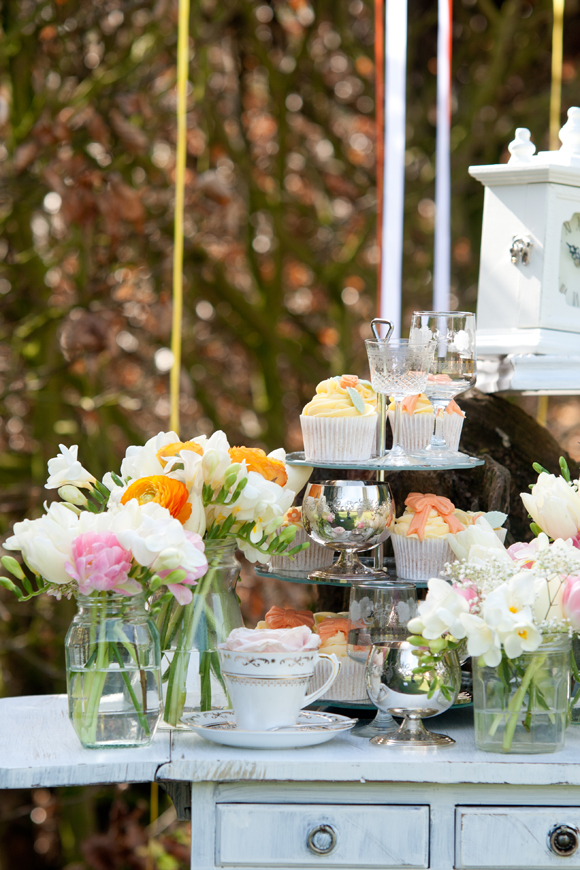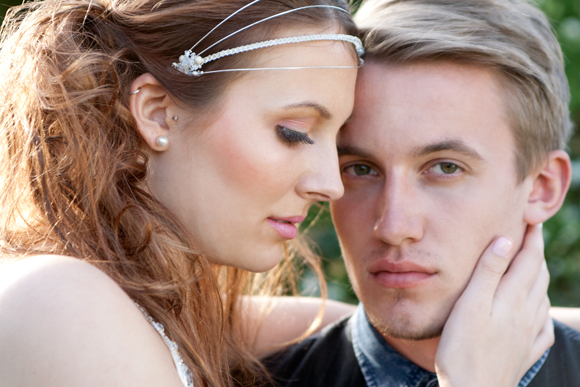 ♥   ♥   ♥
Venue – Country Garden Party, Warwickshire
Photography – Adrian Billingham Photography
Dress – The Wedding Club
Styling – Invitation Only
Accessories – Natasha Jane
Flowers – Passion For Flowers
Cupcakes – Pattacake Bakery
Stationery – Hill Wedding Stationery
Hair & Makeup Artist – Jefferey Chan
Models – Tom and Amy
Styling + Props – Wysteria Lane
♥   ♥   ♥
It's all rather lovely isn't it?
You can buy Natasha Jane headpieces directly from Natasha Jane's website.  Natasha also designs bespoke bridal headpieces – just drop her a line to discuss your needs.
And 'Pop on over to the UK Wedding Blog 'Bridal Musings' right now to view more beautiful images from Natasha Jane, 'Preppy Summer Romance' style' 🙂
Much love all,
Annabel xXx
♥