Morning all! What a glorious day! ;))  I think it's about time I featured a glamorous wedding on Love My Dress and Gloucestershire Wedding Photographer, David Jenkins has just the ticket this morning.
David took these beautiful photographs of Aidan and Anna, who tied the knot on 16 April at Maunsel House, North Petherton, Taunton, with a Restoration style wedding, a reflection of Anna's love of all things Charles II. 
Anna wore the 'Ravenna' dress by Suzanna Neville dress, which had been made to fit at the Suzanna Neville Knightsbridge store….
"I tried on all different styles of dresses – from the meringues (and some meringues they were to!) to the bias cut. I always thought that I would have a huge white dress – oddly I tried Ravenna on at Suzanna Neville's Knightsbride shop (who is of course known for her corsetry!) and just absolutely fell in love with it.
I felt so comfortable and so me in it. It was a little bit vintage, a little bit sexy and a lot of glamour!"
Love My Dress Wedding Blog – Photography Copyright (c) 2011,  David Jenkins
"Katherine, one of the fantastic assistants at Suzanna Neville summed the choice up perfectly – you have to ask yourself, do you want the 'awww' dress or the 'wow' dress – I went for the wow!
The Swarovski crystal detailing on the front of the dress and all the way down the low back just brought the dress to life and I truly felt the proverbial million dollars.
I brought my veil from Suzanne Neville too – I can't quite recall the exact length, I just asked for the longest one they had! As my dress was bias (basically a second skin!) I went for a nice long veil train for some drama, with ivory satin edging which matched my dress…"
"We choose Maunsel House because it was exactly what we pictured for our wedding – it had the room for plenty of us to stay over the weekend in a sumptuous gorgeous setting, but one in which you were made to feel completely at home – you could dance on the mantelpieces if you wanted!
It's like having the run of a National Trust property where you can where stilettos and drink red wine!  Maunsel also has a rather kooky side – which suited our personalities perfectly! The house is riddled with secret passages, rooms and hidden staircases, and crammed full of wonderful things – crocodiles in tin helmets, a bear wearing sunglasses, open fires and even a country pub room!"
"I wore a rather vintage inspired headband called 'India' which I brought from Suzanne Neville (made by one of their chosen suppliers)…"
"We met through my twin sister, Jennifer, in London, however it turns out that I went to school with Aidan's brothers and our parents live less that 10 minutes a way from eachother in Worcestershire – which makes christmas easy!
Aidan proposed just 3 weeks into a 6 month trip around the world on 15 April 2009; we caught the train from London all the way to Hong Kong effectively and carried on around Asia from there. While we were on the trans-siberian train through Russia, we stopped off near Lake Baikal where we spent 2 days treking across the ice of the very frozen lake. We spent the night in a log cabin in a village on the shores of the lake called Listvyanka – nestled in a valley amongst evergreen trees. It was in the morning that Aidan got down on one knee in our room and proposed – on account of me refusing to go onto the balcony to 'look at the view' as it was freezing!!"
"I should probably also describe the drama we had in the run up to the wedding!"
"……so, it's just 5 weeks before the big day, nearly everything is ready, my gorgeous dress is almost there and all the final preparations are well under way when Aidan has an awful climbing accident – his rope snapped while he was on a climbing wall at his local gym. 
He broke his left wrist and right ankle – his ankle so badly that he had an emergency operation that night to insert four pins to hold it together.  Amongst fears that his ankle bone may never heal, and the sadness of cancelling stag dos and a dream honeymoon, we stood resolute (with the amazing support of our friends and family) and decided to still go ahead with the wedding – with the added addition of a wheelchair and crutches!
It really put the meaning into the 'in sickness and health' bit and I can honestly say the we both meant every single word. Our day was filled with so much love and personal touches – including a blessing in St Michaels (the small chapel next to Maunsel) with just the two of us (and David of course!) – it felt all the more special after what we had been through…"
"My florist was actually my Mum and I!  All the flowers (the two large displays, button holes and bouquets) were all fake and brought from a company called Country Baskets which my mum then made into arrangements – my mum added little pearls to my flowers and ribbon all the way down the stems.
We opted for ivory as Maunsel is such a fabulously dressed house you didn't need lots of colour – in fact we felt that it just wouldn't work…"
"Colour wise we kept it simple – lots of ivory, black, gold and pearl and it worked. Maunsel provided the candelabras which we used as table decorations and covered in pearls.
We made every bit of our stationery – save the dates, invites, order of service (which (due to time constraints!) resembled business cards and simply said: 1pm get married; 1.30pm get watered; 3pm get fed; 7pm get cake; 7.30pm get dancing!), table names, place cards, menus (including a little quiz about the two of us), table plan (which we popped inside a gorgeous frame I found from my local charity shop for £10!) etc etc! We named the tables after Charles II's 9 favourite mistresses and his one wife! They were my works of art – each one being a black and white image, which I then framed with intrciate printed frames and mounted all together – they looked stunning!
You can't go wrong with  M&S! We had a mixture of sponge and fruit cake and decorated it with black and ivory ribbon. The cake topper I brought online and made a pair of small glasses for the groom – which resembled Aidan perfectly!"
"We opted overall for a Restoration theme – yep a bit of an odd one I know. I actually love all things Charles II, I love all the characteristics of that era – the unbridled joy and celebration with a bit of naughtiness thrown in!  I actually planned to bring in some Restoration elements to our day before we went to Maunsel House but when we did I spotted two large paintings, one of Charles II and one of Barbara Villiers (his famous mistress) and that is when I found out that Sir Benjamin Slade (who is such a character!) who owns Maunsel House is one of the descendants of Charles II.
We took lots of inspiration from our many visits to the house and gots so many ideas especially from the fabulous paintings and picture frames. Lots of Restoration font, rhyme, poetry and pearls featured in various elements of our weekend. As it turns out the Restoration spirit suited the atmosphere of our day perfectly – a laid-back party atmosphere filled with plenty of giggles and dancing!"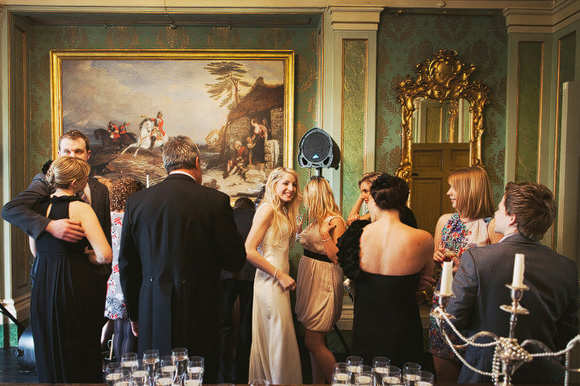 Words of Wedded Wisdom…
"Make the day personal to you both and as long as possible. A whole weekend if you can is well worth it!
We had the house from Friday to Sunday evening (with a bouncy castle and hog roast) and it was wonderful to have so much time to see everyone.  It is easy to get carried away with the hype but really think about what you want from your day and the style you want to create. You don't need to spend a fortune to really make something very special. The things which most of our friends and family commented on were the little personal touches, and they cost nothing except perhaps some card, printer ink and thought.
Actually the moment I really remember is our ceremony words and seeing Aidan at the end of the aisle with all our friends and family there in this gorgeous place. I remember thinking, yay! we created all this!"
You can see more glamorous Brides photographed by Gloucestershire Wedding Photographer, David Jenkins on Love My Dress here.  This is what Anna had to say about her choice of Wedding Photographer….
"We just adored David's style and felt so comfortable being photgraphed by him. We knew he'd fit in beautifully on the day and it just felt like having another friend there – but a friend that can take the most beautiful pictures!"
Much love everyone 🙂
Annabel xXx
♥
Photographer – David Jenkins
Venue – Maunsel House
Brides dress & veil – Suzanna Neville
Brides accessories –
Bridesmaids – Wallis {long dresses} Coast {short dresses} + H&M hair accessories/pearl bracelets
Groom – Moss Bros {hired}
Flowers – Brides Mother
Cake – M&S
Hair & Makeup Artist – Fiona at Beehvive Brides {nr. Bristol}  
Wedding Ring – Tiffany & Co
Band/Entertainment – Souled Out