Greetings gorgeous people 🙂 Happy Wednesday morning. It's a gooden today on Love My Dress.  First of all, I get to introduce you to some new photographers, whose work I have never featured before, but who I think are fast to be come a regular contributor of Love My Dress if this wedding is anything to go by! Then I get to feature the latest fun DIY tutorial with you from Berinmade, and this afternoon, it's is all about petals. Really really real pretty petals 😉
In the meantime, let's consider this lovely set of wedding photographs oozing with rustic charm, that were sent in by North East UK based wedding photographers, The Twins.  Half Persian beauty Farin married her beau Andy on 4 October 2012 at South Farm, in a village called Shingay cum Wendy in Cambridgeshire. This feature is literally packed full of information and inspiration from Farin – enjoy ladies!

"Andy is an actor and I work in TV so we're both heavily influenced
by visuals and the movies. We both enjoy classic movies and musical
theatre so I knew early on I wanted to try and channel the glamour of my
favourite screen icons – Audrey Hepburn, Elizabeth Taylor, Rita
Hayworth, Jane Russell. And we agreed Andy should feel super sharp in
his suit. We wanted to feel like movie stars – and we did!
Once
we found South Farm and could picture the scene, it was much easier to
build a concept around the venue.  Sub-consciously, I think I was
probably trying to recreate a scene from The Darling Buds of May or Cold
Comfort Farm, which I loved watching on telly when I was a kid. A bit
country garden party, a bit village fete. Andy's family's love of the
Lake District also fed into that – we both love city life but also
hanker after the bucolic idyll."
Love My Dress Wedding Blog – Photography Copyright (c) 2012, The Twins Weddings
"Our very talented family and friends inspired us. Once we
established that we wanted to save money where possible, it seemed crazy
not to ask some of them to help with certain things or take advantage
of offers of contributions. We were very lucky – our friend designed and
made our invitations, my sister handmade my gorgeous headpiece, my mum
made all the bunting, we had friends performing live music on the day
and another friend made our favours.  Personal and handmade was a strong
theme.  
Andy's distinctive auburn hair and our
October date and were good spring boards for deciding a colour scheme.
We decided that orange and autumnal shades should definitely play a part
and then chose navy as the main complimentary colour for the
bridesmaids' dresses and the men's suits."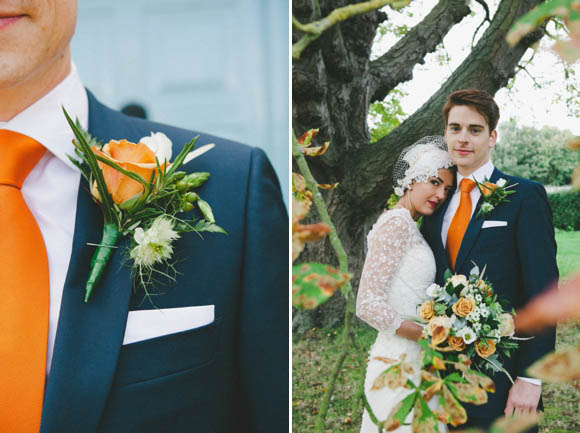 Farin's dress was by designer Suzanne Neville – and purchased from the Suzanne Neville store in Knightsbridge  via a sample sale... 
"I
knew I wanted to find a dress with a vintage feel, so it was a case of
finding something I liked that wasn't too expensive. I'd established
that I liked Suzanne Neville's dresses as they had a classic, vintage
feel to them and then by sheer chance, I  was online and read that there
was a sample sale happening at the Knightsbridge store that day.
Luckily, all the samples were in my size, so I picked a few I liked and
just kept trying them on until I narrowed it down. My mum and sister
were with me and we all agreed that the 'Summer Blossom' dress suited me
the best. 
It really came down to the shape for me, the
soft fishtail had the glamour I was looking for although the dress
itself felt quite simple. The blossom detailing felt fitting for the
farm setting and ultimately the discount on the dress was too good to
pass up. I was not expecting to find my dress so quickly and the whole
process was a lot more practical than I had imagined! I was a bit
worried I'd jumped too soon but in retrospect it was good to go with my
gut instinct. It was a fabulous dress and such a bargain, I felt amazing
in it."
"The fabulous headpiece was handmade by my sister, who has no
training but is brilliantly creative. She wanted to make me something
beautiful and save us money. We spent a lot of time looking for ideas
online – sites like Etsy were useful and then we bought different
elements from milliner's and bead shops, eBay etc. She embellished a
piece of applique lace with pearls and velvet flowers and then attached
this to a buckram teardrop shaped cap, which she covered with satin. She
crafted flowers from satin and attached them to clips which secured my
veil on top.My sister and I are lucky enough to have grown up wearing a lot of
clothes and accessories that my mum wore when she was younger – she was a
real glamour puss.
I've always enjoyed experimenting with clothes, hair
and makeup and exploring different eras of fashion, so there was always
going to be some kind of vintage feel to our wedding. But neither of us
wanted to take it too far or be too prescriptive about an era or theme –
in the end, it was more 'timeless glamour' that we were aiming for."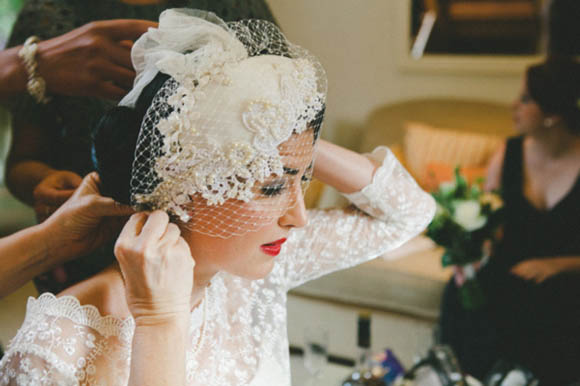 "Our Florist was Ione Woodger-Smith from Crazy Daisy. I went to a flower market with my bridesmaid Laura, looking for
flower ideas – at that time I had considered doing them myself (thank
goodness I didn't try!). We came across some gorgeous roses called Combo
roses, the antique orange ones in my bouquet and Andy's buttonhole.I
visited Ione and described the tone we wanted – quite simple, natural,
rustic but sophisticated. Ione also liked the Combo roses and built
everything else around them and our handmade concept.
I decorated lots
of jam jars which she filled with blooms for the tables. I stressed that
we were on a budget and so she helped us to work within this. She just
asked me to trust her and she didn't disappoint!"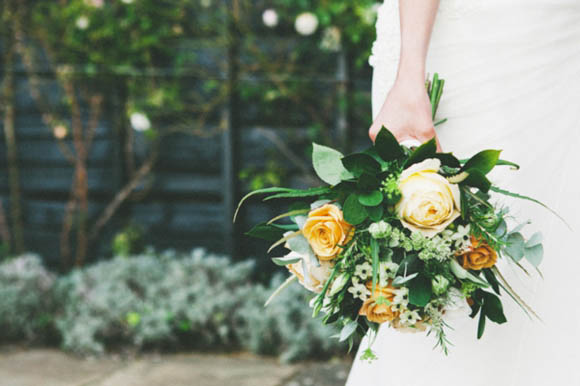 "First and foremost we wanted our wedding to be fun – a chance
to take all the things that make us smile and bits of all our happiest
memories with our loved ones and include them in our wedding day.  So we
were inspired by the great outdoors, music, theatre, fancy dress,
festivals, afternoon teas, delicious meals, lots of booze, revelry and
general silliness. We wanted our day to have a relaxed feel and the idea
of fun was a good anchor to keep coming back to when I got confused or
overwhelmed with choices.
We wanted an intimate wedding that would reflect
the people we are and the things we enjoy the most – it was key to find a
venue that was a bit quirky and different, offering great food and wine
in beautiful natural surroundings. We were also trying not to break the
bank and wanted to find the best place we could, within our means.  We
enjoy camping and going to music festivals with our friends so I
started researching farms with this initial idea in mind, after deciding
that although we love London, where we live, we wanted to get away from
the city for our wedding."
"As soon as we visited South Farm we were smitten. It has all the
things on our hit list – the setting is delightful, there are
characterful gypsy caravans guests can stay in, farm animals roaming
around, pretty gardens and old buildings with bags of rustic charm. All
the farm's produce is organic and grown on their small holding, which
was a massive draw for us because we're very passionate about our food.
They
also offer a great money-saving deal if you're willing to get married
on a week day. We got married on a Thursday because it was such good
value and thought it might be nice to make our wedding part of a long
weekend break in the country for our guests.  The location was
also the perfect mid-point between my family in London and Andy's in
Peterborough. South Farm was the second of three venues we visited and
it was the only one where we felt we didn't have to compromise any major
part of our vision for the day we wanted."
"Gemma, my sister in law, was pregnant before the wedding and
gave birth two weeks before, so we found a maternity style dress she
liked in the Dessy range. Shirin and Laura both wore dresses from Ghost –
the Novella style from their dye to order range.
I
ordered spray roses for the girls in case they wanted them in their
hair but we wanted to make a statement with their hairstyles more than
with accessories. Less was more in this case."
"My bridesmaids chose their own dresses and shoes within the navy
and neutral / cream colour scheme. Their shoes were a mixture from the
high street – Dune, Primark and French Connection – but worked perfectly
well and they got what they were comfortable in. Their dresses were
really long so we didn't see much point in spending a lot on shoes."
"My pearl necklace was a gift from my mum, along with my earrings –
which are single pearls with tiny diamonds. We got them from a lovely
jewellery dealer called Michael Ventura-Pauly at Grays antique dealers
near Bond Street, who sourced exactly the size of pearls I was looking
for. I was later given a beautiful pearl ring by my Persian family."
"We had a family friend all set to make cupcakes for us but it fell through a few weeks before the wedding. Kat from Country Garden Cupcakes came
to our rescue via some enquiries and help from friends. We decided we
liked cupcakes over a big cake and chose our favourite flavours – lemon
with lemon curd filling and chocolate with a ganache – simple but
effective and so tasty! Kat suggested the orange flower decorations in
keeping with our autumn theme and she put a gorgeous golden sheen on the
chocolate icing which gave them a beautiful antique look."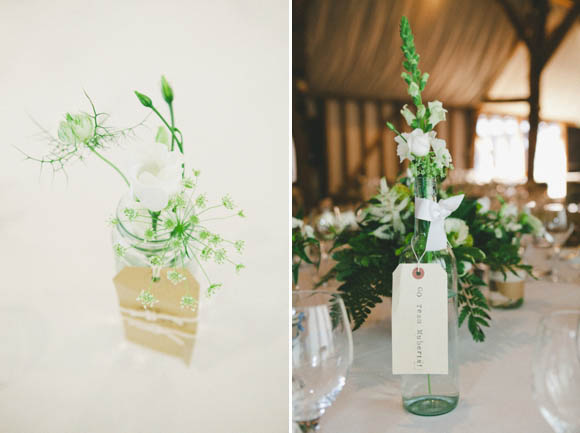 "Our photographer was Caroline Briggs of 'The Twins'.
I met Caroline a few years ago when we both worked at the BBC and we
just hit it off. I've always admired her photography skills and asked
her to photograph my wedding even before we got engaged! She has a great
way with people and makes me laugh, all my guests commented on how
brilliant she was and Andy and I are both thrilled with the results, as
is everyone else.
Caroline has such a good eye and takes exactly the
style of photo we had in mind – stylish and edgy but romantic, they tell
a real story. We were in such good hands and can't recommend her highly
enough."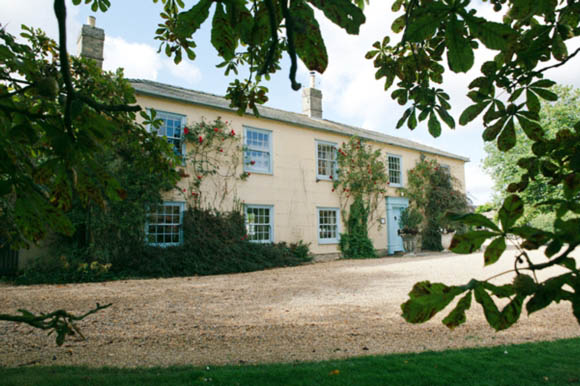 "I decided I wanted a lace jacket to go over my dress and form another layer so I was
more covered up for the ceremony. I was inspired by a Sassi Holford
design, so found some inexpensive but perfect lace from a shop in
Shepherds Bush and had a similar one made for a fraction of the price.
My friend recommended the tailors who made her wedding dress – Finiks
are a lovely mother and daughter team based in White City. They made the
jacket and did all my dress alterations, as well as embellishing the
dress and jacket with Swarovski coated pearls which I bought online."
"I discovered Rachel Simpson Shoes
at a wedding show and loved the vintage styling and the fact they're
actually comfortable. I later managed to find a pair I liked on eBay for
just £20! Again, total luck. They were also samples, just worn in a
studio.
As it had started to get quite cold, we were all worrying about
being outside and keeping warm. We agreed furs and pashminas may be the
way to go. I went to Portobello Road Market
a few days before the wedding with my sister and we found an amazing
fur stole and 1930s cream and gold handbag in the space of 15 minutes.
The stole was a bit stained so the man gave me a good price and I
managed to clean it up. I'm so glad we found those finishing touches!"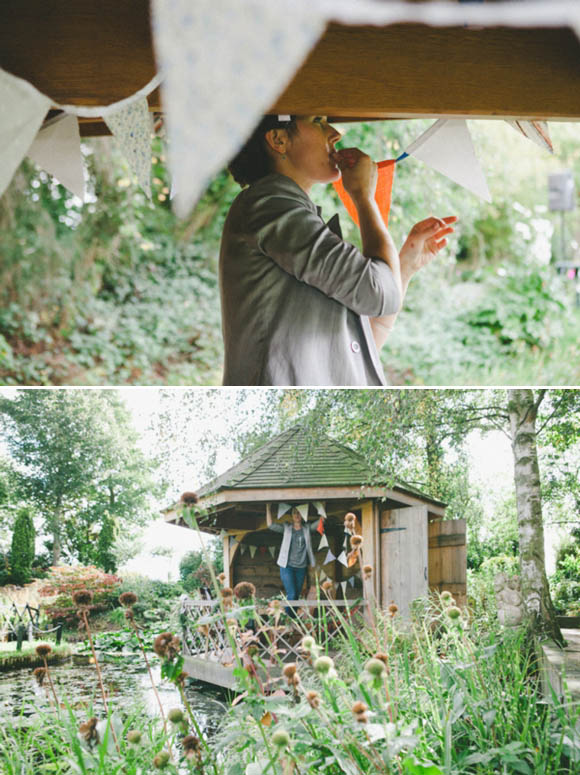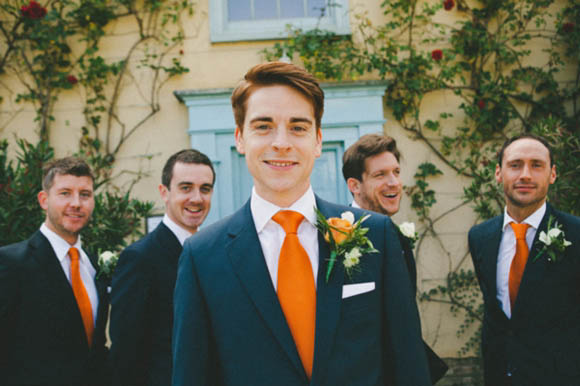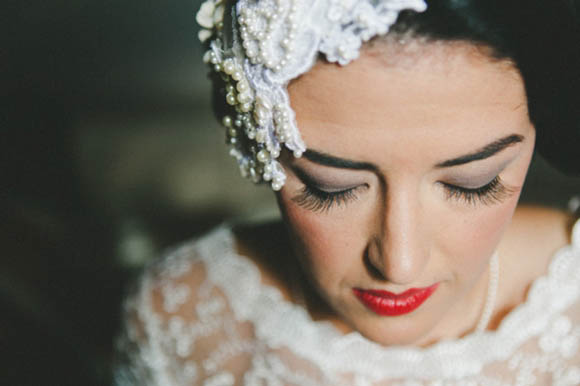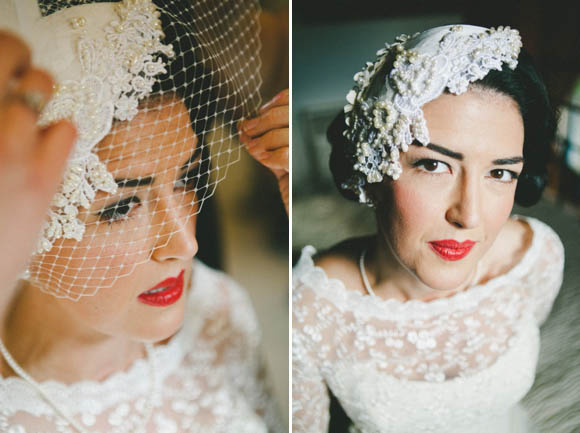 "I walked down the aisle to Di and Paddy's version of Annie's Song
by John Denver. Weirdly enough it appeared on an advert a few days
before the wedding but we chose it first!  Andy and I both listened to
the song a lot when we were kids. His dad used to play it in the car and
I played it badly on the recorder. We were worried it might be a bit cheesy but when they stripped it down, their version was just beautiful."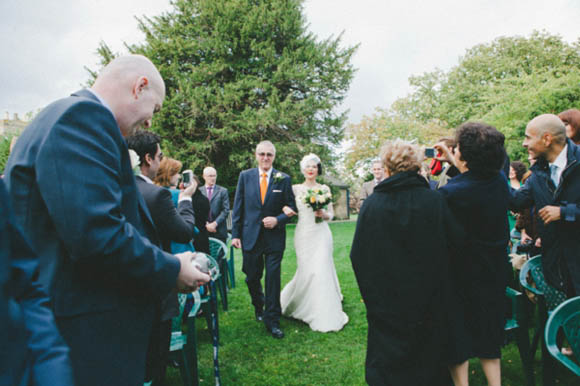 "Andy and I We were introduced by my sister, while both working at
the BBC. I was in a team producing a Movies show that required aspiring
presenters to come for a screen test. My sister Shirin was also running
at the BBC at the time and recommended two of her friends from work, who
were also actors. Andy was one of them. So he came along for an
audition and got the job (on his own merits of course!). 
We
started to see quite a bit of each other while filming and at the same
time Shirin and Andy became really good friends, so we saw more of each
other outside work too. Over the course of a few parties and after a
fair bit of subtle, and not so subtle, flirting (mainly from me), we
bonded over a bowl of chips and gravy at the pub and we've been sharing
plates of food ever since."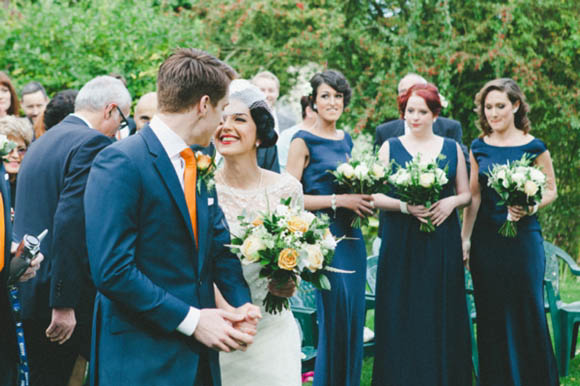 "After a couple of aborted
attempts to propose, Andy eventually took me for a surprise lunch at one
of our favourite restaurants- Great Queens Street, near Covent Garden.
For various reasons both our previous visits there had gone a bit
pear-shaped, but we really like the food there and said we would aim to
try once more for a mishap-free meal.
I wanted everything to be perfect
this time because I could feel that this lunch was important in some way
so was a bit gutted when I had to send my main course back. It's quite a
foodie menu and I got a bit overexcited and ordered fried pig's cheeks.
It wasn't quite what I was expecting – I'd never seen so much fat…"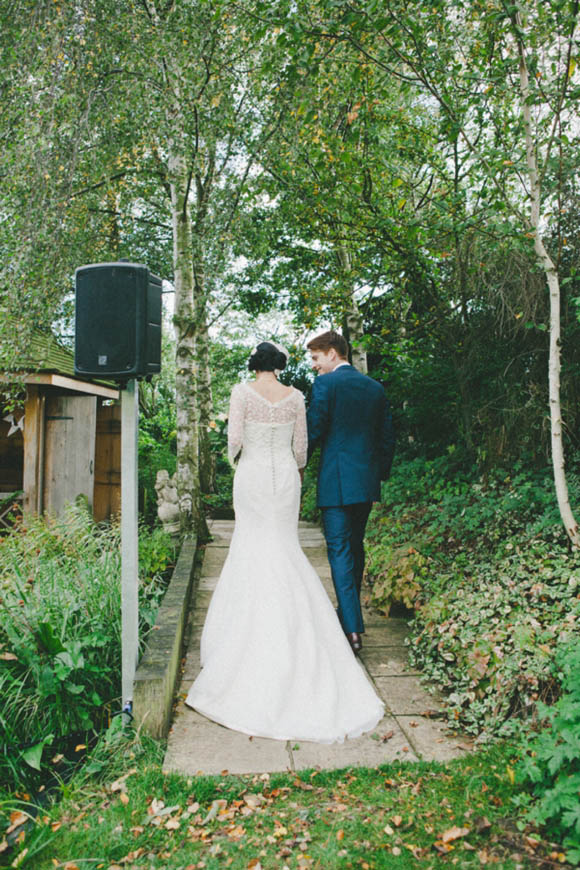 "It
was all quite funny though and probably helped us relax. After the
'Pig's Cheek Incident' and an otherwise lovely meal, we walked in a bit
of an boozy haze to the South Bank and sat down on the grass in Jubilee
Gardens right next to the London Eye. It was a lovely summer's day and
the South Bank festival was on so lots of people were out enjoying the
sunshine.
Andy pulled out a bottle of pink fizz from his bag and poured
us a glass each. He started talking about the fact he'd been planning to
ask me something for months and explained all the plans he'd had that
hadn't worked out. Then he produced a beautiful vintage diamond ring
he'd chosen and I spent the rest of the afternoon in hysterical fits of
tears and giggles, ringing our family and friends, who, it turned out,
all knew he was going to ask me. Somehow they'd all managed to keep it a
secret for months. It was eventful and very romantic.
We got engaged on 31st August 2011, so had been engaged just over a year when we got married."
"We had a civil ceremony so had a selection of vows to choose from
and just selected the ones we liked the best, that matched what we felt
we wanted to say. Neither of us wanted the pressure of writing our own
vows – speeches were enough! As it turned out they were really very
emotional to say aloud on the day.
We had two readings
from friends; I studied Yeats at A-level and heard the first poem being
read on Radio 4 a few months before the wedding. It just seemed to sum
up how we feel about each other. We may not have a lot of money but
we're rich in so many ways and we're definitely both dreamers:-

'He Wishes for the Cloths of Heaven by W.B. Yeats
Had I the heavens' embroidered cloths,
Enwrought with golden and silver light,
The blue and the dim and the dark cloths
Of night and light and the half-light,
I would spread the cloths under your feet:
But I, being poor, have only my dreams;
I have spread my dreams under your feet;
Tread softly because you tread on my dreams.'
A
Good Marriage is our friend Roland's amended version of The Art of A
Good Marriage which is quite a popular choice at weddings. It's full of
wisdom and given that he and his wife have been married for over 35
years, he must know what he's talking about!"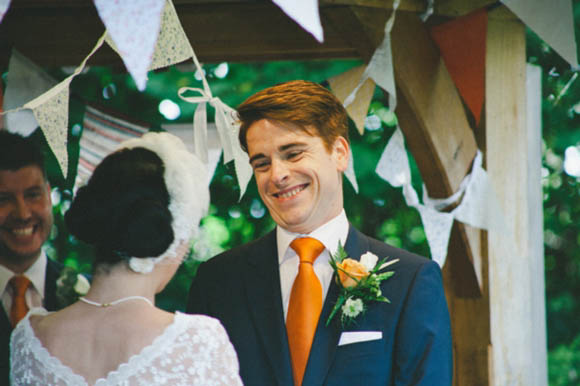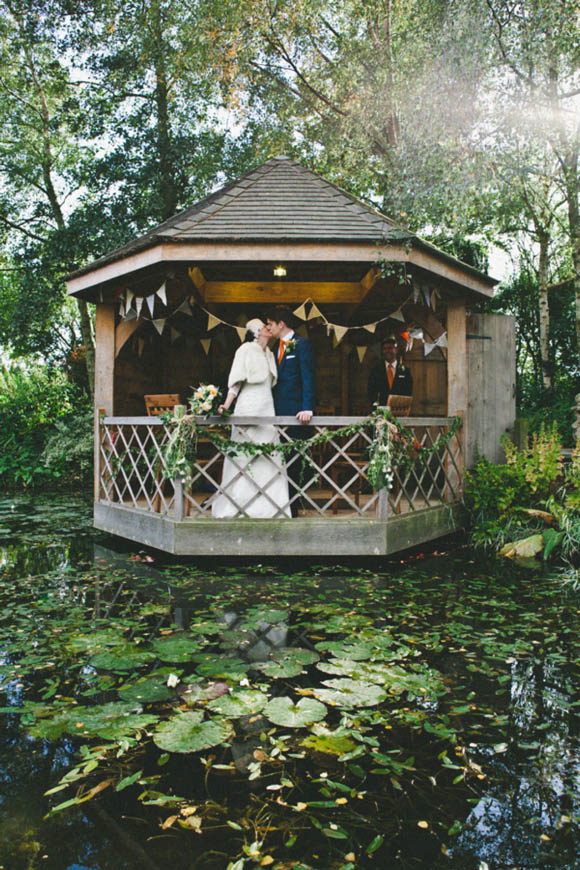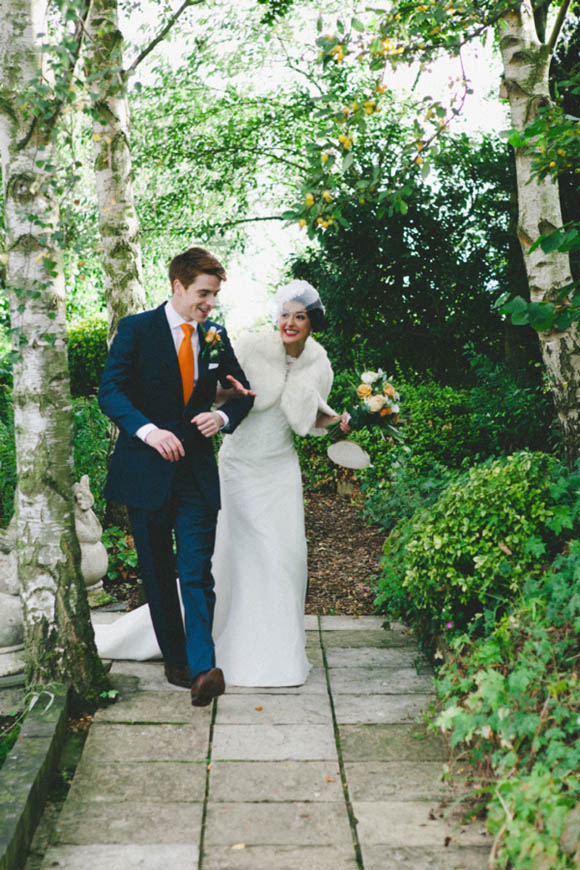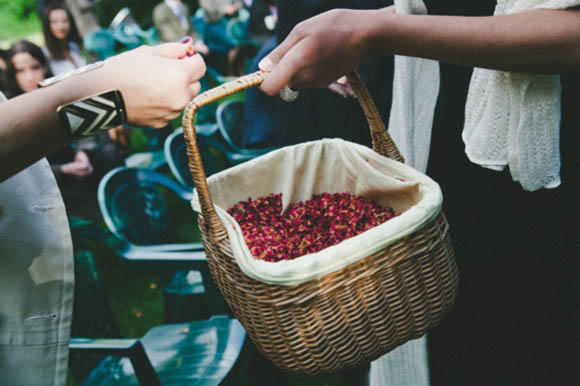 "In terms of decor, the venue is pretty just as it is so doesn't need much. My mum (and
dad) made metres of bunting which we used in the barn for the reception
and the summer house where we got married. The best thing was that all
the fabric only cost £5 – all offcuts from Southall market and we
managed to make 24 metres of the stuff.  My sister also
found some lovely white paper lanterns which we hung from trees in the
garden. We were so lucky the weather held out to use them. The rest was
all fairy lights and tea lights to give it added magic as night fell.
Although
an added expense we decided that coloured uplighters for the evening
was a necessary touch to change the mood for the party. We also looked
at hiring a mirrorball but in found a brilliant disco light which gave
the same effect for just £30."
"I am half Persian and half English (my mum is from Iran). Although
we decided not to have any kind of traditional Persian or religious
elements to our ceremony we wanted to work a few details in to
acknowledge that part of my culture – my mum and aunty made bundles of
traditional nuts and sweets to hand out after the ceremony, my Aunt gave
Andy and I a blessing straight after our ceremony where she gave us
gifts and fed us each sweets for a sweet life together. We also had a
bit of Persian music and dancing later in the night."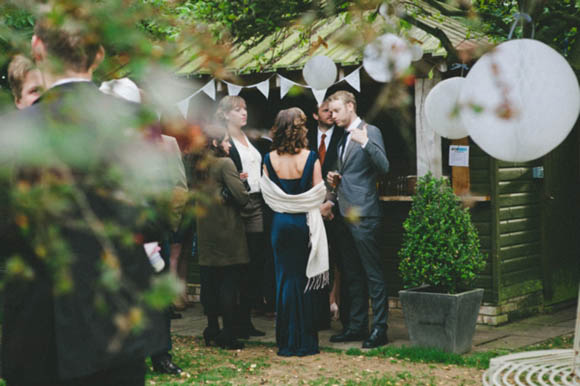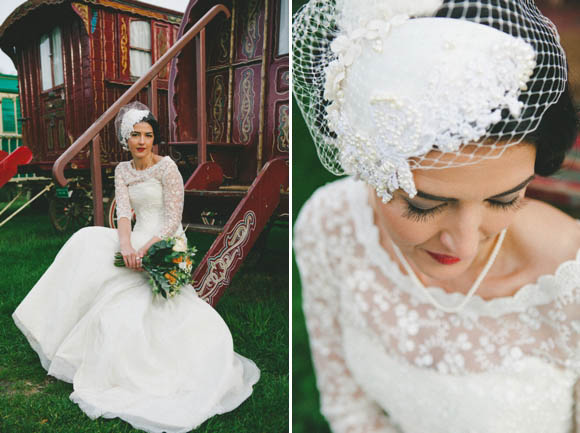 "We weren't going to have favours but I came across an idea on a
blog quite late on which inspired me. Andy and I discussed it with a few
friends who agreed it could work and was worth trying. As a group of
friends we're quite into our drinks and like the odd cocktail so we
thought we could offer personalised cocktail syrups to our guests for
them to make into long drinks, either on the night or when they got
home. Again, we're fortunate enough to have some friends who run bars –
which helps!
Our friend Rob lives and runs a
bar/restaurant in Cambodia and designed and made two syrups for us – a
ginger syrup which we called 'Flamin' Brown' (how Andy describes the
colour of his hair) and an Eastern inspired lychee and jasmine one,
which we called 'Princess of Persia' (that's me!). Rob made them in
Cambodia and transported them over in his bag! I found some glass
bottles and more tags on eBay and we printed recipes which we left on
the tables. It took a bit of effort and long-distance team-work but we
pulled it off. They tasted amazing and were such a nice touch."
"Our friend Freya Faulkner is a very talented illustrator and
designed and made our invitations. She designed and made a papercut of
two lovebirds and then screenprinted all the cards herself.  I made the
table plans and name cards – the idea was to gather as much as I could
from eBay and save money by being as creative as possible. I looked for
an empty gilt frame to use for the photo booth and the lady was kind
enough to throw in two smaller frames for free, which I decided to use
for the table plan and to display baby photos of us both.
I'd
seen the luggage tag idea used but wanted to create my own vintage,
ramshackle look so ordered a letter stamp, an ink pad, lots of tiny
wooden pegs and a collection of different ribbon. I had a load of lace
left from when my jacket was made so decided to use parts of this on the
name cards too to make them more personal.
For the
table plan theme, we chose places that were significant for us – White
City, where we met, the pub in Shepherd's Bush where we first kissed
etc. For each one we sourced and took photos to do with each place and
then I tinkered with them in Photoshop before getting them printed on
cards. It was quite simple and fairly inexpensive to do but worked
really well."
"Andy learned some Farsi which he executed perfectly in his speech,
which thrilled my Persian family. There was a lot of love in the room
and not a dry eye in the house!"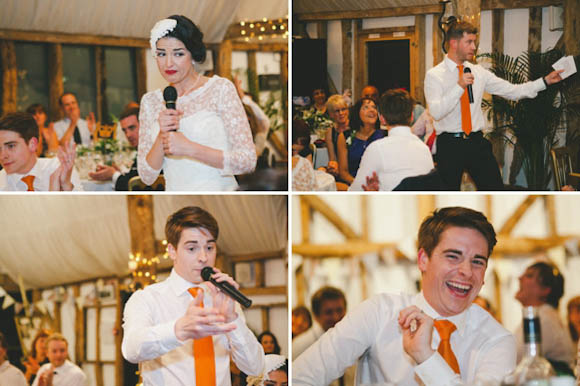 "We danced to 'All I Want Is You' by Barry Louis Polisar from
the film sountrack to Juno.  We saw this film together quite early on in
our relationship and both agreed that this song would make a brilliant
first dance track. We toyed with a few others after we got engaged but
felt this was the most fun and also quite appropriate to being on a farm
– it's totally country jig.  It's all about the lyrics though, they're
very sweet and clever.
After our first dance we also
played a traditional Persian wedding party track and everyone got up and
danced which was unexpected, it was brilliant to see everyone come
together – it was such a thrill."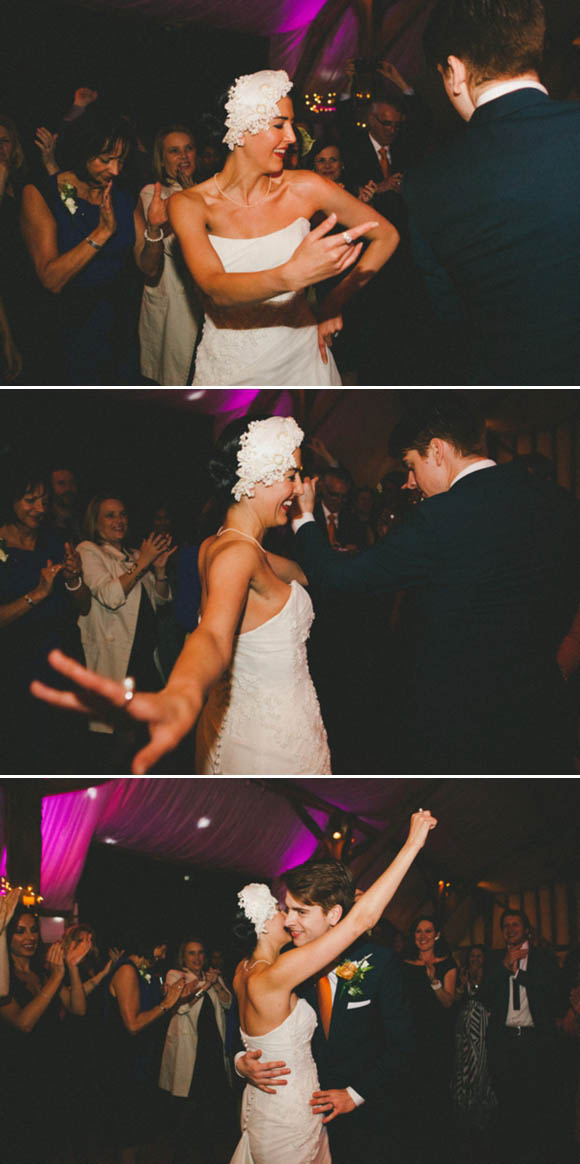 Words of Wedded Wisdom…
"Leave yourself plenty of
time and plan, plan, plan. I'm quite bad at making decisions and can be a
bit scatty so I like to think through things quite slowly so having
lots of time helped me ensure I was happy with all our purchases and
ideas. Talk it out and share the burden – if you're not
sure about an idea then chat to your fiance, family and/or friends. I
was lucky because Andy and I shared tasks and he was as interested in it
all as me. We shared the burden and the stress. It is likely to get a
bit horrid at the height of it all but as long as you have someone
(ideally a team of people)  who won't judge you when you're losing it
then you'll be fine. Don't try and do it all yourself.
If
you're trying to stick to a budget, you can still have a stylish,
beautiful wedding if you're willing to use your imagination and push
yourself creatively. Ask your loved ones to help you – they can
contribute to the wedding in place of a traditional wedding gift, use
their talents, skills and creativity where you can. e.g. Our friend
Sindy is a personal trainer and whipped us both into shape in the months
before our big day. What a fabulous wedding present!"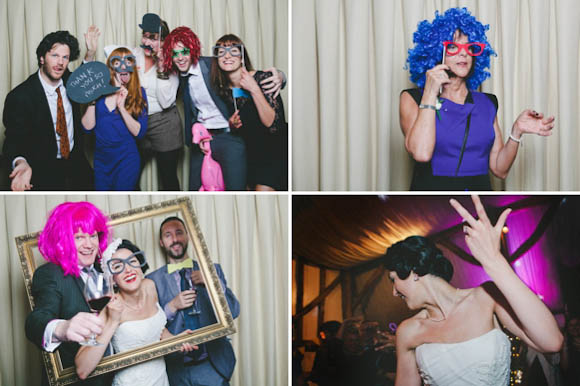 "Use
eBay, go to markets, look for used or second hand things. It doesn't
have to be new or professionally made to be gorgeous. My headpiece is
hands down better than anything I have seen anywhere else – my sister
should go into business! If you enjoy making things and showing off your
skills then this is a brilliant opportunity to showcase what you can
do.
If you have an idea and really want it to happen
don't be afraid to push. Even if it doesn't work out then at least you
will know you tried. This is where having lots of time and being
organised really helps, so you have contingency plans and don't feel
forced into making snap decisions because you run out of time. You may
feel like you're obsessing over details but someone will notice and
appreciate them and it's better than regretting not doing it.
The only annoying thing was that Andy and I didn't have much of
an appetite so we didn't get to eat and enjoy as much of the amazing
food as we would have liked. How to arrange food and speeches is really
tricky – we had main course then speeches, then dessert but maybe we
should have had speeches and then eaten so everyone could relax more – I
don't know!?
We also bought a barrel of ale for
our guests to sell at cost price, but we should have advertised it
better – Andy was telling people it was there but so much gets missed
because there's a lot going on. It's hard to remember everything. I left
out a guest book but forgot a pen… and again guests didn't really see
that it was there. It's worth tasking groomsmen and bridesmaids with
reminders like this if you can but they're minor details!"
I just love it when a bride shares so much of her beautiful day to inspire you all – this is just fantastic Farin, thank you so much, and for the wonderful kind words you left about Love My Dress in your questionnaire too – I really appreciate that.
I adore when a couple use a colour as bold as orange to style their wedding day and Farin and Andy pull it off perfectly, and what's not to love about this whole day that is so rich in glamour and rustic charm?
Huge thanks too, to The Twins – my fellow North East ladies (girls, we're hooking up for lunch and weddingy talk very soon – my treat!).
And if you enjoyed the DIY Aspect of this wedding, pop back a little later for the latest DIY tutorial from our regular contributor Berinmade.
Love Annabel
Photographer – The Twins Weddings
Venue – South Farm, Shingay cum Wendy in Cambridgeshire
Dress Designer – Suzanne Neville, bought from the Suzanne Neville shop in Knightsbridge – in sample sale.
Brides shoes – Rachel Simpson Shoes
Brides veil + headpiece – made by the Bride's Sister
1930's Vintage Stole + Gold Handbag – Portobello Road Market
Grooms Suit – Bespoke by Whistle & Flute in East London (through a deal on Groupon) + Orange tie from Debenhams, hankies from eBay, shoes by Ted Baker
Bridesmaids – The Novella dress from Ghost
Florist – Ione Woodger-Smith, Crazy Daisy
Cake – Katerina Watson of Country Garden Cupcakes
Hair and make-up Artist – Dina Catchpole of D&D Makeup