Hello loves, by now you will hopefully have had time to watch this lovely wedding film over your lunch break and enjoy the first of the two weddings we're featuring today (an absolutely *must* see).
This
latest real wedding feature, our final blog post for today, is all
about Rachel and Steve, who tied the knot on 3 August 2012 at Durham Castle – these images were actually taken by my very own darling wedding photographer, Karen McGowran at the beautiful location that is just ten miles from my home, Durham Castle.
Rachel's dress was by Kitty & Dulcie,
who create some of the most affordable dresses out there today.  How
pretty does Rachel look in her twirly frock with her lovely pink
bouquet?
"I
always thought that I'd get married in a short dress, but I also love
lace and wanted something a little bit unusual and different to all the
strapless dresses I'd seen in most bridal shops. I loved the high
neckline and lace overlay on this dress. It was also great for dancing
in! 
I love buttons on wedding dresses, so my Mum sewed a row of tiny
satin buttons down the back of the dress which added a lovely personal
touch."
Love My Dress Wedding Blog – Photography Copyright (c) 2012, Karen McGowran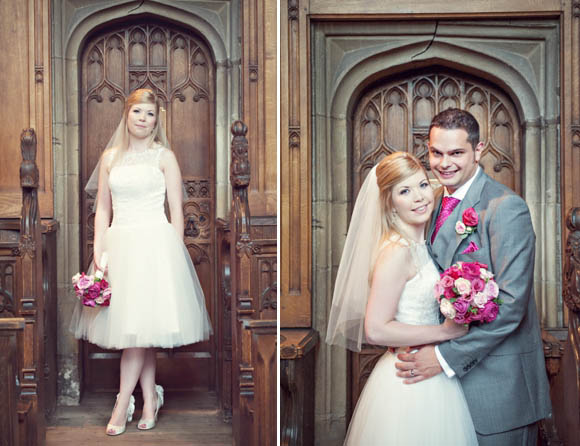 "The venue was spectacular in itself so we didn't go overboard
on decoration.   I work in design and printing so I made all our
invitations, table plan and table names. Most of our other bits came
from eBay! We had white laser-cut butterflies perched on glasses for
place names, and a white birdcage for our wedding cards.
Instead of a
guestbook, we bought a huge picture mount (also from eBay) with our
wedding date cut out, for everyone to sign round the edge. Just
re-reading everyone's messages makes us smile and we can't wait to hang
it on our wall!"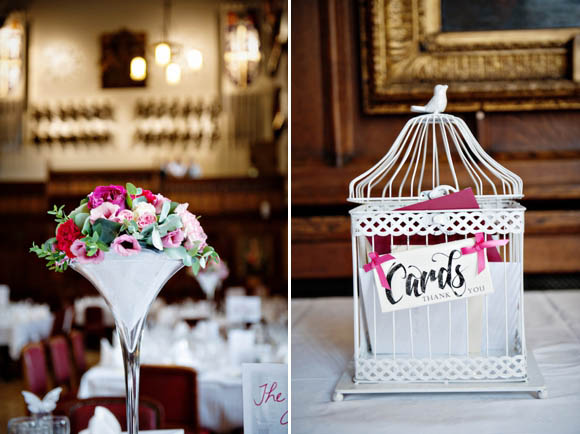 "My shoes were the Della Blossom design by Freya Rose,
which I bought from her studio in Islington. They were ivory satin
peep-toes with a dramatic chiffon and lace flower on the back and tiny
freshwater pearls in the centre."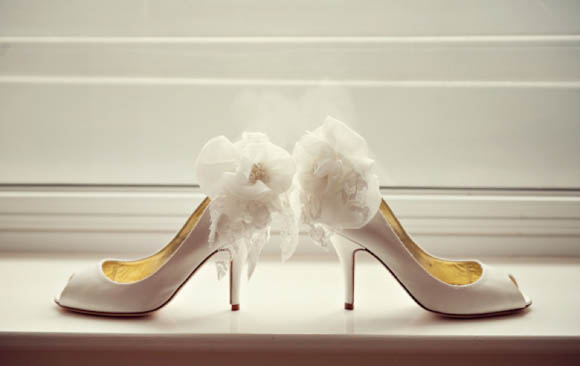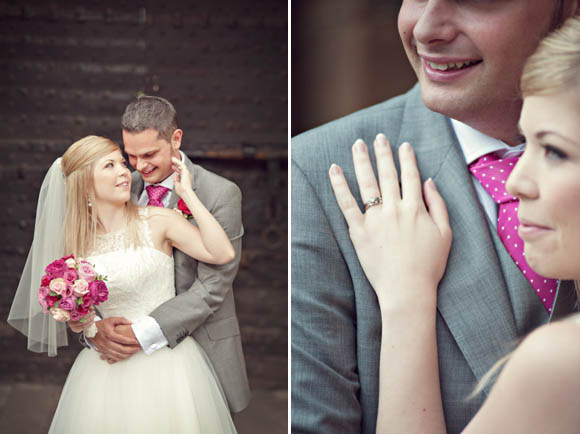 "My bridesmaids wore short navy dresses from Coast + fuchsia pink satin peep-toes – these were a bargain from New Look and were one of the very first wedding purchases!I
think some friends were initially slightly dubious about my idea of
navy and fuchsia together, but in my head it was a stylish
combination! It came together perfectly and I love the group shots of
all the ushers and bridesmaids!"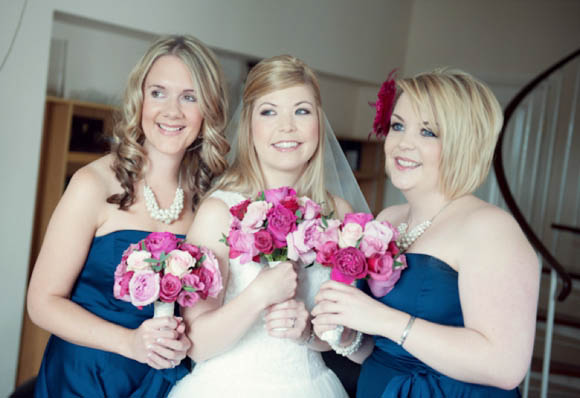 "Our florist was Floral Footsteps
of Durham.  We wanted the flowers to reflect the elegant but relaxed
feel of the day, so kept things simple with bright pink Amalia and David
Austin roses with eucalyptus and dusty miller foliage.We
absolutely loved the flowers: from our very first meeting, Robyn 'got'
exactly what we were after, and the bouquets in particular were
stunning."
"Our photographer was the hugely talented Karen McGowran. 
Karen and her husband Neil were fantastic. From our first meeting we
knew we'd be in good hands, and on the day they were great fun to have
around, helping everyone feel relaxed, mingling with our guests and
capturing every little moment and all the details of the day."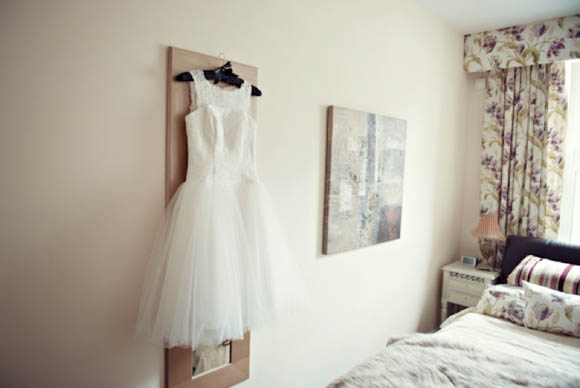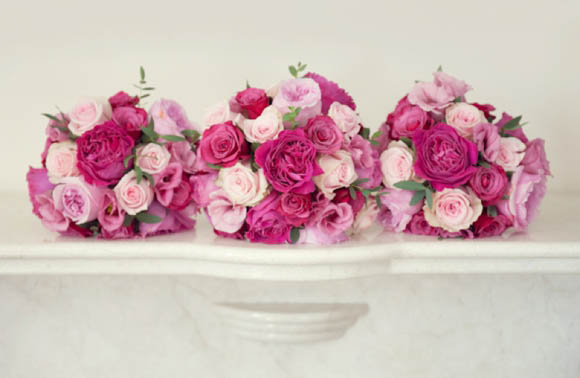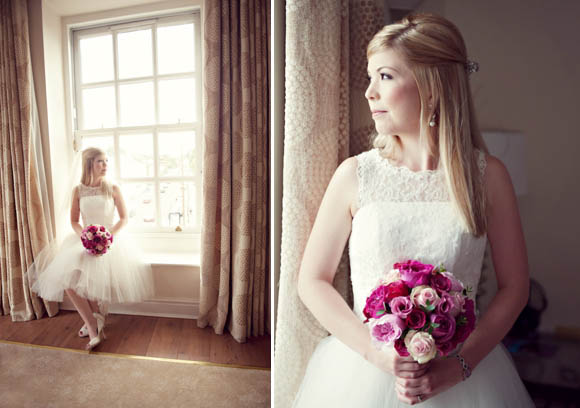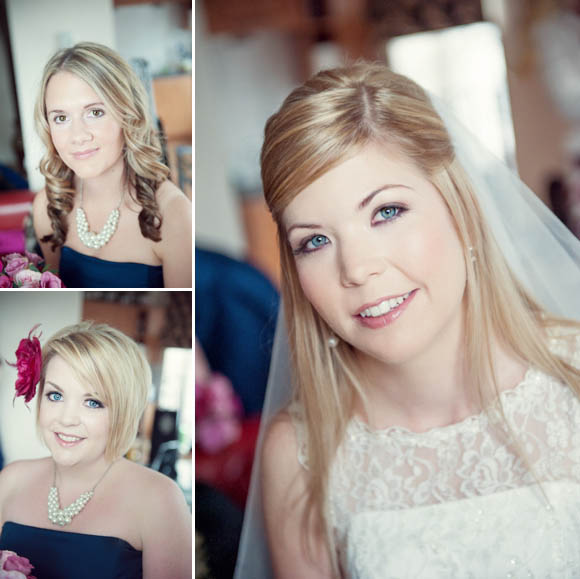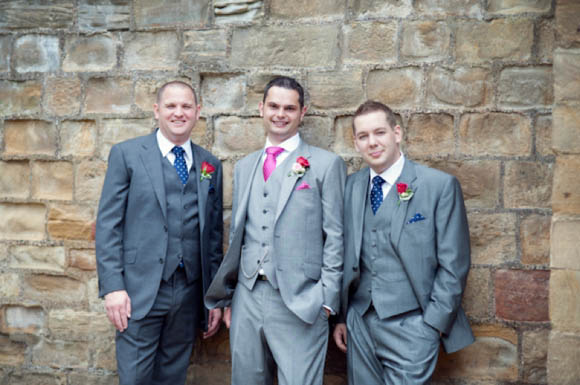 "My Mum gave me away, as sadly my lovely Dad passed away in 2007.
Mum also gave a 'mother of the bride' speech, which was one of the most
special parts of the day and brought plenty of tears and laughter in
equal measure!  I walked down the aisle to my favourite classical piece,
Tchaikovsky's Serenade for Strings.
I'm a violinist, and the moment I first played this beautiful piece in
an orchestra I knew it would be my wedding entrance music!"
"During the service our friend Ruth read a poem by Roger McGough called 'Vow'
. We'd spent months hunting high and low for a reading that wasn't too
cheesy, too pretentious or too over-familiar, and this summed up our
thoughts on marriage perfectly.""Steve is a Geography teacher,
and so as a surprise, I gave him a vintage map pocket watch that I gave
Steve as a surprise wedding gift (he's a geography teacher and loves
maps).  He also wore my late Dad's silver cufflinks that he wore for my
parents' wedding 32 years ago."
"Steve and I met eleven years ago at university in Durham. During
term time, the castle is home to Durham University students and this is
where we were living at the time. We fell head over heels in love in the
college bar during our first year, and have been inseparable ever
since! Our relationship has been long-distance at times due to our jobs,
but we always knew that we would get married one day and that the
Castle would be the perfect venue.
As ex-students we
were very lucky to be able to marry in the college chapel. This was an
absolutely magical setting – it dates from the 16th century and it's
really tiny and intimate. It was a real squeeze for all our guests but
the atmosphere was wonderful. Our reception was in the spectacular Great
Hall of the castle."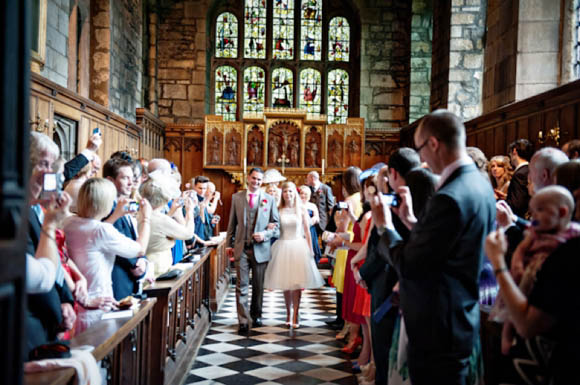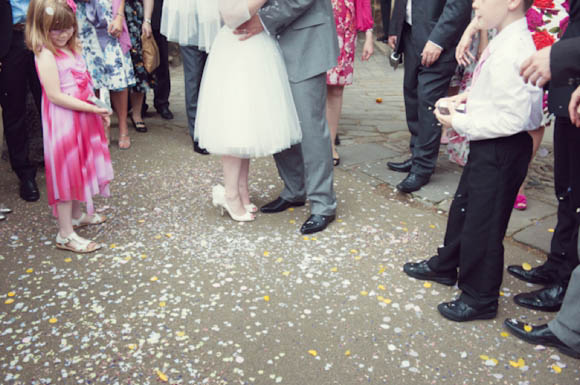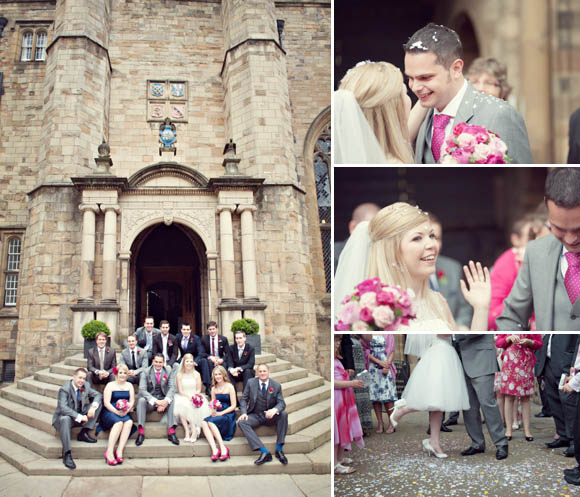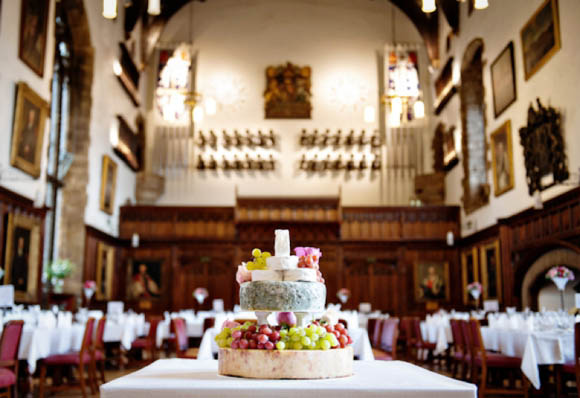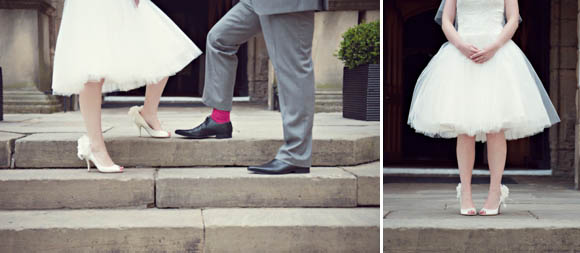 "As we're both total cheese fiends, we chose a 'cake' made from
stacked cheese from Marks & Spencer, which also doubled up as our
evening buffet served with crackers, grapes and chutneys. It went down
brilliantly – we sent our guests home with loads of cheese afterwards,
and we were eating it for days!
The events and catering team at Durham Castle
were absolutely amazing. Nothing was too much trouble and the staff
were so helpful. We chose a three-course meal of Parma ham and goats
cheese, sea bass on crab and potato cakes, and crème brulee for dessert.
The food was delicious and surpassed all our expectations – lots of our
guests said it was the best wedding food they'd ever tasted."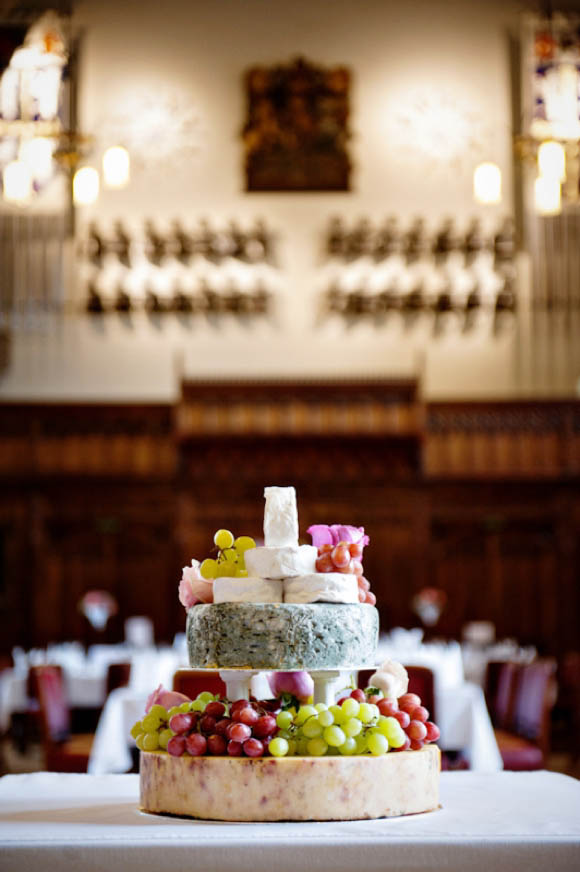 "We booked a live band, Chameleon, who are based in the North East.  They
were brilliant and the dancefloor was full all night. I'd definitely
recommend having a band – it was one of the things we splashed out on
but I'm so glad we did, as they really made the party. There were lots
of sore feet (as well as heads) the next day!
Our first dance was to 'Lover of the Light' by Mumford and Sons.
We both love the band and went to see them live last year. Even though
our tastes in music are very different, when we heard this song for the
first time at that gig, I think we instantly agreed that it would be our
first dance.
We're not the greatest of dancers though, so we went for
the classic 'awkward shuffle' and made sure everyone joined in quickly.Looking
around during that first dance was probably my favourite part of the
wedding. I was just overwhelmed at being surrounded by all our favourite
people in the world, and blown away all the love and joy in the room."
"After the wedding we
spent a few days by the sea in beautiful Whitby, and we're planning a honeymoon in
Japan next year. It was lovely not to have to rush off on honeymoon
straight afterwards, and to have chance to say a proper goodbye to all
our friends. I'm not sure we could have faced a long-haul flight
straight away – the adrenaline of the day was more than enough and we
were both exhausted!"
It's
always a pleasure to feature Karen's work and see how many more
couple's she is delighting through her photography.  If you are based in
the North East and need a wedding photographer, do look Karen McGowran up, she is fabulous.
Well, thank you so much Rachel and Steve for sharing your fabulous fuchsia day with us – huge congratulations to you.
Brides, if you are on a budget and looking for a well produced, really affordable wedding dress, you need to look up Kitty & Dulcie.
Much love,
Annabel
Photographer – Karen McGowran
Venue – Durham Castle
Wedding Dress – Kitty & Dulcie
Wedding Veil – elbow-length veil by Ivory & Co
Bride's shoes – Della Blossom by Freya Rose
Bride's accessories – Pearl drop earrings from Glitzy Secrets
Grooms Suit – A light grey three-piece suit from TM Lewin
Bridesmaids – Coast
Florist – Floral Footsteps of Durham
Cake –
stacked cheese from Marks & Spencer
Entertainment – Chameleon
Hair and make-up Artist – Lisa Jones