You know, some wedding submissions just pop right on out of my inbox.  The are so damn glamorous, so full of the wow factor, so stonkingly fabulous that I end up feeling a titchy bit weak at the knees.  You see, some nuptials make us wedding bloggers thank the sweet Lord above that we ever decided to become a wedding blogger in the first place. This sure as hell is one of them…
Photography by The Twins
And to make things even sweeter, this wedding was shot in my home town of Newcastle Upon Tyne, at the fabulous As You Like It' in Jesmond; remember this bride, who is also an Interior designer? Well she designed and styled all the interior of As You Like It, which, to the unsuspecting eye, looks noting more than a tired old concrete block of de-commissioned 1960's offices. But oh how wrooooong you'd be. Behind the entrance doors lies a secret magical kingdom with chairs that swing from the roof and Alice in Wonderland Mad Hatter tea party style decor, there's something very special about that place indeed.  It was certainly fit as sixpence for the wedding of Paul and Amy, who tied the knot on 9 November.  I'm rapidly developing a fan girl crush on their photographers too – The Twins (you might see why when you view their other work I've already featured)…
"The film that inspired us most was 'Water For Elephants' we love the whole old-world circus style – it was what we based a lot of our ideas on.  Music also played a big part – with Paul being a drummer and both our families growing up with music – the music definitely set the right atmosphere."
"My mum Helen made the delicious fruitcake, whilst Paul's mum
Lynne perfectly iced and decorated, with the help of my sister
Rebecca and her steady hand!  The cake topper had to be elephants, nothing else would have worked with the BigTop style cake!"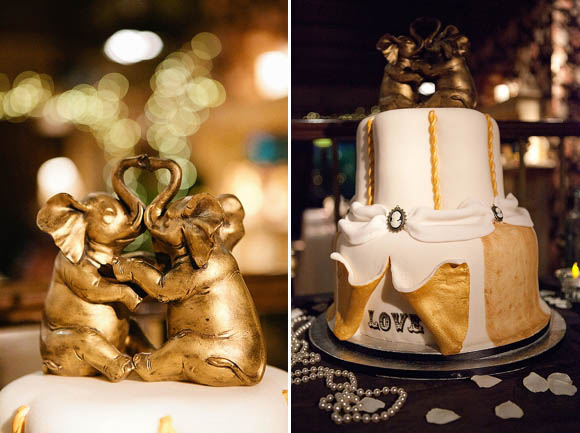 "My dess was by House of Mooshki.  I first met owner Vikki at at a wedding fair in Newcastle where I instantly fell in love with their incredible couture gowns. They were so unique! The first thing Vikki said to me was 'oh my god! We have to make you a dress!'.   After receiving an email advertising that they had some sample dresses for sale, I insisted on trying on every Mooshki dress that fitted me!
I originally envisaged myself in a short 1950's swing dress with killer heels (which is what I think Paul was expecting!).  I honestly never thought I would have that 'this is the one!' moment, but I completely did!  I looked in the mirror with the biggest grin on my face, the stunning lace fishtail was perfect – and with no fitting alterations needed at all, I had to have it! It was fate.  Vikki was amazing, so helpful and the perfect lady to have when it comes to choosing the dress of your dreams. Every girl needs a House of Mooshki wedding dress in their lives."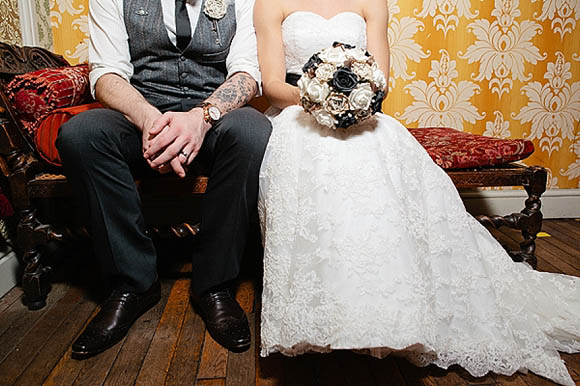 "I wore a 40 years old vintage beaded lace head-dress hired from hair stylist…"
"Paul and I crafted everything that we added to the venue – it was personal to us and we knew exactly what we wanted.  Being musically themed we had drum head guest books which everyone signed.
Our post box was a snare drum that Paul and I designed and made ourselves. Table decorations included pumpkins and old books sprayed gold, accompanied with rusty keys, old pop bottles covered in melted wax (which took forever to make!) foam roses and ornate picture frames – big thanks to Tynemouth Market for providing us with lots of treasures!"
"Paul and I met on fresher's week at university, took almost two years of being best friends for me to realise Paul was the only one for me (even though it was totally obvious to everyone else!) Looking back, it was completely love at first sight.  He was a drop dead handsome drummer in a band – what more can a girl ask for?
We've now been together for 5 years, engaged for 4 years.  Paul proposed at the top of the ferris wheel at Winter Wonderland in Hyde Park on a bitterly cold December evening, down on 1 knee and asked me to be his wife.  I remember it like it was yesterday."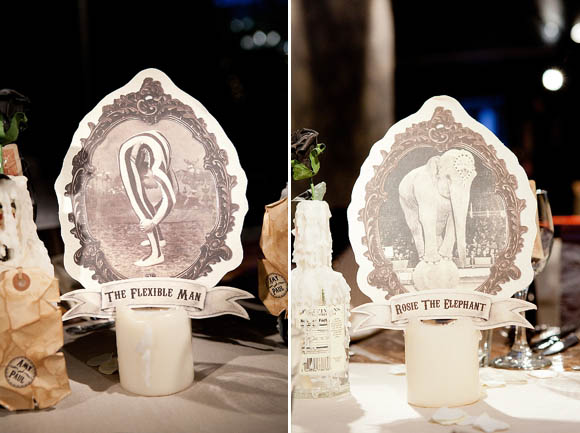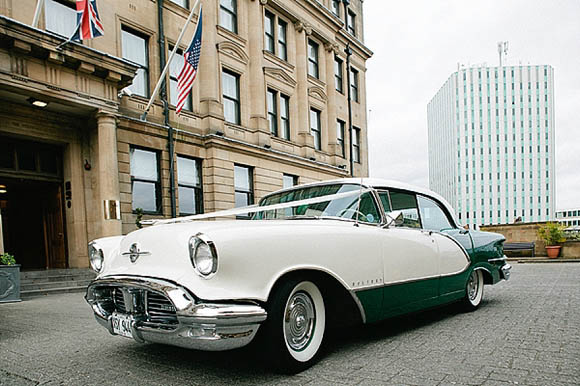 "My transport was the only (and by far the best) surprise for me on the wedding day!  I looked out of my hotel window to see the most amazing 1950's classic American car I have ever seen in my life! Obviously my lovely dad and Paul know me even better than I thought!
Singing along with my dad to Buddy Holly and Jonny Cash on the way to the venue was such an awesome way to start the wedding."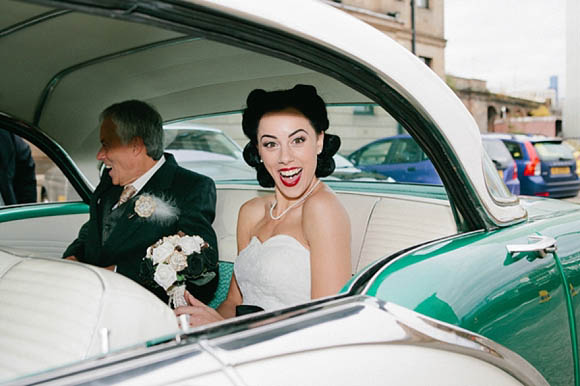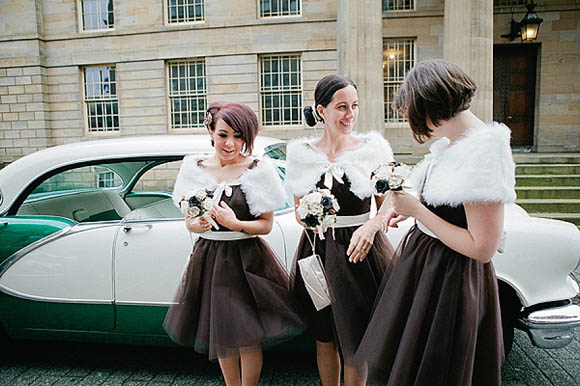 "We created all the stationery ourselves. We had place names, menus, signage, table names, table plan…"
"For favours, a single customised vintage playing card was placed in all the guests wine glass, so they could remember the day and take a bit of magic home with them."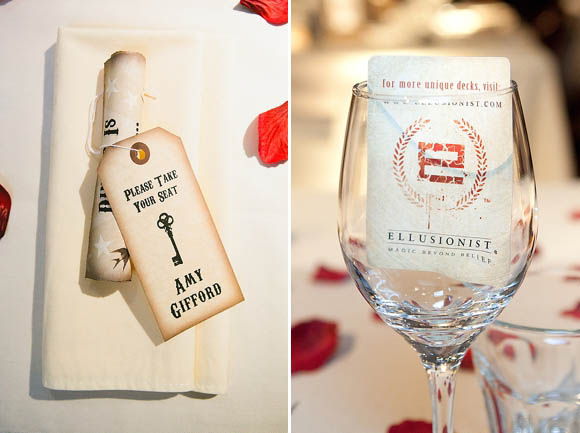 "Our photographers, The Twins, really are wonderful people – what a team! Caroline was great, right from our first meeting where she welcomed us into her home, made us cake and listened to all our wedding ideas and visions for the day. We had various meetings running up to our wedding, which were all really useful.
Caroline and Kelly were so cool on our wedding day – they were very professional and organised, we didn't have anything to worry about! They were always one step ahead and captured everything that we wanted from our perfect day. 
The Twins really made sure that our photography was personal to us. It was clear they had taken everything we wanted on board and absolutely delivered – we really couldn't have asked for anything more. Paul and I cannot thank Caroline and Kelly enough for helping to make our day as perfect as it was!"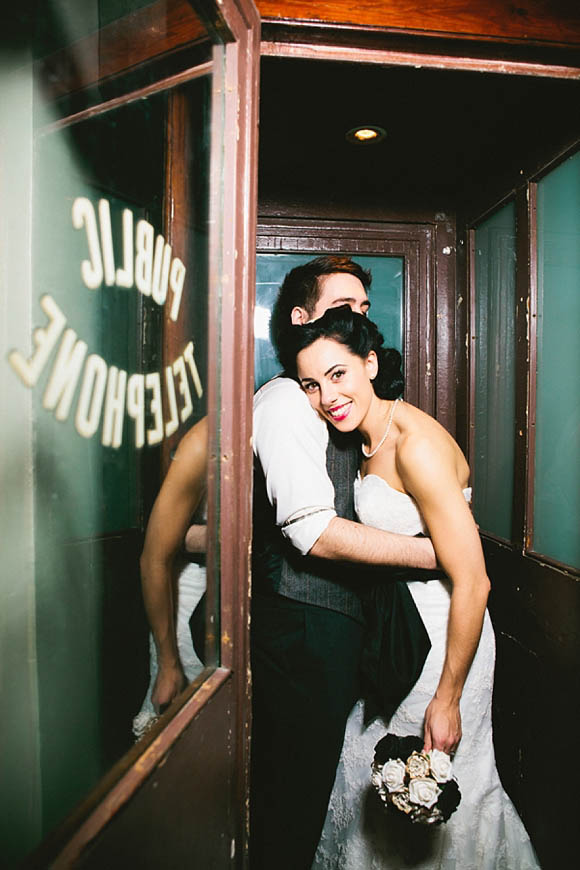 "Paul bought me these shoes on an anniversary of us getting together – they were the first thing that we got for the wedding. Priorities, of course!"
"My wonderful dad, Don Godsell, gave me away.  Only he could be the one to calm a very emotional bride, he was my rock leading me to the man of my dreams.  We walked down the aisle to the sound of our guitarist, Richard, who had composed a beautiful arrangement of Christina Perri's song 'A Thousand Years'…"
"We kept our vows simple and personal to us.  As readings, we had Captain Corelli's Mandolin by Louis de Bernieres;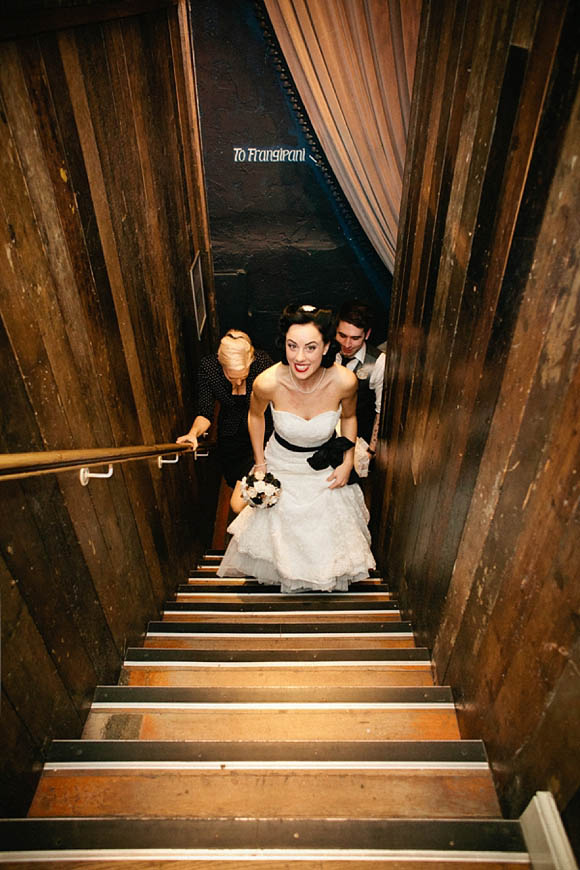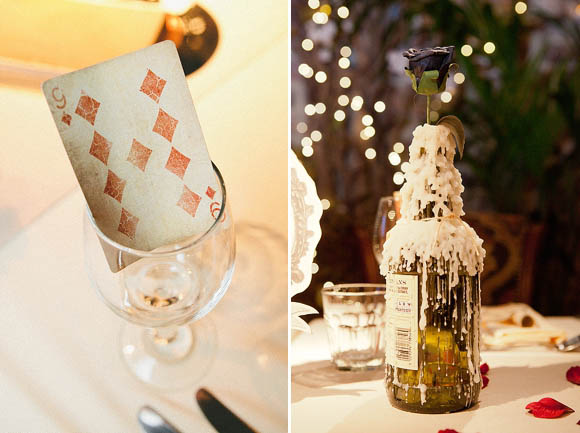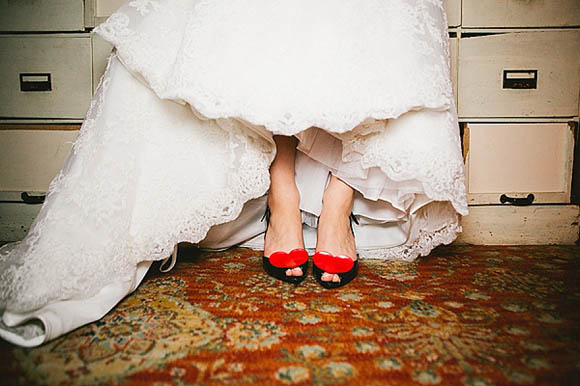 "We hired a magician, Paul Lytton, who has still left me speechless – I have never seen magic like it. We were so lucky to have him perform at our wedding. A perfect way to bring plenty of fun to a wedding!"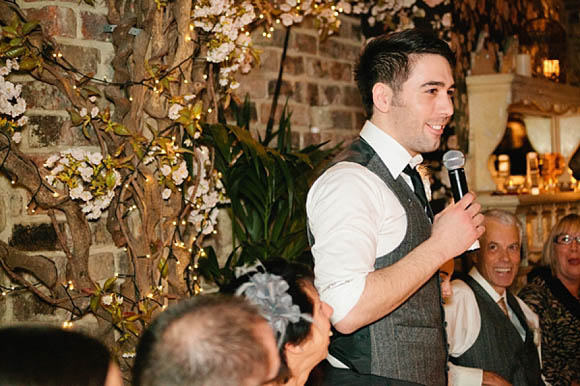 "We couldn't have a circus style wedding without the beautiful
smell of fresh popcorn, or the fun candyfloss! Our guests loved it! They
were so friendly, made delicious candyfloss and had the popcorn popping
all night! We hired a popcorn cart from Cassas Events."
"Our first dance was to Dashboard Confessional's 'Stolen', And just like they do in the movies, Paul made me a mix tape when we
first got together, and this was the one that just stood out. All of the lyrics are perfect for us. Its just makes sense.  One of the best moments was when everyone cheered as Paul unexpectedly lifted me up and spun me around at the perfect moment of the song."
Words of Wedded Wisdom…
"Don't be influenced by what you think your wedding day should be like, there are no rules. 
Remember to keep it personal to you both and you will have the best day of your lives. Keep the love, that's why you are getting married after all.
There isn't one thing that we would have changed about our day – I sure everyone says that, but there really isn't.
Even the fire alarm evacuation during our drinks reception got all of our guests socialising and gave Paul and I some great photo opportunities!"
I bloody LOVE this wedding, it is everything I adore about weddings, a perfect mix of the couple being themselves, completely, a big dose of glamour and red lipstick, fun and laughter, a touch of the vintage and photography that will fill Amy and Paul's hearts for years to come. Congratulations guys, thanks so much for letting me share your beautiful day. It's also so so fab to be able to share some North East love! (brides in the area, make a point of visiting the supplier links below).
Huge thanks to The Twins for once again filling these pages with some va-va-voom.  You can see more work from this new photographic duo to hit the North East region right here on Love My Dress. I recommend them highly.  You might also want to check out this beautiful 'Water For Elephants' inspiration board for more ideas to style your wedding day.
Thoughts? Please let's show some love for this beautiful couple.
Big love,
Annabel
Photographer – The Twins
Venue – As You Like It, Jesmond, Newcastle Upon Tyne
Brides dress – House of Mooshki (Owner: Vikki McCarthy, Designer: Olivia Wright)
Brides Shoes – Vivienne Westwood Melissa Dragon Heart Shoes Black & Red
Bride's accessories – 40 year old vintage lace headpiece
Grooms attire – Grey herringbone waistcoat via Tom Sawyer waistcoats + Shirt, tie and trousers from Slaters, Newcastle + Shoes from Office + Metal shirt sleeve armbands from Tie Rack + Vivienne Westwood brooch, music paper button hole plus 2 rusty keys
Groomsmen – Buttonholes made from Amy's Grandads music paper (around 80 years old) With single pearl and feather from Dainty Supplies
Bridesmaids Dresses –  Forever Yours, code 7909 – Short in Sable/Cashmere colours + Graceland cream Peeptoe Slingback heels from Deichmann + Pearl earrings, pearl rings & ivory shrugs from Primark/Matalan
Flowergirl Dresses – Beautiful champagne coloured Beaded Hanky Hem Dress from BHS
Florist – paper florals all made by the bride
Cake – Made by both our mums and the bride's sister
Favours – vintage playing cards
Entertainment – Magician Paul Lytton
Transport – American Classic Hire
Hair Stylist – Karen Cummings (contact details not supplied)
Makeup Artist – the bride! Using MAC
Candy Floss and Popcorn Carts from Cassas Events