Kirsty, in Jacquemus and Rodarte for her Wylam Brewery Wedding in Newcastle
Kirsty and Ben tied the knot on 14th May 2022 at the Wylam Brewery in Newcastle upon Tyne.
The couple didn't want anything 'frilly or faffy', no 'curly writing' or green foliage. They wanted their modern, stylish wedding day to reflect them as a couple, to be memorable and stand out. Without exception, they achieved that.
I am in love with these images by the mega talent Jules Barron and hope you love them too. I'm also loving bride's increasing obsession with red roses of late.  Enjoy!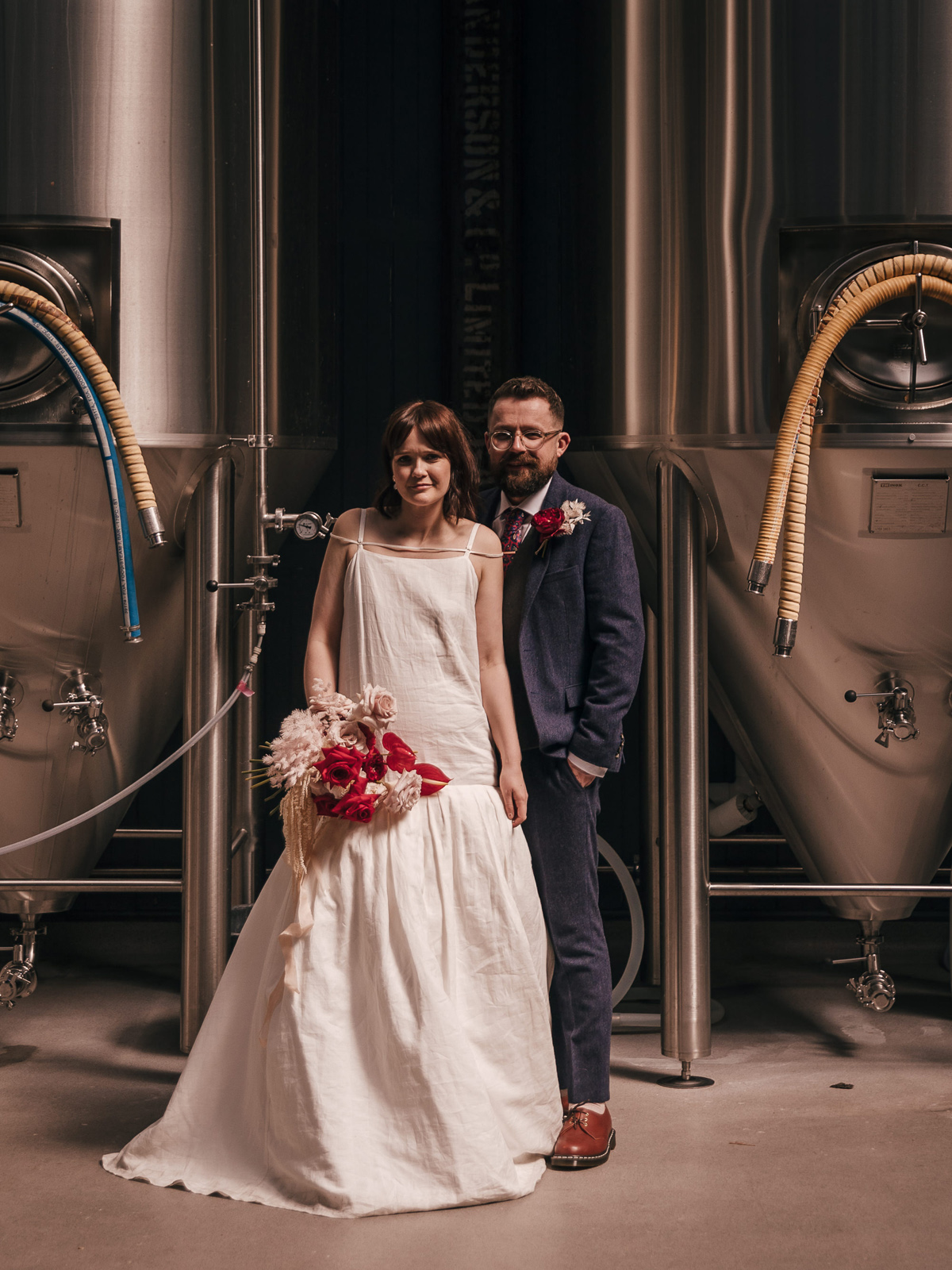 The Dress(es)
I've known for a very long time that I would always love to wear high fashion for my wedding day. I never thought I would be lucky enough to have two dresses.
Three months after giving birth and nine months before the wedding, I started to look online for any dresses that I liked. I had seen my day dress by Jacquemus, when previously looking but didn't think it would fit the winter wedding that we were originally supposed to have. So when it popped up again on my evening scrolls on the internet I knew I had to order it.
I also saw another one, my evening dress by Rodarte. With a little encouragement from one of my bridesmaids I ordered both of them. I got them ordered to my mams house and when the tears started rolling I knew they were he ones.
I wore a pair of baby pink, velvet platforms by Ted baker and my scent was You by Glossier – it's lovely and fresh and it makes me feel lovely.
Planning in a Pandemic
Ben and I met through friends and were set up on a blind date. It was both our best man and maid of honor who set us up.
I proposed to Ben on leap year February 2020.
Our original wedding date was 27th December 2020. We decided to change the date of the wedding in October of that year, though people were having weddings there were many restrictions.
Some of our guests were also from overseas, so we had to take this into account as well. We had no covid restrictions at our wedding.
It really doesn't matter how long you have to wait. The wait is worth it when you see every single one you care about there to celebrate with you.
Venue & Location
We chose the venue because we wanted something informal and fun. The brewery when you drive up to it is amazing it really takes your breath away.
The Ceremony
My dad, Rob walked me down the aisle to 'Perpetuum Mobile', by Penguin Café Orchestra.
We had a celebrant who was organised by Newcastle Council and exchanged simple vows during our ceremony.
We had a reading of the owl and the pussycat by Kate my maid of honour. We didn't want the traditional ones that you find on the internet. Our Daughter loves owls and I also had to read this out when I was in school so it kind of has a link. Its also about an owl and a pussycat who fall in love and sail away together.
Walking down the aisle after being married with our daughter Freyja who was born in the midst of all the crazy covid world. Walking out and through the confetti thrown by our family and friends. A really lovely moment.
Flowers
Our floral designer was Muscari Events. You know when you have picked the right florist when they are more excited to do your florals than you.
I had a very specific style that I wanted. I sent my moodboard to a few florists and some didn't want to do this style that they hadn't done before. In the North East a lot of people want a very specific bridal style with green foliage which I was dead against.
I knew I wanted statement table centrepiece's which would stand alone in the wedding colours. These were also used in the wedding ceremony on white plinths that I got made by my uncle who is a joiner.
Everything was amazing and just how I wanted it.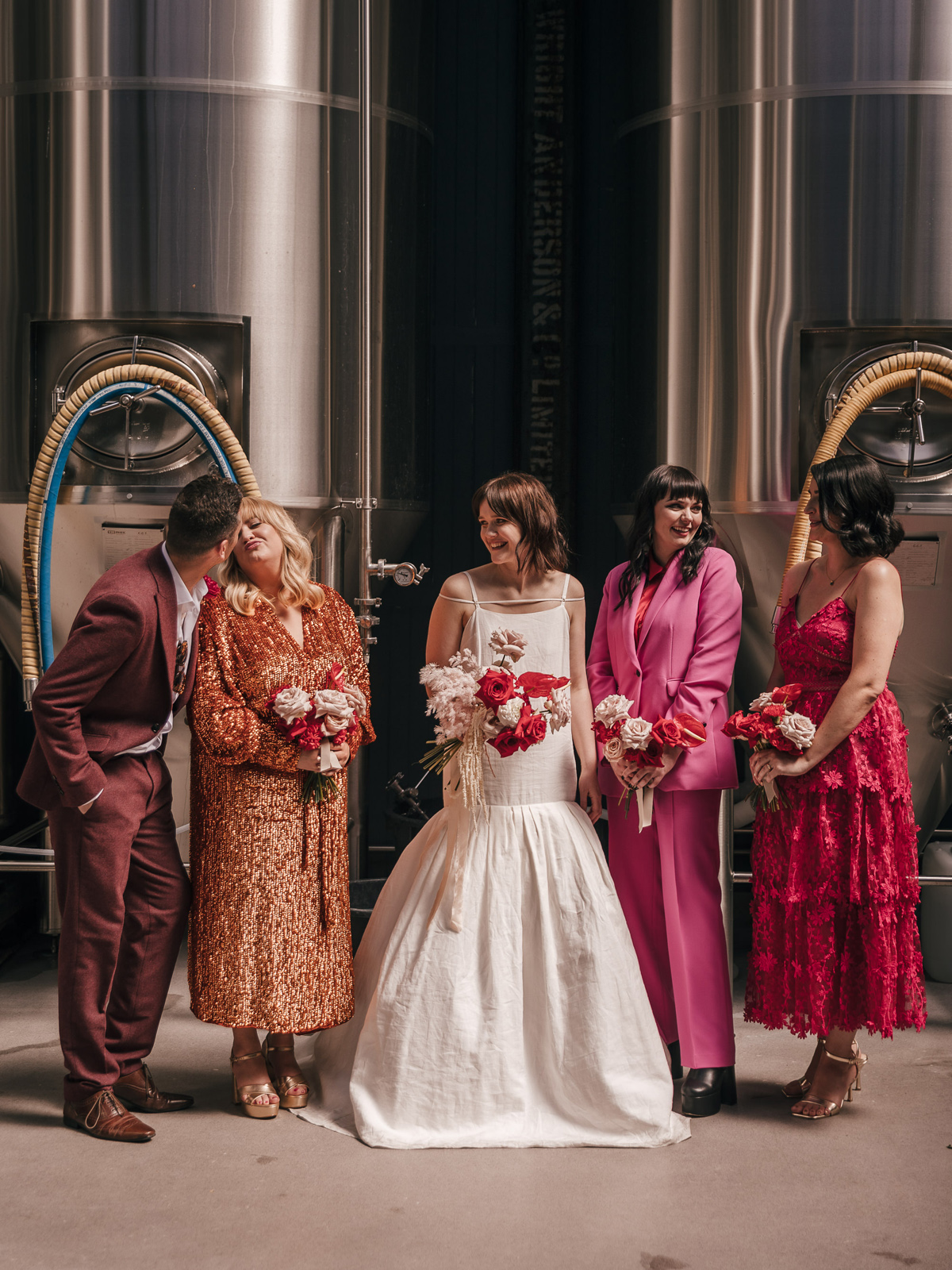 The Photographer
Our photographer was Jules Barron. Ben and I are not the snoggy type – we wanted to see all our family and friends captured just having the best time, all the emotions. I had looked at a lot of photographers. I don't like over edited images and wanted warm tones to come through.
I remember there was one images of Jules that I loved, a couple were in front of a cottage in Scotland and it just looked so warm and friendly.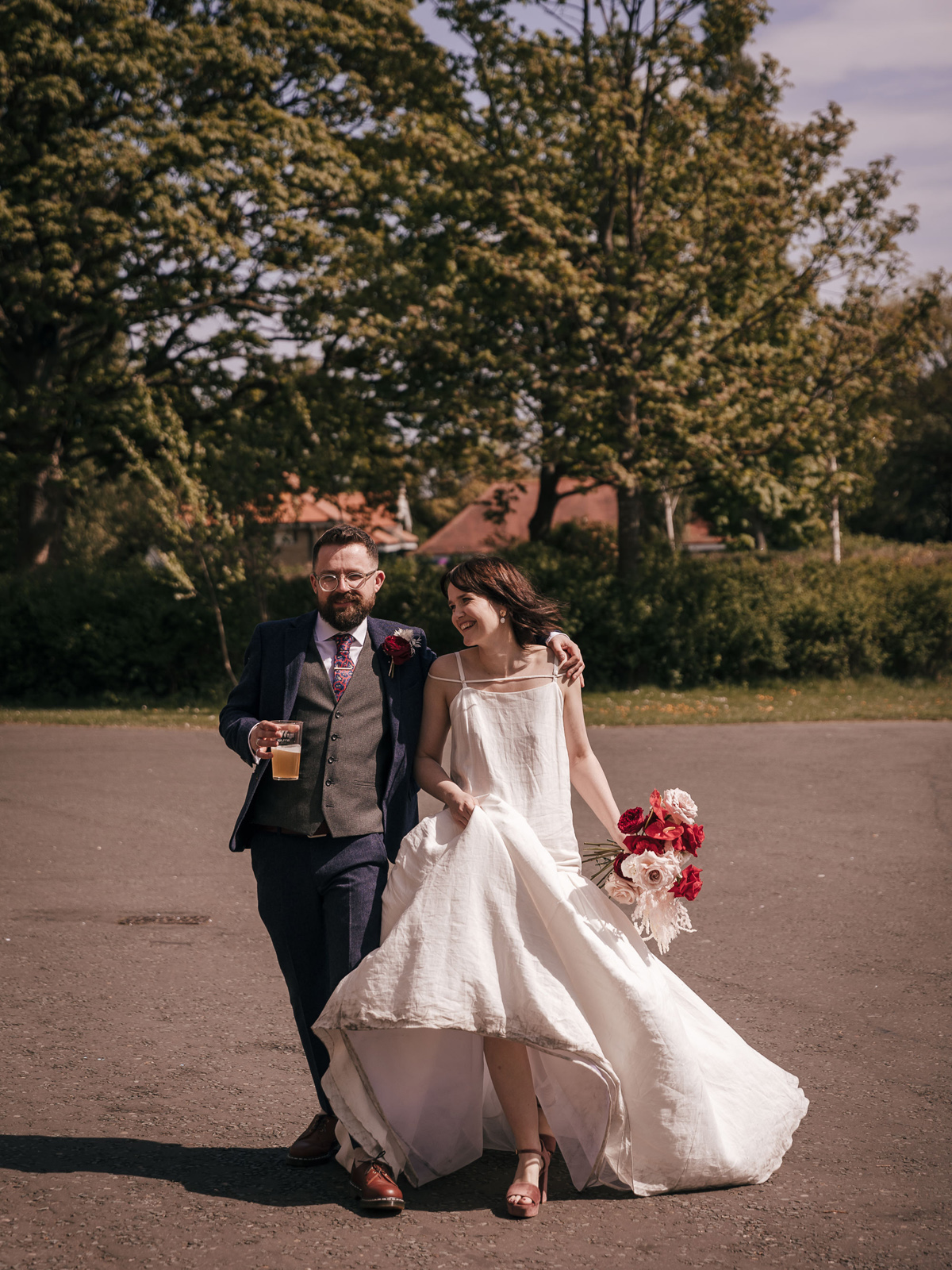 We had two 10 minute bursts of photographs and then could mingle back with guests; this is so important. I have been to weddings before where brides and grooms are gone for over an hour.
Jules is great and captured all the moments… moments we didn't even know we needed.
Reception – and Cake!
Oh the cake!
I wanted a very specific style, which at one point didn't seem like it was going to be possible here in the North East. I even researched getting one couriered from London which is crazy to think now.
It was all I dreamed of and more and Lisa also loved making it as well which made me really happy. It was a talking point at the wedding and tasted amazing.
Our cake was from Blossom's Bake House.
Evening & Dancing
Our first dance was to Sam Fender's 'Waiting for love'. This was the hardest thing to choose. We don't really like all the attention so had to choose something that kicked in quite quick so that all the quests could then join in with us.
Words of Wedded Wisdom
No one will ever know that it was supposed to be there; There were fiddly bits and stationery that I had on my list but then I thought no one will know that was an idea or meant to be there. Less stress for me if its just crossed off the list.
Our budget was originally £11,000, but ended up being around £12,500.
In the directory Rodo Creative
Listed in
Stationery
In the directory Maids to Measure
Listed in
Bridesmaids