A couple of weeks ago, we featured a post that set out to turn on it's head, the reputation of that much maligned of matrimonial hues, burgundy.  The newly established team 'Little Miss Bush' (brainchild of Emma Meek, owner of Miss Bush Bridal) put us all right on how beautiful burgundy can be with these stylish and inspirational images taken by Eddie Judd.
Today, and with quite breathtaking results, the same team are exploring the concept of the debutante.   When I think of the debutante, visions of those classic scenes created by master photographer Cecil Beaton and designer Charles James spring to mind, which were clearly inspiration for this set of photographs you see before you.
All bridal wear that features in this shoot is available at Miss Bush Bridal and the talented styling team who took these naturally beautiful models on to the next level, includes hair stylist Sharon Roberts of Wonderful Wedding Hair and makeup Artist Carolanne Armstrong. Those drop dead gorgeous floral pieces in the models hair were provided by Bloomingayles and the opulent and elegant Fetcham Park set the scene for this modern-day debutante inspiration shoot…

Love My Dress Wedding Blog – Photography Copyright (c) 2013, Eddie Judd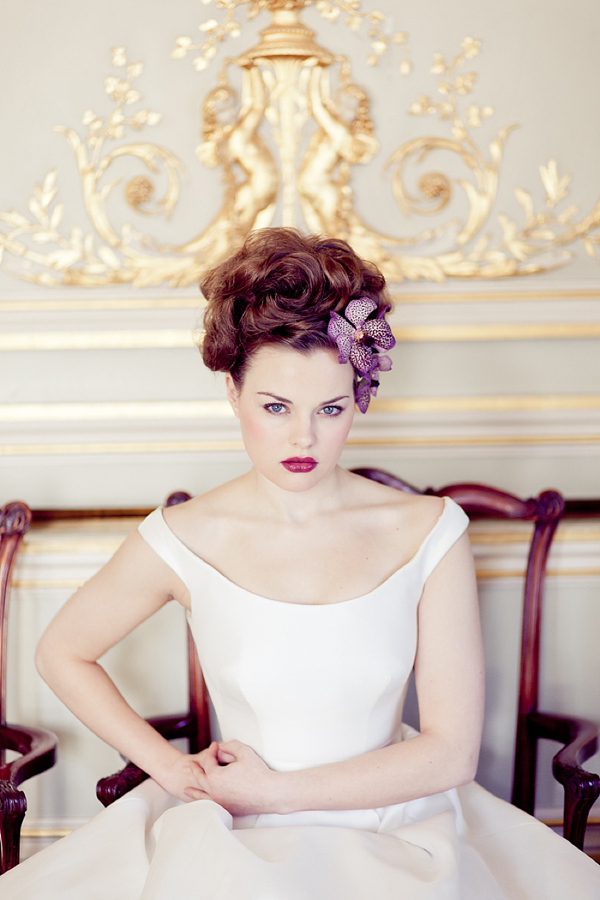 Emma Meek, the owner of Miss Bush Bridal shares her thoughts on the image of the Debutante and what inspired her to set about creating these images…

"For as long as I can remember I have been in love with images of debutantes and society women from the late 1950s.
Whether it's due to the grandness, the thinly veiled social commentary
or the sheer glamour of dresses that whisper of luxury, privilege and
entitlement I'm not sure."
"This season Dior inspired silhouettes have featured in
collections as diverse as Suzanne Neville and Maggie Sottero. As I was
invited as fashion partner to a Bride & Glory Masterclass at Fetcham Park, I just knew that the debutante dresses would look amazing in the venue's gilded interior.
 I
also wanted to show how, working together with a skilled team, the
debutante look can be created on a budget as well as trust fund. I have
paired dresses that retail at £1000 with dresses that retail at over
£3000. I have a couple of dramatic expensive specimen blooms for the
hair, and tiny buds from shrubs in most gardens."
"Miss Bush Bridal
operates on a true boutique principle and mixes high end designer
dresses with very affordable dresses from collections such as Maggie
Sottero that may not look as appealing on their website but
contextualised in a very British setting and with creative vision from
your the hair, make up and floristry team a bride can create a look that
is both retro and timeless."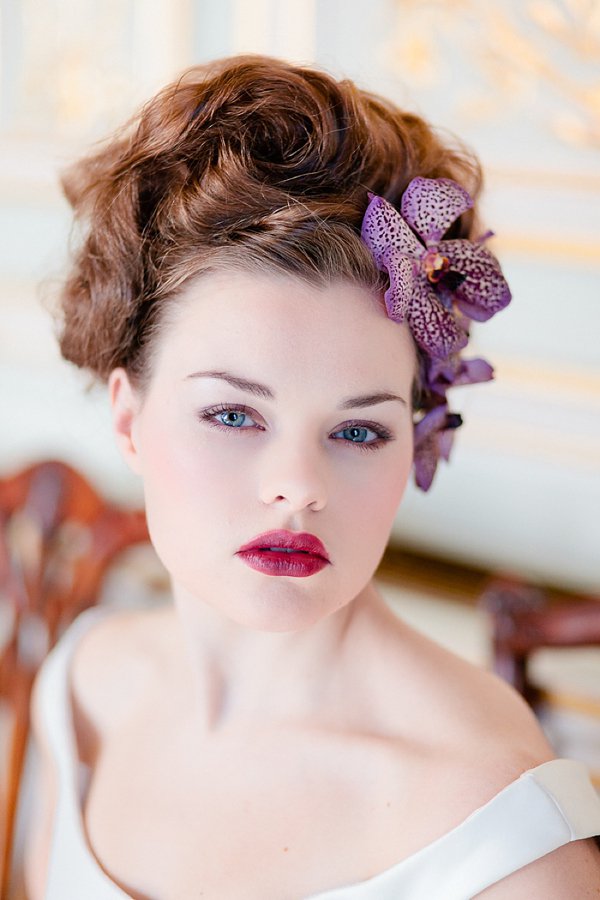 A word from Sharon Roberts of Wonderful Wedding Hair
"Ellie (Maggie Sottero Taleigha with lilac silk sash from Nicki
Macfarlane with silver roses and Polly Edwards Jessamine hair band) has really long thick hair and suited the envisaged Bardot-inspired up do.  As Ellie's hair is thick with plenty of backcombing I was able to tuck in the palest silver roses as well as Polly Edwards' 'Jessamine'  hair band.
To create a similar look for Jade (Suzanne Neville 'Lady'  Maggie Sottero 'Marilyn' & Jenny Packham 'Esme' with Vanda orchids in her hair), who has really fine hair, I made her sleep in rags, used volumising  product , curling and added  hair  padding. 50's hair is not always easy or quick and if you are considering the look for your wedding be sure to have a couple of hair trials first to see if the amount of work needed is practical for your day.
Hannah (Suzanne Neville 'Gracie' and Jenny Packham 'Nicole' with Vibernum sprigs in her hair) has fine hair and although it could be put up we wanted to explore the 'half up half down' style often requested by brides. The flowers had to be delicate and light enough to stay in her hair as the top was only lightly backcombed to give lift. 
Amy (Suzanne Neville 'Aurora' and Jenny Packham 'Ruby' with purple anemones in her hair) has naturally curly hair, left to dry naturally, all that was added was some Macadamia Oil to enhance the curls, give shine and help combat frizz.  The Anemones were arranged individually to give the impression of a half circlet.
It's important for the hairdresser and florist to communicate when using flowers in the hair.  A florist can wire any flower you ask them to but the hairstyle has to be taken into consideration.  Ask your florist to prepare some for your hair trial so you can see what works"
Thoughts from Carolanne Armstrong, Make Up Artist for the Debutantes shoot  
"The make up in these shoot was led and inspired by the flowers brought to our Pinterest board by florist Gayle Evans of Bloomingayles. The colour palette was influenced by blues, violets and a suggestion of burgundy – all colours that can be a challenge. I worked up some different but complimentary looks. Each of the models has their own unique look but the brief to have them look like polished debutantes demands that you treat them all as individuals. Whilst this is a fashion shoot this is very much how I work with wedding make up.

The base used on the models is Illamasqua Skin Base. The consistency of this product is mildly gel-like, it's very natural but gives great coverage and it's HD ready.  It photographs beautifully.
The bold lips were a mulberry shade, custom mixed, and a more dramatic black/red topped off with Chanel Rouge Allure for shine. On these faces the eyes were kept only gently emphasised. To pull off the lips-only look, of course it helps to have the heavenly bee-stung pout to begin with!  The girls with the pouts also wore the more classic, full up-do's. Hair on top, lips out front.
The other girls who wore their hair styled down, were made up more heavily around the eyes, which is a more contemporary look but they all pull together really well as a group. The eyeshadows were all MAC matt shades with well moisturised, natural lips."
I encourage you to visit the Miss Bush Bridal website today and drool over the gowns there. You will also want to take a look at the Little Miss Bush blog. It's rather brilliant.
Huge thanks to the whole creative team (see below) who made these images possible.
Annabel
Credits 
Photography – Eddie Judd
Location – Fetcham Park
Dresses – Miss Bush Bridal
Hair Sharon Roberts – Wonderful Wedding Hair
Make Up – Carolanne Armstrong
Flowers – Bloomingayles
Concept/Styling – Miss Bush Bridal + Little Miss Bush
Jade wears Suzanne Neville 'Lady', Maggie Sottero 'Marilyn' and Jenny Packham 'Esme' with Vanda orchids in her hair
Ellie
wears Maggie Sottero Taleigha with lilac silk sash from Nicki
Macfarlane with silver roses and Polly Edwards Jessamine hair band
Hannah wears Suzanne Neville 'Gracie' and Jenny Packham 'Nicole' with Vibernum sprigs in her hair
Amy wears Suzanne Neville 'Aurora' and Jenny Packham 'Ruby' with purple anemones in her hair
All gowns and accessories modelled are available via Miss Bush Bridal