It's been a while since our writer Nina Neon – the disabled bride – shared a piece with us about her experience of planning her wedding as part of our 'Confessions of a Disabled Bride' series, but she's back today, refreshed after an evening out to see Mrs Carter entertain the masses, to talk over her accessible honeymoon.
Less than six months until Bob and I are getting married – I am so excited, and I am SO busy. One thing I can tick off the list, though, is finding a hotel to spend the wedding night in and booking our honeymoon. I hope that sharing my experience with booking those will be helpful for some of you.
Neither Bob nor I are beach-holiday-type people, we both prefer cooler climates, cities and to do cultural things on our holidays. For our honeymoon, we decided quite quickly that we didn't want to go too far away, either. For our wedding gift list, which we created through buy-our-honeymoon, our guests can pay towards a trip to New York we are doing sometime in 2014, and we are really excited for that, but right after the wedding, we want to focus on relaxing and winding down after all that buzz and stress.
So we decided to go to Vienna – a city that I find terribly romantic with its history, palaces, coffee houses and parks, but that also offers great museums and modern architecture. Also, Austrian cuisine is extremely tasty – dumplings, cakes, Schnitzel… I feel like we decided on this one mostly with our tummies.
Bob has never been to Austria, and I am also excited to show him the city my granddad is from (he emigrated to Switzerland in World War 2).
While Vienna has many wonderful things to offer, part of the reason why we are going there is also that it is definitely a city with better wheelchair access than, say, Paris or Rome. It is one of the few cities worldwide that has a fully accessible tube (compared to London's measly 25% of accessible tube stations). Also, most of its main attractions, even the historic buildings, are easily accessible. I have been to Vienna before and found it incredibly easy to get around, and also had no difficulties with finding accessible hotels, bars, clubs or restaurants.
Now, I am not saying that access should be a main factor when organising your honeymoon – If your heart is set on a specific place, by all means, go there and make it work for you! Personally, I wanted to feel independent and free during my honeymoon, which is why I wanted to go to a place where I knew access would be okay. We'll leave the adventurous exploring for another time.
But two years ago, I went to Venice with my brother and my dad – and I think it's the least accessible city I've ever been to. However, there have been some improvements during the last decade or so: The vaporetti, which are the city's public water buses, have wheelchair access, and the mainland of Venice, the Mestre, is actually okay for access, too. If I went to Venice again, I would probably stay there in a hotel and then use the vaporetto to explore the islands. In the old parts of the city, many of the streets are narrow and have small flights of stairs inbetween, which makes it almost impossible for mobility impaired people to get around without any help, but with help (say a strong, determined newlywed spouse) ,Venice is definitely doable, and its beauty is actually worth the hassle.
Other honeymoon-worthy places that I've been to and found to have good access, generally speaking, are Seville, Barcelona, Hamburg, Munich, Vancouver, New York or Zurich (yes, this is a shameless plug for my home country and its chocolate).
Because access in the city of Vienna is so good, I thought finding a hotel would be easy – which it is, in theory, but not if you want a suite or a honeymoon room. Most hotels only have one accessible room category, and it is usually the cheapest category.  As we are staying for 10 days and this is the only honeymoon we'll ever have, my heart was set on having a gorgeous room with a lot of space that would feel romantic and luxurious. So I started to email hotels and asked them to send me measurements of door-widths and pictures of showers.
Most hotels are absolutely fine with doing this – they understand that everyone's mobility requirements are different and that what works for one wheelchair user might not be suitable for another. However, the lady of one particular hotel I spoke to basically suggested that it is too much work for her to send me pictures of bathrooms and told me that she doesn't understand why we don't just book a normal room of their lowest category, as that one is specially adapted for people like me. Needless to say, we decided to spend our money elsewhere – thank you very much.
In the end we found a wonderful, historic hotel (the hotel Sacher, where they invented the scrumptious Sacher chocolate torte) that is freshly renovated and offers spacious, accessible rooms with gorgeous chandeliers in them. Booked!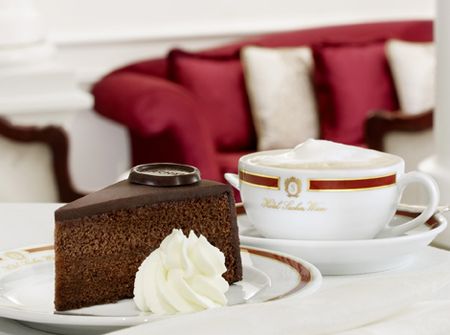 For our wedding night and the night before the wedding, we decided early on in which hotel we are going to stay – it's a boutique hotel in Covent Garden, and my parents have stayed there numerous times during the last 10 years. Again, they only offer fully accessible rooms in the two lowest categories, but their staff was extremely helpful and showed me 4 or 5 rooms, until I found a suite that is accessible for me and also offers enough space for me and my bridesmaids to get ready in. Obviously, if you can visit a hotel and look at rooms in person, that will always be more useful than talking to someone over the phone and getting pictures sent.
Generally, I think a honeymoon is a once-in-a-lifetime experience that should be perfect and make you feel comfortable, and you are likely to spend a fair bit of money, so don't feel shy about asking hotels for specific information.
If you are curious about the accessibility for wheelchairs in different cities, I would absolutely recommend having a look at Rolling Diaries – it's the blog of Laura, a young American lady in a wheelchair who decided to explore Europe and beyond on what she calls a 'disabled budget'. Her blog details her experiences in places such as Egypt, France or Croatia, and offers funny anecdotes and many practical tips on how to get around in those countries with a wheelchair.
As always, I would love to hear from you, readers: Do you have experiences of booking accessible honeymoons or hotel rooms? What is the service like for people with other disabilities? Have you encountered any issues that need highlighting? Which cities did you find good, access-wise (or attitude-wise)?
That's it for this month, and next month I'll start writing about THE DRESS. Exciiiited!
Nina
Nina Neon was born with a disability and has a mobility impairment. She is due to marry her fiance Bob in September 2014.  Nina Writes our 'Confessions of a Disabled Bride' series, within which she documents and shares her experiences of planning a wedding.