Good afternoon everyone.  I'm doing an interview tomorrow for a piece being written about 'wedding blog worthy weddings'. A topic I'm sure will raise eye brows for many of you.  
One of the things I will no doubt  be talking about is the concept of the more traditional wedding as opposed to the detail heavy wedding that proliferate the vast majority of wedding blog pages across the blog these days.  I suppose us wedding bloggers have, to a large degree, turned our backs on the more traditional style wedding in the past couple of years, in favour of the weddings full of home made/DIY and/or professionally styled elements that look fabulous all lined up together on our Pinterest boards and get our creative juices flowing with ideas of how we can make our own wedding looks so Martha Stewart magazine centre-spread worthy.
I guess we might have forgotten that for a huge sway of brides out there, a traditional style wedding with much more of a focus on the act of getting married as opposed to styling the day itself, is the key inspiring factor.
Love My Dress Wedding Blog – Photography Copyright (c) 2013, Juliet McKee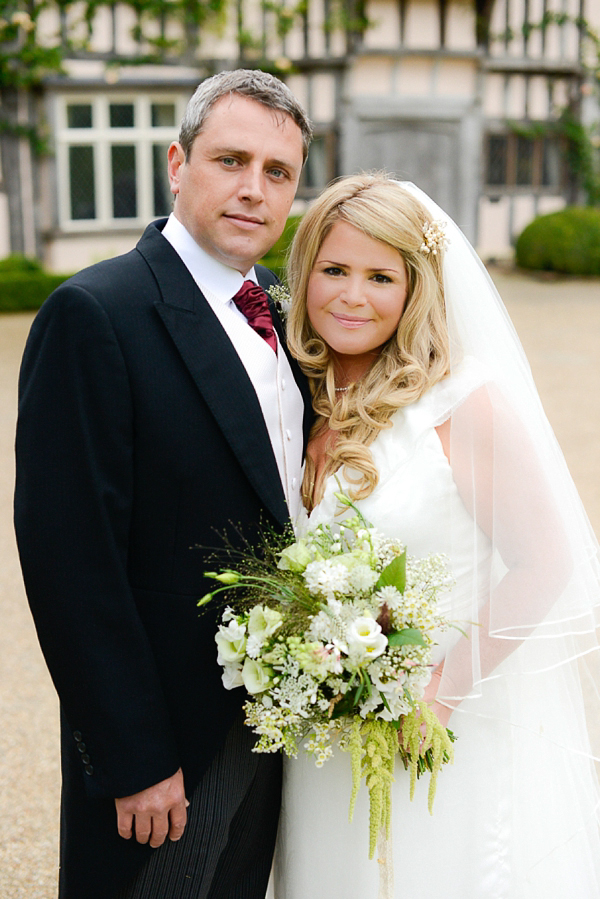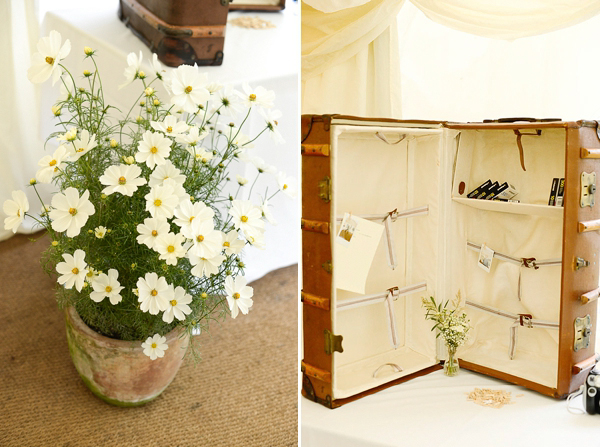 To me, this is a beautiful traditional wedding. A lovely bride and groom, church service, marquee reception, some lovely details, but, those details don't define this wedding. To me, this wedding stands out because of the beautiful and moving vows chosen by the couple (you can read them a little further down the page), the way they look so relaxed together, the fact they agreed together that their wedding was to have personal relevance and real meaning to them both wherever possible, and that they would source their suppliers locally.  I like that, I like that very much indeed.
That's not to say that Catherine and Philip, who tied the knot on 21 September last year didn't have a most stylish wedding, complete with lots of beautiful little vintage inspired touches and an elegant Ivy and Aster gown.  The couple chose to have their wedding ceremony at St Peters Church in Stonegate, East Sussex followed by a reception at Ticehurst, East Sussex, and these photographs were taken by the very talented Juliet McKee.
"Philip and I met on Match.com on 13th August 2008.  We got engaged on 3rd December 2011 after the birth of Harrison our son on 1st September 2011. We got married 8 months later.  I grew up in Stonegate the next village along and everything to do with the wedding had to have personal relevance to either myself or Philip.
We wanted everything sourced locally for the wedding wherever possible to have real meaning and personal relevance to where I grew up. If I had to sum up my style, English Countryside. The colours of our wedding were creams, blushes and champagnes.  We had a natural theme with lots of wild flowers grown from seed by my mum, and the goal was casual elegance."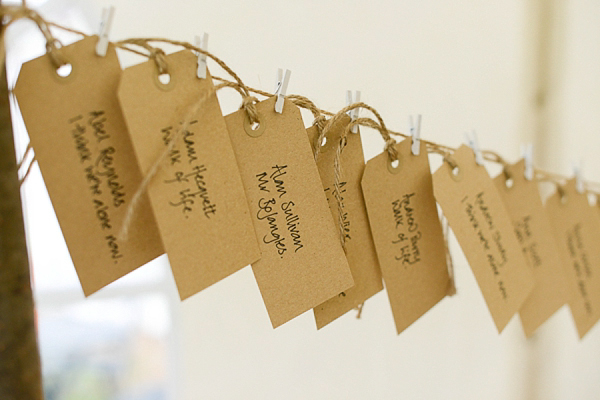 "My dress was the Anemone design, by Ivy and Aster, which I purchased from FrouFrou Bridal in Tunbridge Wells Kent.  I love it's delicate simplicity."
"I have always loved Morris Minors more than any other car. There is a local Garage which is located right next to the dairy I got the wedding Cheese cake from ( The Traditional Cheese Dairy). Steve Parker who runs the garage, was more than happy
to drive his own beautiful Morris for the day for us. 
We hired our Morris Minor from East Sussex Morris Minors."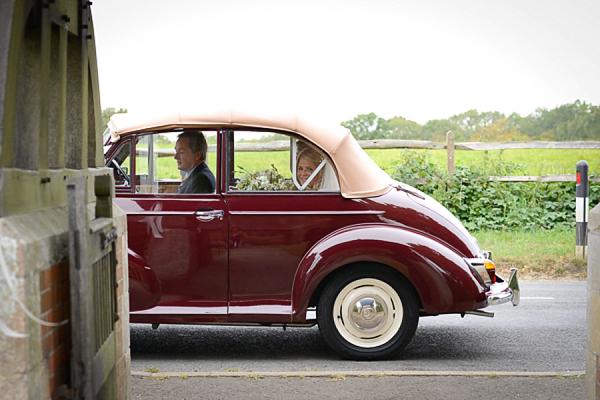 "My mum grew all the flowers from Seed. She is a keen gardener but had never taken on a job like this especially with the hand tie displays and button holes. Mum's brief was to keep things simple, green and white, light English meadow flowers, grasses and herbs.  She did the brides and bridesmaid hand tied bouquets, 10 button holes, 12 table vases/centre-pieces, 10 window vases for the church, the church entrance, two x displays in church itself and filled 8 vintage apple boxes with blooms and folliage.
She started in May, borrowing a few apple crates and Gin boxes from the local farmer, they were lined ready for planting.  We bought Kilner jars of different sizes for the tables and church displays to fill.  Each apple box had: Panicum grass, Acidanthera bulbs, Cosmos, Trailing lobelia, Thyme, White Petunia, Euphorbia Diamond Frost, Penstemon Snow Storm, Gaura- The bride, Ipomoea, Trailing Neptea, Amaranthus Viridis."
For the jars mum planted up Sweet peas, Salvias, Penstemons and Lysimachia and on country walks a few days before the wedding she cut a few grasses in the local fields.  Button holes were Monte Cristo Crysanth, some gyp & Sanguisorba Heads. She also used tiny cones collected on her walks in Yorkshire earlier in the year. Mum also decorated the wedding Cheese Cake with Rosemary, Lavendar, Thyme and some Million Stars Gypsophilia.
My bouquet containted Phlox David, Gypsophilia, Eustoma, Amaranthus, Meadow Grasses, Pancium Grass, Astrantia, Veronica, Lysimanchia, Gaura, Salvia, Pennisetum Rubrum, and 5 sweet peas called Wedding Day!  It was all tied together with Vintage Lace.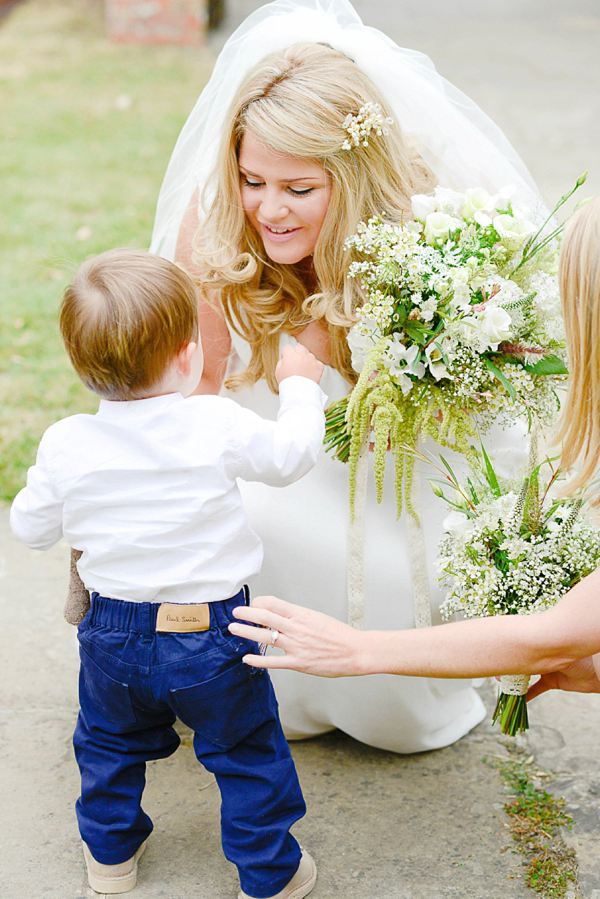 "Harrison, our son, who was one year old at the time, wore Paul Smith trousers and Shirt with Clarks Desert boots. He also carried his Teddy Elliot."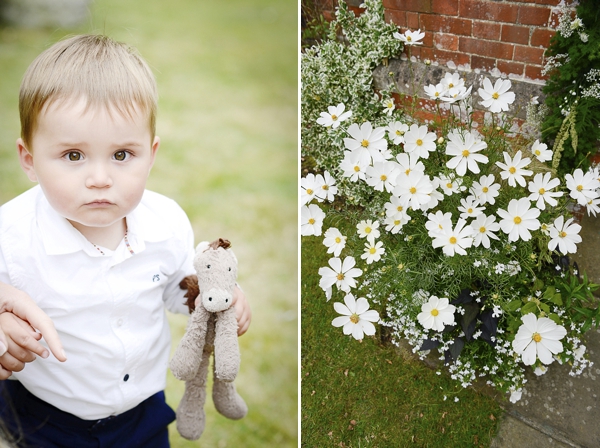 These beauties are by Rachel Simpson, whose wedding shoe designs have already made several appearances on Love My Dress this week!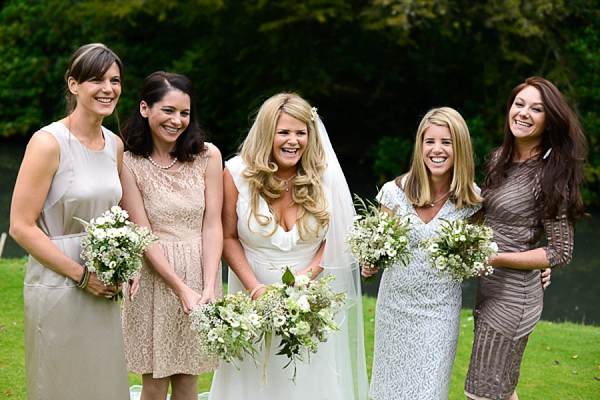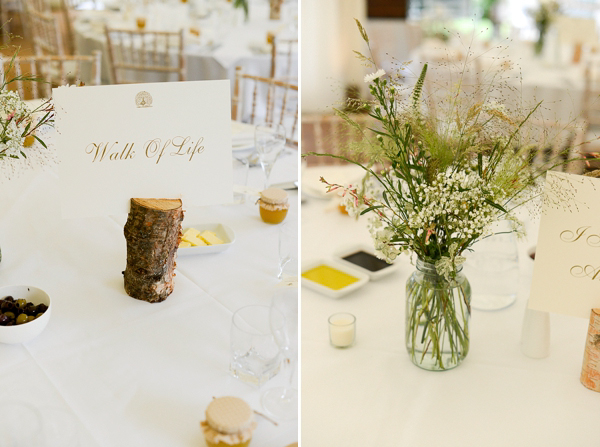 "Neither Phil or I have been that fussed with cake, but love cheese. The local dairy to us,  The Traditional Cheese Dairy, prepared the cheeses for us to layer a wedding cake.  Rebecca Dyball was really helpful and gave us some good advice.   
We opted for Olde Sussex for the bottom tier, Lord Of The Hundreds for the third tier, heart shaped Buttercup cheeses for the second and for the top two Burwash Rose.  I had our P Heart C Cake topper made of wicker, that I sourced from a company on Etsy, from MadeMerriShop.
 Mum also decorated the wedding Cheese Cake with Rosemary, Lavendar, Thyme and some Million Stars Gypsophilia."
"To decorate our marquee, we purchased a Pimms Jar from Ebay stood on Old vintage Gordons Gin boxes and apple crates for flowers donated by the local farmer along with Hay bale seating.  We also used vintage accessories and crockery hire ie: Typewriter, old suitcase, books, cut glass etc, all hired via Lady Butterworths. 
We had a vintage typewriter so guests could type up messages, we also had a Polaroid camera that they took photos of themselves and clipped to their message and pinned into the Vintage Trunk.  We also used giant white round 17" Latex Balloons, House of Chuckles Ebay and natural petal confetti cones.  Our vintage bunting was hired from Beautiful Bunting."
"Our photographer was Juliet McKee. Juliet is an unobtrusive, professional photographer, who made us feel completely at ease. The exquisite photos really captured the day perfectly. She picked up on all the little details that you spend months thinking about, planning, making and bringing together, its hard to take it all in on the day, but perfect to look back and reflect upon."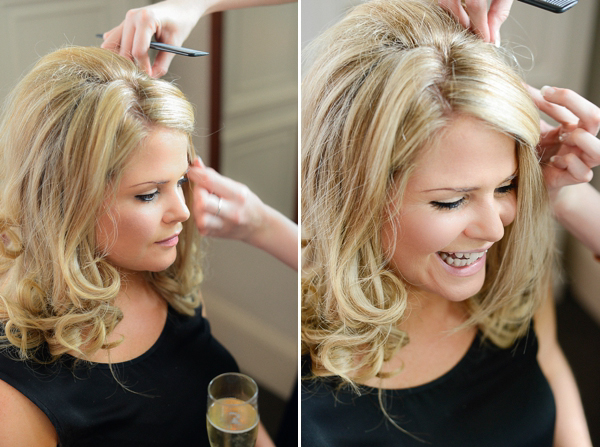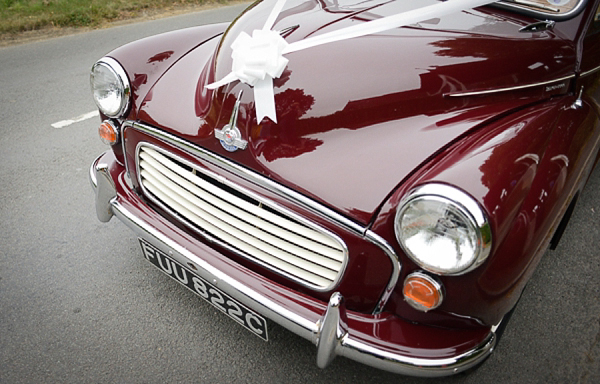 "My Dad, but Harrison who had just started walking also walked down the aisle with me!"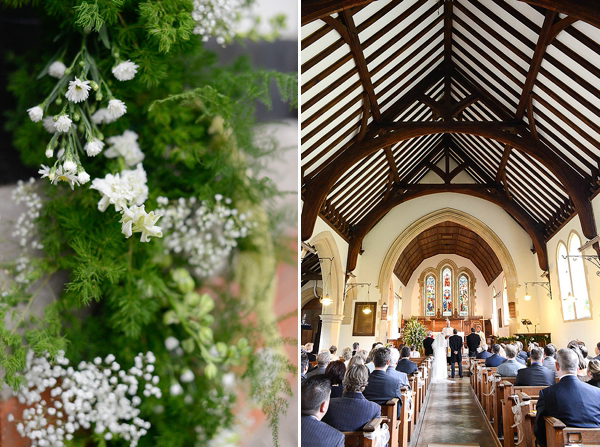 "We kept our vows as per the church of England vows and didn't change them. We had one religious reading from 1 Corinthians 13:1-13 which is all about Love, and secondly a reading from Paths and Journeys 'Far from the Madding Crowd' by Thomas Hardy). Because Phil and I met online at a certain point in our life this reading is particularly relevant. 
1 Corinthians 13;
If I could speak all the languages of earth and of angels, but didn't love others, I would only be a noisy gong or a clanging cymbal. If I had the gift of prophecy, and if I understood all of God's secret plans and possessed all knowledge, and if I had such faith that I could move mountains, but didn't love others, I would be nothing. If I gave everything I have to the poor and even sacrificed my body, I could boast about it; but if I didn't love others, I would have gained nothing. 
Love is patient and kind. Love is not jealous or boastful or proud or rude.
It does not demand its own way. It is not irritable, and it keeps no
record of being wronged. It does not rejoice about injustice but
rejoices whenever the truth wins out. Love never gives up, never loses
faith, is always hopeful, and endures through every circumstance. 
Prophecy and speaking in unknown languages and special knowledge will become
useless. But love will last forever! Now our knowledge is partial and
incomplete, and even the gift of prophecy reveals only part of the whole
picture! But when the time of perfection comes, these partial things
will become useless.  
When I was a child, I spoke and thought and reasoned as a child. But when I grew up, I put away
childish things. Now we see things imperfectly, like puzzling
reflections in a mirror, but then we will see everything with perfect
clarity. All that I know now is partial and incomplete, but then I will
know everything completely, just as God now knows me completely. 
Three things will last forever—faith, hope, and love—and the greatest of these is love. (1 Corinthians 13:1-13 NLT)
"We also had 'Paths and Journeys from Far from the Madding Crowd by Thomas Hardy;
'We are all on our own paths, all on our own journeys.  Sometimes the paths cross, and people arrive at the crossing points at the same time and meet each other. There are greetings, pleasantries are exchanged, and then they move on. But then once in a while the pleasantries become more, friendship grows, deeper links are made, hands are joined and love flies. The friendship has turned into love. Paths are joined, one path with two people walking it, both going in the same direction, and sharing each other's journeys.
Today Phil and Catherine are joining their paths. They will now skip together in harmony and love, sharing joys and sorrows, hopes and fears, strengthening and upholding each other as they walk along side by side. At home by the fire, whenever I look up, there you will be. And whenever you look up, there I shall be.'"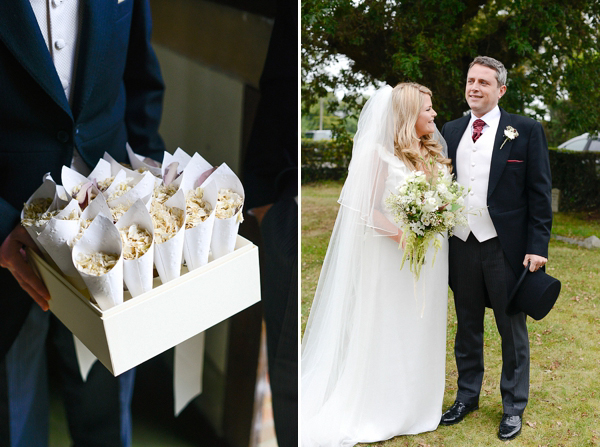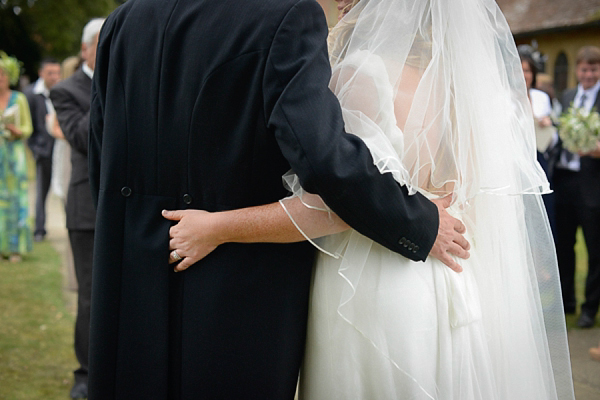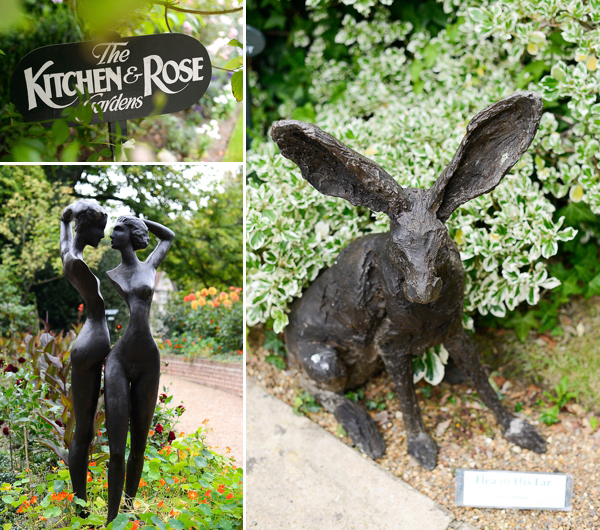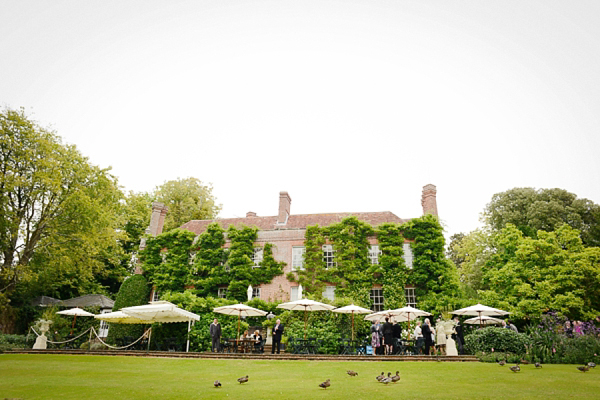 "We hired a Routemaster bus for the guest for pick up from the Hotel DU Vin where we were all staying in Tunbridge wells to take to the church and the venue and then back to Tunbridge wells at the end of the day to the Hotel Du Vin."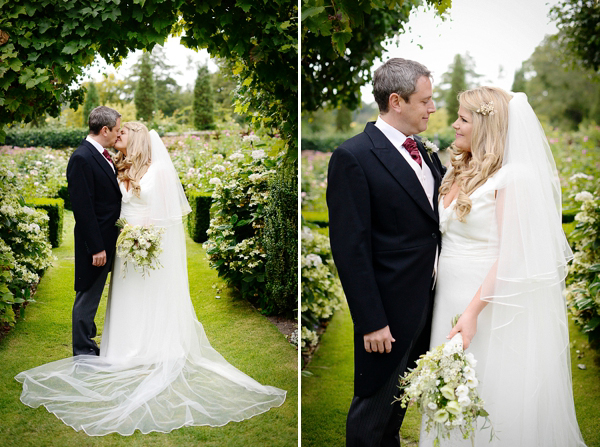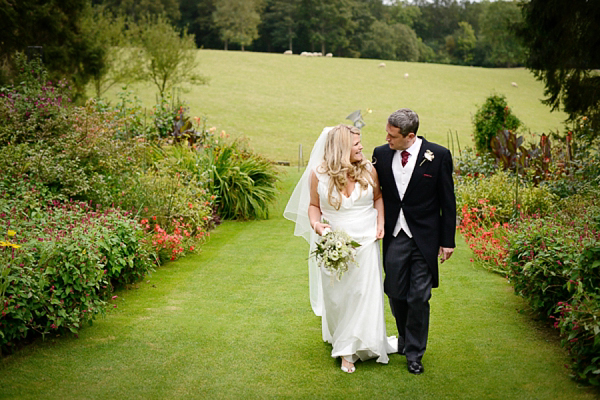 "The local brass band, Wadhurst Brass Band, was a must have, my mum plays in the band and manages the training band, so they made it so special for us on the day playing all the music we had requested and my mum even getting involved in
conducting the band at one point!"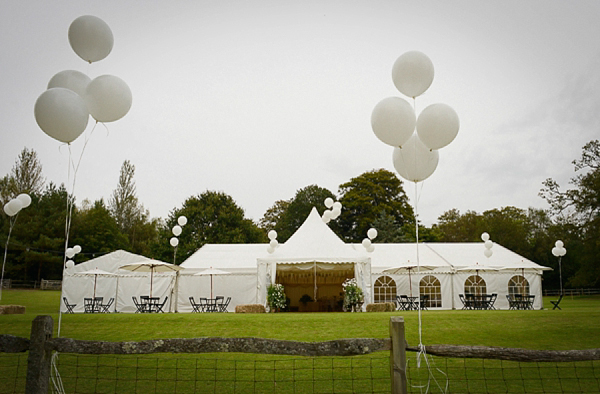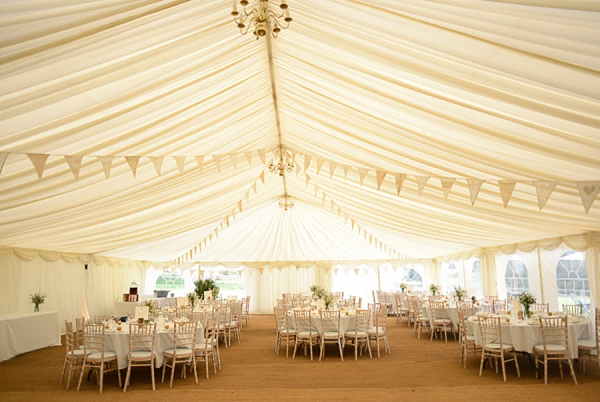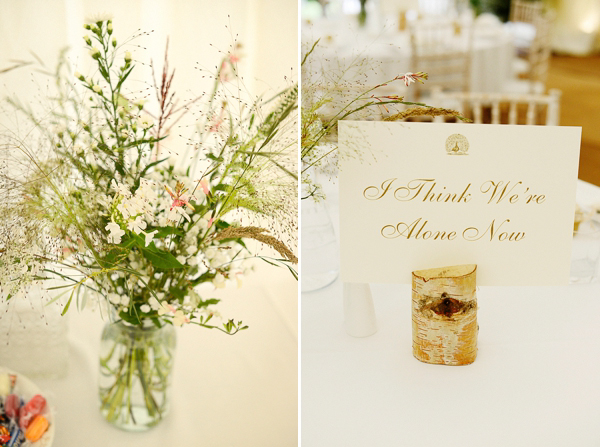 "I had a Table plan, Hand made by my dad, with string and labels and pegs bought online.  The menu, vintage frame, wood painted with blackboard paint and easel were all my own."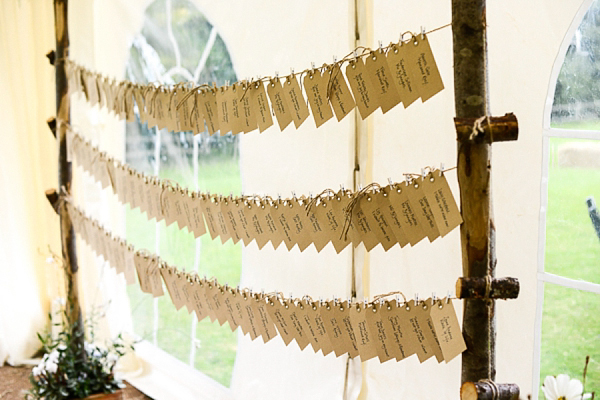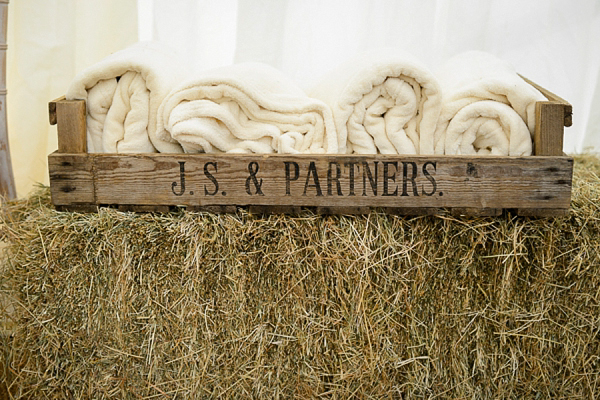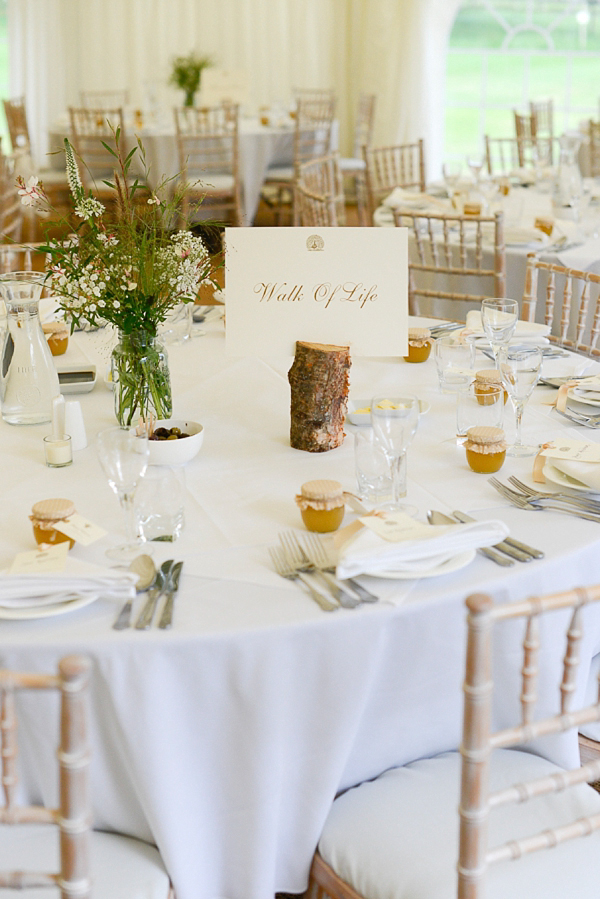 "As favours, we provided honey sourced from local Heathfield bees, a friend of ours looks after the bees and normally gathers and sells his honey.  We gathered the honey, bought the jars and filled them. Cut fabric for the tops, tied with String and label printed by Cardlab."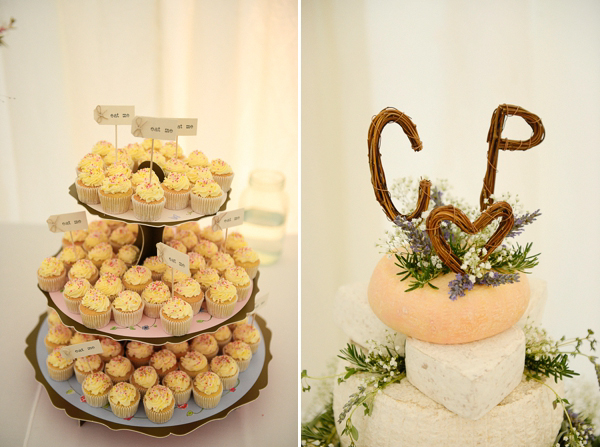 Words of Wedded Wisdom…
"Relax and enjoy the moment. It goes so quick! The ceremony in the church. Walking in with my dad to the music, seeing Phil turn around and smile putting me at ease, and all my friends in one place, and feeling extremely excited and happy. The vows and that moment I will cherish for the rest of my life. 
I would have done a line up with the bridal party, because then you get to talk to everyone at the wedding, where as I didn't have time to speak to everyone and wish I had."
I adore this wedding, really really love it, and I'd like to wish Catherine and Philip all the very very best for a beautiful life together. Thank you both for allowing me to share your treasured wedding photographs with our readers today.
Huge thanks too to the very lovely Juliet McKee for choosing to submit these photographs to Love My Dress.
What do you love most about this casually elegant and beautiful wedding?
Love Annabel x
Photographer – Juliet McKee
Venue – Ticehurst, East Sussex + Marquee Hire through Fourjays
Wedding Dress – Anemone design, by Ivy and Aster via FrouFrou Bridal in Tunbridge Wells Kent.
Brides Veil – Stewart Parvin – Oberon Veil with Ribbon edge
Brides Shoes – Rachel Simpson
Brides hair accessory – Vintage given by a friend
Grooms Suit – Austin Reed + Barkers Shoes
Bridesmaids Dresses – Reiss
Flowers – The bride's Mum
Cake – The Traditional Cheese Dairy, Stonegate, East Sussex
Transport – East Sussex Morris Minors + Routemaster hired via Special Days Bus Hire
Entertainment – Wadhurst Brass Band + Paul Gardiner, Wealden Weddings – Church Trumpeter + Last Request Acoustic Duo – Evening Reception
Favours – Local honey
Additional Styling – Vintage Bunting
Rings – Katz Jewellers Hatton Garden
Catering Company –  Rachel Walters from Bricklehurst Kitchen
Stationery – Cardlab