From sublimely chic, elegant and minimalist this morning, to medieval woodland, eccentric and hippy inspired this afternoon.  These inspirational images were sent in by A Most Curious Wedding Fair founder, Becky Hoh Hale (who is no stranger to Love My Dress – her own wedding having featured in these pages back in 2010!).  I love their festival wedding appeal – that outdoorsy inspired sense of fun and freedom. And that headdress!
Becky told  me how these images, shot at the new Norfolk based wedding venue 'The Keeper & The Dell' came about…
"The shoot brought together a super team of Norfolk suppliers and
creatives (other than the accessories and the love sign we all live in
Norfolk).  Lolly, the owner of The Keeper & The Dell, our venue, was someone we all knew and admired from visiting her
super stylish shop she previously ran in Norwich and we jumped at the
chance to put together something exciting purely to show off the venue, a
venue that had captured Norfolk's imagination – a real change from the
stuffy hotels and character lacking spaces people currently had to chose
from in the county."
Love My Dress Wedding Blog – Photography Copyright (c) 2013, Joanna Millington
"Having always wanted to do 'something together' our world's finally
collided with her new wedding orientated venture and she asked me to
style this photoshoot to set the tone of this exciting new space nestled
in Norfolk's medieval woodland, which was very exciting"
"Lolly's own
style and indeed The Keeper & The Dell venue is inspired by Frida Kahlo, her time and
travels in South and Central America and Asia as well as nostalgia and
vintage. It was cool
and refreshing to work with a brief that brought together something more
eclectic, bohemian and hippy in style"
"I called in my go-to fave photographer Joanna Millington as well asFlamingo Amy  on hair and Love Moi on make up, two other local wedding
suppliers who often create styling magic together. Jo Flowers is another
Norwich artisan we are lucky to have so local, having just been
featured in Harper's Bazaar's top 20, she is something very special.
The
achingly cool Katy from Vintage Deli supplied the clothes, a North
Norfolk treasure who's great eye and dedication to current trends means
her vintage pieces and shop often grace the pages of Vogue. Throw in
some of my fave picks from the Most Curious Wedding Fair's exhibitor
list for the accessories and decos and we were away!"  

"We decided
it should have two sides one would be bridal, a bride with her maids,
with a quite traditional feel, in the true sense of the word, with an
almost old fashioned feel, with the colours and composition almost
making it look like an old painting. We also shot some images of the
bride with an amazing headdress by La Dame Au Beret with the backdrop of
the ancient woodland behind her – kind of referencing one of East
Anglia's strongest women heroine's Bodicea! Complete with authentic
English summer's wind!"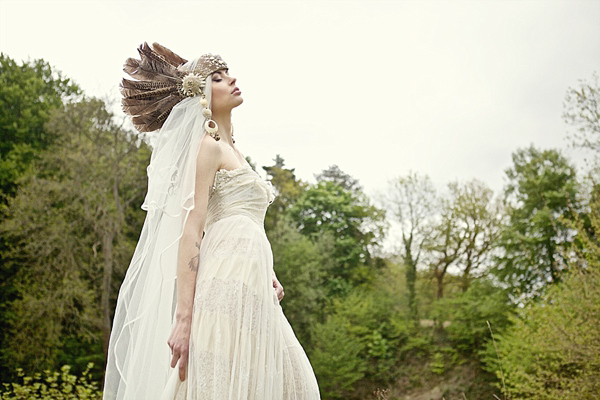 But what about this intriguing new wedding venue set in Norfolk? 
The Keeper And The Dell is a beautiful
outdoor wedding venue in
Norfolk that opened this  month for unique weddings and celebrations. 
The venue marked the occasion with this beautiful photoshoot.  Owner
Lolly Streak tells us more…
"The
trend in the USA and Australia for beautifully outdoor weddings has
begun to take the UK by storm, with couples looking for creative and
more intimate ways to celebrate their marriage. But there are very few
venues in this country that are able to embrace this wonderfully rustic
style.  The Keeper And The Dell with its beautiful collective of a
vintage canvas marquee in a pretty woodland dell, an eighteenth century
Gamekeeper's barn and pretty camping gardens, is one of the most
perfectly romantic of places to host a unique outdoor wedding in
England."
"The Keeper And The Dell is not a typical 'corporate wedding'
venue but rather you get to feel like you've brought out the romantic
side of a kindly relative and they have let you have your wedding in
their country garden ~ where they just so happen to also have a
beautiful old barn, a vintage marquee and plenty of room for camping to
boot.
Bookings
are made with exclusive use over a weekend, giving space and time to
make the most of this delightful venue to create a stylish wedding,
whether it be simply rustic, vintage chic, bohemian hip or country
homemade. The Keeper & the Dell is not only the most perfect of
settings for a wedding celebration but is also great for get-togethers
of all kinds. We welcome any gathering that is looking for a relaxed
& pretty outdoor venue. The Keeper and the Dell is available as a
film location and is perfect for photo shoots."
"Every
wedding at The Keeper And The Dell is individual and has a wonderful 'homespun' feel to it;
the charges therefore do vary slightly depending on what is hired and
for how long. But as a guideline, full weekend hire, which includes
exclusive use of the Dell, traditional marquee, birch garden, paddock,
the Barn, saloon and camp kitchen for the Bridal Party and 60 guests
with overnight camping available costs £2,500.
The venue is quietly situated on a country road on the outskirts of the
rural village, Ringland in Norfolk, England. We're just half an hour
away from the Norfolk coast and within a few miles of Norwich and its
railway station.  Surrounded by a medieval grove, The Keeper And The Dell offers the bride and groom and their guests a pretty venue
with the wonderful chance to celebrate & sleep under the stars, all
within a beautiful country setting."
In styling this shoot, Becky Hoh-Hale wanted to create two very distinct scenes…
"After the initial part of the shoot that had a bridal focus, we had a turnaround with some free
and fun images, like it was the maid's turn to party! To get the sense
of freedom and versatility of the space.  The glittery hot pants were
set off with Rene Walrus's collars and shoulder embellishments plus the
coolest sign by Scene Setter. We took them through the height of the
party through the after party look when they are collapsed in the
flowers in the barn.
It was really fun to bring in so many
elements to show the different sides of the place – history, country
chic, bohemian, party, festival type fun and of course paying huge
respect to the age-old and traditional nature of the outside weddings
that the venue can provide, taking us back to a time when weddings were
on the bride or groom's farm and everyone chipped in with home-made
elements."

The huge love sign is by Scene Setter…
Beautiful set of inspirational images for you to 'pin' your heart out with ladies and gents!
Huge thanks to Becky Hoh-Hale, Joanna Millington and the whole creative team behind these images.
Much love,
Annabel
Photography: Joanna Millington
Styling: Becky Hoh-Hale of A Most Curious Wedding Fair
Hair: Flamingo Amy
Make Up: Love Moi Make Up
Dresses and veil: Vintage Deli
Venue: The Keeper And The Dell
Flowers: Jo Flowers
Cakes: Vanilla Patisserie
Flags: I Like Pens
Love Sign: Scene Setter
Glitter collars, glitter shoulder embellishment/cape: Rene Walrus
Feathered Goddess Headdress and purple side hat: La Dame Au Beret
Chain Headdress: Saving Face Jewellery
Bracelets: Kye Tew Jewellery
Purple floral hair accessories: Ellsewhere Bride
Star Headdress: Madeleine Bride
Party wear: stylists own and Vintage Deli
Belt on purple dress (model with short blonde hair) – Blackbird's Pearl