I'm off to Milan this weekend to see the launch of the brand new bridal wear collection from David Fielden, which I'm very excited about and will report back on soon of course via Love My Dress.  I'm also planning on getting in a little R&R in with my husband – and that will mostly involve sunshine and bloody good food and wine. Lots of good food and wine. But hopefully even more sunshine.
This time of year, wedding blogs tend to go little crazy on featuring summer weddings and looking at what might inspire those beach-loving brides.  Winter nuptials tend to be overlooked, it's a seasonal thing, but we know many of our readers are planning a winter wedding right now. And for those that are, this little beauty is for you. 
I have to say a thing or two about these photographs.  They don't feature a tonne of fancy DIY detail or carefully crafted wedding day decor, they quite simply reflect a beautiful and meaningful day – images of friends and family that draw me in and want to find out more – to be a part of the celebration.  These images are of the quality I'd be looking for in my own wedding photographs if I were to do it all again – beautiful use of natural light, a subtle softness – that kind of indescribable perfection that only a skilled photographer knows how to deliver. They were taken by the naturally born talented Lillian & Leonard on Anne and Mike's wedding day on 1st December last year. 
Love My Dress Wedding Blog – Photography Copyright (c) 2012, Lillian & Leonard
Anne and Mike tied the knot at Ballathie House in Perthshire, Scotland…
"Our venue, Ballathie House in Perthshire,
was a beautiful location about halfway between our families and the
hotel was the perfect size to allow us to take full occupation for the
night of the wedding.  It had the gorgeous feel of a country retreat and I
could really imagine all cosying up for the weekend of the wedding.
What clinched the venue for us though was their wedding organiser, Gail,
who took the time to show us round the venue and explain how they would
help us organise the wedding when she happened to pop in to the hotel
on her day off. We knew we could trust them to help us organise the day."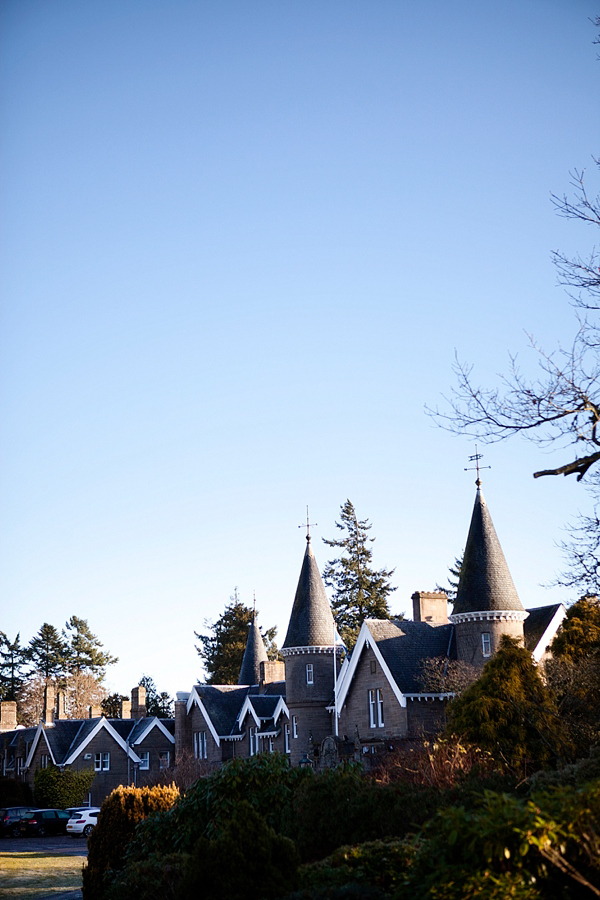 "Mike is a farmer and I am a lawyer. When I left Glasgow to
move to Edinburgh for university I am ashamed to say I didn't even know
farmers existed! We met through mutual friends at university and did
some smooching, and then he left after graduation to go skiing for a
year. My ears pricked up when I heard he was back, and we've been
together ever since! We were together for seven years before Mike
finally asked me to marry him on one snowy day in February 2012, and I
was absolutely delighted!
We didn't want to have a long engagement, as
we already knew each other so well, so we just got on with planning a
party and set our date on 1 December 2012."
One of my bridesmaid's Kirsty, helped me to plan and style our day. Kirsty is a lawyer-come- popular blogger-come-wedding planner – and   and a talented one at that!"
"It was the
idea of the long winter nights that inspired me, I wanted to use the
shapes and silhouettes of the bare trees in our day. I've always loved
that time of year and the anticipation of the Christmas season. I also
wanted to use the dark nights to let me use lots of candle light to
bring out those shapes. The candle light led me to quite a vintage feel,
which tied in with my engagement ring, the dress that I loved and the
colours that I chose.
Our Florists were HRH Flowers of Arbroath – the flowers were jewel colours and I used them to bring in the rich colours I love and lux up the 'twigs' sillouhette!"
"My dress was by  Stephanie Allin
and I purchased it at Lamesley Bridal, Broughton Street, Edinburgh
(owned by Carly who I could not recommend highly enough – three friends
have already got their dress there!).
I loved my wedding dress for the way it felt and the way it moved.  As soon as I put it on I knew it was the one."
"I wore a pair of sparkly open toed court shoes from Dune. They felt vintage and party! They matched the BM shoes which were the navy version, which I loved."
"Mike wore his own kilt. He did treat himself to a new sporran and new shoes from Dune. Very smart! He also wore a pair of cufflinks from Highland Angel."
"My bridesmaids wore dresses by Dessy – though I'd rather not recommend to your readers from where, as the customer service was really not good. 
None
of the bridesmaids were forced to wear anything (!) but I did give them
each a necklace and earring sets from BonBijou. Emma Cairns is the
designer and a good friend. I wanted to give the girls something unique
and she came up with the ideas. I loved the necklaces particularly."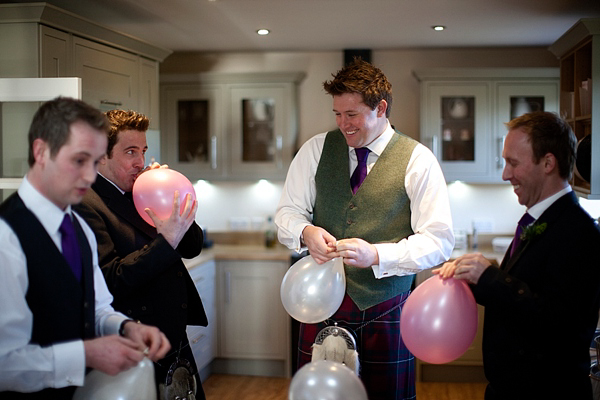 "The side tiara I wore was borrowed from a very great friend. I
loved that I could reuse a piece from her wedding that I loved.  I also
wore a pair of plain fresh water pearl stud earrings; a sapphire and
diamond ring borrowed from my step-mother and my something blue; a
vintage necklace from Lamesley Bridal was added for my nightime look
when I took off my lace top."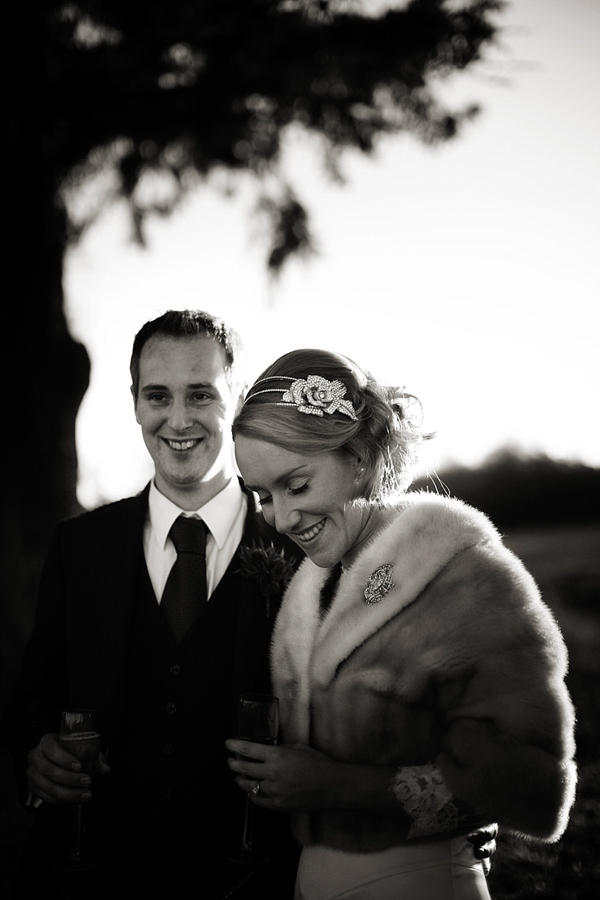 "Our photographers were Lillian & Leonard
aka Cara and Nye – they were fantastic. They had photographed my friend
Kirsty's wedding and I LOVED the photos from the day. I didn't even
think twice about booking them for my wedding, and I love my photos just
as much. They have such a lovely soft way of capturing the photos."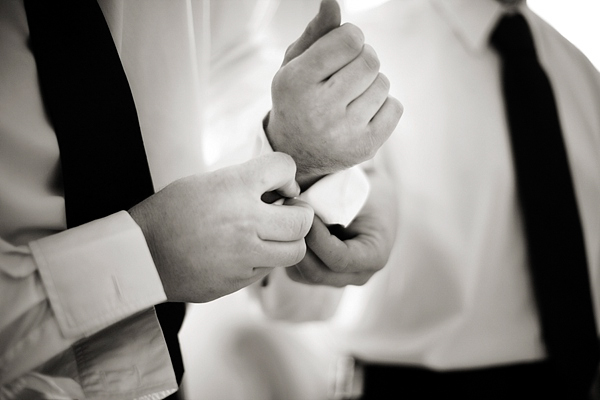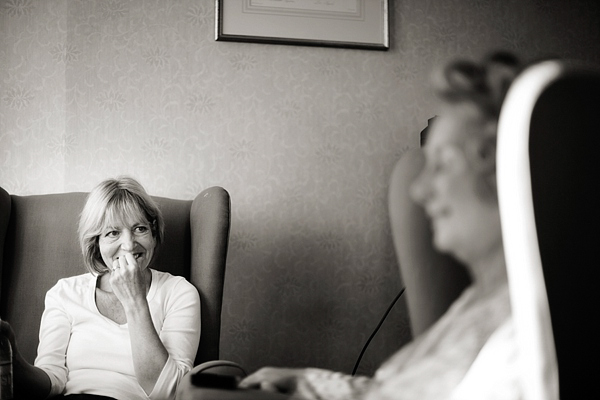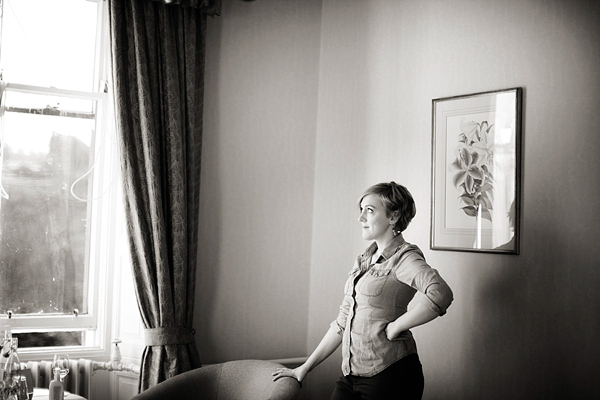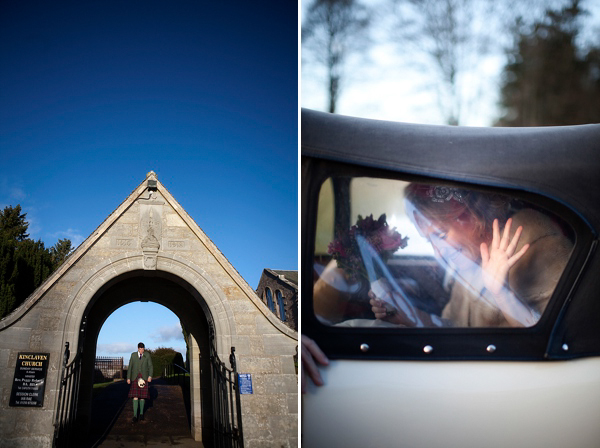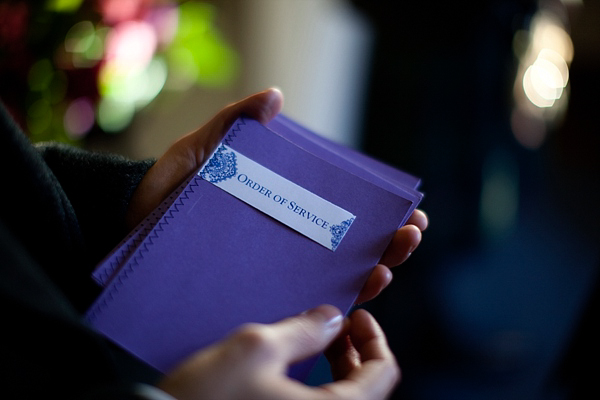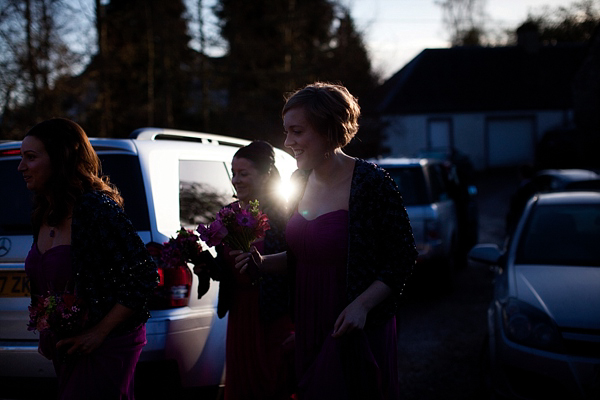 "My Dad walked me down the aisle, to the sound of 'Can't Help Falling In Love'…"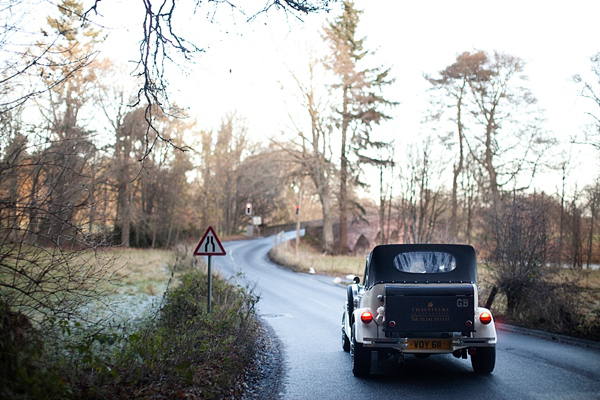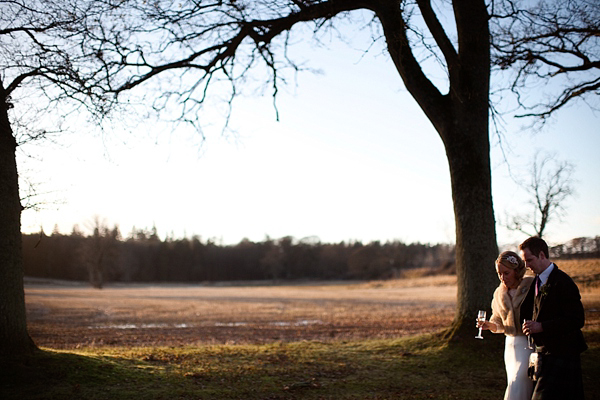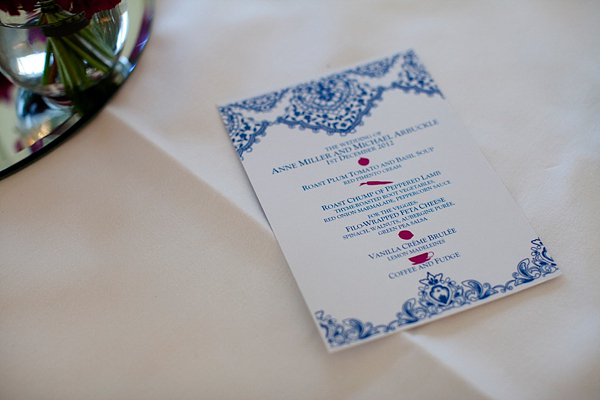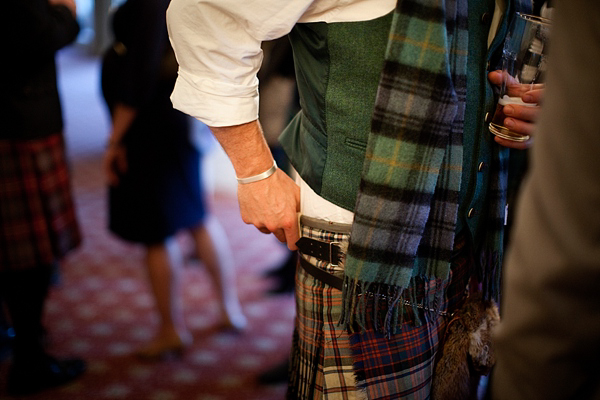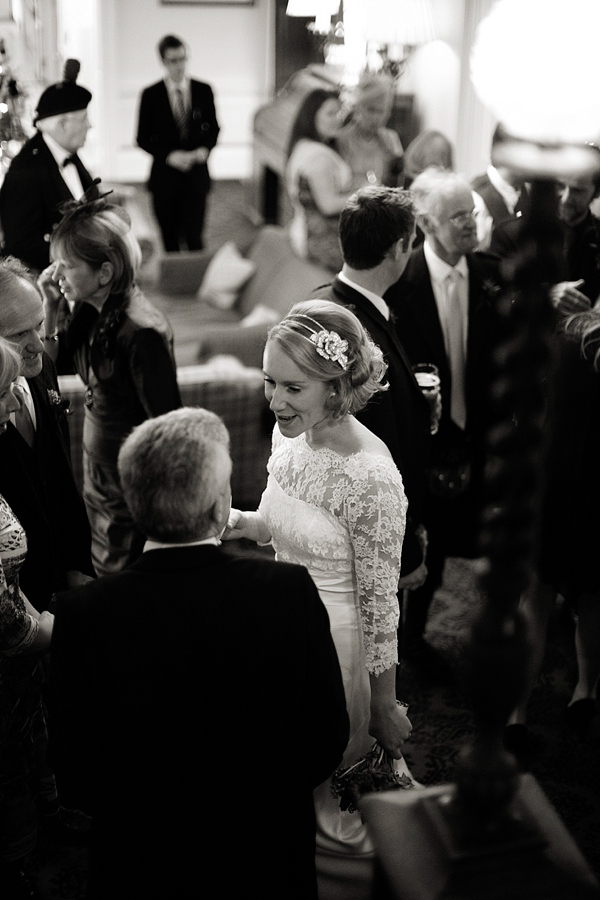 "I made the decision early on to make Christmas tree decorations for
each guest as favours! I had a brilliant sesh with my wedding elves,
gossiping and making the first batch. However, doing the next 100 on my own was
not as much fun!"
"My favourite part of the day were the speeches! My dad and my groom are hilarious and didn't disappoint!"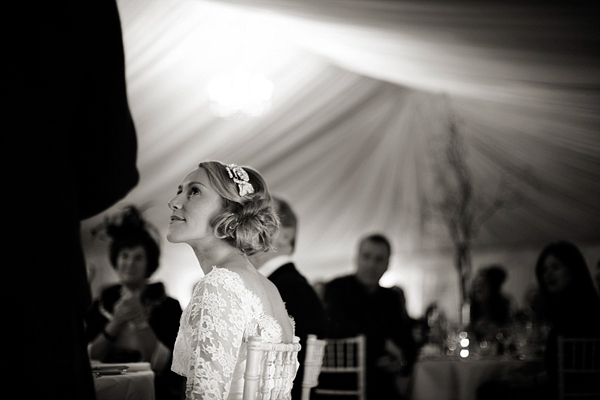 Words of Wedded Wisdom…
"Once
you start planning a wedding, everyone has an opinion, but it's hard to
ask for help to bring everything together. Everyone is happy to help and
you can't do everything, so make a list and delegate and let people
take off some of the pressure and feel involved. It's more fun for
everyone that way!
Also, on reflection, I would have got my bridi dresses somewhere else, and would have taken
much greater control from the shop as to the sizes that were ordered.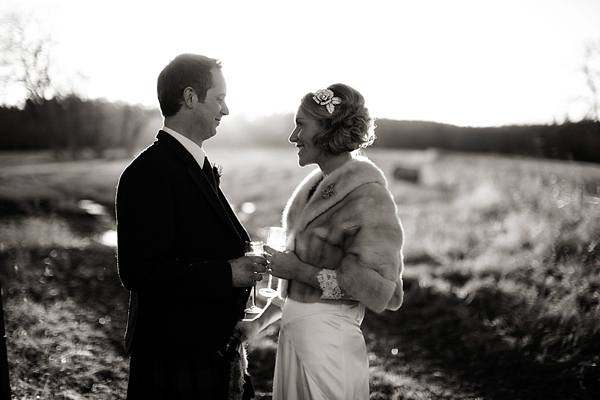 Straight forward elegance, just lovely, fuss free, wedding day loveliness. 
A big thank you to Cara of Lillian & Leonard for submitting these photographs and of course BIG congratulations to Anne and Mike too – thank you so much Anne for taking the time to share your wedding day memories with our readers.
Stephanie Allin is always one of those designers I refer to when advising brides on buying British. Are you planning on wearing a Stephanie Allin gown, or did you wear one on your wedding day. You can see many more weddings in Scotland here, also take a peek at our brides who have worn Stephanie Allin.
I'd love your thoughts and feedback on this wedding.  Have a lovely afternoon everyone,
Annabel
Photographer – Lillian & Leonard
Wedding Planner/Stylist – Kirsty, aka, A Safe Mooring
Venue + Catering – Ballathie House in Perthshire
Brides Dress – Stephanie Allin via Lamesley Bridal
Veil/Headpiece – side tiara borrowed from a friend
Brides Shoes – Dune
Groom's Attire – Kilt already owned
Bridesmaids – Dessy + Dune shoes
Flowergirl Dresses – Monsooon
Flowers – HRH Flowers, Arbroath
Cake – M&S with cake topper via HRH Flowers of Arbroath
Entertainment – Corra
Favours – Christmas decorations handmade by the bride and her wedding elves
Hair Stylist – Emma Kettles in Dundee
Stationery Designer – Strawberry Sorbet