I've been saving the best until last this week my loves.  And oh my oh  my, has it been worth the wait!
Rhianne and Cameron are a couple I think I've fallen a little bit madly in love with.  I am smitten, head over heels with their wedding day, not least because it is set in a town and area I've only very recently moved from, and that is very close to my heart, but because this movie-obsessed pair had one of the most fun, stylish and original weddings I've seen in a long time – a themed wedding without being too 'themey', if that's even a word.
The couple are already no strangers to these pages – their snowy, cinematic engagement shoot featured back in January, and I've been eagerly awaiting news of their wedding ever since.  This beautiful twosome finally tied the knot classic Hollywood movie style on 4th April 2013.  Their ceremony
setting was the very fitting Tyneside Cinema
in Newcastle (the type of uber-cool place that shows all the art-house
style movies and has beautiful original deco features). The ceremony
was followed by a reception at The Sage Gateshead, which boasts the most amazing views of the River Tyne and The Baltic Art Gallery.
Love My Dress Wedding Blog – Photography Copyright (c) 2013,  Hannah Millard assisted by Sally Thurrell
"About seven years ago I was traveling in India and happened to meet
a guy who had known Cameron since childhood. After finding out I lived
in Durham, where Cam was studying at the time, Ryan wrote to him and
told him he had to meet me. Eventually Cam contacted me and we went on a
blind date; the rest, as they say, is history. Cameron proposed by
placing a beautiful emerald ring on my pillow, and the wedding was nine
months later. During the wedding speeches Cameron read out his original
email exchange with Ryan, which was brilliant as I'd never heard them
before!
Being big movie fans we had a dream to get married in a cinema, and the Tyneside Cinema was perfect because it has a gorgeous 1930s, art deco theatre. It has such a rich history and holds many special memories for Cameron and I. We tentatively approached the cinema, but didn't expect a yes as they had never held a wedding ceremony
before. To our surprise they loved the idea, and told us they had
actually been considering applying for a marriage license for a while."
"Even before we organised the Tyneside Cinema as a venue we
decided we wanted a wedding inspired by classic movies. However I read a
wedding book which offered this advice: 'if you are going to choose a
wedding theme, make sure no more than three or four elements of the day
relate to that theme. Otherwise it will run the risk of feeling like a
children's party'. I totally freaked out for about 5 minutes as we had
movie-themed plans for almost EVERY aspect of the day! However we've
always loved themed parties, and at the end of the day a wedding is a
big party and supposed to be fun, so we went with our instincts.
Some aspects of the style were inspired by the 1930s art deco/Old Hollywood glamour, and others were more a nod to the 1950s
retro look. I worried for a bit about everything having to 'fit'
together perfectly, and that we had some clashing styles. But in the end
I realised it just wasn't possible to be perfect and it was more fun to
stick to things we loved. "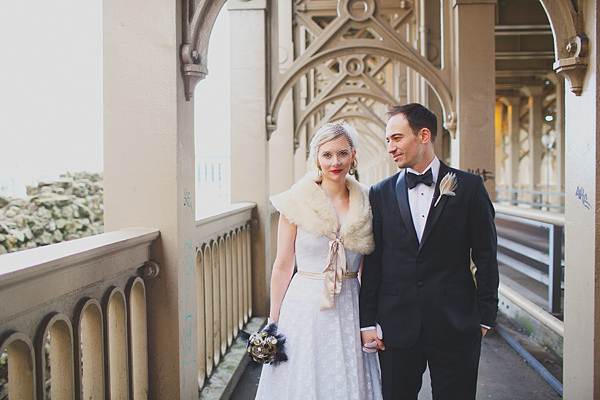 "I knew quite early on that I didn't want anything too
'weddingy', and had never been inspired by traditional wedding dresses; I
just felt they weren't really 'me'. My friend took me to Fur Coat No Knickers
and this dress was the first one I tried on – I just knew! I loved how
it was simple and classic (with a hint of Grace Kelly) yet still quite
unusual for a wedding dress.
I absolutely love that vintage dresses have
their own history; I tried to imagine the original 1960s American bride
in it and what her wedding day was like. Also the girls at Fur Coat No Knickers make you feel so special and take so much care over the tiny
details; it made the whole wedding dress experience much more
pleasurable than I expected it to be."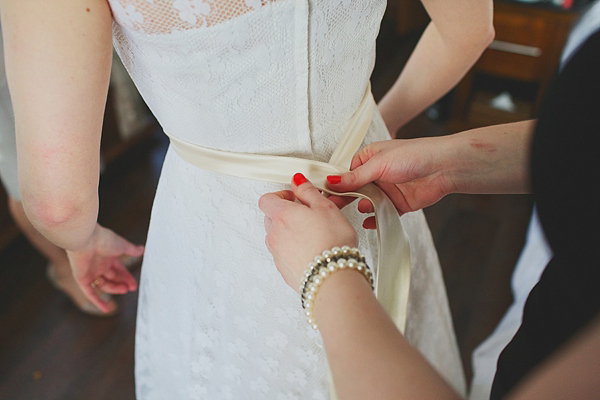 "I purchased some netting on ebay for about £4, found an online
tutorial and 15 minutes later I had made a simple birdcage veil. It was
actually really easy and I am useless with a needle and thread, so I
would encourage others to have a go!"
"The great thing about the Hollywood theme is that it is fun and
accessible, as everyone loves the movies! I also liked that it appealed
to both of us; it was important that the day wasn't just about the bride
but reflected both of us. I would never have been able to get Cameron
inspired by bunting or vintage tea sets for example, no matter how
pretty they were! It was nice that we were both involved in most of the
ideas and decisions, as it took the burden off me. Also we already owned
a lot of related 'props', meaning we could save money on decoration.
However although the little details were important, our main aim
was to create a relaxed, informal atmosphere and be as generous as we
could afford to be with our guests, many of whom had come from all over
the world to be there. "
"The room was a complete blank canvas with long white walls, so
we found some 1950s movie stills online and got these blown up.
Alongside them we placed a large montage of our Hollywood-inspired
engagement shoot so it would look like we were movie stars too!
On another wall we projected some of our favourite films so they would
be playing silently through the meal and the dancing. (Films were Roman
Holiday, Gilda, The Wild One, Vertigo and The Warriors)."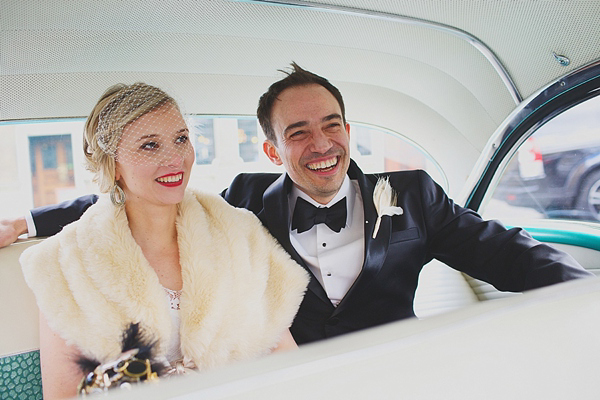 The couple hired the 'Oldmobile' from American Classic Hire…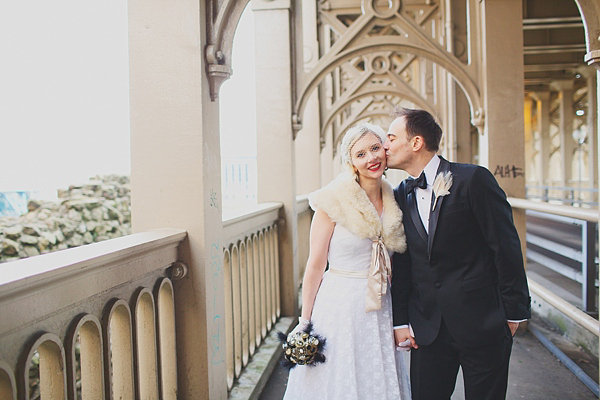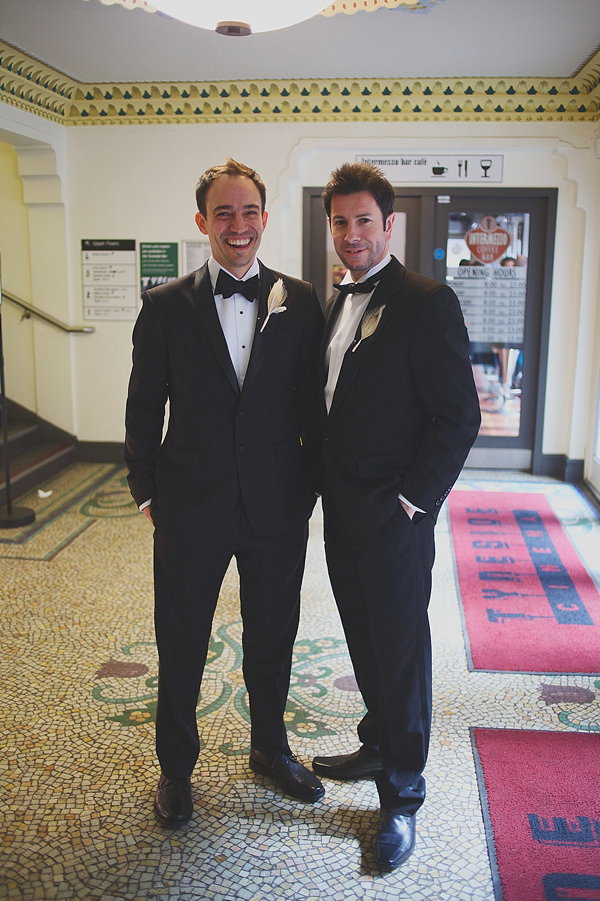 "We were incredibly lucky to win Cameron's tailored tuxedo by Dragon Inside
in a competition on a wedding blog! It fitted beautifully and was
excellent quality; the best bit is he gets to keep it forever as we
probably would have just hired one had we not won this.  Cameron and the groomsmen also all wore horror movie poster cufflinks from this seller on eBay."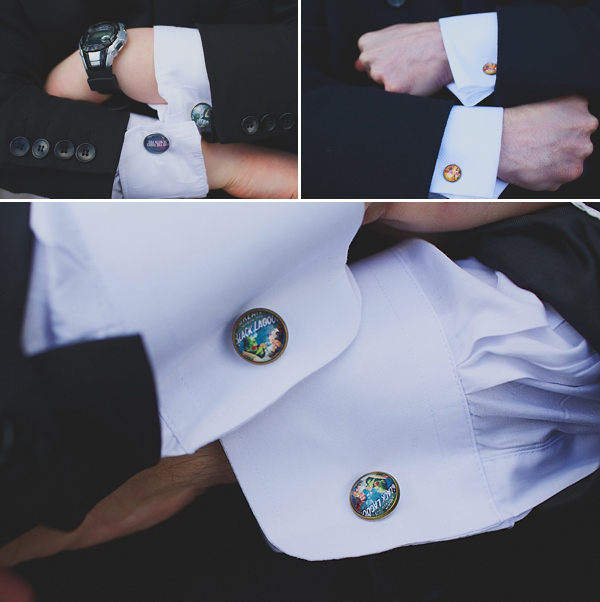 "We were then told the license wasn't going to come through in time
for our wedding, which was disappointing news as it meant we had to have
a legal ceremony the day before. I felt this would diminish the
importance of the wedding day, but actually it worked out perfectly. We
were able to hold a much more personal and meaningful Humanist service
conducted by an old friend of mine, making the day even more special."
"My favourite part of the day was sharing a moment with my dad and
bridesmaids just before the ceremony started, when we were sat up in The
Circle watching the movie montage with everyone else watching
downstairs. That's the moment where I let go of all the nerves and
worry, realised everyone we loved was there because they wanted to be
there, and I was about to see Cameron. Even though we were technically
married at that point it still felt so special, and I just knew it was
going to be an amazing day from that point onwards."
"My dad 'gave me away', although we dispensed with other traditions
which didn't really suit our personalities (such as having a high table
and a formal line-up) it was important for me to keep this tradition as I
know it meant a lot to my dad.  Our soundtrack was 'Speak Softly Love' by Andy Williams (from the Godfather)."
"As it was a Humanist ceremony, we had complete freedom to create
our own vows, and together with our celebrant wrote the whole service
ourselves. We got some inspiration from a book our celebrant gave us, so
the vows and readings were inspired by humanist beliefs where they
resonated most with us.   I'll let Cameron explain further:
'The vows and readings were a celebration of our love. They were a
celebration of how fortunate we feel to have met one another and to be
able to enjoy this amazing life together. They were a celebration of the
wonderful family and friends that we are able to share great times with
and who provide support when needed. They were a celebration of our
place, even if insignificant, on this wonderful planet Earth and all she
has to offer. A celebration to remind us to treasure each and every day
we spend together in this incomprehensibly large and chaotic universe.' 
The readings were Salutation of the Dawn (Ancient Sanskrit poem), Native American (apache) blessing, 'Love' by Roy Croft
and some thoughts on marriage by humanist philosopher Paul Kurtz. I
can't find the wording online but they are in a book called 'Sharing the
Future' which our celebrant loaned to us."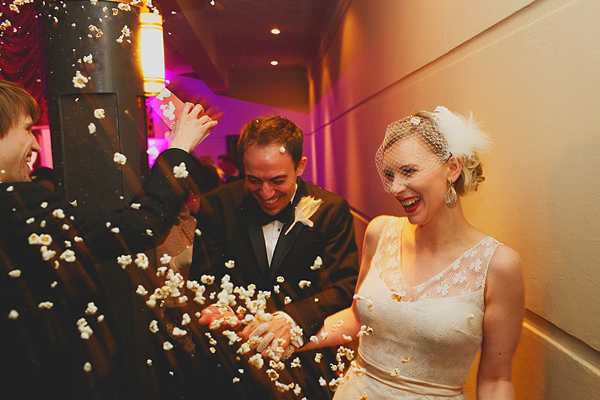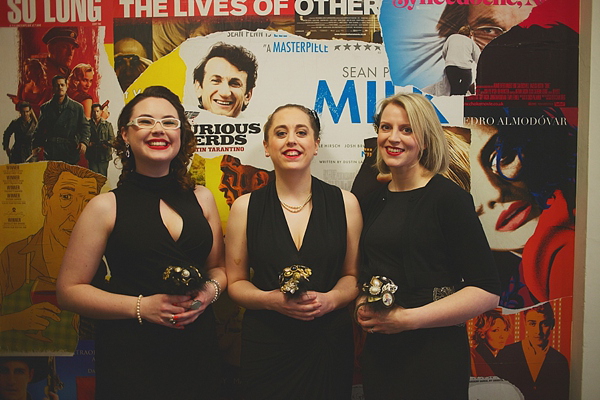 "To save money we opted not to have flowers for the bridal party
and inside I handmade the buttonholes for the whole wedding party using
ethically sourced peacock feathers. We also felt feathers suited the
theme of the day better.  I began collecting vintage brooches from
markets and charity shops (with some help from my mum) until I had
enough to make bouquets for myself and my bridesmaids. I preferred to do
this as I wanted something we could all keep after the event, and now I
have a huge collection of beautiful brooches to match any outfit!
Flowers on the table were by Wedding Flowers For You.
We wanted to keep the arrangements as simple as possible so opted for
roses in cut-glass bowls as centrepieces, and also filled some brass
jugs and goblets with roses to add decoration to the cake table."
"I didn't want the bridesmaids dresses to match exactly as my
bridesmaids are all completely different shapes, so I wanted them in a
dress that made them feel good and that they would want to wear again – in the end they sourced their own dresses from Wallis and John Lewis.
A friend of one of my bridesmaids has an Etsy shop, and as part of my hen day she provided little fascinator-making kits to all of us. I added an art deco brooch to mine, and most of the hens were also wearing their masterpieces at the wedding!"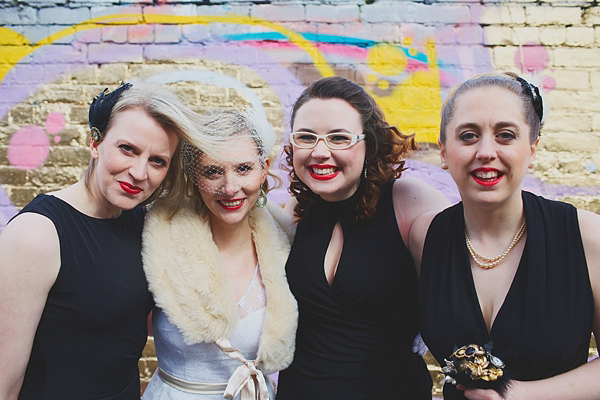 "During our planning Cameron was offered a job in Paris, meaning
that we were leaving the North-East a week after the wedding. This made
our choice to have a Newcastle wedding really important as we were not
sure if/when we would be back. We wanted a reception venue that
showcased Newcastle's fabulous architecture; The Sage Gateshead
was perfect as it's located on the Gateshead Quayside overlooking the
Tyne Bridge. It's primarily a music venue, but with a great reputation
for its food and conferencing facilities. Again it's somewhere that
holds special memories for us as a couple, and we particularly liked the
function room because it was a blank canvas for us to decorate how we
wished."
"We had lots of those DVDs you get free with newspapers, and sourced
some more from eBay and charity shops. My bridesmaid helped me make the
black envelopes to put them in. We thought it would be nice for guests
to have something they could take home and actually use, and get some
enjoyment from. We had limited choice but did try our best to match DVDs
with specific guests rather than give them out randomly. Some of my
favourite pictures of the day are of the guests opening them and showing
each other – although my uncle did question why we gave my auntie
'Shirley Valentine'!"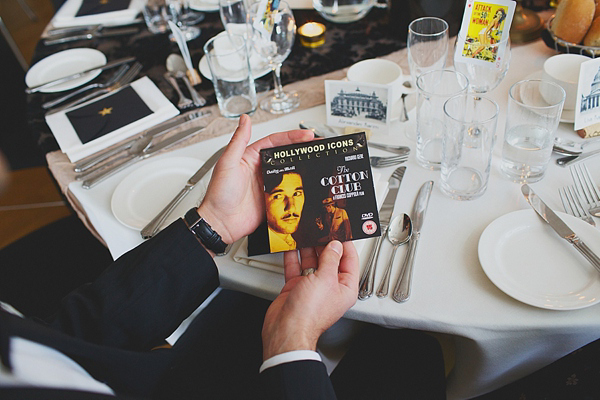 "To dress up the cake table we mainly used items we already owned,
including my collection of vintage cameras and Hollywood books and
magazines. I also used some old frames to make the movie love quotes
poster, and the family pictures montage."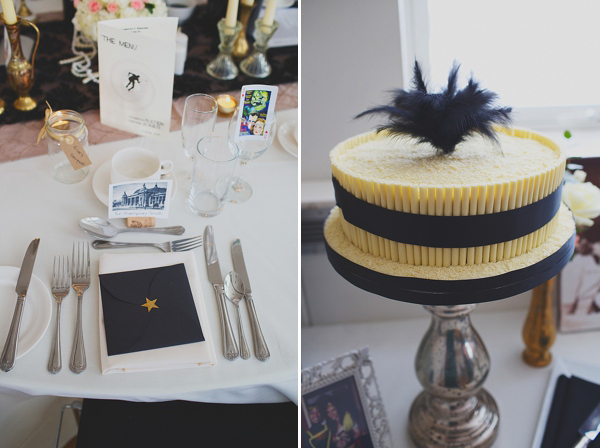 "We made all the stationary ourselves; we have a printer and good
knowledge of Photoshop between us so it was a no-brainer.   Movie posters were the inspiration for the table names and seating
plan which was made using an old picture frame we had lying around. Some
friends brought us a pack of movie poster playing cards, and I wasn't
quite sure what to do with them until I spotted this wedding on Love My Dress. We completely stole the idea to put the cards in the wine glasses!
Saul Bass's
'Vertigo' poster was the inspiration and the invitations, menus and
programmes all featured the iconic Hitchcock motif. The actual
invitations were in the form of gold movie tickets with a perforated
RSVP."
"The place cards were linked to our upcoming adventures in Paris.
One of my bridesmaids spotted some 1940s Paris postcards at a vintage
fair which I scanned and printed on some textured paper. A poor friend
was roped into helping us slice 70 wine corks to hold them up!"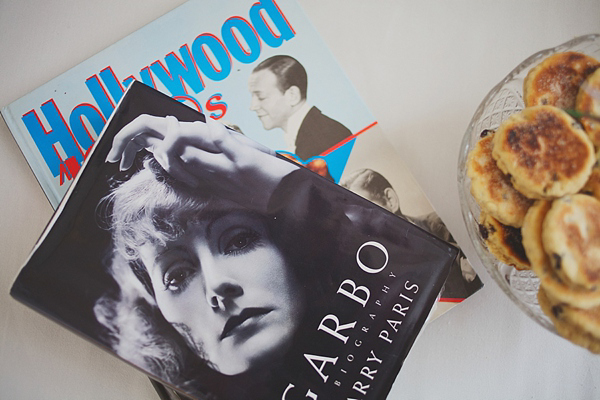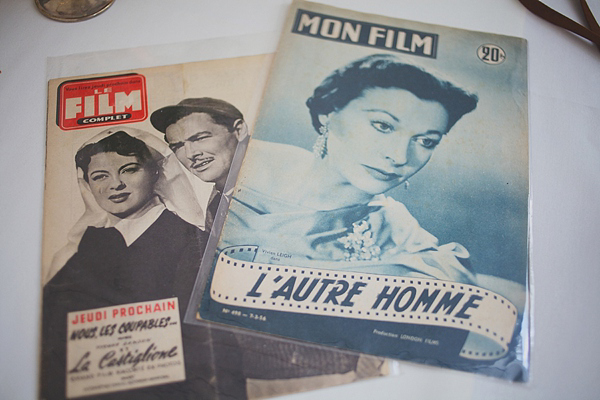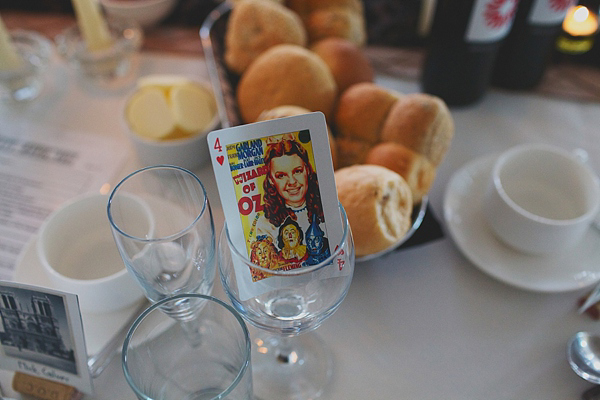 "We made a 'photo' guestbook and placed an instant camera for our
guests, encouraging them to take pictures of themselves and write a note
in the book. We basically threw our entire fancy dress box on the table
for people to play with!"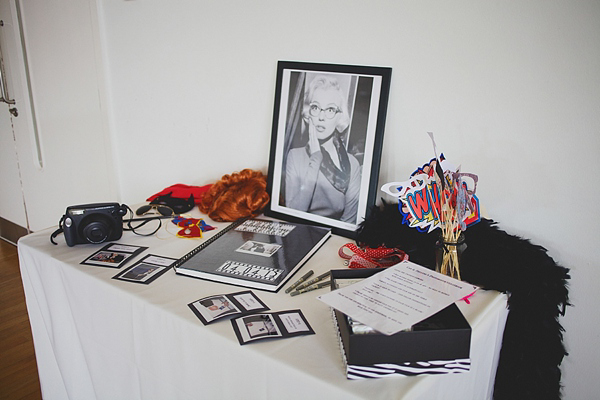 "Our photographer was Hannah Millard who was assisted by Sally Thurrell.
Hannah was amazing, despite being poorly she was a true professional
all day. She's fun to have around, works quickly and efficiently but
best of all her pictures are honest, raw and capture the genuine emotion
of the day, without you even realising she is doing it.
Make sure you
leave plenty of time for photographs – one of my favourite memories of
the day is laughing outside in the cold with the bridal party during our
portraits! And they are also some of my favourite pictures! As Hannah
was not feeling well she brought in Sally as a back-up, and I feel so
honoured to have had two great photographers there. I loved Sally's take
on the architectural details of the venues, and the way she captured
all the little details that we had put so much effort into creating.
I can't stop looking at the photographs as I love them so much.
We'll treasure them forever, so I can't stress how important it is to
find a photographer whose style you connect to and who you will have
complete trust in. It was one of the most important aspects for us."
**Warning – there are a lot of photographs in this feature – but you absolutely *need* to see them – click forth!*
The
views from the bridal preparation suite at XXXXX are stunning. I also
used XXXXX to prepare for an event I hosted back in 2011 – the Love My
Dress Summer Soiree.  That's the Millennium Bridge below there, with The
Sage (the 'Silver Slug'!) and The Baltic Art Gallery beneath…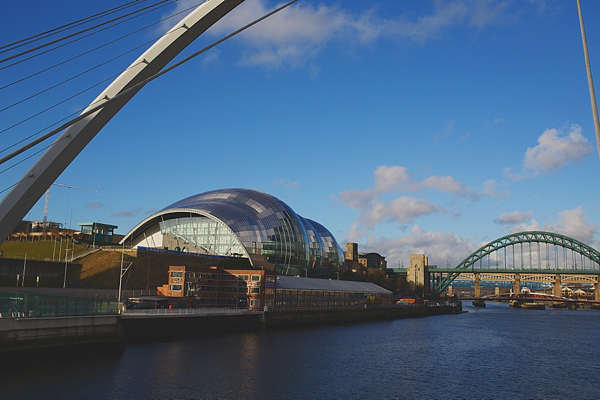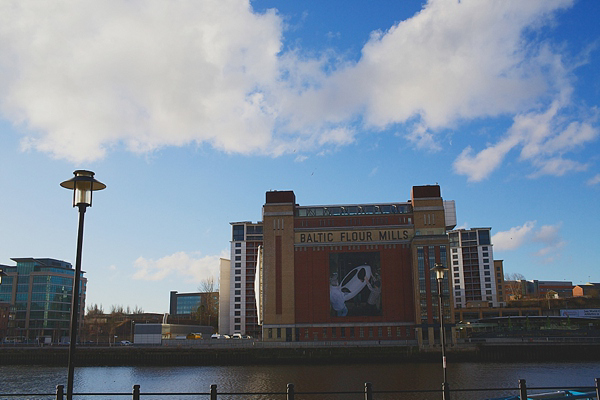 "I was very lucky that a generous friend bought my Eva shoes by Rachel Simpson as a gift. I thought the simple elegance of the style (with a vintage twist) complimented the dress perfectly."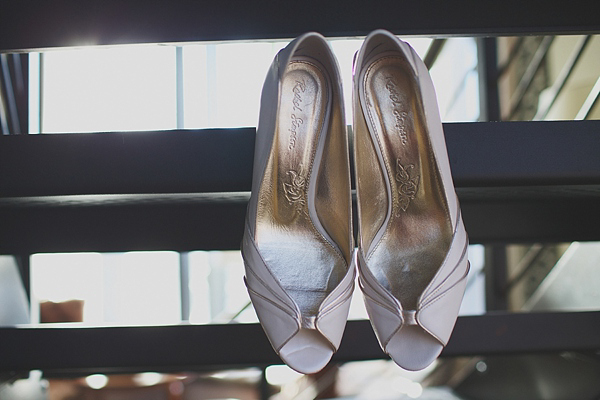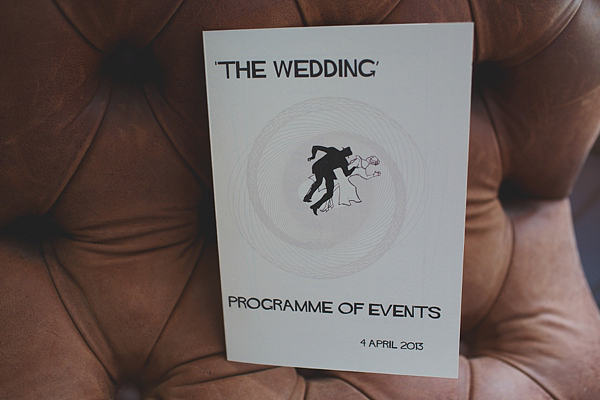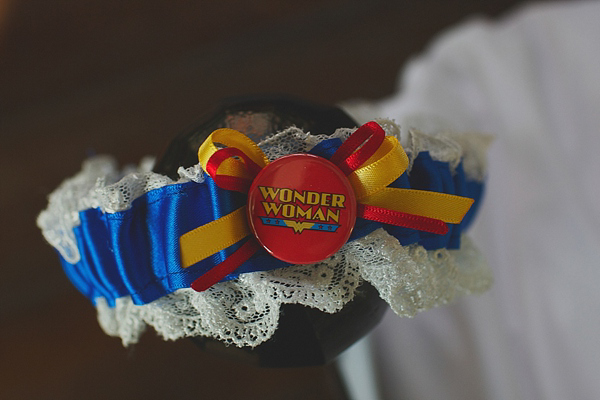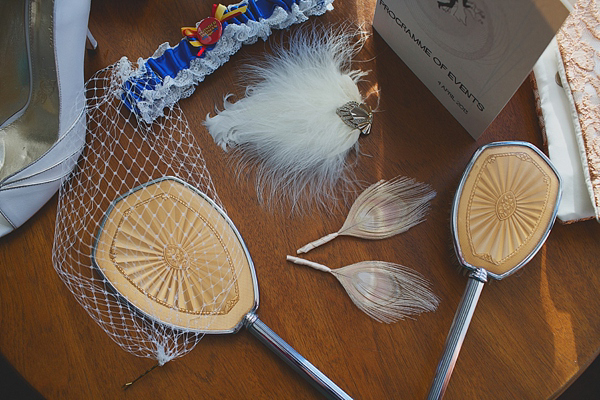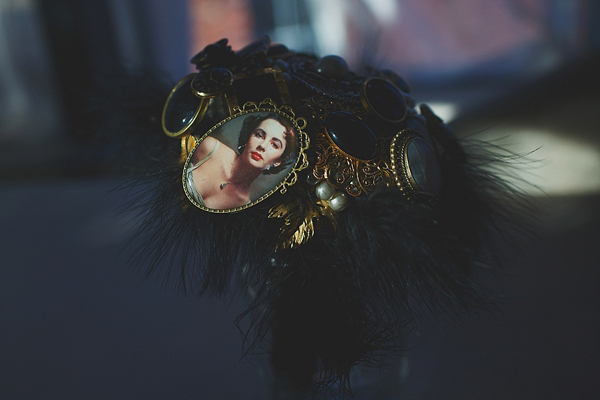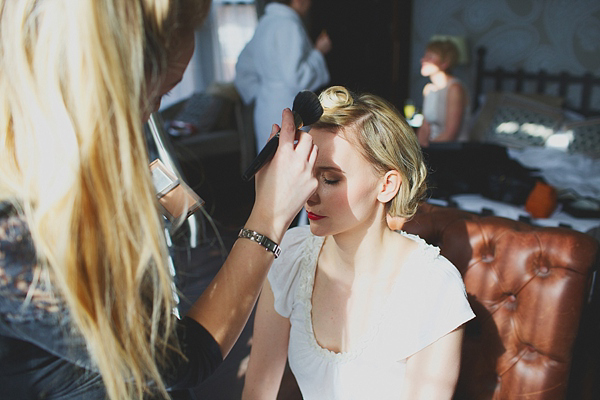 "I found Kristina
at a vintage fair, and she also came along to my hen do which worked as
a trial run. We all went for Hollywood red lips which was a little
outside my comfort zone, but I totally trusted Kristina and was so
pleased with the result!  My hair was styled by Hayley Lambert Mobile Hairdressing.
Hayley has been my hairdresser for years so it was lovely that she was
there for me on the big day. Having Kristina and Hayley around in the
morning was liking having two extra bridesmaids."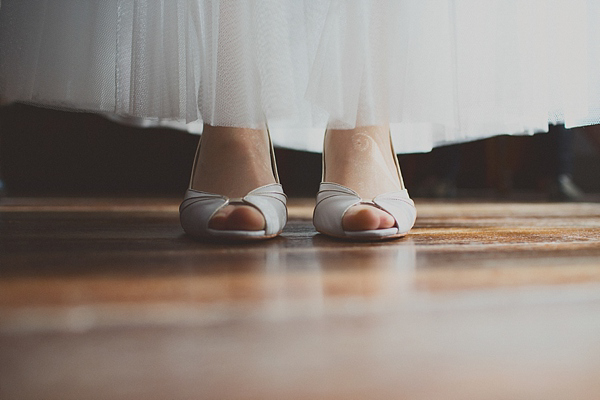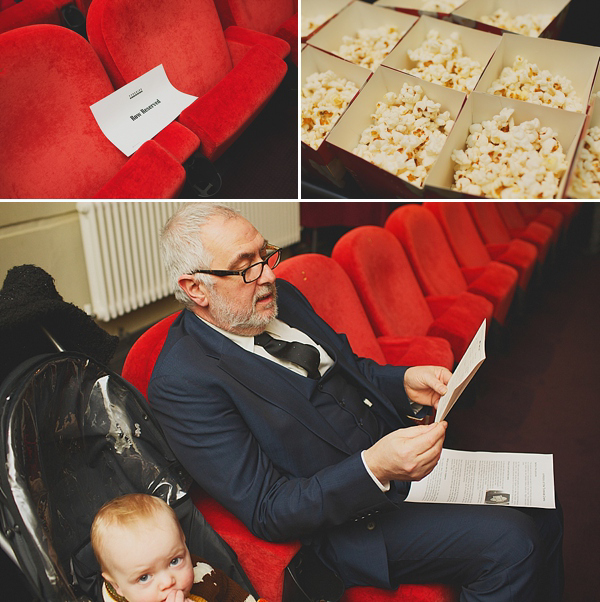 "Our rings were handmade by a local independent jeweller in Durham, Croft Workshops.
We chose them as we preferred to work with local businesses where
possible. We already had some gold which we exchanged for the rings so
didn't end up paying anything for them which was a nice bonus!'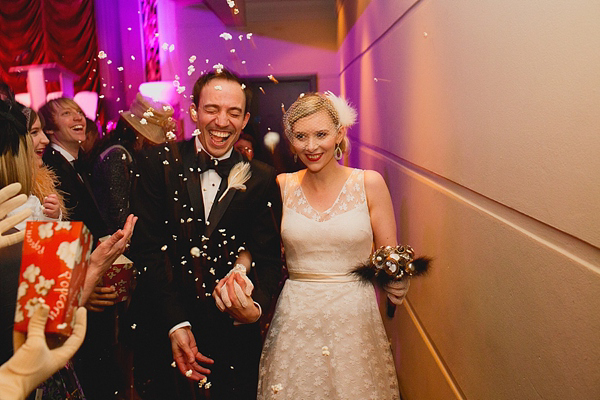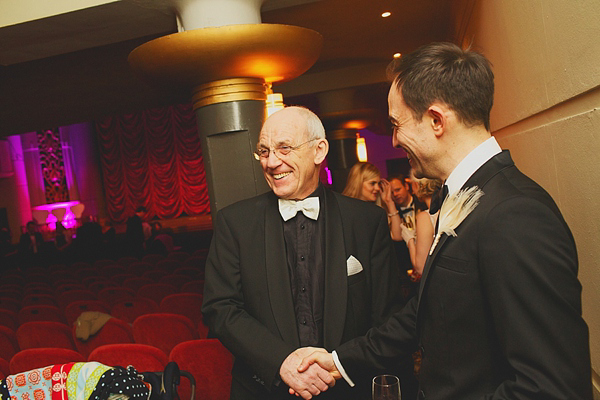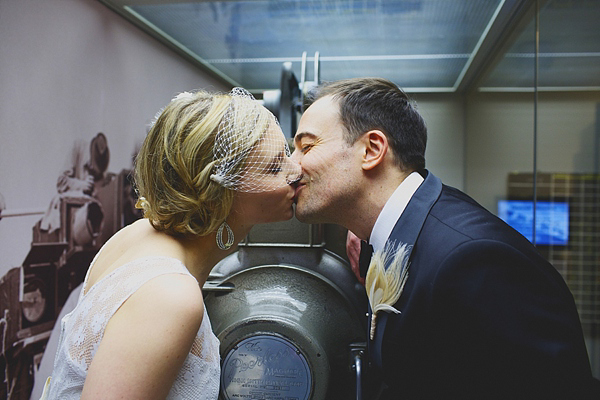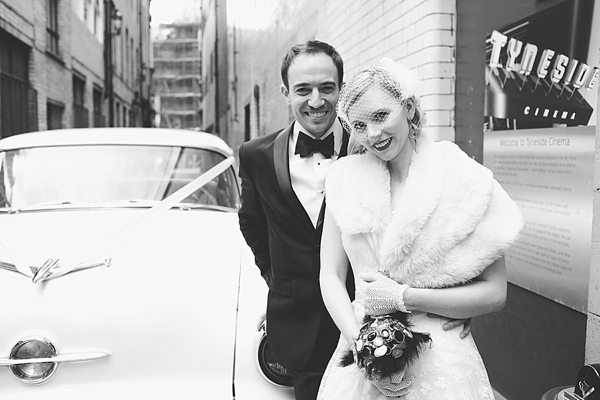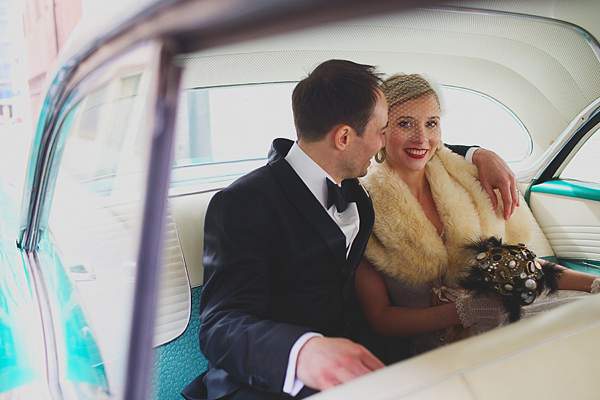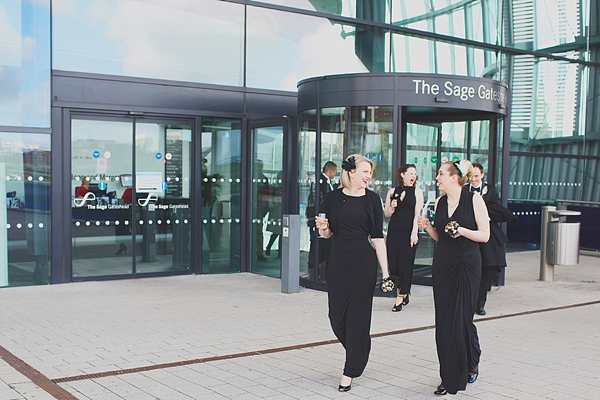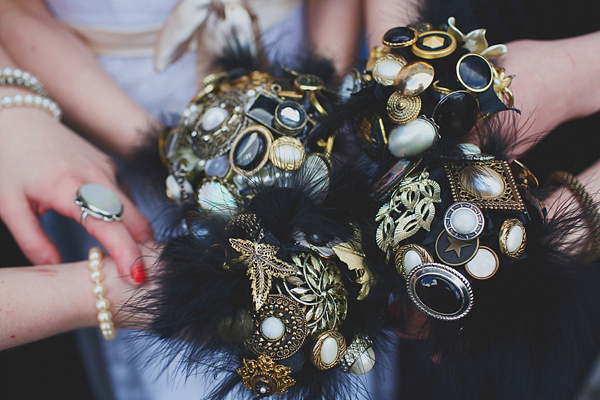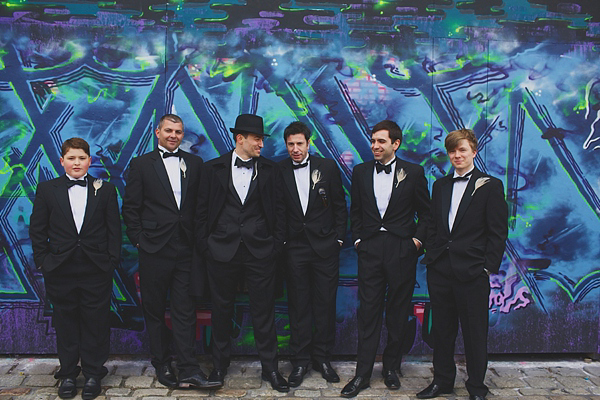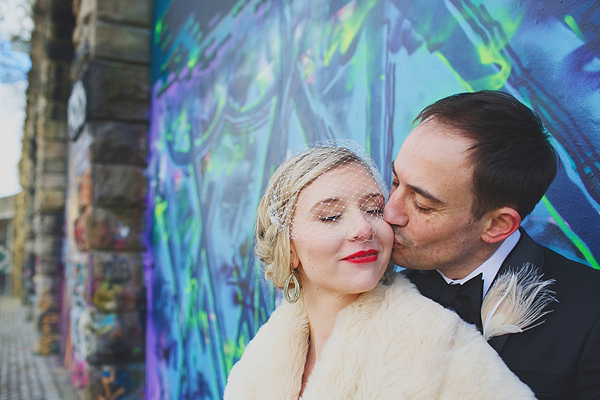 "My mum made the Welsh cakes for us – she's an amazing baker and it
was a nice way for her to be involved, with a nod to my heritage.  My
friend Emily is also very talented and kindly offered to make the
wedding cake; our only stipulation was that it should be chocolate with a
nod to Hollywood glam. We were amazed with her creation and it tasted
yummy too! Her mum spotted the gorgeous cake stand (I think it's
actually supposed to be a vase or giant candlestick?) in TK Maxx!"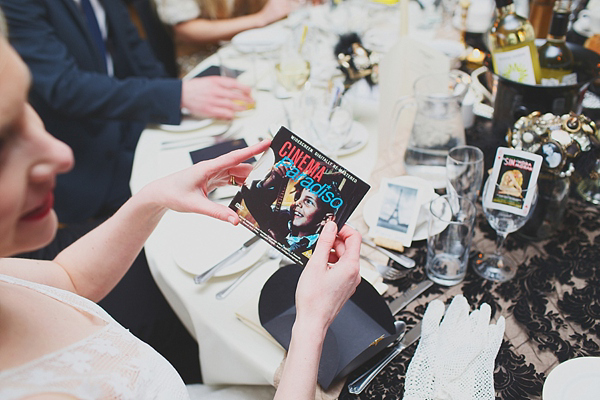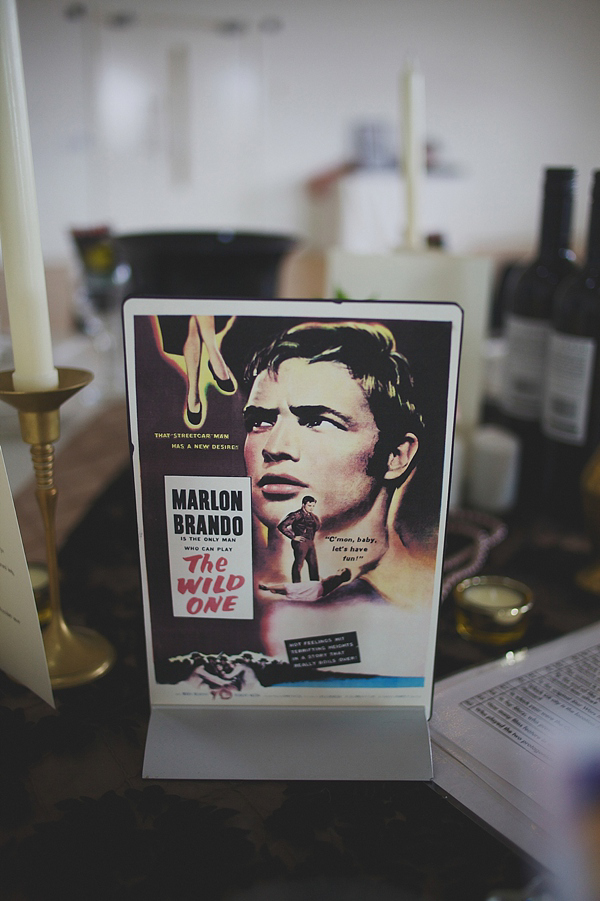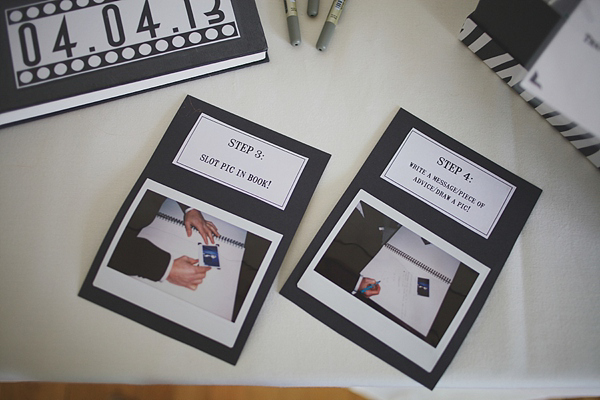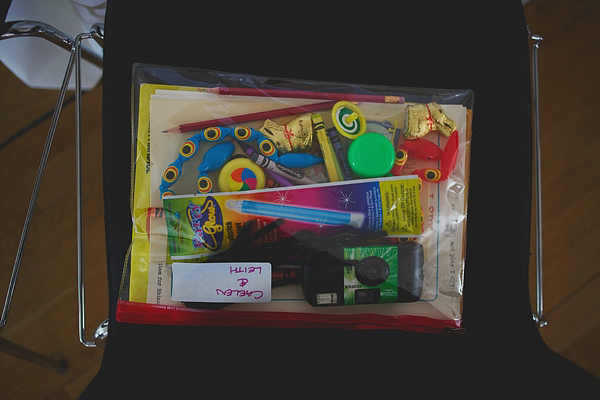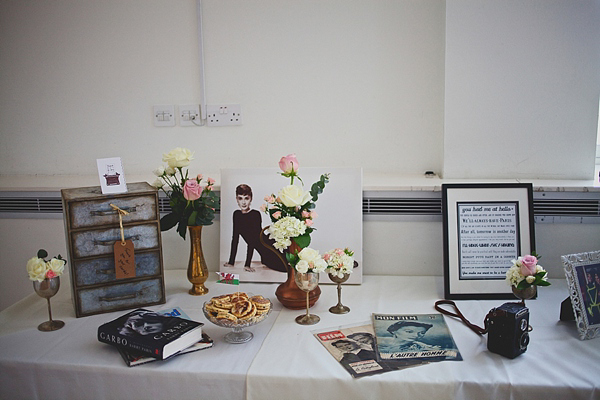 "We hired some cut-glass rose bowls and gold and black flock table runners from the Finishing Touch Company.  I
already had a good number of brass and cut-glass candlesticks given to
me by my nan, so my mum and I sourced more from charity shops and eBay.
We just dotted them randomly on tables and added strings of pearls from Claire's Accessories for a touch of glamour."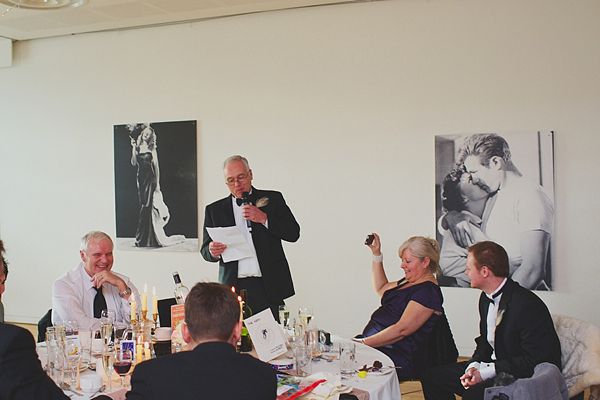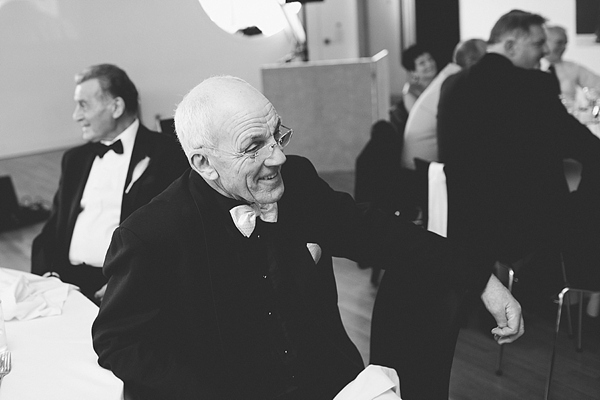 "We gave out chocolate Oscars during the speeches made by this eBay seller."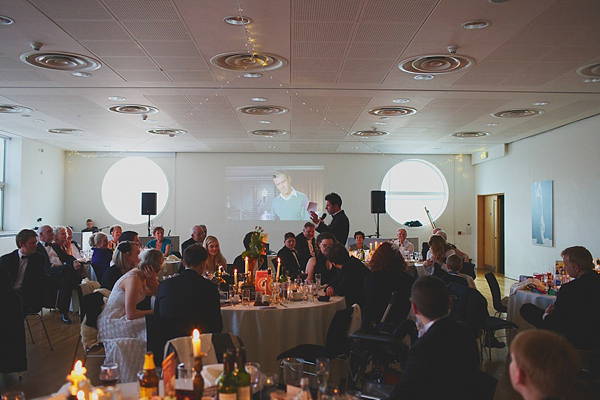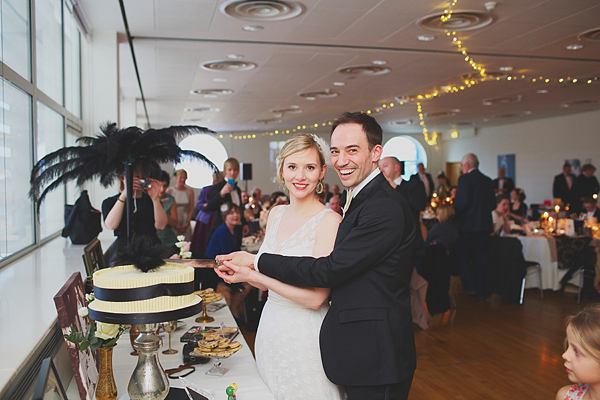 "As my dad was going to be performing the first dance with my
brother I let him choose the song. He chose 'You Look Wonderful Tonight'
by Eric Clapton, and my brother re-wrote the lyrics to make it more
personal."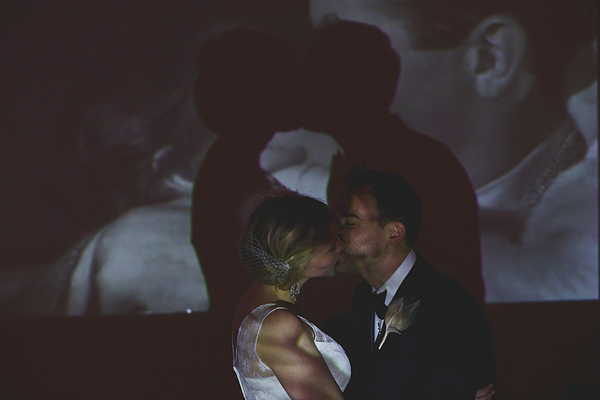 "We had a band play a short set to kick off the evening party, Lady Koo and the Kooky Kitchen. The lead singer is a friend of a friend and we couldn't believe how perfectly their 1930s
swing/jazz/lounge style fitted the wedding. For the rest half of the
evening we were treated to live sets from my father and brother,
Cameron's mum, and our Best Man! We were very lucky to have such
talented family and friends and it made the evening so special and
personal."
Words of Wedded Wisdom…
 "I started using Love my Dress when we were first considering getting married in a cinema and came across this entry.
I just thought we had this crazy idea that wouldn't work, but this blog
helped give us the confidence to do something different, and realise
that it is possible to have your wedding your way! I can't quite believe
you think that our little wedding will be of interest to strangers, but
I'm happy to be able to help and inspire others if so! If anyone has
any questions about the DIY tutorials I used I will be happy to help.
Be true to yourselves as a couple and try not to worry too much
about what people think. I worried a lot that our wedding wasn't
traditional enough, and that people might think we weren't taking the
sanctity of marriage seriously enough because we were giving out popcorn
(confetti, yeah!) and champagne during the ceremony. However I realise
now that everyone there loves you and wants to see you happy. If you
enjoy the day they will too."
"Don't forget the big picture. Having the Paris move to plan for
helped me to put things into perspective, realising what came next (ie
the rest of our lives) was more important than one day. I love attention
to detail and can sometimes get lost in the small things, but luckily
Cameron is good at seeing the big picture. So he kept reminding me that
the main goal was to have a big party with everyone we care about –
people won't remember the table centrepieces but they will remember the
happy, relaxed atmosphere of the day.
The planning is supposed to be fun! Focus on what you enjoy,
stick to what you are good at and outsource the rest. I was in my
element crafting all the little personal touches so worked hard to find
the time to DIY many aspects. However if DIY
just makes you stressed then don't do it! Utilise the skills of friends
and family, you'll be surprised how much they want to help and what
hidden talents they have."
"Another little tip is to arrange a big get together the evening
before. This was especially important for us as we had people flying in
from Australia, New Zealand and South Africa, including some of each
others family members that we hadn't met. We had an open invite to the
pub the evening before, and it helped break the ice and get people
talking, making for a relaxed atmosphere the following day.
And on a more practical note, I used an excellent iphone app called '2Do' which was a life saver in keeping me organised when I had so much going on.
I
honestly can't think of anything I would change about the day,
everything just felt perfect. With hindsight I wouldn't have worried as
much in the run-up, though I know that's easier said than done. It did
get a little stressful before the wedding as Cam had to go and start
working in Paris for the final three months of planning, leaving me
alone. I was also trying to prepare for a new career and organise the
move abroad. Just when we were on top of things I got really sick with
food poisoning a week before the wedding and wasn't sure I was going to
recover in time!"
I'm not even sure where to start in highlighting what I love the most about this wedding, I'm truly quite speechless.
There is one final treat I want to share with you, and I'll let Rhianne explain…
"We didn't want to waste the opportunity to play something on the
big screen, so searched YouTube for movie montages. We came across one
which really resonated with us, so contacted the editor, Clara Darko,
to ask if we could use it. Amazingly,  Clara offered to make us our own
personal montage, featuring our favourite romantic scenes. We gave her a
list of our favourite movie couples and some tracks we liked and she came up with this.
It is excellently produced and so moving I encourage you to take 5
minutes to watch it, she really is so talented. We played this just
before I walked on stage and I think half the guests were in tears
before we even started the service! I'm still gobsmacked at this
kindness from a complete stranger."
Movie Montage Production by Clara Darko
Wow, wow, wow!
Let me know what you think below, or if you have any burning questions for Rhianne who would be delighted to help you out!
Explore similar weddings in these pages categories too; cinema weddings, Hollywood, movies, film, 1930s, black and white, black tie and Fur Coat No Knickers.
Have a beautiful morning everyone, I'm off to find an inspiring movie soundtrack to work to for the rest of the morning. Recommendations please! 🙂
With much love,
Annabel
Photographer – Hannah Millard who was assisted by Sally Thurrell
Venue – Tyneside Cinema + The Sage Gateshead (bridal prep at Hotel du Vin, Newcastle)
Brides Dress – Original vintage dress from Fur Coat No Knickers, London
Veil/Headpiece – made by the bride
Brides Shoes – Eva by Rachel Simpson
Brides Accessories – Earrings from Accessorize + gloves and faux fur from a vintage market + Wonder Woman garter handmade by the brideGrooms Suit – Dragon Inside + horror movie cufflinks + peacock feather buttonholes handmade by the bride
Groomsmen – Suits hired from Moss Bros
Bridesmaids Dresses – Wallis and John Lewis + Vantage Jewellery headpieces
Flowers – Wedding Flowers For You + brooch bouquets made by the bride using vintage elements
Cake – Mum and friend
Cars/Transport – Oldmobile from American Classic Hire
Entertainment – Lady Koo and the Kooky Kitchen
Favours – Movie CDs (the kind you get for free with the Newspaper!)
Rings – Croft Workshops
Make-up Artist – KF make-up
Hair Stylist – Hayley Lambert Mobile Hairdressing
iPhone Wedding Planning App – 2Do
Cut-glass rose bowls + gold/black flock table runners – Finishing Touch Company