** Reader offer included at the end of this feature **
I've always been a dedicated supporter of the independent designer.  Perhaps it's because I married a fashion designer, that I have an innate understanding and appreciation for the craft and skill required to produce a beautiful garment.  I'm not sure, but what I do know is that I appreciate fine design, well cut dresses and timeless, elegant design.  In terms of wedding dresses, that means, gowns that will look as amazing in 10, 20, 100+ years time as they do now. 
One of the designers in this field who I admire the most is Lucia Silver, founder and lead designer behind Notting Hill's The State of Grace.  The The State of Grace' are the only bridal boutique in the UK who offer a head to toe bespoke design service.  In other words, they can design absolutely everything for you, from your headpiece, your dress, your lingerie, your shoes, even your accessories.  And what's even more special about this service is that Lucia works with an amazing team of artisan craftspeople to ensure that every last element of her designs is hand crafted in Great Britain.
To provide you with a flavour of the kind of designs Lucia and her team have been working on lately, we thought we'd share with you some of the recent brides who have commissioned The State of Grace to create their wedding dress, starting with beautiful French bride Aliette.

Image Credits – Greg Finck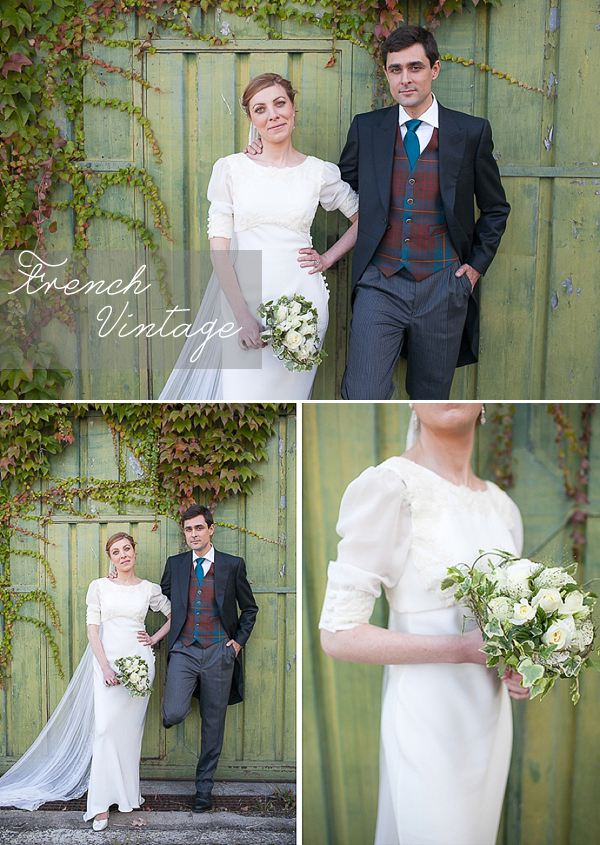 Chic, Parisian girl-about-town
Aliette and her beau decided on a Provencal vintage inspired wedding to
bring the playful yet authentic nature of the French countryside to
their guests and loved ones.
Aliette wanted
something delicate, simple and understated. The State of Grace therefore
focused on a perfectly cut exquisitely fluid silk crepe fabric with the
finest French lace appliqué creating a delightful ethereal femininity.
The
team then worked with the same French corded lace to create a 30s style
lace headdress with sparkling rhinestones and a vintage comb.
"I could not believe how my dress turned out! It was absolutely exquisite.  The
quality of the silk, the delicacy of the hand sewing and the precision
and comfort of the fit was beyond all expectation, whilst also achieving
the classic simplicity of design – with a twist – that I had looked far
and wide for many months.
The State of Grace  provided such perfect finishing touches were made to my outfit that I really felt it had my name written all over it!" 
Tamsin
married at the famous Savoy Hotel in true old school Hollywood style. She looked like
a silver screen goddess plucked straight from the screen.
Hosting
their friends and family from all over the globe, the couple waltzed
the night away in the nostalgic reception and Art Deco ballroom. To suit
the iconic venue, Tamsin and her husband sought something sophisticated
but still sensual and playful in nature.
Image Credits – Jez Dickson
After falling in love with The State of Grace's 1930s inspired dresses
such as Goddess and Siren, Tamsin
embarked on the creative process of redesigning it with the team so that
it would reflect her individual theatrical and feminine style – both Tamsin and her husband are actors. Made with
over ten metres of lavish Parisian silk with a suggestive cowl back and
puddle train, Tamsin's bespoke wedding dress took her husband's breath
away.
The State of Grace team were responsible for styling Tamsin's hair and make up, that echoed the gorgeous Jean Harlow.

"It's really hard to find the words to express how greatly you
contributed to making me feel so happy and lucky on the most wonderful
day of my life.

Through
your talent and personal investment, you were able to give me (a very
self conscious girl) a rare sense of pride and confidence. I felt
fabulous. I felt totally and utterly myself. I felt genuine. The dress
induced true romance and celebration and I never wanted to take it off.  My
mother and father think the world of you both and my husband thinks
you're amazing – and I will be your loyal fan, customer and friend
always. I hope we can have a champagne at the Savoy one day soon."
Andrew and Alison's glorious 1920s art-deco inspired wedding took place on 3rd May 2013 at The Midland Hotel in Morecambe, Lancashire, chosen as a beautiful setting for their 1920s themed nuptials.  Their full wedding has previously featured here on Love My Dress.
Image Credit – Tobiah Tayo
These images provide a wonderful example of why The State of Grace
are completely unique in what they can design and create for brides and
the bridal party. 
"Lucia was briefed on the theme of the wedding and
from this produced an entire concept for the dress, all of the
accessories for the bride and the bridal party and even a crystal
bouquet that I shall keep forever and hand down to later generations.
The colours were exquisite – lavish smoky silver green silk with
embellishments in antique ivories and soft silvers highlighted with
peacock feathers, rhinestones and vintage crystals.
Lucia's team even worked
on hair and make up concepts, no stone was left unturned – an absolute dream one stop shop for everything a bride could need and want to
express herself as the unique woman she is."
In all its
grandeur, Angela's balmy summer wedding in Rome took place in a
hauntingly beautiful castle. The space for the Jewish ceremony was
specifically crafted with lavish velvet red carpet and beautiful red and
peach roses to inject light and airy romance. In contrast to the rustic
slates and the alluringly withered stones on the streets of Rome, the
couple were illuminating.
For
Angela's wedding dress, she wanted something distinctively standout but
still in keeping with tradition. Something that reflected her very
unique and free-spirited approach to Life. She'd looked everywhere and
didn't feel anywhere had or understood what shewanted to wear. Until she
stepped into The State of Grace. Made of deep blue, Italian raw silk,
Angela's period-inspired wedding dress was created with a five metre
detachable train so that she could have the dramatic effect that she
longed for during the ceremony and the walk to the castle turret, and
still a perfectly poised fishtail skirt for the after party. The
silhouette was sculpted like a second skin thanks to The State of
Grace's masterful pattern cutting and couture seamstressing.
In
perfect peacock compliment to the vibrant cobalt blue, The State of Grace created an emerald green headdress hand made and embellished with
Lucite, vintage beads and crystals. Against the fragile white veil, her
whole ensemble was nothing short of breathtaking.
"I was utterly grateful to find The State of Grace!  They
not only understood what Ihoped for, but their warm professional manner
reassured me that they could create it. In fact, they were the only
ones, out of the dozens of dress shops and bespoke designers that I
visited, who gave me this total confidence. I marvelled at how I
transformed into the bride I had always dreamed I would be."
Image Credits – Valentina Pascarella of XXXX Studio Fotografico
The
knot was tied city chic style by Rebecca and Dev at The Royal Festival
Hall. As London lovers, they held their ceremony and reception over
looking The Thames and the London Eye.
The cosmopolitan backdrop of the
capital's infamous weather worked to their advantage highlighting the
simple yet stunning décor and ambience as Rebecca and her guests
sparkled in fine attire.
Image Credits – Martin Dance

 
Rebecca fell in
love with The State of Grace's wedding dress design Demure but also
loved elements of their Siren piece as well.
So in true bespoke style, the ladies combined the features that she
adored to create a truly unique yet timeless design.
Billowing,
chiffon sleeves, exaggerated fitted cuffs with handmade crystal buttons,
soft gathered silk and a glorious cowl back took Rebecca down the aisle
and she looked gorgeous. Her matching hair and back jewels and earrings
were all made especially for her and transformed her look entirely from
daytime right through to the evening.
"I
had certain ideas of the sort of dress that I wanted for my wedding
day, but I couldn't find it off the peg and was feeling pretty
uninspired and uncertain until I walked into the beautiful showroom at The State of Grace.
It was such an extraordinarily personal
experience with absolutely everything being created for and tailored to
me. I adored my dress and accessories and felt a million dollars on my
wedding day."
Rav's Indian
ceremony took place at her home, where the heart is of course. The
traditional ceremony cultivated the values and aesthetic of her Asian
homeland.
At first glance, striking a balance
between an ancient culture and something contemporary may seem an
impossible design brief for Lucia. However, Lucia's heartland is in
embroidered textiles, especially the work still being created from
magnificent Asian heritage. Rav wanted to uphold her cultural heritage
but bring a modern twist so the team at The State of Grace combined the
best of both worlds; insanely fine Asian hand embroidery with the
perfected cut and finish of European couture. What resulted was a
luxuriously regal three-piece bridal gown comprised of an exquisite open
back corset, a body-conscious fishtail skirt brimming with rich colour
and intricate handwork and a diaphanous dupatta (shawl).
Image Credits: K Couture (no link available/no longer in business)
"I
was drawn to The State of Grace after reading an article in a magazine
about Lucia's "Eurasian Couture" collection and her specific passion for
Asian embroideries.
The team listened to my many ideas and
helped to turn them into a piece of true beauty. And the article in
Asiana Magazine was absolutely true – they do combine the BEST of Asian
embroidery and tradition with, the very best of European cutting and couture
finish – I don't believe anywhere else in London combines these amazing skills."
Fay and Rowan were made for each
other. They initially wanted to bring Little Italy to London but then
why settle for less when you can have more? They whisked their guests
away to celebrate in a stunningly romantic private villa in Tuscany.  Fay's
'Sex in the City meets Dolce Vita' inspired ensemble had been playing
on her mind for quite some time, but she was anxious  as to whether she was
going to go thorough with it as she hadn't found the right dress. The
girls at The State of Grace did wonders to make her vision a stunning
reality.
Faye wore a plunging hand made silk corset with
elongated boning to emphasise her beautiful figure and elegant curves. A
gorgeous crinkled organza bolero was made to complement her wedding
dress by adding a playful yet classy appeal to her already softly lined
design. And the skirt! This was made from layers of silk georgette to
create bouquets of roses 'married together' to create a sassy little
bustle…
"The State of Grace care so much about everything they do and this was displayed in every aspect of my journey with them.  They
helped me design and style my entire look for my wedding in Italy and I
wouldn't have been able to approach the task without their passionate
and honest guidance.  I am indebted to them for making the experience from beginning to end a truly creative and wonderfully enjoyable one."
Image Credits: Images supplied by the couple's friends
I hope you find this a wonderful example of how one of London's finest bespoke bridal design teams can cater to the needs of any bride, with any taste and any preference when it comes to her wedding day wardrobe. .
Lucia and The State of Grace are offering all Love My Dress readers a free style consultation.   Should you proceed with a dress order before the end of August, you will also receive a pair of bespoke earrings and a 10% saving on your order.
If you would like to make an enquiry, please visit The State of Grace website, telephone 0207 – 1832729 or email [email protected].  Alternatively you can use this form on The State Of Grace website and mention that you are a Love My Dress reader.  Lucia and her team would be absolutely delighted to hear from you.
Have a beautiful Wednesday morning everyone,
Annabel