**Photographer Sally Thurrell is offering Love My Dress readers a 20% saving on all
wedding photography packages booked for remaining dates in 2013.
Please email Sally for further information **
What a day! Beautiful, gorgeous sun and warmth and just the right amount
of summer breeze gently making it's way through my open office
window.Have you taken time yet to look at our first real wedding of today, or this glorious collection of inspiration images that focus on Edwardian and early 20th century bridal style?
Ian and Louise's wedding took place on 5th April 2013 at The Biscuit Factory in Newcastle Upon Tyne – the perfect backdrop for this modern couple who were looking for a relaxed and informal style wedding day.
"I tried hard to pick a theme and
looked at websites for inspiration, but the more I looked at the more
confused I became. I found it far easier to pinpoint what I didn't want
rather than what I did. I decided to just choose things I liked and
hoped it would all come together on the day. I knew we had a fabulous
backdrop at The Biscuit Factory, and was happy that since it was an art
gallery, we didn't need to do any room dressing!"
Love My Dress Wedding Blog – Photography Copyright (c) 2013, Sally Thurrell
"We chose The Biscuit Factory as our venue by accident really. Ian had
previously been married so it felt appropriate not to have a huge church wedding.  We decided straight away that we wanted something
different, though we're quite traditional at heart. 
Looking at places in the local area that were registered to hold wedding ceremonies, we stumbled across the Biscuit
Factory, we had visited a few times as it has a fabulous restaurant
attached 'David Kennedy's Food Social' which we both love. When we
visited the venue we were delighted with the versatility of the space
and the relaxed atmosphere."
"I bought a bespoke headpiece from HT Headwear.
Helena was fabulous and made my veil within a fortnight. She even made
it with a detachable brooch so I can wear a piece of my wedding outfit
whenever I please."
"We used Katherine's Florist in the Grainger market in Newcastle.
Dot was fabulous, I had no idea what I wanted, but she managed to
extract the correct information from me to produce a perfect arrangement
for me. I had purchased beech bark vases from 'The Wedding Of My Dreams' as
table centrepieces and Dot advised me to use them for the ceremony and
utilise the art plinths in our venue, it worked perfectly."
"We met at work when we were both working at Newcastle Building
Society. Ian had sent an email around the office inviting everyone out
for a drink for his birthday and I decided to go along even though I
didn't know him. I thought it was polite to buy him a birthday drink
since I had gate-crashed, and told him he would have to buy me one since
it was my birthday the following week, little did I know that we had
the same birthday!"
"Our stationary was made by Pogofandango,
a lovely mother and daughter team from Cornwall. They made everything,
our day and evening invitations, table plan and numbers, place cards and
they even made a mount for my nephew's reading. They make beautiful,
personalised laser cut stationary and were very accommodating and
produced our stationary within a couple of weeks."
"My dress was a design by Benjamin Roberts.  I
found it really difficult to choose a dress and spent a lot of time
looking at dresses on the internet.  I had to go dress shopping with my
mam and found the experience very stressful. I wanted to feel elegant
and glamorous but found lots of the dresses were very big and I felt
like a child playing dress up. I was comparing everything I saw to the
Benjamin Roberts dress I liked on the internet, so I decided that I
would take a chance and just try to order it for March and hope it would
be okay.
Luckily I spoke to Shelly at Ava Rose Hamilton in Durham, who got in touch with  Benjamin Roberts.
and managed to get me a sample for January. I tried it on and (even
though the sample was two sizes too small) I immediately felt
comfortable. It was my dress!
 Ian chose a blue suit for himself and his best man from TM Lewin. He also bought ties for both of them and my dad and nephew."
"We are delighted that we chose Sally Thurrell
as our wedding photographer – I was totally at ease with her and she
understood exactly what we wanted. We wanted her to document the day
rather than have lots of staged pictures. Sally captured our day
perfectly but she was so discrete our guests hardly realised she was
taking photos. This meant all of our photos are so natural, they are
perfect. I initially picked Sally because of her enthusiasm when she
originally met us at the venue. She loved The Biscuit Factory and I
trusted her immediately."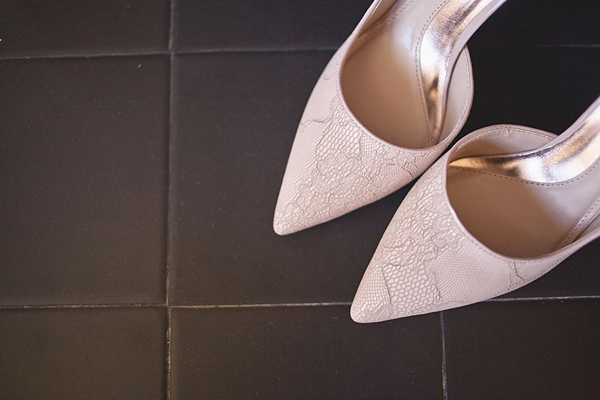 "My
dad walked me down the aisle to the sound of 'She talks to the Angels'
by the Black Crows, which is one of Ian's favourite songs. This was
played on the keyboard by Paul from the Purple Supper Band."  
"We
had my 12 year old nephew read the Power of Love by Huey Lewis and the
News. Luckily he didn't know it was a song and read it like a really
serious reading, much to our amusement. We were keen to try to lighten
the mood a little. We have been together for 10 years and didn't want a
long or formal ceremony and wanted something a bit light hearted. The
idea originally started as a joke one evening when we visited Louise's
parents and we listened to the old LPs."
"Our cake was made by the very talented Krystyna at Curiously Wicked in Morpeth, who took her inspiration from our invitations. We had three tiers, traditional fruit cake, chocolate and lemon."
"All of the food was supplied and served by David Kennedy's Food Social.
The food was probably the deciding factor in the choice of our venue
and we weren't disappointed. The food was fabulous, and they were able
to offer our guests a choice and even made fish and chips for the
children. The evening food was a choice of beef or bacon baps and
chickpea chips for our vegetarian guest"
Words of Wedded Wisdom..
"Our main piece of advice would be have belief in your own decisions. Try not to be too influenced by well-meaning family and friends, and don't stress over the small things. No one missed favours or chair covers at our wedding, don't feel obliged to have or do anything which doesn't suit you.
Please use this box to add anything you feel we might have forgotten to ask you.
The
only thing we said we were disappointed with after the day was that we
didn't spend enough time with each other or our parents. We were too
busy speaking to our other guests and we should have taken a little time
out for the most important people there."
A sweet and relaxed day, and a fabulous venue to look in to for any couple due to wed in the North East and seeking a cool, contemporary style space.
I almost went for a Benjamin Roberts design myself for my wedding day, do we have any more Benjamin Roberts readers here with us today? I'd love to hear from you! Which design have you gone for?
With much love,
Annabel
Photographer – Sally Thurrell
Venue – The Biscuit Factory, Newcastle Upon Tyne
Brides Dress – Benjamin Roberts via Ava Rose Hamilton, Elvet Bridge, Durham
Veil/Headpiece – HT Headwear
Brides Shoes – Coast Online
Groom's Attire – TM Lewin
Flowers – Katherine's Florist in the Grainger market in Newcastle
Cake – Curiously Wicked in Morpeth
Entertainment – The Purple Supper Band
Rings -  Reid and Sons in Newcastle.
Catering – David Kennedy's Food Social
Louise Lunn Hair & Makeup
Stationery – Pogofandango