I couldn't let today end without another truly beautiful wedding to fill your Pinterest boards with and I couldn't think of anything more perfect than the nuptials of Nikki and Pete.   The couple got married on 26th July, 2013 at Manchester Town Hall, followed by a reception at the school that Pete works at. I love this wedding because of it's lovely, laid back nature and that gorgeous lace wedding dress with cape detail – more on that shortly.  I'm also rather in love with NIkki's messy top-knot hair style and think it suits her beautifully.
Pete shared why he and Nikki opted for their two different wedding venues…
'We chose Manchester Town Hall, because it's amazing. The inside is fantastic, and is used as the House of Commons in a lot of films, which fits with me  as a History and Politics teacher. But we couldn't afford to do everything there, so we decided to have the ceremony at the school I teach at, Cheadle Hulme School.'
'This meant we could do things a lot cheaper and really decorate it however we wanted, as a kind of blank canvas – and it meant that Nikki's vintage vision could come to fruition!'
Photography Copyright (c) 2013, Emma Boileau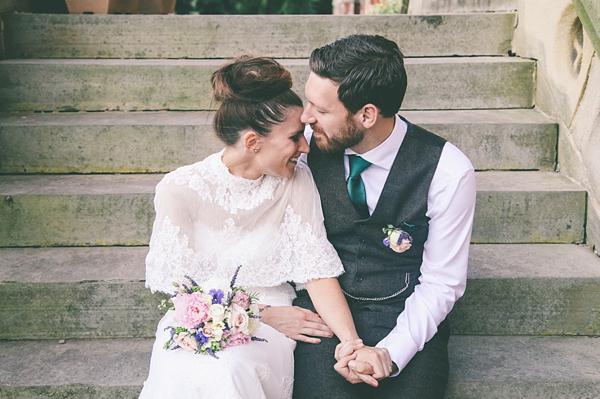 Pete told told me how he and Nikki met…
'I was at work reading the cricket section of the Independent when we first met, on my first day in that job back in 2008. The relationship started with a challenge though, because I had already arranged to start teaching English in South Korea from September 2008, so we almost started the relationship as a long term one. When we came back to England we moved to Manchester so I could train as a real teacher!'
'We got engaged two years later in July 2012, in Granada in Spain. Apparently my attempts at subtly finding out her ring size were laughable!'
"We didn't have an event planner but our friend Esther acted in that capacity for a lot of the time!  She also performed the role of florist – I dragged her out of bed at 5 am to go to a flower market which didn't exist, we then went to another market who wouldn't sell us flowers because we weren't florists! We ended up going to the flower 'shop' at M&S for the bouquet flowers."
'I created a Pinterest board with Esther and my friends  Hannah and Louise which literally came to life! When I got engaged, Esther came to see the room and we decided that we should collect as many jam jars as possible to fill with wild flowers. Between us we must have collected about 200 jars, which Esther decorated with lace, pearls, book pages and Cath Kidston paper.  She also created our fabulous table numbers using scrabble letters, as well as the paper and map flowers which now fill my house! The school hall was pretty dull so I also spent the year collecting lace, ladders, vases, suitcases, teapots and anything else I could use to hide the room!'
'All of the flowers used in the room were hand picked by Pete and my parents from a wildflower field in St Helen's, courtesy of the landlife trust. Esther did an incredible job with the 5 bucket loads of flowers given to her and worked like a trooper on the morning of the wedding to put together the bouquets.'
'My flower girl was my niece Eirin, and she wore a tutu made by a friend of my sister-in-law, who owns The Button Tree.'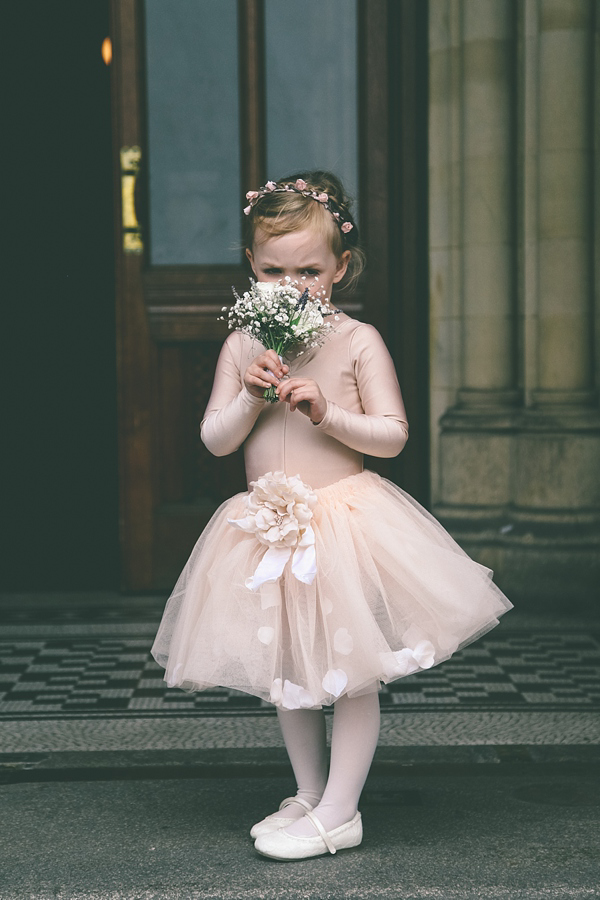 'Our wedding stationery was designed by our excellent artist friend and usher Matt Stokes. We gave him a very loose and vague brief and what he produced was fantastic and we absolutely loved! He also made our table plans and our signs for the town hall that said 'sit wherever you like'.'
'The bridesmaids dresses were from Debut at Debenham's and were the first ones that we tried on!  I wanted them to have a twenties feel.'
'My dress was the Chelsea design by Sottero and Midgely via From This Moment.I was looking all over the country for the right dress, hence finding it in a shop near my parents! I wanted a lace dress and I thought that the cape made it a little bit different.'
'We stayed pretty traditional on the vows front and we had three readings; 'To Marry' by Charles Darwin, 'The places you'll go' by Dr Seuss and 'On Marriage' from the film Frida. We hunted for some time to find readings which suited us and loved all three of these as they weren't too cheesy or romantic! The opening line of Frida begins "I don't believe in marriage….'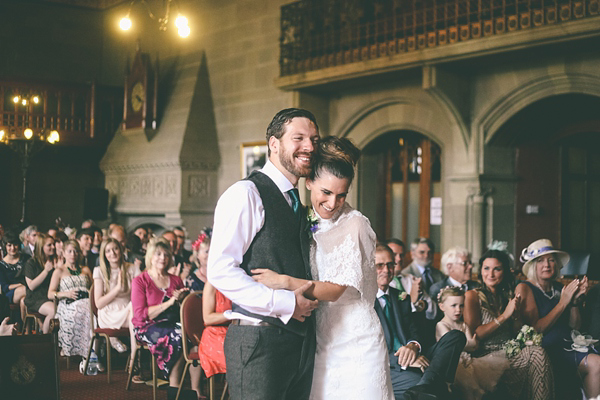 'I bought my shoes from Office for £15 in the sale, with help from my friend Becky (also of cake fame). I am not a shoe person and I changed into flats as soon as I could!'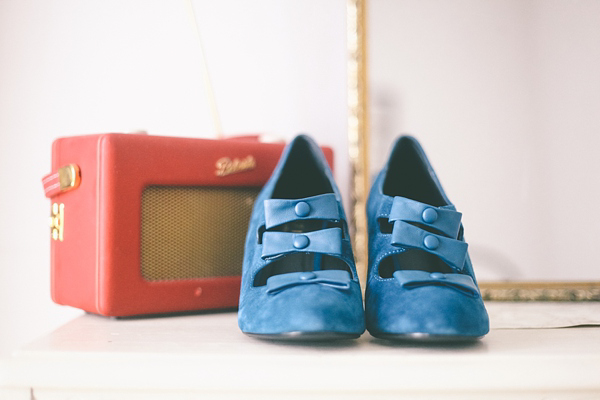 When it came to the gents, Pete says 'We changed our minds about this a few times! In the end ŵe were going to get grooms and groomsmen suits from M&S (the Collezione range), but I decided I would like a suit with a waistcoat. On a chance visit to Topman we found a tweed suit with a waist coat that we loved.'
'Unfortunately the parts of the suIt we needed in my size were all over the country, as I am not a traditional Topman build, being massive. So, my mum traipsed all over London to get some parts of it.'
'I had a tie and handkerchief from Swagger & Swoon, which I also bought for the best men, ushers and Nikki's dad.'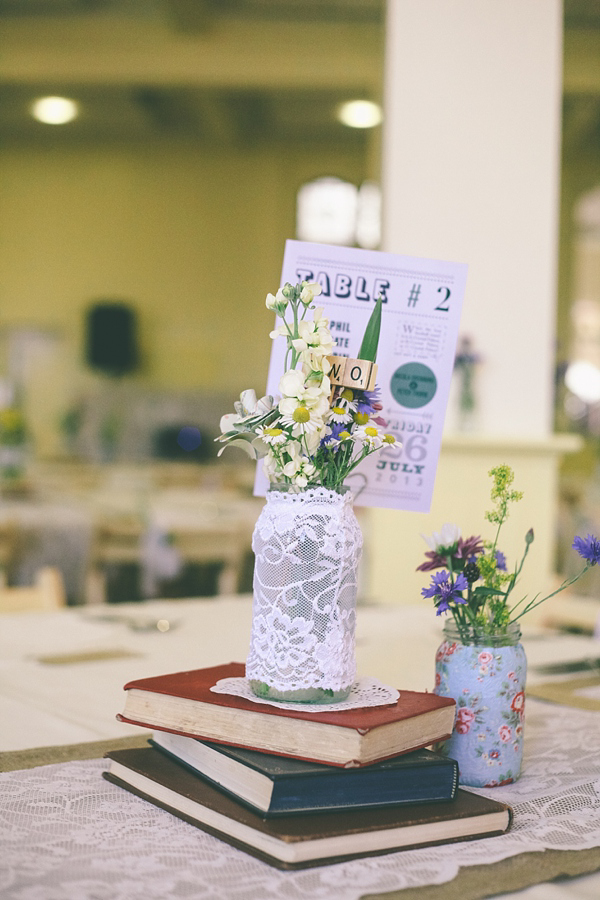 'I love vintage things, programmes about vintage things, magazines about vintage things, fairs about vintage things, etc. etc. This meant that the wedding was a pinterest-fest of epic proportions. There was no era or colour scheme, in fact the idea was that there was no 'scheme'.  I like to use the word 'mis-matchey', so there were ladders, jars, books from various locations etc etc.'
'We had what we like to call a cake-tastrophe a few weeks before the wedding when a friend was unable to make the cake due to a house move. My friend Becky from work stepped in at the 11th hour and designed and created the most fabulous wedding cake and 120 cupcakes!
She pandered to me and created my favourite flavours which consisted of carrot, vanilla, lemon and a two-tier fruitcake. Becky literally sweated blood and tears over these cakes when she had to scale a fence after locking herself out! We stuck a little tea cup on top which Esther filled with flowers.'
'Our photographer was Emma Boileau and we knew we wanted her to photograph our wedding from the moment we met her. She was fantastic on the day, didn't put us under any additional pressure, or take us away for too long. I couldn't recommend her highly enough. The photos she took look really natural and have captured the day perfectly.'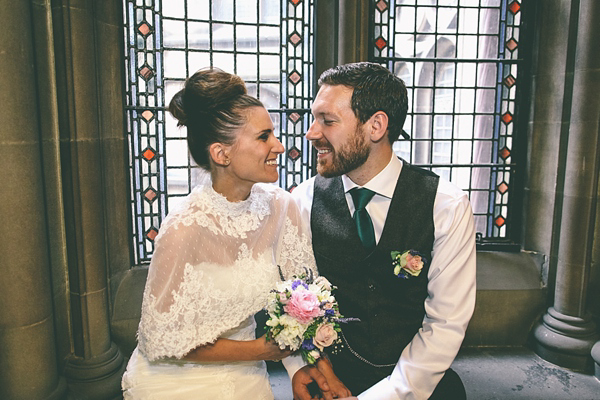 "My friend Hannah and my sister Louise did my hair and makeup. Hannah was really patient as I went through quite a few rejected styles before I found the one that I wanted. She did my hair, both bridesmaids' hair and the flower girls' hair and was ridiculously funny on the morning of the wedding.
My sister Louise performed the dual function of bridesmaid and make up artist to about 87 people. She left barely any time to get ready herself and was literally putting on her dress as we were going out the door!
My headpiece was from a designer called Emma Braunton from 16 Braunton and I bought a necklace from a charity shop for £4!."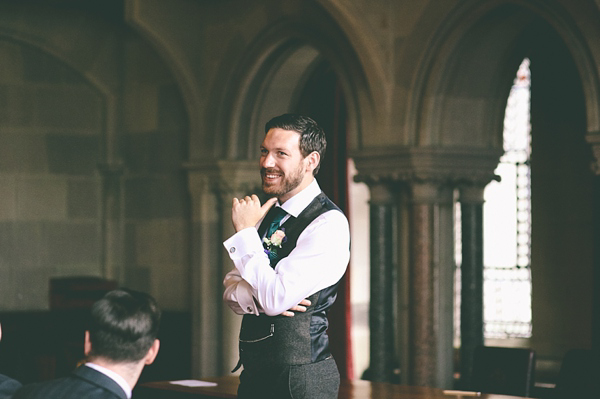 "My dad gave me away and did a splendid job!  I walked down the aisle to the instrumental version of the Pearl Jam song – Jeremy, which isn't particularly cheery but the instrumental version is beautiful!"
"My brother and friend from school, Matt, performed dual duties as best men, and my other friend Matt(who also designed table plans and invites) and my brother-in-law Jon were ushers."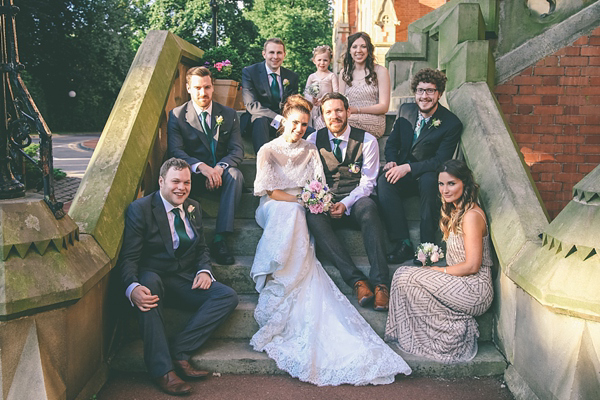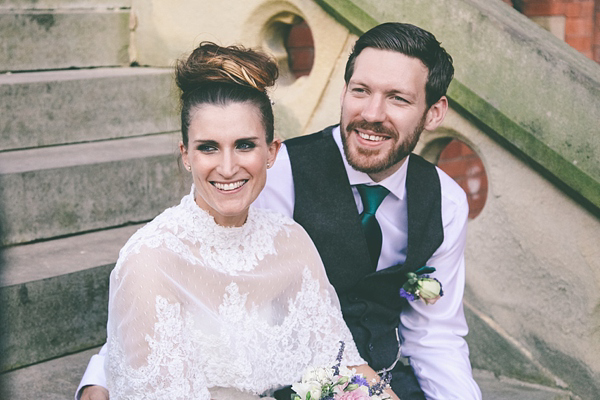 "Our caters, Sodexo, were school caterers.  They were absolutely brilliant! It was not school food by any stretch of the imagination. We tried to think of a food that would be communal and that could be served en masse rather than chicken and a sauce. Andy, the head chef, made amazing tapas style starters, and our main was a series of styles of paella and was very popular! For our dessert we had creme Catalan, and that was also fantastic."
'We don't have a 'special' song so we went for cheese for our first dance with 'I want to know what love is' by Foreigner.'
Words of Wedded Wisdom…
'Be as personal as possible, but trying to be over controlling just isn't fun. Our friends did loads of stuff for us, and we gave them quite a free rein, with the result that it was really original and we didn't offend any of them! It is over so quickly, so you need to focus on enjoying yourself.'

'I loved that our wedding was so personal and so many of our friends were involved. I loved the ceremony which I didn't think I would, I felt incredibly relaxed and happy. Pete was happy when everyone had sat down at the school and cracked open the wine.  In hindsight having a 4pm wedding meant that things ran really late and we would have liked a little more time for dancing!'
'We're essentially cheapskates, so we walked into a local high street jewellers and asked to see the cheapest rings they had!  Our wedding favour idea was to have a tombola, with prizes which represented us. However we completely ran out of time to do this, so will have a post-wedding party to get rid of this bumpf'.
Oh Nikki and Peter, huge congratuations to you both on your lovely, lovely wedding. And big thanks too to photographer Emma Boileau for sharing her beautiful work – Emma, please share more of your beautiful images with us again soon.
You can see more Sottero Midgley brides here gals.
With much love,
Annabel
Photographer – Emma Boileau
Venue – Manchester Town Hall + Cheadle Hulme School
Brides Dress – Chelsea by Sottero and Midgely via From This Moment in Ewell Village
Veil/Headpiece – 16 Braunton
Brides Shoes – Office
Grooms Suit –M&S + tweet waistcoat via Topman + tie/handkerchief via Swagger & Swoon
Bridesmaids – Debut at Debenham's
Flowergirls – Tutu via The Button Tree
Flowers – bouquet via M&S + wildflowers hand-picked on the morning of the wedding
Caterers – School caterers – Sodexo
Stationery – Matt Stokes