You may remember Kylie McMichael Make Up Artist from these pages featured on Love My Dress. Today she has something very special to share with you lovely lot. Kylie is offering Love My Dress readers a 10% saving on all bridal services that take place between October 2013 and March 2014. Yes, that's right, a whole 6 months of discount!
To utlise your saving, simply quote 'LMD 10' when emailing, and when booking your trial – you will need to reserve your date/book your trial with a desposit. 
'My bridal work is super varied, dealing with bridbrides are strong, intelligent ladies with their own individualistic sense of style. All women are beautiful, I just help bring out and enhance their absolute best bits – seeing those first stunned looks really makes my job the best there is.
I contacted Annabel, because I'm keen to share the love with Love My Dress readers by offering all bride readers a saving on their wedding day makeup services for a full 6 months, between October and next March.'
Makeup by Kylie McMichael (see the full1930s American literature inspired wedding here)
Photography Credit – Laura McCluskey

Gosh I *love* that wedding above. There's something about red lipstick. I'm a total and absolute sucker for it.  But don't just take our word about the lovely Ms. McMichael – here are just a couple of testimonials for you…
'My skin looked great and my eyelashes were really wonderful.  I
looked special but still looked like me as I don't wear much make up
normally. I liked that you worked at weddings that aren't totally
conventional.  Your website gave clear examples of your work and so it
was easy to see what you could do. I was a bit worried that my hair
style would end up being something radically different for me but you
persevered so I ended up with a look that was great and not everyday so
made it special for the wedding day. You listened to our feedback and
changed things where we asked. The experience was relaxing and
enjoyable!'
Catherine Davies, bride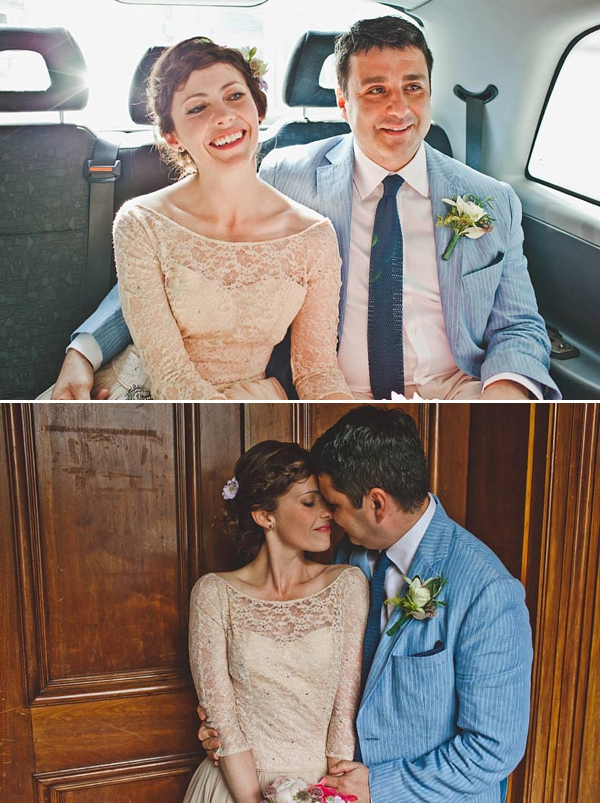 Makeup by Kylie McMichael 
Photography Credit – Laura McCluskey
'Kylie you were, flexible
and friendly. Easy to have around at such a stressful time – I felt that
at least one thing was under control! Like how you had planned out the
timetable for the group. I like how you were able to adapt and change
according to my whims so that what we ended up with was just right –
loved the eyes, my skin looked like someone else's and the lips were
just right. I hate looking at myself and talking about how I look so the
fact that you took on board late feedback was really good.
On the
day  itself, I didn't think or worry about my hair or make up after
leaving you at the hotel. I was happy enough with how I looked not to be
anxious about it and just enjoy the day.'
Jean Ward, bride
'Kylie
is such a lovely lady and managed to give me a perfectly natural and
fresh look that complemented.'
Ally McKenna, bride
Image Copyright (c) 2013, Ellie Gillard

One of the best
things I spent my hard-earned cash and wedding budget on was  makeup
artist.  In fact, before my wedding, I'd never had my makeup done
professionally – which is I guess an experience shared with many  other
women. And therefore, for many others, it's difficult to convey the
benefits of forking out for someone to do your makeup.  But I swear to
goodness that it is one of the best investments you could make for your
nuptials.
Top Image Credit – Laura McCluskey (see the full wedding here on Love My Dress)
Bottom Image Credit – Martin Phelps
Makeup by Kylie McMichael
You see -  having your makeup applied professionally means that no only
will it will last much longer, your coverage will be perfect and hand on
heart, you'll look back at your wedding photographs and think 'I am *so* pleased I got someone to do my makeup. And that's because my friend, you'll be looking drop dead gorgeous.
Makeup by Kylie McMichael 
Photography Credit – Caro Hutchings
To qualify for your 10% saving, Kylie just asks that you pay the
required deposit, and all bookings must be for weddings and/or events
taking place between October 2013 and the end of March 2014
So ladies, do yourself a favour and drop Kylie a line today – I guarantee you won't regret it.  Kylie's website can be found here.
Much love everybody, 
Annabel