Welcome back to the start of a brand new week everyone! How was your
weekend?  I have something super, super gorgeous to open up the next few
days of wedding inspiration – Reena and Matt tied the knot on Saturday
20th April 2013 and their wonderful, whimsical, woodland wedding is
something I've been so looking forward to sharing with you.
"I am a big fan of vintage and I had recently set up a vintage
business with one my closest friends. We sold mainly clothes but we had
also collected masses of vintage china so I had always planned on using
the china at my wedding. I also love the 70's and love bohemian fashion
and that vibe and I adore flowers.
I didn't want a set colour scheme I wanted this dominated by the flowers and the décor. I wanted for us to have flowers everywhere!
My muse was Pamela Love, I just loved her rustic, bohemian and wild flower wedding!
The ceremony and setting for our wedding was just so beautiful.  I loved being outdoors – you
could hear the stream running, and the birds singing in the trees…"

Photography Copyright (c) 2013, Aled Garfield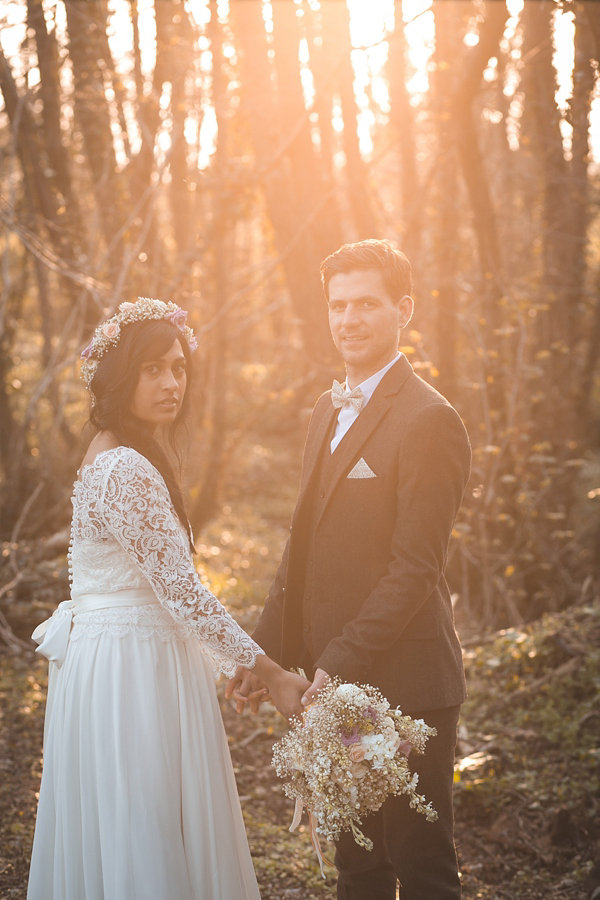 "We met in work 7 ½ years ago. Things took a while to get going but
when they did it was quite fun keeping it a secret as we were in the
same team but when we wanted to book our first holiday together we had
to come clean.  We decided that we really wanted to have a baby before
we did anything else as at the time we were not in a financial position
to do the "bigger things" like buy our first house or get married as
Matt had re-trained in Web Design.
I was heavily
pregnant and we decided in January 2012 to go on a 'babymoon' so a last
holiday just the two of you before the imminent arrival! Matt booked it
which was a first as I usually book all of our trips away! He booked a
beautiful Hotel in Corsham which was set in acres of land that
overlooked the Box Valley in Bath.
We spent the day wondering around the
local village and had a spot of lunch, when I look back now I do
remember Matt wasn't his usual self he did seem on edge! It was when we
got back to the Hotel for me to have a much needed nap before going out
for dinner he said we should go for a walk around the gardens. The sun
was setting and he just randomly stopped me under this arch and got down
on one knee and proposed with a fake diamond ring as I'd always said I
would love to go ring shopping together as I am a big vintage fan."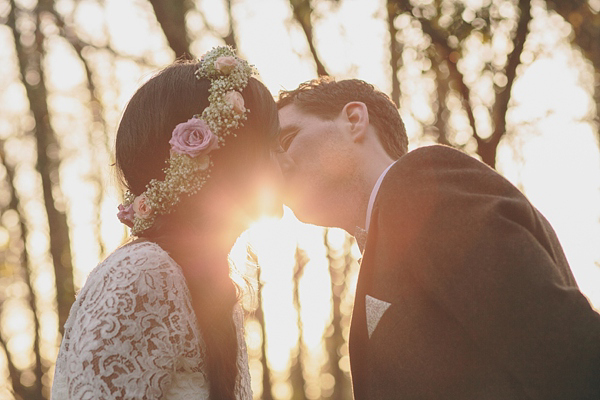 "I
said "are you serious?!" As I had been half expecting a proposal on our
6 year anniversary which we had recently celebrated on Boxing Day. I
then of course said Yes! We went back to the hotel and he had a beer and
I had half a glass of cider and then even with all the excitement I
still needed that nap!
We went to a lovely local gastro pub in the
evening then and had dinner and yes I wore my "fake" ring! We didn't
call any of our family and just turned up on their doorsteps on our way
home to tell them the news in person!  The next day
we went ring shopping in Bath but I didn't find the one until I was back
home in Cardiff a few months later (after our daughter was born). It
was a 1920's art deco ring which I had dipped in white gold.
We were
engaged for 14 months before getting married."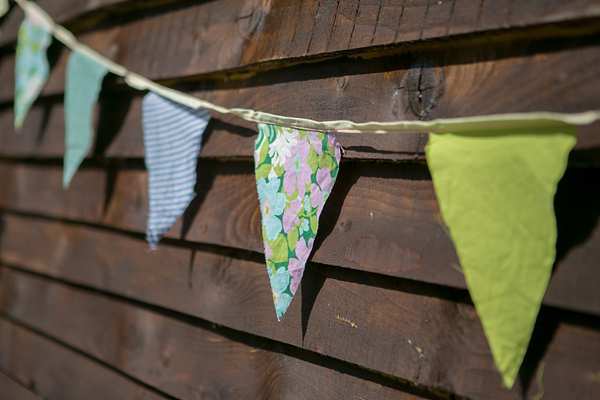 "I knew from the very start of planning the
wedding that I wanted flowers in my hair. I just didn't know on what
scale. As I began searching through all the wedding blogs for
inspiration I came across a wedding on this very blog of a bride wearing
a gypsophila crown by the very talented Jay Archer. I adored it! The
circlet I went for in the end was Full gypsophilia with few pale peach,
lilac and ivory rose and Peach ribbon."
"I bought my dress from The Vintage Wedding Dress Company, which has been renamed Charlie Brear. 
I panicked a bit when it came to dress shopping as I kept being told I
needed to order it 6 months before and get a move on. I wasn't in the
best place as I was still breastfeeding my baby and not back to my
normal shape or size so in hindsight I should have ignored the advice
and waited until I felt good about myself! So I didn't get the "this is
the one" feeling but I did adore the dress as it ticked two boxes for me
it was bohemian if worn plain on it's own which that day when I took it
away I had the intention of wearing it as it was. Or you could add the
lace jacket and sash which gave it a more vintage feel.
On
the day I bought the dress I decided to buy it as it was and I managed
to get a sample in perfect condition so managed to negotiate a good deal and I decided to buy some of their French lace and get the local
seamstress at home to make cap sleeves. However the cap sleeves just
didn't blow me away because I had pictures on my phone I had taken of
myself with the lace jacket and sash so two weeks before the wedding I
called them and it was too late to make but they had my size in stock! I
was over the moon and felt that although expensive and it meant going
way over budget I would sell the dress after the wedding so it was
justified.
On the wedding day I got to wear it both ways
in the end too as after the first dance I ditched the lace jacket and
sash so I could have a proper dance!"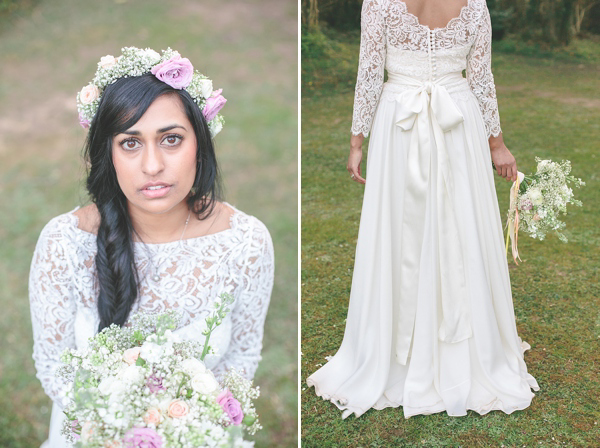 "I wanted all the
bridesmaids in Ivory as I loved Kate Moss's wedding and how she dressed
her bridesmaids and again this was in fitting with not having a
traditional colour scheme.  My sister Tina works in
Urban Outfitters so again it was perfect as we bought her a 1930's
inspired dress. The bridesmaids dresses were the Monsoon Estella Dresses
which although I had seen quite a few of the blog posts on LMD, I just
fell in love with them too.
My adult sister Tina (oldest bridesmaid) wore a pair of gold
shoes bought in the sale from Dune. My little sisters Rachel (age 11) 
and Lucy (age 9) wore gold sparkley ballet pumps from Next. And my
daughter Isla wore cream bow ballet pumps from Zara. I got those in the
sale for under £10"
"Matt and I wanted an intimate venue where it would be just the two of us
and our guests. We wanted somewhere rustic, informal, laidback and not
pristine! The old hall at Pencoed House is
a converted barn which was part of a country estate bought by the most
lovely family who had just a few months before we booked it turned it
into a wedding venue.
The venue was set in the most beautiful woodlands
and I had my heart set on an outdoor wedding and they had the most
perfect setting in their Orchard although had to be persuaded to do this
as they've never been asked to do this before which I was amazed at so
we were officially the first couple ever to tie the knot there outside
and to this date still are the only ones! To achieve an outdoor wedding
in this country was quite a mission!"
"For
the ceremony it was all about the flowers! As the ceremony as outdoors
we really didn't need much as it just looked stunning as i was. We tied
jam jars filled with flowers on the end of every single row and then we
had two hooks at the end of the aisle with jam jars and flowers there.  I
wanted to line the aisle with fresh rose petals but they were very
expensive but then I came across white silk rose petals in Ikea which
were only £2 for a bag so I bought a load of those and they were
scattered down the aisle!
In the lead up to the wedding my
Step Dad carved a wooden heart which read 'here comes the bride', my
little sister carried this down the aisle and it looked lovely."
"Matt is
the least formal or suited and booted character. He is a skinny jeans,
converse and ti-shirt kind of guy! And we both agreed we didn't want
anything formal or traditional and as my step-Dad is quite young too we
thought we could go for something more quirky. We bought really nice
Tweed Suits from the Topman Heritage Range. I loved how skinny fit they
were, the guys all looked so handsome!
Matt didn't want to wear a tie but did really
fancy the idea of a bow tie. I love Liberty fabric and so we went online
and trawled together through what felt like hundreds of fabrics and
finally found one we both loved. Then my Mum came to the rescue yet
again and although she has never made them before, she did it! And she
created the most wonderful bow ties and pocket squares for all of the
groomsmen and Matt."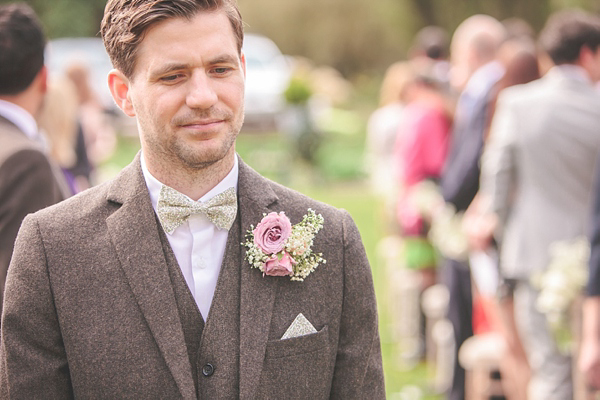 "My daughter Isla who was 14 months old at the wedding wore the
same as Rachel and Lucy so the Monsoon baby Estella Dress. With a pair
of cream tights from Monsoon baby range."   
"Like many other couples the thought of the first dance was scary
and not at all something we were looking forward too we almost thought
about not doing it but then we decided to do something a bit different.
We danced for one minute to a track (cover) by Nouvelle Vague 'I melt
away with you' it is the sweetest song and it just makes me smile, we
slow danced to this for just under a minute and then got the band to
jump in and start playing Calvin Harris 'Feel so Close to you right
now', and we got as many people onto the dance floor and jumped around
and it was so much fun and just that moment in time is one of my fondest
memories of the day. Just on the dance floor surrounded by everyone
dancing like crazy to Calvin Harris!"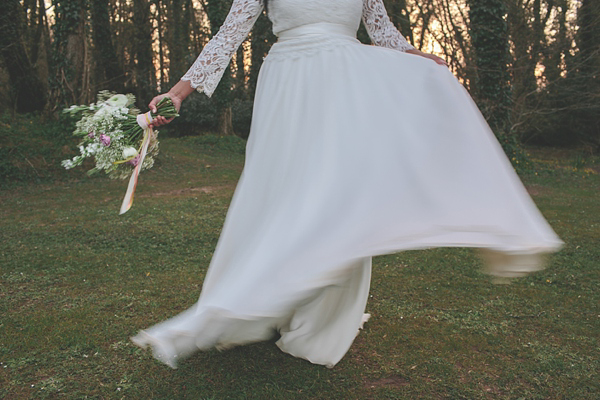 "Jay Archer was our florist. I still can't believe to this day I haven't
met  Jay in person! We did everything over the phone and email. I
couldn't make the trip she offers all her brides which is to go and
visit Covent Garden Flower Market.
When it came to flowers again budget
played a big part so Jay provided the bouquet, buttonholes and circlets
and then 2 buckets of flowers which we arranged ourselves the night
before the wedding! That took 5 of us and nearly 4hrs so if you too are
planning to do this make sure you have plenty of time!  The
flowers in the bouquet were: wild style flowers including white stocks,
lily of the valley, white lilac, gypsophila, white ranunculus, lilac
and peach spray rose, white anemones and herbs including chamomile,
rosemary, and mint and jasmine trails in a loose, delicate hand-tied
style Handle finished with lengths of ribbon in pale pink, peach and
cream.
I adored the bouquet and could not part with it
so I didn't toss it away! And I still have as I hung this upside down
following the wedding so it dried out and it is now in a vase at home!"
"Jay created the most beautiful
floral circlets made up of peach roses and gypsophila and so they were a little
different to mine, they had half circlets and then ribbon hanging
loosely. They looked absolutely stunning!"
"For the children in the wedding party, Matt designed an I Spy game so just an A4 print out with a
list of pictures for them to take and they each had a disposable camera
then to take the pics. They loved it and didn't let go of their cameras
until the end of the night!  For the little toddlers they
each had a 'goodie box' (the same Kraft ones I used for midnight snack)
they had a colouring book, crayons and some snacks in there!" 
"We had a cake table at our wedding! I loved it, it looked
so rustic and homemade. We asked our closest friends and family if they
would mind making a cake and so ended up with a variety of homemade
delicious cakes. But we did have a centrepiece one and one we could cut!
I mentioned earlier that Pamela Love's wedding was one
of my inspirations for our wedding and she had the most beautiful
stunning cake so I asked my Mum who is just the most creative and
talented lady to have a go and she spent months making by hand sugar
flowers and she made a two tier cake inspired by that. I loved it so
much that I couldn't even bring myself to cut the cake! So someone else
did it for me! I wanted as much as possible for the wedding to be
homemade as I wanted to keep things very rustic and not perfect!"
"The reason I didn't do formal favours
is because I wanted to provide something for all our guests so including
our guests who came to the evening do. So I bought a load of brown
kraft boxes from eBay (the ones you get in some takeaways and especially
delis) and I printed 'midnight snack' onto them and they were each
filled with a mini glass bottle of coke, a red and white paper straw and
a donut made that day from a seaside fish and chip shop who also make
fresh donuts at Barry Island. They were a friend of a friends!
We got
lots of texts the next day and picture messages of the guests eating
their snacks! They were stacked by the door with a 'take me home' sign
for when guests were leaving."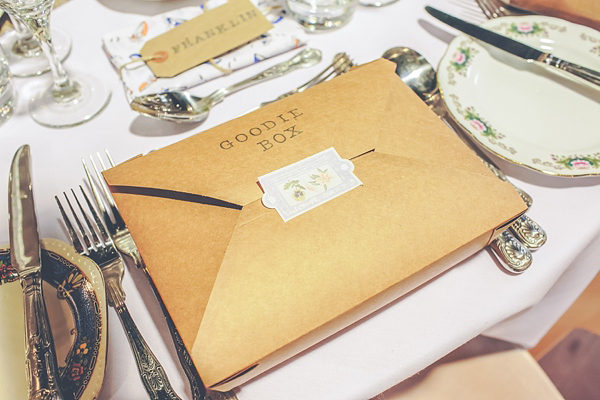 "The table plan was one of the highlights of the days in terms of
talking points for all the guests! I really wanted the guests to feel
like a big part of our day so a couple of weeks before the wedding I
asked everyone to send me a photo via text (so just a photo of a photo
on their iPhones/mobiles) of when they were little (the majority of the
guests were 80's kids! so we ended up with great photos!).Matt then
cropped them and printed them put passport style onto photo paper.
We
got a large old mirror and spray painted the it with chalkboard paint
and we listed years from 1983 (when I was born) to 2013 which became the
title of each table. Then on each table whichever year it was showed a
photo of me and one of Matt of what age we were at that point in
time – so the 1983 table was a newborn photo of me and one of Matt aged four!"
"Aled
was the most approachable and professional photographer we could have
wished for. He met up with us several times before the big day to
discuss ideas and plans. We also visited the venue the week before to
discuss where we would take different shots and to run through the
schedule for the day so on the actual day it was seamless as he was so
well prepared.
 This element of the day was very
important to us as the photos will never grow old or forgetful like we
will one day! On the day we scheduled quite a lot of time for pictures
as we knew we would regret it otherwise. We couldn't be more pleased or
happy with the end result."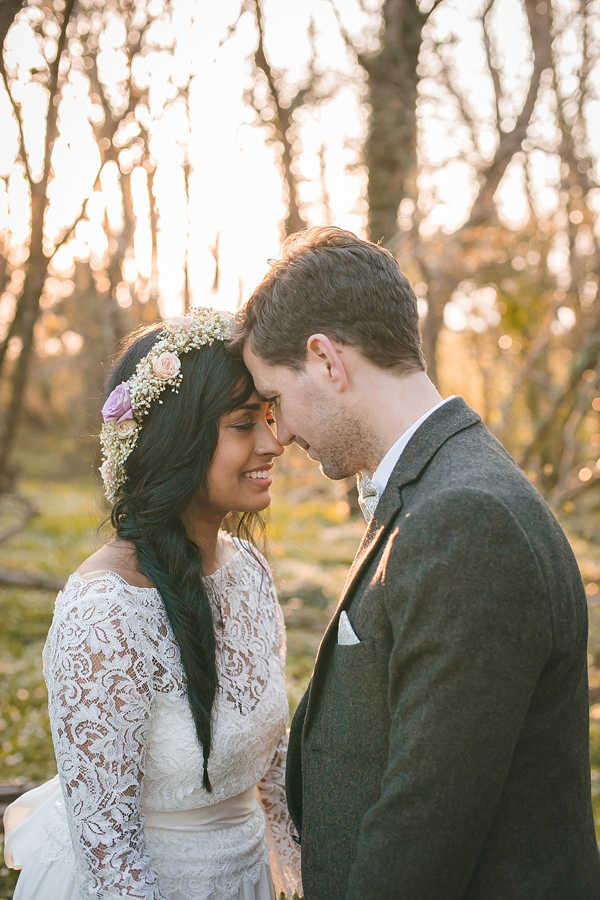 "My hairdresser Joanne Lebeau
was on recommendation from a good friend whose wedding I had been to
the previous year. She was brilliant even though I didn't end up being
the easiest client! I had two hair trials as originally I was going to
wear my hair down but when I added the lace jacket to the dress 2 weeks
before I had to have an emergency round 2 hair trial as wanted to show
off the back of my dress. Again Pinterest was great for inspiration and
it was there that I saw a side plait would look great with a floral
circlet so I decided on a side fishtail plait. I loved it!"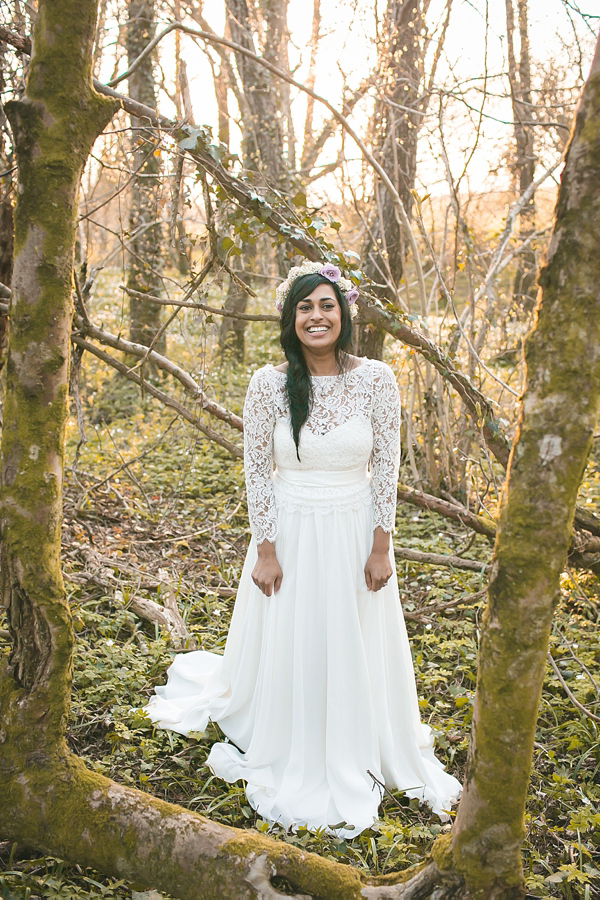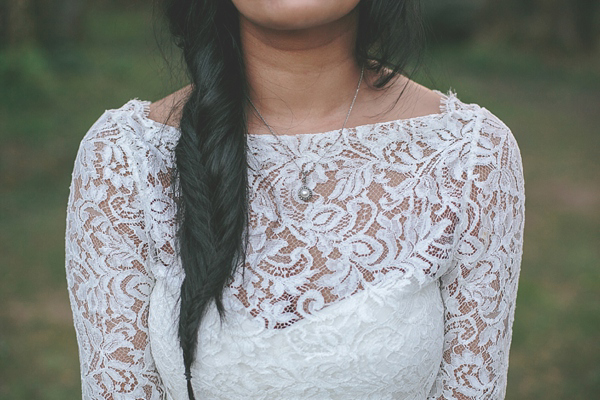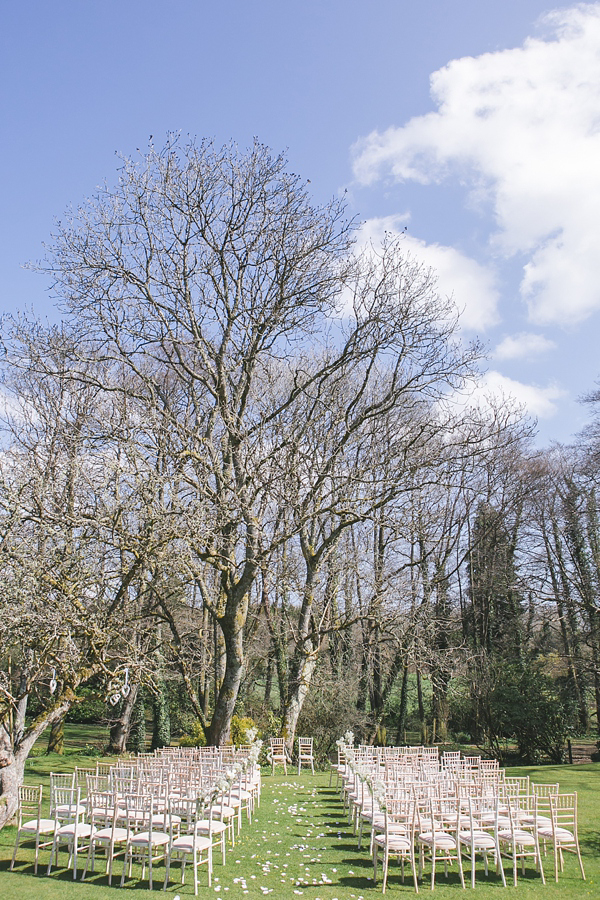 "Matt is a freelance web
designer/front end developer so he wanted to help with this side of
things and in keeping with our homemade wedding.  He designed our save
the date cards, menus, order of service and table numbers.
The save the date cards just had a link to our wedding website
which Matt designed, guests just had to RSVP on there then had an email
(again which Matt designed) which outlined everything that would
normally go in a traditional invite."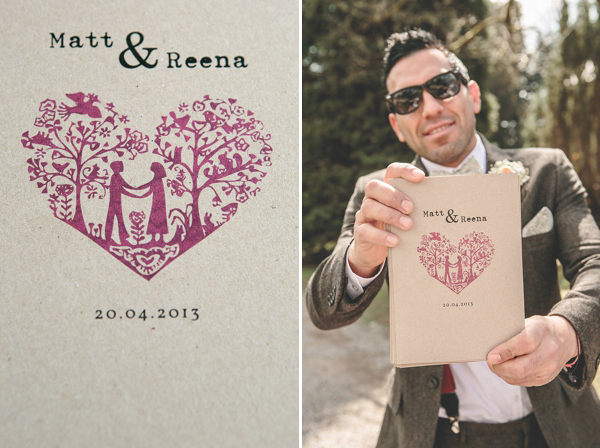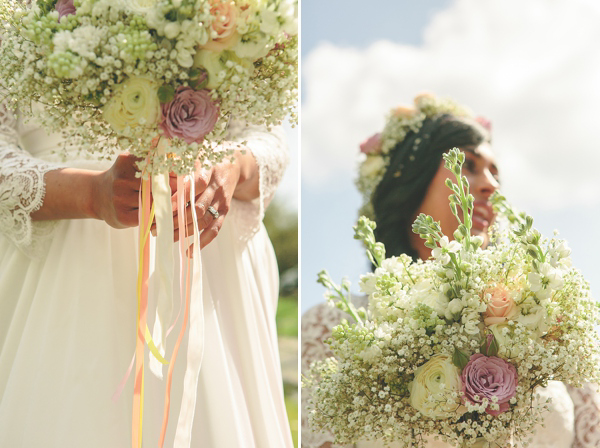 "We
have been to lots of weddings and the ones that have really stuck out
for us have been the ones with live music. Matt was also in a band for
years, he was the lead singer, on guitars and their songwriter so he
wanted music to be a focal point of the wedding too. We wanted an indie
band for the night and hired The Duplicates, a local band, as they came recommended from the wedding venue. I
still can't even describe how amazing they were. It was one of the
highlights for me, I didn't actually leave the dance floor at all in the
evening, feel a bit bad as didn't get to chat lots to people but I just
wanted to enjoy every minute and I love dancing!
We
took similar approach to day. We really wanted live music to walk down
the aisle too. I didn't have a clue where to start though so I went on
the website of a local pub we like who showcase lots of local acoustic
acts and I looked at who was coming up and we went to watch The May Duo,
they were absolutely brilliant and we booked them there and then. They
hadn't really done many weddings at all but again they were so
accommodating and willing to learn new songs at our request!"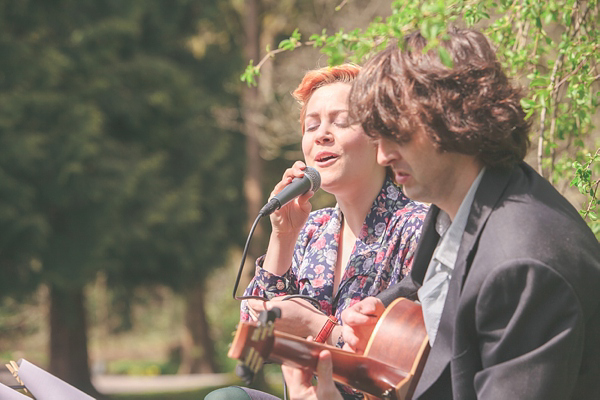 "We didn't tailor our vows it was always our intention but a few
days before we just decided we would stick to the ones we had picked –
we had civil ceremony.
We had two readings. We
have been to so many weddings that lots of readings we liked had already
been used and we wanted something light hearted and different. The
first reading was lovely, it was a children's book and a sweet little
story about love from the 60s' that I stumbled across at a vintage
fair:  Love Is A Special Way of Feeling by Joan Walsh Anglund. One of my
best friends Sarah read this for us."
'Love is a special way of feeling…
It is the safe way we feel when we sit on our mother's lap with her arms around us tight and close.
It is the good way we feel when we talk to someone and they want to listen and don't tell us to go away and be quiet.
It is the happy way we feel when we save a bird that has been hurt…or feed a lost cat…or calm a frightened colt.
Love
is found in unexpected places…It is there in the quiet moment when we
first discover a beautiful thing…when we watch a bird soar high against a
pale blue sky….when we see a lovely flower that no one else has
noticed….when we find a place that shelters us and is all our very own.
Love
starts in little ways…It may begin the day we first share our thoughts
with someone else…or help someone who needs us….Or, sometimes, it
begins, even without words, we understand how someone feels.
Love
comes quietly..but you know when it is there, because, suddenly, you
are not alone any more…and there is no sadness inside you.
Love is a happy feeling that stays inside your heart for the rest of your life.'
"The
second reading was dedicated to our darling daughter Isla and is a
story that we will continue to read to her! 'Guess how much I love
you', by Sam McBratney. This was read by my two little sisters and
Matt's nephew.  They were absolutely brilliant, we'd had a few practice
sessions in the lead up to the wedding and they did such an amazing job,
they had a few giggles too as they did it, at one point a helicopter
flew above them and instead of stopping and waiting for it to fly away
they carried on and none of us could hear them and we were all laughing!"
"My step dad gave me away – I walked down the aisle to
one of our favourite songs…we have quite different music tastes but this
one we agreed on as it's a classic, Eva Cassidy Songbird. We walked
away to The Beatles "All you need is Love," all played live and so
beautifully by The May Duo.
 Because the venue
wasn't licensed to perform outdoor wedding ceremonies halfway through
our ceremony, myself Matt, my parents and Matt's mum plus our two
witnesses went with the Registrar back into the old hall to say the
legal declarations. We were gone for about 10mins so whilst this wasn't
ideal it actually worked out fine as it was a beautiful day all the
guests just chatted whilst The May Duo performed another 3 of our
favourite songs including a cover of John Lennon's "Real Love" and The
Doors "Light my fire.  We did have the option of getting
married the day before and then just having a blessing but we really
wanted to get married on the day when everyone was there."  
"My engagement ring was a 1920's art deco white gold and platinum diamond ring from a local family owned jewellers in Cardiff called David Edwards. 
I wanted a vintage ring as really wanted something unusual and I have
always loved art deco jewellery and it was a bonus that it was so much
cheaper.  I had my wedding band made by K Diamonds
as didn't have much luck finding a vintage one that sat well with my
engagement ring. My friend who was getting married a month after me had
friends who design rings as a side business and they work with jewellery
makers in Hatton Garden in London. The wedding band was stunning and
completely in keeping with my engagement ring. It had a filigree edging
and pave set diamonds running through the middle. 
Matt
was not at all bothered about his wedding band and got a Titianium one
from the same people who designed my wedding band and his was £20 so he
was over the moon!"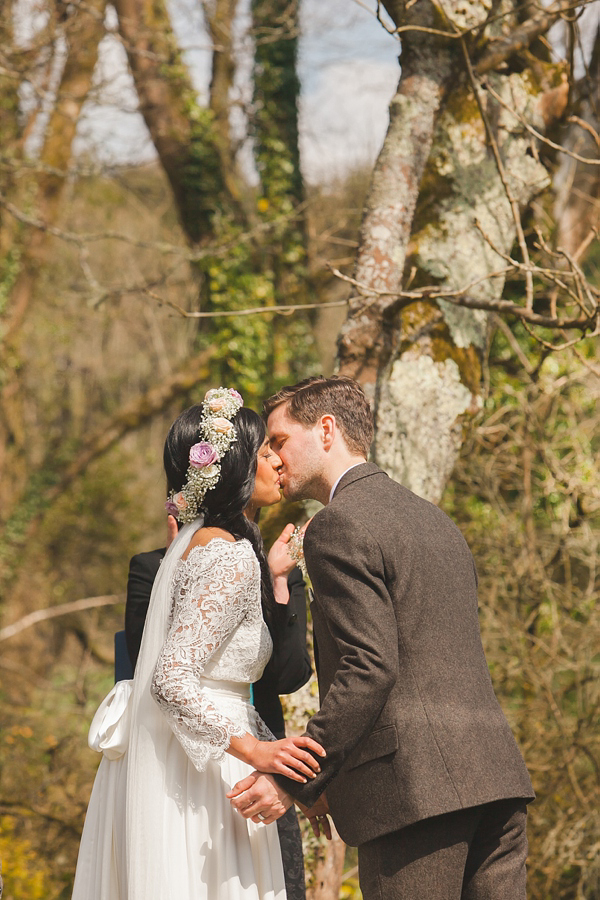 "Matt's nephew Bailey
was part of the Groomsmen, he is 11 years old and had a lovely suit from
Marks and Spencer and tan brogues, he also had the same bow tie and
pocket square as the others."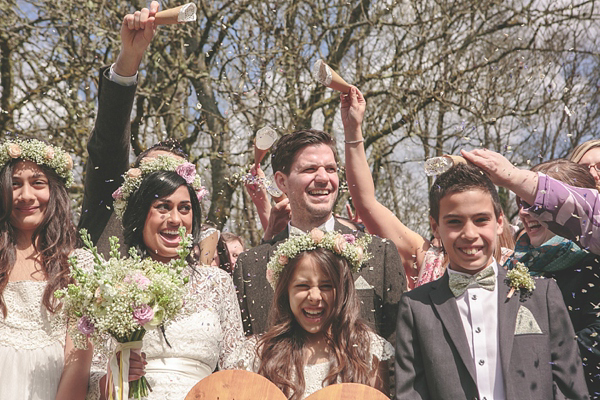 "As I spent so much money on the dress I knew I had to cut back on
the veil. I loved the veils by Minna and because I knew at this point I
definitely wanted a floral circlet I knew I wanted something very floaty
and not too structured or detailed. I took inspiration from the Minna
veils and designed my own with the help of the seamstress. So we used a
very soft tulle which was light and floaty and then we managed to
salvage the French lace from the cap sleeves and use that to create an
edging for the veil. It was beautiful and very economical. I am going to
keep the veil for Isla because I doubt that she would want to wear my
dress in 30 years time!"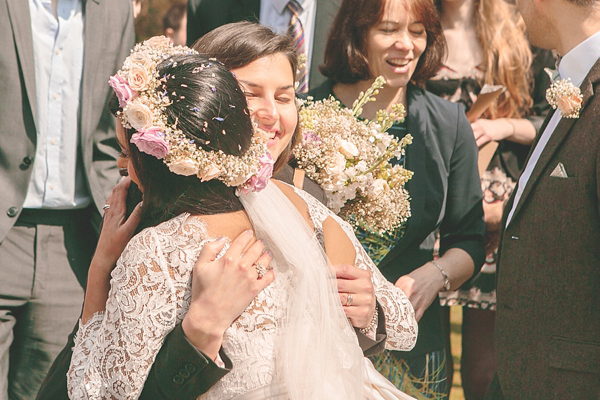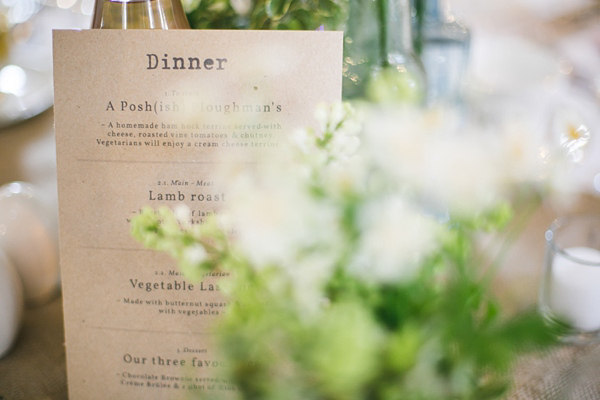 "We didn't have a big budget for decor and again I just wanted fresh flowers everywhere and candles.   For
the table centres I collected hundreds of jam jars and old vintage
bottles. On each table there was a mixture of these filled with flowers.
They were placed on a square piece of Burlap which I cut down to size
for each table. I ordered a huge roll of burlap off eBay. I also used
the Burlap to create table runner for the top table and the cake table
as they were both long tables as opposed to the round tables. I wrapped
vintage lace which I had collected from various places around the jam
jars and some cross stitch love ribbon I bought from eBay. There were
then candles on each table in small glass votives.
 Each
place setting then had a vintage side plate and tea cup and saucer. And a
vintage paper straw in the glass. I also managed to let the venue let
me buy some of the vintage style coloured soda to add a bottle of that
to each table too.
Then the napkins were placed in the middle of each place setting.
On
the window sills of the main room I dotted a few Roy Ryan pictures
around, I bought his cards from Etsy and framed them in Ikea frames, we
both love his style and again it fitted in with the rustic and woodland
atmosphere. We also picked some love quotes which Matt designed and we
framed and had dotted around."   
"We had fairy lights dotted around the room too.   In
the bar area and small marquee area I placed vintage tablecloths over
and more jam jars filled with flowers and candles everywhere. We had
bunting up loaned from a friend who made tons of it for her wedding. And
we put up fairy lights.
We also had old family photo's on
display of weddings and family we have both lost. And we also had
photo's of when we were younger pinned to some bunting across one area
of the bar.   We had a noticeboard for guests to pin us a
message and a homemade photobooth, just some old vintage gold frames and
giant sunglasses and some other small props.  I also had a vintage suticase filled with toys for the little ones.
For
all of the above I have to thank my Mum but also lots of my friends who
came round and helped me without them I would never have been able to
get it all done!"
"I decided not to do formal favours. Instead I stamped onto
luggage tags (well my friends!) the name of each guest and then wrapped
this round handmade napkins (My Mum made) so they looked like little
parcels. Me and my Mum picked all the fabric ourselves from a local
fabric shop. We went for vintage style floral patterns. It was quite
funny because throughout the rest of the day and into the eve alot of
the guests had their luggage tag with their name on it tied round their
necks like a name tag!"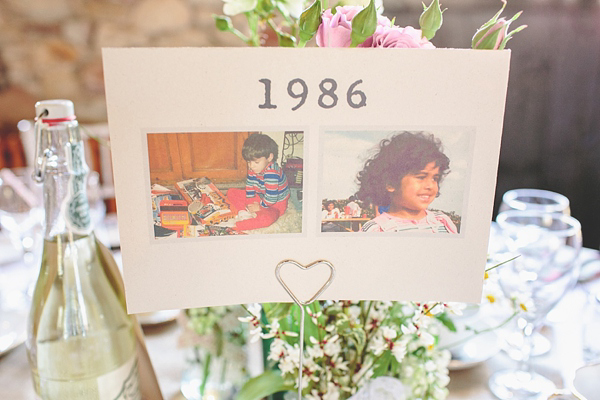 "The venue had three preferred caterers so we had to pick one. We knew straight away that we wanted Spiros.
As they have a brilliant reputation in Cardiff and years of experience.
And they were very personable, helpful and willing to try new ideas.
Plus the price was so good for the portion sizes and the service was
excellent! We both love comfort food and traditional food neither of us
are particularly into fine dining or fancy restaurants so we just wanted
tasty filling food, we didn't want anyone to be hungry! We had canapes
during the drinks reception. And then we wanted to create our own
starter.  We both love ploughmans so we worked with Spiros to create what
we called a 'Posh-ish ploughmans' -  everyone had a mini ham hock terrine,
artisan bread, caramelised onion chutney, a big wedge of welsh cheddar
on a rocket and roasted vine tomato salad!
This was followed by a Roast
Leg of Lamb Welsh dinner with lots of roast potatoes, veg and a minted
Yorkshire pudding, followed by a trio of desserts as we couldn't agree
on just one, it was mini eton mess, mini chocolate brownie with cream
and mini crème brulee! Followed by chocolate truffles and drinking tea
and coffee from our vintage tea cups, saucers and teapots!
We
had a hog roast in the evening which I know is a wedding favourite at
the moment but I just love it and it was lovely as we had the
hottest/brightest day of the year at that point in time on our wedding
day so got to have it outdoors."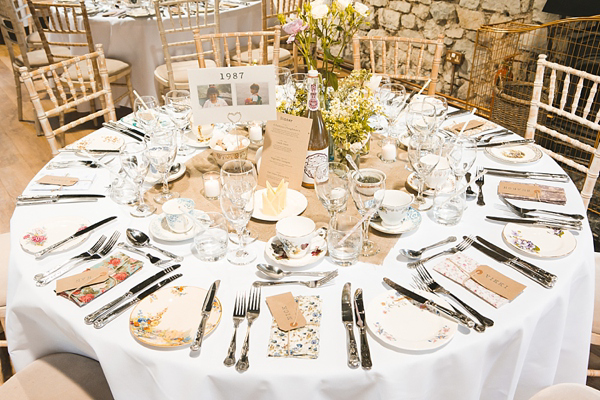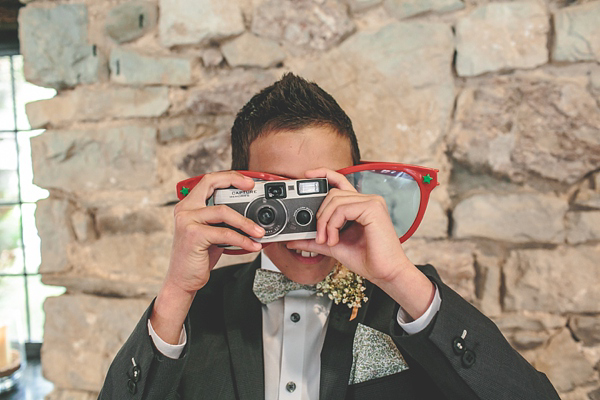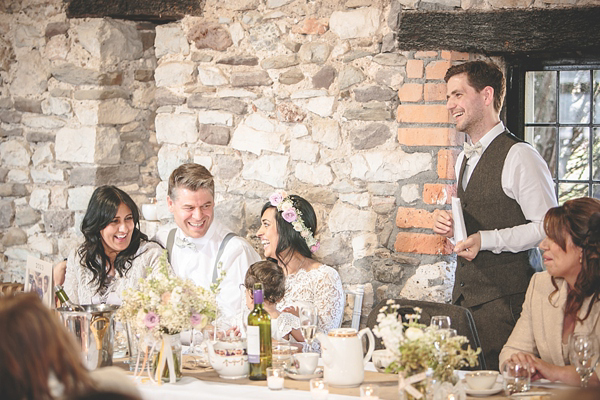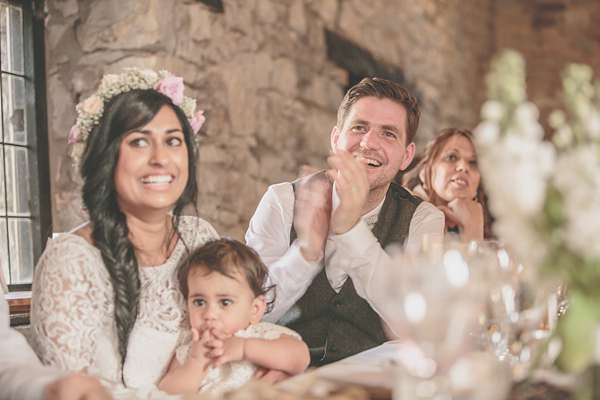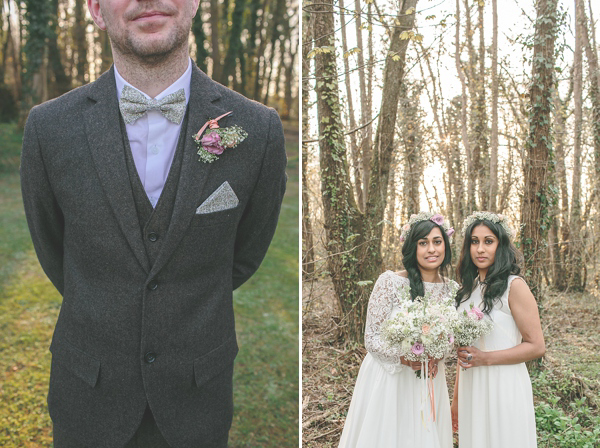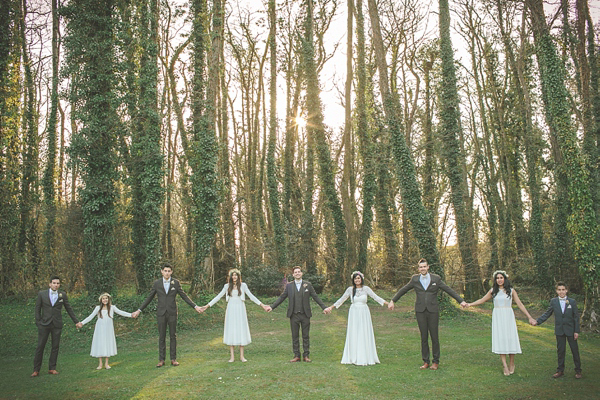 Words of Wedded Wisdom…
"I was obsessed with one blog – Love My Dress!  I absolutely love it and still can't believe we are going to be
featured on here. I also bought the LMD book off Amazon when it came
out not too long before the wedding and that was very inspirational too!  Love My Dress
blog was brilliant, it gave me so much inspiration and helped me
prioritise the areas that were really important to me for the day. I
loved that you can search on the blog very easily if your looking for a
particular style or theme, for me woodland and bohemian weddings were
the key ones I was personally interested in and I found lots! I also
found out about The Vintage Wedding Dress Company and Jay Archer on the
blog! I still read it now even though I've already tied the knot!
I
also loved Pinterest. That has to the best place ever to create
moodboards, I had one for my wedding hair, dress, make-up, décor you
name it I had a board for it!"   
"Don't
get scared of your own ideas and think what if people don't like it.
Your wedding is the one event where you can be a little self indulgent
and have things your way and to your taste.  And lists are
key no matter how laid back you are! I am a lists person and needed that
to keep on top of everything as things can get overwhelming quite
quickly when planning a wedding with the amount of admin that is
involved! It's not just the fun stuff like picking flowers and dresses
there is a lot of money management and decisions to make in the lead up!
 Our wedding was very much a family affair!
Apart from the Best Man the groomsmen and bridal party were all family.
I loved that they could all play such a special part in the day and the
lead up to it.  Matt works in web design and I work in
Social Media so we both like the internet and online world so we used
the free Wedding App for our wedding we emailed all the guests prior to
the wedding to join and on the day we had a blackboard with details on
there, the guests posted over 100 pictures which were very fun to look
at the morning after the wedding! I think it's a creative and modern and
you end up with much better quality photos than you would on a
disposable camera."
"I don't even know how to ever thank
my Mum for all the time, commitment and energy she put into making,
sewing and doing things for our wedding. She hasn't been well in the
past  (My Mum has fought cancer at a young age and is in remission for
one of them now but still has a slow growing one which unfortunately
there is no cure for as of yet  – but she is monitored closely and has been
so well these last few years).
Mum has two young girls and my
brother still at home so I still can't believe how much time she put
into the wedding planning. I could not have done it all without her.  It
was also an extra special day as we got to share it with our daughter
even though she won't remember a thing we have lots of photos of her and
she just looked too cute in her outfit!"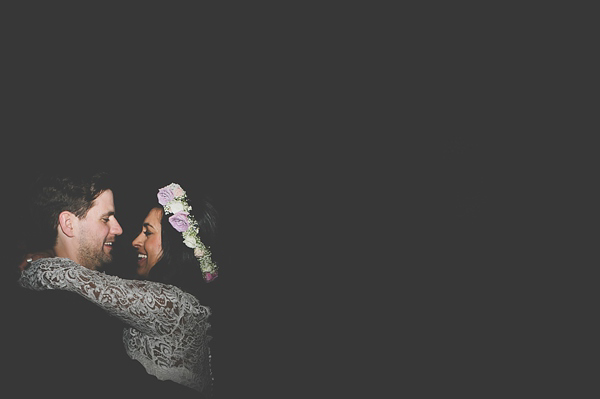 Where to even start! What a luscious, floral bohemian extravaganza! I totally love these photographs and huge effort Reena has made in sharing her story.
Thank you with all our hearts Reena and Matt – we have truly loved sharing your day with our readers today and congratulate you on your most beautiful wedding.  Huge thanks too to photographer Aled Garfield for sharing his work.
You can see more related wedding posts and features here; 1970s inspired, boho, bohemian, woodland weddings, gypsophila, flower crown.
With much love,
Annabel
Photographer – Aled Garfield
Venue –  Pencoed House Wedding Dress – Charlie Brear
Veil/Headpiece – made by the bride, inspired by Minna
veils
Brides' shoes – Red Herring in Debenhams
Groom – Suit from the Topman Heritage Range + bowtie in Liberty fabric
Bridesmaids – Urban Outfitters
Flowergirls – Monsoon Estella Dresses
Young male bridal party member – Marks and Spencer
Flowers – Jay Archer Floral Design
Cake – The bride's Mum
Entertainment – The Duplicates + The May Duo
Rings – David Edwards
+ K Diamonds
Catering – Spiros
Hair Stylist – Joanne Lebeau