We are so lucky here at Love My Dress – we really do get to feature the loveliest weddings with you all. Knowing that the photographers and brides are happy for these weddings to be featured on Love My Dress literally makes my heart sing. Sharing these very special occasions is what I live for and feels like what I was made to do.   I pretty much smiled my way through preparing this whole feature with you – so lovely are these photographs, and so representative of the 'Love My Dress wedding'.
 Margaret and Lee tied the knot on 2nd September 2013 at Woburn Sculpture Gallery in Bedfordshire and I adore their photographs.  These images bear all the hallmarks of photographer Cat Hepple's work – clean, light, feminine and elegant photography – I'm a huge fan.  That bride, Margaret, chose to wear the most exquisite Claire Pettibone wedding dress and 1920s vintage inspired Juliet cap veil by Erica Elizabeth Designs suggests to me there couldn't have been a better Photographer/Bride pairing.
Photograpy Copyright (c) 2013, Cat Hepple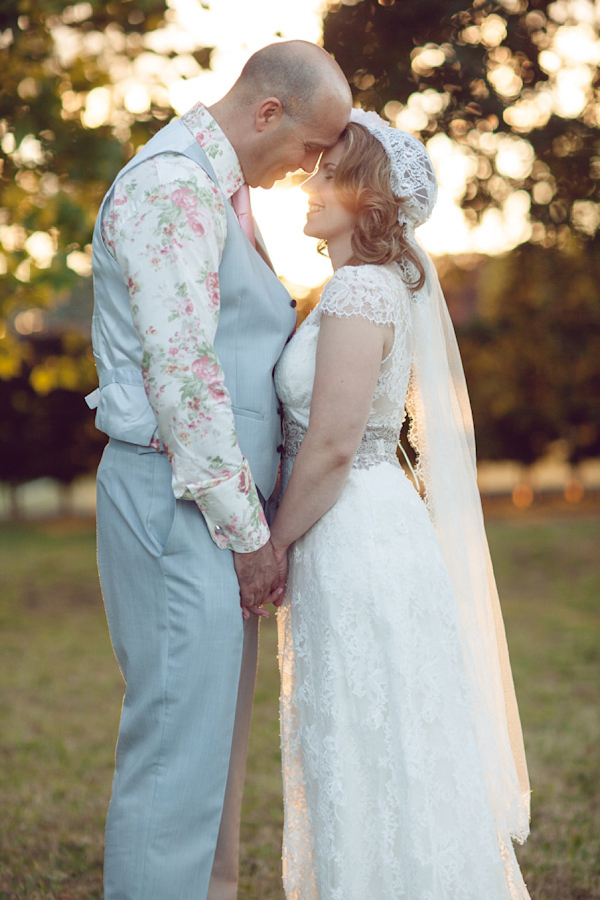 "Our whole wedding was based around a 'vintage rose' theme and a
French poem called 'La Rose Complete' by Rainer Maria Rilke. This poem
touched my heart, as although we both loved roses already, after
visiting Gardens of the Rose in St Albans earlier in the summer, we were
completely blown away by the beauty, shapes and scents of all the
millions of roses they had. It was pure heaven!  The translation of the poem is as follows…"
'I have such awareness of your being, perfect rose, that my will unites you with my heart in celebration.   I breathe you in, rose, as if you were all of life, and I feel the perfect friend of a perfect friend.'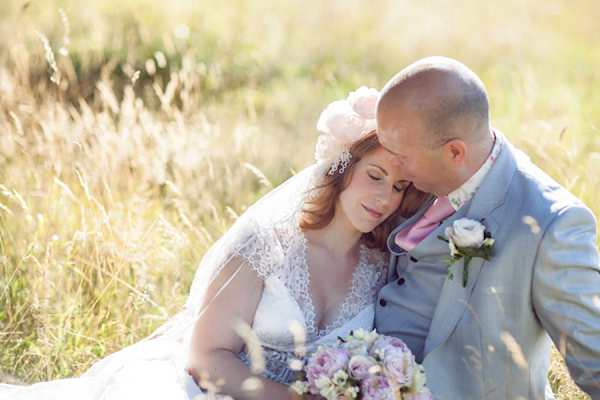 "We chose Woburn Sculpture Gallery
as it is very grand and beautiful. It was light and airy, with high
ceilings, and floor to ceiling glass windows letting in as much sun as
possible! It is also steeped in history and the gardens are stunning,
with lots of roses of different colours."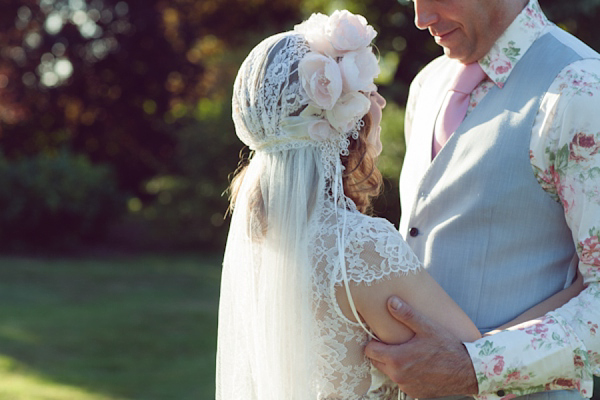 "Our florist was Elaine Sturges.
She did a wonderful job with our flowers. We went for David Austin
roses (the Keira rose). They are a pale pink colour with a peony type
shape. I have always loved peonies as they are so delicate and full, but
my florist said they would probably not be in season for our wedding.
However, she made my day when my bouquet arrived full of gorgeous pale
pink peonies along with the Keira roses, sweet avalanche roses, freesias
and snowberries. I was in heaven!
The bridesmaids had ivory freesias
for their bouquets as they were a lovely contrast to their pink dresses
and also smelt wonderful!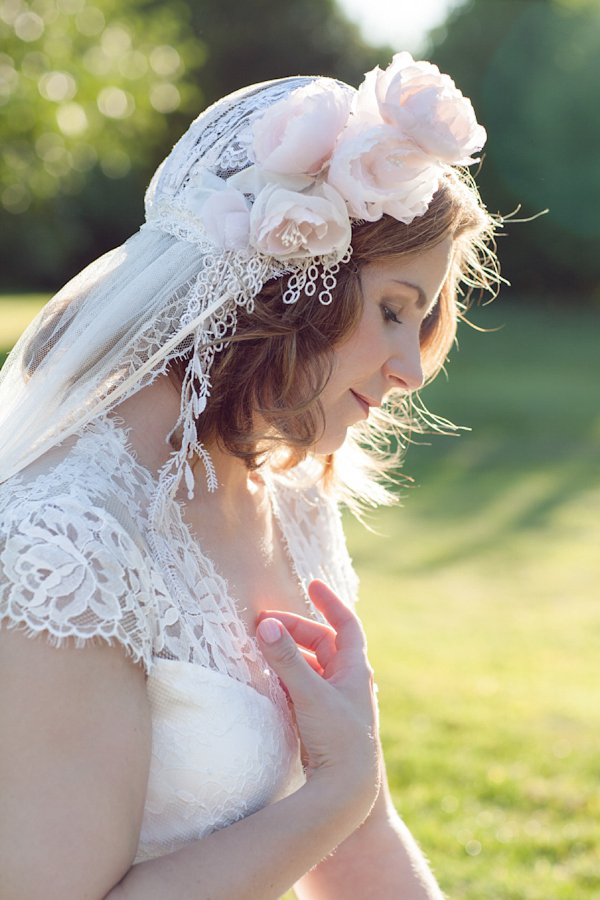 "The Groom's suit was from Marc Wallace.
It was a pale blue wool suit. He also wore a floral shirt and pink tie
from Marc Wallace which fitted perfectly with our rose theme. His shoes
were from Cheaney."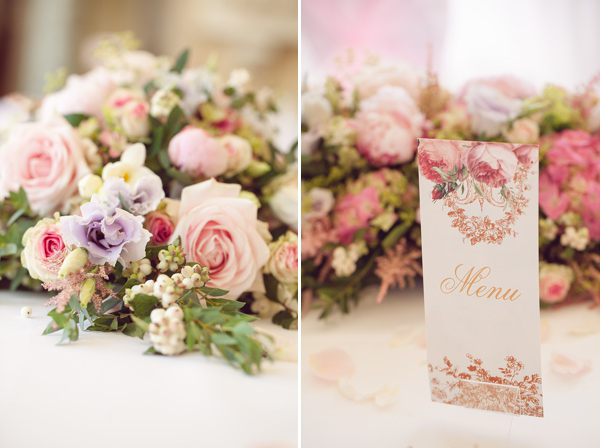 "My shoes were a suede pink from New Look
and I decorated them with some roses from HobbyCraft! They had a big
platform and a very high heel so that I could try and compete with the
groom who was 6 foot 1 inches!"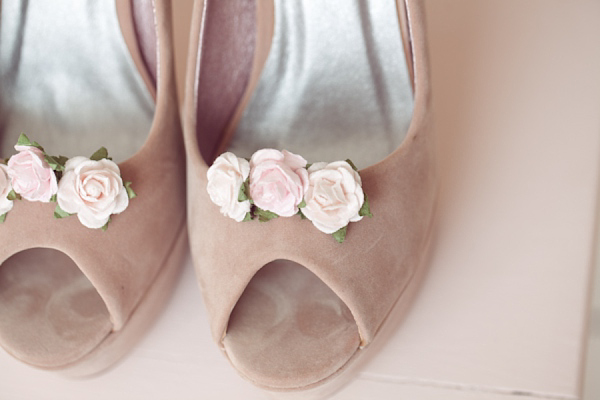 "My dress was the Brigitte design by Claire Pettibone, via Blackburn Bridal Couture. 
I had never heard of Claire Pettibone until I came across Cat Hepple's
blog (our photographer) which featured some of her beautiful dresses!
These dresses are just so different and capture a pure romance for the
bride. Claire's dresses stole my heart,as each dress tells a unique
story of its own.
My dress was full of intricate detail and made
from French lace with an illusion back covered in roses (my wedding
theme!). I couldn't have loved it more. It just felt so 'me'."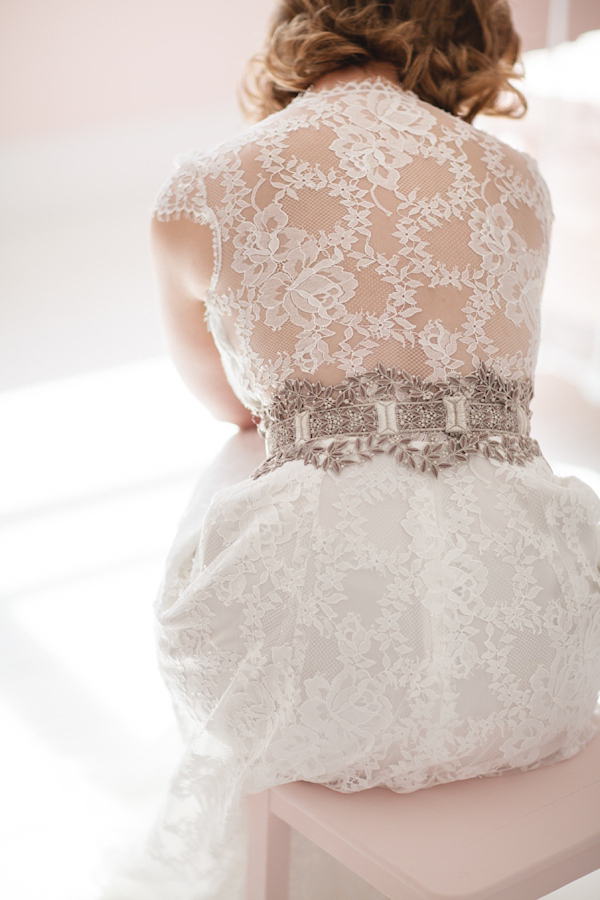 "My juliet cap veil was from Erica Elizabeth Designs.
I chose this beautiful cap as it had silk organza blush pink roses on
the side which went perfectly with my 'rose' theme and pale pink colour
scheme. Again, it was very different and felt really elegant to wear.
The veil was extremely sheer, allowing the back of the dress to be seen
through it.
I wore some peachy coloured vintage style earrings which were a
great find from my local Asda shop and worked really well with my
outfit!"
"Our cake was by Hester from Sweet Tier Cakes.
The cake was based on a summer country garden feel. We had Keira roses
and rose petals with some hydrangeas, to match our colour scheme and
table flowers. We had vanilla, chocolate and fruit cake tiers.
We were
so pleased with how elegant it looked, and it tasted wonderful
too!"
"We had pale pink chair covers and petals on the tables and around
the cake.  I hand-wrote all the place names in calligraphy which my
Grandfather taught me when I was younger. 
We also had a large frame
with our engagement photos in (courtesy of Cat Hepple!) for guests to
see as they were walking into the venue. We had a small frame with
pictures of family members who had passed away but we wanted to be
remembered on the day."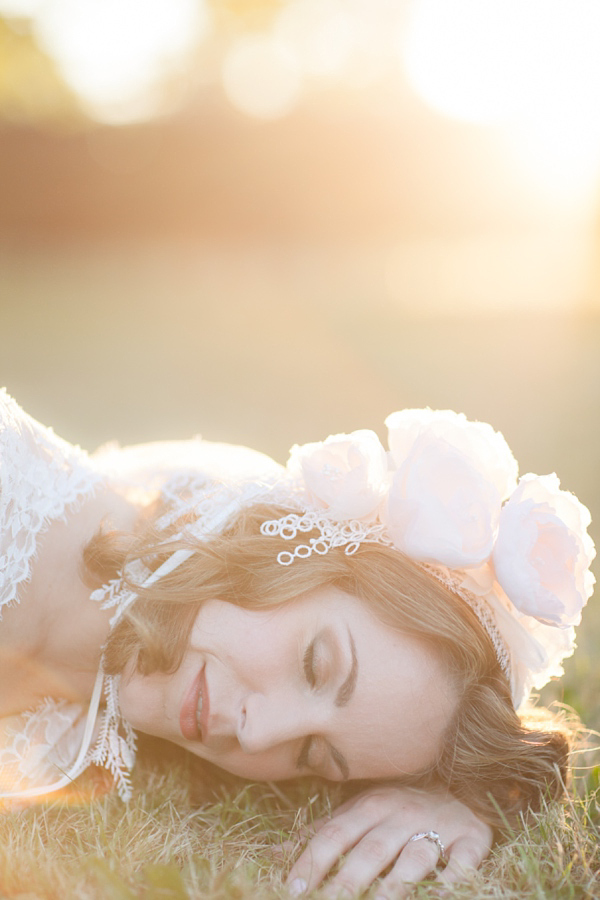 "Our wonderful photographer was Cat Hepple.
She played such a major role in our wedding. She is such a lovely
special person and inspired me through her website and blog to have the
courage to wear what I really felt was true to me, rather than what I
thought everyone else was expecting me to wear.
Cat was absolutely
fabulous and we couldn't have picked a better photographer.
We are
thrilled with our images and she has now become a true friend also.
Thank you Cat!"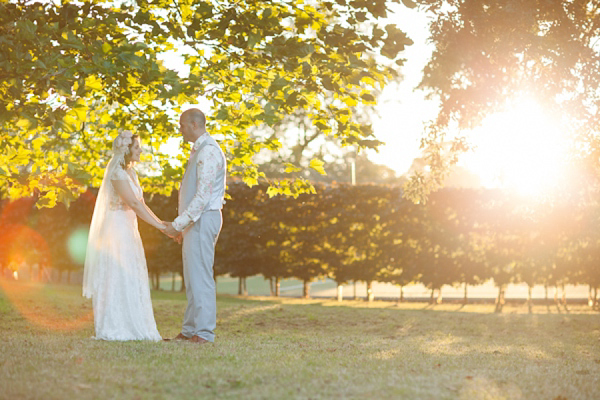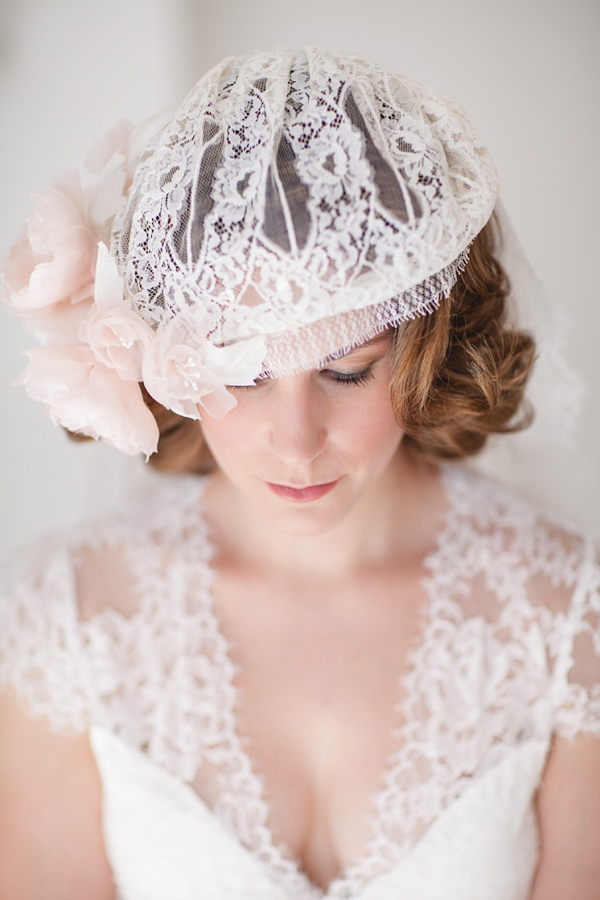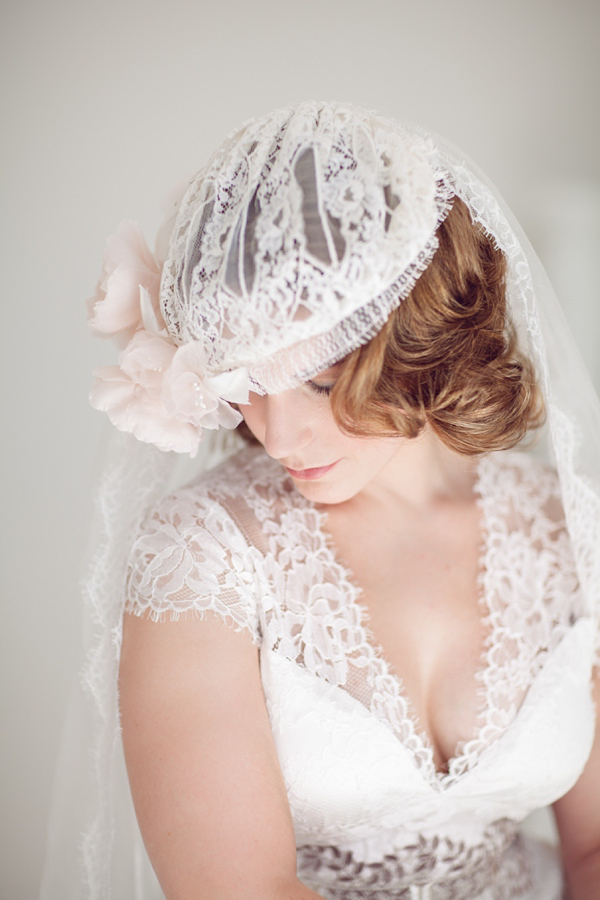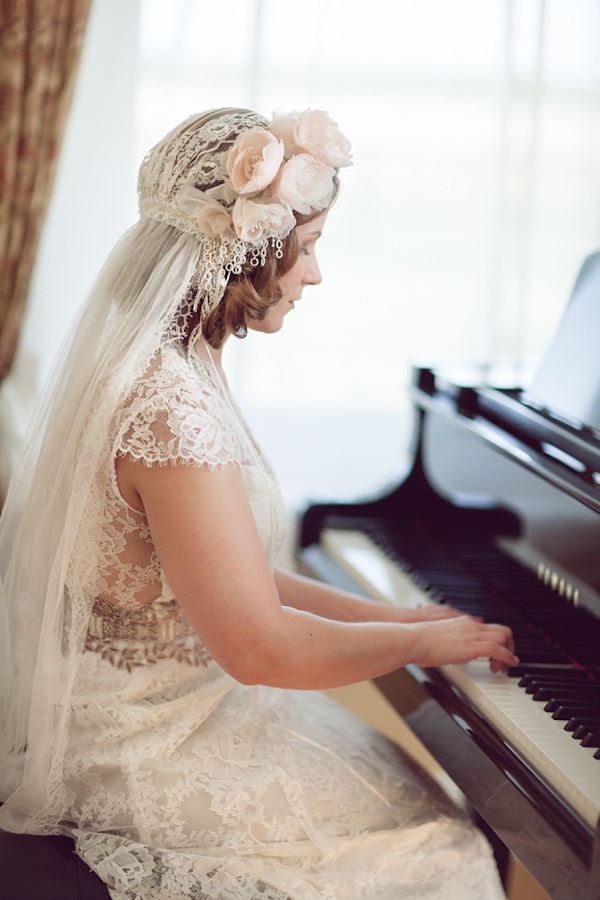 "The Bridesmaids dresses were from May's Ange,
a shop in France. My Mother added some floral attachments to help them
tie in with the theme. The dresses were long, floaty and elegant!  Both
the Bridesmaids wore their own shoes as they
wanted to be comfortable on the day. My sister wore her wedding shoes
from when she got married!"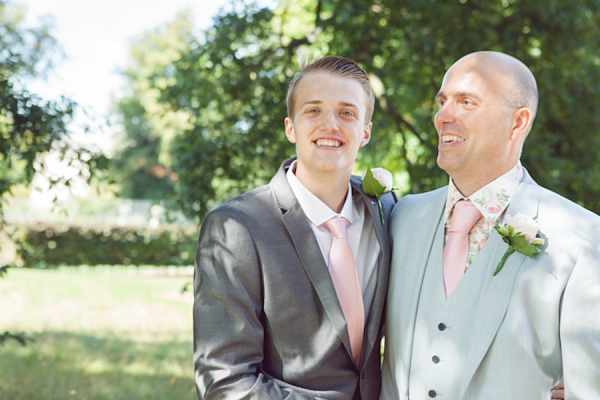 "My Father gave me away – we had Handel's Water Music as we came down the aisle as this added to the grandeur feel of the venue!"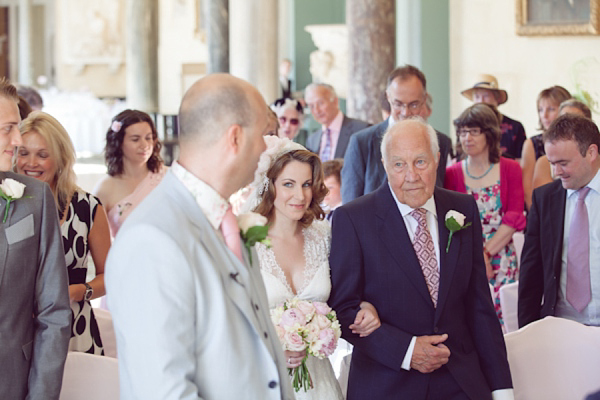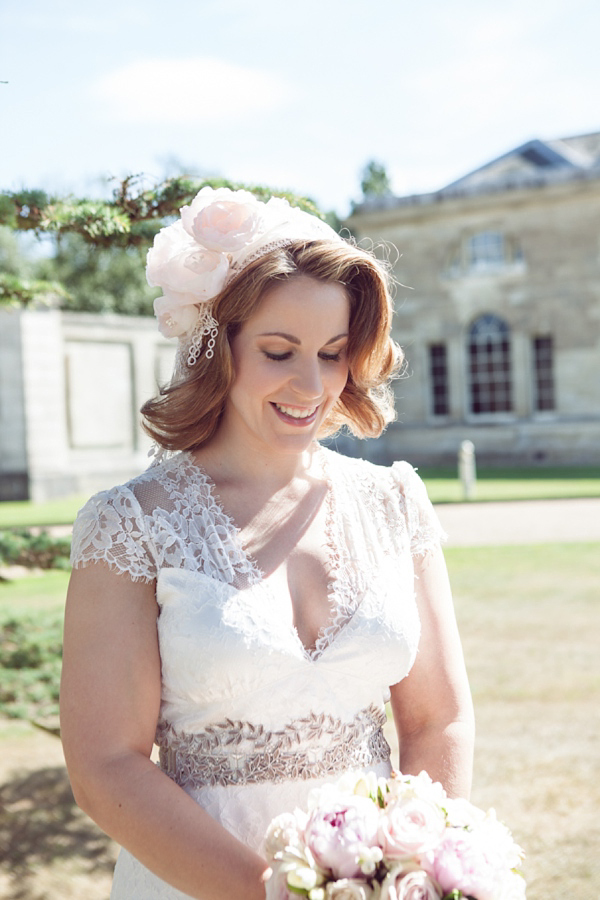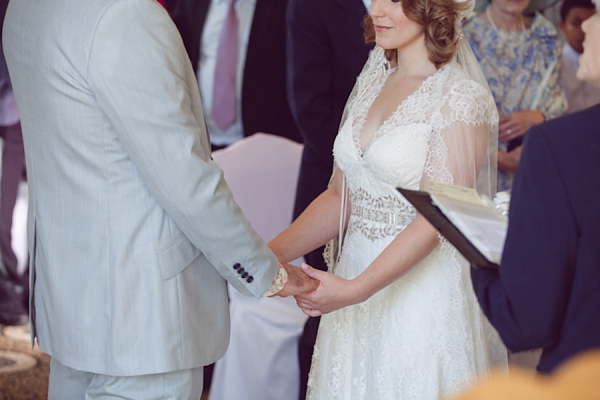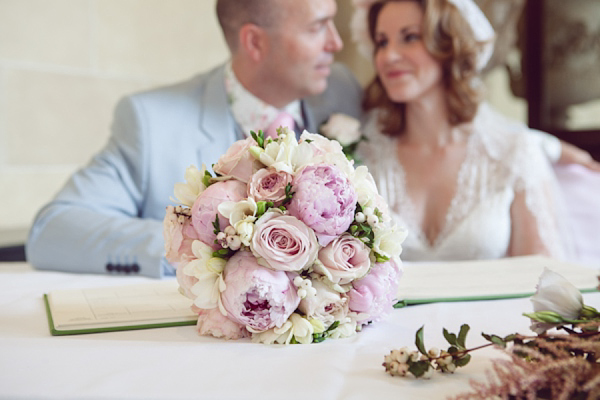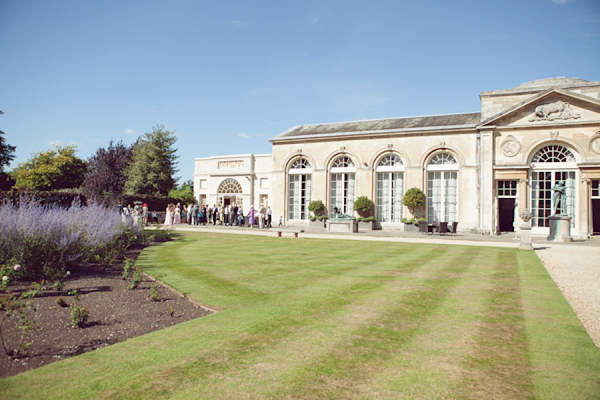 "The flower girl's dress was from Monsoon and my Mother added lots of pink rose buds to this.  The bridemaids wore a pale pink rose in their hair from Claire's Accessories."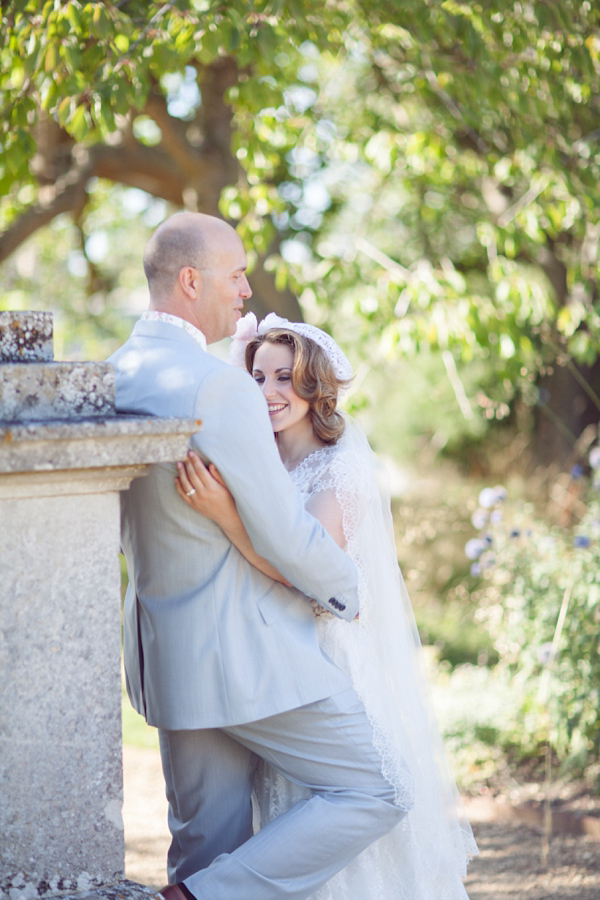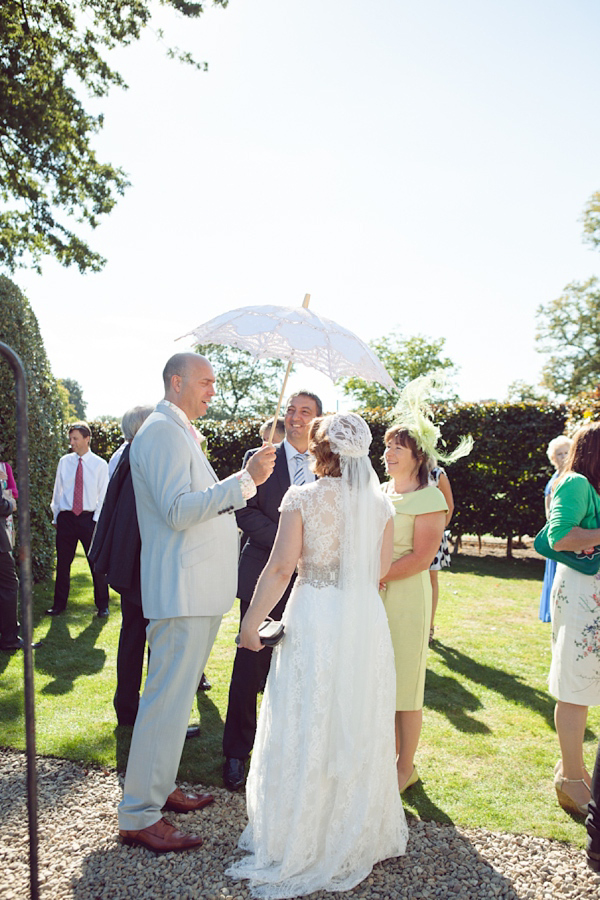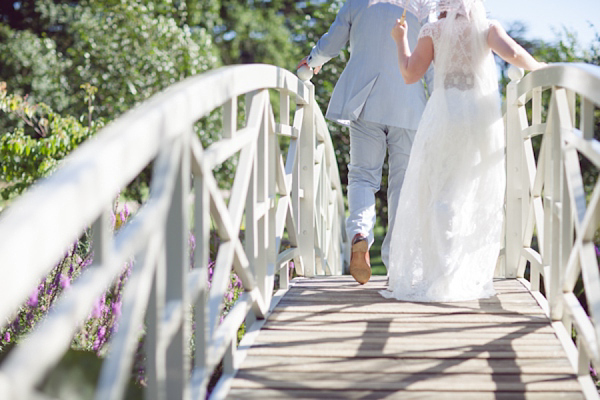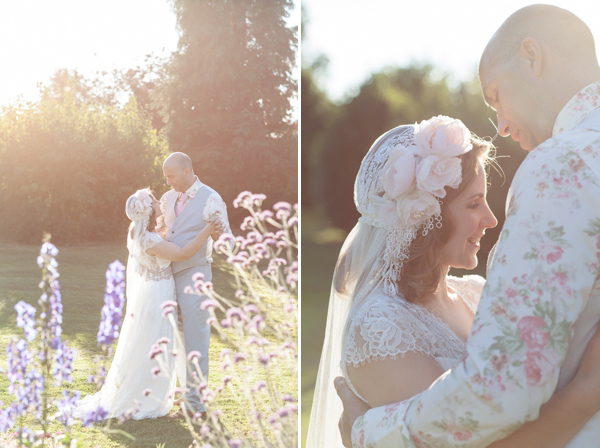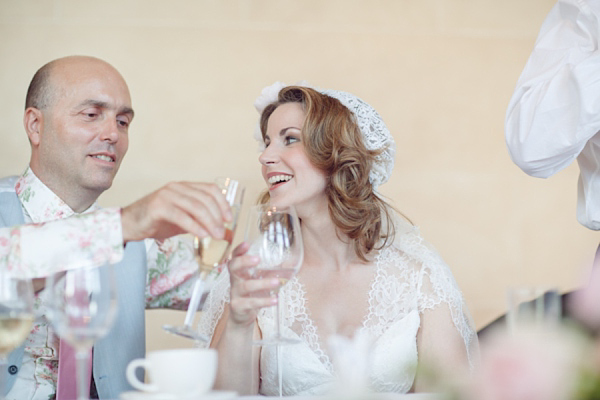 "We decided against having a disco for the entertainment. Instead we
had a creative evening with me and my father
playing some music for everyone. I played the flute and piano,
and as a gift to my new husband, I composed a piano piece to play to
him during the recital.
Lee's daughter danced to her own
choreographed dance half way through the evening entertainment."
Words of Wedded Wisdom… 
"Your wedding day is the one day in your life that you can truly
express who you really are. Take full advantage of this and be as creative
as possible! Put your heart and soul into it and you will be forever
glad you did.  Your photographer really is key to capturing those memories and making them last forever. Follow your heart in choosing the right photographer.
I visited Love My Dress
lots of times and also my photographer Cat Hepple's blog many times
too! Love My Dress often made me feel more secure in the choice I
had made about my dress and veil. It was lovely
to see many other brides being original and creative with what they
wore. I also loved the articles featuring Claire Pettibone gowns and would often search through all of those! Thank you!"
You can see more of Cat Hepple's work on Love My Dress here.  You can also see many more beautiful Claire Pettibone brides here, as well as more feature with brides wearing a Juliet cap veil.
Very many thanks to you Margaret and Lee for sharing your beautiful day with Love My Dress, and as always, thanks to Cat Hepple too.
What do you love the absolute most about this beautiful day?
With much love,
Annabel
Photographer – Cat Hepple
Venue + Catering – Woburn Sculpture Gallery in Bedfordshire
Bride Dress – Brigitte by Claire Pettibone, via Blackburn Bridal Couture
Brides Vei – Erica Elizabeth Designs
Brides' shoes – New Look
Bride's accessories – Earrings from Asda
Grooms Suit – Marc Wallace + Cheaney Shoes
Bridesmaids – May's Ange
Flowergirls – Monsoon + Claire's Accessories
Florist -  Elaine Sturges
Cake – Sweet Tier Cakes
Entertainment – provided by the bride, her father and her step daughter
Rings – London Victorian Ring Company +  Ernest Jones
Hair and make-up Artist – Lisa Domeisel