Well hello! Seeing as we won an award this week, we thought we'd treat our readers to a few extra features. First of all, make a note to pop by Love My Dress at 9pm this evening to find out who has won these exquisite pair of shoes.  For all those of you winding down after a days work, here is a beautiful Autumnal wedding photographed by Katy Lunsford that we think you'll love – Kerrie and Danny got married on 22nd September 2012 at Great John Street Hotel in Manchester…
"The beautiful colours and glow of autumn were a great inspiration
when choosing colours and textures for the styling and decor.  Flowers
were really important to us and they played a huge part in creating a
romantic feel throughout the day. 
The other major
inspiration was my Jenny Packham 'Dahlia' dress, the beautiful intricate sparkling beadwork
inspiring the embroidery on the handmade stationary and table
decorations."
Photography Copyright (c) 2013, Katy Lunsford

"Danny and I have known each other a long time as Danny played
cricket in the same local team as my Dad and we were also at the same
High School.  We were friends for ages before we finally got together in
2004.  Our first date was a great day out around Manchester.  We spent
the day going between real dive pubs and swish cocktail bars, it was
fun!  Later in the day we had to duck in a doorway out of torrential
rain and it was there that Danny kissed me.  We never complain now when
we're out in Manchester and it rains!
We got engaged in New York, we had gone there for Danny's
30th birthday in March 2011, 18 months before we tied the knot.  It was a
cold but gorgeous bright day and we had gone for a walk in Central
Park.  Although I hoped Danny might ask me to marry him one day soon, it
was a complete surprise and this was evident by the fact that I had no
make-up on, messy hair and I was wearing my oldest jumper, jeans and
scruffy trainers."
"My dress was Jenny Packham's Dalia, it was from Aphrodite in Knutsford. 
I had tried quite a few dresses on and at first loved them all, but I
think this was the initial emotional reaction of putting on a white
gown!  Once I had to get ruthless and actually choose one I suddenly
didn't like any!
As soon as I tried the first couple of
Jenny Packham gowns I knew she was going to be the designer for me
although the dresses I had tried so far weren't quite right.  The next
one to try was Dalia and as soon as I put it on I knew it was the one, I
couldn't wait to pull the curtain back and show Mum.  It definitely
wasn't the dress I imagined myself wearing but then again I couldn't
have dreamt it actually existed!  I just love the gorgeous beaded
detail, the structured bodice and the flowing silk.  It was the perfect
dress for me and I felt it was perfect for the venue too. 
The
only sad thing about finding my dress was that I wouldn't go dress
shopping with Mum again, spending Saturdays in bridal boutiques together
was one of the best experiences ever!"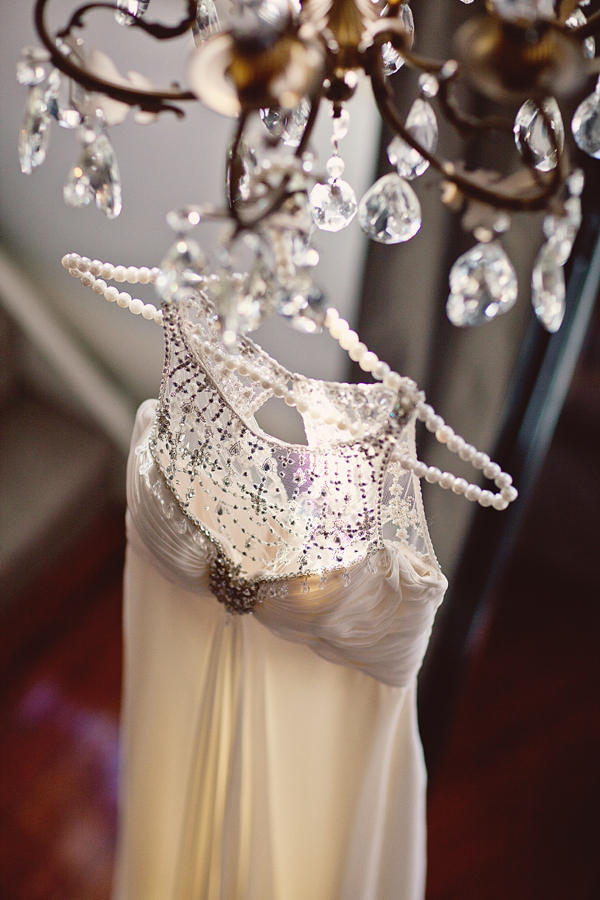 "All of our stationery was handmade by me, with Danny's help.  The
invitations featured a custom made love birds stamp in copper ink with
beads and buttons hand stitched to give texture and sparkle.
 The
table plan, menus and place cards all featured the same design which
was inspired by our love of flowers and incorporated the colours of
bright spicy orange with soft mixed metallics of silver, gold and
copper.  The table plan and menus stood in wire holders and the place
names each stood in champagne corks that we had collected over the
years."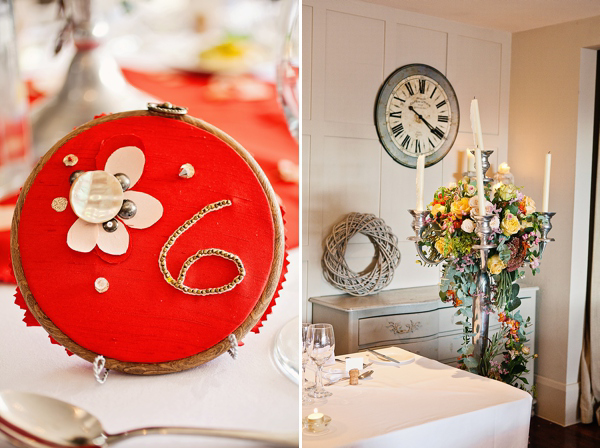 "Our Florist was Laura Coleman.  Flowers were
really important to us and we wanted to use them to help create a
really romantic feeling in the ceremony room.  My bouquet was created
using a mass of beautiful flowers, berries and foliage in a variety of
colours, set in a hand tied design.  The same type of flowers were used
in the arrangements.  The colours were a mix of bright spicy orange,
soft yellows, pale pinks and peachy creams with sage green foliage,
featuring our favourite Cherry Brandy rose. 
The eucalyptus included in
the foliage coupled with the beautiful smell of the flowers gave off a
lovely floral scent in the ceremony room which I hadn't expected and was
a wonderful added extra!"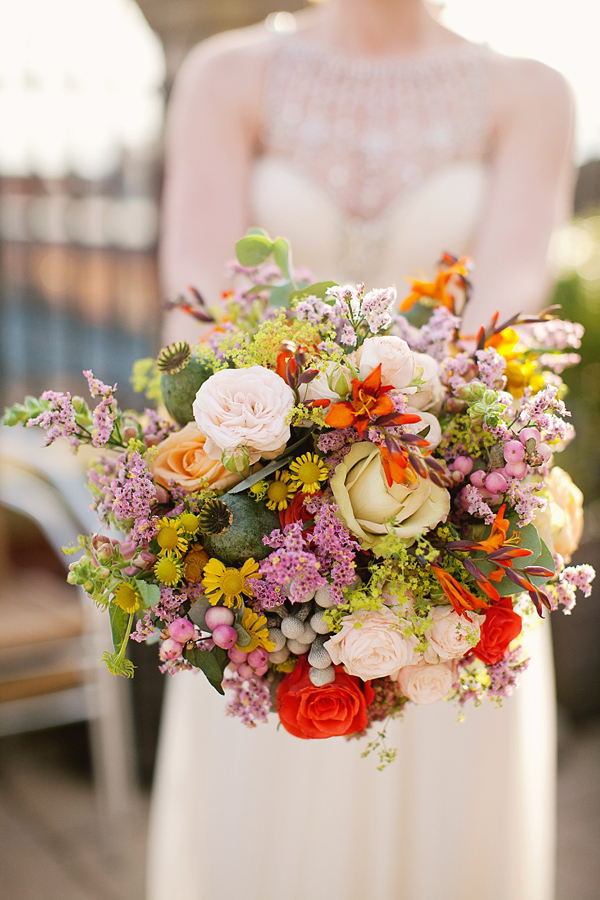 "I wore Jenny Packham'ss
Acacia Crystal II headdress.  I chose it as the crystals matched
perfectly with the detail on my dress.  It is a beautiful foliage shaped
motif of crystals and beads which just sits in the hair as if it is
floating rather than on a band. 
I love it and would wear it again,
maybe to glam up a black dress for a party.I chose
understated jewellery given the detail on the dress and headdress and
chose a simple diamond bracelet and stud earrings from the bridal
collection at Carat."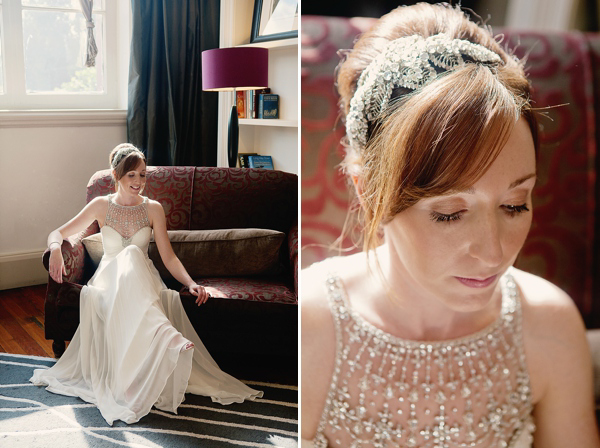 "My shoes were  Jimmy Choo. 
The beautiful sparkly sheer mesh went perfectly with my dress. They had
a 6cm heel which was ideal, I didn't want to go too high being 5'10''
tall."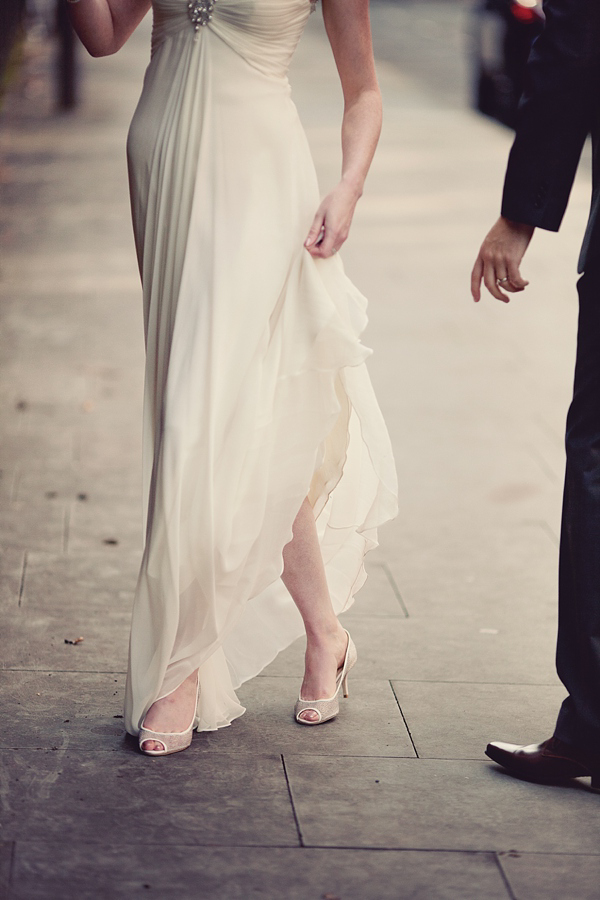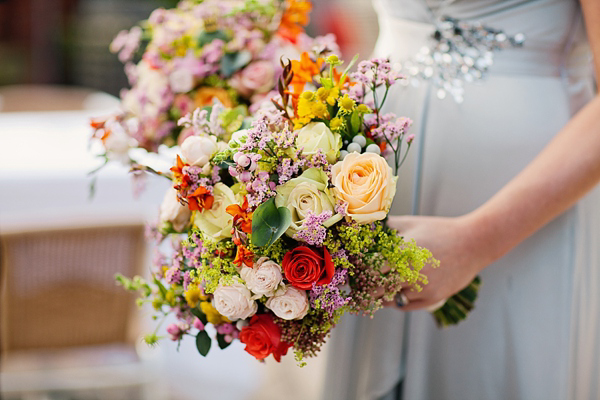 "I loved that I was able to incorporate mixed metallic threads and buttons from my
late Nanna's button box in to our wedding day."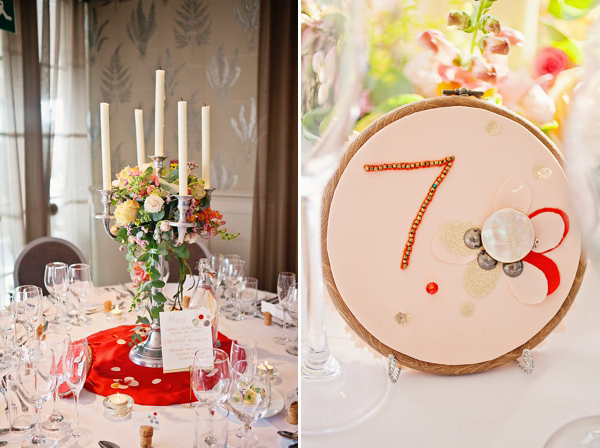 "Our main decorations for our reception venue at Great John Street Hotel, were the flower arrangements, prepared by our florist, Laura Coleman. We had two
large floor standing candelabra decorated with a soft ball of flowers at
the top, falling away into a natural, trailing garland of flowers
running from the base to the top of the candelabra.  We also had smaller
candelabra and storm lanterns decorated in the same stunning flowers. 
We used these for the ceremony and then as table centres for the wedding
breakfast, and in the evening they were placed informally around the
room.
The beauty of Great John Street Hotel for us was that
it doesn't need an awful lot of other decoration as the décor is so
eclectic and interesting itself."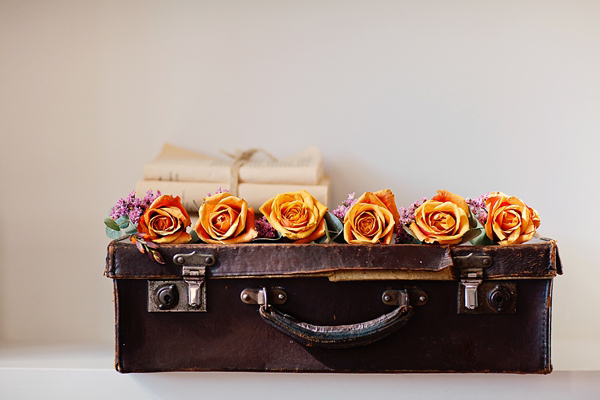 "Danny wore a 3 piece charcoal grey suit from Next.  His floral patterned silver tie was from Paul Smith.  His shoes were from his favourite shoemaker Poste from Office."
"Our photographer was Katy Lunsford. 
What can I say about Katy?  We loved her feminine style of photography
and her gorgeous use of natural light.  We knew that sun in late
September in Manchester would be a big ask but with any luck we might
just get chance for some gorgeous sunset shots on the roof terrace,
which we did as it was a beautifully sunny day!  Katy was the only
photographer whose work I felt a real emotional reaction to. 
At our
first meeting I cried at her slideshow of other people's weddings!  She
also happens to be really lovely to have around and was amazing on the
day, even rustling up an emergency buttonhole with a flower stolen from
my bridesmaid's bouquet and some string!"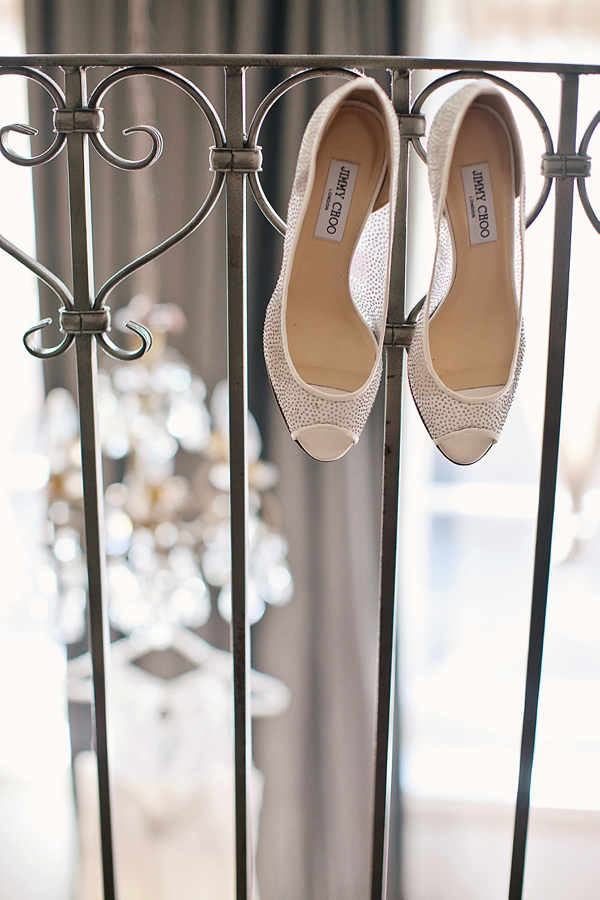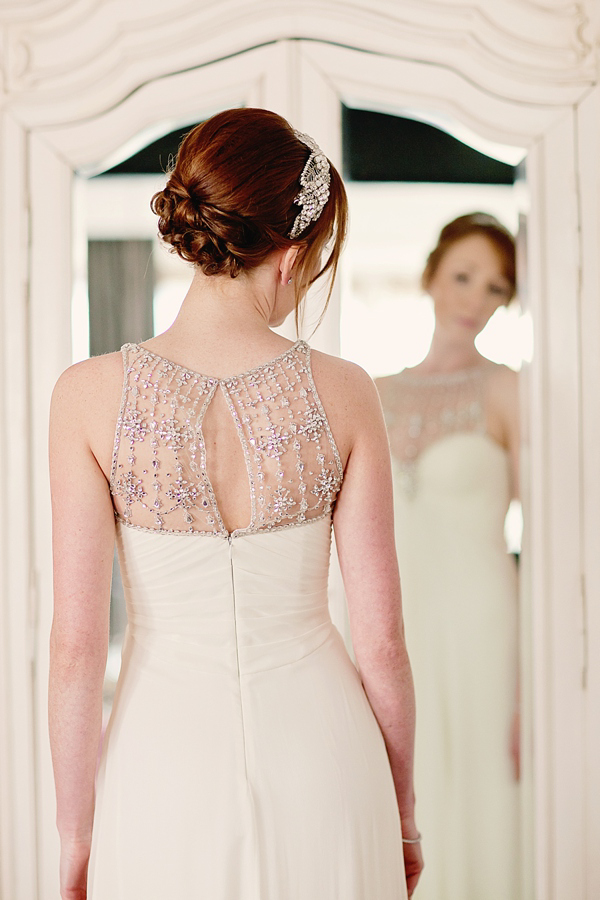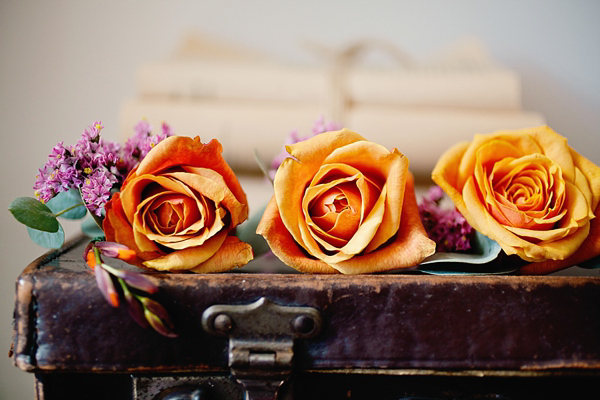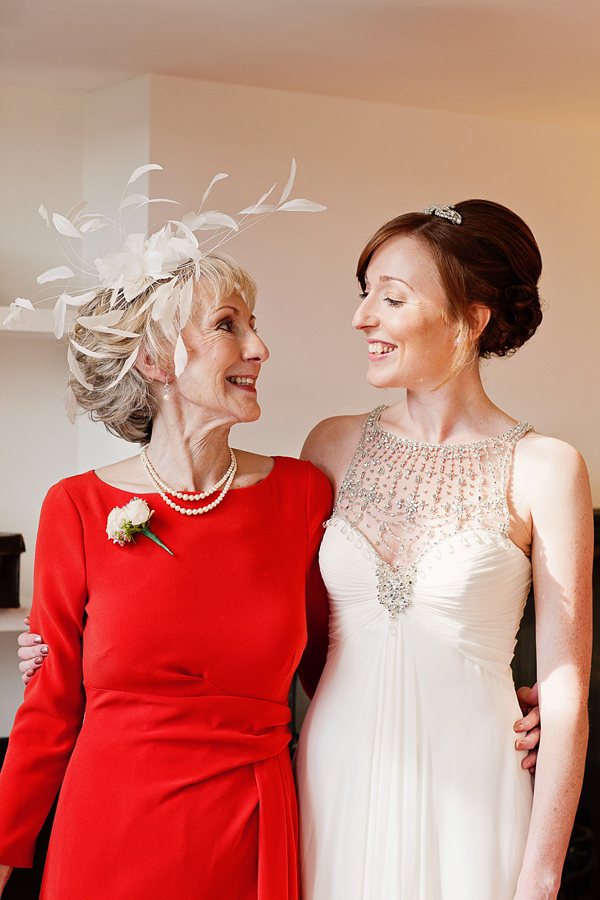 "My Dad walked me down the aisle to Paul Weller's cover of
'Thinking of You' by Sister Sledge.  We didn't personalise our vows but I
do really admire people that do!  I think it's a really difficult thing
to do, to try and do justice to how you feel. 
We found
choosing readings really difficult and did lots of research.  We had two
readings, one of which was a light-hearted poem entitled 'Love,
Laughter and You' which was really apt for us as we do make each other
laugh a lot!  The other was a reading called 'What is Love?' which is
more romantic and sincere.  We chose the two together as they were very
different but both meant something to us in their own way."
"My engagement ring was from Tiffany & Co. 
We chose it together on the same day Danny proposed on our trip to New
York.  It is a round diamond in a platinum band in the classic Tiffany
Setting.  Our weddings bands are both from Tiffany & Co
(Selfridges Manchester this time!), mine is a full band of round
brilliant diamonds in platinum and Danny's is a plain platinum band."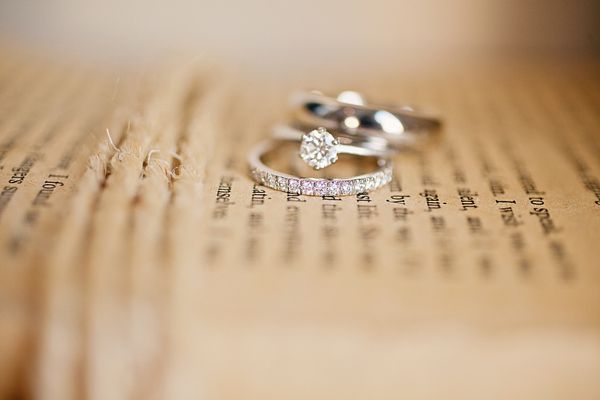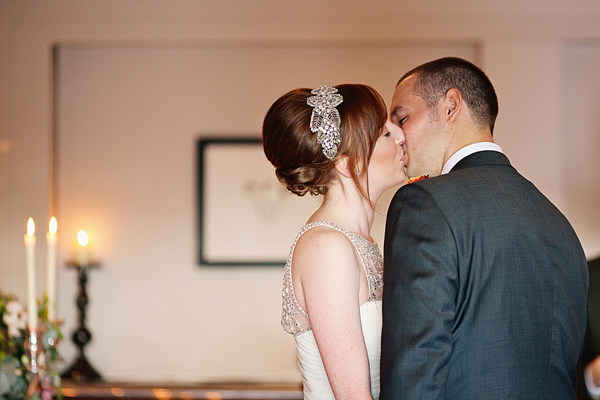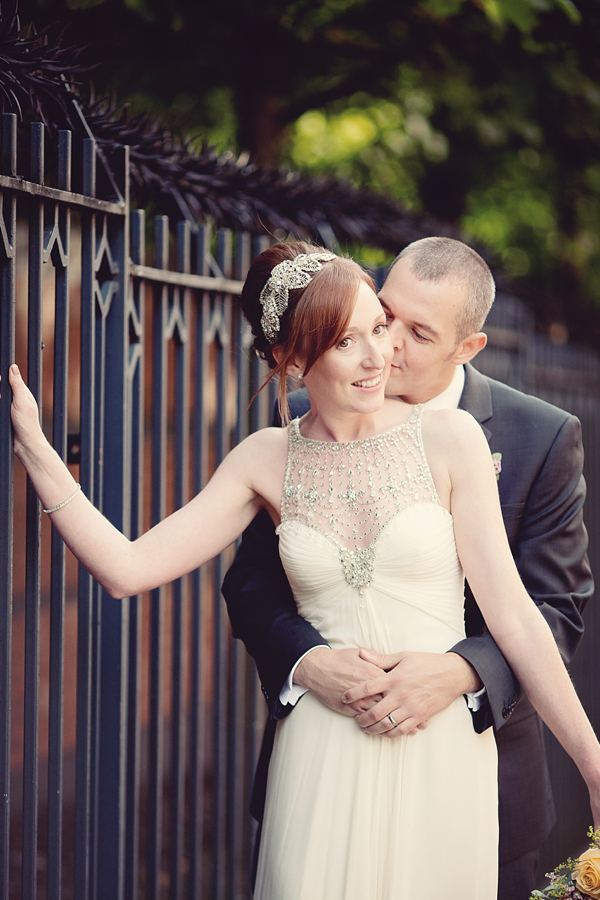 "One of our favourite moments was when we'd just been for a lovely
walk outside, just the two of us and Katy to have some photos taken, and
now a night of celebration was ahead.  The room was glowing with
beautiful candles and full of our smiling family and friends, looking
around we could see all of our handmade details and it felt so
rewarding.  Entering the room to cheers and clapping we really felt the
culmination of all of our planning and creating come together, and so
proud to be walking in as husband and wife.  This was our party and we
were ready to let our hair down!
Also, I'll never forget
waking up after a week of cold and rain to a beautiful blue sky and
sunshine which lasted all day!  And having our beautiful niece Ava there
who was just 10 days old at the time!  It just made the whole day
complete and even more emotional!
We may have had a
videographer.  We completely dismissed it on the grounds of us believing
it to be intrusive to both us and our photographer, but with research
we may have found that not to be the case, I don't really know."
"We
had 'Glory of Love' by Big Bill Broonzy as our first dance track,
because we wanted something light-hearted that we could dance to rather
than just swaying!  The lyrics are great; it's a really charming little
song.  We followed that up with Rocks by Primal Scream hoping that it
would inspire a dance floor invasion and it did!"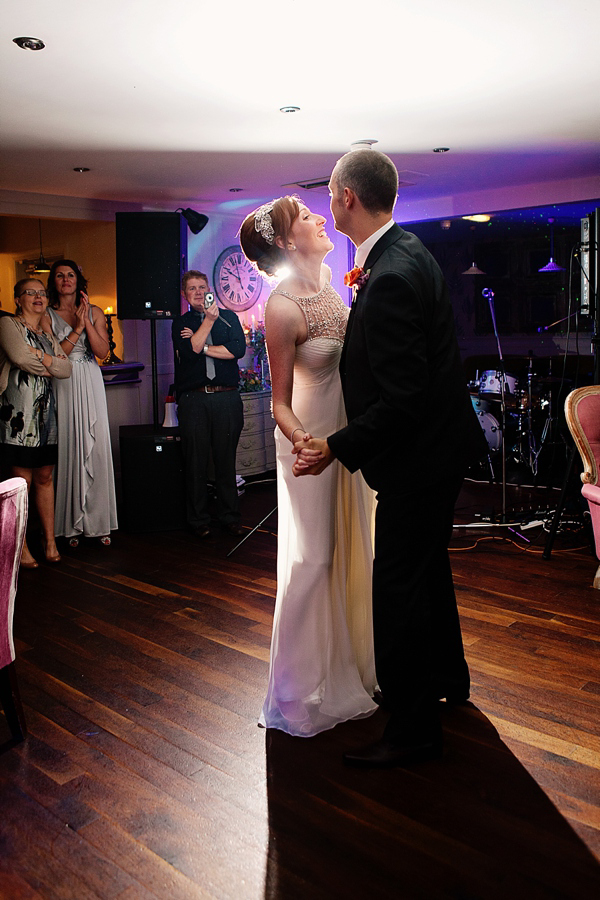 "Our cake was from Cakes by Beth – It was a 3 tier chocolate and
lemon sponge cake.  The cake was inspired by my dress.  Each tier was
different and the colour palate kept to a minimum.  The bottom tier was a
plain soft metallic gold tier; the second was white on white stencilled
in a beautiful lace pattern and the top tier was white with metallic
piped beading which replicated the detail at the top of my dress.  It
was topped off with a beautiful posy of flowers provided by the
florist.
Great John Street Hotel provided the catering, the food was outstanding and a
real talking point on the day, our guests loved it.   We also had a BBQ
in the evening which was delicious too."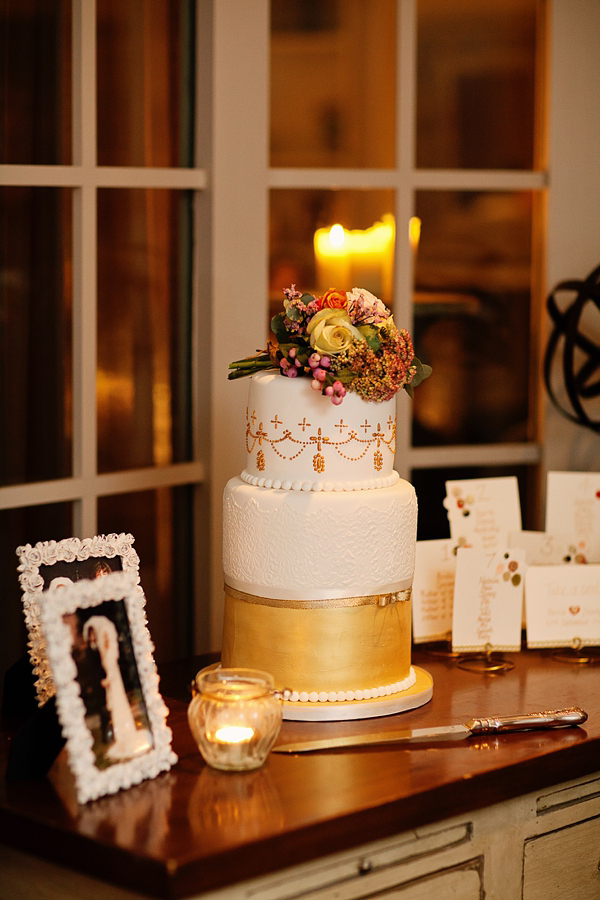 Words of Wedded Wisdom…
"It sounds obvious but my
best advice would be to choose great suppliers.  Great suppliers bring
so much to the table in terms of ideas and recommendations.  For most
people you will only plan a wedding once, but these guys do this all of
the time!  The benefit of their professional experience is so valuable.
Now that our day has been and gone we can relive it through the
beautiful photography thanks to Katy, she captured the love and joy of
the day wonderfully. Plus, as above think carefully about whether or not
to have a videographer, we didn't and I still don't think we would,
however we are so grateful that our neighbour captured a lot of it for
us on film.  Even if you don't have a videographer maybe ask a willing
guest to film the key moments.
One thing we
did which I really love was that we didn't have a guest book, we had a
photo of us dancing on the beach from our engagement shoot with Katy
which was in a huge frame mounted in a way that our guests could sign
round the outside of the mount.  It provided a great talking point for
the day and is lovely to have in our home."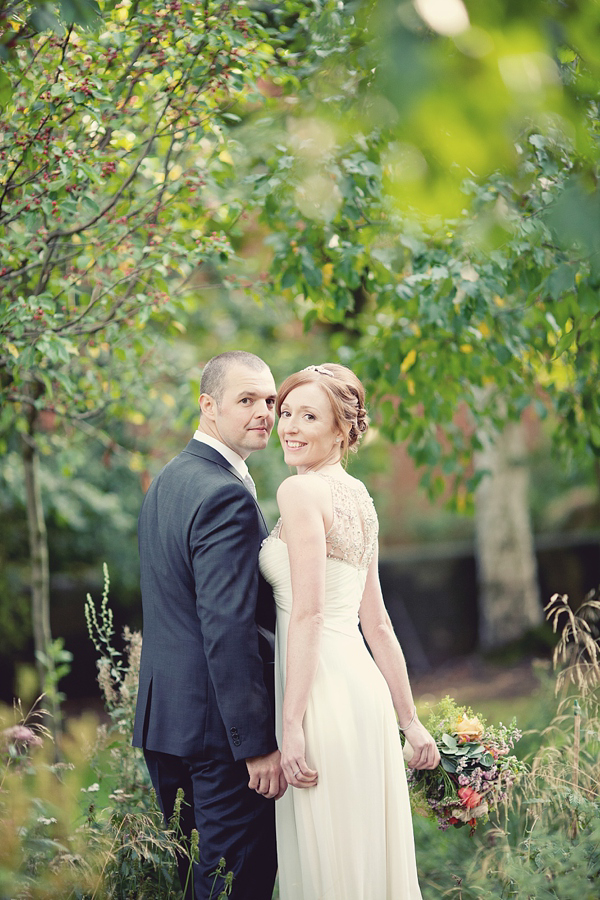 "We gave a donation to Cancer Research and each of our guests
received a favour card and pin badge to say that the donation had been
made on their behalf.  Cancer has affected family and friends from both
sides, one of our guests was unable to make the wedding as she was
having treatment at the time, so this was a great thing to do, it was a
nice opportunity to give something back.
Finally, I loved visiting Love My Dress – I love the ability to search for content by era and colour and the diversity of weddings. Love My Dress also has a real personal touch."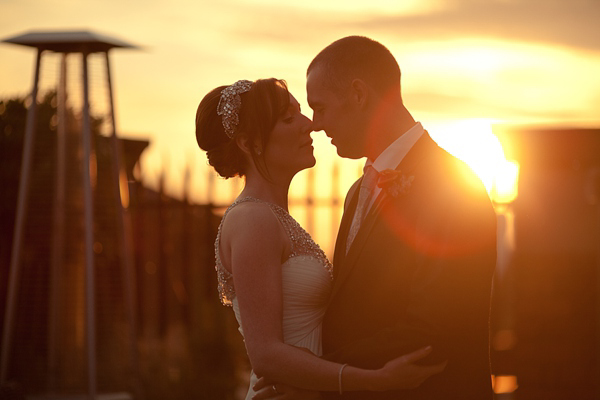 How absolutely lovely, and I can't think of a dress that would suit Kerrie more than the beautiful Dahlia design by Jenny Packham does.  You can see many more Jenny Packham brides here on Love My Dress.  You might also want to explore more Autumn weddings too.
Thank you so much Katy Lunsford for sharing these beautiful photographs.
With much love,
Annabel

Photographer – Katy Lunsford
Venue – Great John Street Hotel in Manchester
Wedding Dress – Jenny Packham's Dalia dress via Aphrodite in Knutsford
Veil/Headpiece – Jenny Packham'ss Acacia Crystal II headdress.
Brides Shoes – Jimmy Choo
Groom's Attire – Next + floral tie from Paul Smith + shoemaker Poste from Office
Bridesmaids Dresses – No. 1 by Jenny Packham
Florist – Laura Coleman
Cake – Cakes by Beth
Entertainment – King Monday + Move The Body (DJ)
Rings – Tiffany & Co
Hair and make-up Artist – Rachel Bottomley