Firstly, if you have arrived at this page via the QR code within the Brides The Show show guide, welcome to Love My Dress!  Please, make yourself at home! We have a vast archive of real weddings to explore, as well as engaging discussion posts, matters of life and love, DIY tutorials, beauty features and wedding films.  Warning:  you risk losing a fair few hours exploring!
The vast majority of excellence in the UK wedding industry will this weekend be exhibiting at Brides The Show.  The team behind this much hyped event, Brides Magazine, and SME London, invited Love My Dress to partner with them on their inaugural event, and of course, Franky and I were only too delighted.
And after an immense amount of  hard work and planning, the day has finally arrived for the Brides The Show to kick off in style.  As you read this feature when it goes live on Friday afternoon, I'll be in my hotel in London getting beautified ready to join Bridal Retail Editor, Arabella Du Pont for an 'on the sofa' style interview this evening about vintage elegance in the modern day wedding and how wedding blogs can help you plan your wedding.
So, if you've not got your tickets to the event sorted yet, do it now! There are going to be so many brilliant people, suppliers and designers all under one roof this weekend, you'd be crazy to miss it. If you can make it ladies, this really is a superbly organised event that has been designed to delight, inspire and leave you feeling nothing but excitement about planning you wedding.
So, who am I looking forward to seeing?  Well, everyone if I'm honest, no joke! And I'm certainly not going to list all the suppliers who will be at the show here – you'll have to visit this page on the Brides The Show website to check out who's who.  But there are a few I'm particularly excited about seeing.
First up, the mighty Miss Bush Bridal – the dynamic, creative team behind this spectacular shoot that featured earlier this week.  Emma Meek and her team will be at Brides The Show to showcase the brand new Jesús Peiró 2014 collection.  Here's a fantastic behind the scenes film from the shoot I featured this week. If you love what you see, if you want to be looked after by an expert team from the minute you enter the boutique doors, to the moment you step in to your gown on your wedding day, then you need to visit Miss Bush.
Film Production by John Harris Media

By Appointment Only Design are probably the most talented florists I know.  I'm talking out of this world, breathtaking floral designs you could usually only dream of.  But if you can dream it, the  By Appointment Only Design team can create it.  
These talented creatives provided the flowers at the wedding of our very own Nina last month – Nina contributes to our 'Confessions of a Disabled Bride' series.  Here's a little preview of the floral magic the By Appointement Only team conjured up for Nina's wedding to Bob…
Photography Lillian & Leonard
Cake makers extraordinaire will be supplying all the sweet treats. I'm particularly looking forward to seeing GC Couture, The Utterly Sexy Cafe and Cake Maison….
Cake by Cake Maison
Harriet Wilde is one of my top 3 shoe designers and it's highly likely that I'll be putting my best foot forward in these very pair of amazing heels. I simply adore Ruth Shaw the lady behind the brand and am smitten with everythng she creates…
Photography by Naomi Kenton for Love My Dress
The lovely Ian Stuart collected an award on our behalf this week! I'm so looking forward to seeing him and giving him the biggest hug.   Also in attendance will be Katya Katya Shehurina whose designs stole my heart when I first came across them at The White Gallery in 2012…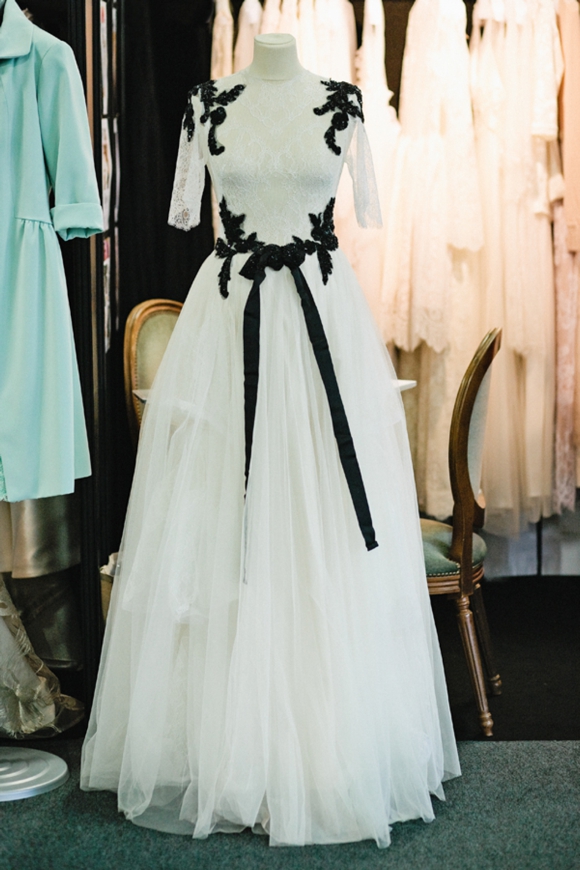 Photography by Naomi Kenton for Love My Dress
One of my first big interview assignments was with Philippa Lepley – you can read the feature here on Love My Dress.  We're also huge fans of Naomi Neoh and can't wait to see Sassi Holford, Stephanie Allin (who'll be giving away a £15,000 dress for one lucky visitor!), Ritva Westenius and The State of Grace.   Lucia Silver who leads the design team at The State of Grace has been busy preparing for Brides The Show and I'm excited to see what she and her team have up their sleeve.  I'm a huge fan of The State of Grace and respect and admire the way they support the British design industry and artisan crafts movement.
Image Credits – Jez Dickson
The charming and incredibly talented Sophie of Lila Designs will be exhibiting her beautifully crafted bridal headpieces featuring the most delicate of flowers made from clay – not that you'd believe it if you saw them, they are so life-like and beautiful.
Photography Katy Lunsford, for Lila
Those looking to book a wedding photographer, I recommend you visit the Moments Captured Photography.  We're a big fan of photographer Claudine's work…
Nicki Macfarlane  is without doubt my favourite bridesmaids dress designer, and she's so darn lovely too! I'm really looking forward to catching up with lovely Nicki and her team…
Ahh, The Photo Emporium will be there too – I LOVE these guys! They provided the photobooth at my book launch an it went down a storm! You can see a whole post of photobooth images from my book lanch here…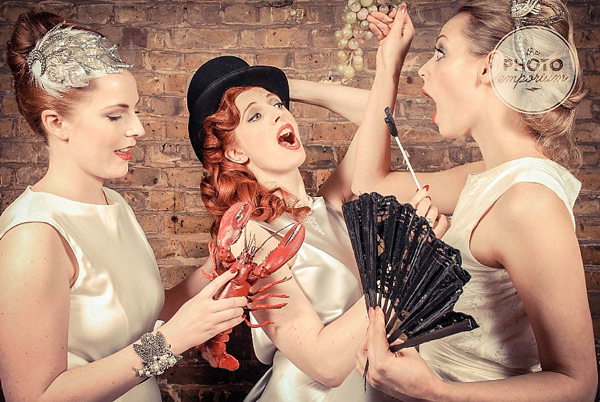 The Photo Emporium for the Style Me Vintage: Weddings Book Launch Party
There are so many more suppliers exhibiting at this event, these are but a few.  Head on down to  Brides The Show, from this evening through to Sunday. Key show attractions include The Iconic Wedding Dress Exhibition, Bridal Beauty, The Catwalk and The Imagination Room.  You can also drop by the 'on the sofa sessions' to listen to Brides Magazine Retail Editor Arabella Du Pont interview a number of experts in their field – I'm first up this evening – wish me luck! Click here to read about all the show highlights.
Here's a map to help you find your way to the venue at Battersea Evolution, Battersea Park, London,  SW11 4NJ:-
So ladies and indeed gents, will I be seeing you there? Keep an eye on my Instagram and Twitter feeds as I'll be sharing lots of inspiring tid-bits from my weekend at Brides The Show.
Annabel