This wedding is elegance personified, a destination wedding that features a very lovely floral wedding gown. Hamish, who works in Foreign Exchange sales and Sara, a Structural Engineer, tied the knot on 29th August 2013 at Villa Pipistrelli in Montestigliano, just south of Siena in Tuscany, Italy.
The couple were assisted in planning their wedding by Barbara and Stefania from Weddings International, and the super talented UK based Claudia Rose Carter was their photographer. We're huge fans of Claudia's work (more of which you can see here on Love My Dress) but it was Sara's elegant floral wedding dress that stole the show on this occasion.
Hamish and I have been together since 2007 when we met through friends in Sydney. Hamish proposed while we were on holiday in Sweden in 2011.
It was winter and we were sitting down by a river with some mulled wine in a thermos after a day of cross country skiing. He had brought with him a ring that he had designed himself, and was more than a little scared to drop it in the snow.
The Inspiration
We didn't really have a theme we just knew we wanted a big summer garden feast, and everything outdoor – we didn't even have a 'Plan B' in case of rain. We also wanted to make the most of what was available to us in Tuscany. In the end we went with what suited the venue and setting best. There was so much available to us already in terms of the buildings and colours, the views and the vines in the garden, we only had to add the details.
We opted for a natural soft palate with lots of greens which also incorporated olive tree branches from the estate.
Our wedding ceremony was short and sweet, we just wanted a beautiful moment in the amazing garden.
The Dress
Australian designer Wendy Makin made my gown, and for the reception I had a shorter less formal reception dress, which I designed myself.
I tried on a lot of white dresses, but when I tried this one I just couldn't go past it. I loved that it was different and I thought it was just the perfect dress for our garden ceremony and reception.
My shoes were by Jimmy Choo.
The Ceremony
We had a saxophonist and a guitarist to play during the ceremony; when I walked in they played Love Song by Adele.
We wanted to have our wedding on neutral ground (Hamish is Australian and Sara is Swedish) and Italy is one of our favourite countries to visit, rich in culture and amazing food and wine.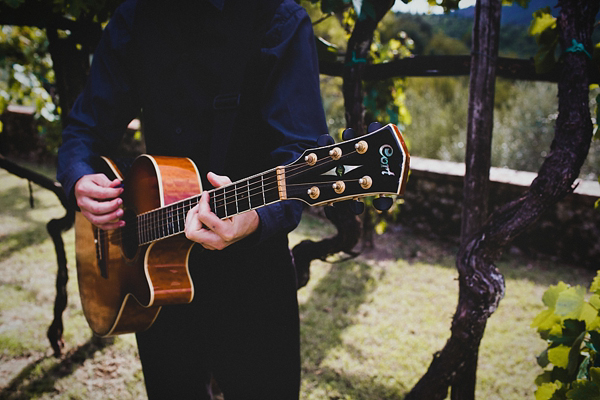 We had seen Montestigliano on a previous visit and knew it would be perfect.
It's an old farm village converted to beautiful holiday rentals and it provided the perfect backdrop nestled among olive groves and cypress trees. Family and friends could stay for a week for a genuine Tuscan experience.
The couple used a 1960's Fiat 500 to take them from the ceremony to the reception.
Photography
From the minute she arrived, our photographer, Claudia Rose Carter, added her personal touch to the photos, resulting in natural images that made the most of the light and surrounds as well as all the little captured
moments.
Summer Garden Party Wedding
We used a lot of things from the farm, such as hay bales for seating and wine barrels as side tables – and a tractor to transport our guests from the ceremony to the reception!
Two girlfriends helped us make a couple of wooden signs for the personal touch, and my mum and sister went to the market in Siena and picked up a few additional bunches of flowers. We also used strings of lights hanging from the trees and over the dance floor.
We had traditional Tuscan family style cuisine. We chose to go with local produce and traditional dishes
which, when you're in Italy, can't go wrong. The beautiful way the antipasti and bread tables were presented during the cocktails was a highlight and also added to the décor.
The cake was an Italian Millefoglie with fresh berries. For extra entertainment it was assembled and decorated by the chef in front of the guests. It was absolutely delicious – and not a single piece was left the day after.
The after dinner dancing was so much fun. No one left the dance floor until the band stopped playing and everyone, young and old, had a ball!
Words of Wedded Wisdom
If you have your wedding in a different country, go local – there's no need to bring champagne to Italy, stick with Prosecco, it will add to the experience and your guests may even get to experience something they wouldn't have otherwise. Also make sure to get a local planner that can help you source the best suppliers.
The only thing I would maybe do differently is to have stayed on for a little while after the wedding. It all went too quickly in the lead up to the day and it would have been great to stay for a bit longer to just take it all in.