For our final wedding this week, we're delighted to share the nuptials of Helen and Scott, who tied the knot on 21st of September last year in Liverpool, with a ceremony at private members club The Athenaeum, followed by a reception at the stunning The London Carriage Works.
This is such a lovely wedding – I adore the burst of colour and love how Helen and Scott used their love of books to influence the overall style of the day.
"With a librarian, a library and the fact that we both love reading them, books did become the dominant theme. Having said that it's not like we sat down and said 'this is going to be our theme', we just made sure that any little things we like got a place for example, lego, buttercream icing and big red buses are all just little things we love and wanted to share with our guests.
In terms of colours, I have always been keen on bright primary colours and so it seemed natural to incorporate these colours in to our wedding day somehow too."
Photography Copyright (c) 2014, Assassynation
"Scott and I met working together during the summer of 2006 at an ice cream parlour in a local park. We had to say special thanks in our speeches to the relatives who got us the jobs otherwise we would never have met!
I have an advent calendar that Scott fills each year with chocolates and various little gifts and tokens for me to open during December. In 2010, the present to be opened on Christmas eve was a little blue box with a ring in it. My suspicions aroused however so I typically demanded to open it a day early, and the rest is history."
"We got married in Liverpool.  We've always loved Liverpool and our infatuation has only increased since moving here from our home town 2 years ago. Although initially I wasn't sold on a city wedding, Helen talked me round and both locations seemed so perfect after viewing them that any perceived negatives (gawping Primark shoppers? Difficulty in driving a double decker bus down a one way road?) were completely forgotten.
Our ceremony took place at The Athenaeum a wonderful old institution right in the heart of Liverpool. The library is simply stunning and since neither of us wanted a big church wedding, the atmosphere, history and quiet intimacy of a beautiful room full of books seemed the perfect place for a librarian and an academic to make their vows. Plus it is on Church alley so it's sort of a church wedding 😉
"Our reception took place at The London Carriage Works on Hope Street – which has to be our city's most beautiful street, connecting the two cathedrals and lined with gorgeous old Georgian houses with occasional cobbled roads  – it is a simply picture perfect. We we're instantly drawn to Hope Street Hotel because we knew the food in the Carriage Works is some of the best in the city, however our jaws dropped when we got up to the fifth floor and saw the spectacular views the hotel commands of the entire city.
Having the entire meal with the view and the sun setting over the river was an absolute dream come true. They also have a really cool basement bar for the evening entertainment, with its own private entrance, lovely exposed brick everywhere and a looong bar perfect for thirsty guests."
"We hired Anita Noughton to be our florist – she's actually a friend of Helen's auntie and gave us so good a price we didn't bother asking anybody else. She was so good at understanding what we wanted and putting us at ease about everything. We went with jam jars and bright natural flowers. Anita described it as if you just went into a field and scooped a bunch together which was exactly what we were looking for.
My favourite thing was that she used offcuts and similar bits from the table arrangements and bouquets to make the guest button holes, so rather than have single big flowers for the guests they all had slightly different flowers but that all tied in with the major arrangments."
"I wore Luxor by Dolly Couture which I got from Look Darling in Heswall.  I always knew that I wanted a tea length dress and when I discovered Look Darling, a local vintage style dress stockist, I knew I had to visit. It was the first place I went to try dresses on and I shortlisted a few and tried on a few other my sister and mum encouraged me too, but I knew all along it would be the Luxor. It was so simple and elegant, but the neckline added a lovely detail.
Elaine at Look Darling was a pleasure to work with and I really recommend Look Darling for any north-west brides after a vintage style dress and want the opportunity to try them on."
"I had one bridesmaid, my older sister Amanda, and I picked royal blue as my bridesmaid's dress colour and found the perfect dress by Alfred Sung (design no.D502) via Dessy."
"As for my veil – it was a last minute purchase from Lily Bella Bridal when I suddenly realised I had nothing to go in my hair."
"Wearing a tea length dress was a decision made in part because I had always wanted to wear bright red shoes on my wedding day. I found the perfect pair of red glittery shoes by Vivienne Westwood. The best thing is that I can wear them again and again…if I can stand the pain. As soon as we had the first dance over and done with I kicked my shoes off and spent all evening dancing in my bare feet!"
"We collected old jars and books which formed our centre pieces. We were quite low key on the décor to be honest as both our venues were so beautiful they didn't need much jazzing up. We made colourful paper chains with the help of our friends and family to decorate the evening reception room which added our colourful touch to the reception."
 "We made our invites, menus, table plans and order of the days ourselves. Scott painstakingly designed them all, I was merely the creative director saying 'Yes!' and 'No!".  We then got the designs printed by Stuprint."
"Our wedding favours were our place settings too – little lego figures of every guest. We spent so much time in our local lego shop."
"We went with Moss Bespoke based at Savoy Tailors Guild in Manchester. They were great, Mo makes you feel really comfortable was so precise and professional, which made the whole process of picking materials, getting measured and fitted for a bespoke suit feel really special.
"We had a double decker red bus from Classic Buses to transport guests to the ceremony and then from the ceremony to the reception. It went down so well with all the guests (especially the Australians!)  and after the ceremony we jumped on board too. The driver was excellent at manouvering into awkward places around the city centre and waited patiently while we had lots of photos taken around the bus. I can't recommend them enough. I arrived at the athenaeum with my Dad in a blue morris minor from Lea Cars.
Also, after booking our venues, the first thing we did was book Sassy of Assassynation as our photographer. We always knew that Sassy would create some amazing photos but we were blown away with the results. Sassy was great at getting the guests in order for photos and made us feel so relaxed in front of the camera. We haven't been able to stop looking at the photos since we got them back."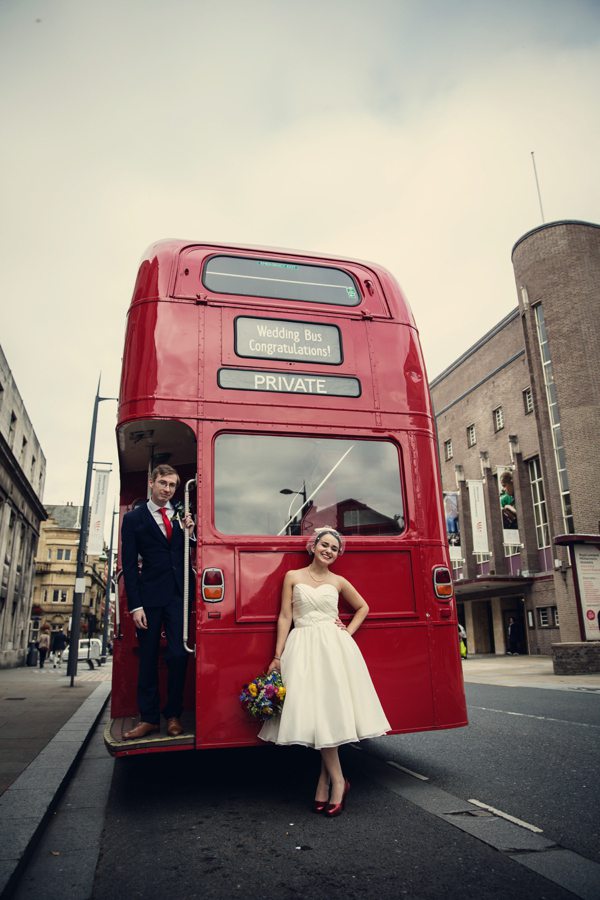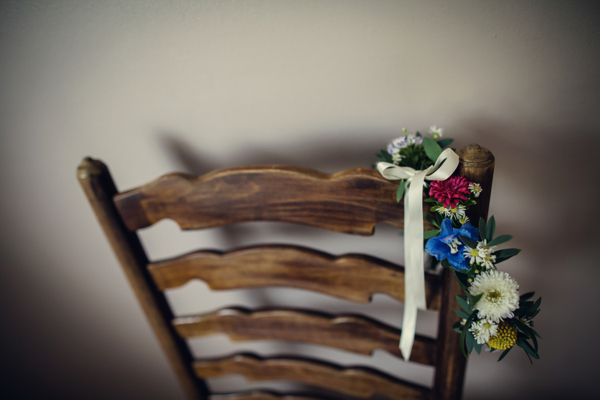 "I wore a pearl necklace which was a gift from my grandparents for my 18th birthday. The day before the wedding I was packing to go to my parents house and suddenly panicked that I had no watch or bracelet to wear (I don't think a bright yellow casio watch is quite wedding attire!). I found my Spanish sovereign bracelet which was passed down to me from my Nana via my Mum (My grandparents are Spanish) and realised it was perfect to wear on my wedding day."
"My Dad walked me down the aisle.  I walked (or more so ran! My dad commented that he couldn't keep up with me, I was so eager to get to Scott!) down the aisle to Sleepyhead by Passion Pit, as it's a pet name Scott has for me and just a lovely song.
During our cermeony, Scott read I wanna be yours by John Cooper Clarke and made everyone cry! We chose this because we're fans of John Cooper Clarke and were watching a documentary about him while we were wedding planning and when I wanna be yours was read we just looked at each other and knew we had to have that read at our wedding. We're romantics but we don't really go in for any of this soppy rubbish. It seemed like the perfect way to tell someone you want to be theirs."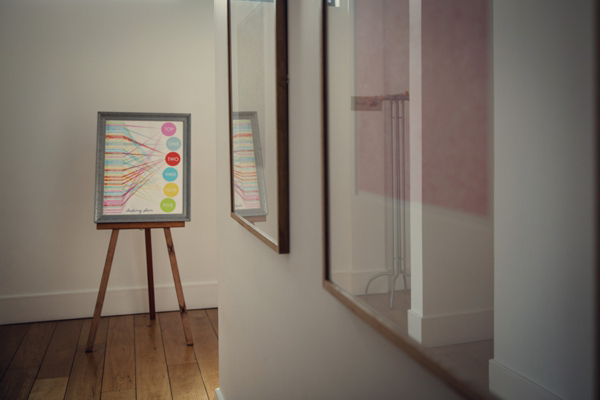 "Our first dance was to 'Heartbeats' by The Knife.  We didn't want a stereotypical wedding DJ or a band. We just wanted our evening reception to feel like the best night out ever. Luckily we found the perfect DJ in Paul at Wedding Jam. We had the dance floor filled from the very start until the early hours of the morning!

When I recall my fondest moments I think of the very end dancing to Fleetwood Mac's 'I Wanna Be With You Everywhere', with all our friends circled around us. It really was an amazing end to an amazing day!"
Words of Wedded Wisdom…
"Relax and enjoy it all! Stop comparing your plans to others and how original things are – just do what you like as a couple. Don't waste too much time crafting lots of decorations. Don't follow traditions just because they are traditions. I did my own speech and it was a great opportunity to thank special people and of course my new husband.
No matter how confident you are, don't do a reading at your own wedding unless you're prepared to cry like a baby!"
Yet another lovely wedding to round off the working week. Thank you so much Assassynation and huge congrats and thanks to you too Helen and Scott 🙂
Ladies and gents, we've featured a number of weddings photographed by Assassyation before – you can see them here.  Do you have any more Dolly Couture fans reading this now?  You can also see more beautiful literary inspired weddings here – they are the best! 🙂
Have a really lovely Friday evening everyone,
Love Annabel
Photographer – Assassynation
Venue + Catering – The Athenaeum + The London Carriage Works
Wedding Dress – Dolly Couture via Look Darling in Heswall
Veil/Headpiece  – Lily Bella Bridal
Brides' shoes – Vivienne Westwood
Grooms Suit – Moss Bespoke + shoes from Reiss
Bridesmaid – Alfred Sung (design no.D502) via Dessy + Next shoes
Flowergirl Dresses – made by the brides Mum
Flowers – Anita Noughton
Cake – Say It With Flours
Transport – Classic Buses + Lea Cars
Entertainment – Wedding Jam
Rings – Tiffany
Stationery – The bride + groom
Make-up artist – Beautiful You and hair by Silhouette
 
Follow Love My Dress® on Google+