Lunch is here and it's time to share another lovely wedding with you.  Stationery designer Ailbhe who works for Pretty as a Picture married her beau Aiden on 31 May last year at Darver Castle at County Louth, Ireland with a traditional Catholic wedding ceremony. The couple wanted achieve the balance of a relatively traditional wedding with some modern quirks to represent their personalities and I think they did this just perfectly.  This is such a lovely wedding full of old world charm and the prettiest of coral, sea mist and gold colour palettes. 
"Aiden and I met when he hired me for my first job out of college, over time a relationship blossomed. Seven years on he took me to his favourite spot by the sea. I remember I didn't make It easy for him – not wanting to get out of the car because of the winter breeze but he coaxed me out with his coat. We walked over to a bench on a hill over looking the sea and that's where he asked me to be his wife.  We were engaged for about 15 months before we were married."
Photography Copyright (c) 2013, Brosnan Photographic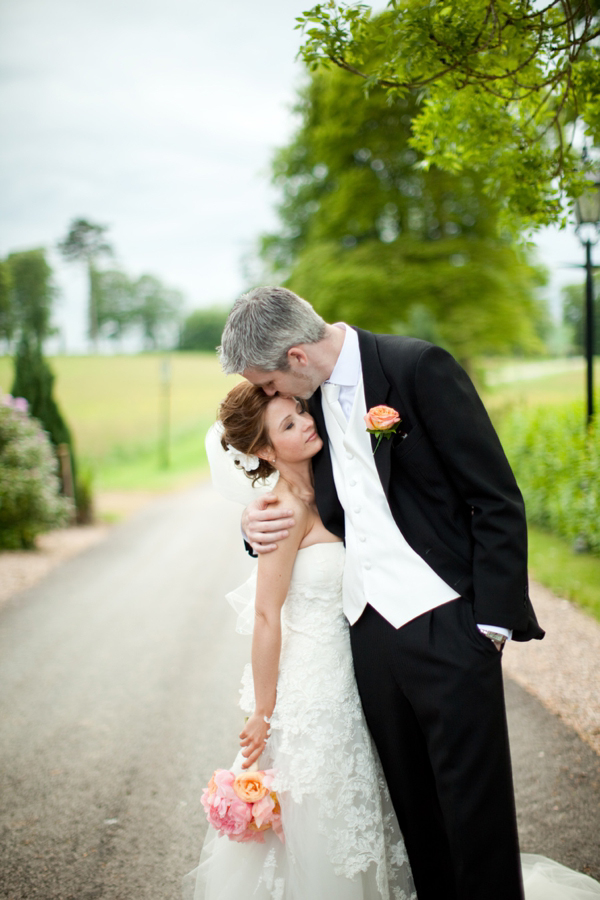 "I love Peonies! I wanted cream and peachy colours. To be honest I wasn't too fussy but thank goodness my florist Joy of Joys Flowers was!  She went the extra mile to create something beautiful. At the time she said we wouldn't be able to have peonies but worked hard to get them and surprised me on the day!"
"When I first got engaged I started browsing dresses (just out of interest!) and came across the Cymbeline dress. I thought I had plenty of time so soon forgot about it. At the 6 month mark I decided I better get a move on. I decided I wanted something a little different to the usual strapless dress and must have visited about 4 boutiques trying on beautiful dresses but not getting the 'this is for me!!' feeling.
I remembered the dress I had seen online and contacted all of 4 boutique that stocked that designer, only one got back saying they had it. We travelled down to the North of Ireland to try it on, I was worried after dragging everyone so far that it wouldn't suit me but at least I would know I had no regrets. It was perfect! The dress needed some adjustments but it the end it was just what I was looking for."
Readers, if you also think you have plenty of time to order your wedding dress, you might want to read this morning's feature on wedding dress ordering times!
"My veil came from the same boutique I got my dress from (now out of business).  It was short to show off the back of the dress with little crystal droplets.
My bridesmaids dresses were from a shop on Etsy called Chabri.  Designer Jennifer made these lovely one shoulder soft jersey dresses for the girls. It was the only way I could get the three colours I wanted.  The dresses weren't very traditional for bridesmaids, but I liked them on the day and the girls looked great.  They also wore gold pumps from New Look."
As an illustrator and wedding stationery designer for Pretty as a Picture, the stationery was an important factor for Ailbhe…
"We created glittery gold jars by painting them with glue and dipping them in lots of gold glitter. It was very messy, but worth it!"
"I had macarons made in coral, mint and gold on each place setting, these had little glittery flags in them with the persons name on them. These were created by Cloud Bakery."
"My mum made a huge traditional fruit cake and then we had a lemon drizzle and chocolate biscuit cake made by a local cake shop, Cakes & Co.  My Aunt in Jersey is very creative so she made beautiful sugar flowers for the cake and carefully painted them in my chosen colours."

"We hired Brosnan Photographic to take our wedding photographs. I tried to book Christina before my venue! To me photography this was the most important thing. You can spend thousands on a wedding but years later you only have the photographs to look back on.
I loved the beautiful journalistic style of Christina's work. All her photos are filled with natural light and she captures the most precious moments and you don't even know she's there."
"Our wedding venue was Darver Castle in County Louth, Ireland.  Darver Castle ticked all the boxes for us; it's a charming venue built in 1432 but loveingly restored by the Carville family in 1997 to be much like a home. We had the whole venue to ourselves and the Carville family couldn't have done enough for us on the day.
"Aiden chose his granddad to be his best man, he's seen him as a best friend and mentor through out the years. His Grandad is 90 now, and he said it was the first time he's ever been asked to be a groomsman and was delighted!"
"When I think of what my highlights of the day were, I loved walking down the asle – the church was a small one so the moment I walked in I was seeing family and friends all smiling back at me. I had a lot of friends from abroad as far as Qatar so it was very special having so many loved ones in one place."
Words of Wedded Wisdom…
"Don't worry about everything thing being perfect and don't let little mishaps ruin your day, just enjoy every minute it of it because you will remember it forever.
After dinner, it was great banter just mingling with everyone, which leads me to one thing I would have done differently. Christina our photographer from Brosnan Photographic knew I wanted to enjoy my reception so we kept the photo session relatively short – however, our church ceremony didn't start until 2.30pm, so there really wasn't much time between photos and the dinner bell ringing! Doing it again I would have started at an earlier time so I could enjoy the reception and people a bit more. It's true what they say about time flying!"
What a lovely, lovely day! Huge thanks to Ailbhe and Aiden and of course to Brosnan Photographic for sharing these photographs. 
Brides, you can see more similar inspiration here on Love My Dress; Cymbeline brides, coral, sea mist, gold and Spring weddings.
I'd love to hear from others planning on using a similar colour palette.
Love Annabel
Photographer – Brosnan Photographic
Venue – Darver Castle at County Louth, Ireland
Brides Dress – The Montaigne dress by Cymbeline
Groom's Attire – Bond Brothers Formal Wear
Bridesmaids – dresses by Chabri on Etsy + gold pumps by New Look + necklace from Warehouse
Flowergirl Dresses – T.K. Maxx
Flowers – Joys Flowers
Cake – Brides mum + Cakes & Co + Cloud Bakery (macarons)
Entertainment – Jewel
Stationery – Pretty as a Picture
Make-up Artist – Clare Hogan
Hair Stylist – Sian Sharkey
Follow Love My Dress® on Google+