Good morning everyone.  I hope this finds you well on your way into a very good week, be you off spending time with your children during the half term holidays or chained to your desk working on your to-do list – consider us your friendly personal service, here to deliver a daily dose of inspiration to keep you going.
Illustrator Willa and her beau Kevin tied the knot on 17th August last year with the historical Rowallan Castle in Kilmaurs, Scotland playing backdrop to their beautiful day.
"We are both Scottish, but live in London.  It was really important to us to have a wedding that meant something to us and so our theme was 'Scottish'.  It might seem a bit boring to people that live in Scotland, but it felt right for us.  We had kilts, pipers, Burn's poems, haggis, an 'ode to the haggis', a ceilidh, and a Scottish castle.  It was pretty special and I loved every minute – there is nothing that I would have changed."
Photography Copyright (c) 2014, Craig & Eva Sanders
"Kevin and I met at school.  We remained friends for a long time, and finally got together in 2008.  We dated for 5 years before Kevin proposed.  We both wanted a short engagement, because we didn't want it to take over our lives, so planned the wedding in six months.
We wanted to get married in Scotland, near our home town, but we wanted somewhere a little more remote, away from traffic and noise.  We actually discovered our venue on our photographer's blog; they had done a photoshoot there.  We had never heard of the castle so took a drive up to see it.  It was gorgeous!  The castle had been a private home until fairly recently, so there was still a lot of work being done to the venue in the run up.  Our wedding was only the 6th wedding they had ever had!  It was a little stressful, but we loved the space and the beautiful views around the castle."
"I found shoes the hardest, because I feel in general that typical bridal shoes are not nice!  I bought my shoes from Rainbow Club at John Lewis.  They were a lovely shape and afterwards you can dye them to any colour you want."
"I discovered florist, Sophie Wilson, of I heart flowers through the Glasgow Wedding Collective.  As soon as I saw her flowers I realised that I recognised her work from Pinterest.  I loved her use of wild flowers and less traditional bouquets.  I also loved that she is a one-woman business.  I knew that meant that she would be able to provide me with something bespoke.
I met with Sophie to talk about what kind of flowers were in season and what kind of displays I would need.  She came up with some amazing ideas." 
"I had one bridesmaid, so I let her choose whatever she wanted.  We went shopping, and we found this amazing jumpsuit from Phase Eight.  She looked so amazing, and she felt so comfortable.  It was a winner."
Willa wore an Augusta Jones design.  "I tried on a few and realised quickly that I suited fishtail dresses.  This one I liked because I didn't want a strapless dress or anything with bling.   I knew as soon as I put it on that I wanted it."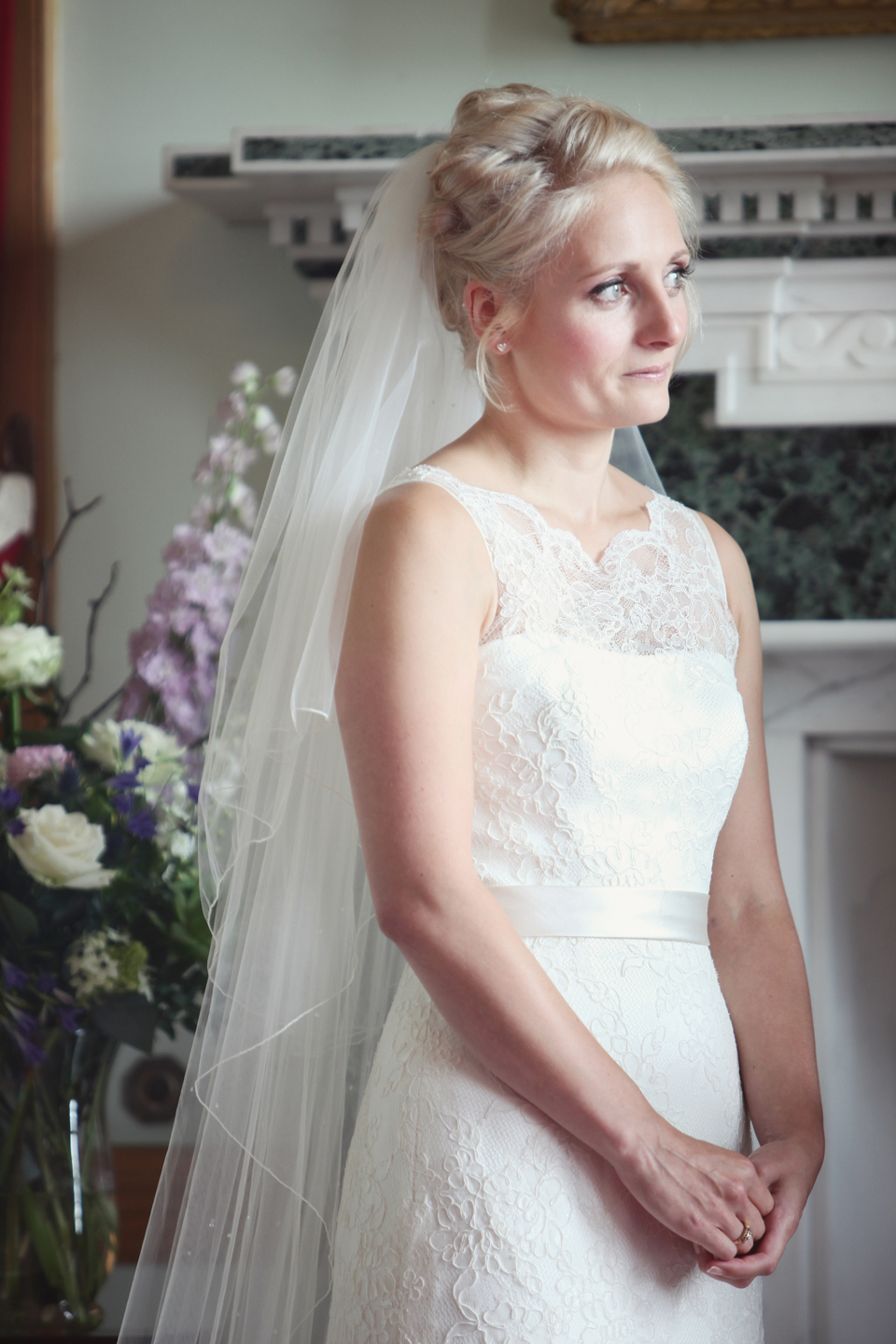 "I borrowed my veil from my friend Jayne.  I just wanted something simple; long but with just one or two layers.  Jayne's was perfect!"
"Our cake was made by a good friend of mine, Gael Radwell, at Cakes by Gael.  She did an amazing job creating a bespoke cake!  I wanted something very simple and white, but with lots of texture."
"I did all of my own stationery – it proved to be one of the perks of being an Illustrator.
Our florist was also great in providing vases for the tables, and large vases for the ceremony.  We wanted the flowers to do all of the talking."
"Our photographers were Craig and Eva Sanders.  I can't recommend them enough.  They are the loveliest people to work with, and the photographs are amazing."
"My flowergirl was my niece.  My brother got married a month before me, so she wore the same dress she had worn for their wedding."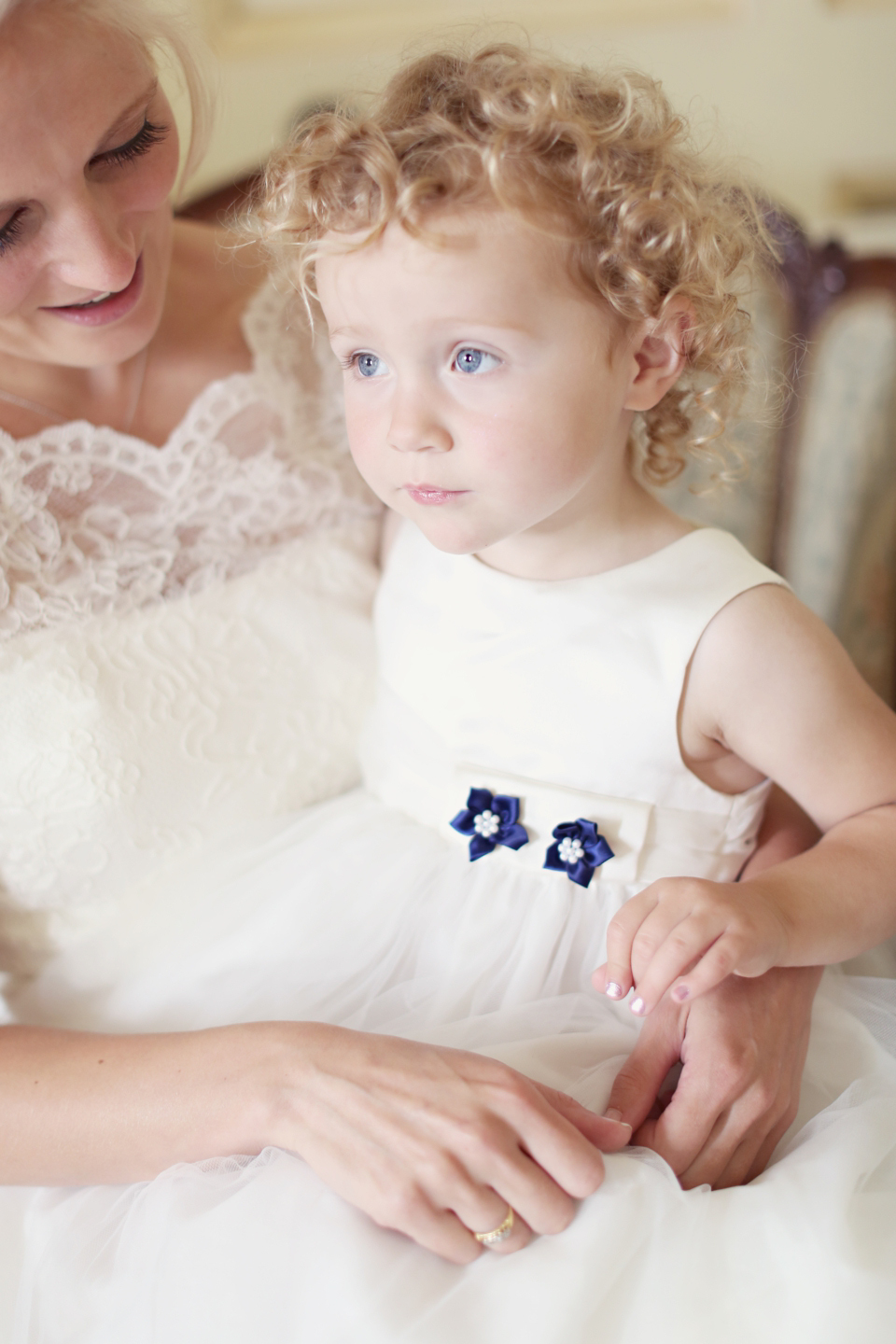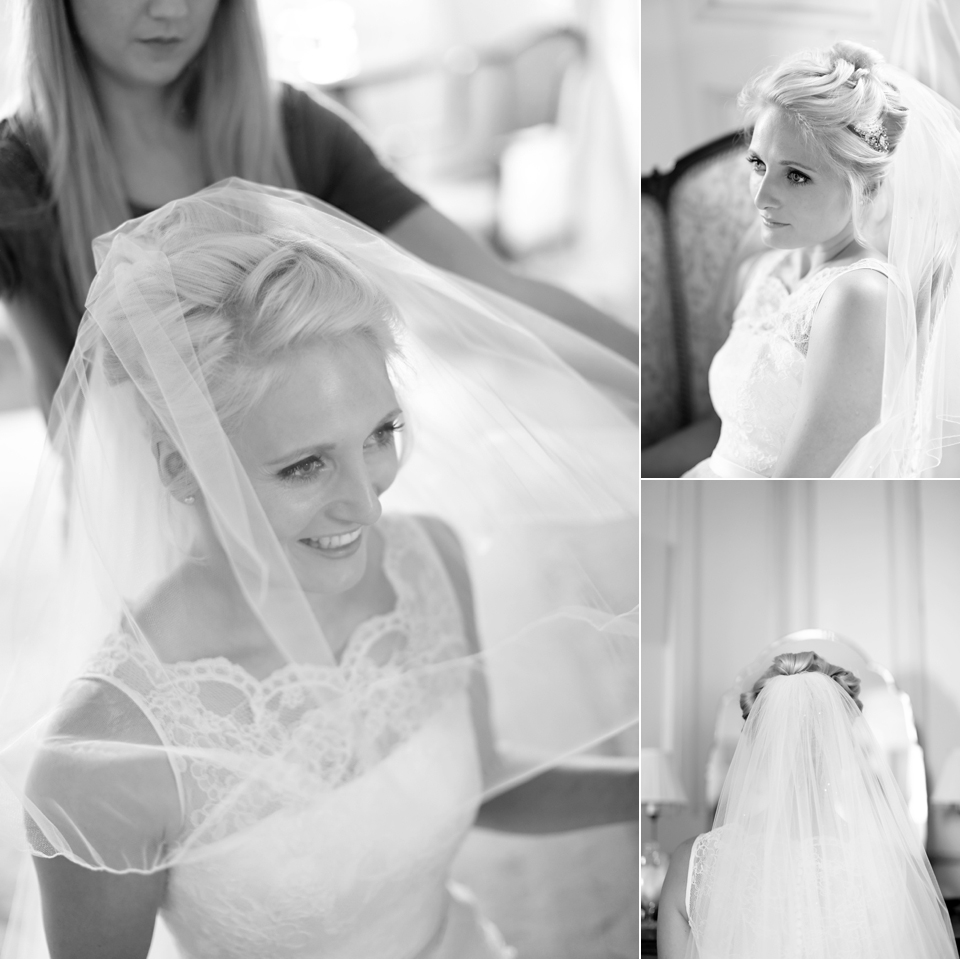 "Kevin wore a kilt from McGregor McDuff.  I also bought him a gorgeous pair of 1890 silver cufflinks from the same antique  shop that we had bought our rings from."
"I had a piper, Bryce McCulloch, to pipe me down the aisle – accompanied by my brother, as well as welcome the guests into the venue.  He also piped me in to dinner and provided an incredible Ode to the Haggis."
"We had a humanist ceremony and worked with our celebrant to create a bespoke ceremony.  We had a couple of poems during the service including 'An' I'll Kiss thee yet', by Robert Burns and 'Today', by Bertrand Russell.  Our vows were taken from the words of Dorothy R. Colgan."
'I promise to give you the best of myself and to ask of you no more than you can give.
I promise to respect you as your own person and to realise that your interests,
desires and needs are no less important than my own.
I promise to share with you my time and my attention and to bring joy,
strength and imagination to our relationship.
I promise to keep myself open to you, to let you see through the window of my world into my innermost fears and feelings,
secrets and dreams.
I promise to grow along with you,
to be willing to face changes in order to keep our relationship alive and exciting.
I promise to love you in good times and in bad,
with all I have to give and all I feel inside in the only way I know how.
Completely and forever.'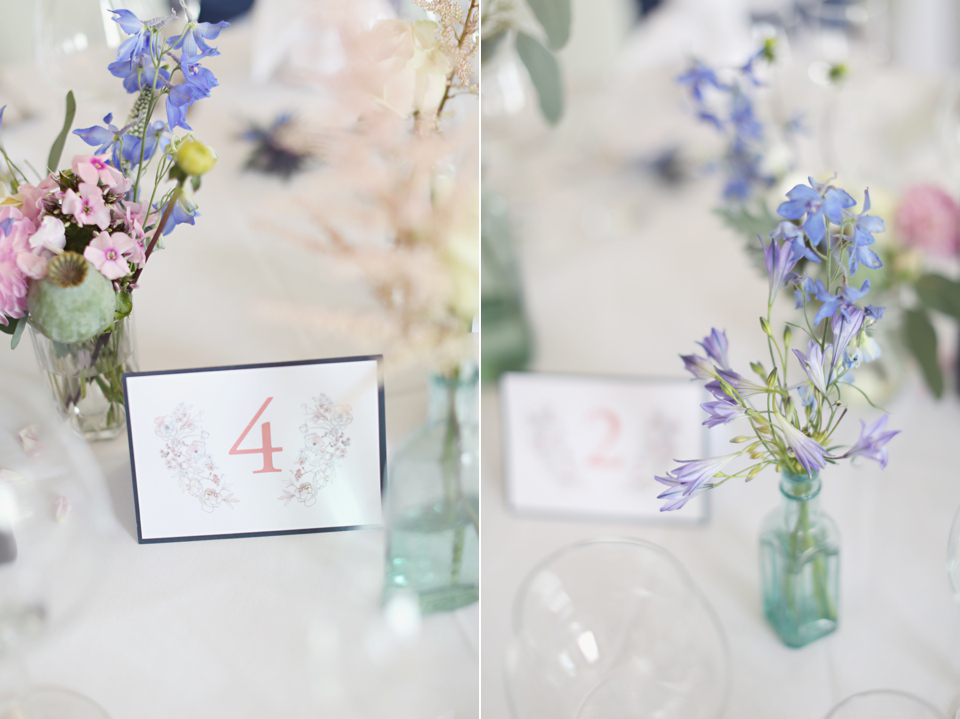 "Kevin chose our first track, he kept it a secret from me until it was played.  It was Donna Lewis, 'I love you always forever', a single that I had loaned to him when we were teenagers."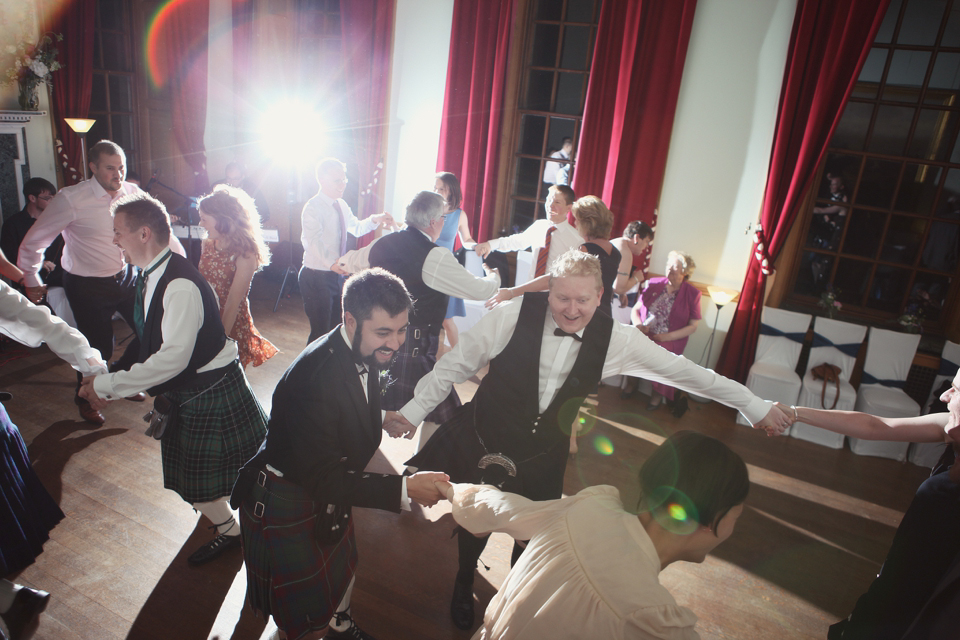 Words of Wedded Wisdom…
"Instead of wedding favours we donated the equivalent money to an organisations that had helped my dad throughout his illness; The Dialysis Unit at Crosshouse hospital.
Your wedding day will end far too quickly and it will seem like a blur of excitement.  Try and take some secret time with your husband on your wedding day and watch everyone.  Absorb everything and realise how lucky you are to be surrounded by all of your friends and family."
I'm always so drawn to naturally very elegant weddings like this one – congratulations to you Willa and Kevin and, as always, very many thanks those wonderful fine-art photographers Craig & Eva Sanders – more from whom you can see on Love My Dress here.
Anyone else wearing Augusta Jones or planning a castle wedding?
Love Annabel
Photographer – Craig & Eva Sanders
Venue + Catering – Rowallan Castle in Kilmaurs, Scotland
Wedding Dress – Augusta Jones
Veil/Headpiece – borrowed
Brides' shoes – Rainbow Club at John Lewis
Groom – Kilt via McGregor McDuff    
Bridesmaids – navy blue jumpsuit via Phase Eight
Florist – I heart flowers
Cake – Cakes by Gael
Entertainment – The Wedding Ceilidh Band
Rings – Andrew R Ullman, Hatton Gardens
Stationery – Willa Gebbie (the bride)
Hair and make-up Artist – Jennifer Peffer
Piper – Bryce McCulloch
Follow Love My Dress® on Google+