Hello lovelies.  Gosh I'm keeping every single finger and toe crossed that we don't experience any further outage this week – send your positive vibes this way please and let's get straight on to sharing a beautiful wedding.
Business Support Manager Laura tied the knot with her beau Dave on Friday 18th April this year at Manchester Town Hall, followed by a reception at The Deaf Institute.  I love the happy, jolly nature and the colourful vibrancy of these wedding photographs taken by Emma Boileau.
"The main thing we wanted to have was a fun, happy day that was all about things we love; music, laughter, family, friends, Manchester, good food and drink and dancing! My favourite colour is red and with it being Easter we thought of yellow too, once we put them two together we knew we'd nailed it.  We also wanted quirky and vintage touches to try and make our wedding unique, and an important part of this was thinking of and designing it ourselves, and not just stealing all the ideas from another wedding."
Photography Copyright (c) 2014, Emma Boileau
"Dave and I met back in our home town of Blackpool when I was 17 and Dave was 19. With us both having tastes in music that sat outside the mainstream it was inevitable we'd get chatting at some point in Blackpool's only indie club, Jenx. As Dave spoke about in his wedding speech the first time we were introduced through mutual friends it was at a 60s night at Jenx. Dave had flip-flops on and his long curly hair pretty much covered his face, his flowery shirt was unbuttoned to his waist and he was three sheets to the wind!
I wasn't initially impressed but Dave was persistent and after a few drunken smooches we were boyfriend and girlfriend before we knew it."
"Six years later Dave had started to think about proposing, which he did on my Mum's 50th birthday in Manchester.  He wanted to wait till we were out but as he puts it, his emotions got the better of him and he did it at home when we'd just finished getting ready, in the bedroom! It was probably for the best as we were both very emotional to say the least. We had a fairly short engagement and were married 11 months later."
"We chose The Deaf Institute in Manchester as our wedding venue because we wanted to get married in Manchester City Centre and with that being the case this was the obvious choice. It's cool, seriously cool. It's in the city centre, it's quirky and it holds plenty of people.  It's also wonderfully decorated and has plenty of fantastic original features – we can't be doing with bland, characterless places. The food is also delicious!
We knew from the start this is where we wanted. It is a beautiful building with heaps of character and an integral part of Manchester skyline, and being able to walk out into Albert Square in front of such a stunning building as man and wife was an exciting prospect."
"I am a Manchester United fan and was there in that square around a year before the wedding watching Manchester United lift their 20th league title trophy, surrounded by United fans. A really special moment. We'd been so worried that there would be an event on in the square, like there so often is through the year,  but when we found out it would be free meaning, we could enter and exit through the main entrance we were buzzing! 
As Sir Matt Busby (ex-Manchester United Manager) once said 'Manchester is my heaven', a sentiment we very much agree with!"
"Once we proceeded with this venue we knew it was the right choice, and it became apparent very quickly that the people dealing with our wedding were willing to make everything we wanted happen. For example, Dave is really into his craft ale and he asked them to order in specific beers for the evening which few other venues would have done.  They also recommended our DJ who turned out to be exactly what we were after. Music was one of the biggest parts of our day.
The staff at The Deaf Institute decorated our reception room to perfection, I couldn't have been happier with how it all looked.  There were lots of red and yellow balloons, retro cinematic posters, colourful bunting and daffodils."

"My dress was a Marc Le Carr design that I got from Berketex Bride in the Arndale Centre in Manchester.  I knew from the off that I wanted a 50's style, tea length dress.  My Mum and I both started the search by scouring the internet but nothing was jumping out, we started to think I might have to get my dress made. We'd gone shopping in Manchester one Sunday, not wedding dress shopping I must add, and we walked past Berketex Bride in Manchester Arndale. 
Mum suggested popping in there just on the off chance something might catch my eye. We walked in and within seconds I locked eyes on the dress. I was a little hesitant about the sparkle and detail on it, but once I tried it on I knew straight away.  It was so elegant, particularly because it went up to my neck, and had the capped sleeves. And I just loved the movement from the skirt, which was exactly what I was after; perfect for twirling.
My dress was the first one I tried on – unbelievable!"
"I loved the look of birdcage veils, but wasn't keen on the ones I was looking at online. My Mum is really talented and creative so she offered to make it, and she did a perfect job, she made the bow out of the same material as my dress and it looked so cute.
Once she'd made it she had it sat on a Fez on the run up to the big day so it kept its shape!"
"I knew I wanted red shoes, then the thought of glitter popped in to my head and I was a woman on a mission.  As luck would have it I was shopping with my maid of honour, Beth, and we went into Schuh and there they were. Designed by Red or Dead; perfect bright red, sparkly, Dorothy heels!
I'm not great in heels at all and they were a good height, and had a strap across so I knew I had to get them. They also had bows on the front, they were truly perfect."

"My Mum and Dad surprised us and booked a Beauford Long Bodied Tourer 2 via Altar Wedding Cars. It was fabulously vintage and we loved it!  We also hired a bus via Belle Vue Busses.  The 1955 Guy Arab Birmingham Bus fitted in with the look of the day perfectly – we had some fab pics on there too."
"Dave got his suit from Ted Baker. The lining of his suit was multi-coloured bows which was a nice touch with me having a bit of a bow thing going on with my look. I obviously couldn't tell him that when he got the suit but I was quietly buzzing about it.  Dave really wanted a waistcoat but the suit he got didn't have a matching one.
He decided to purchase some bright red braces instead which he got from Burton. They were a great touch, however as the alcohol began to flow people thought it would be fun to pull them out and let go -  bruised nipples are not a good look for your honeymoon!"
"We wanted the red and yellow theme for the Groom, Best men and close family so we went with matching ties. We got 12 matching ties which looked so vibrant and really stood out great in the pictures. The good thing about them was we could get slim ties for the younger men and regular for our Grandpas!"
"I designed all our stationery myself, on Photoshop, and got all the printing done at MUPrint which worked out very reasonable.  Our invites had a picture from our pre-shoot with Emma and I used one of her images for the posters I designed for the reception venue.  I also did some posters for the toilets which were 'facts about the bride and groom'- these made for good reading as people queued for the loo and were a good conversation starter."
"The bridesmaids dresses were from Debenhams.  We had such as struggle finding my maid of honour's shoes.  We were after yellow initially, but like me she isn't great in skyscraper heels so it was a real struggle.  We were at the Trafford Centre searching for them one night and ended up in good old Marks and Spencer where we found some gorgeous shoes, also with a bow on the front, in a bronze, silver and gold pattern. Not what we were looking for but they were actually perfect!
I knew I had to have the young bridesmaids in Polka dot, it fitted with the day perfectly and the dresses I found on ebay were perfect! They looked so adorable in them."
"Our photographer was Emma Boileau.  Emma was the first photographer we met and we knew straight away she was perfect. She was very much on the same wavelength as us and we knew the wedding would be right up her street. We had a pre-shoot with her several months before the wedding and the pictures were fantastic, which confirmed furthermore she was the right person for the job.
Emma totally 'got' our day and I think that's why the pictures capture the day so well. That, and how talented she is of course!   She blended in to the day and just got the job done.  The end result was fantastic, when she sent us the link to the picture gallery on her site I actually cried looking through the slideshow.  In chronologic order of the day, she caught all the special moments and for that we can't thank her enough!  We just can't stop looking at the pictures! "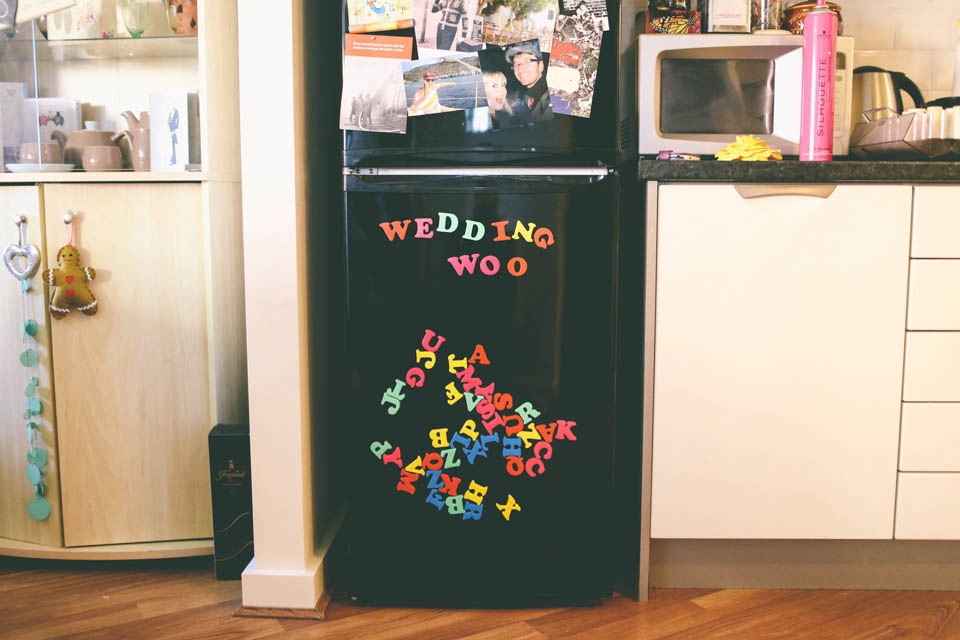 "I had my make up done by a lovely lady called Liz from The Bridal Make-up Team.  It was airbrush make up and lasted till the wee hours, so impressive! My mum is a hair dresser so she did my hair. I had a rough idea of what I wanted and explained it to my Mum, she then turned that into something I couldn't believe! It looked so fitting with my whole look, I've never worn my hair like that in my life so having it in a way I never have before was great for my wedding day, and certainly surprised Dave.
Between my Mum and Liz I was made to feel like a million dollars and I can't thank them enough for that."
"My Mum and dad treated me to a gorgeous pair of Pandora earrings.  They too had bows and a lovely pearl drop. They finished the look wonderfully.  I also purchased a load of single, small, sparkly/pearly bracelets from Debenhams which I wanted to look like a cuff, it worked brilliantly."
"My dad, Stephen, gave me away. He's a postman and when we reached the top of the aisle and got to Dave he said to him, 'I've got a special delivery for you'!
I walked up the aisle with my Dad to The Stone Roses song 'This Is The One'. My Dad and I went to see this band at their reunion show in Heaton Park, Manchester which was one of the best gigs we've ever been to.  They're one my favourite bands and the Manchester United team come out of the tunnel to this song at Old Trafford, so it was a no-brainer! Dave and I came back down the aisle to Morecambe and Wise's 'Bring Me Sunshine' and we couldn't help but do the classic Eric and Ernie routine as we skipped back down the aisle."
"I decided I wanted the two younger bridesmaids to carry red, heart shaped balloons rather than flowers.  I got these from Magic Balloons and my Mum bought some red wooden hearts from Dunelm Mill which we attached them to.  Not only did it look good it meant they dropped to the floor and didn't float off if the girls let go of them!"
"We adore Greece! When we were on the Greek island of Milos for our summer holiday last year we decided to get our wedding rings there and then.  We went into a traditional Greek jewellers and spoke with a man called Michaelis, he was a tad eccentric and passionately explained to us that our rings would be made from the same piece of gold!  He hand-engraved our names in each others ring in Greek and also put the date of the wedding  too. 
It's truly wonderful we have such unique, special wedding rings."
"We kept our ceremony simple, we realised how simple when the registrar announced to the room at the beginning of our service that we'd chosen the shortest possible service!  We decided against writing our own vows as we wanted to avoid too much soppiness! We got married at 4pm so a short service was definitely best for us."
"Our florist was Designer Flowers by Rodgers.  I wanted a real mix of flowers in my bouquet, and I went into the fridge down at the florists and started picking all sorts!  It looked so bright, beautiful and different, I loved it!
Dave had a red carnation for his buttonhole and all the other men had yellow gerbras."
"We had Blackpool rock for our wedding favours - in red and yellow. My Dad knew someone who got this made for us. It had 'Laura & Dave' running through it. We had to give a nod to the place where we met!"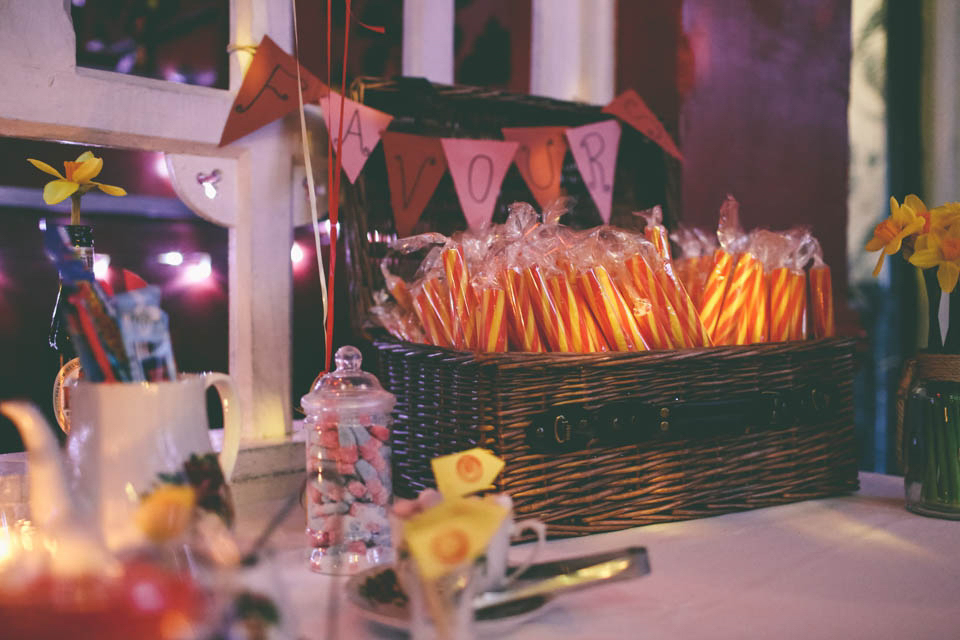 "Dave's cousin makes cakes and offered to make ours for our wedding present. She got it spot on, we had the red and yellow, stripes and spots, and to top it off (literally) we had a little penguin versions of me and Dave. Why? Because penguins are ace and are also monogamous!"
"The Deaf Institute provided all the delicious food. We had sliders (beef, chicken and falafel), mini hotdogs, chips, wedges and onion rings.  The food went down an absolute treat with everyone.  Later in the evening we had an epic cheeseboard and also pork pies which came courtesy of G & K Mitchell & Sons butchers in Blackpool. The best pork pie anyone could ever wish to eat!"
"I am a member of an improvised comedy troupe called Comedysportz UK who played and entertained our guests at our wedding.  We knew we wanted them to play from the off as it's a big part of my life.   Its improvised comedy and anything can happen; it went down an absolute storm and ensured the room was filled with laughter, which is just what we wanted."
"No matter how comfy my red sparkly shoes seemed at first I knew I wouldn't last all night in them so I purchased a pair of white converse also from Schuh for the night do. I wore these with some white frilly ankle socks to keep it nice and girly.
Both pairs of shoes were a big talking point when people spoke to me so I was made up with that."
"Our first dance was to 'Emmylou' by First Aid Kit.  Our song choice changed a lot of times but when we were flying to Spain earlier in the year we were on an early morning flight and sharing headphones and this song came on as we watched the sun rise. It was lovely moment so it seemed like the right choice.  
Dancing the night away with family and friends and some seriously good songs was one of our favourite parts of the day."
Words of Wedded Wisdom…
"Trust that it will all work out perfectly as long as you put the effort in and enjoy planning it all together.  If you're feeling wedding'd out take some time away from it and don't let it be the cause of any rowing!
Look at cheaper options where you can, for example, I was going to get the invites printed online which as a 'wedding invite' would have cost £200, getting them printed at a local printers near the uni cost just £20!
On the big day, make sure your home or hotel room is nice a tidy before the chaos begins - I even got my maid of honour donning the marigolds and doing a bit of washing up for me after we'd had our lunch.  Eat a good breakfast and lunch (if applicable). My appetite completely disappeared at the reception so I'm really happy I had some delicious hot cross buns for breakfast and a yummy ham butty for lunch, and some of my Dad's homemade chocolate cake…on second thoughts, it's no wonder I wasn't hungry!"
What a gorgeous day! So much fun all-round – I love it.  Huge thanks to photographer Emma Boileau for sharing these fabulous photographs and many many congratulations to you both Laura and Dave! Thank you for brightening up Love My Dress® this morning