Good morning! What a beautiful weekend we've just had. I'm feeling so relaxed and inspired after time spent with family – I hope you had a lovely time too, whatever you were up to.  Now, I'm kick-starting the week with a bang, like usual – this wedding is pretty special!   Kate and Andries wedding celebrations took place in July last year with a super-swanky 1920s inspired party at The Green Building, Brooklyn, which was enhanced with the most fabulous vintage details including vintage books and glass hired from Little Vintage Rentals, chalkboard signs created by Sharp Shooter Signs and vintage furniture hired from Rent Patina Village. Even the guests, who travelled internationally to attend the wedding got into the spirit and dressed up as if they were attending a party hosted by The Great Gatsby himself.
The couple had already eloped shortly before their Brooklyn bash but wanted to celebrate in style with their family and friends.
"We wanted to create an atmosphere that was not too serious and tradition based, but still felt like a wedding. We kept it more casual by doing family style dinner, dessert trucks, having cocktails before getting into the 'serious' stuff. Also, the decor was not too precious. The idea was for it to look "lived in" and encourage interaction. It was also an incredibly diverse international group. We had people from many different countries which added to the dynamic."
Photography Copyright (c) 2014,  Chris Spira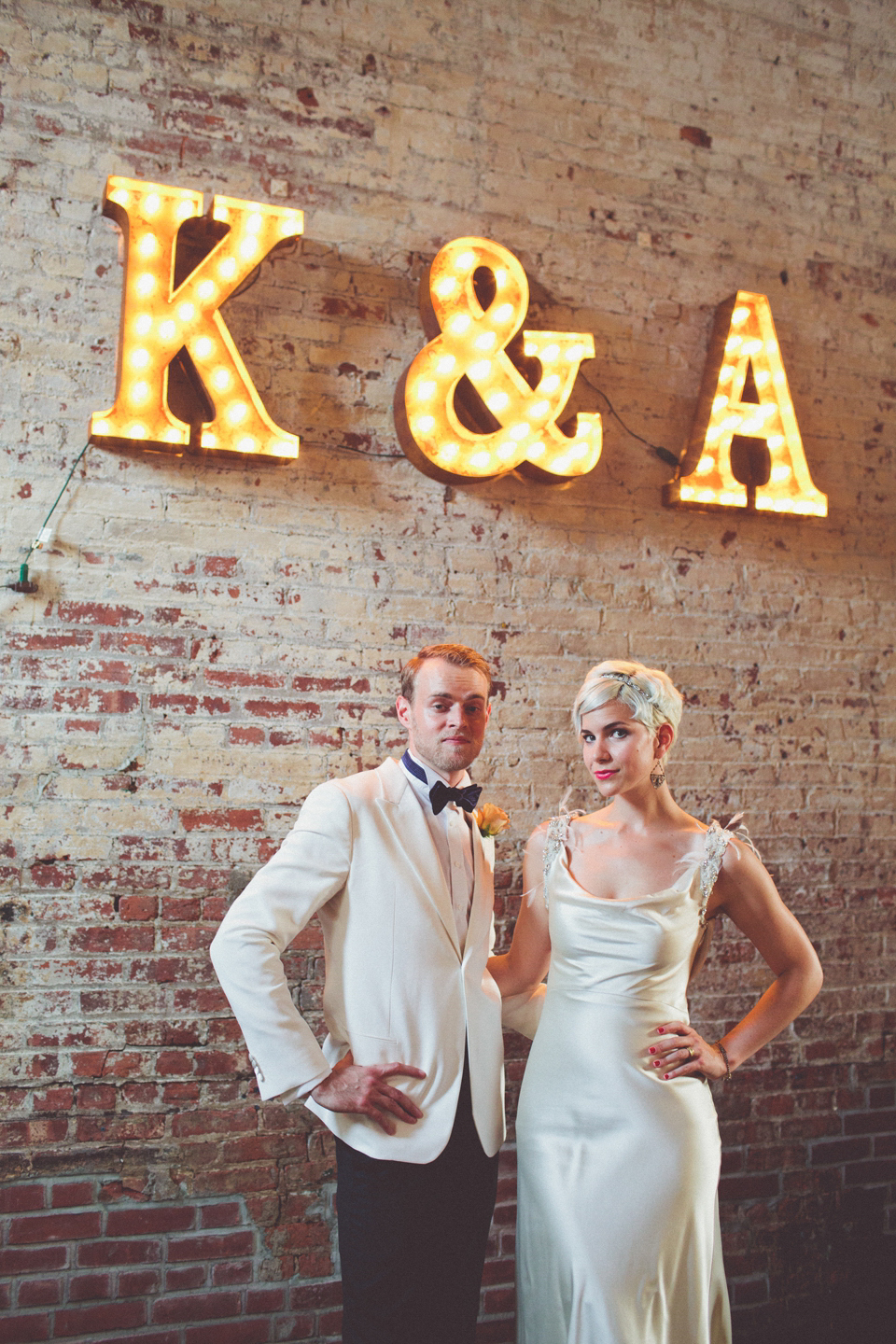 "I am from New York and Andries is from Belgium but came to the US for his MBA. He wasn't planning to stay after but got a job in NYC and ended up  staying there for three years (luckily!)
We were engaged for a year and a half before getting married.  The evening we got engaged: we were living in Shanghai and having dinner at a wonderful intimate Japanese restaurant, then went to our favorite bar, a cocktail and jazz bar in a historic hotel. The night had a few funny mishaps, which made it all the more memorable. It was very romantic and a COMPLETE surprise!"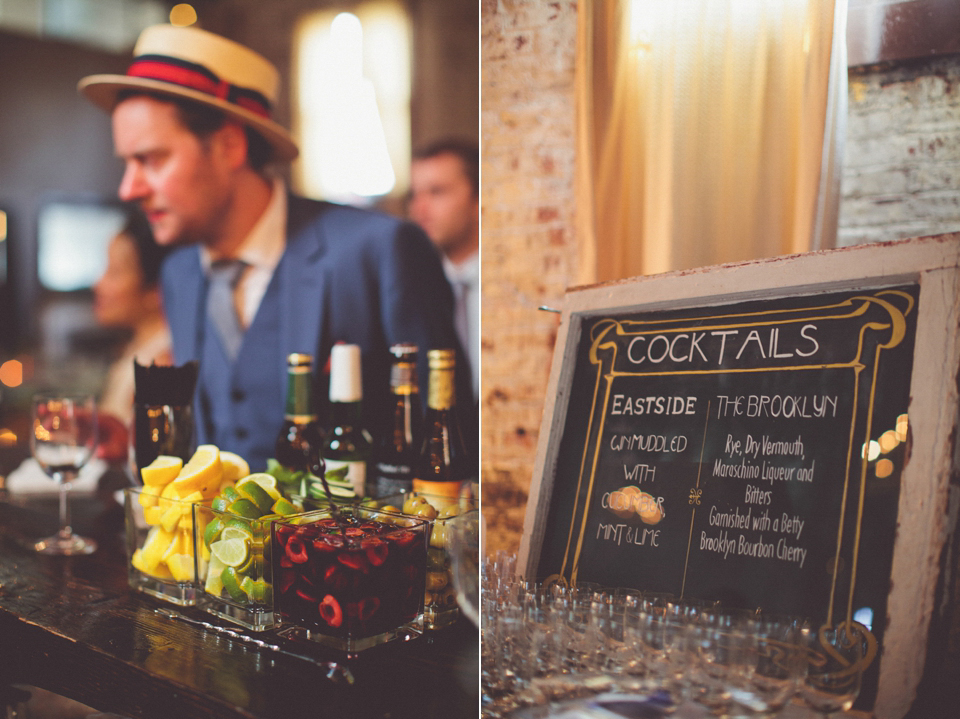 "We had actually eloped two months prior to our New York July celebration – so weren't planning to have a real ceremony on the day.  On the morning before our guests arrived, Andries and I decided we really should do something symbolic for our friends and family.  We sat at a diner in Brooklyn and started throwing around some ideas of what we could do/say. It turned into us MC'ing our post-cocktail hour and very unconventional ceremony – it was light and fun, yet heartfelt and emotional.
Our good friend David acted as officiant, and added some humour and beautiful insight. It ended up being 30 minutes long – very unexpected, but one of the highlights of the night for us."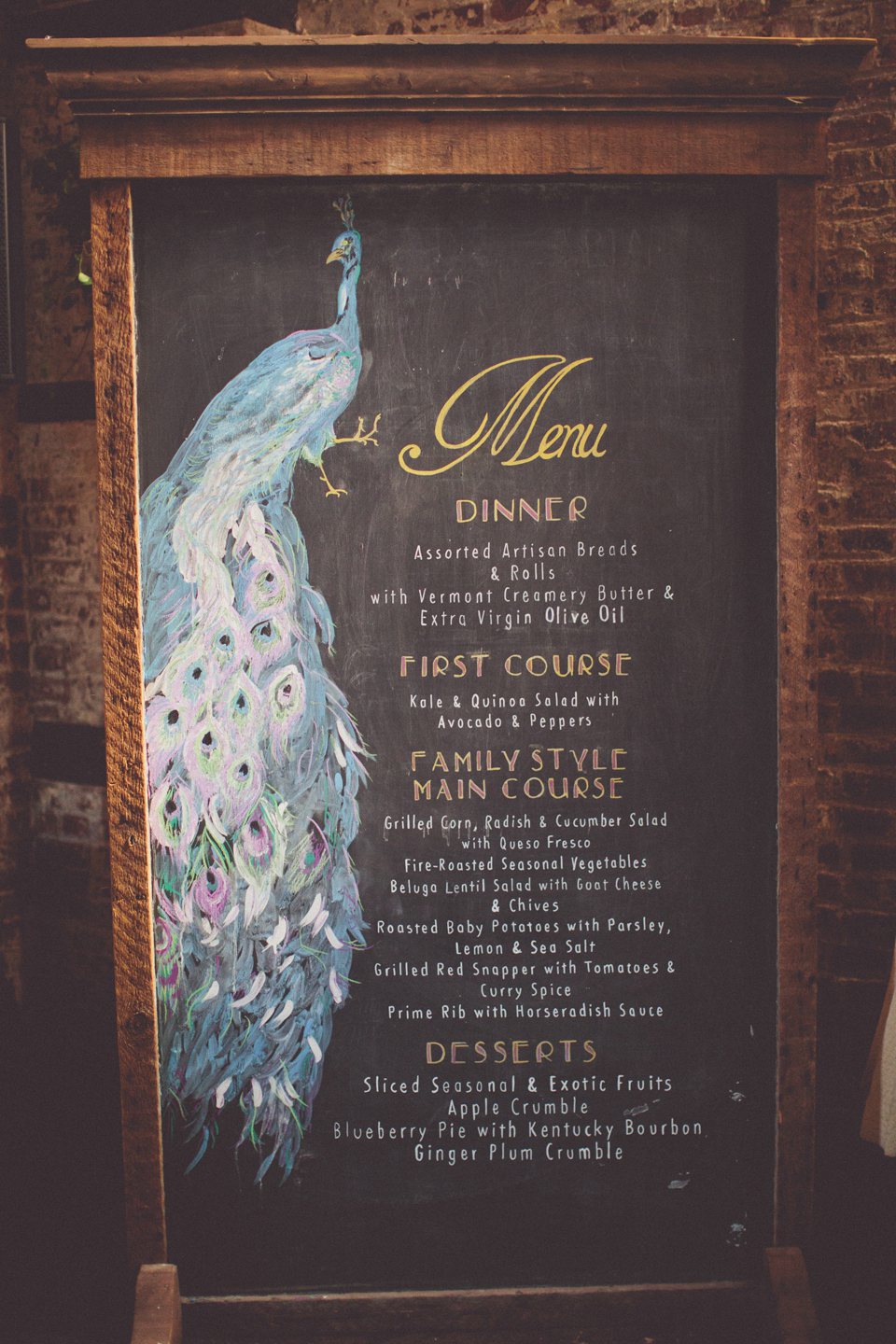 Kate's gown was a gorgeous Manuel Mota/Pronovias design – I love the feather detail at the sleeve, so incredibly elegant.
"Our photographer was Chris Spira – Chris and her team were wonderful! The photos captured the event exactly as I hoped they would…I love that we don't have a collection of typical wedding portraits. Instead, we have a collection of artistic images that truly bring me right back to that day."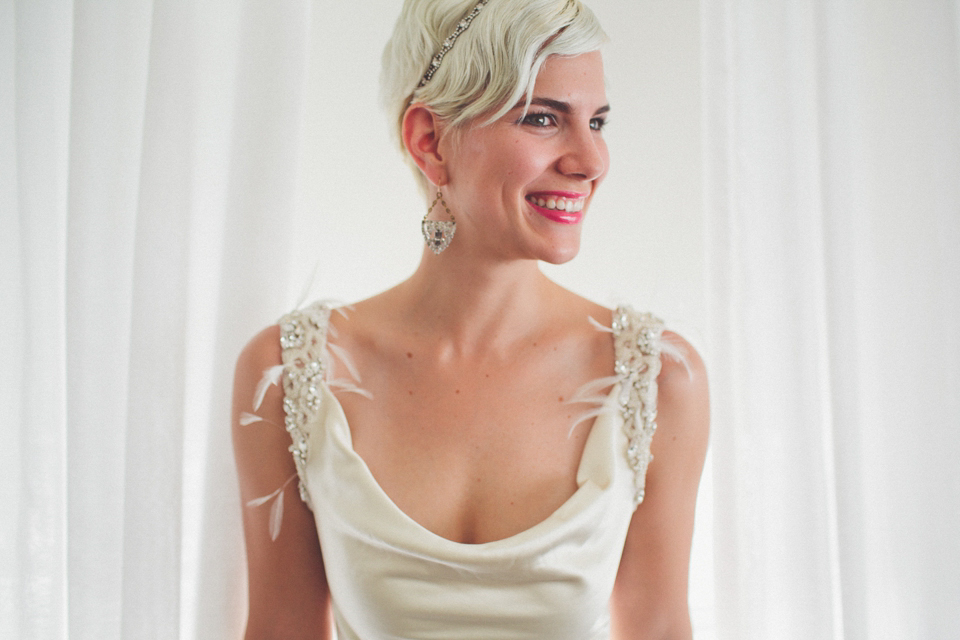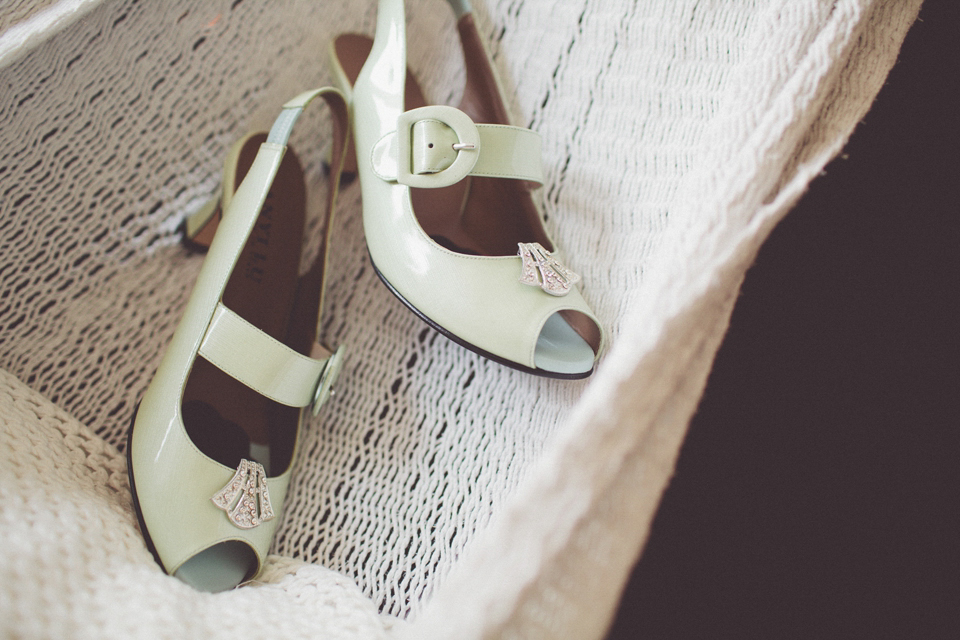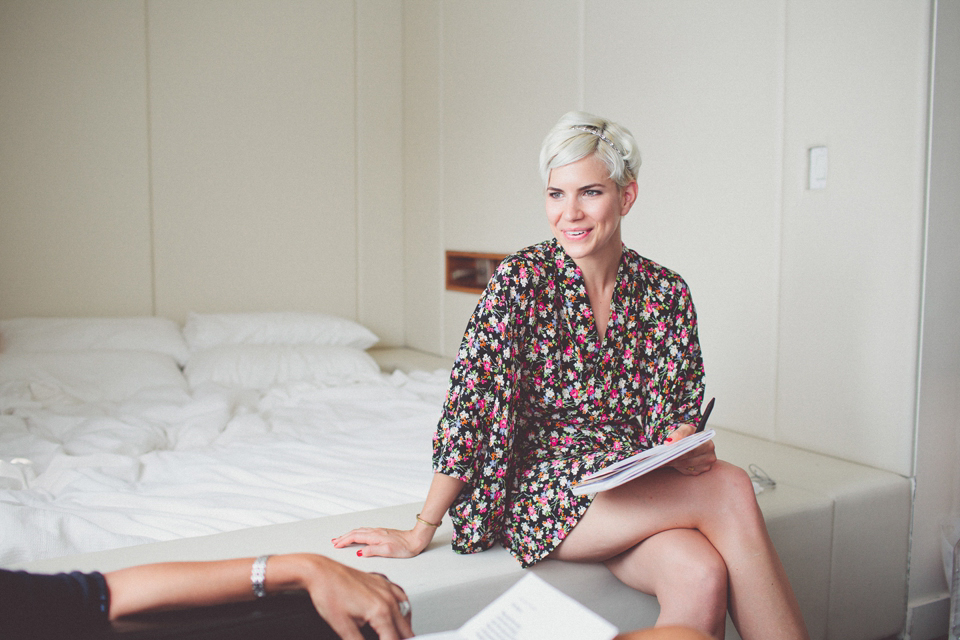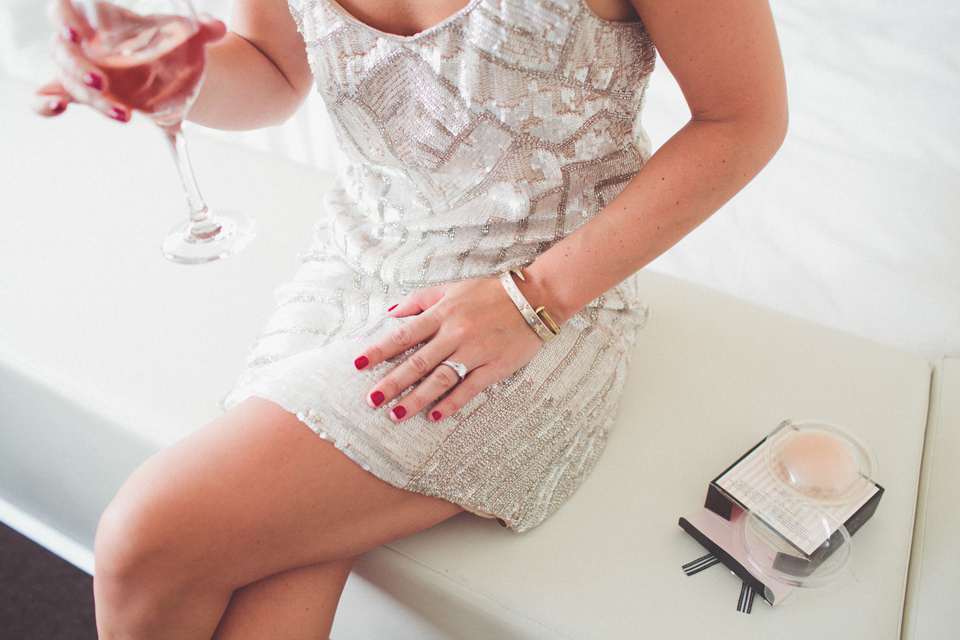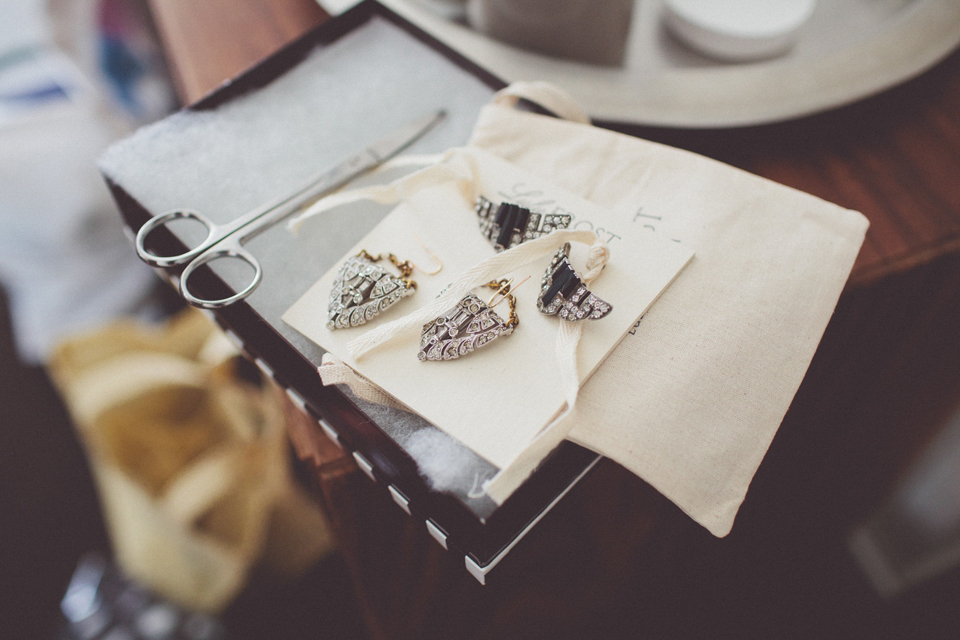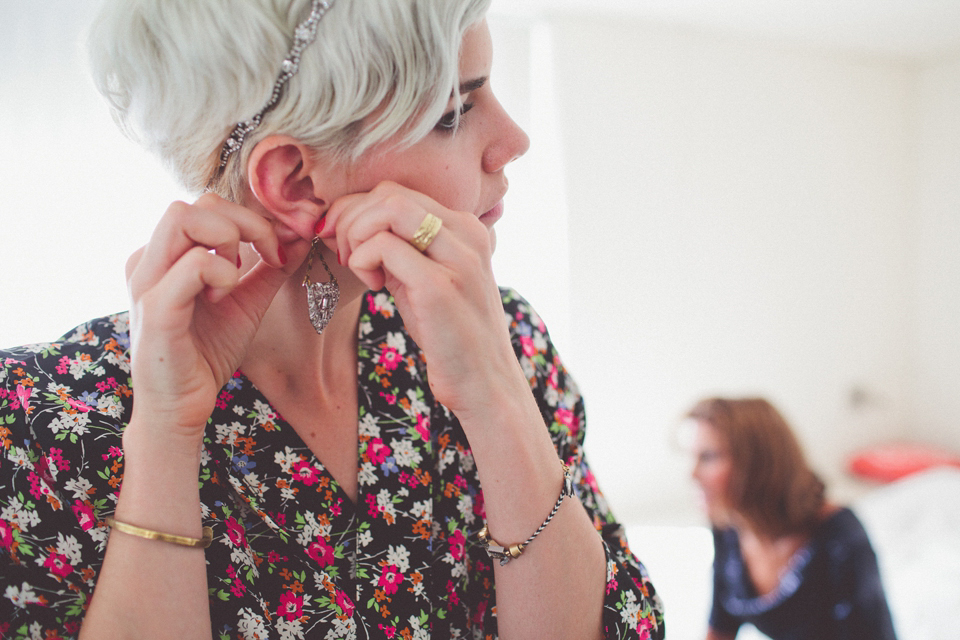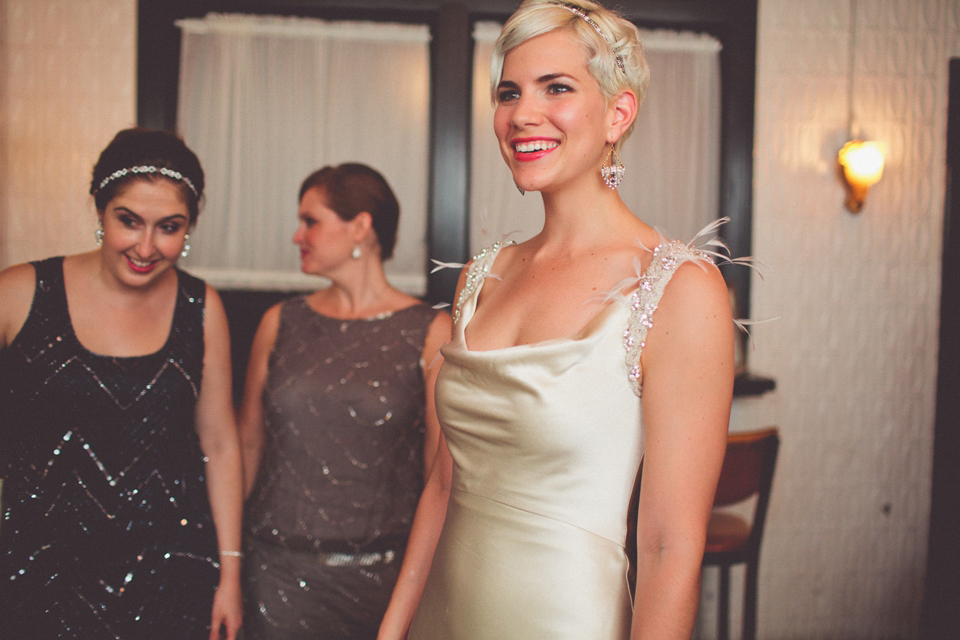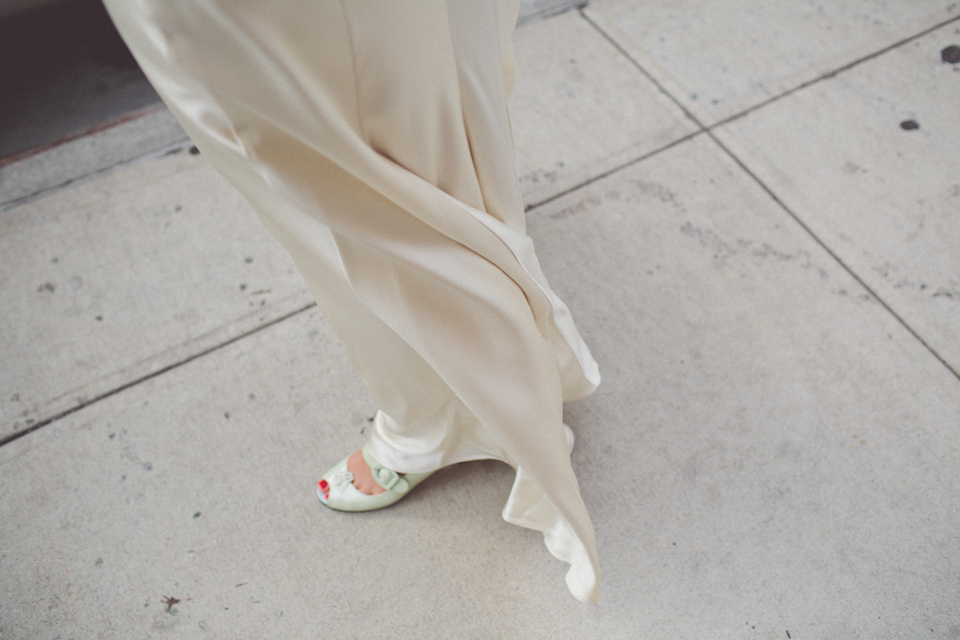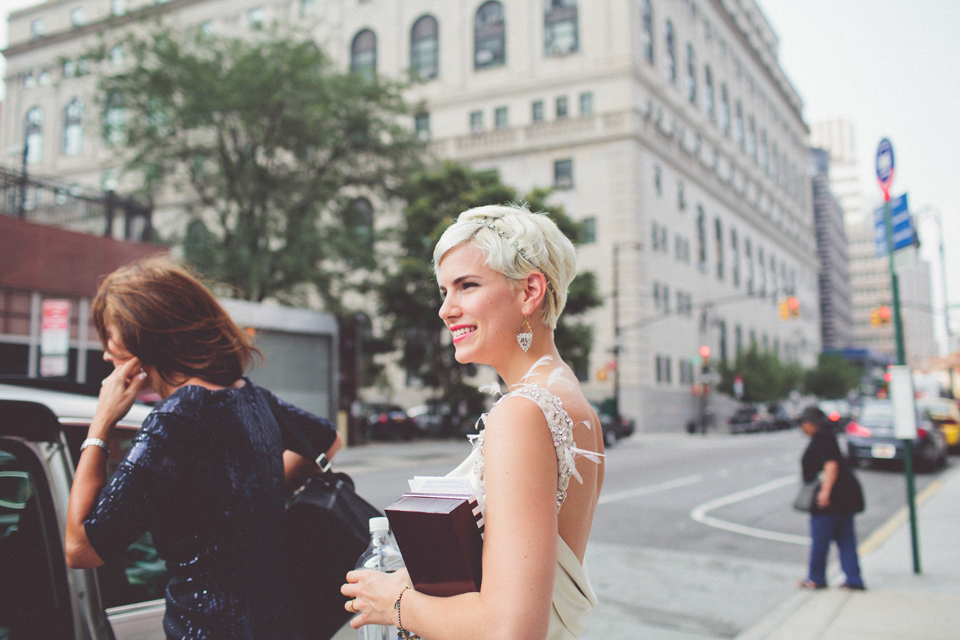 I adore the mint green Anyi Lu slingbacks that Kate customised with vintage 1920's shoes clips that she found on Etsy.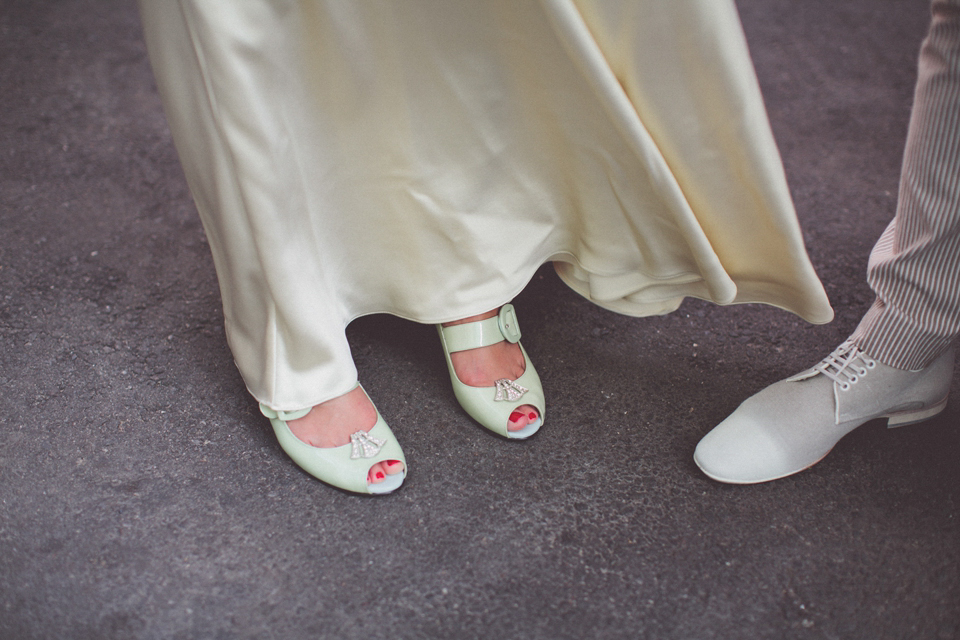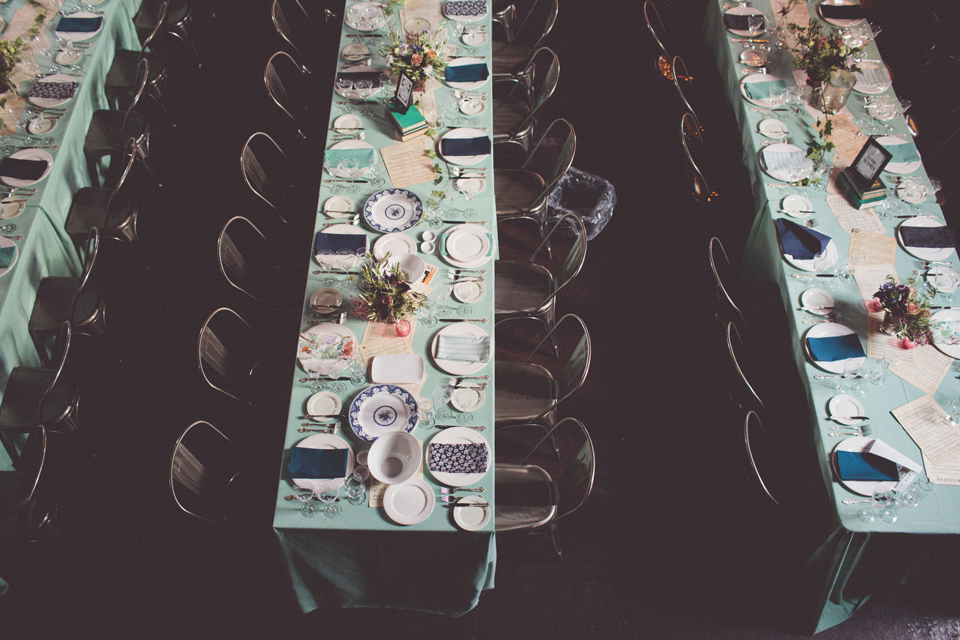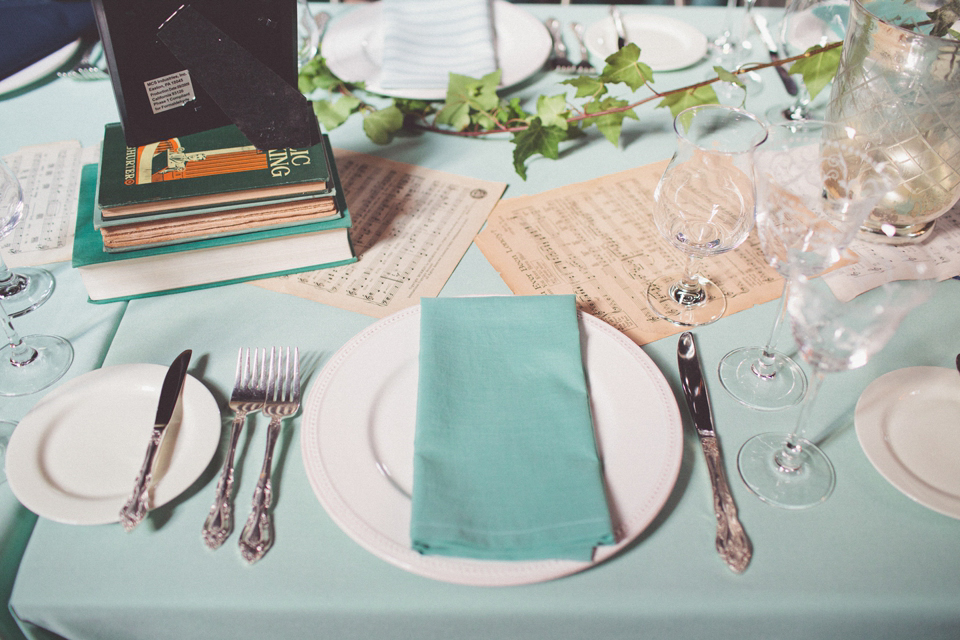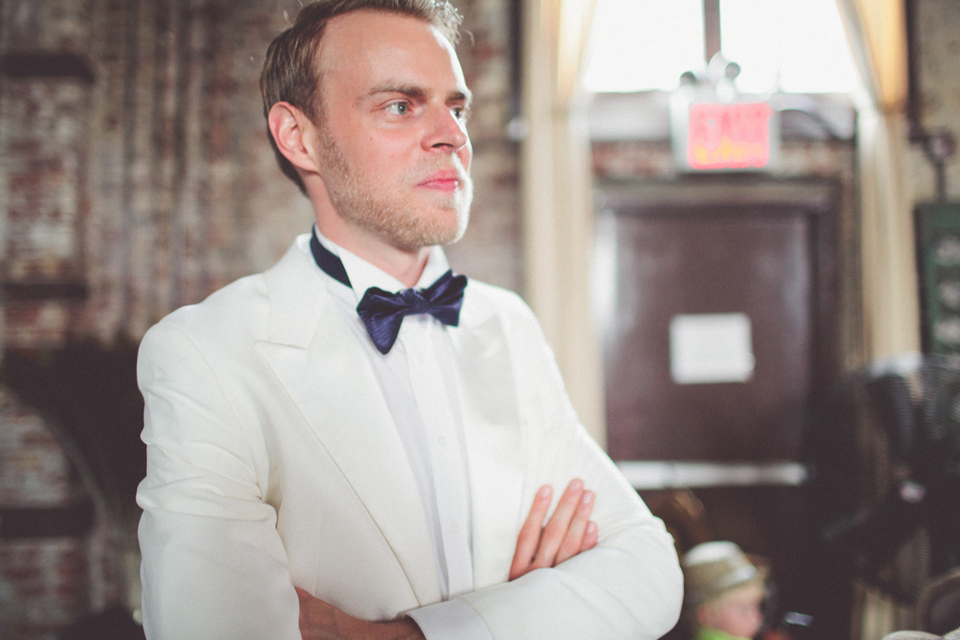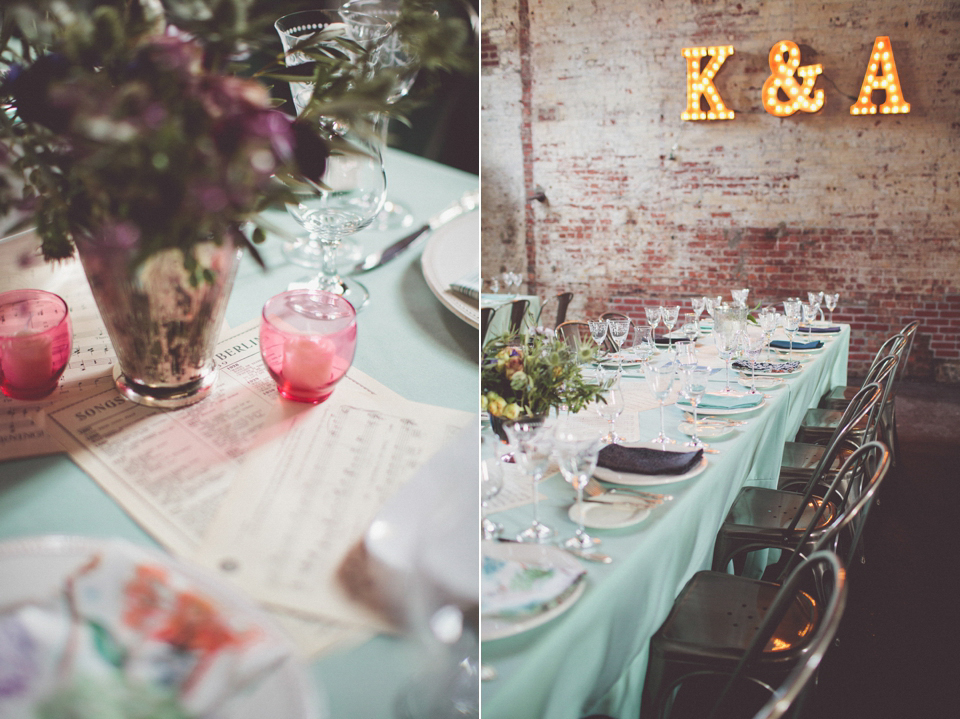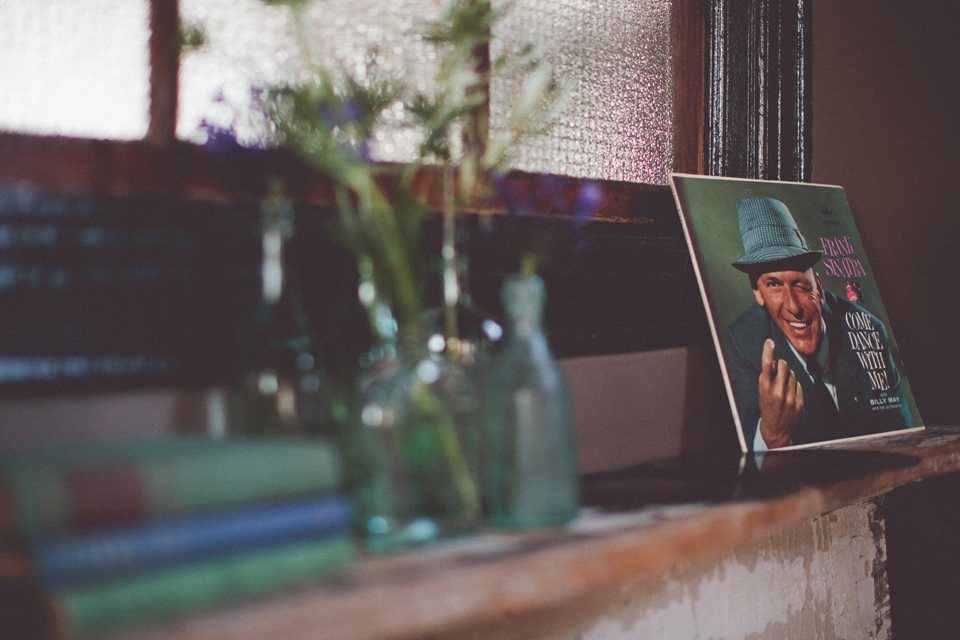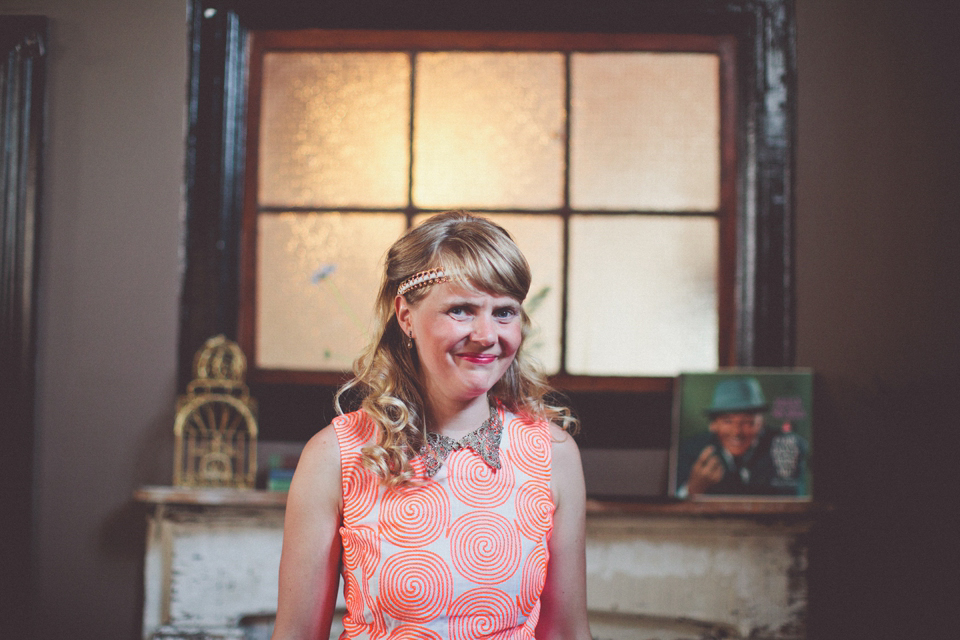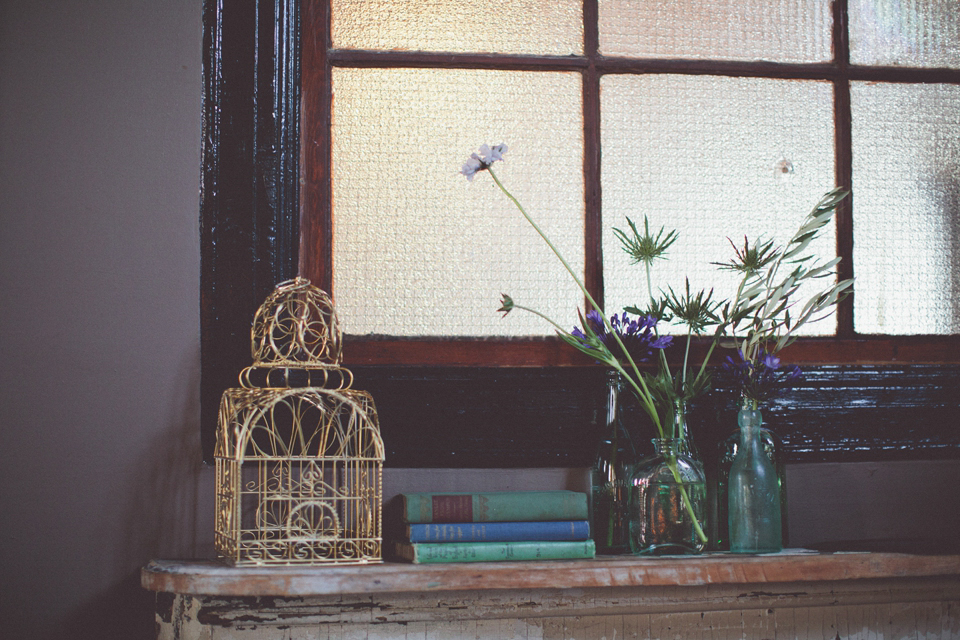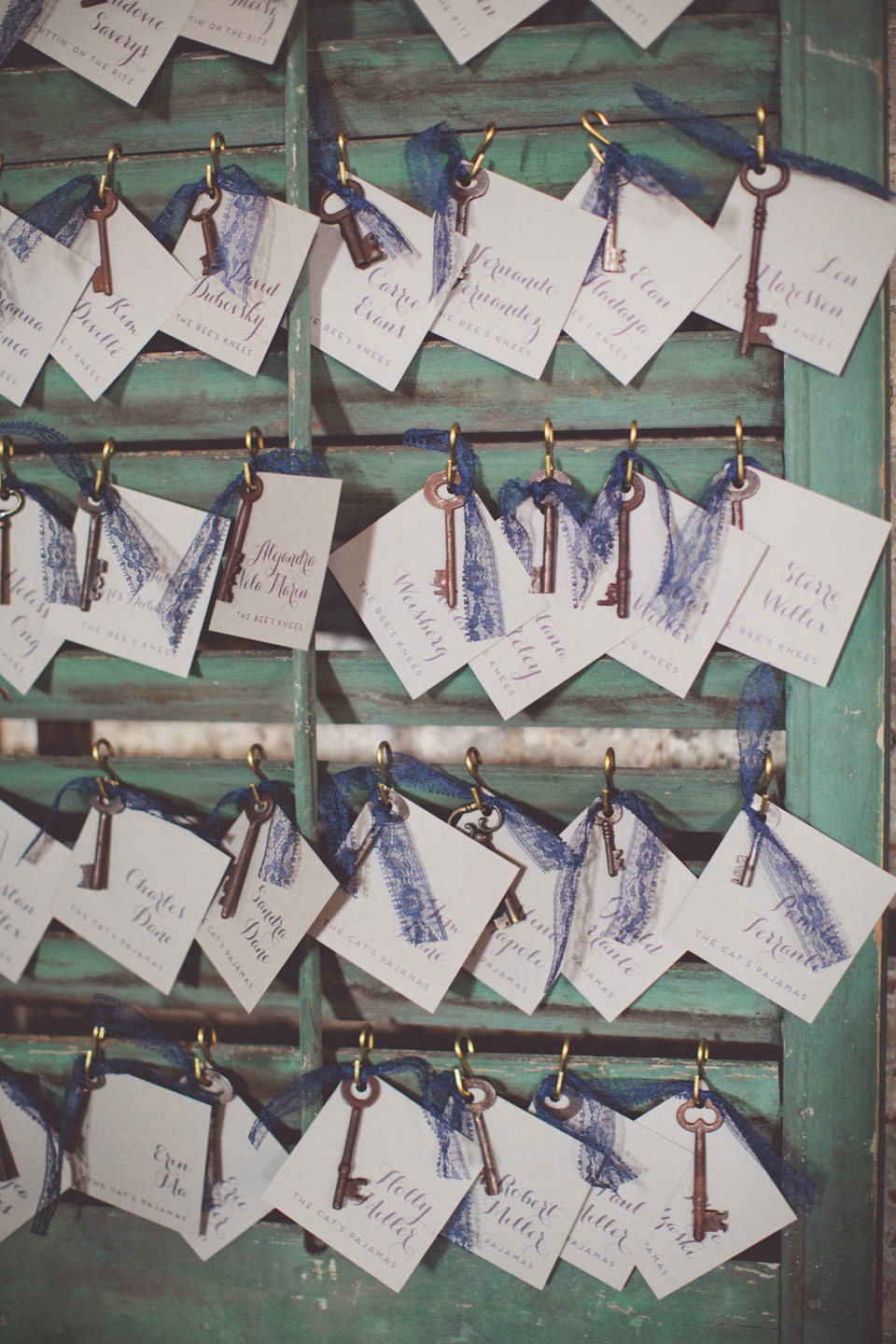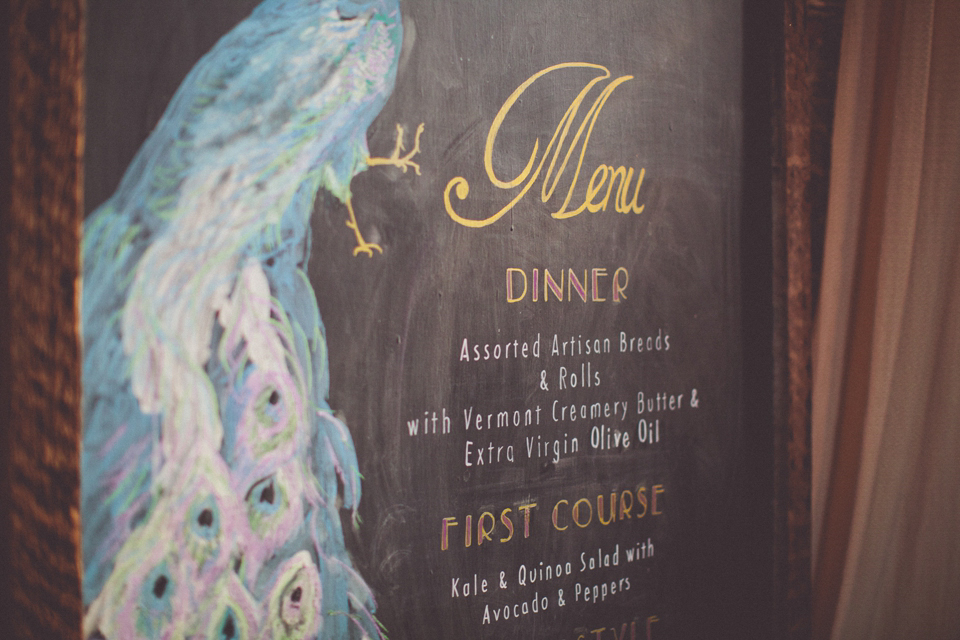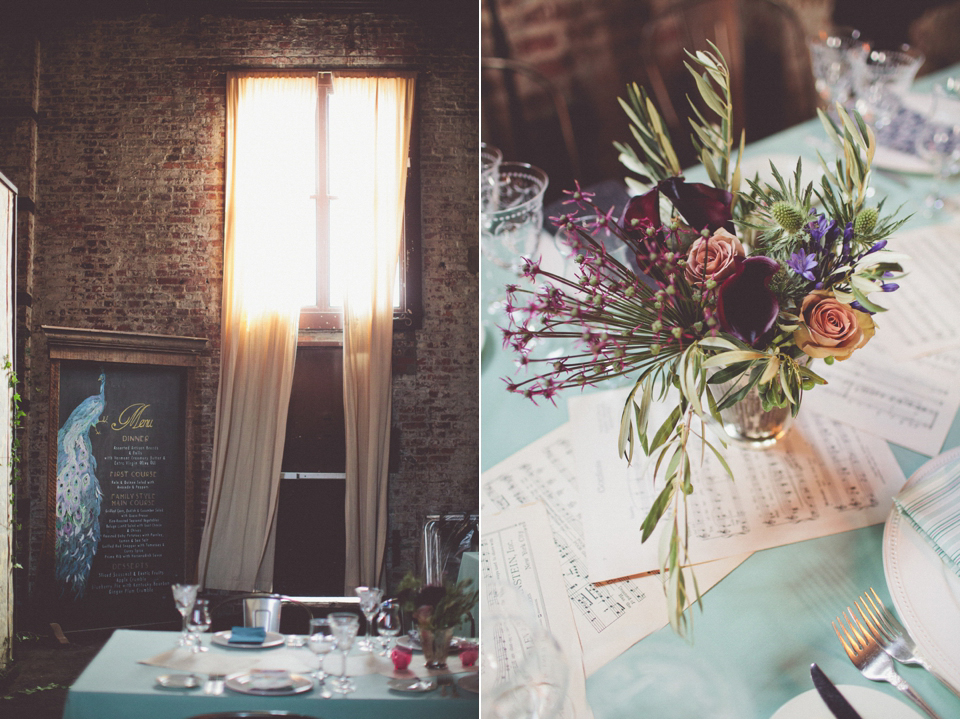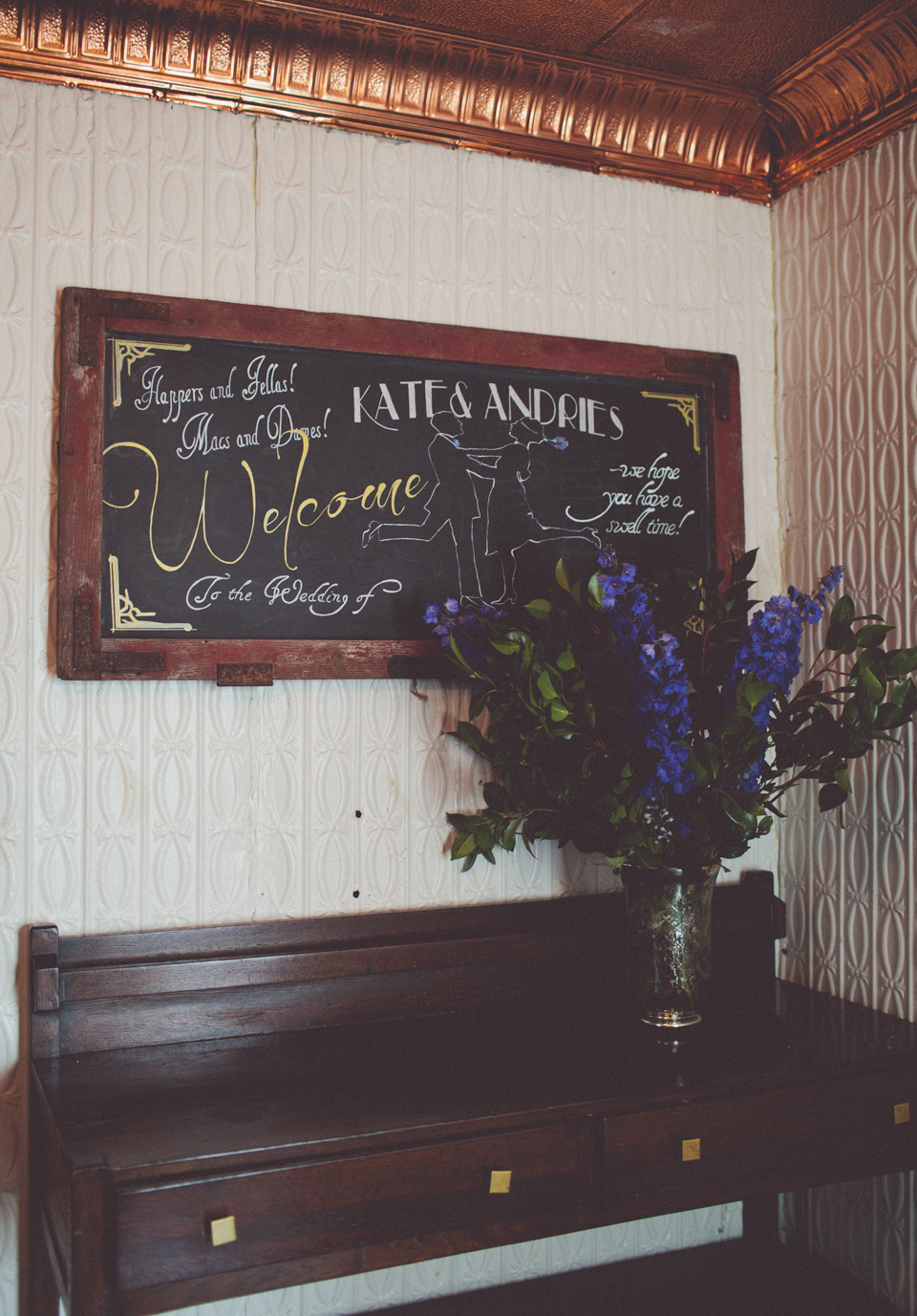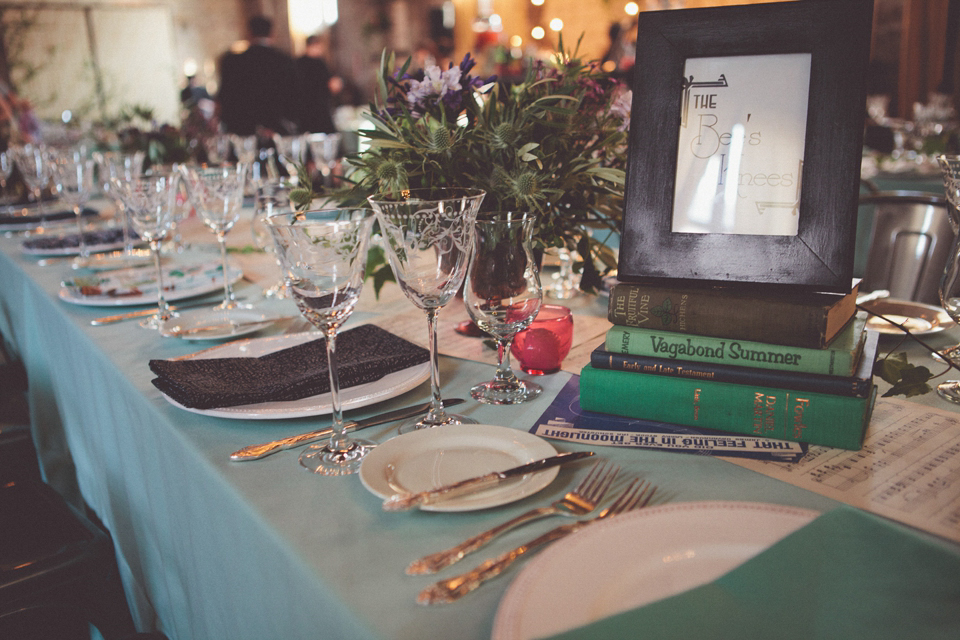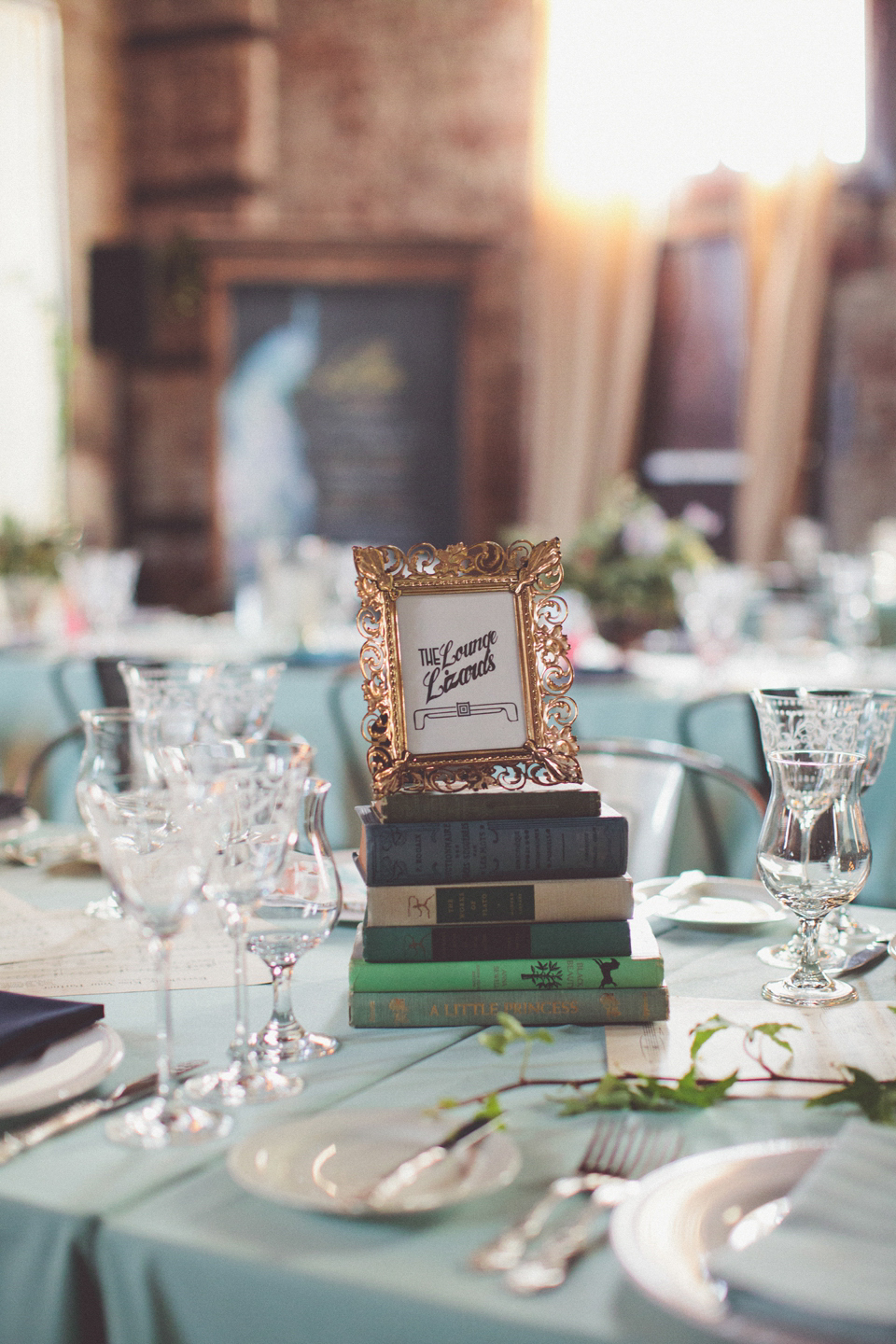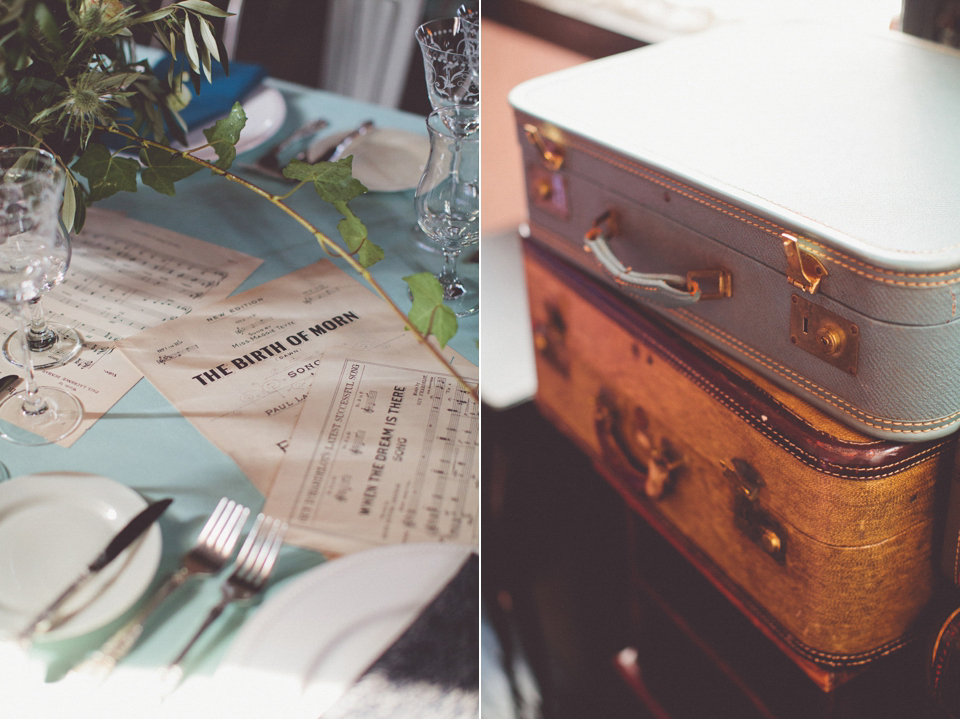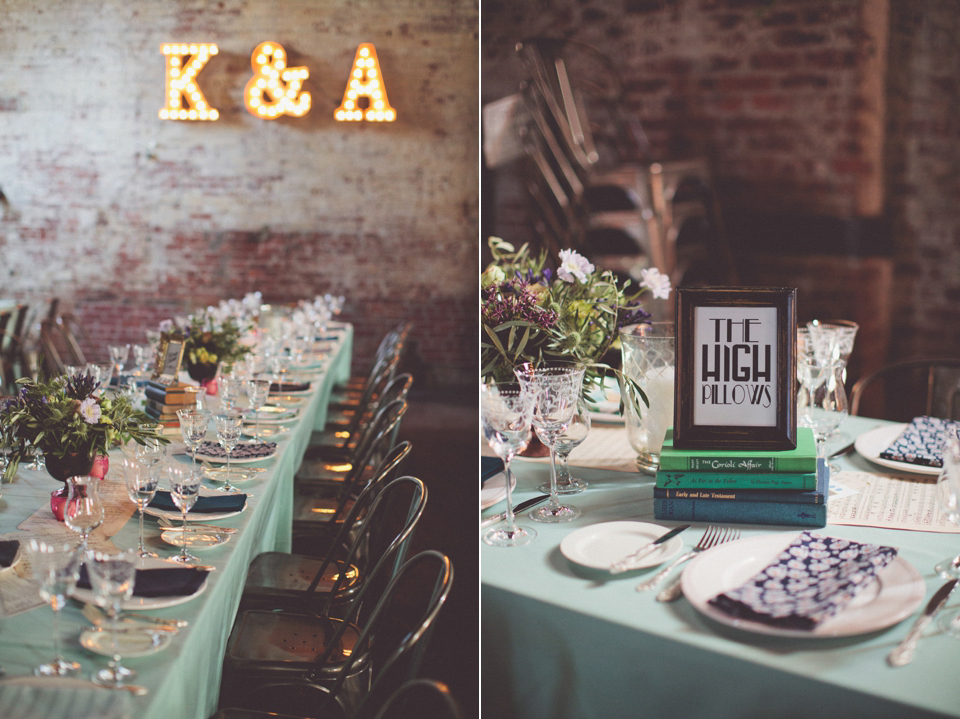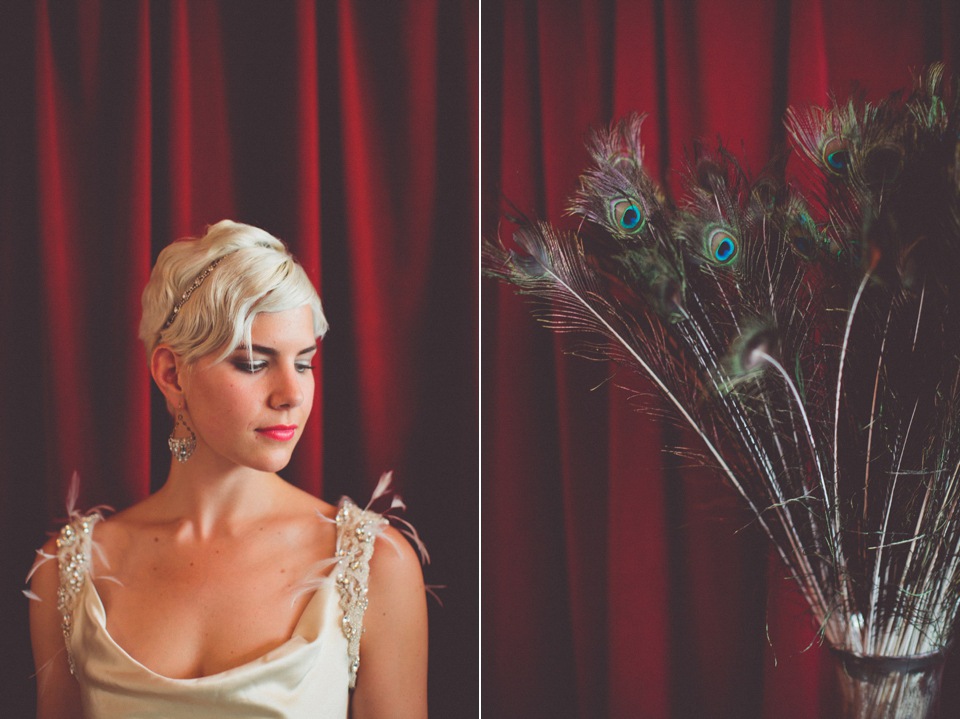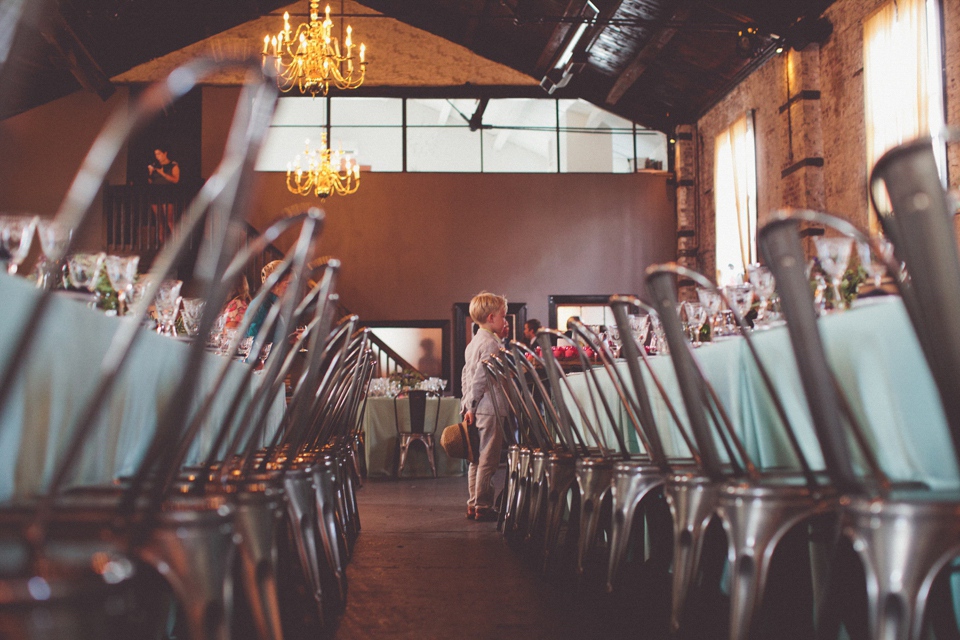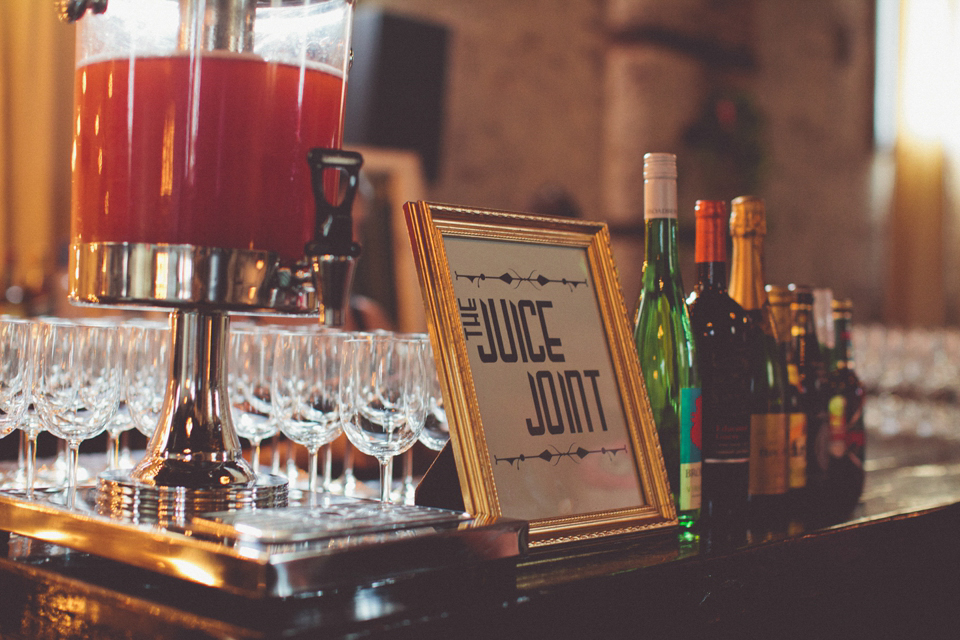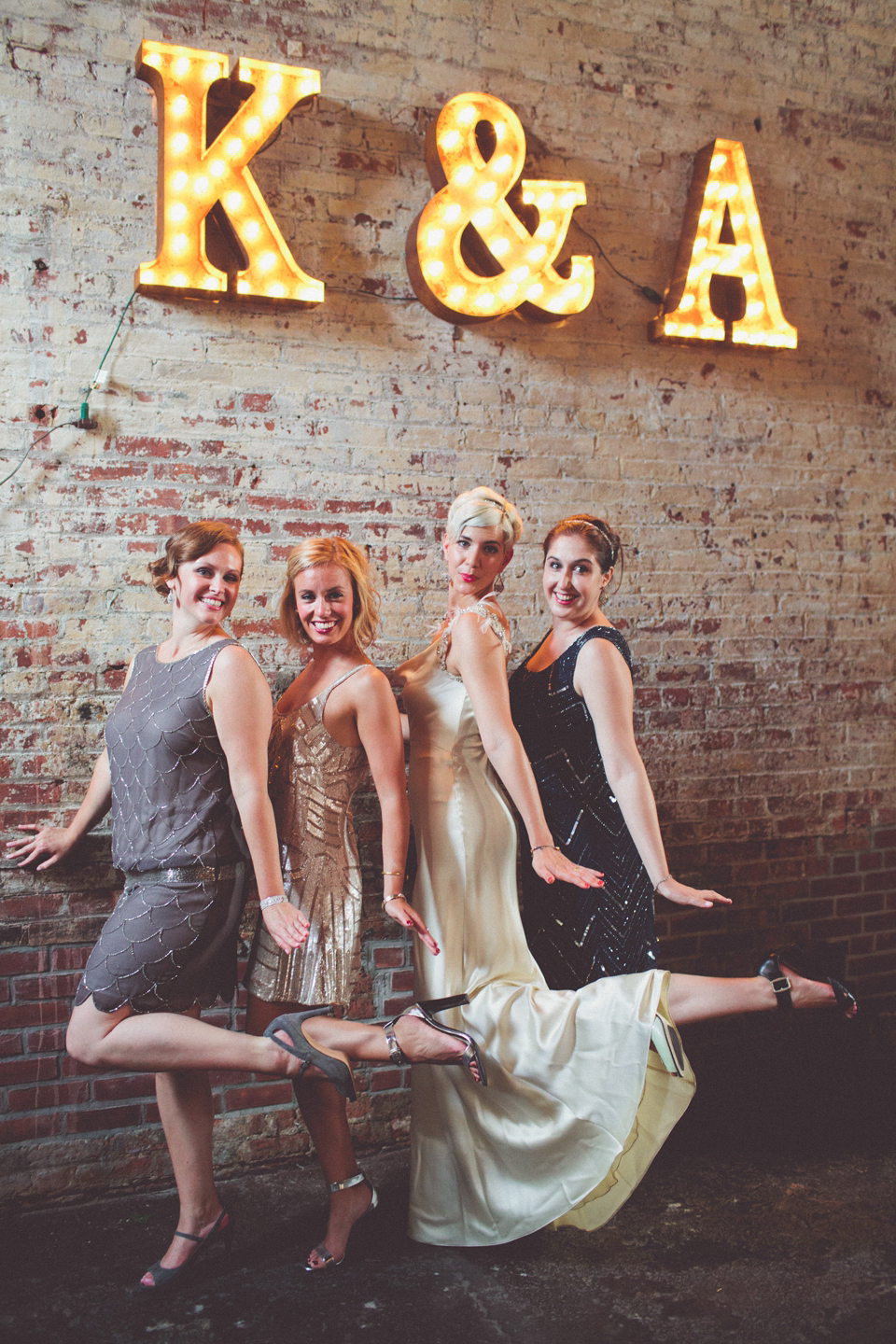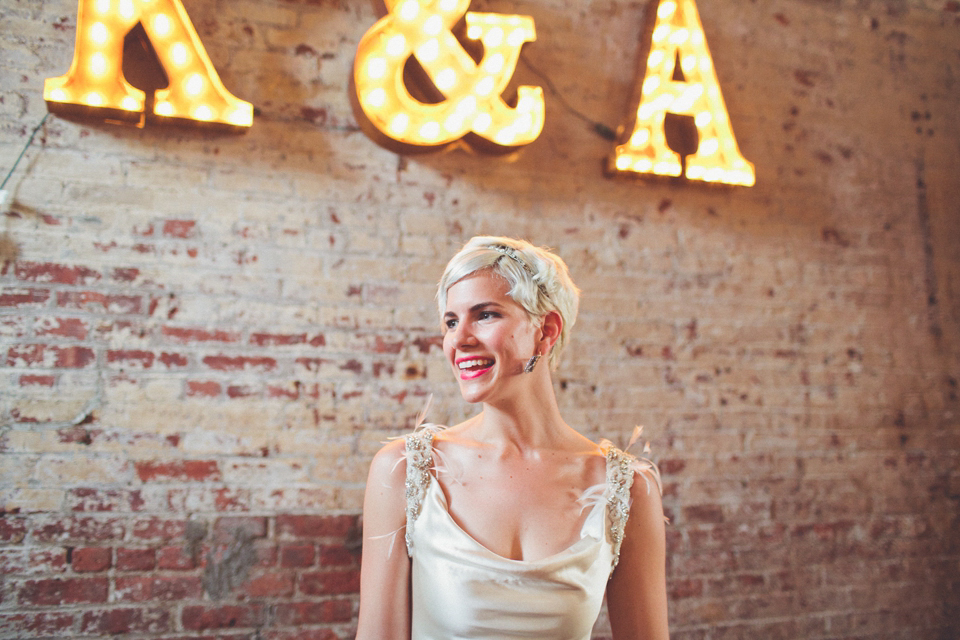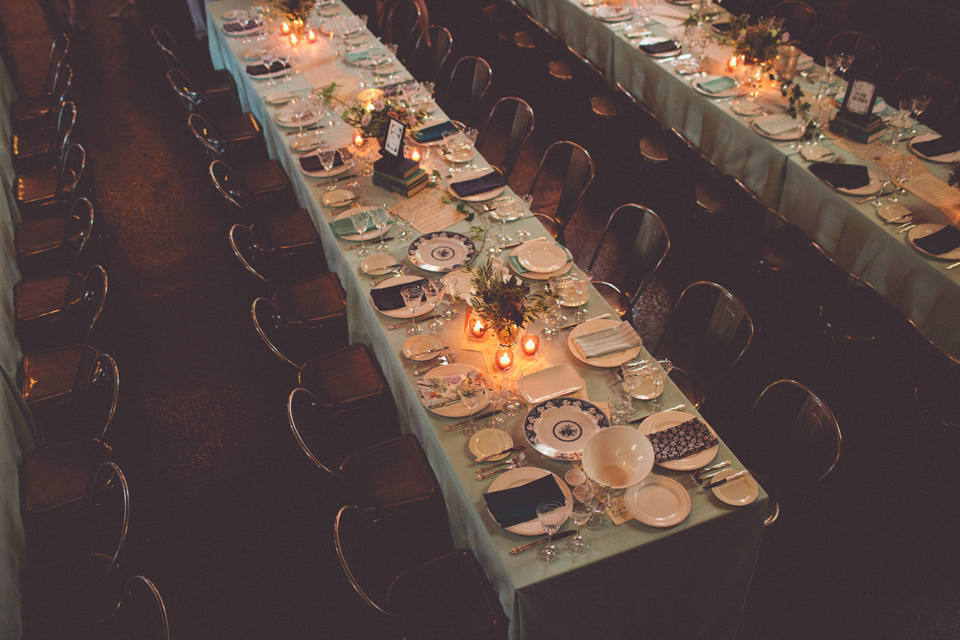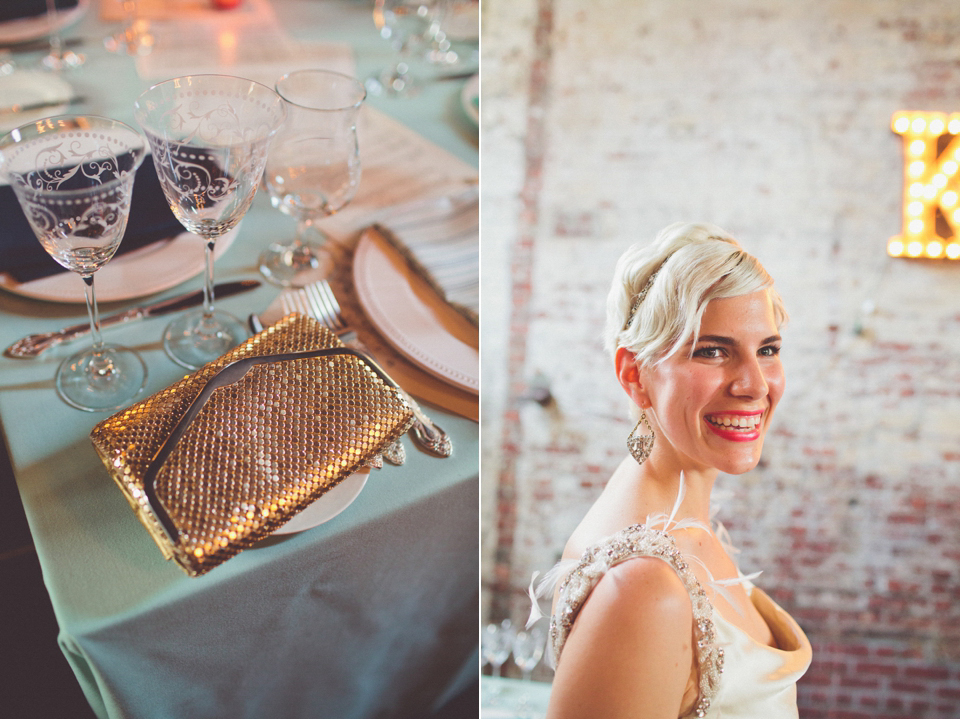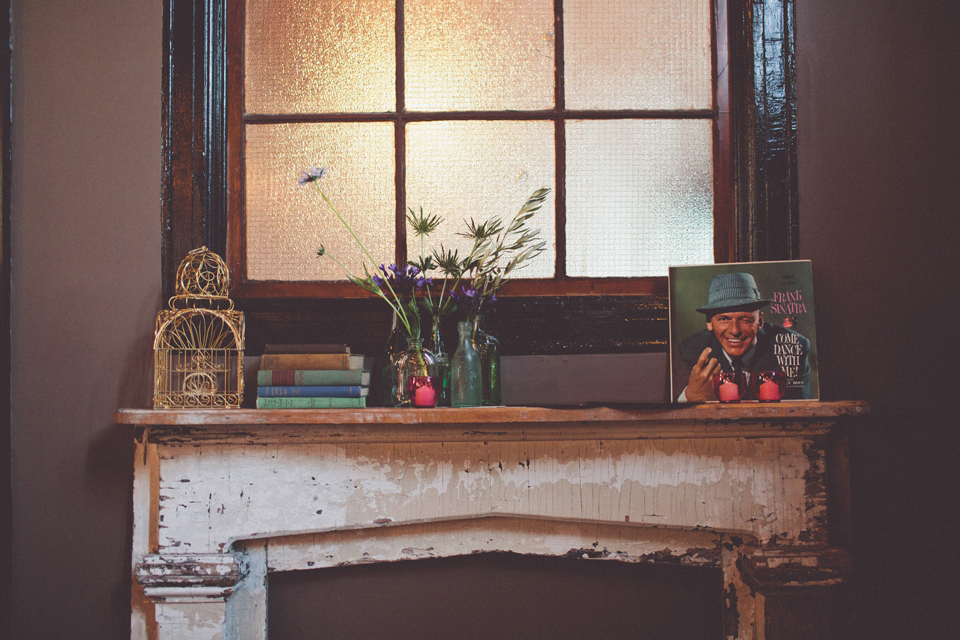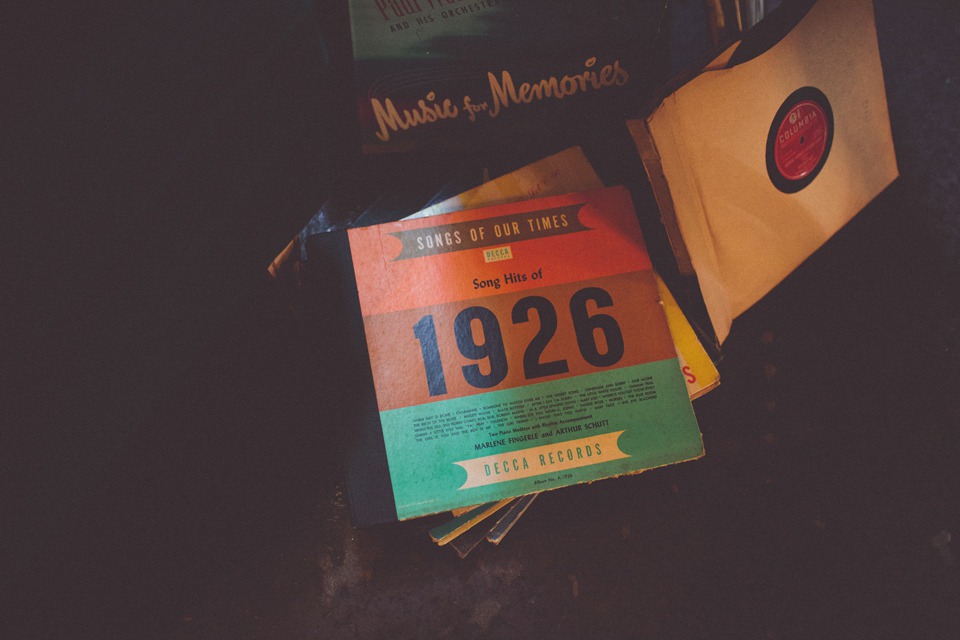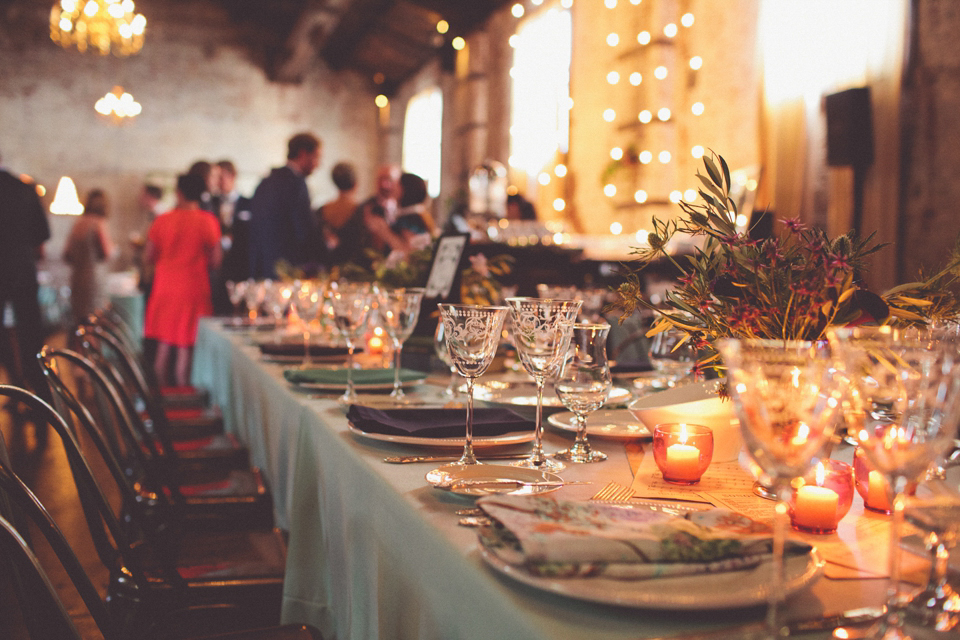 "I loved greeting everyone at the beginning of the party…it was amazing, seeing all our loved ones, all these people who were so important to us, all under one roof. I totally teared up a few times when I saw someone I hadn't seen in a while, or a friend who flew across the country for the wedding."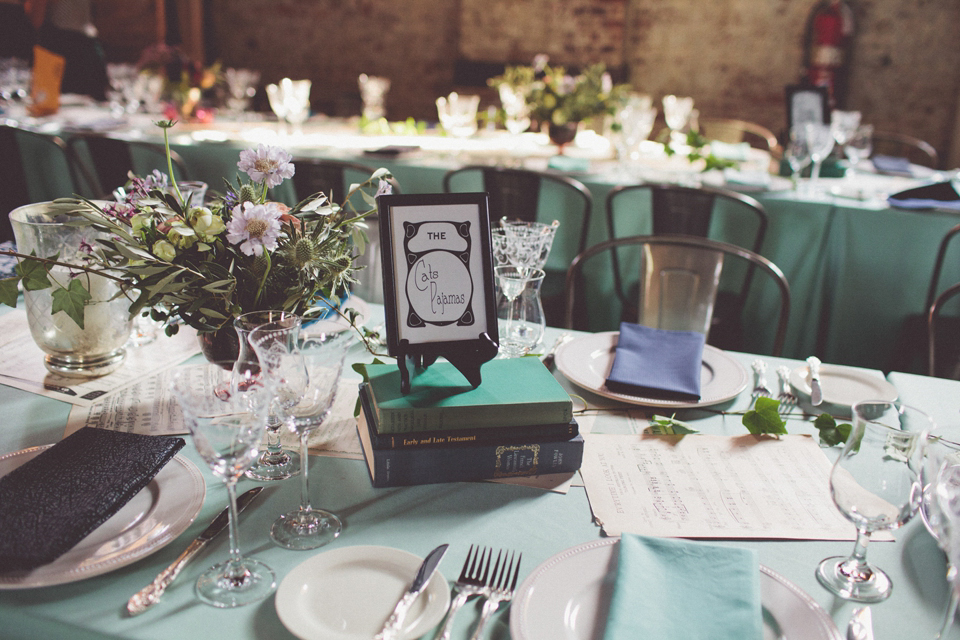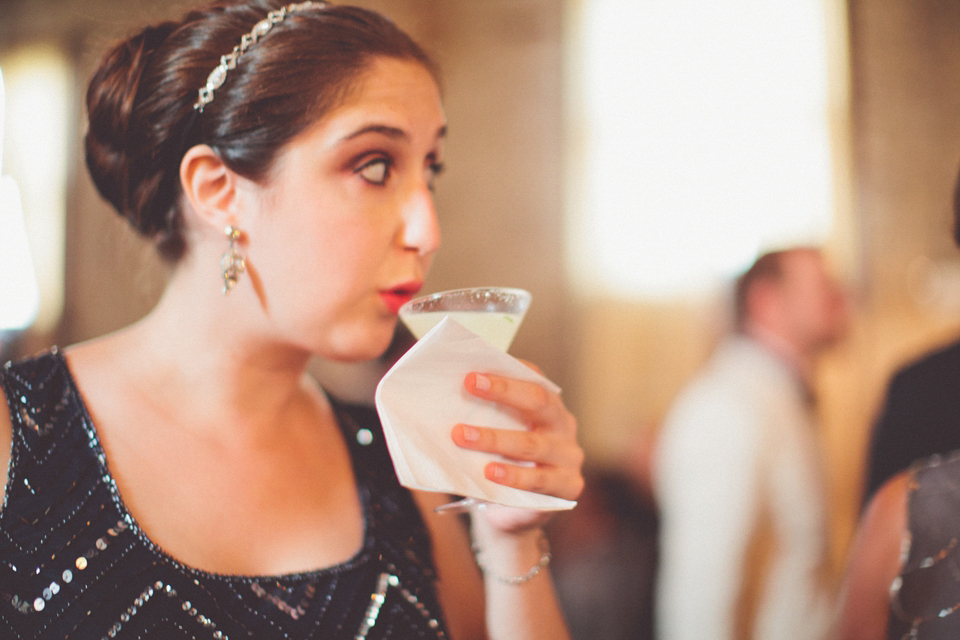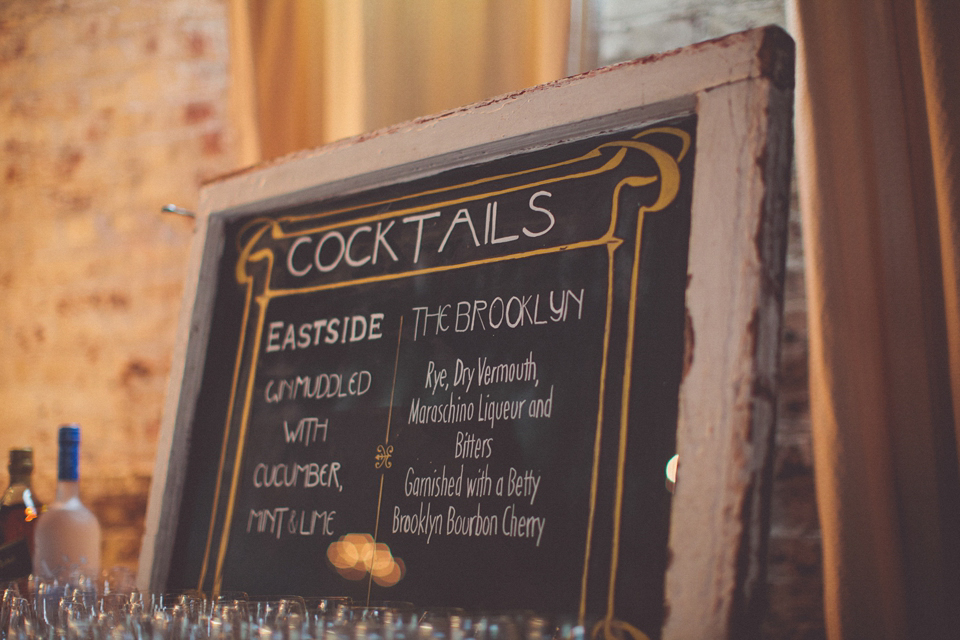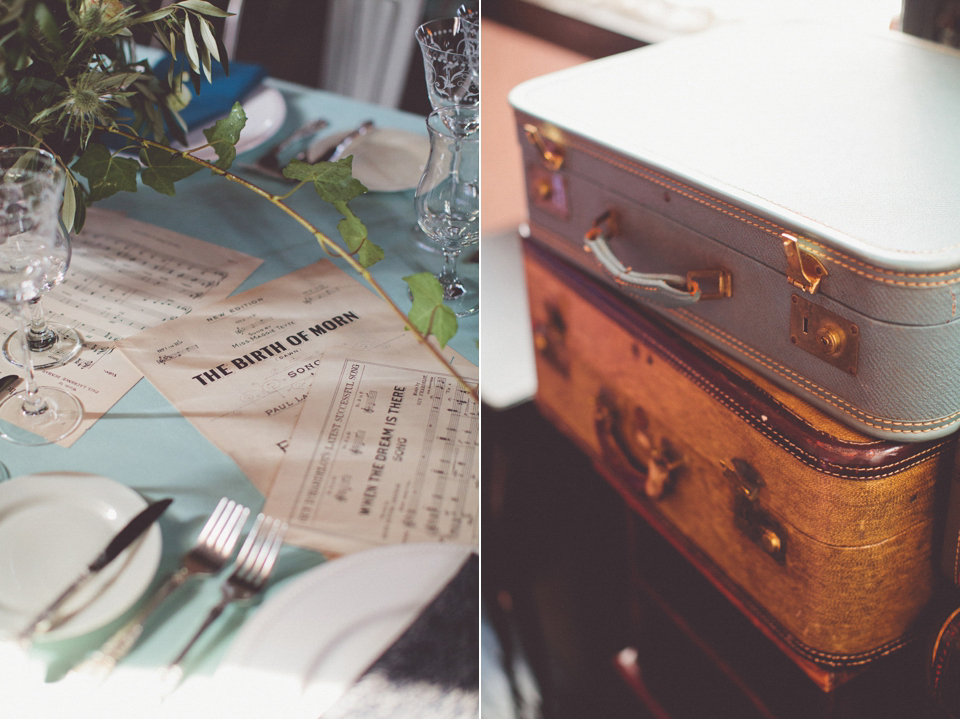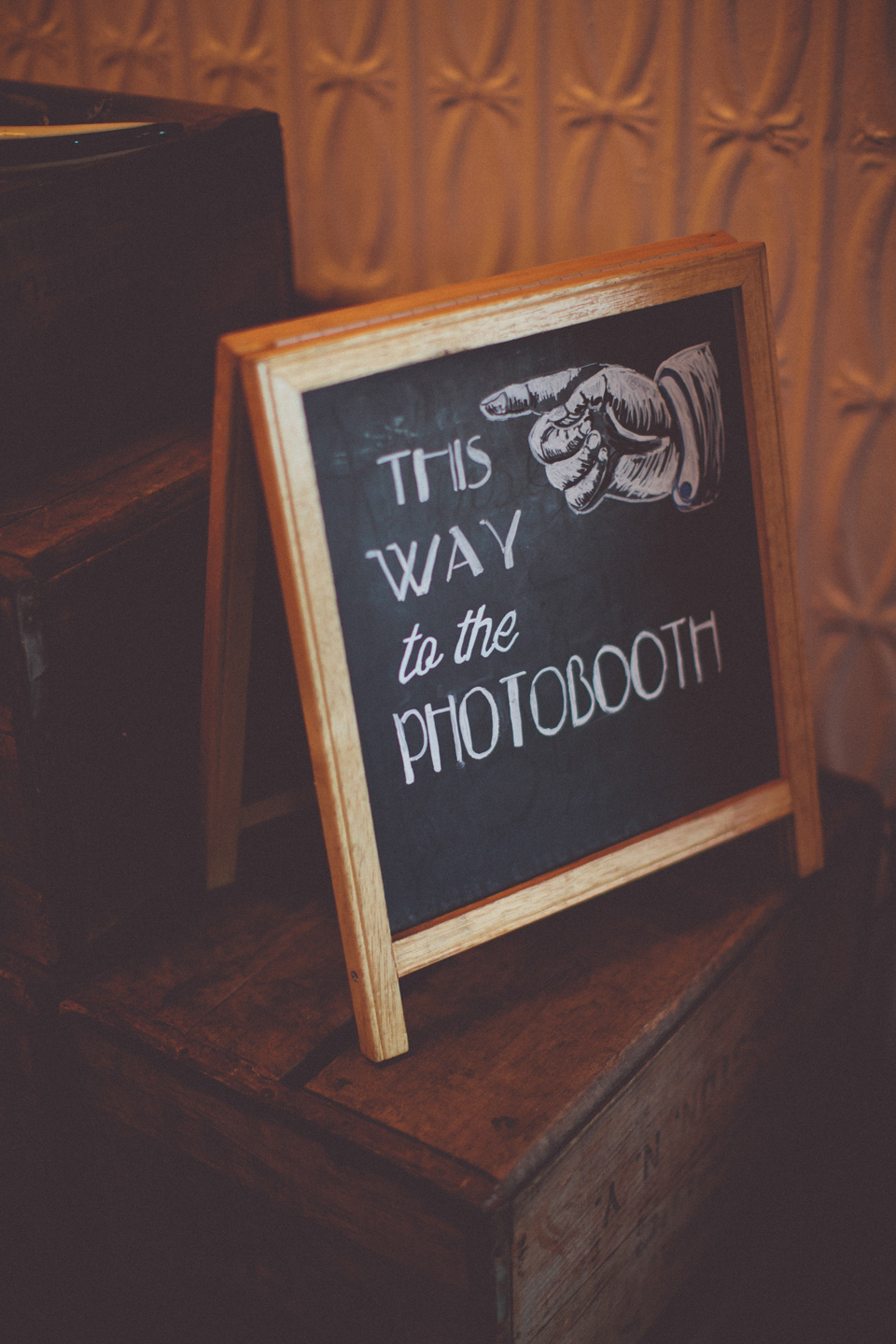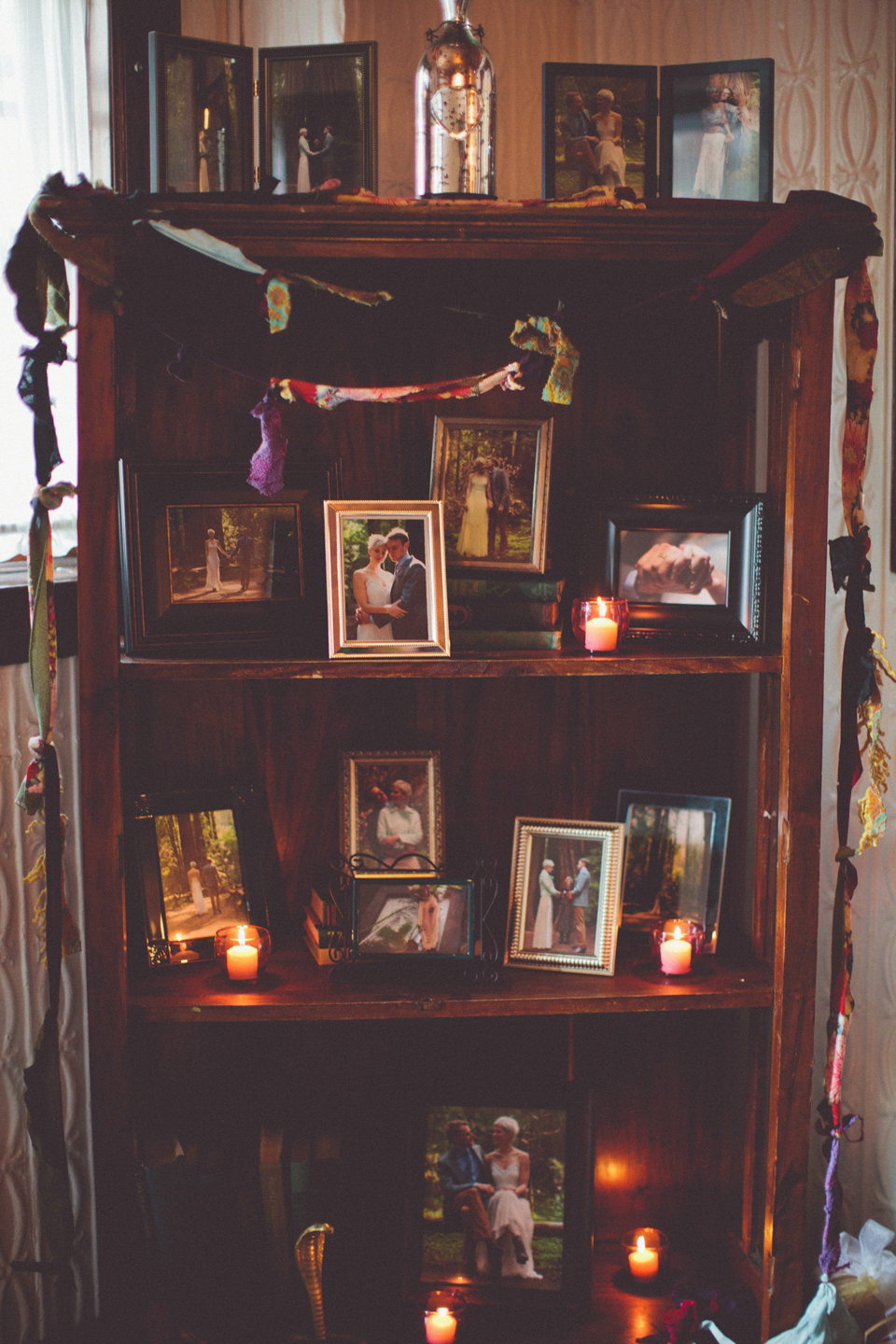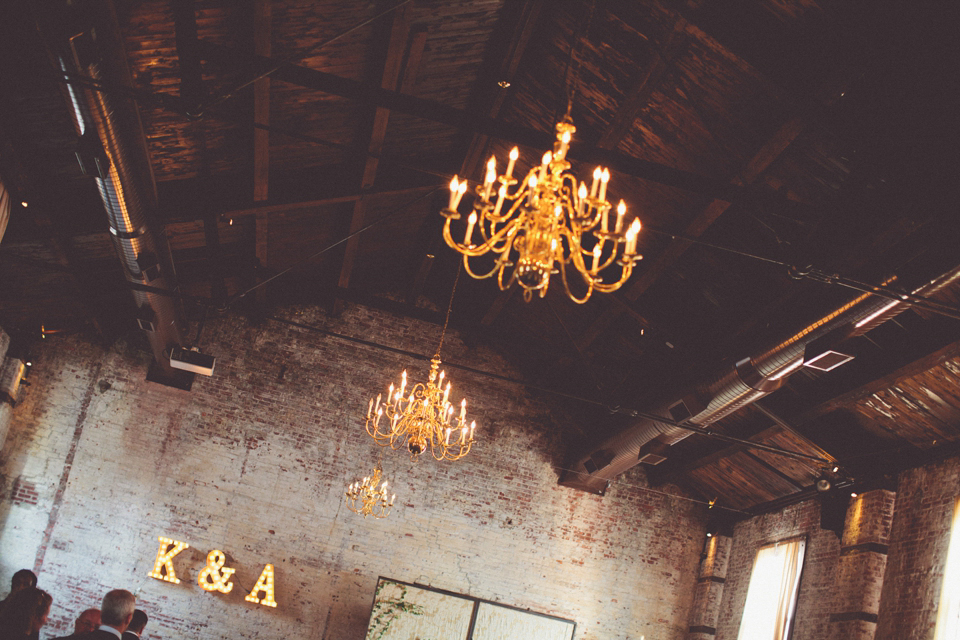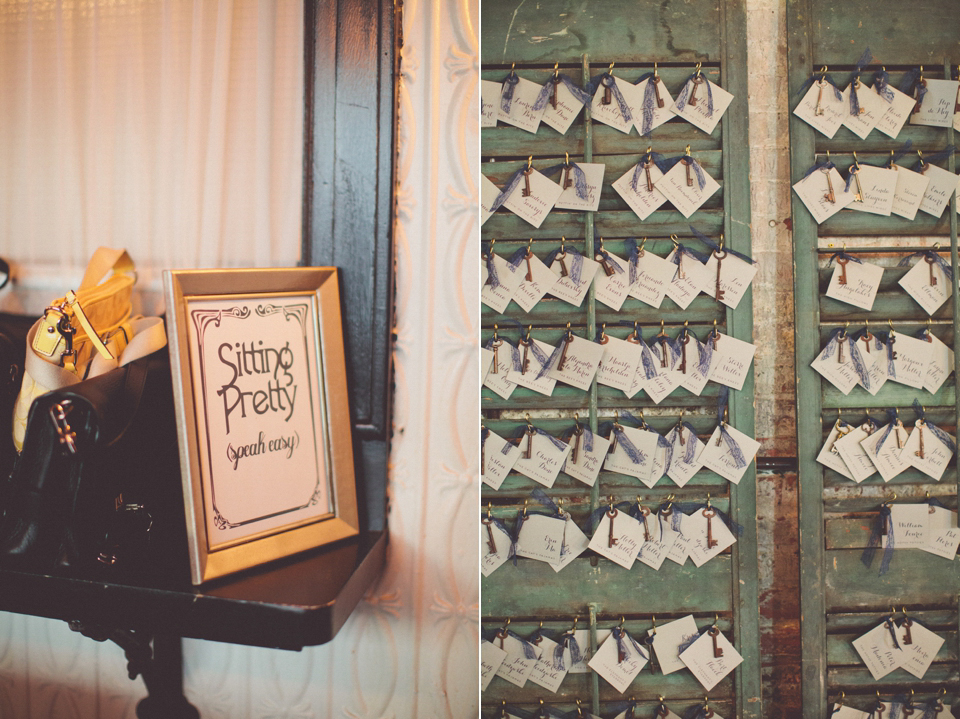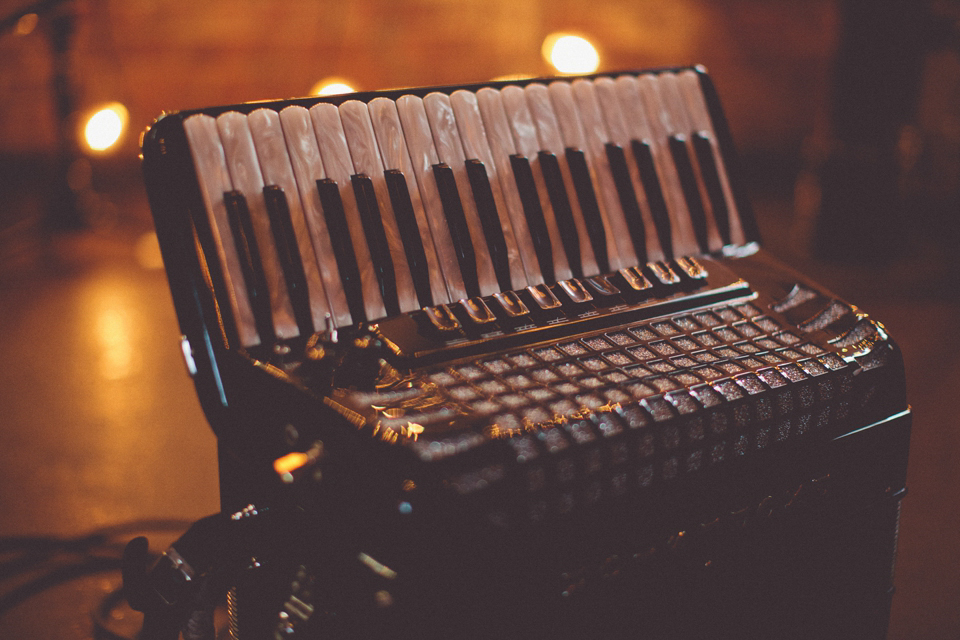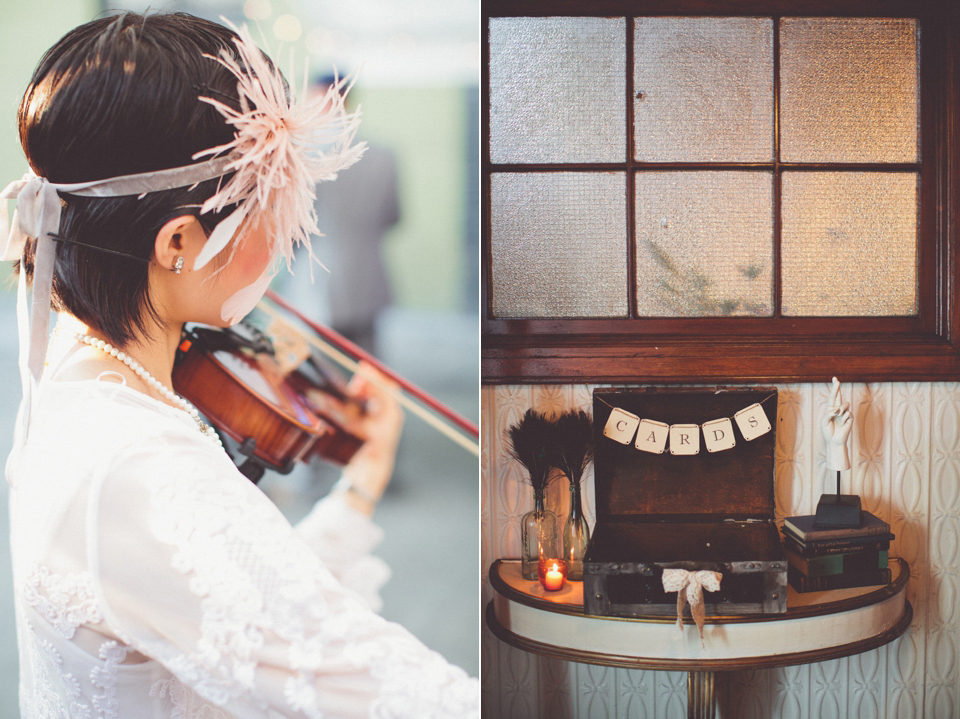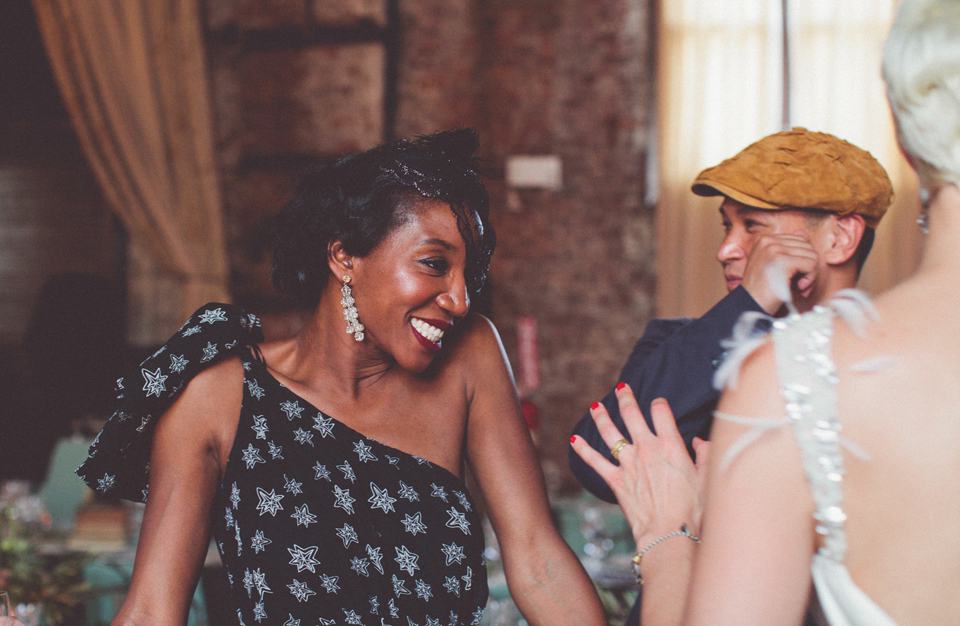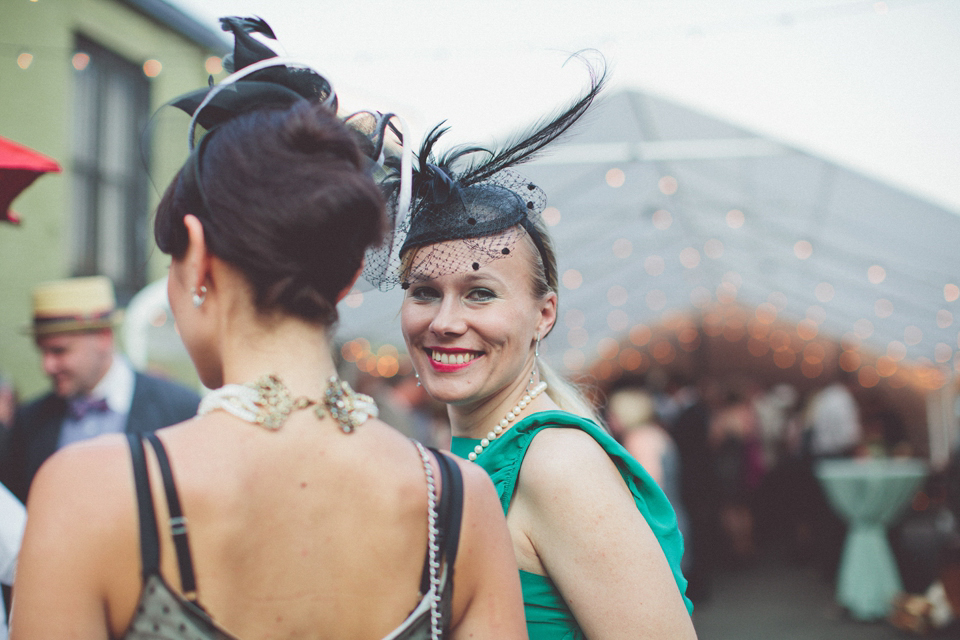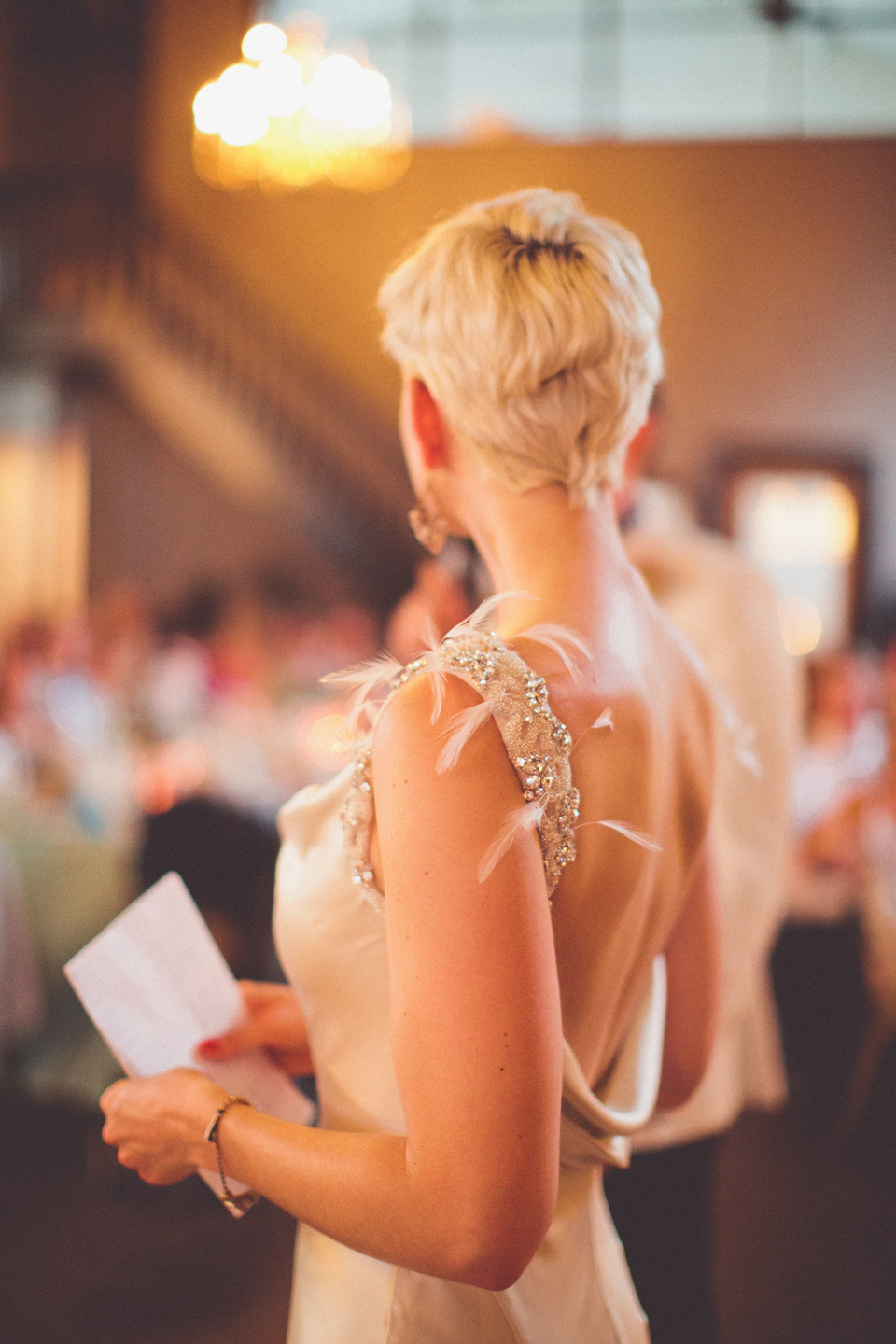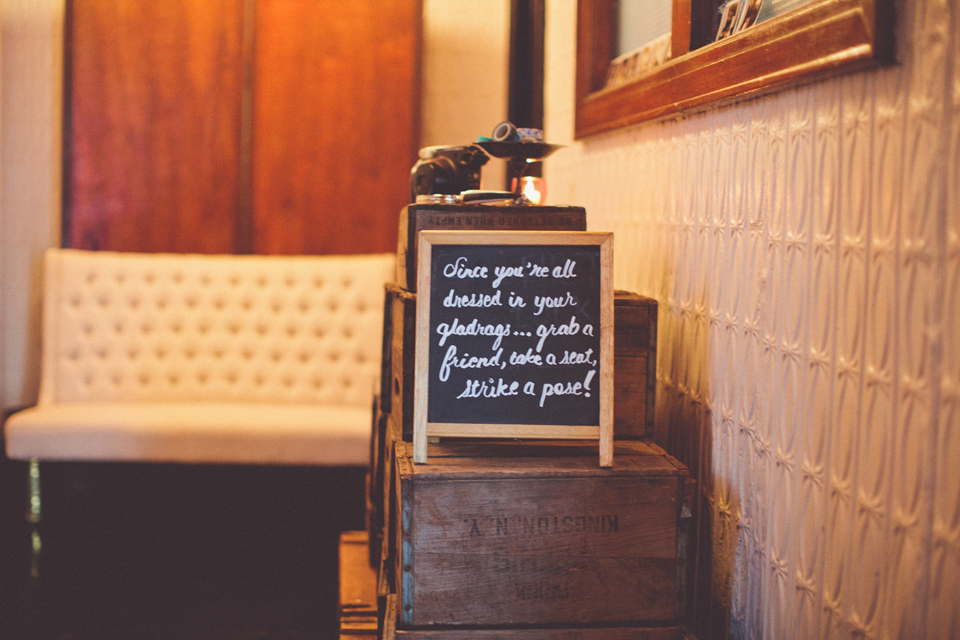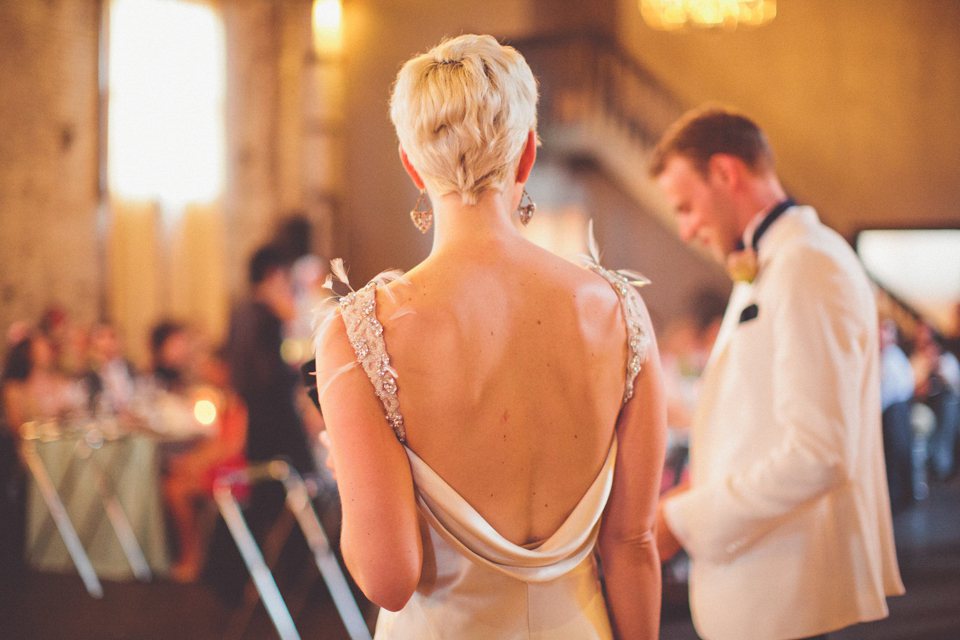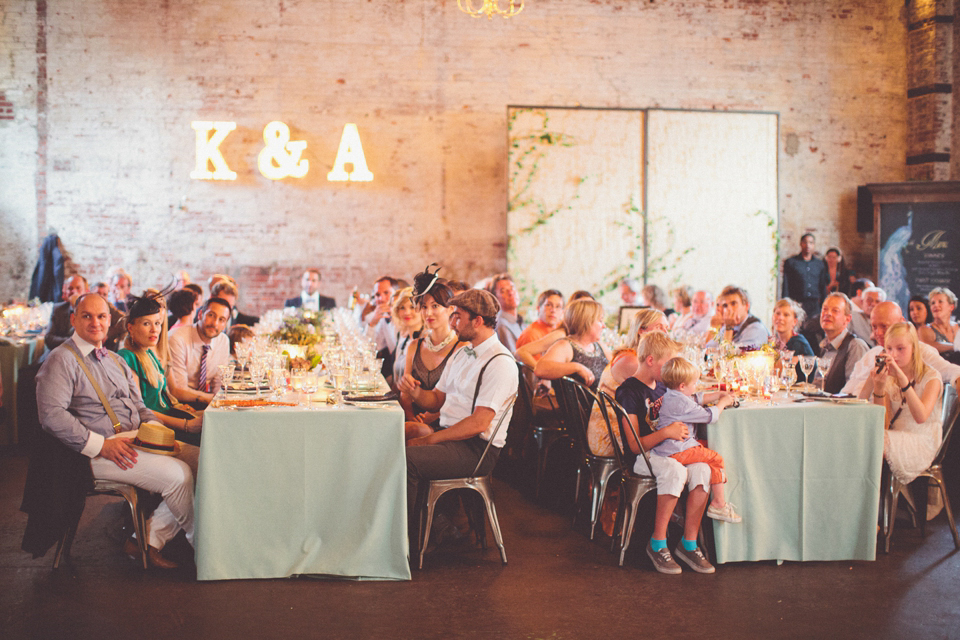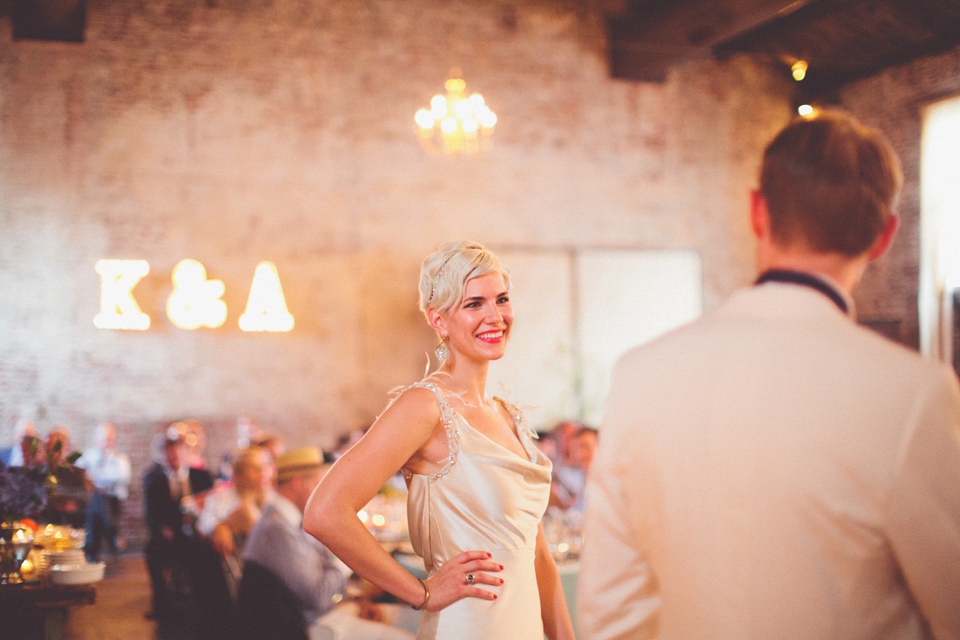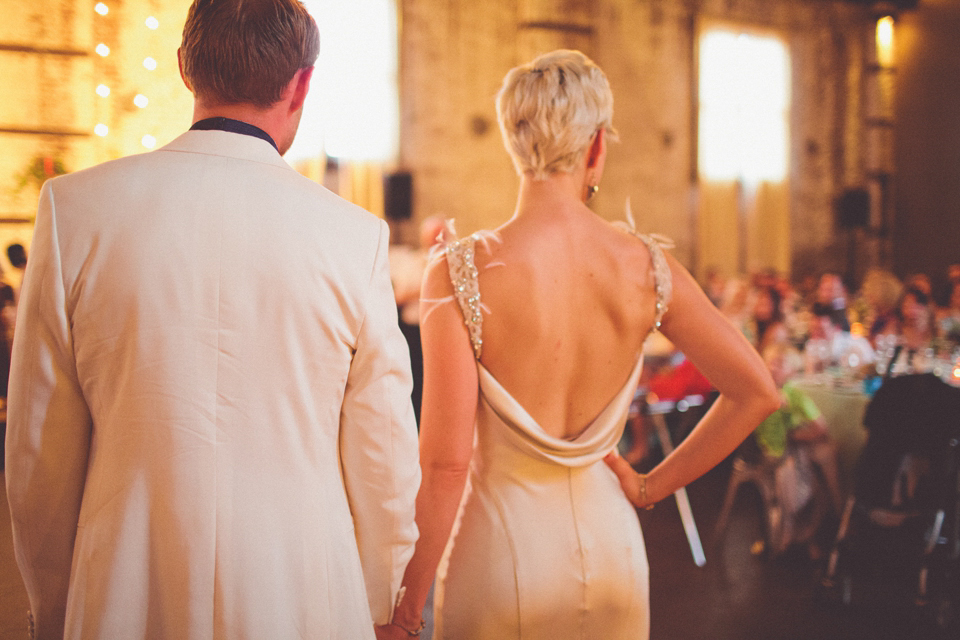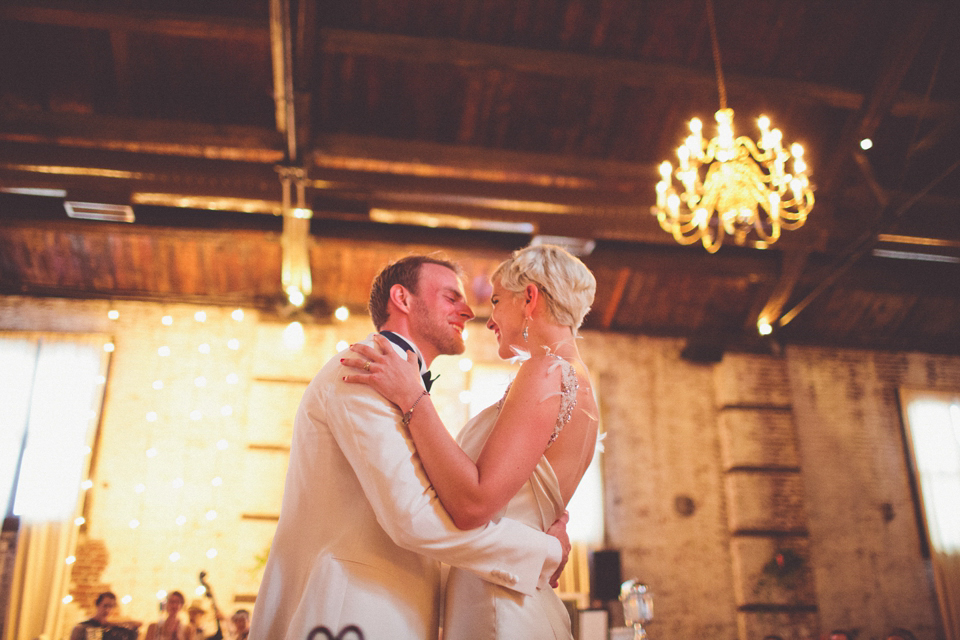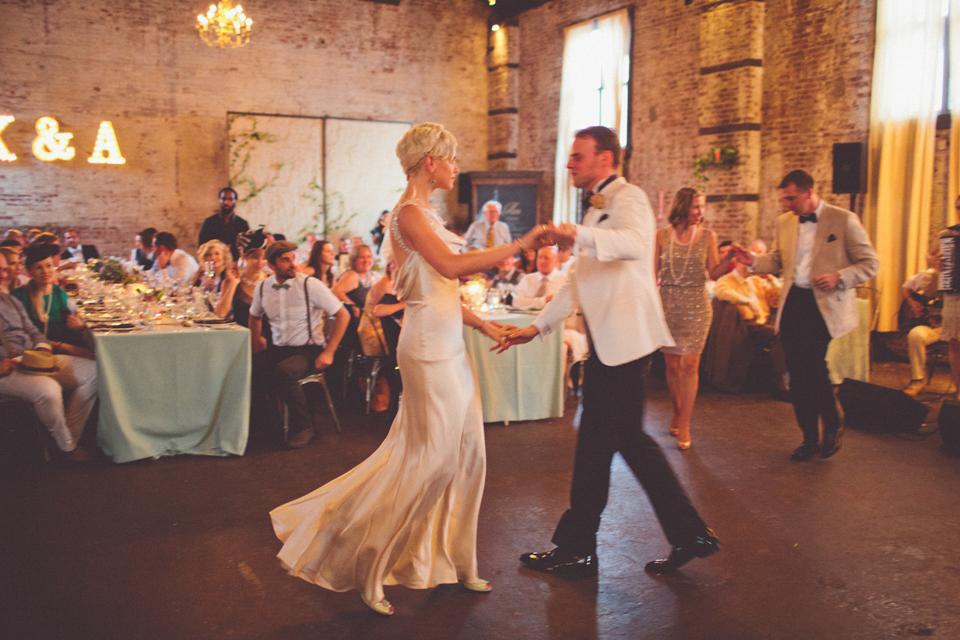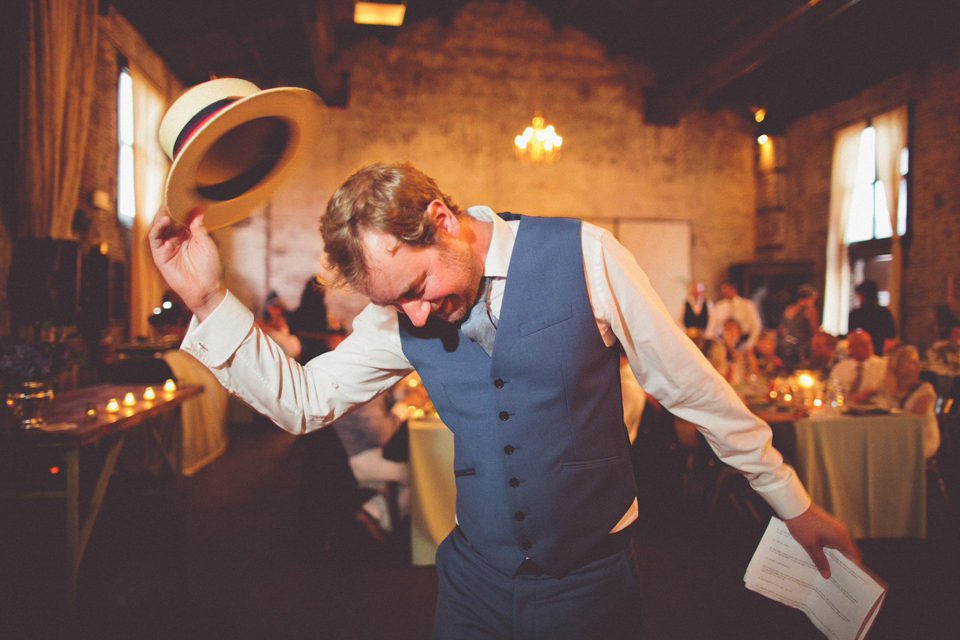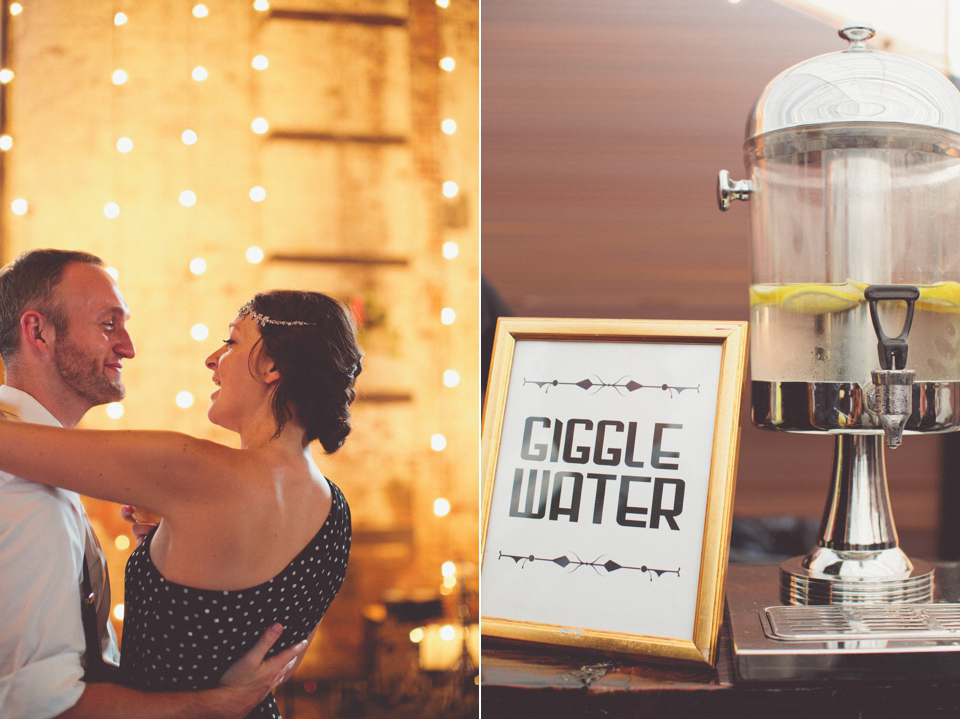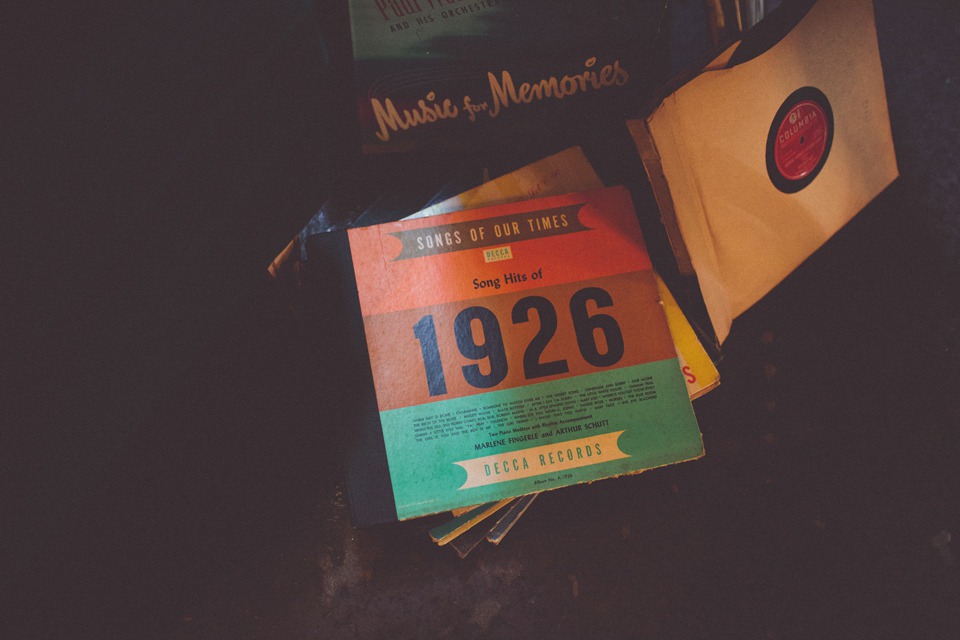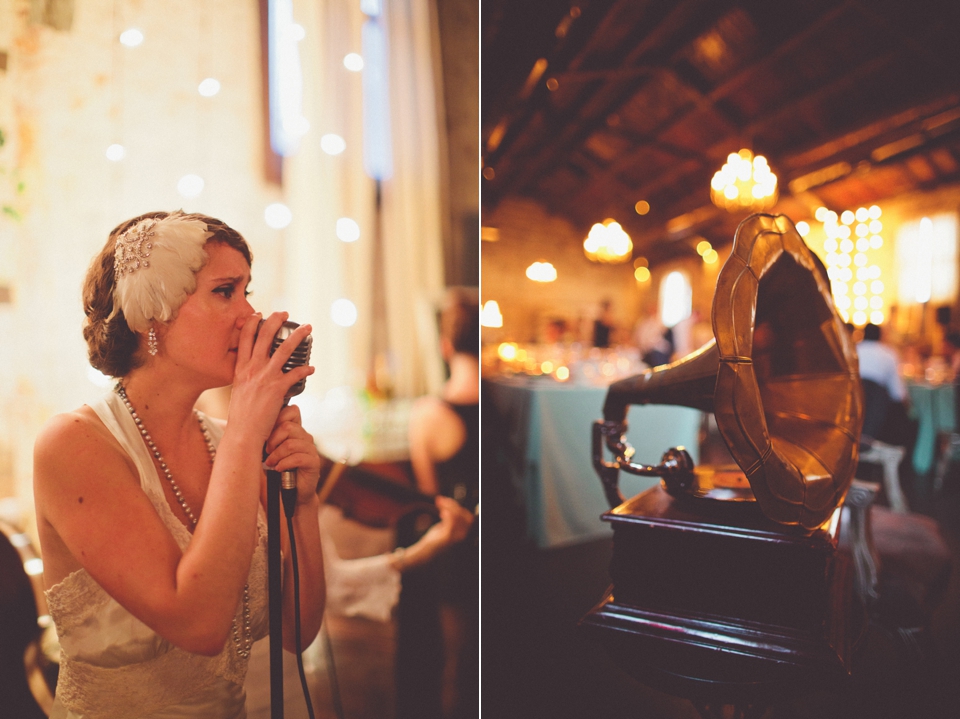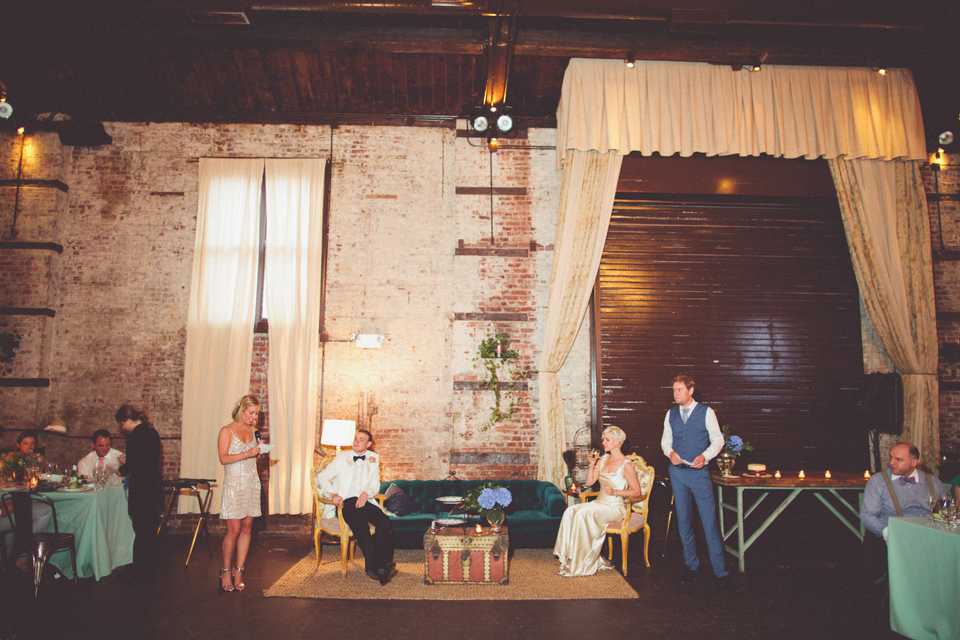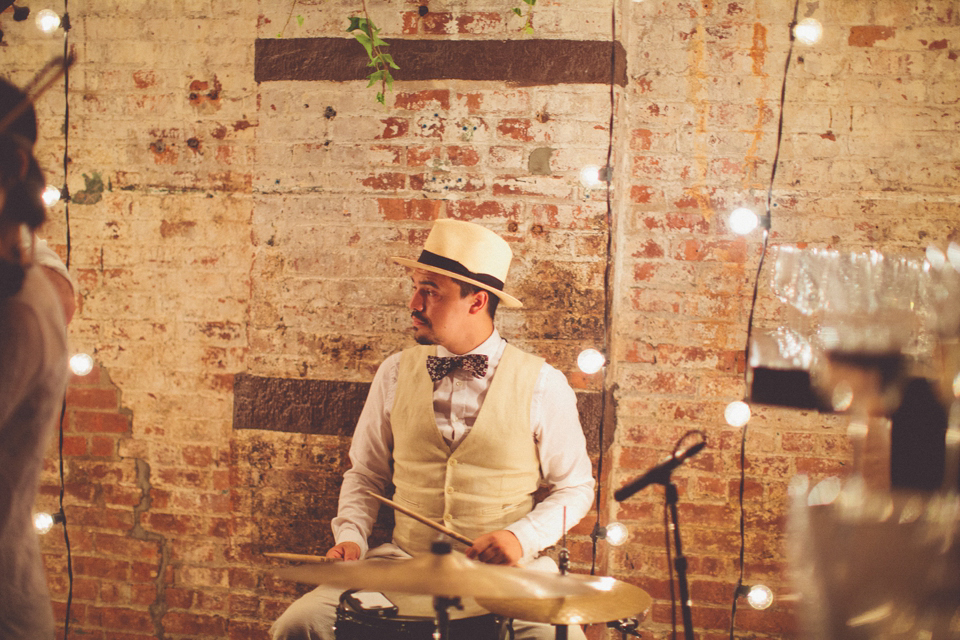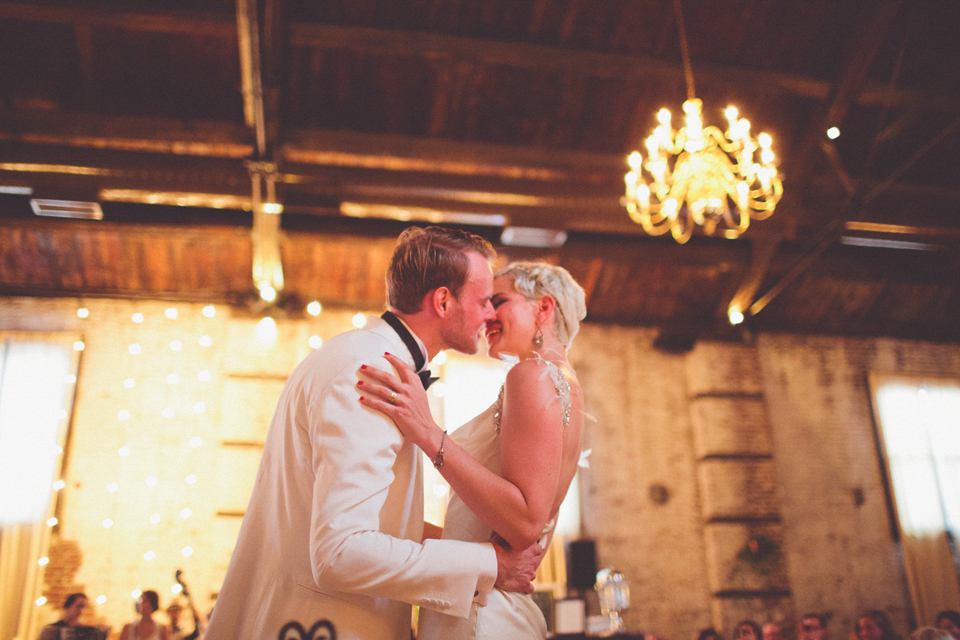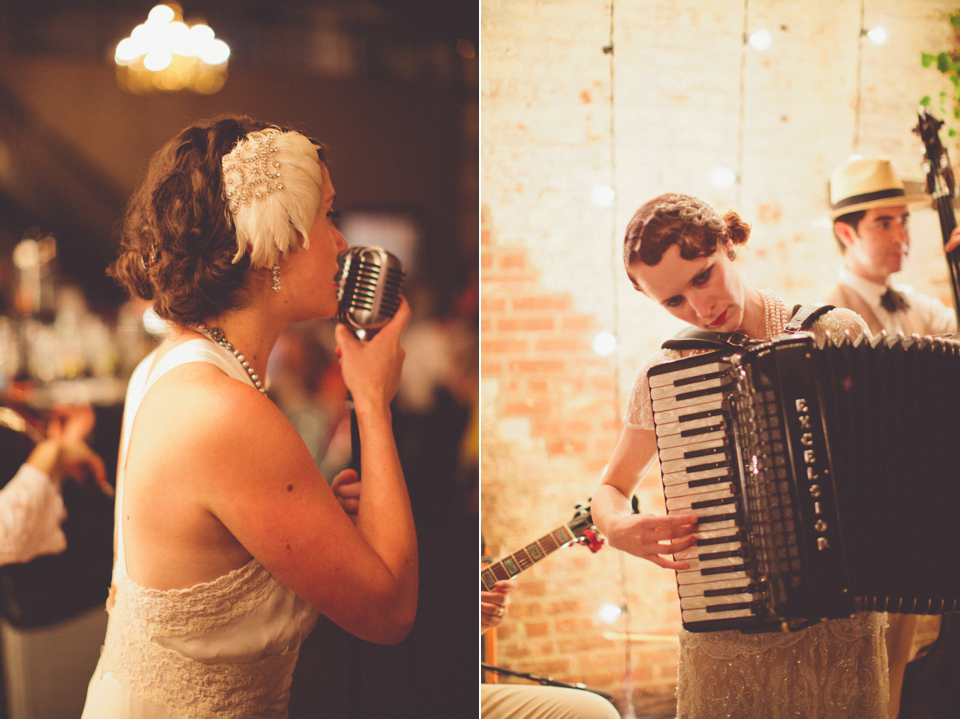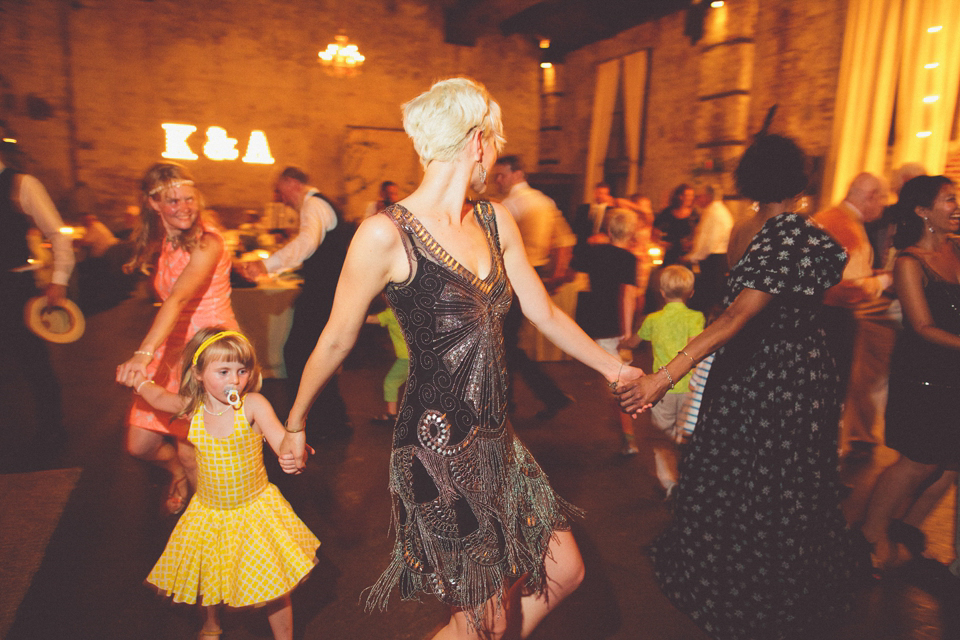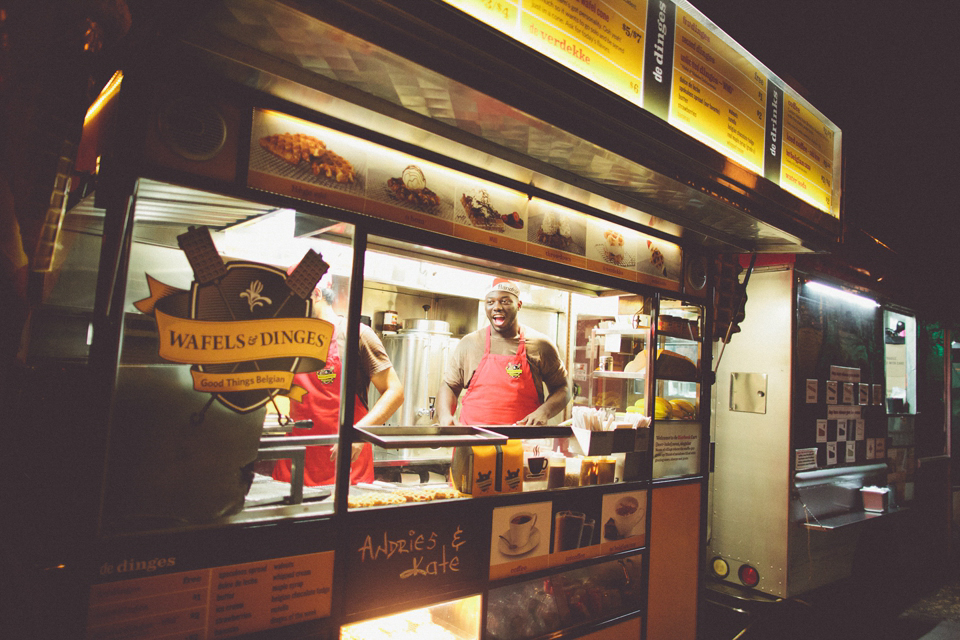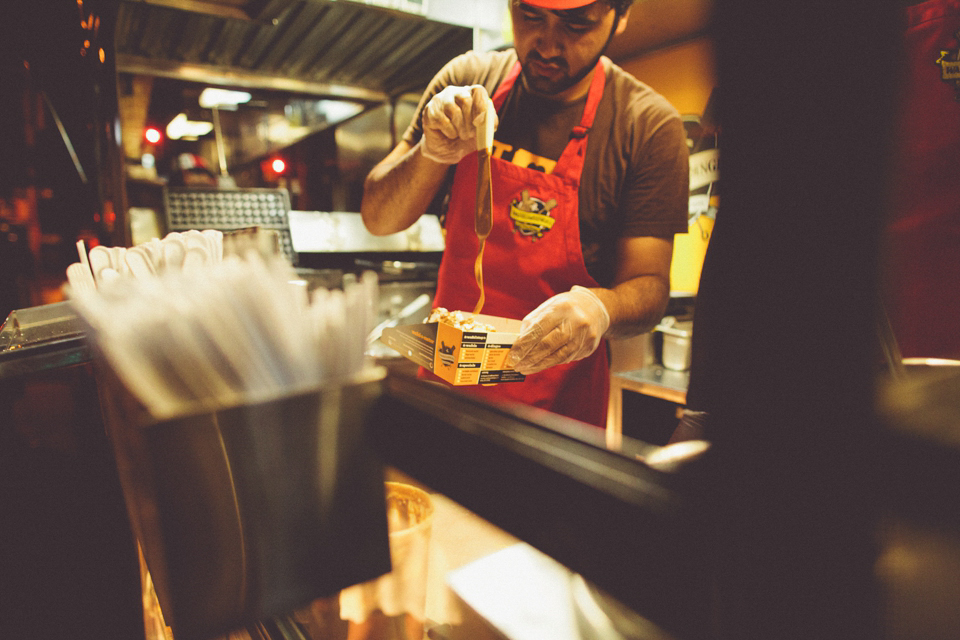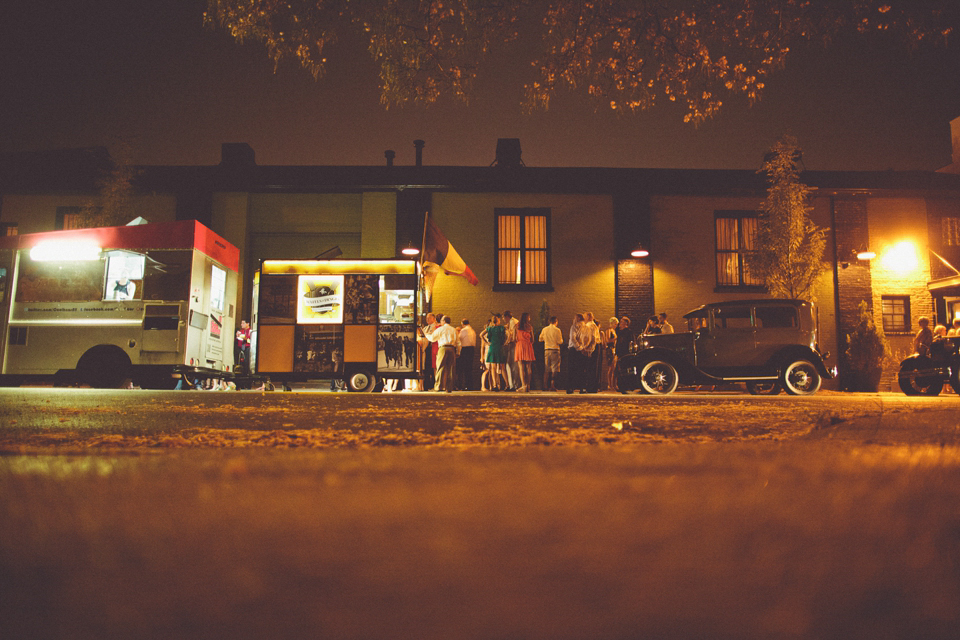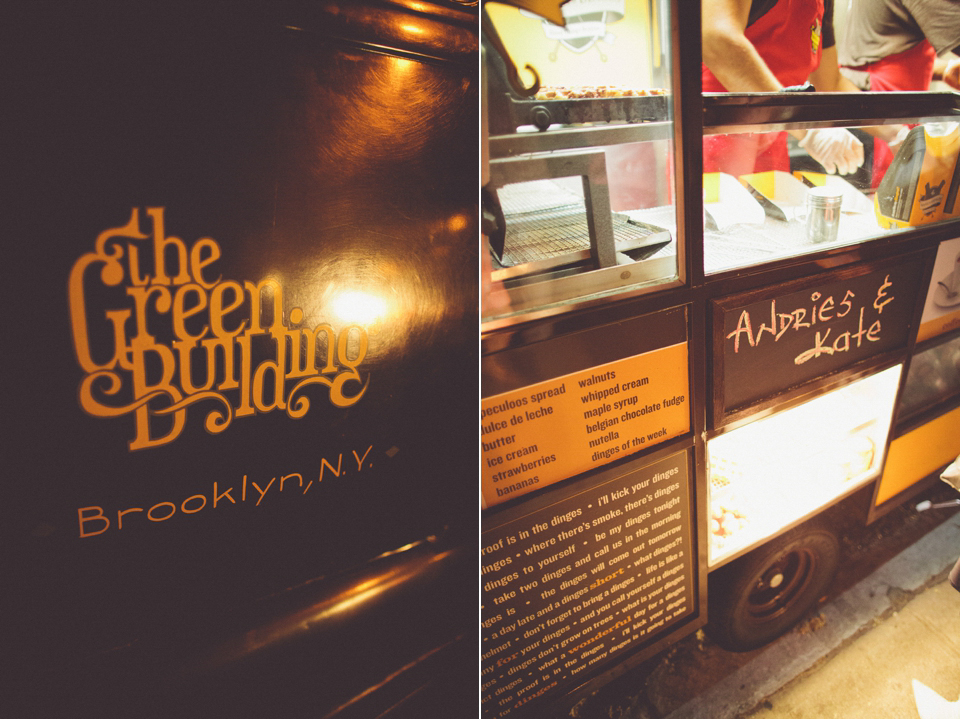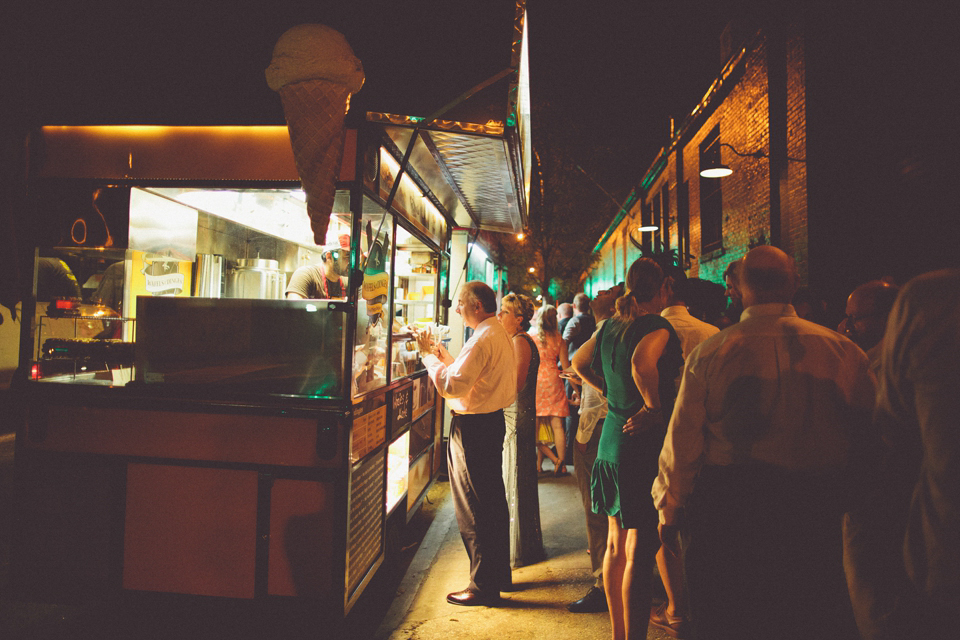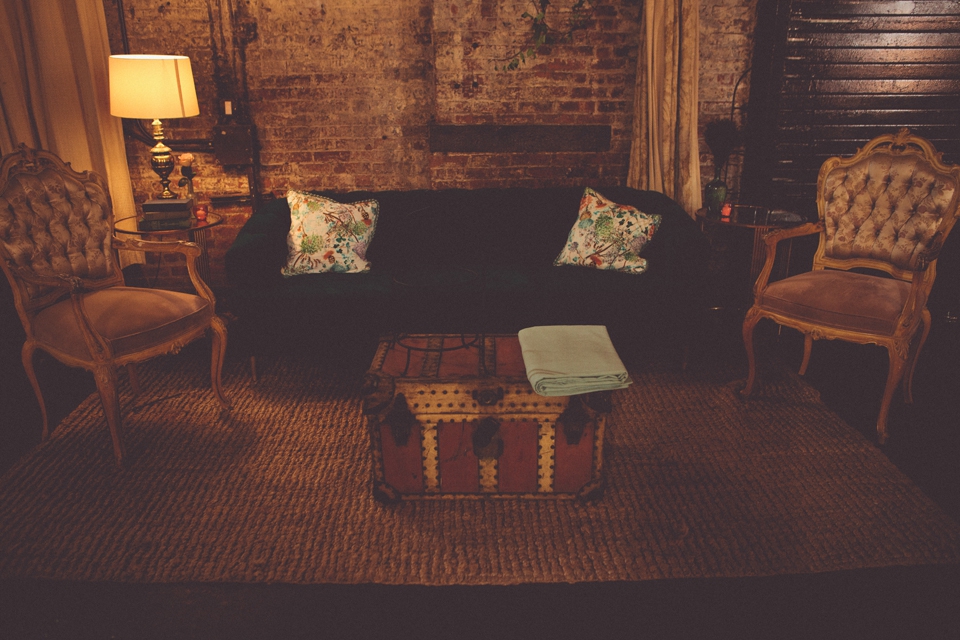 Photographer Chris Spira told me
"I absolutely loved photographing Kate & Andries Wedding Soiree. I could not stop taking photos, since there were so many beautiful things to discover and capture. Everything was made with so much attention to detail and every turn revealed a breathtaking new angle. 
The guests were looking fabulous in their 20's inspired outfits, having such a good time celebrating Kate and Andries Love. The Green Building in Brooklyn was the perfect setting for this amazing indoor/outdoor event. The atmosphere was very relaxed – yet so stylish and totally glam. I was incredibly happy and honored to photograph their amazing soiree."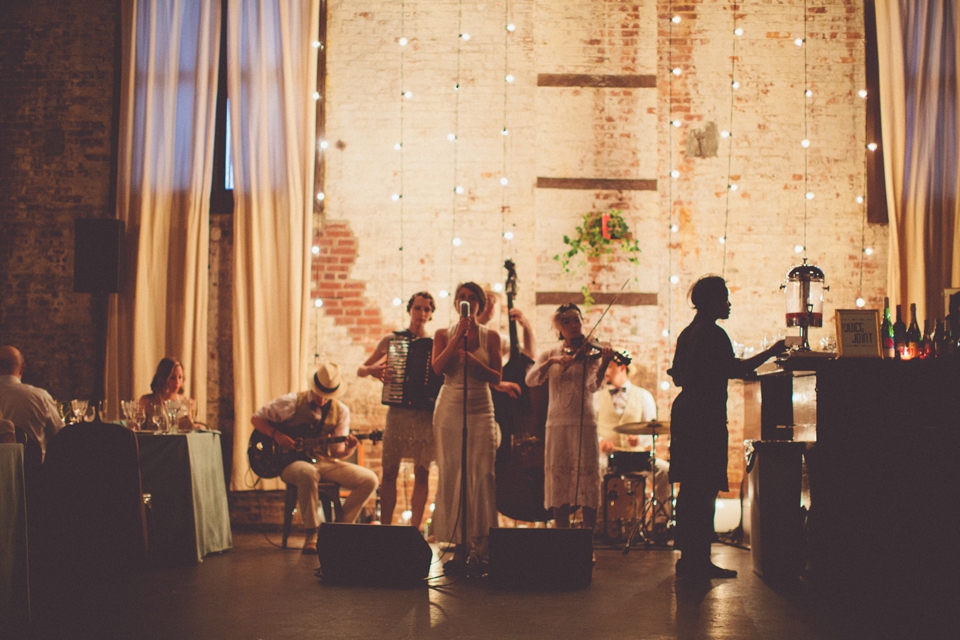 Words of Wedded Wisdom…
"Take time to step back and observe the day…stand off to the side and just take it all in.
Don't fixate on every detail. Figure out what your priorities are and put your energy into making those things stand out.
Our night before dinner was so wonderful. We had an intimate dinner at Saro Bistro in Manhattan (Lower East Side). It was just us, our immediate families, and our wedding party. We did some speeches, shared a delicious dinner, had some drinks, and were really able to enjoy the company in a smaller setting. There was such a nice energy from everyone – it helped me feel relaxed going into the big day.
It is a night we remember so fondly. While of course it was not 'perfect' in many ways (for example, the intense heat!), it was a perfect celebration with everyone we loved. It was so much fun, and so beautiful. The decor and ambience captured wonderfully the mood I had envisioned, and Chris's photos captured it all perfectly!"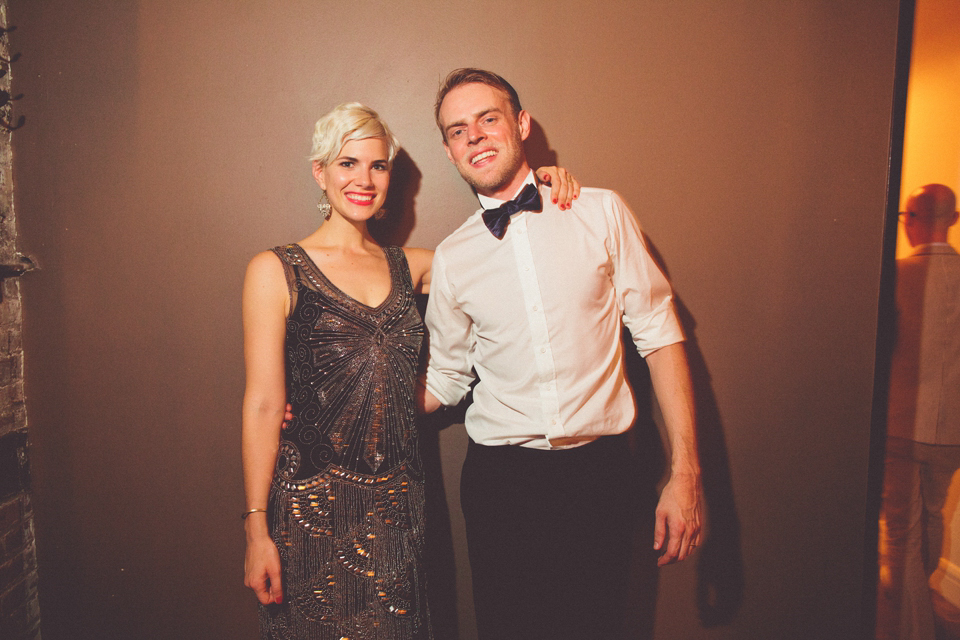 What a wedding!
You can find out more about photographer Chris Spira by visiting the website chrisspiraweddings.com, and Chris can also be found on Facebook and Twitter.  You can also explore many  more 1920s, speakeasy and Gatsby inspired weddings too.
Have a gorgeous morning everyone,
Love Annabel
Photographer – Chris Spira
Planner/Stylist – Melissa McNeeley
Venue – The Green Building, Brooklyn
Wedding Dress – Manuel Mota/Pronovias
Bride's black flapper dress – Decades of Fashion from a vintage shop in San Francisco
Headpiece – Jennifer Behr
Shoes – Anyi Lu + vintage 20's shoes clips
Earrings – Lulu Frost
Groom – Tom Ford pants + Armani jacket
Bridesmaids – Decades of Fashion
Florist – Tom Borgese
Food Truck – Wafles & Dinges
Entertainment – Carte Blanche
Furniture – Rent Patina Vintage
Catering – Betty Brooklyn
Chalkboards Signs – Sharp Shooter Signs
Book and Glass Rentals – Little Vintage Rentals
Follow Love My Dress® on Google