I adore how Love My Dress has become the go-to blog for the most elegant of bridal style.  And nothing tops elegance quite like bride Julie here – the way Julie carries off that incredible veil and lace gown is so effortless but oh my, eye-poppingly beautiful.
Julie and Ali tied the knot on 26 April this year at the very grand Gosford House in East Lothian, Scotland.  Their day was full to bursting with glamour and elegance and everything I pretty much love about weddings – their photographs were taken by two of my favourite Scottish wedding photographers, married couple Craig and Eva Sanders.  But first, let's enjoy this wedding with a film that perfectly captures the essence of this magical wedding.
"From the start Spring felt like the right time to have our wedding. It's my favourite time of year, I love the sense of renewal and new energy everyone has. Spring has always been a meaningful time in our family – all of my four siblings and parents were born in spring and we were awaiting the arrival of our first niece, due the week of the wedding but arriving 2 weeks after (a nervous time for my sister in law!)."
Film Production Copyright (c) 2014, Cherry Tree Films
Julie's spectacularly elegant dress (those lace sleeves!) which she is looking to sell (brides, leave a message in the comments box below if you might be interested) is the Erika design by Manuel Mota for Pronovias and was purchased from Kavelle in Edinburgh.
"Kavelle didn't actually stock the dress but I had seen it in the flagship store in London and they were able to buy it in for me and alter it up here in Edinburgh."
Photography Copyright (c) 2014, Craig & Eva Sanders
"On a trip to London to go dress shopping with my sister Michelle, I mentioned to her that Erika was a dress I had liked online. As soon as I tried it on, it was clear it suited me so much more than anything else we'd seen. I knew from then it had to be that dress or a style very similar.
I looked around following that visit but no other dress came close to it. At first, I wasn't going to wear the cape but my mum loved it and the cape was a present from her, which made it even more special and gave the dress the bohemian feel I was looking for."
"I cycle past Save The Date Collective  on my way to work and happened to drop in one day to see what they did in the way of wedding flowers. I met Sophie and was immediately struck by her enthusiasm and what great value her services were in comparison to some other bigger suppliers in Edinburgh. I went with what was in season with lavender, gypsophila, thistles and long unbound stems for a wild twist."
"Our decor was a mixture of some homemade touches against the splendor of Gosford. We had a welcome table with childhood pictures and christening gifts displayed – it was so lovely that so many people who were at our christenings were there to celebrate on our wedding day and the display was to remind them of how long they have been in our lives. Having grown up with horses, I also cleaned down and spray painted gold horseshoes that had come off our horses and hung them on the end of each row in the ceremony.
For the place settings, I chose a lyric from a song for every guest that was either their first dance at their wedding or a song that reminded me of them and put it above the guest's name on the setting. Very time consuming but worth it! For the table numbers we chose numbers that were relevant to us as a couple and then explained each of these on the table number sign on each table (such as 51 – family members attending the wedding and 31 – the day in December we got engaged)."
"My bridesmaids dresses were Sorelle Vita by Essence Designs from Kudos Couture in Edinburgh who did an awesome job of altering. I had it really easy choosing bridesmaids dresses as in the end, all the girls had exactly the same sizes!"
"What can I say about our photographers? Craig and Eva Sanders were just fab from start to finish! Such good craic but on the wedding day completely in control of the rowdy guests and getting every single shot we could have asked for. Of 1,022 photos they sent us there is not a single one we don't like and I think that says it all. They also delivered the photos one week after our wedding – amazing!"
"Ali and I were introduced by one of my bridesmaids, Gemma. After bumping into each other one evening in Edinburgh, Ali persuaded me to come along to his 30th birthday party and our first date followed from there. A year and a half into our relationship Ali proposed on a cliff above a beach in Barbados with a ring he had chosen himself and had managed to get out there in his luggage without me finding it! We got married 16 months after that in the Spring of 2014."
"We wanted our wedding ceremony to be very personal with some religious and spiritual elements, and from the moment we met our celebrant, Natasha Hood, we knew she was the perfect person to conduct our ceremony. Her warm and personal style fitted into what we wanted to say perfectly. The most important thing to us was celebrating our marriage in front of and with our family and friends and making them feel important on our wedding day. The venue itself is very near to where Ali grew up and in our favourite area near where we live, East Lothian.
I initially was keen on a boho style wedding but with Ali's gentle nudging towards Gosford House, we ended up with something a little more grand! There were some nods to the bohemian though, in our style of ceremony and my choice of dress."
"My necklace was a gift from Ali on the morning of the wedding and I haven't taken it off since (well done Ali!).  The earrings I bought online from Liberty in Love, and the cuff I had made by a supplier on Etsy called Tatishotties. Ali's mum, Caroline, gave me a beautiful handkerchief with a 'J' embroidered in blue (which was much used on the day) and I also wore my mum's garter (which my cousins have also worn)."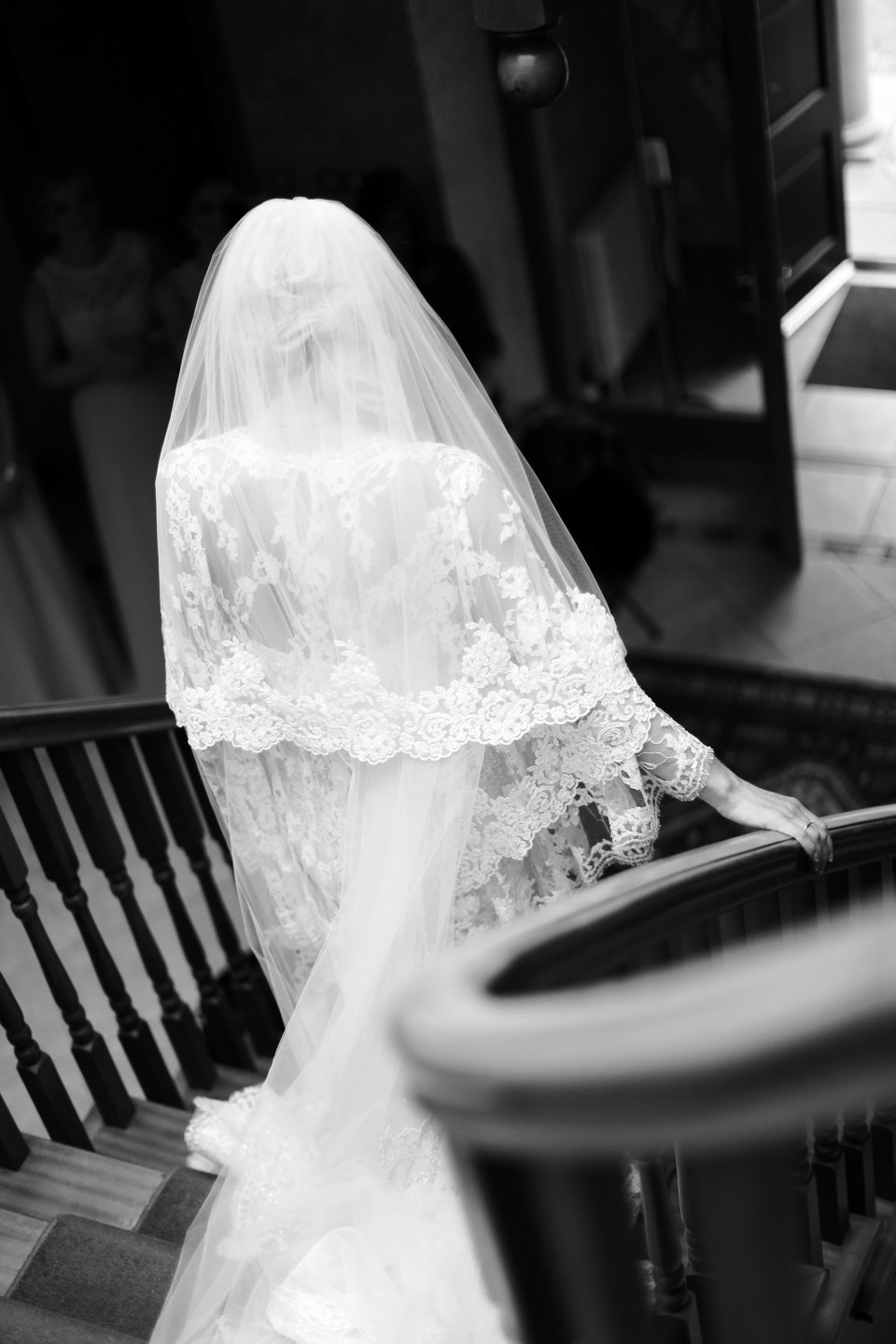 "My dad gave me away. One of my fondest moments of the day is when he took a moment just before we walked into the ceremony, looked me in the eye and told me that he loved me and to take it all in – it brings a tear to my eye thinking about it again.
We entered the ceremony room accompanied by the sound of 'Rose' by Bette Midler. This has long been one of my favourite songs and reminds me of my mum and Sunday mornings growing up. I love the lyrics, to me it sums up love and the journey to love perfectly."
The Rose
Some say love, it is a river
That drowns the tender reed.
Some say love, it is a razor
That leaves your soul to bleed.
Some say love, it is a hunger,
An endless aching need.
I say love, it is a flower,
And you its only seed.
It's the heart afraid of breaking
That never learns to dance.
It's the dream afraid of waking
That never takes the chance.
It's the one who won't be taken,
Who cannot seem to give,
And the soul afraid of dyin'
That never learns to live.
When the night has been too lonely
And the road has been too long,
And you think that love is only
For the lucky and the strong,
Just remember in the winter
Far beneath the bitter snows
Lies the seed that with the sun's love
In the spring becomes the rose
"We used traditional Church of England vows but added in a vow of support from our guests and at the end of the ceremony we asked them to vow again "Will you dance, eat, drink and be merry with us tonight and in the years to come? ", to which they replied – we will!
We had filled out questionnaires about each other beforehand which Natasha kept secret. One of my favourite things was hearing what Ali had told Natasha about me and seeing his reaction as he heard what I had said. One of things that Natasha pulled out was what marriage means to me:
'Marriage to me is a lifelong commitment to your partner to support and love each other. I also see marriage as a commitment to your partner's family and friends to love your partner and to enable their relationships to flourish. It means supporting your partner and helping their dreams to come true.'"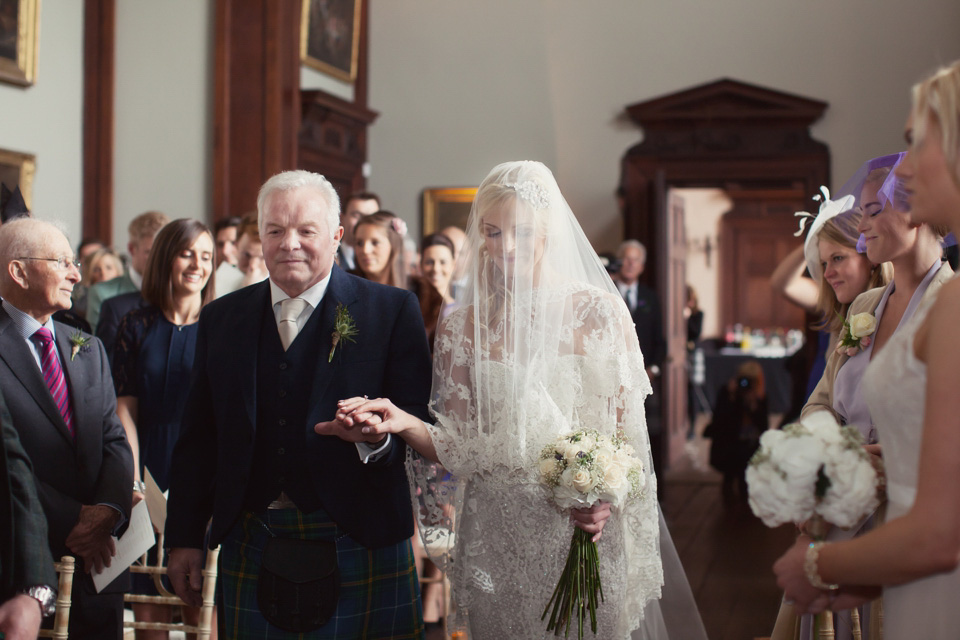 "We asked each of our mums to sign the marriage register as we felt they were one half of the next most important pairs in the room. They were both really touched by this.  My cousin Siobhan chose her reading The Promise. It starts off quite light hearted but by the last paragraph Siobhan and I were in tears along with many of our guests."
The Promise, by Eileen Rafter
The sun danced on the snow with a sparkling smile, As two lovers sat quietly, alone for a while. Then he turned and said, with a casual air (Though he blushed from his chin to the tips of his hair), 'I think I might like to get married to you'.  'Well then', she said, 'Well there's a thought, But what if we can't promise to be all that we ought, If I'm late yet again, when we plan to go out. For I know I can't promise, I'll learn to ignore Dirty socks and damp towels strewn all over the floor. So if we can't vow to be all that we should I'm not sure what to do, though the idea's quite good'. But he gently smiled and tilted his head Till his lips met her ear and softly he said 'I promise, to weave my dreams into your own, That wherever you breathe will be my hearts home. I promise, that whether with rags or with gold I am blessed Your smile is the jewel I will treasure the best. Do you think then, my love, we should marry – do you?'.  'Yes', she said smiling 'I do'.
"Our sister in law and a friend of Ali's from university Fiona read 'Love' by Roy Croft. I have always loved the sentiment of "I love you not only for what you are, but for what I am when I am with you." It really sums up that we make each other the person we want to be.  We sang as a congregation a traditional Scottish song "Caledonia" which went down a treat and apparently there were a few renditions of this on the guest bus home!  Natasha also closed with a blessing I had chosen appropriate to our family backgrounds in farming."
May peace guard
The door of your heart
May the road rise to meet you,
And the sun stand at your shoulder
May the wind be always at your back
And the rains fall softly upon your fields
May your days be good and long upon this earth
May you live to see your children's children
May you be poor in misfortune and rich in blessing
May you know nothing but happiness from this day forward.
"My engagement ring is from ROX which Ali chose due to the amazing stone and the beautiful yellow gold setting (which is my favourite). My wedding ring is from Hamilton and Inches and Ali chose his while on business in the US (the reason being precious metal and stones are so much better value out there but I wouldn't risk not seeing mine!)"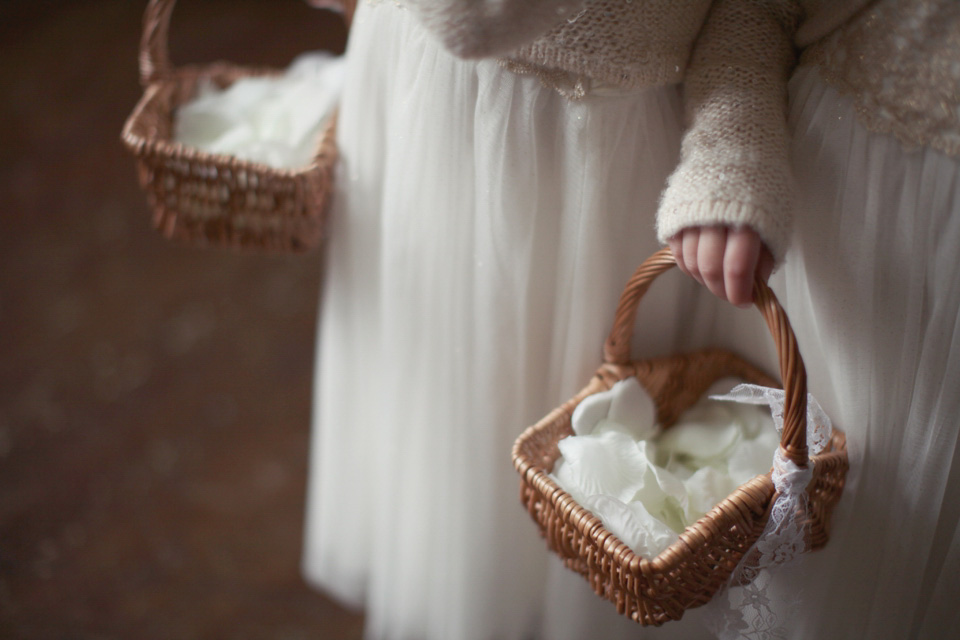 "My flowergirls were my cousin Katrina's twin girls and she helped me pick their dresses from Monsoon."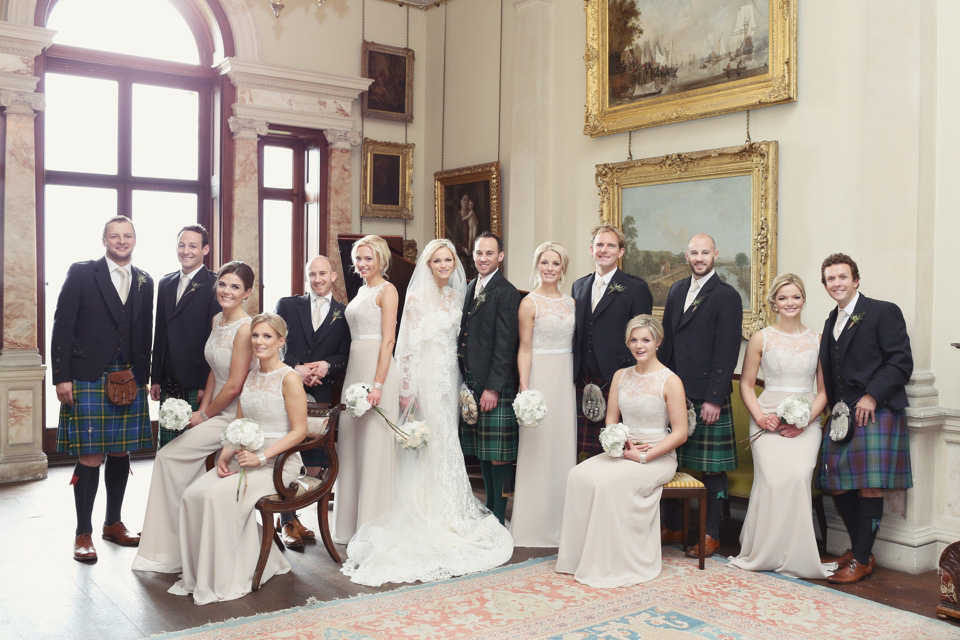 "Ali's dad made the various signs for the wedding the week before – he's a dab hand at a spot of carpentry."
"Phil and Steph are friends of mine who run Best Intent Marquees.  As well as the marquee which they dressed with gold sashes, they did the lighting of the exterior of the house and fairy light curtain for the evening reception."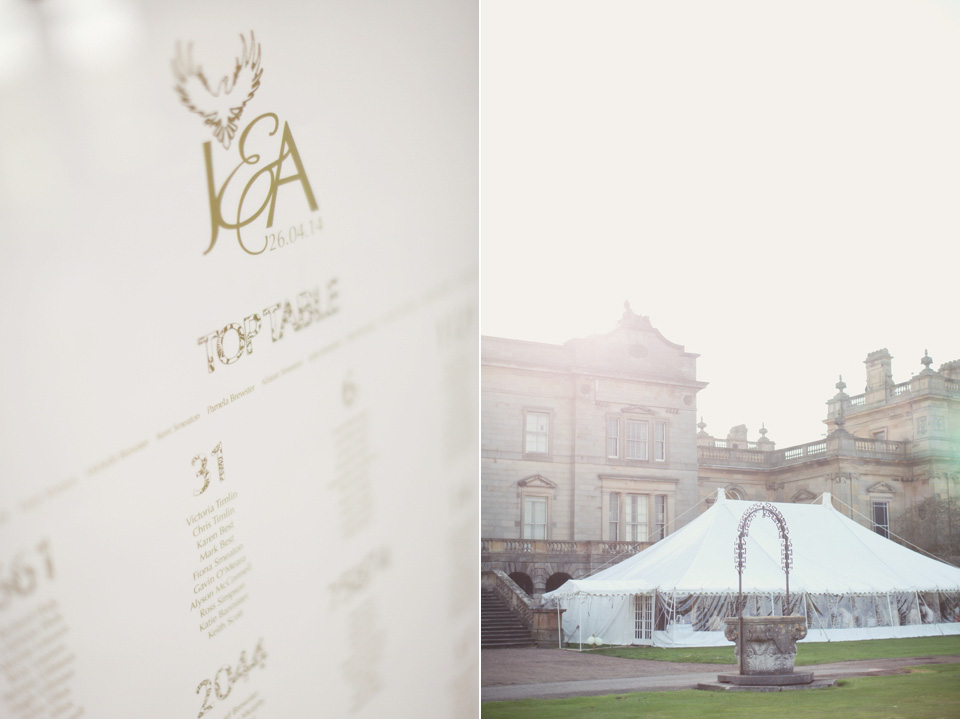 "My Aunt Nan and Aunt Lynn made our amazing cake which was one chocolate layer, one lemon layer and two traditional fruit layers. They also made extra cake slabs of each so we weren't short. Amazingly we were able to keep both tiers of fruit, which we have frozen in the hope of being lucky enough to use them at a christening celebration."
"It was Ali's idea to use an 18th century marble bath in Gosford as a Prosecco bath for the evening reception which he made his mission to uplight and fill to the brim with the help of his ushers. This went down pretty well with our guests.  We had a free bar instead of favours but I couldn't resist also hand wrapping some of my favourite chocolates for everyone too."
"It's so hard to pick one part, but I think that for both of us, the ceremony was the most important part of the day, saying that, the party after was pretty epic too."
"Our first dance was to a rendition by our entertainers, The Jets, of 'Feels like Home' by Chantal Kreviazuk. Again the lyrics summed up how when we are together it just feels right. My favourite line comes near the start; 'There's something in your voice, makes my heart beat fast. Hope this feeling lasts, for the rest of my life.'"
Words of Wedded Wisdom…
"Most importantly take some time to think about what would make your day meaningful to your guests, when they feel loved, you feel loved! That's the most important thing."
As usual, the most divine fine art wedding photography by the wonderfully talented Craig and Eva Sanders – whose work I am always so thrilled to be able to share.
Many thanks to all who have made this feature possible, the bride, groom, photographer and film maker – we are so grateful that you are able to inspire our readers.
What do you love most about this wedding and why?
Have a great morning all,
Love Annabel
Photographer –  Craig & Eva Sanders
Film Production – Cherry Tree Films
Venue – Gosford House, East Lothan, Scotland
Celebrant – Natasha Hood
Marquee – Best Intent Marquees
Wedding Dress – Erika design by Manuel Mota for Pronovias via Kavelle
Brides Veil – Kavelle
Brides Shoes – Jimmy Choo
Brides Hair Accessories – Corrine Smith
Accessories – Liberty in Love earrings + cuff by Tatishotties on Etsy
Grooms Suit – 21st Century Kilts
Bridesmaids – Sorelle Vita by Essence Designs from Kudos Couture
Flowergirl Dresses – Monsoon
Florist – Save The Date Collective
Entertainment – The Jets
Rings – ROX + Hamilton and Inches
Catering Company – Gourmet Events Scotland
Stationery – Flux
Hair Stylist – Babu Hair
Makeup Artist – Elena Spinks
Follow Love My Dress® on Google+