Happy Monday morning all, hoping you are well rested after the weekend and that the sun will be shining for us all this week. Noorin, the owner and designer behind Outsider Fashion married her husband Albert, on 15 March this year at Glandyfi Castle in Machynlleth, Wales.
Their day was fuss free with a focus on family and friends and elegant deco style.
"We both like 1920s and 1930s Art Deco style, and within my own design work I like minimalism with a twist. I wanted the overall styling of our wedding to be timeless."
Photography Copyright (c) 2014, Alice Whitby
This beautiful dress can be found gracing the pages of the 1920's chapter in my book, Style Me Vintage Weddings.  Here, Noorin explains what led her to designer Sally Lacock and why she chose this particular dress.
"As an ethical/sustainable fashion designer these were key considerations as well as vintage/timeless styling when I was looking for a dress. I didn't want to make it myself as I didn't want the wedding to feel like an extension of work. Plus it's nice to be the one being fussed over, usually I am doing that stuff for my own clients. Initially I was looking for a vintage dress but I couldn't find anything quite right, finally I discovered Sally Lacock's beautiful work.
This was the first dress I tried on at my fitting, I fell in love with it! I think the empire line is really flattering, it's got a vintage inspired look, made from 100% silk in her studio in London so it ticked all the boxes. I really wanted to ensure my wedding dress was made of sustainable materials and was ethically manufactured. This dress even has vintage lace and button details which made it even more special. Sally is also great in the fitting, making adjustments as required and nothing is too much trouble."
"My vintage tiara hair accessory I purchased from a selection Sally Lacock has in her studio."
"Albert and I initially met through friends in April 2009, I was just starting my business and Albert was moving away from London so we stayed in touch as friends. Then in late 2011 we met up and fell in love all over again. Albert proposed while we were on holiday in Krakow in July 2013, so we were engaged for just over 6 months before we got married." Noorin wore the most beautiful, Grecian inspired gown by designer Sally Lacock."
"I wanted to keep the flowers very simple and in season, so I chose my two favourites white roses and blossom. Maureen at Glandyfi Castle is a very talented lady and did all the flowers for the wedding and my bouquet at the last minute." 
"Albert and I were very fortunate to have amazing folk helping us out on the day – Albert's best man Richard was incredible, he kept us all organised and my amazing bridesmaid, Nicola, not only introduced Albert and I in the first place she also made the cake. Everyone rallied around and were part of the day rather then spectators and that is a wonderful feeling – the wedding was something we all shared."
"Albert wore a suit by Jaeger – We managed to find this 100% wool suit from a British brand, it's not easy sourcing this stuff ethically for men. His white shirt is 100% organic cotton from the fabulous Arthur & Henry."
"I found these beautiful vegan bridal shoes from Beyond Skin – they were really helpful, as I was ordering online I asked quite a few questions and actually ordered three different pairs initially to try on with the dress." 
"I decided I didn't want to be given away, I gave myself away I suppose, my bridesmaids led the way. We were a bit traditional with an instrumental version of 'Here Comes The Bride', and we walked out to 'You Can't Hurry Love' by the Supremes.
We had a civil ceremony so the vows were set by the registrar. We chose two readings which were – 'The Key to Love',  and an extract from The Dalai Lama's 'For Life in the New Millennium'. Both readings resonated with our feeling about love and marriage and we hoped to share that with our guests.'
'Take into account that great love and great achievements involve great risk. And that a loving atmosphere in your home is the foundation for your life. Be gentle with the earth, be gentle with one another. When disagreements come remember always to protect the spirit of your union. When you realise you've made a mistake, take immediate steps to correct it. Remember that the best relationship is one in which your love for each other exceeds your need for each other. So love yourselves, love one another, love all that is your life together and all else will follow.'  (The Dalai Lama)
"Our photographer was Alice Whitby – Alice and I have worked on fashion shoots together so I knew she would be the perfect photographer for the wedding. She has a knack for making everyone feel comfortable, she captures the natural moments so that photos don't look too posed. She had endless energy and enthusiasm and everyone commented on how nice she was. She snapped away without people noticing half the time, which with our family is a must!"
"Again we wanted a simple cake but so many I saw online were over the top. My bridesmaid Nicola offered to make the cake for me and we went for a naked sponge cake with lots of fresh fruit, organic and local where possible."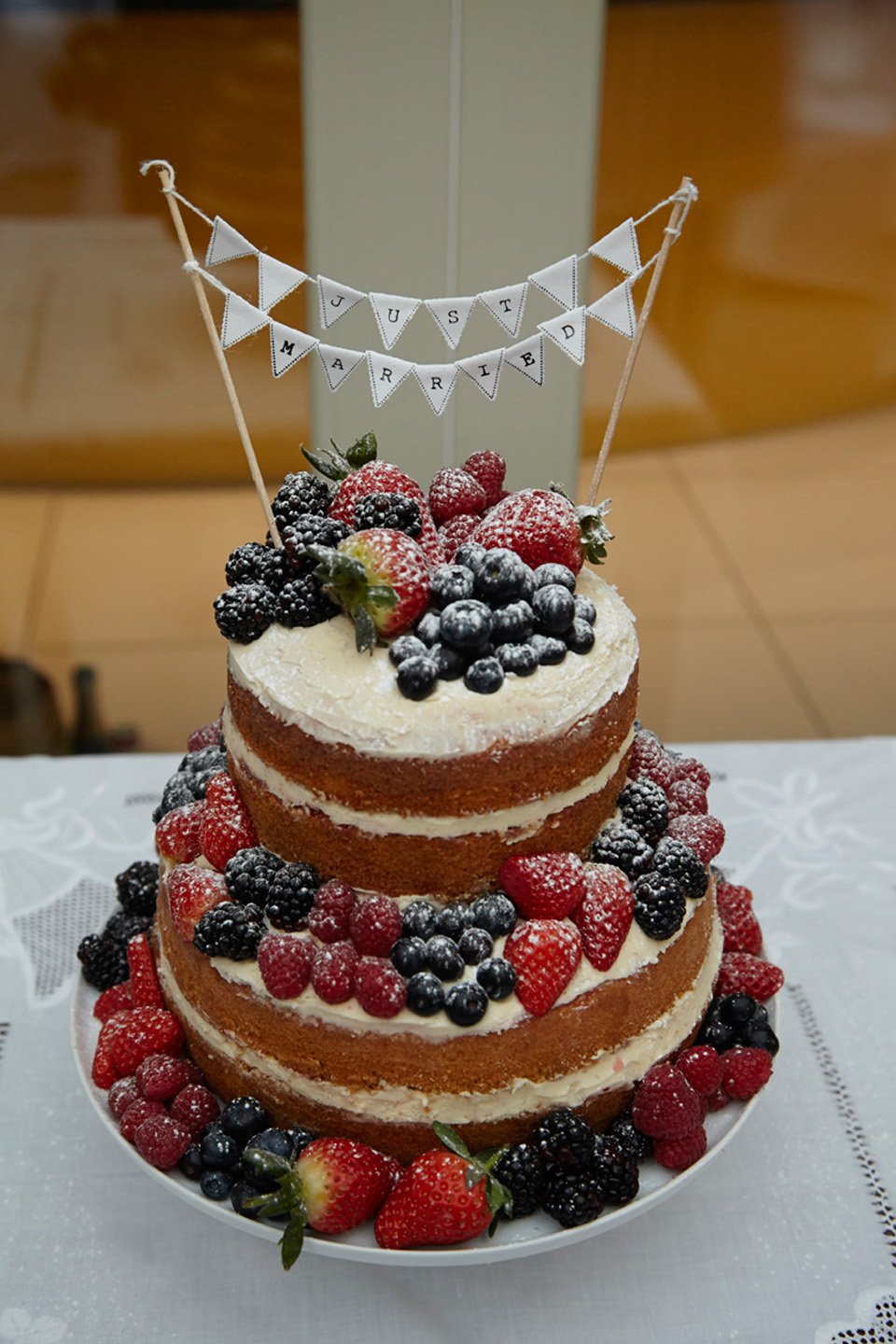 Words of Wedded Wisdom…
"Don't get too bogged down with small details or worry too much. Keep a clear vision of what you want the day to be like. Albert and I really strongly wanted to bring our families together, for them to be able to meet (some of them for the first time) and celebrate together. We had people from different countries, different ages and cultures but somehow they all managed to have a good time and I think a lot has to do with our clear intention to take care of everyone.
I would have eaten more food and drunk more champagne – somehow the time slipped by and I never got to finish anything!"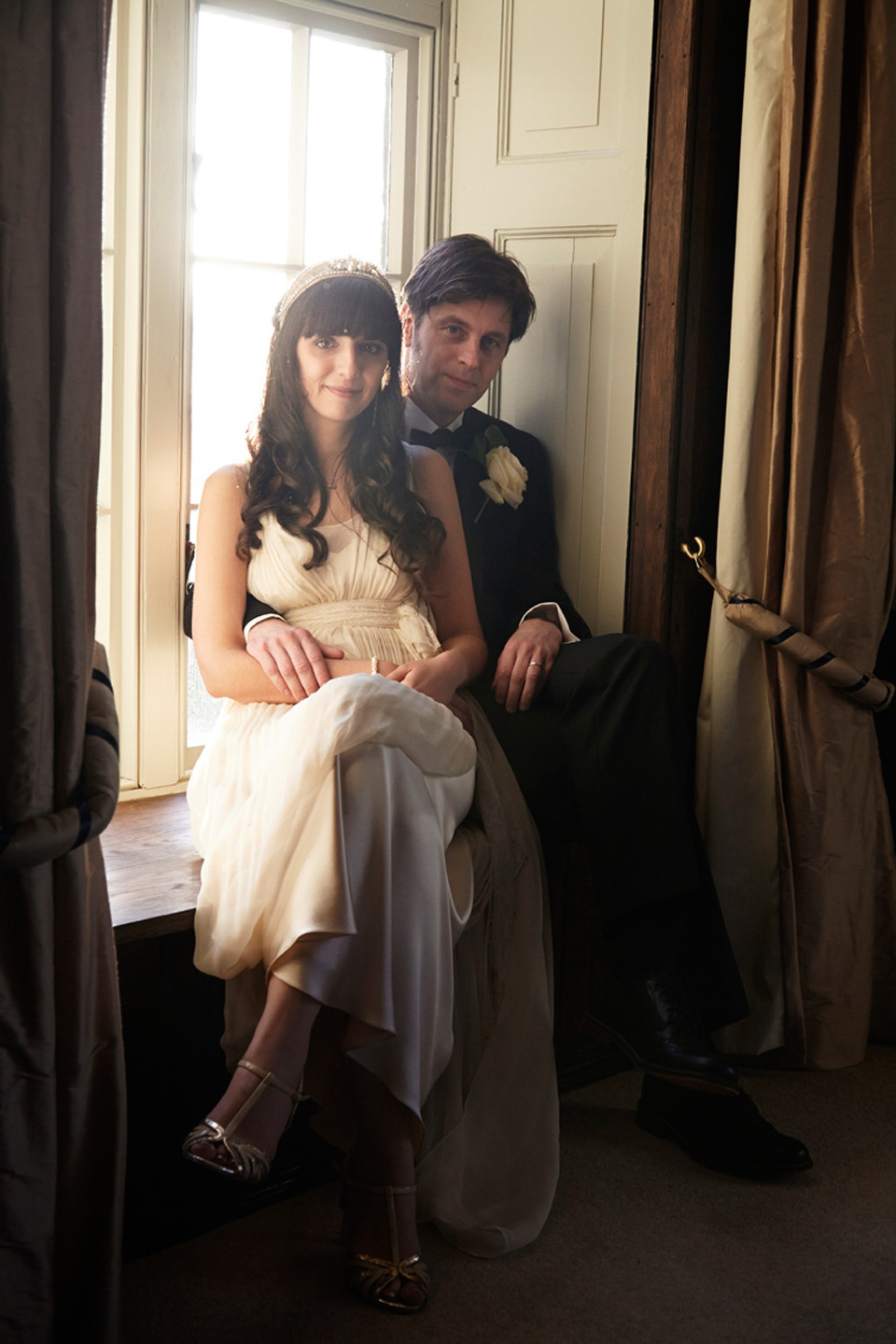 With love and thanks to Noorin and Albert for sharing their day and to photographer Alice Whitby for sharing her work.
If you adore Noorin's gown as much as I do, I thoroughly recommend you pay a visit to designer Sally Lacock's website – Sally is one of my favourite UK bridal designers, so unbelievably talented.
Have a lovely morning everyone,
Love Annabel
Photographer – Alice Whitby
Venue – Glandyfi Castle in Machynlleth, Wales
Wedding Dress – Sally Lacock
Headpiece – Sally Lacock
Shoes – Beyond Skin
Accessories – Earrings by Sarah Pulvertaft
Grooms Suit – Jaeger
Bridesmaids Dresses – Ted Baker
Florist – Glandyfi Castle
Cake – Made by one of the bridesmaids
Entertainment – Gypsies of Bohemia
Rings – Sarah Pulvertaft
Make-up Artist – Leah Sims
Hair Stylist – Coco's Hair Salon Machynlleth
Follow Love My Dress® on Google+