Hello you lovely lot – it might be Friday, but we have two weddings to treat you to today, so if you're feeling in the need of a little inspiration, you are in exactly the right place.  Rebecca, a copywriter and Russell, an IT Manager had a Spring wedding on 20 April this year, which also happened to be Easter Sunday,  at Southend Barns in Chichester.  This is a beautifully simple Spring wedding and I love how Rebecca pulled off that boho-style with those whimsical feathers in her hair and that gorgeous Temperley London gown.
"Russell and I are non-religious but we were really inspired by the style of the venue, Southend Barns. The interiors are similar to our own choice at home, and have a rustic feel that isn't vintage or boho or shabby chic – it's more rural, rustic and pared-back. The owner is Swedish and there is a definite Scandi feel with white-washed woods, minimalist décor and folk-inspired touches. It's also on a farm so there was some lovely rural hints including cow-print wallpaper and milk churns dotted around.
We even went on a weekend trip to Stockholm in the lead up to the wedding to get inspiration from all the great design shops and food markets there. It also worked well that it was Easter Sunday, so the farm and rural element worked well for our cockerel-crest invitations and easter eggs that we used as favours."
Photography Copyright (c) 2014, Laura Babb
"I found a fantastic seller on Etsy called ElliAnya. Based in New York, ElliAnya hand-makes feather headbands and boho-style headpieces. I asked her to custom-make one for me for the wedding, using white and natural-coloured feathers. It became like a crown or feather-veil. I loved it because it was different and still felt very special without being a traditional veil."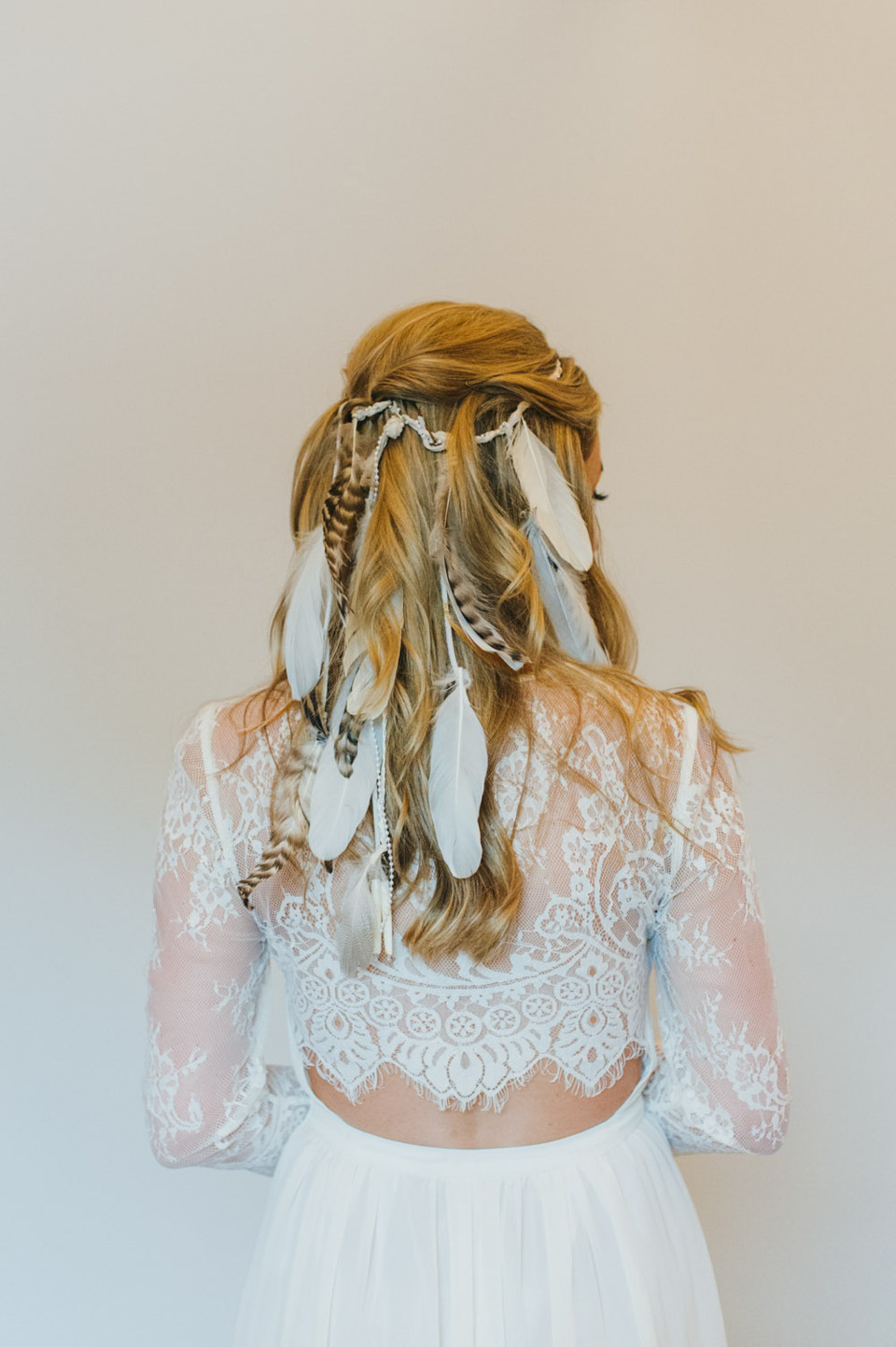 "I wore the Hemingway Dress by Temperley London – purchased via the Temperley website. I was lucky enough to work with the Temperley team on a freelance project last year so I got a sneak peek at the Spring/Summer 2014 collections in advance. It was very difficult waiting for it to arrive and I didn't end up getting it until about 3 weeks before the wedding!
It's not even from their bridal range but it's exactly what I wanted: understated, low-key but still quite traditional. I didn't want a proper wedding dress with all the layers and volume so I was always going to look for a regular dress in white. I was thrilled to find one that was traditional but a bit edgy too – the back is unusual but the white lace means it's still referencing a traditional bridal dress."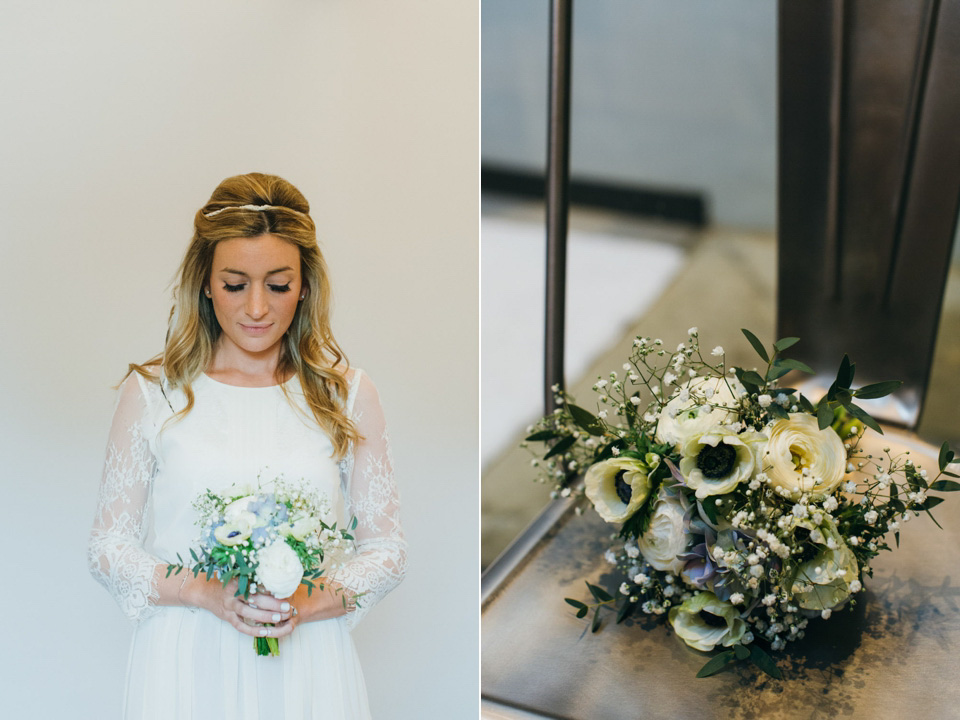 "Our photographer was Laura Babb of Babb Photo.  Laura was amazing! We always wanted someone who could take different shots, not just the average group photos. We hate posing and we didn't want formal photographs anyway, so her creative shots are perfect. A friend recommended her after seeing her on a blog site and when I saw her website I knew she'd be perfect for us.  
Everyone said how great she was afterwards and how she was invisible the whole day but just popping out at the perfect moments!"
"It was fantastic that Laura managed to get such good photos as we had such terrible weather. She knew exactly where to go and what time to take the best photos so it looks like we were in glorious sunshine the whole day."
"Our florist was a friend, Jane Emanuelle.  She's an artist at heart so she really knows what she's doing – she let me choose all the flowers and colours and she spent days setting them all up to get exactly what I wanted. We bought the vases from Ikea and I painted the insides of them so we had lots of little mismatched pots in pale greys and blues instead of having central displays.
I wanted mainly white and neutral colours so we had some pale blues and greys but they're all quite mismatched and wild which is what I wanted. (I can find the names if you need them but I have no idea how to spell them!  Gypsophila, hydrangeas, eucalyptus, grape hyacinths, and others!)"
"Russell's Gresham Blake suit was a bit of a treat but he is very into clothes and doesn't get to wear suits too work, so wanted a custom-made piece where he could choose the fit and fabric – they even customised the lining for him. I used to live in Brighton so I know they have such a great reputation there and we were really pleased we could do it there.
We spent ages looking for a tie! In the end he chose one from Paul Smith at Selfridges – he didn't want to have the same as the groomsmen and he didn't want traditional pastel satins so it was hard to find something unique.  All the boys wore navy suits from M&S."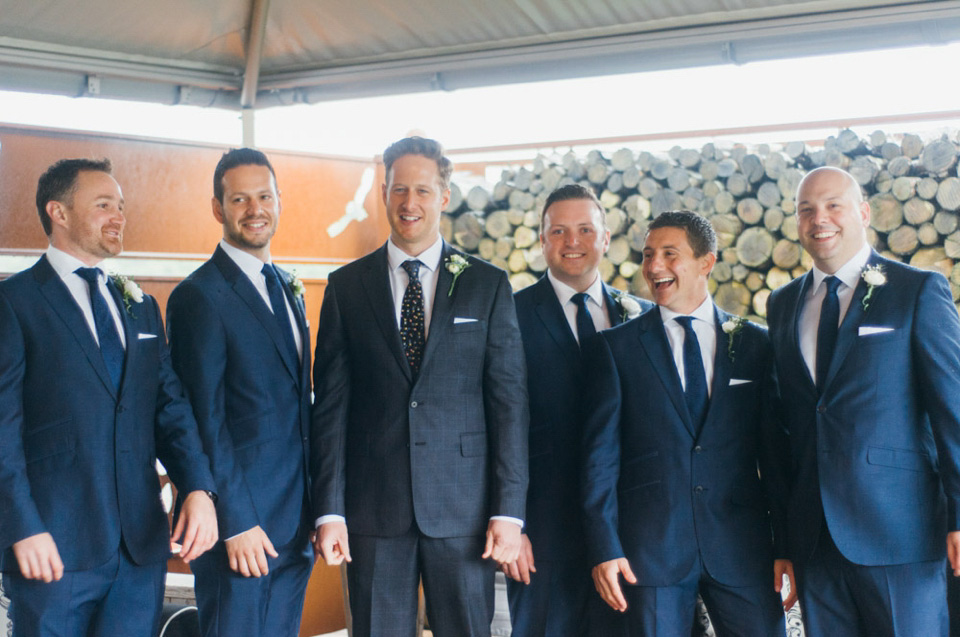 "Russell and I met when we were teenagers and originally didn't get along! We had lots of mutual friends so we kept having to socialise together and by the time we were in our 20s we ended up being really good friends and meeting up on our own, going to gigs and staying over at each other's house all the time. All of a sudden, things changed and I started to miss him when he wasn't around! We got together when we were 24 and 26 and moved in quickly as we were already so close.  We were engaged for 6 years and Russell proposed on the night before my 30th birthday while we were in Florence on a surprise birthday holiday. That was 8/9 months before our wedding day – we wanted to do it as soon as possible because I wasn't interested in having a huge wedding or planning it for two years.
Russell bought me some beautiful diamond earring studs as a present which opened on the morning of the wedding. I was also wearing my bridesmaid's own bracelet (as something borrowed) and a gift from my other bridesmaid – another bracelet which she gave me as a thank-you gift at her wedding last October.
I was also wearing my engagement ring which is my favourite piece of jewellery. It's an antique Edwardian diamond white gold ring which we found together in The Lanes in Brighton."
"My Dad walked me down the aisle to Toothpaste Kisses by The Maccabees. We have always both loved that song and it was released around the time we got together so it's always been a special song for us.   We added a couple of extra lines to our vows as it wasn't religious so we were worried it would be too short!"
"Our friend Adam Martin did a reading for us – he was one of the groomsmen. It was extracts from one of my favourite books 'A Room with a View' by EM Forster. It's set in Florence which is where we were engaged and it's one of my favourite places and I remember how much I loved this book and film the first time I visited there."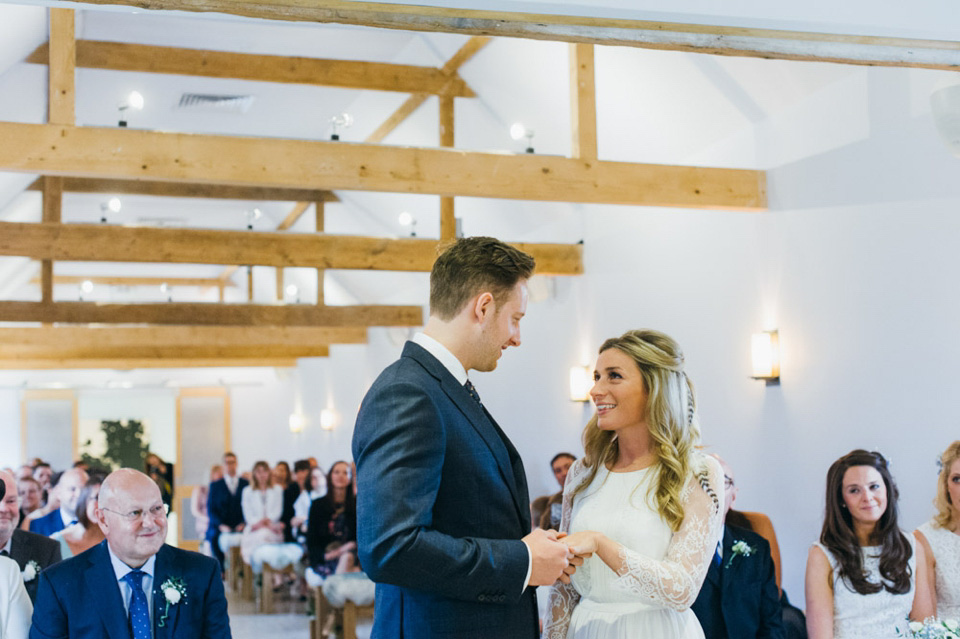 "A friend of my mums is a jewellery maker and dealer. He handmade our wedding rings for us. I wanted one to fit around my (probably too large) engagement ring and Russell wanted a tough metal that he could wear to the gym and when cycling etc. He chose tungsten which is gunmetal so it had a nice grey/black sheen and doesn't look too girly!"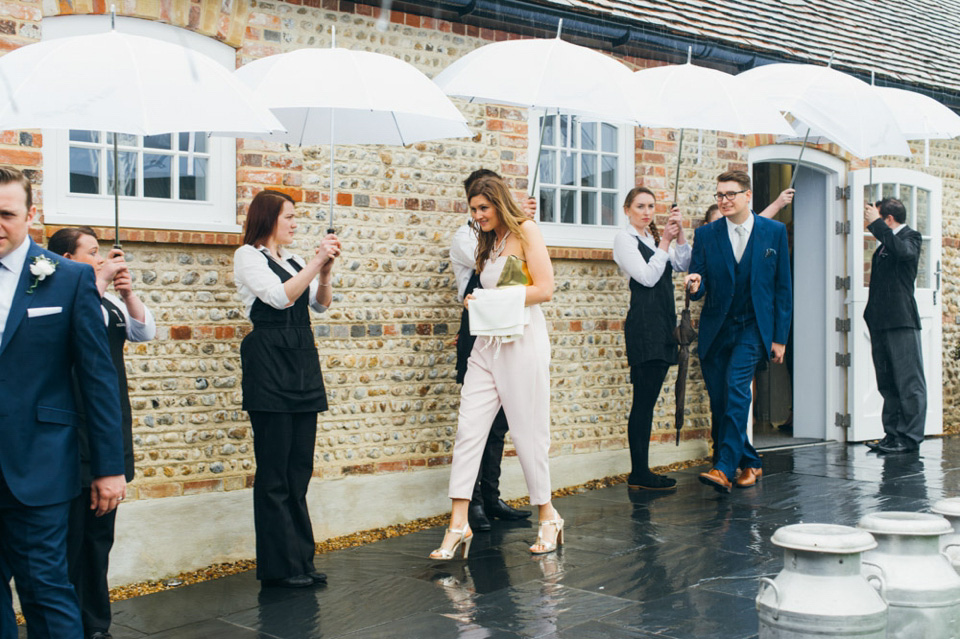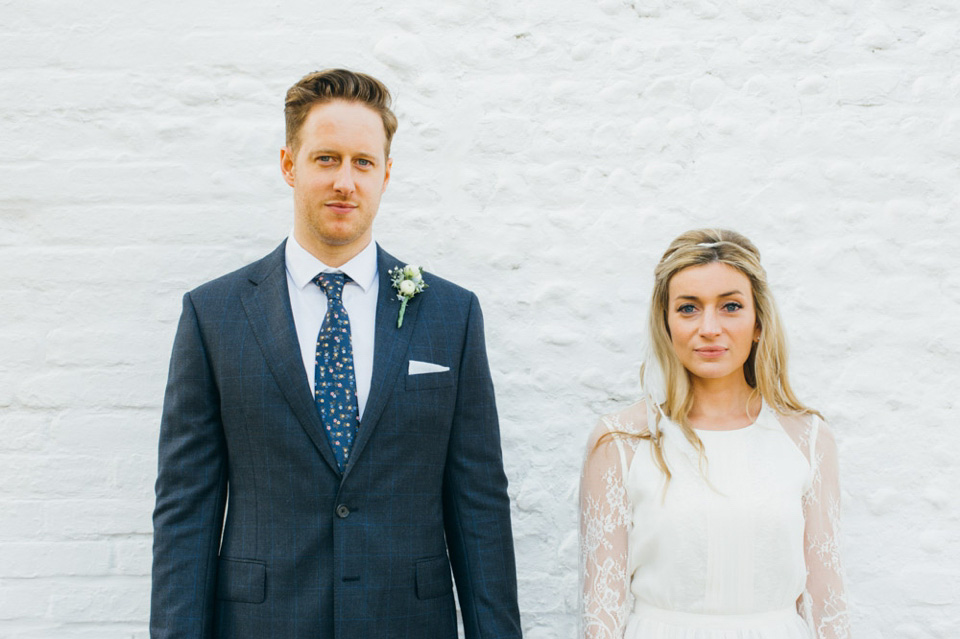 "Our venue was Southend Barns in Chichester. We looked all over the UK trying to find a venue – we didn't mind what area it was it. We wanted something that works in all weathers – it has a fantastic covered space that would be perfect in winter or summer – and also that looked good without loads of additional decorations. We are both love unique interiors and a rustic yet contemporary feel. We didn't want to be decorating a plain church hall with all our own bunting and lighting etc." 
"In terms of decor, we just had flowers and an old Fortnum and Mason box for cards, plus a few accessories from Marks & Spencer to add some blue and white colour. The venue was great without any extras and had lots of lovely hurricane vases and candles everywhere."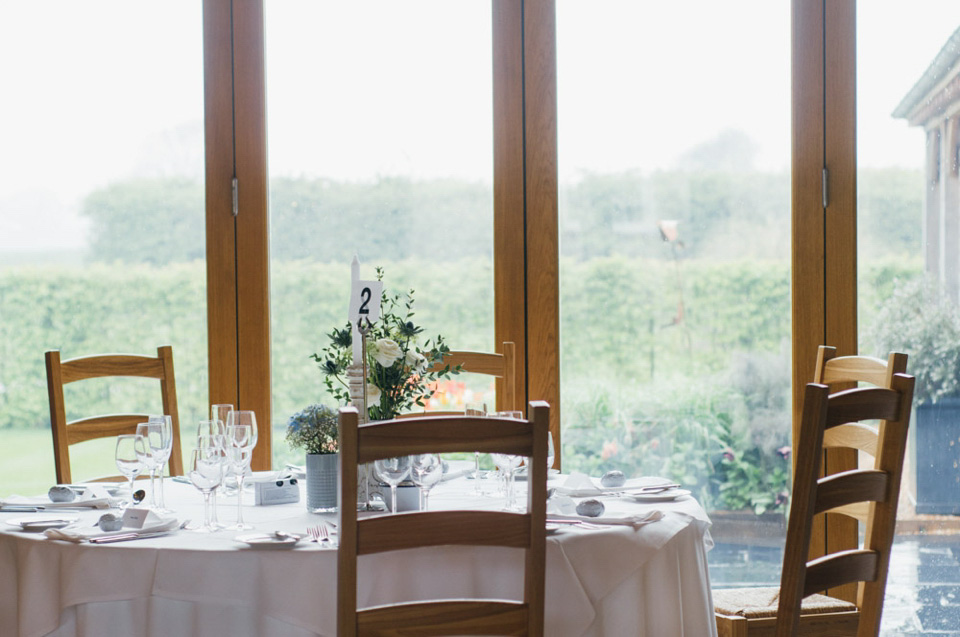 "We didn't have a cake – a few weeks before we just realised that neither of us cared about this and we had a lovely three-course meal with dessert, and lots of easter-related chocolate everywhere, so we just thought it wasn't necessary. Also we knew we didn't want the 'cutting the cake' shot so it just seemed false and silly. Plus we were going on honeymoon the next day and we knew we'd have loads leftover!
We bought Kinder eggs and rewrapped them in a grey confectionary paper so they matched the rest of the venue. I also had stickers made featuring the cockerel-crest from our invitations and table plan, and stuck this on them to finish it off.  We didn't really want favours but I thought it would be a good conversation starter for the tables to see what gifts were inside."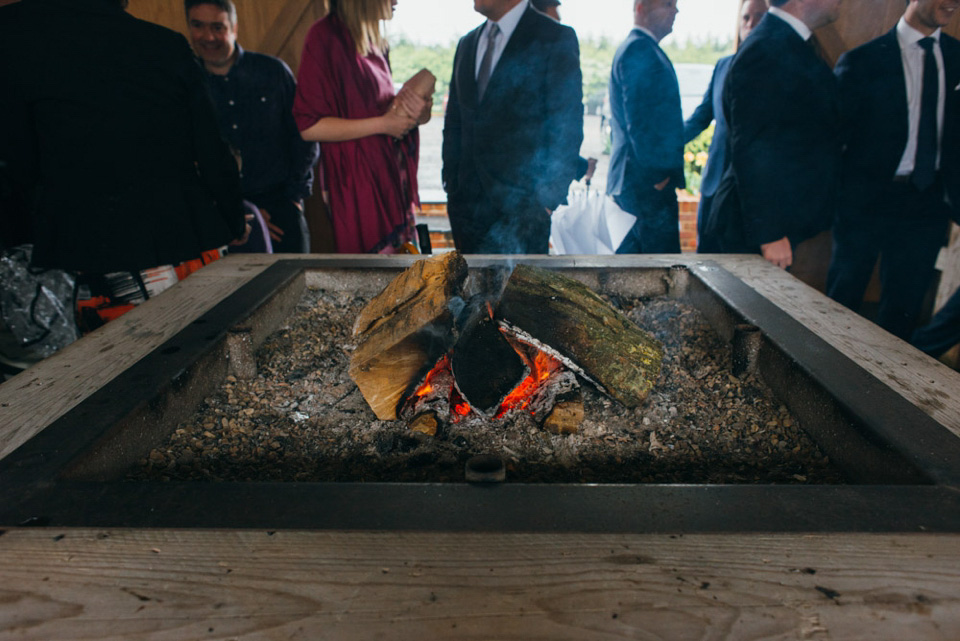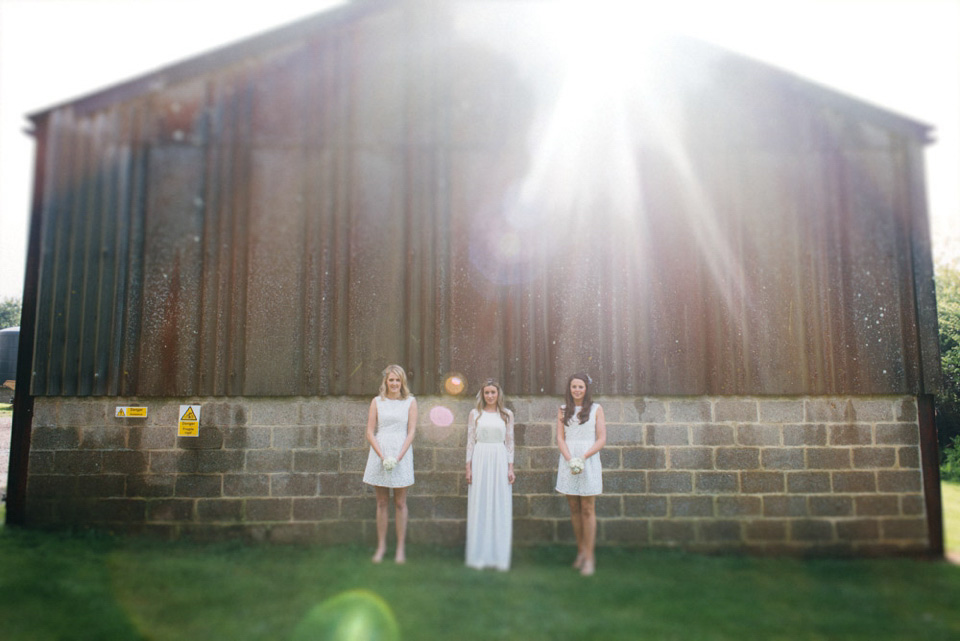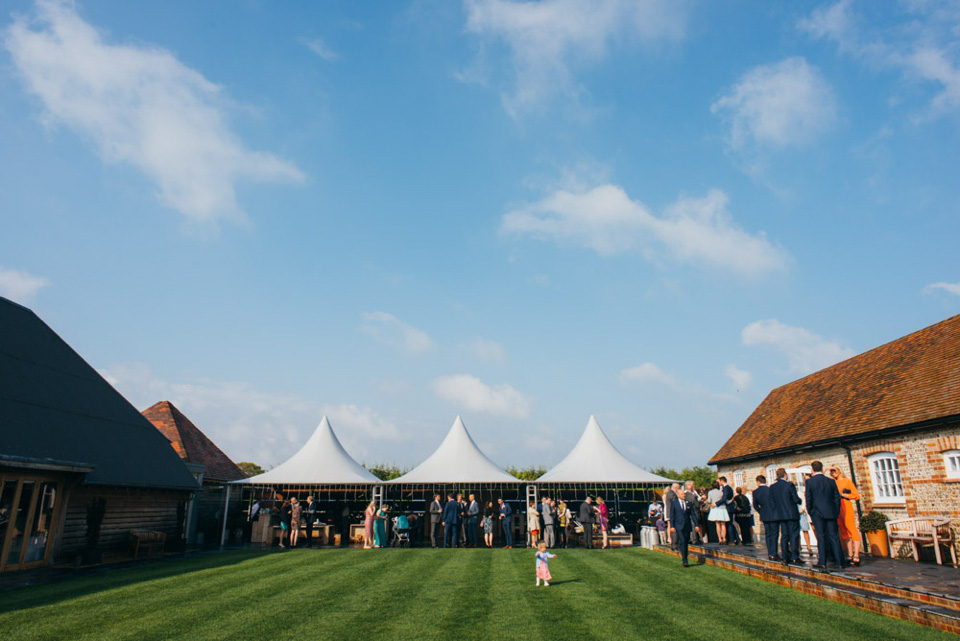 "We had 'Baby I'm Yours' by the Arctic Monkeys for our first dance. It's quite lovey but not too cheesy. We've seen them a few times around the world so we both wanted one of their songs – I took Russell to Las Vegas to see them for his 30th birthday so we've shared some great memories related to this band."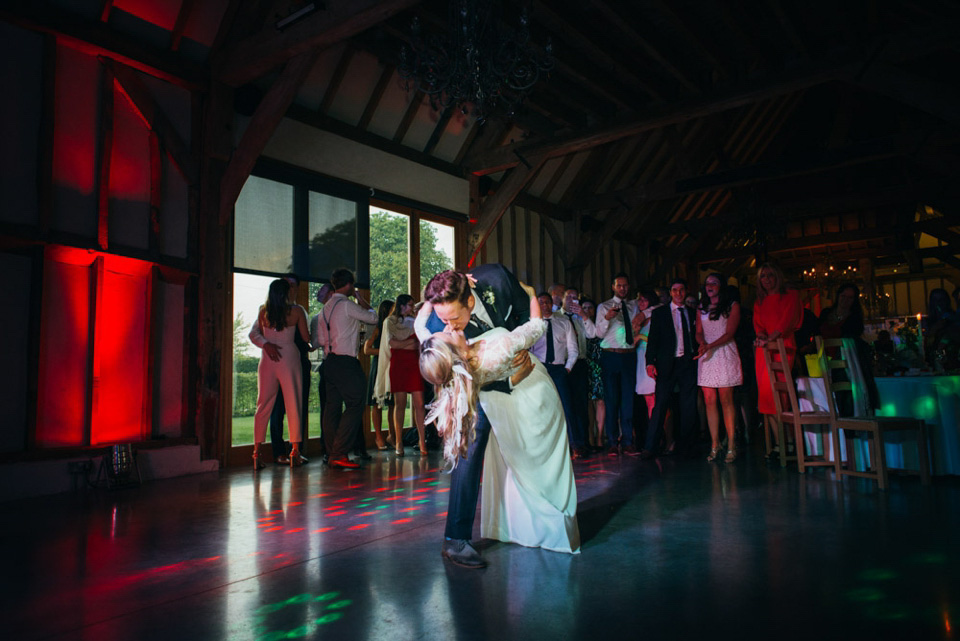 "We had a great band called The Thumping Tommys  – they perform in London. They do country-style folk music so it really fitted well with the venue and got everyone in good spirits during the drinks reception. We also had an old school friend DJ in the evening for the party – his company is called Diamond Disco."
Words of Wedded Wisdom
"You'll be surprised how much people love a wedding and want to help and be involved. We had lovely cards from neighbours we've never even spoken to before. The love and kindness people offer you in the lead up to it is very emotional. So when you're feeling stressed and busy and annoyed with people asking for special food requirements (!) just remember how happy they are to be coming and how happy they are for you because you'll forget all that stress when you hear their kind wishes on the day.
Finally, I wish I had eaten more food and drunk less prosecco! I felt so dehydrated and tired by 10pm and had no energy!"
Many thanks indeed to photographer Laura Babb for sharing this very lovely wedding and immense thanks to Rebecca for being so helpful in sharing all this detail.
Have a wonderful Friday everyone,
Love Annabel x
Photographer – Babb Photo
Venue + Catering – Southend Barns in Chichester
Brides Dress – The Hemingway Dress by Temperley London
Feather Headpiece – ElliAnya
Brides Shoes – Sophia Webster Coco pumps from Brows Focus
Accessories –
Grooms Suit – Gresham Blake in Brighton
Bridesmaids – Oasis at ASOS + gold shoes (already owned)
Florist – Jane Emanuelle (no website, family friend)
Entertainment – The Thumping Tommys
Stationery – The bride
Follow Love My Dress® on Google+