Oh Monday, you will not defeat us! Especially not when I have a wedding as utterly beautiful as this one waiting to fill you with.  This is the wedding of Russell, a freelance Creative Director and Victoria (AKA Barbie) a Recruitment Manager, whose delightful barn wedding too place on 25th May this year with the most charming of Somerset farm backdrops.
This is such a gorgeous wedding that was, the bride tells me, a 100% DIY effort – with an army of family and friend helpers who worked with the couple to create their magical day.  Lucky for you, dear readers, the ridiculously talented Jon of Happy Wedding Films captured the whole day on film too, and we get to share this little bit of wonder with you today.  Happy Films blasted on to my radar recently with this incredible creation – watch and wonder at how far wedding films have come.
"Our theme ended up being was a combination of rustic, home-made, DIY, natural, country, vintage and miss-match. Our main aim was for it to be informal, fun, ceremonious, and a real team effort by our family and friends. Our venue was so naturally beautiful that we wanted to play on its strengths without over preening."
Film Production Copyright (c) 2014, Happy Wedding Films (soundtrack by Lily & Meg)
"When we started our venue planning it was fairly overwhelming, with hundreds of venues on offer all over the country, we soon realised that with many venues you are tied into their choice of suppliers, corkage charges, specific dates and set up and clear out timings also. After some time and many venue spreadsheets later we decided we'd do things our own way and find a barn, farm or some land which isn't used every weekend celebrating other couples weddings which we could transform into our own unique day.   This is where Love My Dress® came in – it is in fact responsible for our venue.
Russell was browsing Love My Dress when he spotted the Wedding of Lucy and Gregor. Their venue, the groom's Uncle's farm and surrounding Somerset countryside was spot on for what we were looking for, but it wasn't as simple as that as it is private land, not your typical wedding venue. We got in touch with Mark Tattersall, the photographer (who we also chose as our photographer) and he gave us the details for the farm owner, Gregor's uncle. When we got in touch with the farmer and his wife, they welcomed us with open arms to come and visit the farm with a warning that there would be lots to do!
On visiting the working dutch barn (with tractors, logs and materials inside), woodlands and beautiful B&B on site where all our bridesmaids and ushers could stay, we knew we'd struck gold – but that we also had a mammoth task ahead of us!"
Photography Copyright (c) 2014, Mark Tattersall
"We actually got married the weekend before at Wandsworth Registry as our farm isn't registered with a marriage certificate. We had thought of finding a registry local to the farm but knew all the planning and preparation would be intense on the run up to the big day so opted for 2 weddings, why not?! We couldn't recommend this highly enough, we got to enjoy two totally different days and it meant those special guests who couldn't make the farm wedding could come along to the registry.
After the registry 40 of us walked to The East Hill Pub in Wandsworth for a delicious meal."
"We met online on Guardian Soulmates, our first date was my favourite pub in Camden the Colonel Fawcett, our second was an amazing date at the ballet, then six months later in Sri Lanka Russell totally shocked me by proposing on the rocks at sunset overlooking the sea.
Russell being Russell and naturally getting everything perfect also managed to capture the engagement on film without raising my suspicions as we'd set up our go pro camera throughout the trip to take time lapse pictures of various sunrises and sunsets, it really is the most beautiful place! 13 months of wedding planning later we were wed."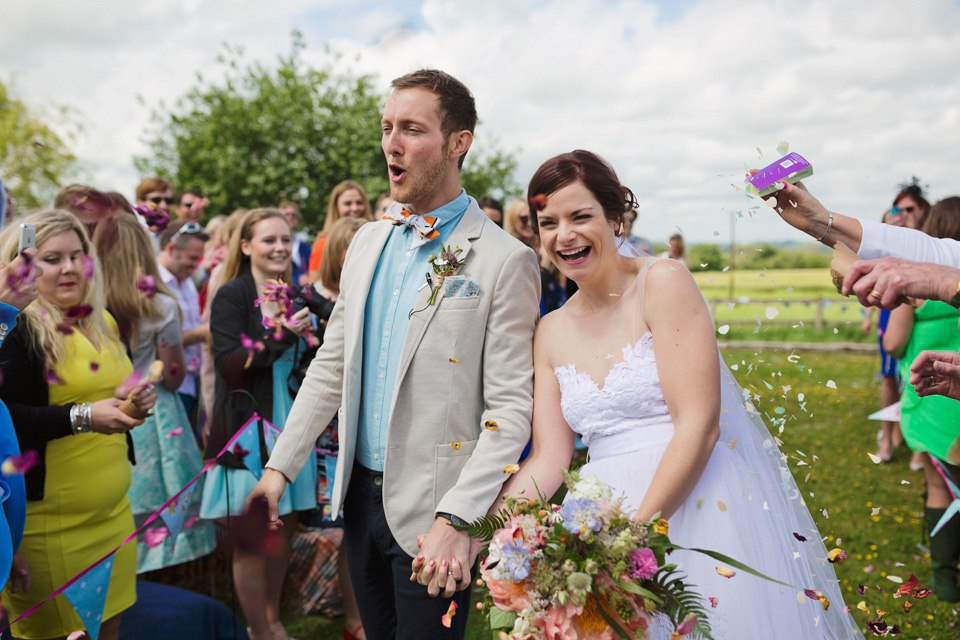 "Like most brides I had trauma with finding my dress. I needed one for my registry and another for the farm wedding. Early on I bought a dress for the farm wedding from a friend in a total flook after describing the dress I had liked she said that was her dress and she was looking to sell it, well it felt like fate.  Only, four months later I knew it wasn't the right dress for my day.  It was a beautiful dress and fit me like a glove but it would have suited a formal wedding that wasn't in woodland or a farm. I knew I wasn't sure as I kept pinning other dresses on Pinterest, one in particular had caught my eye, the Loren, by Grace Loves Lace.
The only trouble was the designers are based in Australia and it would mean buying a dress I hadn't tried on, online. All my friends thought I had gone mad! One of them suggested I try on dresses which were similar here to see if the style would suit me, so again I tried on what felt like hundreds of dresses with similar elements to my dream dress and then bit the bullet and went for it."
"I knew I had at least six weeks when the dress arrived to get any alterations done and had a seamstress at the ready. Once the dress arrived we did make a number of alterations, there was so much material in the underskirt that it made me look larger than I am – I hadn't spent 8 months shedding for the wedding for the dress to make me look bigger than I was! We also added an opening and buttons down the back as we'd needed to take in the torso area substantially and it was then impossible to pull the dress over my head as the designer intended.
We also added a white ribbon to tie around my waist, although I did have a teal velvet ribbon and a gold sash to choose which was the best on the day."
"Entertainment was important to us as we wanted to create a festival type vibe but avoid the traditional wedding band. We got two awesome bands to play both acoustically during the ceremony and picnic and then plugged in once we moved over to the barn. We had the beautiful and haunting Lily & Meg who performed their own songs and feature on the wedding video trailer.
We also hired Drew & Bob for a more upbeat jig type vibe (think Mumford and Sons but fun) they got everyone dancing before we even sat down for our meal and really set the tone for the rest of the evening! Following our first dance we had a DJ until 1am who we'd given a huge play list of songs from various eras and styles, my garage set probably went on a bit longer than the oldies would have liked."
"After lots of research of flower farms locally, we chose to hire Bramble and Wild as our Florist. Grace and her team understood our brief from the start and produced the most beautiful bouquets, button holes and table flowers. But not only that she supplied us with all the miss-matched jars and vases for the table flowers, our hessian table runners for each table and the shepherds hooks down the aisle, which we'd initially intended to hang jars with flowers from but on the day the weather was far too windy.
I wanted the flowers to look very wild and natural and colourful but in more pastel than bright shades. I also wanted to include texture with grasses, wheat and berries. My bouquet included coral peonies, peach hpericum, pink astilbe, fountain grass amongst other seasonal blooms and foliage available on the day."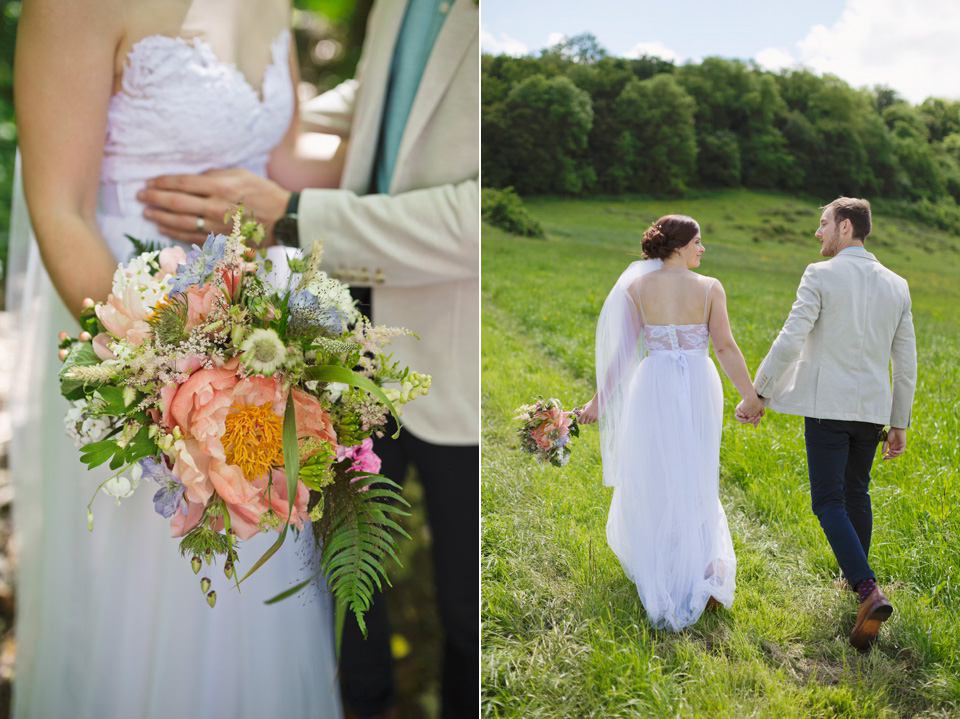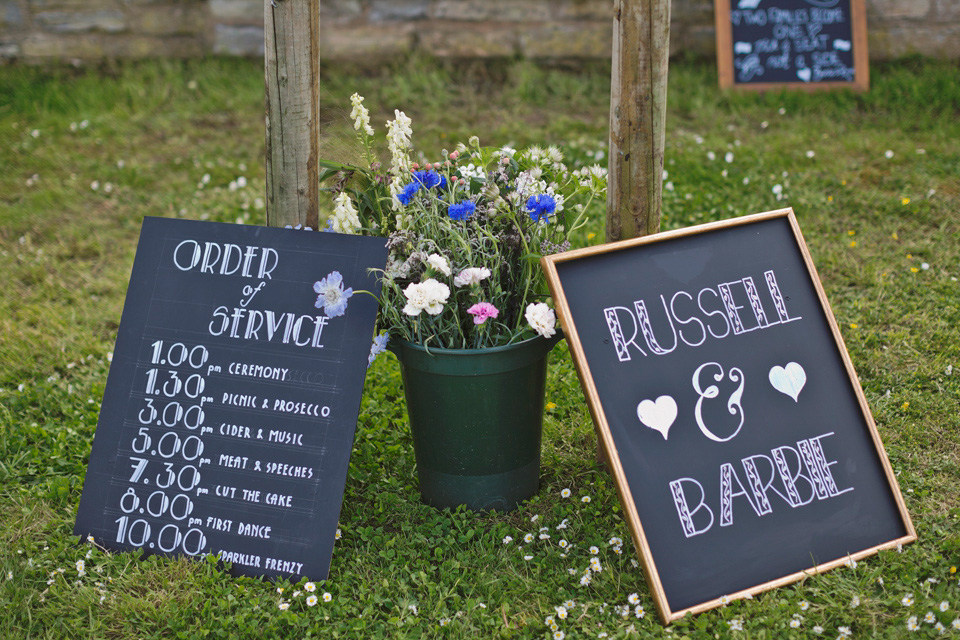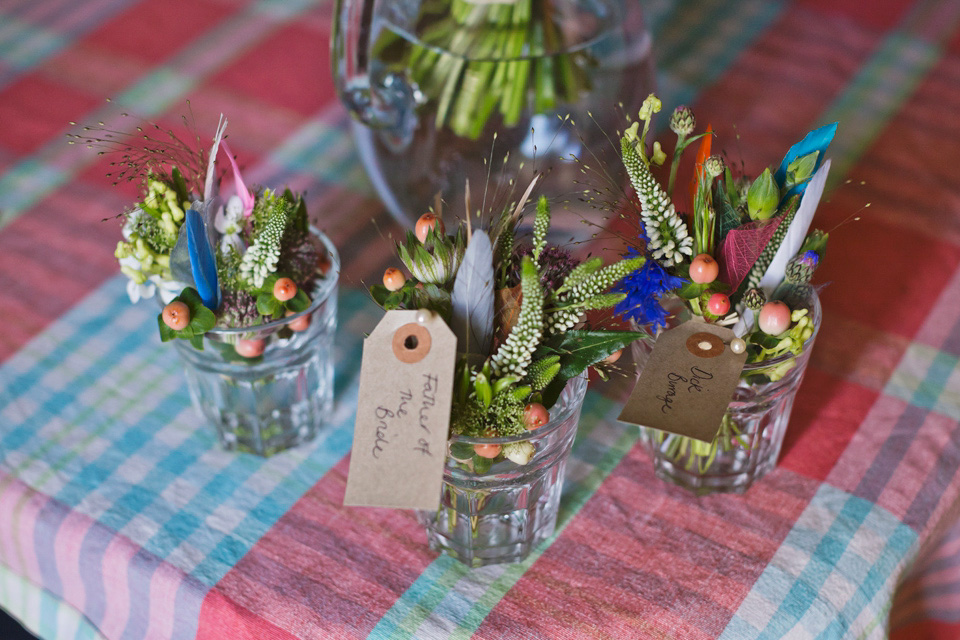 "The bouquets were tied with Raffia in keeping with the natural theme."
"Mark Tattersall, who we discovered through Love My Dress, was our Photographer and he was a genius.  His pictures were the reason we'd fallen in love with Park Farm to start with and it only seemed right for him to be our photographer too. We love his relaxed style and on the day, he was like a photography ninja!  Aside from some pictures in the morning and the woodland shoot, we honestly hardly noticed he was there, but he was still snapping until the bitter end and the results were pretty amazing.  We couldn't recommend him highly enough and he turned around the editing really quickly so we didn't have too long to wait to relive the day again and again through his beautiful shots.
Picking a photographer and videographer was always going to be tricky as Russell is a wedding videographer and photographer on the side. He trawled through over 300 videos on vimeo to find our videographers. We only liked the style of a few English videographers because they tended to be quite traditional and predictable however the ones we liked weren't available, not surprising given it was the bank holiday weekend! Russell found Happy Wedding Films and we fell in love with their work – its' really artistic, different and beautifully and professionally shot – the only trouble (or at first we thought) is that they are based in Slovenia. A number of emails and phone calls later however and we were booked as their first ever UK wedding.  We were so excited!  They even agreed to stay in my mum and dad's caravan as accommodation – what heros!  
Happy Wedding Films were a joy to work with super friendly, they both spoke perfect English and even laughed at our jokes!  We loved sharing our day with them, especially as we aren't used to being in front of a camera, they really helped us be ourselves and natural. But ultimately it is the outcome of their hours of filming and editing that speaks volumes, they are real artists."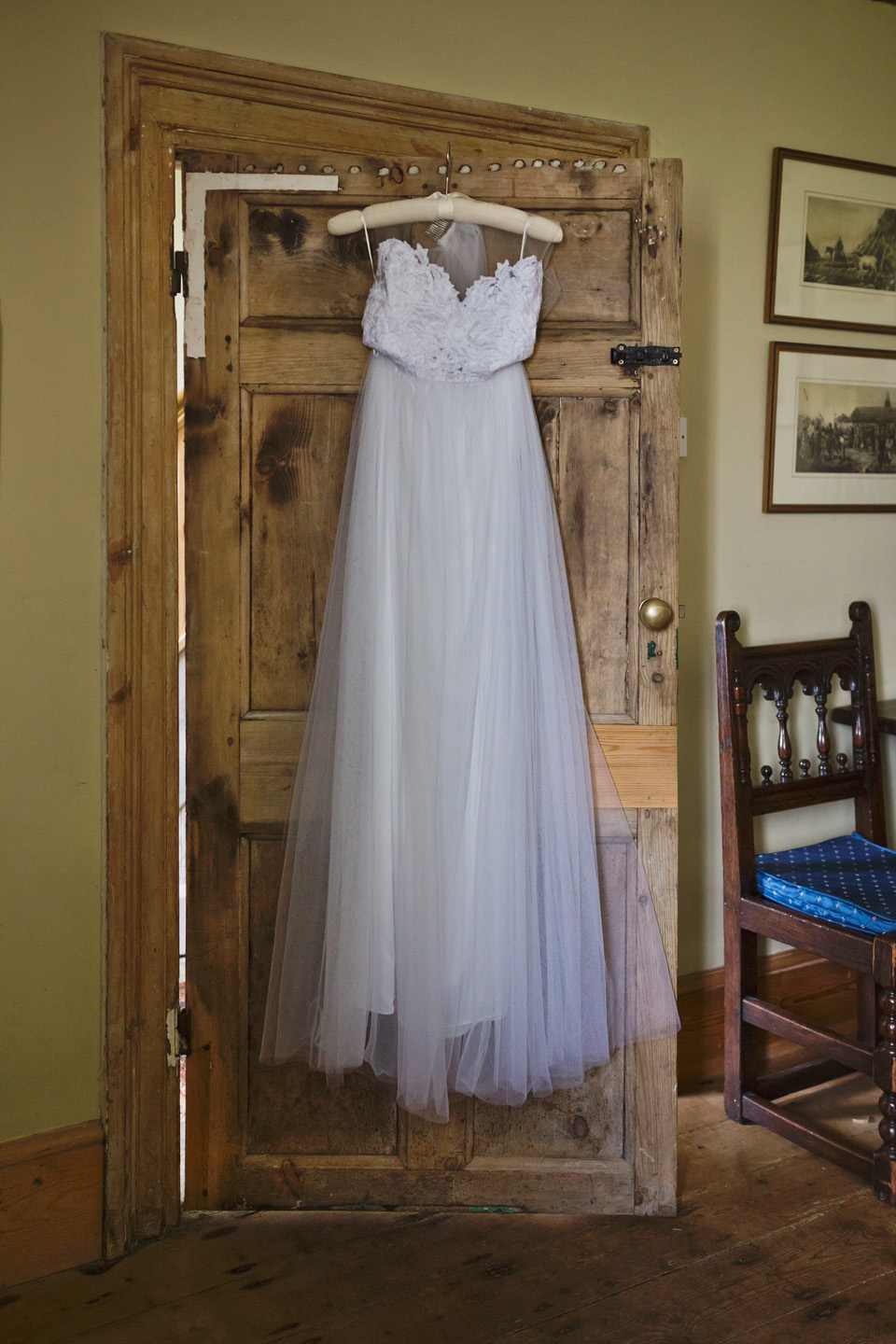 "My sister/chief bridesmaid was the only person who had seen the dress on during dress fittings with the seamstress, so she was the one who dressed me on the day. I had wanted to show my other bridesmaids and my mum before but I'm so glad I waited for the big day as they all got to enjoy the big reveal together, the tears and smiles and gasps was a really precious moment for us all!
In hindsight, it would have probably been better to take the pictures of the Loren dress to a dress maker here so they could recreate the dress from scratch. But I certainly didn't regret taking a risk and buying online, on the day my dress was everything I could have wished for and more!"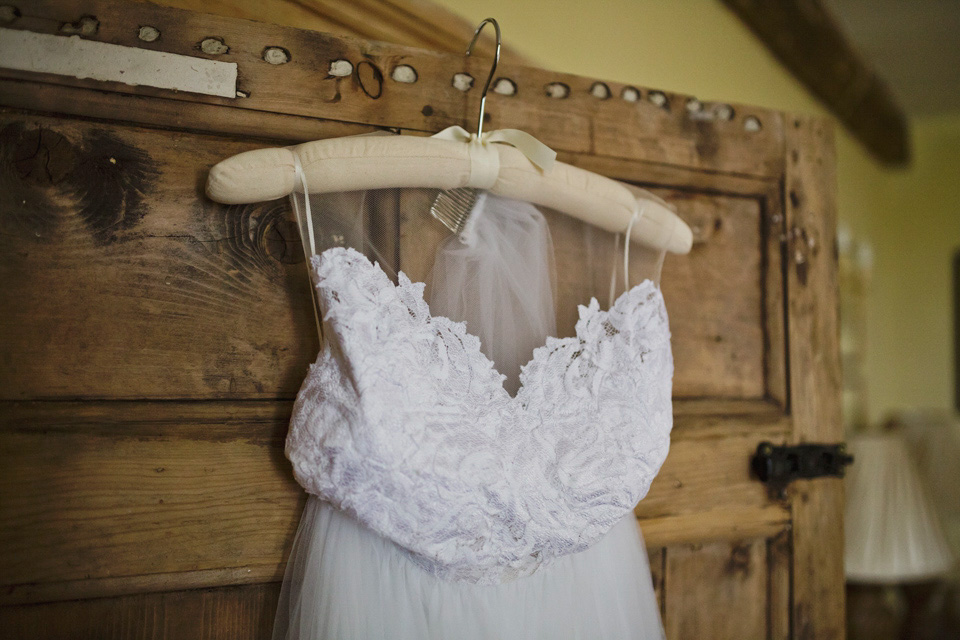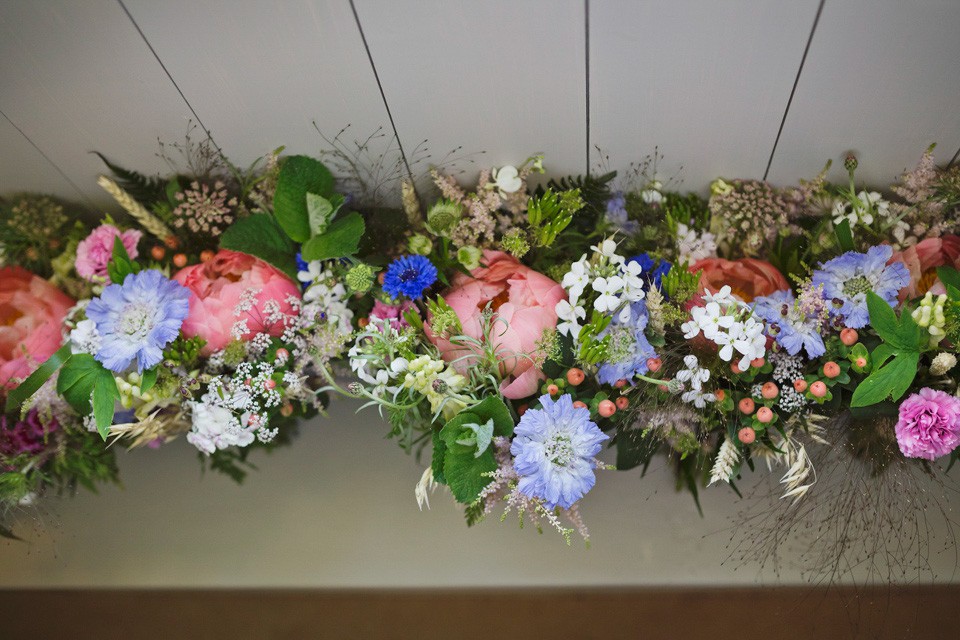 "My shoes were from LK Bennett, we had a lot of gold running through the wedding and I knew gold shoes were the way forward, as long as the heel wasn't too high. It turns out I ended up wearing my gold hunter wellies straight after the ceremony for the rest of the day as my beautiful shoes weren't really designed for all terrain."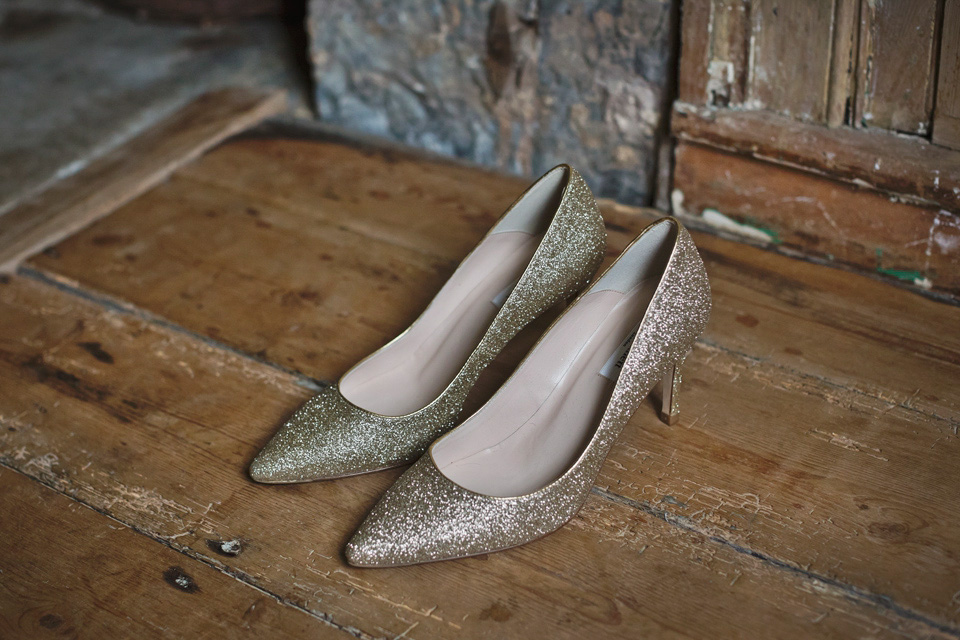 "My friend and ex work colleague Poonam a qualified make-up artist did my make-up, I was so conscious I wanted to look natural but still jazzy, so we opted for a smokey eye brushed with gold shimmer and glitter and 'Lovelorn' lipsick by MAC for a girly pink finish. She did a fabulous job! After lots of research I went with Victoria's Hair Design in Somerton, Sophie did an amazing job at both the trial where we tried a few different options and then perfecting my hair, home-made pins and veil on the big day.
Poonam and Sophie also did my sister/chief bridesmaid hair and make-up and she looked incredible!"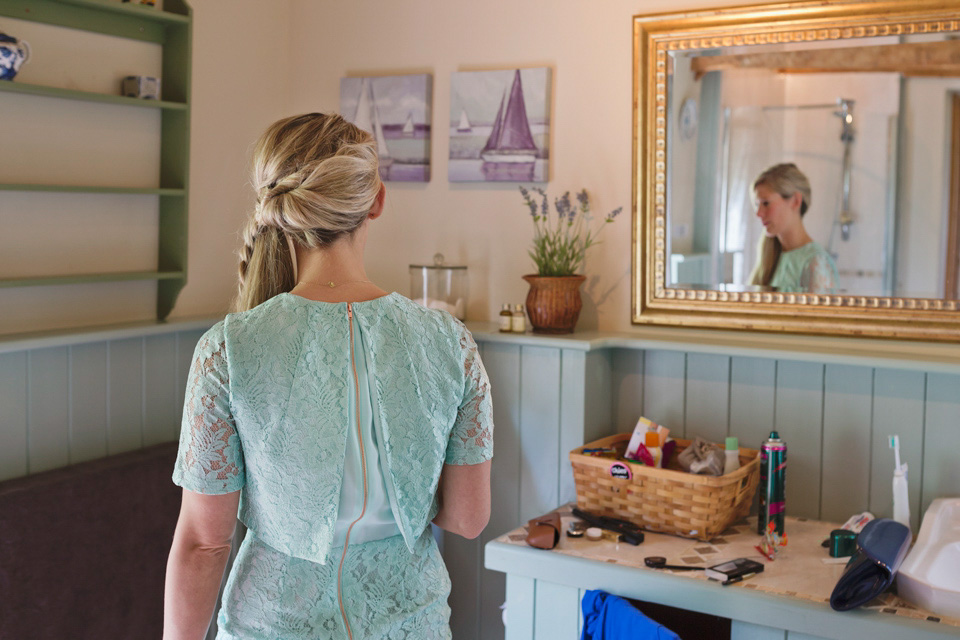 "When the time to shop for bridesmaid dresses came around (according to the many wedding planning calendars you get in bridal magazines) I couldn't think of anything worst. I had six bridesmaids all with different tastes and I wanted to make sure they all loved their dresses. I wanted to avoid the traditional uniform dresses so in the end I gave them a budget and colour chart and asked them to find a different dresses they loved to be in keeping with our informal miss-matched style of the day.
They ended up wearing a mix of mint, yellow and coral dresses from Ted Baker, Whistles, Topshop, Warehouse and ASOS and they looked totally stunning, I couldn't have been more impressed with their choices! I also gave the girls free reign with their shoes, accessories and hair, whatever they fancied and felt good in. They've all got great taste so there was nothing to worry about there!"
"I bought my veil from Etsy, for under £20!! I wasn't necessarily looking for a bargain, I was just doing research, although the thought of spending up to £300 on a veil I knew I wouldn't wear all day just didn't make sense. It was exactly what I was looking for; a one layer tulle veil at fingertip length and to my Mum nothing says bride like a veil."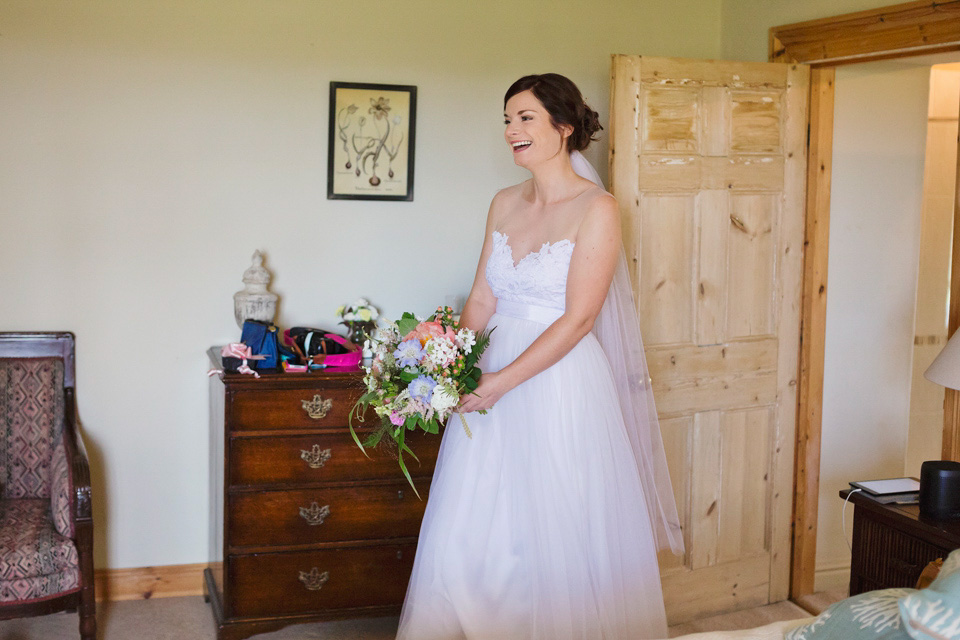 "I made my own hair pins, I headed to the bead shop in Covent Garden and proceeded to experiment with gold wire and gold beads and pearls. I absolutely loved the results and even more that it was something I'd created at a fraction of the price of head pieces I'd researched."
 
My mum bought me some stunning light topaz stud earrings from Walkers Jewellers, she's heard that Duchess of Cambridges' mother had bought Catherine's earring for her wedding day and said if it's good enough for her it's good enough for our princess, which I thought was so sweet! It didn't wear a necklace or a bracelet as I wanted to keep it quite simple, I had just thought I'd be wearing my engagement ring, but the biggest shock of the day was Russell's wedding present to me, a 1.3 carat solitaire diamond ring…Russell likes to be unconventional and loves surprises, I'm a very lucky girl!"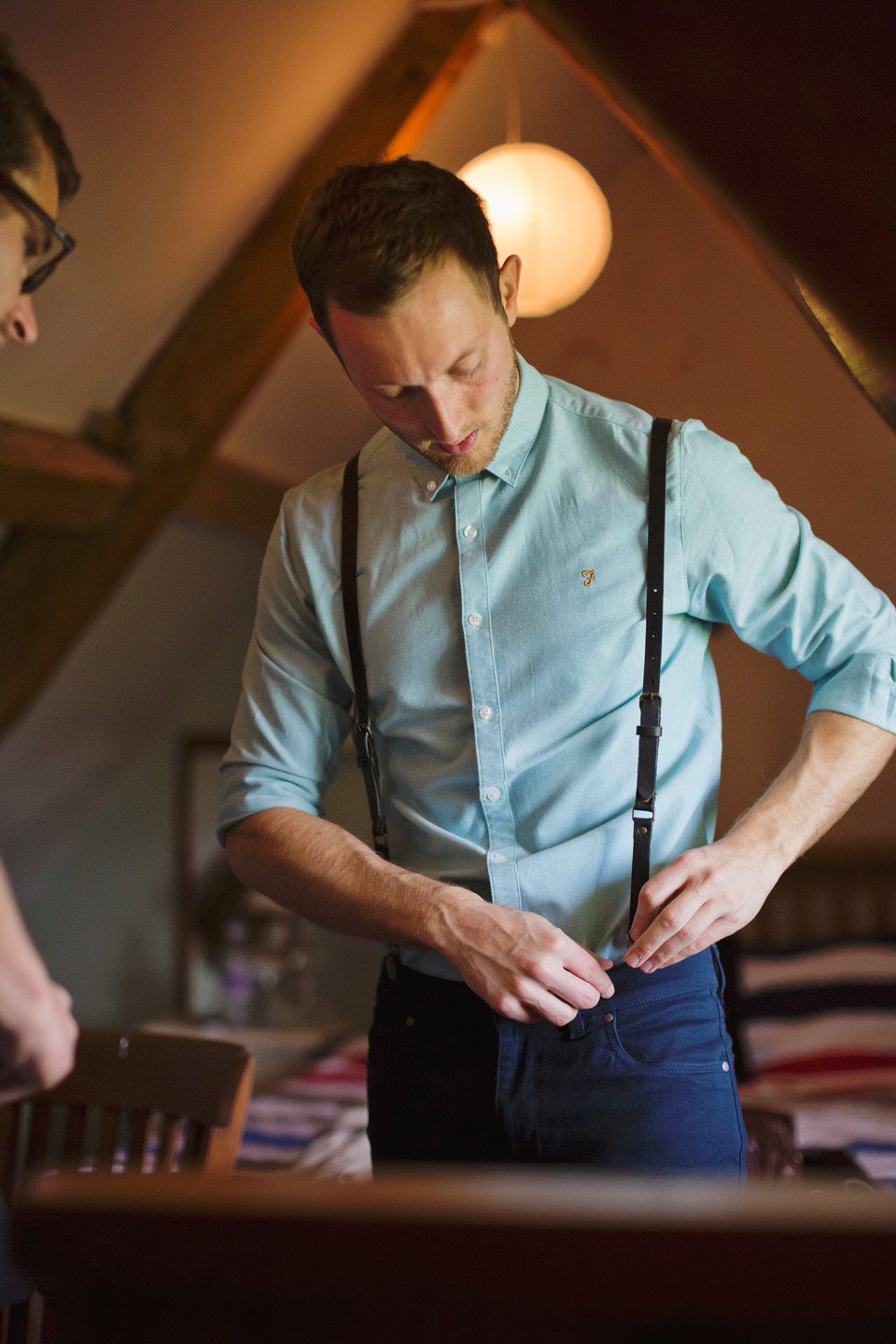 "The majority of Russell's outfit was purchased from the high-street and the plan was to go with a relaxed country theme to suit the rest of the wedding experience. The cream jacket was from Zara, the shirt and trousers from Farah Vintage, the leather braces from Topman and the shoes from Bertie.
My mum handmade all the bow ties and pocket triangles for all the men; Russell, Best Man, Ushers, Father of the Bride and Brother of the bride. We had a shopping trip with my mum at the mill shop in Yorkshire to pick materials, we wanted to go with all different colours and patterns but with a complementing look and feel. We wanted them to be fun and interesting, the fox and squirrel material Russell and my brother wore caused quite a stir! Everyone was so impressed by my mum's talent and skills, she really was the DIY queen of the wedding!"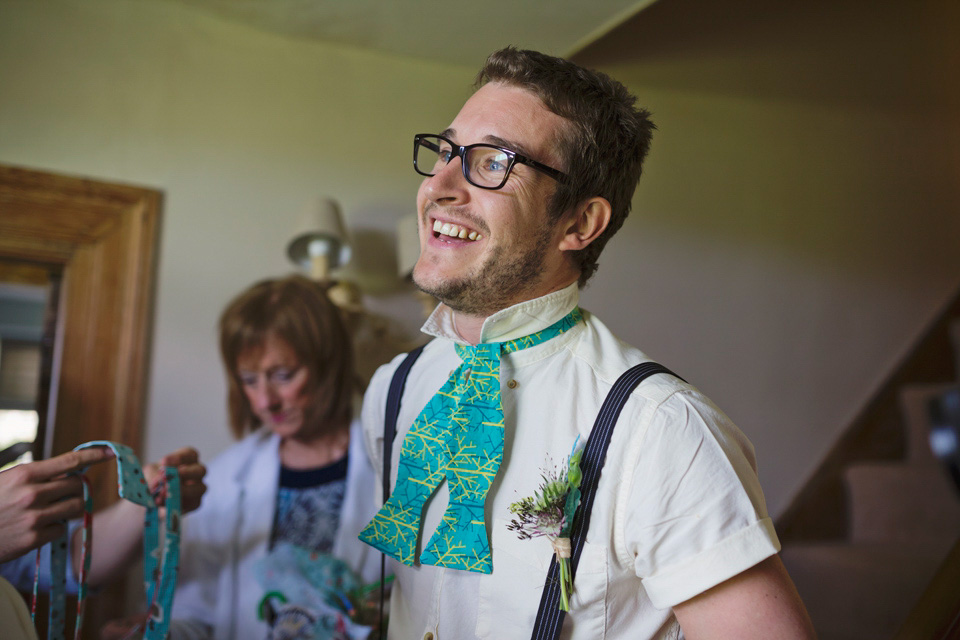 "For the buttonholes I'd ordered some feathers and coloured leaf skeletons from EBay and Etsy to add to the variety, and my dad also had elements from my mum's hat to tie them in together."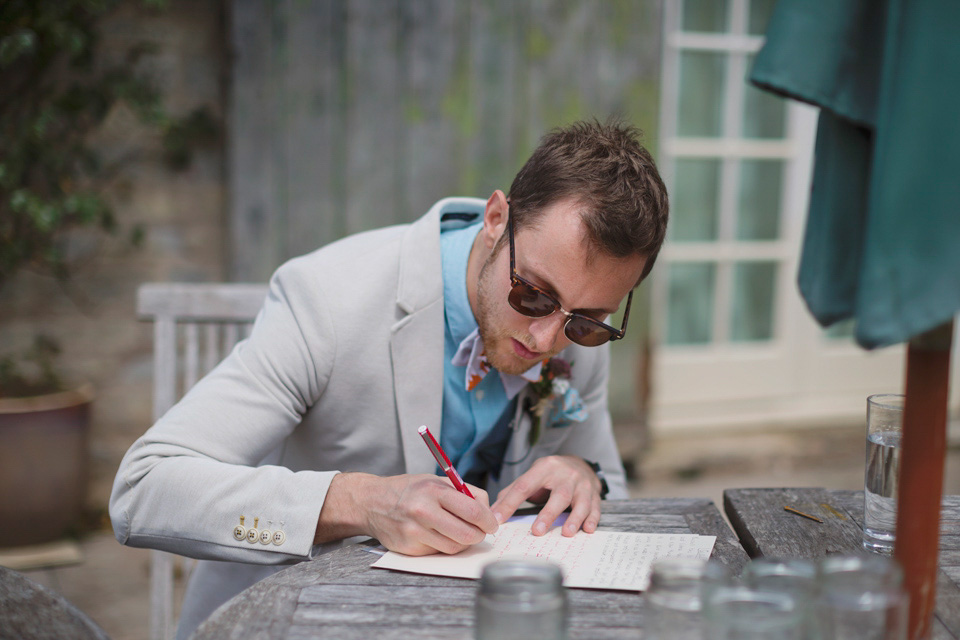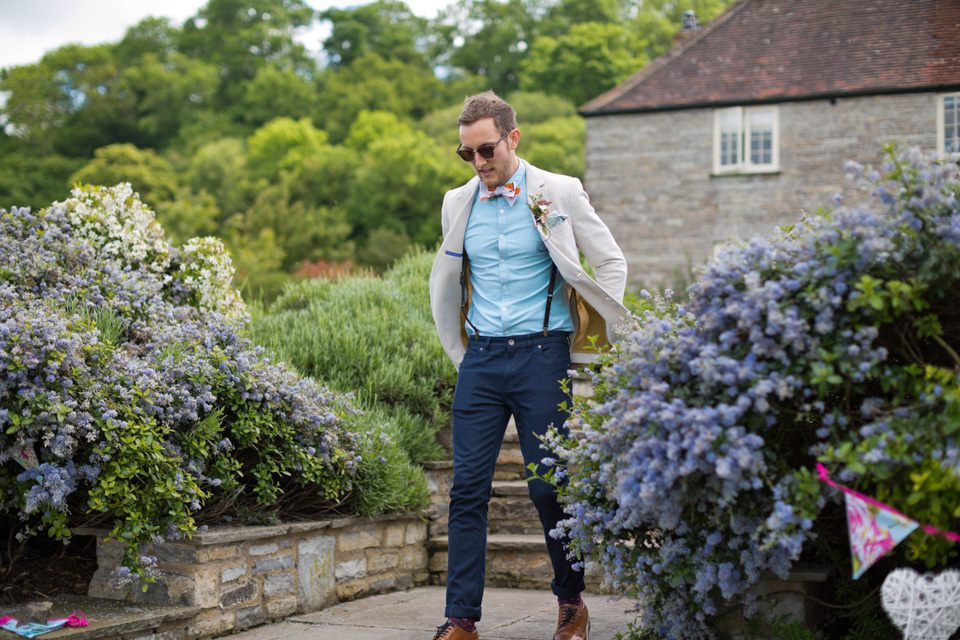 "We were incredibly lucky to have everything on one site so everyone could easily walk from the ceremony to the reception, we were even luckier that Farmer John has an Austin 10, his first ever car in pristine condition, which he was happy for us to us, it was an incredible experience and a real visual treat for our guests honking the horn up the driveway and driving onto the grass to the ceremony drop off area, just perfect!"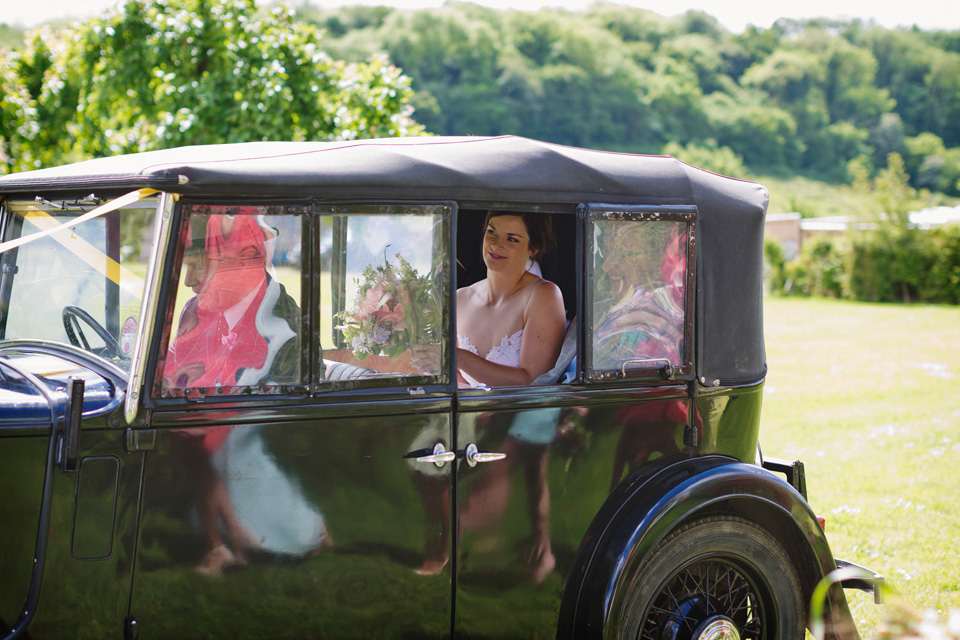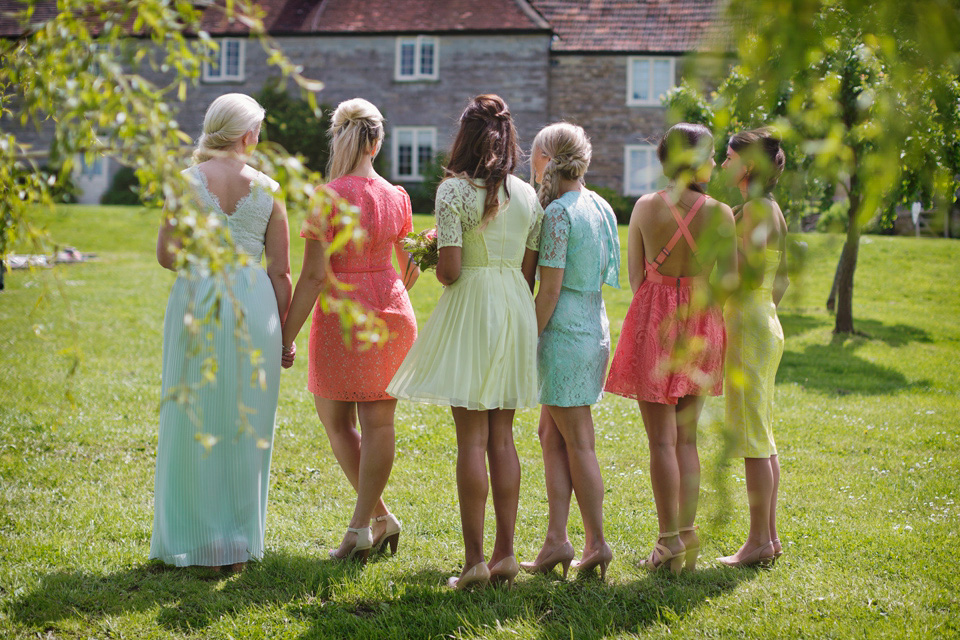 "My dad gave my away twice, once at the registry and the second time at the Somerset wedding both were magical and precious memories! I walked down the aisle at the registry to "You are All I see" by Active Child and "Whispering Wild" written and sung acoustically by Lily and Meg to walk down the aisle at the Somerset wedding."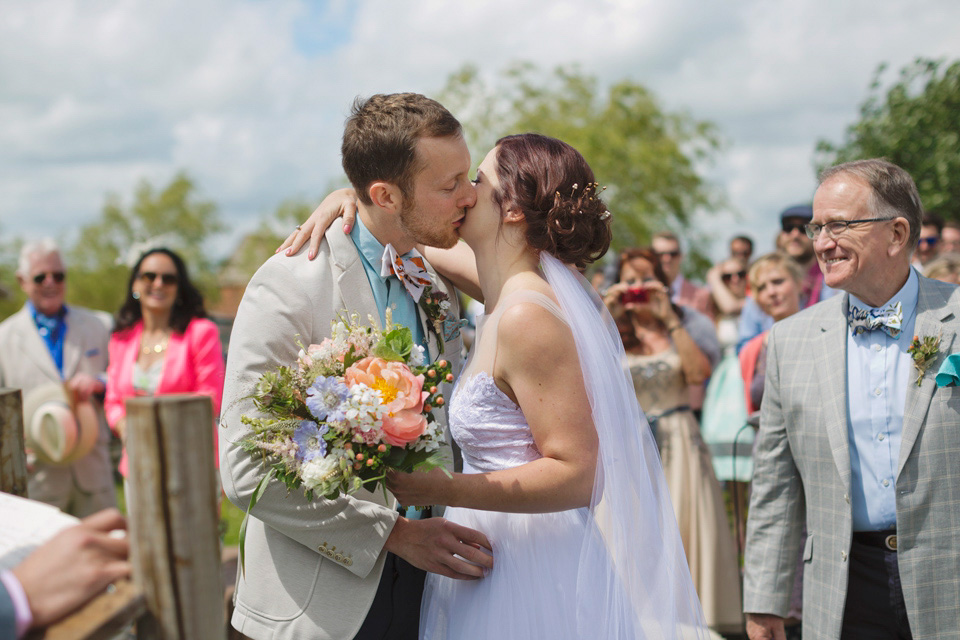 "Our whole ceremony including the vows were written by ourselves and my brother, who was the master of ceremony.  He did a phenomenal job and everyone thought he was a natural (it was no mean feat being master of ceremony in front of 140 guests at your sisters wedding!).
We asked my sister/chief bridesmaid and one of Russell's usher to deliver a reading of their choice during the ceremony. My sister wrote a very personal and moving poem  – along with Tom's reading, they made the ceremony really special."
"We borrowed picnic hampers from our family and friends which we decorated with vintage table cloths and packed the cream, home-made cherry berry jam my Aunty Pauline made and the homemade scones."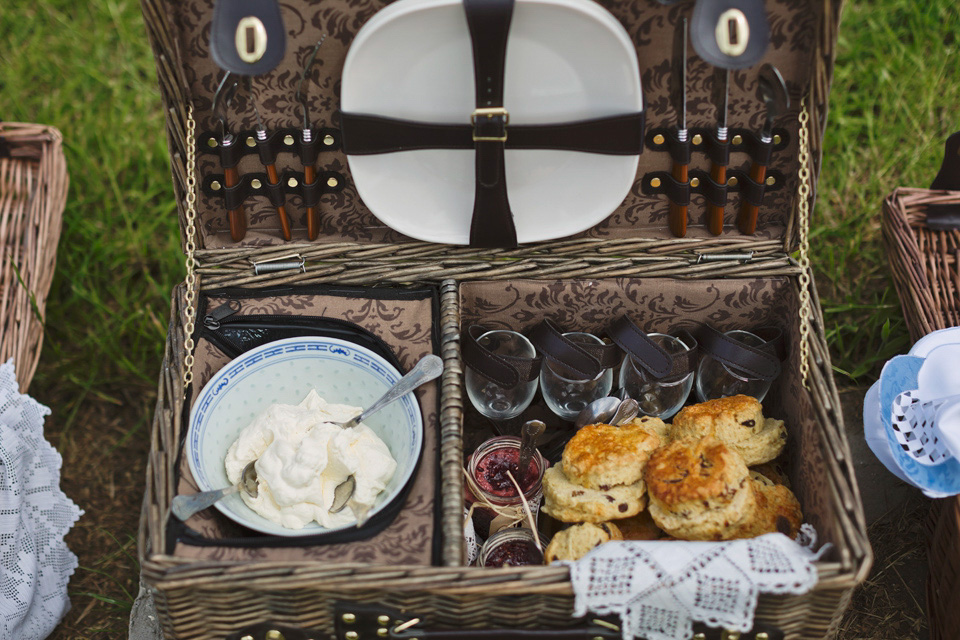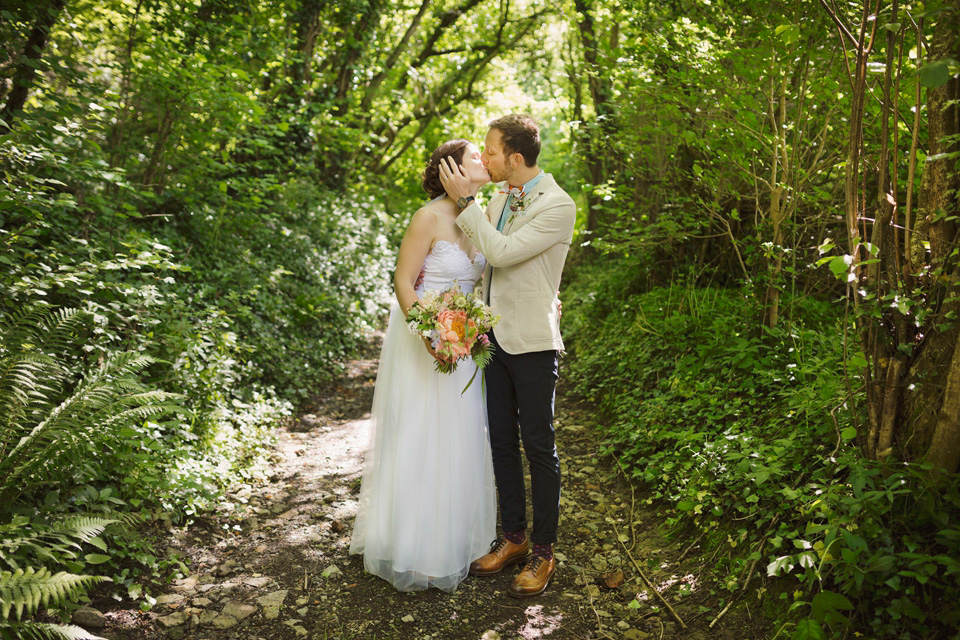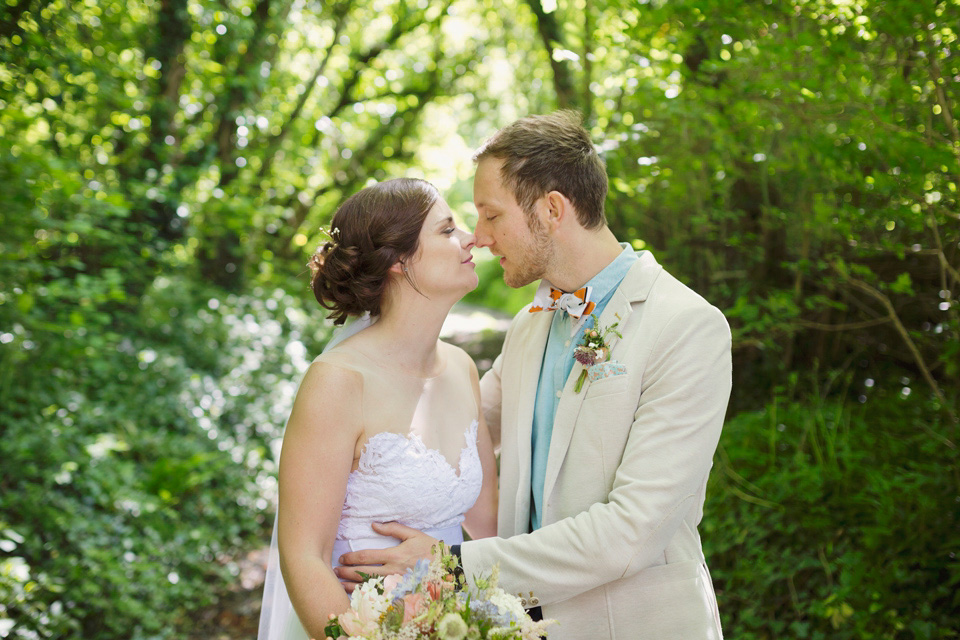 "My mum made 200 metres of beautiful bunting to decorate the barn and the ceremony area, we also had white wicker hearts dangling around the ceremony area, 30 hay bales were delivered  – which was more painful that it sounds as the floods in Somerset meant that all the local suppliers hay crops were ruined.  70 emails later and we had reasonably priced hay bales which was easily my biggest stress during the planning!
We had old rusting farm machinery and old barrels used as bar tables from the farmer and we used lots of ivy from the woods to hide some of our not so pretty DIY essentials (like crates of glasses!  My bridesmaids made ivy covered wire numbers to number the tables, and I'd sourced 10 different patterned floral napkins for everyone place which really gave a colourful feel.  We'd also written personal 'letters of love' to each of our guests and hung them on gold wire with miniature gold pegs  – we wanted everyone to get a specialised note to say 'thank-you for sharing our day'.
But the thing that really made the barn look super special was the lighting by All The Kit, they installed a tea-light canopy which looked amazing as well as a UV neon light, golden coloured up-lighters and disco lights for the dance floor, as well as a smoke machine as requested with delight by Russell."
"Our stationary was all DIY. Russell being a whizz with graphics designed our save the date cards and our email invites, for our order of service, table plans, drinks menu etc.  We borrowed old large picture frames from family and friends, painted them with blackboard paint and decorated them with blackboard pens, myself and the best lady spent hours designing the boards but it was totally worth it! For the place names I sourced brown luggage tags from Etsy, tied with gold raffia for the girls and twine for the boys and decorated with gold pen."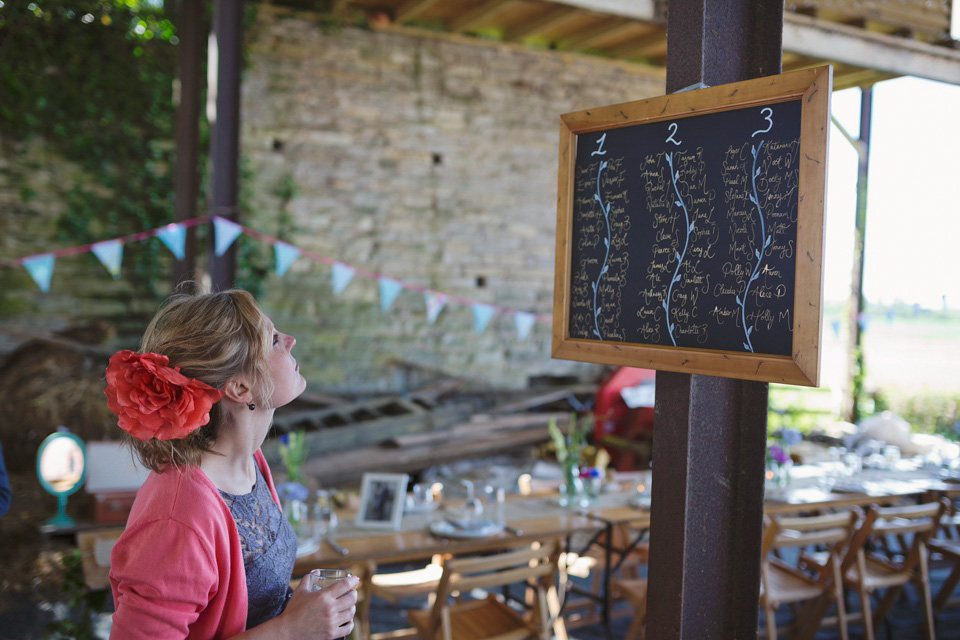 "Catering was a tough one as we didn't have access to a kitchen on site, I spent hours and emailed what felt like hundreds of companies requesting quotes and if they could accommodate our rustic/DIY set up.  
Following our ceremony we had a Prosecco picnic with sandwiches, scones, and tea on the lawn, all the sandwiches were expertly made that morning rather frantically by the best lady, ushers and friends in an assembly line fashion.  Our scones for the picnic, starters and salads to accompany the main were made by Sommervilles a local vegetarian caterer and shop. We decided to go with a vegetarian caterer as we wanted really interesting and tasty options and this is what they specialise in, we only had one vegetarian so that didn't sway our decision it was the delights they had to offer us. They were happy to work alongside our other caterers who were serving meat (which some vegetarian caterers weren't prepared to do). They set up their station in the tennis court behind the barn. The farmer had some slate tiles which we used for our starters which looked really interesting and rustic. Their food was delicious!"
"For starters, we had:-
Mozzarella with tomato and basil 
Garlic aubergine wedges, fresh leaf coriander and halloumi cheese
Oven roasted de-skinned red pepper wrapped around herbed goats cheese and mascarpone
Spicy marinated mixed olives
Stacks of artisan organic ciabatta and organic black olive bread
Cubed feta with pink peppercorns in extra virgin olive oil and fresh herbs served in a glass kilner jar
China Ramekins filled with freshly made un-waxed lemon zest, lemon juice, garlic and fresh leaf coriander hummus
Marinated Artichoke hearts     
Salads;
Toasted quinoa, red pepper, spring onion, toasted sesame dressing
5 beans (cannelini, kidney, pinto, borlotti, chick peas) red onion, red pepper, flat leaved parsley, mustard dressing
red carmargue rice, carrot, parsley, feta, olive oil dressing
pasta, orange & yellow pepper, artichoke heart, pesto dressing
carrot rape, onion slivers, fresh leaf coriander, giant capers, lemon dressing
tomato, fresh basil, kalamata & green olives, red onion, mozzarella, french dressing.
For mains West Country Hog Roasts cooked off site and then warmed on site in their van roasted hog, lamb and chickens with peach and apple sauce, homemade stuffing, gravy and goose fat roasted new potatoes in garlic, rosemary and thyme.
The meat was so tender and juicy, it really was a delicious meal all our guests commented on how excellent the food was. I think we'd surpassed their expectations for a working barn with no kitchen."
"For desserts we asked all our guests who had an interest in baking to bring home-made desserts with them, we were truly spoilt with cakes, biscuits, flapjack, brownies to name a few, we even had to get another table as there were so many. It looked brilliant and every last treat was eaten (some for breakfast the next day). We loved getting our family and friends involved especially given they make exceedingly good cakes!"
"For drinks, luckily my sister works for Coca-Cola so we were able to get crates of soft drinks at family and friends rates. We got a truck load of Prosecco from Tesco at Christmas time, making the most of the seasonal deals, and then collected wines over the months which were on good deals at our local sainsbury's. We had vodka and gin for later doors and some flavoured vodka (skittles and worthers original flavour) made by one of our guests but before this we tucked into Yorkshire Ales called Platinum Blonde which we had transported down from the brewery, Milltown Brewing Co in the next village to my parent's home, we had to bring a bit of Yorkshire to Somerset!
We also wanted to offer some of Somersets' finest and we did this by the deadly 6% Somerset Cider from Sheppy's Cider Farm near Taunton, it certainly kept everyone merry until the end!"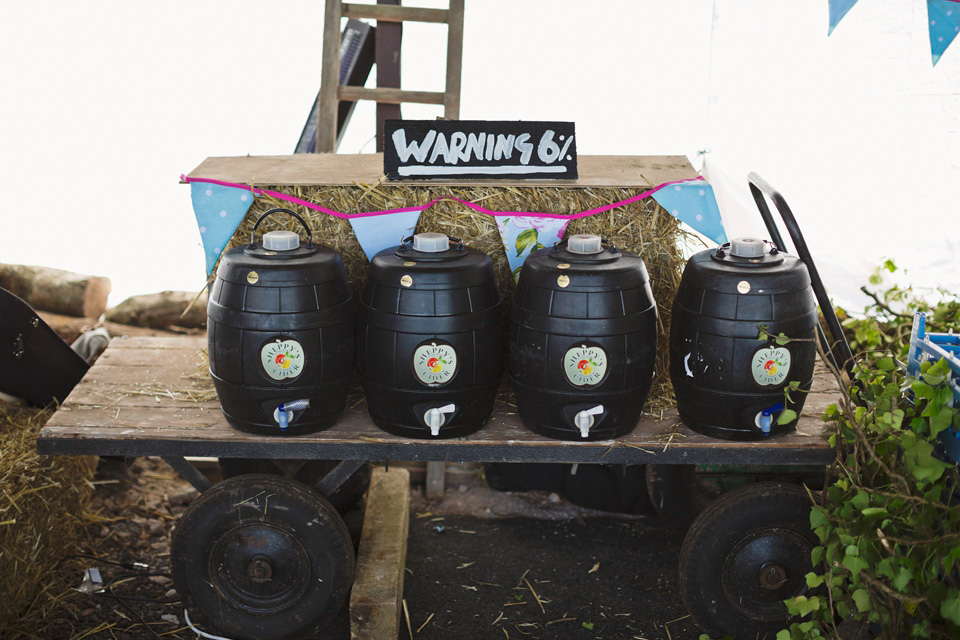 "We ordered buckets of flowers for our table decorations which we could arrange ourselves (with the help of six bridesmaids).  They smelt and looks amazing in their hotch-potch vessels and scattered amongst the tables and in various old watering cans and buckets the farmer had lying around."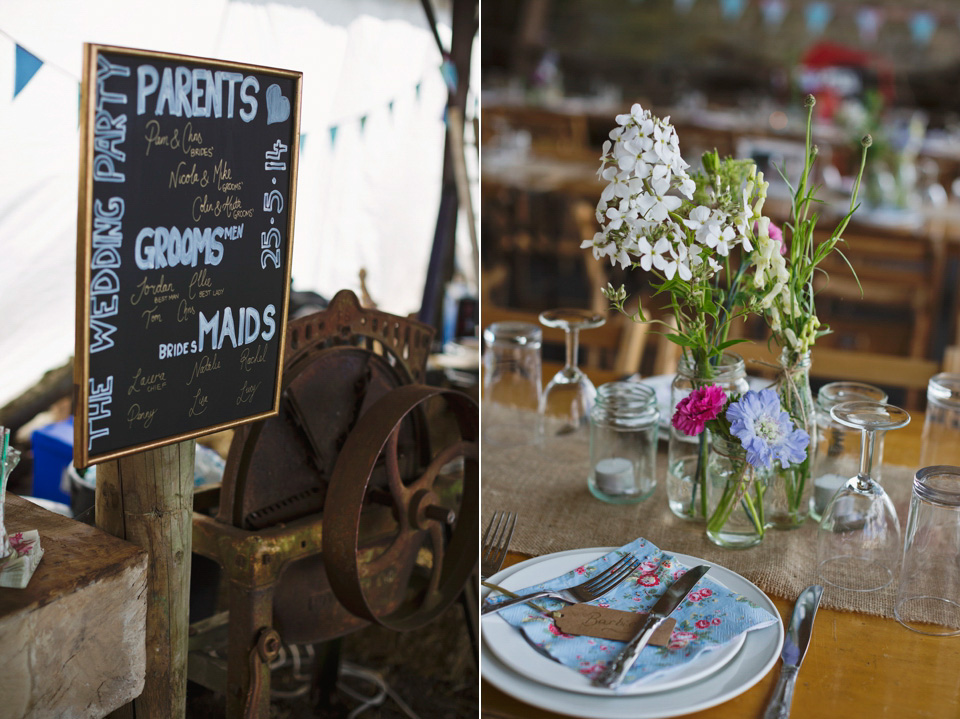 "We created a photo board out of an old garden fence which looked really effective, hessian runners frames the tables and the farmer had created the most stunning bar from railway sleepers and logs."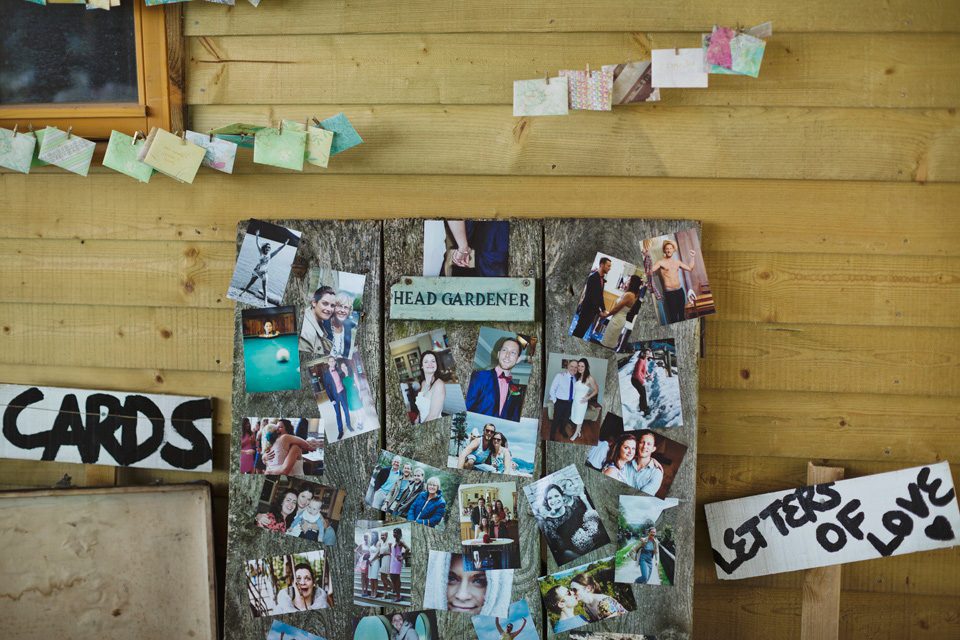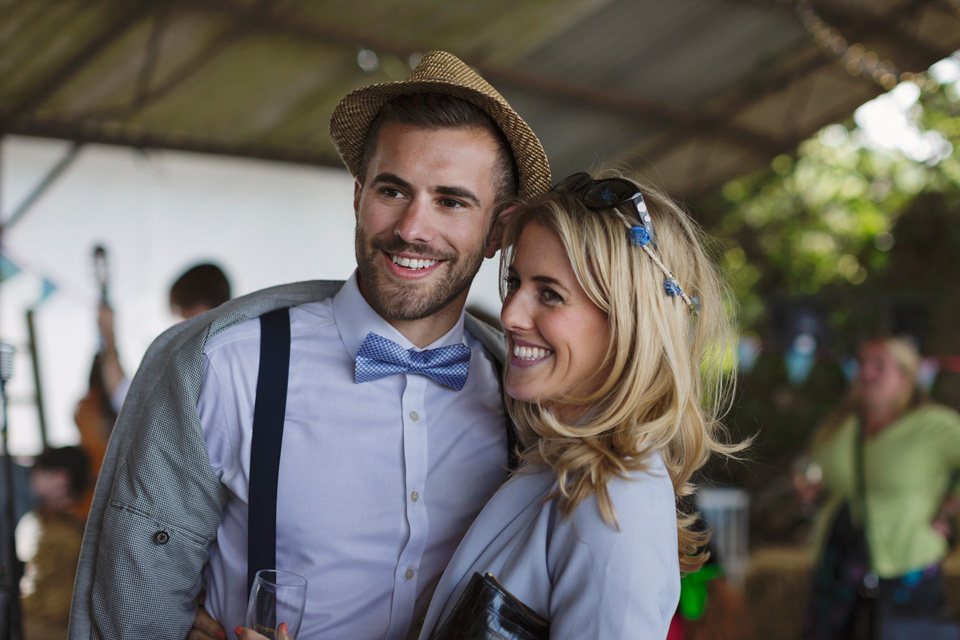 "The cake was another of my mum's masterpieces! As my nickname is Barbie, I wanted a Barbie and Ken/Russell on top of the cake. But my mum took it several steps further by dressing them in matching outfits to our own, including hair design, veil and hairpins, and decorating the cake with icing which matched the 200 meters of handmade bunting she'd also made. She also added a fairy with a present which was my teddy bear inside (a very small icing version) because I used to believe in the tooth fairy!
Everyone loved it and was stunned when they found out it wasn't created by a professional cake maker!"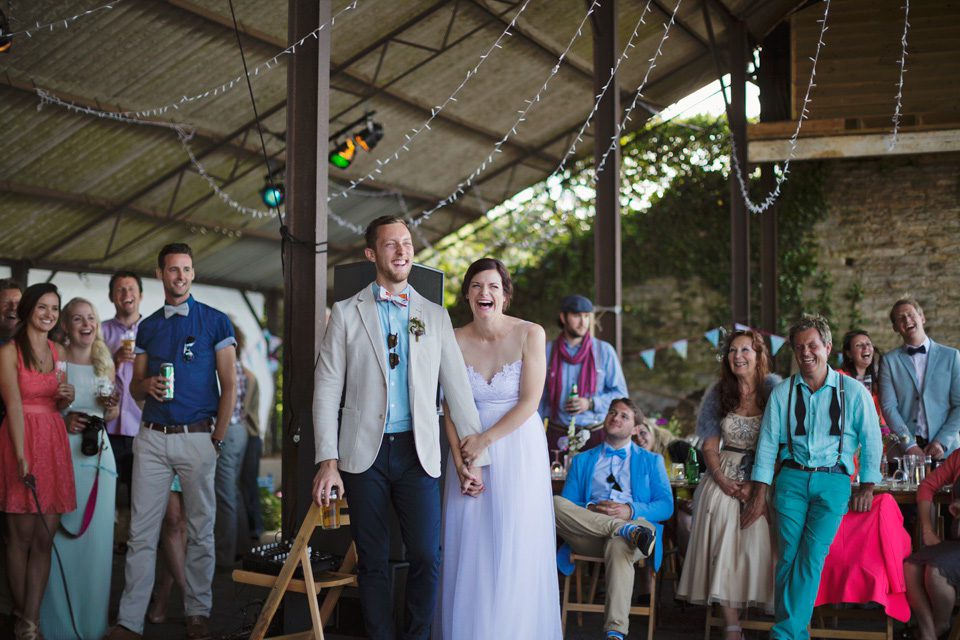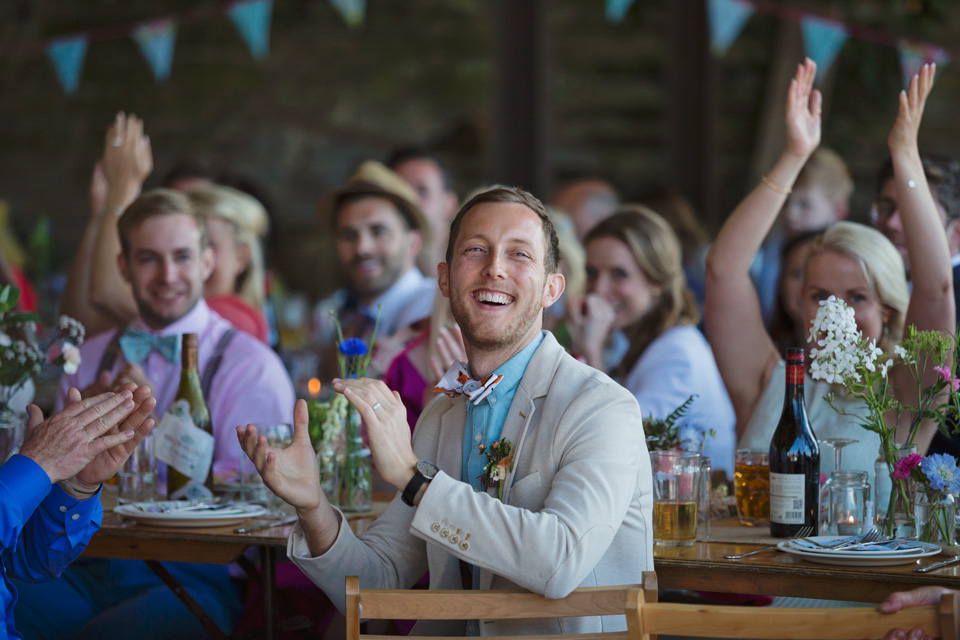 "I jumped on the increasing bride trend and did a speech our informal day meant we could bend and break the rules wherever we liked and I'm never short of a word or two. I used to pride myself on my speeches at uni before a night up to get everyone pumped, so I couldn't miss an opportunity to take centre stage, but on a serious note there were so many people we needed to thank as our dream DIY day wouldn't have been possible without their help! I also wanted to tell everyone how much I love Russell and am so excited to be his wife. Russell on the other hand opted for video instead of a speech given he speaks so fast (even more so when nervous).
I knew he was up to something as I wasn't allowed in the living room where the computer is for 3 days, I thought perhaps he was creating a photo montage of our relationship to date with a backing track, but what he did was so much more than that!! He started with the Sri Lanka Engagement video which instantly had me in tears of happiness, followed by my crazy family then my equally mental friends lip bub videos. It blew everyone away and we were roaring with laughter, I couldn't believe my luck and it was just amazing to enjoy something that was a total surprise on the day as everything else had been planned meticulously down to the last detail."
"I couldn't pick one part as the favourite as there were some many elements of the day, I think just seeing all our DIY, research, stress, hard work and real team effort from our family and friends coming together, we pulled off a mammoth task and it was quite frankly incredible!"
"Our first dance track was "Prize Possession" by Isley Borthers the Follow Me remix. We managed to start our expert dance moves with heads, shoulders, knees and toes classic move, then went into the usual swaying from side to side with the obvious back drop. The pinnacle though was our LIFT, which we'd invented the morning before the big day and hadn't practiced since, we think we just about pulled it off though, it certainly got a loud cheer!"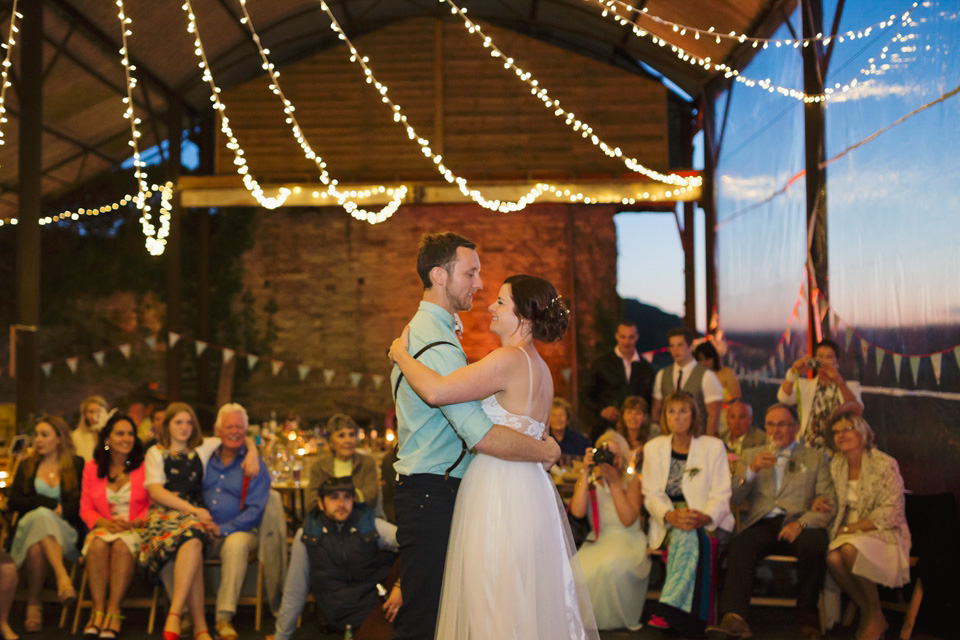 Words of wisdom…
"Do not plan anything the 4 weekends before your wedding (especially if like us you are doing a totally DIY day!) I had three hen dos (two were mine) and our wedding registry in the weekends running up. My hen dos arranged by my wonderful sister/chief bridesmaid were incredible but because I was so manic in the run up I didn't give myself chance to get excited about them before which would have been nice!
Trust in your suppliers, they are experts in what they do! Ours were amazing and really exceeded our expectations! I had been so focused on the details during the planning and on the day I did not care about the details, but I am so glad I did care before as they really made it look beautiful!
Many couples don't opt for a video but for us we were going to go for the best we could find or none at all given the high standards Russell had as if he had it his way he'd have probably filmed the wedding himself or perhaps strapped our go pro camera to my head. It was the best money we spent on the whole wedding as it captures the atmosphere perfectly. We made our budget fit a videographer, luckily Jon at Happy Wedding Films gave us a competitive price. But for those couples on the fence about whether or not it's worth it, for us it 100% was!"
"We created our own photo booth using an app on our ipad, and a stand and lights Russell owns for his photography, the app was only £15 and worked brilliantly as a self-serve photobooth as our guests only had one button to press and it counted them down 4 times to create the official photobooth effect pictures, with hilarious results. We'd spent a fortune at Clapham Party Store and filled a charity shop vintage suitcase with silly fancy dress including a pigs snout, fairy wings, a viking helmet, police man's hat to name a few, it was brilliant to see them on the dance floor later on, worth every penny!
On reflection the things I would do differently; Space out the bridesmaids and bride walk down the aisle so it lasts longer and everyone gets chance to take in everything, we were too close together so it was over in a flash! Ensure the table plan was designed the right way round, being DIY I didn't think about where the table plan frames would be hung up so it created all kinds of confusion, especially as I'd written nicknames on everyone's place names not their official names, it was quite amusing though!
Make sure the projector screen/bedsheet wasn't dazzled by the sun setting so we had to push back the speeches and videos to much later. And don't forget to put out the cheese and biscuits you'd bought and travelled from France and the accompanying pickle hand-made by your Aunty Pauline.  We did enjoy lots of cheese parties back in London afterwards as a result!"
This wedding was always meant to be shared on Love My Dress – it is beyond perfection! I can only imagine how much work went in to organising this beautiful day, but what an incredible result for Russell and Victoria – and what a priceless set of photographs and film to keep forever as a reminder of the most perfect, precious day.
Huge thanks to both photographer Mark Tattersall and film makers Happy Wedding Films for sharing their work with us today.
Love Annabel xx
Photographer – Mark Tattersall
Film Production – Happy Wedding Films
Venue – A private farm in Somerset
Bride's dress – Loren, by Grace Loves Lace
Veil – Etsy
Headpiece – hair pains made by the bride
Shoes –LK Bennett
Brides Earring and Grooms' ring – Walkers Jewellers
Groom – Zara shirt + Farah Vintage trousers + Topman braces + Bertie shoes
Bridesmaids – Ted Baker, Whistles, Topshop, Warehouse + ASOS
Florist – Bramble and Wild
Cake – The brides mum
Transport – Loaned by the farmer who owned the venue
Entertainment – Lily & Meg and Drew & Bob
Hair Stylist – Victoria's Hair Design
Lighting – All The Kit
Glassware, cutlery, crockery – Mid Somerset Catering Hire
Toilets (like at a festival!) – Elliots
Hay Bales – Abbot & Co
Flooring, Dance Floor, Tables and chairs – Global Marquee Hire
Yorkshire Ale – Milltown Brewing Co
Somerset Cider – Sheppy's Cider Farm
Meat Caterer & catering staff – West Country Hog Roasts
Vegetarian Caterer –  Sommervilles
On site beautiful B&B – Park Farm B&B
Fancy dress – Clapham Party Store
Follow Love My Dress® on Google+