I've been blogging about weddings now for just shy of five years, and no, I never, ever tire of them. It's a question I'm occasionally asked – and I can hand on heart tell you that I actually fall deeper for the whole wonderfulness of weddings every day. How can I not, when day in, day out, I get to work on features full of declarations of love and life-long commitments? It's genuine lump in throat stuff for me – and I feel kind of responsible for showing not just how beautiful weddings can be but how meaningful and purposeful too.  So, no, I never tire of beautiful weddings – I consider it an absolute blessing that I get to do what I do, and especially so when weddings like this one are involved.
I was led to this particular wedding by my friend and designer Kate Halfpenny of Halfpenny London (the most amazing creative force, full of energy and who I cannot wait to see to celebrate my birthday next week!).  Bish, a Freelance Producer, married her beau Ian, the Founder and Creative Partner at a production agency, on 26 July this year.  The couple tied the knot with a legal ceremony at the registry office, followed by the most beautiful outdoor blessing at Roughmoor Farm in Somerset.
"We met through work – I was actually Ian's Producer.  We ended up getting together five years after we started working together and we've been together three and a half years now.  Ian proposed in Cambodia in January 2013.  Our wedding represented our shared love of old things; vintage furniture, old music and English country fetes. Weddings can sometimes lack soul so we were determined to fill it full of details and touches reflecting our personalities and tastes."
Photography Copyright (c) 2014, Lucy Turnbull Photography
Bish's choice of a Halfpenny London dress couldn't have been more perfect back but effortlessly glamorous wedding.
"Kate of Halfpenny London and her team offered amazing advice as to the type of dress to go for as well as creating a dress that smashed all expectations.
I adored the simplicity and elegance of the structure and fabrics used too. Kate gently persuaded me away from a black or green dress – my original plan!  I was fully prepared to be in black wearing my Doc Martins (they did feature later in the day!)."
"My Mum made reams of bunting. The bunting backdrop at the blessing was made up of individual sections documenting my life – apparently she spent 6 months sourcing the right materials! 
We also hired a neon 'Bish Bash Bosh' and star lighting we hired from Chris at God's Own Junk Yard."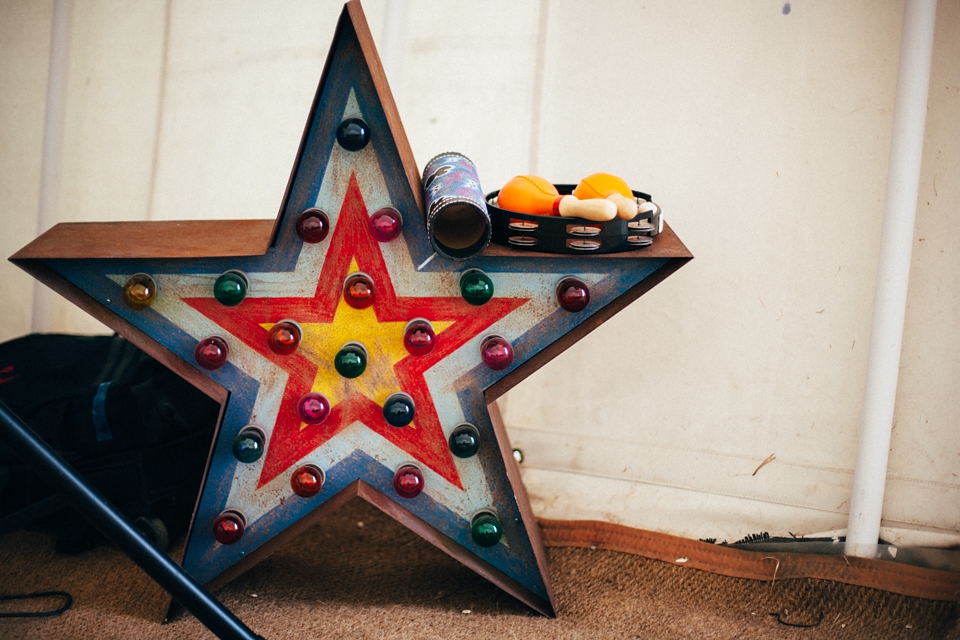 "I wore a headdress and belt by Karin Andreasson, a fabulous jeweller I've know for a while. We met only once to discuss the art deco style I wanted to go for and she created these magnificent pieces."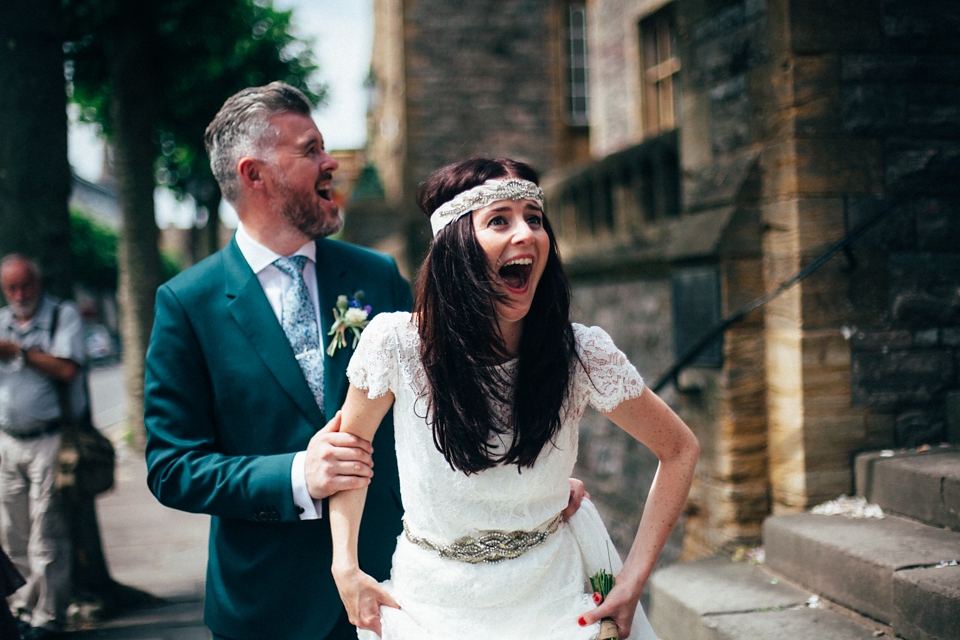 "Our photographer was Lucy Turnbull Photography. Lucy absolutely smashed it. Every moment, every sentiment, every emotion, every detail, she captured perfectly. It's as if she's known me and Ian, and our friends and family forever. Amazing as we only met once before the big day.
Lucy is a true reportage photographer – totally unobtrusive and utterly professional."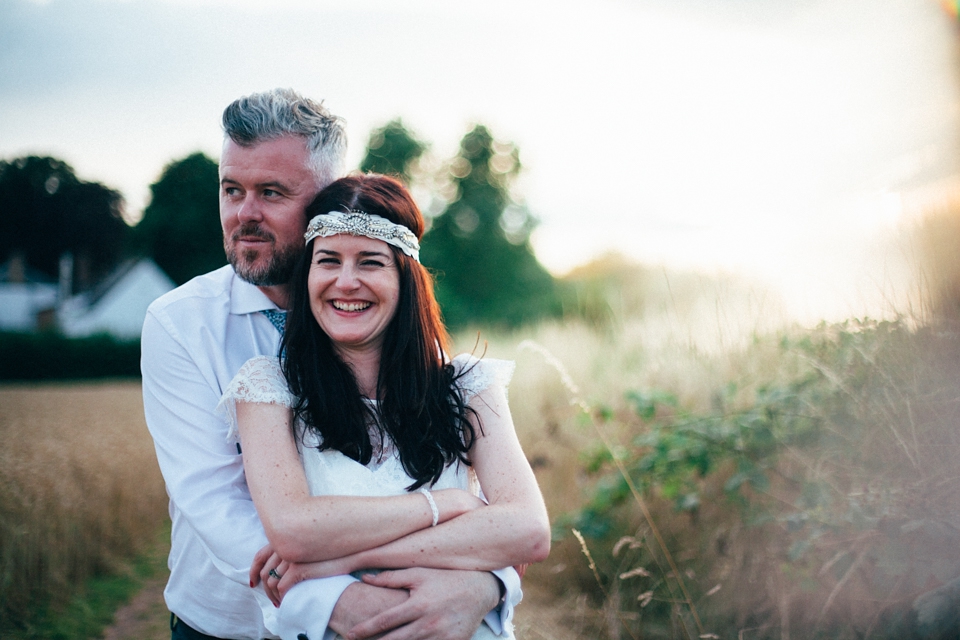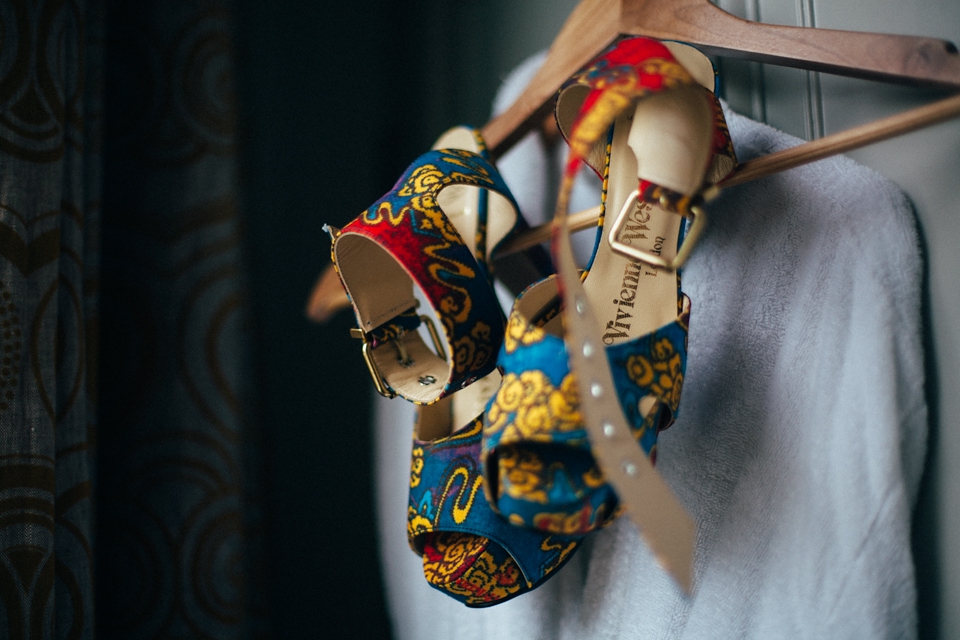 "Jan of JW Blooms grows traditional wild flowers in a field in Somerset. I'm a big fan of wild flowers and they fitted with the simple, effortless style we were hoping to create. The Mums and my Maid of Honour visited the flower field with me two days before the wedding to help choose the types and colours for the bouquets, button holes and for table decorations."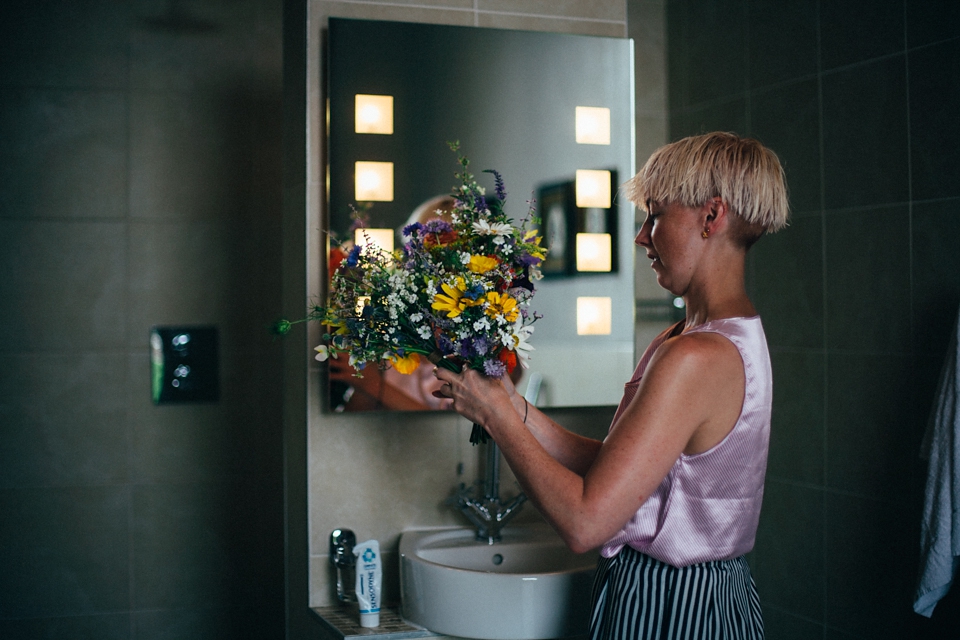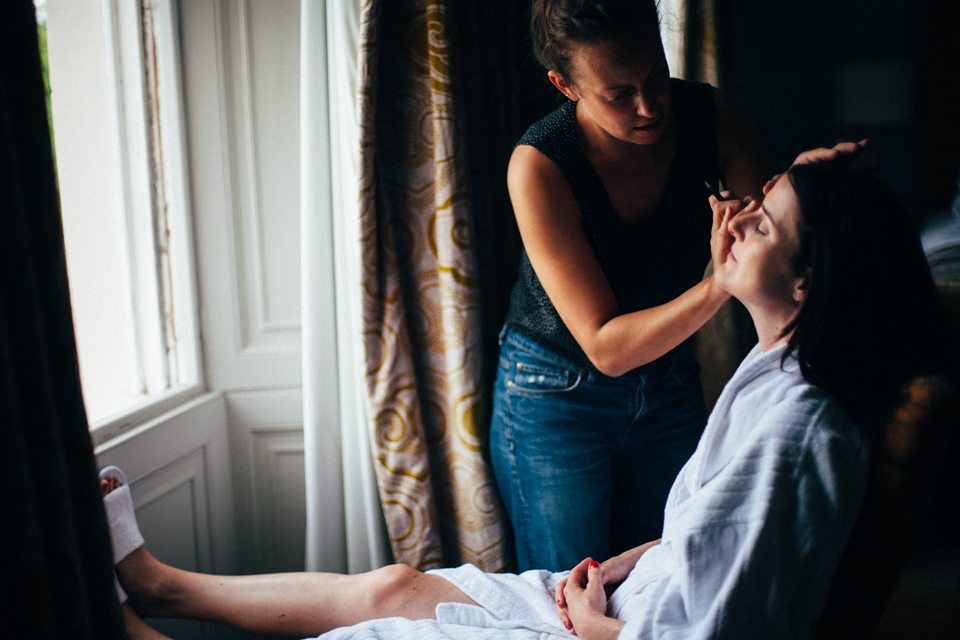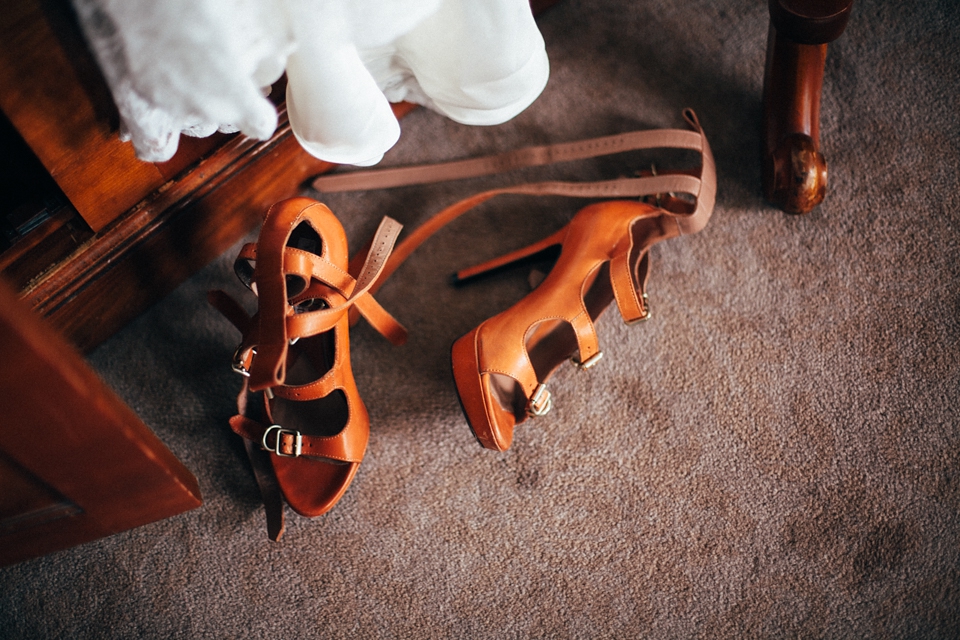 "We hired a 1950s yellow school bus to transport our guests to and from the registry office."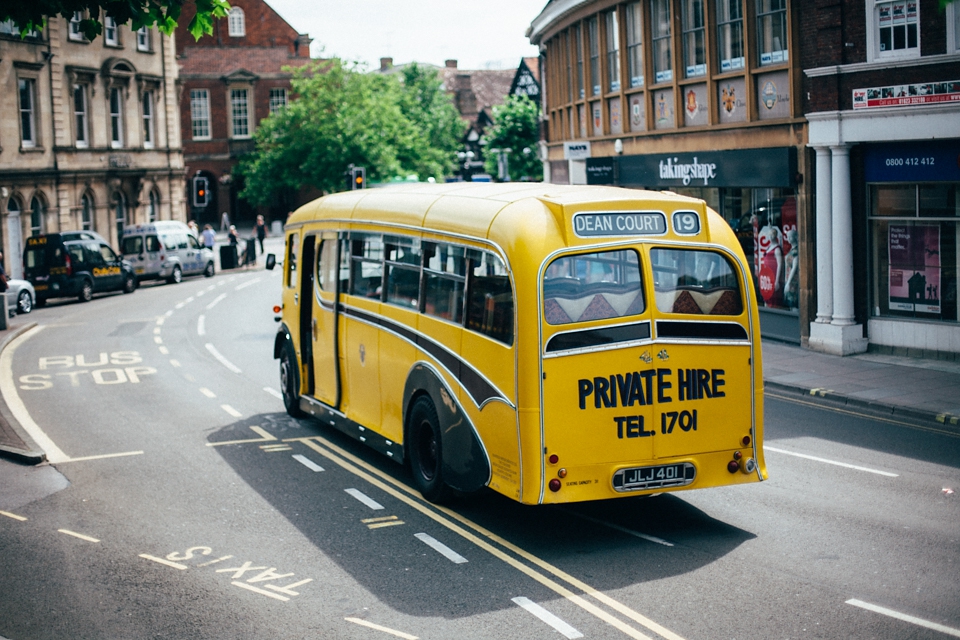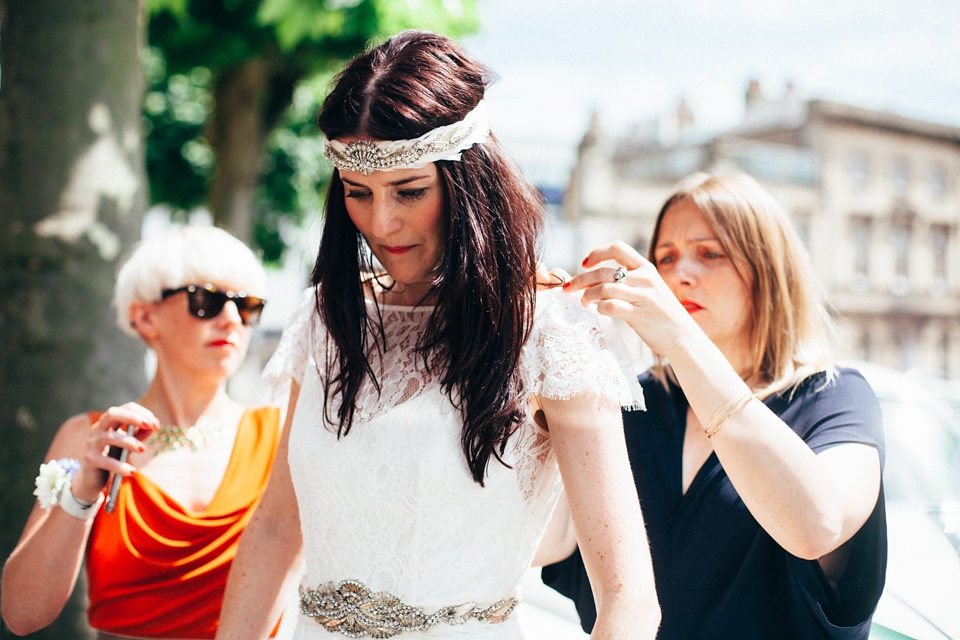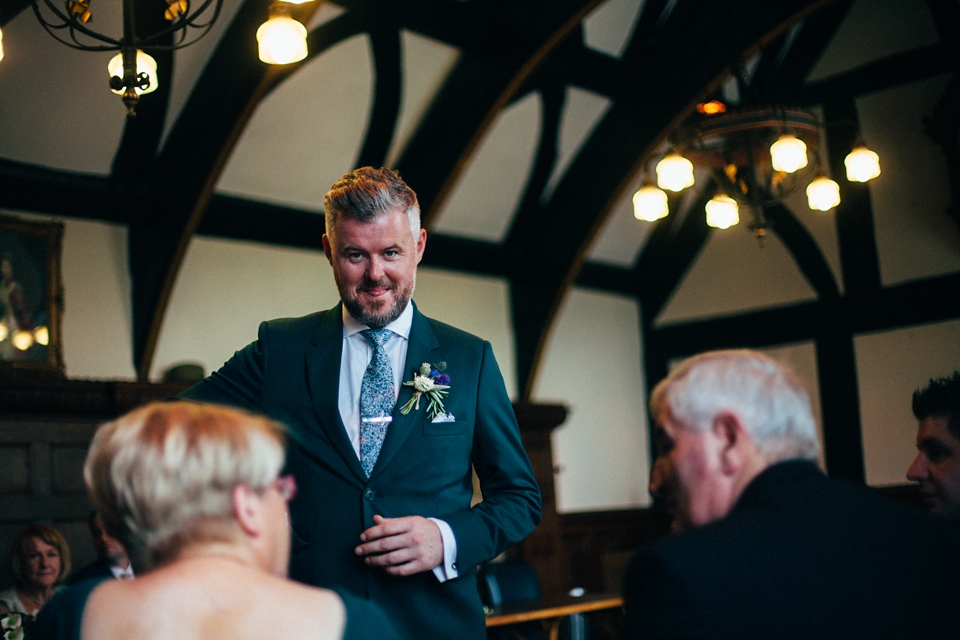 "My Father, John, walked me down the aisle to the sound of Doris Duke's 'The Feeling Is Right' (we exited to 'Tonight The Streets Are Ours', by Richard Hawley."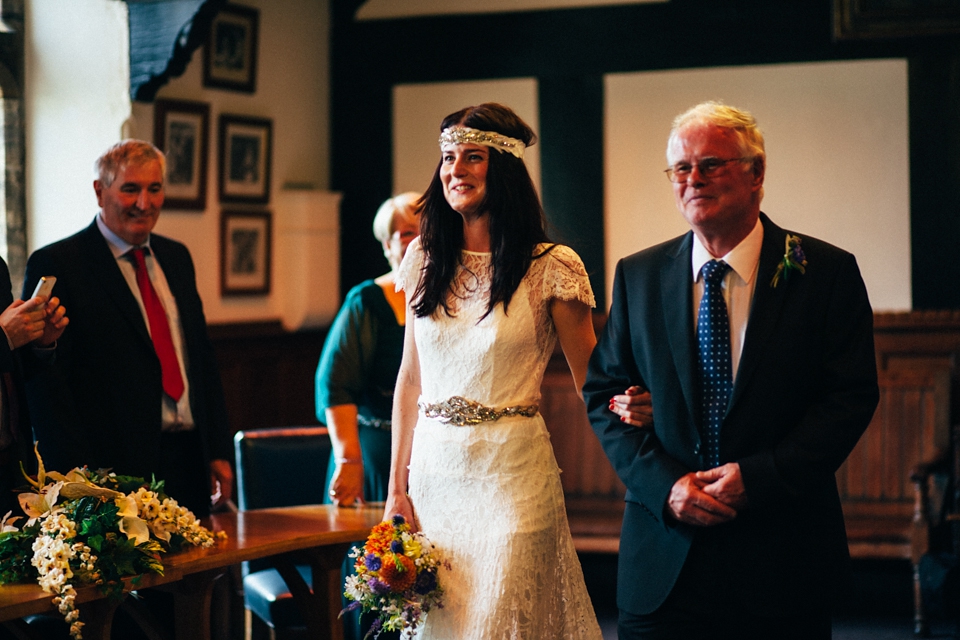 "One of my favourite moments of the day was walking down the aisle and seeing Ian's reaction (I think he was expecting to see me in black) and being surrounded by all of the people we love most in the world."
"Our rings were made by Adam's Gold, a lovely family run jewellers in Hatton Garden. My engagement ring is Palladium, emerald and diamonds and based on a vintage art deco design. Our wedding bands are plain Palladium."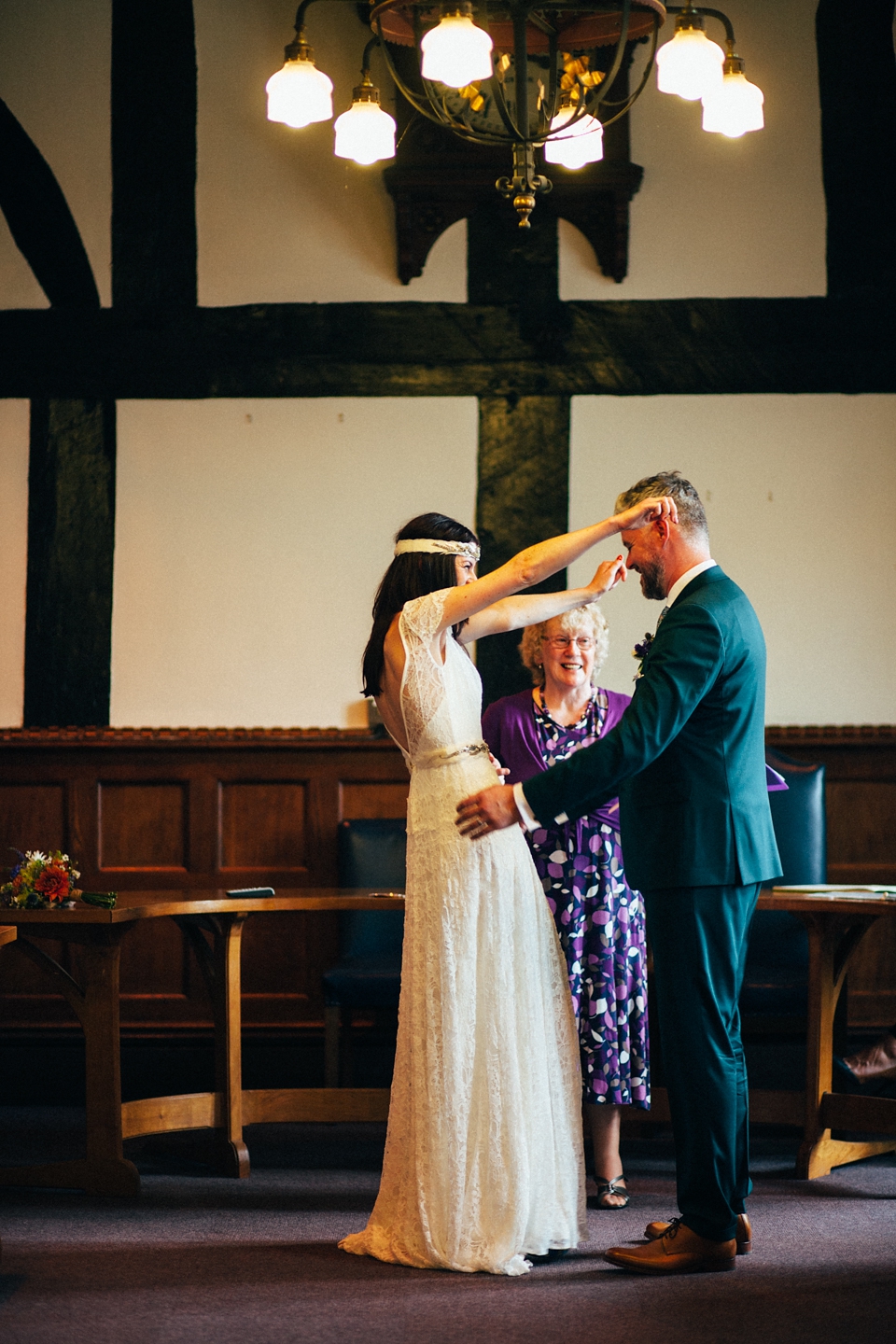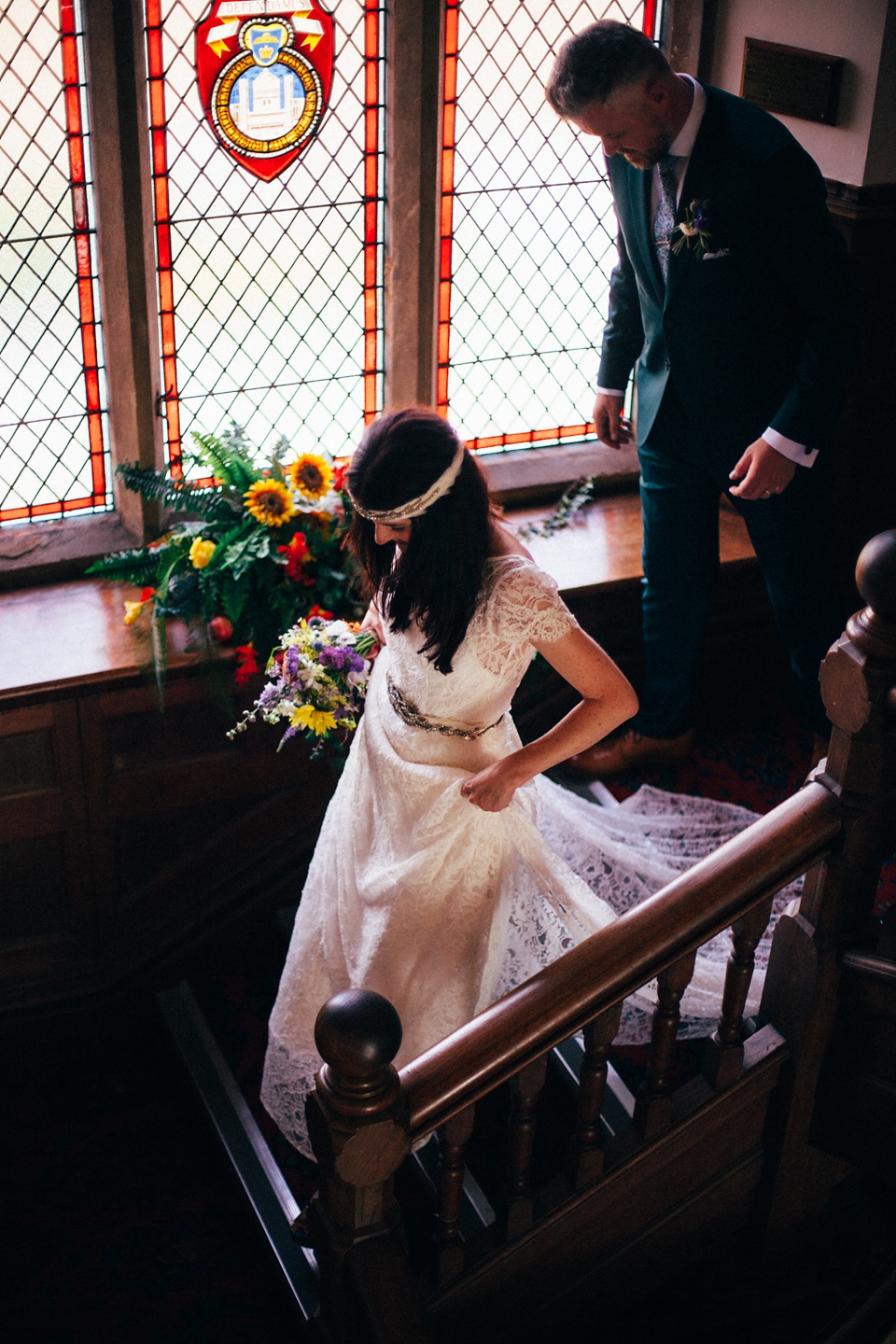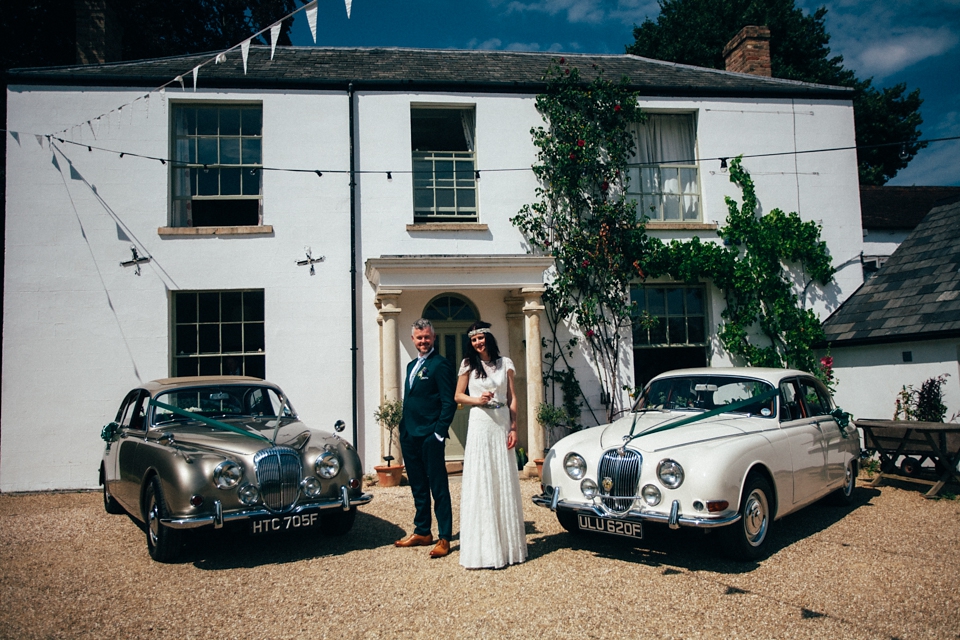 "Jan, our florist, provided the two huge milk urns with wild foliage for the blessing."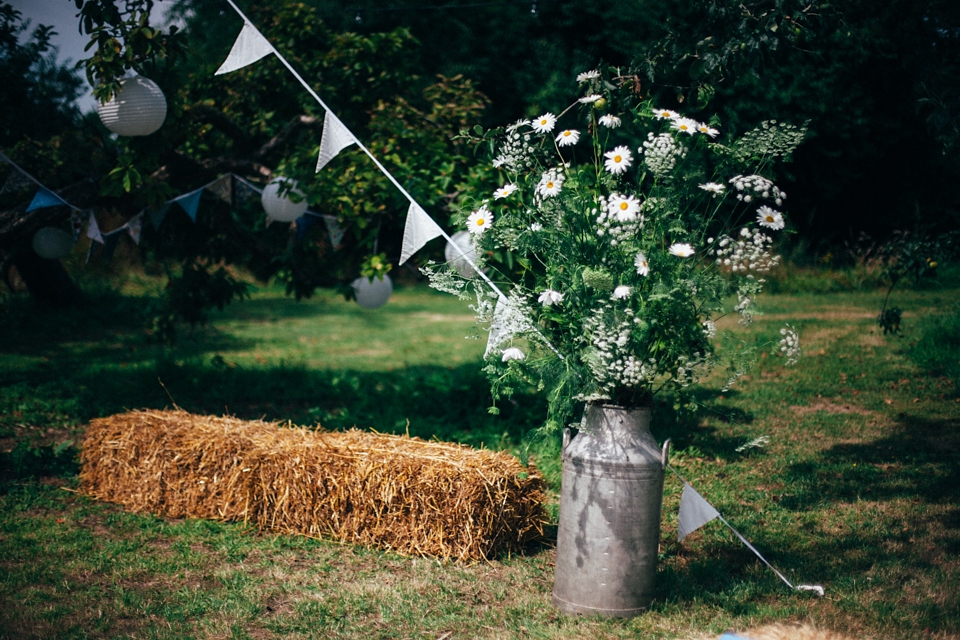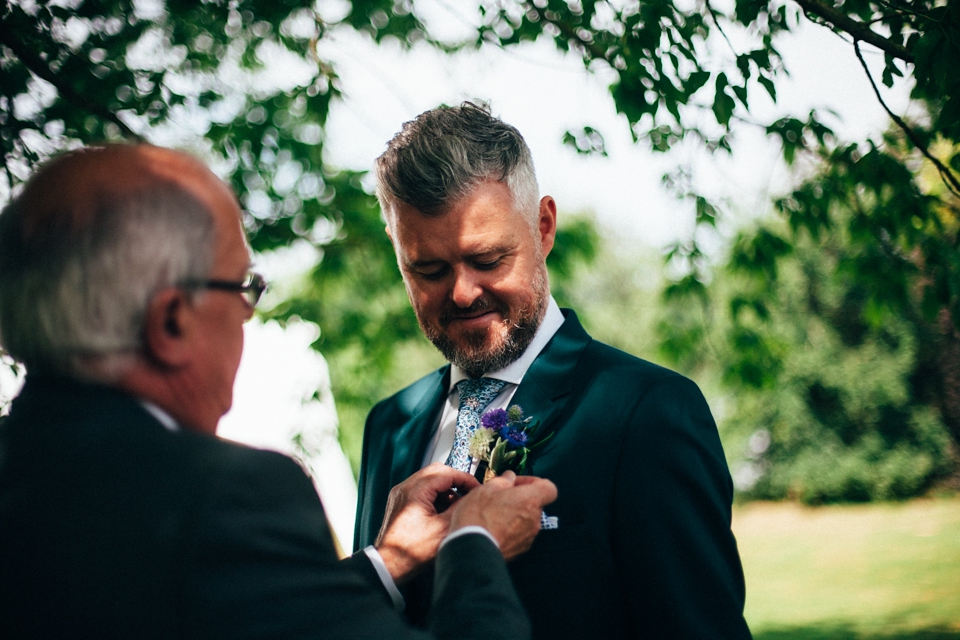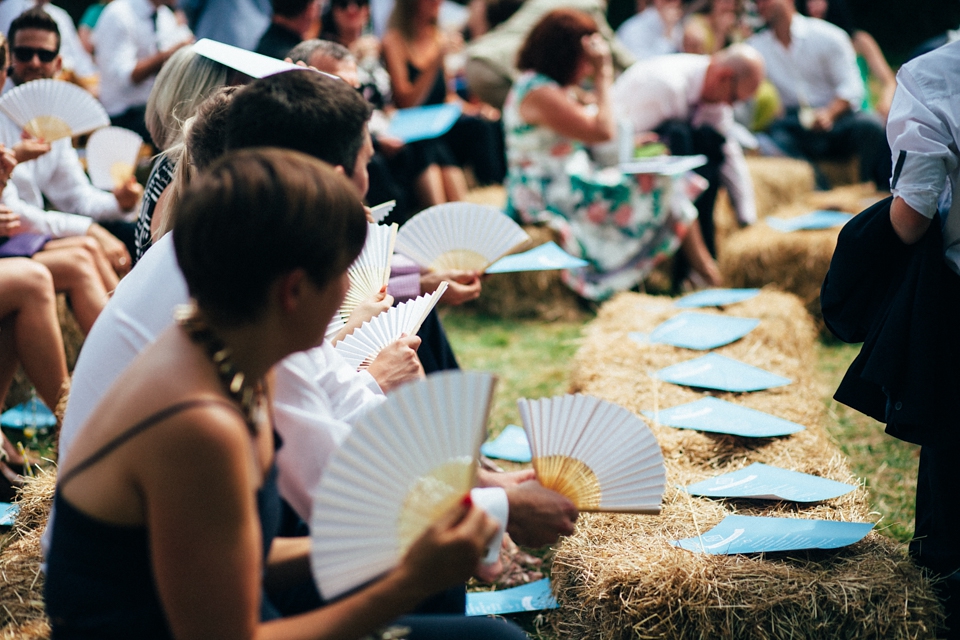 After their legal registry office ceremony, the couple went on to have a blessing at Roughmoor Farm.
"Ideally we would have been able to be legally married by Zena (our celebrant) at Roughmoor Farm, rather than having to go to the registry office to do the legal bit first. Hopefully the law will change to allow this."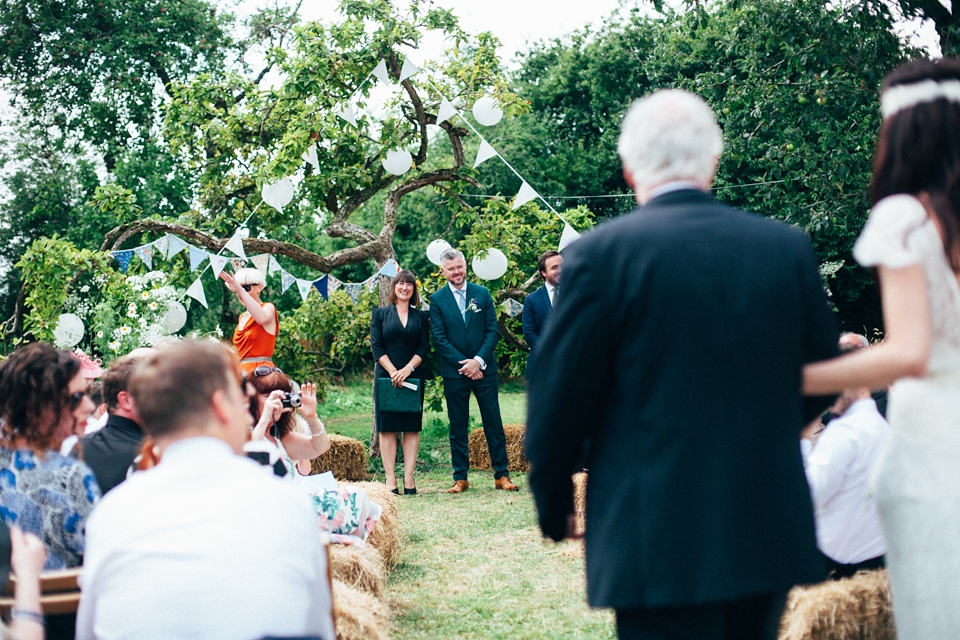 "As I arrived at our blessing, we had Glady's Night and The Pips playing 'It's Summer' (we left to the sound of The Supreme's 'Stoned Love')."
"We tailored our blessing vows with the help of our incredible Celebrant, Zena Birch. We crafted the ceremony with her throughout the year leading up to the wedding. We wanted a ceremony that was personal to us and delivered by someone who knows us."
"Our readings included 'Harvest Moon' by Neil Young – read (and sung in Neil Young style) by my Maid of Honour, Natasha.
My Maid of Honour Emma and Ian's Autnie Mary composed their own readings – Zena kept their readings a surprise – it was such a nice touch to have a few surprises along the way especially when you've rigorously planned every detail!"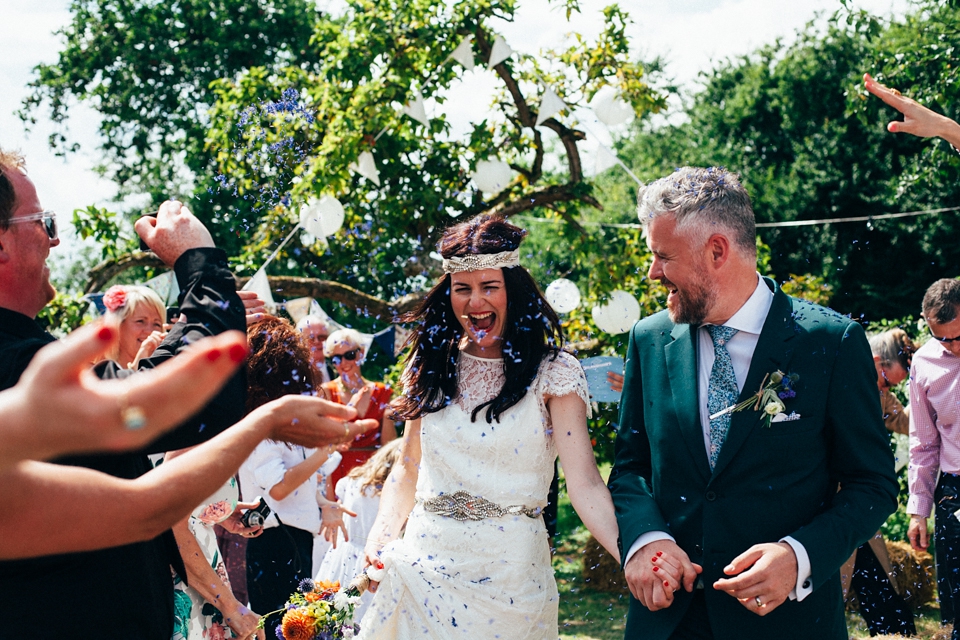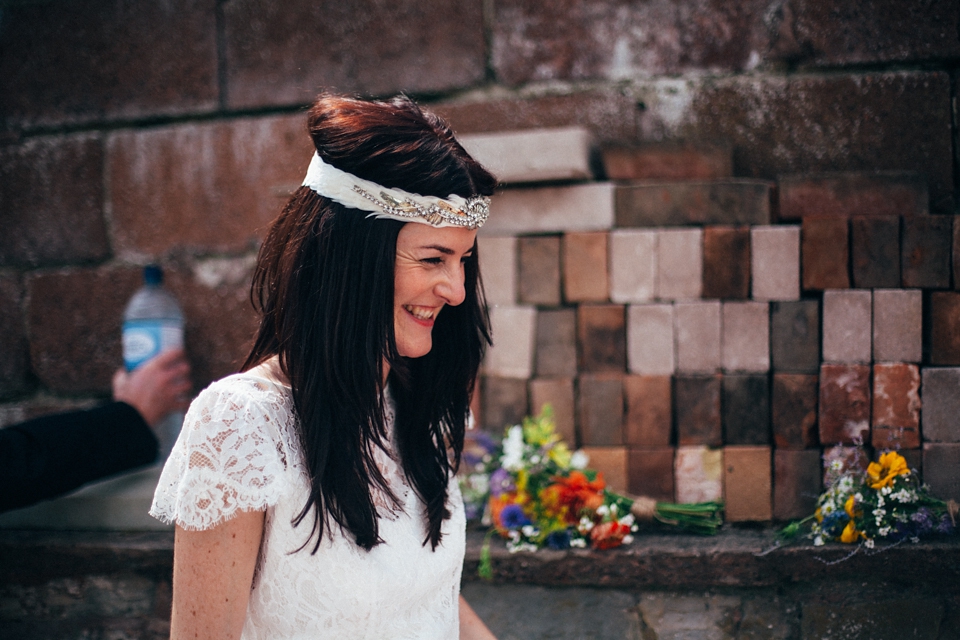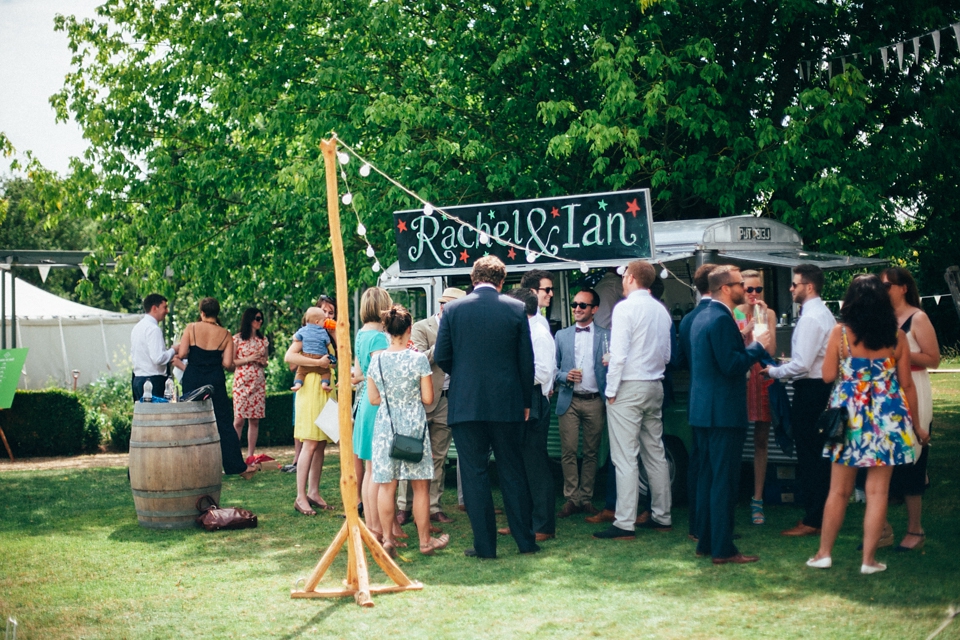 "Tom and Claire of Cowparsley provided the vintage trellis table and chairs, crockery, mirrors, festoon lighting, hay bails, fire pit, skittles and croquet on the lawn.  We also bought a variety of trinkets, wooden fruit crates, my grandma's table cloths, jam jars and tea lights from home."
"We hung old black and white framed photos of our grandparents inside the marquee alongside photos of our friends and family – plus loads of embarrassing photos from our teen years, grumpy disposition and ill-fitting clothes – much to the delight of our guests.
We also took a load of vinyl with us to be played in the evening. We used some of the album covers for the table names – of course, the top table had to be a Smiths album!"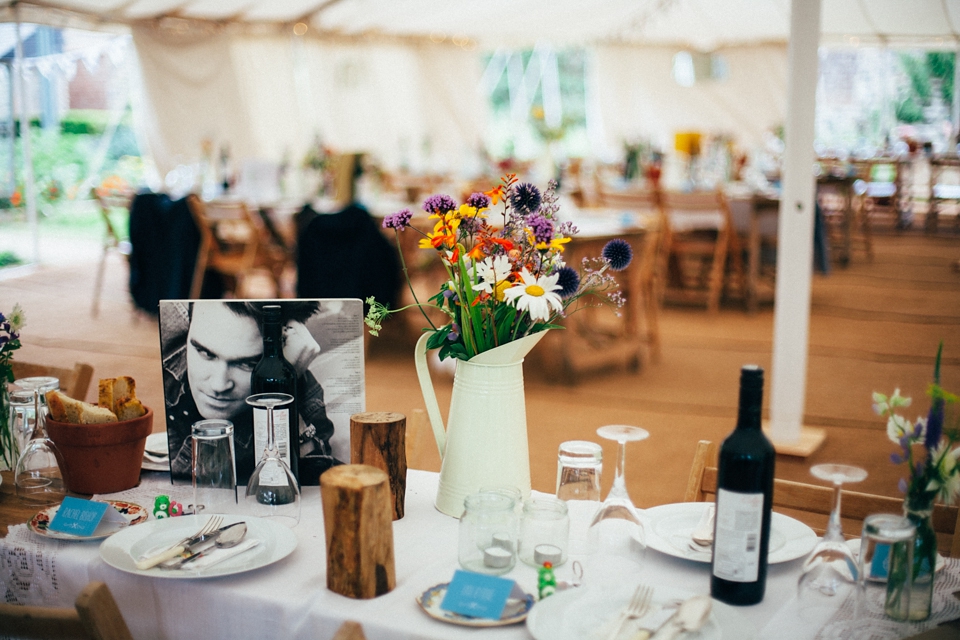 "We opted for a number of traditional fete-style cakes rather than a traditional iced wedding cake – coffee and walnut, victoria sponge, lemon drizzle, etc. Each table had a cake to cut rather than the focus being purely on us.  Our supplier was Tea 'n' Cake ."
"The guys at A Couple of Mugs did a fabulous job of serving cocktails and drinks throughout the day from 'Cedric' their 1970s Citron van." 
"Gideon of Gideon Catering (an ex-River Cottage chef) prepared a delicious feast made up of sharing boards of roasted meats, grilled fish, salads and tarts. Everything is sourced locally.
The vintage cutlery and napkins we hired from Elsie Florence."
"Luckily we were blessed with a scorcher of a day, and in preparation for this, we hired an ice cream tricycle from Café Bon Bon for post ceremony refreshment."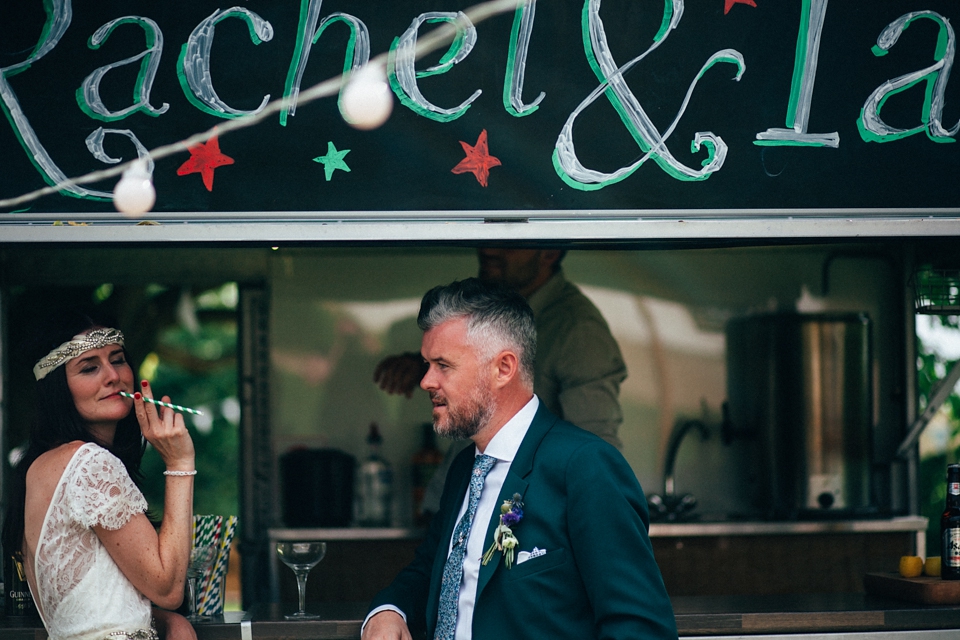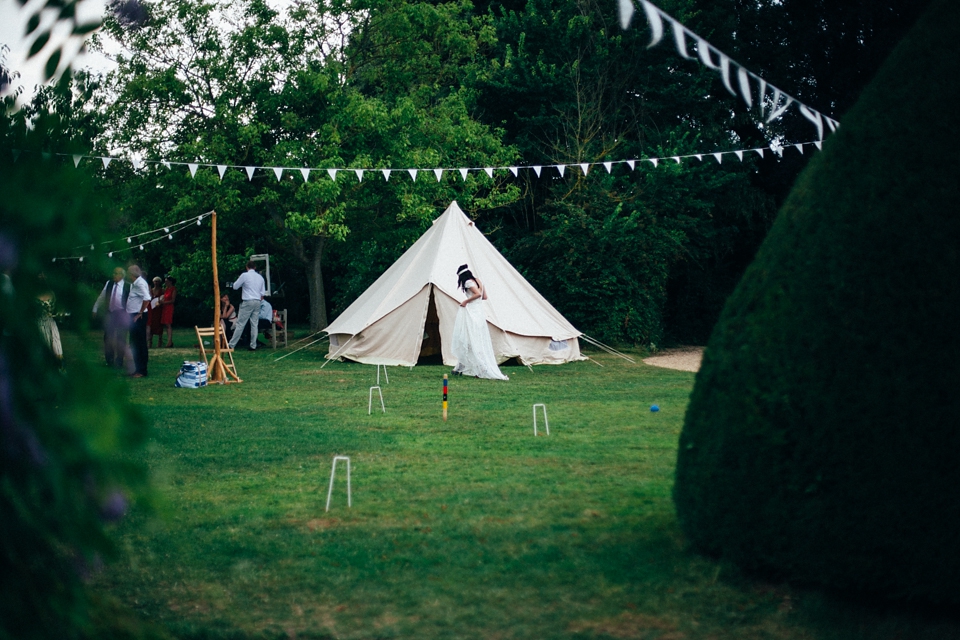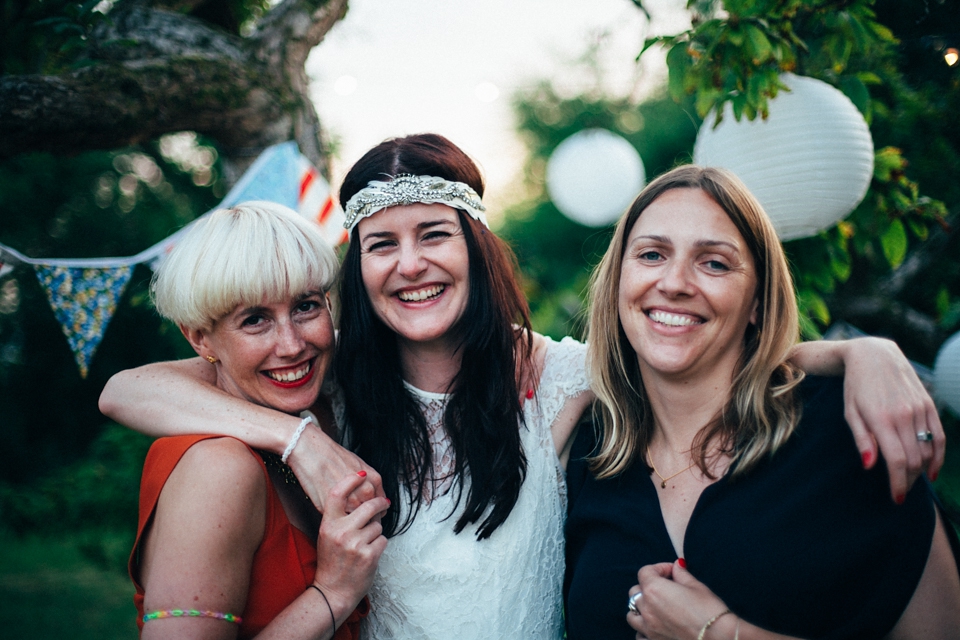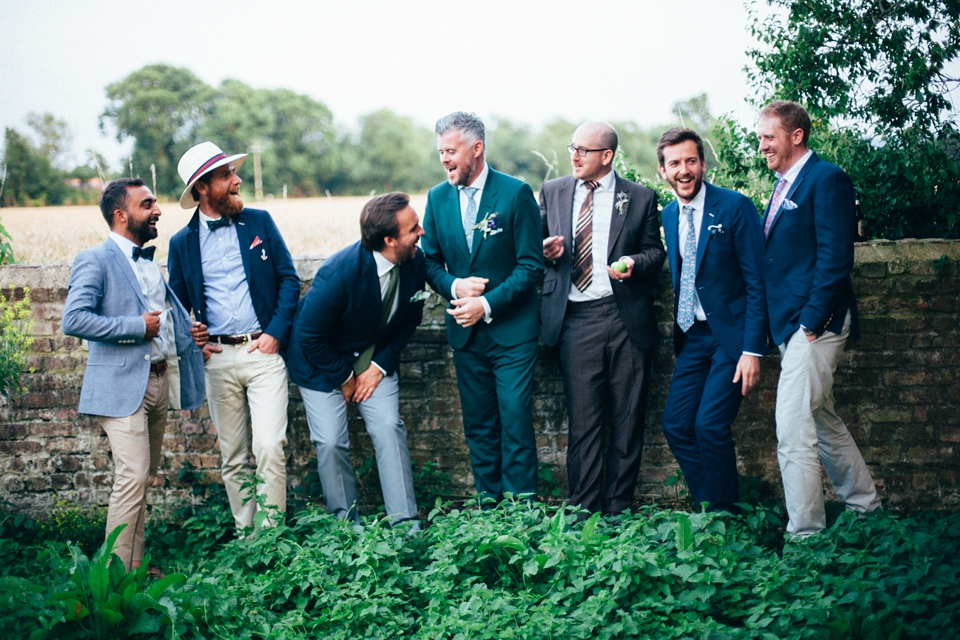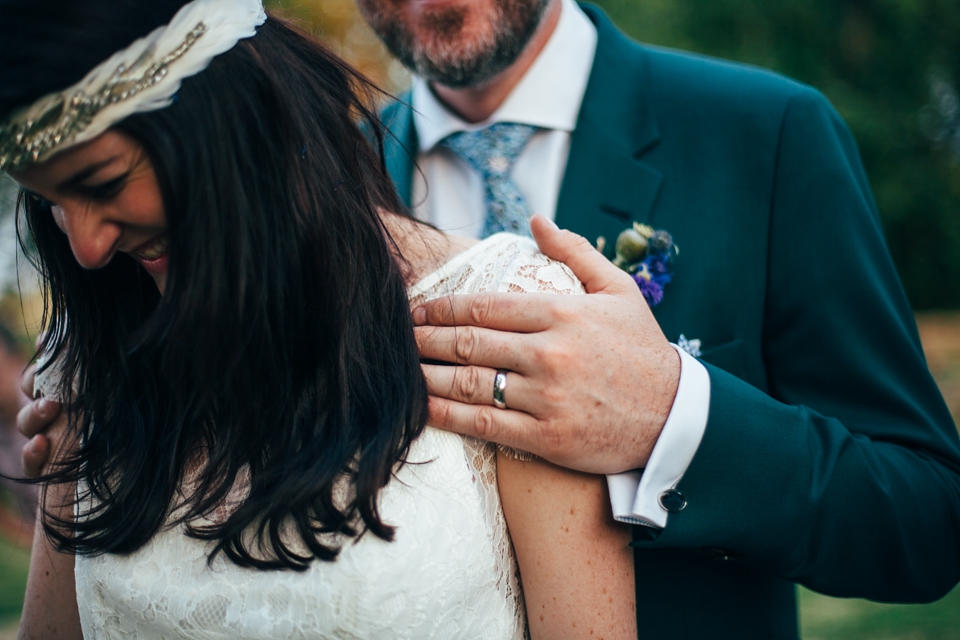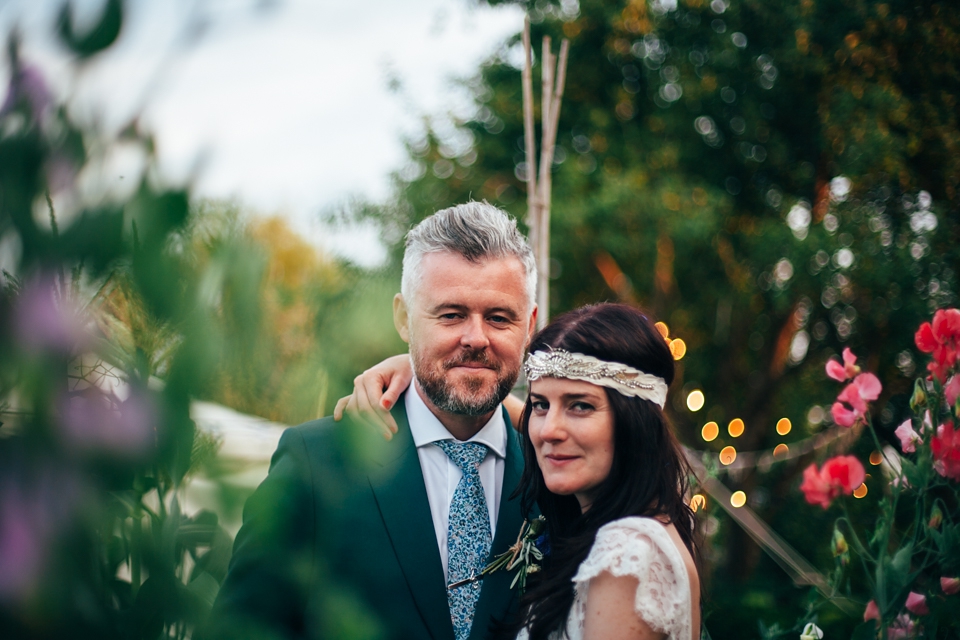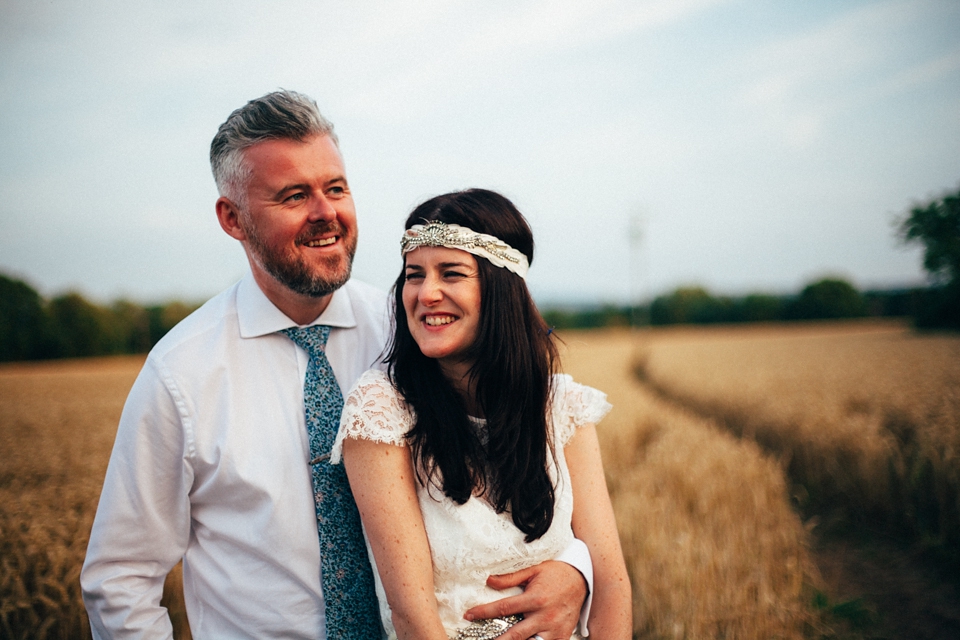 "The London All-stars Brass Band (ex Hackney Colliery Band) played late afternoon followed by DJ Matt FM and DJ Pigsnoots playing a mixture of rock n roll, northern soul and guilty pleasure."
"I bought an old polaroid camera and films for folks to take pictures.  Cowparsley provided a wooden crate for the camera and a picture frame hung from a tree, we added the string and pegs.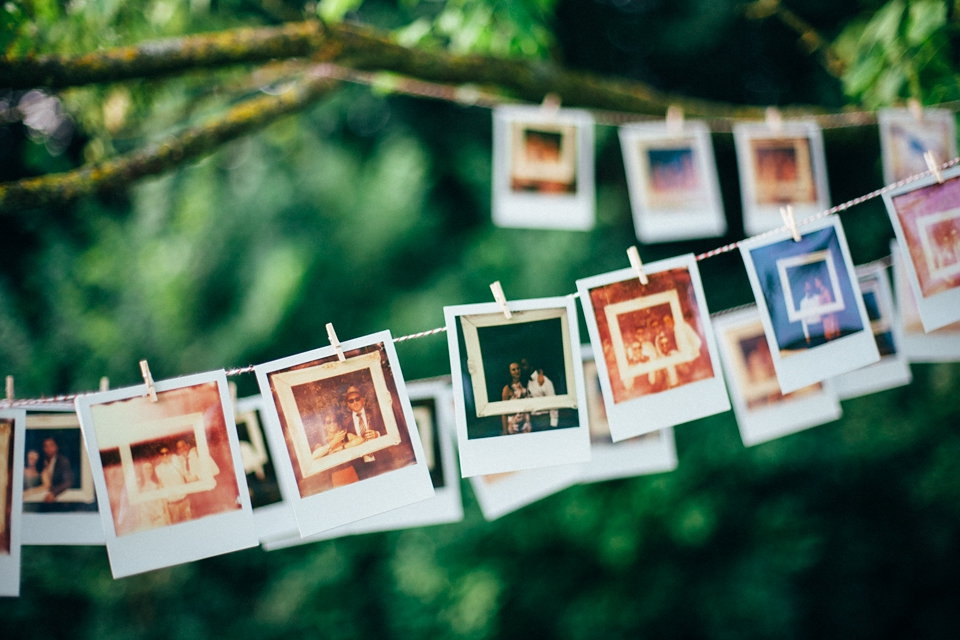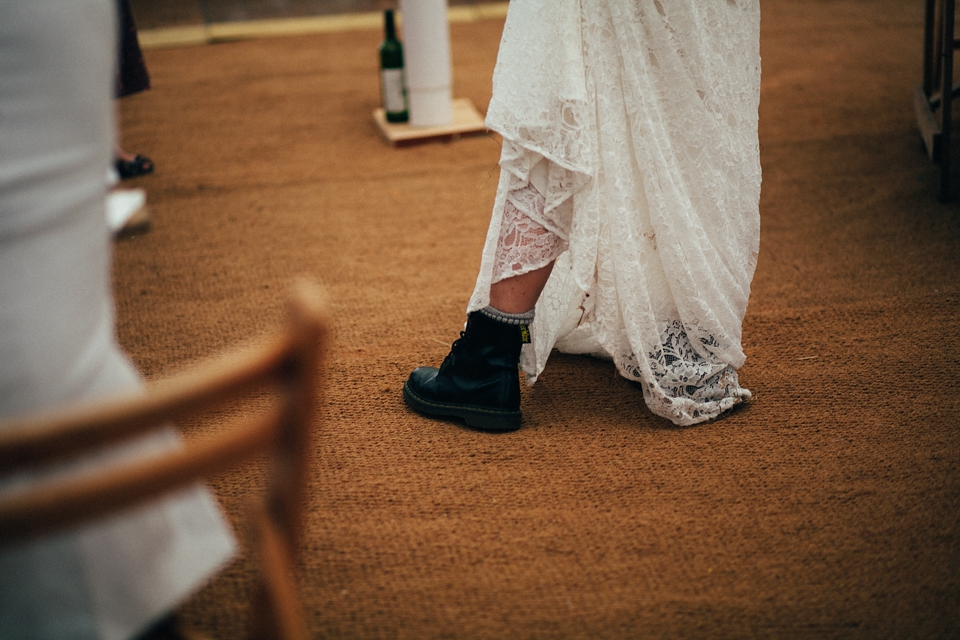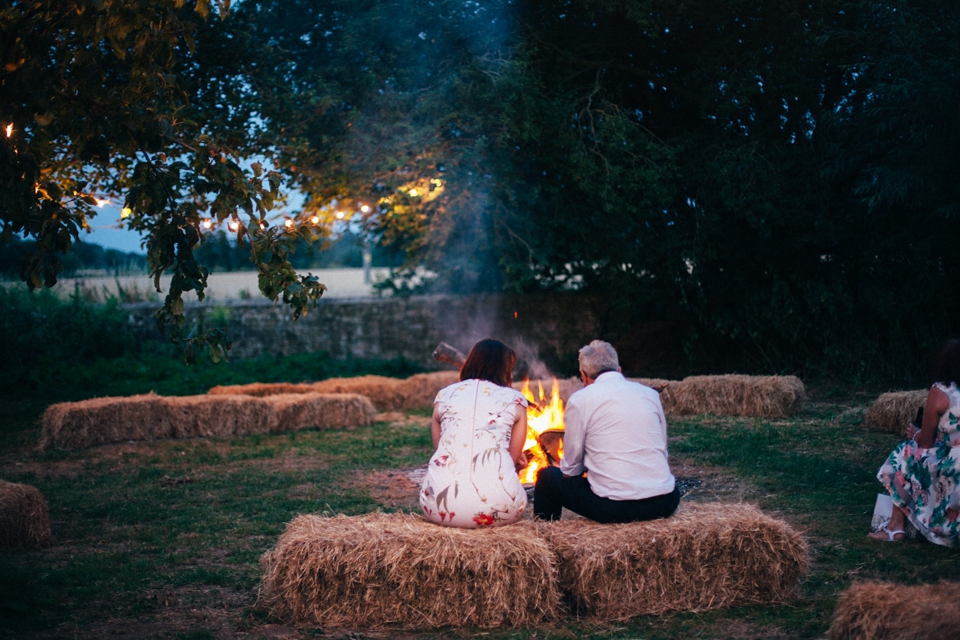 "Our first dance was to Patti Smith's 'Because The Night'.  We're huge Patti Smith and Bruce Springsteen fans.  Springsteen gave Smith the song because he thought it suited her voice. He gave her the music and the chords and she filled in the lyrics one night while waiting for her husband to call."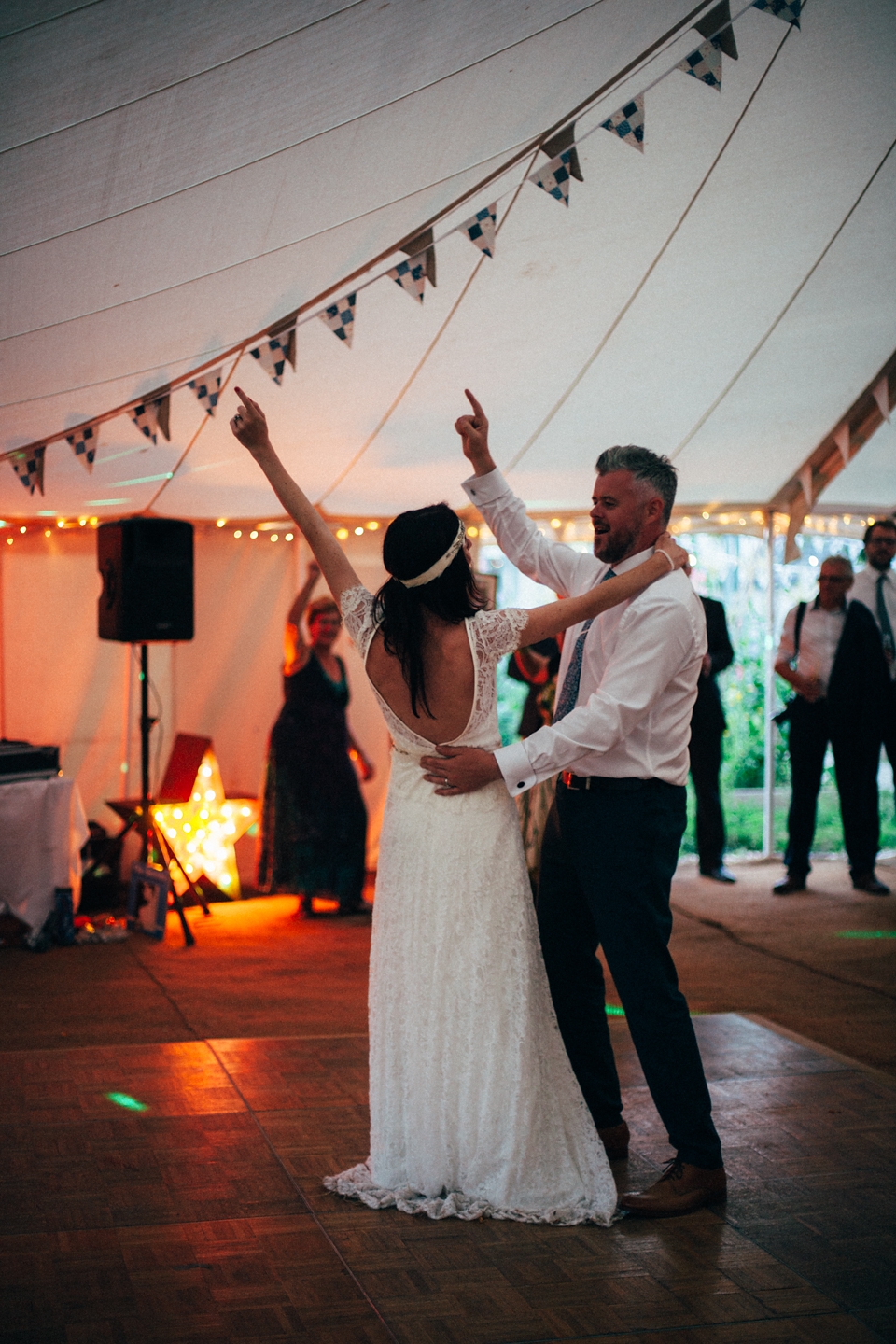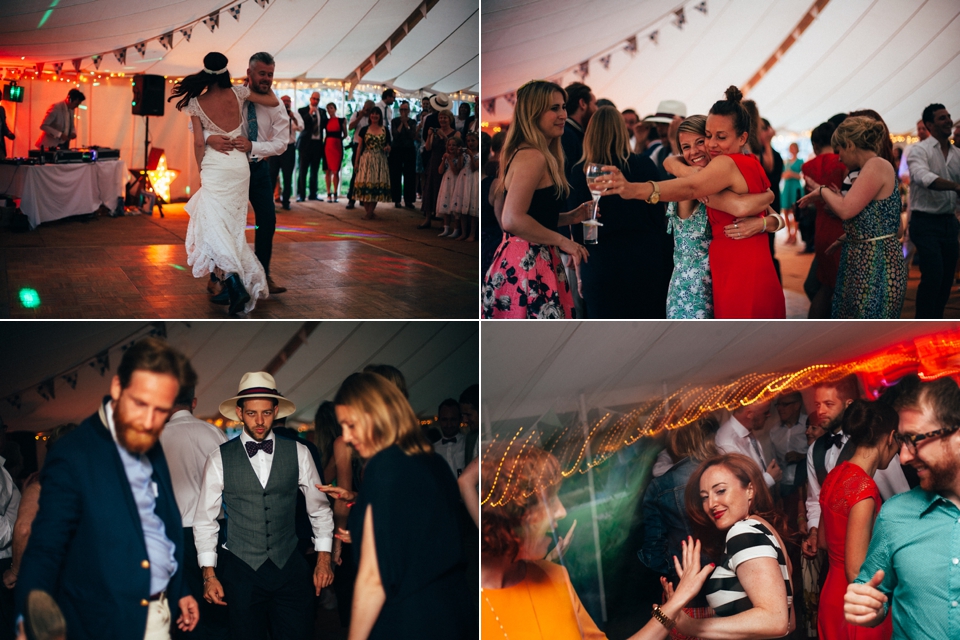 Words of Wedded Wisdom…
"Don't let the planning process put you off or take over your life. I really struggled initially with finding a venue that would allow us to do pretty much as we wanted, too many rules and sky high prices for corkage and servicing staff, so meeting Tom and Claire of Cowparsley was a breath of fresh air! 
Delegate jobs to friends and family and enjoy it.  Don't compromise, this is a rare occasion you'll get your own way so make the most of it!  Start a list and set a budget as early as possible, this will help you to keep focussed throughout the planning process.
On the day take time to stand back and soak it up, together, as husband and wife. It's so true that the day goes so quickly.  And I recommend doing the speeches before dinner, there's nothing worse than prolonging the pain."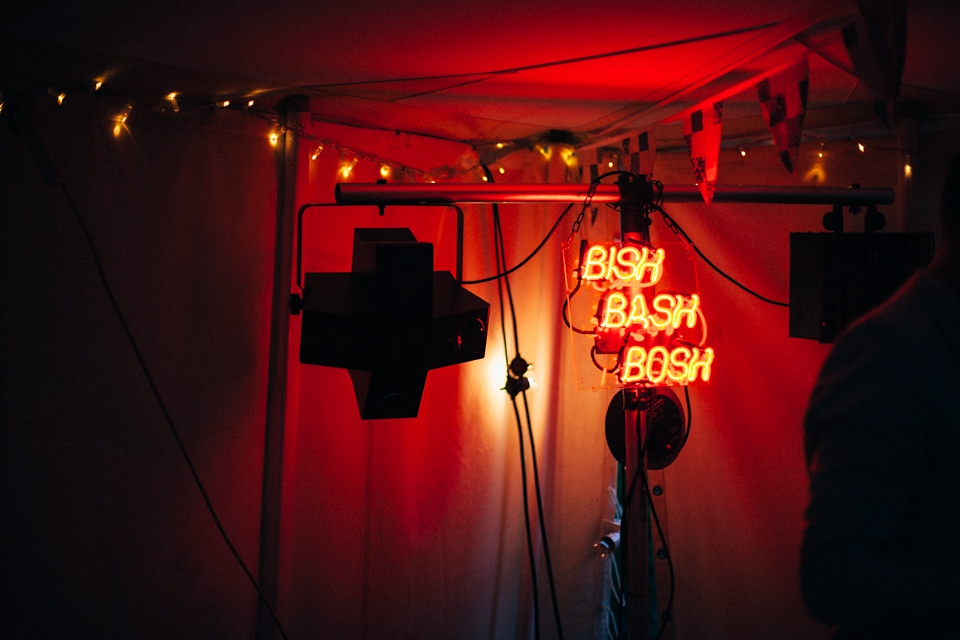 Wise words from Bish there – please take note!
I adore the honesty of this wedding, and the fact the bride – clearly anything but your regular blushing all-in-white bride – fully embraced the whole shebang and totally worked that exquisite dress by Halfpenny London – Doc Martens and all 🙂
Many thanks to the very lovely Lucy Turnbull for sharing these beautiful photographs today.  I'm feeling so inspired by this lovely day – is there any particular aspect of it that you like the most?
Have a fabulous morning all,
Love Annabel xx
Photographer – Lucy Turnbull Photography
Venue – Roughmoor Farm in Somerset
Wedding Dress – Halfpenny London
Headpiece + Belt – Karin Andreasson
Bride's Shoes – Vivienne Westwood
Perfume/Scent – Bergamote 22, Le Labo
Grooms Suit – Paul Smith + Liberty
Bridesmaid's Dresses + shoes – Vivienne Westwood
Flower girl Dresses – Nex
Florist – JW Blooms
Cake – Tea 'n' Cake
Cars/Transport – Silver 1968 Daimler & white 1969 Jaguar S Type
Entertainment – The London All-stars +  DJ Matt FM & DJ Pigsnoots
Rings – Hatton Garden
Catering – Gideon Catering + vintage cutlery  hired via Elsie Florence + cocktails via A Couple of Mugs
Stationery – DIY (the groom)
Hair + Make-up – Kate Austin-Smith (friend)
Ice-cream van hire – Café Bon Bon
Various hired items – Cowparsley