I couldn't finish today without sharing something just utterly wonderful you. This is one of those weddings that FILLS my heart – so many flowers, so much happiness – a genuinely joy filled day 🙂  A&E nurse Jess tied the knot with freelance graphic designer and Illustrator Dom on 20th June 2014 this year at South Farm in Royston, Hertfordshire, and this afternoon, I'm going to let this gorgeous little video by Eight Wood Studios do the introduction…
"I started studying wedding blogs (thank you Love My Dress!) and magazines religiously when we got engaged. We knew that we wanted a chilled out day, with a vintage/travel theme. We have been very fortunate to travel a lot throughout our relationship so we wanted to include the places we had travelled as well as photos of our adventures dotted around the venue. As Dom is an artist we wanted his work incorporated into the day, so many of his screen prints were placed around the venue. We wanted a lot of personal touches that showed off our personalities."
Film Production Copyright (c) 2014, Eight Wood Studios
"Dom and I met 8 years ago through mutual friends, I used to play electric violin in a band and Dom used to organise art and music events in our local area. We met when Dom and our mutual friend booked my band to play at one of the events. Although, we initially lived in the same area when we first got together, we spent 3 years having a long distance relationship when I moved to Cardiff for university.
Dom and I used to travel back and forth often (if only the megabus did loyalty cards!) before I eventually moved home once I graduated. I surprised Dom with a 30th Birthday trip to New York in March 2013, the tables turned when he surprised me by proposing at night over looking the Statue of Liberty in Battery Park."
Photography Copyright (c) 2014, Marianne Ford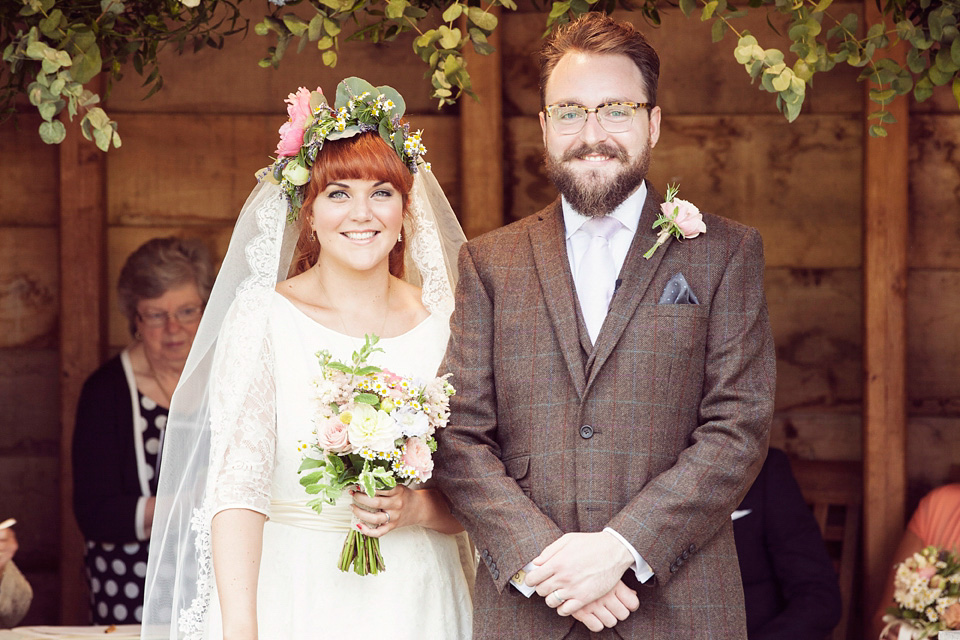 "We were looking for a venue where we could have the ceremony and reception all in the same place as we had guest travelling from far and wide for the wedding.   We found South Farm, Royston, the perfect venue for us. We had the ceremony outside in the summer house, the dinner/reception in the barn, drinks in the courtyard and garden- perfect. There were different areas within the venue where you could hold the ceremony/reception, so it gave you the freedom to choose (also given the option in case of rain!) Another reason for choosing South Farm was that you had the whole venue to yourselves without the worry of bumping into anyone that wasn't from your wedding.  Also as it is a working farm, there were lots of animals there including piglets, chickens and even albino peacocks!."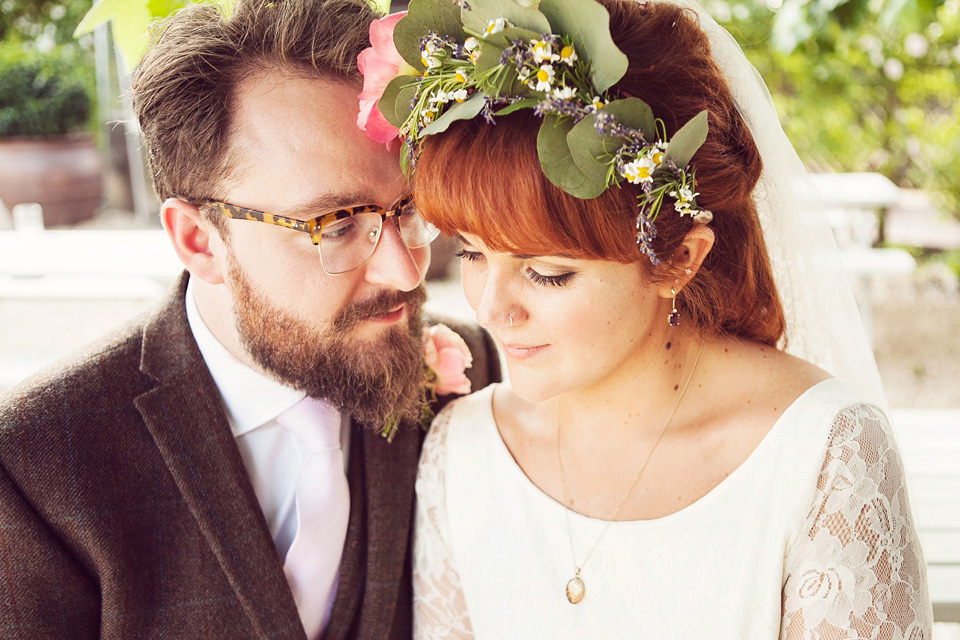 "My dress was by the fabulous Kate Halfpenny of Halfpenny London.  I'm not going to lie, I had an online love affair with my dress before I had even been to the store. I had been warned not to fall in love with a dress online, but it was everything I was looking for; lace, long sleeved, vintage style.
I made an appointment at Kate's beautiful Bloomsbury boutique, and there were so many vintage style dresses to choose from but I knew when I tried it on, that it was my dress. The appointments were always so much fun and not stressful at all (I had worried about that). I was also really fortunate to meet the designer Kate Halfpenny at a couple of my appointments, she is really friendly, super cool and gave me great advice for not only my dress but the wedding."
"South Farm offered us a lot of help prior to the wedding, including planning meetings, a food and wine tasting evening (where we got to stay in one of the beautiful cosy gypsy caravans) We also had the wonderful help of Sophie who works at South Farm on the day of the wedding to help make sure things went smoothly (which they did)."
"The bridesmaids dresses were purchased from Twobirds bridesmaids, I had seen the website through a bridal blog and loved the way you could adapt the dress. I went for two different colours (duck egg and peach), which at first I thought I may have been a bit mad but they really worked. The shop in Covent Garden is great for not only the initial appointments, but they also offer 'styling sessions' prior to your big day to help you practice tying them (along with a glass of fizz) It was a fun bridesmaid evening out!
The bridesmaids wore flat gold woven sandals from Office, as I wanted them to be comfortable (but also, they are all taller than me!).
I brought the bridesmaids all a necklace (gold chain with a round pendant saying 'love') each as a gift from a shop that I fell in love with in Brooklyn called 'Brooklyn Charm'-available through Etsy.  The Bridesmaids also wore fresh flower crowns, all slightly different, again made by the creative florist, Miss Victorias Floral Emporium."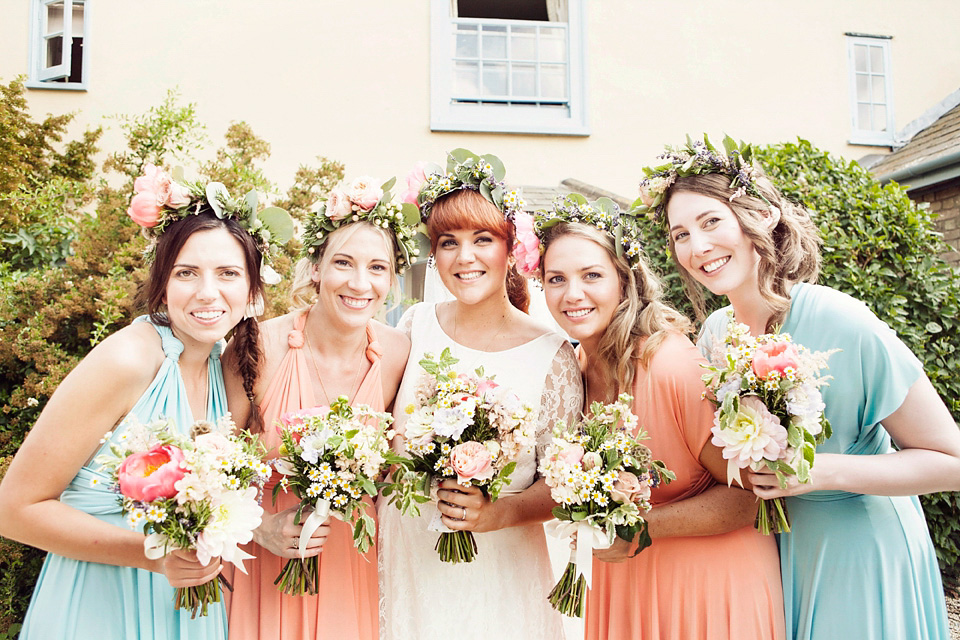 "I wore a fresh flower crown created by my amazing florist, Miss Victorias Floral Emporium.  I gave her an idea about what I wanted and she took it from there.
My earrings were vintage borrowed from my Grandmother (who is a jewellery fanatic).  I wore a ring that my Dad had given my Mum on her 21st birthday. The necklace I wore was a gold Tiffany chain with a vintage locket on the end with a photo of my late Grandpa (borrowed from my Nana).
I wore Chanel's Coco Mademoiselle – my favourite perfume and also a classic. Fitting into my vintage theme."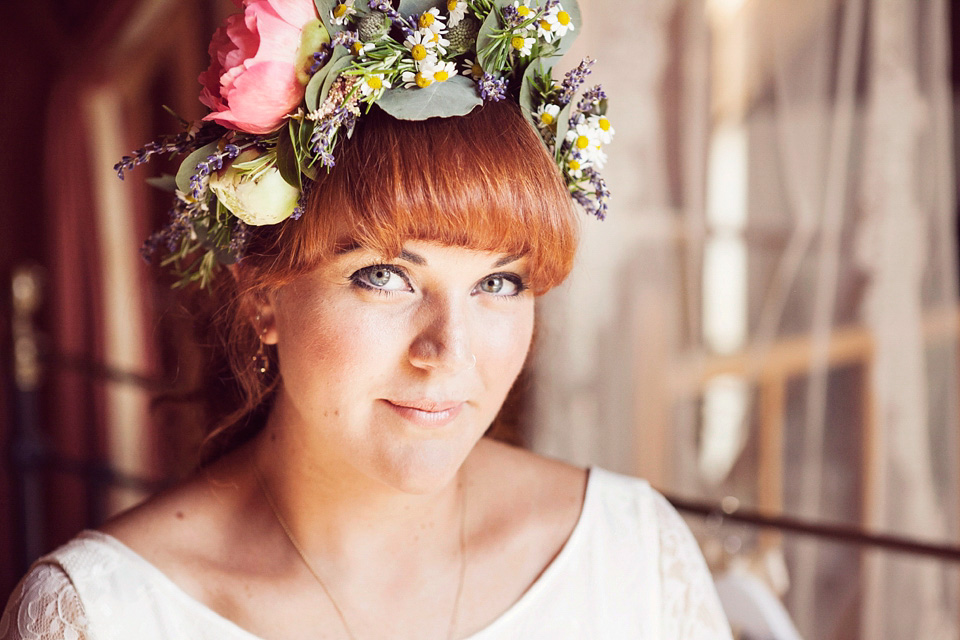 "Our wonderful photographer Marianne Ford and I met at work (Marianne is multi-talented as an A&E nurse and professional photographer!) I knew when I got engaged that I would ask her to do our wedding photos as I loved all of her photos on her website but she has a great eye for detail. She is chilled out and easy to get a long with. Her and Paul were great on the day, very professional and we were so glad that they photographed our day and the results look even more amazing then we ever could have imagined. The photo booth they provided was also really fun and creative! We would highly recommend them.
I know Laura of film production company Eight wood studios from primary school and we were thrilled that they filmed our wedding. Laura and Andy are very professional and on the day we didn't even notice them filming us, which means the video is very natural and captures our day perfectly. I would definitely recommend getting your wedding day filmed, you get to relive it every time you watch it and we love our wedding film."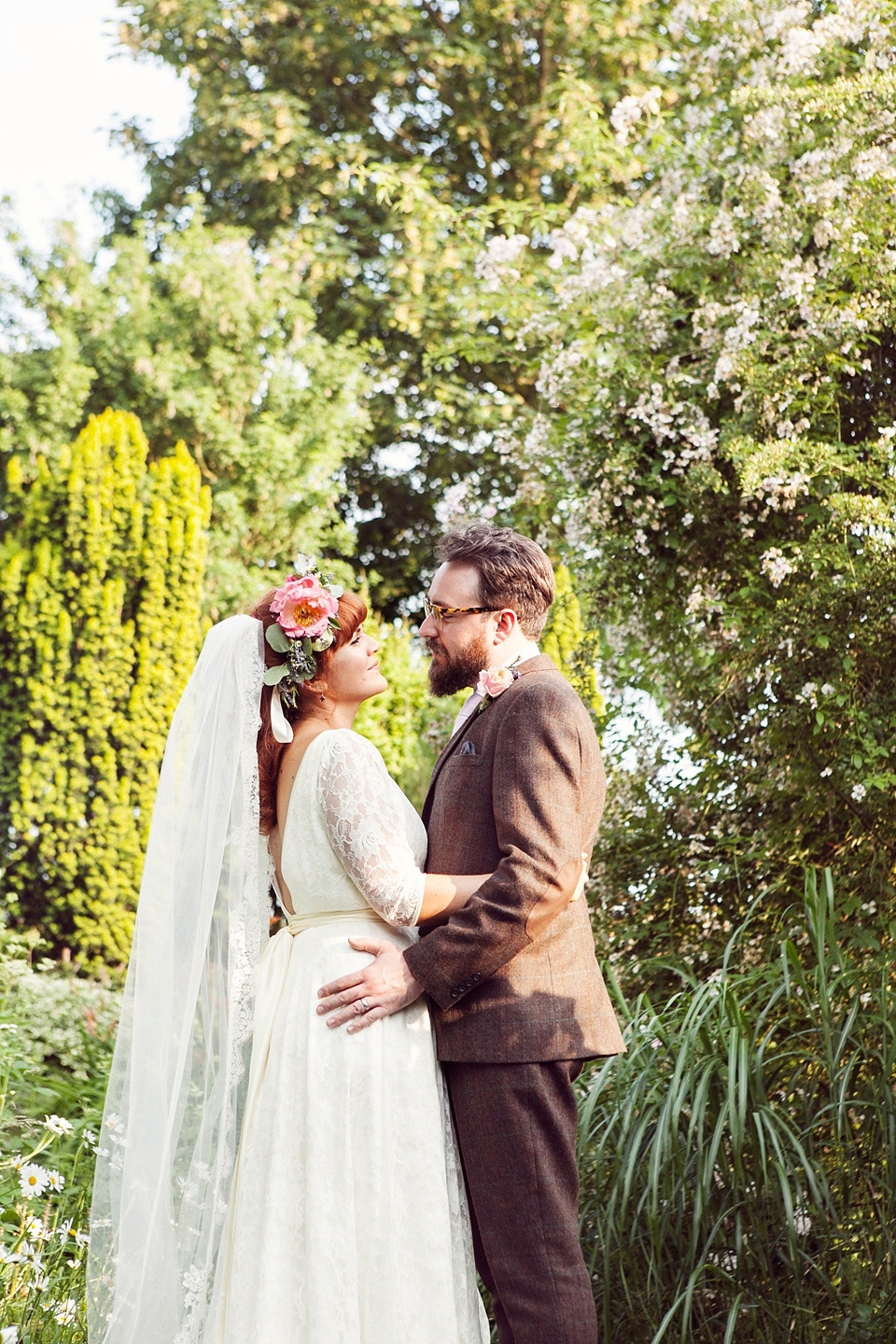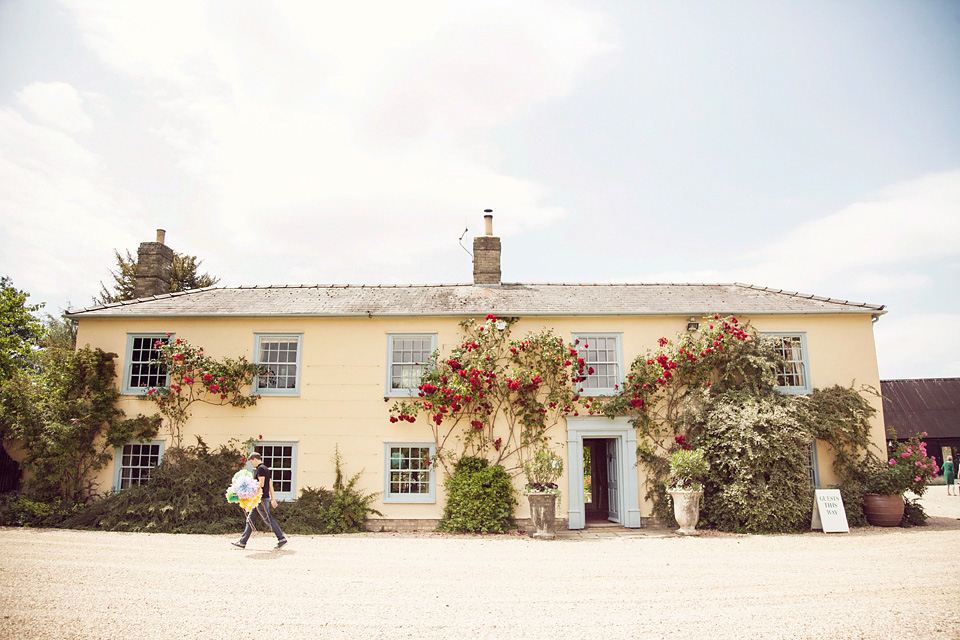 "My veil was borrowed from my good friend Charly who got married last year, she brought it from the former Vintage Wedding Dress Company, now Charlie Brear.  It went perfectly with the dress and I was so pleased she lent it to me."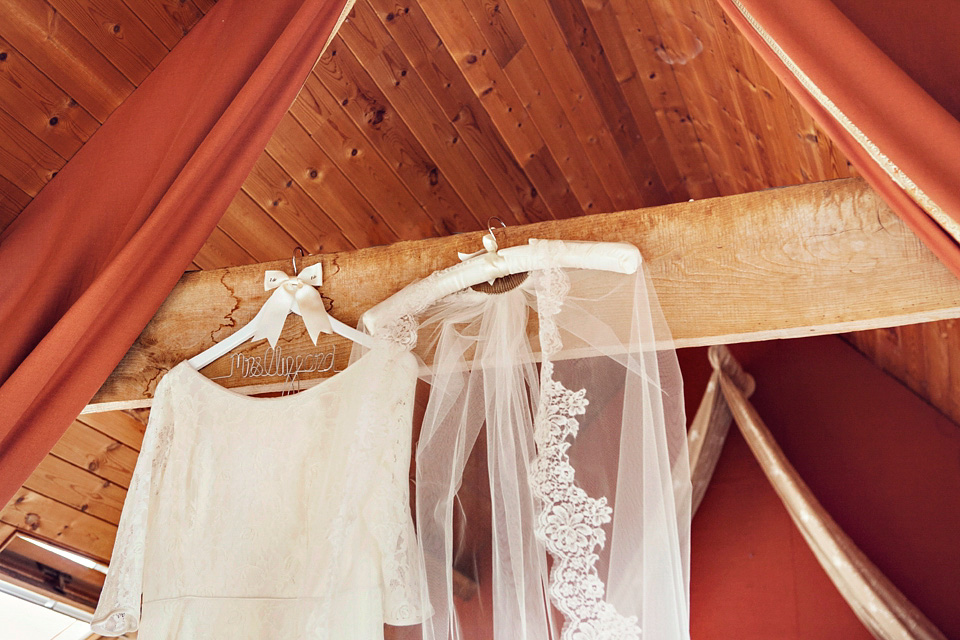 "My shoes were a spontaneous purchase from The Retro Revival Boutique in Soho. I knew I wanted a colourful shoe, (so you see a 'pop' of colour from under the long dress) I also wanted a vintage style, which weren't too high with a thick heel (as to not get stuck in the grass outside)."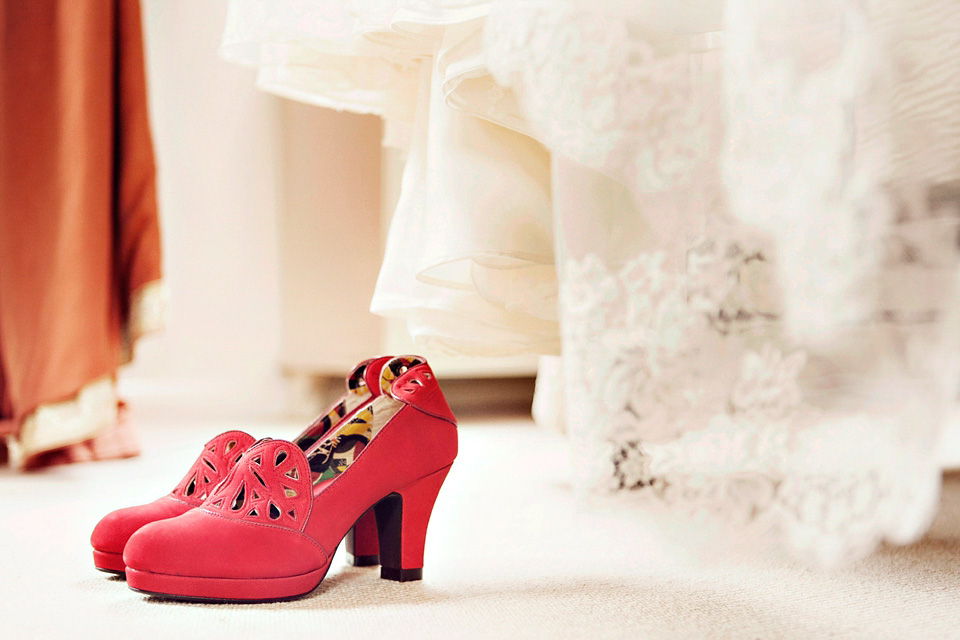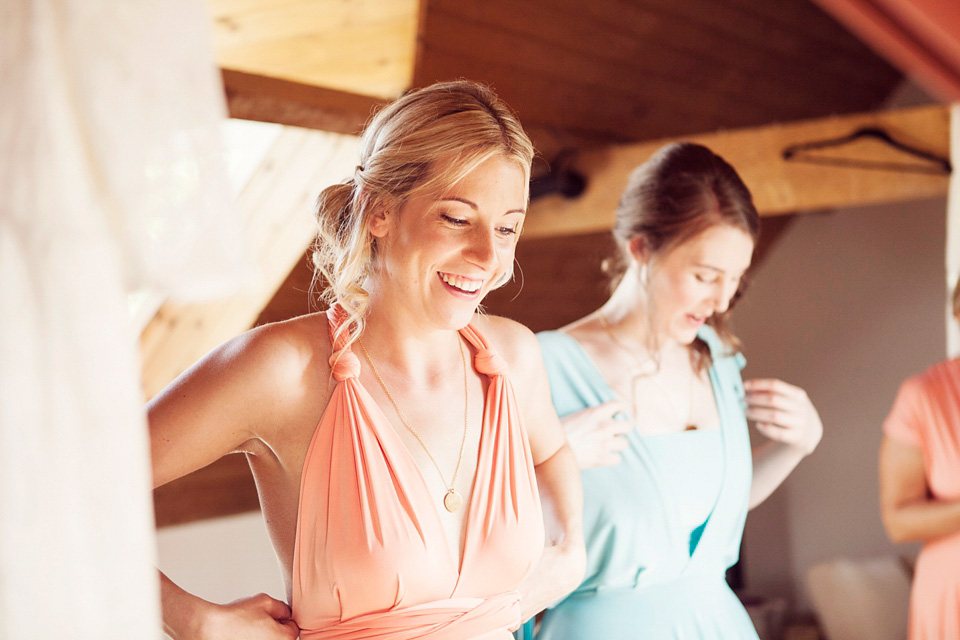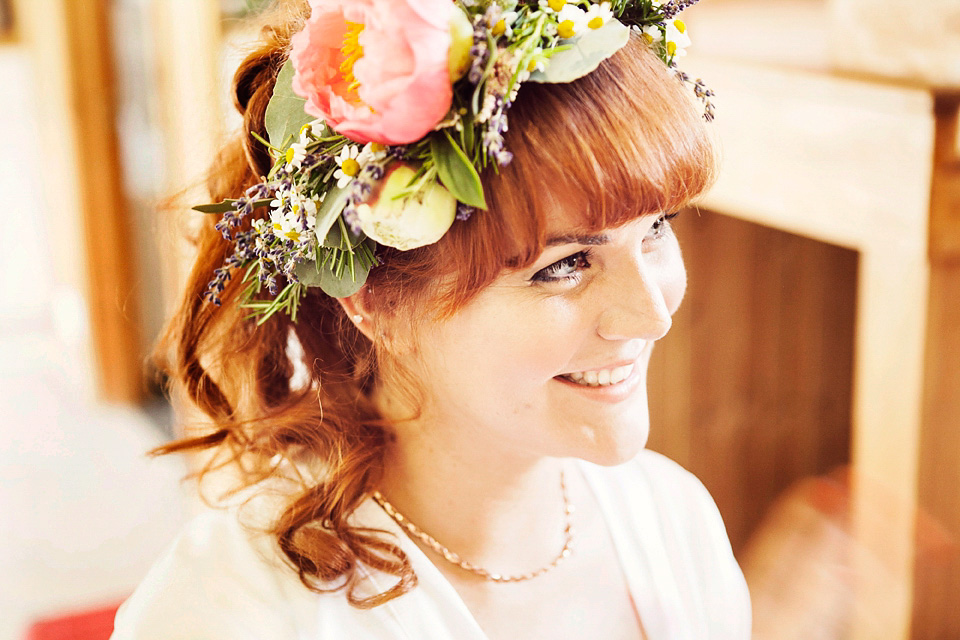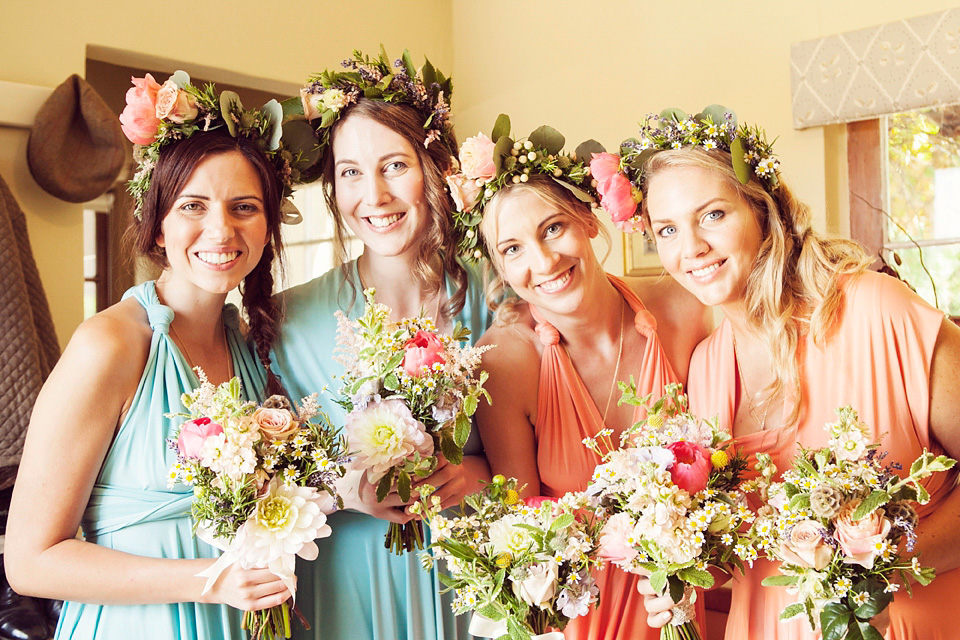 "I love flowers, but I am rubbish when it comes to names and choosing what flowers work well together (as was the groom). That is why I was so pleased to stumble across Miss Victoria's Floral Emporium. Lisa was a star and we had a great time visiting her pop up store in Peckham. We bonded over our love of vintage bikes and she totally understood our vision for the wedding, 'vintage style, wild flowers and no red roses!'.  
Miss Victoria also runs flower crown workshops and hires out her vintage bike complete with flower basket! (As it looks like my beloved bike Fergie, we had it our wedding!).
"My friend Laura Hunt of The Beauty Queens was the hair and make up master along with her friend Gina who created the individual styles for the day. Laura is great as she not only uses the make up that I usually wear myself (hello MAC!).  Laura was also able to work my hair style to exactly how I wanted, as I have crazy thick, wild hair – she managed to tame the mane for the wedding!
My bridesmaids all choose how they wanted their hair and make up (there was a lot of inspiration from Lauren Conrad) they all had a natural boho look, which was the vision."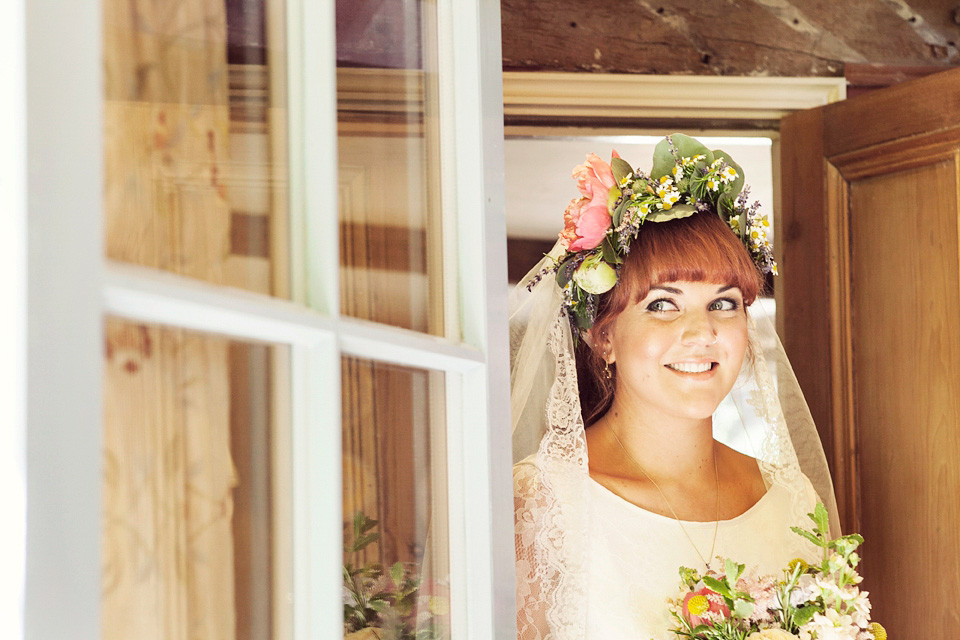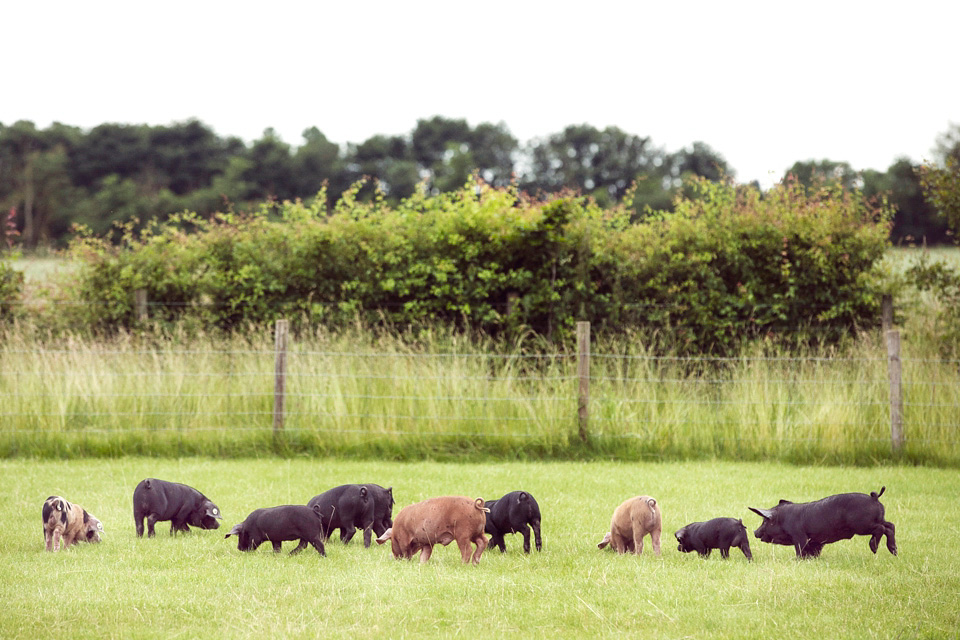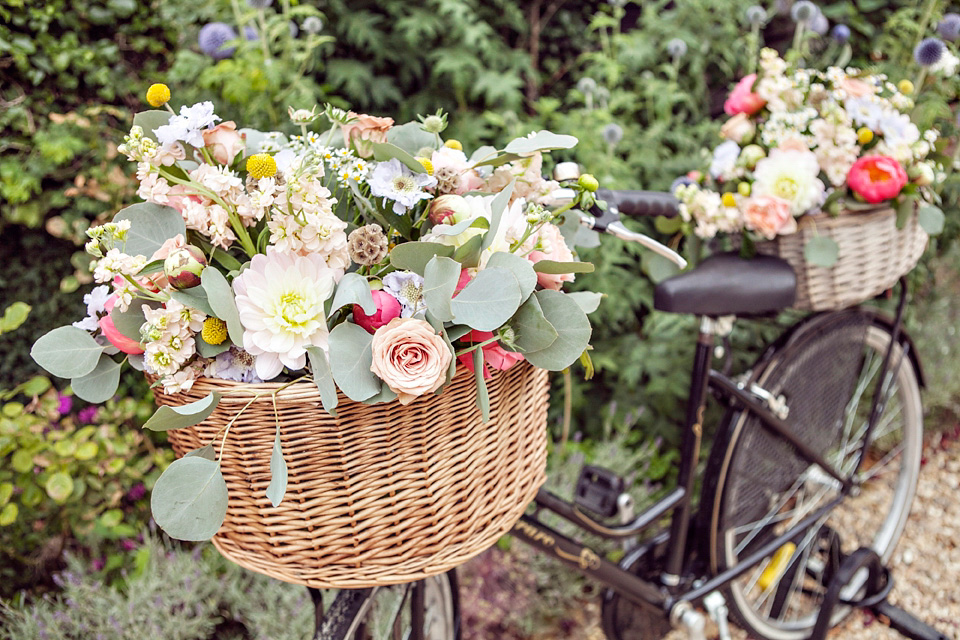 Charlie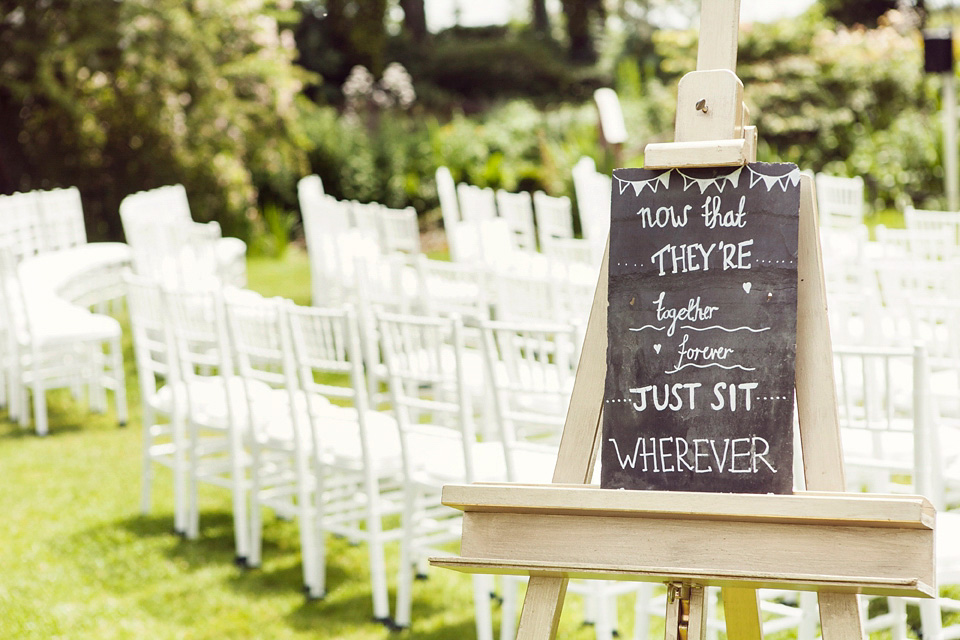 "My dad walked me down the aisle, which was perfect and emotional. I was also slightly scared of falling over walking down the aisle (all brides worry about this right?) so I held on to him tightly (and luckily as an ex-rugby player he is pretty solid).  He moved to Beijing after the wedding for work for two years, so it was extra special to walk the two of us and have that time together."
"We decided to go with the vow options that the registrars in Cambridge provide as we weren't having a religious ceremony and you get to choose from a selection. Dom was already freaking out about having to write a speech so we didn't want the added pressure of writing our own vows. It was also really important to us not to have the tradition of marriage of 'man and woman' mentioned too much in the ceremony (as we were pleased that same sex marriage was legalised not long before our wedding!).  We wanted the vows to be all about the love and not gender specific!"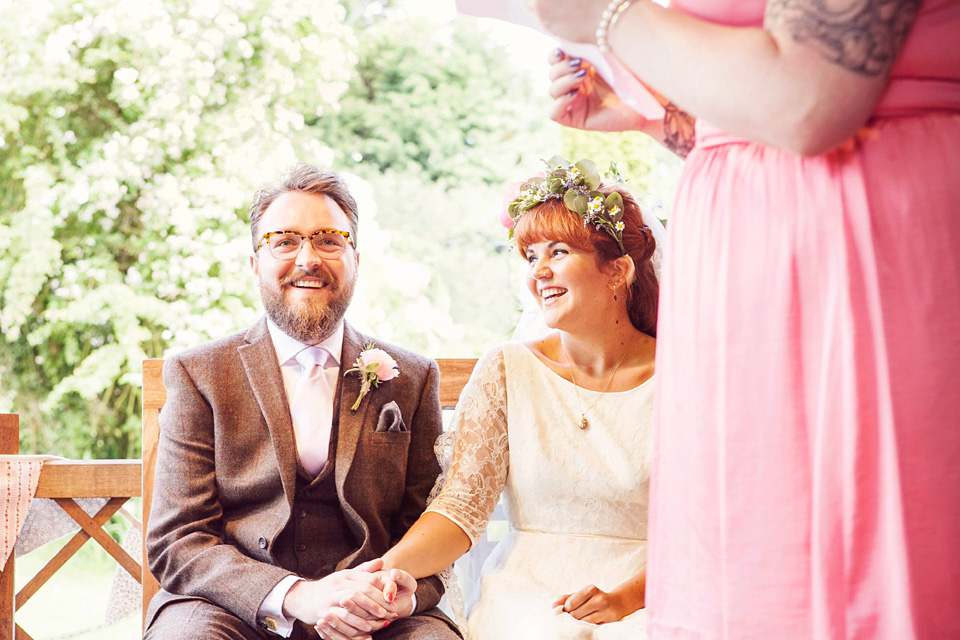 "One of our groomsmen John read 'I carry your heart', by E.E. Cummings as it is beautiful and very romantic. Our friend Lauren read 'A Lovely Love Story', by Edward Monkton as Dom and I love dinosaurs (one of our first dates was at the natural history museum)."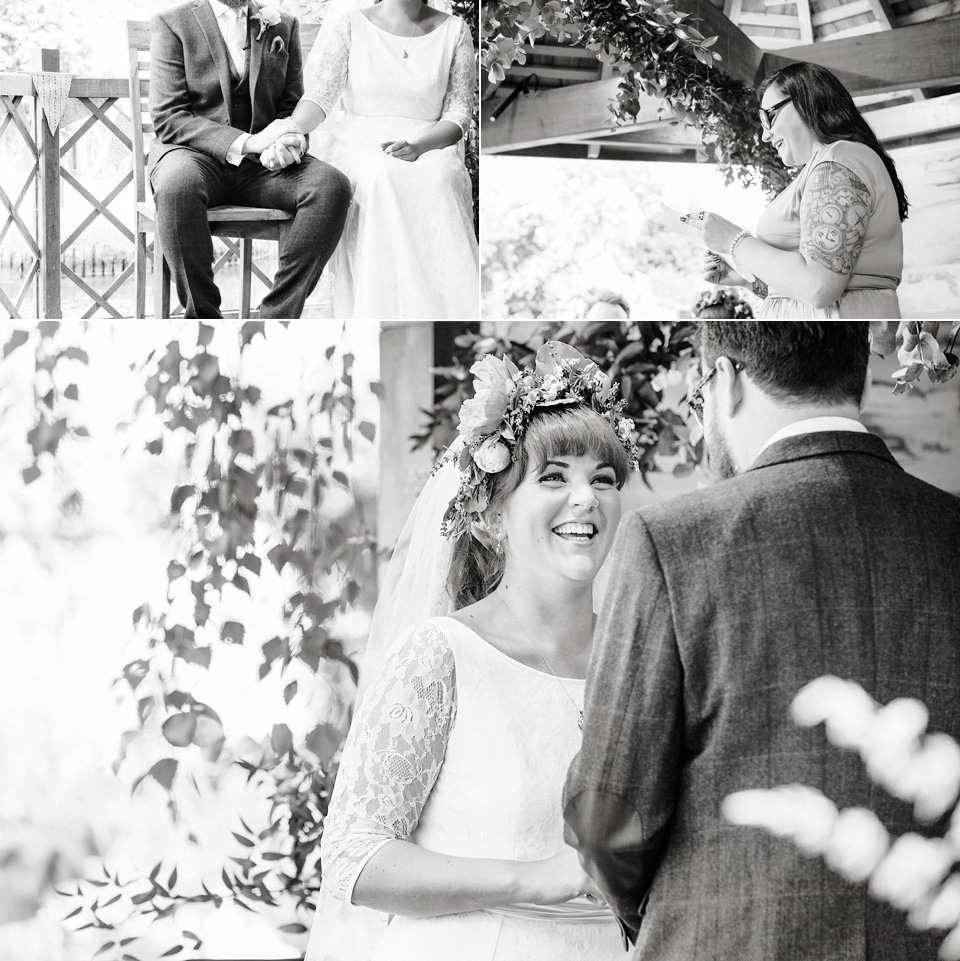 "Dom had my engagement ring made by a man called Dave who works from his garage in Leavesden. He also hand made our wedding rings (hammered effect platinum, engraved with our initials).  We would really recommend going to an independent jeweller rather than high street stores."
"My friend Paul (who I used to be in a band with) played acoustic guitar throughout the ceremony, he played Cyndi Lauper 'Time after Time' as I walked down the aisle."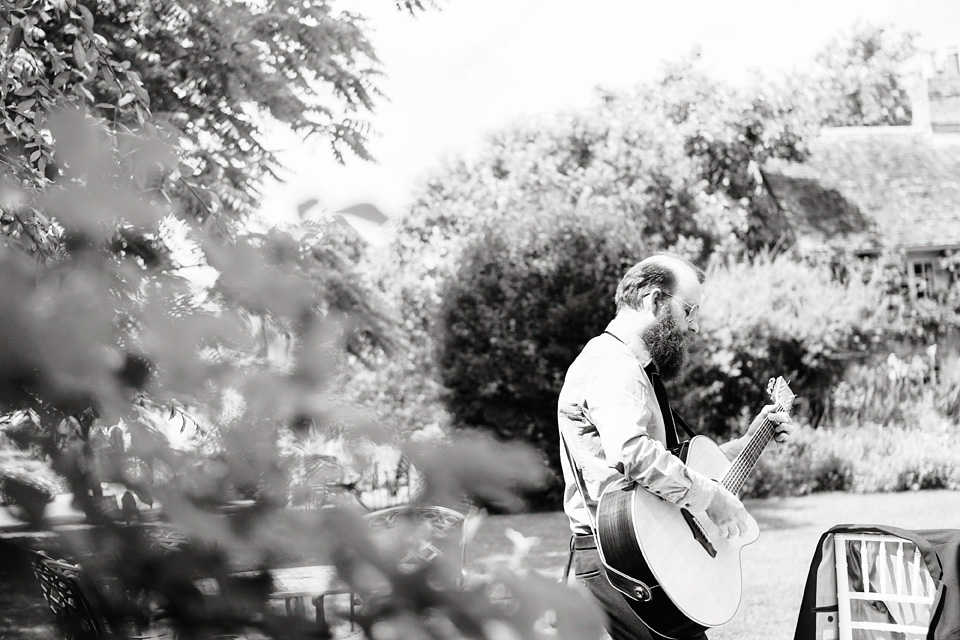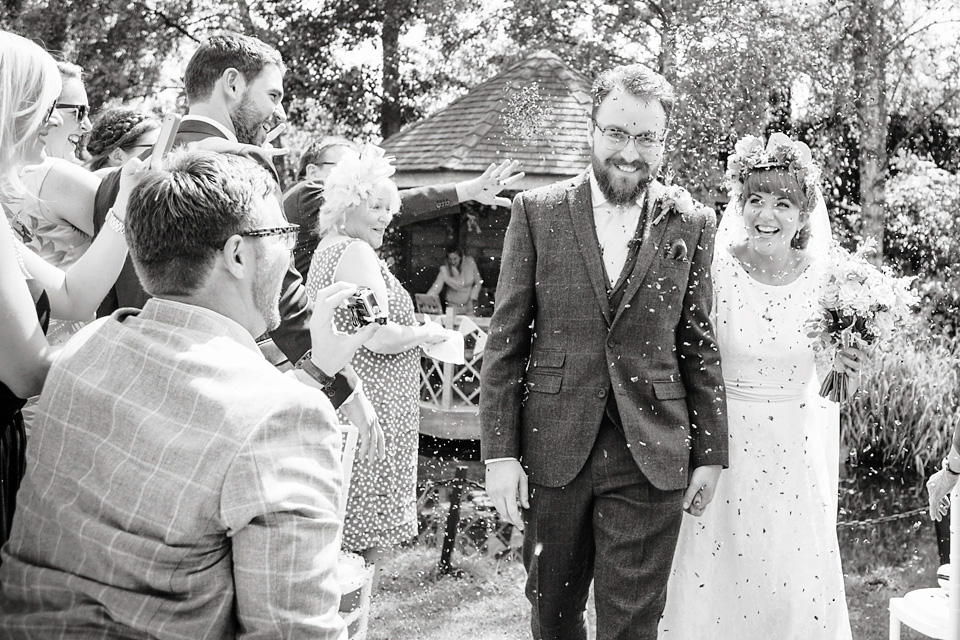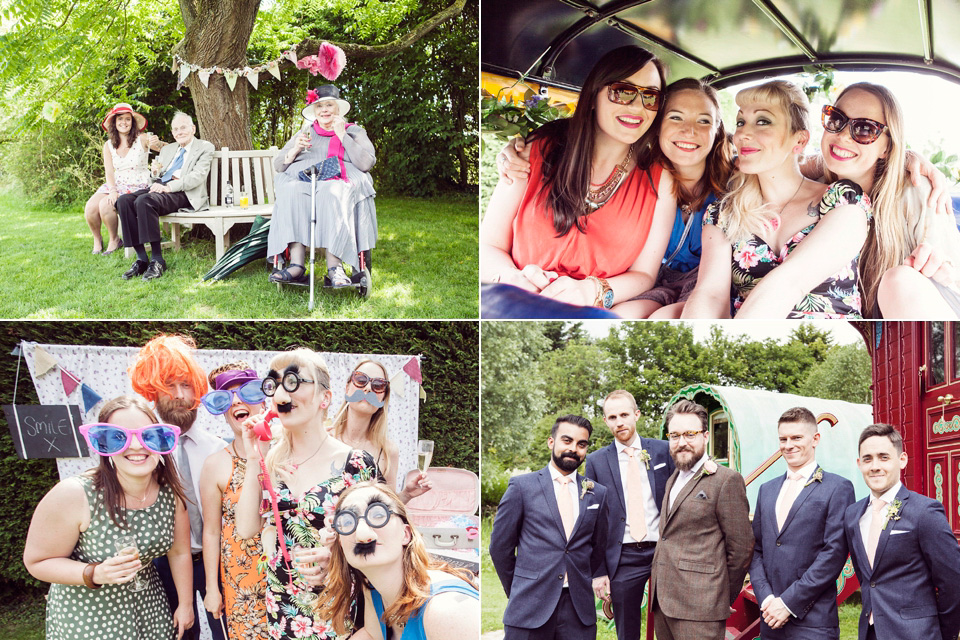 "Dom wanted to have a brown tweed style suit, that was slim fitting. He wanted it to match his vintage style. He found the perfect suit in Next. We would definitely recommend high street stores for the suit shopping.
Dom found shopping for ties the most stressful as he was looking for something in particular, he eventually found the ties and pocket squares (for both himself and the groomsmen) online.
Dom knew he wanted brogue style shoes, we were super lucky to find a brand new pair of Loake's in a charity shop (they were slightly too small but we managed to stretch them leading up to the day itself)."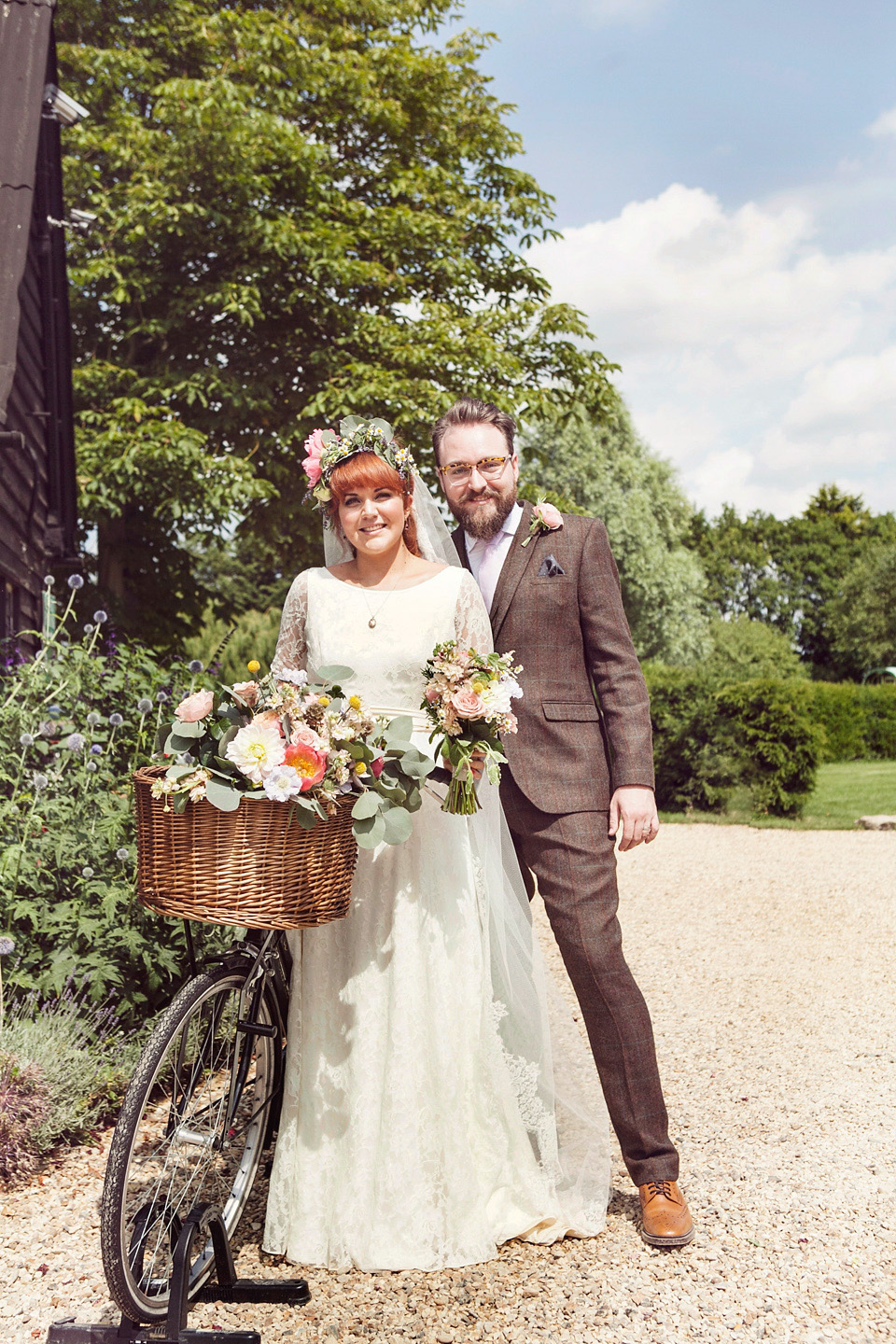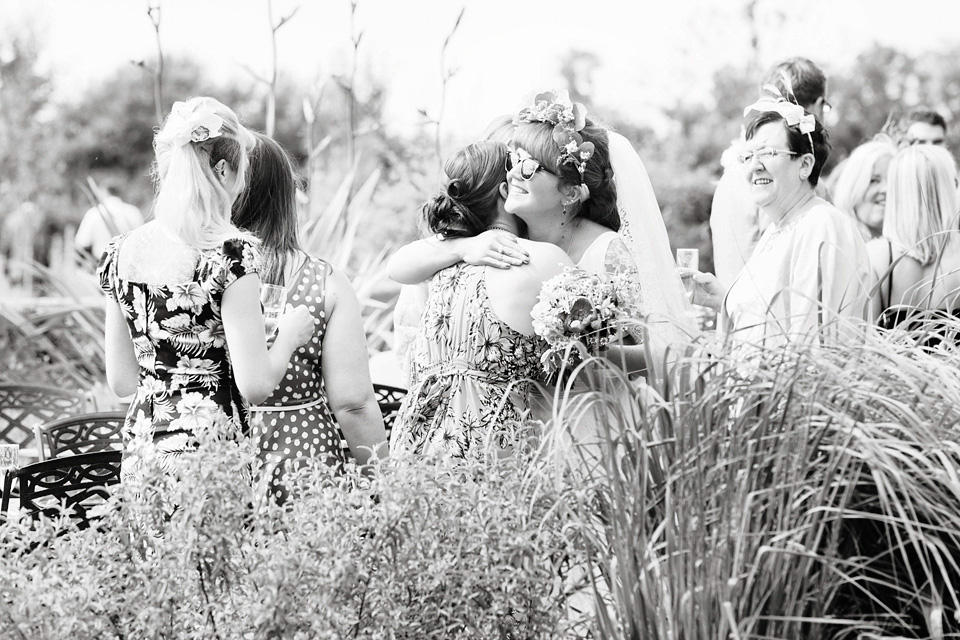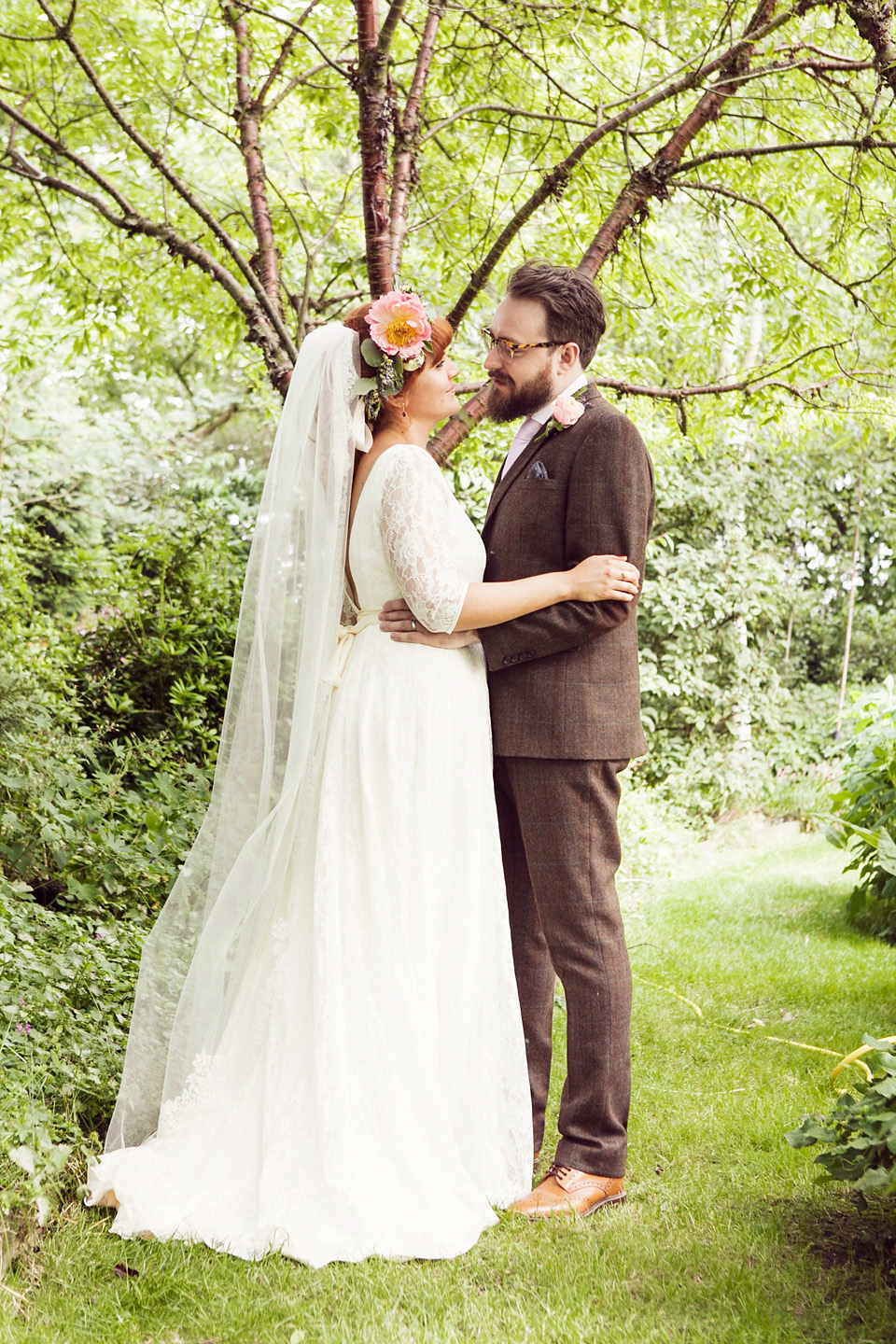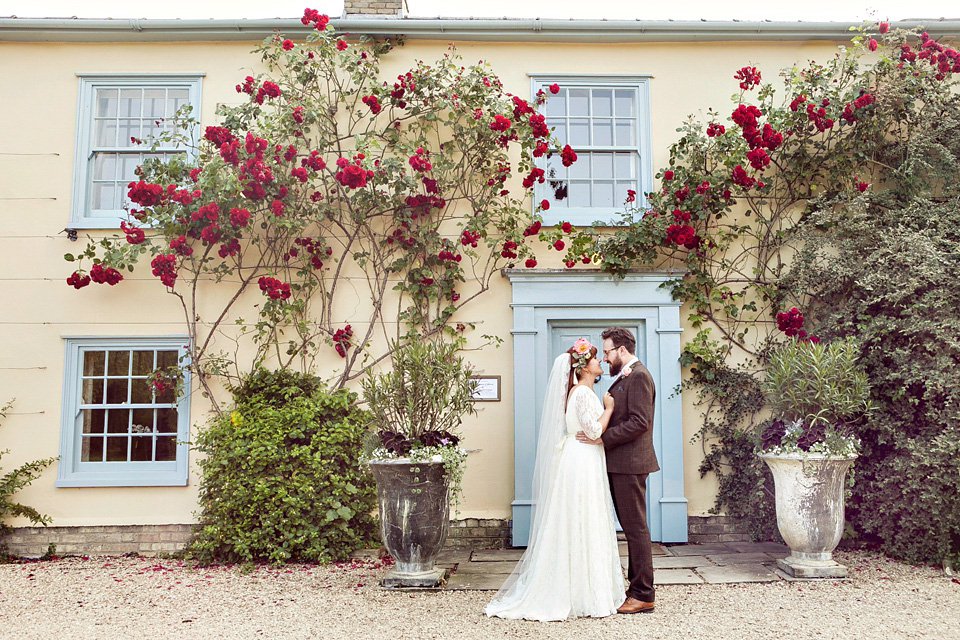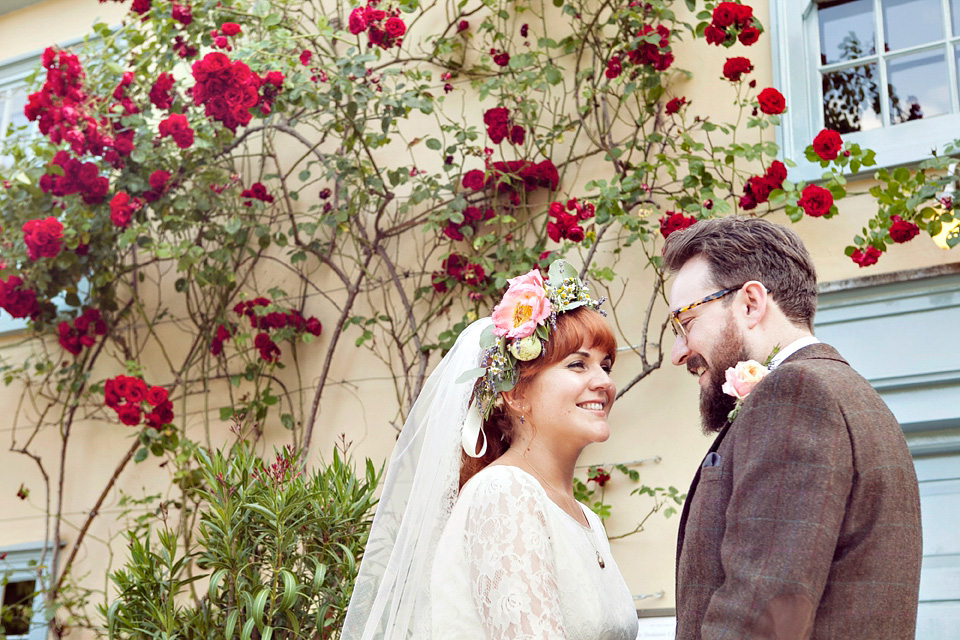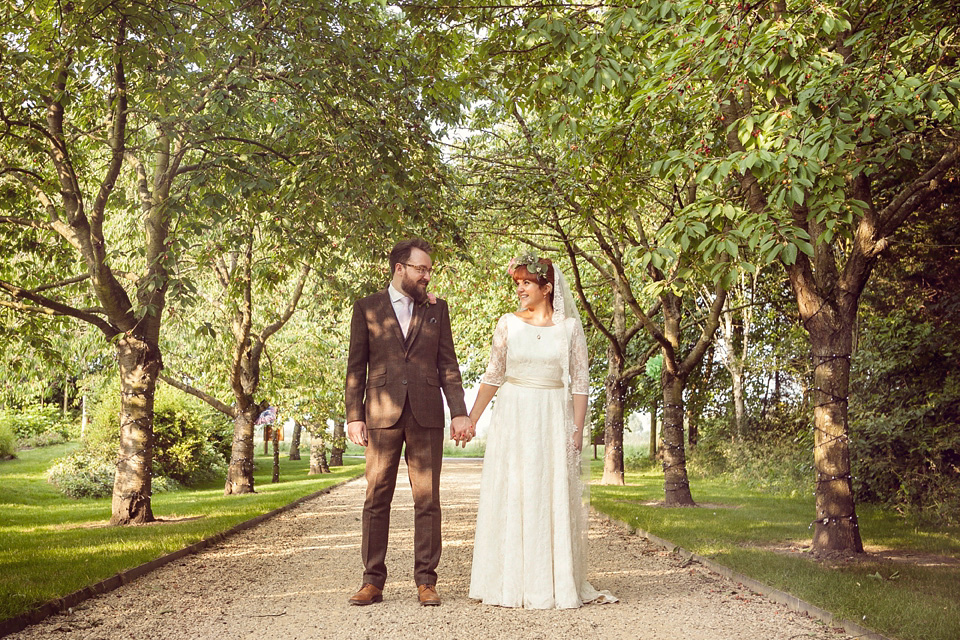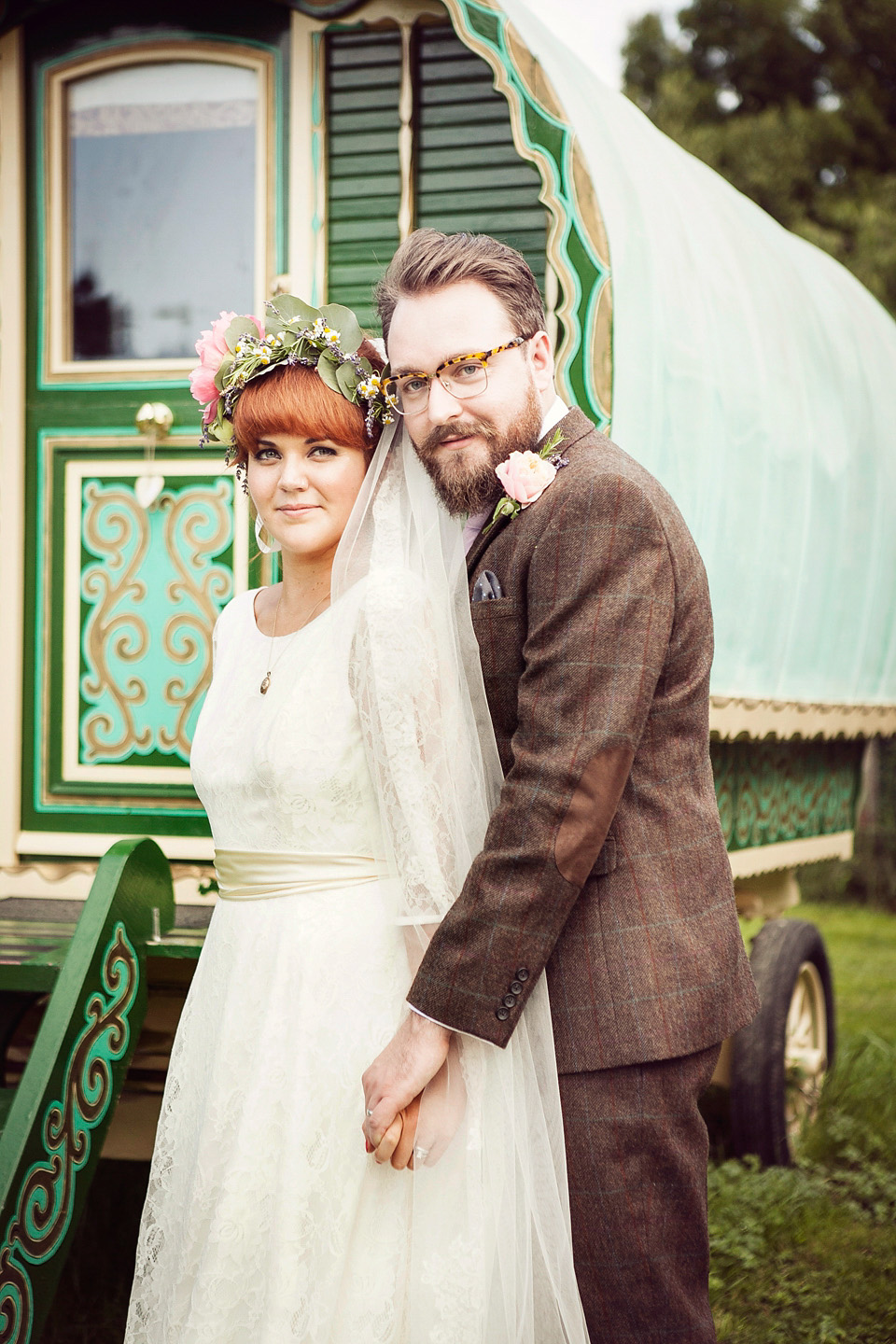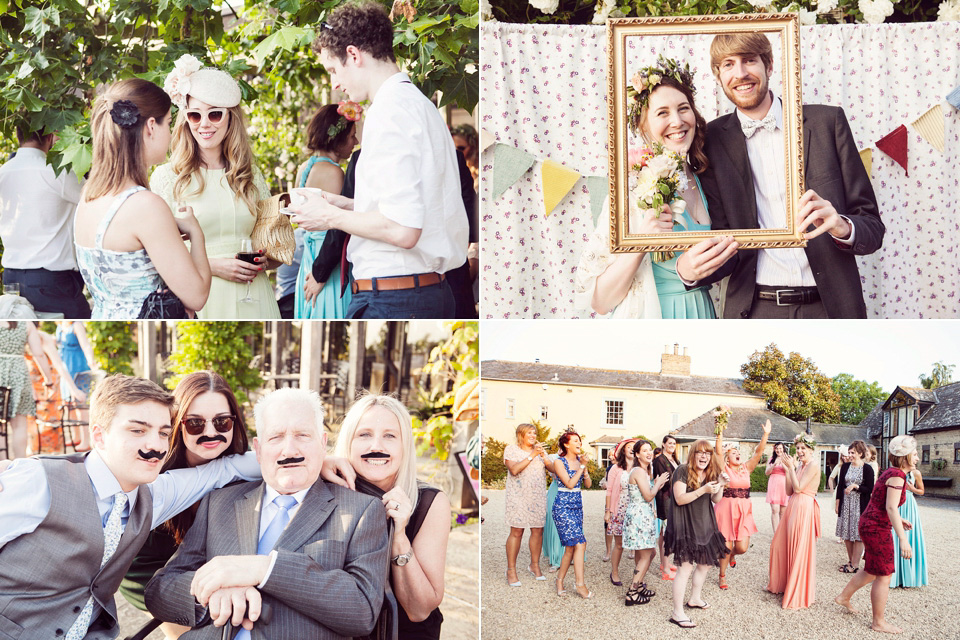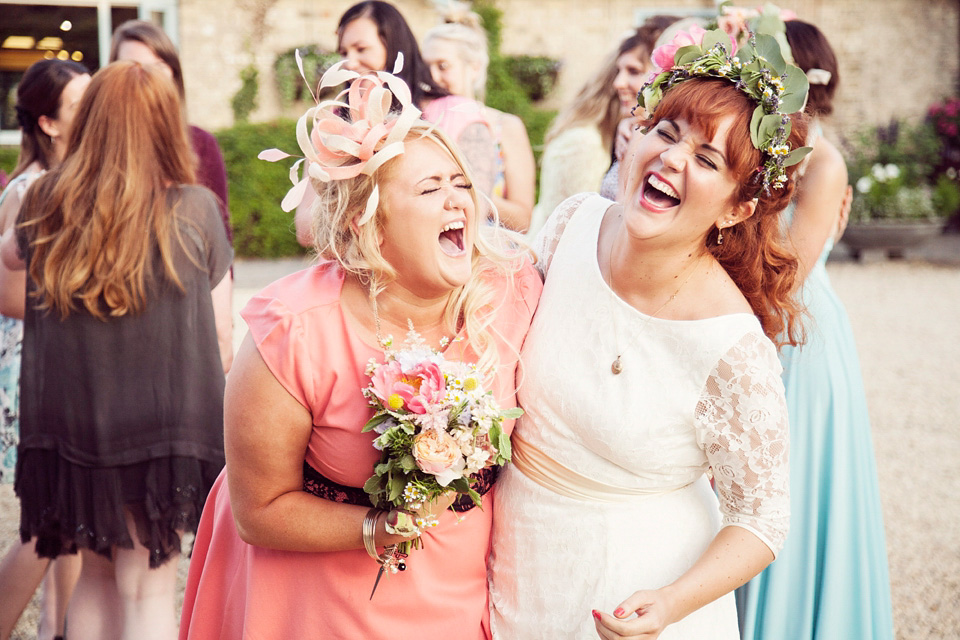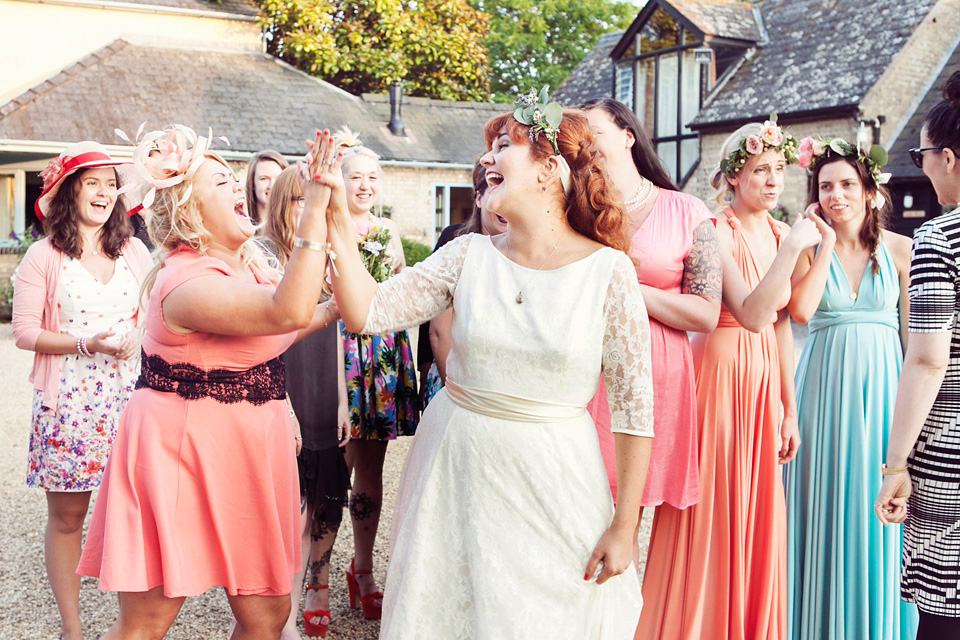 "Handmade was the inspiration behind decorating the venue – lots of hand made fabric bunting (beautifully made by the mother of the groom). There was also bunting made out of heart shaped maps and sheet music on thread. We also hand painted mason/vintage jars and jugs. We made lots of paper pom poms along with some shop brought ones. We went to an Etsy wedding fair before the wedding to get inspiration and ideas for how to hand make decorations for the wedding. We also hand painted old wood to make signs including places that we had been together over the years.  
We also scattered Doms screen prints around the venue."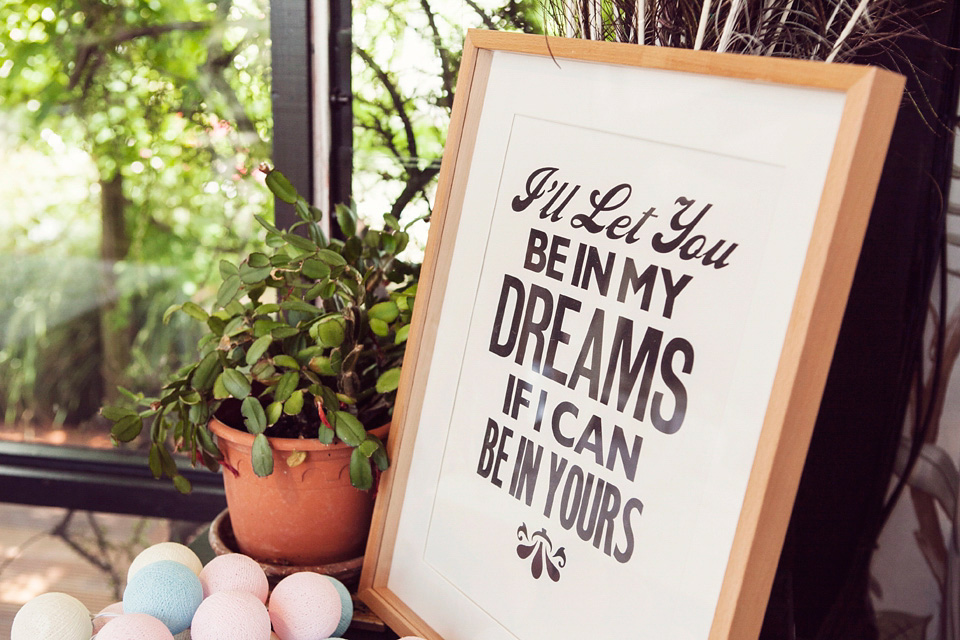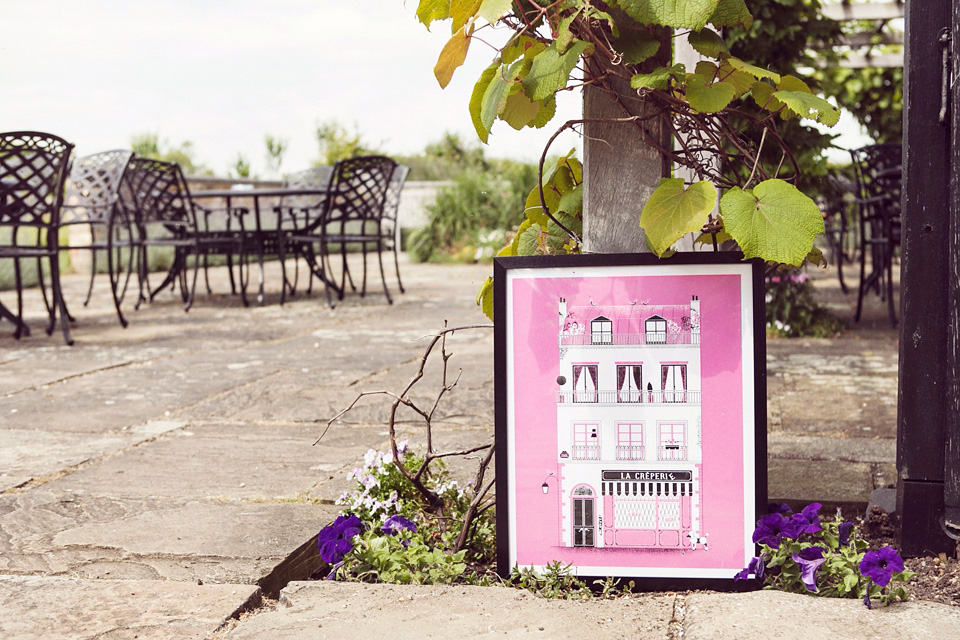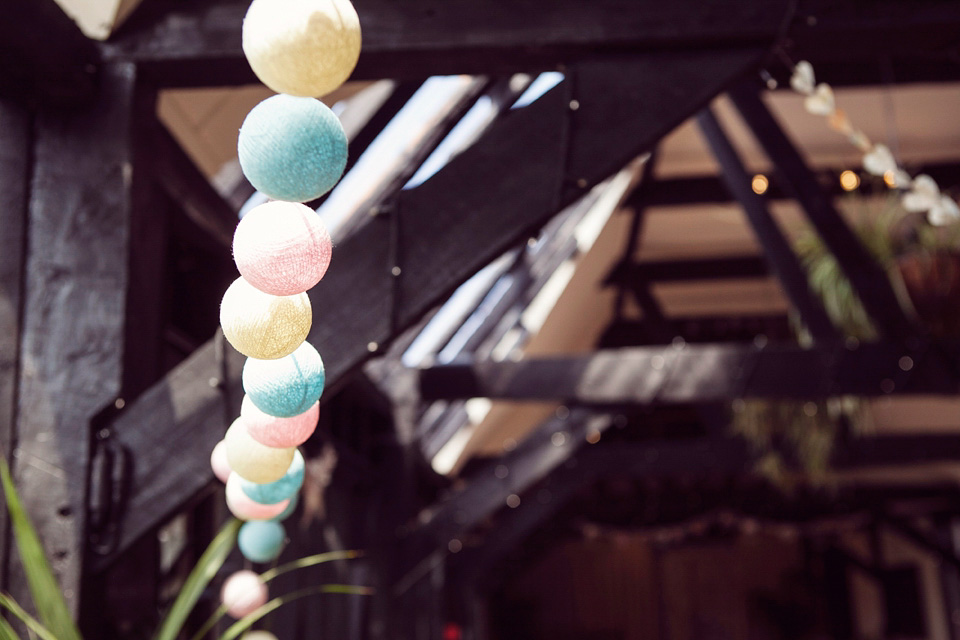 "South Farm catered the wedding, they use fresh ingredients from the farm as well as catering really well for special dietary requirements and as a vegetarian myself the choices available were endless and delicious.
We provided each guest with a little jar of organic jam, home made by our friend who is a farmer in Essex. Dom then designed and printed stickers, and then we tied each one with twine."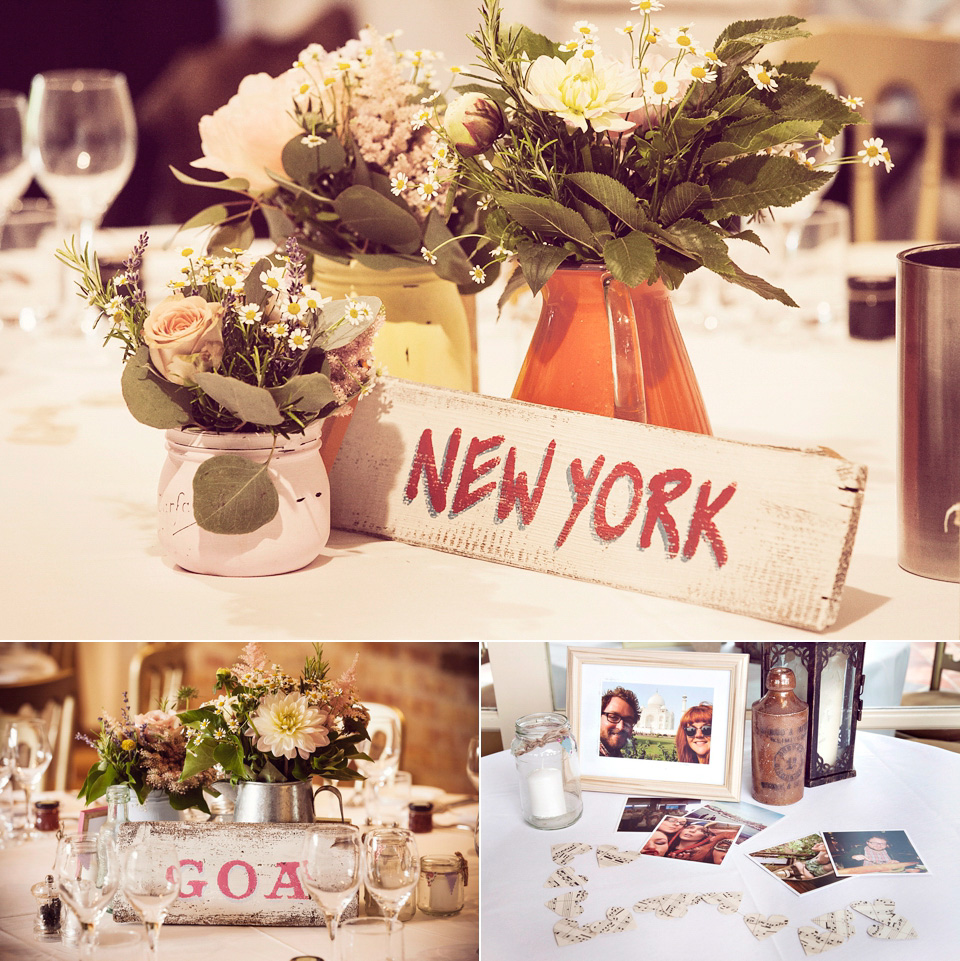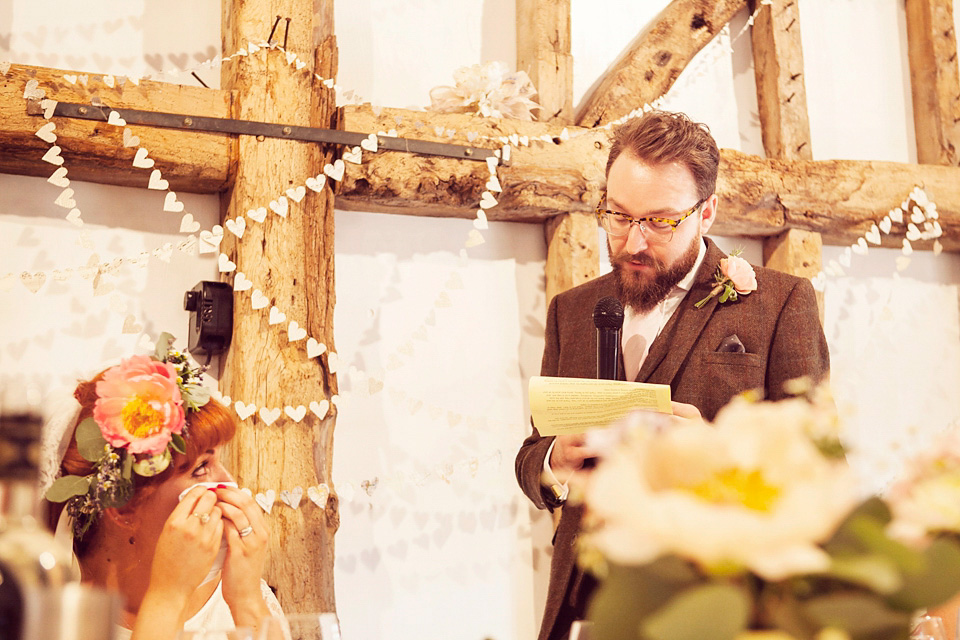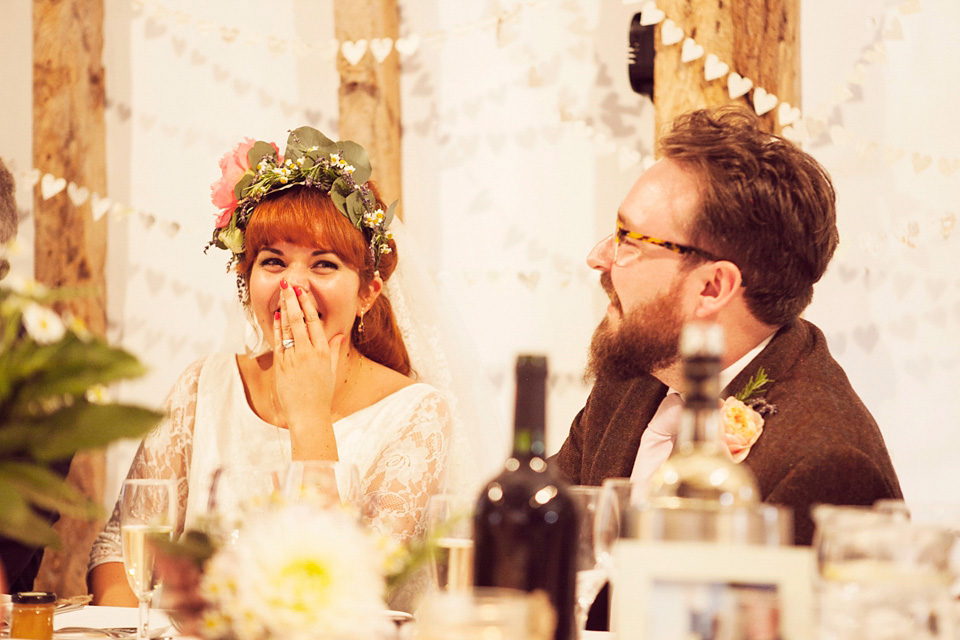 "We found finding a band really difficult, we knew what we wanted we just didn't know how to find it. We came across DG music and found the Jalapeno Hot Club Band. Although we wouldn't necessary recommend the website (agent) We can't praise and recommend the band themselves enough, they were truly incredible and the dance floor was full all night. They were a really friendly, professional and fun band.
Our first track was played live by the band and it was Bob Marley's 'Is this Love'.  We love this song, as Dom and I have completely different tastes in music but we both can agree on Reggae (especially Bob Marley) but also the lyrics "We'll be together, with a roof right over our heads; We'll share the shelter of my single bed" make us laugh as we spent my first year in university sharing my single bed!"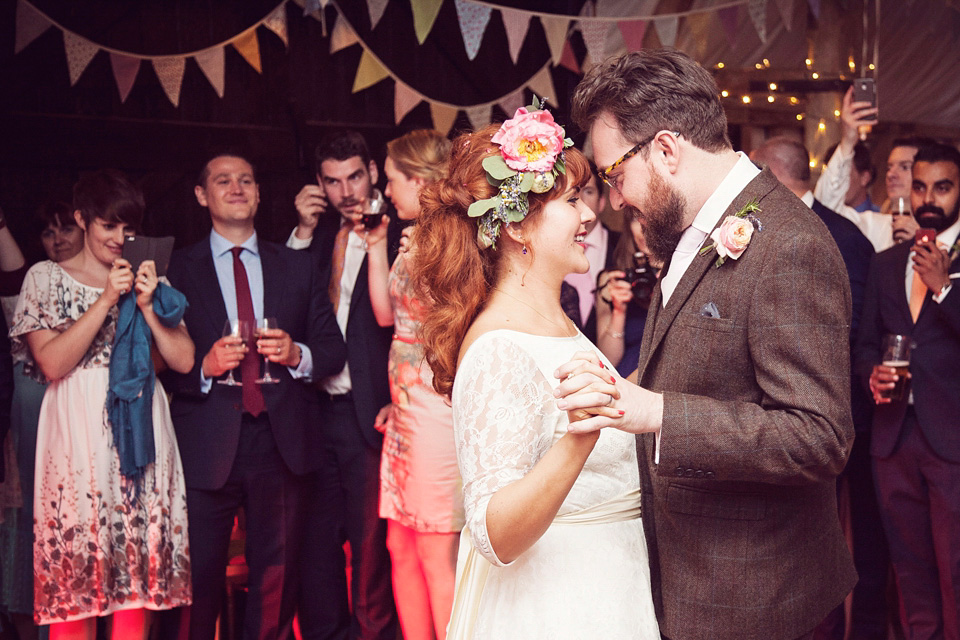 "I loved the whole day, I know, such a cliché for a bride to say but I genuinely did. I loved standing in front of friends and family, reading our vows, with the sun shining, little ducklings splashing in the pond in front of the summer house, there was a lot of love, but it was also really relaxed, chilled and fun."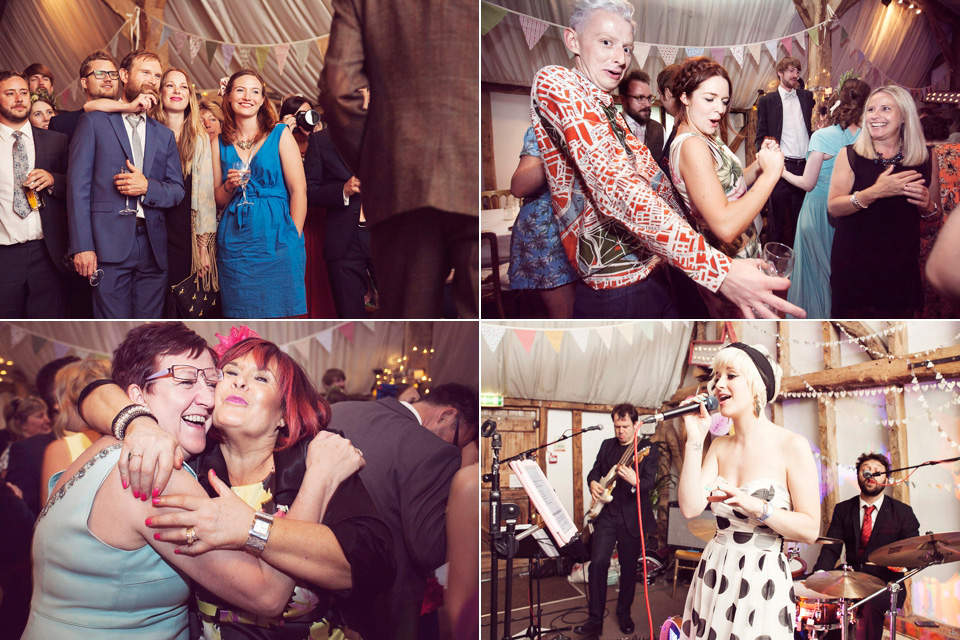 Words of Wedded Wisdom..
"Enjoy every moment of not only the day but also the planning. Don't sweat the small stuff. Little things may go wrong but when your standing with the love of your life reading your vows in front of family and friends, that is what it is all about. Also we recommend taking a few moments on your wedding day to be alone, to catch up with each other. We went off for a tuk tuk ride to catch up and take in our wedding day, just the two of us whilst the sun was setting."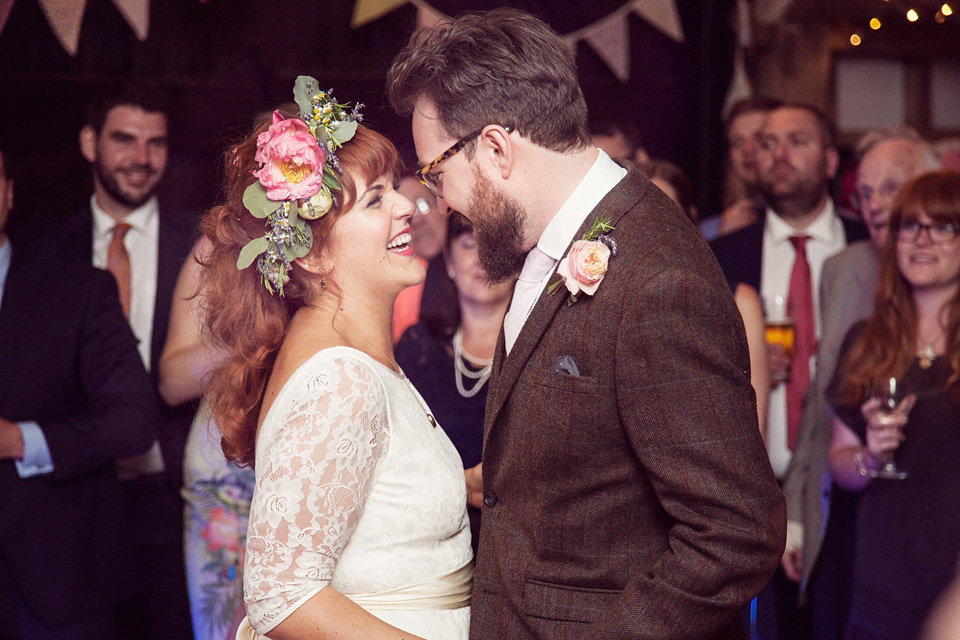 What an absolutely beautiful, beautiful day.  Jess I simply adore your whole style, and couldn't think of another dress that would have suited your more, or a headpiece that could have been more perfect.  Huge congratulations to you and Dom and thank you so much to your lovely wedding photographer,  Marianne Ford and your film makers Eight Wood Studios for so kindly sharing their work with us today.
Do we have any  more Halfpenny London brides reading this right now?  You can read more about and see much more of Halfpenny London here on Love My Dress
Love Annabel xx
Photographer – Marianne Ford
Film Production – Eight Wood Studios
Venue + catering   South Farm, Royston
Dress – Halfpenny London
Veil – Borrowed (designed by Charlie Brear)
Shoes – Retro Revival Boutique in Soho
Accessories – vintage earrings
Bride's Scent/perfume – Chanel's Coco Mademoiselle
Grooms Suit – Next + tie via Tie Room
Bridesmaids – Twobirds bridesmaids + Office shoes
Florist – Miss Victorias Floral Emporium.
Cake – DIY, family
Entertainment – DG music
Stationery – DIY, the groom
Hair + Makeup – The Beauty Queens