Good afternoon, I hope you're having a wonderful Wednesday! Nicola and Danny's wedding, laden with lovely details is sure to brighten up your day. Their wedding was held in Danny's auntie and uncle's incredible garden on the 11th of July with the legalities being taken care of the day before. Nicola who has just finished her PhD readily admits that she is fussy but she has great taste and with some help from family created a very cool and relaxed wedding day. She even drew all the graphics and designed the invitations herself. With blankets to sit on, guests were able to lounge on cushions in the garden under festoon lighting and surrounded by masses of tea lights. The whole day was shot in beautiful detail by Kerry Diamond.
Photography Copyright (c) 2014, Kerry Diamond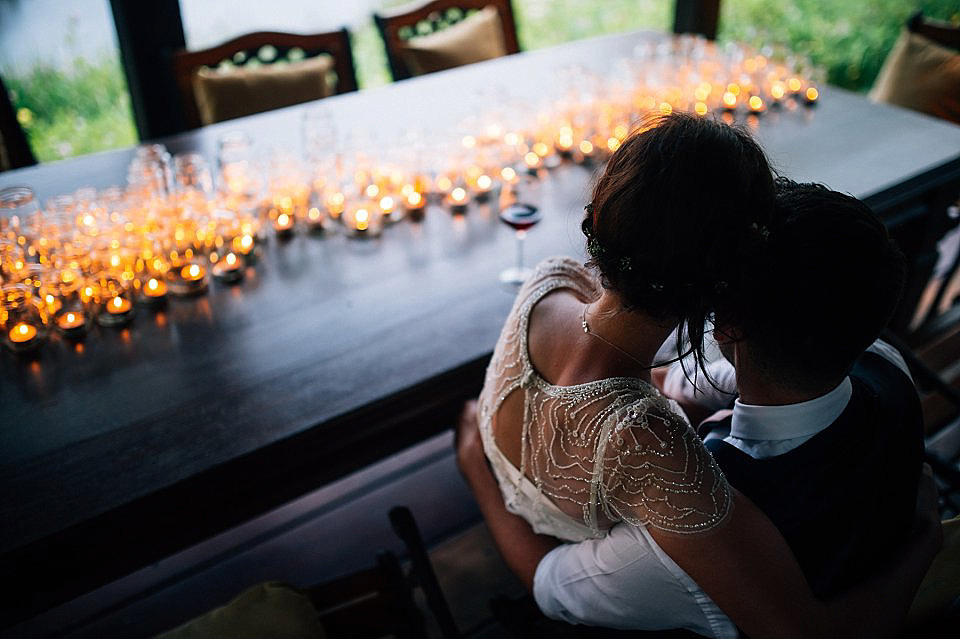 "Danny and I first met at our local cricket club when I was 14. He first asked me for a kiss, but I turned him down – we eventually got together 3 years later. He proposed on a sand dune in Morocco under the stars in middle of the Sahara Desert, using a ring made from a paperclip! When we got home we had a lovely trip to Hatton Gardens in London, where I designed my own ring."
"We got married in Danny's auntie and uncle's garden in Stalybridge, Cheshire. We hired yurts instead of a marquee – I fell in love with the oak floors and awesome champagne bar. They also provide help with styling and on the day co-ordination. Lizzie and her team were excellent during the lead up and on the day."
"Our day was inspired as much by things we didn't want as by things we did want. An outdoor element was essential and I have a real aversion to ugly chairs covers and carpets (did I mention I was fussy?). What we did want was a fun and relaxed day but most importantly, a party that we wanted to go to. Before the day we described it to people as 'not a wedding, but a celebration of us being together for 10 years."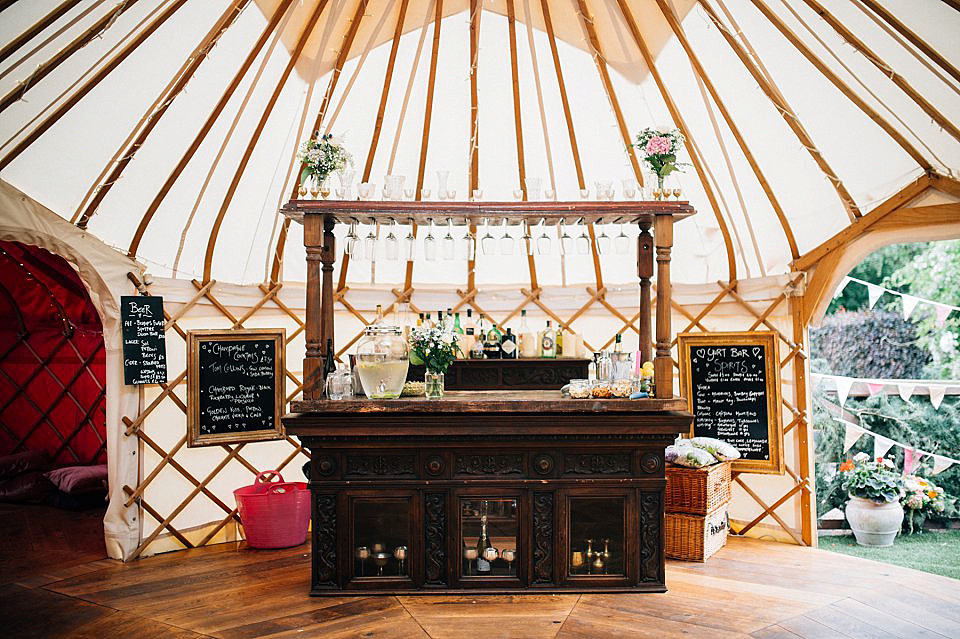 "The bridesmaids chose their own dresses. Originally I didn't want matching dresses but I think it worked. I made the freesia flower crowns on the morning of the wedding. We remembered them last minute so were a bit of a rush job in the end!"
Nicola got her beautiful Jenny Packham gown from Preloved and paired it with a silk tulle veil and a delicate hair band. She did her own makeup and wore Coco Mademoiselle perfume.
"I loved the detail in the sleeves, it was light and easy to move around in, I swished around a bit too much and caused some beads to fall off! In the end I loved my dress but I didn't enjoy dress shopping, I never had the 'wow it's the one' moment, not even in Eden.
"I entered a competition with Kerry to win a wedding photography package, and luckily for us, we won! Kerry's relaxed, creative style of photography was just what we were looking for. From the first email, we felt that she was right for us. Her photographs are beautiful and show how talented she is but just as important was how relaxed she made us feel, blending in so well on the day and taking so many gorgeous photos with her second shooter Vikki. We have had so many comments saying how good our wedding photographs are."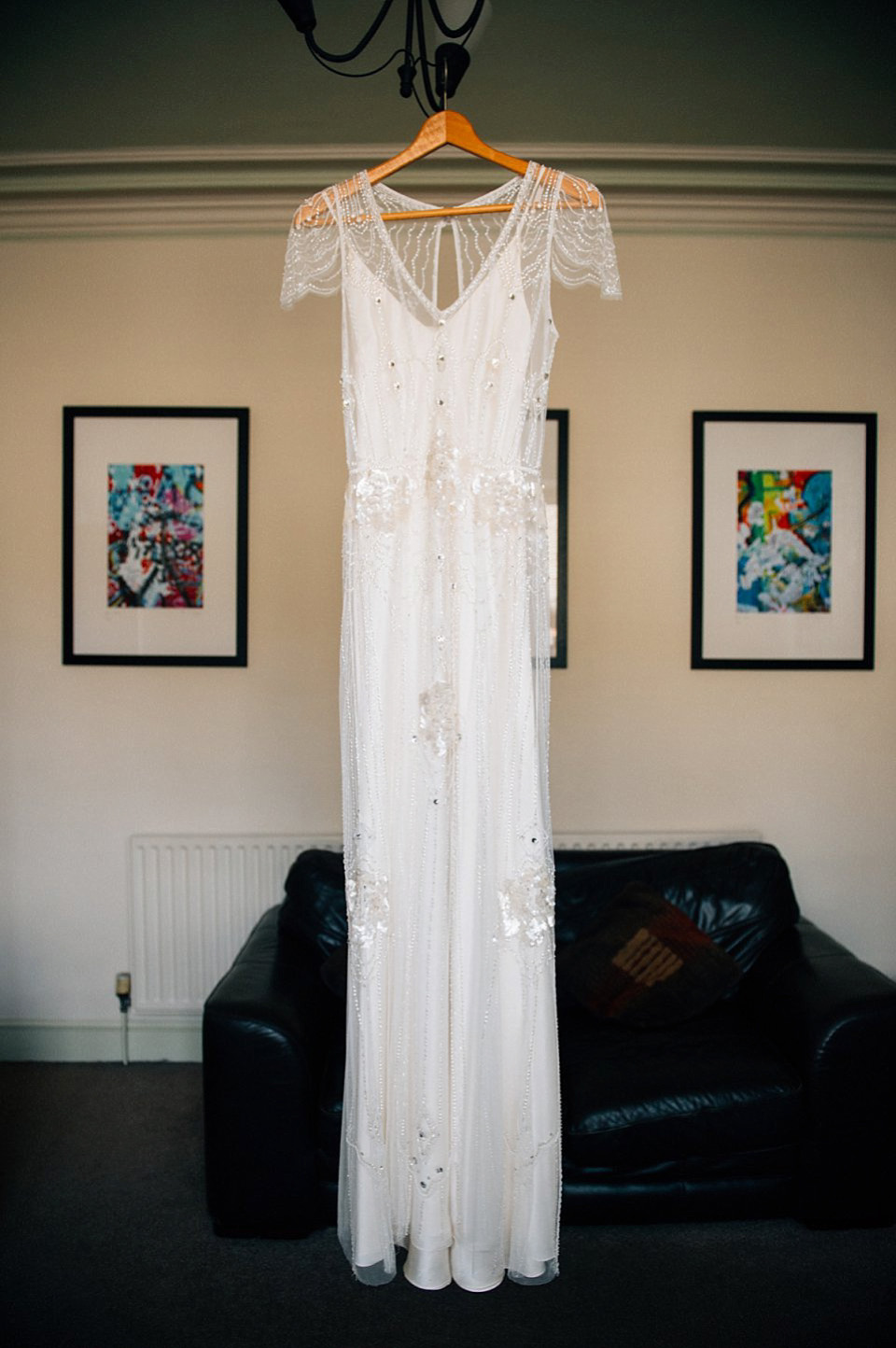 "I wanted my bouquet to look natural and wild with lots of greenery. Marie at Four Seasons Flowers made a gorgeous garland of flowers for the ceiling wheel of the bar yurt and filled lots of jam jars and watering cans with beautiful blooms.
We borrowed pot plants from friends and family for outside the yurts and we are proud to say a piece of astroturf from Ashton United football club was used at the doorway."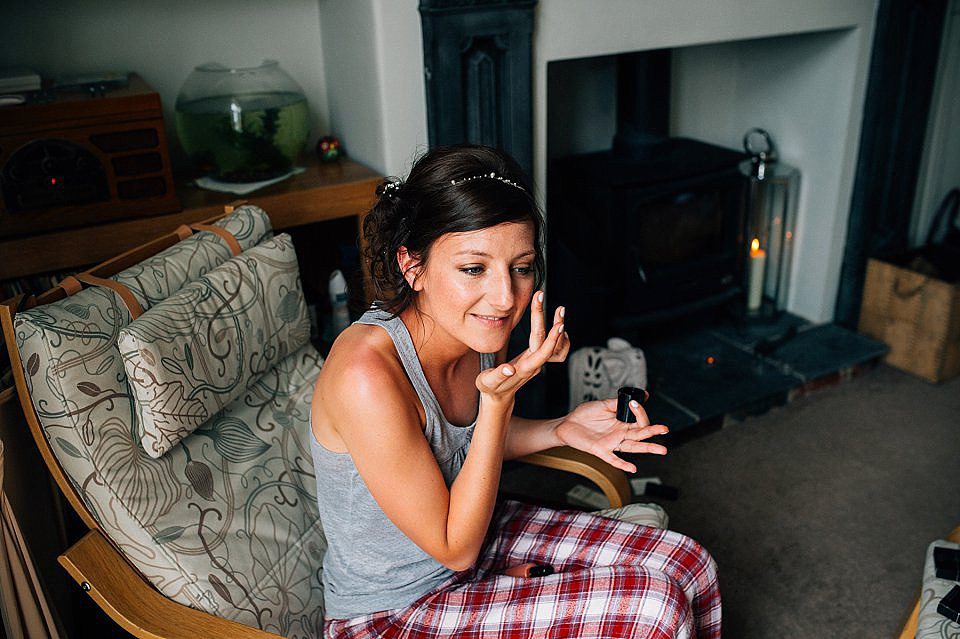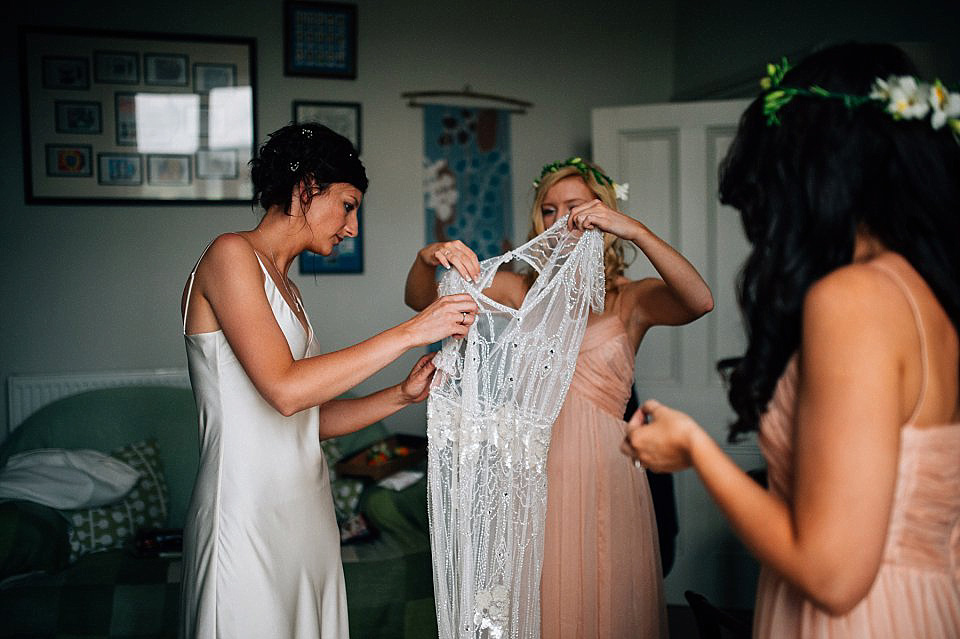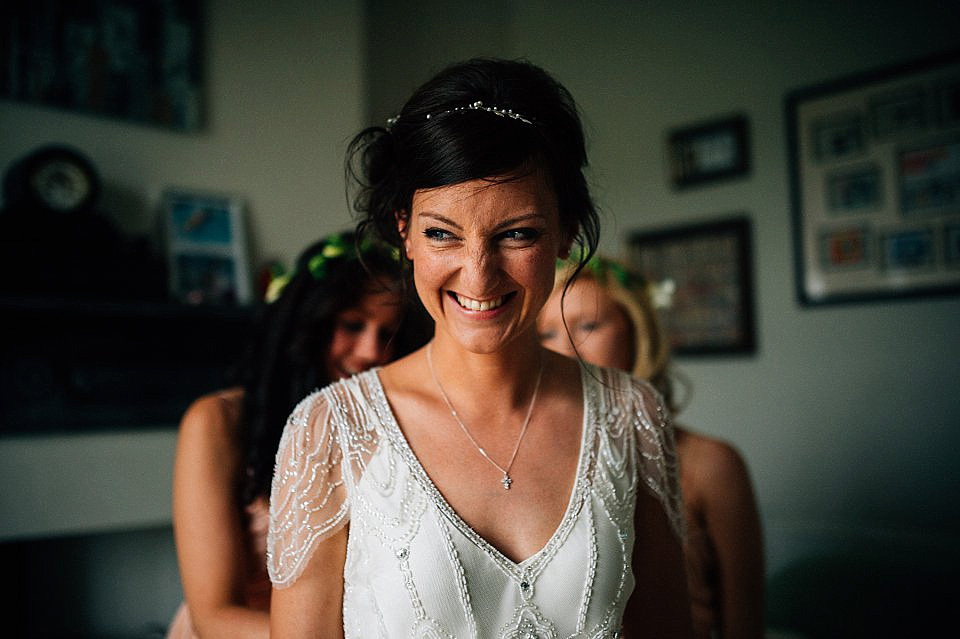 "My step mum Helen's necklace was my something borrowed and I wore my grandma's engagement ring as my something old."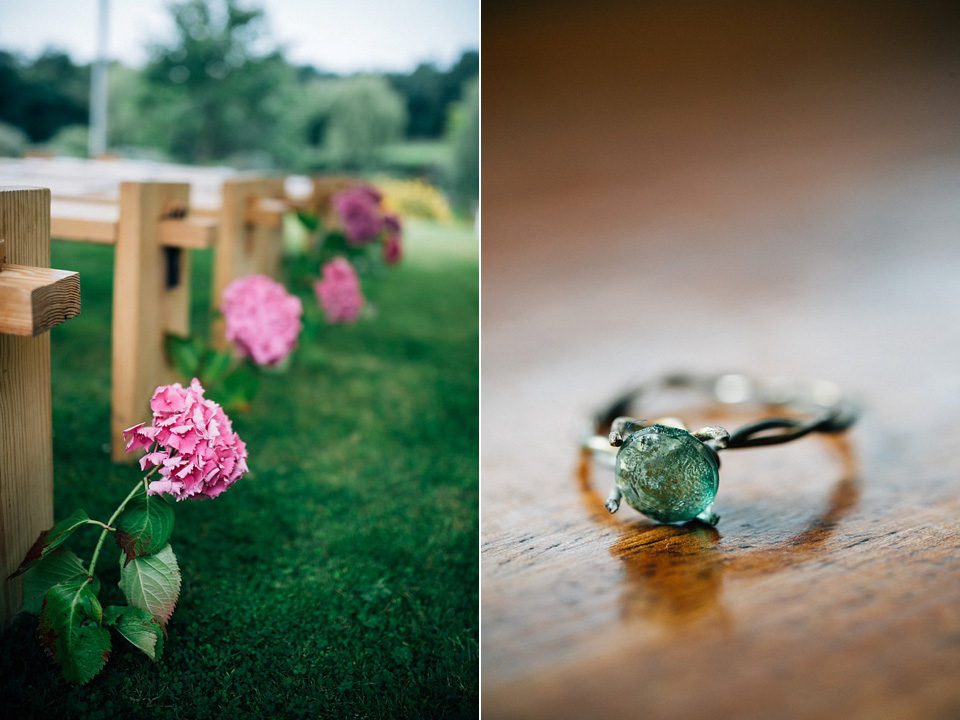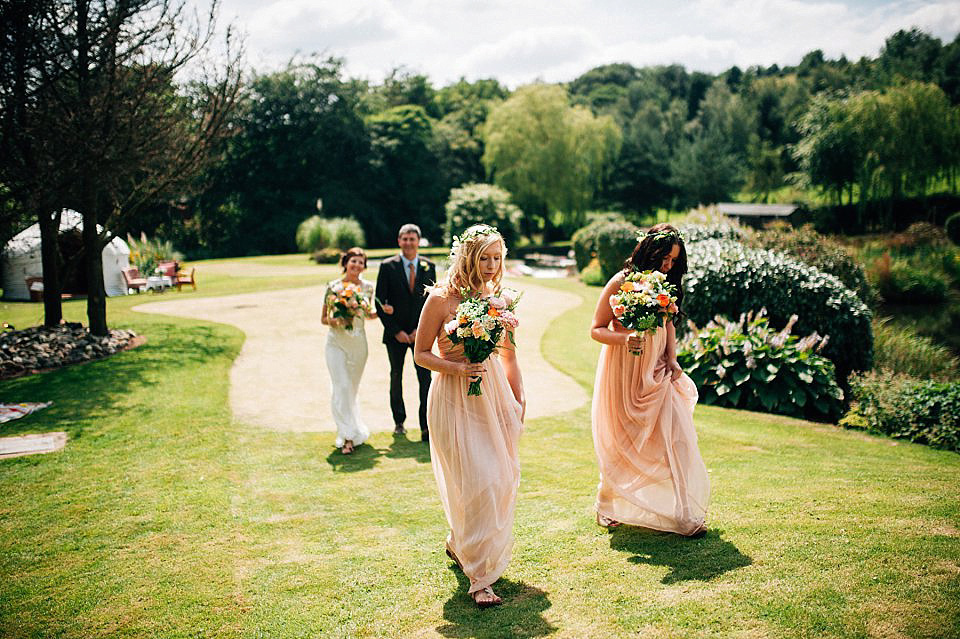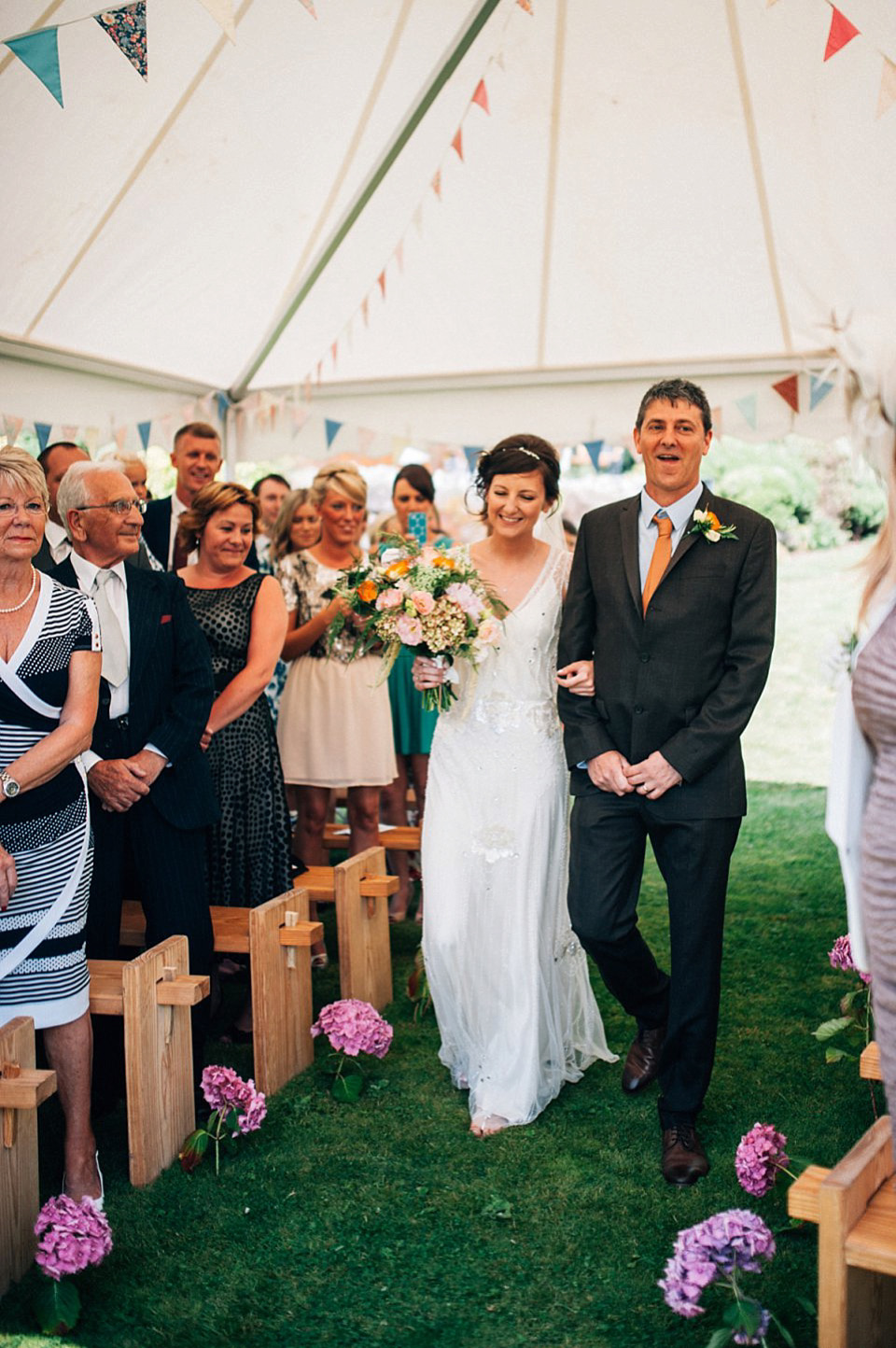 "Our ceremony was conducted in the garden by Louise, who we would highly recommend. We met before the wedding then she put together a ceremony that reflected us.
The first reading was an extract from 'His Dark Materials' by Phillip Pullmans. The second was a version of 'He's Not Perfect' by Bob Marley, changed to 'we'."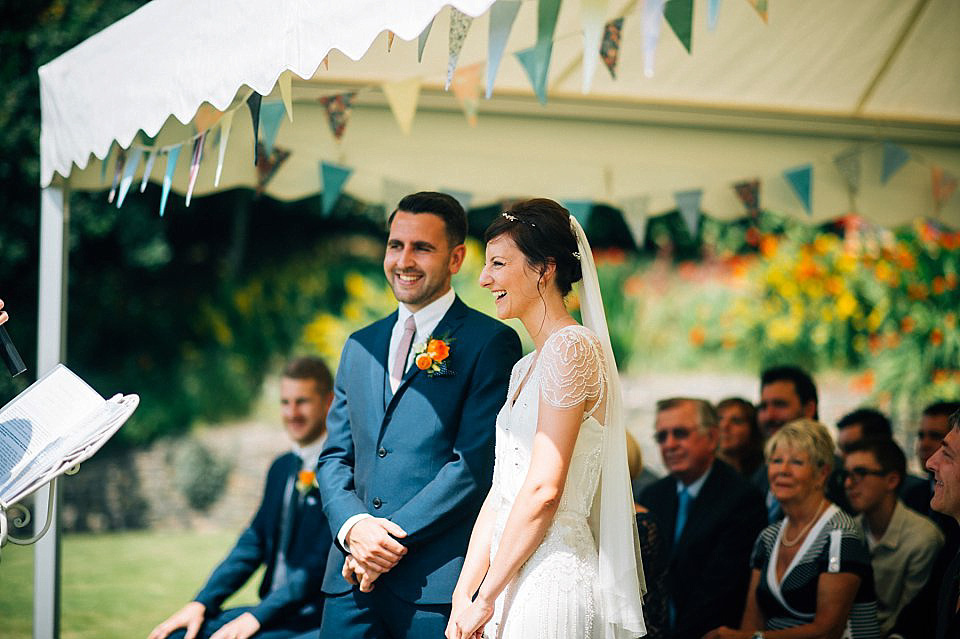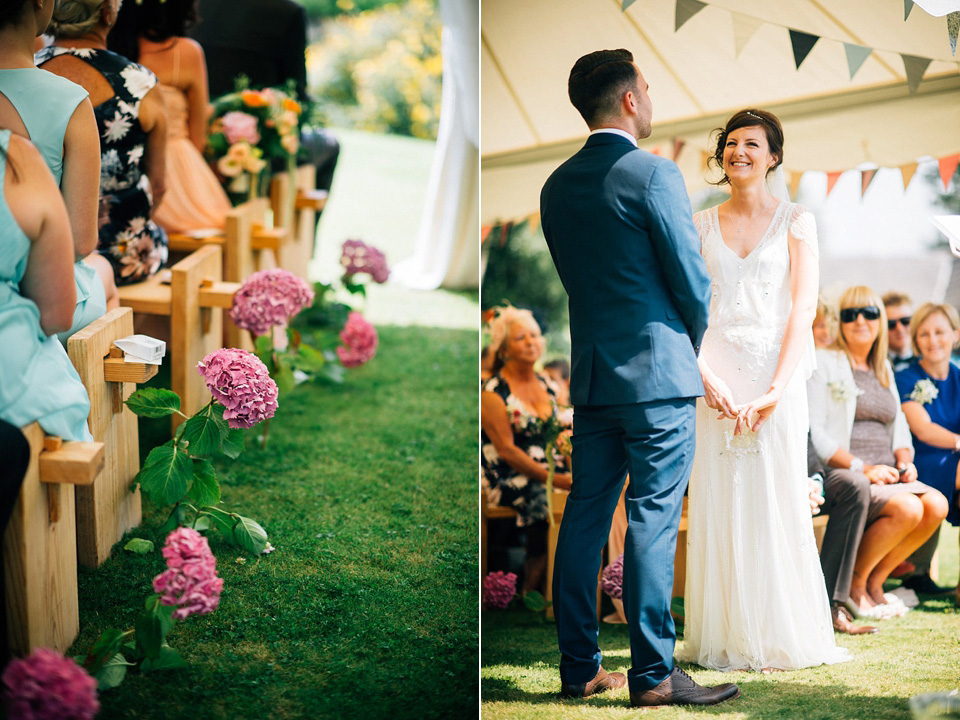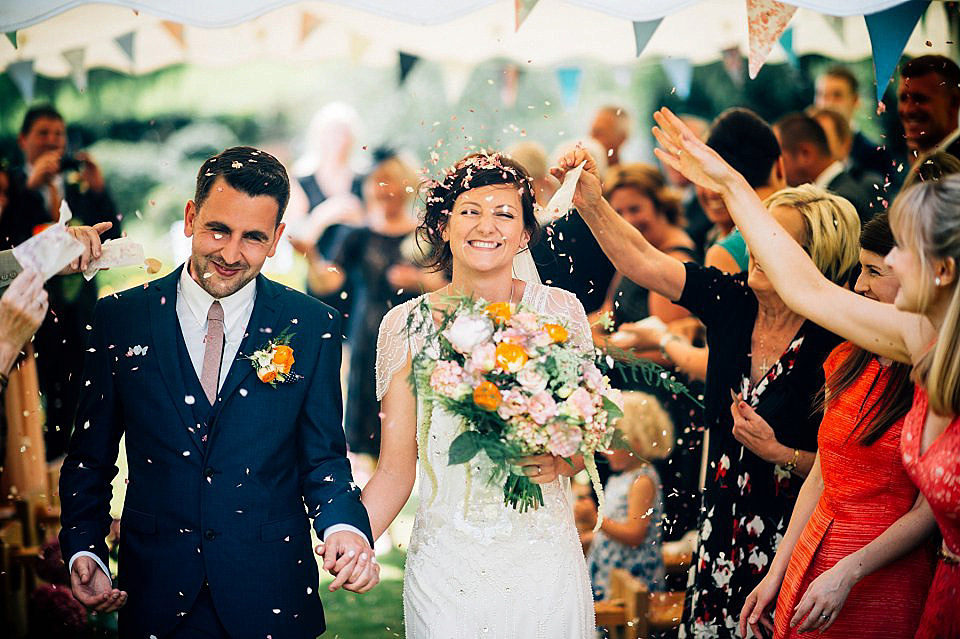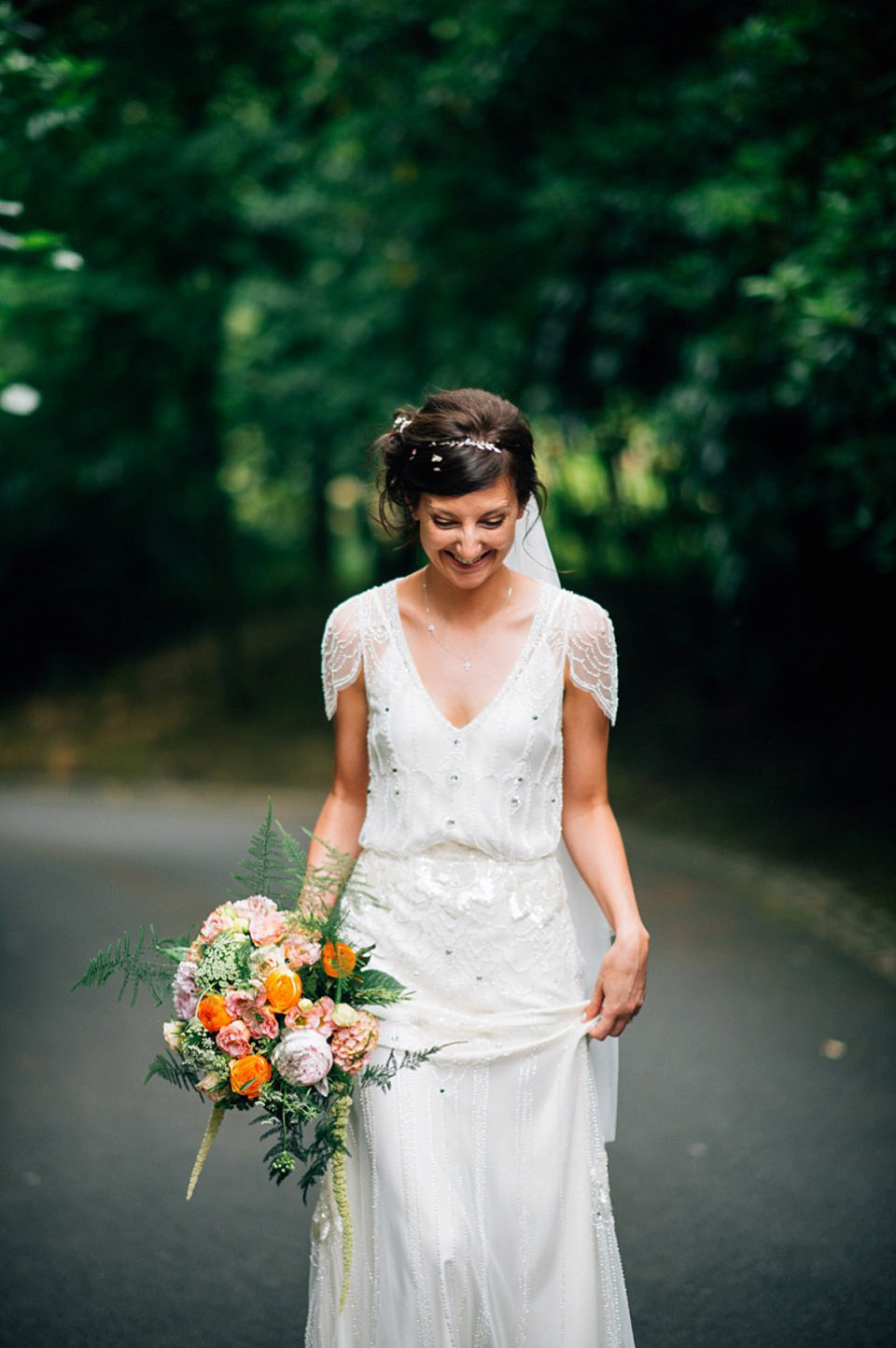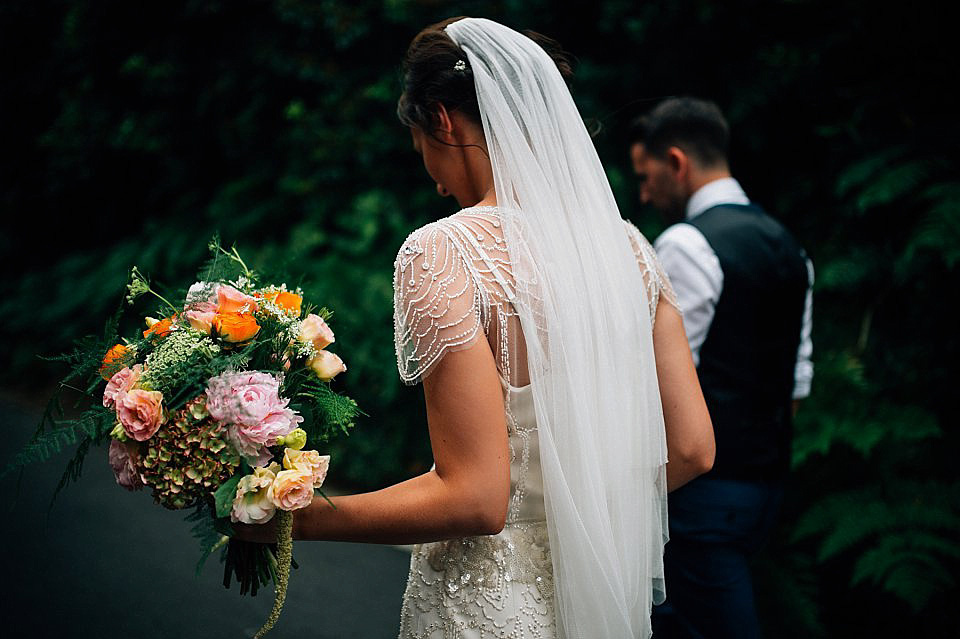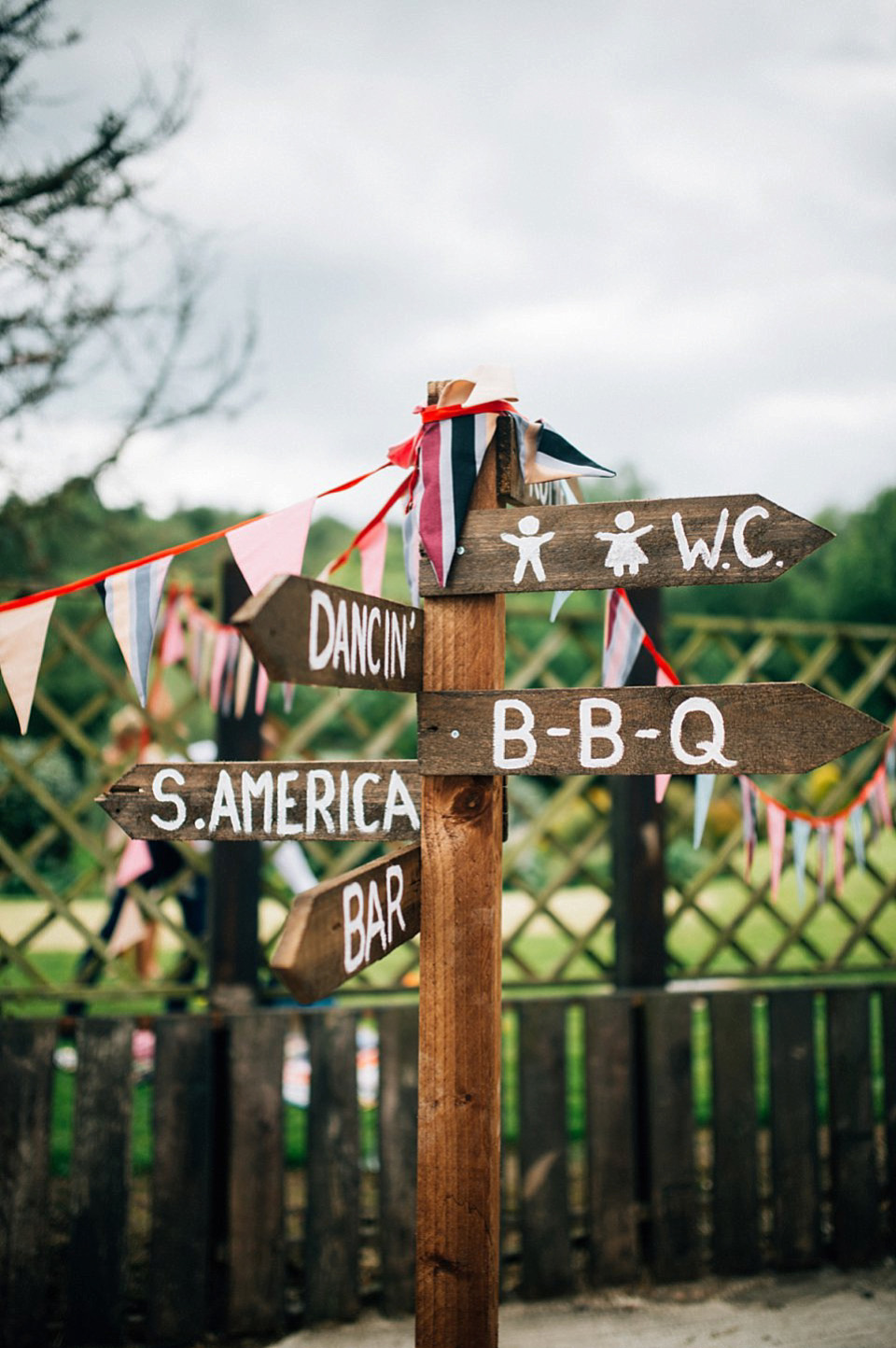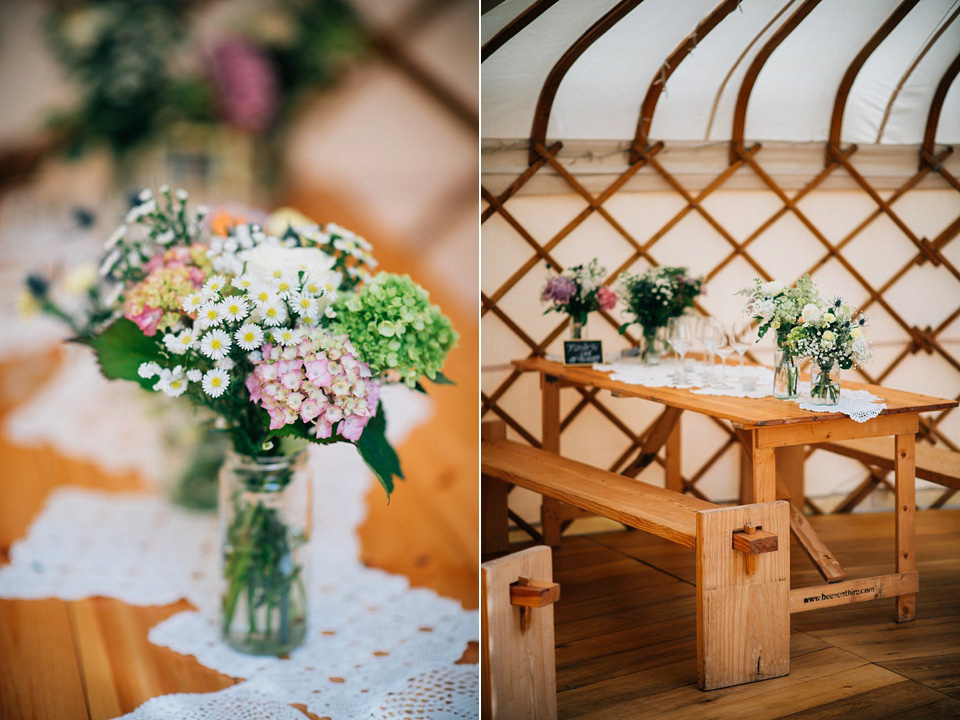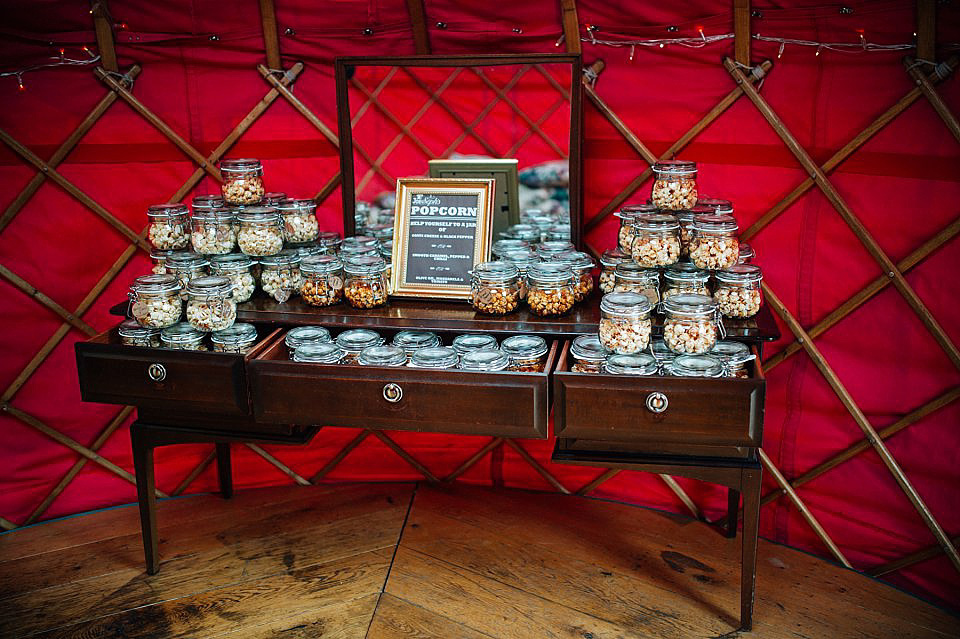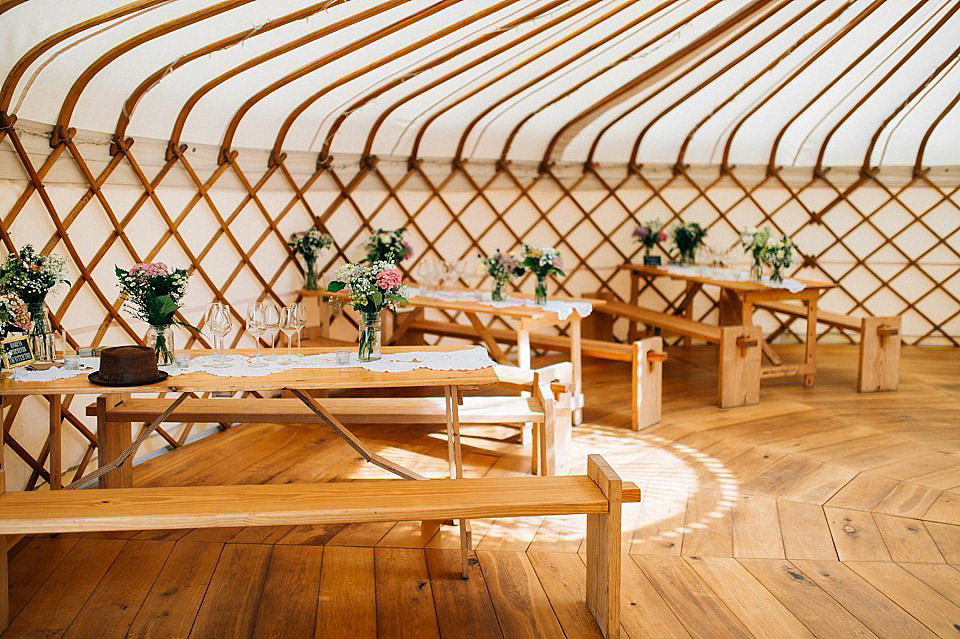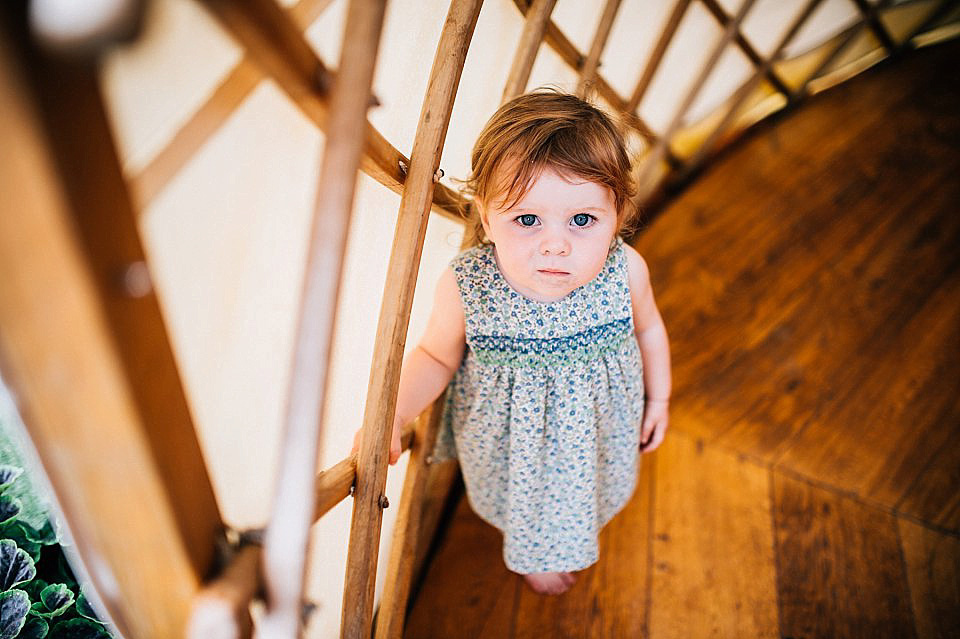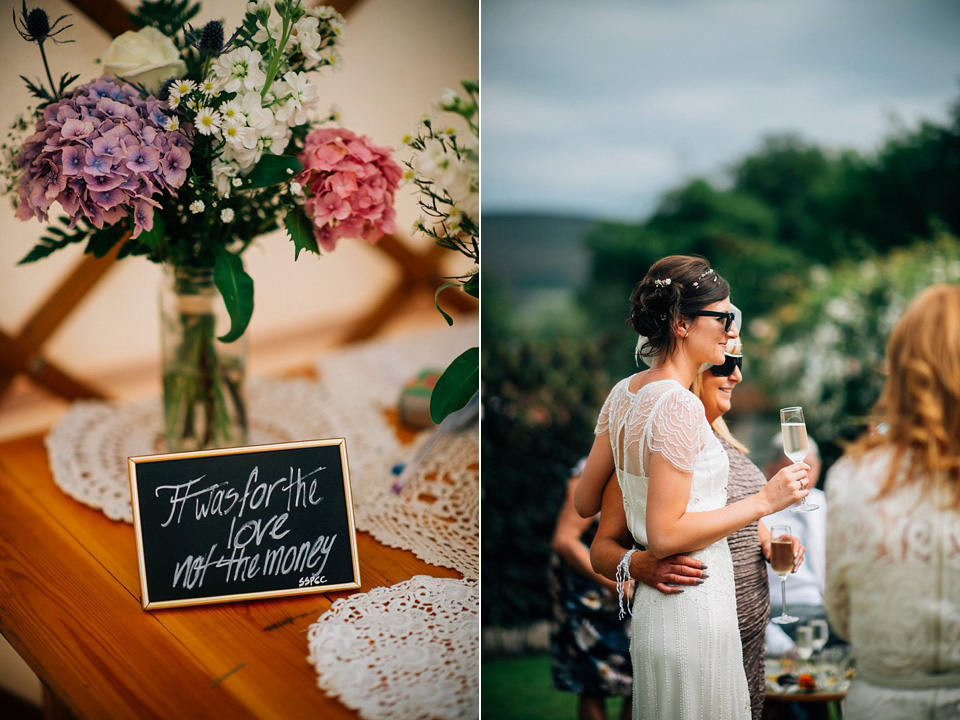 "I collected doilies and with the help of Danny's mum and my Nan made table runners.
Instead of favours we donated to Willow Wood, our local hospice. I wanted to give to a good cause and we wanted to remember our grandparents that sadly couldn't be with us on the day."
"We provided jars of flavoured popcorn instead of canapés, then had an informal posh BBQ from Herb and Spice with skewers, burgers and pulled pork as well of lots of fresh salads and bread with Mr Whippy ice-cream for dessert. My mum made her speciality mini hotpots for the evening.
My mum owns a sandwich shop that sells award winning pork pies which we love so we got three tiers for the wedding cake. There was none left by the end of the night!"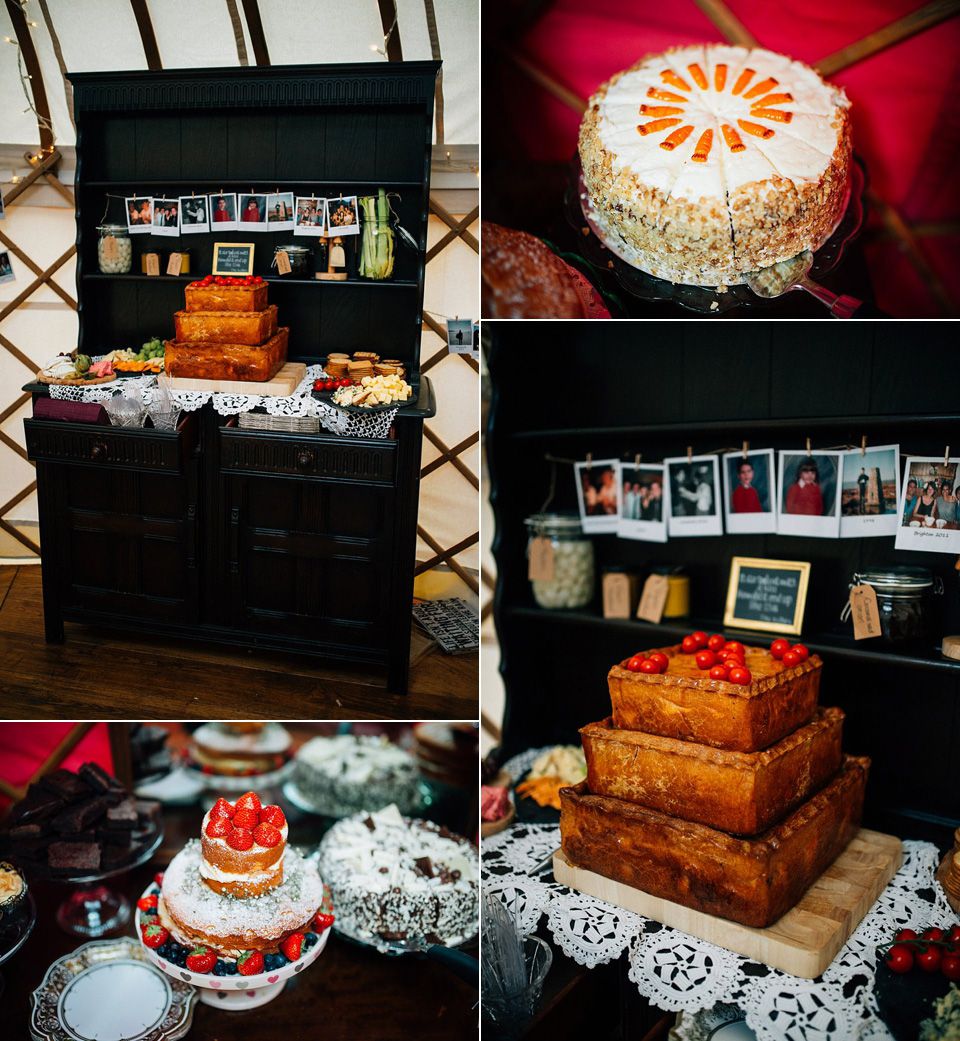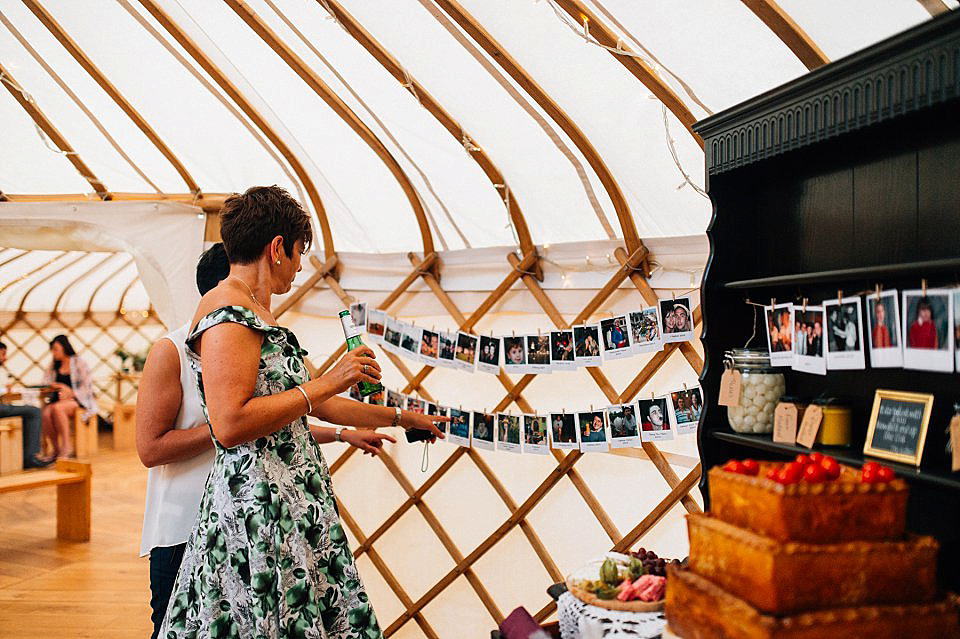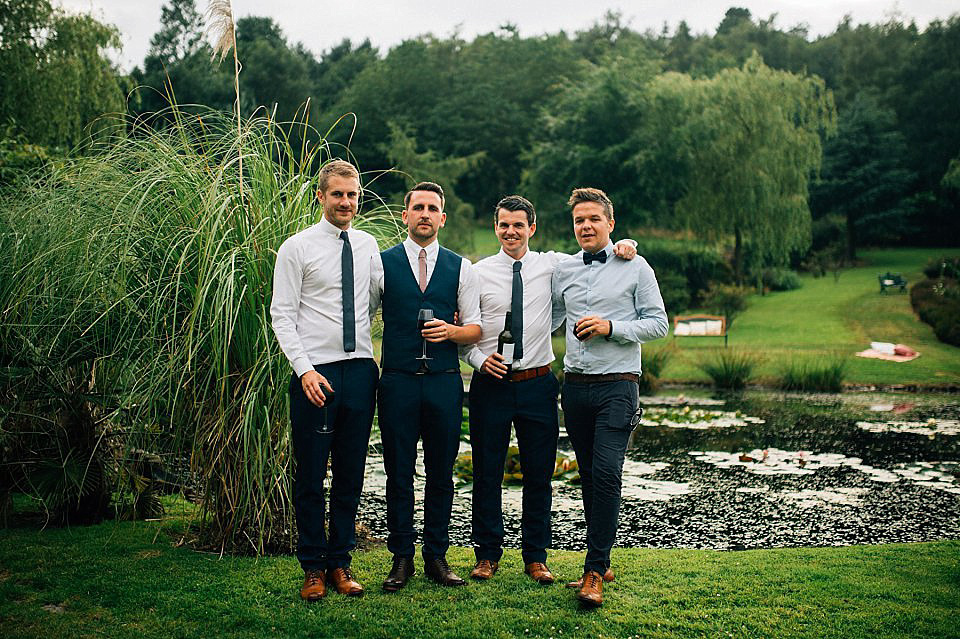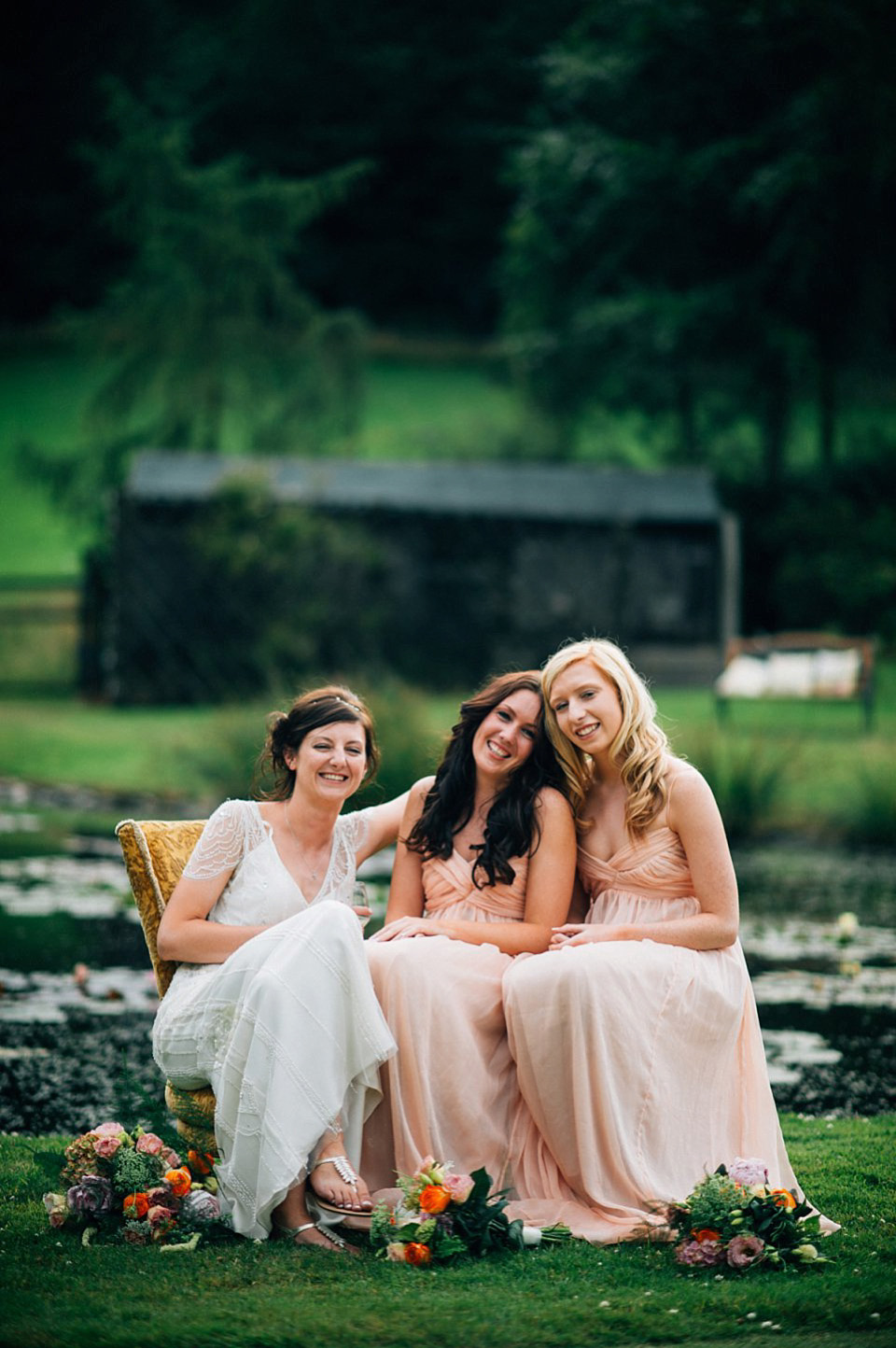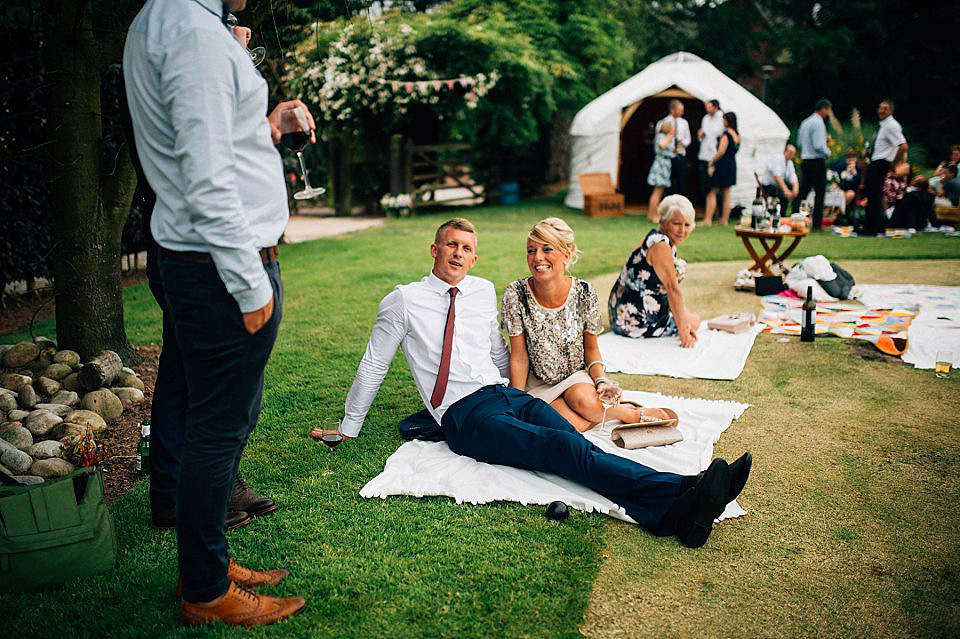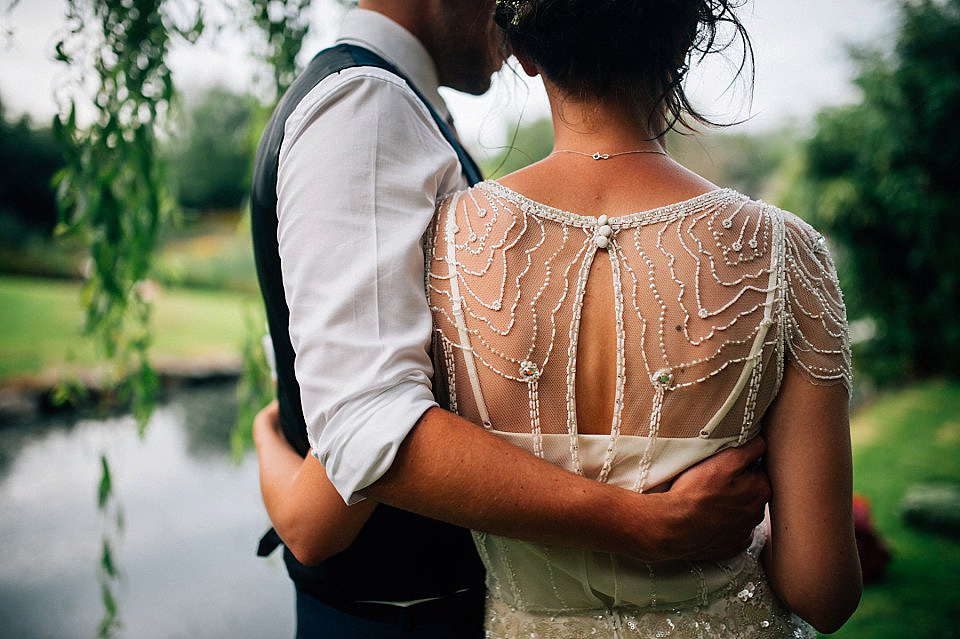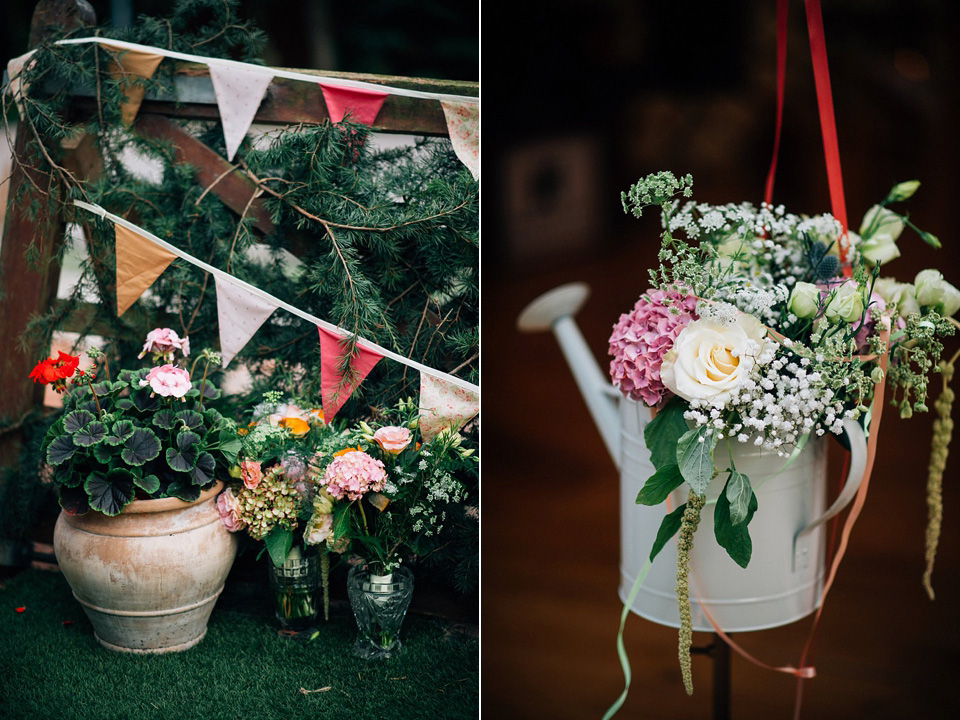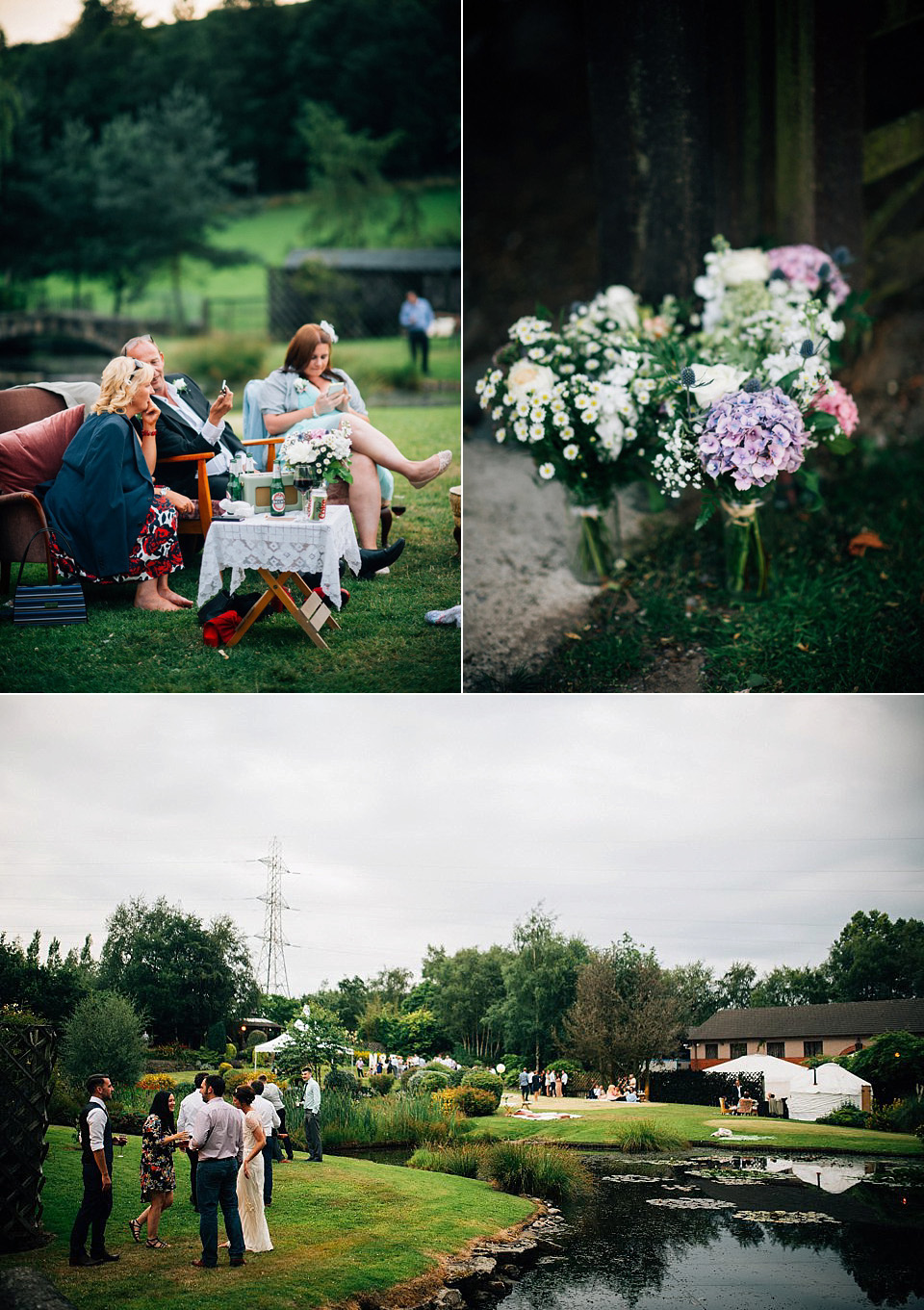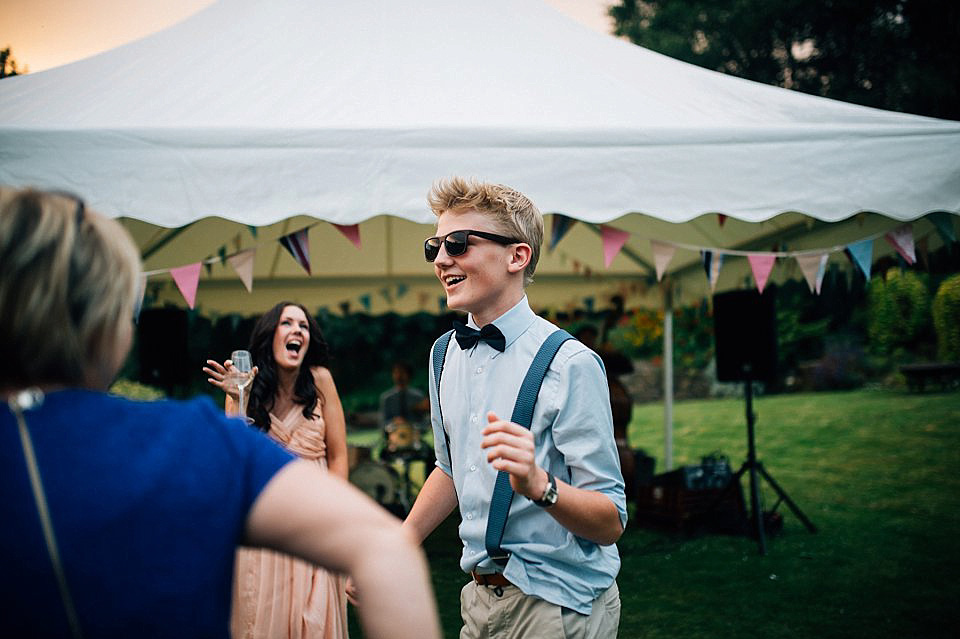 "The Gypsies of Bohemia play pop songs in the gypsy jazz style and were absolutely brilliant, providing the perfect background music while evening guests arrived and then stepping it up to get everyone dancing later. They really made the day for us!"
"I was nervous about everything beforehand but I loved the whole day. The one thing I would have done differently is to take 10 minutes to look around and see the day through the guest's eyes but I was far too busy having a good time."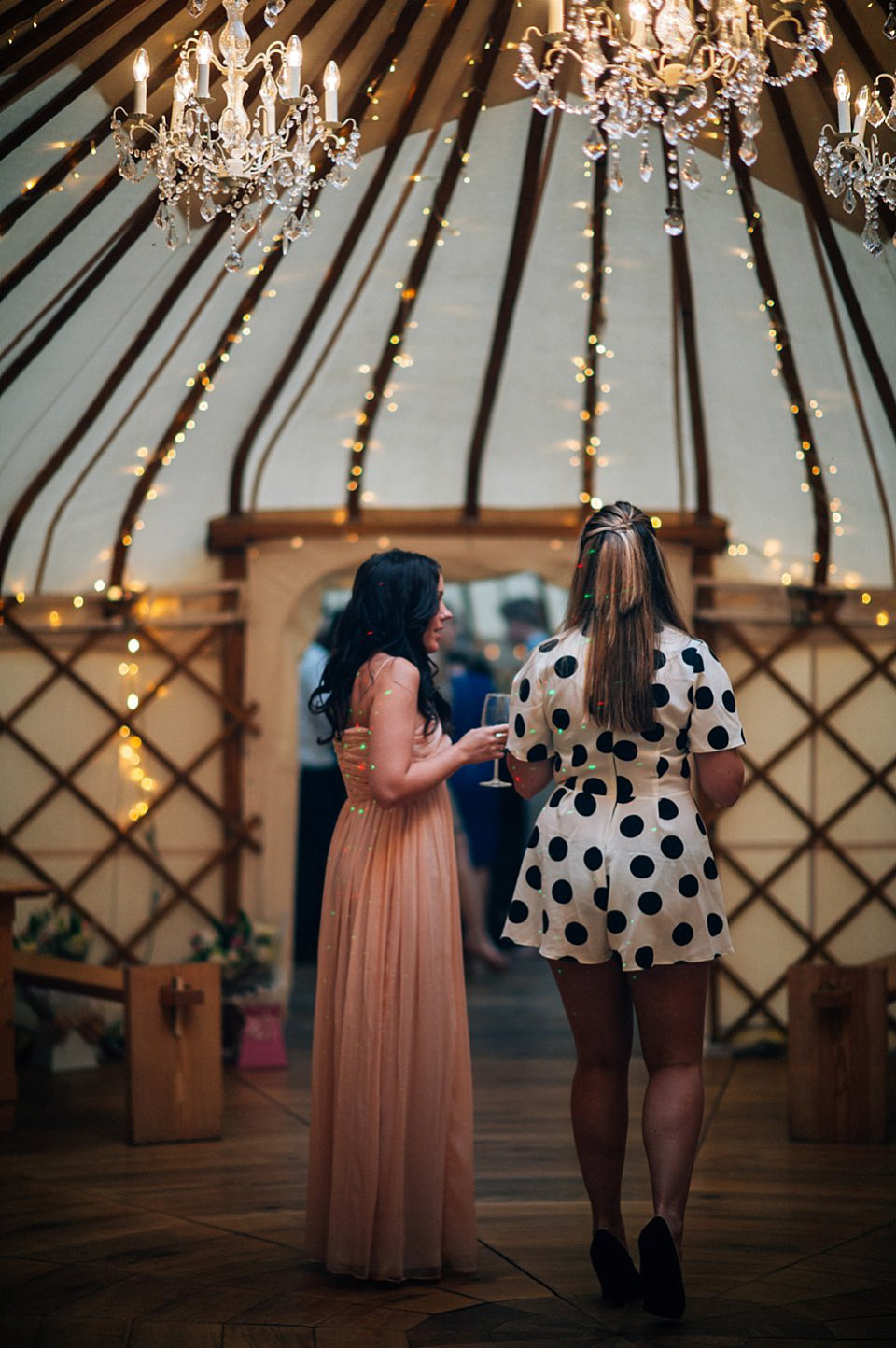 Words of Wedded Wisdom
"Don't feel guilty about not inviting everyone. Try to be diplomatic but don't give in to make others happy. Stick with your ideas and don't be put off by negativity towards things that are different. If there are suppliers you have doubts about, change them!
We weren't sure about a first dance so we asked the DJ to play 'Home' by Edward Sharp later without stopping the music. By then we had had too much to drink to be self conscious and have a great video of us dancing so I'm really glad we did it now.
Eat! Enjoy the day and don't worry about the small things!"
Congratulations to Nicola and Danny, it's a truly beautiful wedding. The images on the bridge by Kerry Diamond are breathtaking and doesn't the wedding look like it was a lot of fun, the smile didn't leave Nicola's face all day!
Love Caoimhe xx
Photographer – Kerry Diamond
Venue – Wedding Yurts (in the groom's Aunt and Uncle's back garden)
Ceremony Offician – Louise at Ceremony Company
Ceremony – The Ceremony Company
Dress Eden by Jenny Packham from  Preloved + Veil Dream Veils
Bride's Shoes – Accessorize + Hair Accessory Etsy
Bridesmaid's Dresses – Mango
Hair – Daniella Andrews
Groom's Suit – Next + Ted Baker Shoes + Topman Tie
Rings – Aneeka Gems, London
Catering – Herb and Spice + Cake E & R Grange
Florist – Four Seasons Flowers + Bunting
Band – Gypsies of Bohemia