Morning all – a little reminder for those of you looking for wedding shoes that we're currently running a fabulous £500 wedding shoes competition with Freya Rose which ends at midnight this coming Sunday – I recommend you enter now ladies, save forgetting and missing out on a really fab opportunity.
Now, what does a lady do if she finds out she's expecting once she's already started planning her wedding? Why, turn to elegant eco-dress designer Minna of course – to find an elegantly designed and flattering dress that fits just beautifully around a precious little baby bump. This is precisely what TV produce Sheena did for her wedding to charity worker Tom at St Monica's in Hoxton Square  – which the couple followed up with celebrations at Frizzante at Hackney City Farm.
These lovely photographs were taken by photographer Kat Hill, whose images I absolutely adore sharing on Love My Dress.
"I saw Minna's dresses on Love My Dress and made an appointment. I knew as soon as I walked in there that they'd sort me out. Minna's team are all really beautiful people. Together we worked out a bespoke dress that would work on a 7.5 month pregnant version of me. They were responsive to what I was after and really accommodating about having final fittings at the last minute, and basically made me feel totally reassured and believing that I could look lovely on my wedding day."
Photography Copyright (c) 2014, Kat Hill
"Tom and I met online through Guardian Soulmates. We got engaged early one morning after a terrible fight actually! We'd spent the weekend before having a quite romantic time wandering around Munich, perhaps a more obvious time to pop the old question? But no. Tom proposed at home in his dressing gown after this fight. I certainly did not see it coming and it swiftly marked the end to the argument.  We'd been together a little longer than four years when we got married and we were engaged for just over a year.
Our wedding day felt like a really organic process – we decided quite quickly to have the wedding in Hackney (where we live), and drew inspiration for the rest of our day from this location. Father Mark at the church told us the altar would be covered in scaffolding at the time of our wedding. We just thought that was great, and that the best thing to do was accept things as they were and keep it real and relaxed!"
"We saw a few venues but loved the warmth and rustic, imperfect, natural vibe of Hackney City Farm best. The church and venue then really flavoured the day's style."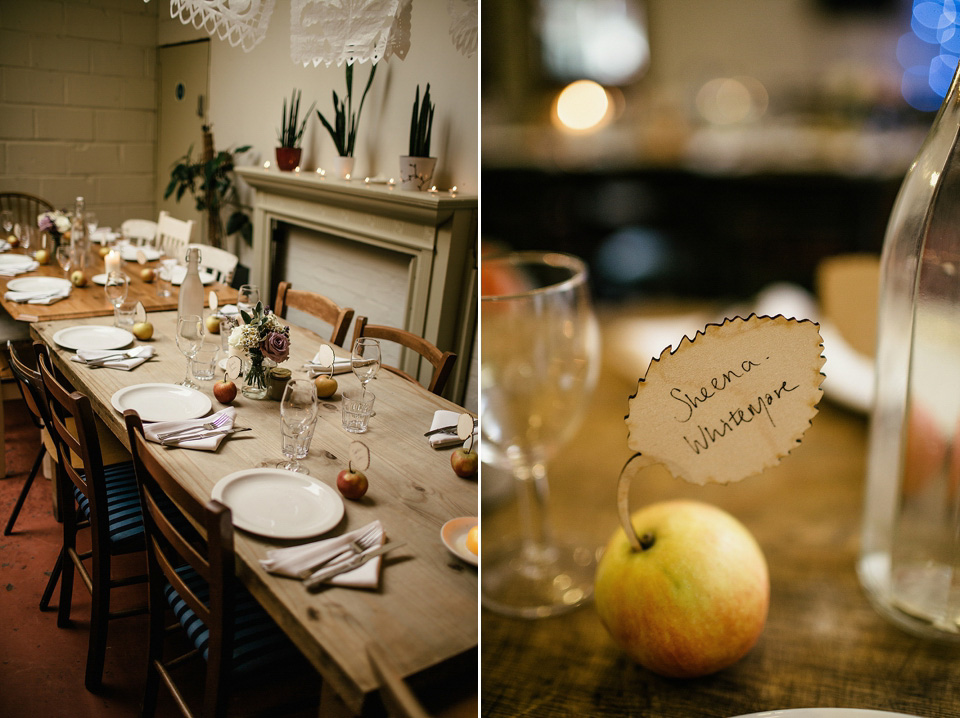 "I do literally 'love my dress' !  I bought a dress from another designer to begin with, then later in the week discovered, unexpectedly (but happily), that I was pregnant. I returned this original dress as it had a waist and  I knew it wouldn't it by the time of our wedding – I was thankfully given a refund. Tom and I then needed to figure out whether to go ahead with the wedding or postpone.
We waited until our 12 week baby scan came back positive, then decided to just go for it. This felt great on every level, I was a tiny bit gutted that I'd have to wear some massive tent dress that would ultimately be a compromise.  That was until I discovered Minna."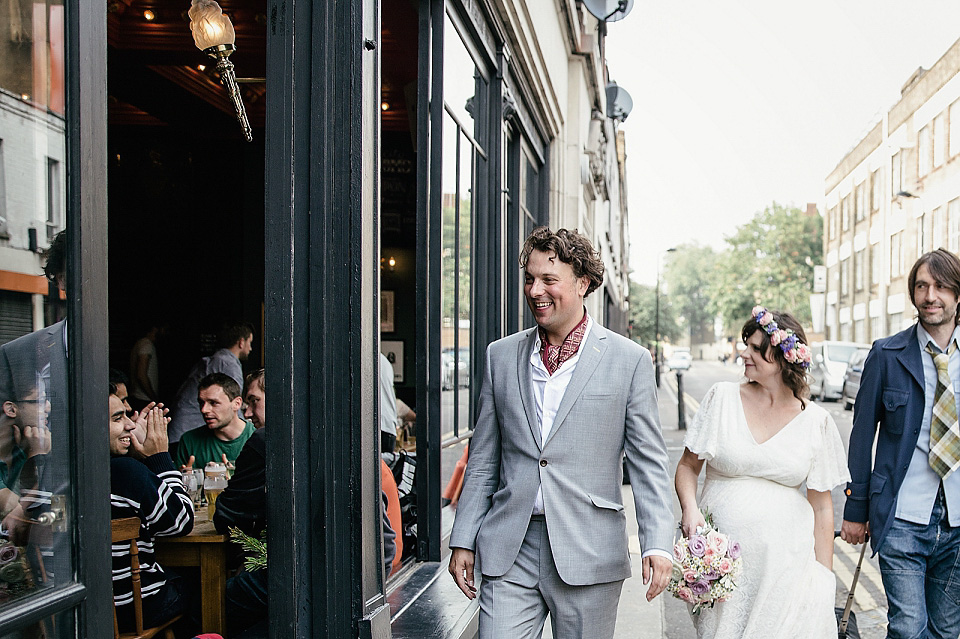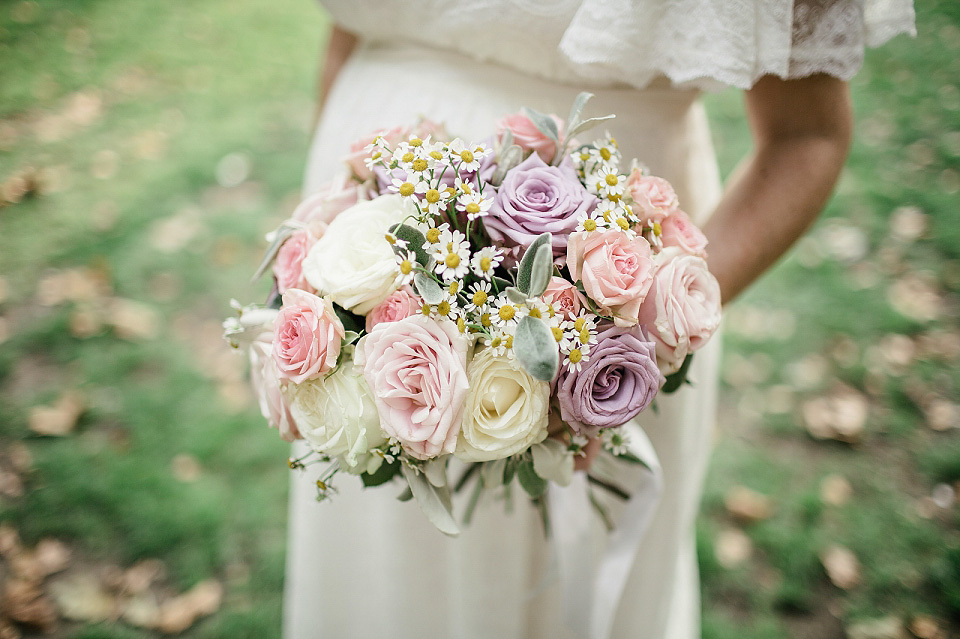 "I loved that my dress felt laid back and super comfortable but at the same time was really special. I felt very soft and feminine and just 'right' in it. Most importantly, it didn't feel like a compromise. I would have been just as happy in my beautiful Minna dress, had I not been pregnant."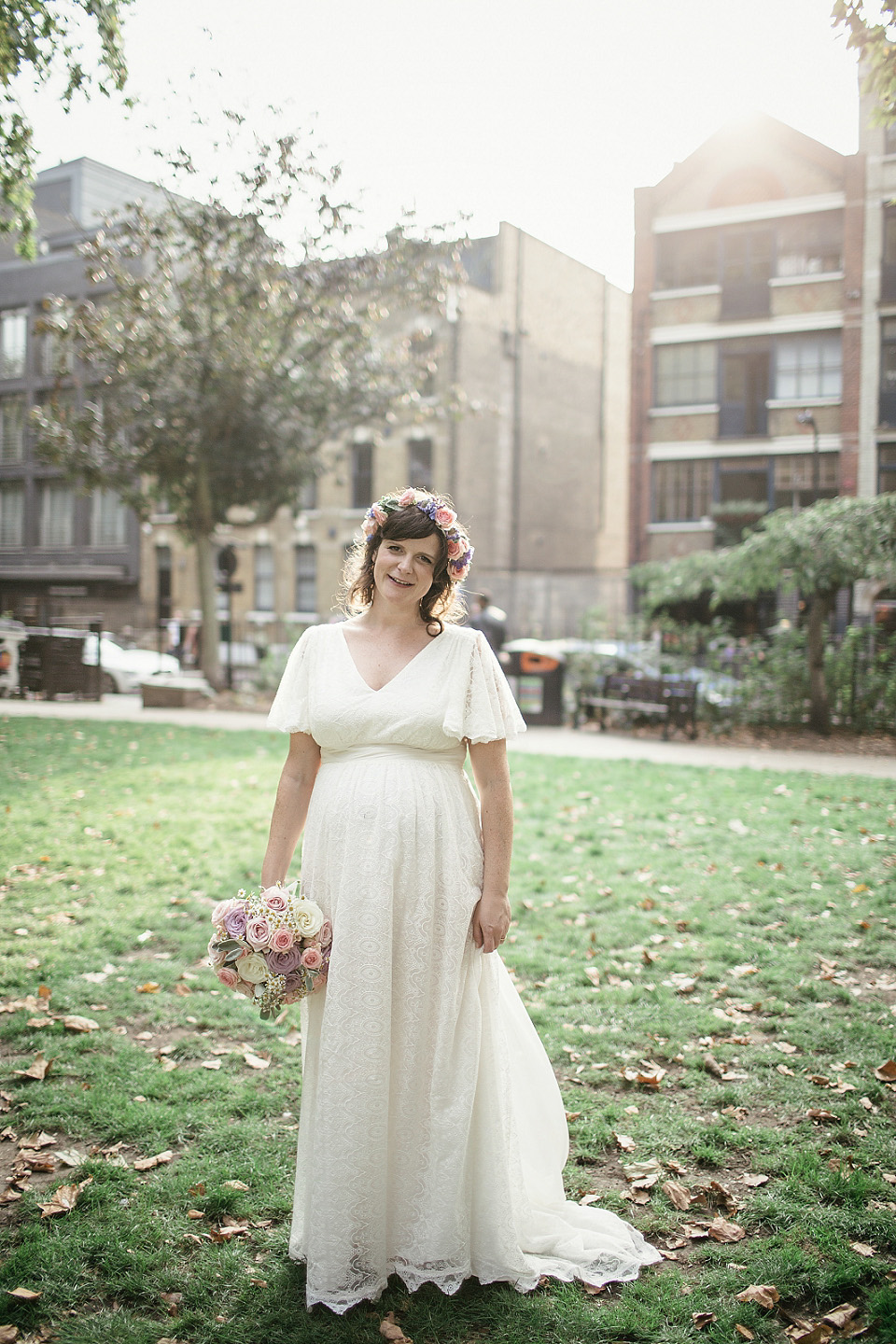 Sheena and Tom choose the fabulous Kat Hill as their photographer…
"I cannot recommend Kat highly enough. Her photos are everything and so much more than we expected. She has a fantastic eye and managed to capture the essence of the day so brilliantly and was just lovely to be around. She has this zen aura that makes you totally unaware she's even there. Tom is not keen on having his picture taken full stop, but with Kat, he really relaxed. I literally didn't want her to leave!"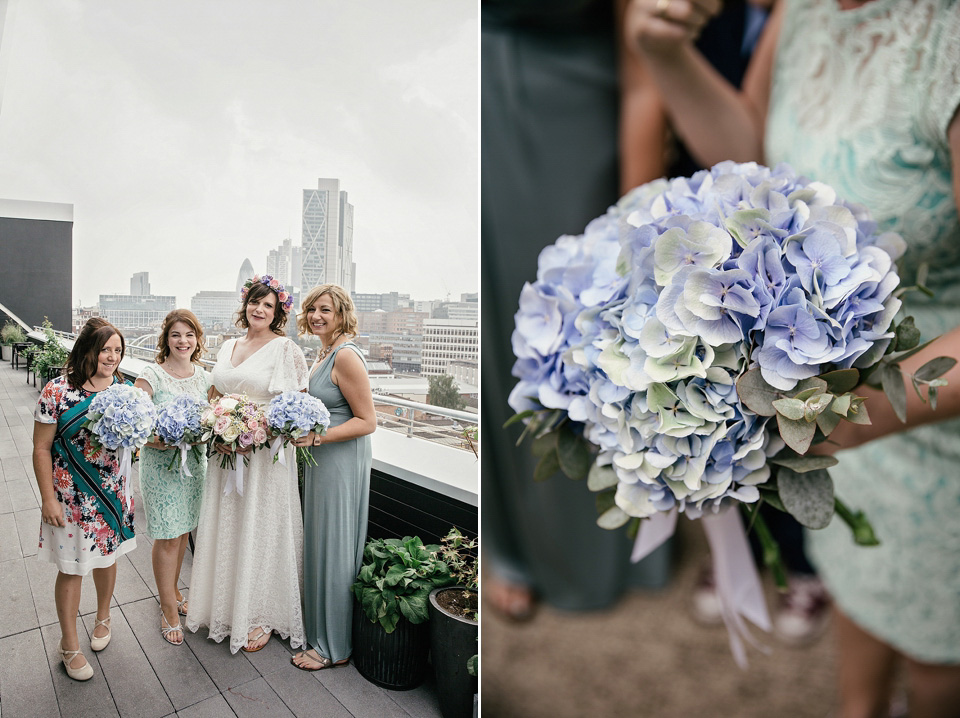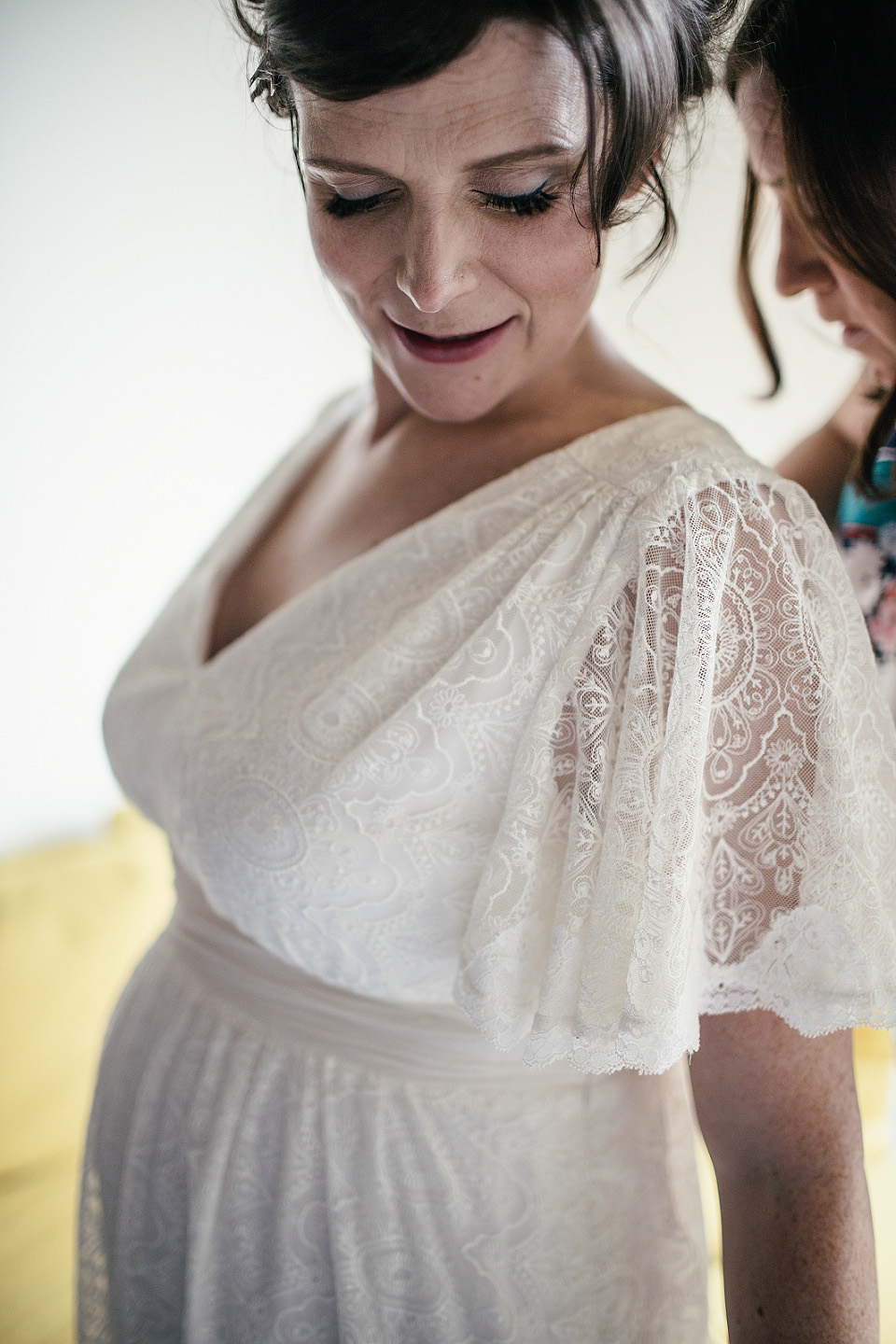 "My flower crown was made by Jessie of John and Jessie."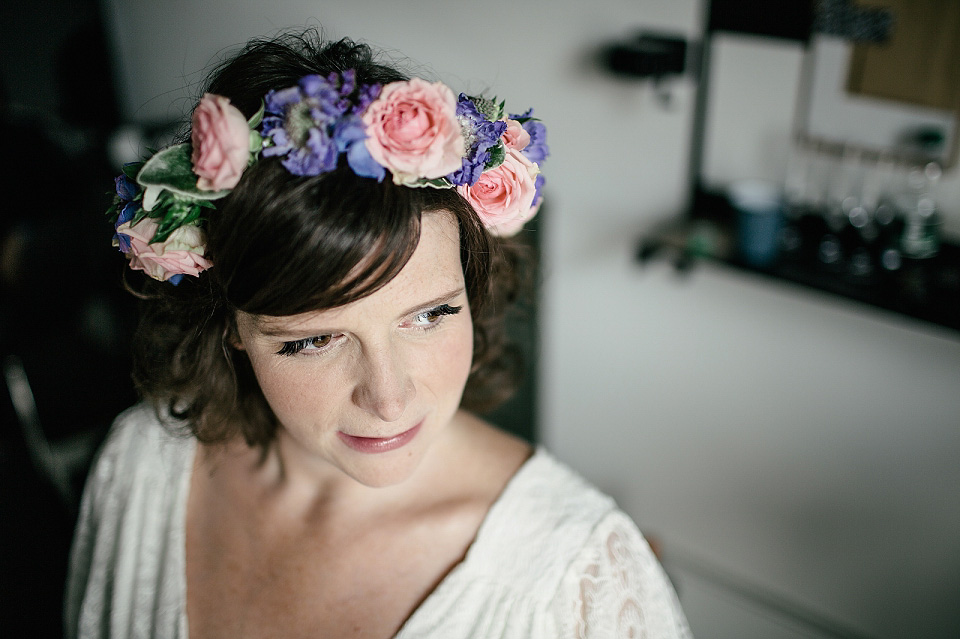 Sheena and her bridesmaids make up was by Julia Bell Make-up and hair by Madonna Santa…
"Such talented girls. So glad they came and sorted us out on the day. They made the process of getting ready totally stress-free and lovely."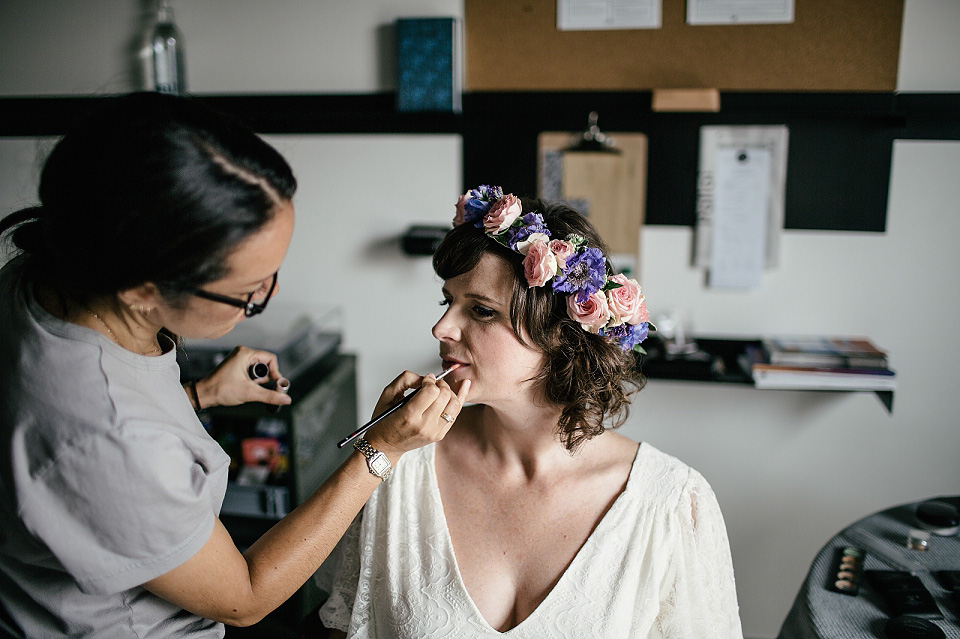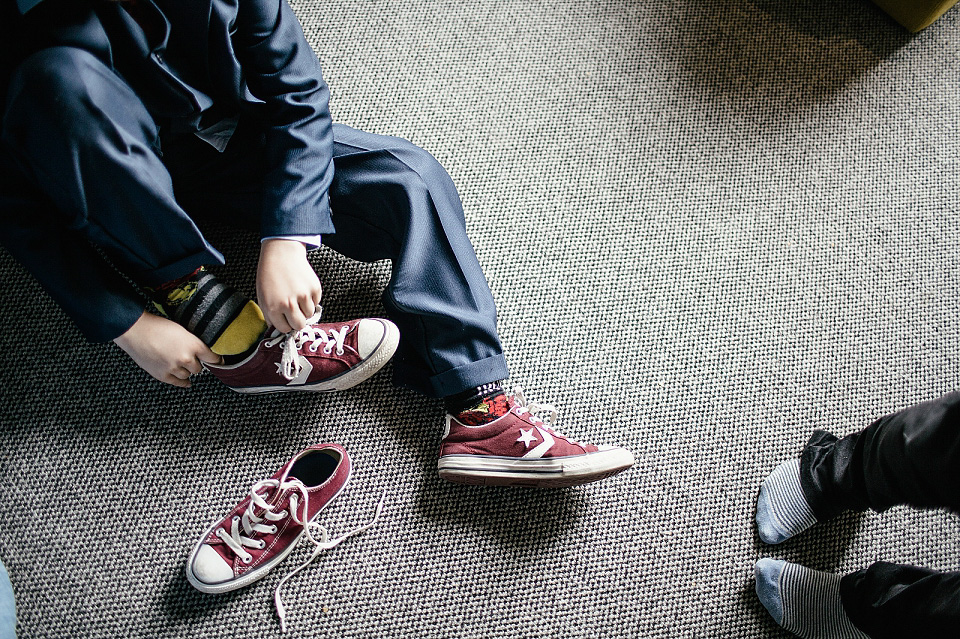 "Archie, my page boy and I had a great time buying his suit from a Turkish wedding shop on Kingsland Road. Archie wanted to dress like David Tenant as Dr Who. I think it was £45 for a 3 piece suit and shirt and then they tailored it for £3. They had a really fantastic selection of little boy suits."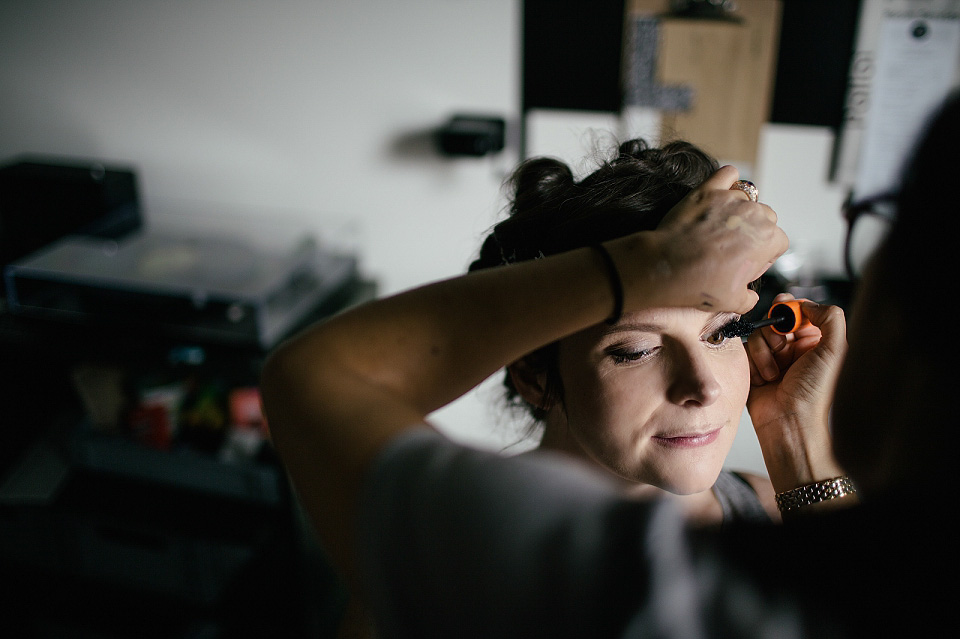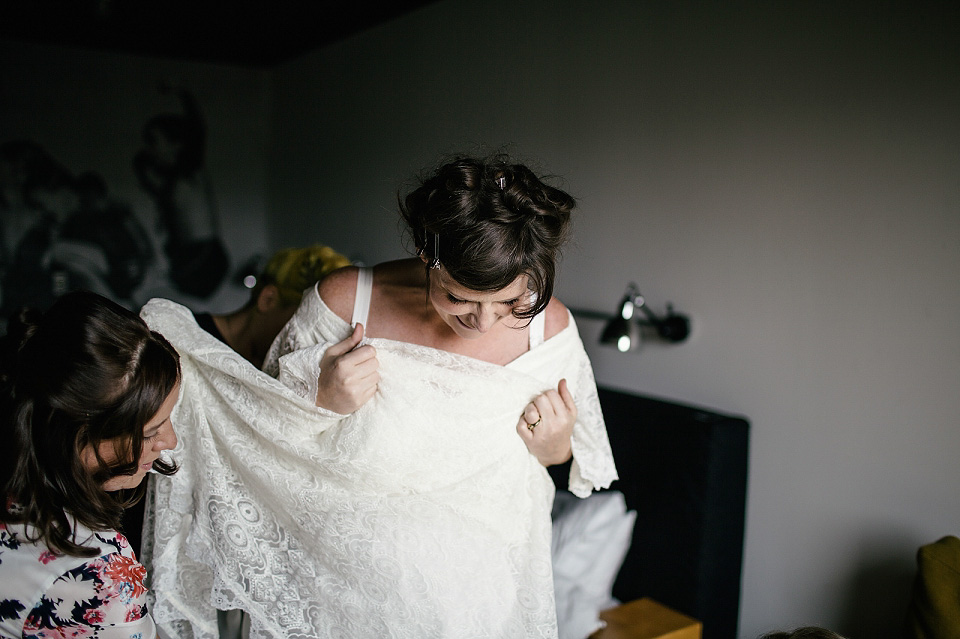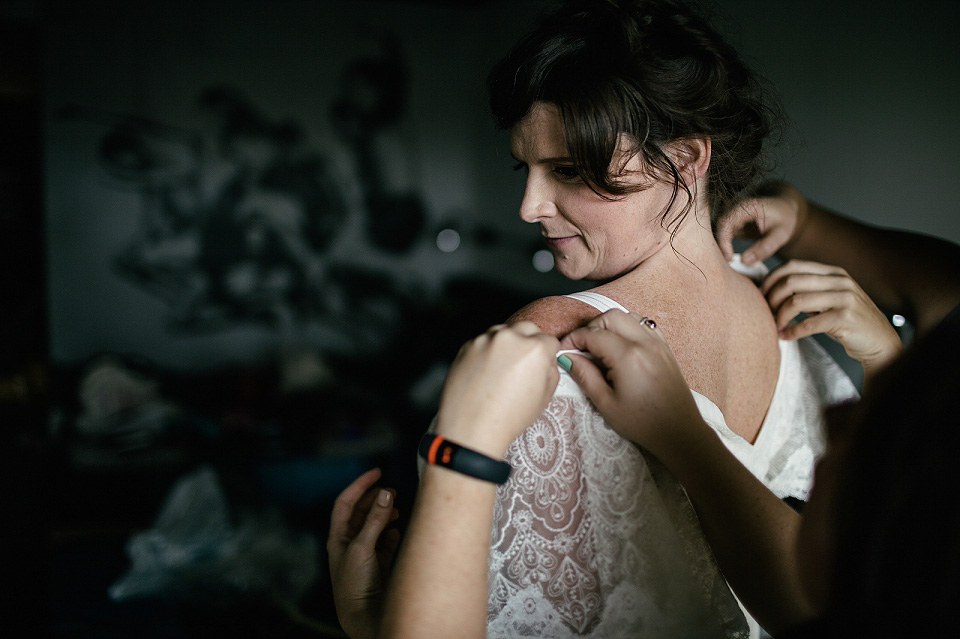 "I wore Carvela, Klipper flat sandals. I was going to go with Birkenstocks until my friend Hana persuaded me to go with a blinger version."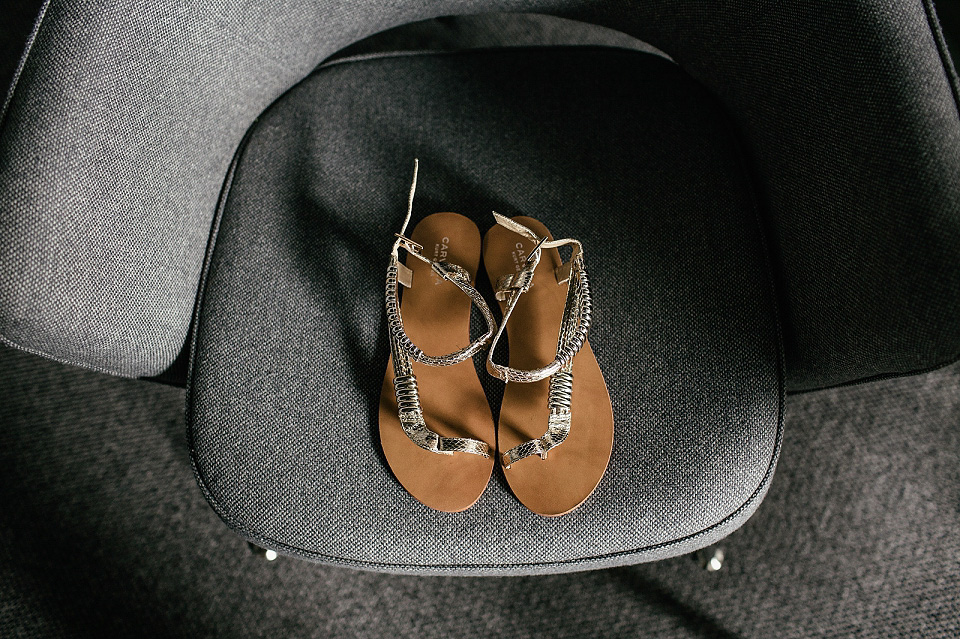 "We went for a scattergun approach for the bridesmaids and bought the 3 dresses on the high street working to a vague 'bluey-green' theme. They couldn't have been more different dresses but that was cool. They each reflected their gorgeous wearer."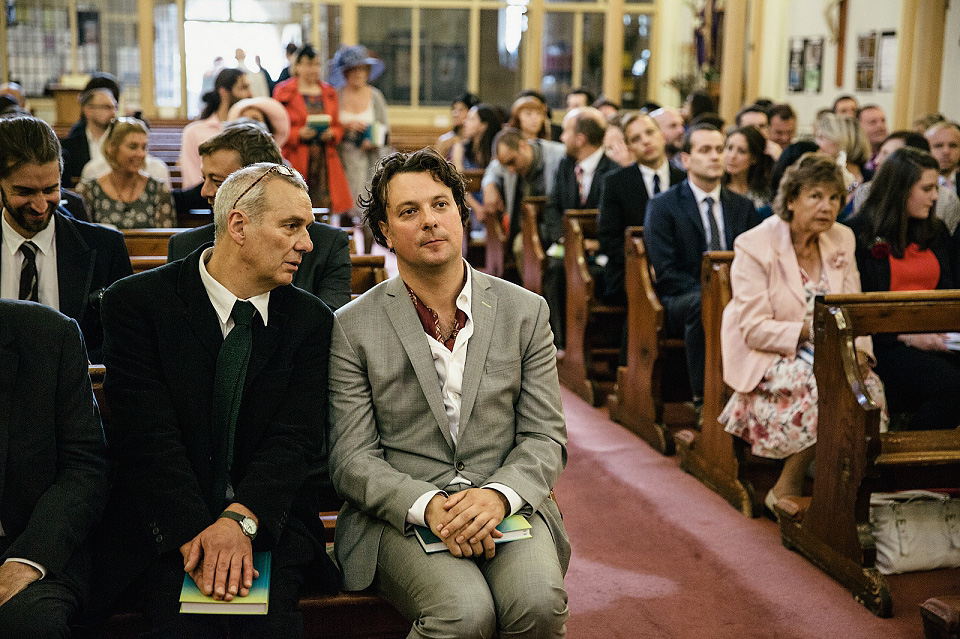 "My dad Hamish gave me away looking resplendent in his kilt and sporran.  The amazing choir at St Monica's sung an African song of worship as we marched down the aisle. It was very joyful."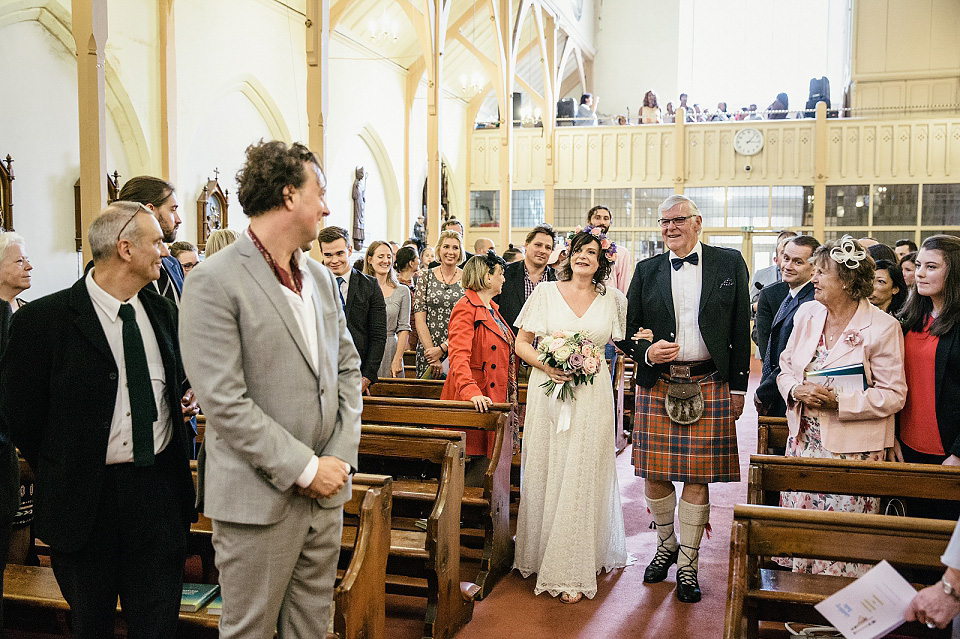 "We had readings from Song of Songs, Ch 2 and Ch 8 and a reading from the first letter of St Paul to the Corinthians. Both really beautiful and they take on such a deeper meaning when read in the context of your wedding. Very powerful.  Then our friend Melissa read Seamus Heaney's poem 'Scaffolding' in honour of the massive scaffolding we got married in front of."
"Charlotte Reid is an amazing Clapton based jewellery designer. Tom asked her to design my engagement ring. He sent her some pictures of the jewellery I normally wear and she came up with an eastern flavoured quite chunky emerald ring that was just perfect. We met up with her and had a chat about the wedding rings then she got back to us with the finished product within a couple of weeks –they too were just the ticket."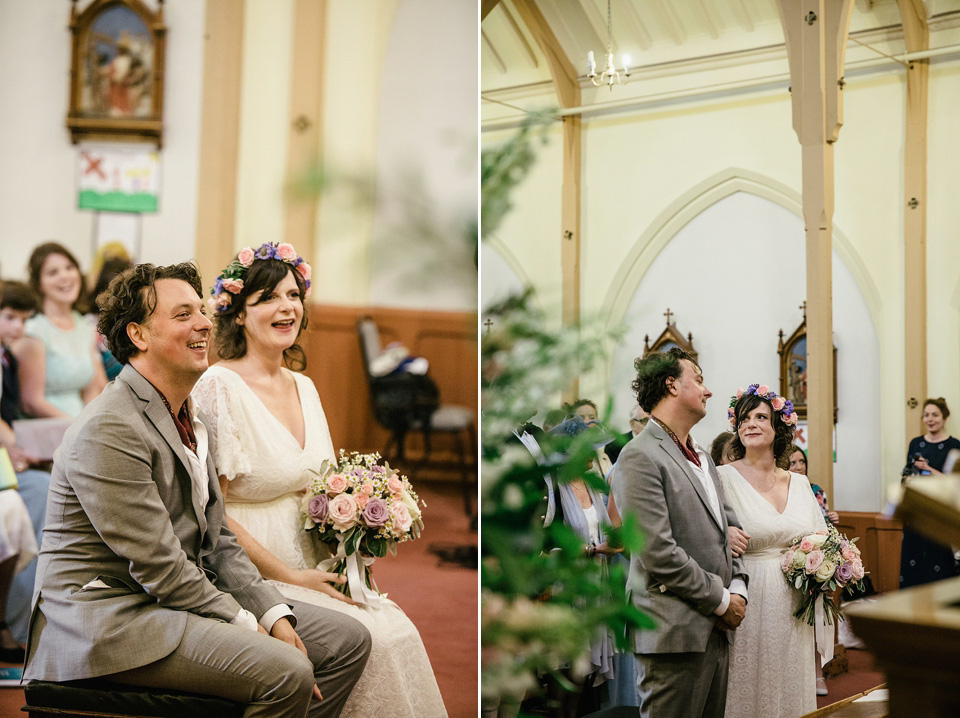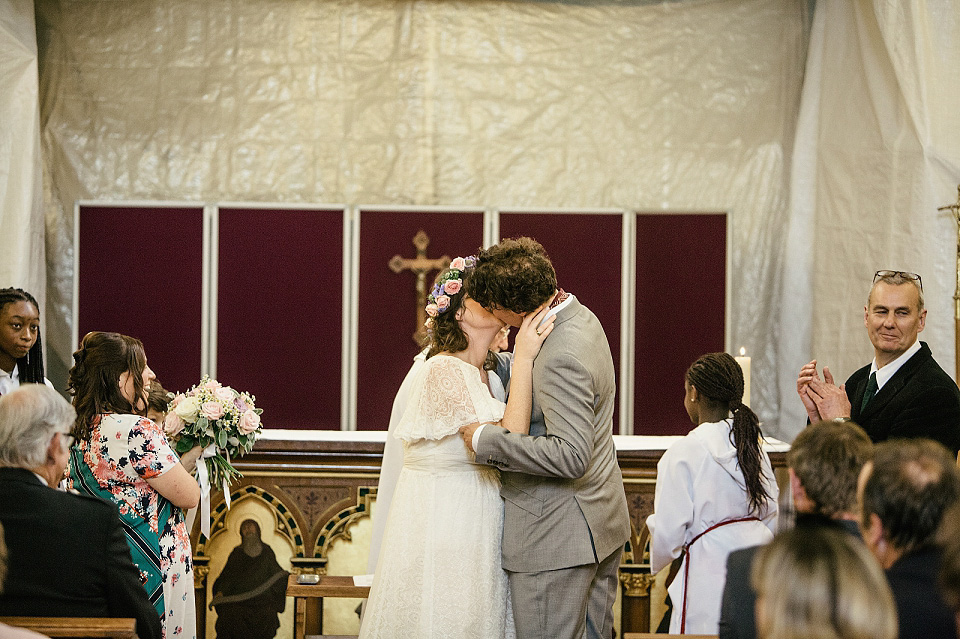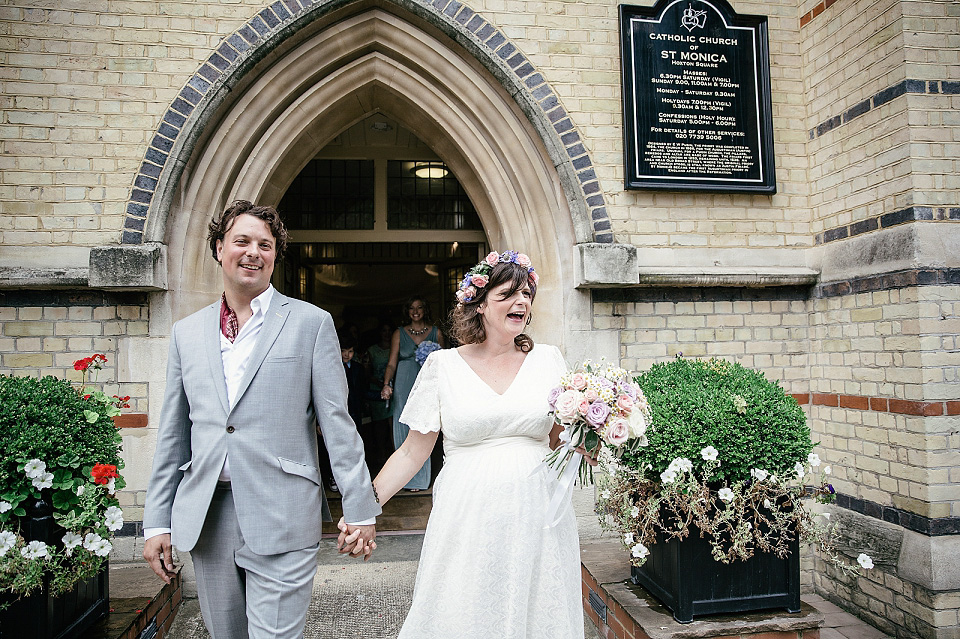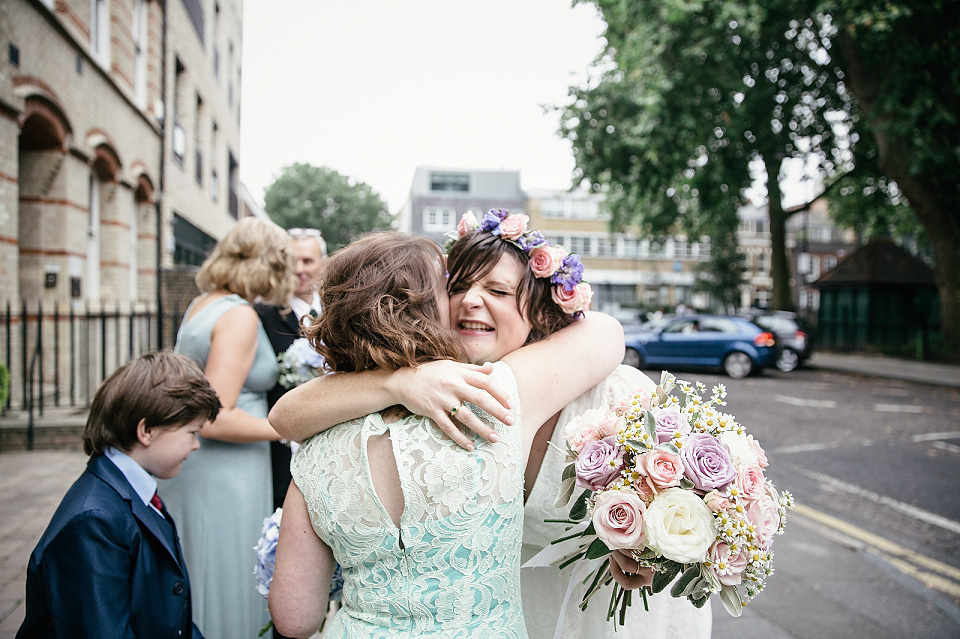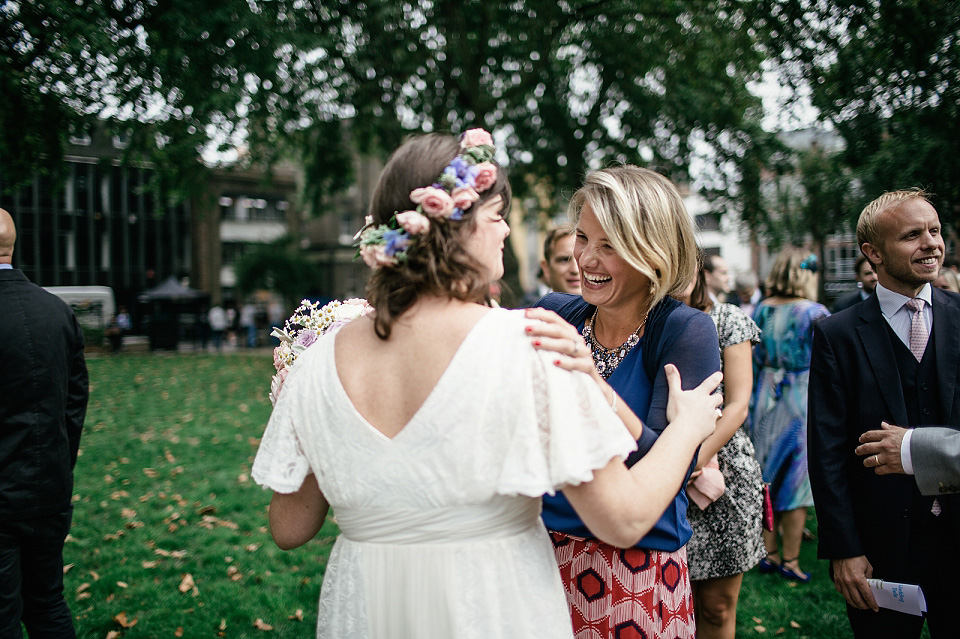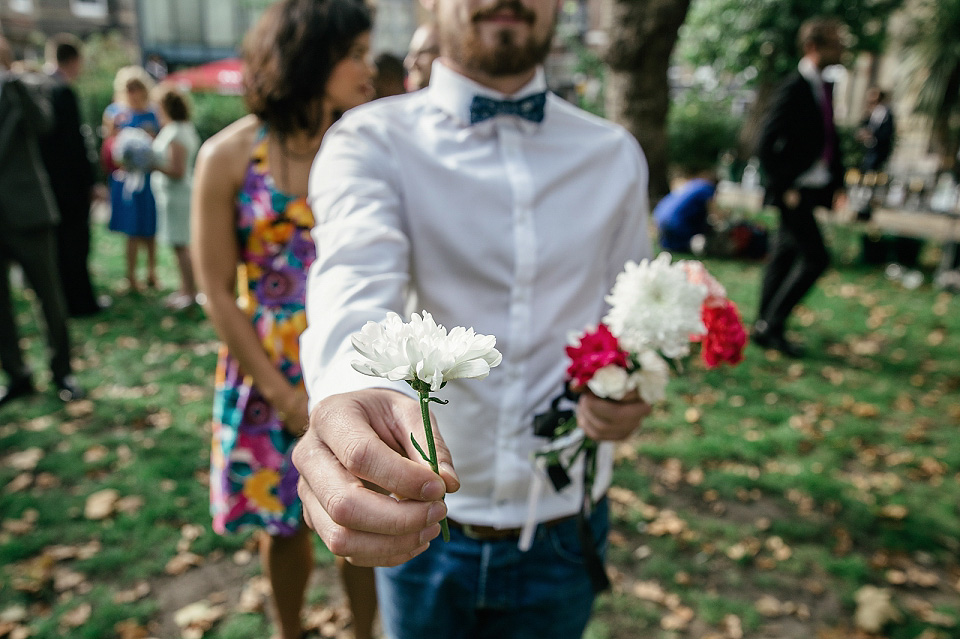 "My favourite part of the day ? Tom arranged a really amazing 'top secret wedding intervention in Hoxton Square!  Ten of our friends were sworn to secrecy and then invited to a rehearsal a couple of weeks before the wedding. Working with professional choreographers our friends were partnered up with 10 professional dancers and taught a routine."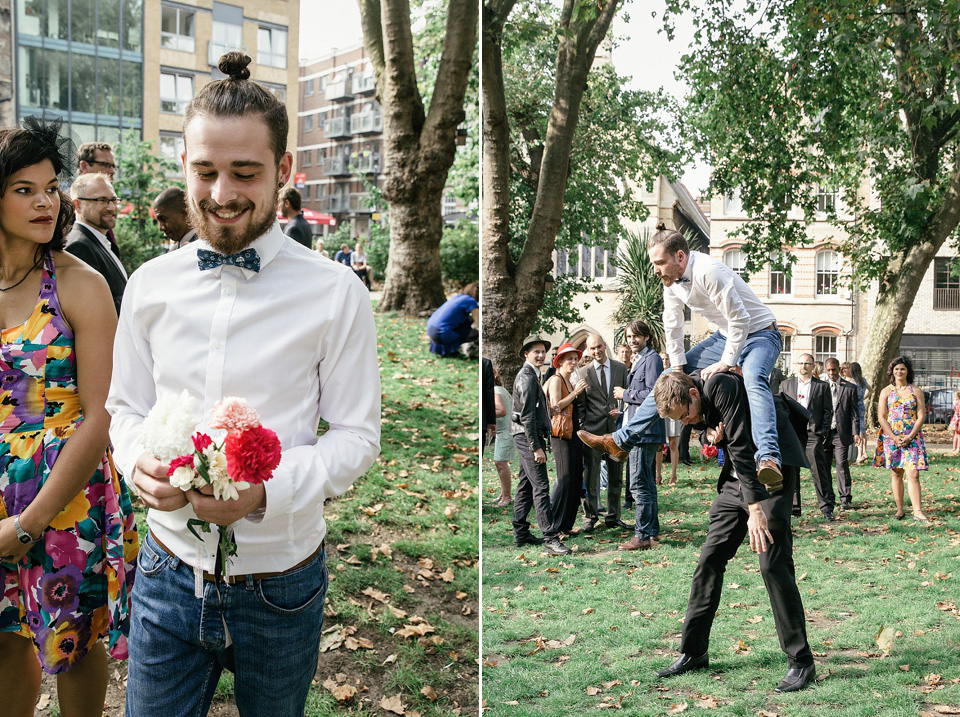 "When we all gathered in Hoxton Square for drinks after the church the professional dancers (who posed as guests during our wedding ceremony) started to perform in a quite a subtle way. It was cool seeing people slowly realise that something was going on. The whole performance gradually built up to a grand finale with our specially selected friends dancing with the professional dancers to a choreographed performance of 'Stand By Me'.
s soon as it was over the dancers disappeared and the bus arrived to take our guests to the venue."
"It was so brilliant watching people's reactions and totally random and fun. It all came together remarkably well and was a really memorable and happy part of a very happy day.  The choreographers also taught us a first dance routine which we just loved performing later in the evening, We chose 'Stand By Me'–the Ben E King."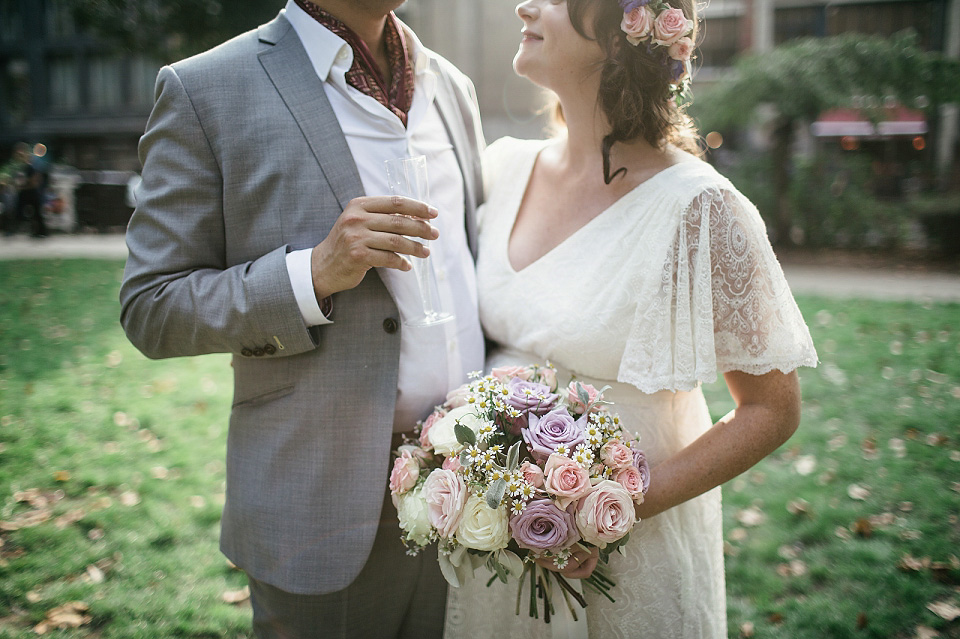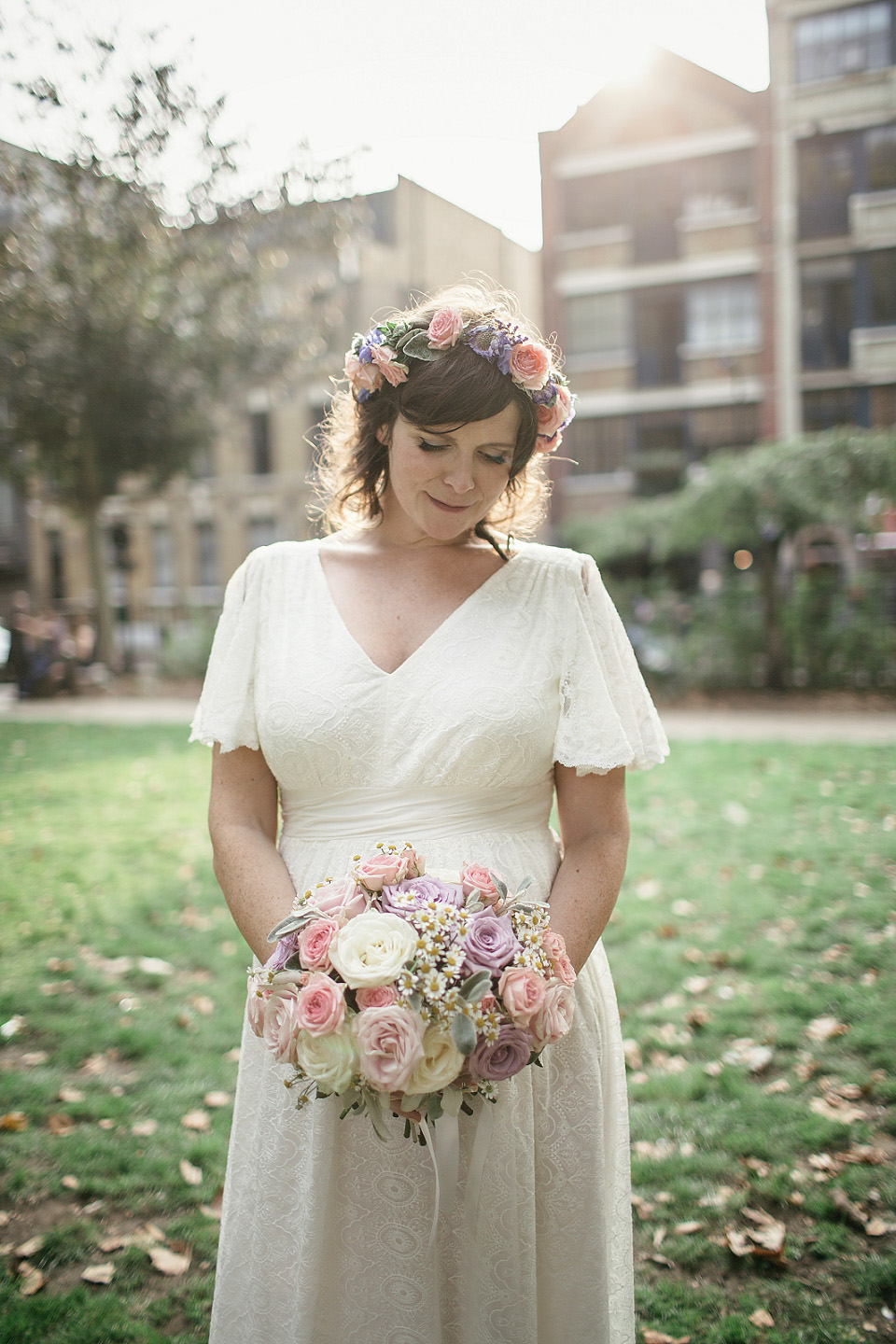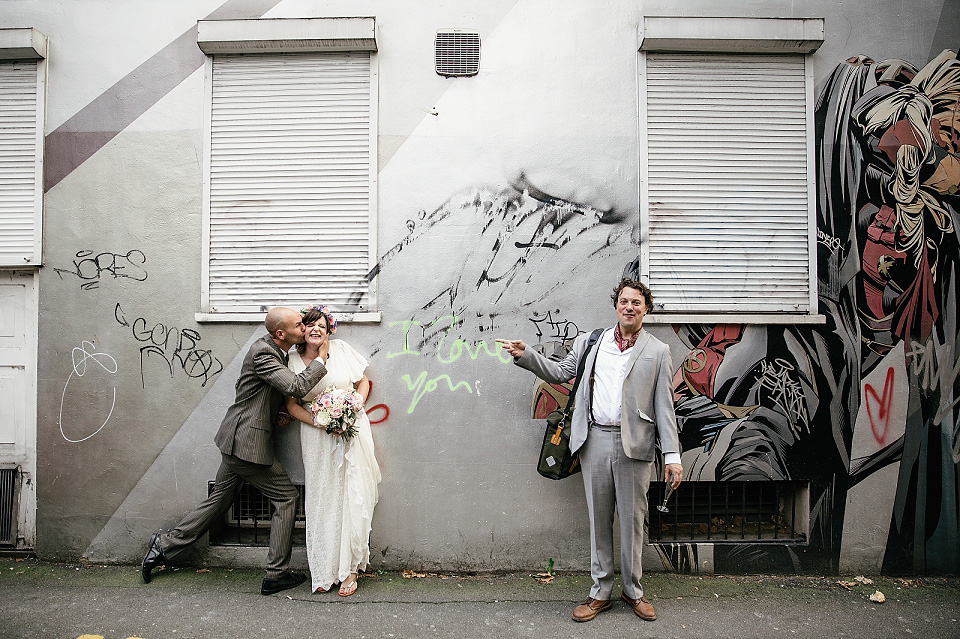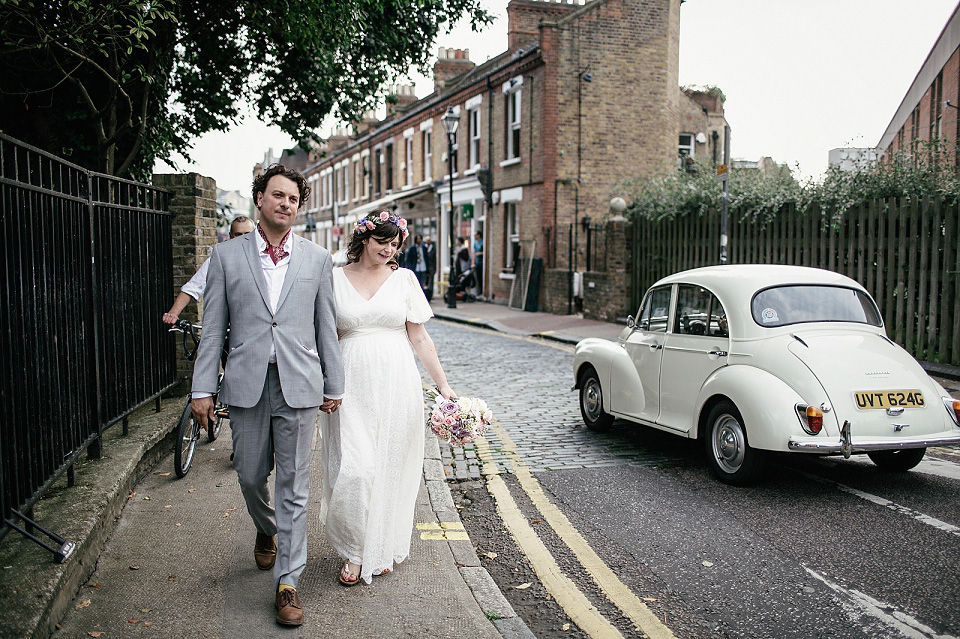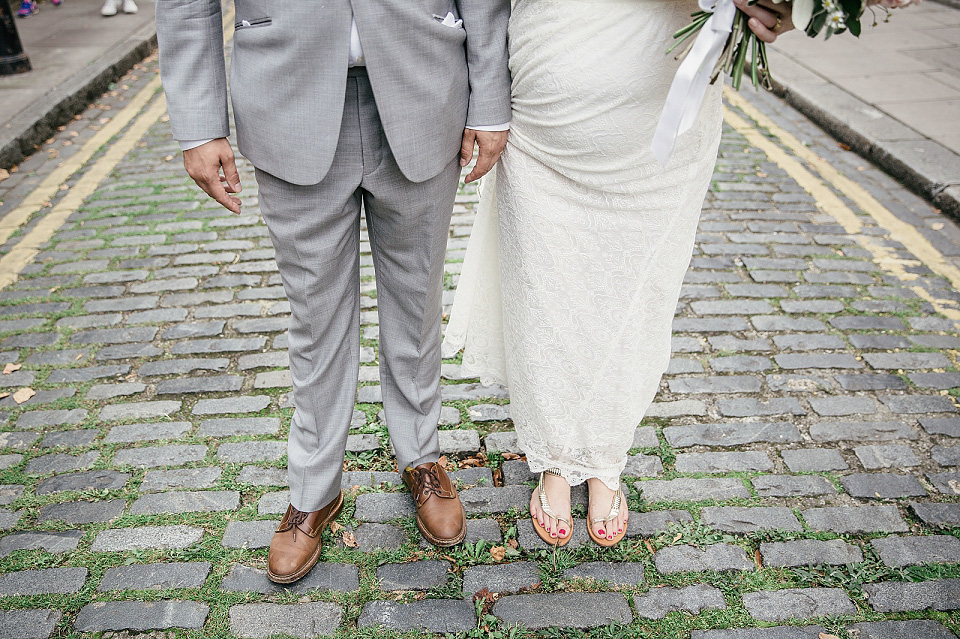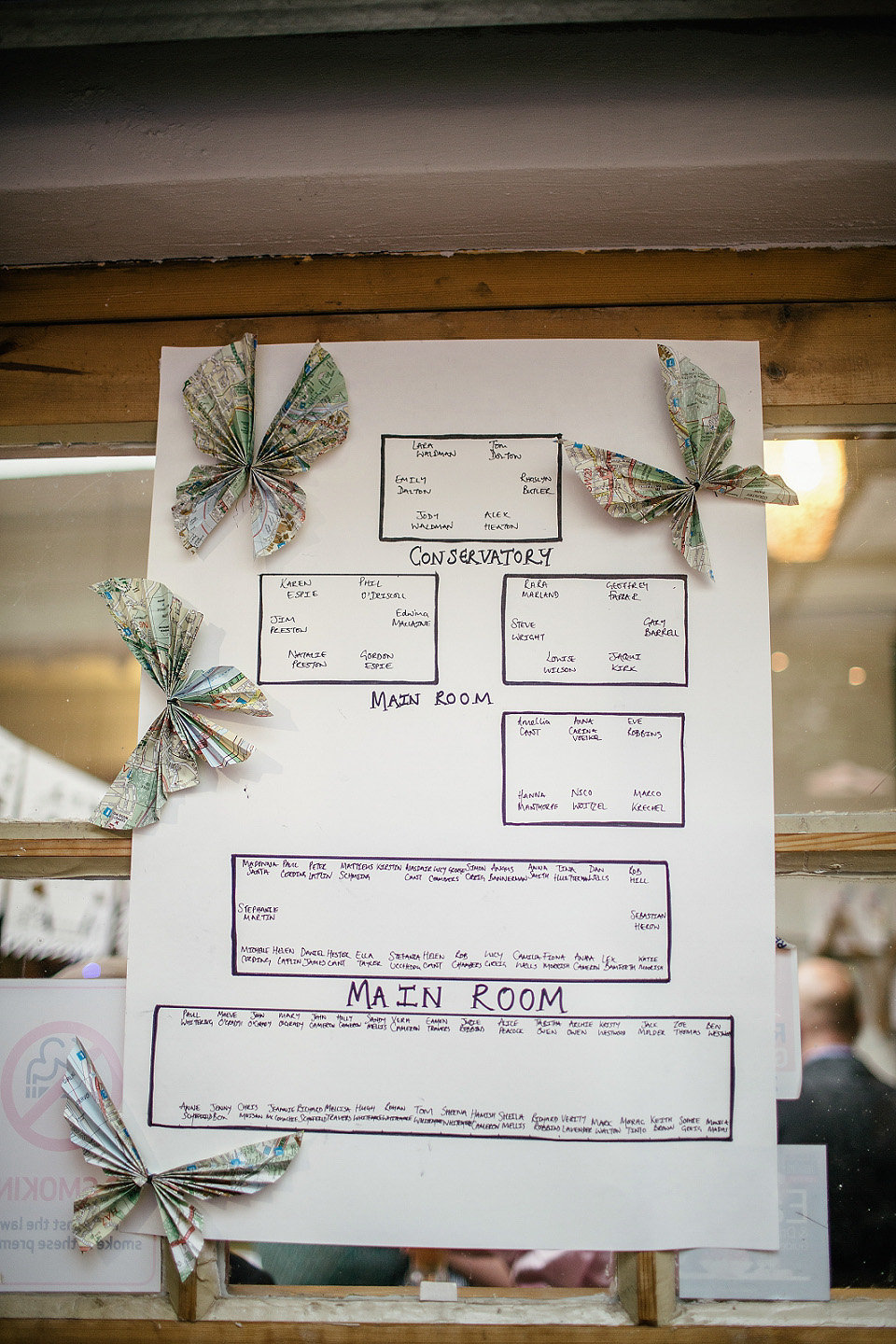 "Our super-talented friend Rhoslyn Butler styled the venue keeping it all quite rustic and using natural tones as much as possible. She made it look magical in something like 90 minutes.
For name places Ros cut out wooden leaves with a laser cutter then stuck them into real apples. They looked really amazing. She also made beautiful feather garlands and butterfly bunting using old A-Zs and strung the rooms with Mexican wedding bunting. Amazing work."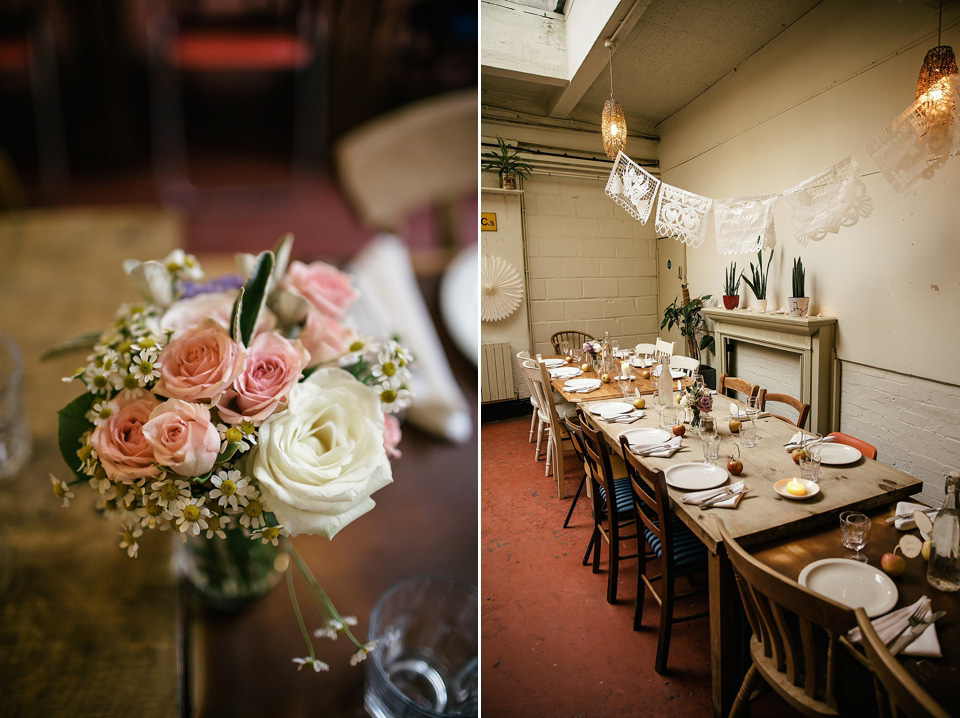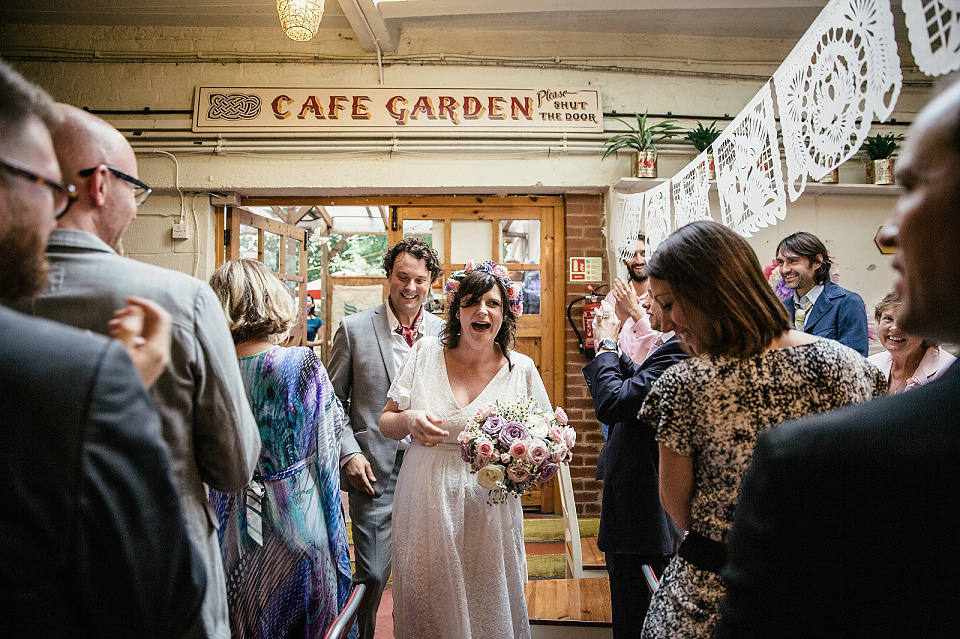 "I work in food television and I really do love food so the meal was one of the most important elements of the day for me. Eddy at Hackney City Farm came up with the menu and cooked for us using all locally sourced food. It was all so tasty and abundant. There was food everywhere, which I loved. What I thought was really cool was they brought out the leftovers later on in case anyone was hungry. He also catered brilliantly to some pretty niche special food requirements."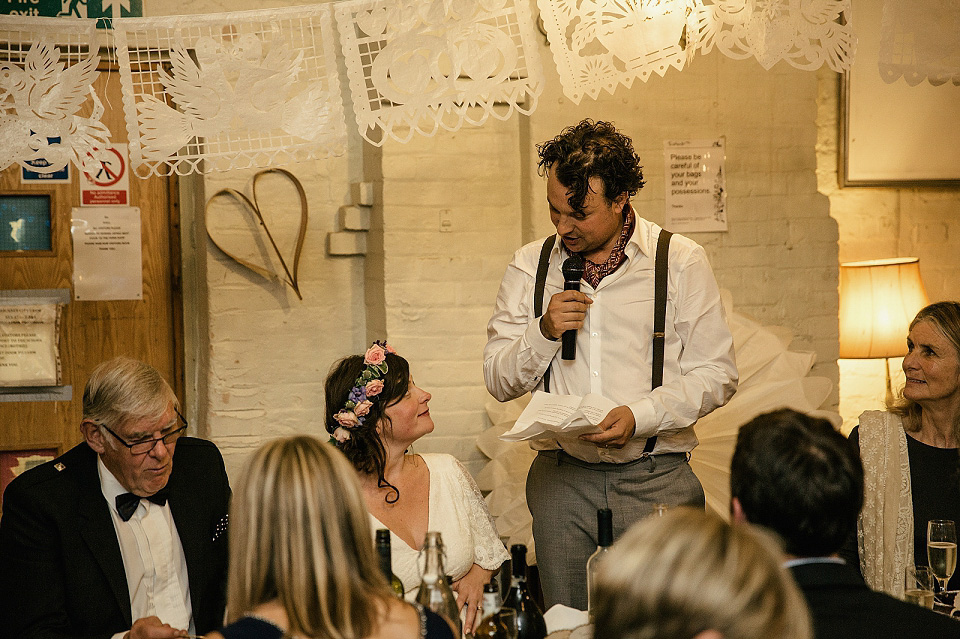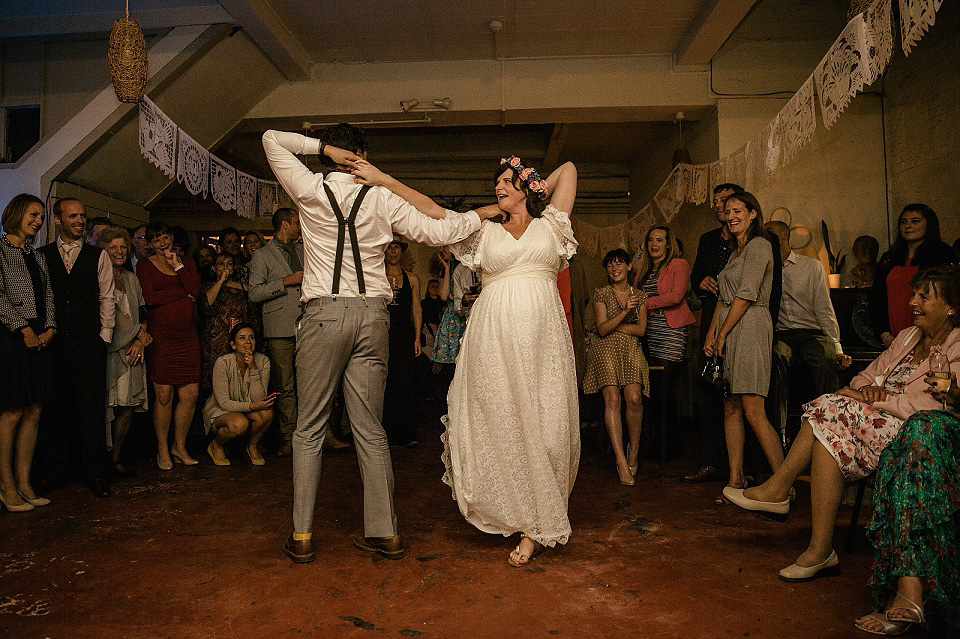 Words of Wedded Wisdom…
"I would say it takes one person to be across everything. When you delegate stuff be really specific about what you would like then still stay across it. Ha – what a control freak!
Another thing I would recommend is spending your money on the stuff you care about and next to nothing on the things that don't bother you. What mattered most to me was food, good drink, photos and a lovely dress. Whereas I spent £5 on a taxi to get me to the church and very little on stationery printing and things that mattered much less to us both.  Also remember to save some money to tip the staff at the venue. Weddings are big numbers and hard work for the waiting staff."
What a gorgeous, gorgeous day. I was a fan of Minna already but this wedding has made me realise how much I love these laid back, relaxed and bohemian style gowns.  Minna has such a lovely collection of gowns for the more free-spirited of brides and with a focus on eco-friendly materials and production too, they're the perfect choice for brides who care about the environment.
You can see more from photographer Kat Hill on Love My Dress here, and if you are a pregnant bride reading this today, we'd love to hear from you!
Congratulations Sheena and Tom! I hope that life is wonderful now that your firstborn has arrived 🙂
Love Annabel xx
Photography – Kat Hill
Wedding – St Monica's Church, Hoxton Square
Venue – Frizzante at Hackney City Farm
Brides Dress – Minna
Brides Shoes – Carvela
Bridesmaids Dresses – High Street
Floral Crown – John and Jessie
Make Up – Julia Bell Make-up
Hair – Madonna Santa
Grooms Suit – Moss Bros Bespoke
Rings – Charlotte Reid
Cakes – Violet's Cakes
Catering – Frizzante
Decor – Rhoslyn Butler