Well hello there you lovely lot.  You may have noticed that we were a little quieter than usual on Love My Dress® last week – things have been a little sad for me of late – if you follow me/Love My Dress on Instagram, you may well be aware of the reasons for this (see here, here and here).  I wanted to use this opportunity to thank all of you who have left a lovely comment or reply on social media or have sent an incredibly kind email, it is so very kind of you and your little messages of support have really lifted me at a sad time and reminded me what a truly wonderful reader community we have – thank you, thank you so much.
This morning's wedding contains so many wonderful #ShareTheHonestLove images, which I shall be posting throughout the day on Instagram.  University Lecturer in Law, Hayley, married Design Technology Teacher Fraser, on 9 August 2014 at Coo Cathedral – a hidden gem deep in the Scottish Highlands of Aboyne in Aberdeenshire.  I love the completely laid back nature and barn-style aesthetic of this wedding…
Photography Copyright (c) 2014, Kitchener Photography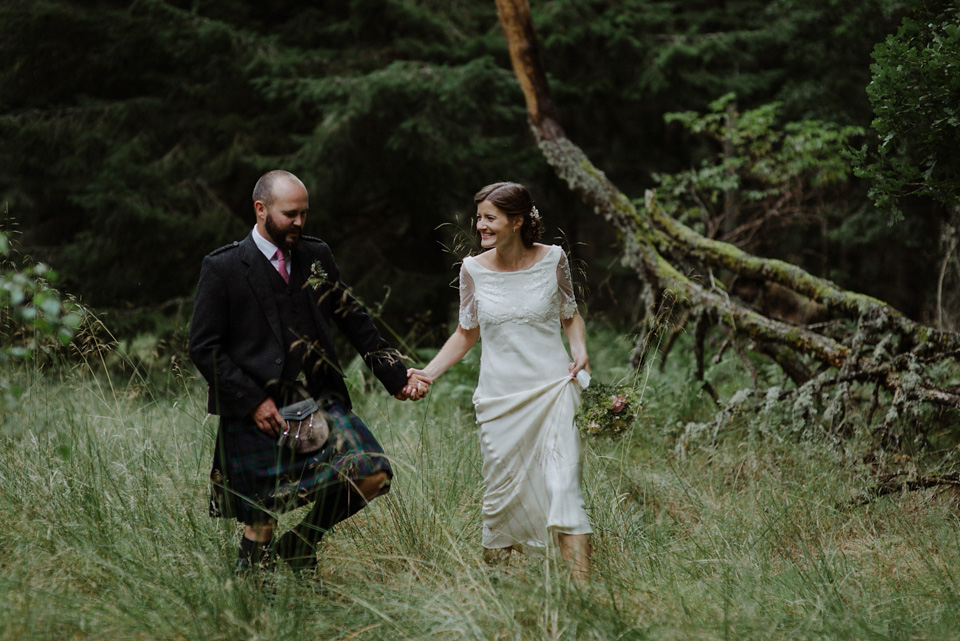 "I was actually inspired by the wedding scene in Mama Mia – all long tables under fairy lights with good food and drink.  Living in Scotland however, an al fresco wedding wasn't really on the cards, but luckily we found Coo Cathedral and were able to create something just as nice. We wanted an informal, relaxed and fun wedding, with the focus on fun as opposed to tradition. We also didn't have a style in mind but we knew we wanted to do a lot ourselves and get our families and friends involved too."
"We chose our venue, Coo Cathedral, because it was a complete blank canvas and allowed us to organise everything ourselves. 
Both our mums made all the bunting – a lot of bunting! We borrowed lights from friends and family and collected other bits and pieces from charity shops and auctions. We got the hay bales from a local farmer and sold them on afterwards."
"My dress was a sample from the shop 'Bliss Studio' in Edinburgh, which sells second hand wedding dresses and samples. I actually don't know who the designer was as the label was cut off! The dress was very plain, silk crepe, with a cowl front and cowl back. I loved the dress at first but then I started to have massive doubts and started secretly looking at dresses on the internet."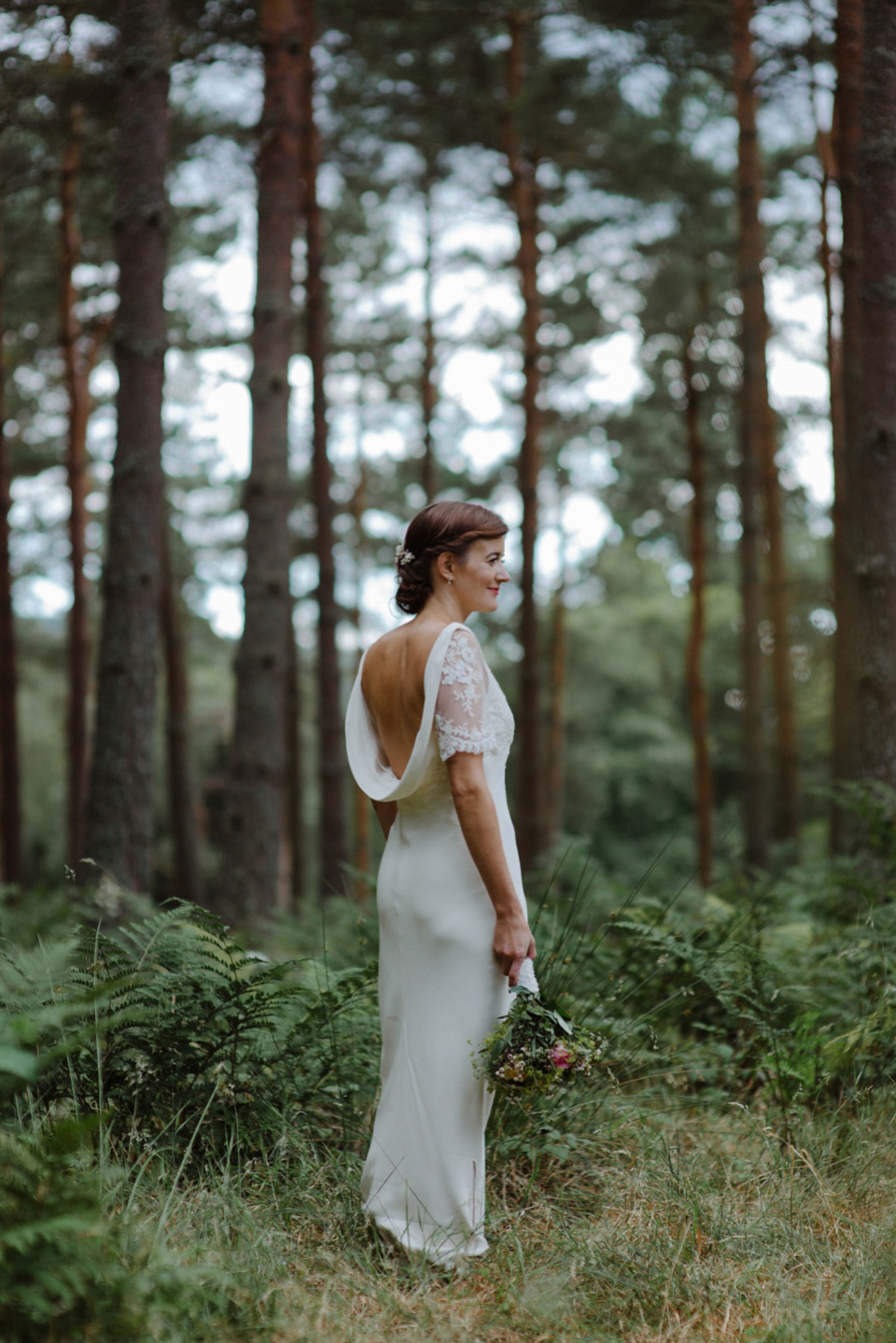 "Oooops! I kept going back to Charlie Brear style dresses and luckily when I confessed to my mum I was having second thoughts, rather than flip out she suggested I alter it by changing the neckline and adding some lace to the front and lace sleeves, and basically designed the final dress. Legend! With only 5 weeks to go until the wedding at this time (!!) I just needed to find someone willing to alter it and luckily I found a willing dressmaker in Aberdeen who did a brilliant job!
I liked that it was simple but elegant and that it was something I could dance in all night."
"Our super friend Lindsey Henderson designed our invites and rsvp cards, which were even better than we could have imagined. She also designed the little comment cards which we used as a table setting and a brilliant face board for guests to stick their heads through!"
"The wonderful Kitcheners were our photographers.  I am a huge fan of their work and followed their blog religiously before the wedding. I think they take the most beautiful pictures and we were so happy that the photographs captured the atmosphere of the whole day."
"I was so lucky that one of my oldest friends Laura and her mum Margaret who run Calm Hair & Beauty In West Linton were staying in a nearby lodge with all my family and were able to do all the bridesmaids make-up and help with the hair. They were both brilliant and Laura even stayed up with me the night before to do my nails, even though it was really late! My hair and make-up was done by a friend of theirs called Sonya Morrison, who is amazing and a lovely person to be around."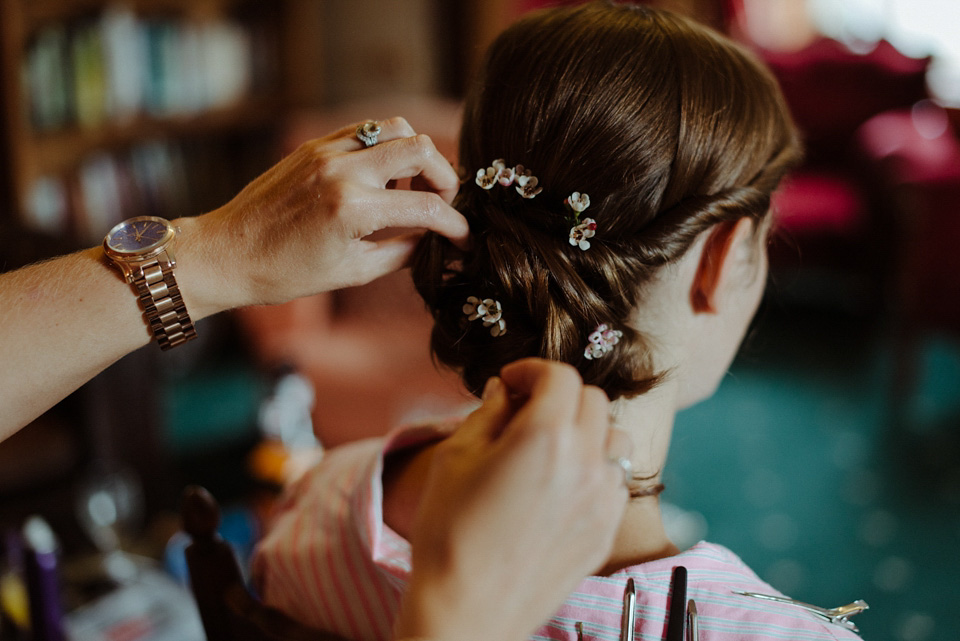 "The local florist in Aboyne called The Secret Garden did all the bouquets, corsages and buttonholes for us."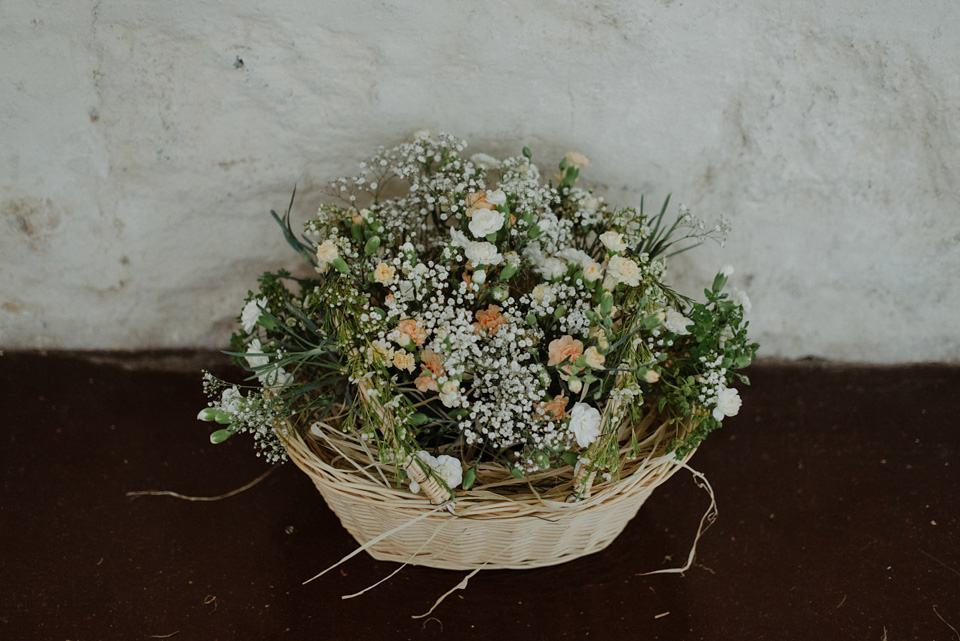 "I found my wedding shoes in a charity shop in Aberdeen for £2.99! They were the perfect height- not too high and just right the right height for my dress and the groom! The shoes originally had a rose at the front attached with some wire but I removed those and my mum attached some of the leftover lace from my dress instead."
"A mutual friend, Roz, tried to set us up but unfortunately, neither of us took the suggestion particularly seriously! Luckily a few weeks later we randomly met at my friend Clare's flat warming in September 2011, and when we started chatting realised we were Roz's potential couple! I don't think either of us thought anything would come of it but then we met up again a week later in a pub in Aberdeen and became pretty much inseparable and a few weeks later I moved in with him.
He's my best friend and the most fun, kind person I know."
"Things were going really well, but then around summer 2012 we had a bit of a dilemma! Fraser was offered a job in Sweden, and I one in Aberdeen. Both jobs were great opportunities, so we felt we had to take them, and made the difficult decision that Fraser should go to Sweden and I would stay here. That period made me realise just how lucky I was to have met him and that I didn't want to live without him, and once Fraser moved back to Aberdeen we talked about getting married, and Fraser even bought a ring I said I liked. However…the next day I told him I had changed my mind just in case he was thinking about buying it… oops!
Luckily we were able to exchange the ring In January 2013 and then Fraser waited until the 3/3/13, to propose.  We were just in the flat and when I woke up he offered to make me an espresso. He handed my the coffee cup but it was empty and had a ring in it instead. bless him, he even warmed the cup up so I didn't realise at first!"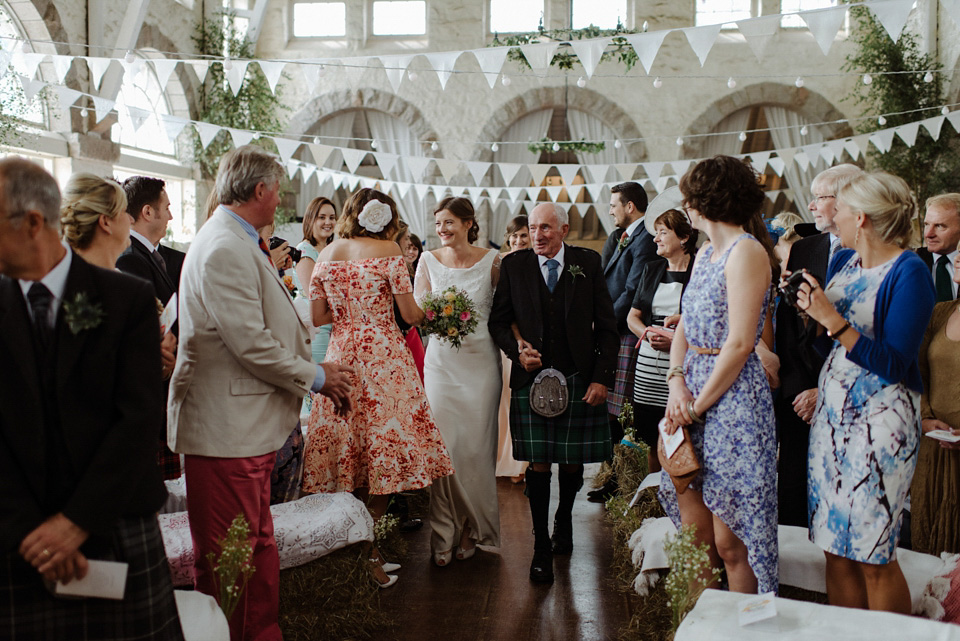 "My dad walked me down the aisle to 'I love N.Y.E' by Badly Drawn Boy. Its lovely."
"One of my best friend's Bryony read 'Love' by Roy Croft. To be honest I found a lot of the wedding readings from the humanist very cheesy and not really meaningful at all. I came across Roy Croft's poem on LMD and thought it was lovely."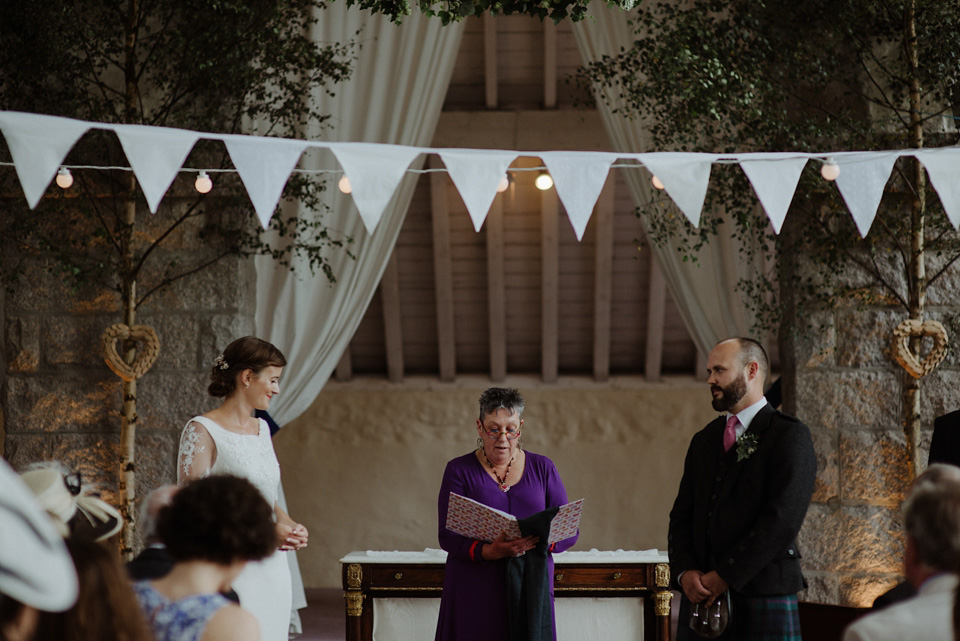 "We wrote our own vows, Fraser's vows were as follows;
'I love you because you are the most loving and most caring person I've ever met, you fill every single day with joy and happiness, because you make me the best person I can be.
I promise I will care for you and support you in whatever way you need me to, keep you happy and safe for as long as I can. I promise to make our life together full of laughter and adventure
And these were mine:
I love you because you are my best friend, the kindest and most fun person I know. You make me laugh and remind me that life is about living in the moment.
With you, I'm the happiest I've ever been. I love you.
I promise to love you, to look after and protect you, and to be your loyal friend always. I promise to never take you for granted and to remember how lucky I am to have met you. I promise to support and encourage you, and to live the life we have imagined together, for as long as we both shall live.'"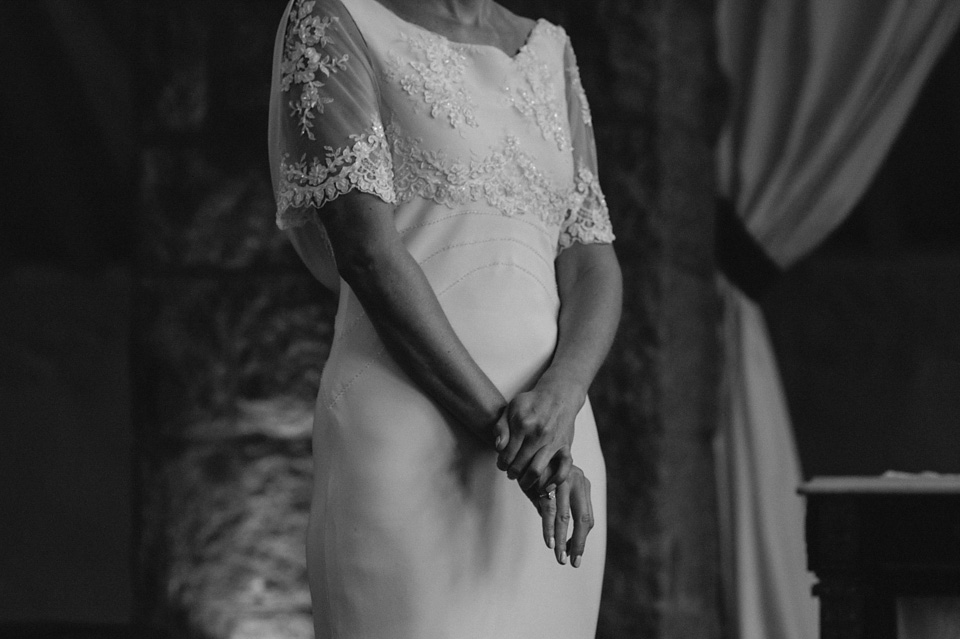 "My engagement ring was an antique sourced by McCalls jewellers in Aberdeen, they also designed and made my wedding band to fit round the engagement ring. Frasers ring was a simple gold band also from McCalls."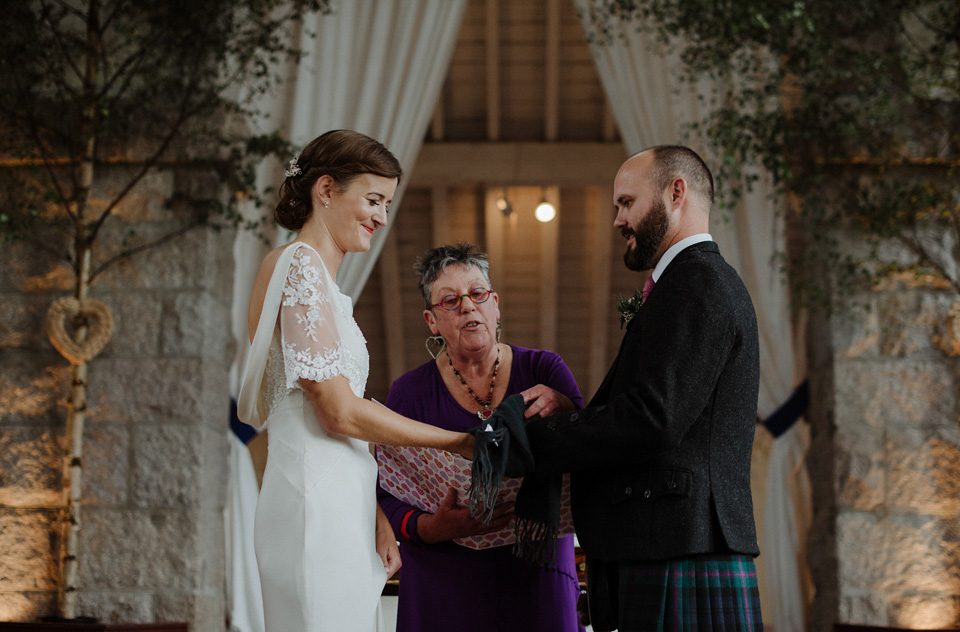 "Fraser wore his own kilt (which is a modern Baird tartan) and hired a grey tweed argyle waistcoat and jacket from a local shop in Aberdeen.
Our amazingly creative friends Jamie and Anna run a local business called All General Made and make the loveliest leather belts, wallets, ties and other items, all from hand. They made Fraser a tie in pink Harris tweed and also supplied Harris tweed ties for each of the ushers and the dads to match their kilts. This was a gift from Fraser to the ushers and our dads.
Fraser's best man/groomsmen all wore their own kilts and jackets and Fraser gave them their ties to wear on the day."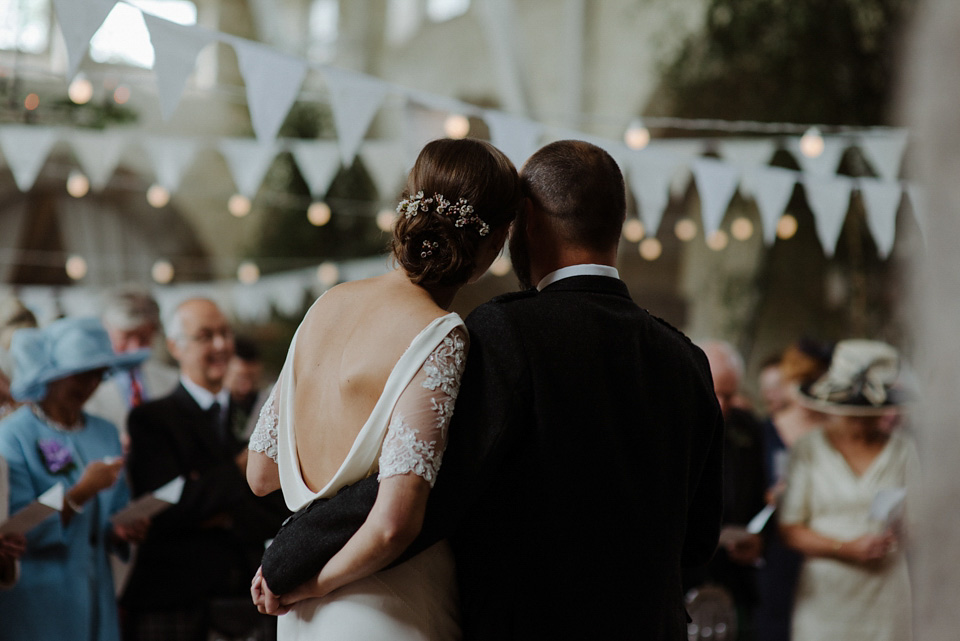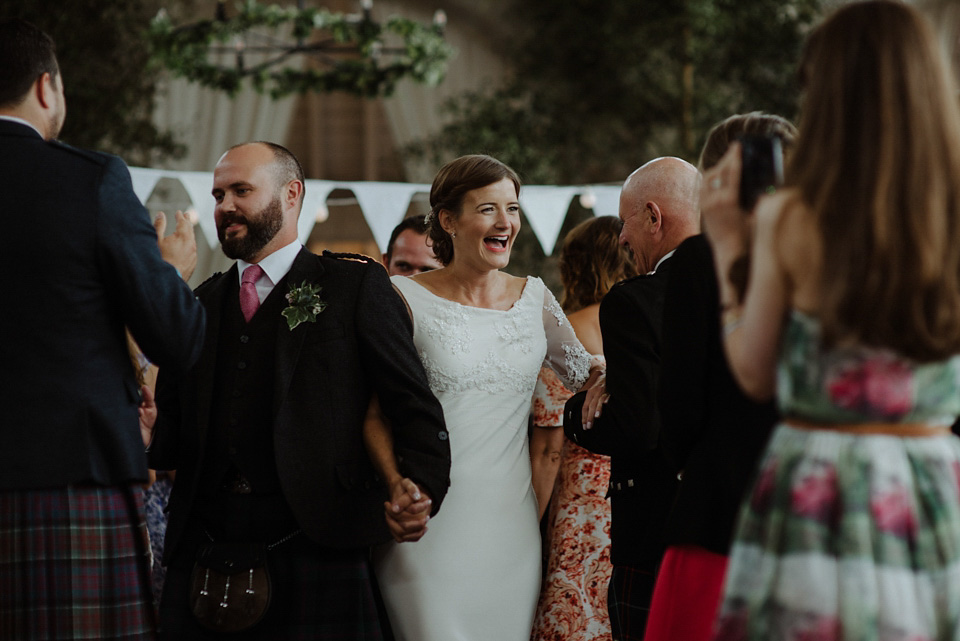 "My bridesmaids wore Jarlo from ASOS.  There were a lovely soft peachy colour and had a bit of a bohemian feel.  Their shoes were from Jones Bootmaker, and they each wore a necklace I had given them from a local shop in Aberdeen called Juniper and little pearl bracelets from John Lewis."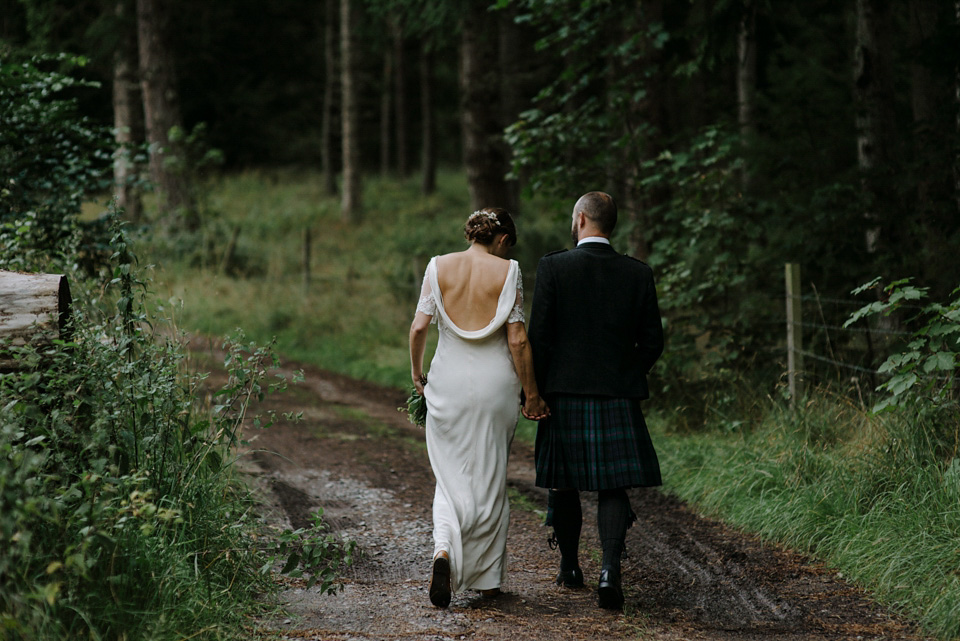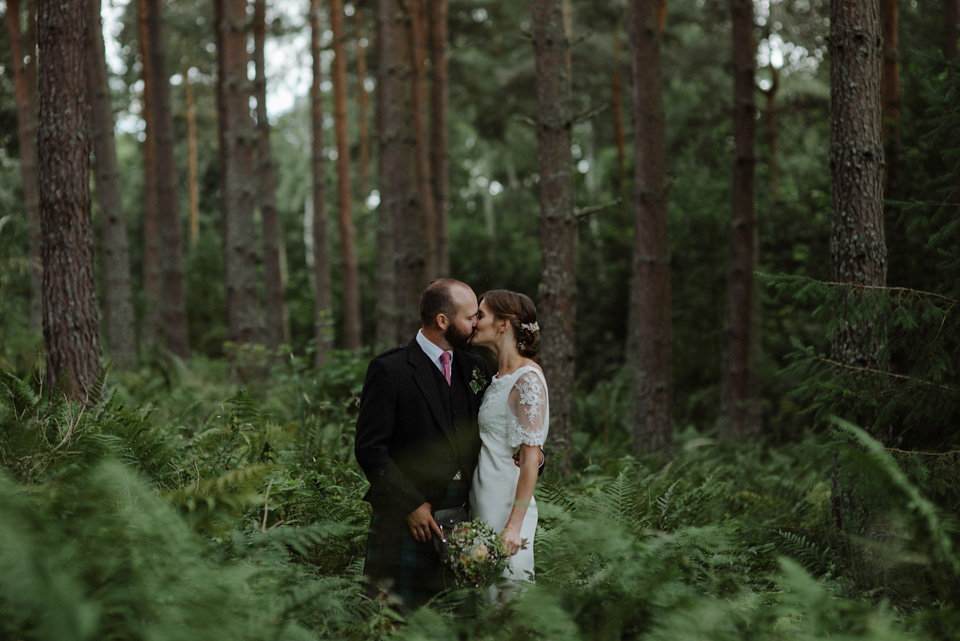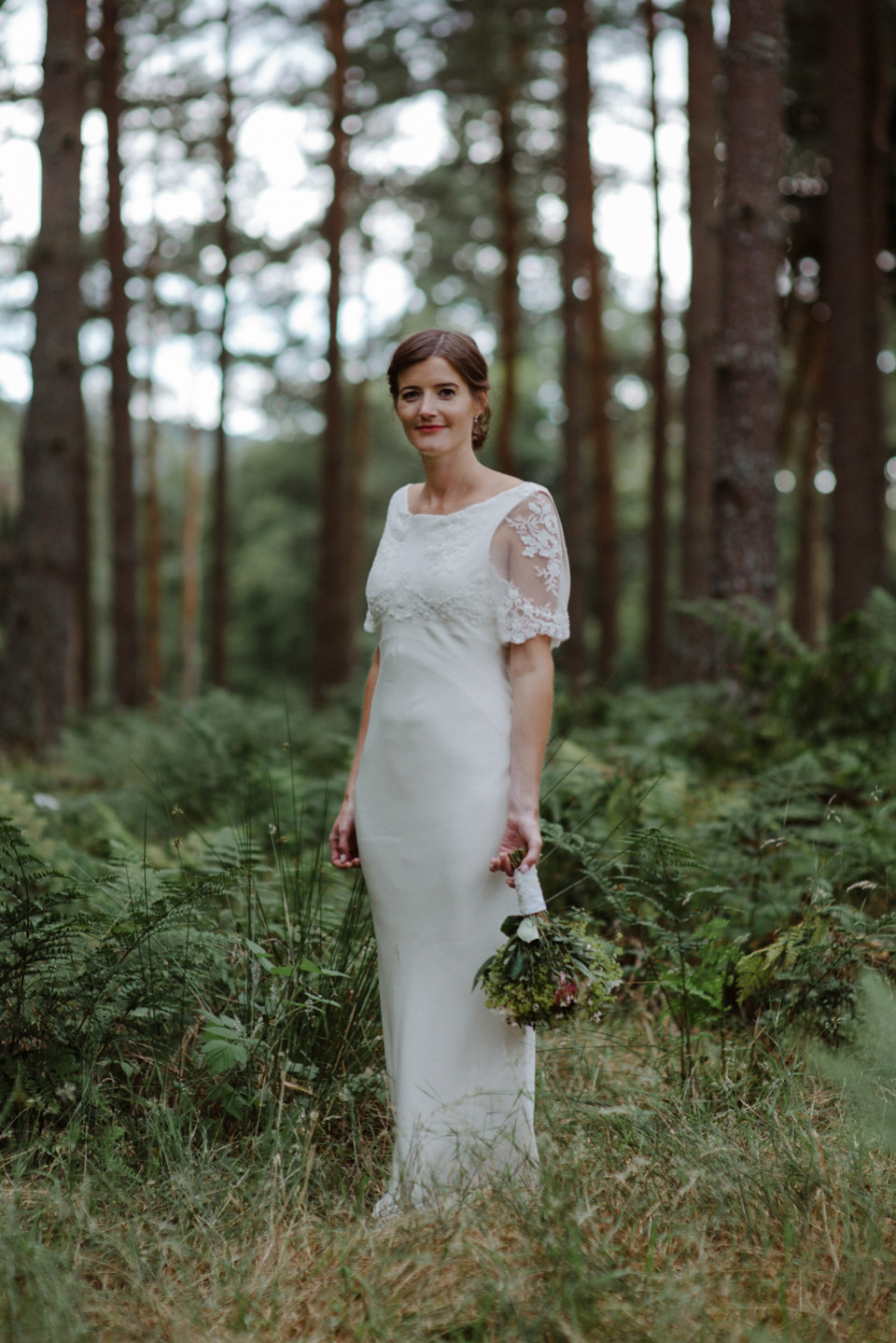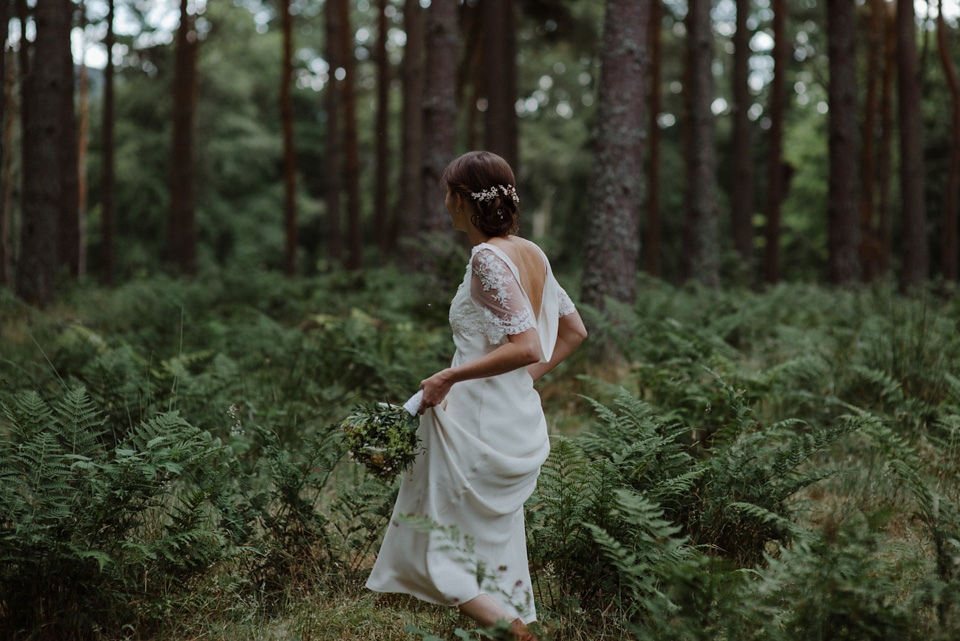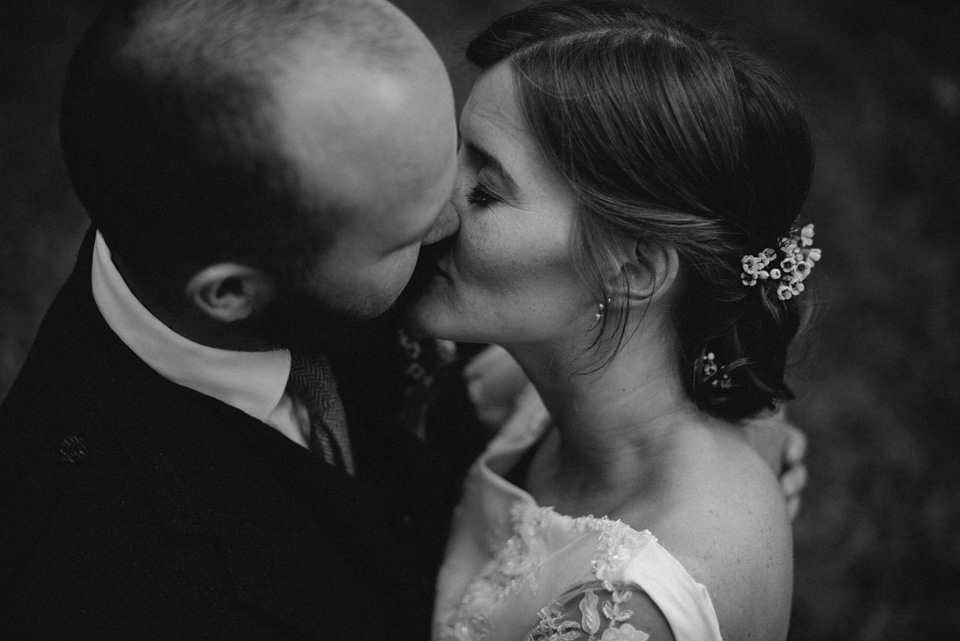 "The cake was a coconut cake with strawberry jam and buttercream icing made by CAKE in Aberdeen, which tasted absolutely delicious."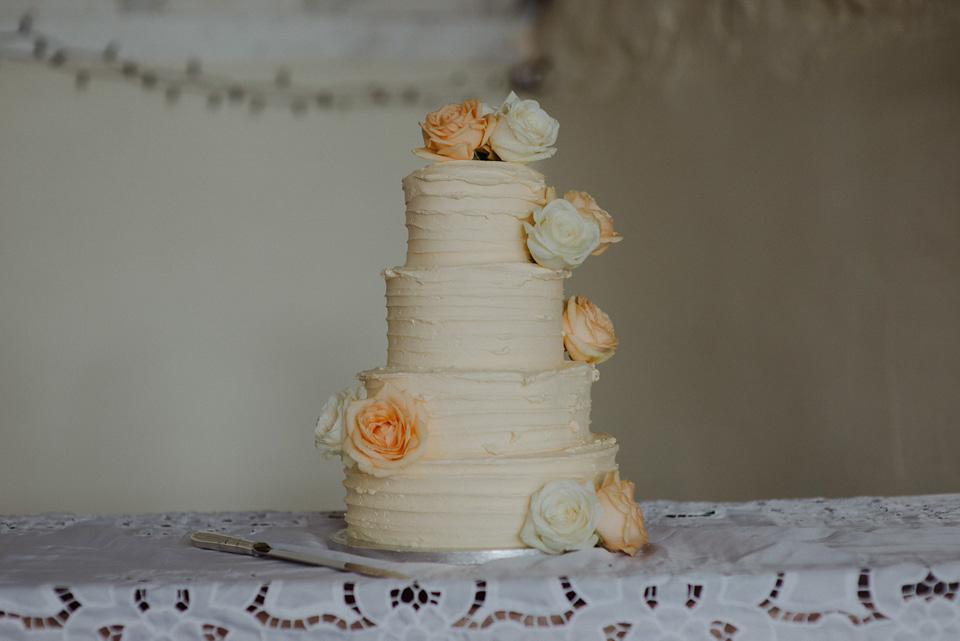 "When it came to favours, our guests received rhubarb wine which was home brewed by Fraser. The colour of the wine was so pretty so I found mini hip flasks and 'made in Scotland' tags on internet and used them for the home brew."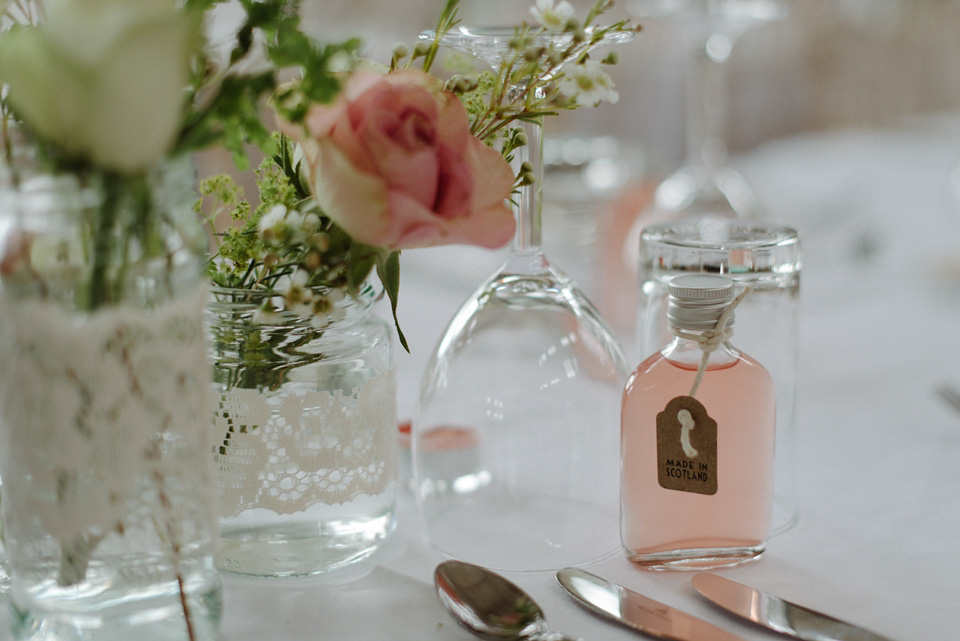 "My mum and I bought the roses from Lidl the day before the wedding and the gypsophila and carnations came from Asda. We ordered lots of waxflower from the florist and my friend Alison, who designs the most amazing, quirky jewellery and accessories for her company 'And Mary', along with my mum, my brother's girlfriend, bridesmaids and aunties did all the flower arrangements."
"My auntie and uncle run a company called ABC Beauty and were an amazing help on the run up to the wedding, lending us their van and even driving a round trip of 400 miles to drop off wine and decorations. They are so kind and supplied all the nail varnishes for the girls favours. I also made mini flower vases which can be attached to a window or mirror for the girls as a wee extra.
My friend gave me the idea when we were in Barcelona over the summer and spotted these in a shop!"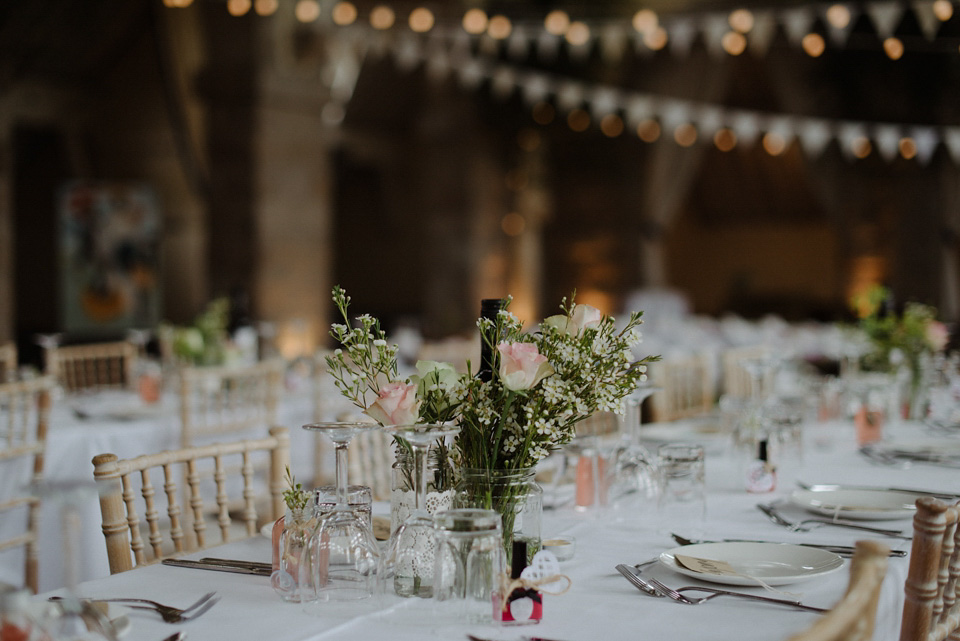 "We were let down a bit with our catering so wouldn't want to recommend the firm, we do however thoroughly recommend Scozzese Wood Fired Pizza, who supplied wood fired pizzas in the evening. They made pizzas to order fresh from their oven, served in take-away boxes, using the freshest and absolutely delicious ingredients including goats cheese and roasted red pepper, ham and mushroom, and chicken and rosemary. Our guests loved them!"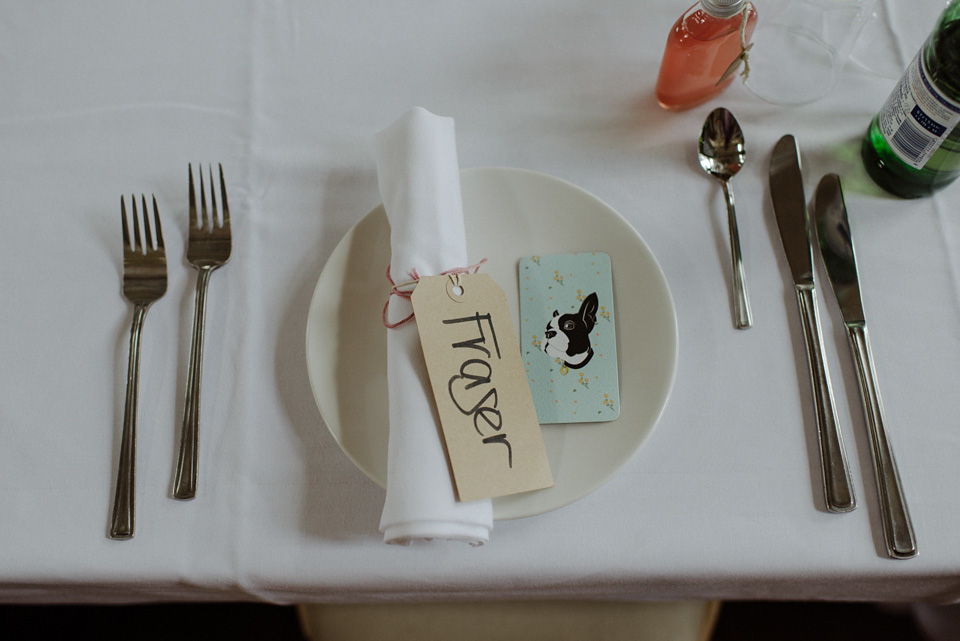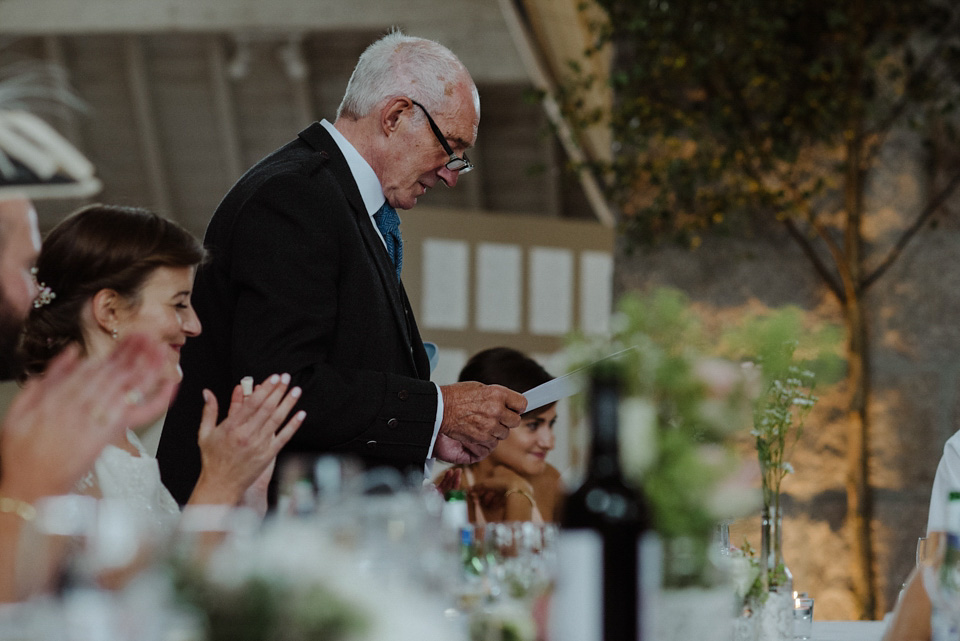 "Fraser's mum and dad did a wee surprise performance after dinner, which we weren't expecting! There's a traditional Scottish song called 'Granny Fraser's flitting from Aboyne to Aberdeen' and Fraser's mum changed the words and called it 'When Hayley married Fraser in Aboyne, near Aberdeen'!. It was very funny and got everyone going after dinner!"
"We hired 'Pin Up Night DJs' from Glasgow to entertain our guests.  They could not have been nicer and played an amazing set!
Our first dance was to 'The Look' by Metronomy. When we first met we went on a date to Stonehaven, a local seaside village, and Fraser had the album playing in his car. It brings us good memories."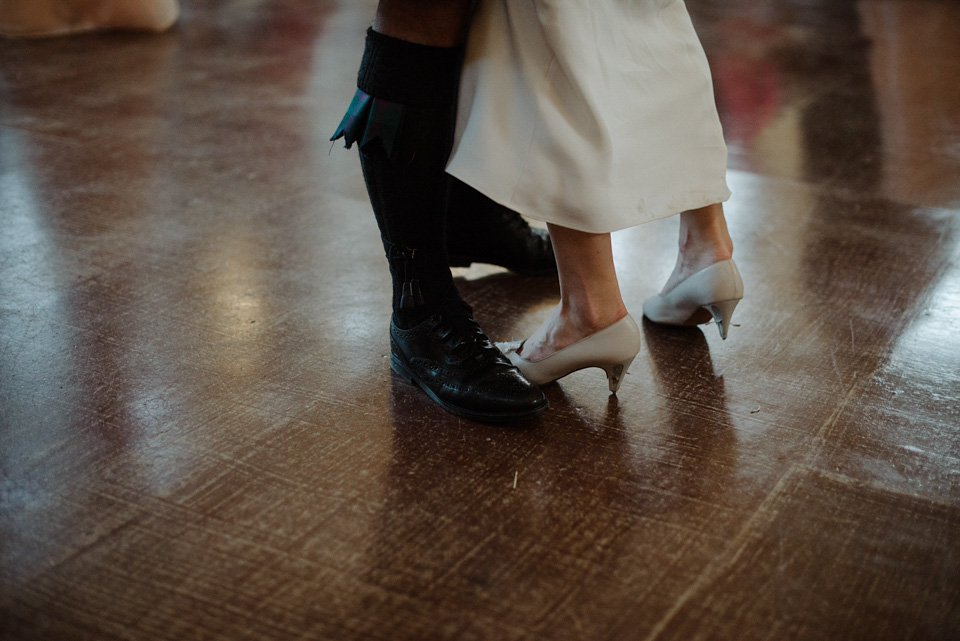 "I think the evening was our favourite part. I remember dancing with Fraser and I looked around and everyone was up dancing or smiling and it was such a good atmosphere, there was even a super moon!! I really didn't want it to end."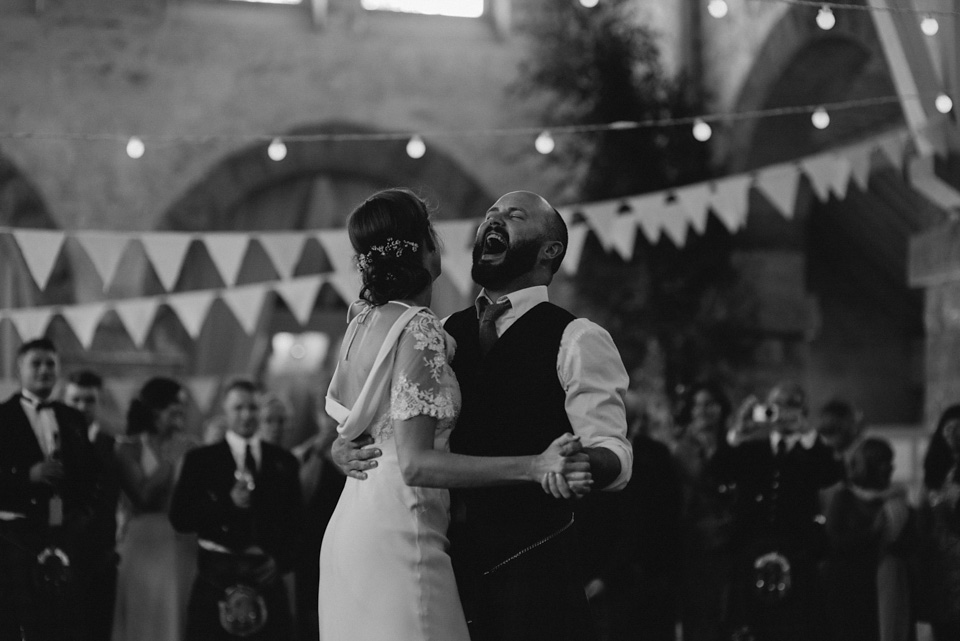 Words of Wedded Wisdom…
"Believe in your ideas, don't try to please everyone and embrace the day and all it throws at you.
In hindsight, we would have loved to have had our Boston Terrier Nora with us.
Finally, I would also have been more organised on the morning so I didn't have to rush getting my dress on and running out the house to get to the ceremony on time!"
What a truly wonderful day – filled with joy, happiness and so many wonderful images to inspire our readers too.
Huge thanks as always to the absolutely wonderful Kitcheners – you can see more from Kitchener Photography  on Love My Dress here – they are some of my very favourite photographers ever – such an ability to capture the most wonderful portrait shots as well as all that gorgeous detail!
Are you planning a wedding similar to Hayley and Fraser's? I'd so love to hear from you if so.
Love Annabel xx
Photographer – Kitchener Photography
Venue – Coo Cathedral
Wedding Dress – Bliss Studio' in Edinburgh
Bride's Shoes – charity shop
Groom – kilt from Aberdeen
Bridesmaid's Dresses – Jarlo from ASOS + nude slingbacks from Jones Bootmaker
Florist – The Secret Garden
Cake – CAKE in Aberdeen
Entertainment – 'Pin Up Night DJs' from Glasgow
Rings – McCalls jewellers in Aberdeen
Catering – Scozzese Wood Fired Pizza
Hair + Makeup – Calm Hair & Beauty
Additional Support via ABC Beauty