Hello!  It's an absolute pleasure to be writing my first Love My Dress feature on this damp December morning!  I'm thrilled that my first feature is a wedding from my adopted home county of Yorkshire, and it really is a delight of a wedding – guaranteed to make you feel warm and cosy inside. So get yourself a cup of tea, take a quick break from whatever you're doing and be transported to Autumnal Yorkshire for the wedding of Flic and Tom.
"I had discovered Pinterest about six months before we started planning our wedding and already had a few sneaky inspiration boards hidden away, I knew I wanted a rustic country theme with lots or herbs, moss and gypsophila, but didn't decide on a colour theme until I found my bridesmaid dresses."
Photography Copyright (c) 2014, Georgina Harrison Photography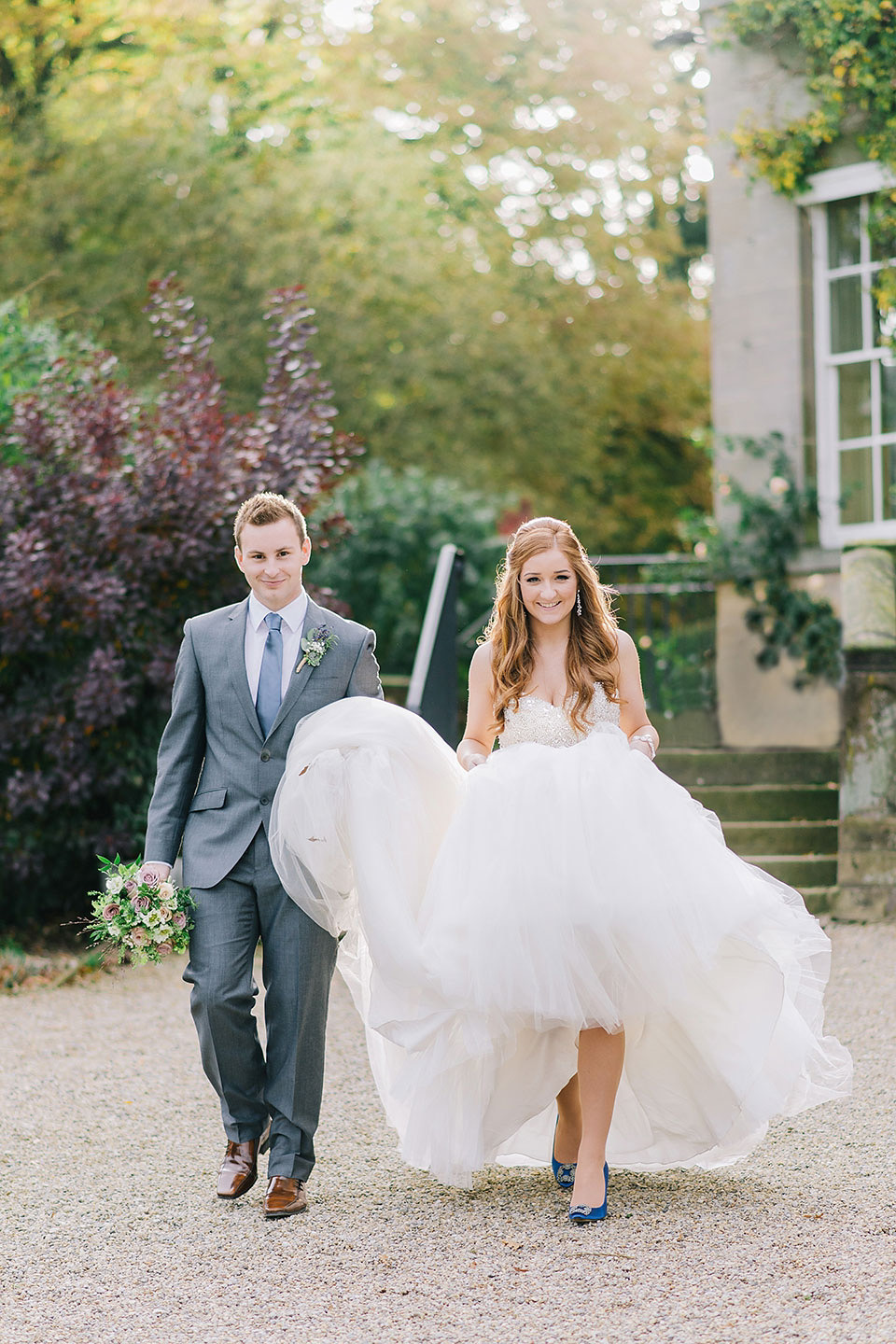 "Later I added gold painted pumpkins into the decor but must admit that at one point two days before the wedding, as I was standing in my parent's garage at midnight covered in gold spray paint I did start to wonder if I had gone a little mad!"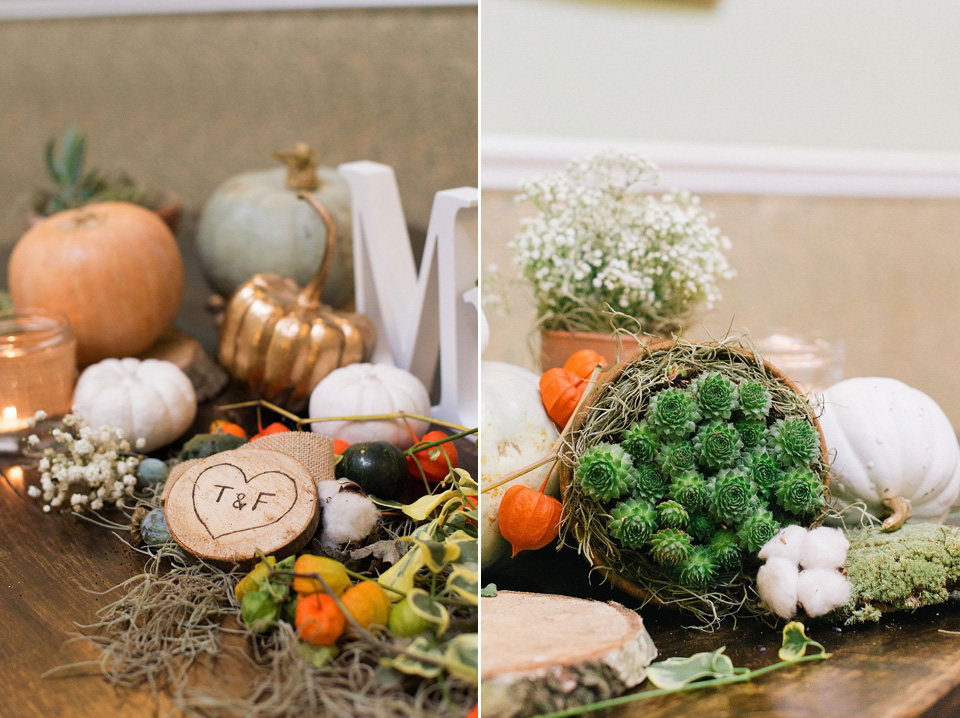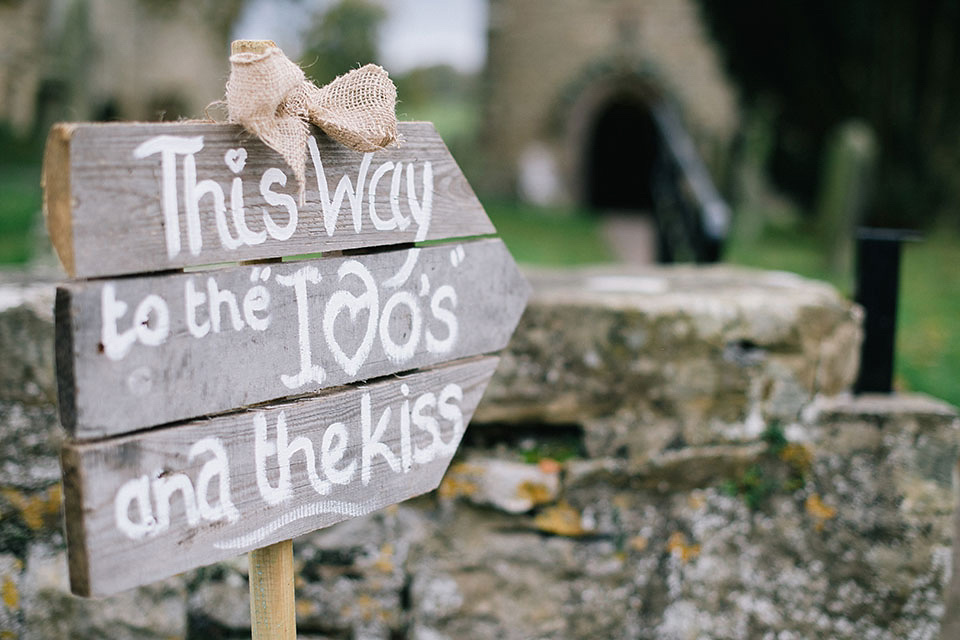 Flic's adult bridesmaids dazzled in dresses by Jenny Yoo from BHLDN in plum, with gold shoes from Kurt Geiger, her younger bridesmaid wore a pretty pale pink dress from Dessy, and her little flower girl looked as cute as a button in the Baby Odette dress in dusky pinkfrom Monsoon.  Flic's Mum toned beautifully in a fantastic pink lace number with wonderful side headpiece.
"I gave each of my bridesmaids a different coloured pair of pearl earrings as a thank you gift. They came from an independent seller at notonthehighstreet.com"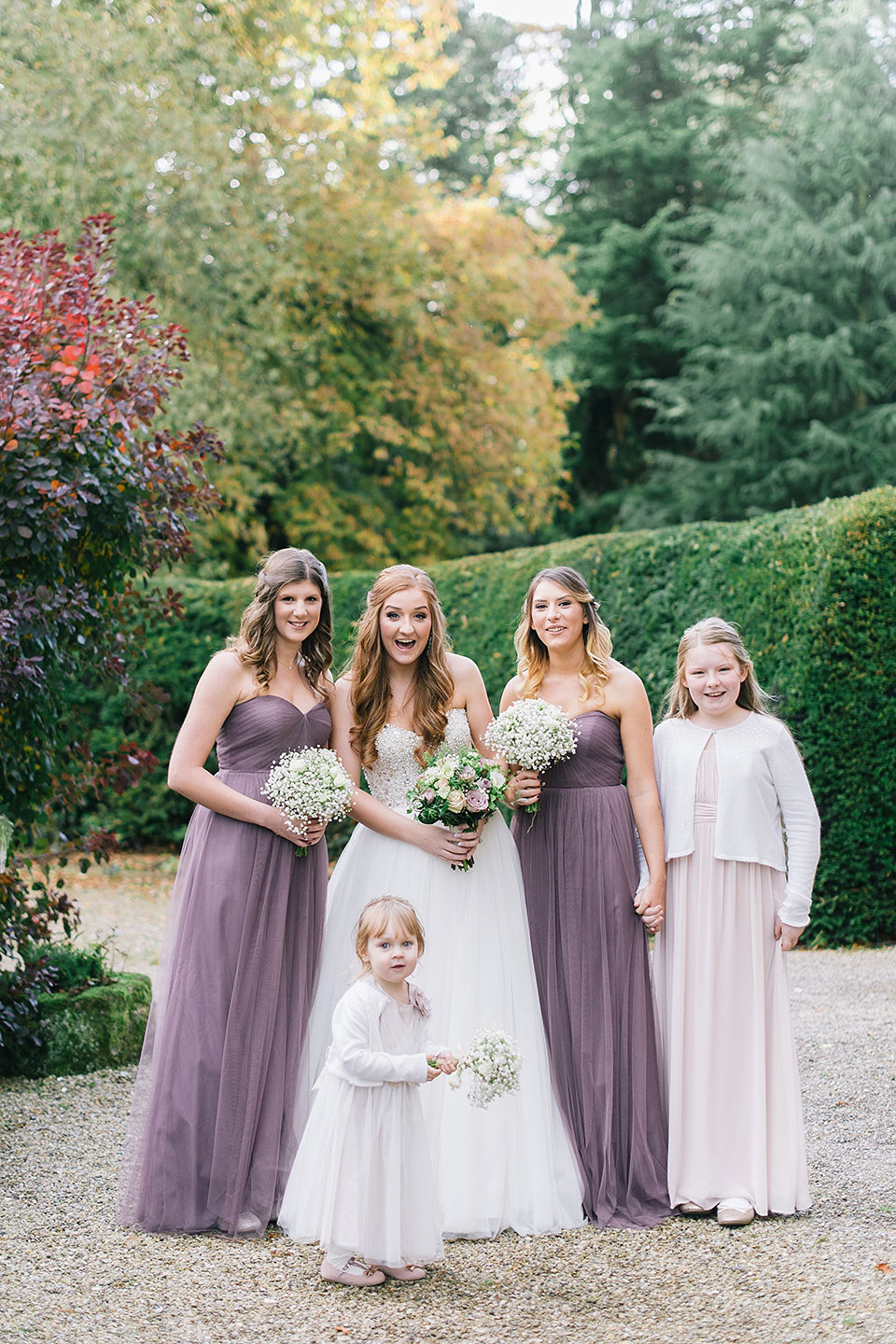 Flic had the most beautiful fairy-tale fantasy of a dress which sparkled in the bright October sun; its jewelled bodice and cloud-fluffy tulle skirt is just gorgeous, and must have been a dream to wear.
"My dress was the 'Esme' by Maggie Sottero and I purchased it from the beautiful Harrogate Wedding Lounge.  I had been so nervous about dress shopping but had passed the wedding lounge a few times and always loved their window displays, the staff and Leanne in particular were so friendly and reassuring which helped to completely put me at ease."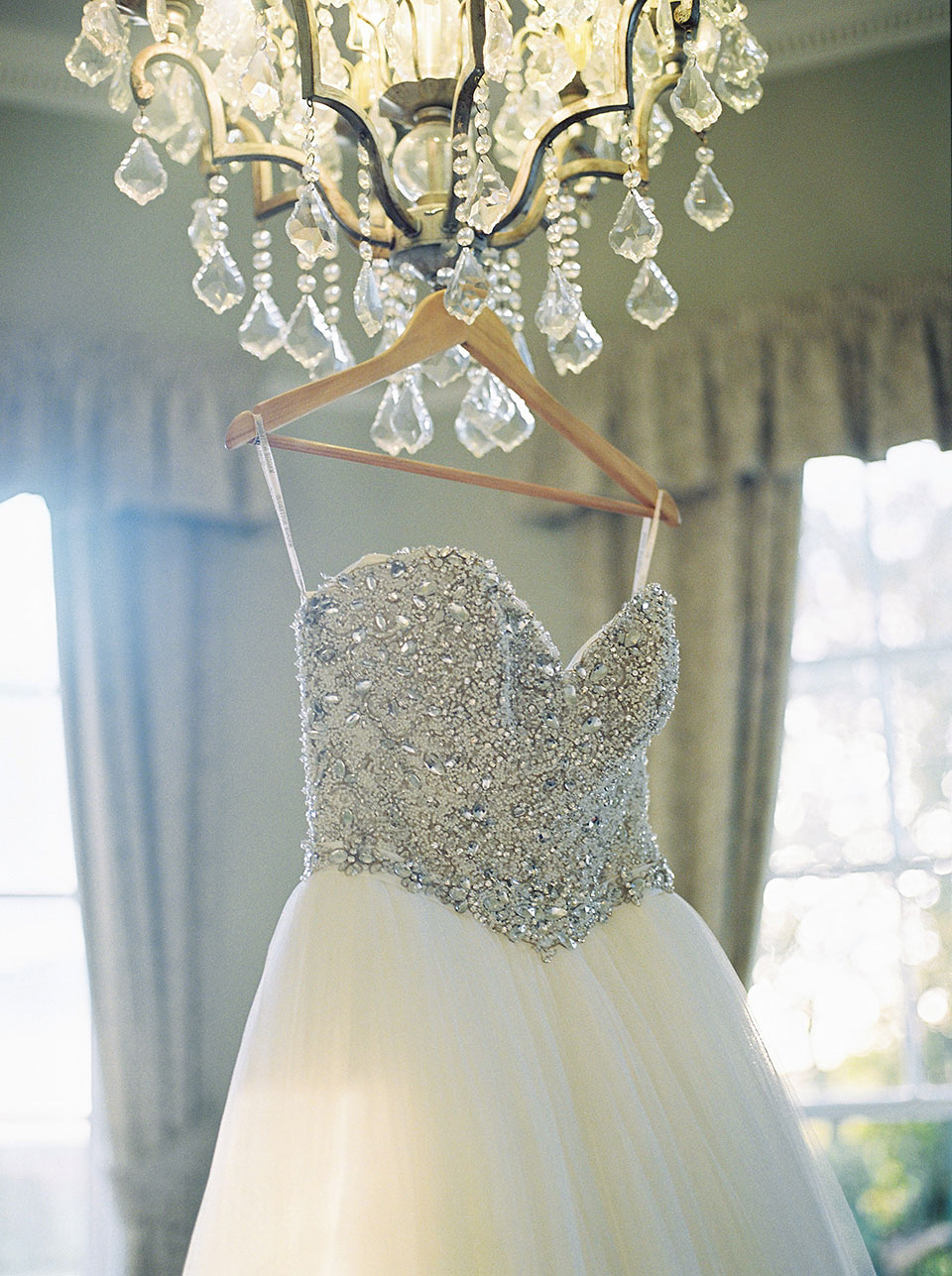 "I chose a few different styles to try on, the first being the Esme dress. The intricate beaded embellishment on the bodice was stunning and caught the light beautifully.  When I walked out from behind the curtain my Mum burst into tears and I knew then that I had to have it!"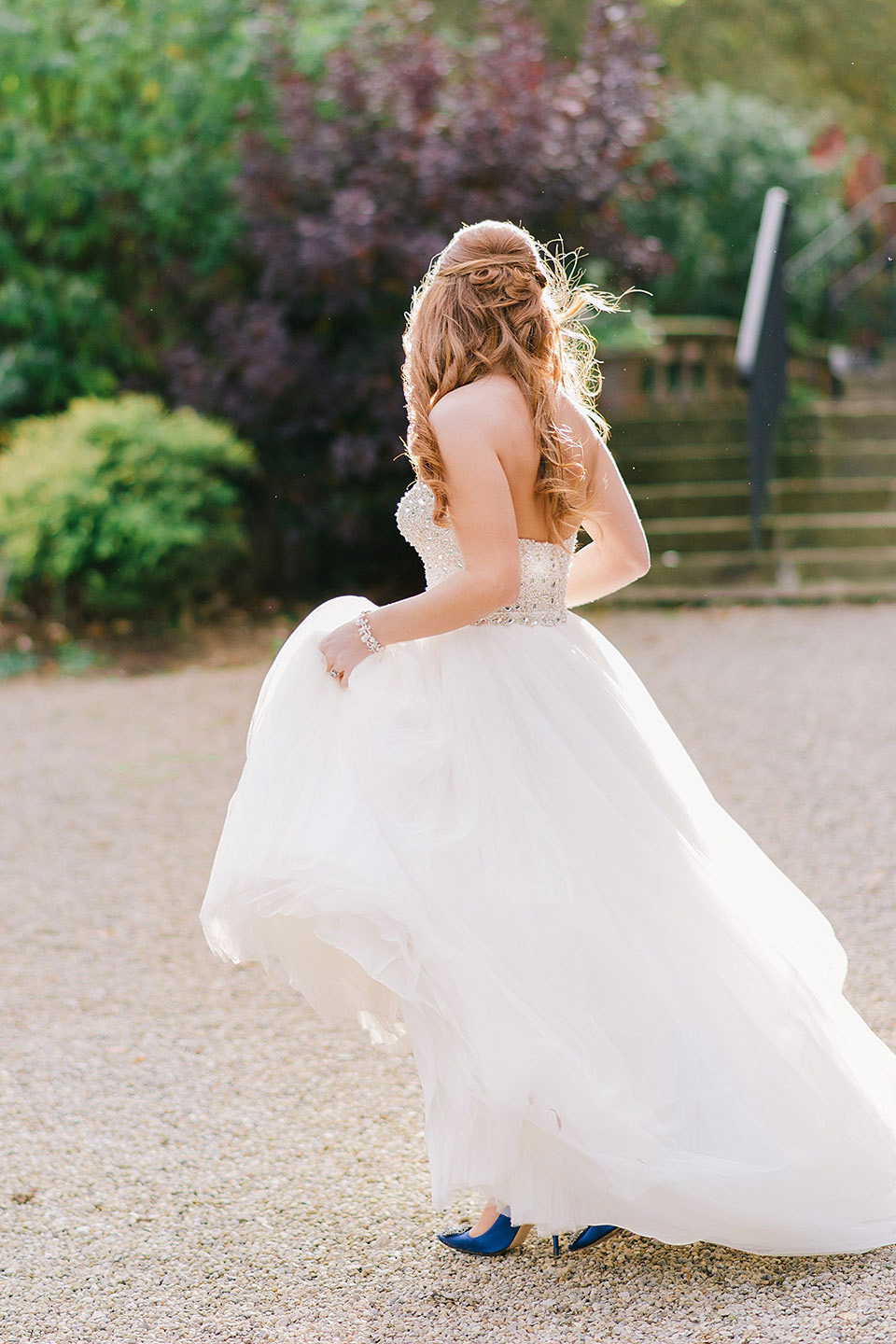 The couple utilised lovely, rustic home-made wooden signs, to help their guests know which way to go and where to sit for the ceremony…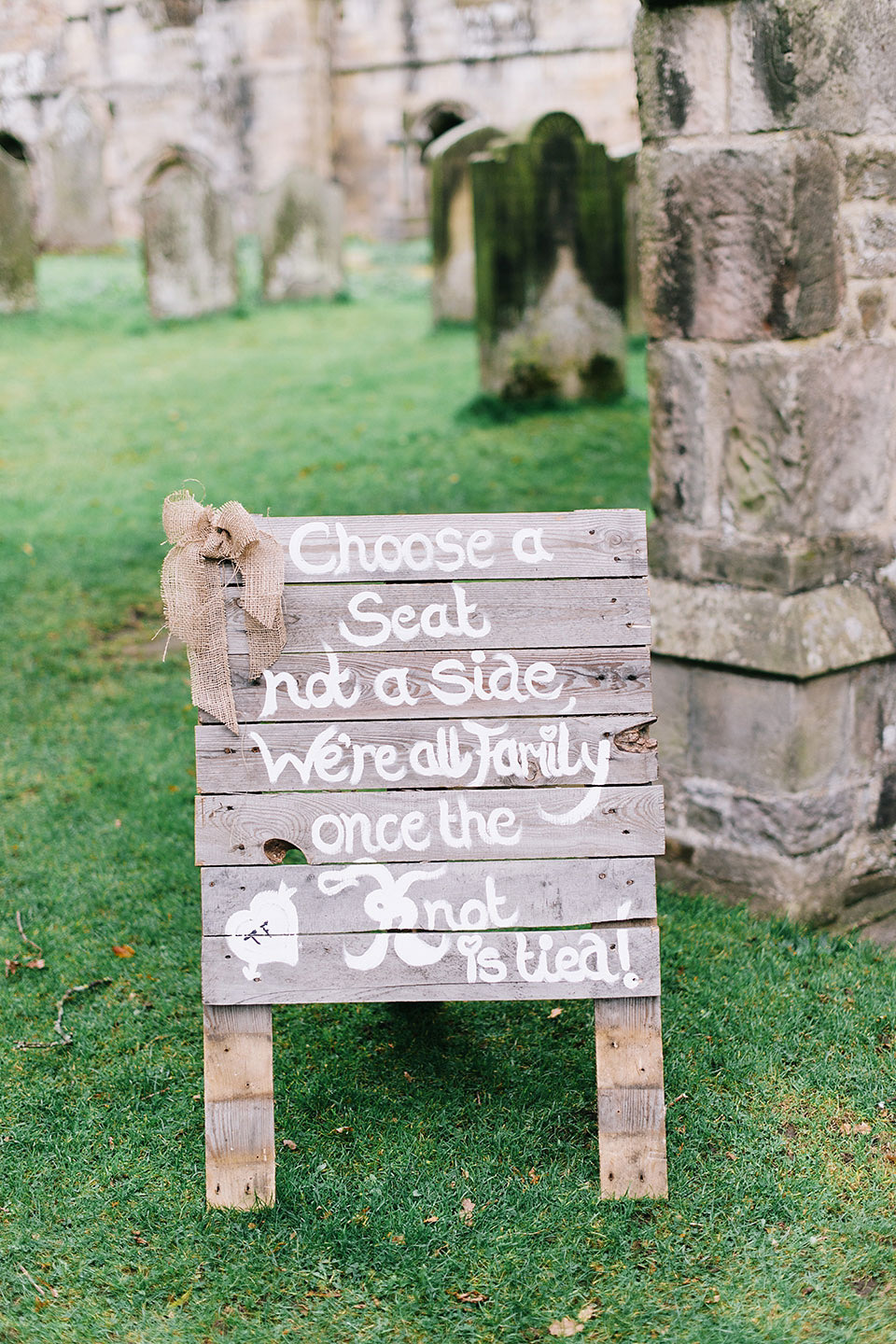 Yorkshire based Georgina Harrison Photography captured the day on camera.
"I came across Georgina's blog before Tom had even proposed and loved her work, I bookmarked her page for when I would need it and I'm so glad she was available. She captured our day in such a relaxed style. Several of our guests have since mentioned how fantastic she was and one couldn't quite believe all our photos had been taken by just one person!"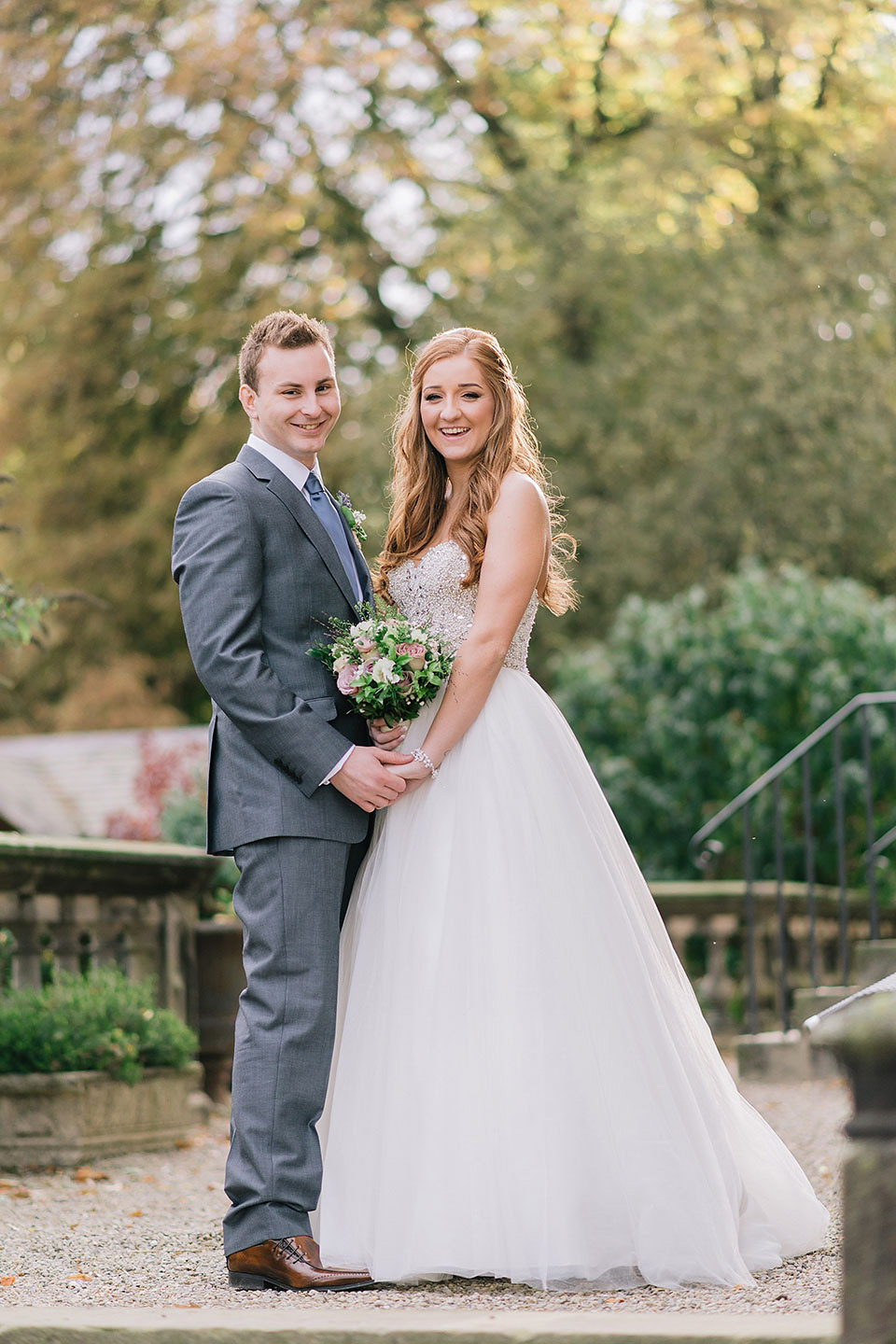 Flic, who works in banking, and Tom, a graduate recruiter, met while Flic was working in a local bar and Tom proposed four years later on holiday on the Greek island of Skiathos.
"We had walked a cliff trail the previous year at sunset and decided to visit again, I very nearly ruined Tom's romantic timing when I realised halfway there that I had forgotten my camera and forced him to turn the car around so we could go back for it!"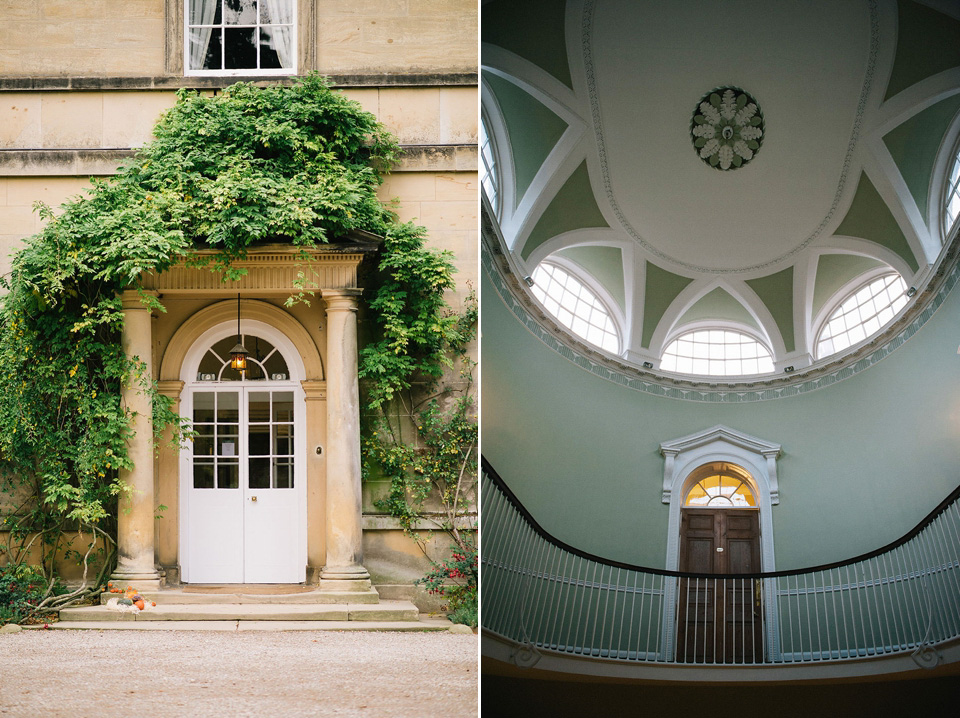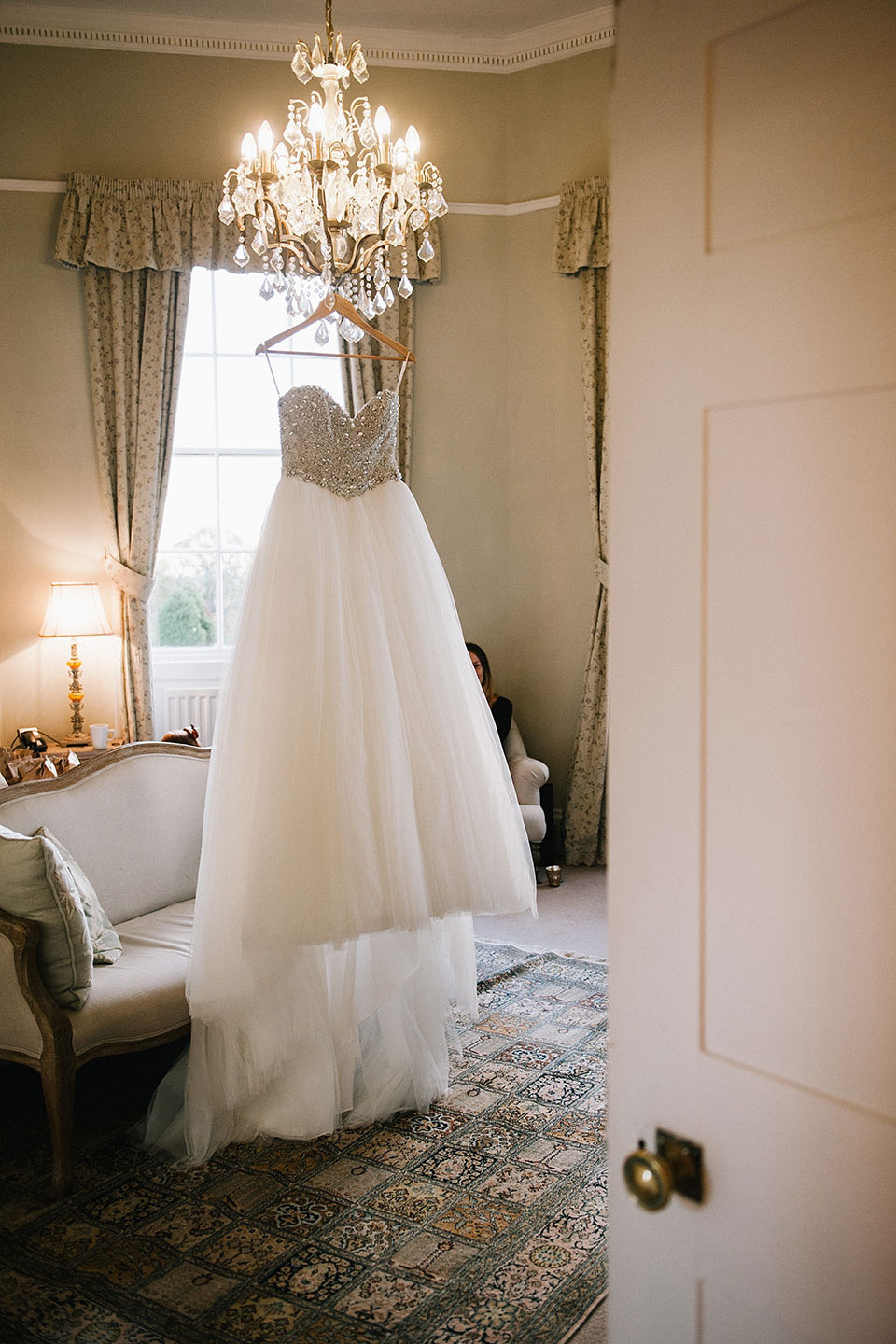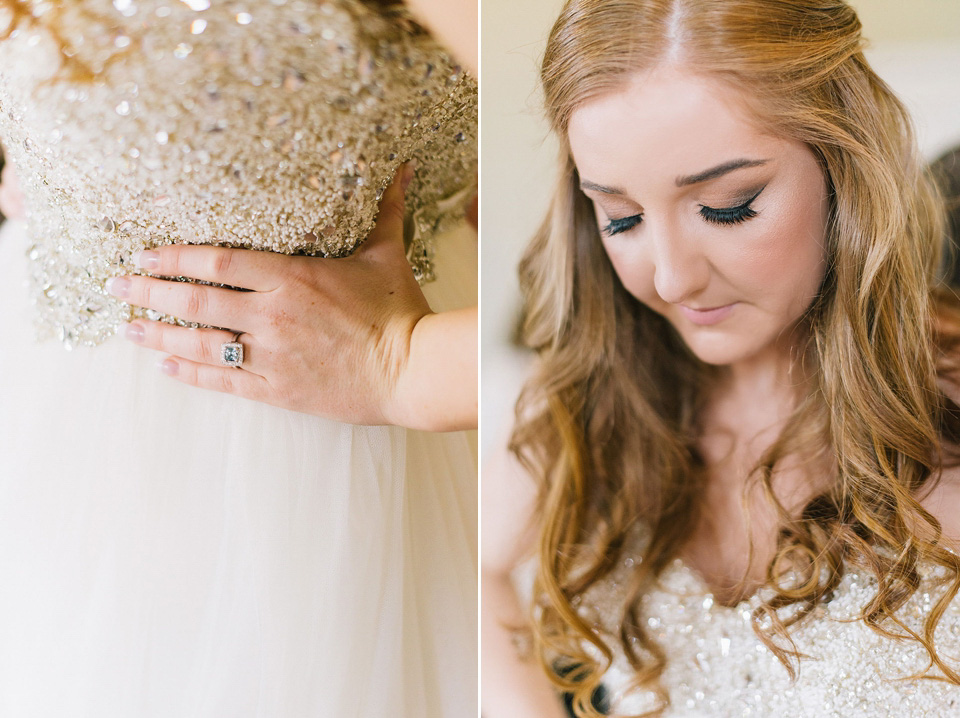 "My wedding shoes were the first thing I purchased; I wanted the Manolo Blahnik 'Hangisi' in Carrie Bradshaw blue. British stockists are rare though and so I ordered them from Savannahs in Sweden. I took a gamble buying them before my dress but it paid off and they were so comfortable!"
(These beautiful shoes are actually featuring for the second time this week! Bride Vicki also wore them in yesterday's feature by Christina!)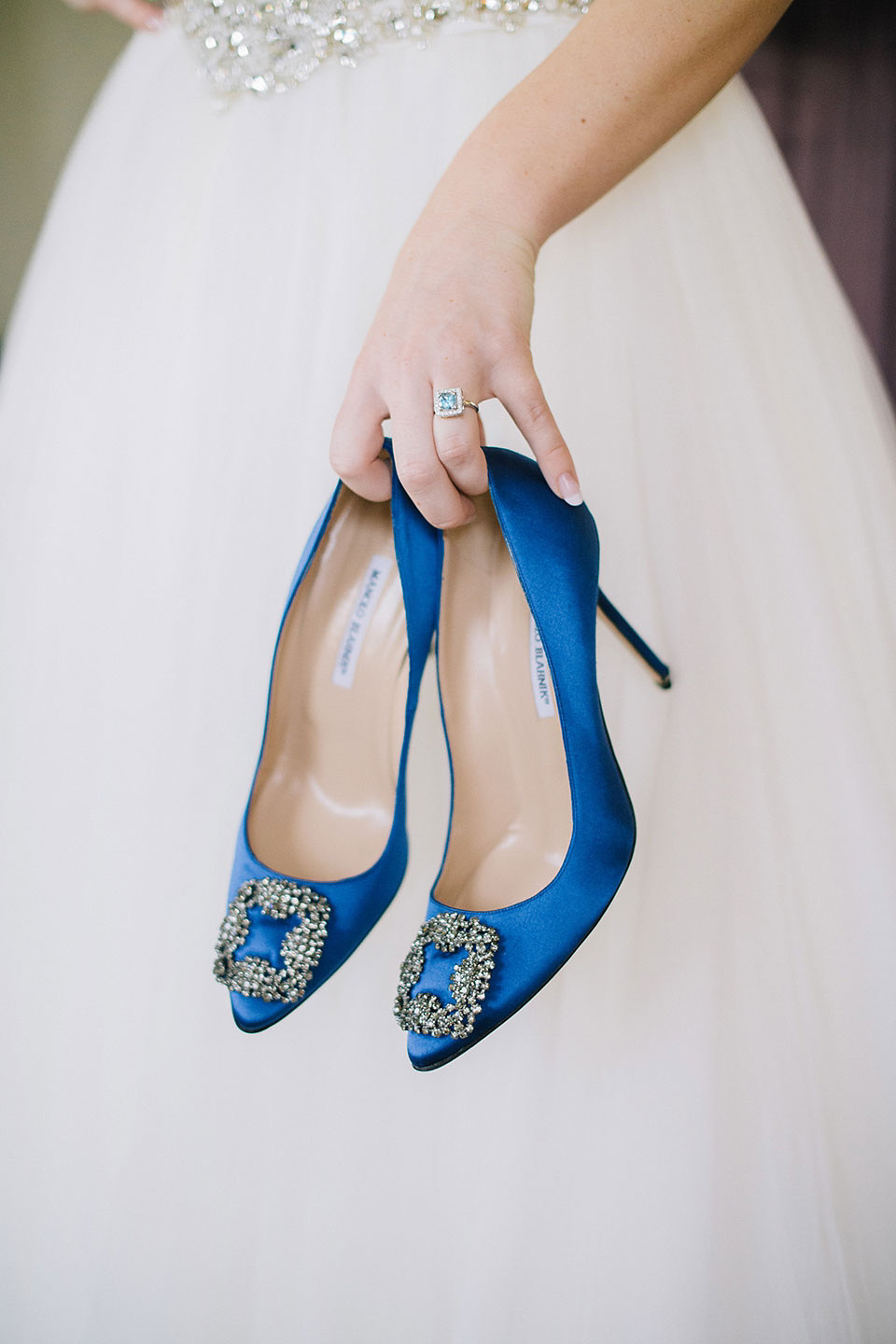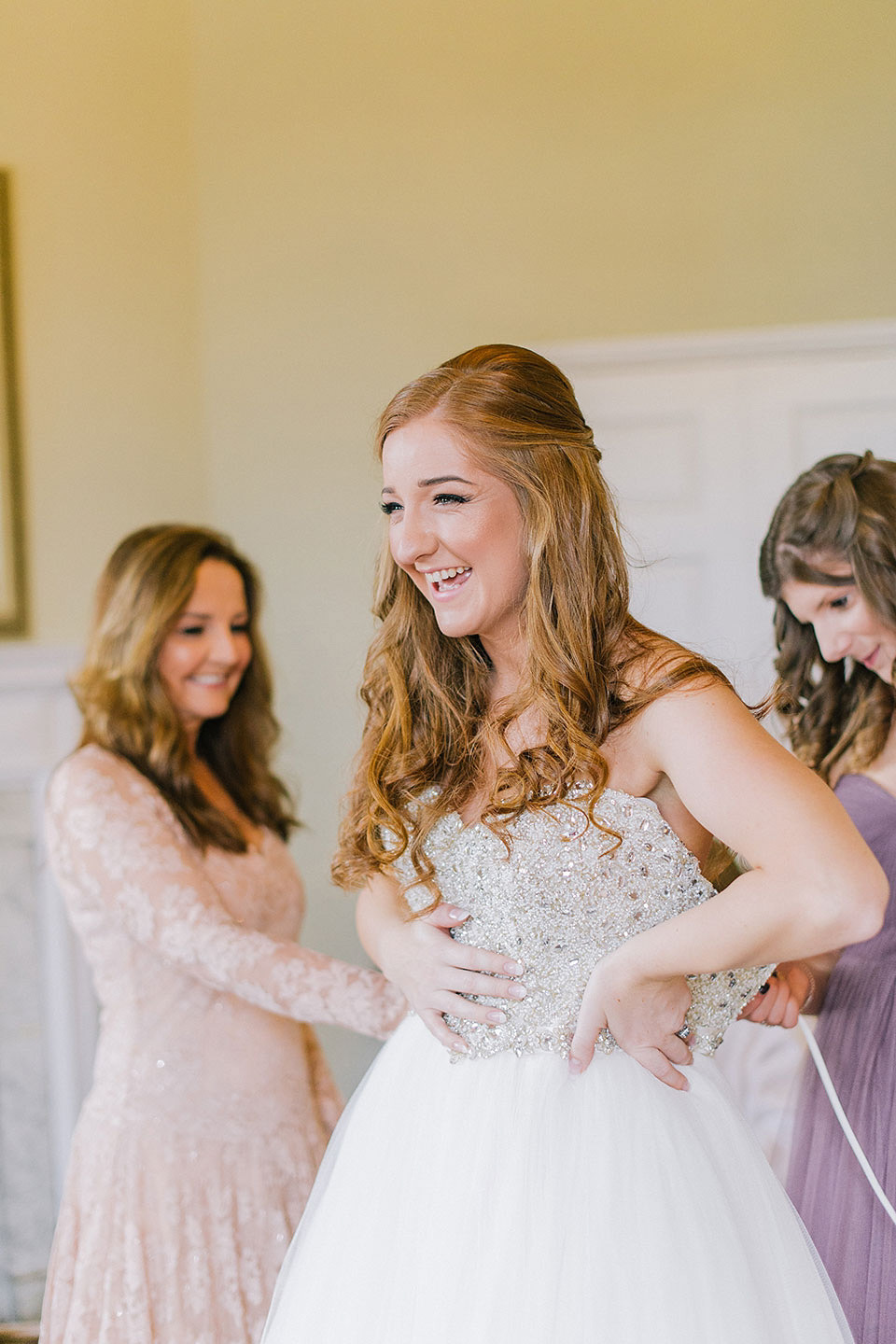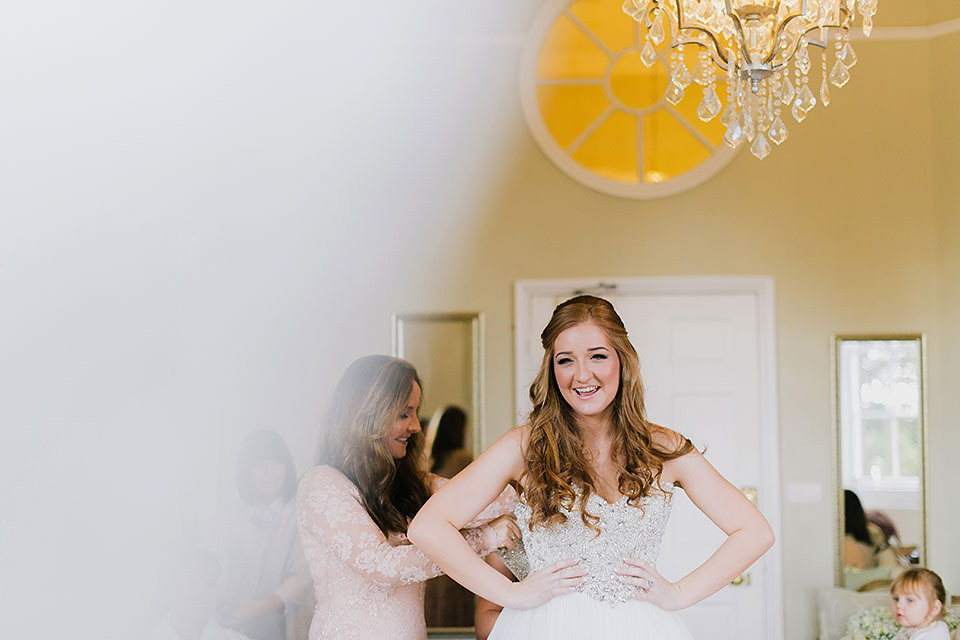 Flic's 'something borrowed' was her antique lace veil which belonged to her Mum, and originally came from the Harrogate wedding lounge, just like her dress!  A really lovely way to incorporate something belonging to a close friend or family member into the day.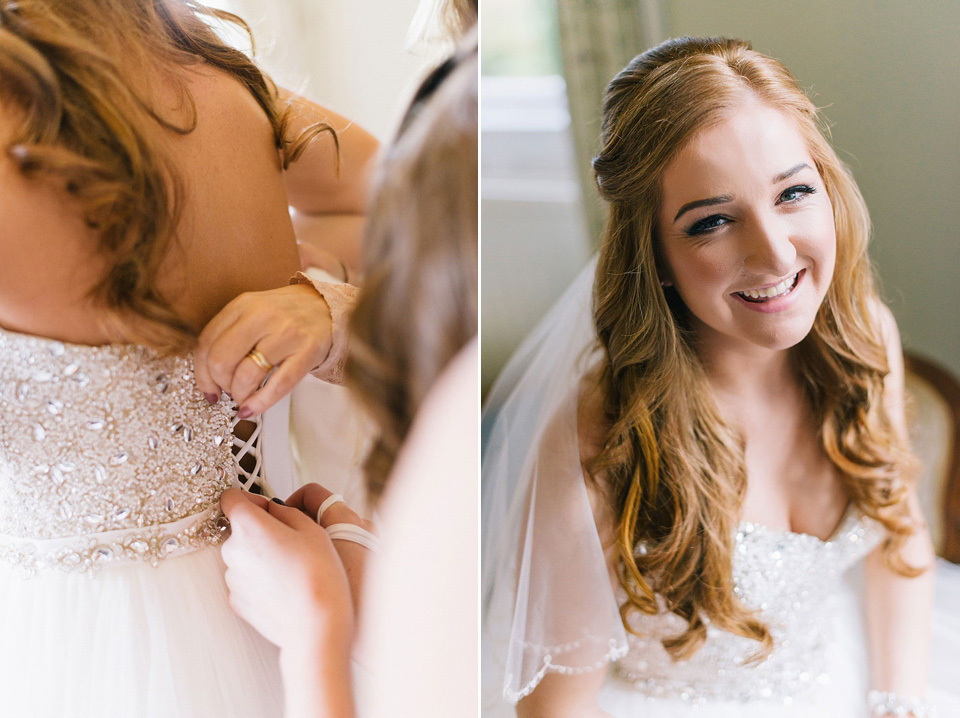 Flic accessorised with a pretty pair of drop earrings and a pearl bracelet both from Molly Browns of York, as well as her custom made engagement ring.
"My aquamarine and diamond engagement ring was custom made at Goldsmiths jewellers in Newcastle where we also purchased our wedding bands. Aquamarine is my favourite stone and we had so much fun during the design process"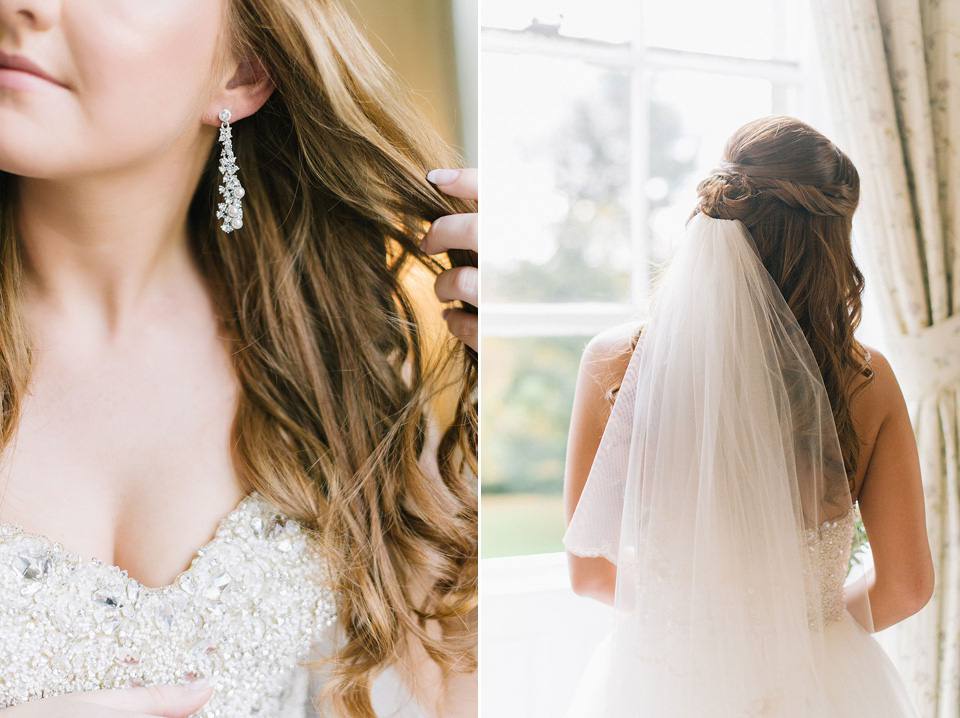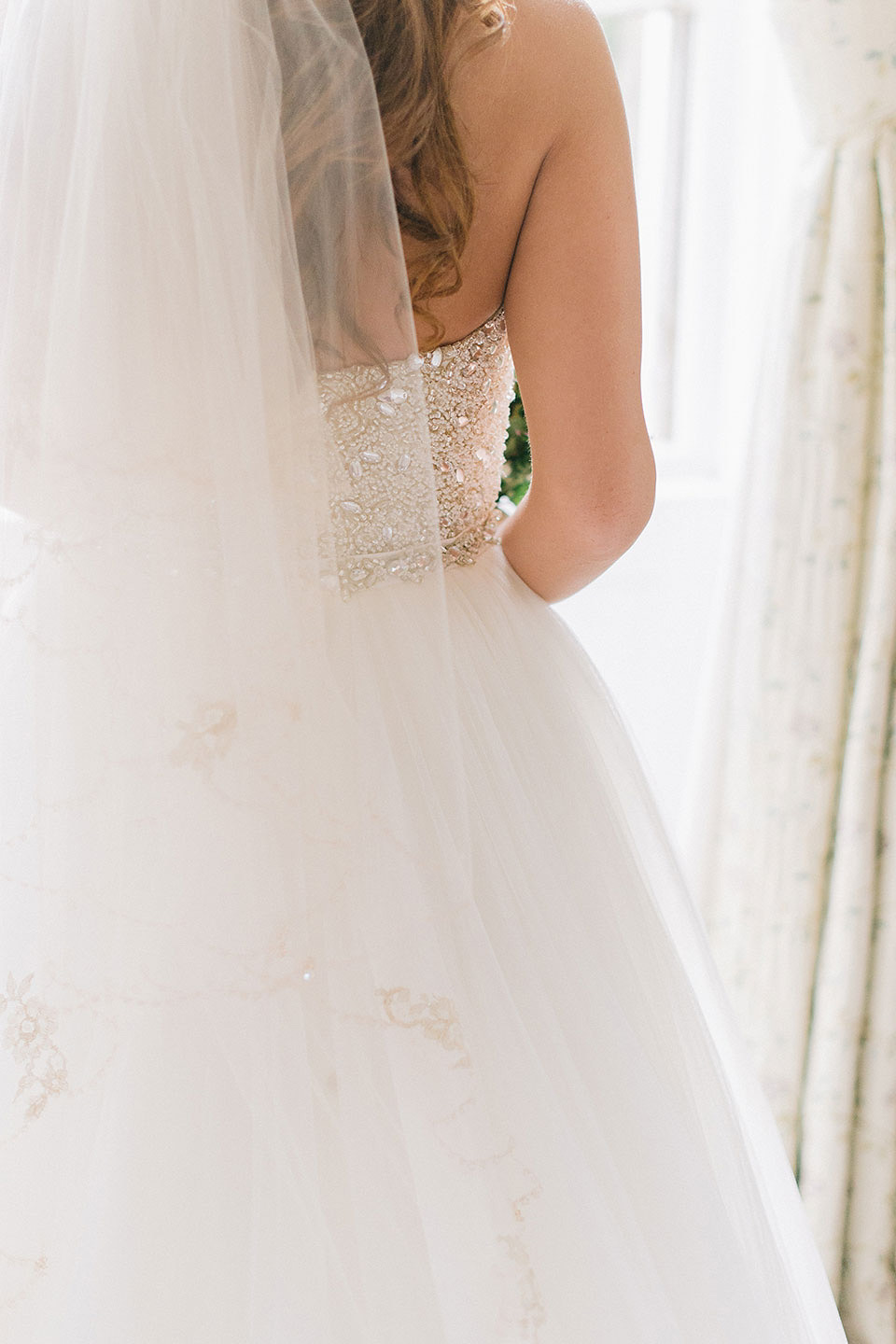 Flic's bouquet featured the most wonderful antique purple roses, while the men's buttonholes combined lavender with rustic twine and greenery.  The bridesmaids carried romantic bouquets of gypsophilia.
"We chose Northallerton based Hutton Flowers for our floral arrangements. Catherine always has lovely country window displays and she created really simple yet stunning rustic herb pots for the tables as well as the bouquets and bridal party buttonholes.  We had Spanish moss and eucalyptus trailing around the stonework of the church with candles placed in amongst which gave the church a really cosy feel"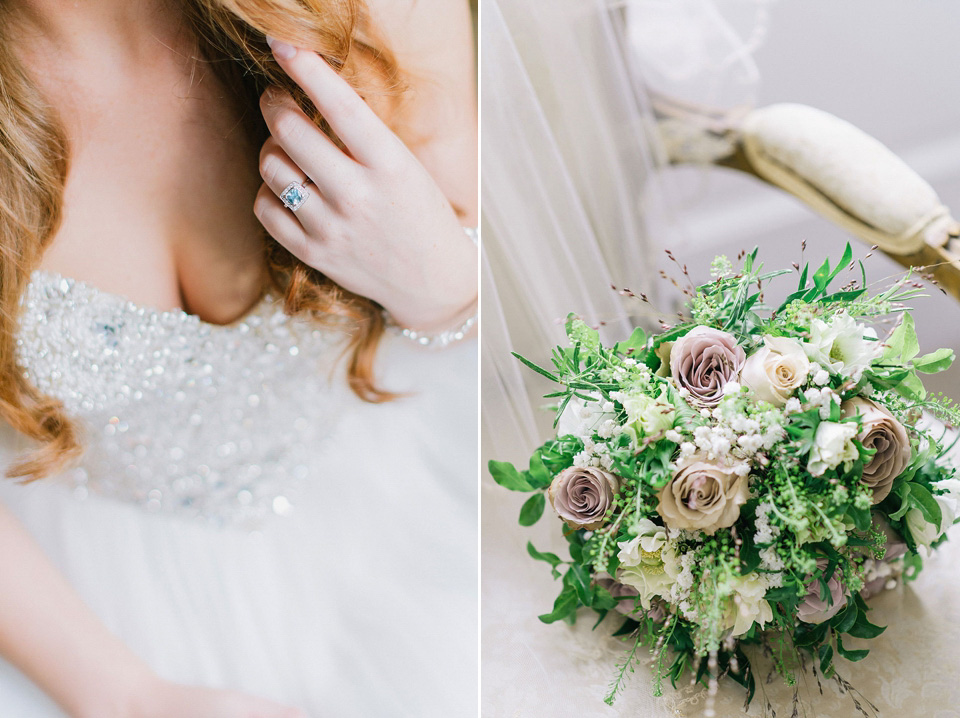 Tom and his brother Charlie, the best man, both wore suits from Marks and Spencer and silk ties in slate blue. The four other groomsmen wore the same suits but with silver grey ties.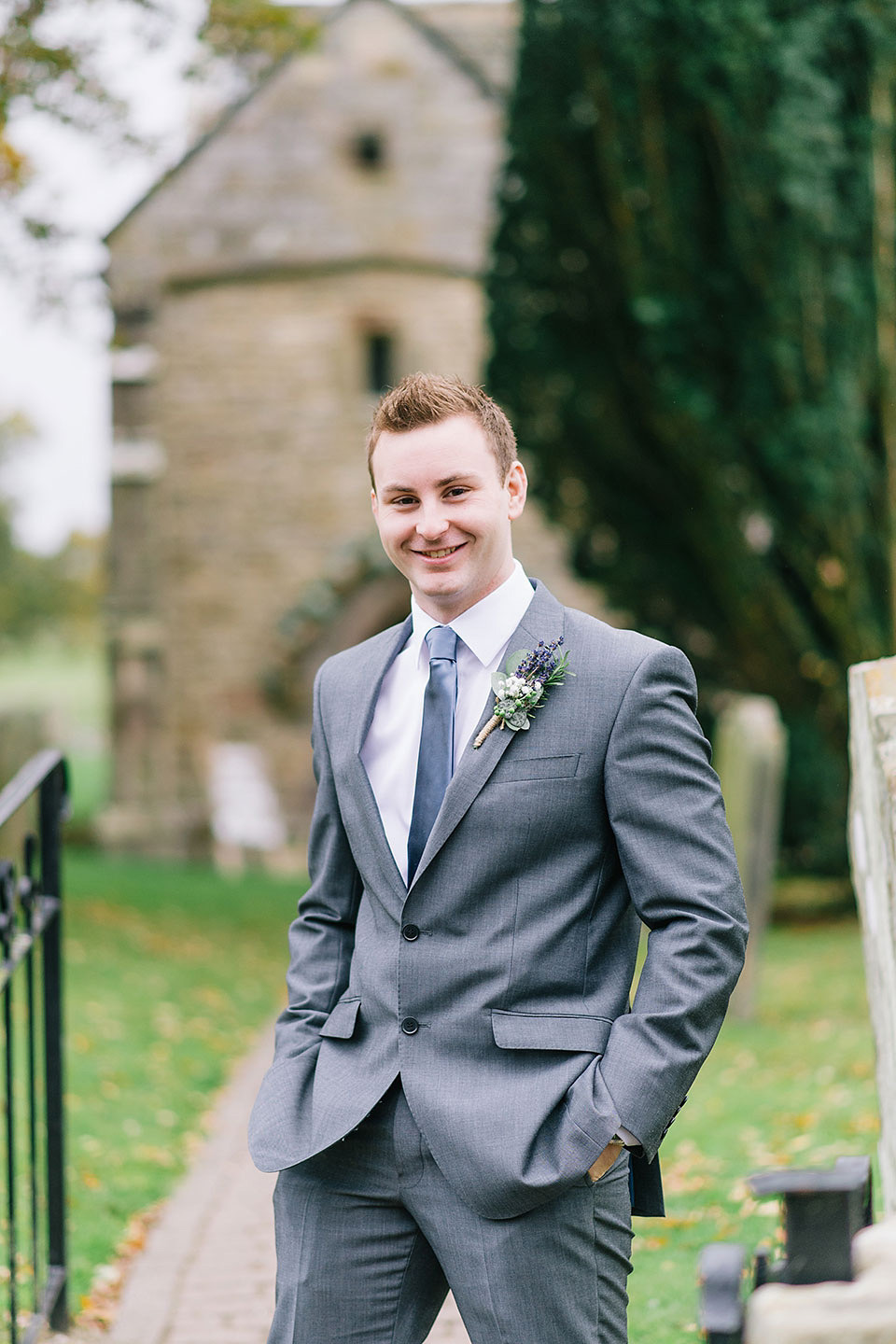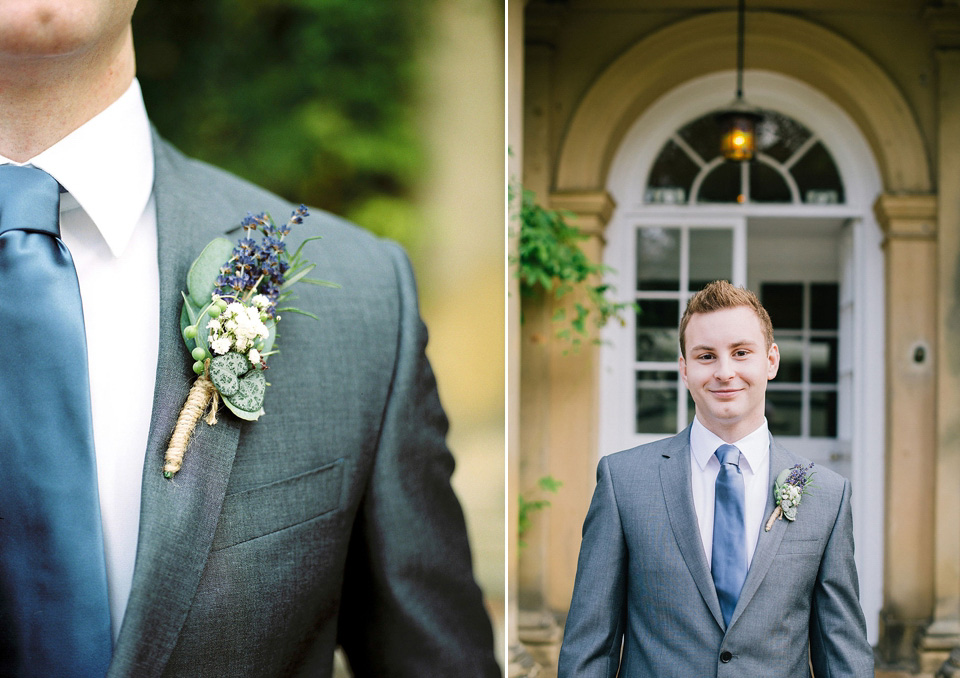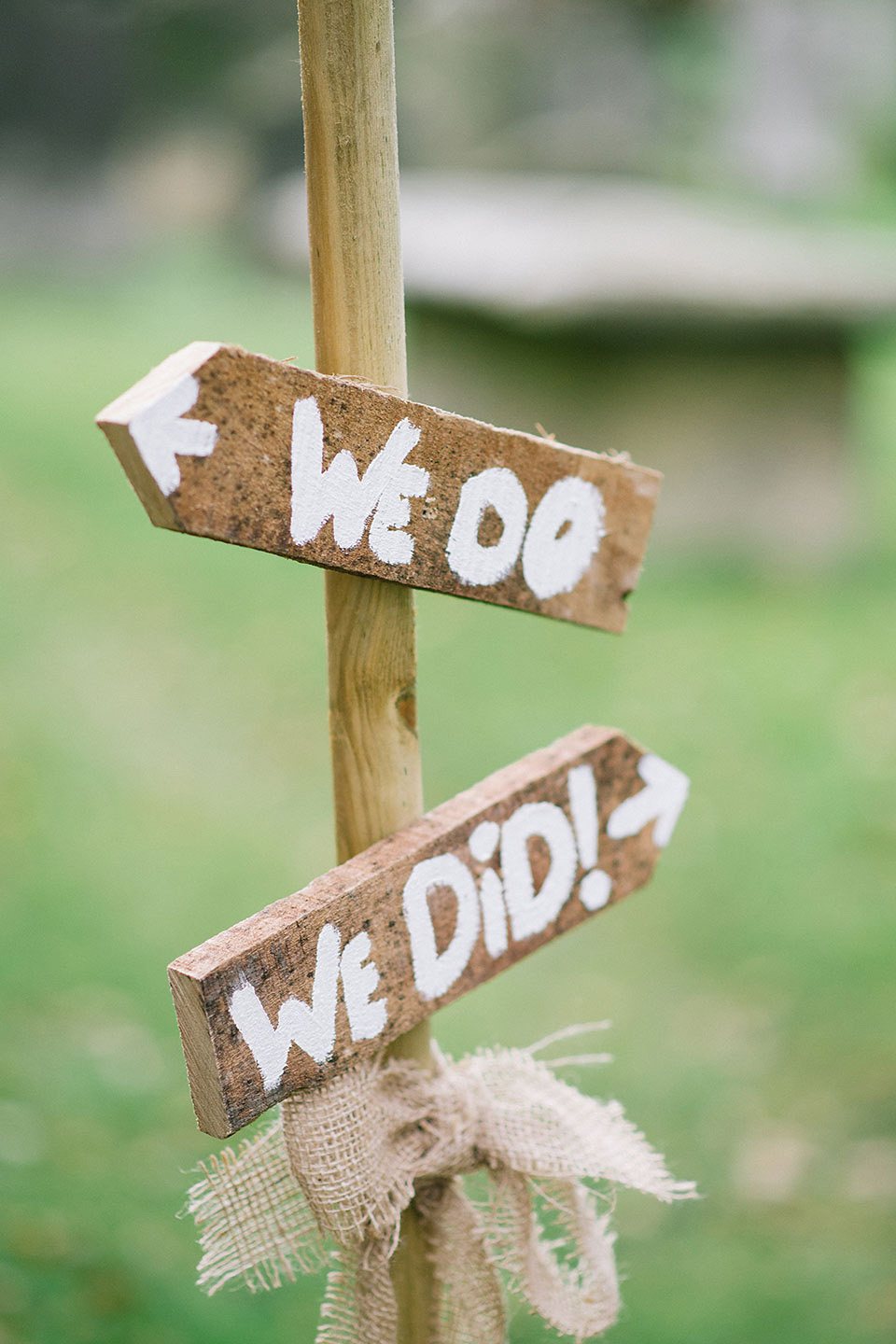 The couple chose the timeless beauty of St Agatha's church Easby, near Richmond in North Yorkshire for their ceremony, and nearby Middleton Lodge for the reception celebrations- two utterly gorgeous venues and the perfect backdrop to their elegant country-themed day.
"I had attended a wedding at St Agatha's a few years ago and had fallen in love with its picturesque charm."
It's easy to see why- such a beautiful building, and that view!  Just wow.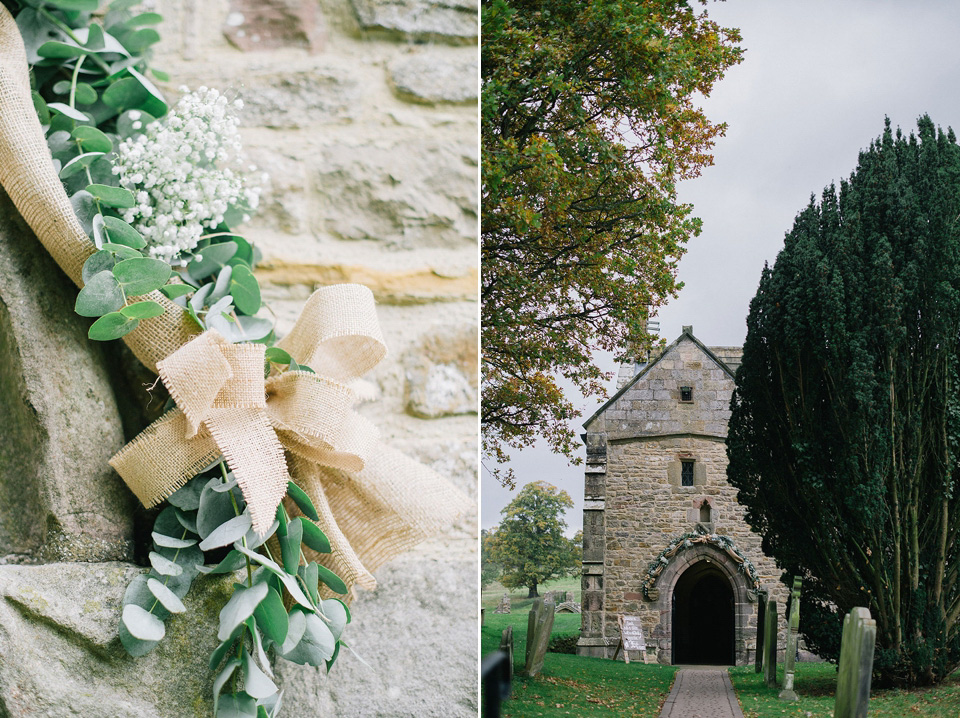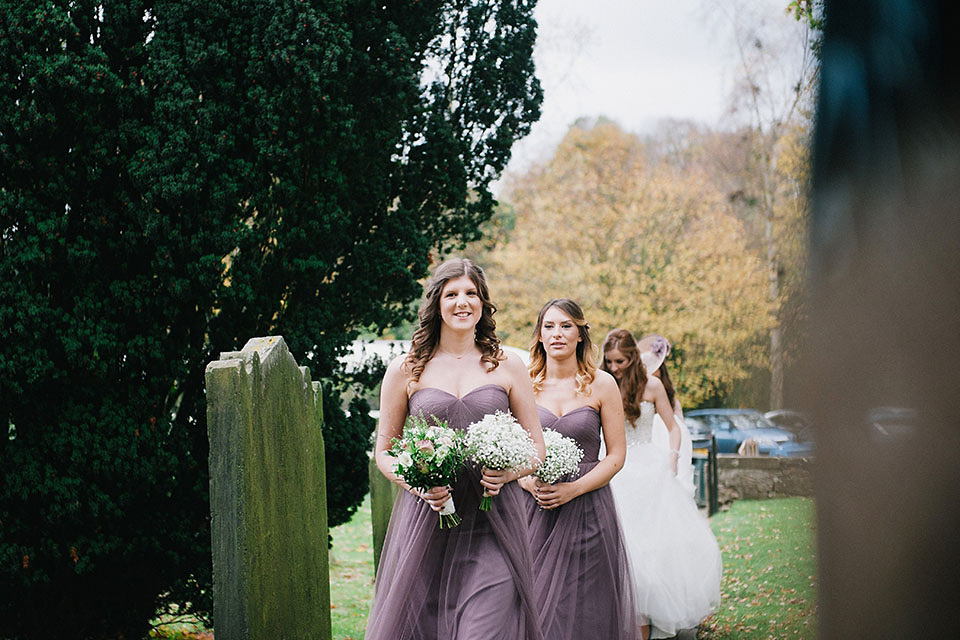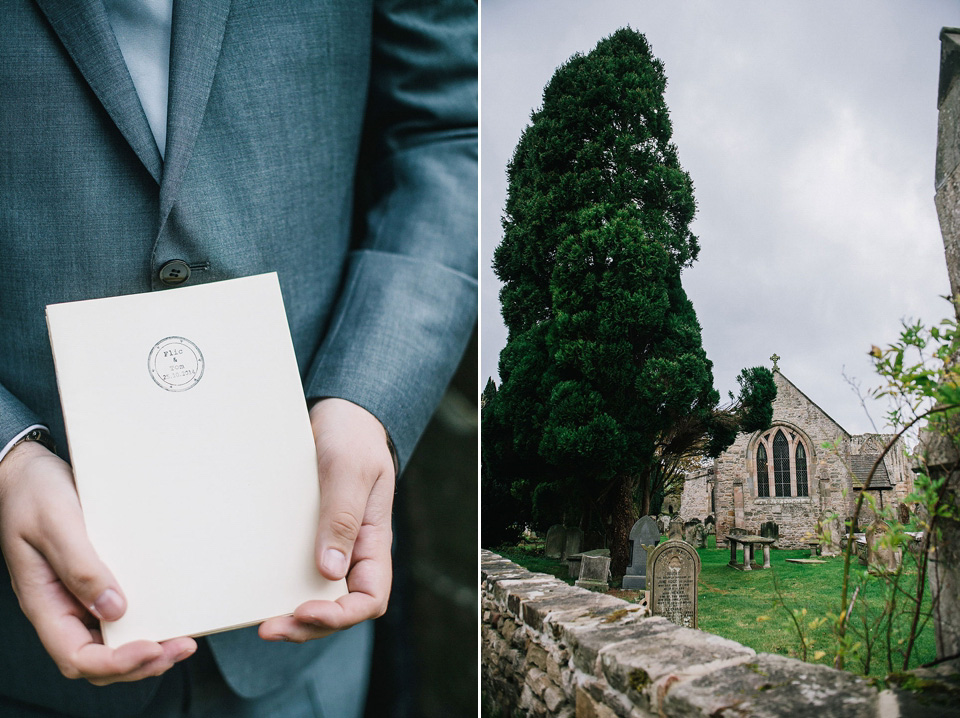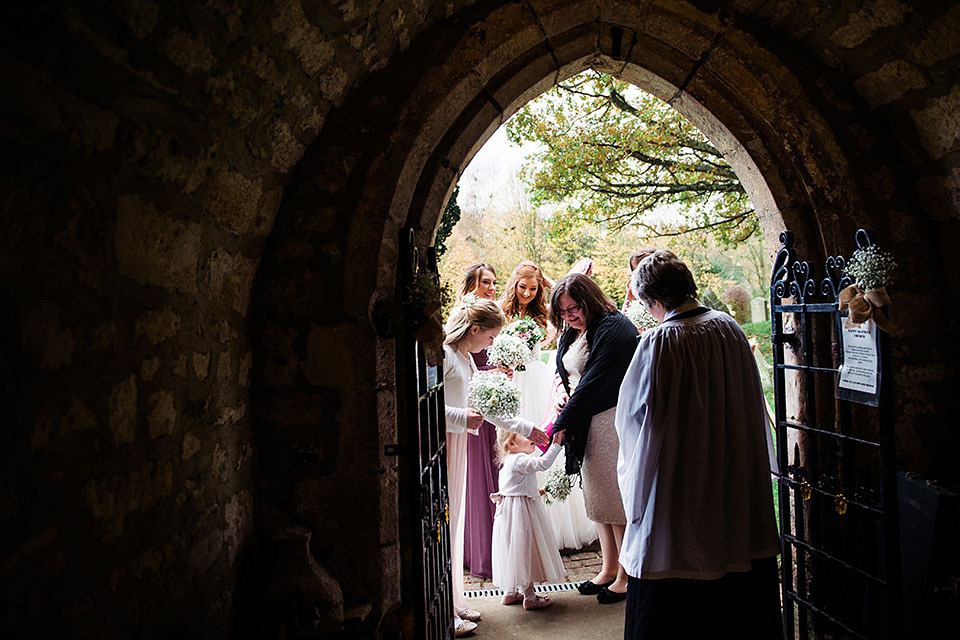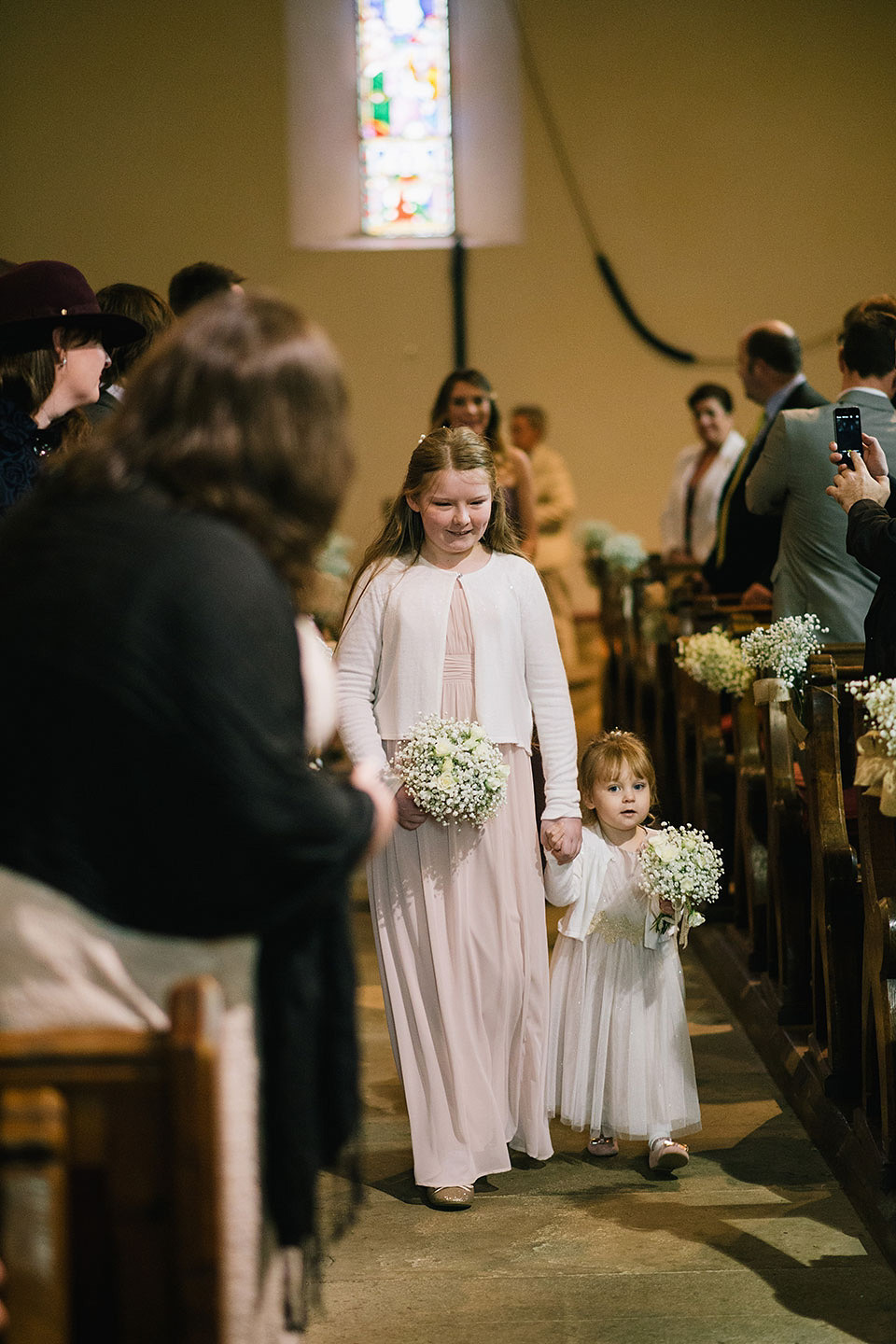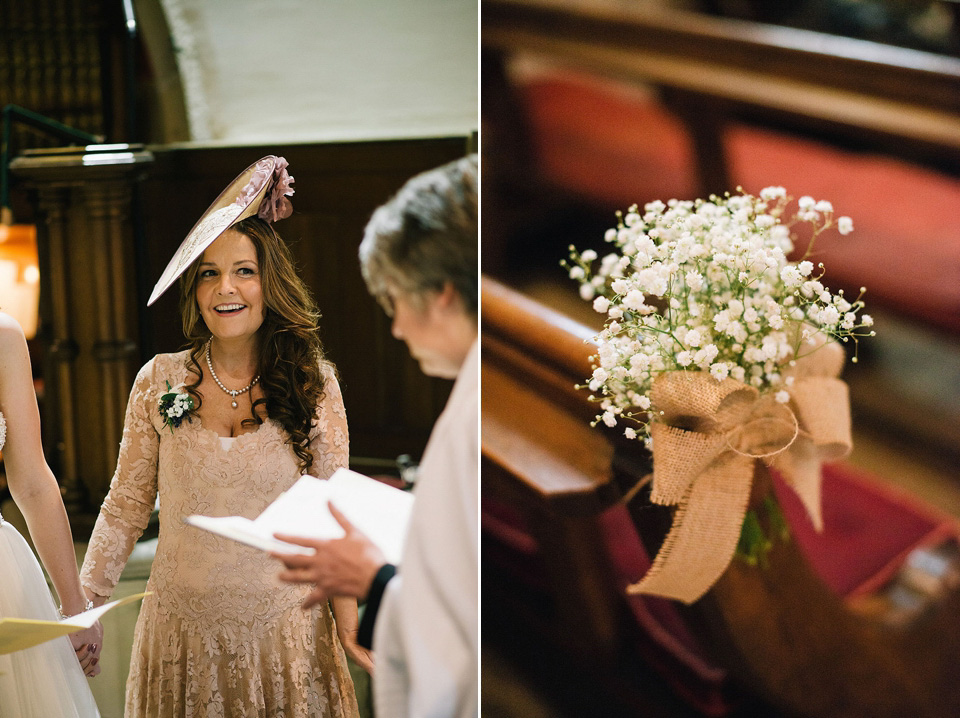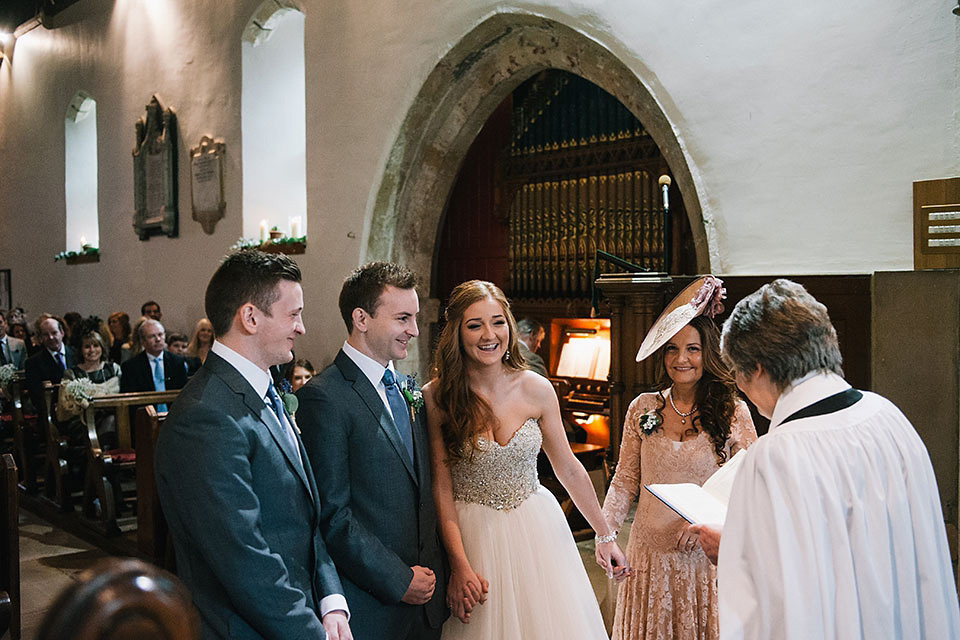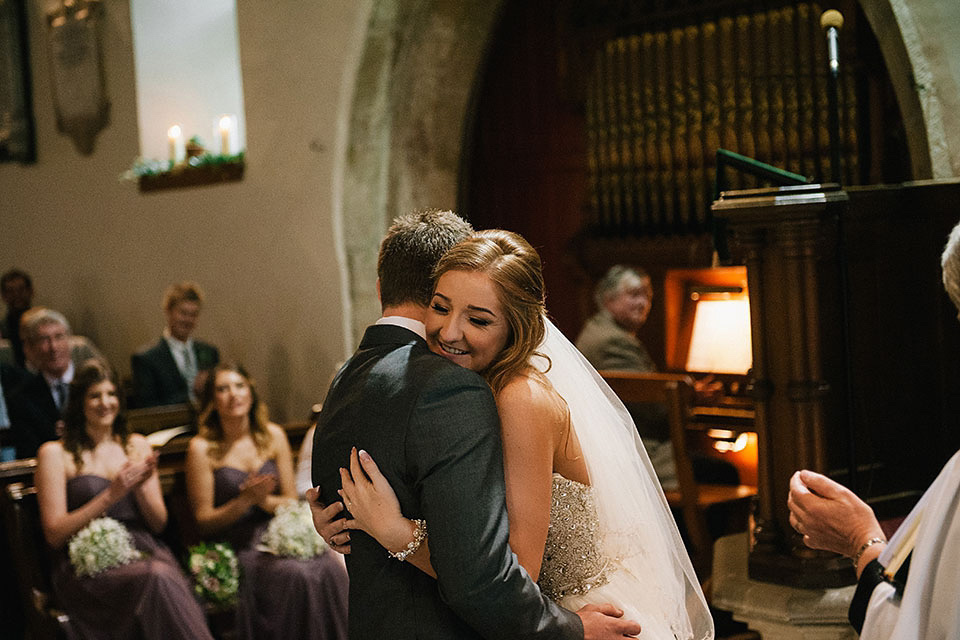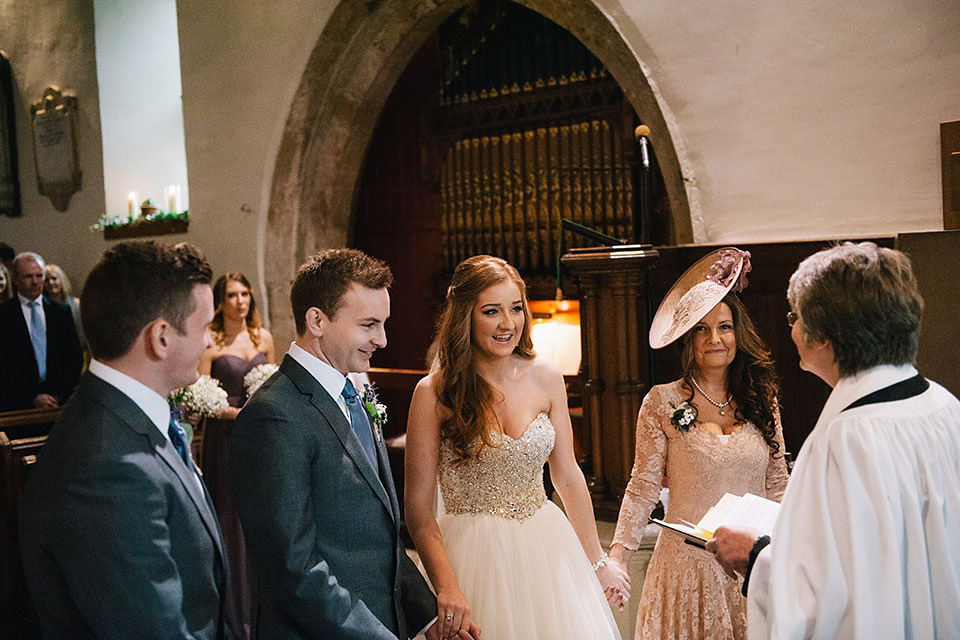 For the wedding ceremony itself, Flic and Tom stayed traditional with their vows and music, with Flic walking down the aisle to the classic Wedding March. Flic's Mum gave her away, and I absolutely love the photograph of her holding Flic's hand at the top of the aisle- she looks so incredibly proud.
"My aunt read from Song of Solomon and Tom's sister Samantha read the Edward Monkton poem In that still and settled place."
'In that still and settled place
There's nobody but you
You're where I breathe my oxygen
You're where I see my view
And when the world feels full of noise
My heart knows what to do
It finds that still and settled place
And dances there with you.'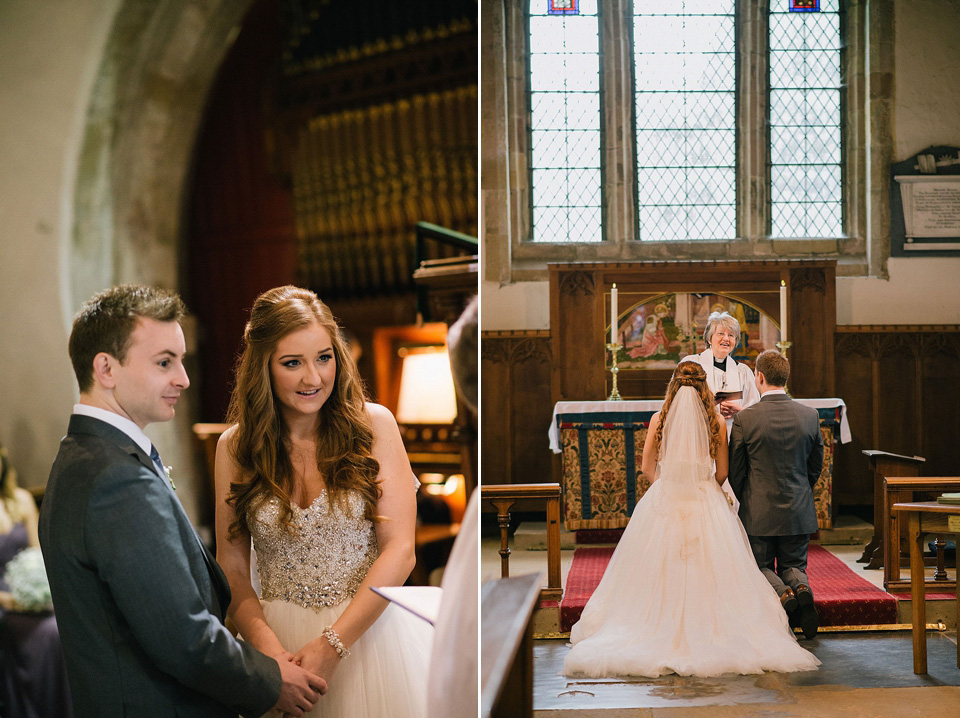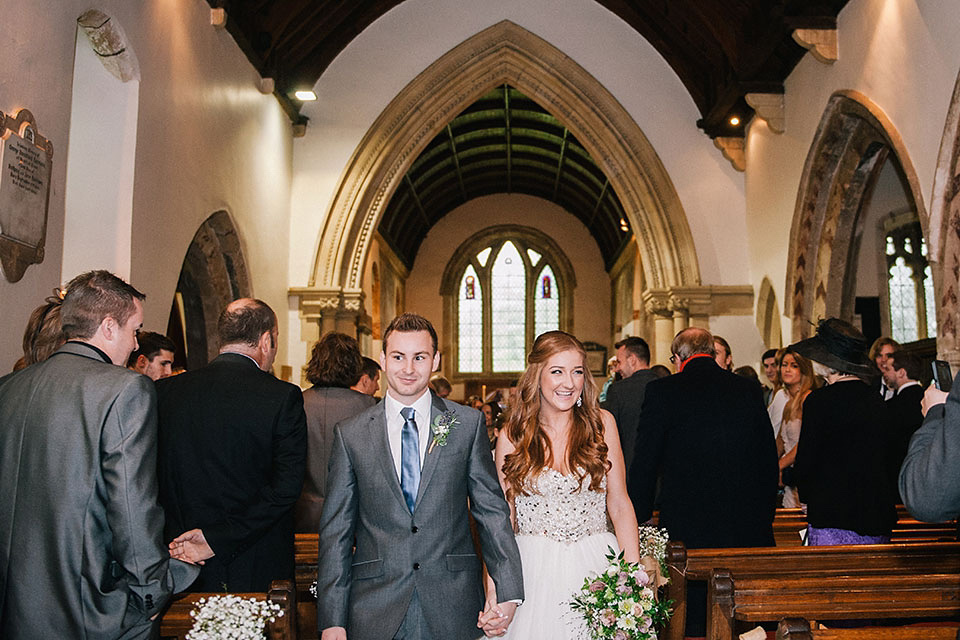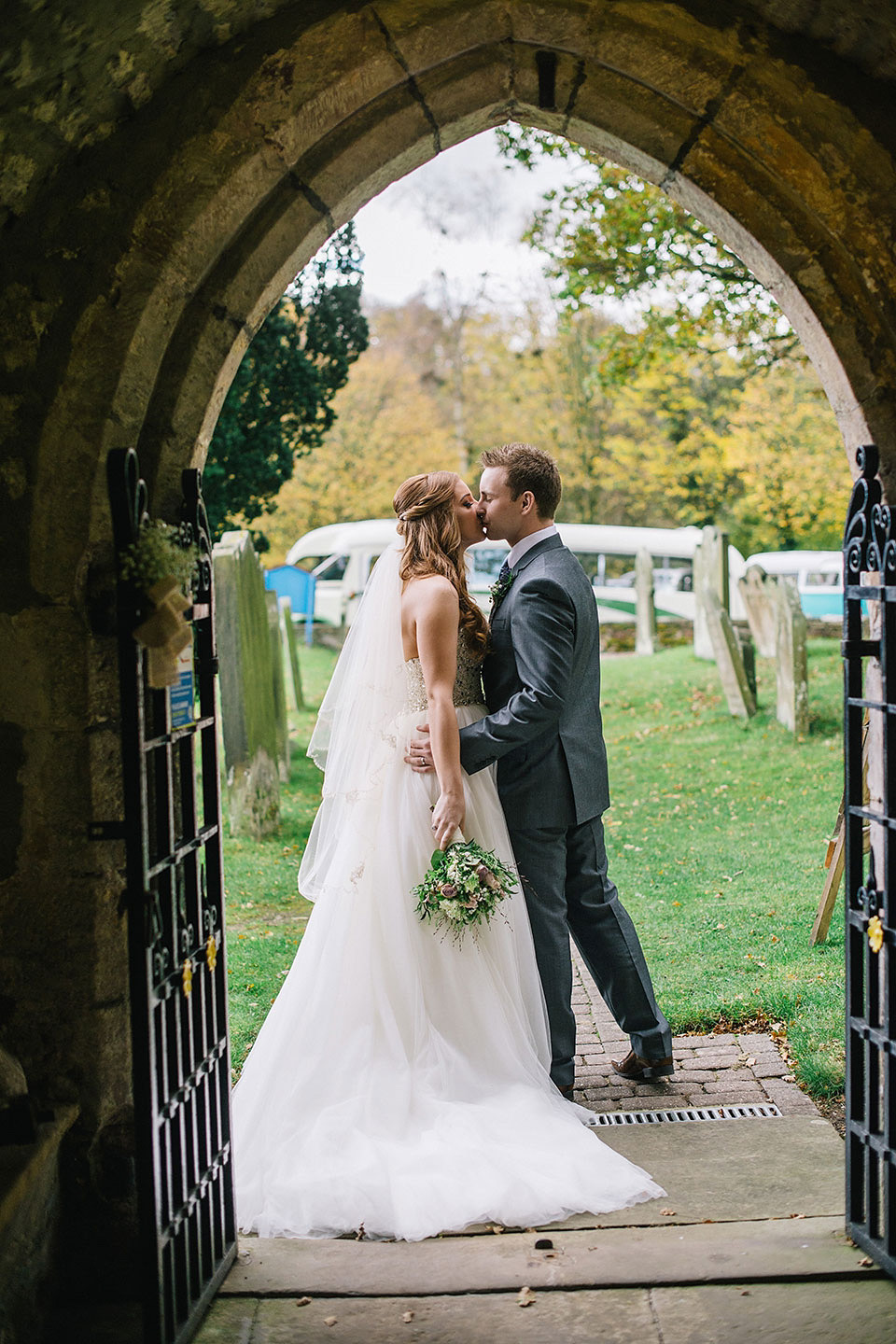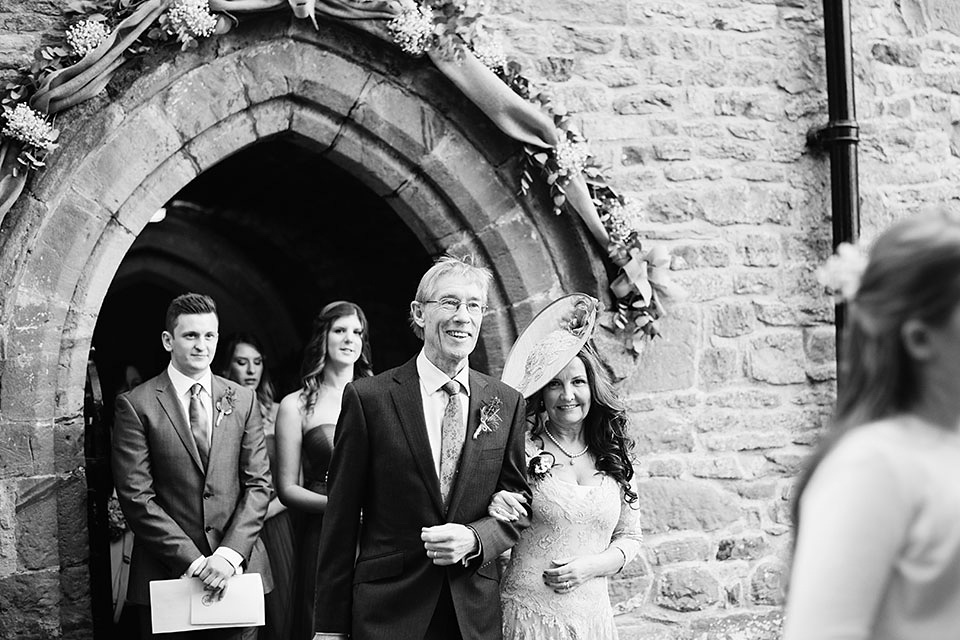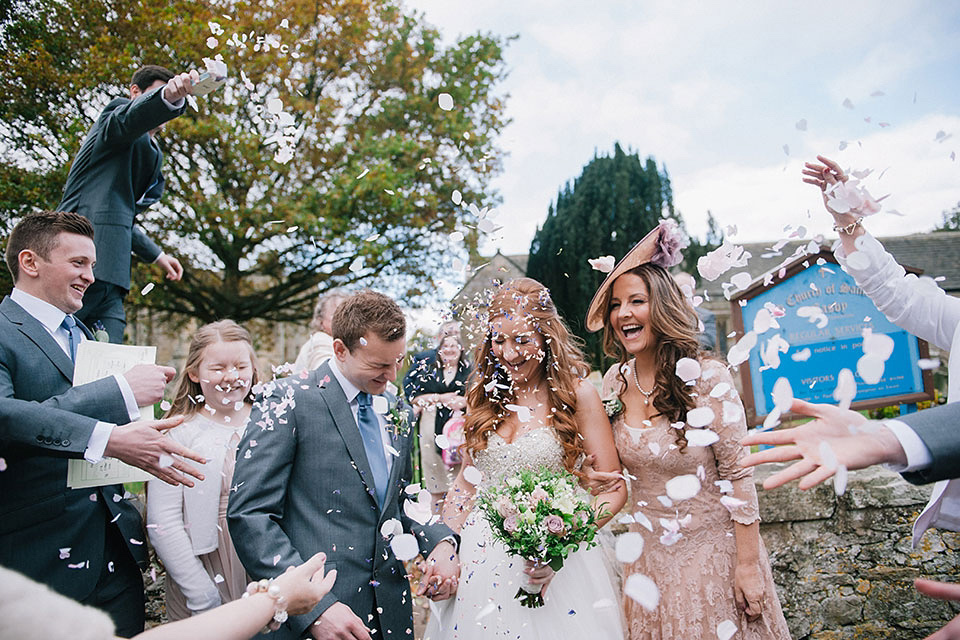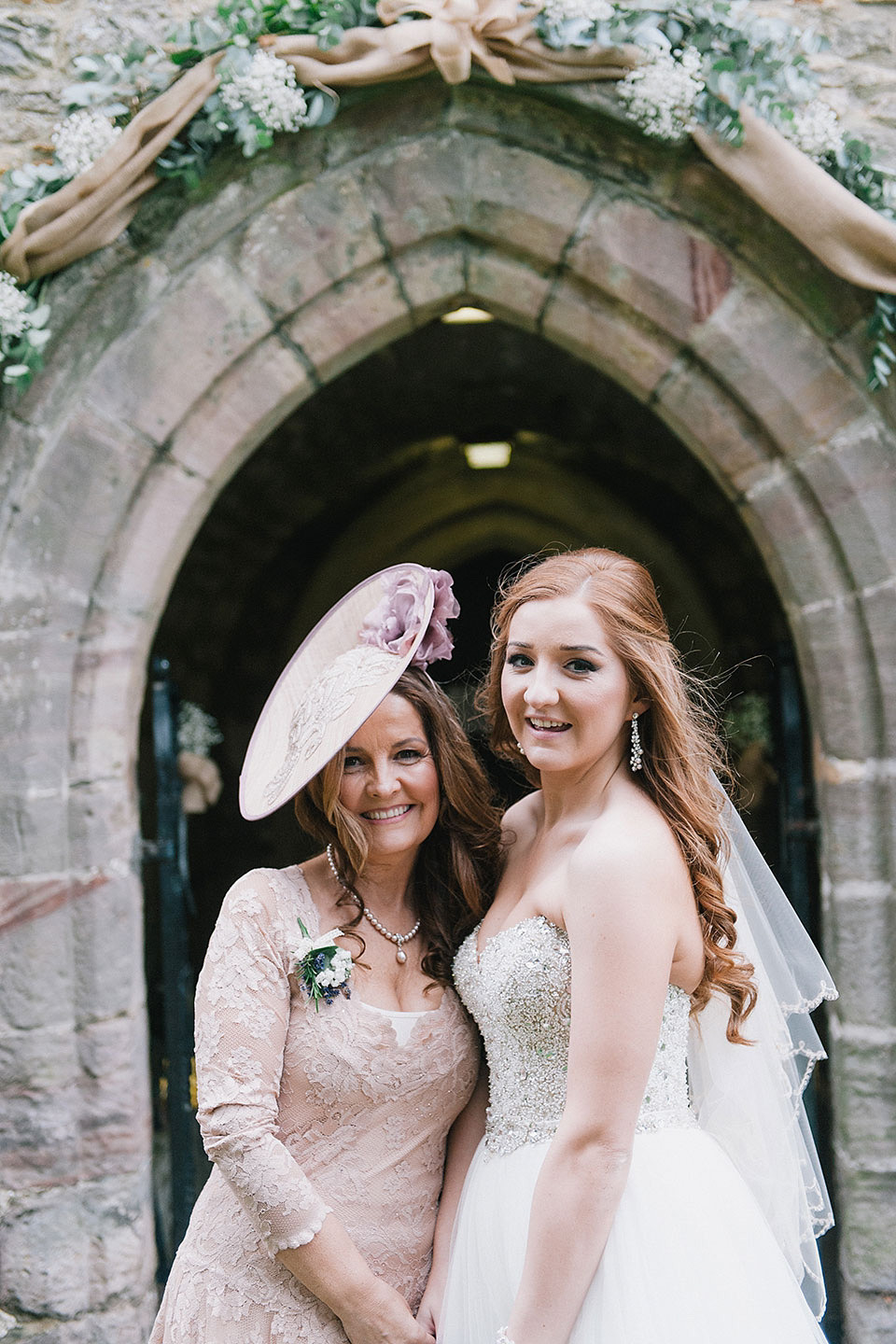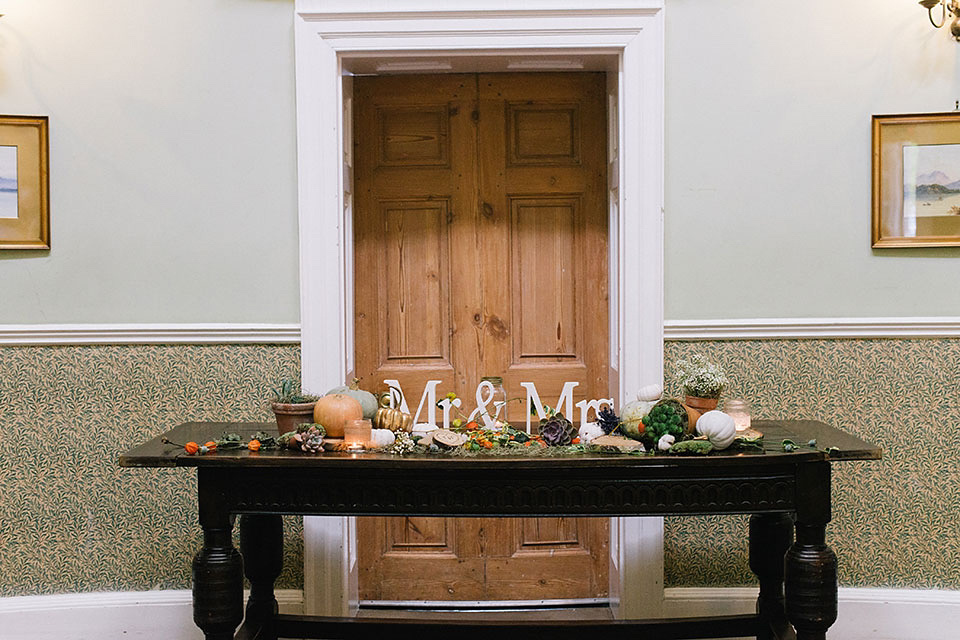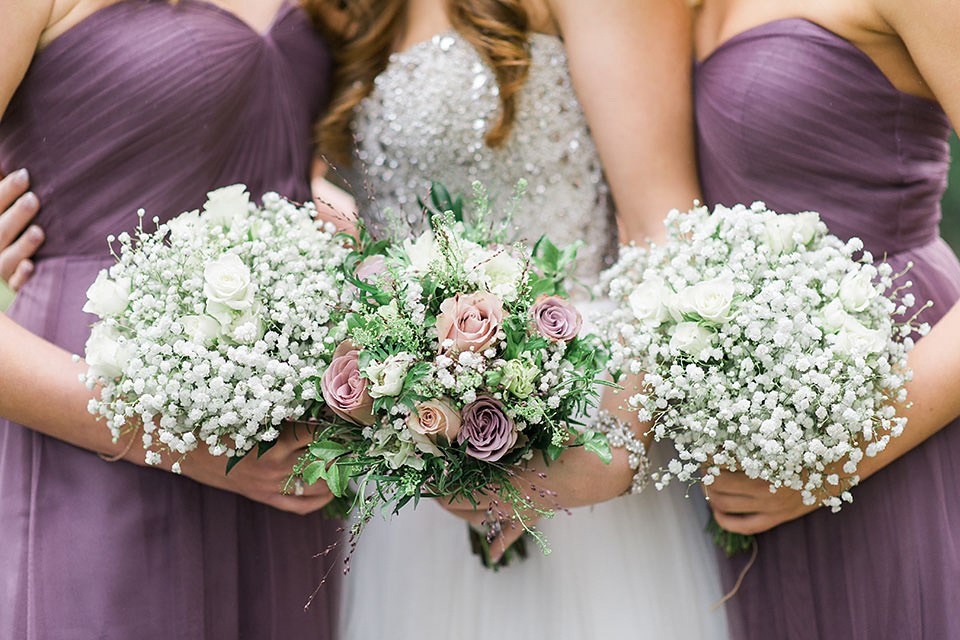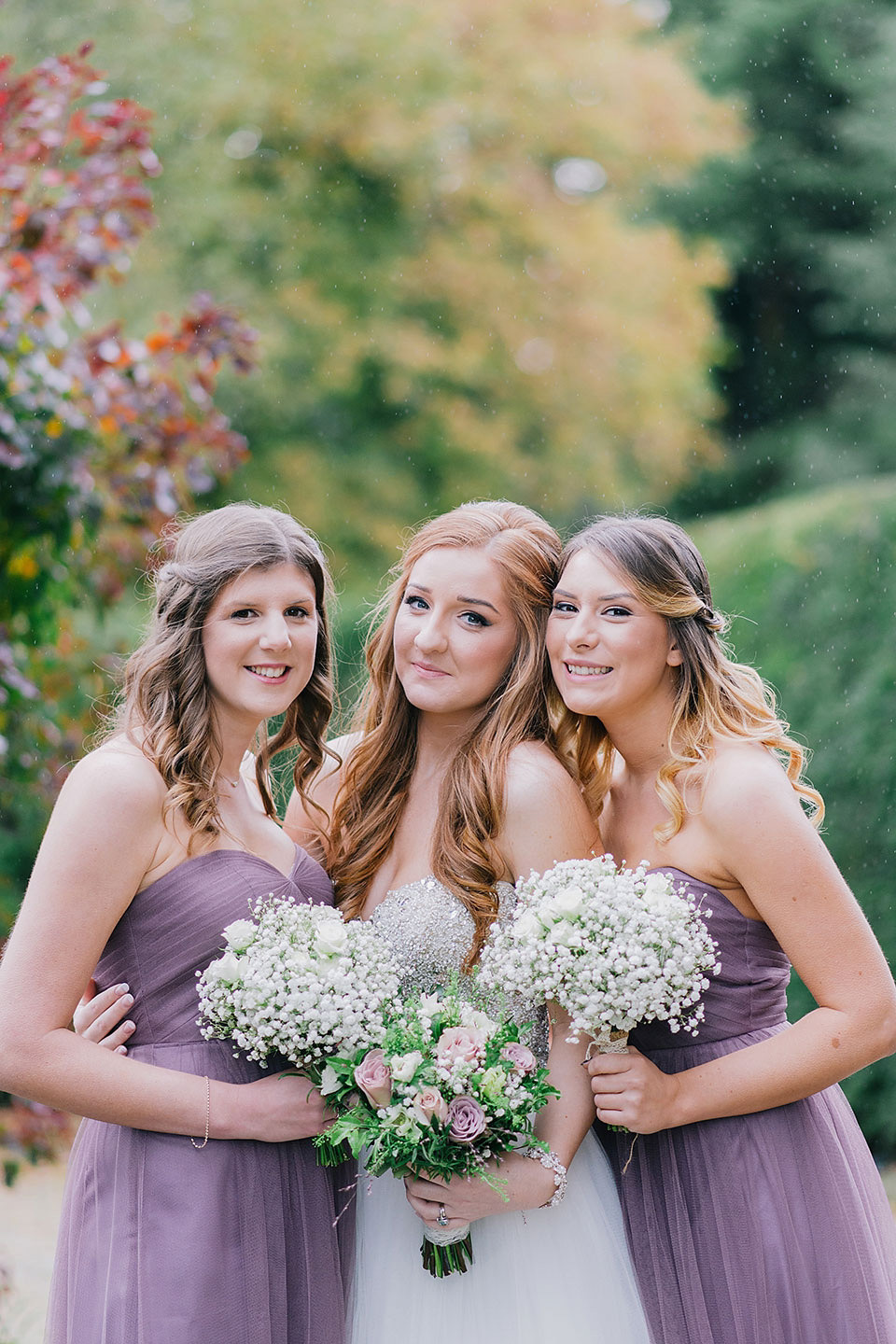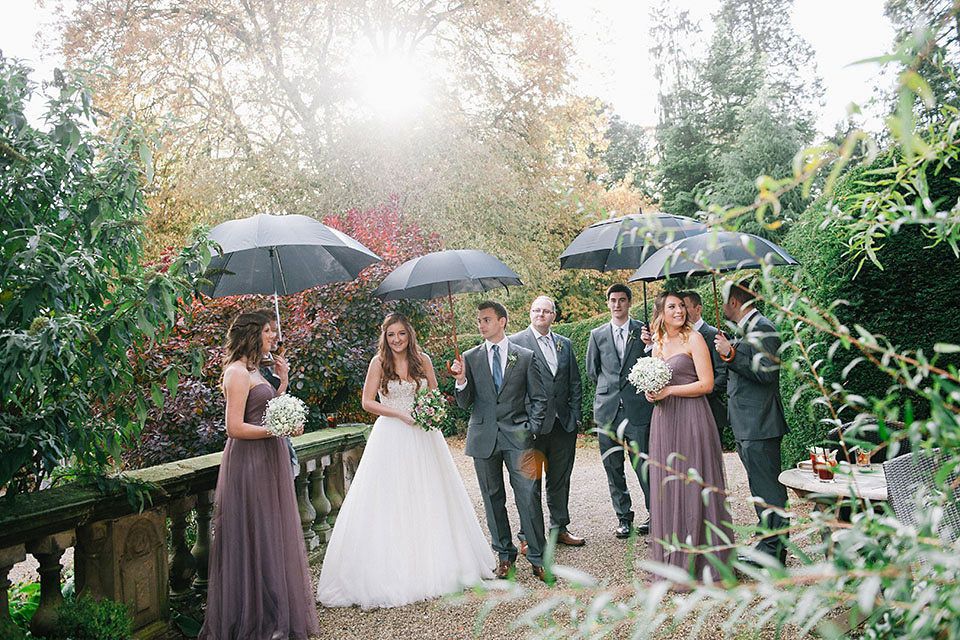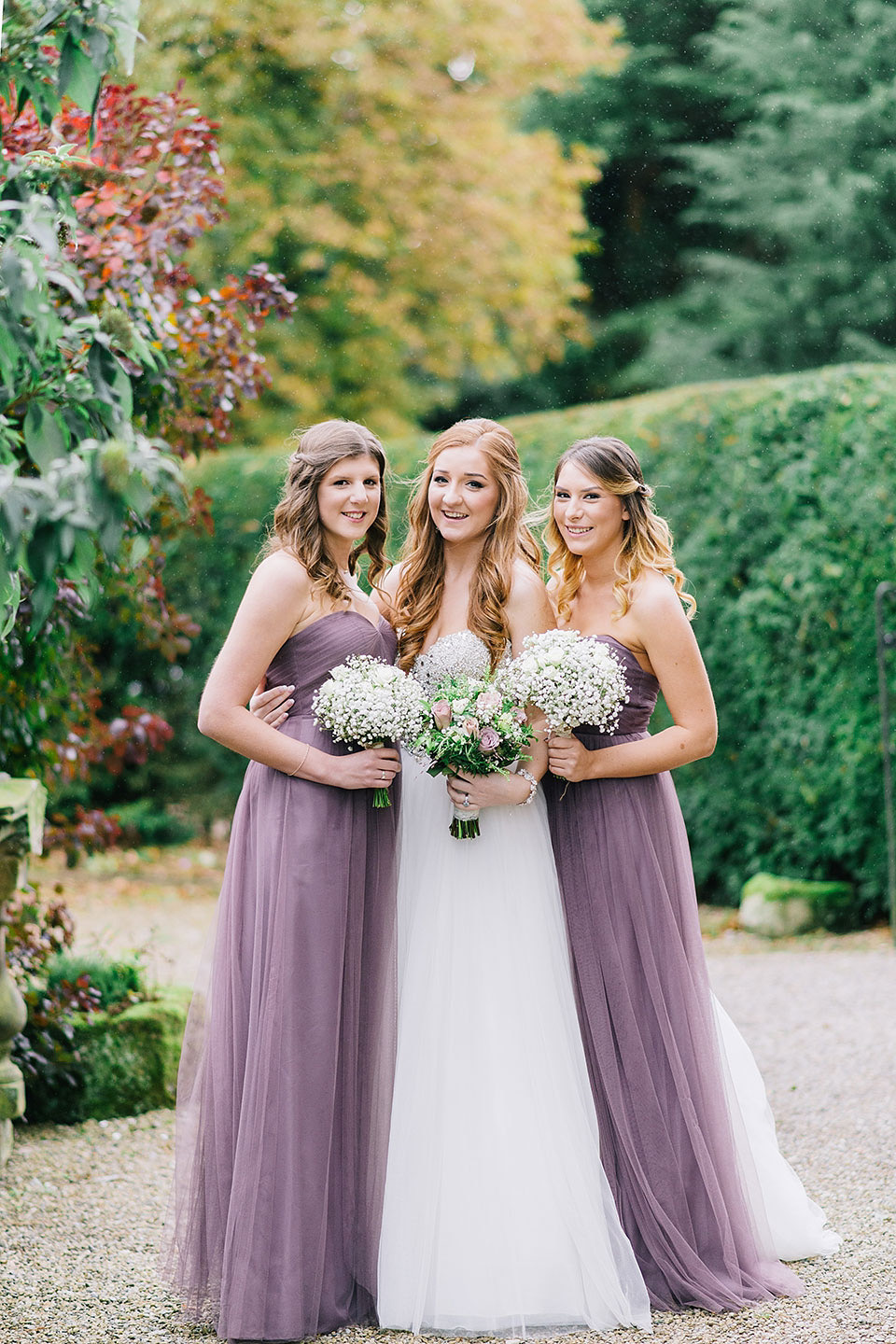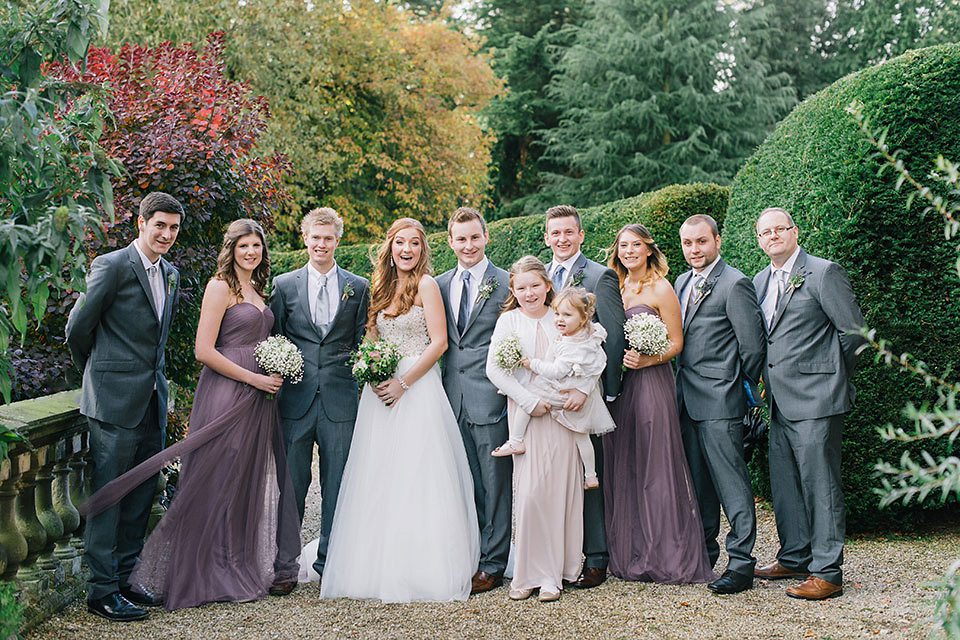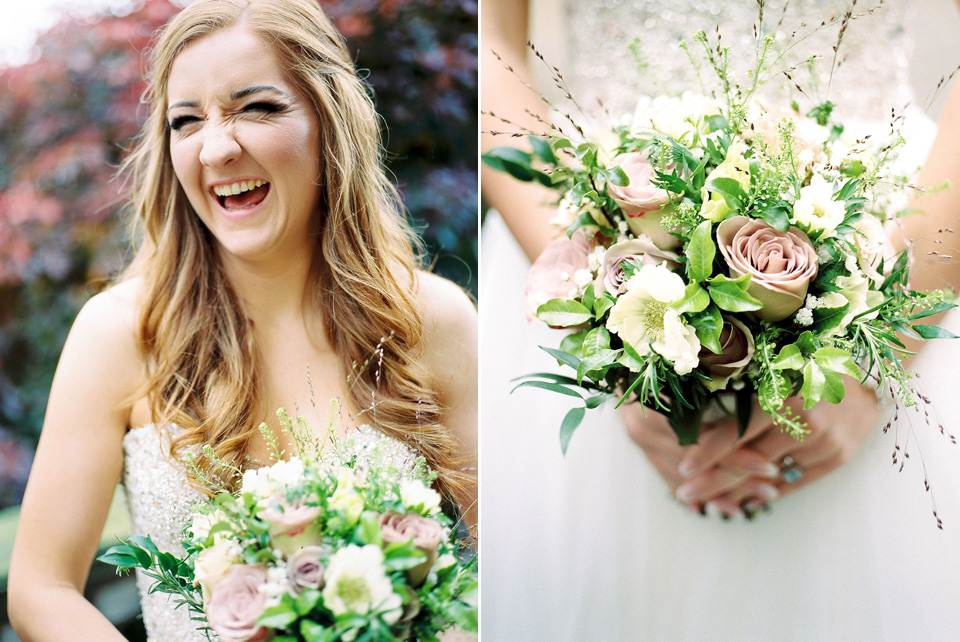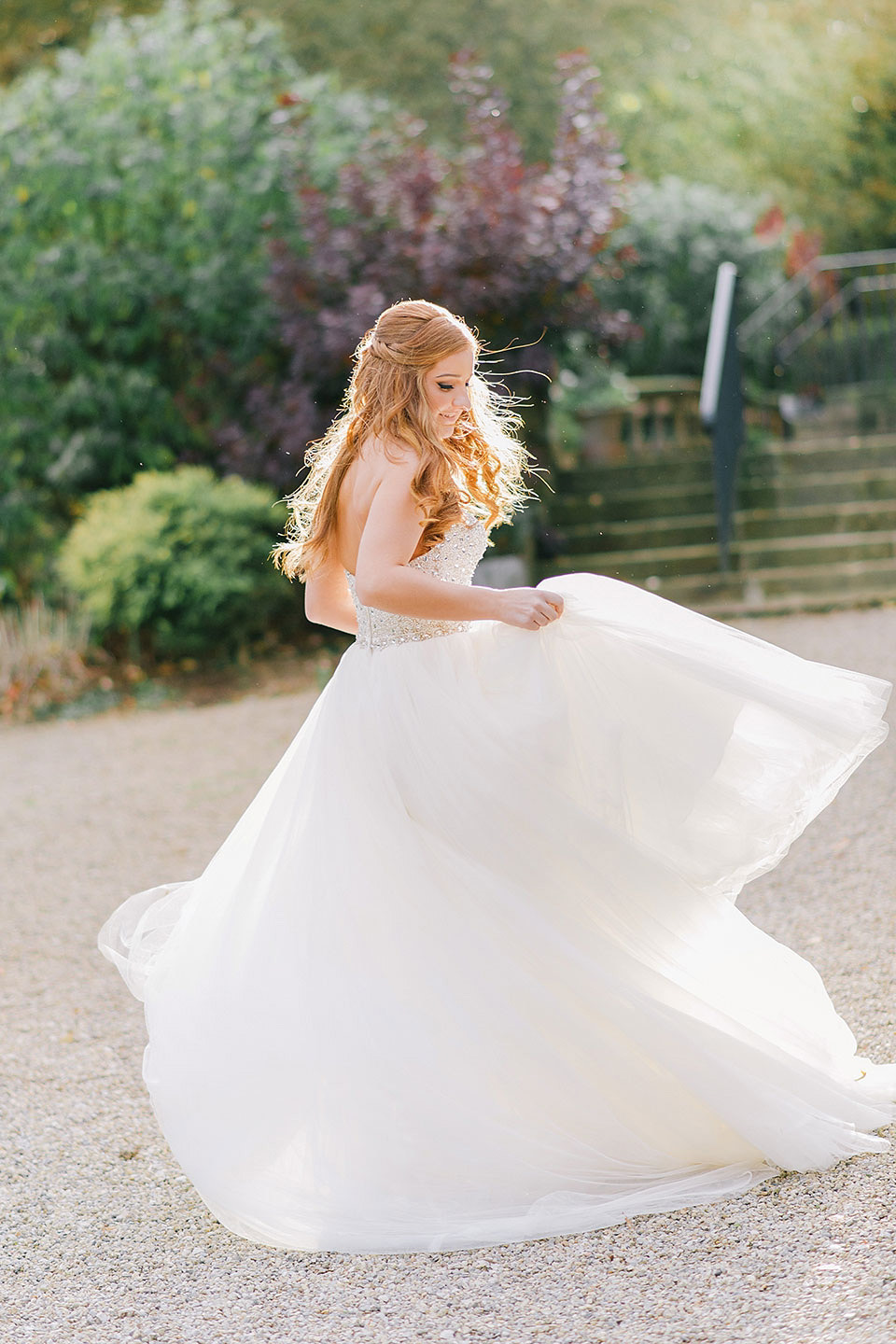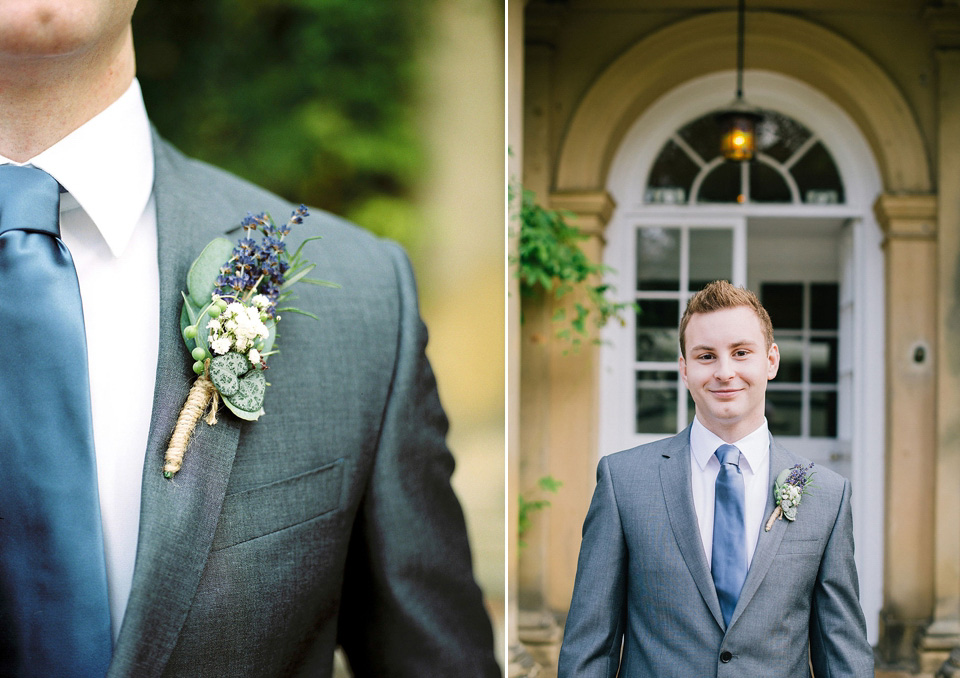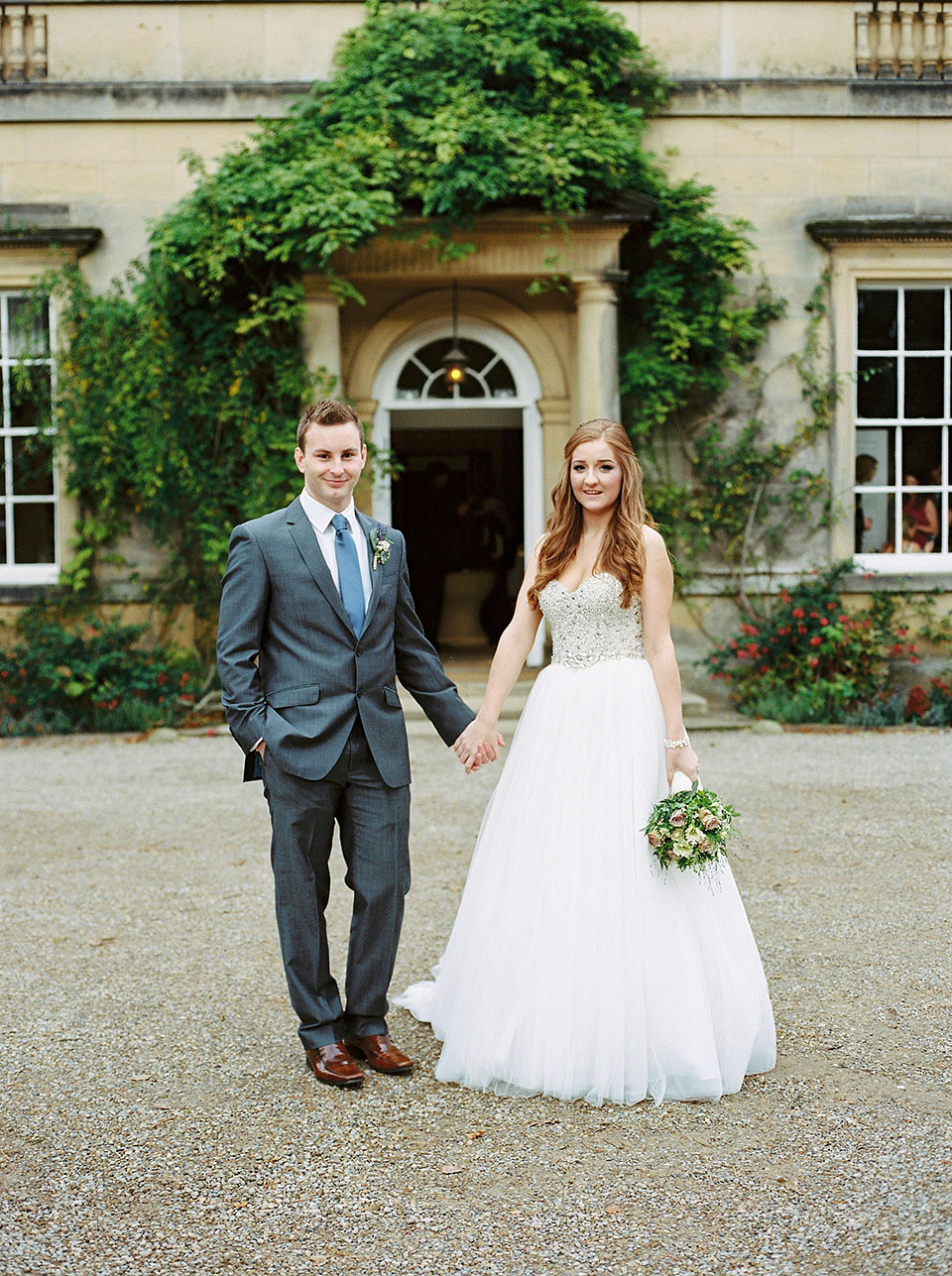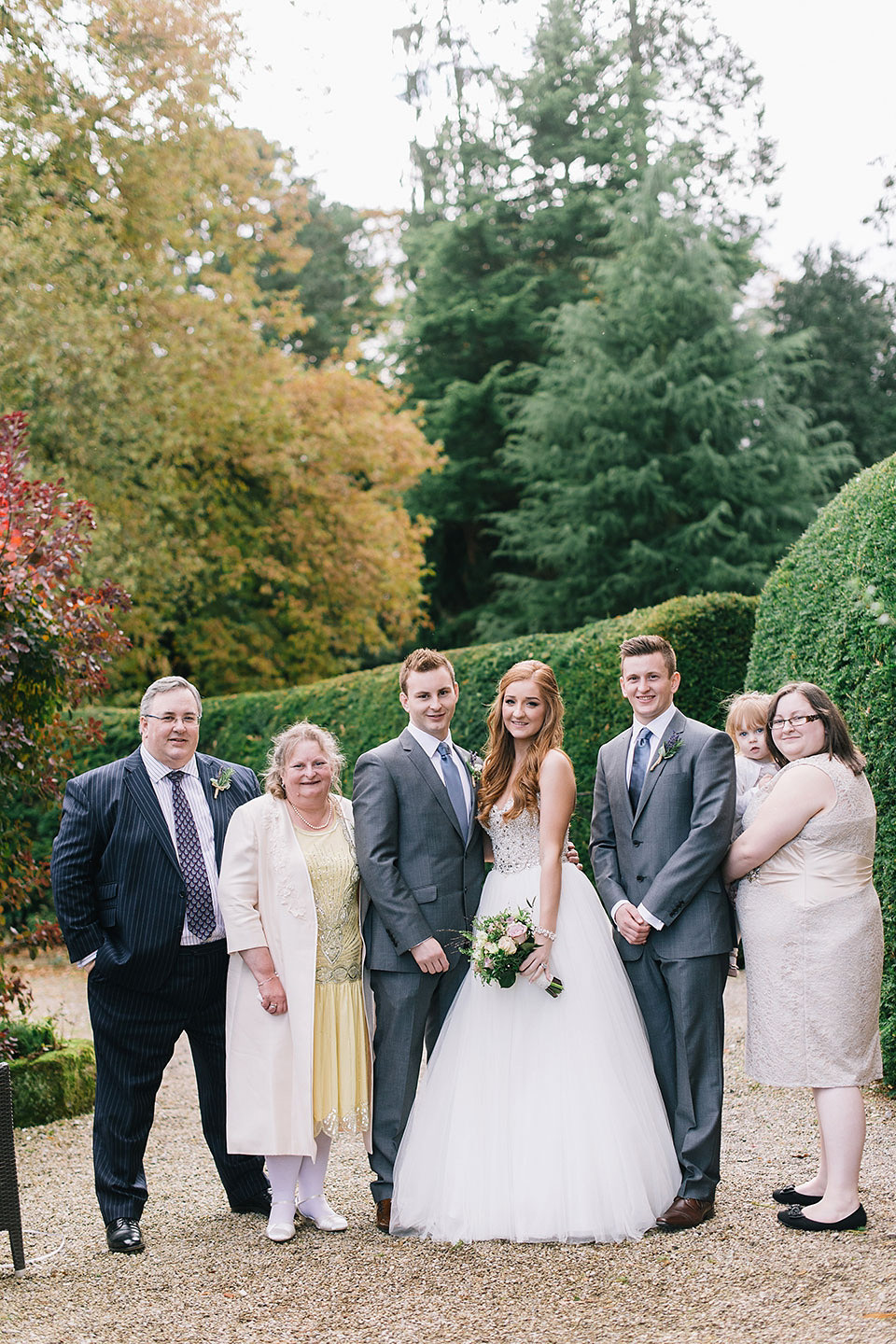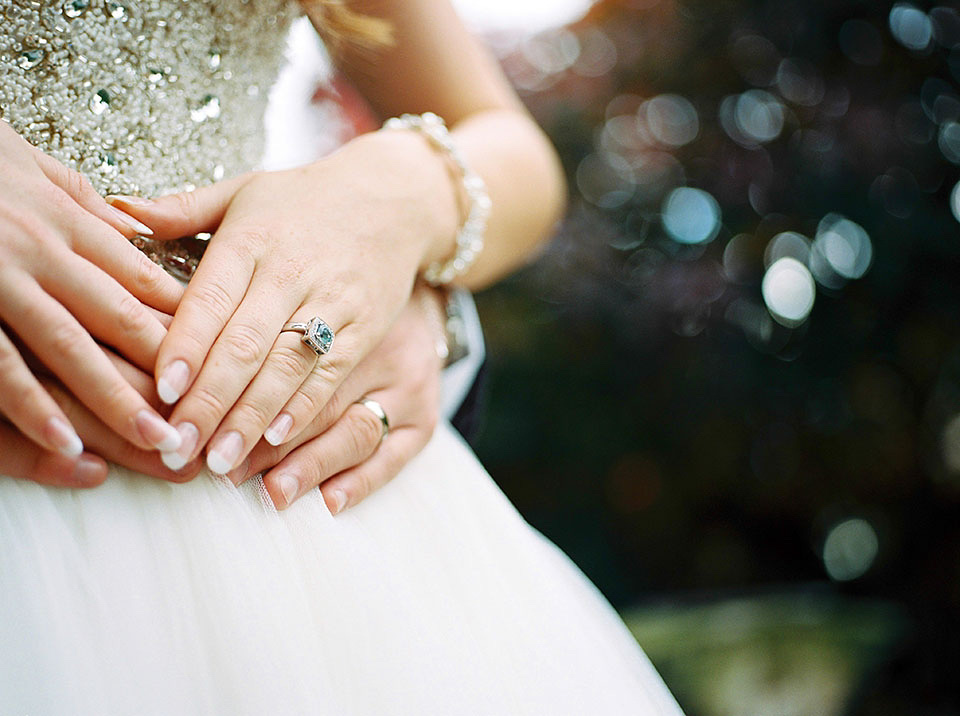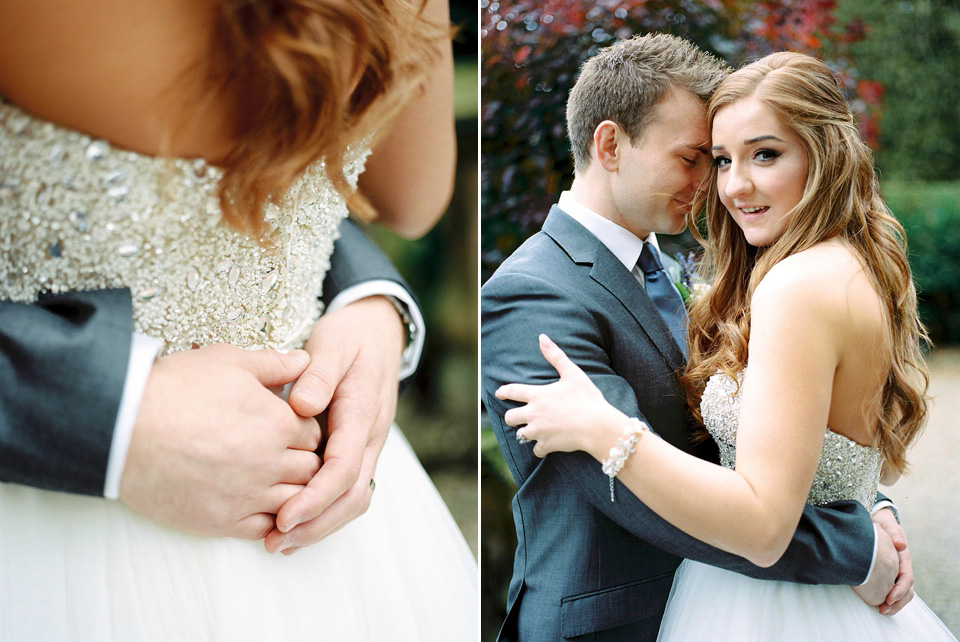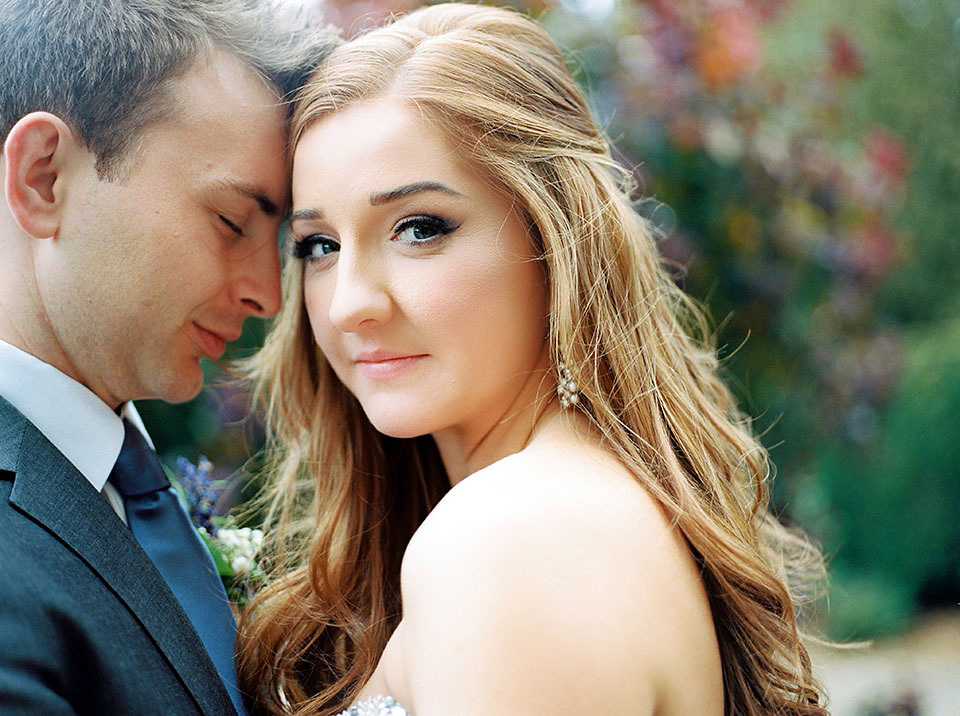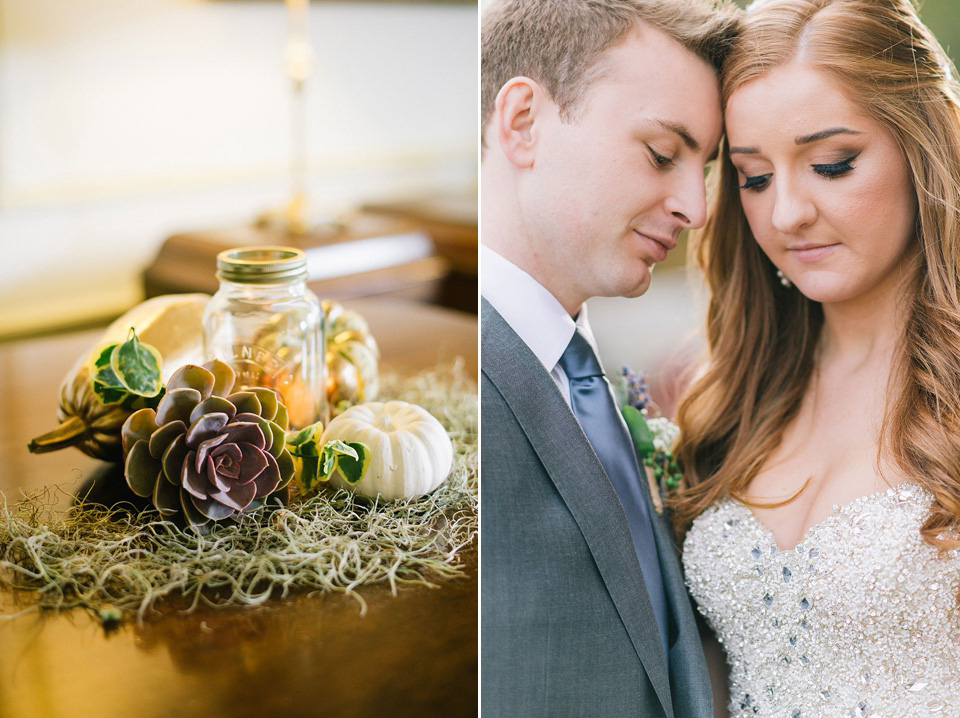 After the ceremony their Flic and Tom joined their guests in travelling on their vintage bus back to the classical and elegant Middleton lodge for their drinks reception and further celebrations- travelling in style, and such fun!
"On our first visit to Middleton Lodge we were inspired by the beauty of the house and its location. We did most of the planning ourselves and also had help from Anna Russell, the wedding planner at Middleton Lodge who created the full weekend itinerary for us as well as offering great advice and support throughout everything."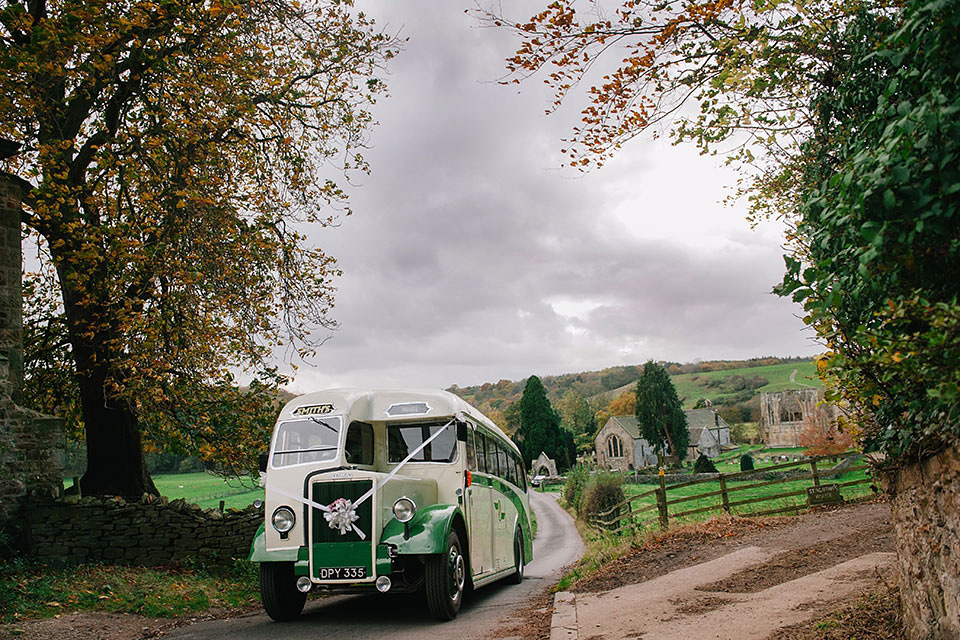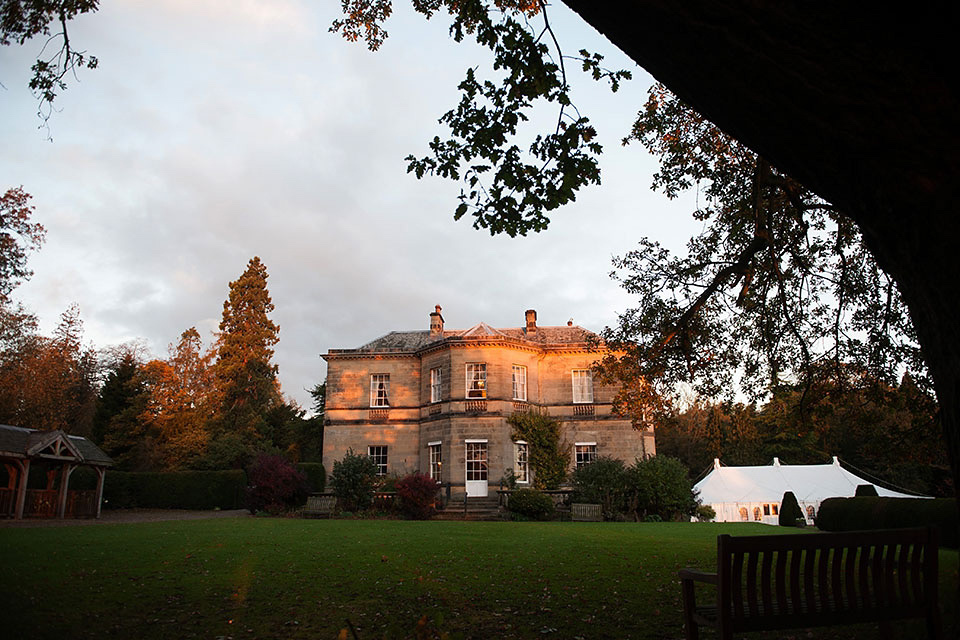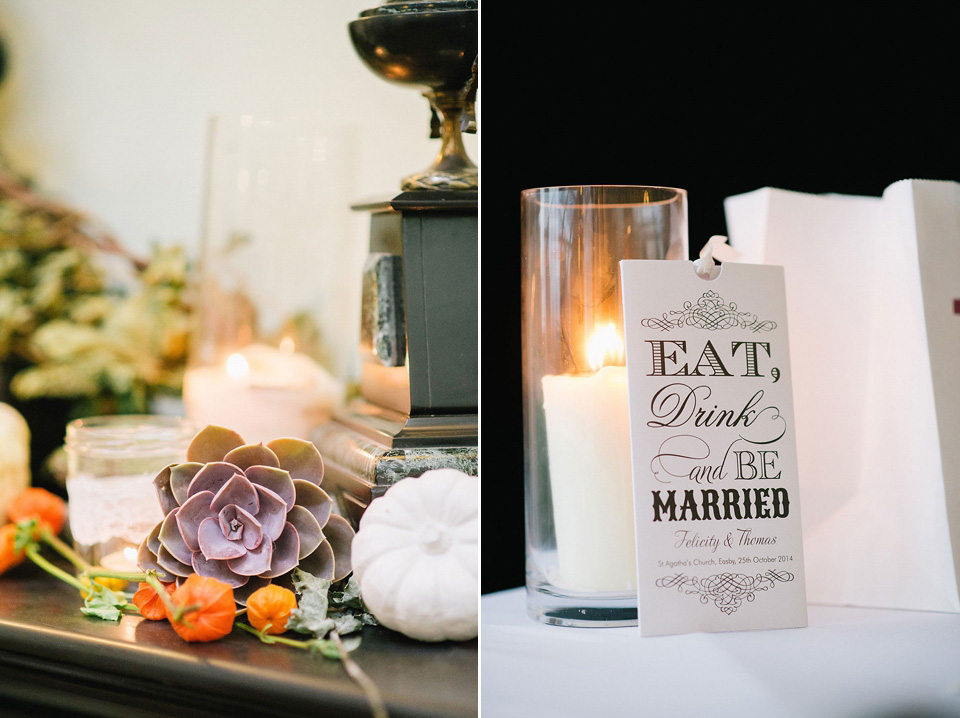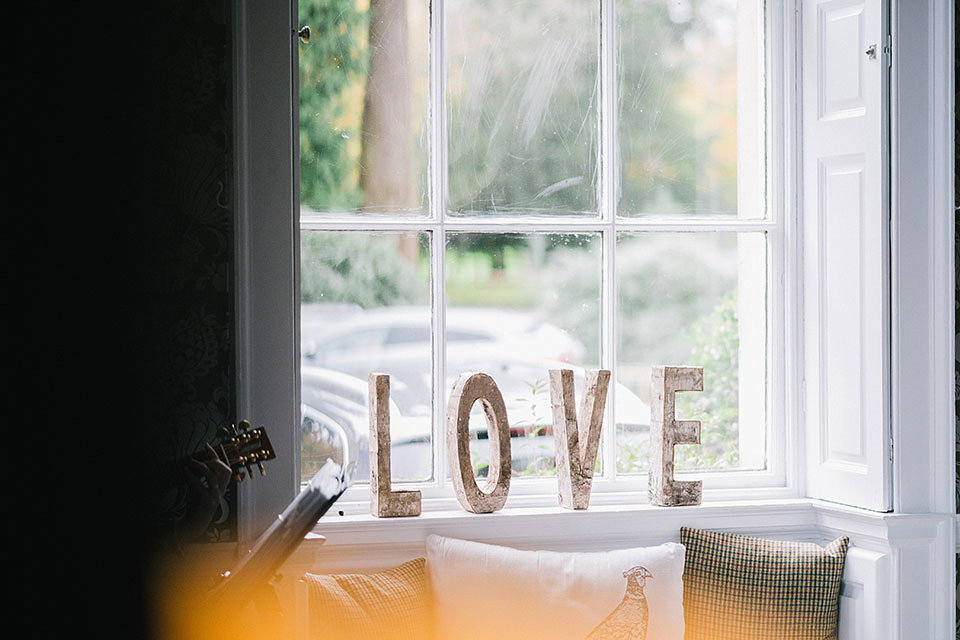 "Neither Tom nor I were keen on the idea of a typical iced wedding cake and as we both dislike fruit cake it wasn't an option. I found Keeley's stall at the Ripley castle wedding fayre during the summer. She had the most amazing cakes on show including the naked sponge cake. Ours was filled jam and buttercream and decorated with fresh fruit. I have to say receiving cake samples in the post after a really stressful day at work was one of the best experiences ever!"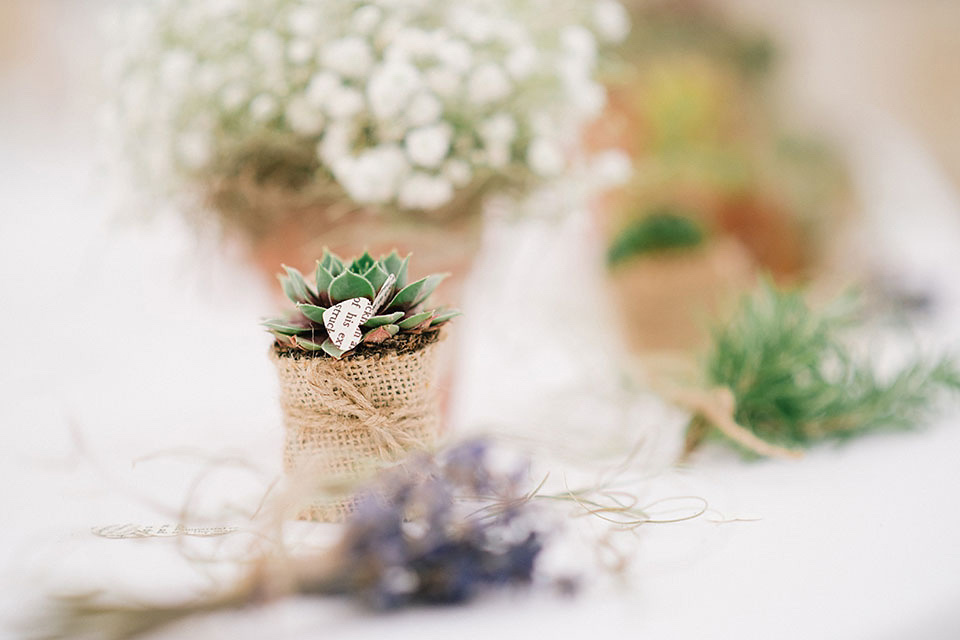 "To tie in with the country theme I decided on mini jam favours, which I covered with linen and finished with twine. There were 160 in total and my fingers were in agony by the end but it was worth it so see the finished look."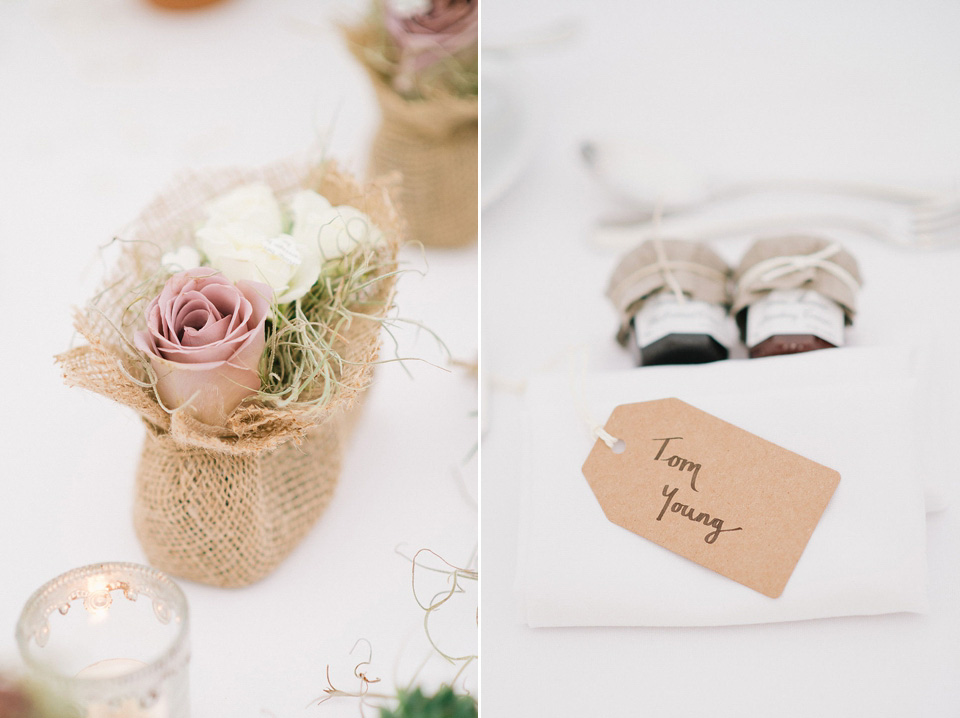 The couple used jam jars as part of the decorative scheme, covered in burlap and lace to add to the rustic, country feel.
"We collected them between us and I even had my aunt bring some over with her from Ireland. About a thousand! Or at least it felt that way!"
Flic managed to find a moment to sit back at one point during the meal and take in everything…
"Seeing every one enjoying themselves and knowing that all the time it had taken to plan was worth it."
If you can find two minutes to yourself in the bustle of the day, do take a step back and watch everyone enjoying everything you worked so hard to create – it's a wonderful feeling.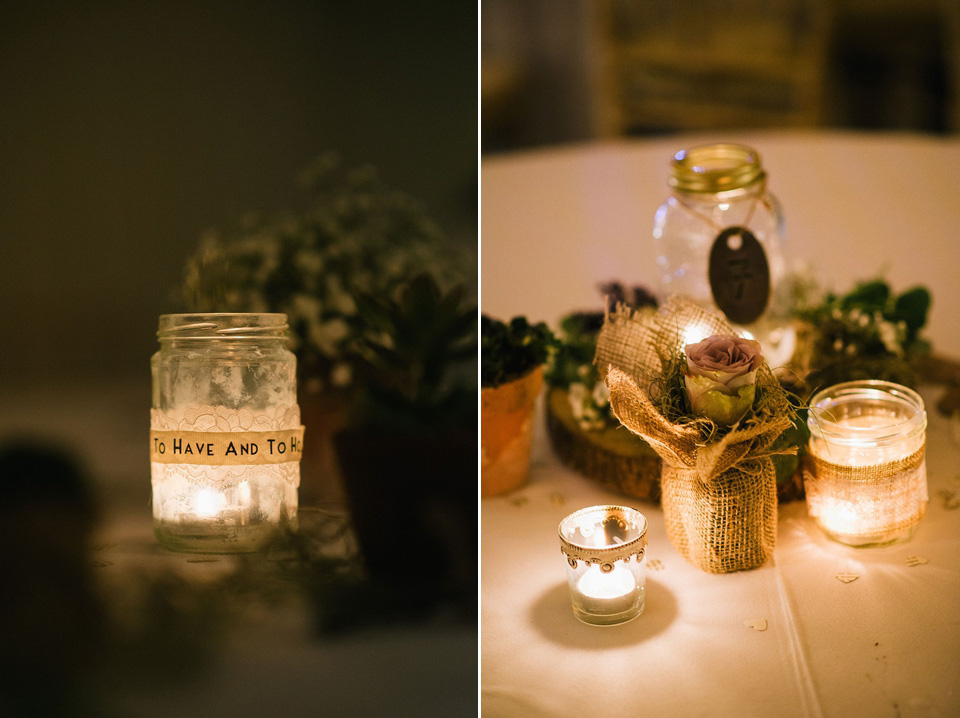 Words of Wedded Wisdom
"Preparation is paramount – knowing you have everything booked and confirmed well in advance will make it so much easier as the date gets closer and the smaller jobs start to creep up on you – my poor mum was sewing straps on my niece's bridesmaid dress at 8.AM on the morning of the wedding, as we had run out of time the week before!"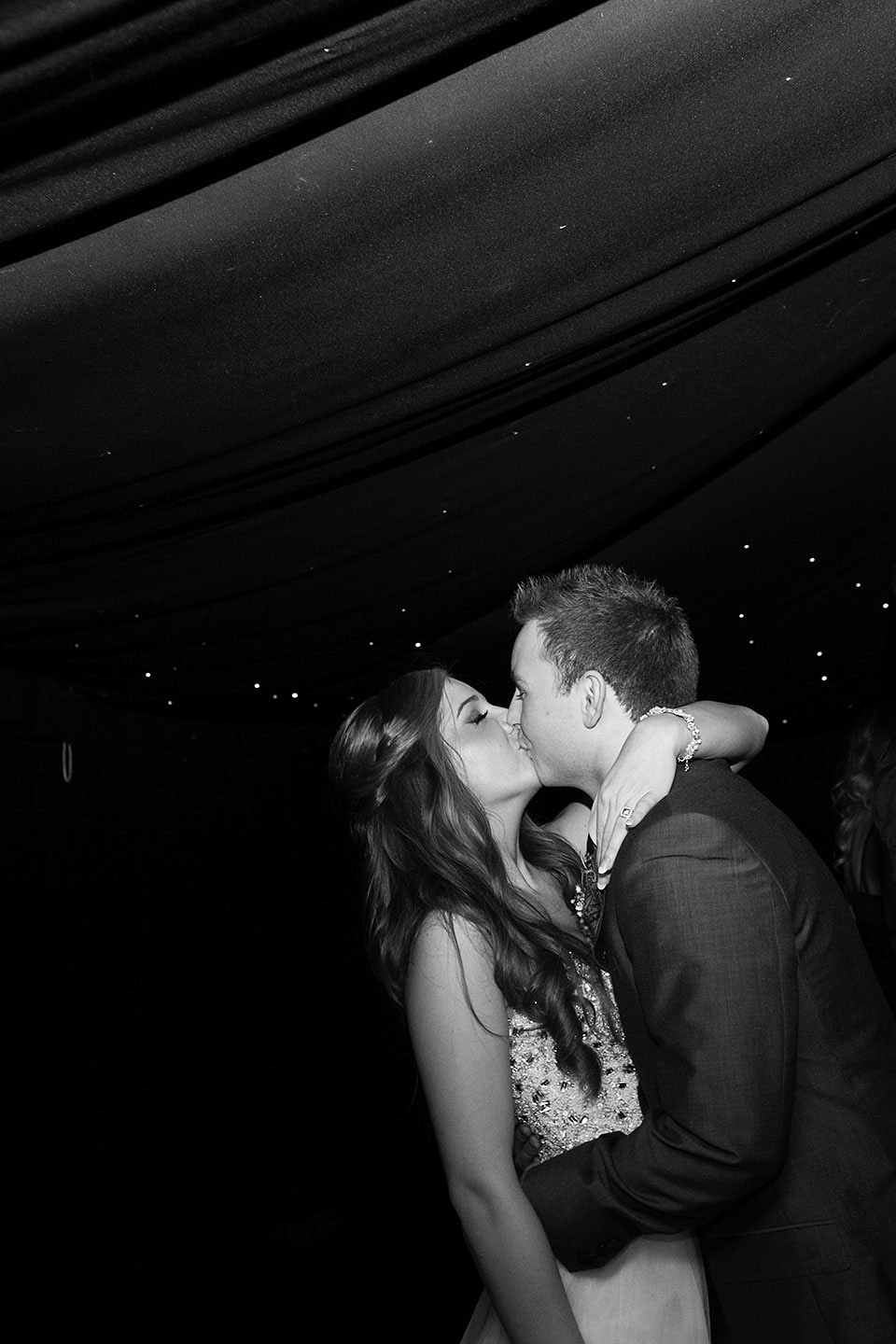 What a lovely, lovely wedding- I absolutely adore autumn, and every part of this wedding sums up the beauty of the season with such style.  I don't know about you, but I feel warmer already!
Many thanks to photographer Georgina Harrison for allowing us to share her gorgeous images, and huge congratulations to Flic and Tom- have a very happy first married Christmas!
Have you thought about having someone different give you away, or even walking down the aisle alone?  See this post from Franky from November 2013 for our reader's thoughts.
Much love,
Shona X
Photographer – Georgina Harrison Photography
Venue (ceremony) – St Agatha's Church, Easby, Richmond
Vene (reception)- Middleton Lodge
Dress – 'Esme' by Maggie Sottero from the Harrogate Wedding Lounge
Veil – Flic's veil was her Mum's , which also came from the Harrogate Wedding Lounge
Bride's Shoes – Manolo Blahnik 'Hangisi' in Carrie Bradshaw blue from Savannahs
Accessories – Drop earrings and pearl bracelet both from Molly Browns of York
Bride's perfume – Chanel 'Chance Eau Tendre'
Makeup- Carla Donnan
Grooms Suit – Marks and Spencer
Bridesmaids Dresses- Jenny Yoo from BHLDN and  Dessy
Bridesmaids shoes-'Annie' in gold, by Kurt Geiger
Flower girl dresses-Baby Odette dress in dusky pinkfrom Monsoon
Florist –  Hutton Flowers, Northallerton
Cake – Sugar Crafted Cakes
Rings – Goldsmith's, Newcastle
Catering- All catering provided by Middleton Lodge
Transport- 1947 Leyland Tiger from John Smith and Sons
Entertainment (day) – Val Boyers
Entertainment (evening) – Maria and The Kingpins (found through the 'FunctionCentral' Agency)